Looking for an all-natural anti-inflammatory juice? This juice with three simple ingredients may be the answer to your joint pain.
Once you try this, I think it will be your new go-to recipe for relieving those aching joints and boosting your immune system.
It's so important to make sure you get your antioxidants, which is why we eat so many vegetable rich foods like Italian bean soup, roasted root vegetable soup, and butternut squash risotto.
You've probably seen shelves and shelves of fresh juice at the grocery store, but why buy it when you can easily make your own juice?
Let's face it, nothing is better than fresh fruits and veggies right after you juice them at home.
Do you ever have those mornings when you wake up to joint pain? It happens to me sometimes when it's raining.
Though there is no proven evidence that rainy weather causes joint pain, there is some proof that barometric pressure could be the culprit.
That pressure can be a problem for those of us who get weather-related headaches, too.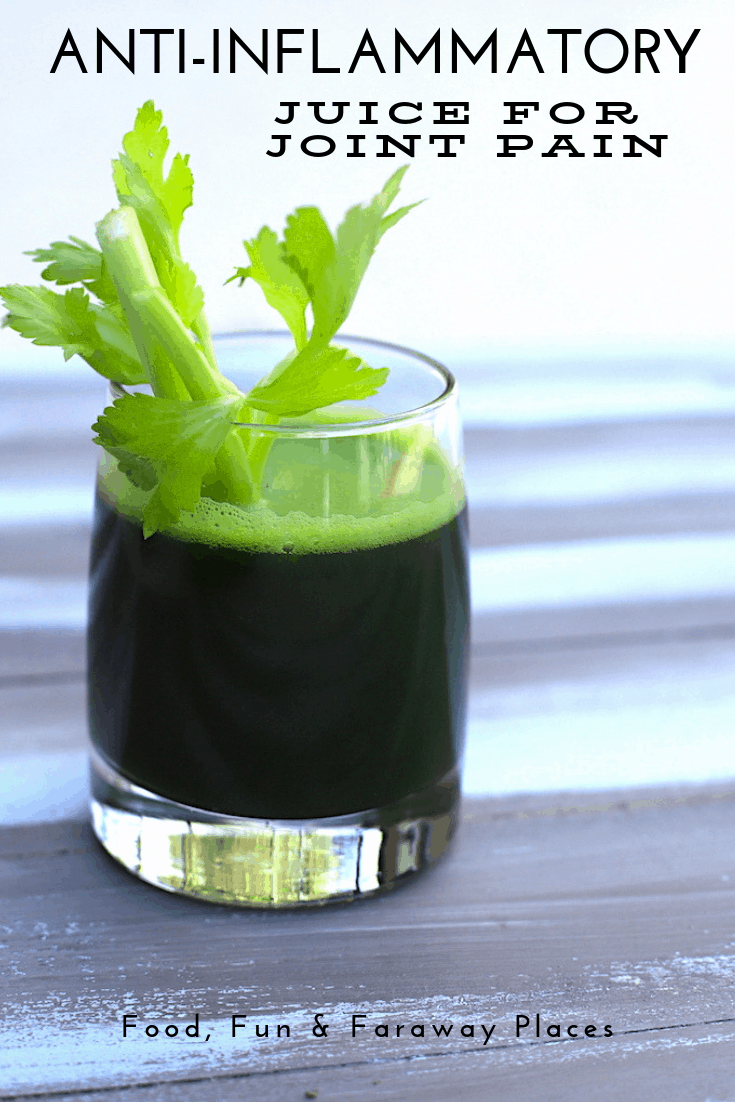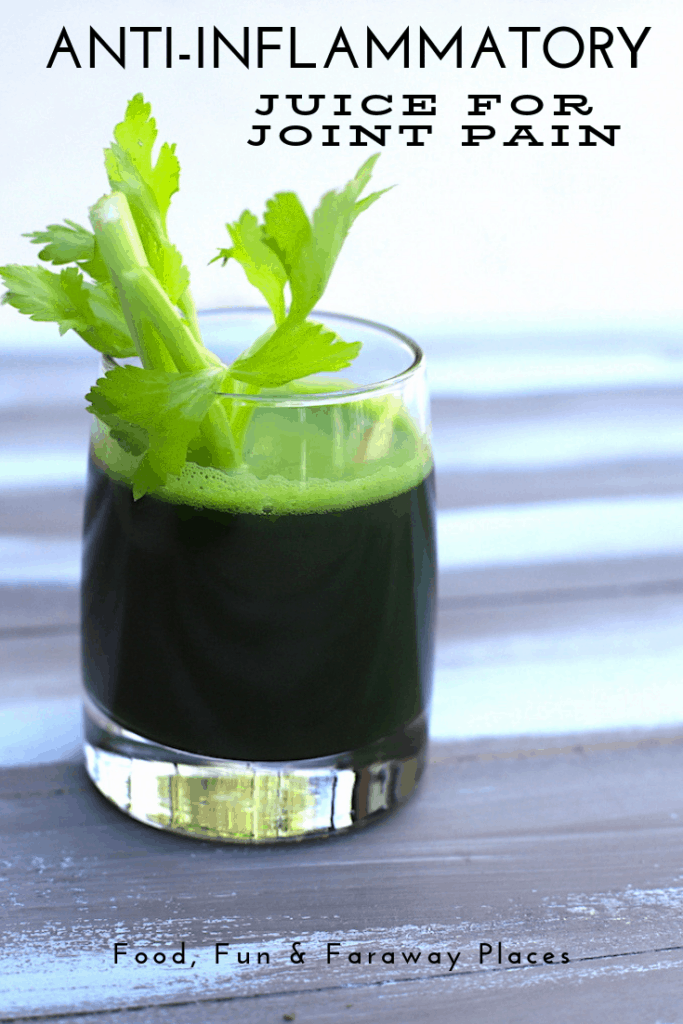 Either way, this anti-inflammatory juice is the perfect remedy for joint pain. We so often reach for medication when part of the answer is right in front of us on the kitchen table! Cumin bean dip, anyone?
This juice also a great afternoon pick-me-up. Make a big batch and drink it over a couple of days. It keeps well in the fridge for two days, but it really is best if you drink it right away.
Though I'll admit, not everyone is going to love the flavor of this juice, everyone can benefit from it!
I personally like the taste, and love that it gives me relief from joint pain.
Add a golden beet and a few carrots for extra nutrition and flavor. If you need to add a little sweetener, that's okay, too, though I'd encourage you to try it straight first.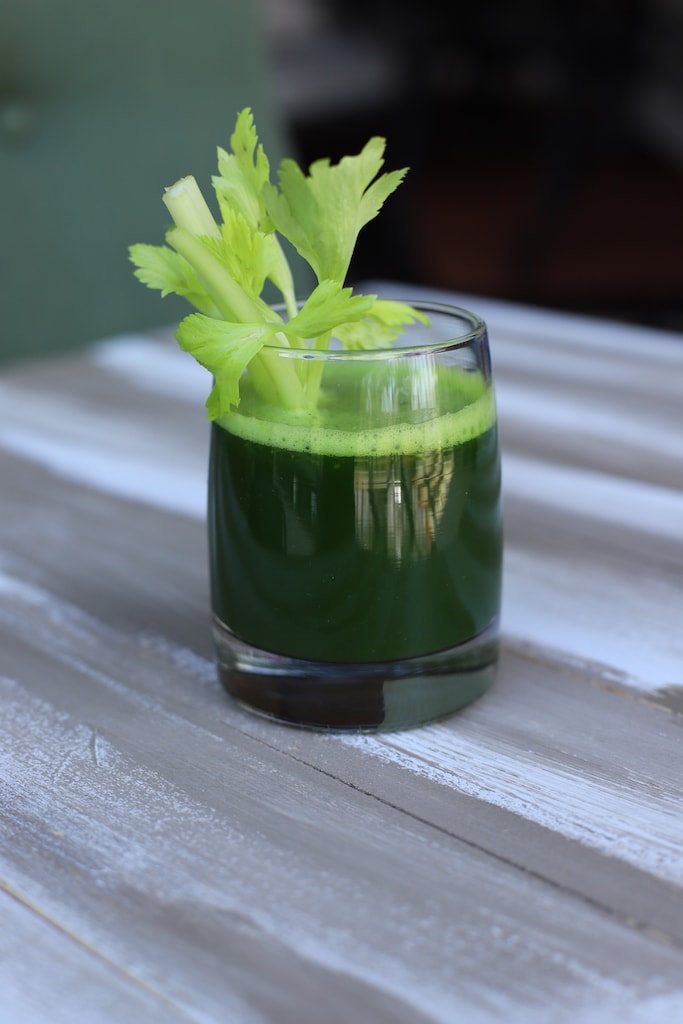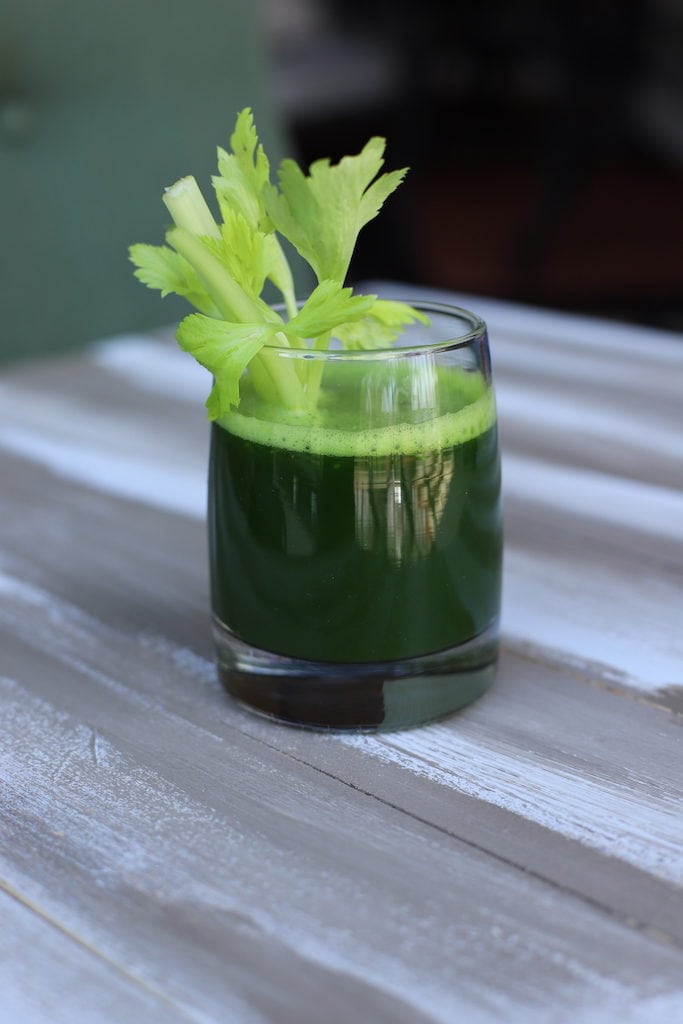 Do you have a juicer? There are SO many on the market, and some are definitely better than others.
Be sure to get one that's easy to clean and dishwasher safe. Let's face it, if it's a hassle to clean the juicer, you won't use it as often.
I like this Hamilton Beach Big Mouth model. It easily juices harder veggies like beets into a smooth delicious drink.
Ingredients
Kale
We love kale around here. It's a nutritional dynamo, and one of the easiest ways to get those powerful antioxidants like vitamin C, vitamin K, and vitamin A.
Besides improving your joint health, it's the best way to benefit your overall health with no side effects.
In addition, one cup of kale has just 33 calories, so if you're going for weight loss, too, kale is a great way to go!
Make eating kale one of your healthy habits. Try this kale and sweet potato bowl. It's delicious!
Cucumbers
Cucumbers seem to be on every veggie platter I've ever seen, but they are actually a fruit! Surprised?
People forget about the lowly cucumber when it comes to juicing, but they shouldn't. One cucumber has 45 calories and 2 grams of fiber.
In addition, cucumbers contain Vitamin C & K, Manganese, Magnesium, and Potassium.
They are also very good for hydration, so this anti-inflammatory juice recipe is perfect post-workout and an easy way to help relieve muscle soreness.
Celery
Celery is another one of those ingredients we find in chicken salad and potato salad, but never remember for juicing.
With at least 15 anti-oxidant nutrients in one stalk of celery, it's a nutritional powerhouse.
In fact, celery and celery seeds have somewhere in the neighborhood of 25 anti-inflammatory properties that help reduce inflammation!
Instructions
Wash and dry (or make it easy and spin) the veggies.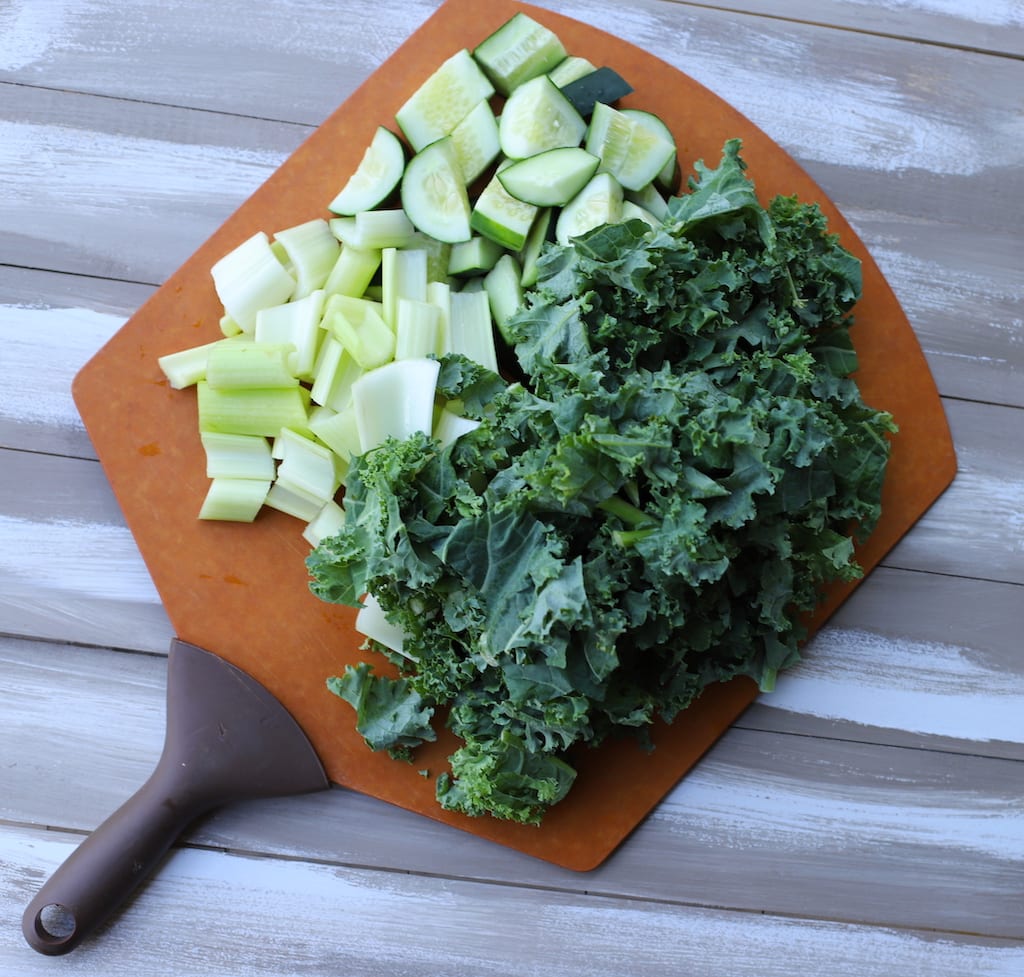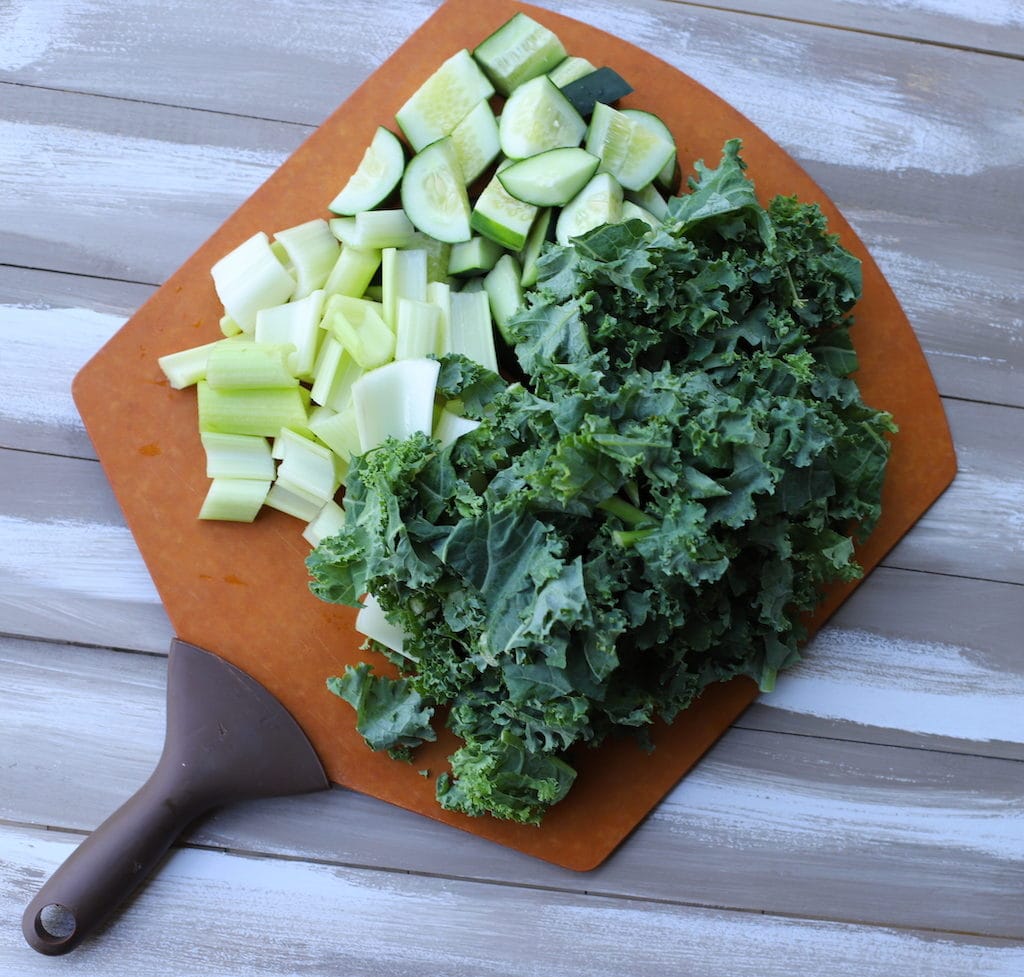 Juice the kale first. Follow with the celery and cucumbers. How easy is that?
Add a little black pepper and turmeric for flavor and to add even more anti-inflammatory benefits.
Cayenne pepper is also a great addition if you like spice, and it's known to help relieve joint pain.
Start your day with a glass of juice and store the rest in glass jars.
Ball brand usually sells great mason jars for storing the juice. You can even freeze this juice for up to two months.
Note: I always try to purchase organic when available, but I know not everyone has easy access to it. Non-organic is okay if organic isn't an option.
For an extra boost, add a scoop of powdered collagen. It doesn't change the flavor at all and supports joint flexibility. It's the perfect anti-aging supplement. I'll take all the anti-aging I can get!
What fruits might help with joint pain?
Whip up some tart cherry juice to get a boost of great anti-inflammatory enzymes. Berries contain antioxidants, helping to rid the body of free radicals which promote joint pain. Green apple also has anti-oxidant benefits. Avocado has a lot of anti-inflammatory monounsaturated fat.
Can juicing help with arthritis?
According to research, many fruits, vegetables, and spices (think ginger and turmeric) help with pain caused by arthritis.
Pin This Recipe for Later!
Looking for more healthy ideas? Check out these 21 delicious vegetable salad recipes.
Below is a printable version of the smoothie.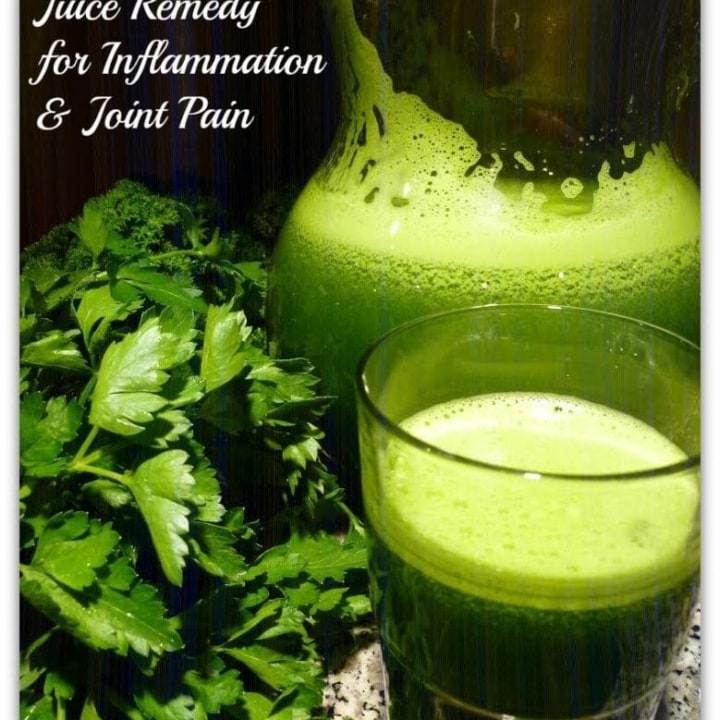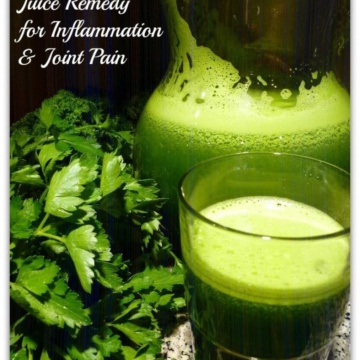 Easy Juice Remedy for Inflammation & Joint Pain ~ 3 Ingredients!
This 3- ingredient juice is the perfect remedy for anyone who has inflammation or joint pain. It's also a great afternoon pick-me-up. Drink a glass when first made and store the rest!
Print this Recipe
Pin this Recipe
Rate
Ingredients
4

bunches

Kale

3

Cucumbers

large

1

head

Celery
Instructions
Wash and spin the veggies.

Juice the kale first.

Follow with the celery and cucumbers.

Enjoy a 4 oz. glass now and store the rest in a glass jar.
Notes
Use organic when available.
Nutrition
Serving:
1
|
Calories:
92
kcal
|
Carbohydrates:
17
g
|
Protein:
7
g
|
Fat:
2
g
|
Saturated Fat:
1
g
|
Polyunsaturated Fat:
1
g
|
Monounsaturated Fat:
1
g
|
Sodium:
62
mg
|
Potassium:
970
mg
|
Fiber:
2
g
|
Sugar:
3
g
|
Vitamin A:
13194
IU
|
Vitamin C:
164
mg
|
Calcium:
231
mg
|
Iron:
2
mg