This banana nut healthy oatmeal breakfast recipe is one of my latest favorites.
You would think breakfast would be one of the easiest meals of the day, but my breakfast recipes are some of the most popular on this site, especially these creative oatmeal recipes!
Try this amazing Banana Bread or one of these Daniel Fast breakfast recipes, all vegan with no added sugar, and all delicious. I have plenty of Daniel Fast recipes for the rest of the day, too.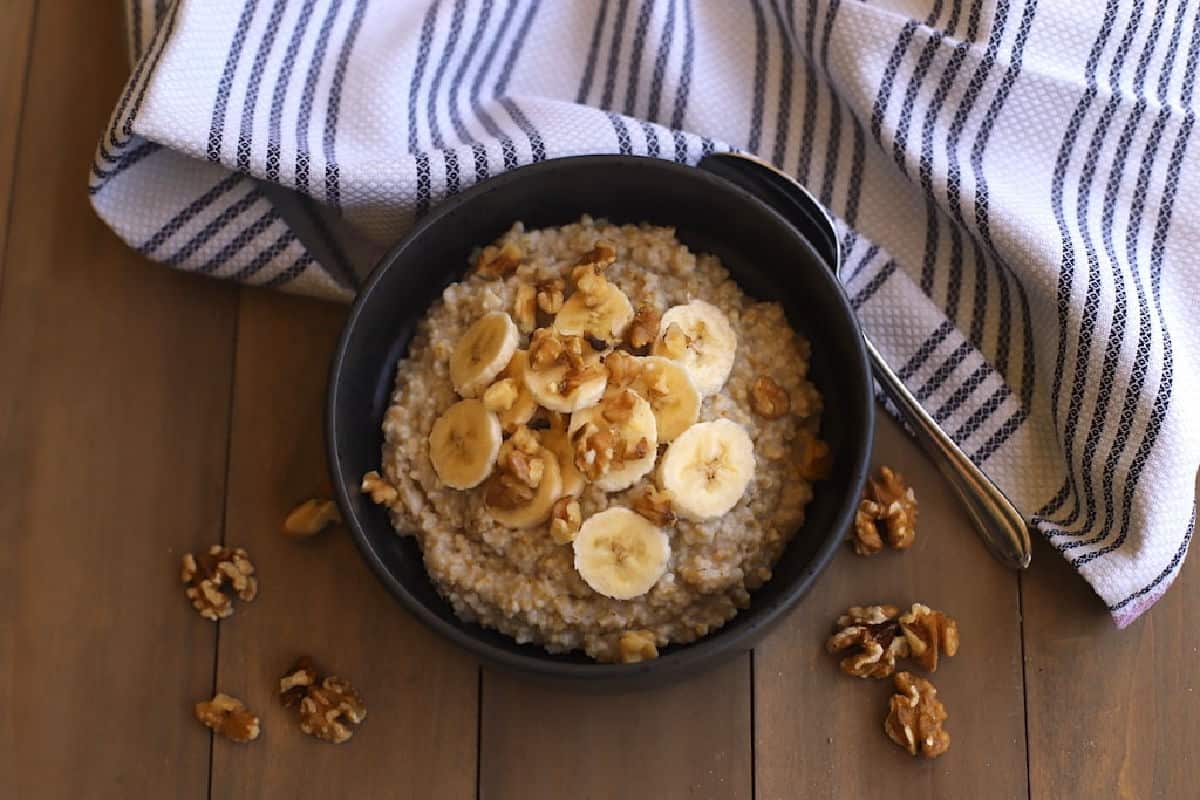 We all know oatmeal is a healthy way to break your fast, but what kind of oatmeal are you eating? I shudder to think back to when my kids were young and we began the day with instant sugary oatmeal. What was I thinking?
Is All Oatmeal Healthy?
This healthy oatmeal breakfast recipe combines bananas, oats, almonds, and walnuts, which are some of the top heart-healthy foods.
Let's be honest; that instant oatmeal is no better than the sugary cereals that line the aisles of your grocery store. In fact, the biggest difference, nutritionally, between instant oatmeal or quick oats and old-fashioned rolled oats is sugar.
One serving of those flavored packages of instant oatmeal has about 12 grams of sugar! Life cereal has 6 grams of sugar. Rolled old-fashioned oats and steel-cut oats both have one gram of sugar and there are other health benefits.
Eating oatmeal is an easy way to start the day with a boost of soluble fiber, and you can make this healthy breakfast recipe even on busy mornings.
Ingredients for this Oatmeal Recipe
Steel Cut Oats
Steel-cut oats retain the most nutrition out of all the oat varieties. They take a little longer to prepare but have much better flavor. And oatmeal is gluten-free, so it's a great way to start the day for just about everyone. Steel-cut is my favorite type of oats for oatmeal.
Almond Butter
Almond butter is so delicious and adds extra protein and healthy fats to your breakfast with no added sugar. If you are cutting out sugar for the Daniel Fast, weight loss, or any other reason, be sure to read labels!
Even Barney almond butter has varieties with added sugar. You've got to read those labels. You can also use peanut butter, but it's not quite as healthy.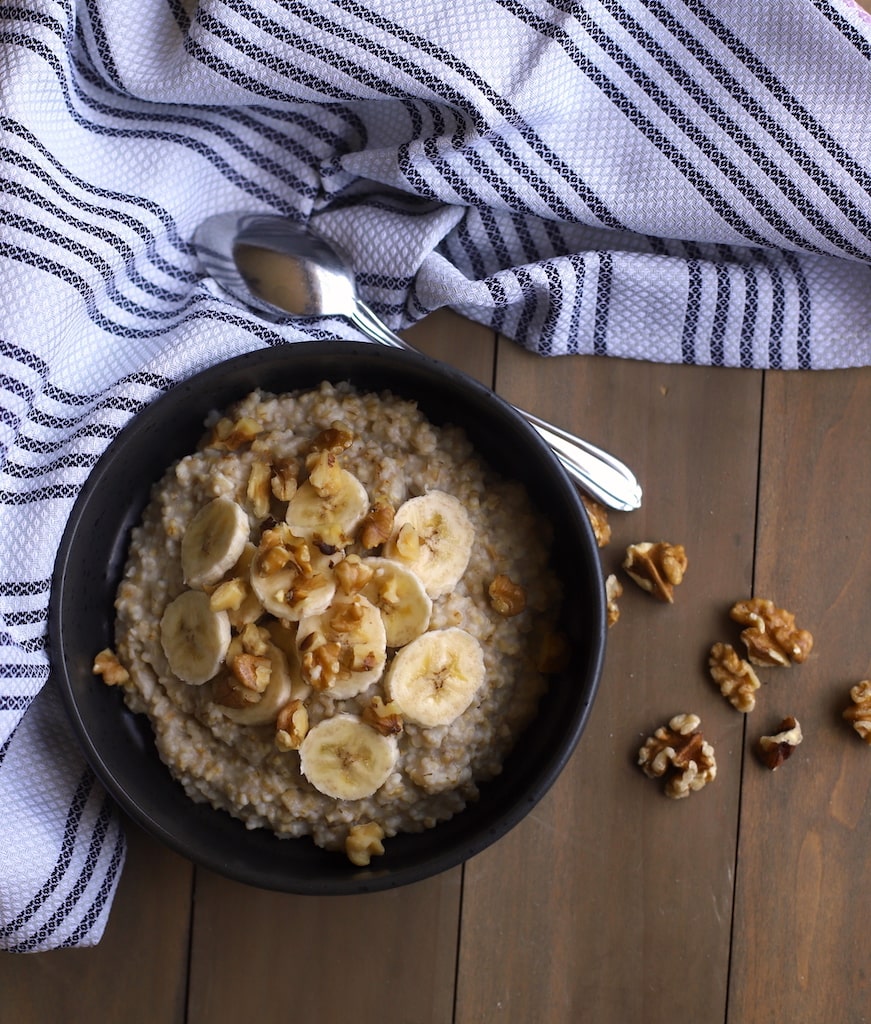 Fresh Banana
Bananas have been proven to be super healthy, with fiber, Vitamin B6, C, Magnesium, and so much more.
Walnuts
Humble walnuts are the only nut with a substantial source of alpha-linolenic acid. Adding walnuts to your breakfast, salads, or as a snack is a great way to improve your diet.
You can make one serving of this healthy oatmeal breakfast recipe at a time, or make a couple of servings as it refrigerates well.
I usually make enough for my family, but if it was just me, I'd totally make a few servings and save it for another day.
Instructions
Gather the simple ingredients. Scroll down for the full recipe.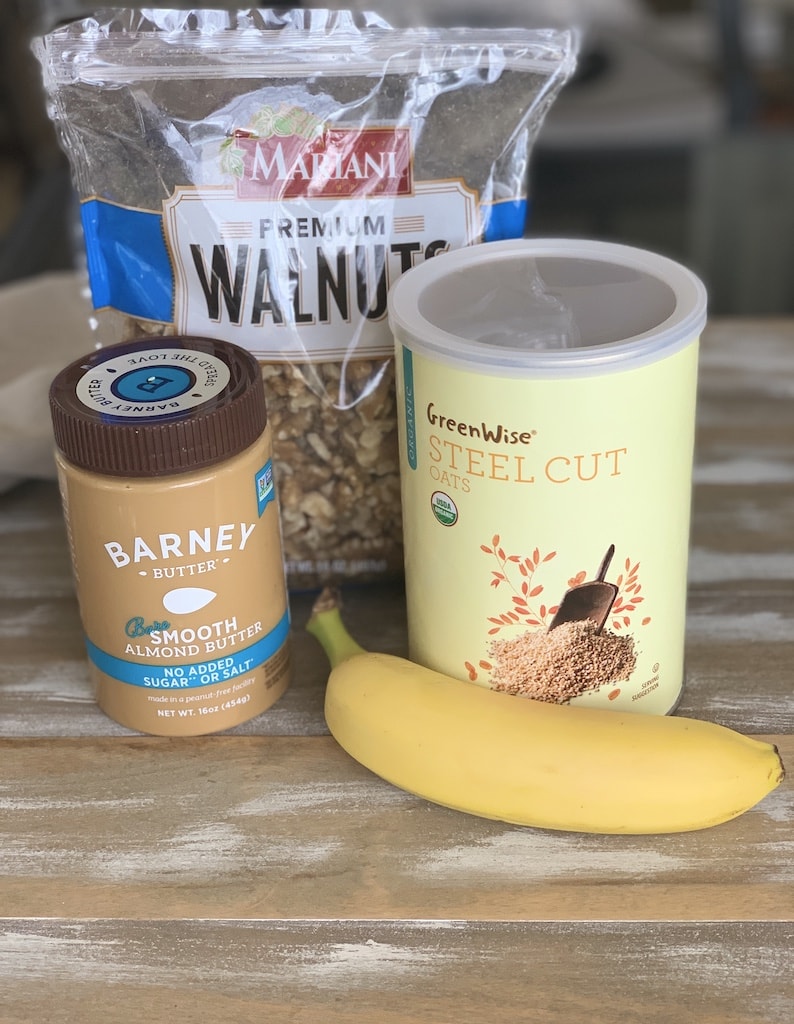 Prepare the steel-cut oats on the stovetop in a small saucepan according to the directions on the box.
It's usually 3 cups water to one cup of oats and about 25 minutes total time. Add a pinch of salt if you'd like.
Stir in the almond butter while oats are still warm. I used the Barney brand this time, but you can use any brand as long as it does not contain sugar.
Add walnut pieces and banana slices for the perfect healthy oatmeal breakfast recipe.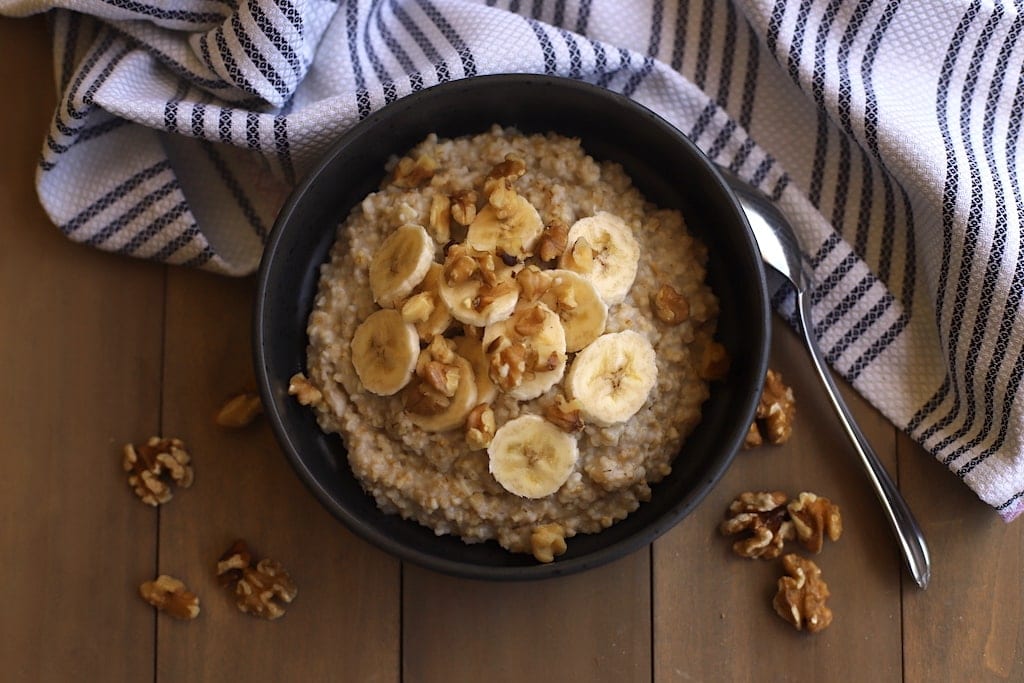 How do you make oatmeal taste good?
There are so many different ways you can add to make oatmeal taste delicious. You can add just about any kind of fresh fruit to this recipe. Believe it or not, mango is wonderful in oatmeal! Raspberries, blueberries, and strawberries are all great choices. I also like to add almonds or other nuts. For an extra boost of nutrition, try adding chia seeds or flax seeds.
Can I eat oatmeal every day?
I have eaten oatmeal every day for months at a time because it's such an easy breakfast! It's full of fiber and has been known to reduce cholesterol and blood sugar.
Can I add milk to this oatmeal?
You can add milk, but to keep it extra healthy, try a non-dairy milk like coconut milk in the refrigerated section of your grocery store. (Not the canned variety!) It's got more calcium and fewer calories than regular milk, tastes so good, and makes perfect oatmeal. You could also try oat milk.
Can I make this the day before?
You can absolutely make this easy recipe the day before. Or make a big batch and eat the leftover oatmeal for a few days. The next morning, just reheat the oatmeal with a little water. My favorite way is to add a little coconut milk to the pan.
For another of my favorite healthy and delicious oatmeal recipes, try this tropical coconut oatmeal porridge. The combination of pineapple and coconut flakes is heavenly!
If you're looking for more healthy breakfast ideas besides oatmeal, one of my favorites is this Almond Milk Smoothie.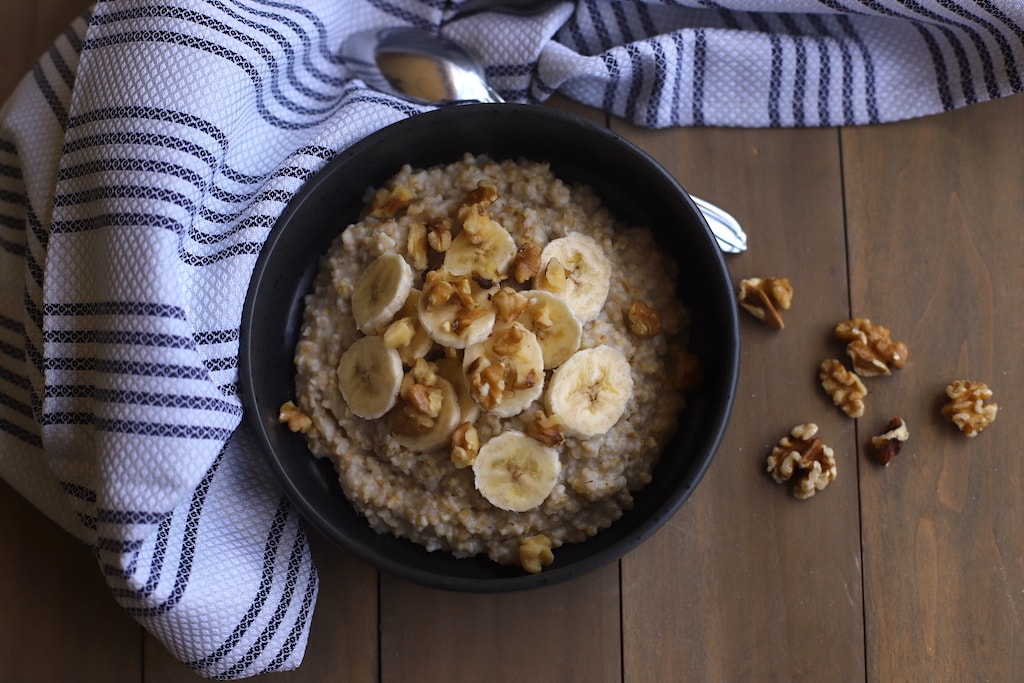 I also have Daniel Fast lunch and dinner recipes. For those of you following the Weight Watchers plan, you'll find a lot of choices in this roundup of Weight Watchers breakfast recipes.
In fact, steel-cut oats make a great breakfast when you're on Weight Watchers. This recipe is about 5 SmartPoints.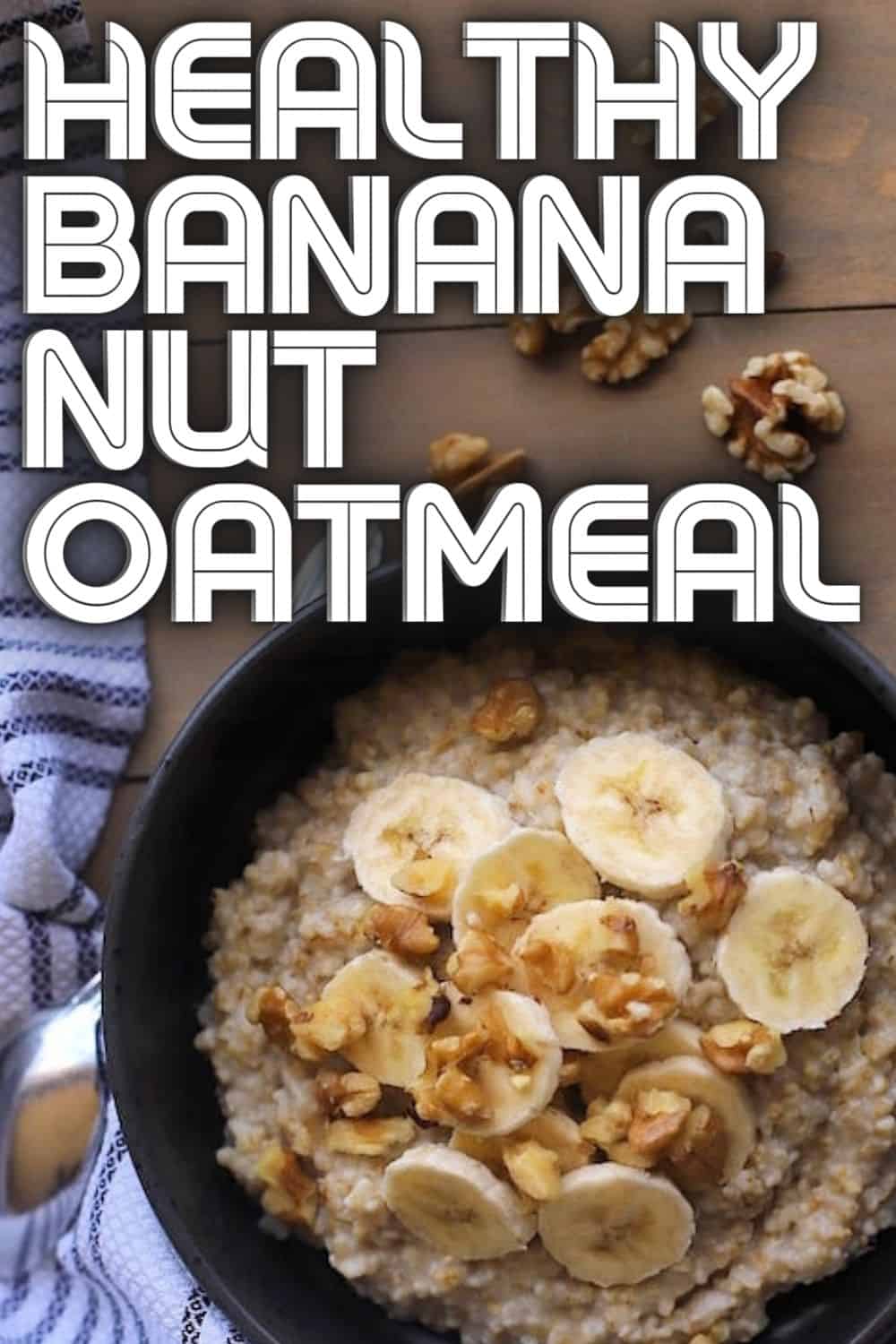 Recipe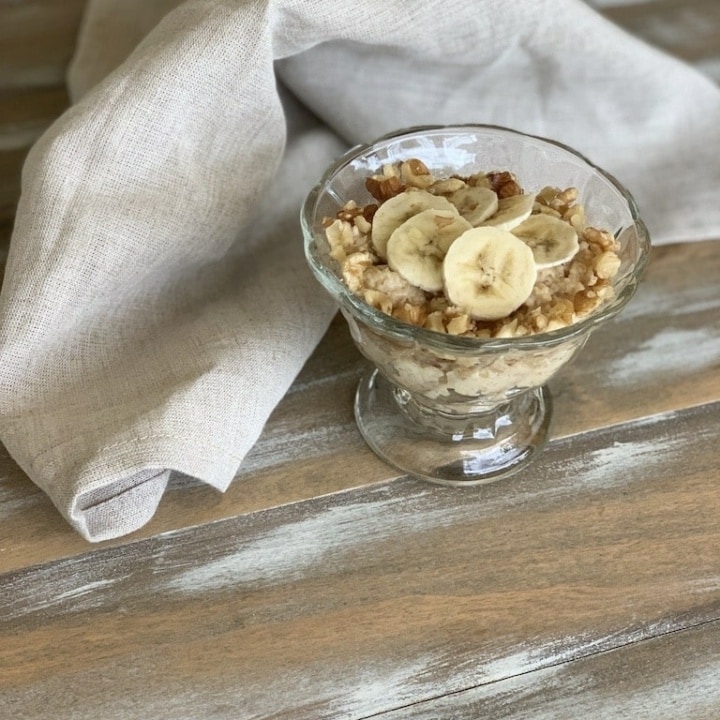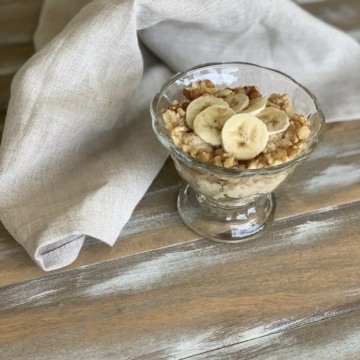 Ingredients
¼

C

oats

steel-cut

2

teaspoon

almond butter

no sugar added

½

banana

1 ½

tablespoon

walnuts
Instructions
Stir in the almond butter while oats are still warm. I use Justin's, but you can use any brand as long as it does not contain sugar.

Top with walnut pieces and sliced bananas.
Nutrition
Calories:
289
kcal
|
Carbohydrates:
31
g
|
Protein:
8
g
|
Fat:
17
g
|
Saturated Fat:
2
g
|
Sodium:
3
mg
|
Potassium:
425
mg
|
Fiber:
6
g
|
Sugar:
8
g
|
Vitamin C:
5
mg
|
Calcium:
60
mg
|
Iron:
2
mg