Who else loves fruit pancakes? We've been on a pancake kick ever since I got this hotcakes recipe from Solmar Resorts in Cabo. I had them while I was visiting the resort with Travelocity and we all raved about them!
Pancakes always make a delicious breakfast, and I'm surprised at how often people buy them instead of making them from scratch. There is not a recipe on this list of fruit pancakes that is difficult to make.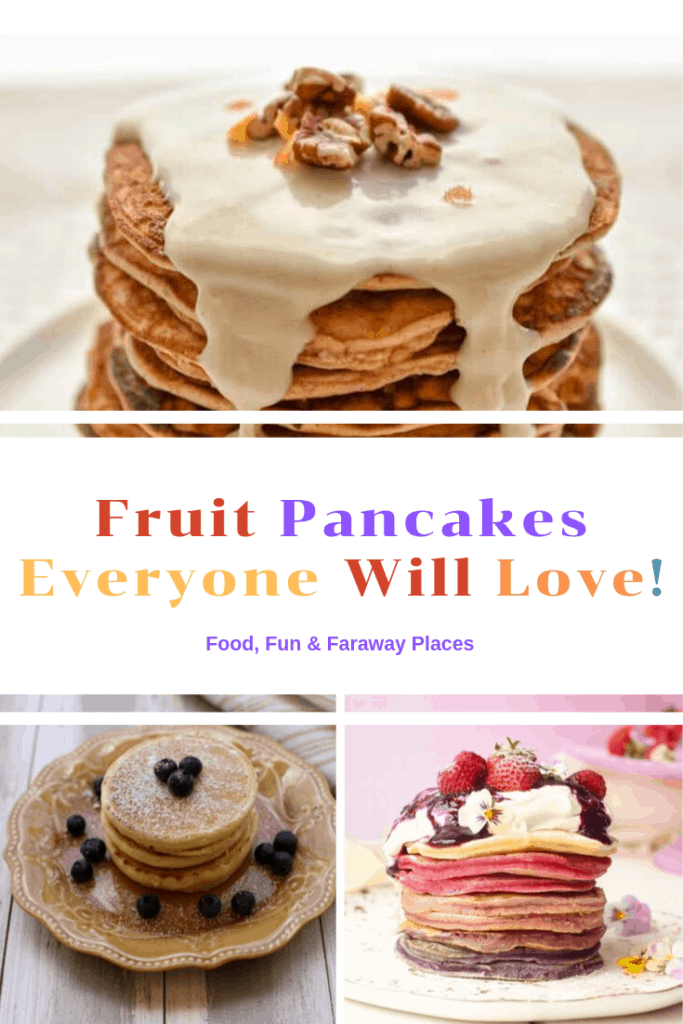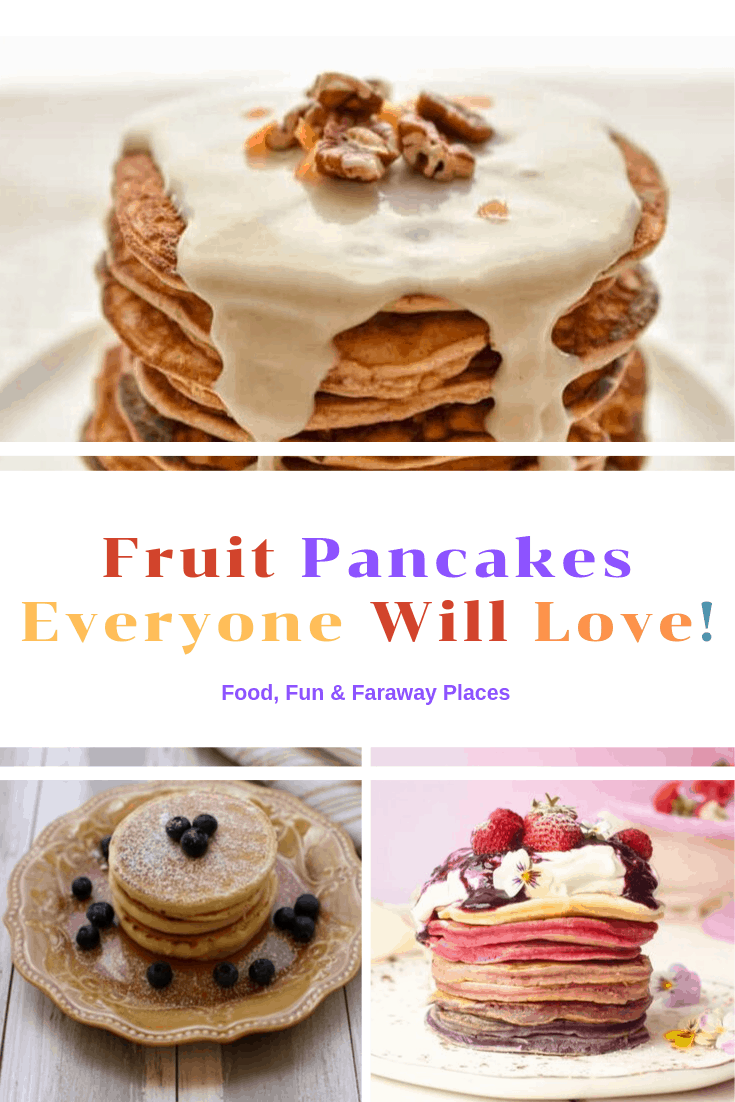 The best thing about fruit pancakes is that they are so versatile. You can add whatever you want, and they will still turn out delicious! Run all your favorite fruits through your mind for a minute. Bananas? Yes! Blueberries? Of course! Peaches? Yum!
Delicious Fruit Pancakes Recipes
I challenge you to try all these recipes and find your favorite! It might even be fun to make a few and have a special Sunday morning pancake party. I like the sound of that! Let me know your favorite fruit pancakes recipe!
Hotcakes Recipe from Cabo Mexico | Food, Fun & Faraway Places
I was in Mexico earlier this year and stayed at the fabulous Solmar Resorts where the food is absolutely wonderful. Chef Hector Lucas created these pancakes, but don't worry, this recipe is easy peasy!
They were served with strawberries, blackberries, and walnuts, but you can use any type of berries, bananas, peaches, or your favorite fruit.
The extra deliciousness comes from the sauce they were served with. I just got that recipe so it's coming soon! If you're looking for exceptional Cabo San Lucas dining, this is the place! Check out their all-inclusive options!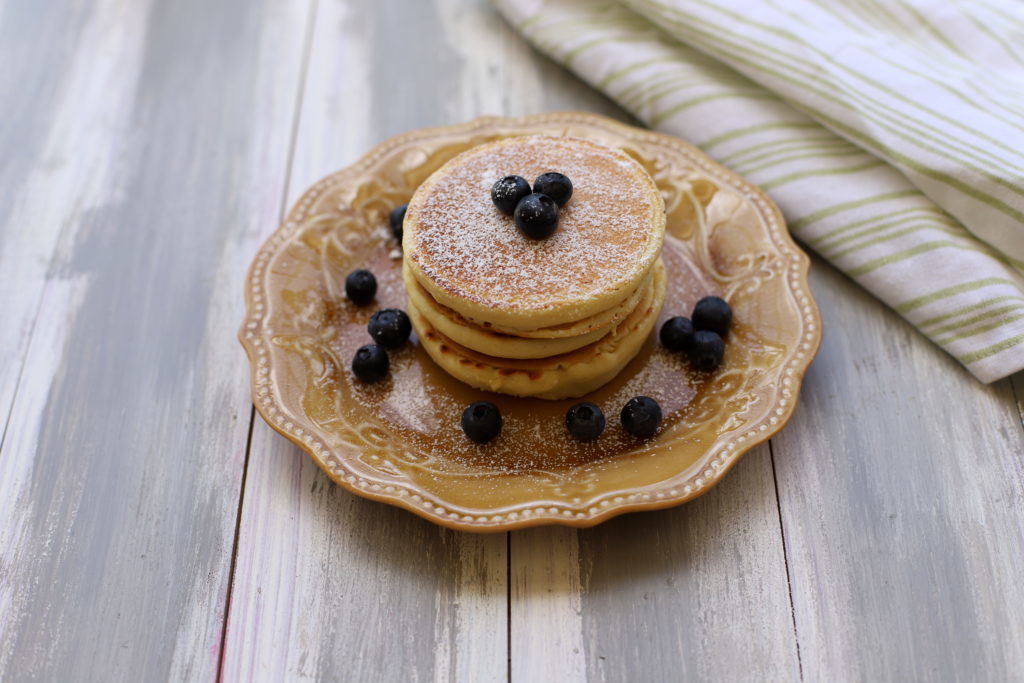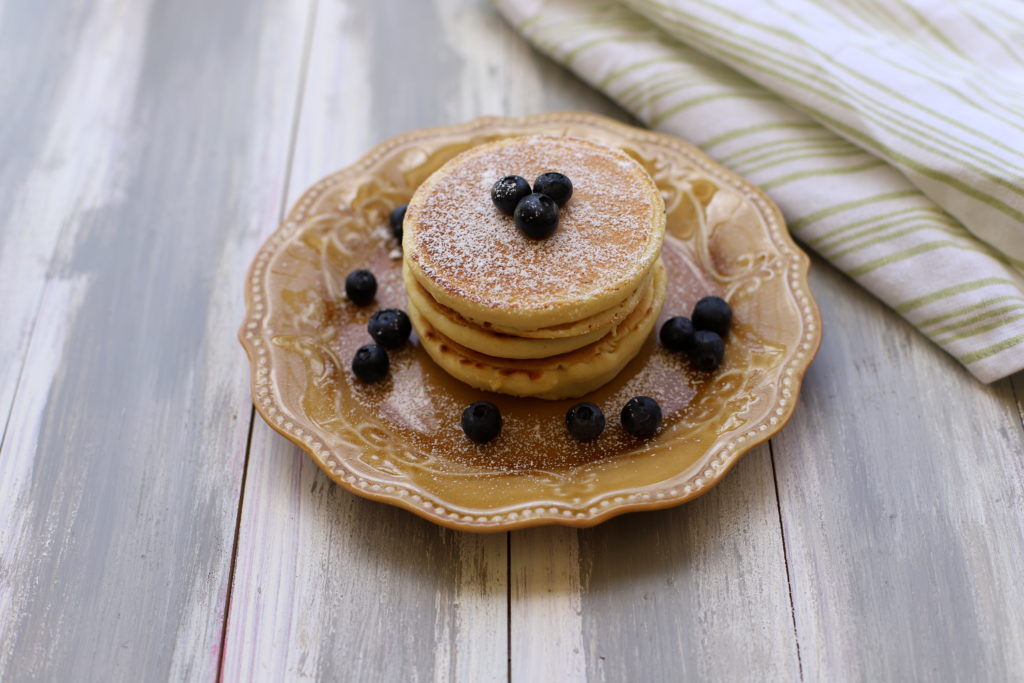 Ombre Berry Pancakes | Amy Treasure
The word beautiful might not typically come to mind when you're thinking of pancakes, but that's the best word to describe this masterpiece! They're delicious, too, so whip some of this weekend and surprise your family or friends!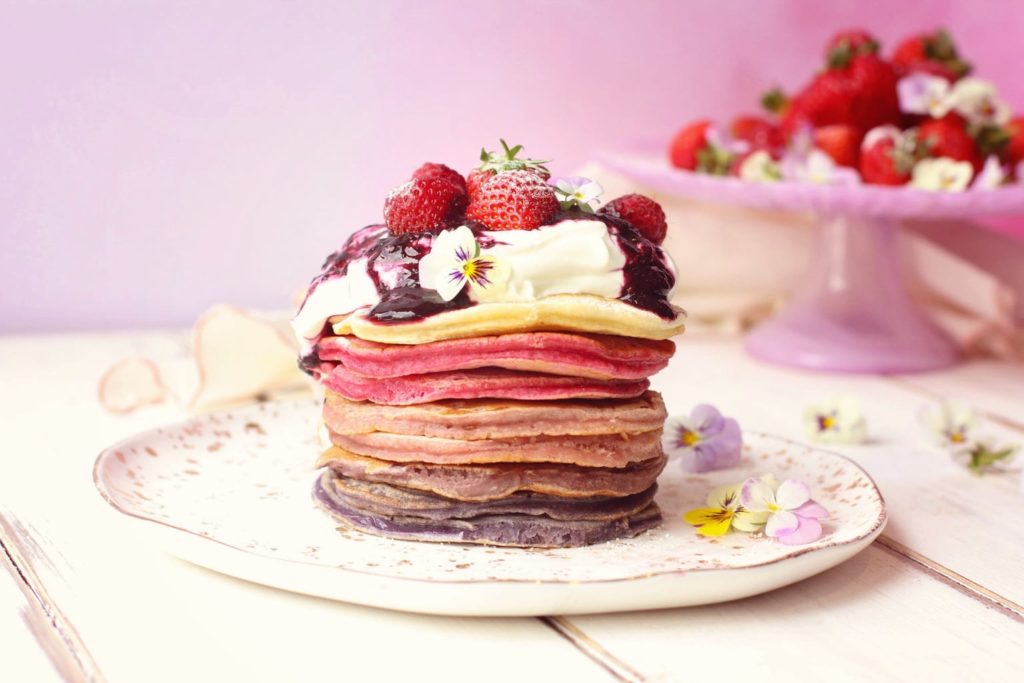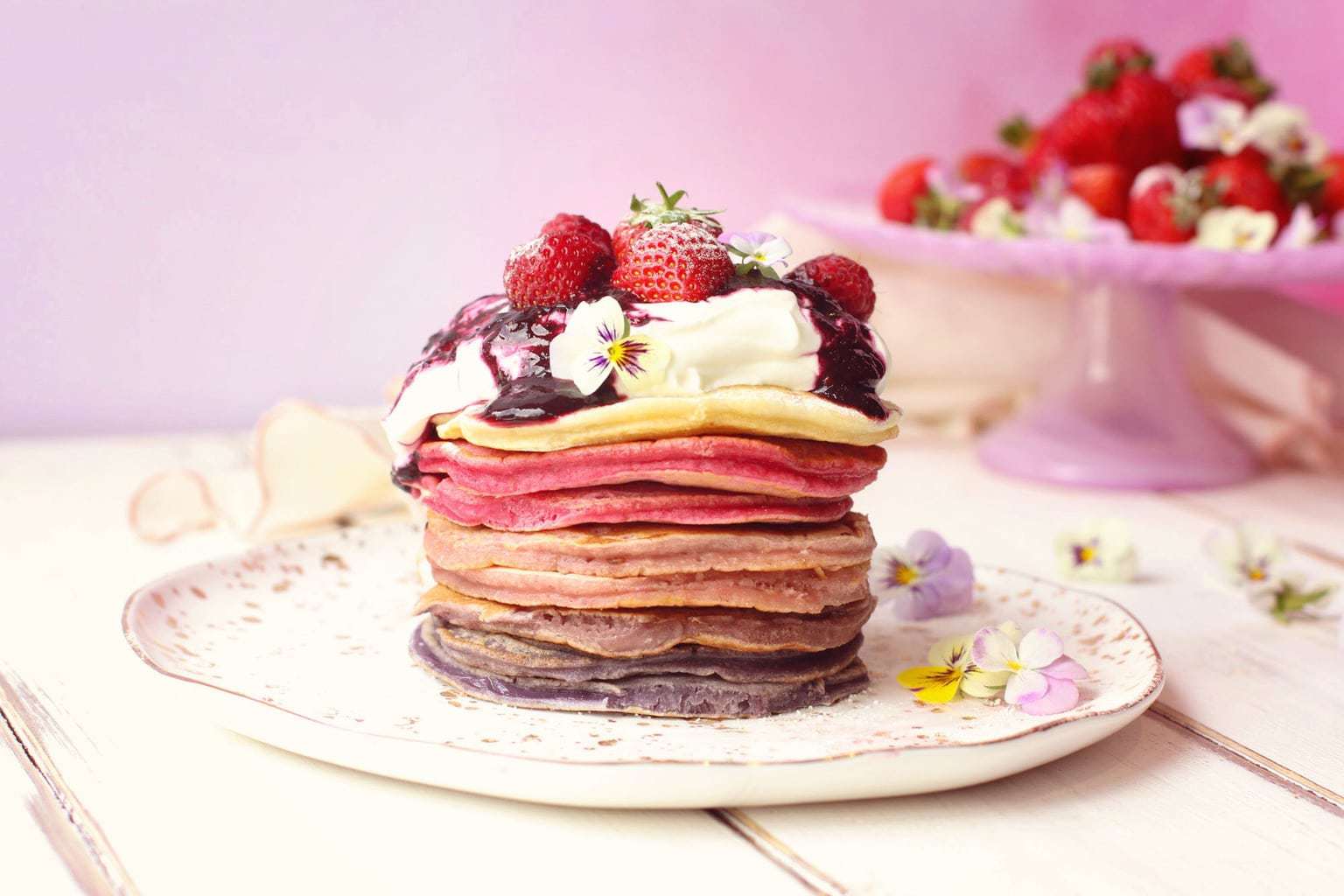 Persimmon Pancakes | Attainable Sustainable
We always thought persimmons were a strange fruit, but they are really delicious and perfect in these pancakes! Who knew?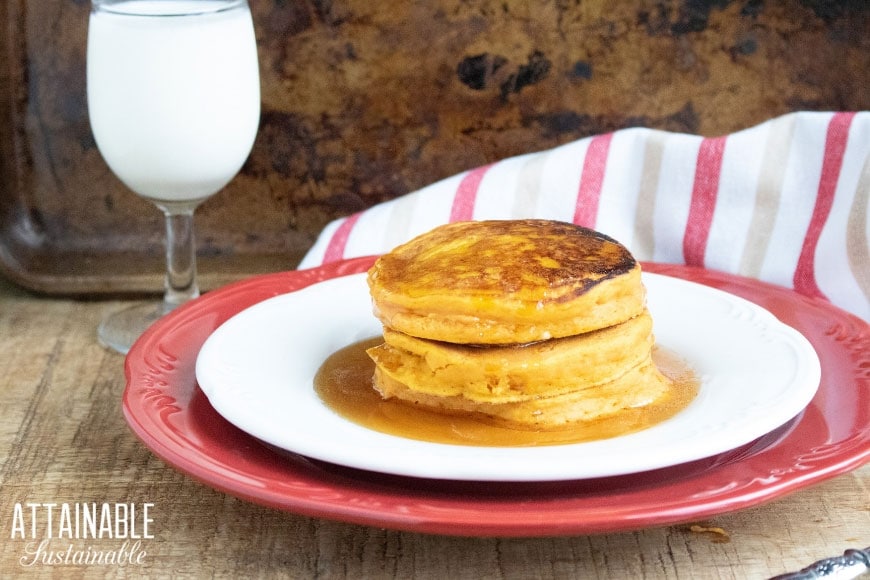 Pancake Muffins | Know Your Produce
True confession time. The few years my kids went to an actual building for school (we homeschooled) I felt the mornings were always rushed. There were days when they ate pancakes in the car on the way to school!
Please tell me I'm not alone here! These fruit pancake muffins would have been so much easier to eat in the car. Why didn't I ever think of that?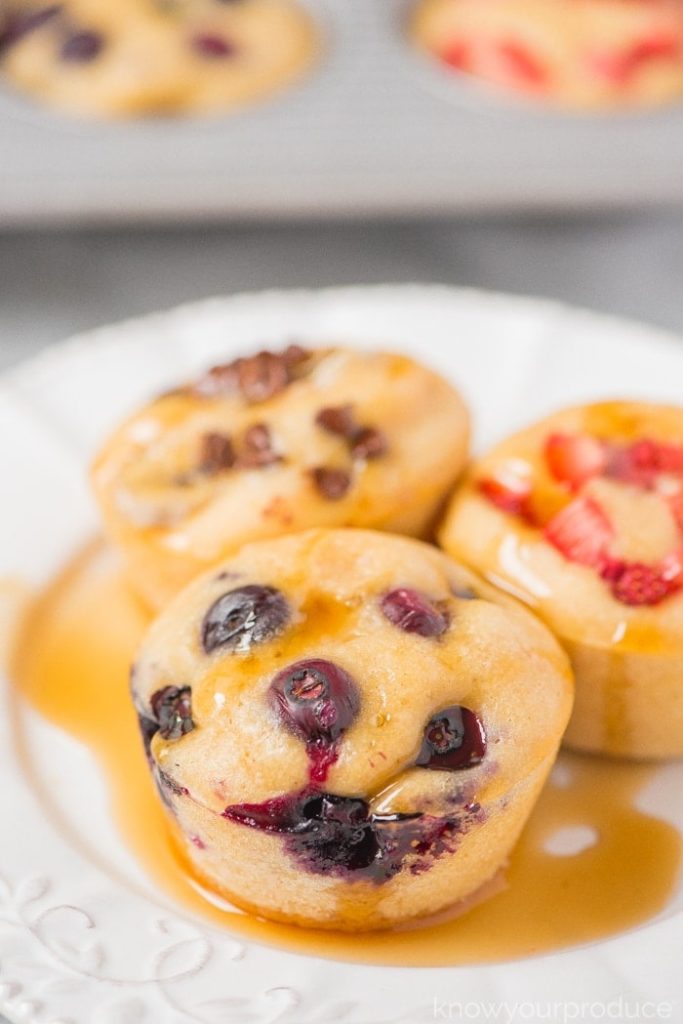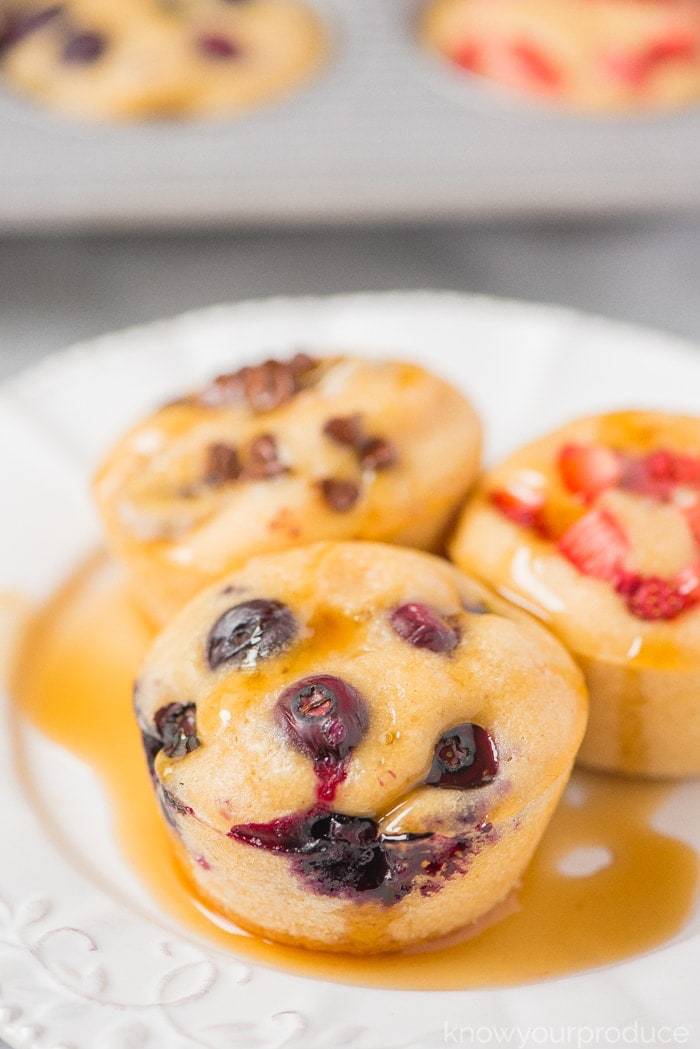 Strawberry Sour Cream Pancakes |How to Love Cooking
Don't these look yummy? Cathy from How to Love Cooking brings up a great point about the benefits of making your own pancakes instead of using a boxed mix.
There are so many preservatives in a lot of those mixes, and this way, you know what you're getting. Cathy even shares how to make your own flour, and it's really easy!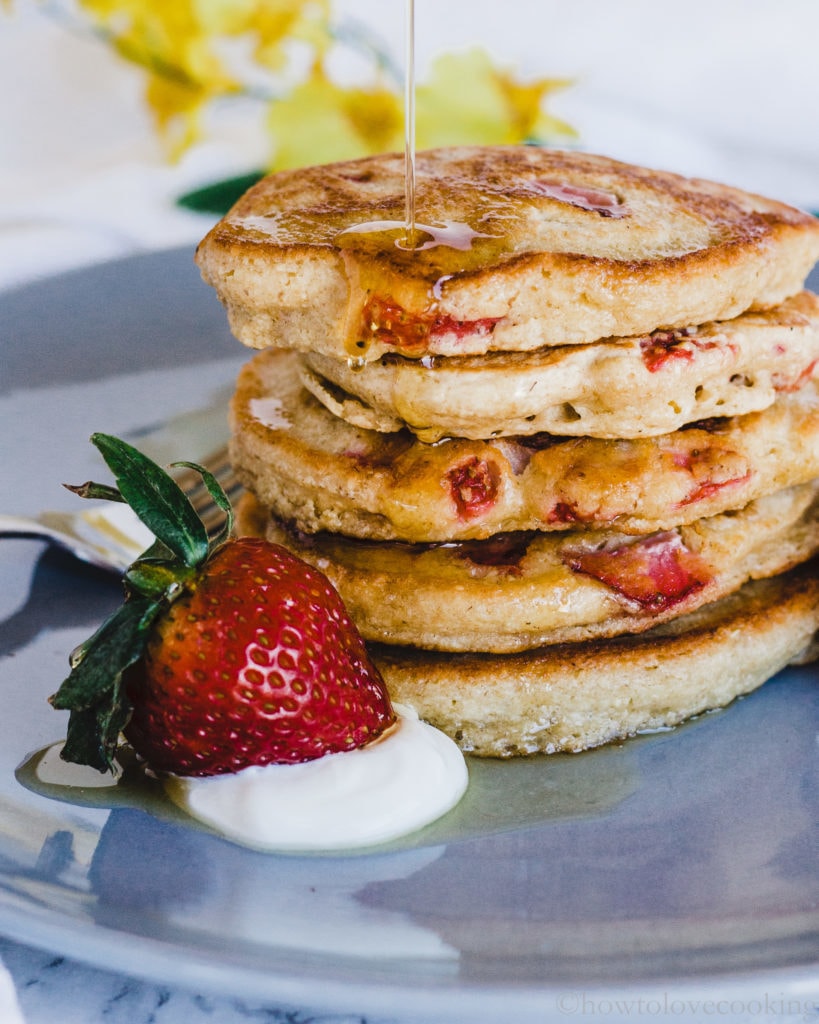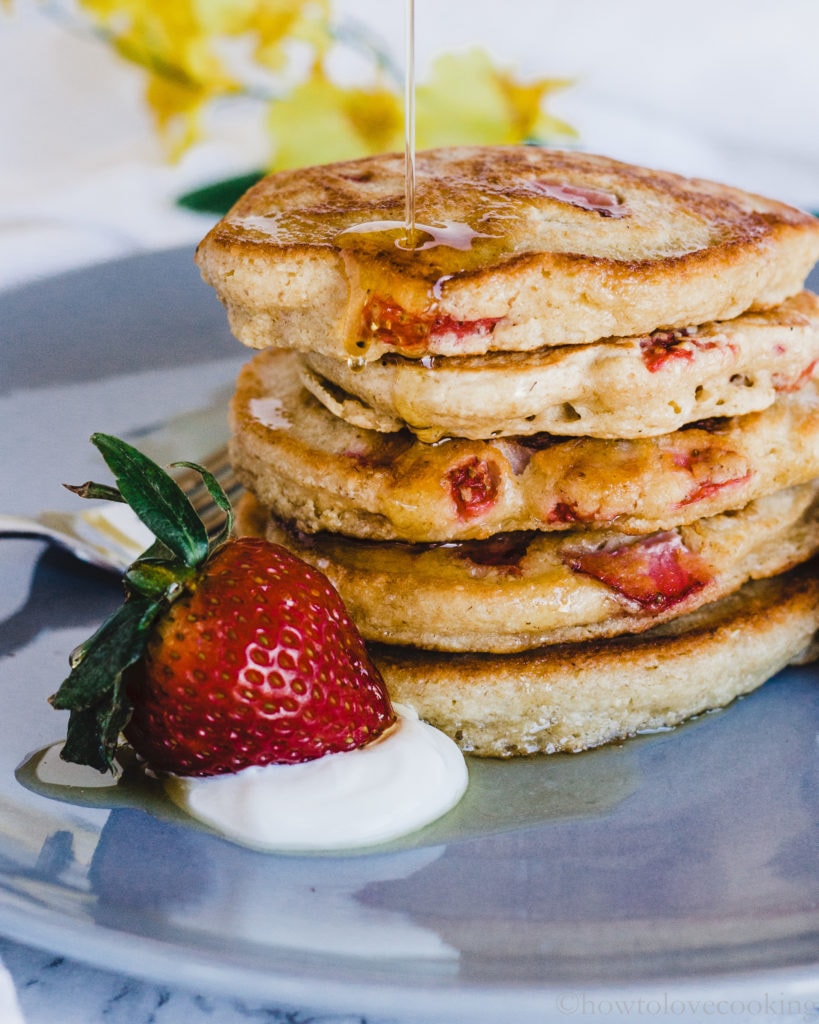 Lemon Ricotta Pancakes | Kylee Cooks
Lemon and ricotta pair so well. These have an almost delicate flavor, but the ricotta gives this breakfast a protein boost. Your whole family will love these!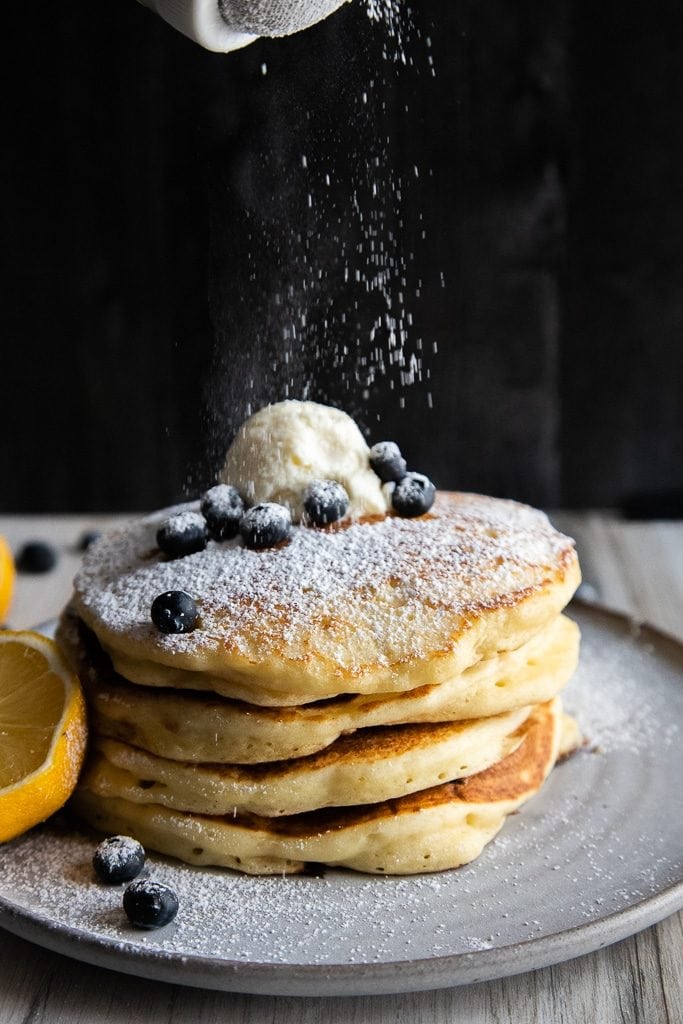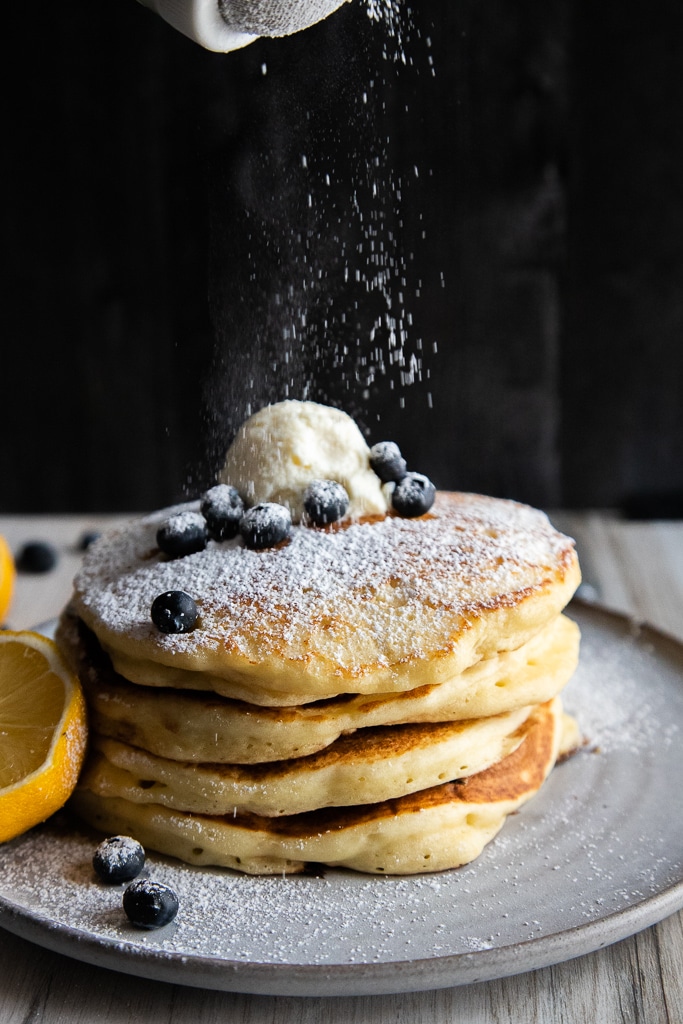 Ombre Blueberry Pancakes | Venture 1105
Here's another recipe for multi-colored fruit pancakes. This one reminds me of decorating Easter eggs with all the pretty colors. These would be fun for a special occasion!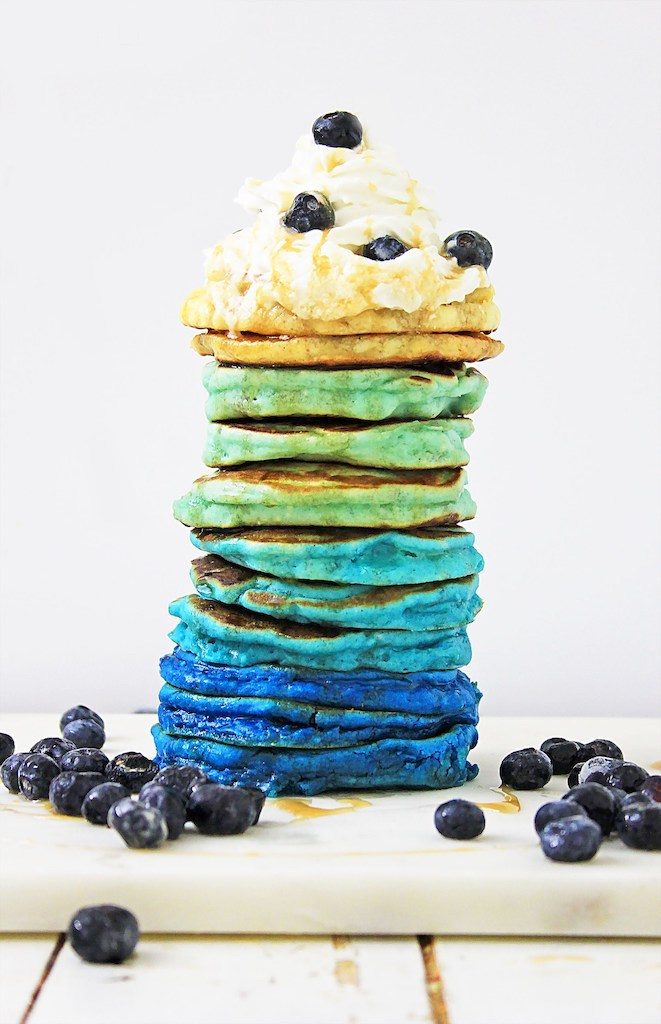 Soaked Blueberry Yogurt Pancakes | Healthy Christian Home
You may have looked at this and wondered - what in the world is a soaked blueberry? I did, too, but it's not the blueberries that are soaked, but the flour.
Soaking the flour makes it easier on the gut for those who have digestion issues. I learned a lot about why and how to soak flour from this post, and I'm betting it will help a lot of people who thought they could no longer enjoy pancakes!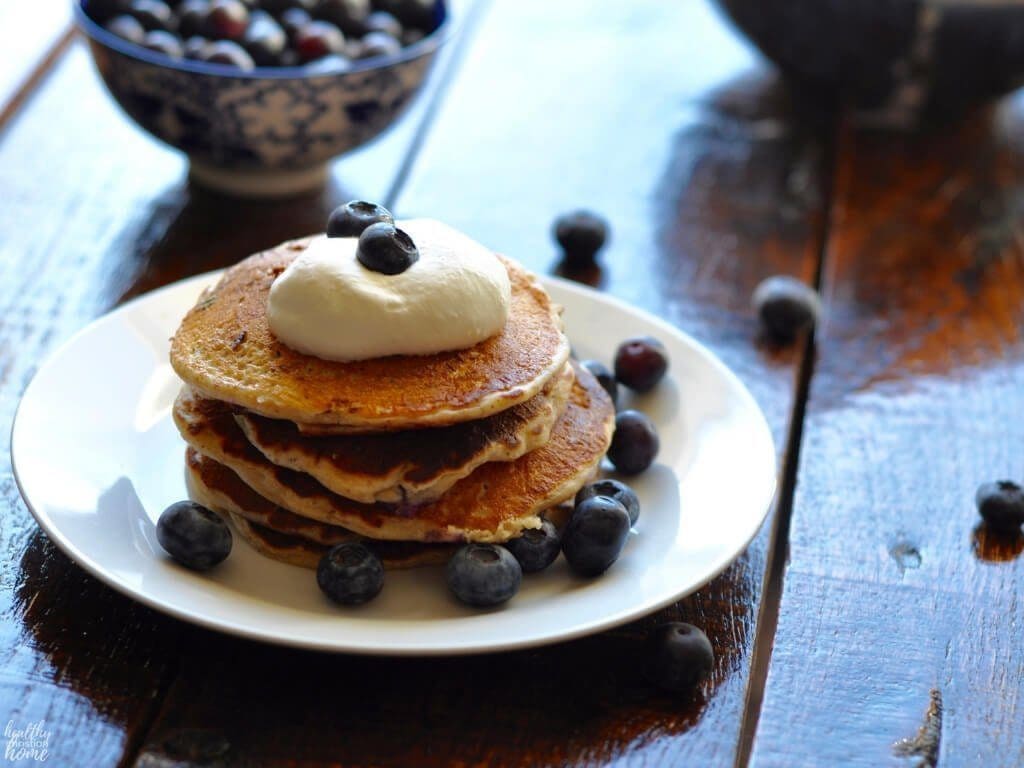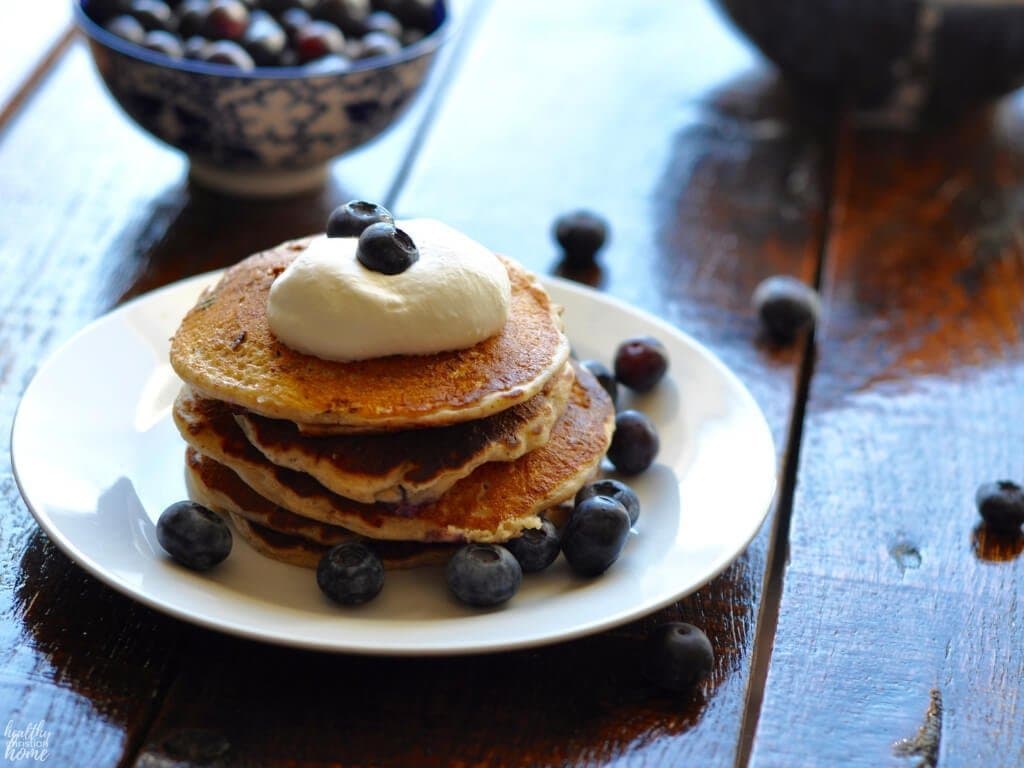 Fluffy Pumpkin Pancakes | Super Safeway
I got hungry just looking at these pumpkin pancakes with those toasted pecans on top! Don't they look yummy? Pecans are good for you, too, so pile them on!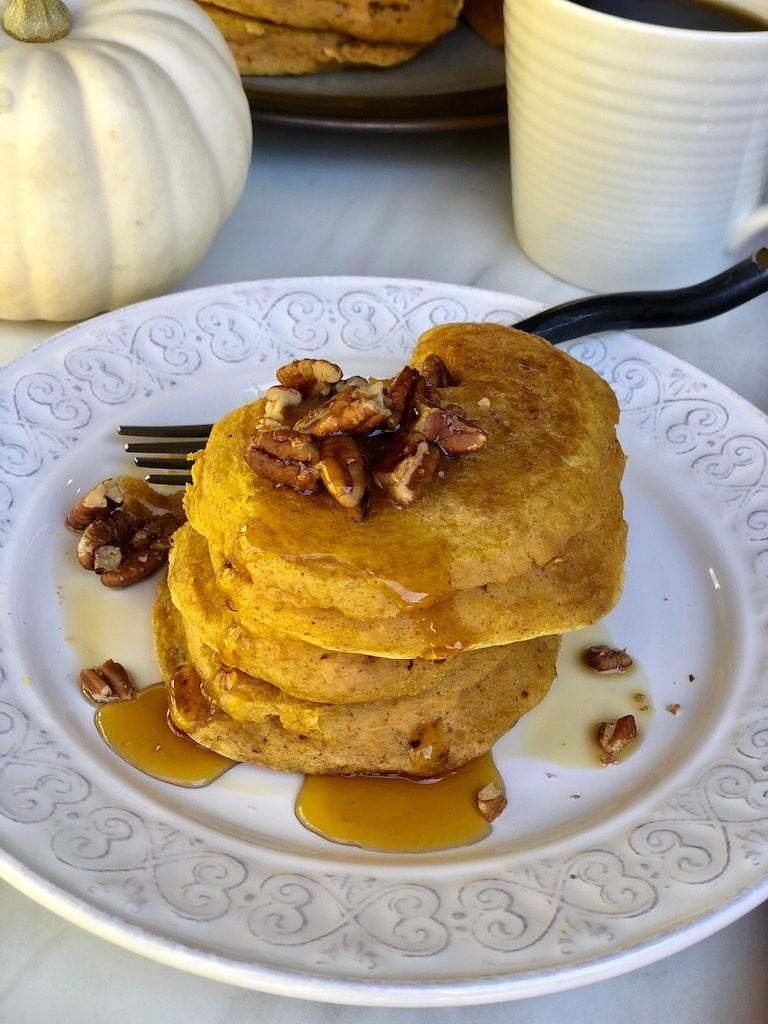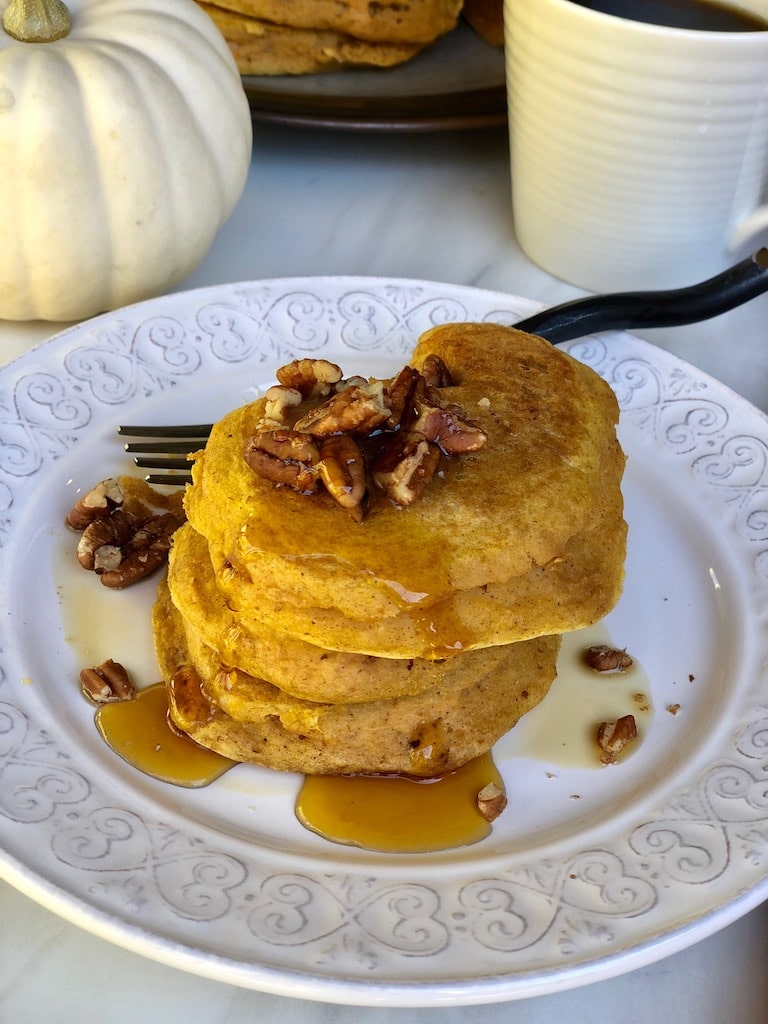 Pumpkin Pancake Bites with Chocolate Chips | Mom Foodie
The first time I saw a recipe combining pumpkin and chocolate, I thought it would be a weird combination. That is until I made these pumpkin cookies!
These two go together like peas and carrots, but let's not put peas in pancakes. That would be weird! I do think you'll love these fruit pancake bites!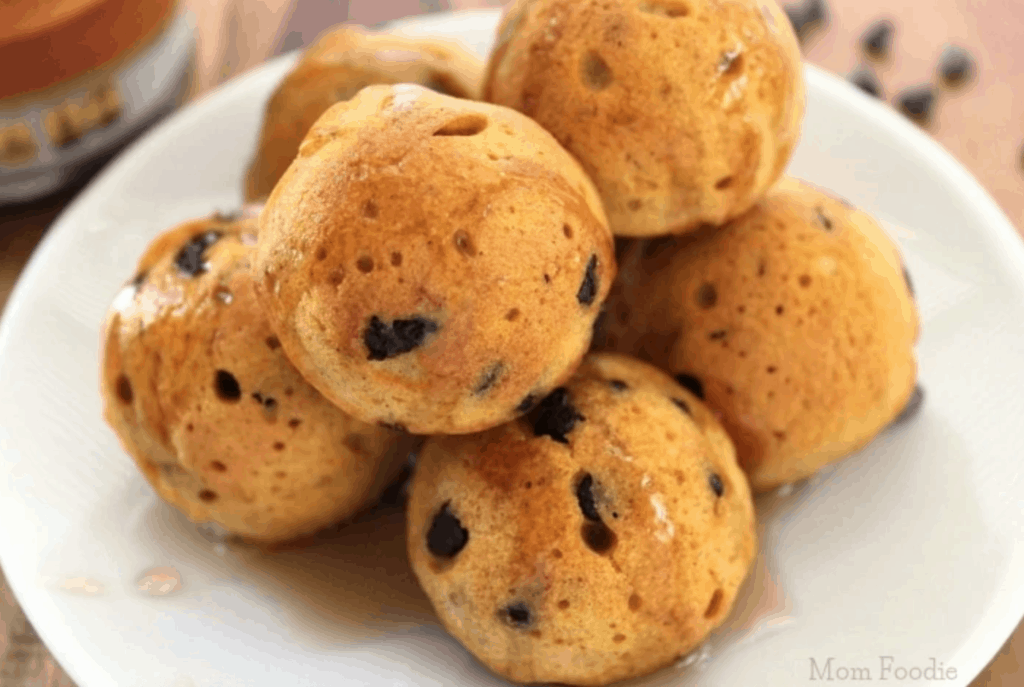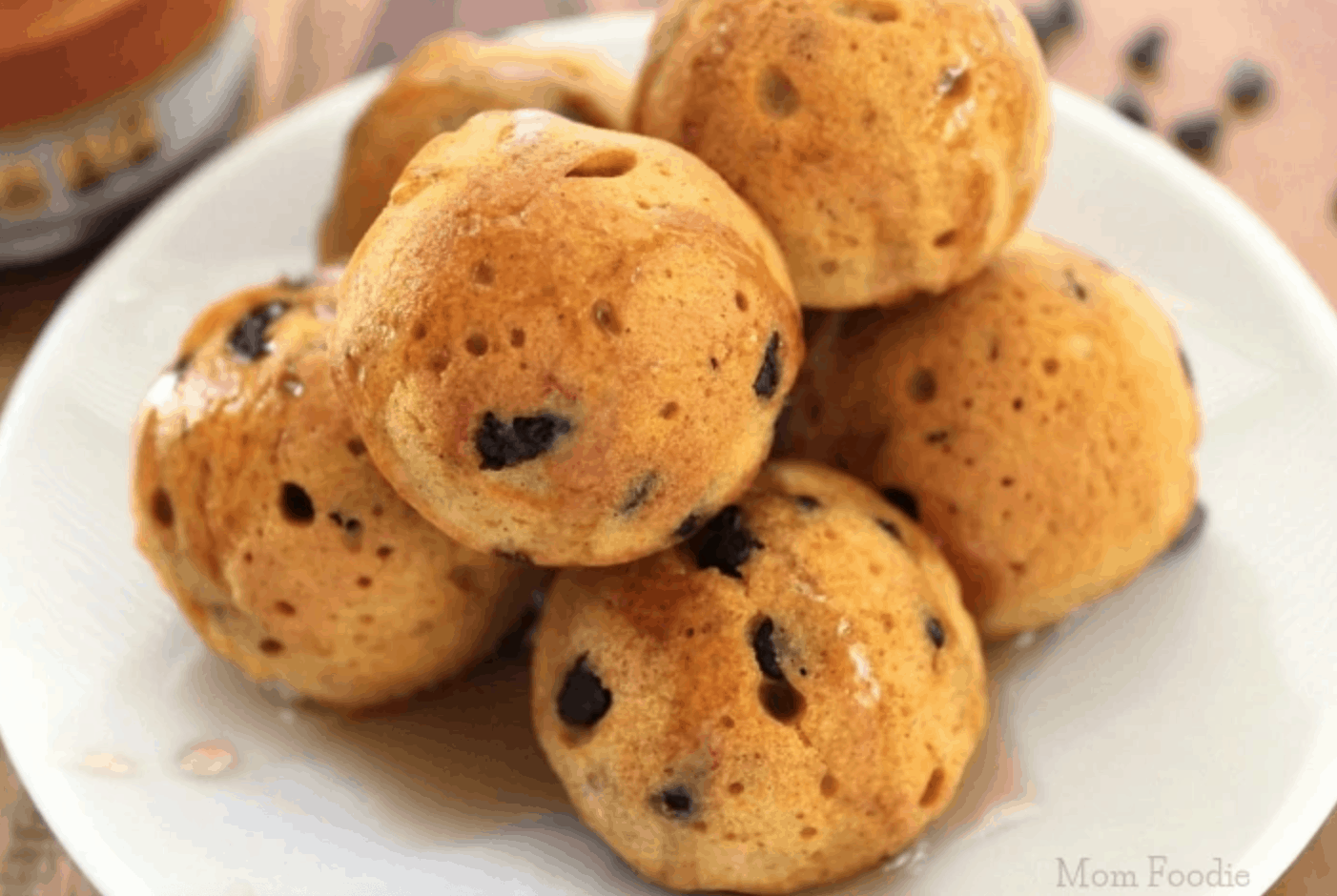 Banana Walnut Pancakes | Love & Good Stuff
Another great pairing is bananas and walnuts. Don't they just seem to be made for each other? These are so good and stuffed with bananas and walnuts inside, not just as the topping.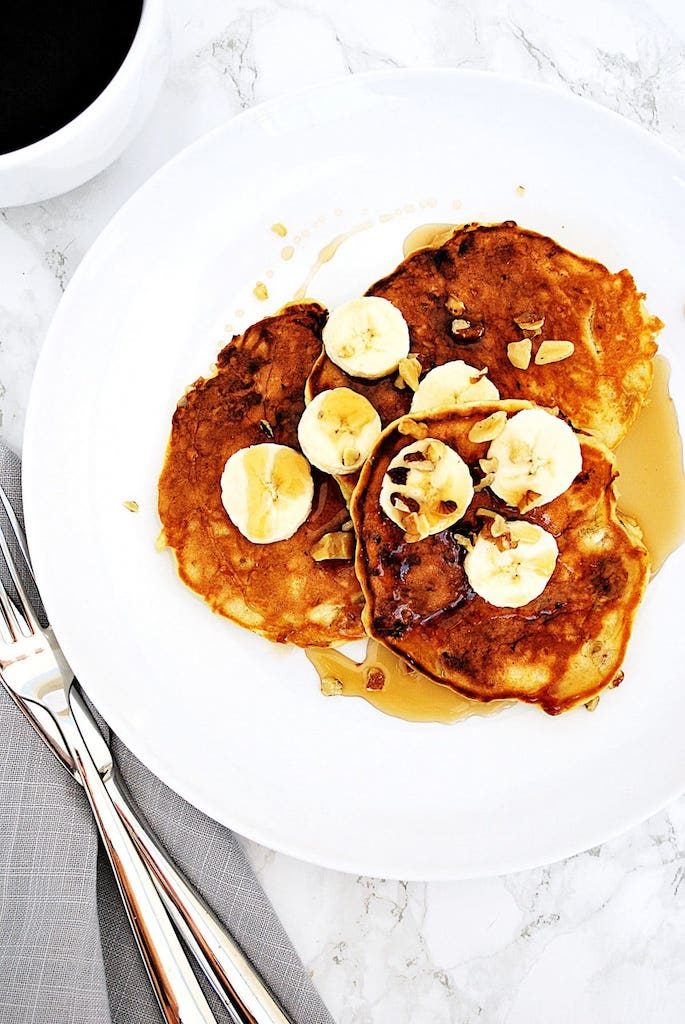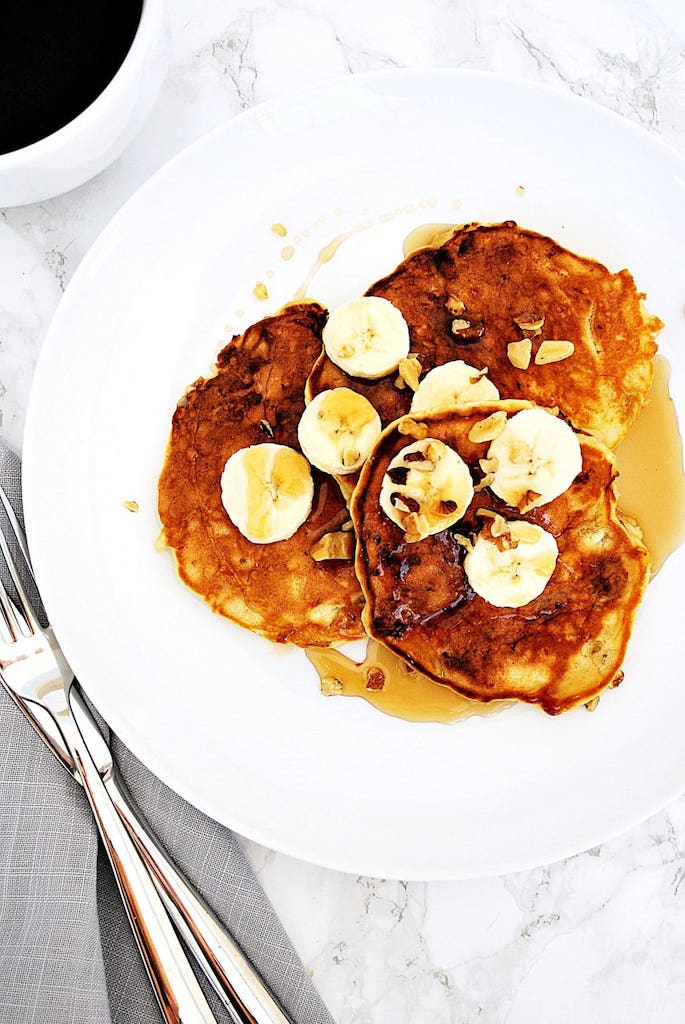 Banana Chocolate Chip Pancakes with Oatmeal | Courtney's Sweets
This is another healthy recipe using homemade oat flour. Your kiddos will love this combination, and it's so easy to make! If you'd rather not have chocolate in the morning, leave it out, or make a batch of half and half so everyone is happy!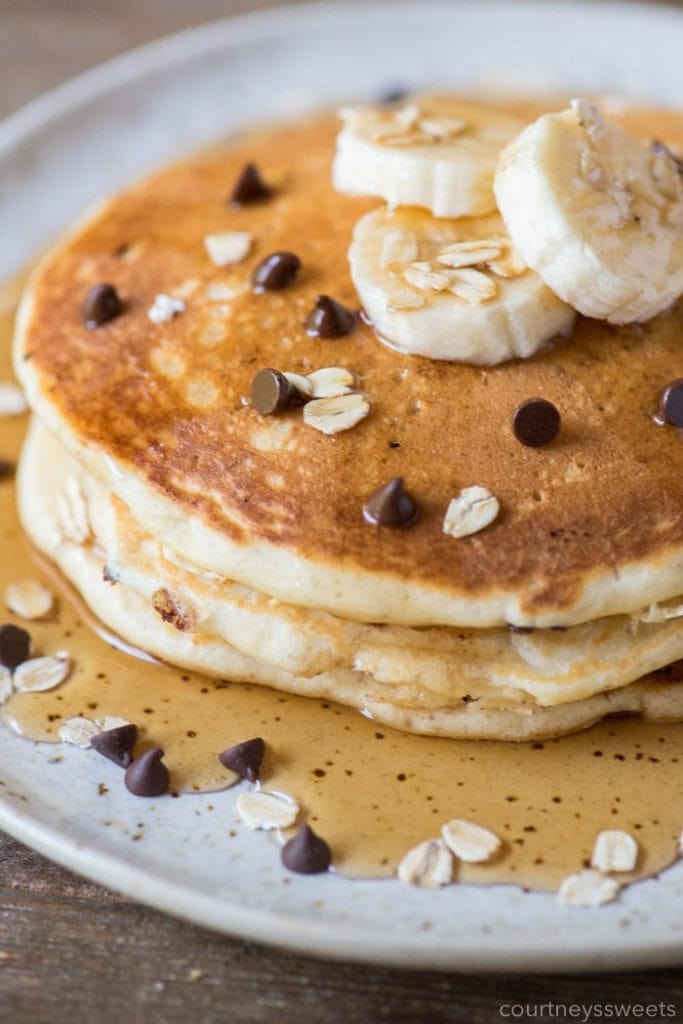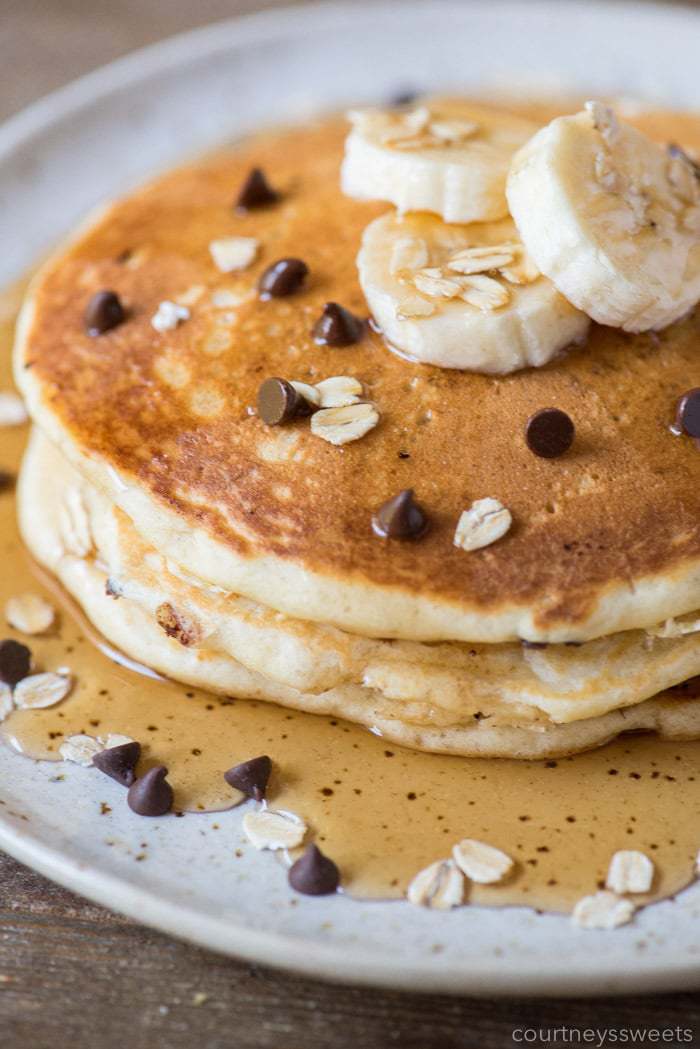 Apple Bacon Pancakes | Bacon is a Food Group
This is another easy recipe and... bacon! Maura uses bacon drippings for extra flavor and she is spot on! Oh, the deliciousness! You've got to try this one!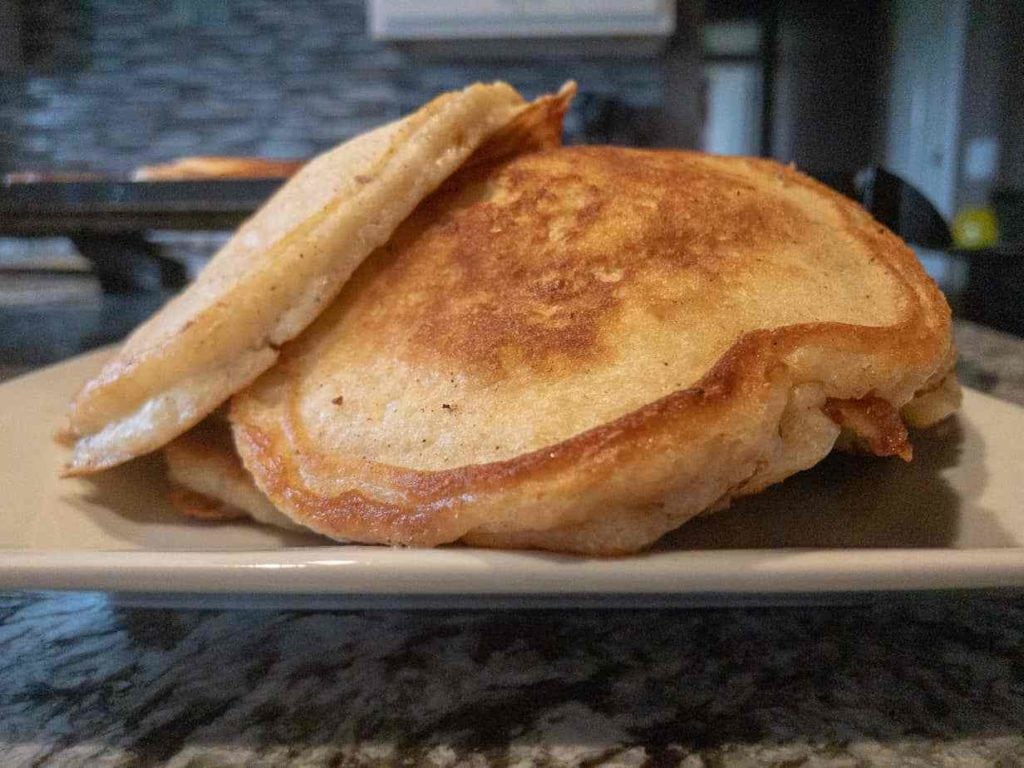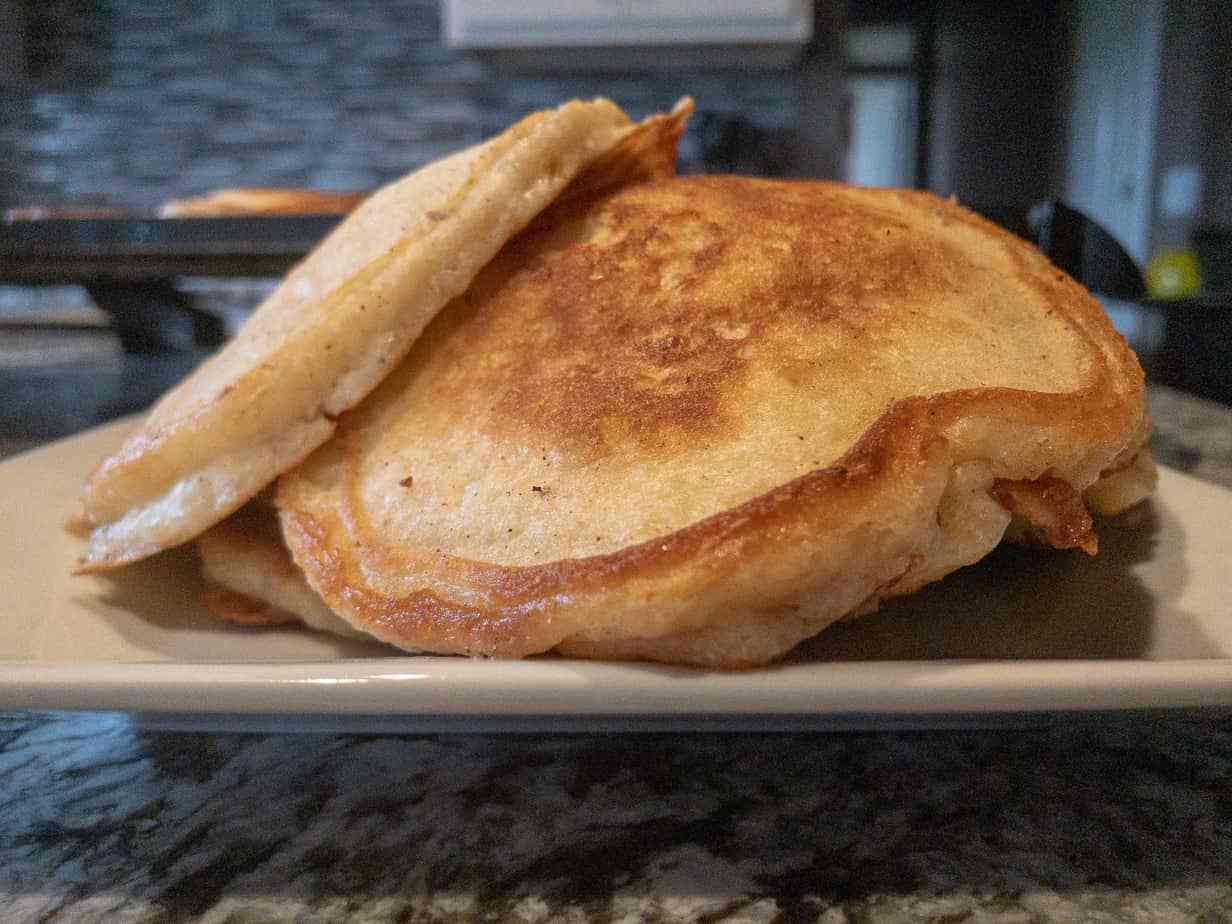 Apple Cinnamon Pancakes | Know Your Produce
This is the perfect time of year for anything apple! We used to go apple picking a lot when our kids were little, and then make all kind of recipes using up all the apples. Have you tried my apple pie recipe? I cook the apples first and it makes all the difference.
This topping is very similar to my apple pie filling and makes these pancakes so yummy!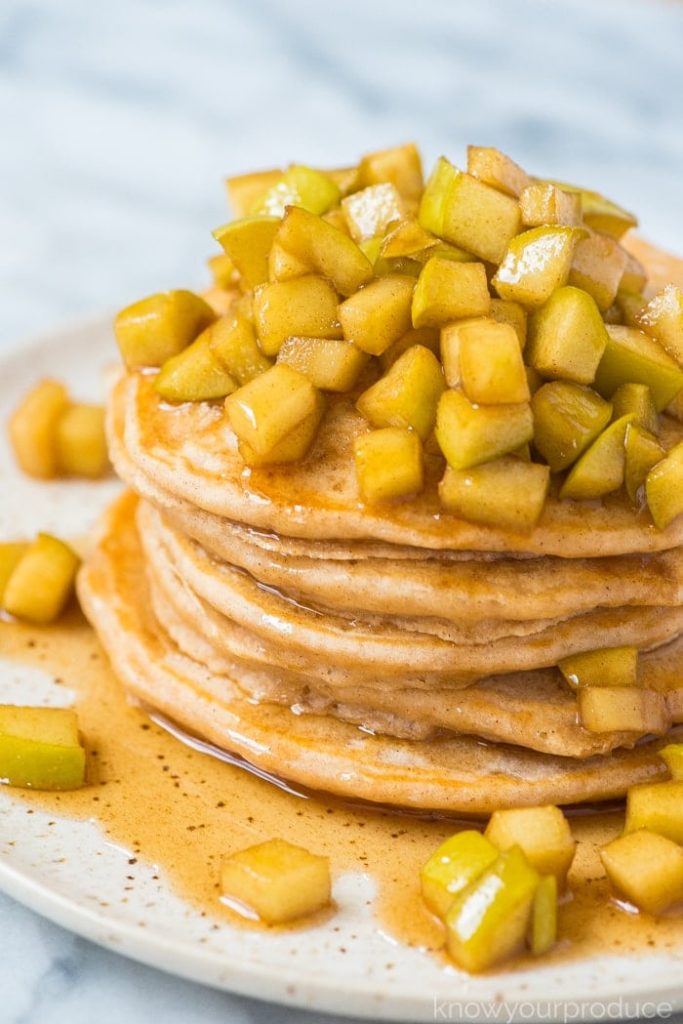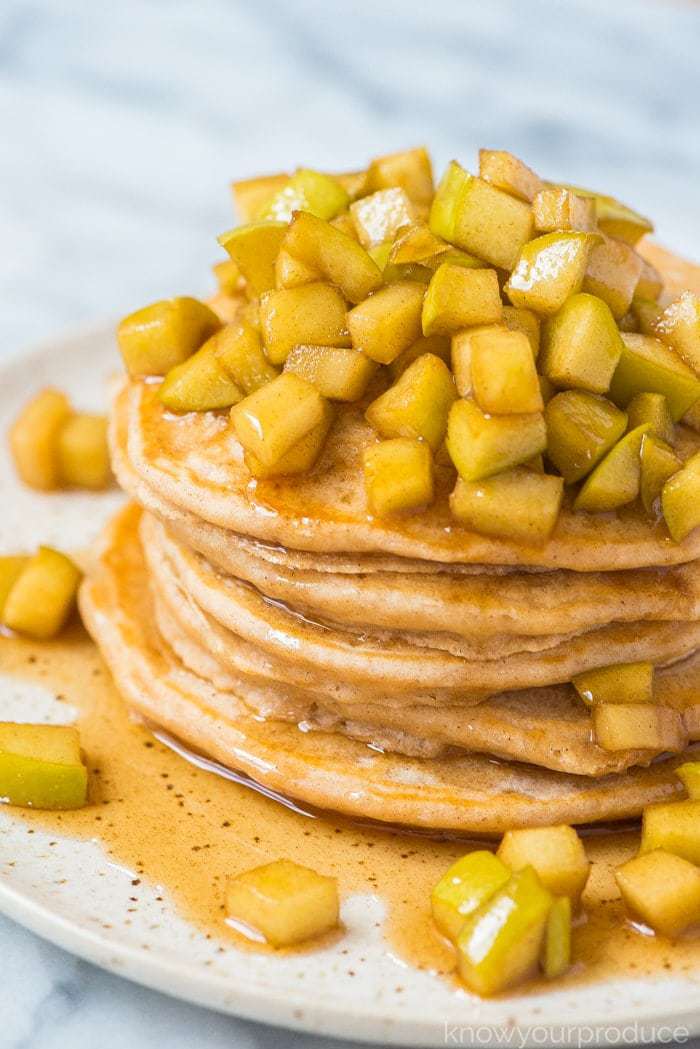 Keto Carrot Pancakes | Fit to Serve Group
Okay, so carrots aren't a fruit, but once you try these, you'll be glad I slipped them in here with this list of fruit pancakes! Don't they look luscious?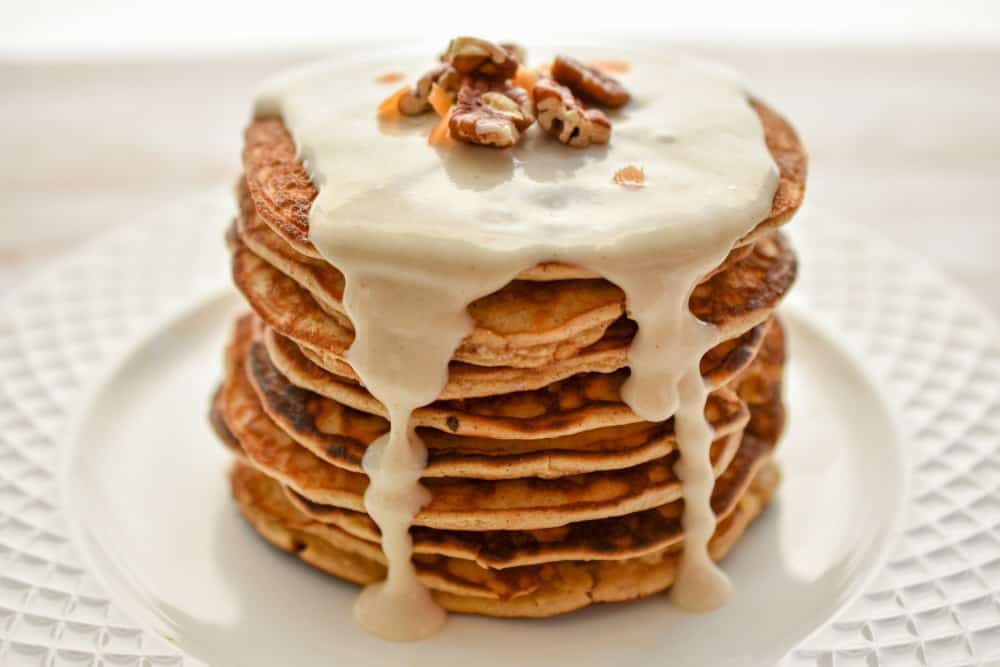 Lemon Poppy Seed Sheet Pan Pancakes | Flavor the Moments
We love using lemon in all kind of recipes and paired with poppy seeds, it really shines. I also love that these have a different look as they are made in sheets instead of the traditional rounds. Doesn't it make this recipe look special?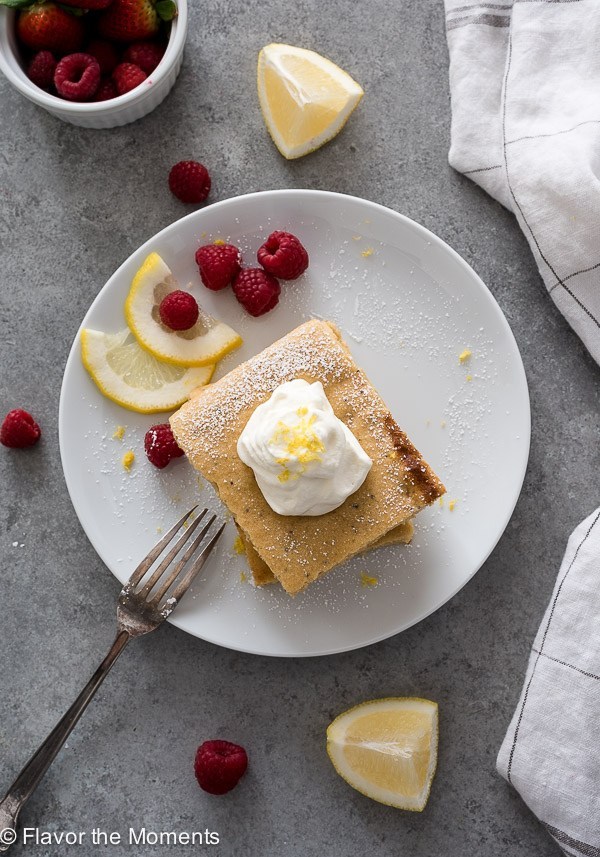 Pinole Pancakes with Blueberry Maple Syrup | Very Vegan Val
I have to admit, I'd never heard of pinole, but after some research, I can't wait to make these. I live near a Mexican grocery store, so I'm going to check to see if they have it, but Valerie leaves a link to where you can buy it online, too.
Pinole is a simple combination of maize, sugar, and cinnamon. I can't wait to try it! Bonus; these are vegan, so now you have the perfect recipe for vegan guests!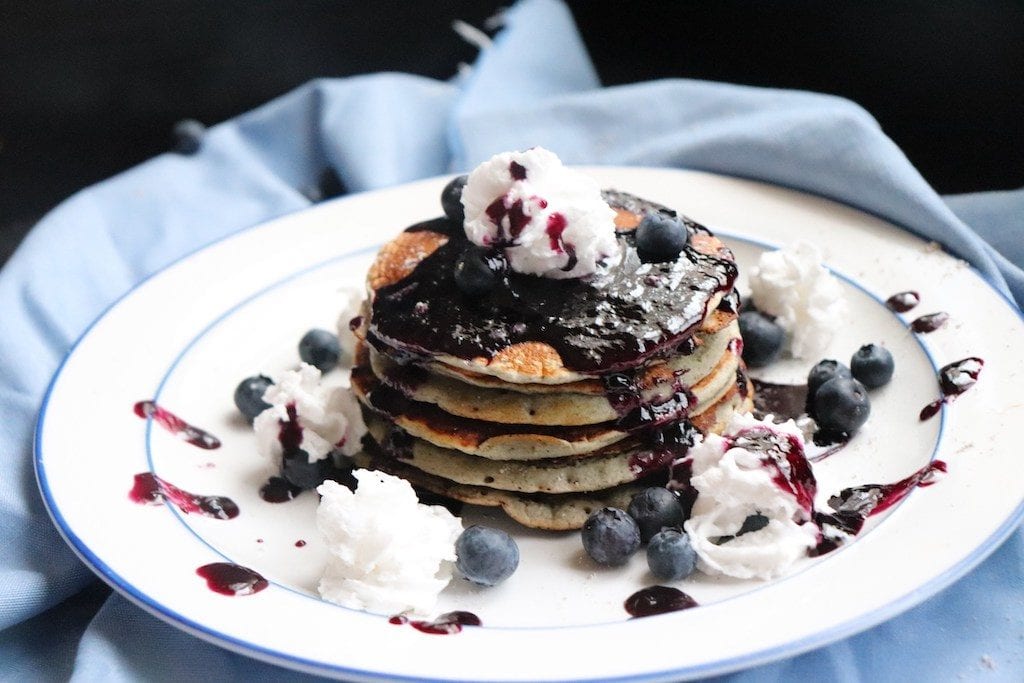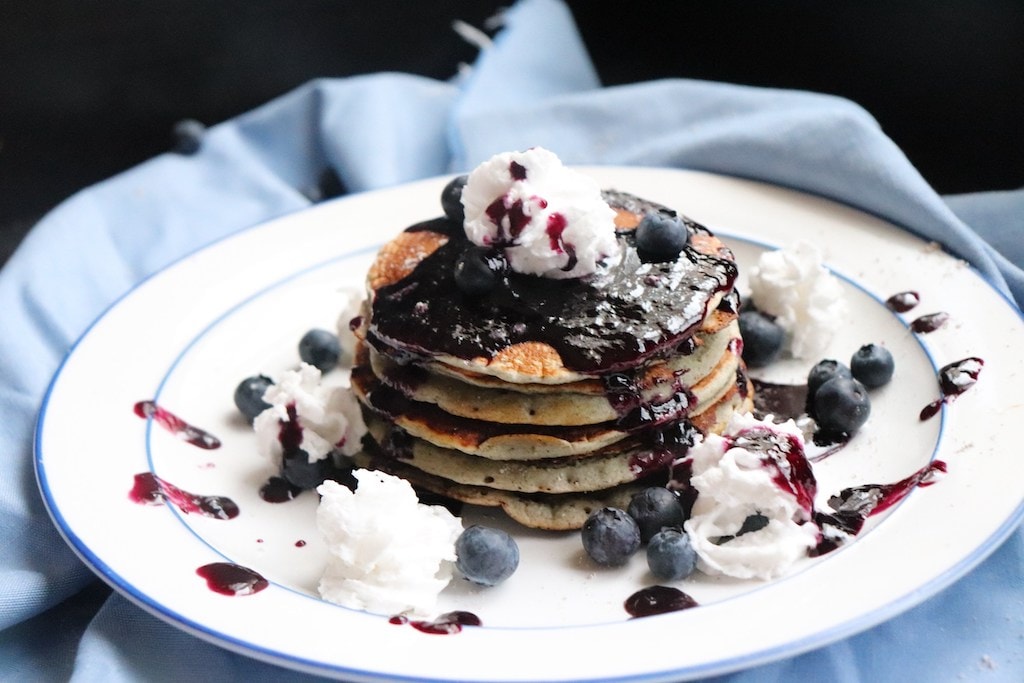 Bananas Foster Pancake Casserole | Cookie Dough and Oven Mitt
This is another one that is not a traditional round pancake but made more like a cake and sliced. It sounds like it would make a great dessert topped with ice cream, too!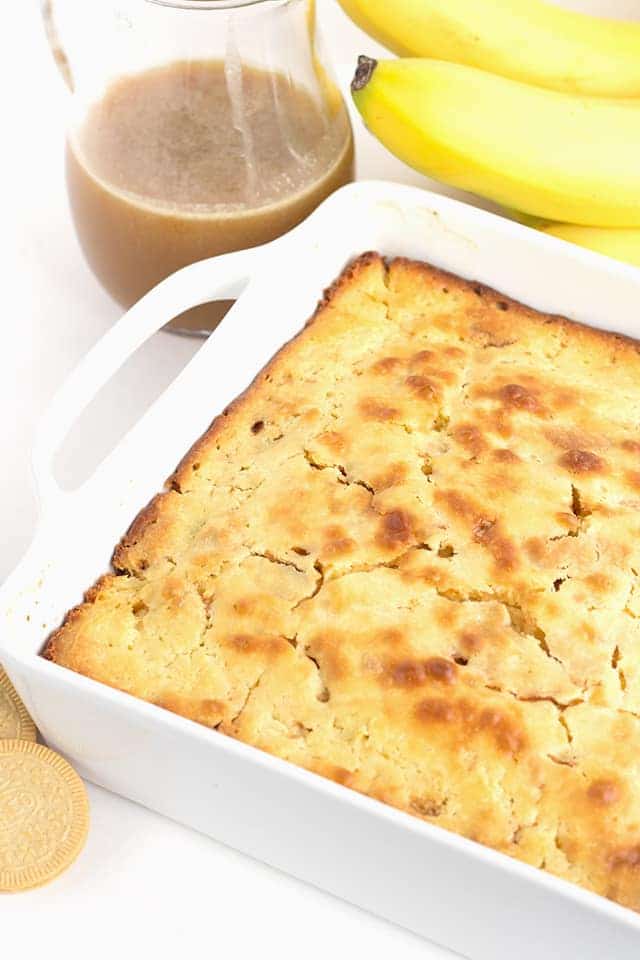 Puffed Apple Pancakes | Foodal
I've got one more that's casserole style. This is such an easy recipe that is perfect for guests because it turns out so pretty! It would be a lovely addition to a special brunch, too.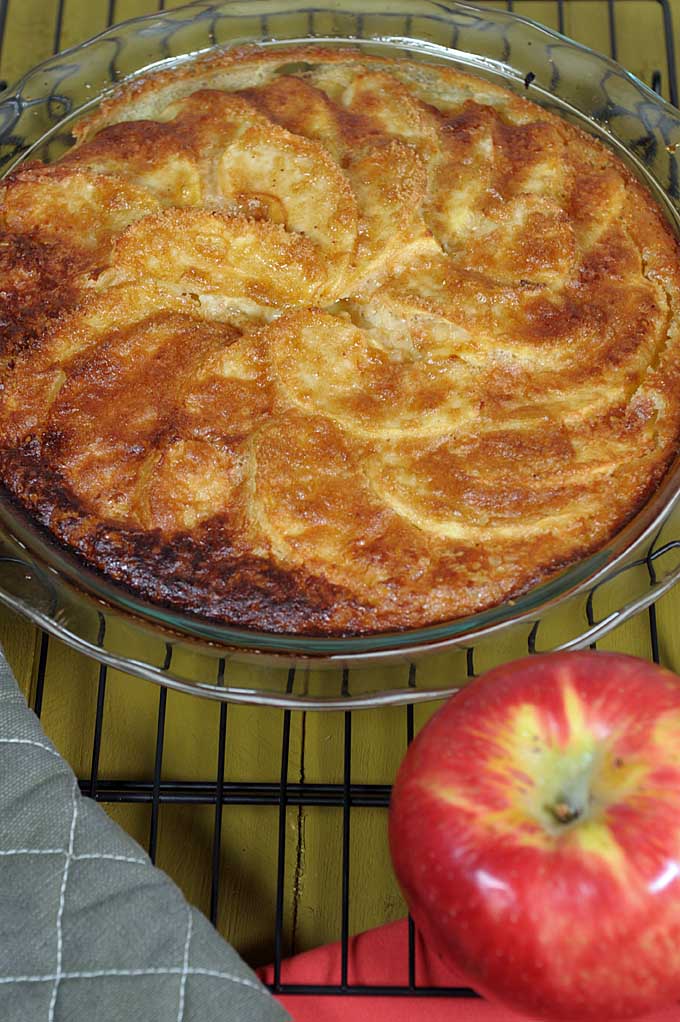 Easy Paleo Banana Pancakes | Trendy Latina
Think you can't have pancakes when you're eating paleo style or trying to avoid processed white flour? These delightful banana pancakes are made with a combination of almond and coconut flour! Brilliant!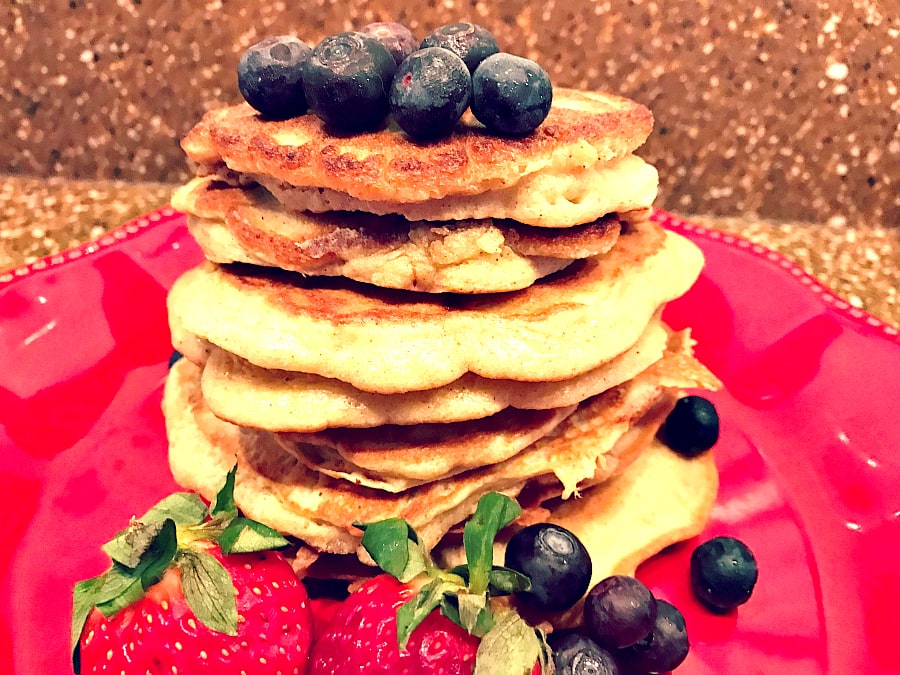 We enjoy having special breakfasts on the weekends. Any of the above pancake recipes or these vegan crepes just feel a little bit festive.
For a delicious breakfast during the week when time is limited, this healthy baked oatmeal is perfect as it can be prepared and baked the night before or first thing in the morning. It's even tasty served cold!
Storing Pancakes for Later
One of my favorite things about pancakes is that they can be tossed in the freezer for later. I always make too many pancakes (on purpose) so I have a few easy breakfasts for those inevitable busy mornings.
I always wrap the pancakes in wax paper, usually 2- 3 in each bundle, and then store a few bundles in a freezer baggie that zips. This keeps the pancakes from getting freezer burn and they will stay delicious for a few months.
There you have it, 19 delicious recipes for fruit pancakes! I hope these recipes make your mornings extra special and the leftovers make for a few days that are just a little bit easier.
And if you're ever trying to drop a few pounds on Weight Watchers, I think you'll love these Weight Watchers Breakfast recipes.