These crispy oven sweet potato fries turned out to be so delicious, I was really wishing I had doubled that batch right off the bat. They were really that good.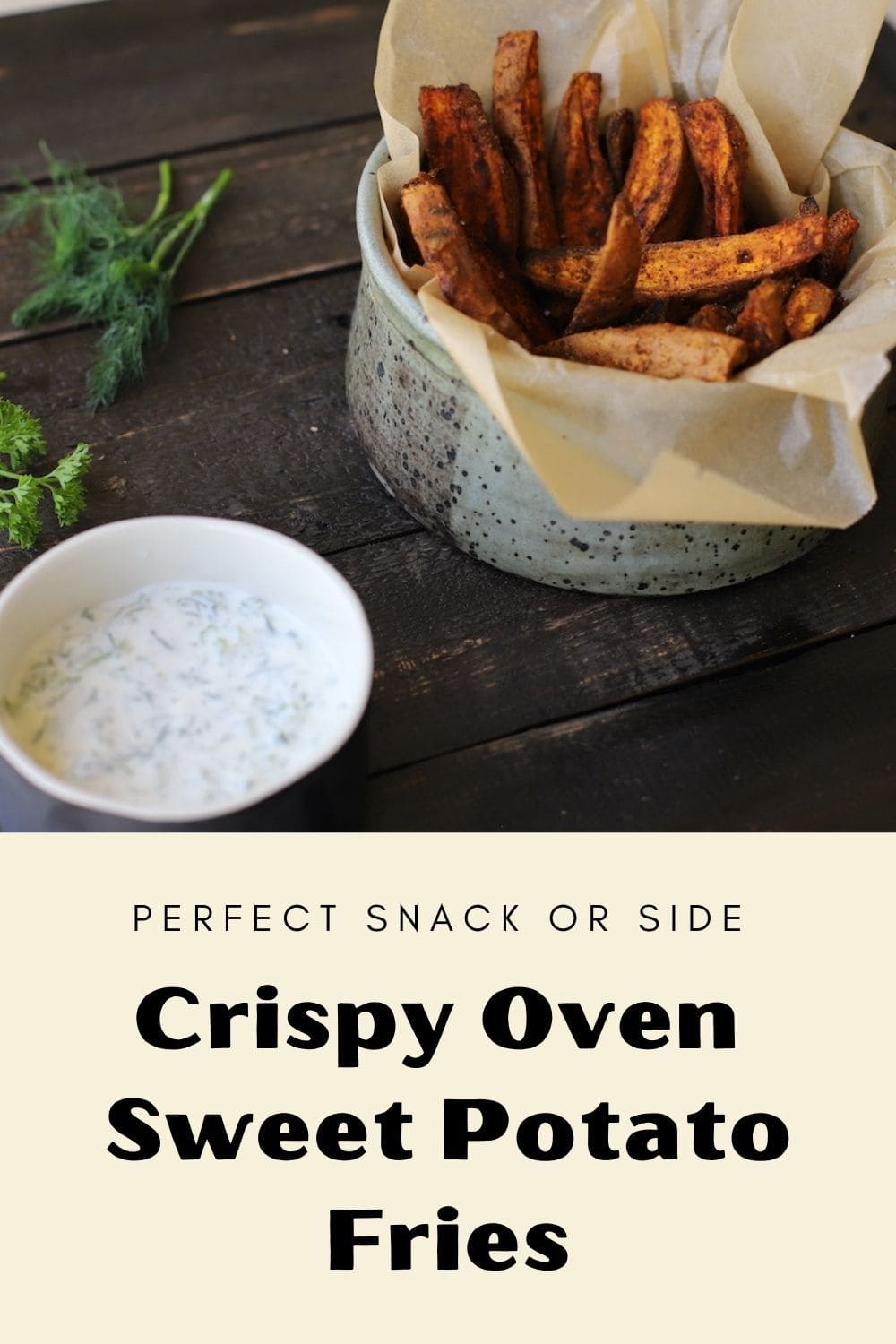 Anyone who knows me knows French fries are my favorite food. Don't get me wrong, I don't eat them every day, though I do want them when I make this recipe for cast iron chicken thighs. But I digress.
I really do try to eat a healthy diet and, let's face it, fries aren't typically on the list of healthy foods.
Sometimes I can be in another country and have a craving for fries. That happened when I was in Peru a couple of years ago.
Known for great food, dining is definitely on the list of top things to do in Lima Peru. In fact, if you want to try a super easy recipe, check out this Peruvian Causa with Shrimp. It's easy to make vegan, too.
I was pretty excited to see fries on the menu of our hotel restaurant. They were heavenly with just the right amount of seasoning.
The seasoning combination on these fries is killer and the creamy dill dip is a great pairing to the spice. And speaking of pairing, I think these would be fantastic with a burger and this mango slaw recipe.
You could serve these crispy oven sweet potato fries alongside an entree, or just put them out as an appetizer or snack with the dip.
What You Need to Make Oven Sweet Potato Fries
To make the roasted sweet potato fries, you'll need sweet potatoes, coconut oil, ground cumin, curry powder, smoked paprika, cayenne pepper, ground cinnamon, and Maldon salt for sprinkling only after the fries are crisp.
If you have never tried Maldon salt, it is the most flavorful salt I've ever eaten. It's fine to use kosher salt, but for the best flavor, you want to use a salt that has larger crystals.
Just starting to put together your fresh spice collection? Check out Raw Spice Bar for building a set. The spices are super fresh and they have an amazing collection.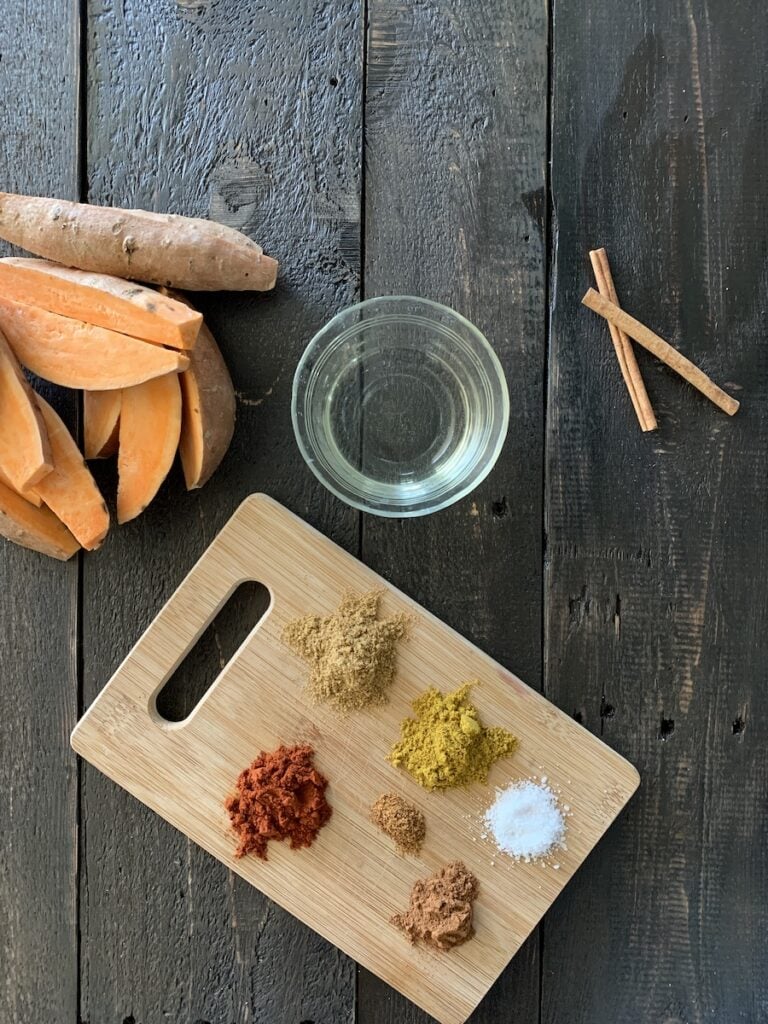 The dip is made with almond yogurt (non-dairy!), fresh lemon juice, fresh dill, and fresh parsley. Add sea salt and black pepper to taste.
How To Make Sweet Potato Fries
Preheat oven to 400°F and line a large, rimmed baking sheet with parchment paper or a baking mat. Set aside.
In a large bowl, toss the sweet potatoes with the melted coconut oil making sure they are all lightly coated.
In a small bowl, combine the cumin, curry powder, smoked paprika, cayenne pepper, and cinnamon.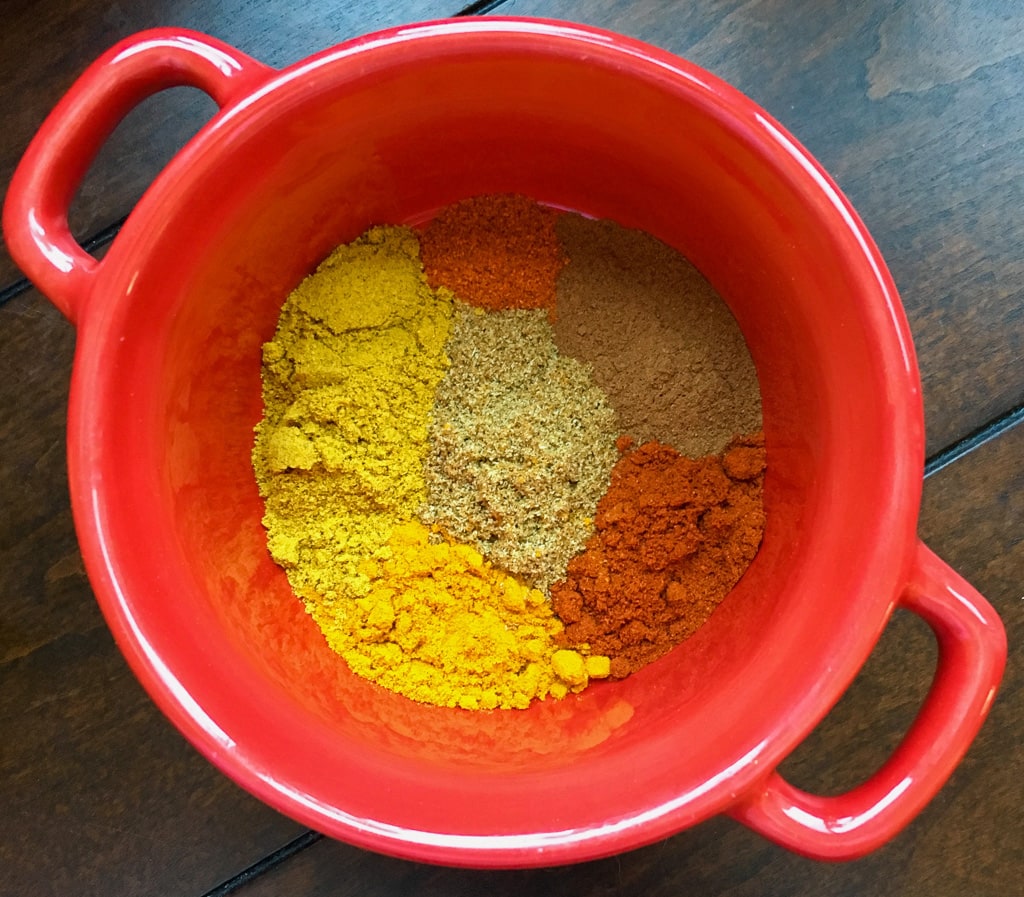 Sprinkle spice mixture over the sweet potato fries and toss until they are all lightly coated.
Arrange the fries on the baking sheet in a single layer. They will crisp better if not overcrowded.
Place baking sheet in preheated oven and roast until the sweet potatoes are golden brown and crispy around the edges, around 30-35 minutes.
Flip once hallway through the cooking process to brown both sides.
While the fries are roasting, make the dip by mixing the almond yogurt with the fresh lemon juice, dill, and parsley in a small bowl.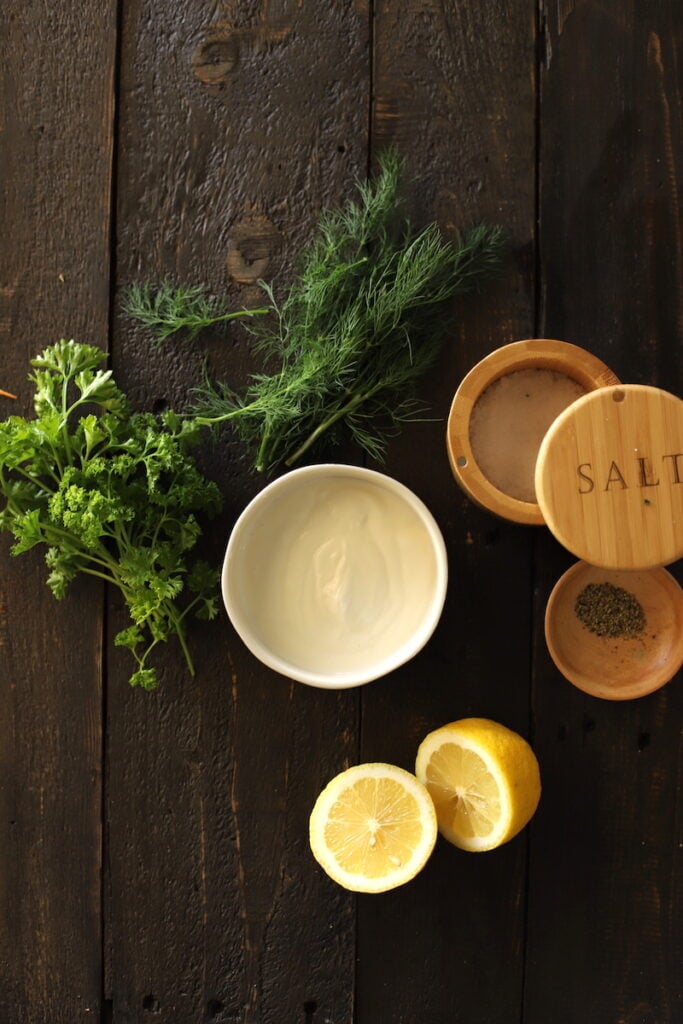 Season with salt and black pepper, to taste. Refrigerate the dip to chill.
Once fries are browned, remove the baking sheet from the oven and sprinkle generously with salt. Let the fries cool slightly before serving with the herbed coconut yogurt dip.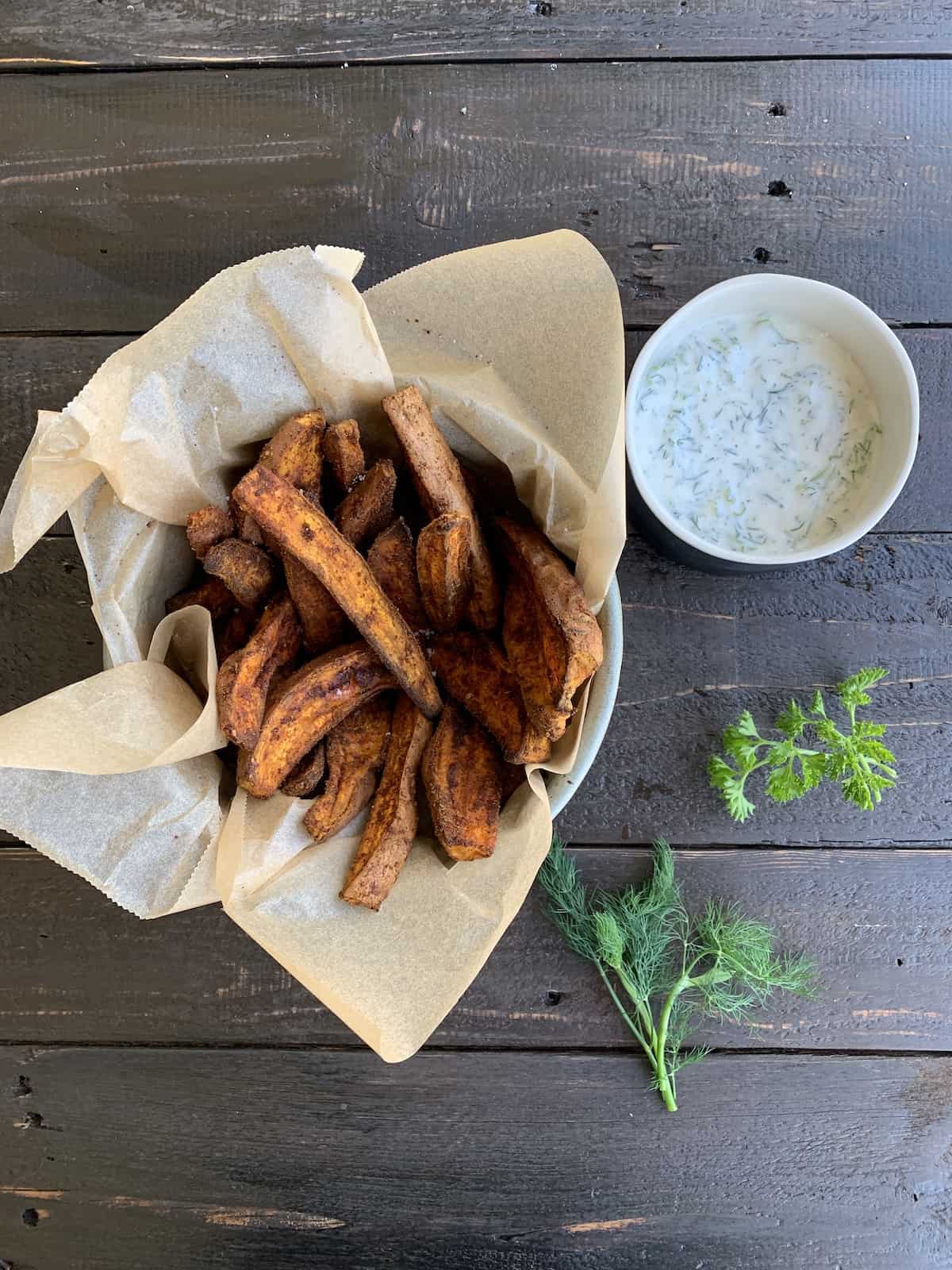 These crispy oven sweet potato fries are still tasty after they've been sitting out for a while, but they do lose crispness.
Stick them back in the oven if they become soft.
Do I Have to Use Almond Yogurt?

You are welcome to use any kind of non-dairy, unsweetened yogurt. I have a pretty stocked supermarket, and the only non-dairy yogurt I found that was not sweetened was kite hill.
Can I Make These Fries with White Potatoes?

This recipe is also good with regular white potatoes. Experiment with different seasonings, like rosemary.

This will give the fries a completely different flavor.
This ketchup recipe would go perfectly with these fries and it has no sugar but uses dates, my favorite natural sweetener.
More Vegan Recipes
Looking for more easy vegan dinner recipes? Check out this Kale and Sweet Potato Bowl, Quinoa Sweet Potato Wraps, roasted vegetable soup, or these amazing Quinoa Tacos.
If you're a fan of Indian food, this lentil dahl is wonderful and such a good comfort food dish.
More Vegetarian Recipes
For more vegan ideas, check out these Daniel Fast recipes, like the authentic tabbouleh I learned to make when in Petra, Jordan.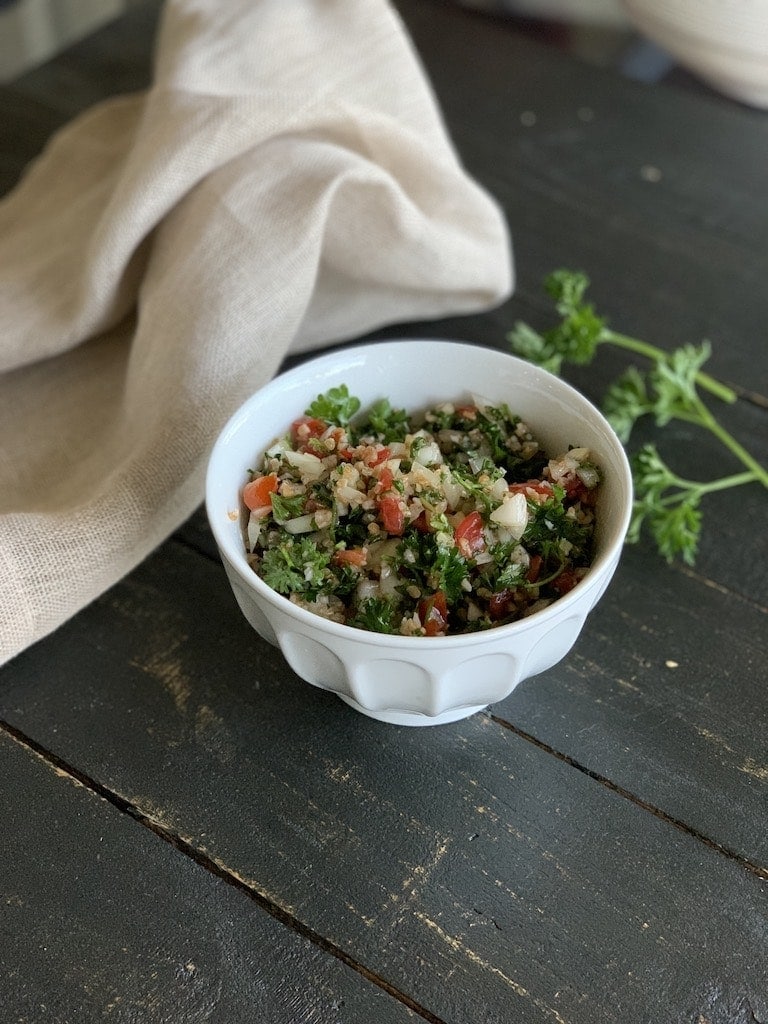 We started in Amman and explored a lot of the country, but I still want to go back and see what I missed!
If you go, here's a list of things to do in Amman as well as a suggestion of where to stay.