I made this Crown Peach drink right after attending the Jeff Kyle 400 NASCAR race in Indianapolis where worked with Crown Royal.
I learned so much about this delicious whisky while at the race from a few people in the whisky business. Check out this best mixer for Crown Royal for more ideas.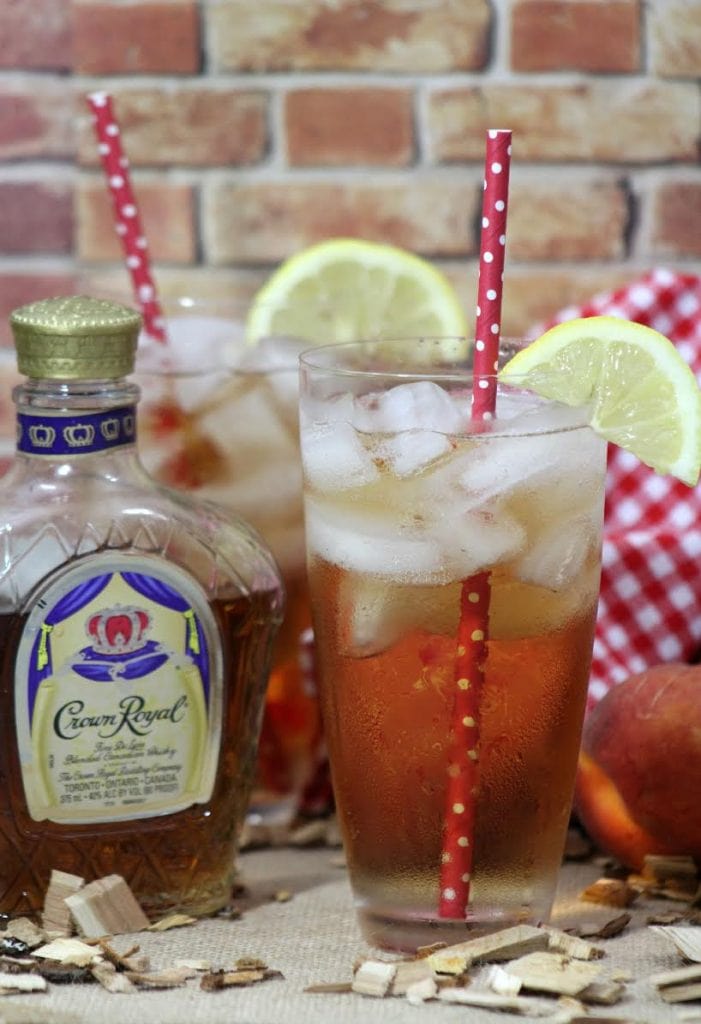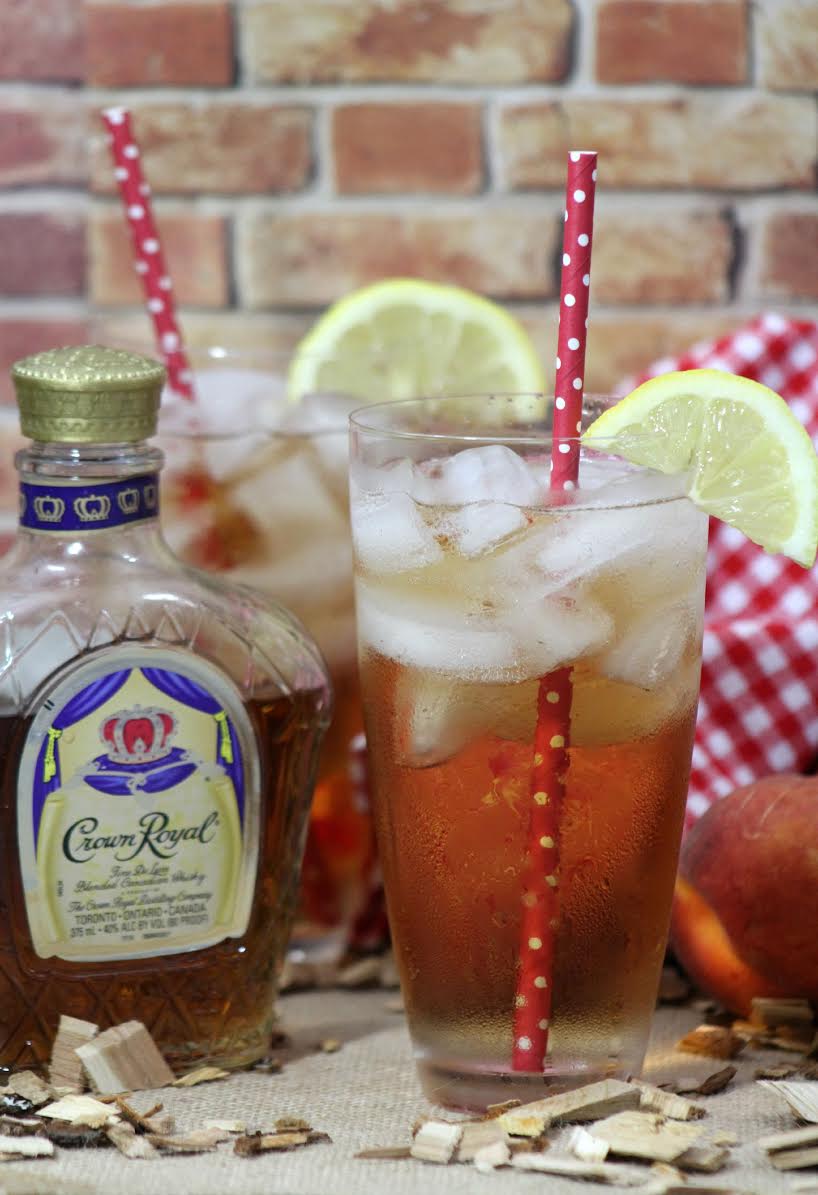 History
The history of Crown Royal is a fun story. In a nutshell:
A Canadian spirits business man and master blender created this whisky for King George VI and Queen Elizabeth when they visited Canada for the first time.
It was a pretty big deal as they were the first reigning monarchs to visit Canada. They arrived by boat and then traveled long distance by train.
Long story short, the whisky was given to the royal couple and the train carrying them was stocked with 10 cases of newly named Crown Royal Whisky.
It didn't take long for popular demand to skyrocket, and even today Crown Royal is one of the most popular whiskys.
Have you traveled through the Canadian Rockies by train? It is magnificent!
Types of Whisky
Is it whisky or whiskey? That depends on where it's made. For a Canadian variety, it's whisky.
I tasted quite a few different varietals of Crown Royal when I was in Indianapolis and it was so much fun. I hadn't really done a tasting other than wine before experiencing the Crown Royal Tasting.
There really is a huge difference in the different varieties. Using Crown Royal's high-quality products takes every cocktail up a notch!
In fact, I took notes so I could share how you could do a Crown Royal Tasting at home.
Be sure to serve food, like these stuffed mushrooms, this best bruschetta recipe, or pita bread served with this vegan hummus recipe.
These Crown Royal Butter Pecan Cupcakes would be the perfect dessert. What goes better with cupcakes than delicious alcoholic beverages?
You're going to love this Crown Peach drink, and yes, you could make it with Crown Royal Peach Whisky, which was introduced a few years after we created this cocktail.
You could even make it with Crown Royal Apple instead of classic Crown Royal, keeping everything else the same. Let me know if you try it!
The glass-cut bottle of every Crown Royal variety really does look royal, doesn't it?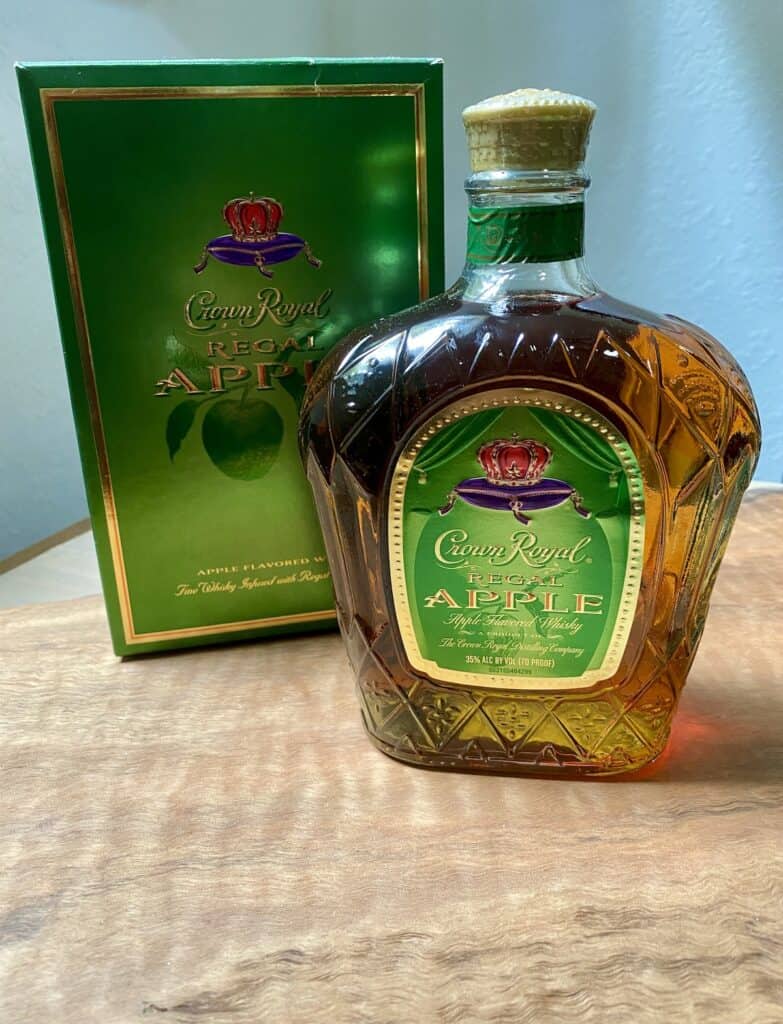 What You Need
This Crown Peach drink is flavored with one of my favorite fruits - fresh peaches! It's perfect for these hot summer days, and one of my new favorite drinks!
There's really nothing like the extraordinary blend of rich Canadian whisky with the juicy flavor of fresh Georgia peaches!
To make this Crown Peach Drink, you'll also need Crown Royal Whisky, Peach Schnapps, berry juice, ginger ale, and a lemon wedge.
And remember, fruit is good for you, so this is healthy! (Okay, I guess we can't really call it a healthy beverage, but it will definitely lift your spirits!)
With the distinctive smoothness of Crown Royal, light notes of warm spice, and natural flavors, it's sure to feed whisky drinkers' desire!
By the way, I was told to try this Crown Peach Drink with Crown Royal Rye for a really amazing flavor. Next on my list! Enjoy!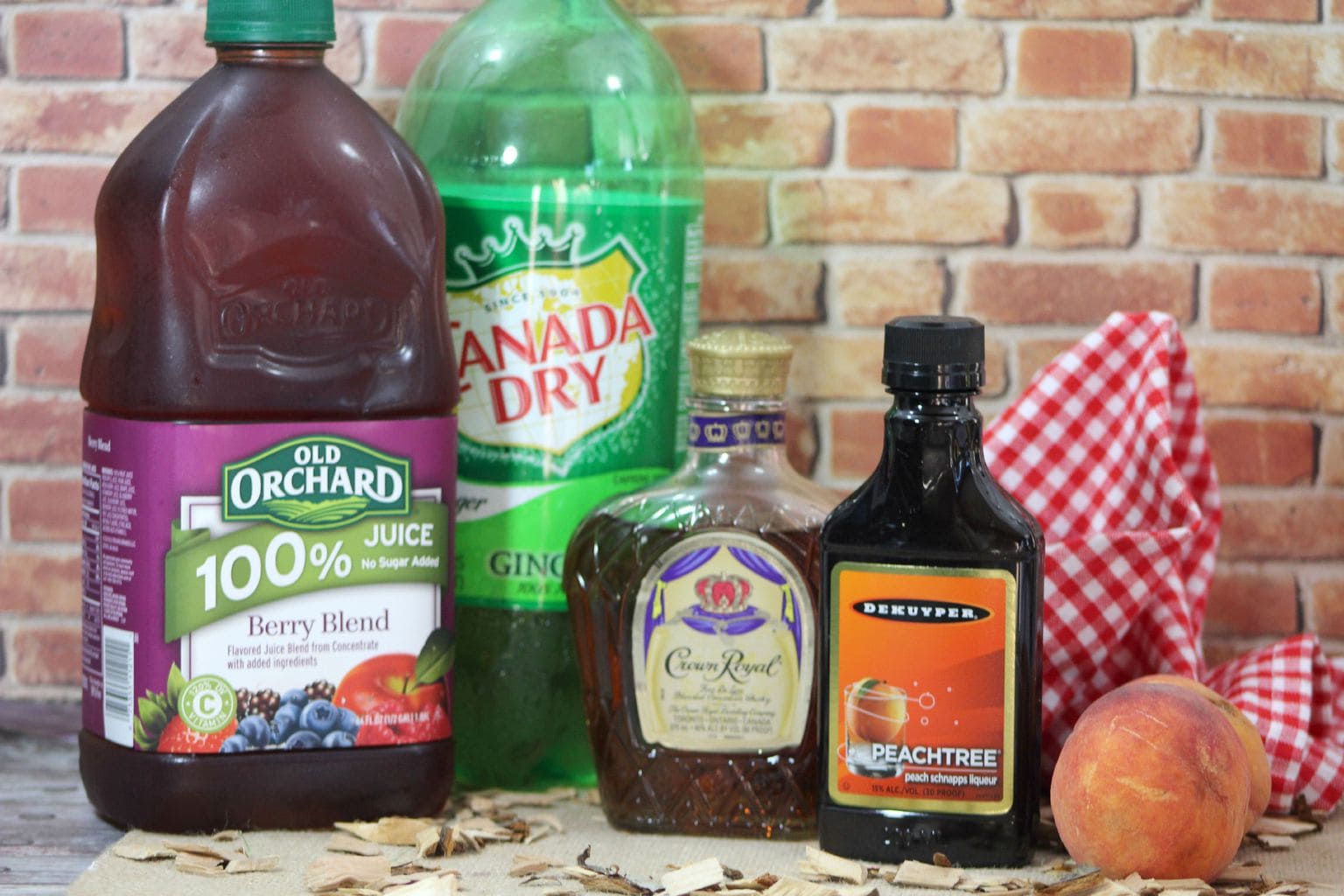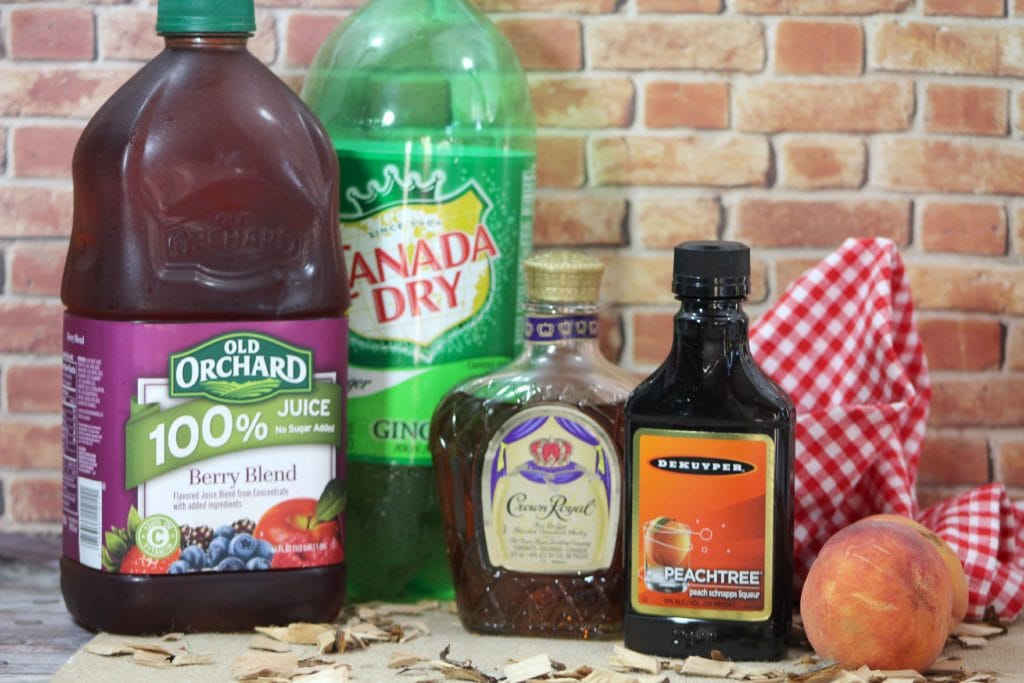 How to Make It
Muddle quarter peach in a shaker glass.
Add Crown Royal Whisky or Crown Royal Peach Flavored Whisky.
Add Peach Schnapps.
Add cubed or crushed ice.
Add berry juice and ginger ale.
Gently shake for 30 seconds
Strain the Crown Peach drink into an 8oz glass filled with ice.
You could also serve this refreshing tasting cocktail in a mason jar, perfect for all summertime occasions, or a stemless champagne glass for a touch of royal class!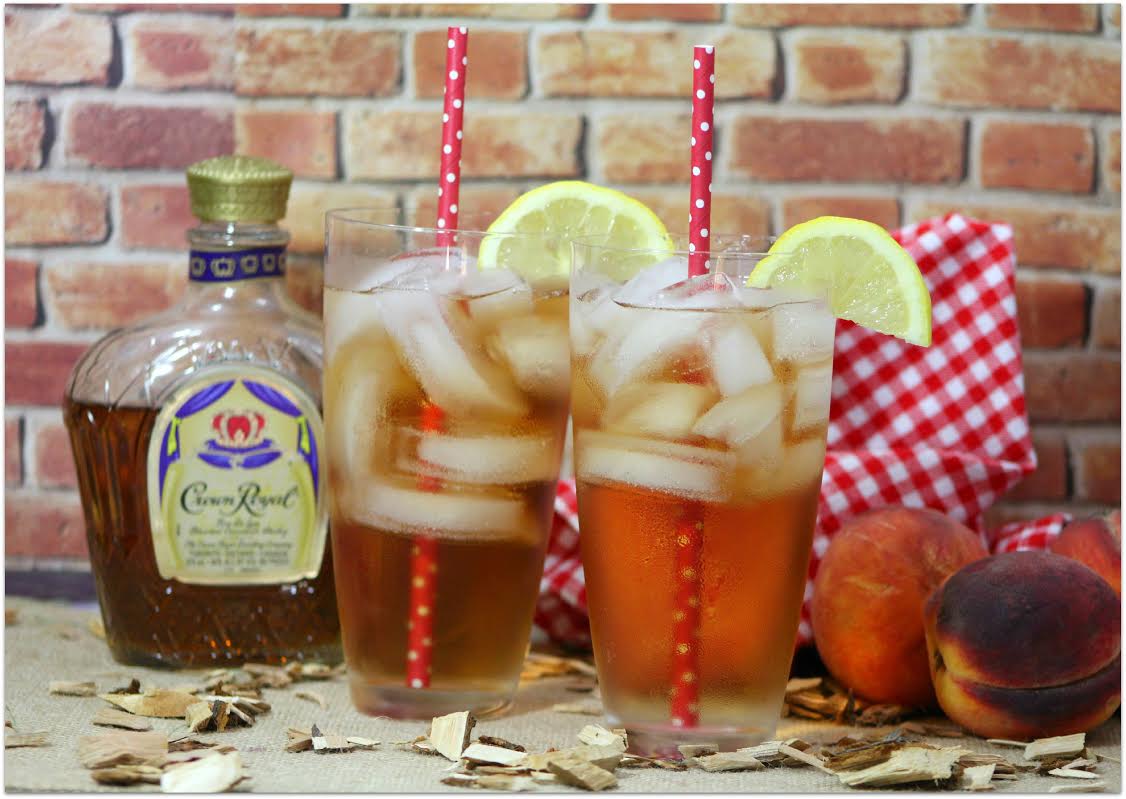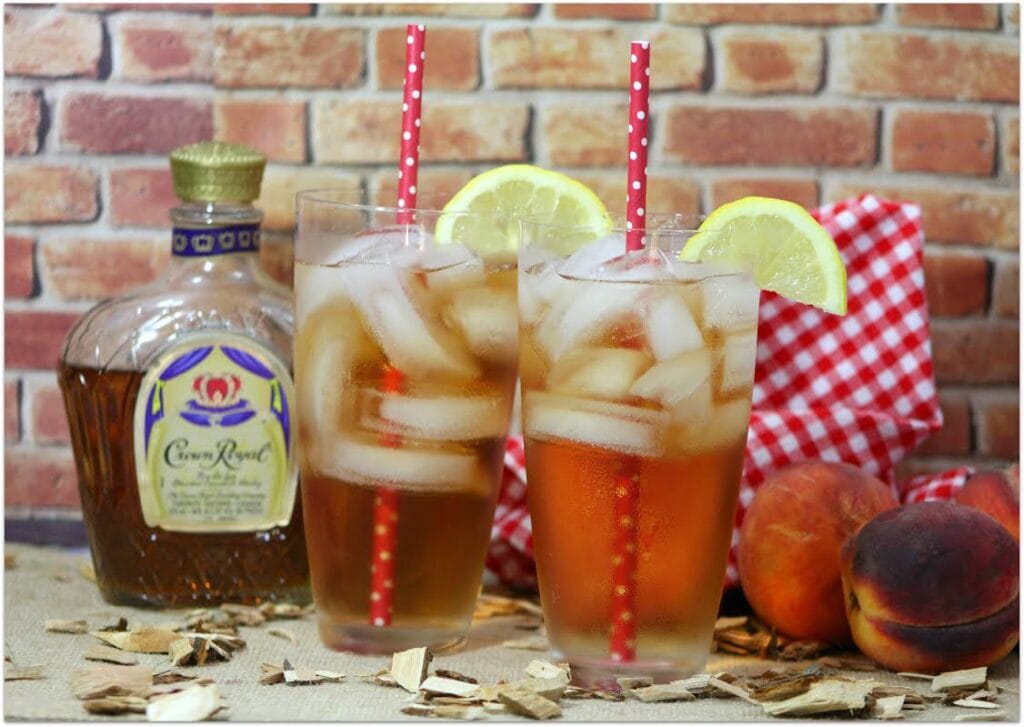 Garnish with a slice of lemon. Enjoy.
What else can I add to this drink?
You could add an oz of orange juice or cranberry juice. Both would be delicious. Instead of regular Crown Royal, you could replace it with an oz Crown Royal Peach. The Peach Crown will add wonderful flavor, but you'll still want to use the fresh peaches and peach schnapps.
How could I garnish this Crown Royal drink?
For garnishes, you could mix things up with a peach slice, maraschino cherries or mint sprig! Make it one of your own signature cocktails!
More Delicious Cocktail Recipes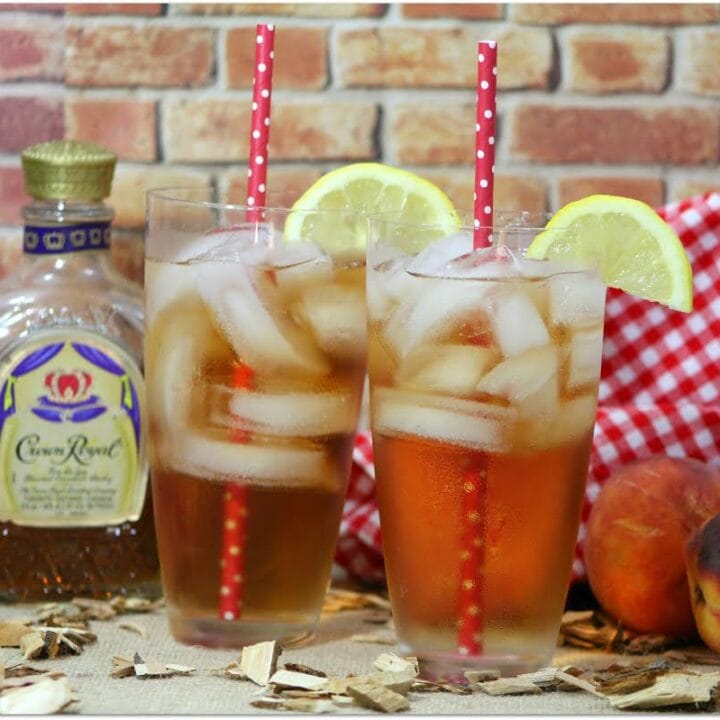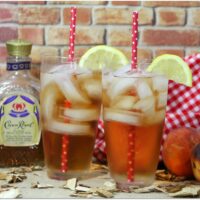 Ingredients
1

oz

Crown Royal whisky

1

oz

Peach Schnapps

¼

peach

2

oz

Mixed Berry Juice

3

oz

Ginger ale

1

lemon wedge
Instructions
Muddle ¼ peach in a shaker glass.

Add berry juice and ginger ale.

Strain into an 8oz glass filled with ice.

Garnish with lemon. Enjoy.
Nutrition
Serving:
1
|
Calories:
213
kcal
|
Carbohydrates:
25
g
|
Protein:
1
g
|
Fat:
1
g
|
Saturated Fat:
1
g
|
Sodium:
7
mg
|
Potassium:
116
mg
|
Fiber:
1
g
|
Sugar:
24
g
|
Vitamin A:
148
IU
|
Vitamin C:
8
mg
|
Calcium:
9
mg
|
Iron:
1
mg