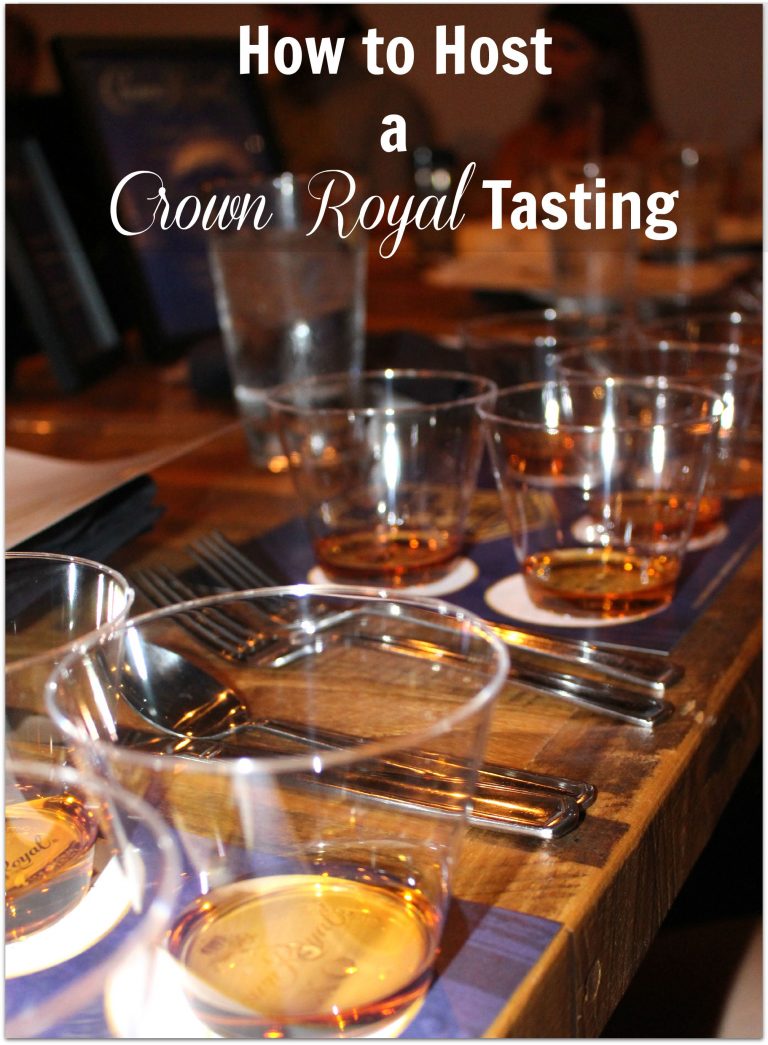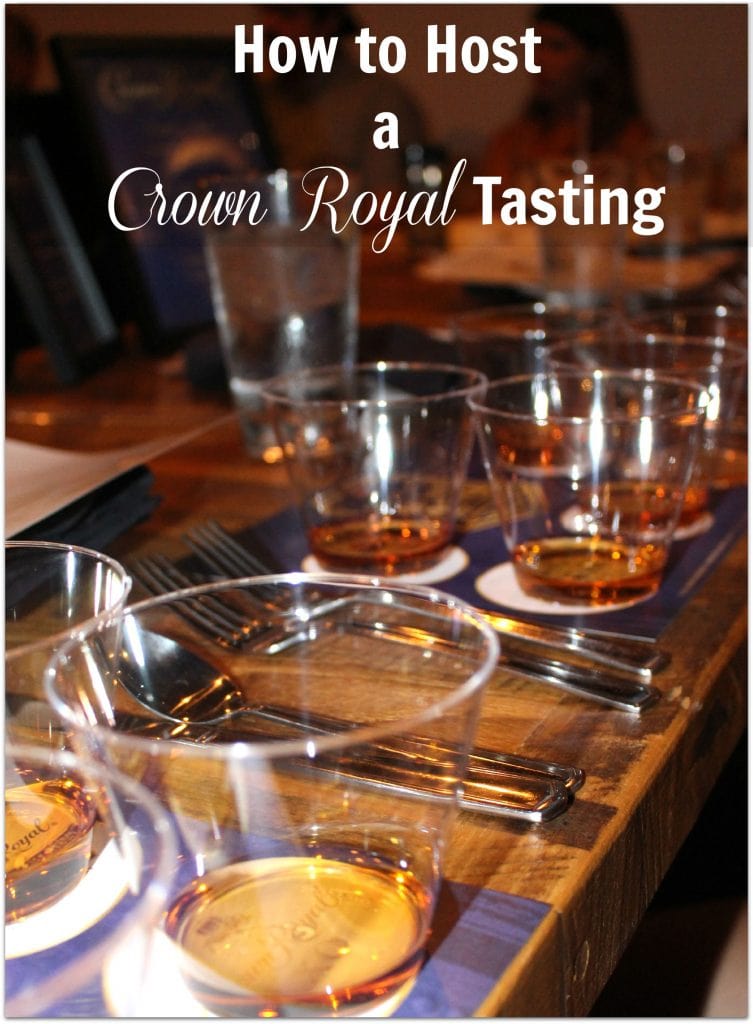 My husband and I enjoy throwing parties and have hosted a few wine tastings, but we had never considered a Crown Royal tasting. In fact, as excited as I was to participate in the Capture the Crown Event and attend the Jeff Kyle 400 NASCAR race with Crown Royal, I have to admit I was a little nervous about drinking Crown Royal. I'm typically a wine drinker, a beer drinker when it's hot, and on occasion I'll sip on a cosmopolitan with vodka. But whisky?
Crown Royal treated us to a wonderful meal at Georgia Reese's restaurant on the first night of the event. Before dinner, we had a Crown Royal tasting. Straight up. No juice, no ginger ale. Simply straight Canadian whisky. And you know what I discovered? Tasting whisky is similar to tasting wine. I had no idea. One of my favorite movies is French Kiss. In the movie, Kevin Kline's family owns a winery. He meets Meg Ryan through a series of events, and takes her to the family vineyard where he tries to teach her about wine. He has small bottles filled with the aromas of spices, fruits, and wood, and he asks Meg to smell the aroma and then taste the wine. This was my first introduction to aromas, and I promptly bought a kit so I could try it myself. I've since hosted wine tastings and introduced others to the process of tasting wine. Still, I had no idea tasting whisky would be similar.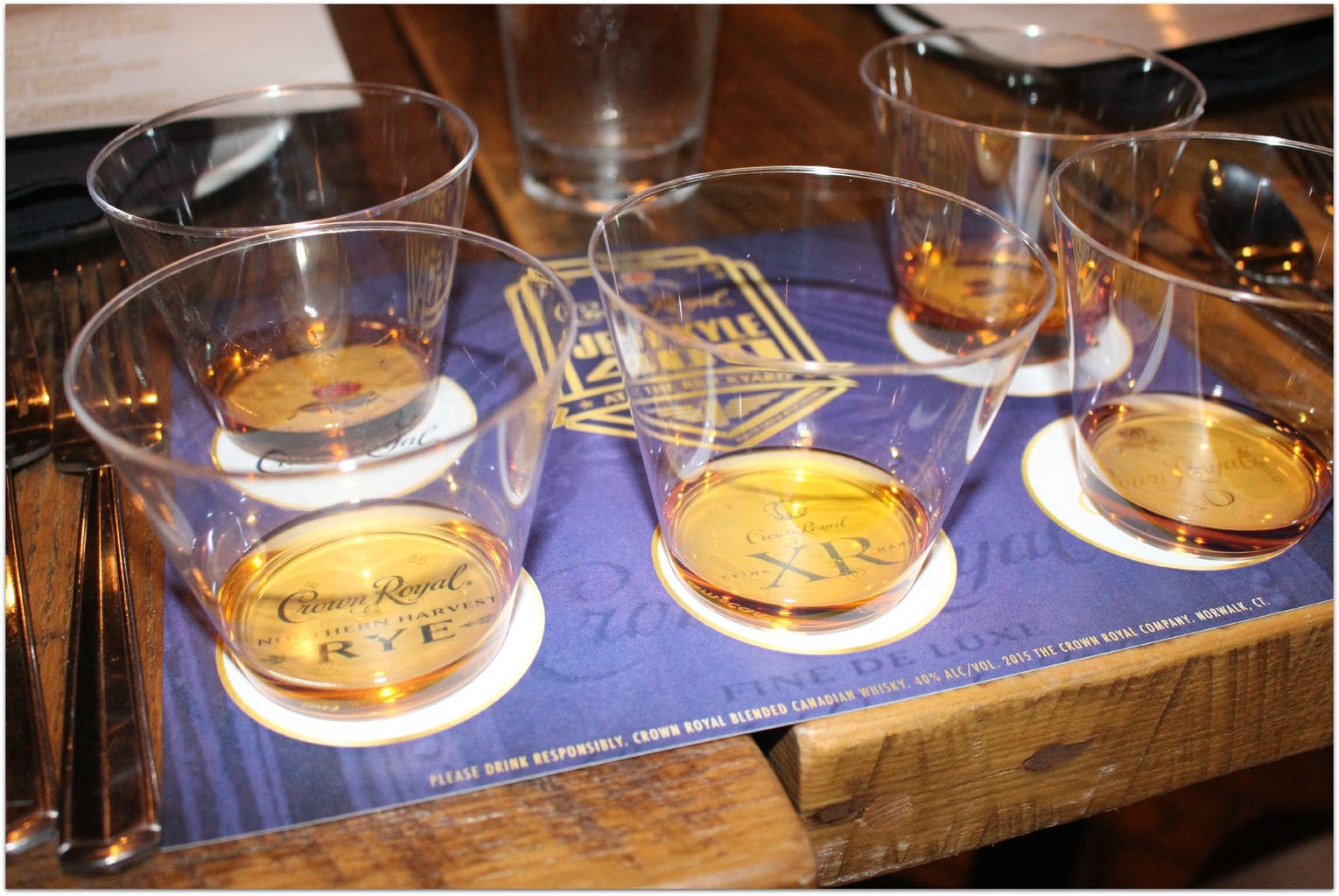 I loved this tasting mat. As you can see, each whisky we tried was marked on the mat.
We started up in the left-hand corner with the Crown Royal Deluxe. If you have never done a tasting, and have never sipped Crown Royal "neat", just a small sip is sufficient. We swirled, we smelled, and we sipped, as Stephen Wilson, Master of Whisky from Crown Royal, walked us through the description. The Deluxe has slight hints of vanilla and fruit, and a really smooth and creamy flavor. Had he not pointed it out to me, I would not have noticed the vanilla. Just like in wine tasting, once you realize it, it's unmistakeable!
Next we moved down to the Crown Northern Harvest Rye. This is Crown Royal's first-ever blended rye whisky. Again, as this was my first whisky tasting, I didn't expect that much of a difference, but I could smell the aroma of 

baked apple and

 wood spices. As I sipped, the vanilla really stood out to me. Between the aroma and taste, I'm thinking this might be an ingredient in my next apple pie. Just sayin'.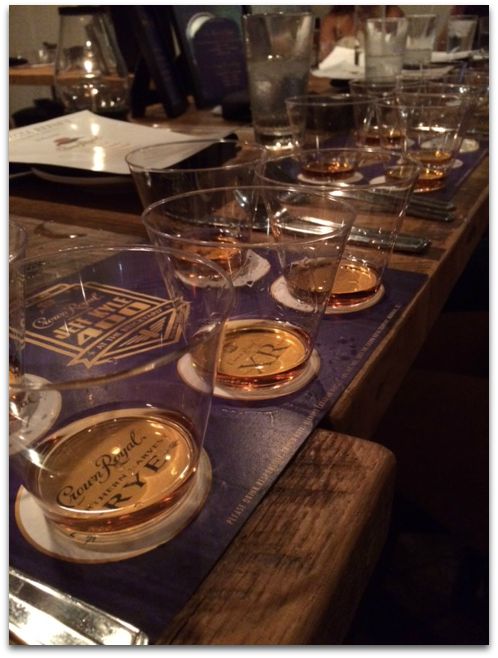 Moving all the way up to the right, we tasted the Hand Selected Barrel. I was excited to see if I could figure out what the aroma would remind me of, and I did notice the vanilla again. The Hand Selected Barrel also has a very light fruit flavor and the oak is very prevalent.
Moving down one, we moved on to the Crown Royal XO. This is the newest 

member of the brand's portfolio, 

including Crown Royal DeLuxe, Crown Royal Maple

Finished, Crown Royal Black, Crown Royal Reserve and Crown

Royal XR. The aroma and taste is of oak, vanilla, and dried cherries. 

Finally, we came back to center with the Crown Royal XR. The XR stands for Extra Rare, and is a 

blend crafted from a small reserve of the final batch of whiskies 

that were saved from the renowned LaSalle Distillery. Eventually, XR will be no more, so you really should grab a bottle while you can. 

Master Blender 

Andrew MacKay was once an apprentice at LaSalle Distillery, so this is part of a personal legacy for him. The aroma is of oak, caramel, and vanilla, but you can also smell a hint of pear, which surprised me. The flavor is dried fruits and honey.
If you would like to host your own Crown Royal Tasting, you can print your own tasting mats by simply clicking on the mat below.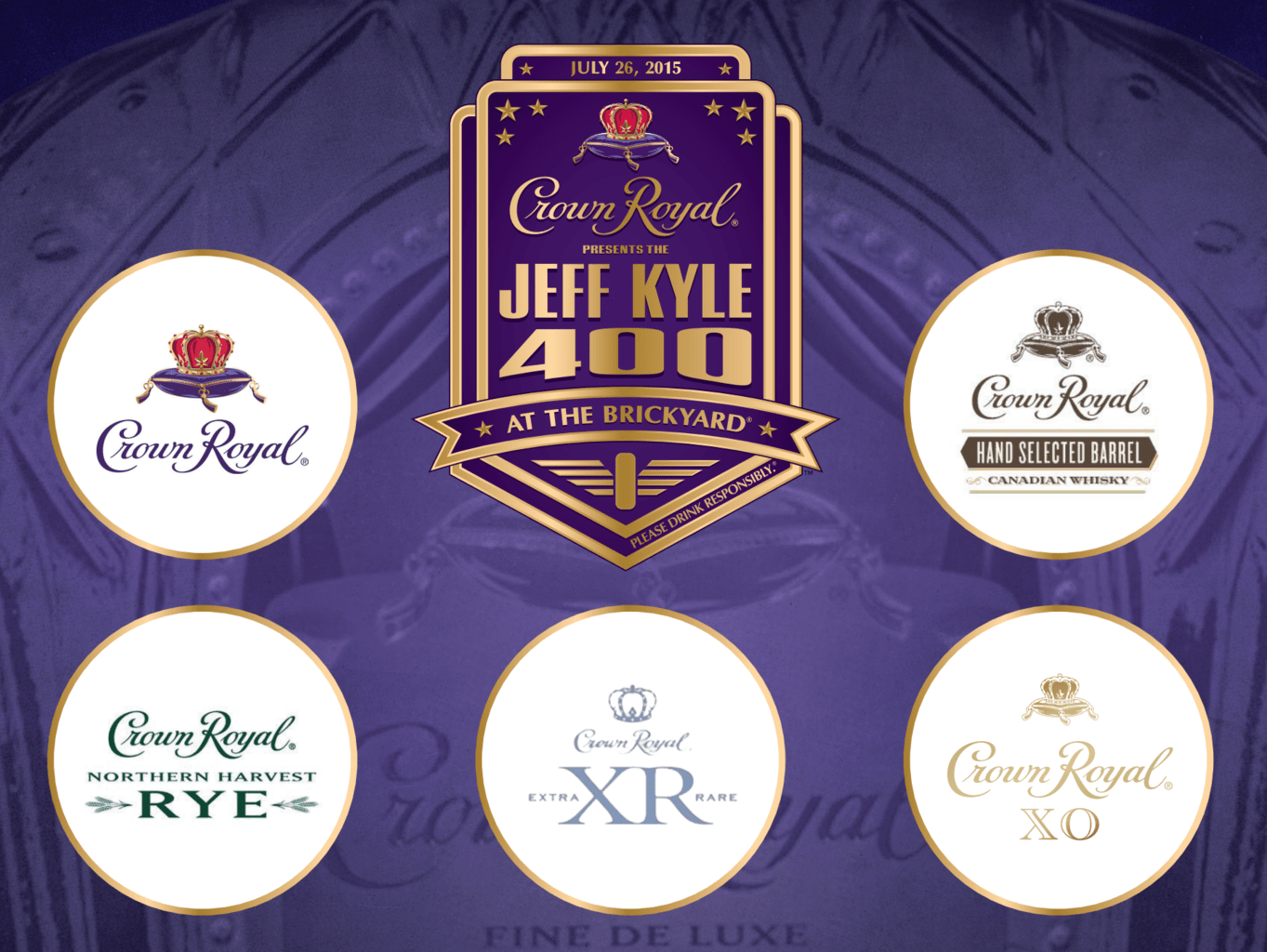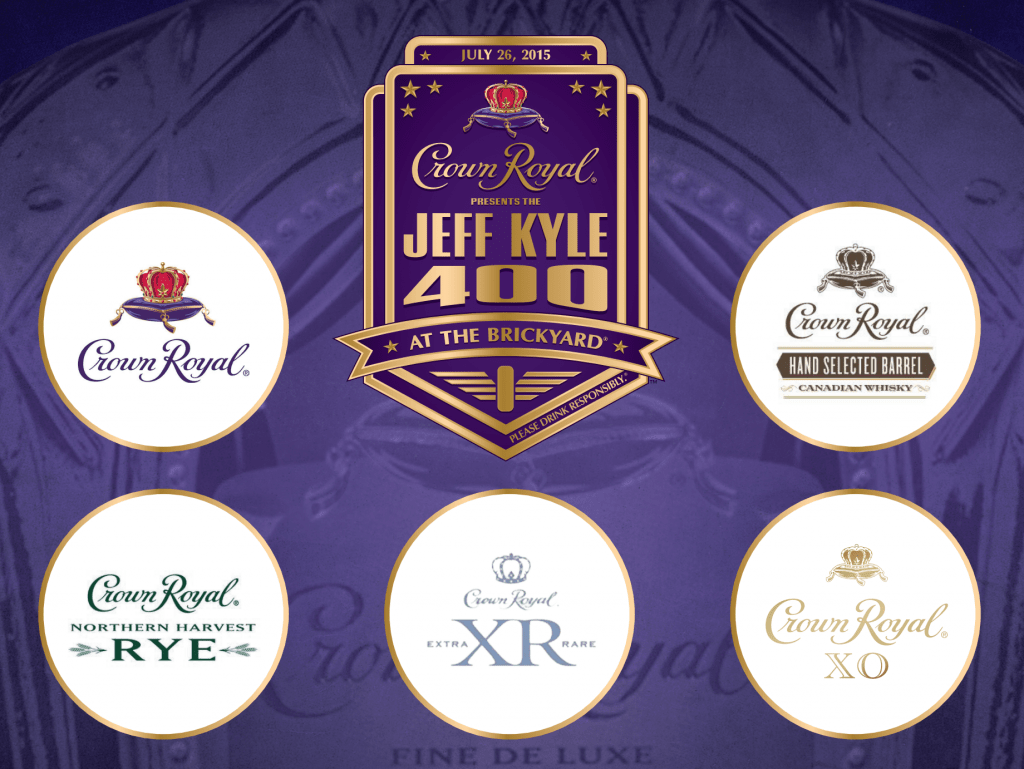 A Crown royal Tasting can be a really fun activity for your next party. I can't wait to host one at my house. Crown Royal has a lot of great recipes that would be fun to serve at a tasting or any gathering. I also have a Crown Royal Butter Pecan Cupcake recipe that you could serve for dessert! Whatever you serve, do remember that it's important to drink responsibly, and never serve alcohol to anyone under 21.
I joined Crown Royal in Indianapolis for the Jeff Kyle 400, which is part of their Heroes Project. I'll be sharing more about meeting Jeff and some of the other nominees in the coming days. Also, stay tuned for an insiders look at the Jeff Kyle 400 Race at the Brickyard! Coming soon!