This refreshing Mango Mimosa is delicious and fun! Who doesn't love bubbles? With just two ingredients, you'll be enjoying this cocktail in minutes!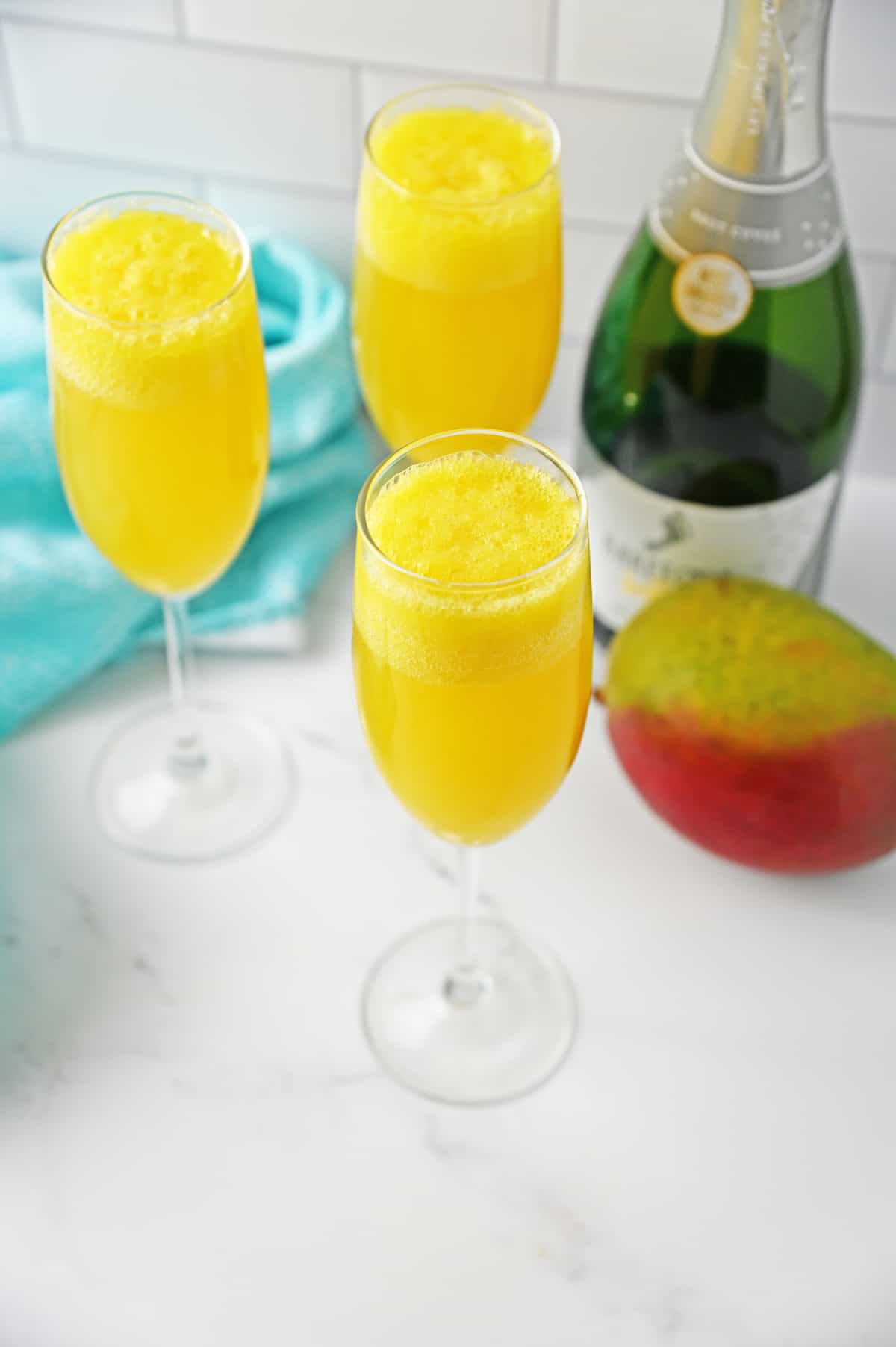 These mango mimosas make a delightful, tropical addition to happy hour or any occasion that calls for a refreshing and fruity drink. They combine the sweet and juicy flavors of ripe mango puree with the fizzy goodness of champagne or sparkling wine.
Mangoes are one of the best summertime fruits that just remind everyone of warm weather and long summer days. So, when they're in season, I love to add them to as many recipes as I can, like this crisp and delicious Mango Slaw.
But even when they aren't in season you can still enjoy the same delicious flavors with these Mango Mojitos and these Mango Margaritas, which are made with store-bought mango nectar.
Why We Love This Recipe
These cocktails are a fun and tropical twist on the classic mimosa recipe, which uses fresh-squeezed orange juice. Instead, chunks of mango are blended to make a fresh puree that gives the cocktails a wonderfully sweet, tropical flavor.
There is just something about champagne that adds a touch of sophistication to any cocktail.
The addition of fresh mango gives the champagne a beautiful orange hue. That combination makes them the perfect bubbly beverage for a Mother's Day brunch, bridal shower, or any special occasion.
What Goes into This Recipe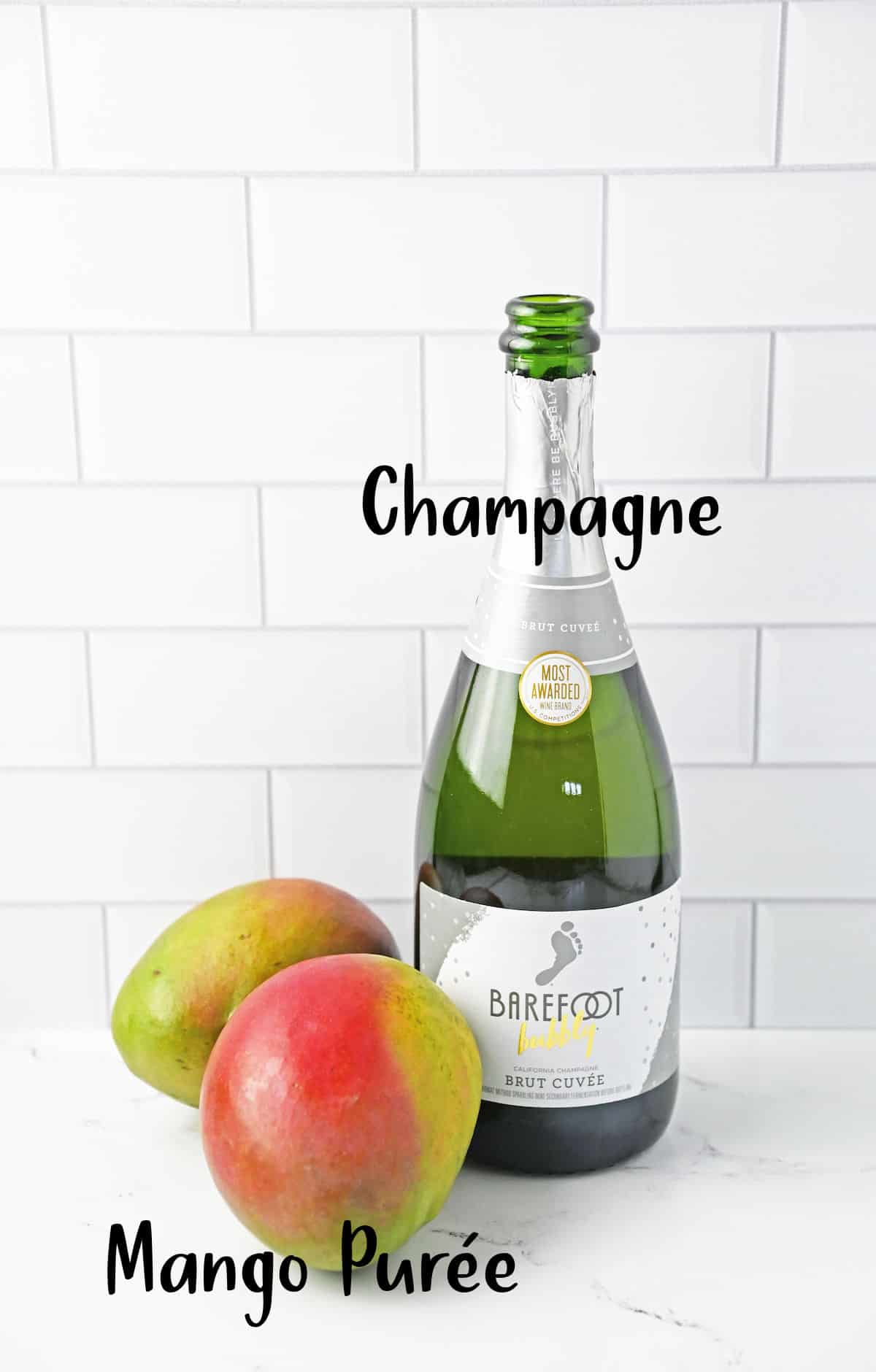 Champagne - you can use your favorite kind of champagne, bottle of Prosecco, or sparkling wine.
Fresh mangoes - you will need 2-3 fresh fruits, or you can use mango nectar.
How to Make a Fresh Mango Mimosa
Step 1: Make the mango purée by combining fresh mango chunks with 2 tbsp. water in your blender.
Step 2. Blend until smooth. If needed, add more water and blend again until it reaches purée consistency.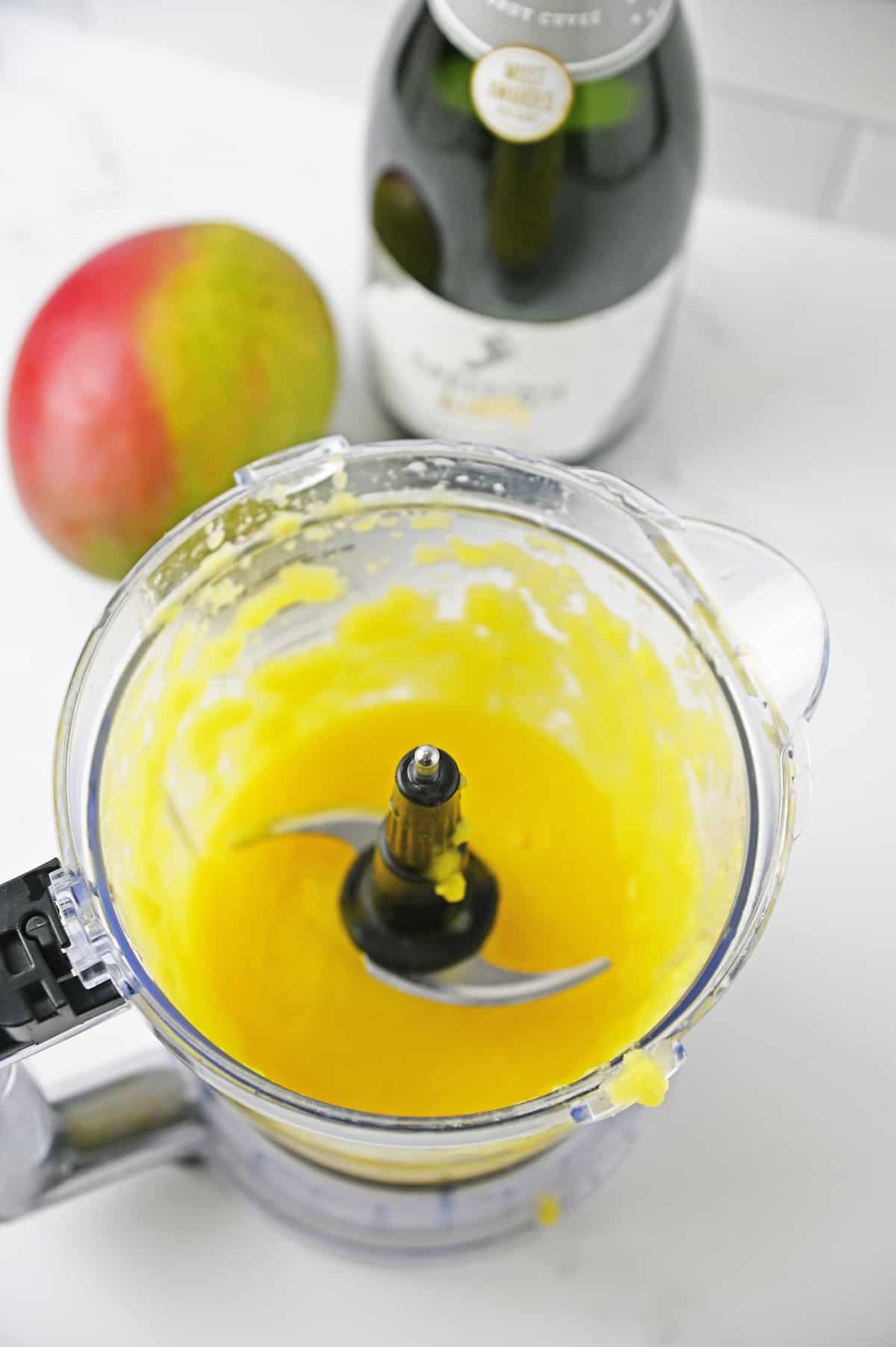 Step 2. Add 2 ounces of mango purée to a champagne flute.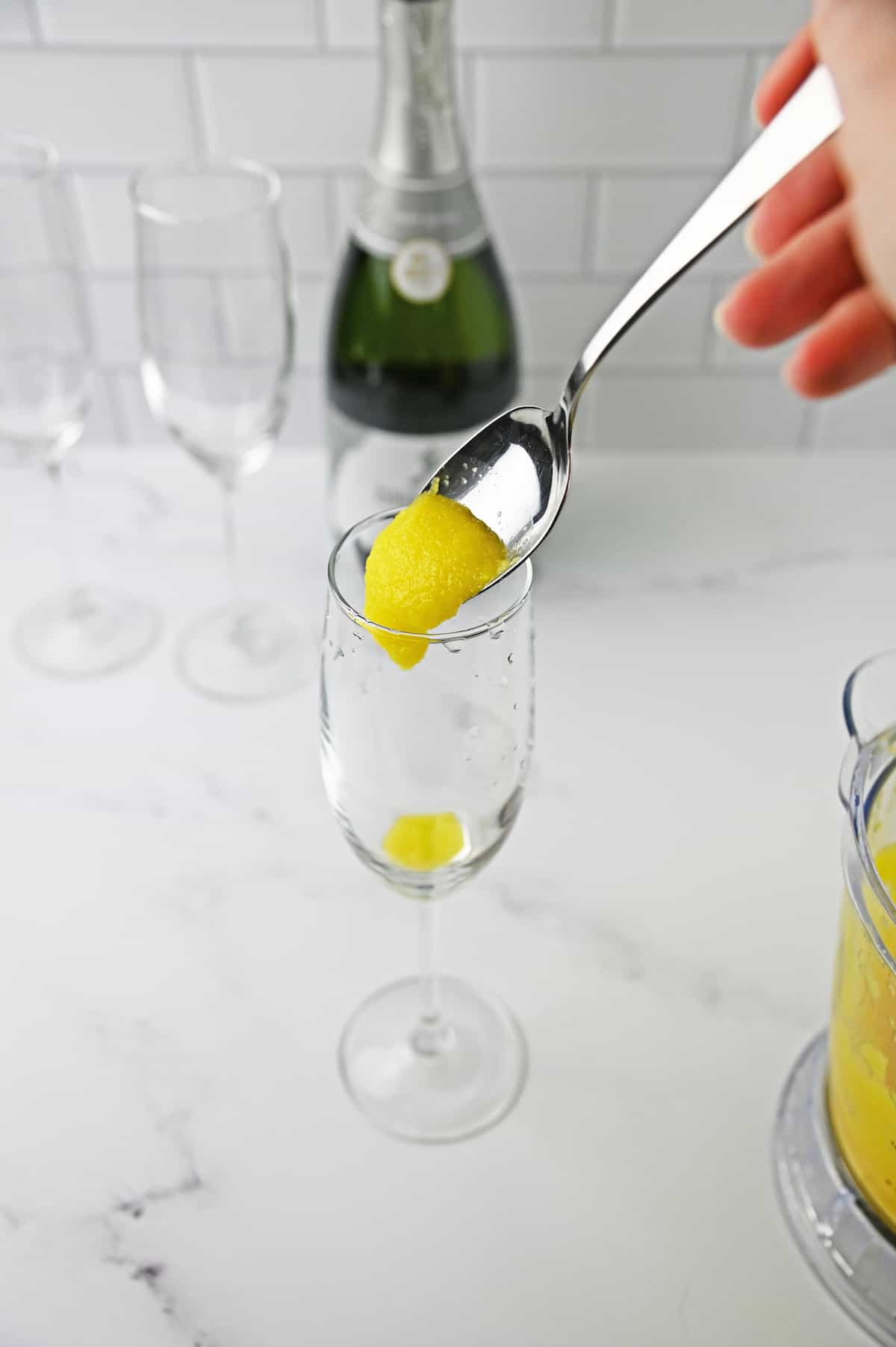 Step 3. Pour 4 ounces of your favorite champagne on top.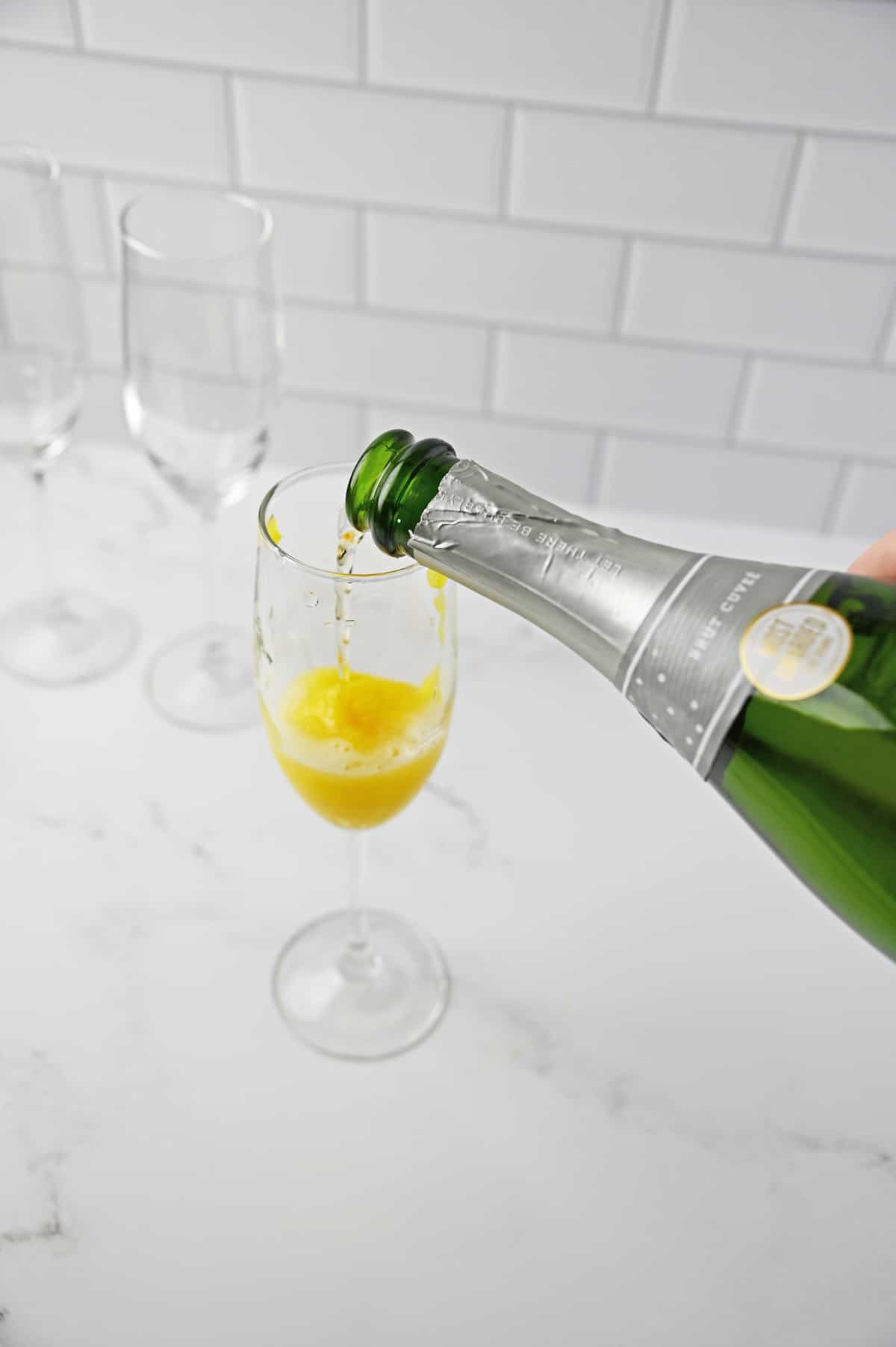 Gently stir to combine and enjoy!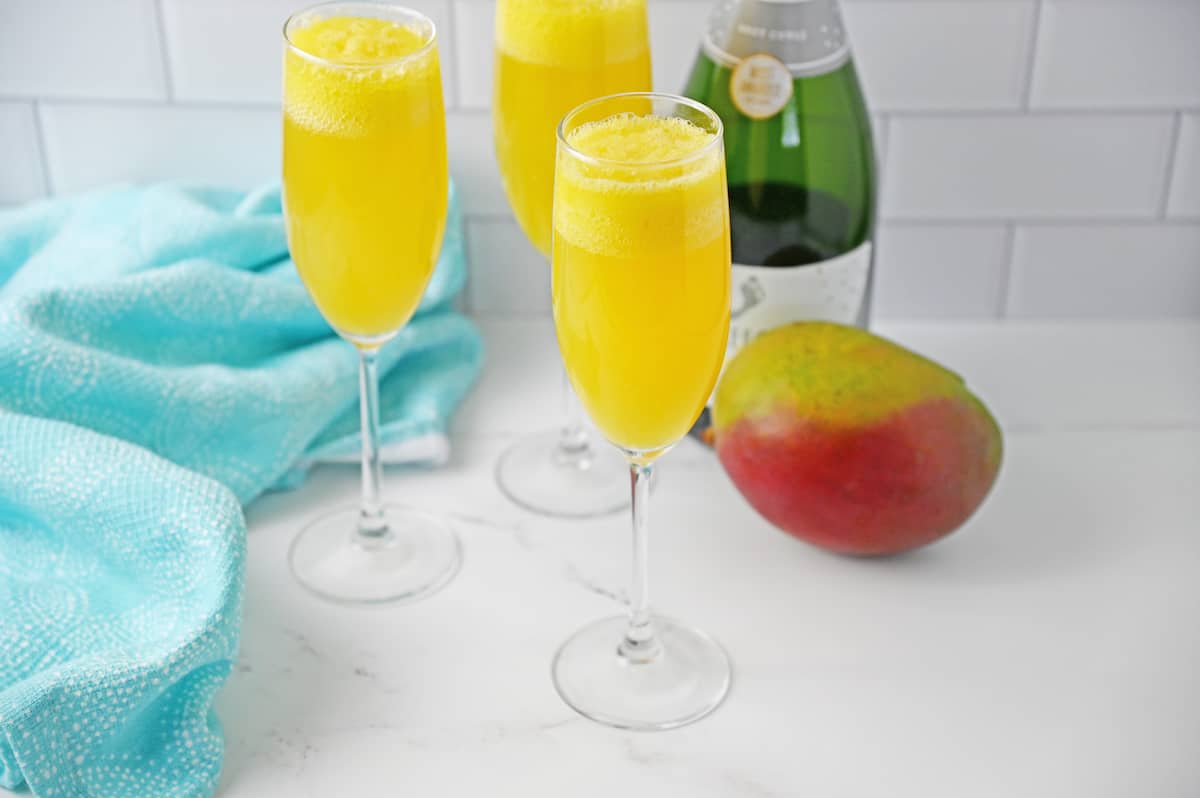 Mango Mimosa Recipe Variations
Strawberry mango mimosa: Add 2 or 3 large juicy strawberries to the blender with the mango. They'll also add a pretty blush color to the beverage.
Pineapple mango mimosa: Fresh pineapple purée with mango creates a tasty tropical pineapple twist. You will want to use half pineapple and half mango purée to give them the right balance of flavors. You can also use a little pineapple juice.
Coconut mango mimosa: Nothing says the tropics better than coconuts! Add a tablespoon of cream of coconut to the blender and add your bubbly.
Passion fruit mango mimosa: If you are lucky enough to have fresh passion fruit in your local grocery store it makes an excellent addition to this mango mimosa. Just add equal parts of pureed passion fruit to the mango purée.
Mango Bellini: If you have a bottle of Prosecco on hand, you can swap out the champagne to make a sweet and bubbly mango bellini.
Mango margarita mimosa: Just when you think a cocktail can't get any better! Add a splash of tequila and lime juice to the mango purée. Then top it off with some of your champagne. It is surprisingly delicious.
Mango peach mimosa: Fresh summertime peaches and mangoes go hand in hand. Add a little peach purée to the mix for a delightful cocktail that will quench any thirst.
Recipe FAQs
Is champagne and sparkling white wine the same thing?
While champagne is a type of sparkling wine, Champagne is a category of wine that comes specifically come from the Champagne region of France.
Can I use mango juice or mango nectar instead of purée?
You certainly can. Since mangoes are only in season from May-September, store-bought nectar is a great alternative.
What can I do with leftover mango puree?
You can add the leftover purée to smoothies, use it as a topping for your morning oatmeal or just add it to sparkling water for extra flavor.

You can also freeze it in ice cube trays. Then use the mango ice cubes for other drinks or cocktails.
Top Tips
Select ripe mangoes: Ripe mangoes will have a sweeter and more intense flavor than unripe ones. To make sure the ones you choose are ripe, look for mangoes that are slightly soft to the touch and have a sweet fragrance when you smell the outside of the skin.
Start with chilled champagne: The key to a cold and refreshing mimosa is to start with chilled champagne or sparkling wine. Several hours before making them, place the bottle in the coldest part of your refrigerator. It will be nice and cold when you're ready for it.
Add a splash of orange juice: If the mangoes are too sweet for you, add a small splash of orange to balance it out. It won't take away from the mango flavor.
Dress them up: Pretty mimosas are the best mimosas! To give the cocktails a beautiful presentation for your next party, garnish them with fresh mango slices, an orange slice, or a large strawberry slice wedged on edge of the glass.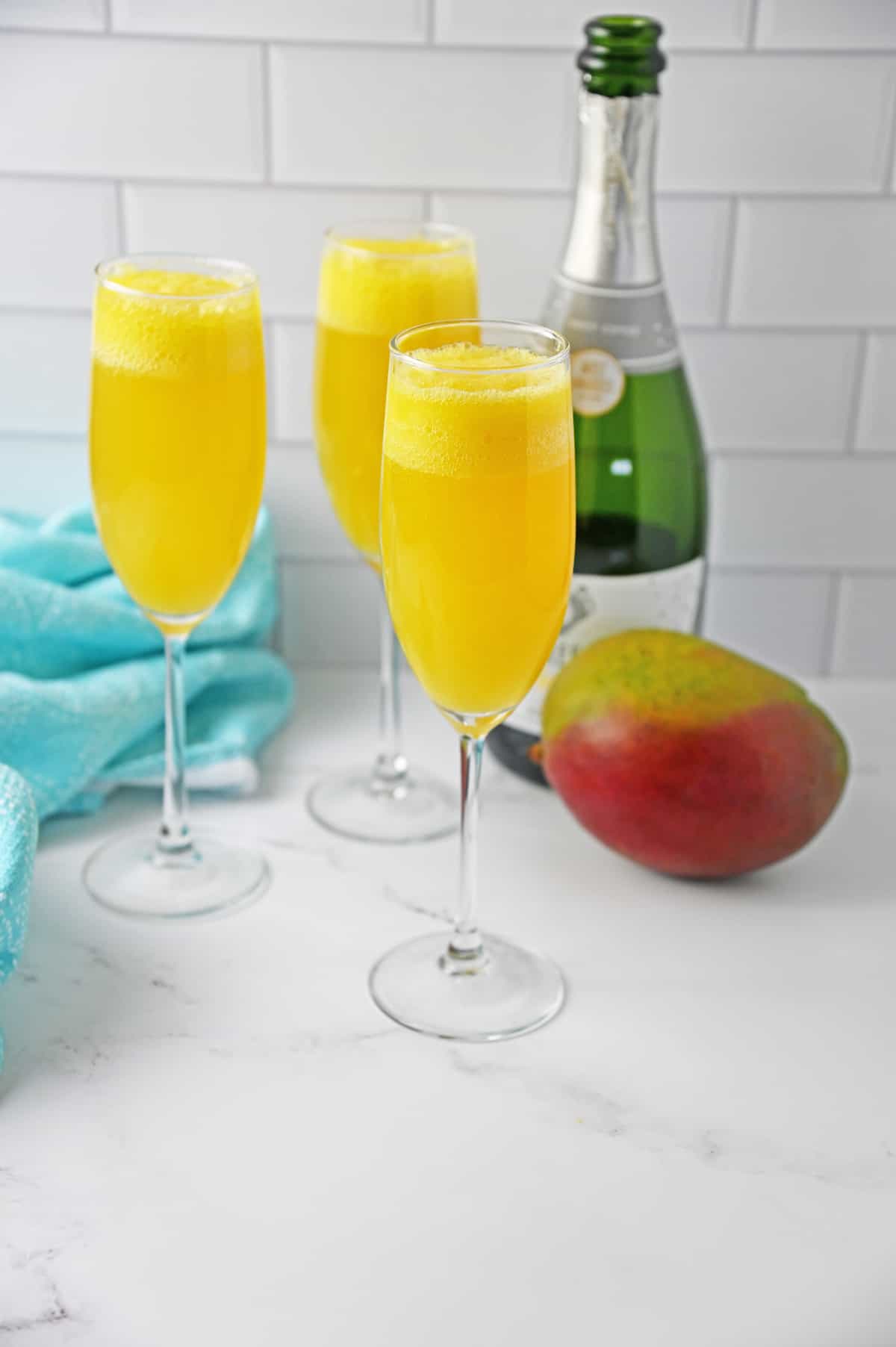 More Cocktail Recipes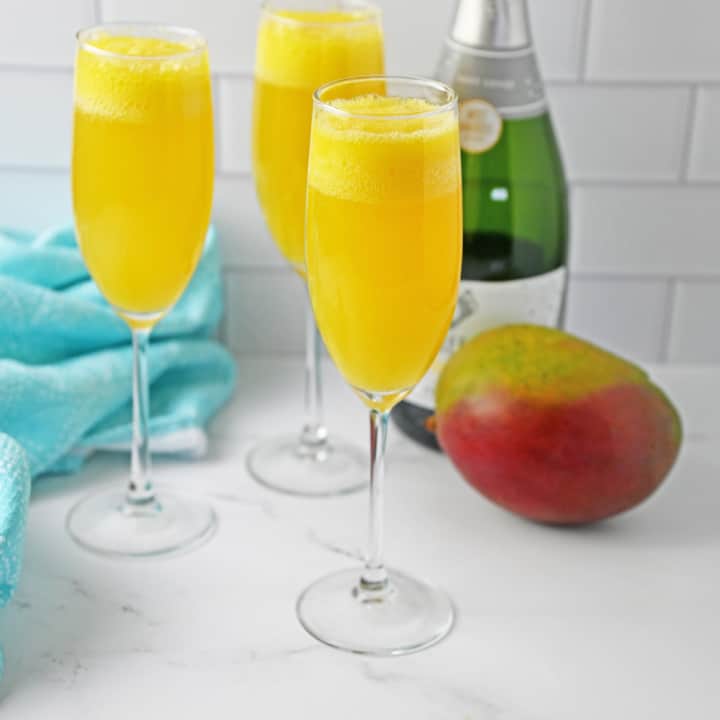 Mango Mimosa
This refreshing Mango Mimosa is delicious and fun! Who doesn't love bubbles? With just two ingredients, you'll be enjoying this cocktail in minutes!
Print this Recipe
Pin this Recipe
Rate
Ingredients
2

ounces

mango puree

4

ounces

champagne
To make the mango puree
2

cups

fresh mango

2

tablespoons

water
Instructions
To Make Mango Puree
In your blender, combine mango and 2 tbsp. water. Blend until smooth, add more water and continue to blend, if needed.
To make Mimosa
Add 2 ounces of mango puree to a champagne flute.

Pour 4 ounces of champagne on top. Gently stir to combine and enjoy!
Nutrition
Serving:
1
|
Calories:
90
kcal
|
Carbohydrates:
10
g
|
Protein:
1
g
|
Fat:
0.2
g
|
Saturated Fat:
0.1
g
|
Polyunsaturated Fat:
0.04
g
|
Monounsaturated Fat:
0.1
g
|
Sodium:
9
mg
|
Potassium:
195
mg
|
Fiber:
1
g
|
Sugar:
9
g
|
Vitamin A:
613
IU
|
Vitamin C:
21
mg
|
Calcium:
16
mg
|
Iron:
1
mg