Kayaking in San Simeon Cove is a great first introduction to the sport. This was an activity we had never done as a family before, so we were excited to try it out together.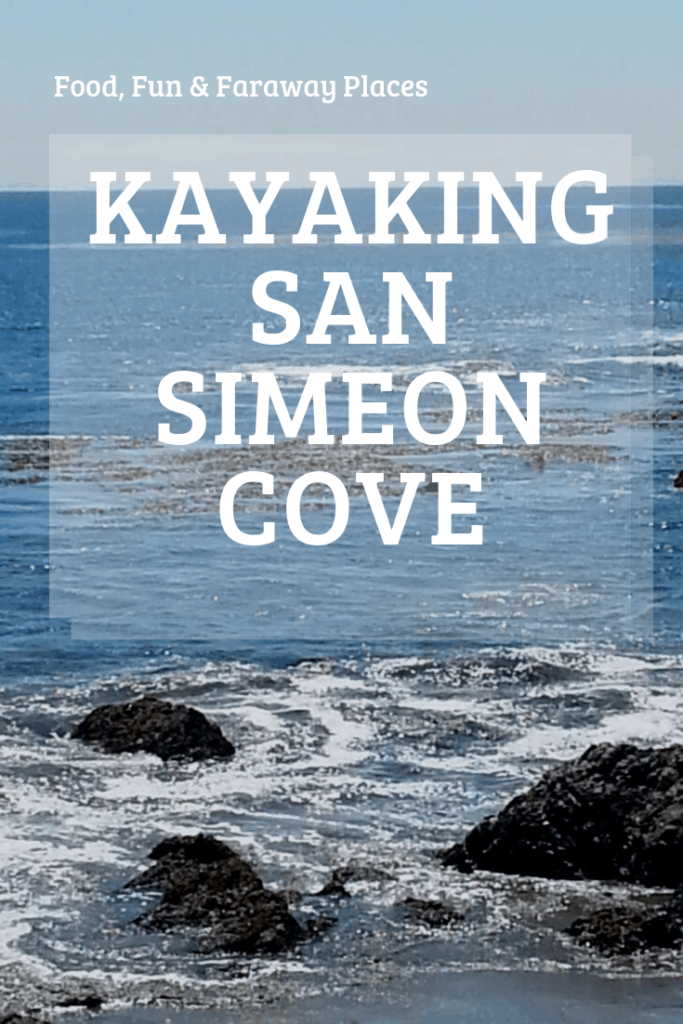 Where is San Simeon Cove?
San Simeon is located between Los Angeles and San Francisco. We took a California road trip beginning in Marina Del Rey, and this was one of our favorite stops.
To get to San Simeon, take U.S. Highway 101 north to San Luis Obispo, then take California Highway 1 north for about 39 miles. From that point, it will take you about four and a half hours.
Our launch point was San Simeon Cove, which is located directly below Hearst Castle. The Cove was at one time the private port of William Randolph Hearst and is now part of WR Hearst State Beach.
You can actually see San Simeon Point from Highway 1. There's a trail that leads you into San Simeon Cove, and it's a beautiful walk.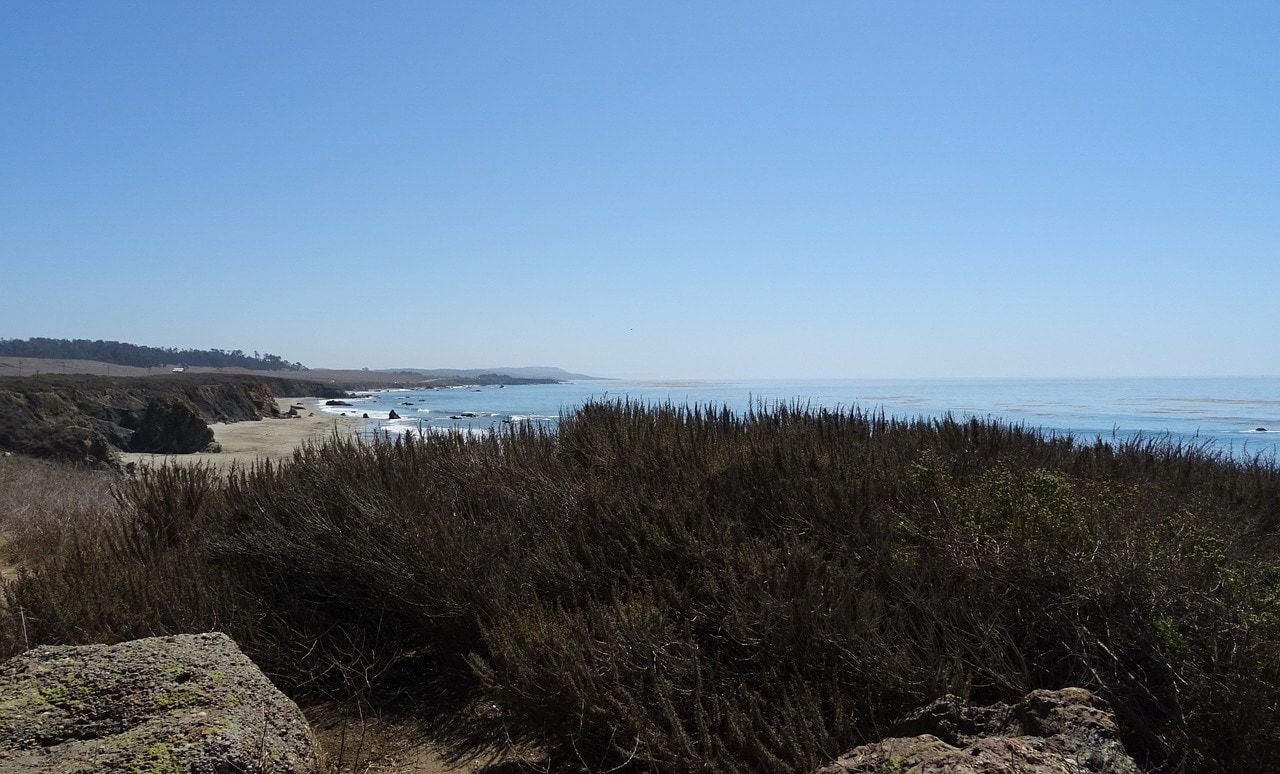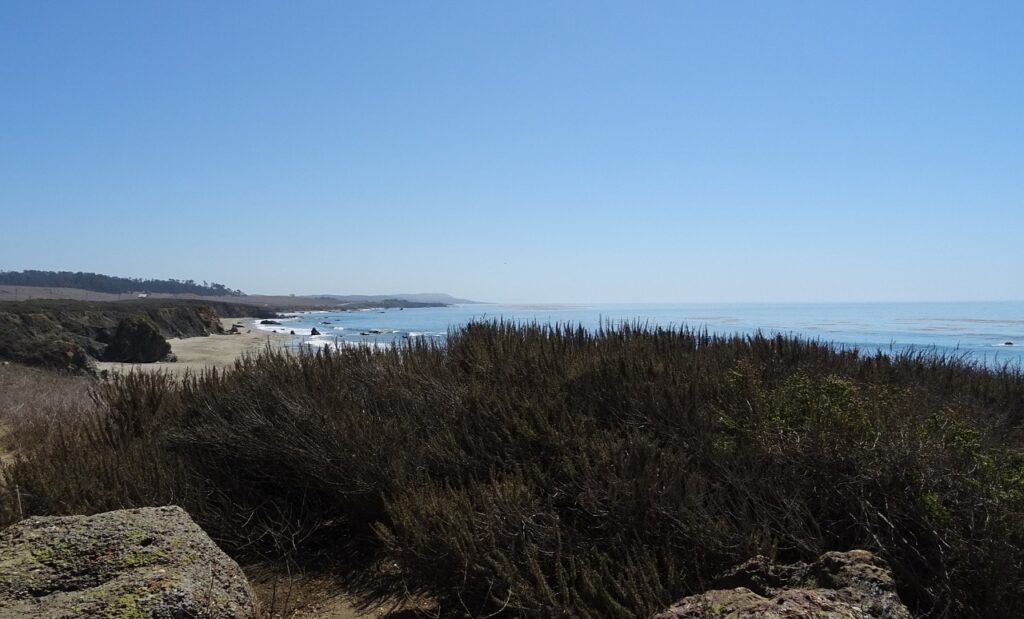 Kayaking in San Simeon Cove
We were excited about seeing the gorgeous views, but I was nervous because I didn't know what to expect. We don't do a lot of outdoor sports as a family. I was relieved to find out our group was made up of other families who were new to the sport as well.
We met our guide at 10 a.m. to get suited up and receive instructions. There was a small building with restrooms where we could change into our wetsuits, which were suggested, especially for these Floridians used to warm water!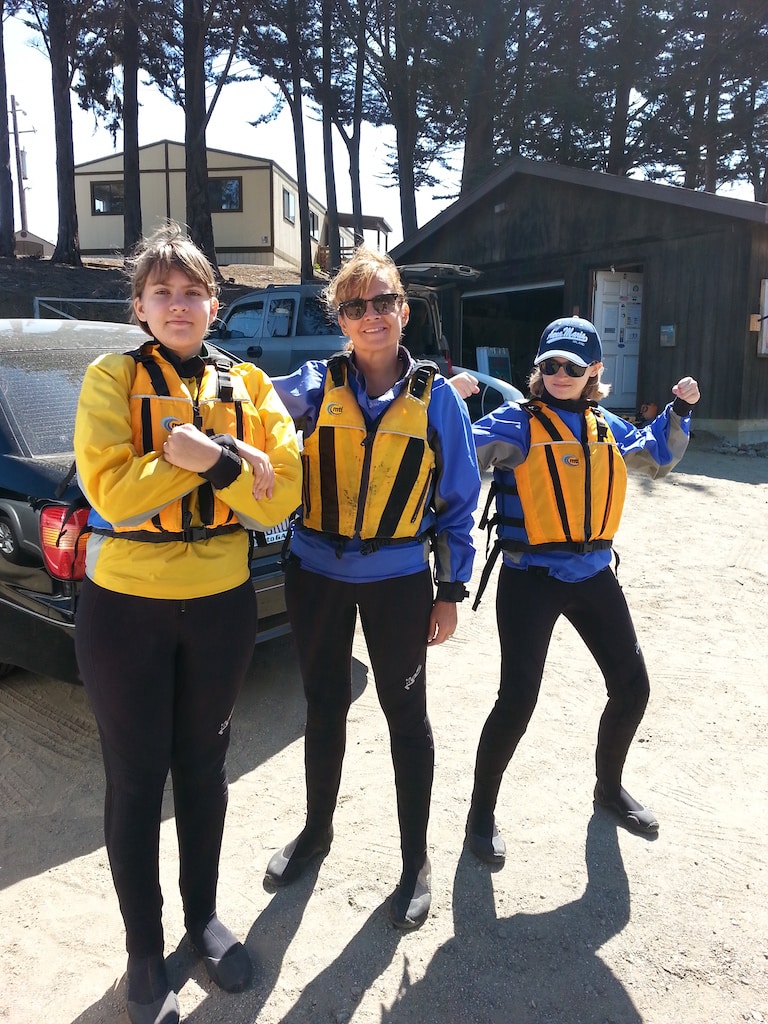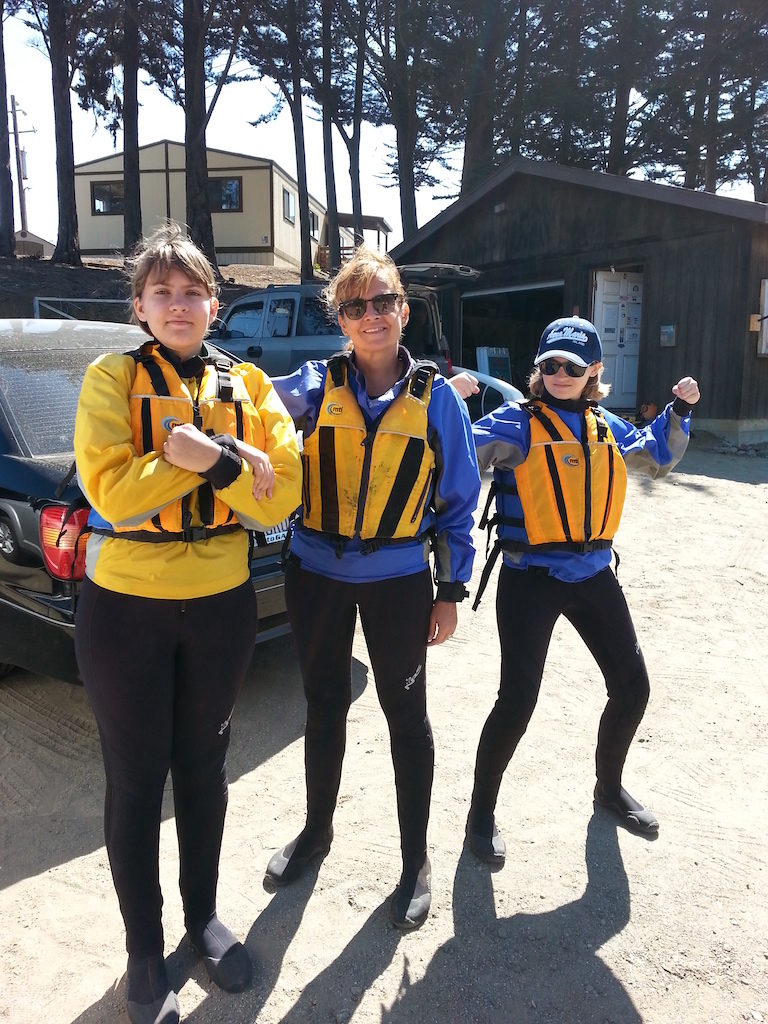 The Gulf of Mexico, where we usually swim, is the temperature of bathwater. Not so in the Pacific! You'll be glad you have the wetsuits once you hit the water. Your tour company will let you know what you need.
Our tour was planned by the San Luis Obispo Visitor's Bureau, and would be 2-3 hours. My oldest daughter had kayaked with Mote Marine Aquarium when she was an intern, but the rest of us had not been before. We found a well-rated tour company so we could get a little training before setting out.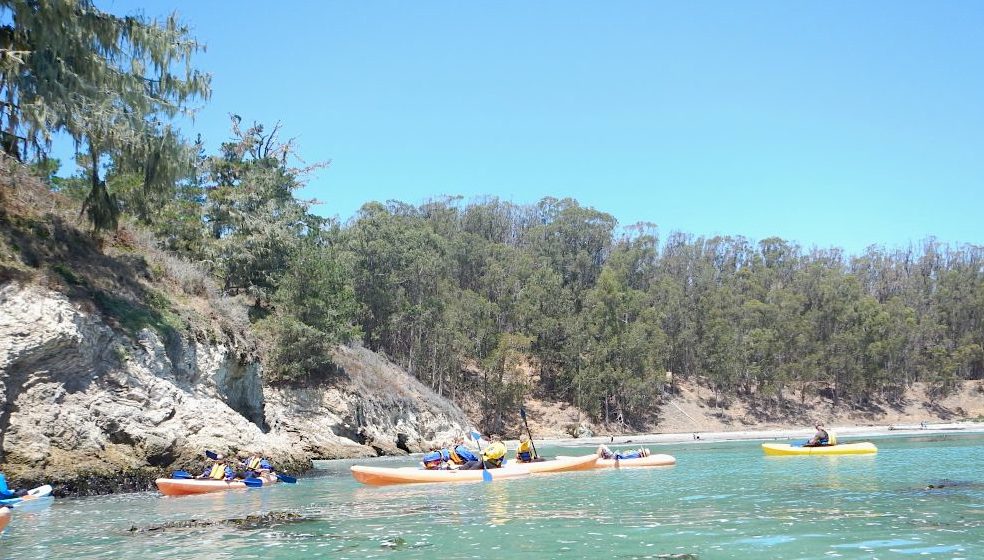 We were given lessons on how to paddle, how to turn, as well as safety instructions. As we stayed really close together, there was really nothing to be worried about. Once the fear factor was gone, we all started to relax and have fun.
Our group had about 12 kayaks, some with two seats, and a couple with just one. We had a few guides so someone was always available to help if you found yourself getting behind.
If you had a lot of trouble or got tired, one of the guides could pull you in, though none of us needed it. I do think it's important to be aware of how many people are in your group and to make sure you have enough guides to help.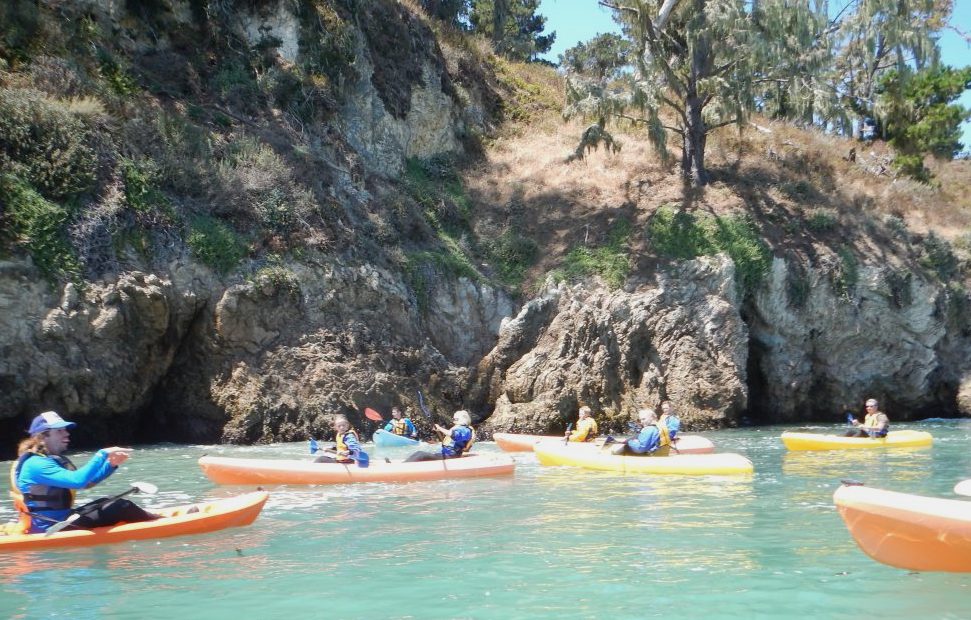 San Simeon Cove Tour
At one point on the tour, we stopped a little closer to shore so the instructor could show us how the water sprayed when it hit the rocks.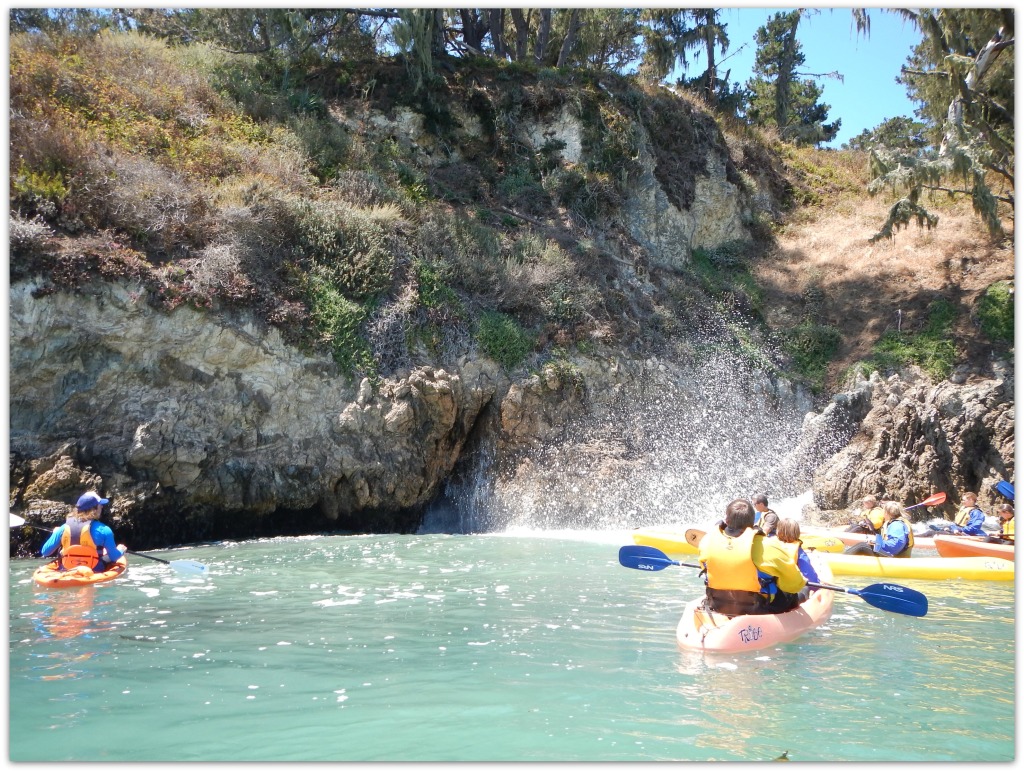 By getting closer, you could catch the spray. We hung out there for quite a while so everyone could give it a try.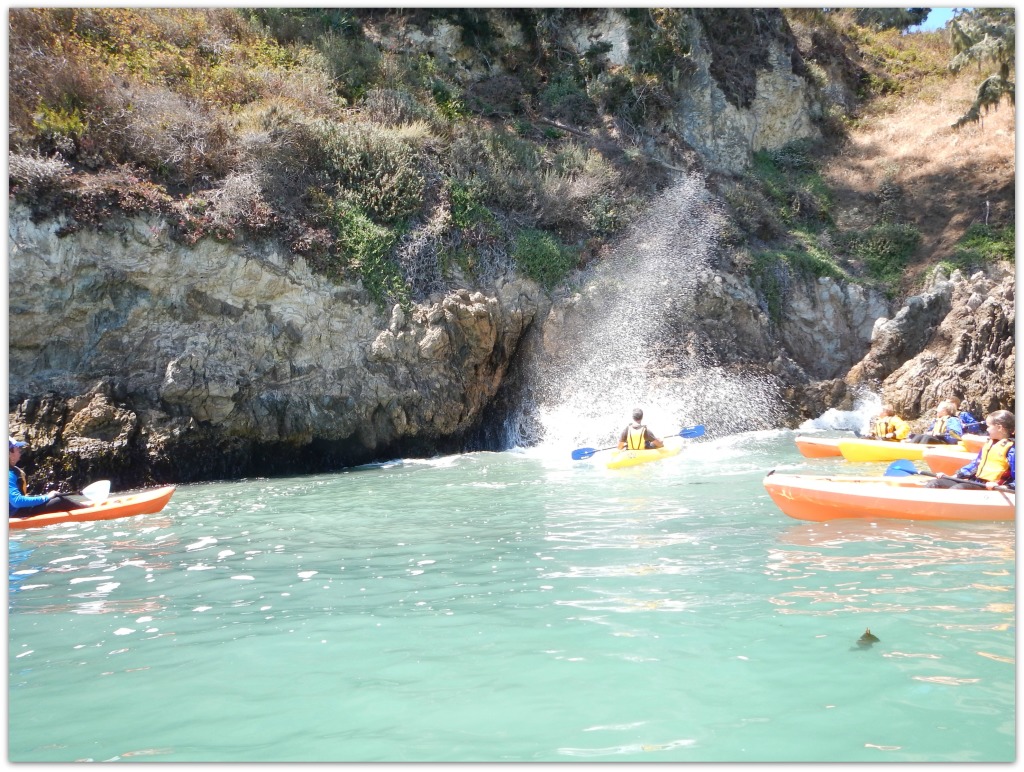 Some got more spray than others!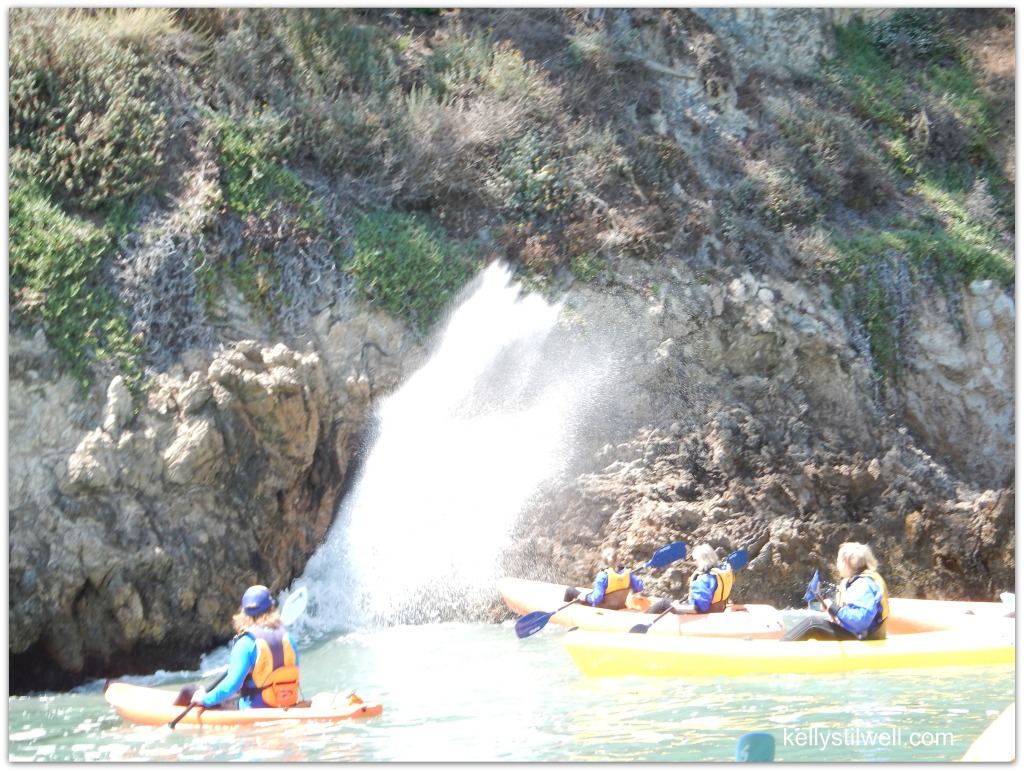 The instructor said people never want to leave this area as it was so much fun, but there was a lot more to see. Before I share the rest with you, take a look at this video of the spray. I have never heard my husband laugh like this before!
Having that video we made with our GoPro was worth the cost of the adventure! My daughter found this little critter in the water.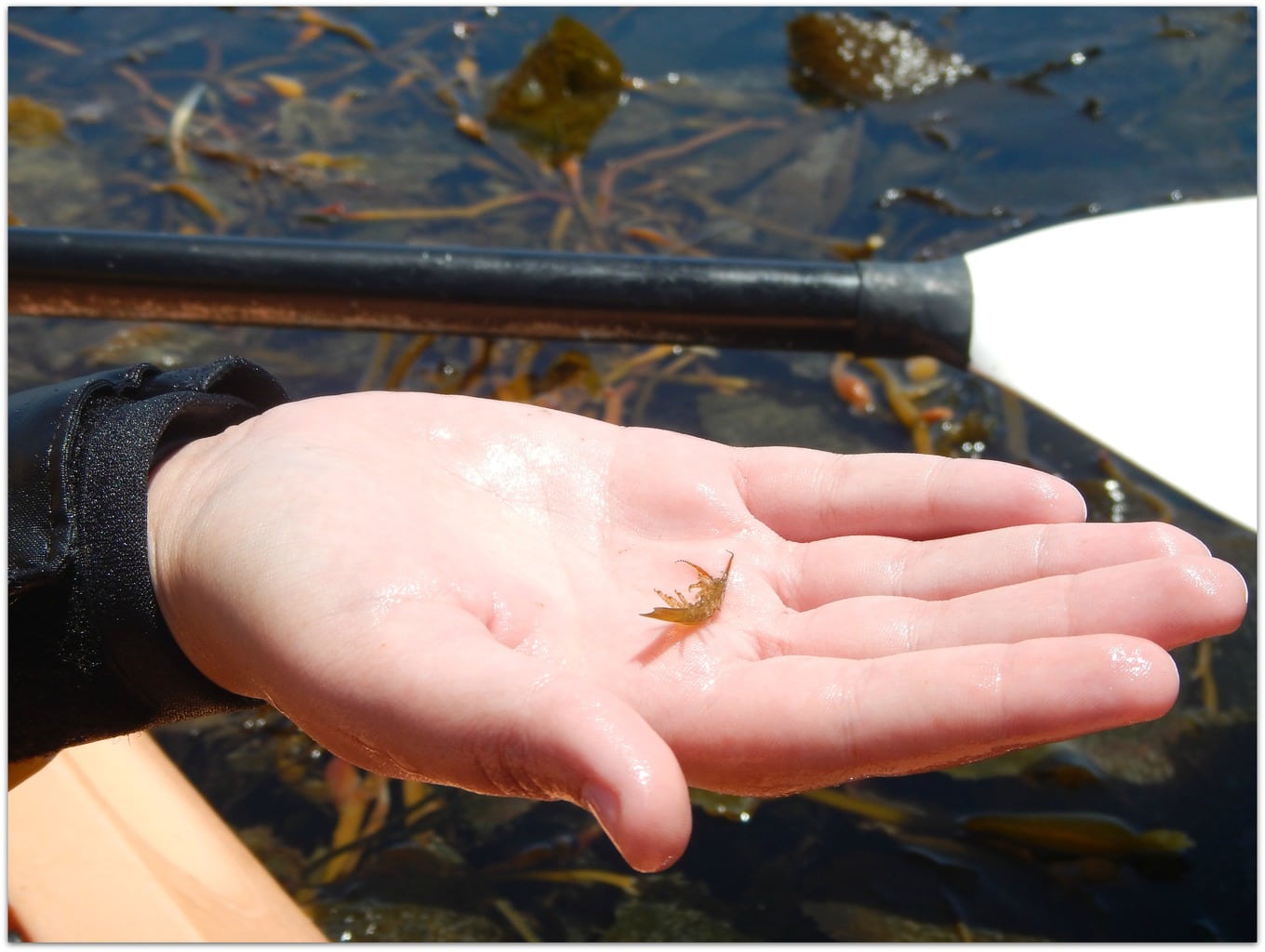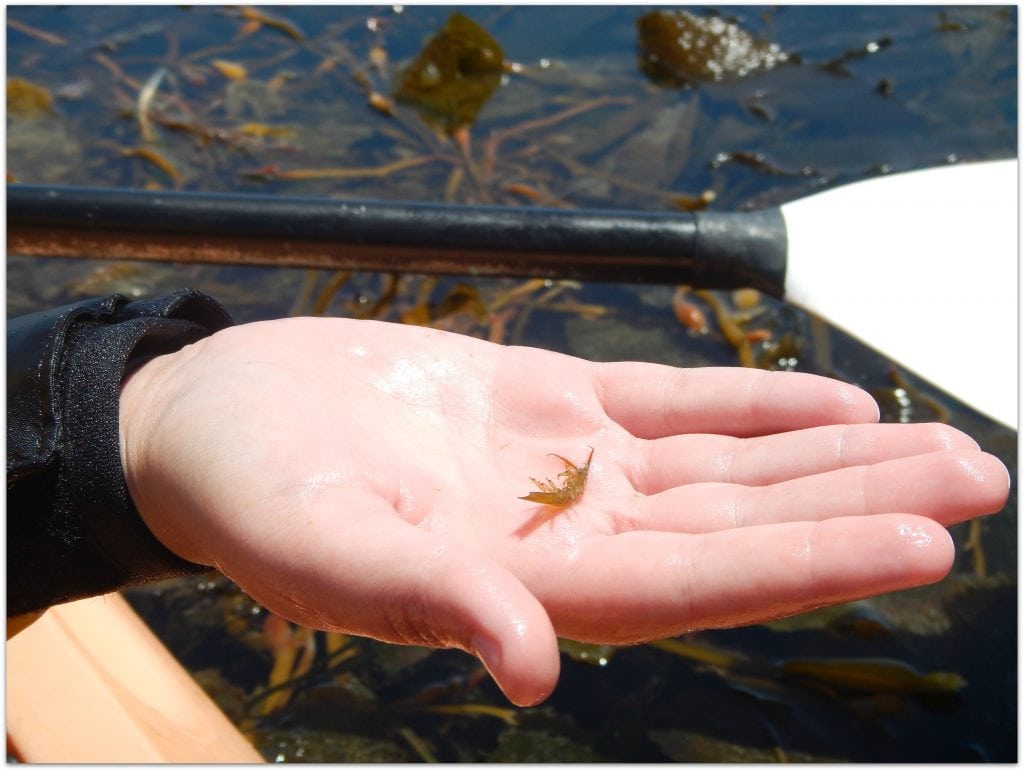 Though I don't remember what this was (some kind of shrimp?) I can promise you our instructor could tell me. He knew everything about this Cove, including what these grasses were called.
They were beautiful, but not easy to paddle through. It was best to stay clear of them, which I couldn't seem to do!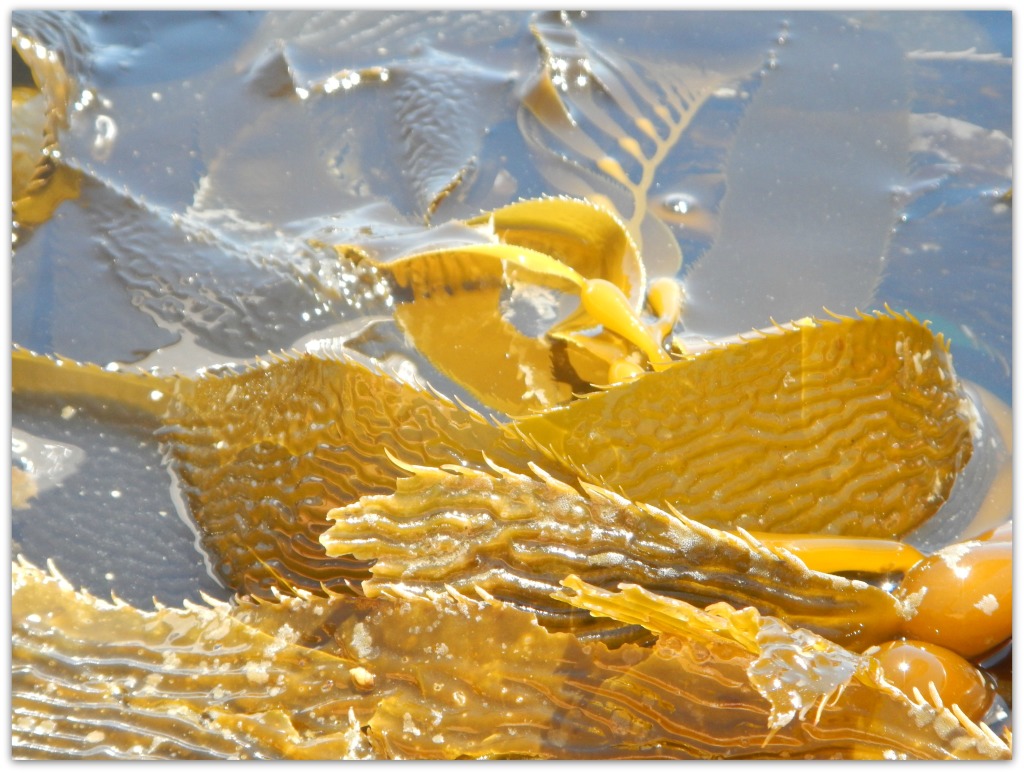 My younger daughter has always loved nature, including crazy bugs and sea creatures. This one was really strange looking, but she had no problem holding it up for a photo.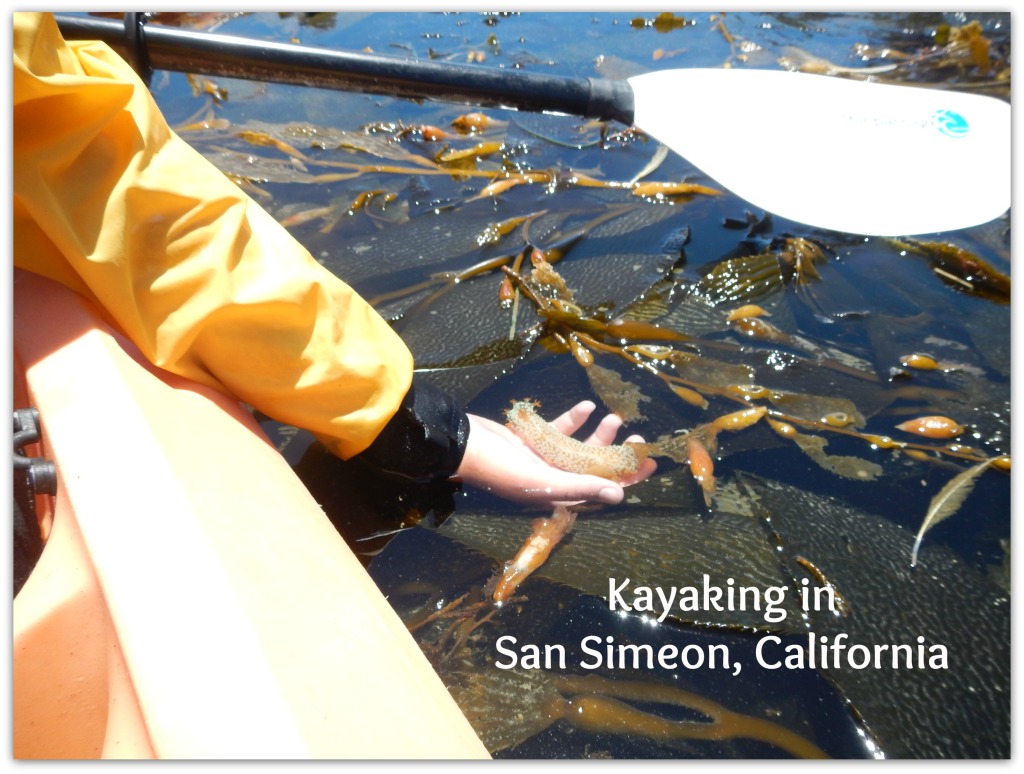 Here's an even better look! We remember that it was some kind of sea slug.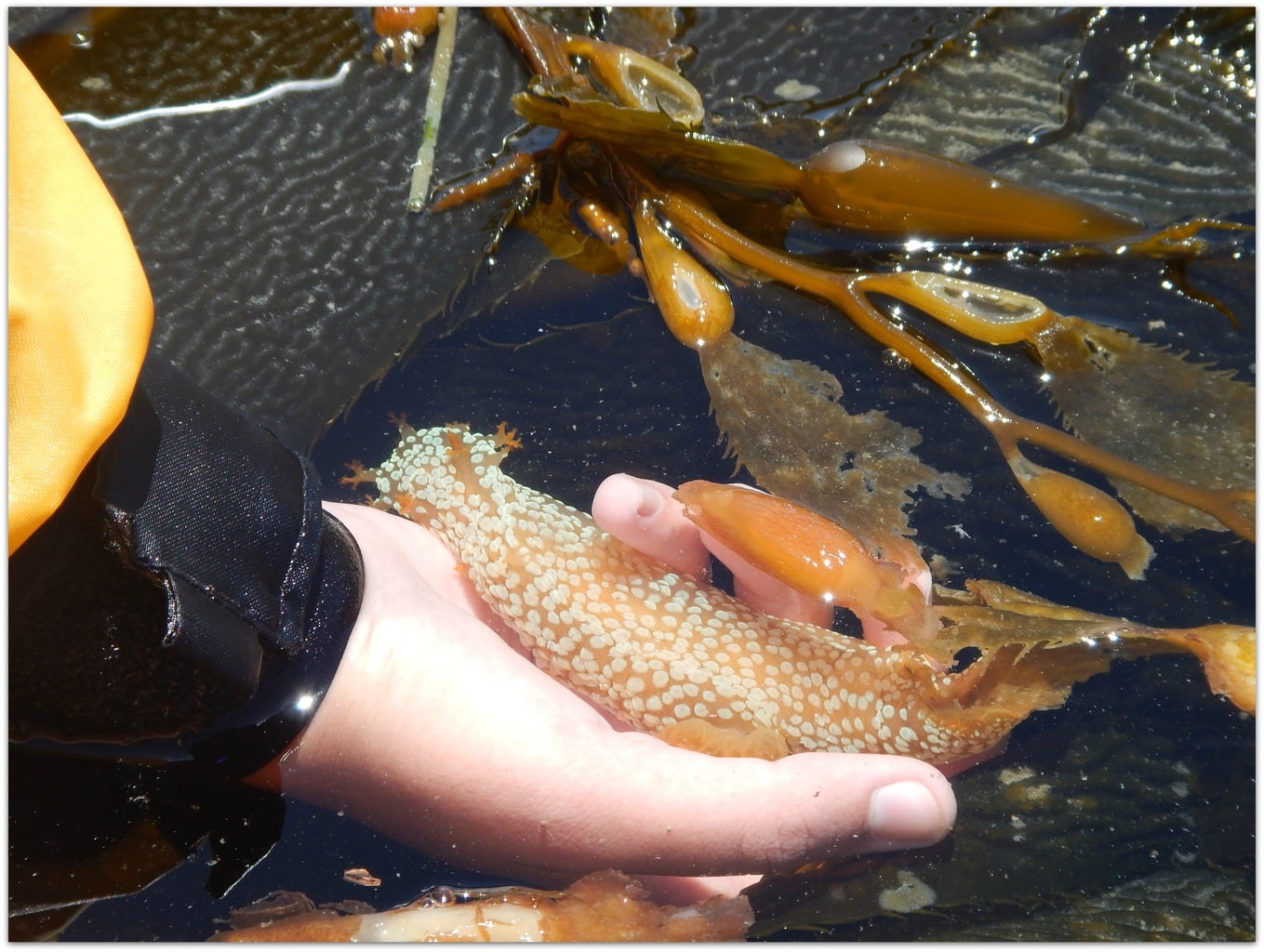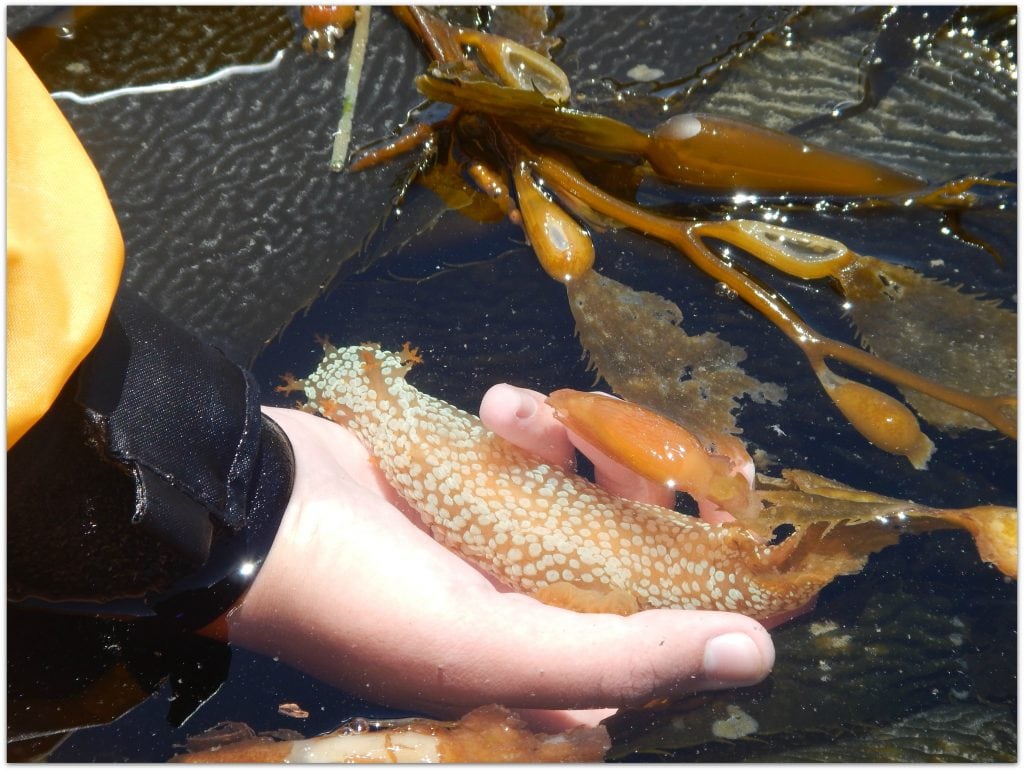 This was such a great family experience, and we learned so much about the Cove and its inhabitants. We even saw an otter and seals on the rocks nearby.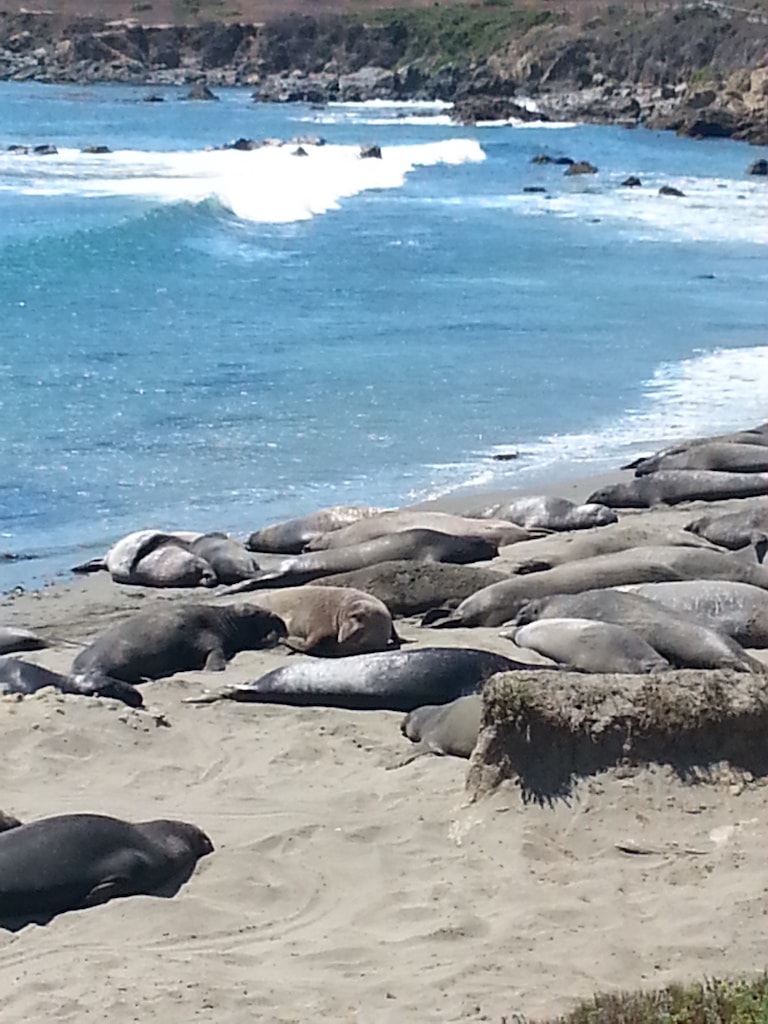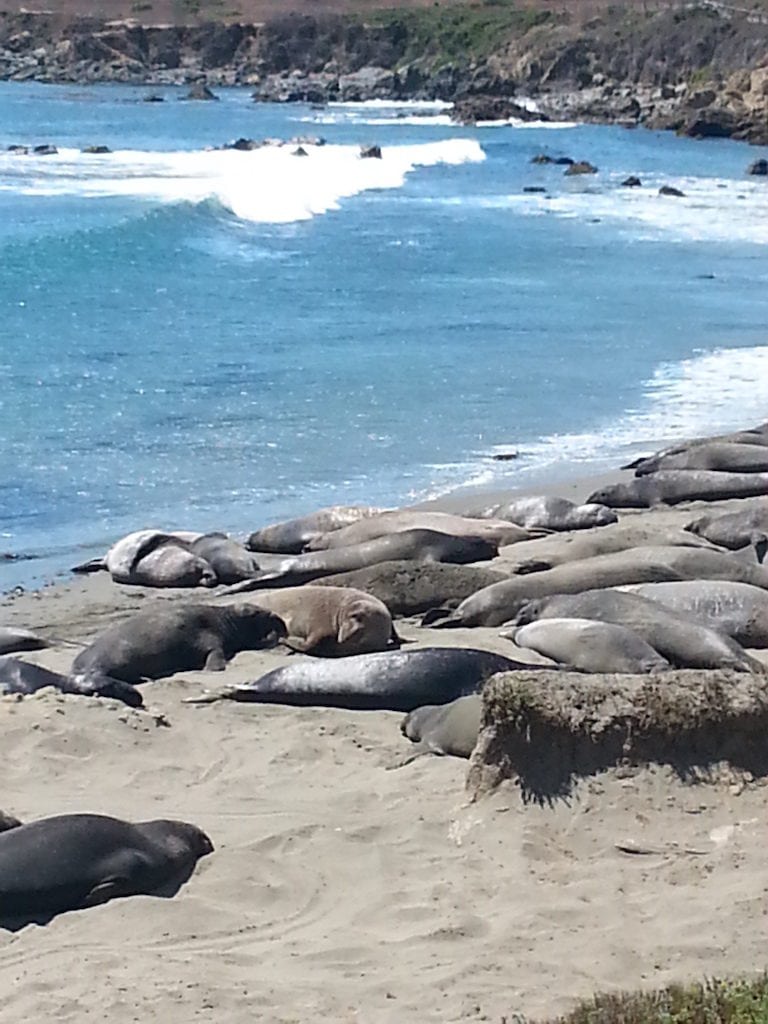 We're thinking about purchasing a couple of kayaks as we live just 30 minutes from the Gulf of Mexico and even closer to the Manatee River. This was a great introduction!
What to Bring for San Simeon Kayaking
Bathing suit
Pretty obvious for a day on the water, but it's a good idea to wear a one-piece bathing suit when you're going to be in a wet suit.
Hat
One of those things I often forget until I'm there is a hat, which is why I have such a large collection! Pack a hat for everyone. It's not a bad idea to have a waterproof hat with a wide brim and a chin cord just in case a wave catches you while you're out in San Simeon Cove. If you worry about forgetting things like I do, use this free printable packing list.
Sunscreen
Don't depend on your tour company for things like sunscreen. Sometimes they will have it, other times they won't. You definitely need it when you're out on the water, so be sure to stick it in your waterproof backpack before you head out.
Water shoes
You will at some point have to enter and exit the kayak, which means you'll be stepping on the floor of San Simeon Cove. Protect your feet with water shoes.
Towels
Again, your tour company may have these, so check with them before you leave your hotel. You don't want to be without towels when you're getting out of the wetsuit and into dry clothes.
Drinking water
Pick up a few bottles of water, or better yet, always have a couple of these collapsible water bottles with you when you travel. You'll save a ton of money and it's so much better for the environment. Remember to fill them before you leave!
Change of Clothes
If you're driving to San Simeon Cove with your bathing suit under your clothes, remember to bring a change of underthings for when you take your bathing suit off.
San Simeon Cove Tour Companies
Unfortunately, the company we used is no longer in business. You will want to find a company and call ahead to make a reservation. The day we were there a couple of people were able to join our tour at the last minute, but as you never know how crowded it will be, it's best to reserve in advance.
Things to Do Near San Simeon Cove
There is actually a lot to do in this area. You can tour the Hearst Castle, explore a historic lighthouse, and even see zebras grazing in the wild! Make plans to spend at least a full day in San Simeon.
Hearst Castle
William Randolph Hearst inherited the Hearst Castle property from his mother in 1919. His father had been a wealthy miner and bought about 40,000 acres of land in the area. WR Hearst eventually increased that amount to over 250,000 acres.
Originally called Camp Hill, the property was used as a camp-like vacation destination for the family. WR Hearst decided to "build a little something" that is now Hearst Castle.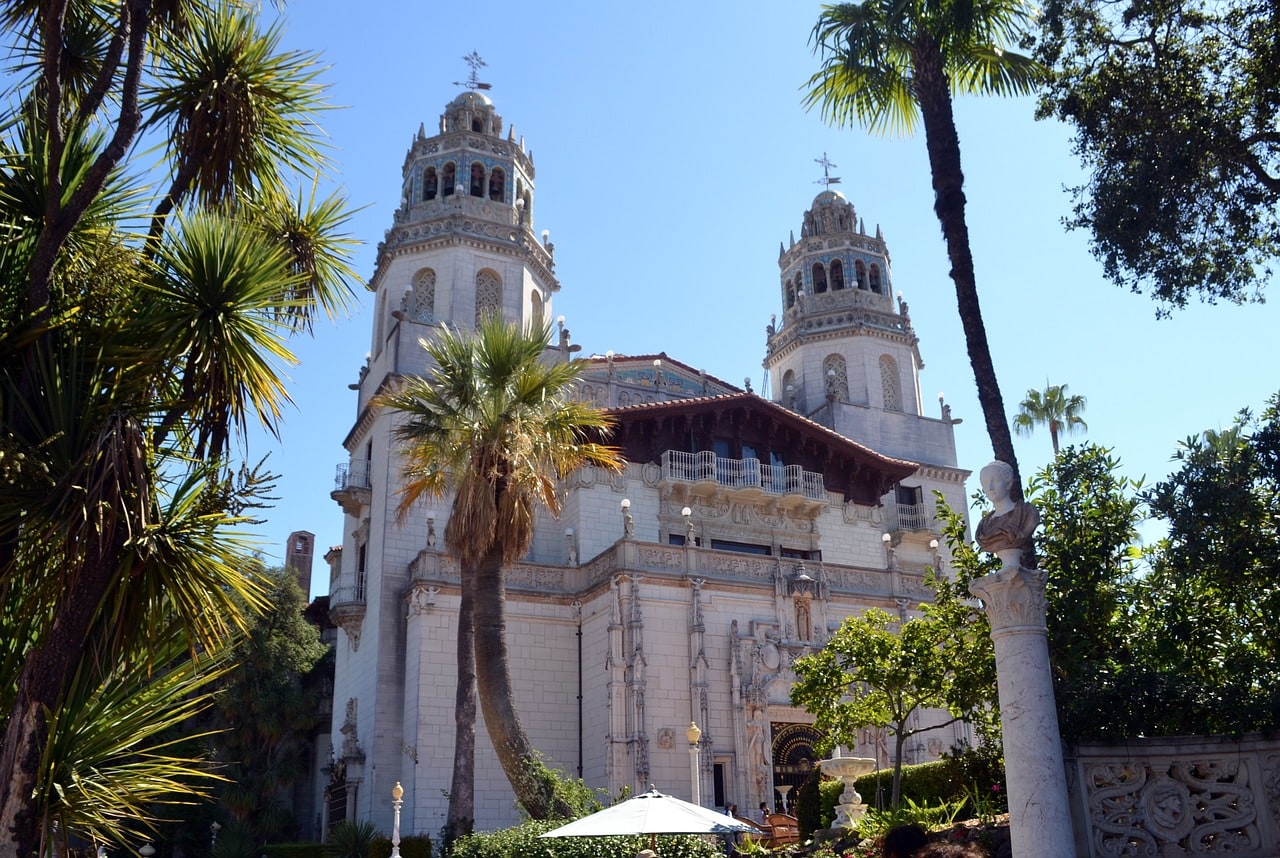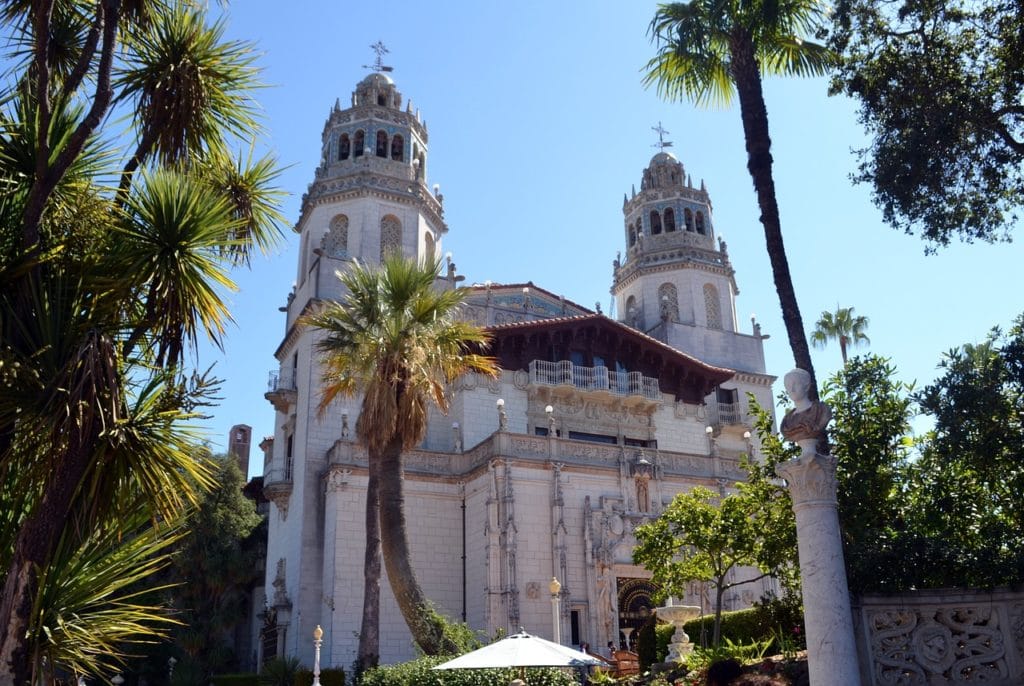 Tours of the castle are very much in demand, so if you want to go, get your tickets as far in advance as you can. We didn't plan to visit and decided at the last minute we shouldn't miss it, being right there. Not a good idea as no tickets were available.
Known as one of the world's greatest showplaces and a museum, Hearst Castle tickets may be purchased 60 days in advance. Several tours are available, including a couple that are seasonal. There is also an evening tour. The Grand Room Tour is wheelchair accessible.
Zebra Viewing
Hearst Castle was once the home to the world's largest private zoo. Formally named the Hearst Garden of Comparative Zoology, it was created out of Hearst's love for animals.
Back then, you'd find lions, bears, chimps, and many other types of animals exotic to this area. A veterinarian lived on the property and it's said the animals were well taken care of.
Eventually, Hearst ran into financial trouble and the zoo had to be dismantled. Many of the animals were donated to public zoos or sold. Most of the animals were placed, but those remaining could roam free. Zebras can still be seen on the property today.
Piedras Blancas Rookery
This is the only elephant seal rookery in the world that is free, easily accessible, and open to the public every day. Drive seven miles on Highway 1 from San Simeon to find Piedras Blancas Rookery.
During the busy season, there can be up to 17,000 animals on the shores of San Simeon. January, April, and October are the best times to see seals, but you will probably see them any time of year.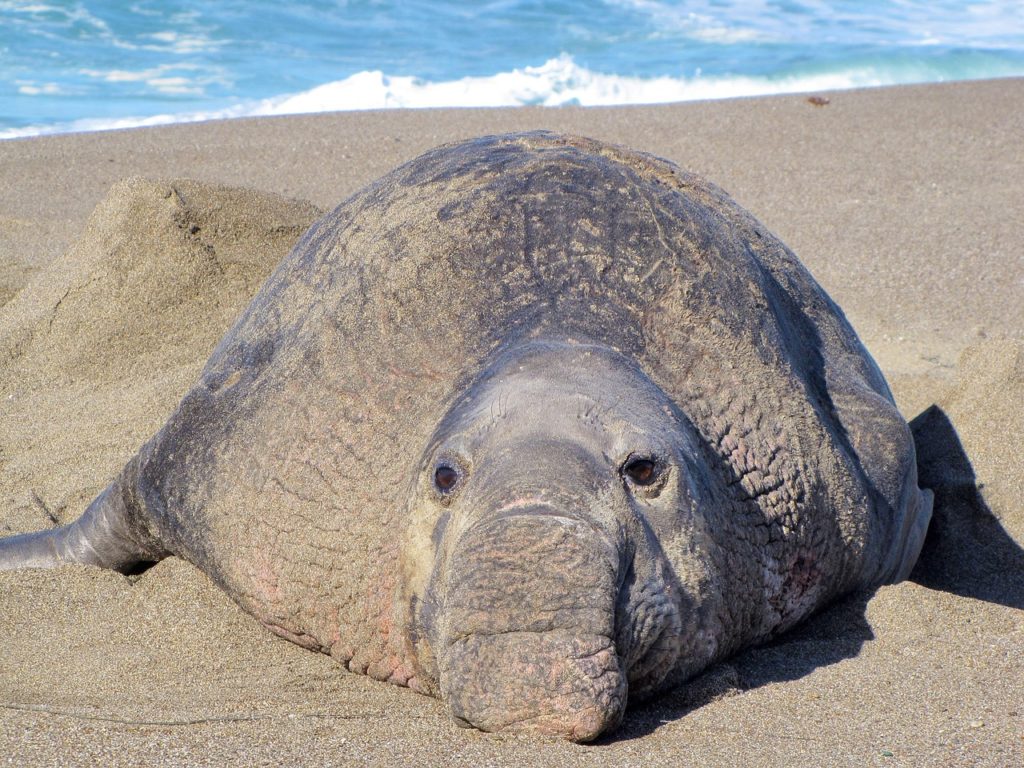 Piedras Blancas Light Station
Piedras Blancas Light Station is a historic lighthouse in San Simeon. Construction started in April of 1874, and the lighthouse was illuminated in February 1875. Tours are available Tuesday, Thursday, and Friday, except on Federal holidays.
Where to Stay Near San Simeon Cove
We stayed at the Cayucos Beach Inn for a few days and my kids loved it. Much more casual than our typical upscale resort, we enjoyed the laid-back feel. Our rooms connected and had a sitting area in addition to the beds.
Each room had a small fridge and microwave as well as a small sink and coffee maker. Continental breakfast was included. Outside you'll find picnic tables and grills, and many people were using them- even for breakfast. In fact, we woke to the smell of bacon on the grill, which made us want to run to the grocery store!
Our Favorite Spots to Eat
If you want to save money and are staying at Cayucos Beach Inn, plan ahead and stop at the grocery store. I think it would be fun to have dinner at one of the picnic tables, especially with kids who are restless. Let them play frisbee or tag while dinner is on the grill.
You'll also have easy access to restaurants like Schooners Cayucos just across the street. This was one of our favorite food stops our California road trip.
You have to visit Lin's Fruit Bin while you're there. We were so surprised as the name makes it sound like a fruit stand, but this elegant restaurant was fabulous.
If you're driving up the coast, be sure to visit the Monterey Bay Aquarium and a few of the fabulous wineries. San Simeon was a great find! Let me know if you visit.
Like our content? Follow us on Pinterest!