The best downtown Santa Barbara restaurants are easier to find when you have a list. With so many delicious restaurants and excellent wine, Santa Barbara is heaven!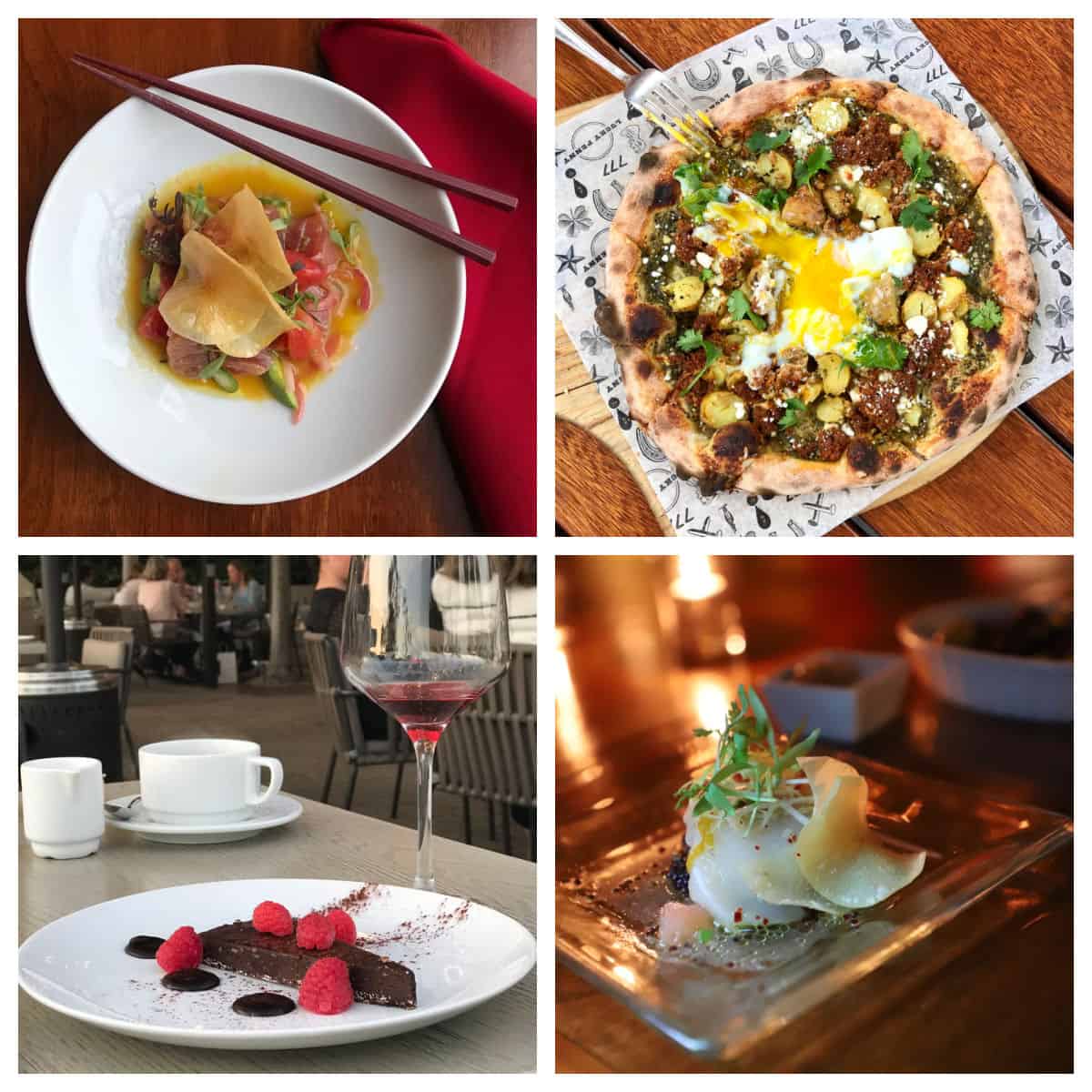 Staying in Montecito gave me easy access to everything, but three days is not enough time to see and do all this area has to offer. I was ready to go back a week after I left this area known as the American Riviera.
There is so much around this area, too. You can be in Ojai, known for their boutique hotels, hiking, a great farmer's market, and fantastic Ojai restaurants, in about 40 minutes.
After soaking up the views, spending time with a few of the lovely Santa Barbara residents, and eating myself into oblivion, I can't stop talking about how much I enjoyed Santa Barbara. Instead of checking things off my list, now it's longer.
With so many outstanding places to eat and things to do, you've got to add Santa Barbara County to your list of top fun vacation goals.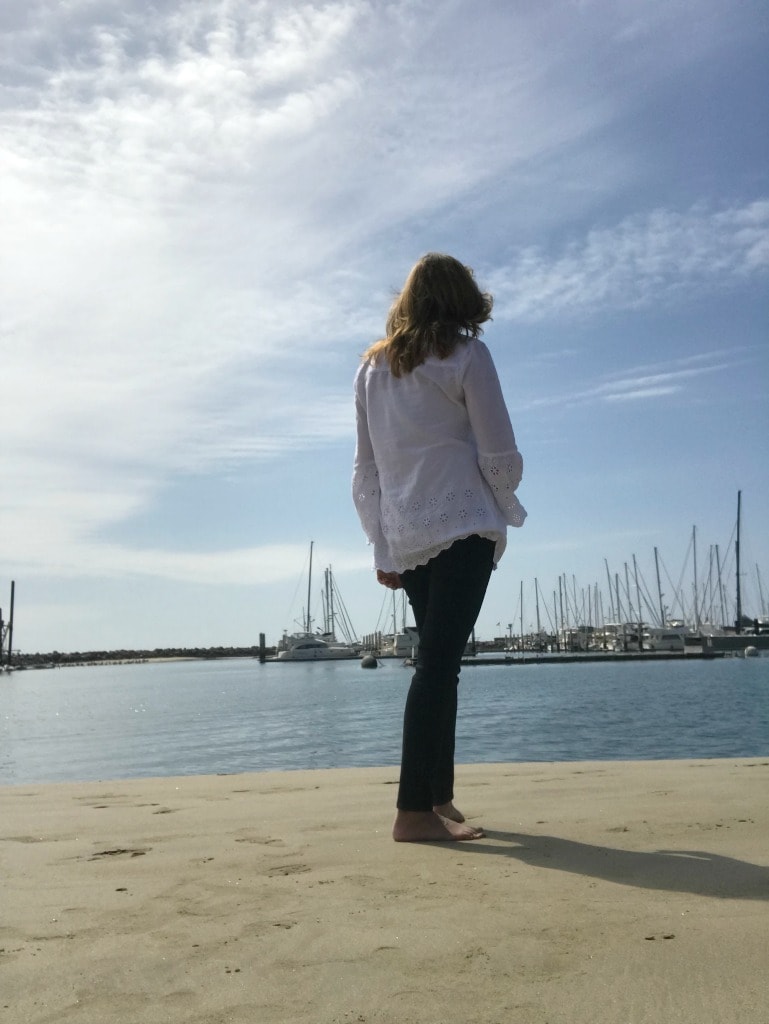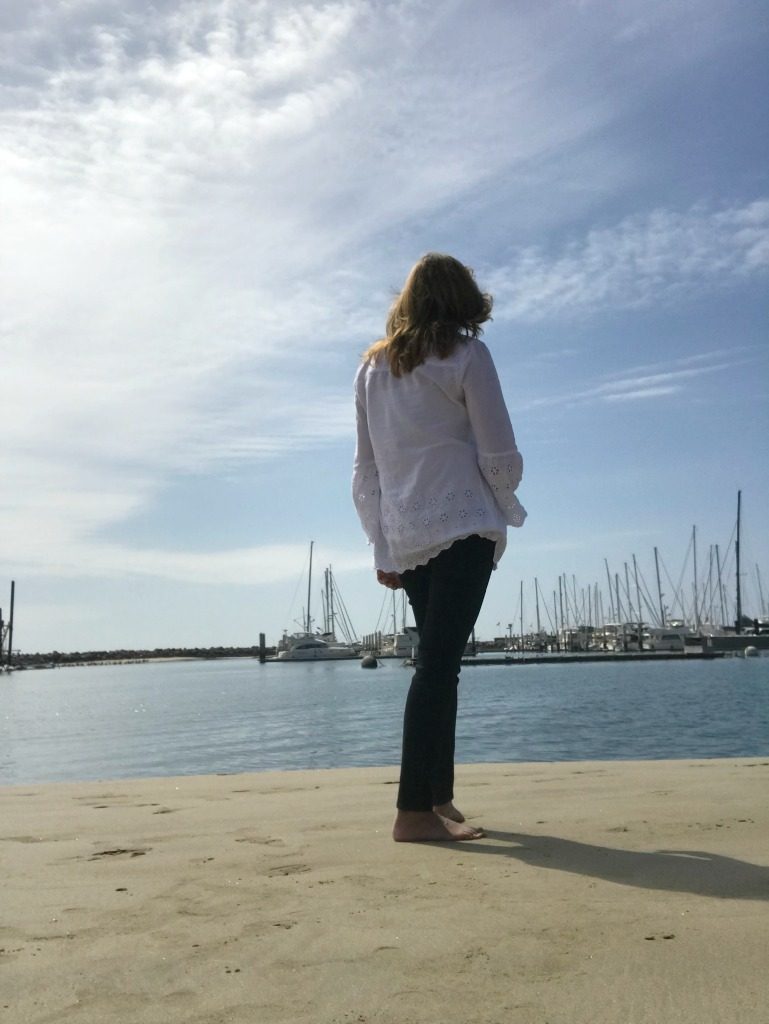 What I love about Montecito is that it's a charming small town. On the first day of my stay, I walked down Coast Village Road and stopped into Viva Oliva where I met Cynthia.
I ended up at The Honor Bar where another woman sat down and immediately stuck up a conversation which we continued over a glass of wine. The bartenders were also so friendly, giving me suggestions on the appetizer choices and chatting about things to do.
On my way back to the Montecito Inn, I smiled and waved at Cynthia as I passed the store. I felt like a local already.
Where to Eat in Santa Barbara
The Honor Bar
I was so hungry when I arrived in Montecito that I checked into the Montecito Inn, dropped off my bags, and headed right back out the door. Looking both ways I decided to go left, and it ended up being a good move.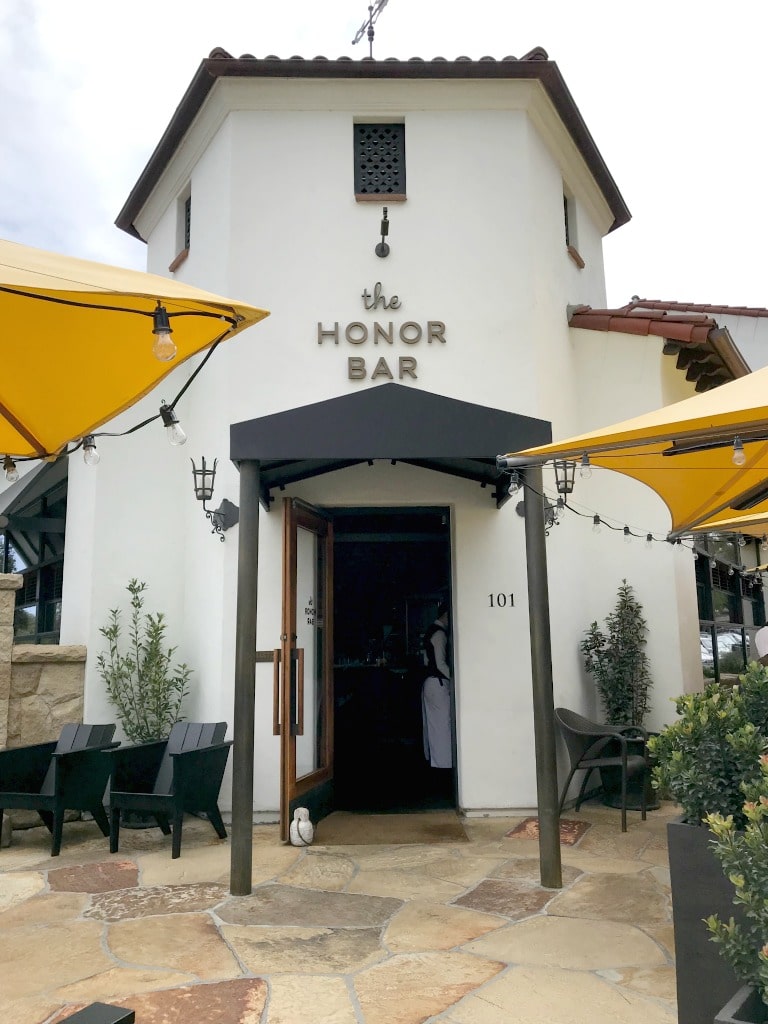 After a three-minute walk, I happened upon The Honor Bar just in time for happy hour.
I hadn't heard of it before but found out right away that there were other locations. If we had one in Sarasota, I'd totally be a regular.
The menu is plentiful with so many of my favorites, and the burgers looked amazing. I decided on the salmon appetizer and a glass of pinot grigio. Another win. I was pretty happy to be in Santa Barbara already.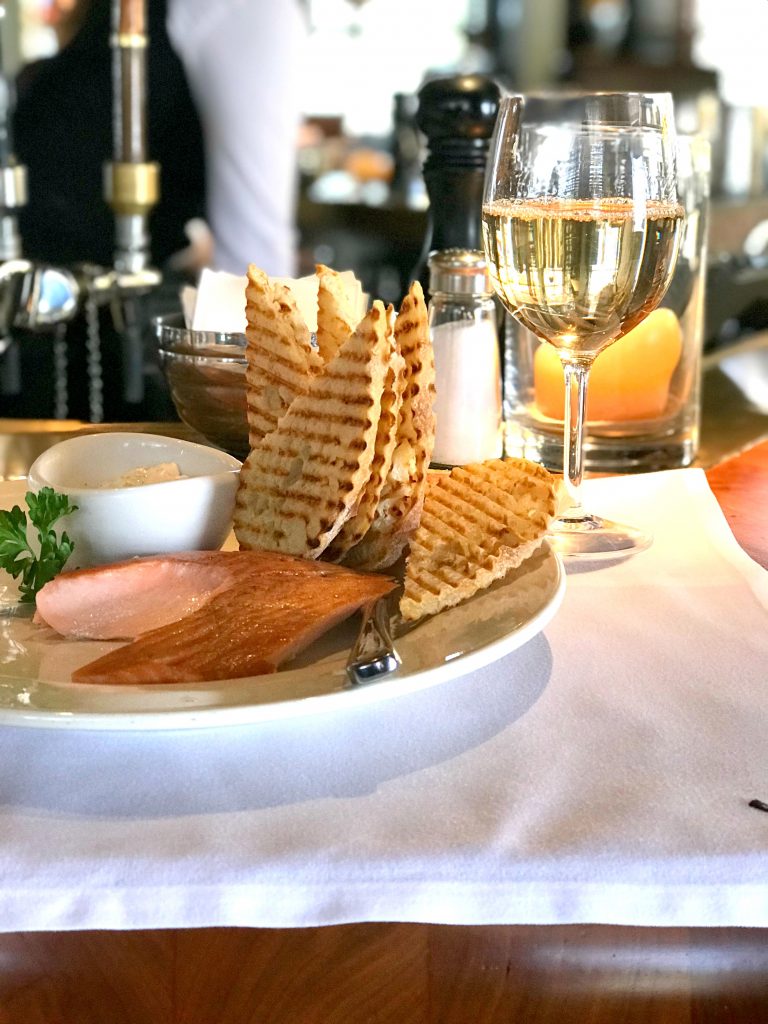 Note: This serving was so huge I could only finish half so think about sharing, or ask for it to be boxed up for later. I finished it later that day in my hotel room with a glass of local wine.
The Honor Market
I decided to list The Honor Market separately because it's very different than the Honor Bar. First of all, it's a great place to grab a cappuccino and pastry in the morning.
They have quite a selection of great food and the scones are out of this world. There is no seating so everything is to go.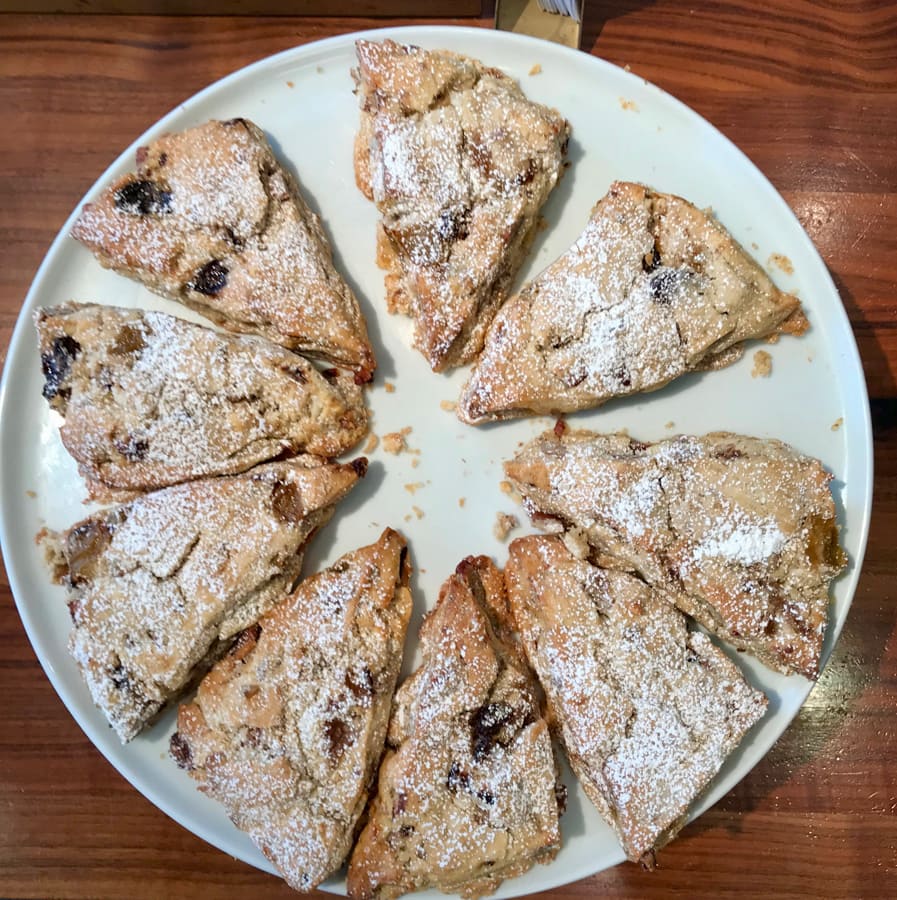 I was told that later in the day the Honor Market has amazing pizza. They must because people line up for a slice of those pies. You'll have to be patient!
People told me over and over not to miss it, but I just couldn't fit it in. See what I mean about that list getting longer?
The Honor Market also has a fantastic selection of wines and gift items. The first day I was browsing while waiting for my cappuccino and saw this travel atlas. It was a little pricey, so I begrudgingly left it on the shelf.
I chatted with Brittany and she told me it was hard to work there because she was always buying something. I'd feel the same way!
The next day I went back and looked at the atlas again, and the third day I bought it. I had to have it and I refer to it all the time!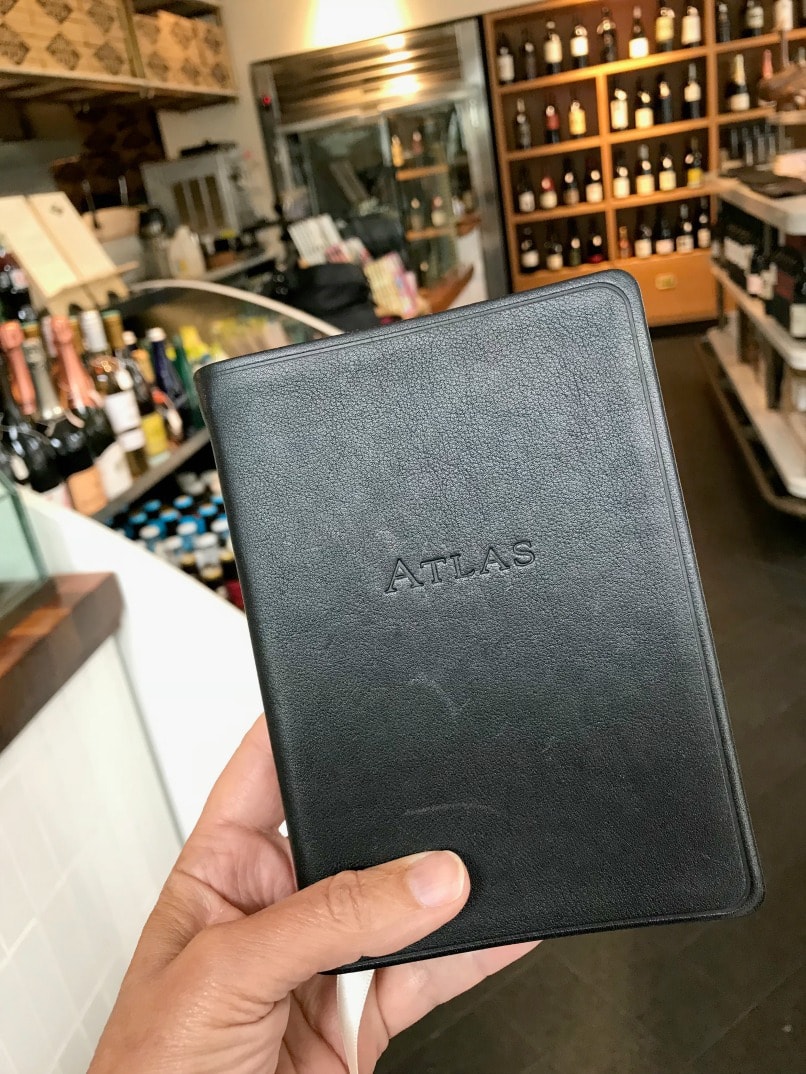 Viva Oliva
Though Viva Oliva isn't a restaurant, I'm including it because it would be a great place to put together a picnic.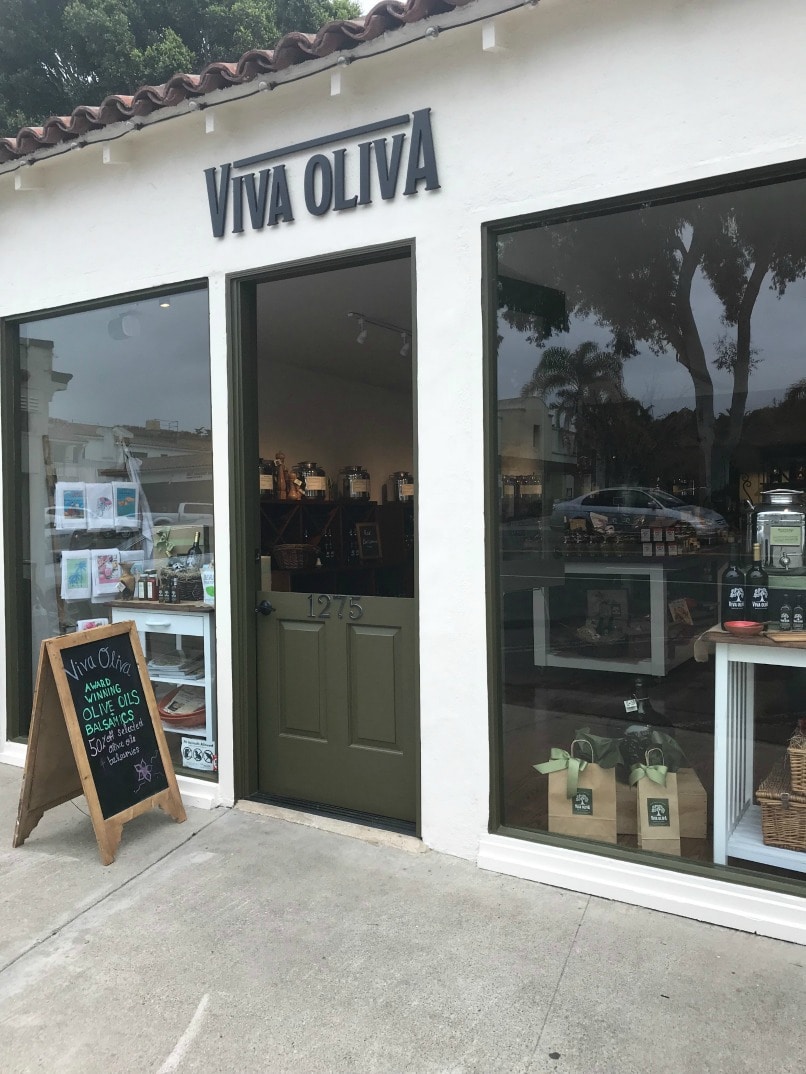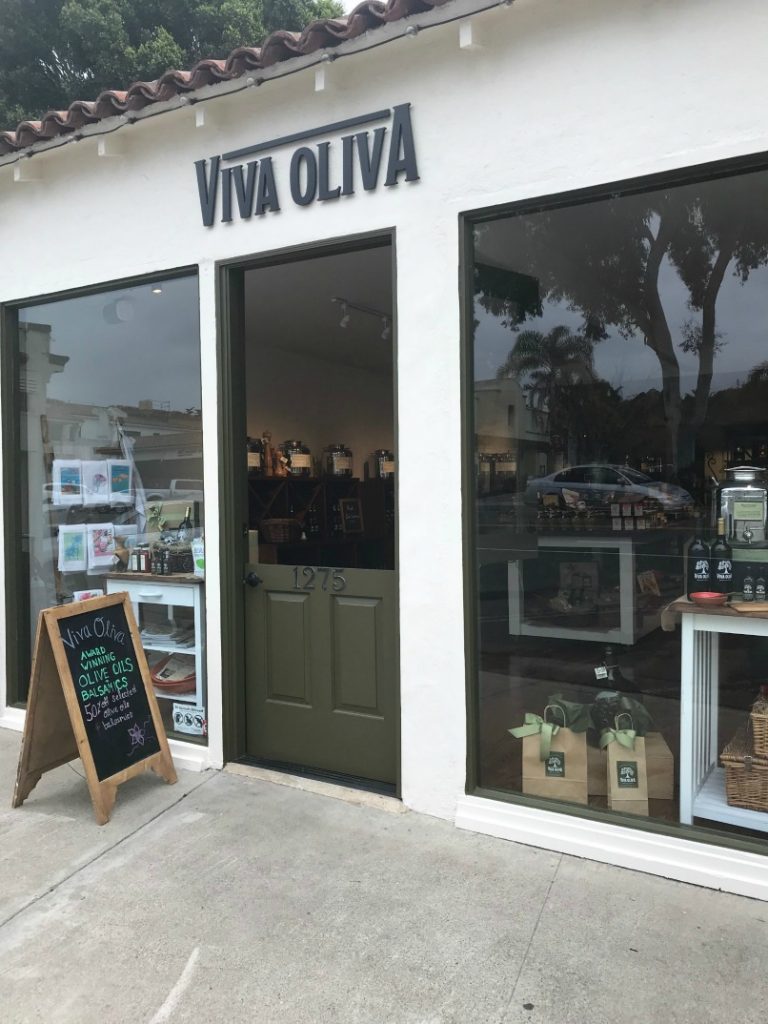 In fact, I chatted with the owner about offering to-go boxes in the future. I found Butterfly Beach just around the corner, and taking a box of charcuterie to the beach would have made a perfect afternoon.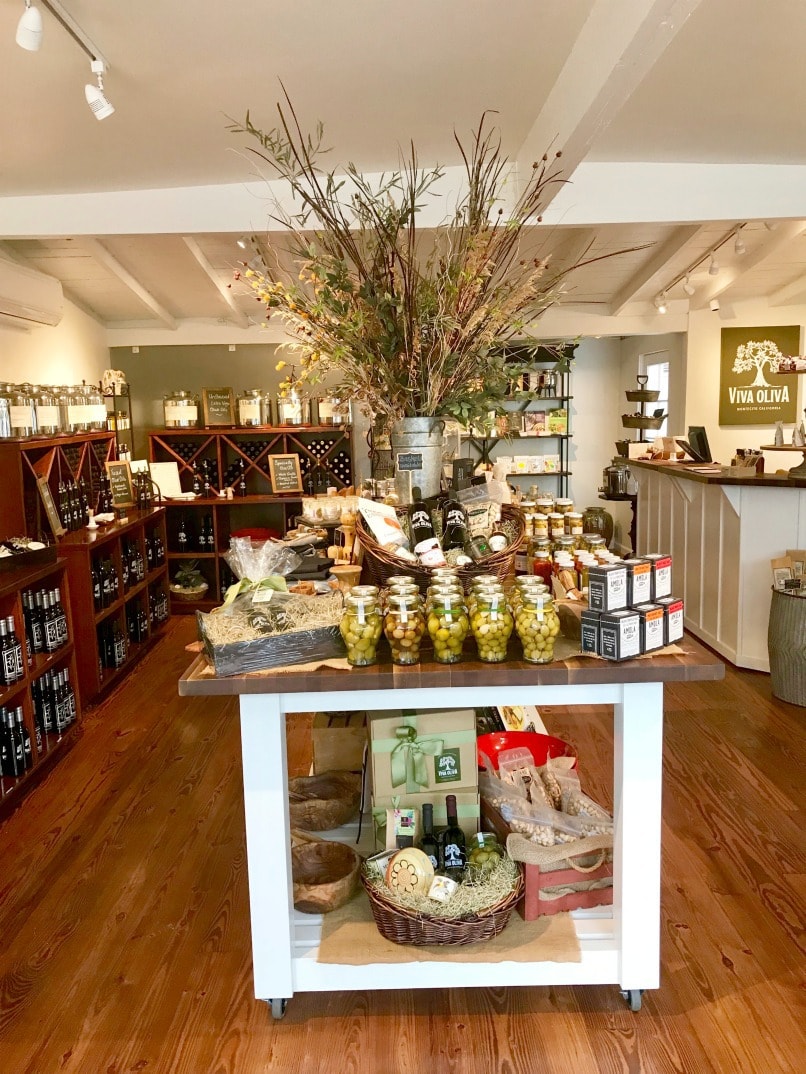 (TIP: Grab crackers, meats, cheeses, and olives at Viva Oliva, dessert at Jeannine's Bakery, and a bottle of wine from the Liquor and Wine Grotto and you'll be set!)
Oliver's
Oliver's is an upscale vegan restaurant on 1198 Coast Village Road. Their menu is incredibly creative, with starters like herb-roasted sweet potatoes and artichoke ceviche, and entrees like the Lotus Bowl, with forbidden rice and curry chickpeas.
I asked my server what he recommended and went with his choices. I started with Oliver's Beet Salad with orange segments. It was delightful, with tender greens, radishes, sunflower seed praline, drizzled with green tahini dressing.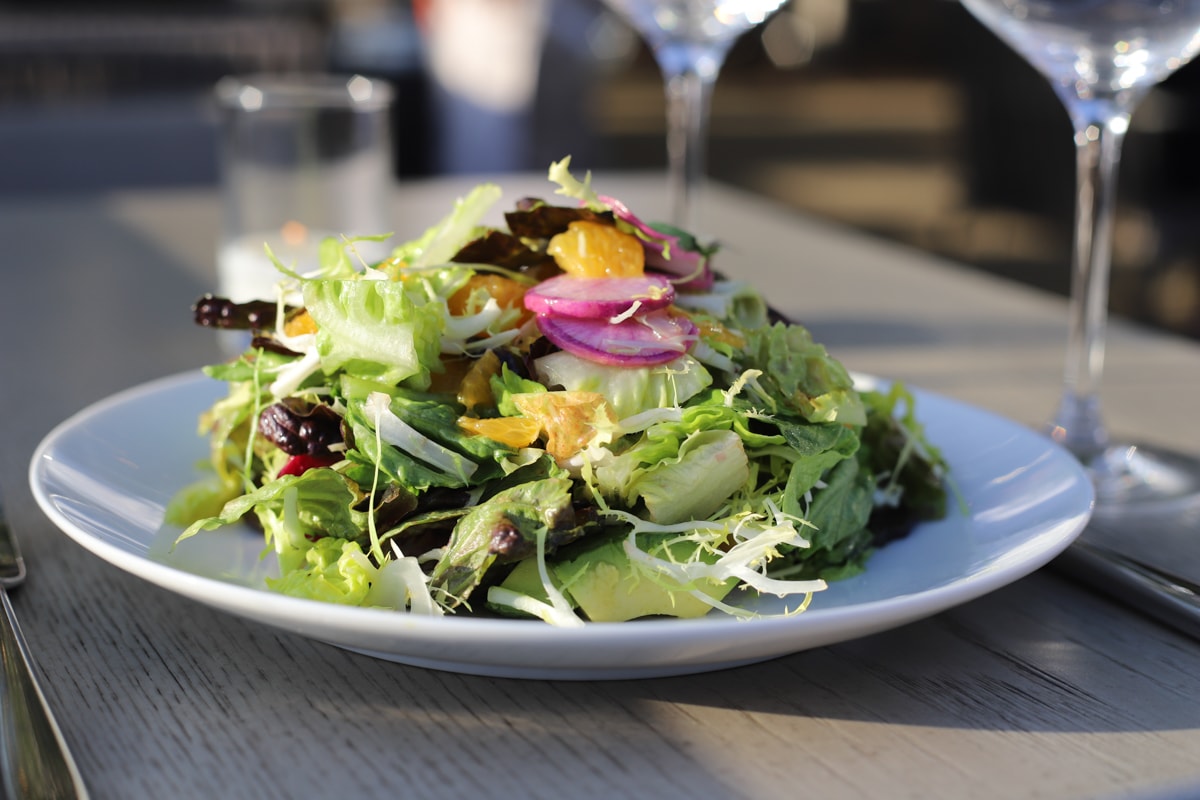 I really love to order a few appetizers so I can try more of the menu, but the Pad Thai with market vegetables, combined young coconut, spiced tamarind, and pistachio crunch was too irresistible.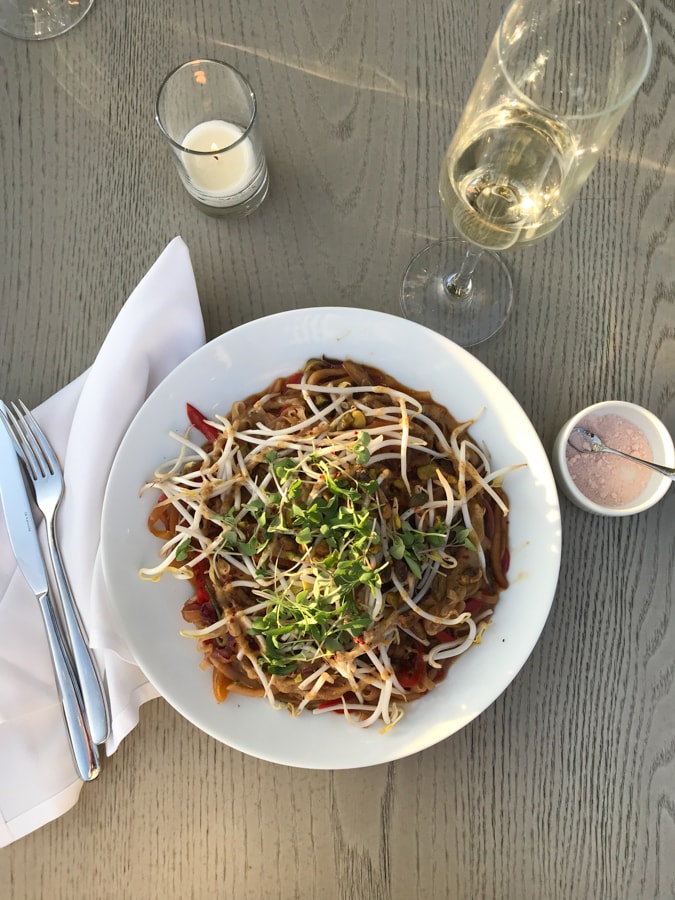 This dish was so well-prepared. I was a vegetarian many years ago, and it was hard to get a really good meal anywhere. Vegans, vegetarians, and anyone with a gluten-allergy will be thrilled with all the choices at Oliver's, and they really do cater to your needs.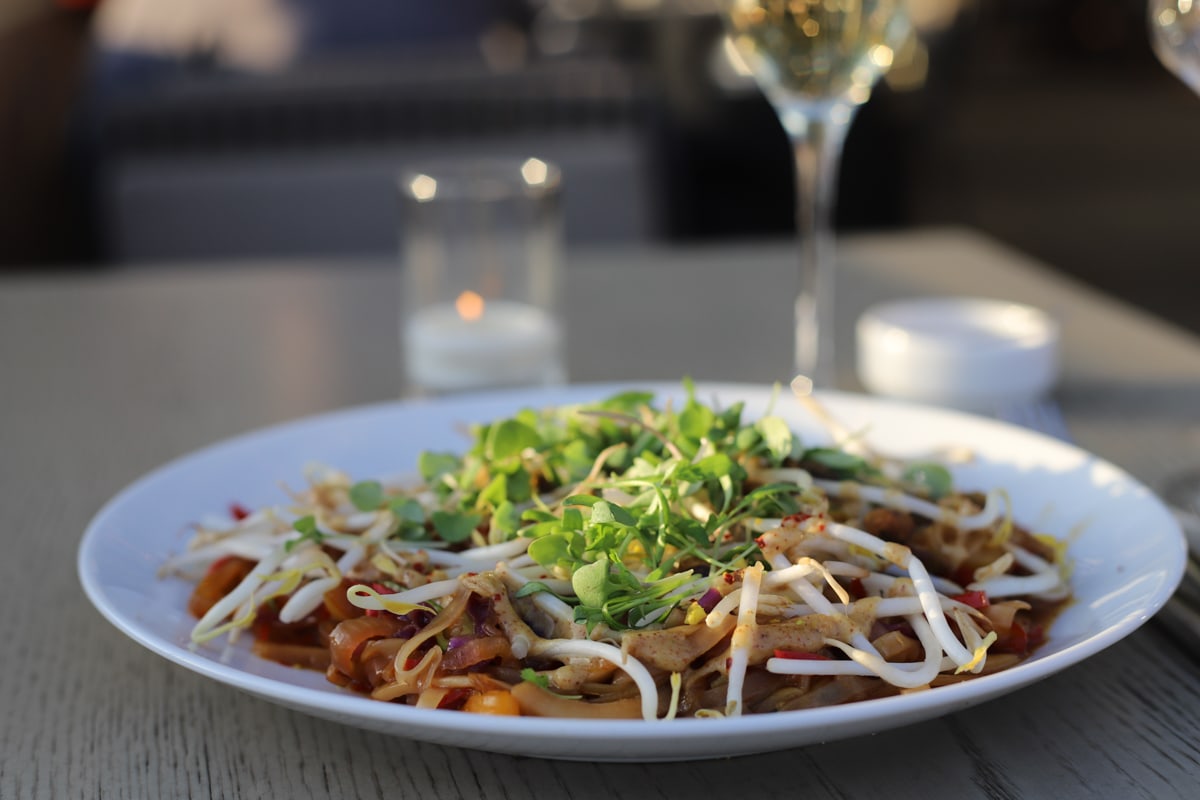 I had a couple of sips of the Alma Rosa Pinot Noir left in my glass when my server suggested the chocolate torte. How could I say no?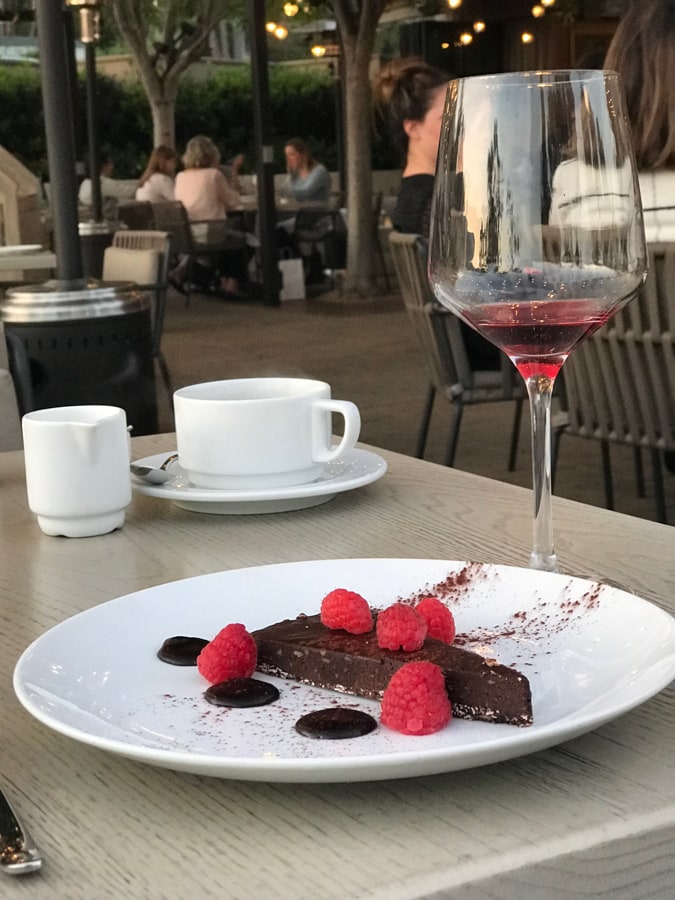 Jeannine's Bakery & Restaurant
Breakfast at Jeannine's is a must if you're in or near Montecito and want to experience some of the best Santa Barbara food.
I started with a cappuccino while perusing the menu. The dining room is charming, so take your time and enjoy it.
I over-ordered because everything looked so good! After sipping my cappuccino while eating the quinoa bowl topped with sliced almonds, pistachios, and homemade apple and cranberry sauce with fresh mint, I couldn't even think about diving into the berry or cheese danish Jeannine's is so famous for.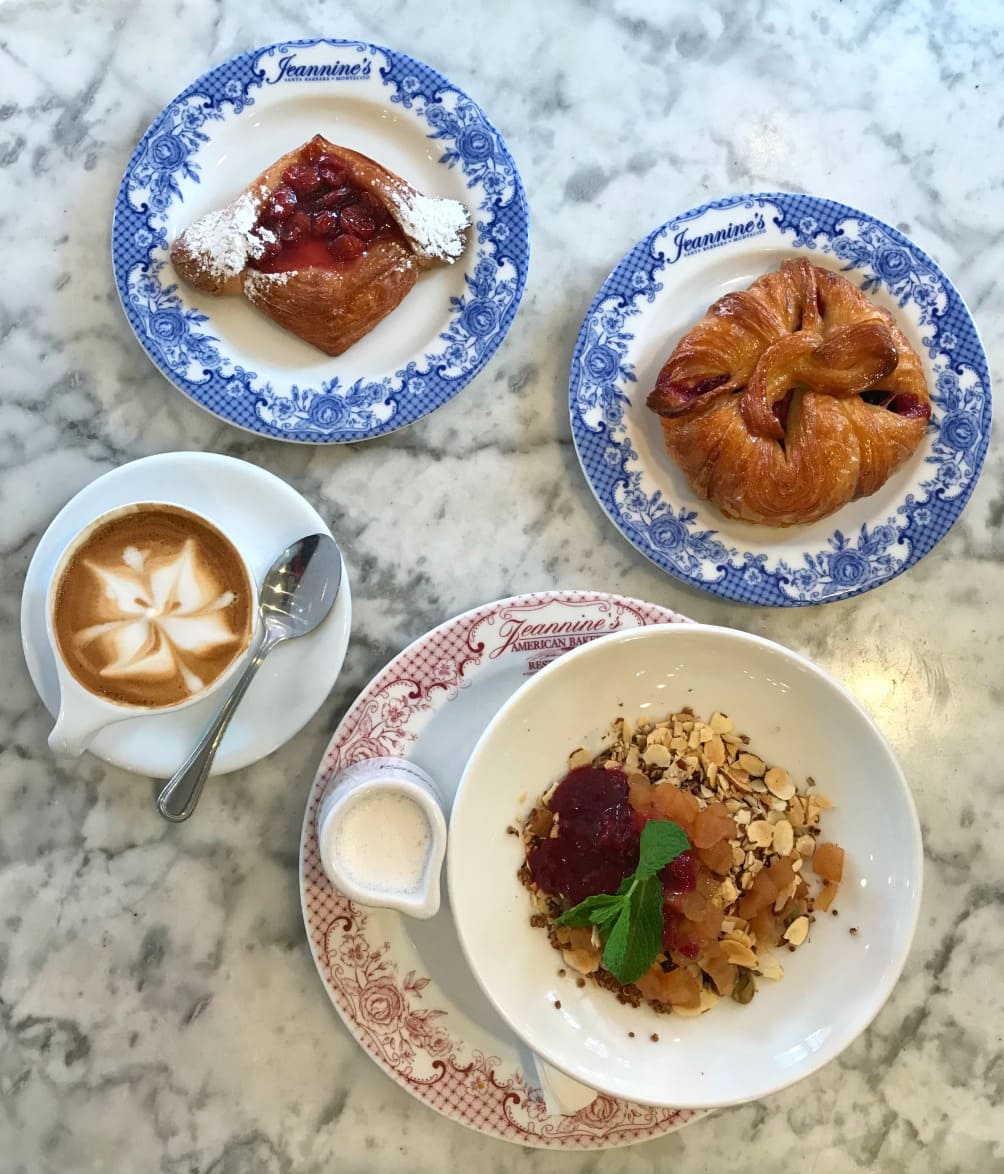 You know I love breakfast in bed, so I took my leftovers back to my room to have the next day.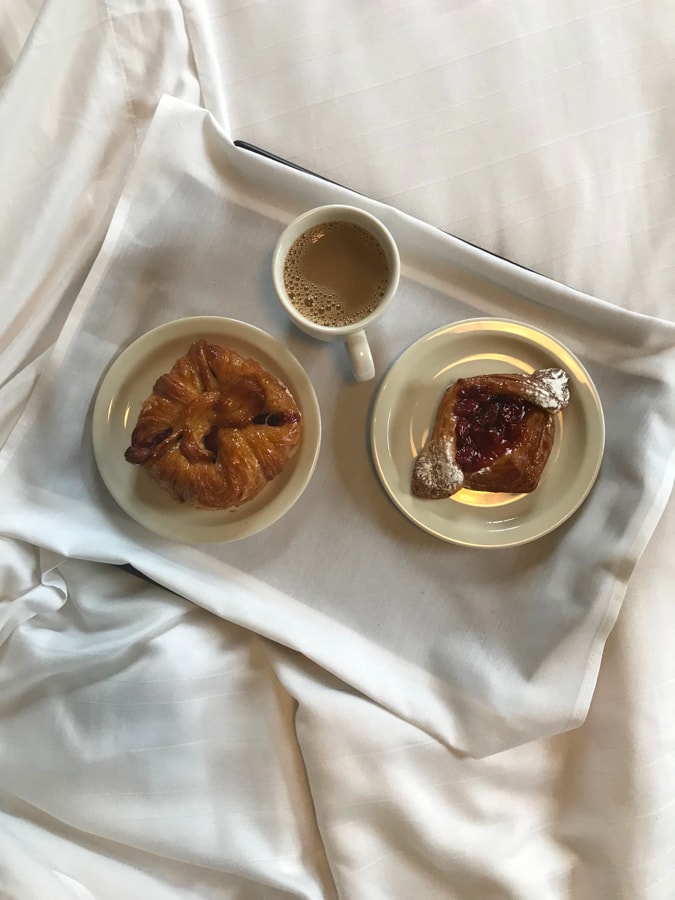 City of Santa Barbara Restaurants
State Street Coffee
Moving on to downtown Santa Barbara, I only stopped in to grab a coffee at this small coffee shop on my way to dip my toe in the Pacific Ocean.
After looking at their scones, I had to have one. They are freshly baked every day. Totally worth a stop.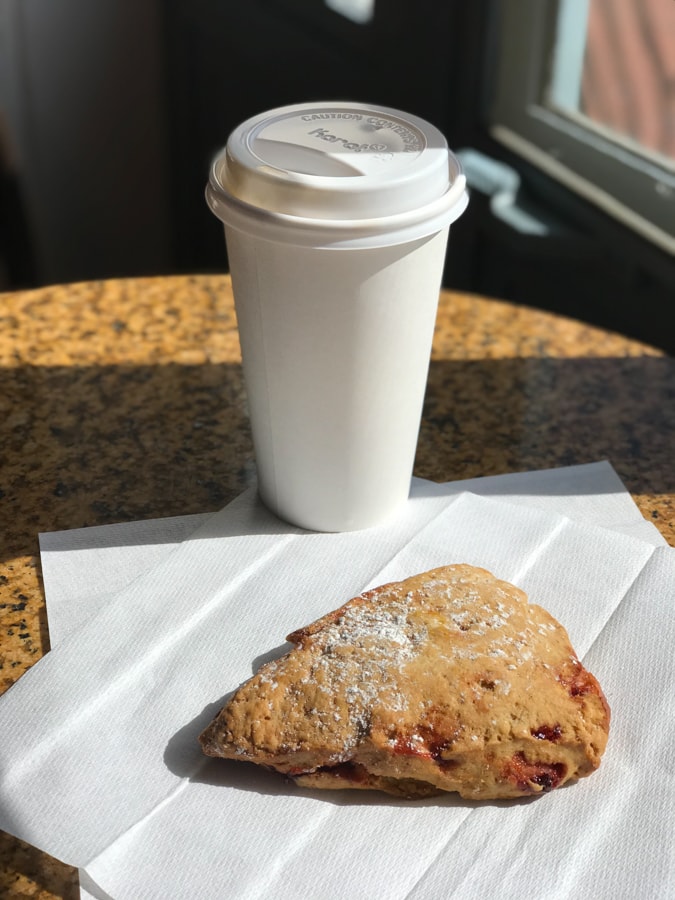 Take your coffee and pastry just down the street and people watch on the pier. State Street Coffee doesn't have a website, but you can find them at 29 State Street.
I decided to go on the Eat This, Shoot That Santa Barbara Food Tour, where our host took us around to a handful of Santa Barbara restaurants and taught us a few things about phone photography.
He was really fun and knows a lot about the local history.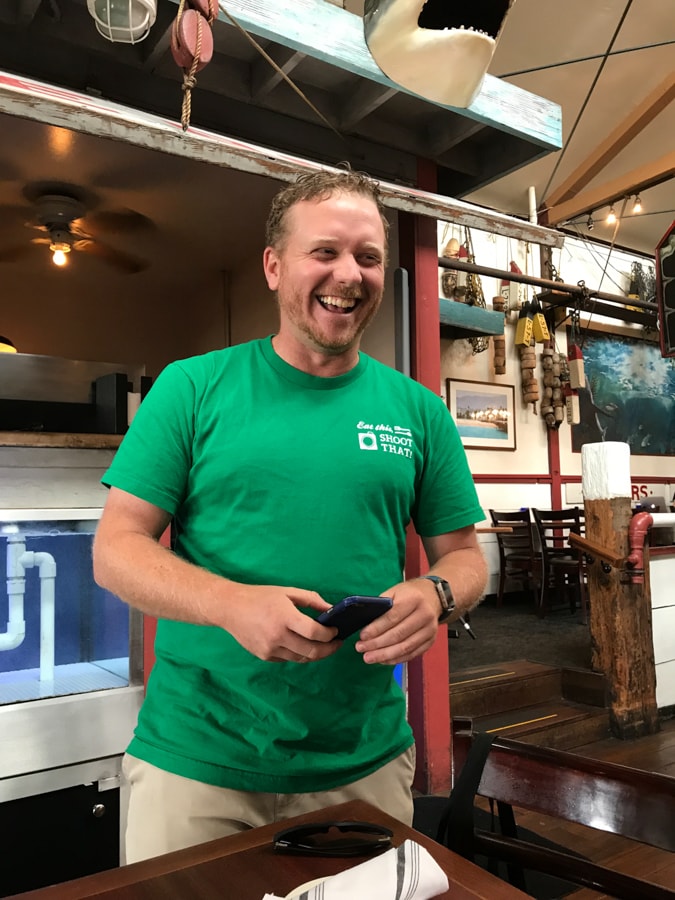 If you're looking to try some of the best food in town, this is the easiest (and most cost-efficient) way to do it.
Everything you will eat on the food tour is strictly from Santa Barbara, so you can't go wrong.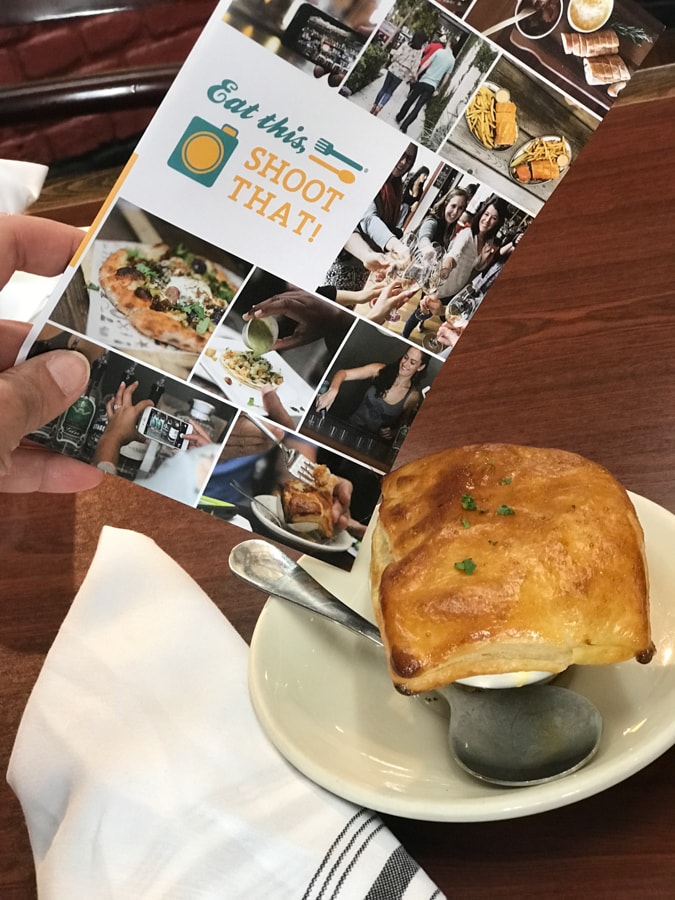 Figueroa Brewery
Figueroa Brewery is pretty busy all the time, but weekends are standing room only.
The atmosphere is fun the moment you reach the front door. Local beers are always on my list when visiting a new city, and you'll find quite a few Santa Barbara breweries.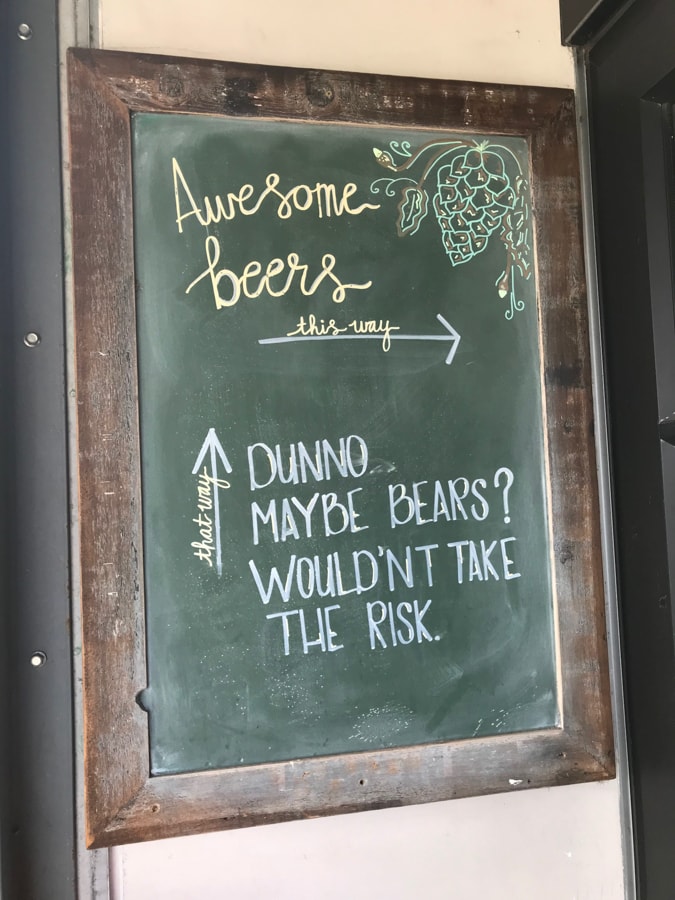 I was thrilled to find the Totally Razz Radler Raspberry Shandy.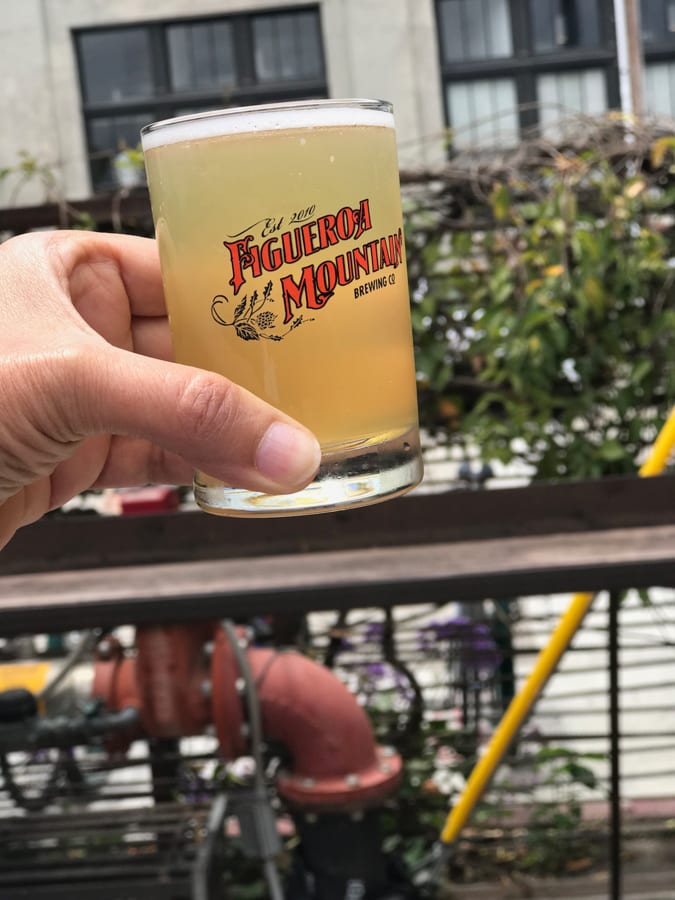 Mony's Tacos
Another one of our stops on the food tour was Mony's Tacos. Put chips and salsa in front of me and I'm a happy girl. Add a taco and it's bliss.
I need to go back and try the fish tacos! There's a bit of an upcharge for the fish or shrimp, but I heard they were off the hook! (See how I did that? Okay, that was bad!)
This really is one of the favorite casual spots for the locals, so be patient if there's a line, especially on Saturday nights.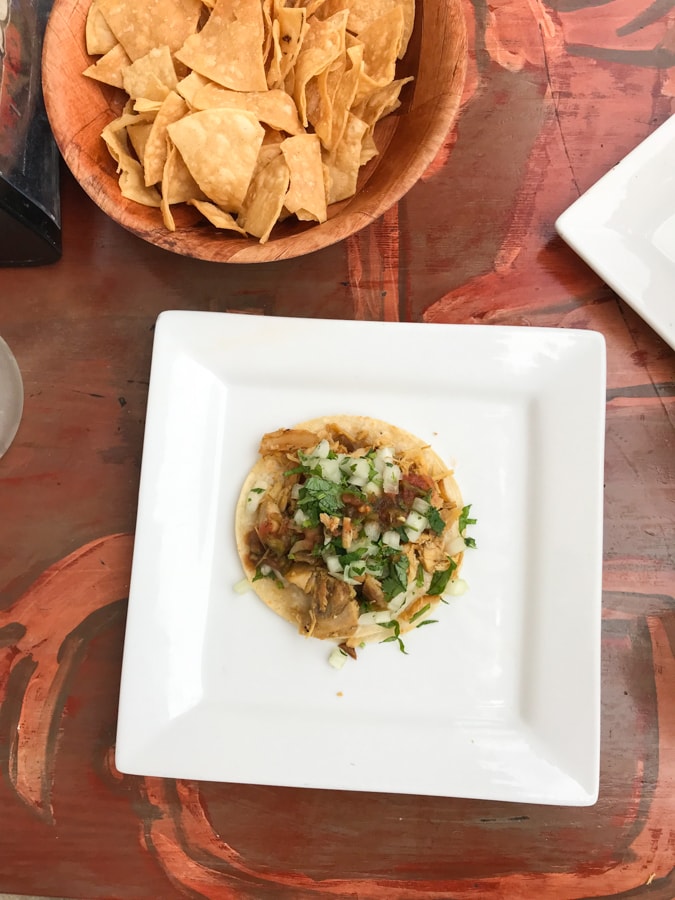 Lucky Penny
The Lucky Penny makes the best pizza in Santa Barbara. Our guide from the food and photography tour ordered the Milpas, a crispy crust with fingerling potatoes, Mexican chorizo, spicy tomatillo marinara, cotija cheese, cilantro, and topped with a sunny side up egg.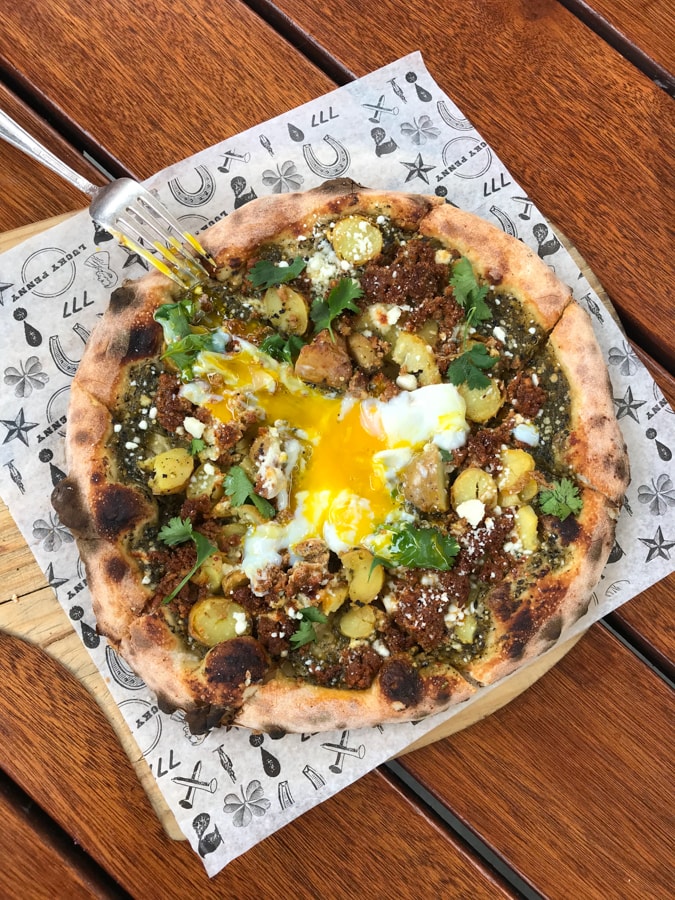 Other guests came over to us asking what we ordered. Don't miss this.
It was a beautiful day to sit outside at the picnic tables with friends.
And if you're wondering how many pennies are on the outside of the Lucky Penny, I did find out, but I'm not telling.
I'll give you a hint: It's over 100,000. If you guess the right number, I'll treat you to a beer there. Leave a comment and let me know your guess!
Shalhoob Meat Company
We shared a sandwich on the outdoor patio at the Shalhoob Meat Company while on the food tour. I was glad the portion wasn't very big because I was definitely feeling full.
The meat was so fresh and tender, seasoned perfectly, and served on crunchy bread. Once you eat there you'll agree it belongs on this list of best Santa Barbara restaurants.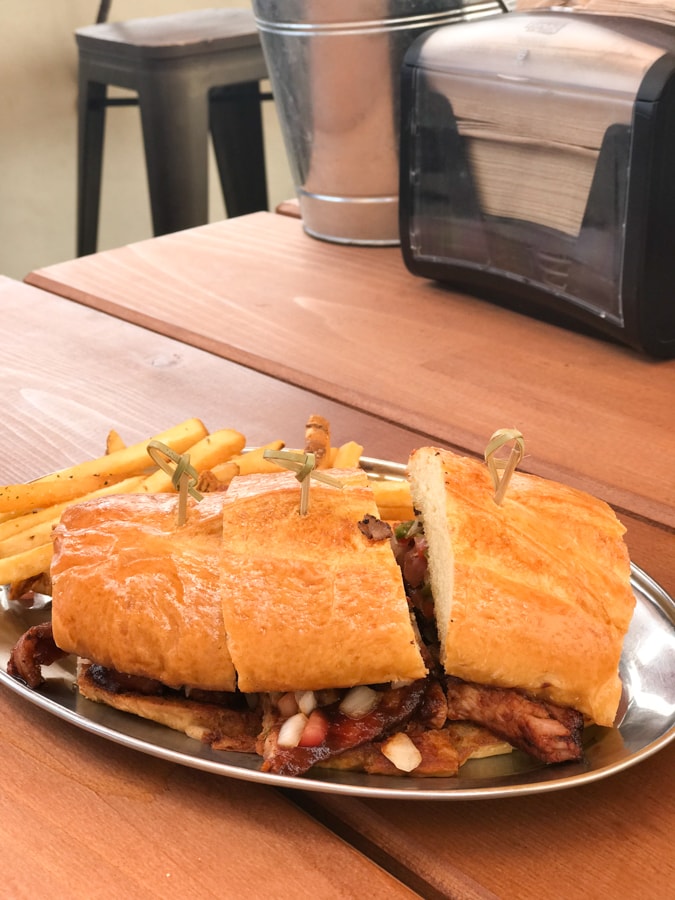 This restaurant has been family-owned and operated since 1973, and supplies meats to many of the hotels and restaurants in the Santa Barbara area.
By the way, if you're wondering if you'll get enough to eat on the Eat This, Shoot That Food Tour, I can promise you will. We were relieved to be heading to a wine tasting next and not another restaurant!
Santa Barbara Wine Collective
You've got to make a stop at the Santa Barbara Wine Collective to taste some local wines. I tasted a couple of whites and a couple of reds, and they were all outstanding.
What really stood out was what was served with the wine. A wooden platter with bread from Helena Avenue Bakery (which is in the same building), butter, and Maldon salt was placed in the middle of the table.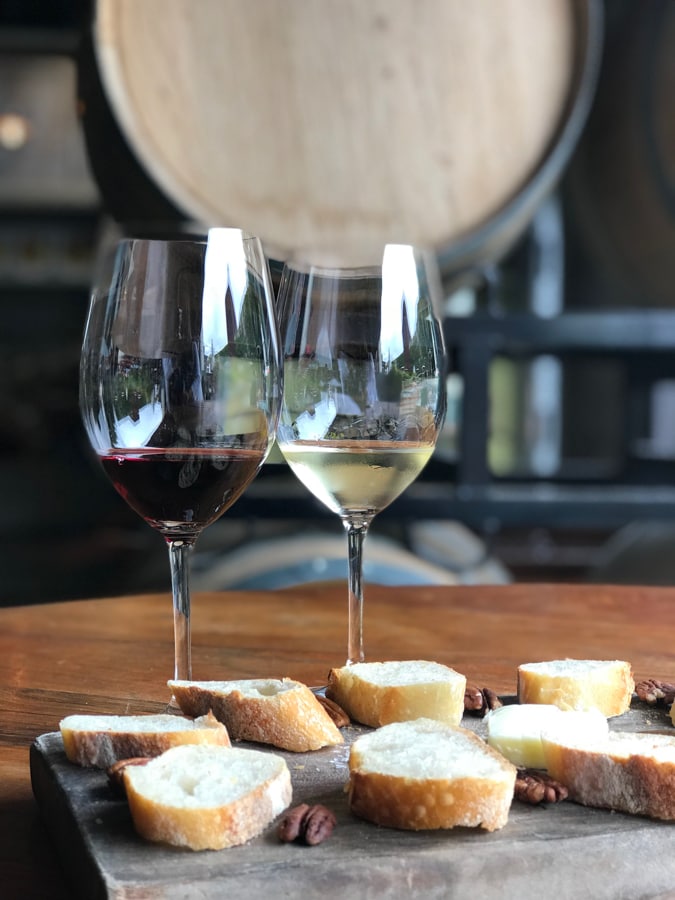 Initially, I thought it was odd, kind of like a starter before a meal, but once I tasted it with the wine, I understood.
By the way, we will never be without Maldon salt again. This foodie discovered something new on that trip!
The Helena Avenue Bakery
I'm glad I found the Helena Avenue Bakery through the Wine Collective. Offering a plethora of pastries and a picnic counter, if I hadn't been so full I would have taken a few items with me.
Cutlers Artisan Spirits
Cutlers Artisan Spirits was also a stop on the food tour, and though this wasn't my first whiskey tasting, it was my first formal vodka and gin tasting.
This is the best place to figure out what you like in spirits as you can taste a few different varieties.
Their vodka is polished with coconut husk which removes any traces of impurities left after seven distillations. Tasting it, I realized the importance.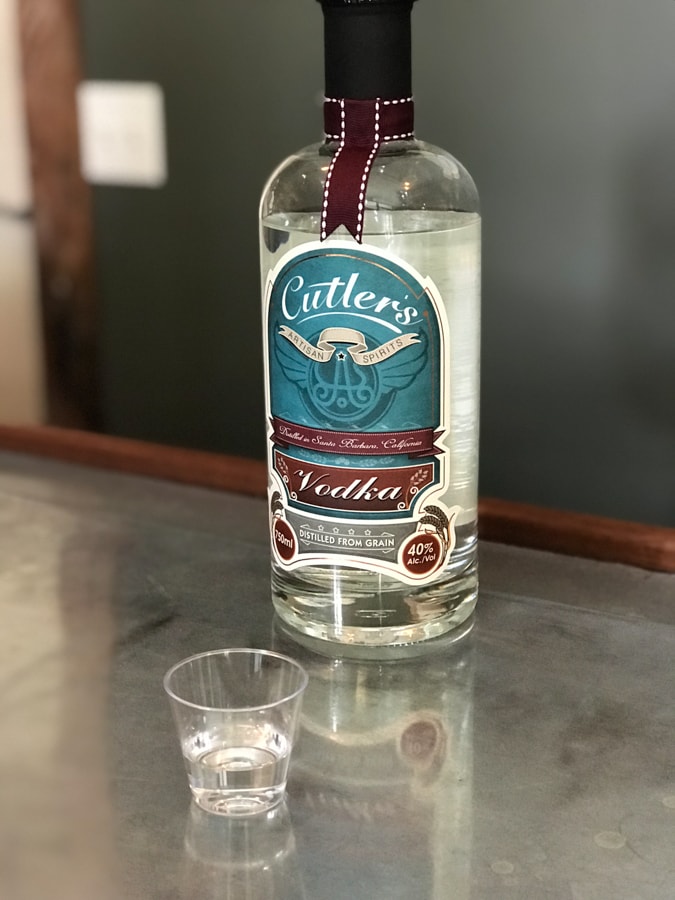 This vodka has such a clean, almost refreshing taste, and I could actually sip it instead of diluting it with soda and cranberry like I do with many other brands.
The gin is considered New-Western style, handcrafted using local ingredients like California citrus, combined with elderflower, jasmine, and cardamom. I didn't think I liked gin, but this one changed my mind.
The Stagecoach True American Whiskey is a local favorite. It's aged for eight years, and each bottle is blended by hand in small batches right in Santa Barbara.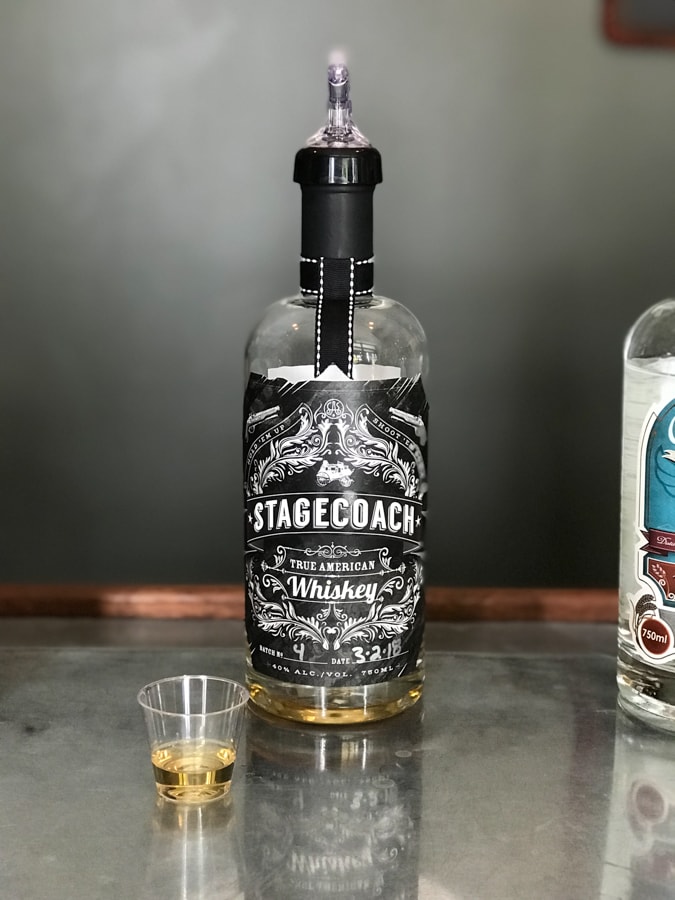 Everything at Cutler's is sourced as local as possible. Make sure to stop by and taste a few of their spirits when you visit Santa Barbara.
Jamie Slone Wines
The Urban Wine Trail in the heart of the Funk Zone in Santa Barbara is pretty amazing, and I only wish I had been able to experience more of it. I started at Jamie Slone Wines with their 2014 Pinot Noir.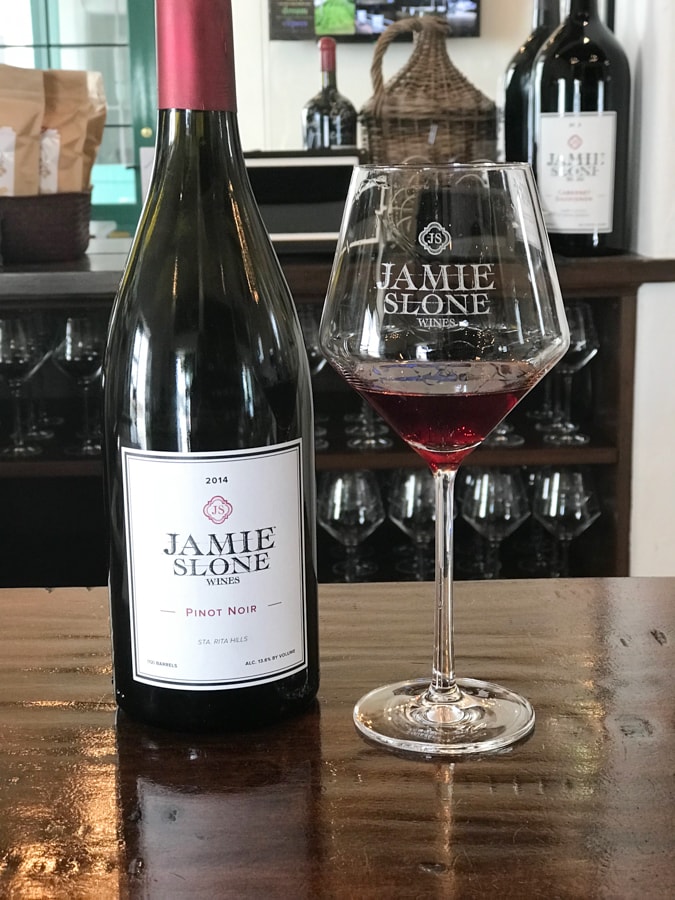 The 2013 Pinot Noir was snatched up by the French Laundry restaurant, but I heard it was pretty spectacular. Many of the best Santa Barbara restaurants have Jamie Sloan wines on their wine list.
I enjoyed the 2017 Sauvignon Blanc (note the basil!) and the 2017 Rose was crisp and light, perfect for a summer cookout.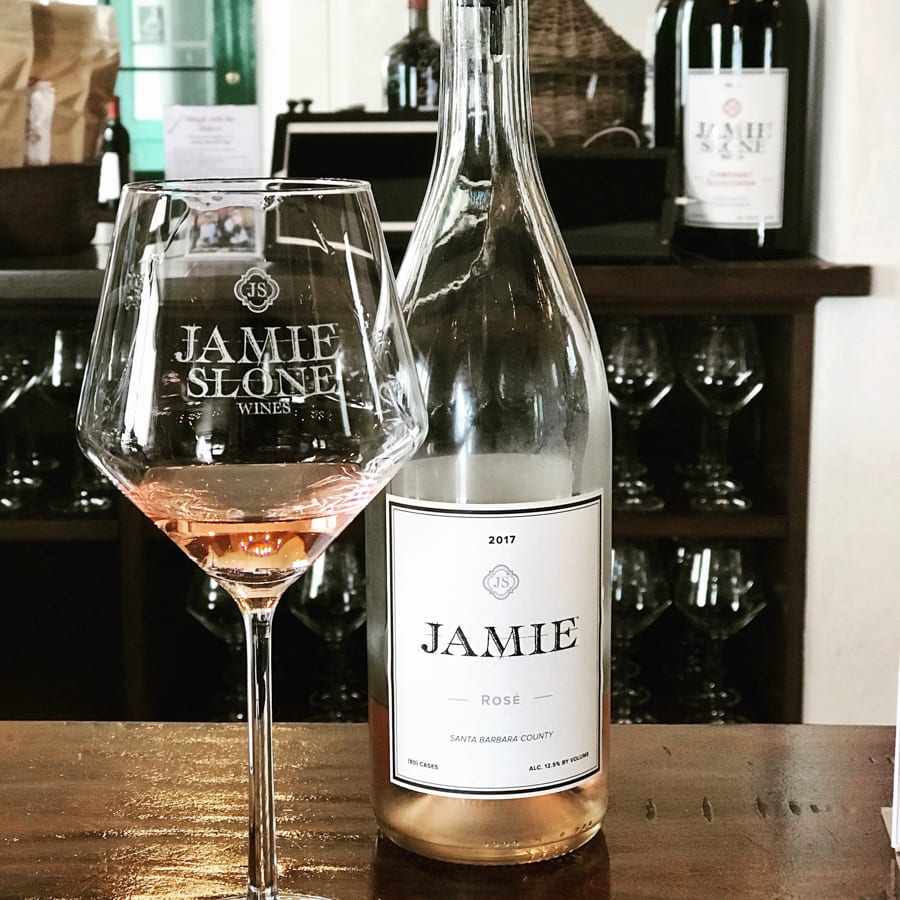 Casual tastings are available on a walk-in basis, but the upscale tastings like the chocolate pairing must be made by appointment. If you have the time, I highly recommend it.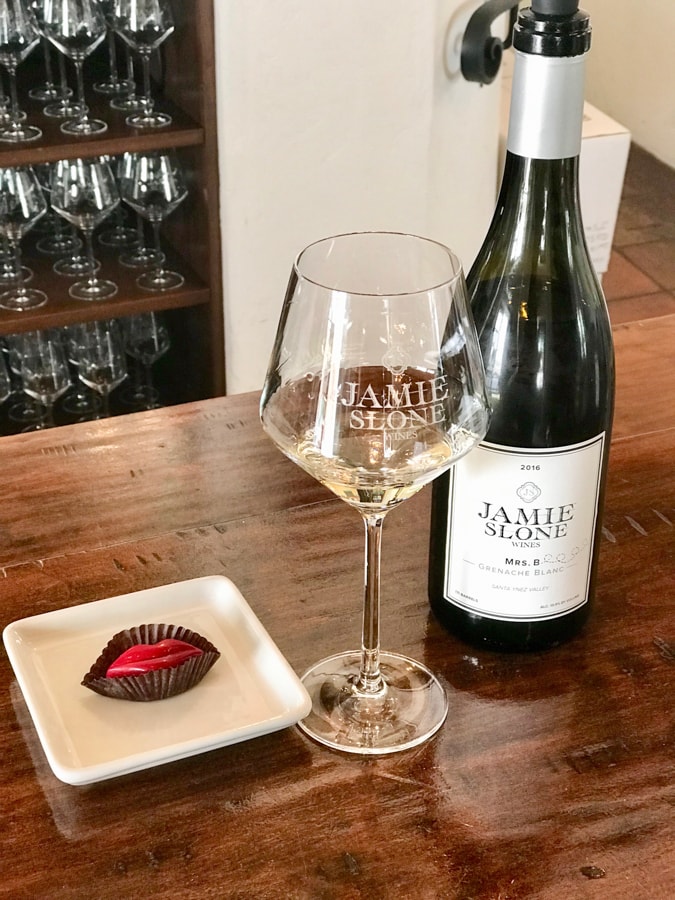 Happy Canyon Vineyard
My other stop on the Urban Wine Trail was at Happy Canyon Vineyard, where I tasted the Piocho Sauvignon Blanc which I absolutely loved.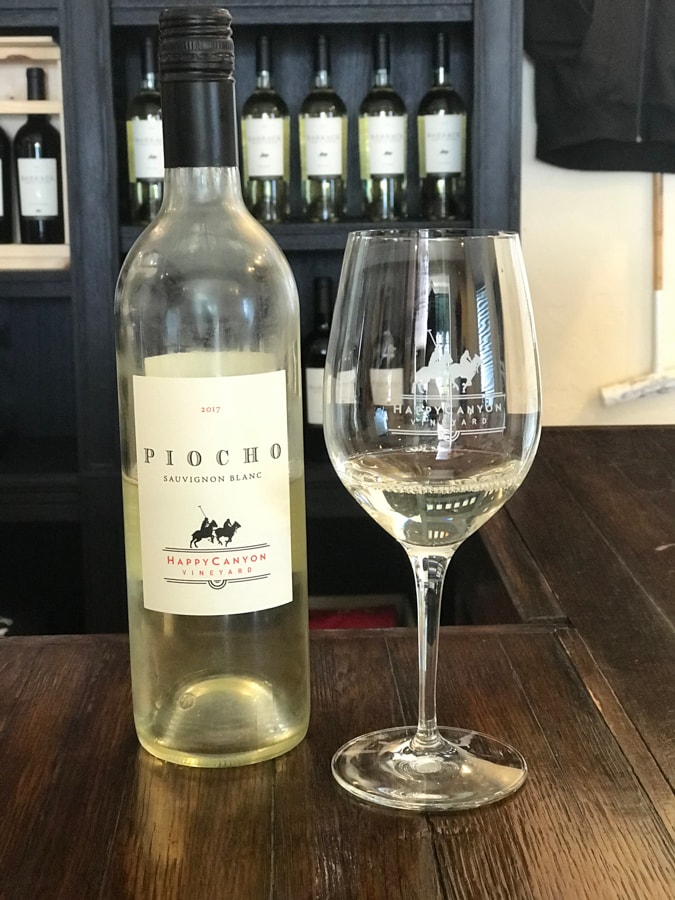 I also enjoyed the Chukker Rose and the Chukker Red Cabernet Franc. I'm not typically a Cabernet fan but I'd heard about this one so wanted to try it.
It was big and bold, and I know my husband would have wanted to join the wine club if he had been with me.
Good thing he wasn't as we're storing about 500 bottles as it is! I do want to try this wine with food the next time I'm in Santa Barbara.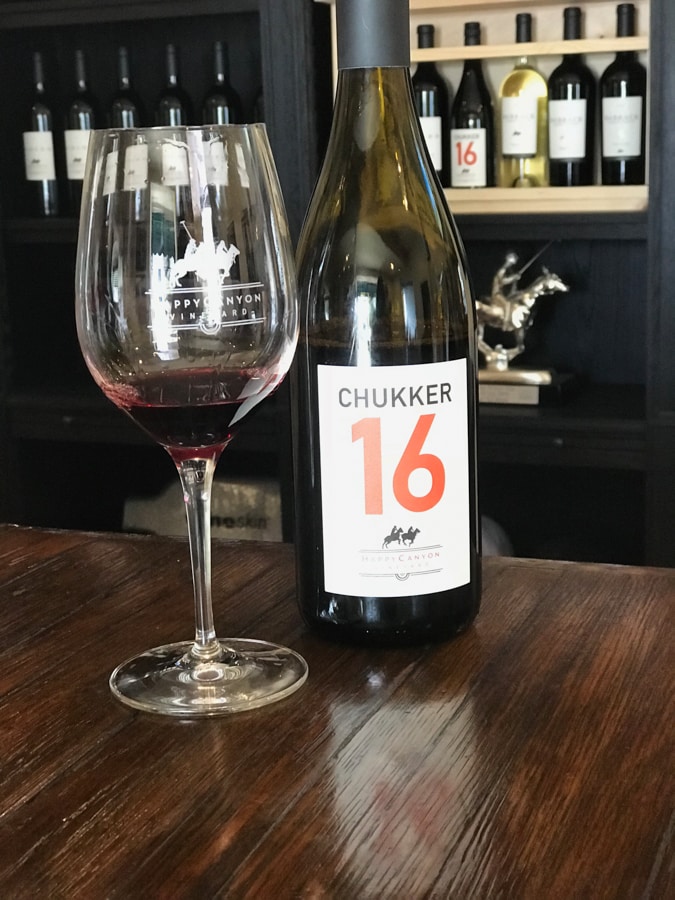 My host at Happy Canyon was friendly and explained a lot about their wines while I sipped. Take a minute to look around as the decor is pretty interesting.
This was the perfect place to relax and catch my breath from all the running around.
I wish I could have stayed longer but I had dinner plans and had to head out.
The Black Sheep
This was my last day in Santa Barbara, and what a way to end my time there. The Black Sheep is was my favorite on this list of the best Santa Barbara restaurants, and hands down my favorite part of the trip.
The food was absolutely exceptional, the atmosphere has a fine dining feel while staying warm and inviting, and the service was outstanding.
At just four years old, The Black Sheep had established itself as a local favorite, and with good reason.
After ordering a glass of Prosecco, I decided to try the starter of mixed olives while I checked out the rest of the menu.
One of the owners suggested I try the Scallop Crudo appetizer. If there is fresh seafood on the menu, it's almost always what I'll order.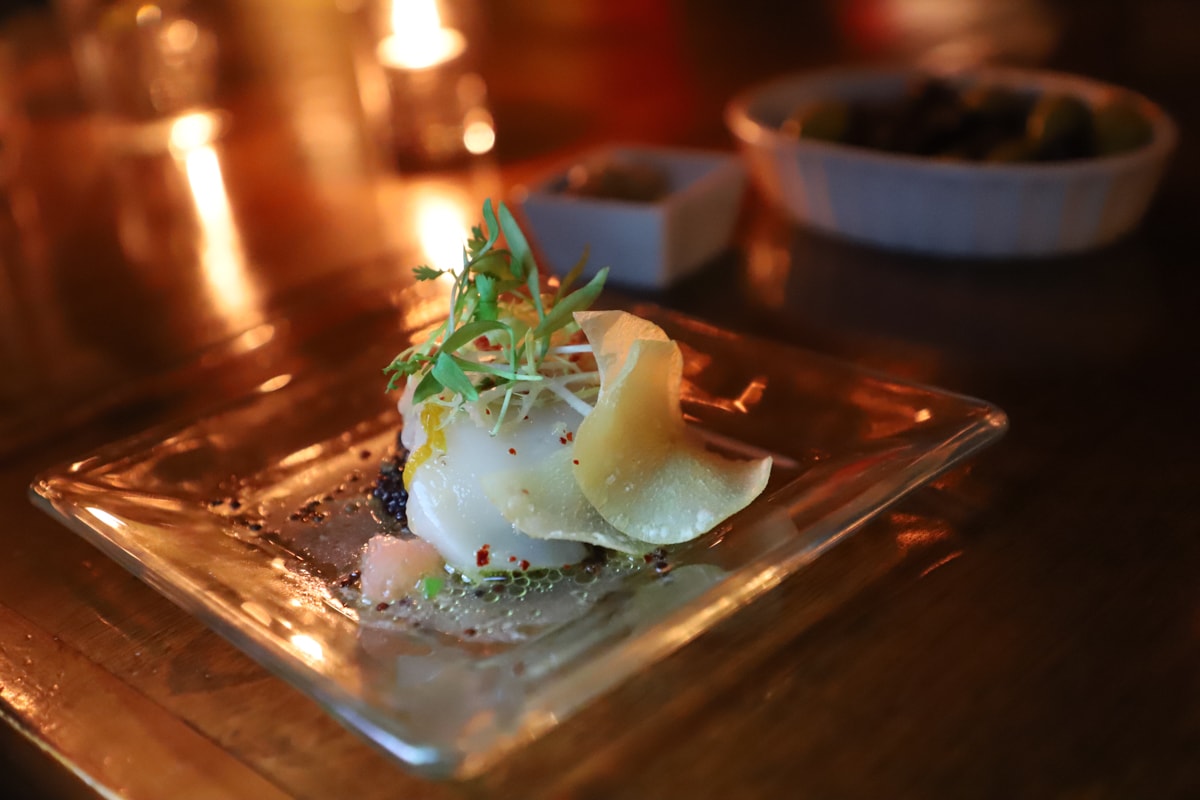 If raw tuna is one of the offerings on a menu, I will usually order it. This was a very good move at The Black Sheep.
The Tuna Aguachili was one of the best meals I've ever encountered anywhere. My taste buds were singing.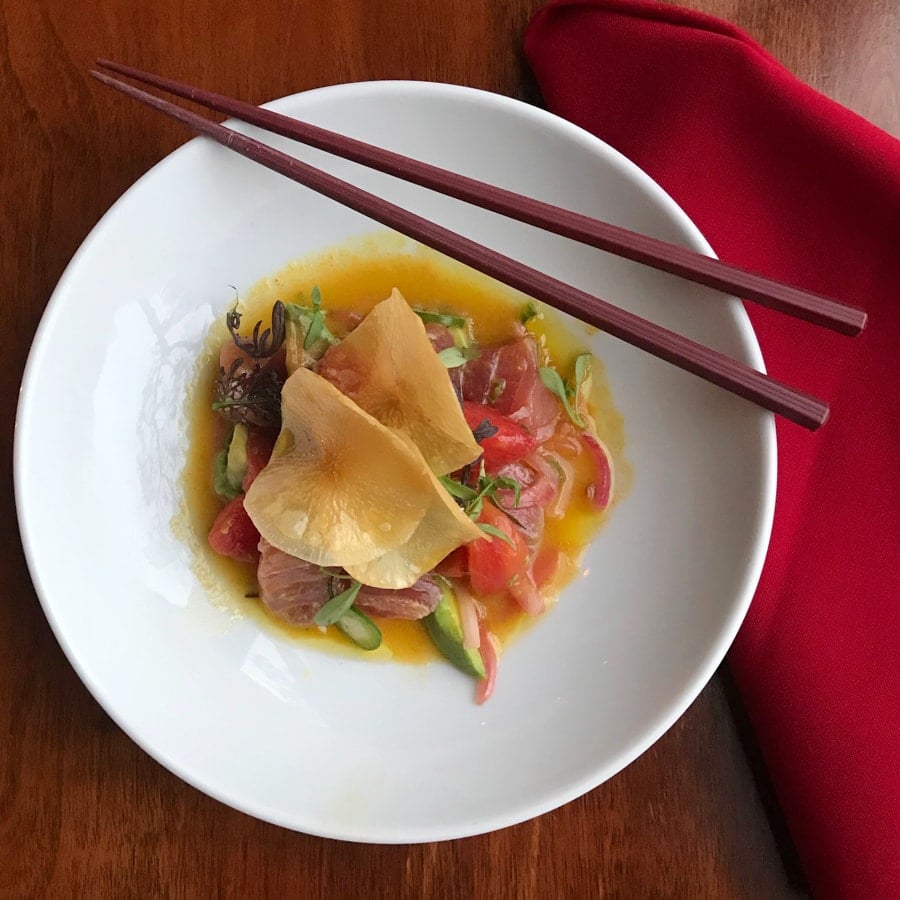 I was still a little hungry and was curious about the White Anchovies on Crostini, but was equally intrigued by the Roasted Beet and Goat Cheese Panna Cotta. What to do?
I ordered both, of course, and ate it all. No judging until you visit and tell me you were able to leave a bite of that deliciousness on your plate.
By the way, this spot would be perfect for date night. I just loved the vibe.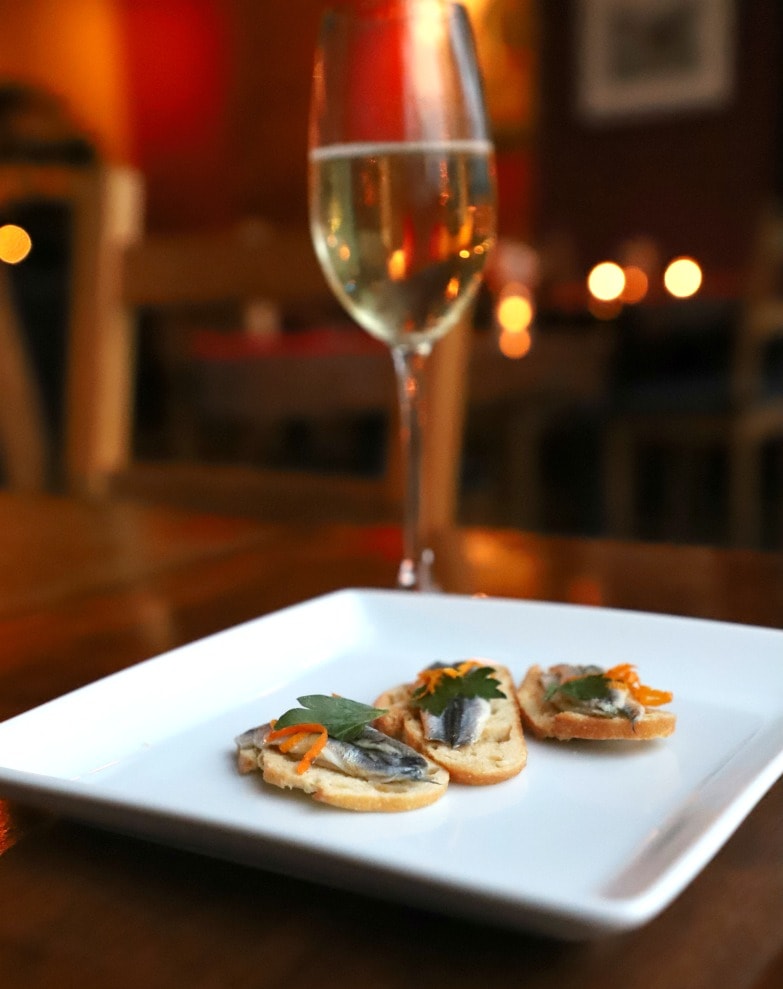 I've given you a lot of choices when deciding where to go for the best Santa Barbara restaurants. Now it's your turn to head there and experience it for yourself.
It's hard to believe as many times as I've been to Los Angeles that I had never spent time in Santa Barbara before. A 90-minute drive from LA and you're there! And by the way, Montecito Inn is where to stay in Santa Barbara to be close to everything!
I'd love to know if you visit and where you ate. I need ideas for my next visit! Share in the comments and tell me your favorite spots.
What are the most popular restaurants in Santa Barbara?
Many of the most popular restaurants are on this list.
What are the best restaurants in Santa Barbara that deliver?
Just about every restaurant on this list delivers. If they don't, I'm sure you could get delivery with Uber Eats, Doordash, or Grubhub.
Like our content? Follow us on Pinterest!