Situated right on the Caloosahatchee River, Fort Myers downtown has become the spot where the cool kids hang out.
With trendy shops and restaurants serving up all kinds of deliciousness from amazing burgers to decadent desserts paired with the perfect wine, this is a region of Fort Myers you do not want to miss.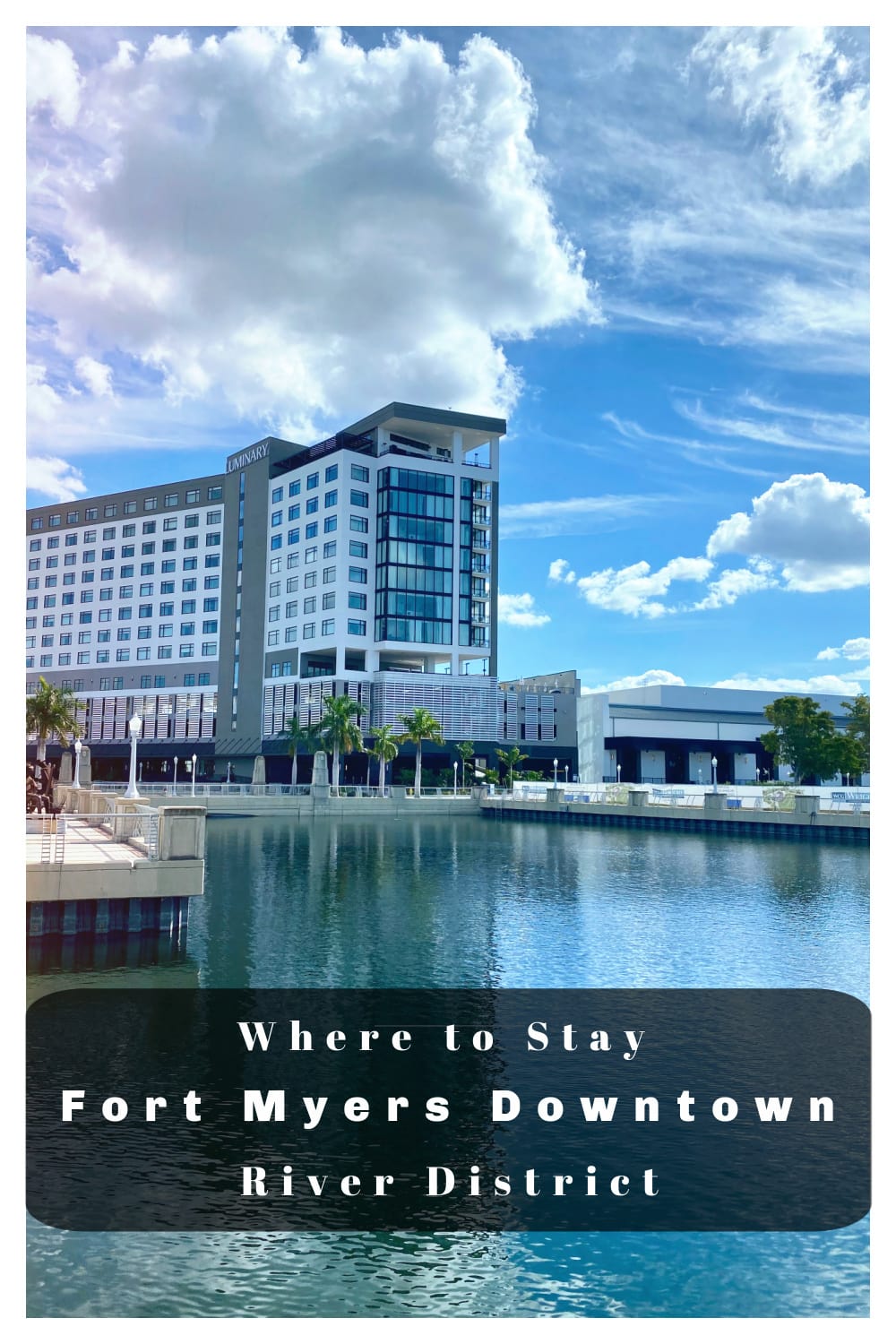 Living just a couple of hours from Fort Myers, I'm embarrassed to say I haven't spent much time there. I visited Fort Myers downtown for the first time in December.
My husband told me a couple of weeks ago he had a lunch appointment in Fort Myers and wanted to know where to stay. Not only did I tell him he had to stay at the Luminary Hotel, but I told him I was tagging along!
If you've been trying to figure out where to stay in Fort Myers downtown, the Luminary Hotel is your answer. It's a lovely property offering a relaxing stay and a central location to all the fun this waterfront area has to offer.
Where to Stay in Fort Myers Downtown
The Luminary Hotel is the perfect combination of modern elegance and upscale amenities, offering beautifully appointed rooms that are also welcoming. Located at 2200 Edwards Drive between the Edison Bridge and Cleveland Avenue, you'll be right downtown in the River District.
With clean, crisp lines, neutral colors, and waterfront or city views to enjoy while you rest and relax, make this your landing spot during your Fort Myers adventures.
Each room and suite at Luminary Hotel & Co. offers elegant decor, luxurious bedding, and an artisan pantry. My husband was happy to see that Buffalo Trace bottle as well as the J. Lohr Cabernet!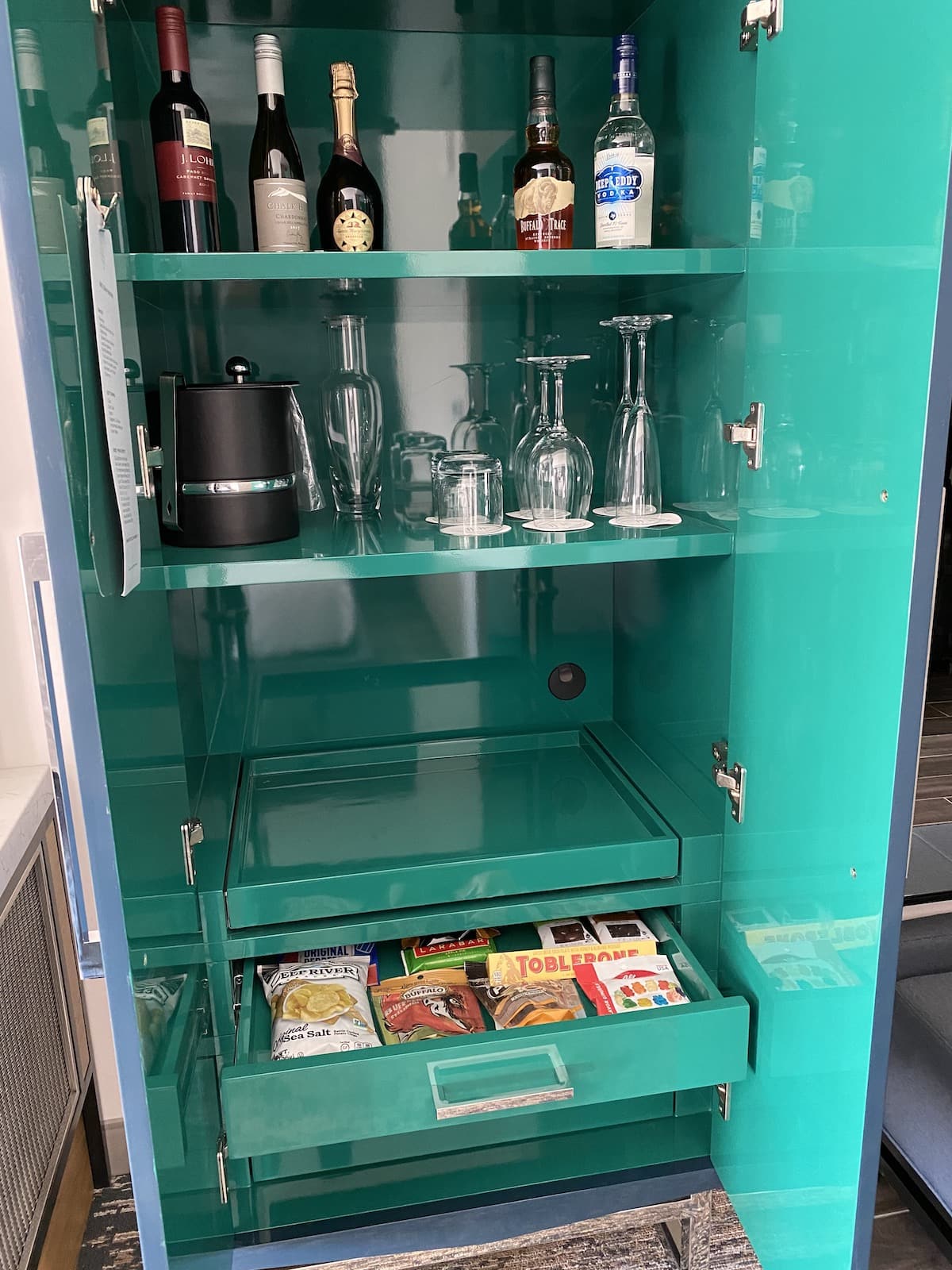 Rooms at The Luminary Hotel
From their modest King Room Chaise Lounge room to their huge Grand Living-Dining Suite, this hotel makes sure each room is just right, and you have a lot of choices.
I stayed in a Double Room which offers 335 square feet of space, with 2 queen beds and a desk. It was nice to be able to spread out and work at the desk.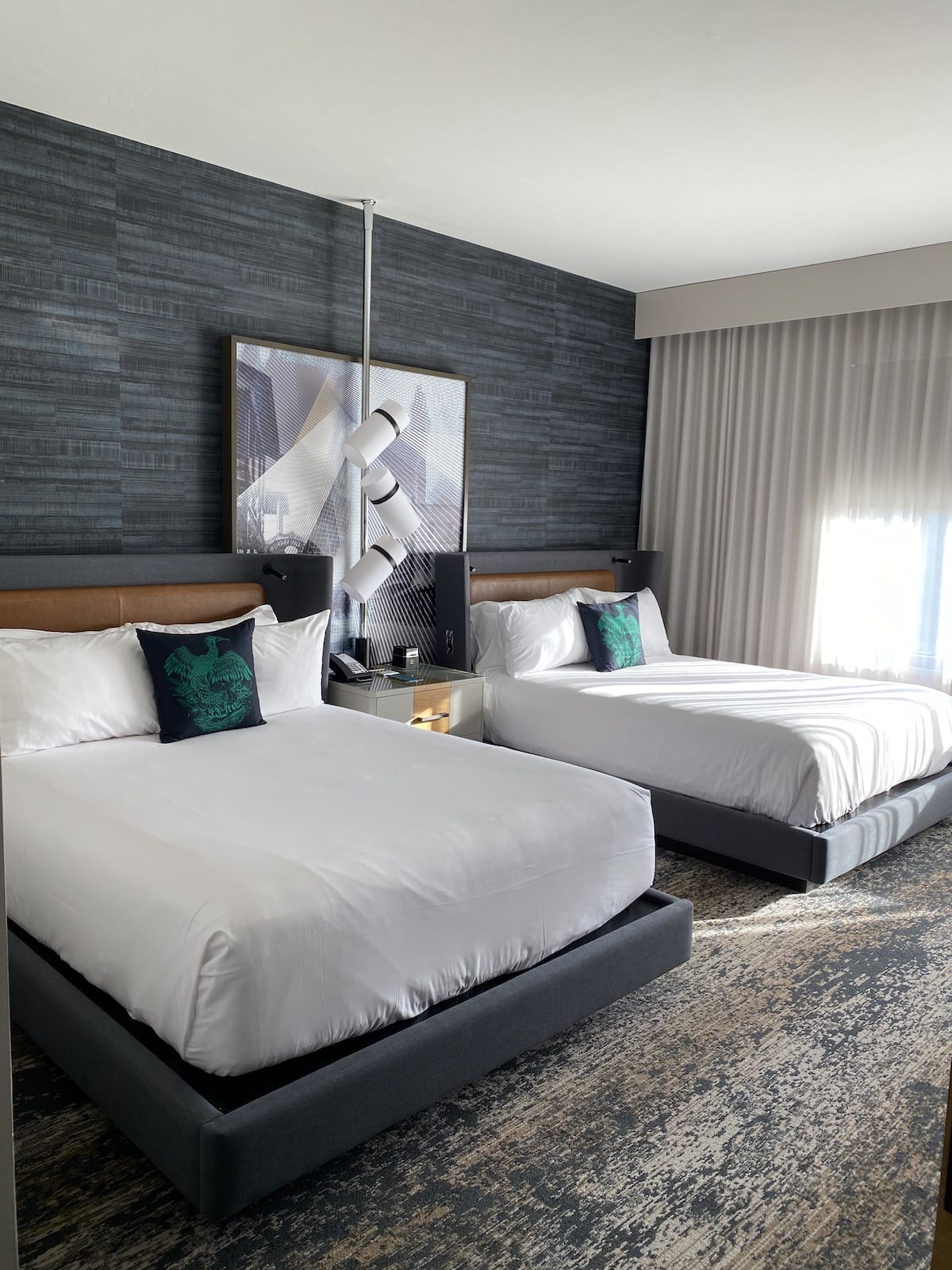 My view was pretty amazing, too.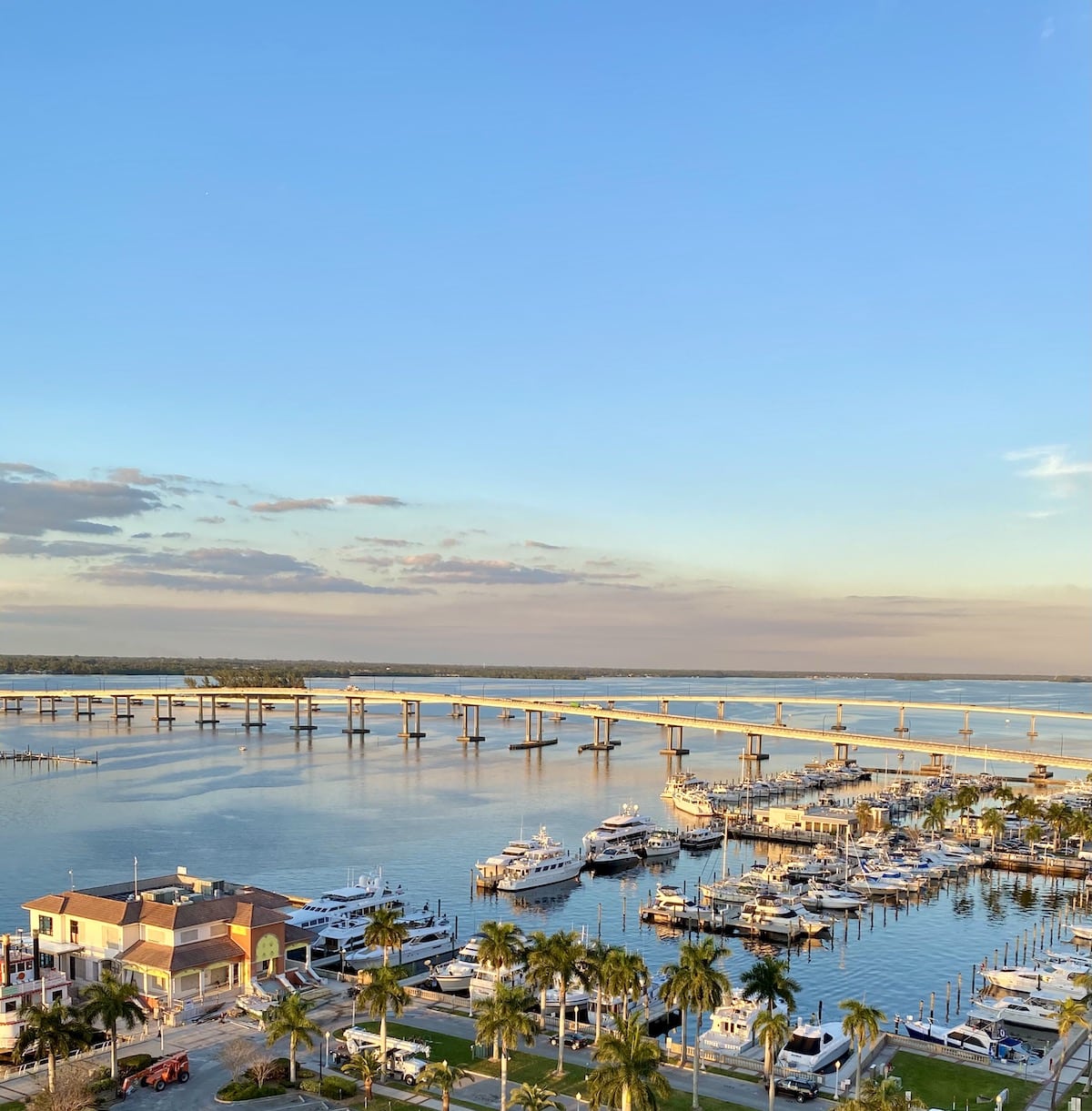 The King Room Chaise Lounge room offers 324 square feet of space and features a king bed, chaise lounge, and working desk. If you need a little more room, the Corner King with Balcony is nice and offers views of the city from the balcony.
Luminary Suites
If you're looking for a lot more space, the Studio King Suite almost doubles the space of the previous room choices. At a little over 600 square feet, it offers a king bed, chaise lounge, chair with ottoman, desk, and a sectional sofa with sofa bed.
The Junior King Balcony Suite offers almost as much room as the Studio King along with city or marina views from the balcony. There's also a Balcony Suite with Wet Bar with a balcony overlooking the Caloosahatchee River, floor-to-ceiling windows, and a wet bar with a full-size refrigerator.
Finally, the ultimate in spacious comfort, the Grand Living - Dining Suite boasts a whopping 949 square feet. It features 1 king bed, 2 bathrooms, a balcony overlooking the Caloosahatchee River, floor-to-ceiling windows, a wet bar with a full-size refrigerator, and a separate living area with a sectional sofa bed.
Amenities
Luminary Hotel offers great amenities in all rooms and two extra offerings for all guests to enjoy - the pool and the fitness center.
Outdoor Pool
Located on the 4th floor of the hotel, Luminary's heated pool offers beautiful views of the Caloosahatchee River for a relaxing few hours or a full day of relaxation. Lounge chairs and umbrellas are available. Though I really didn't have time to experience the pool the day I was there, it was beautiful.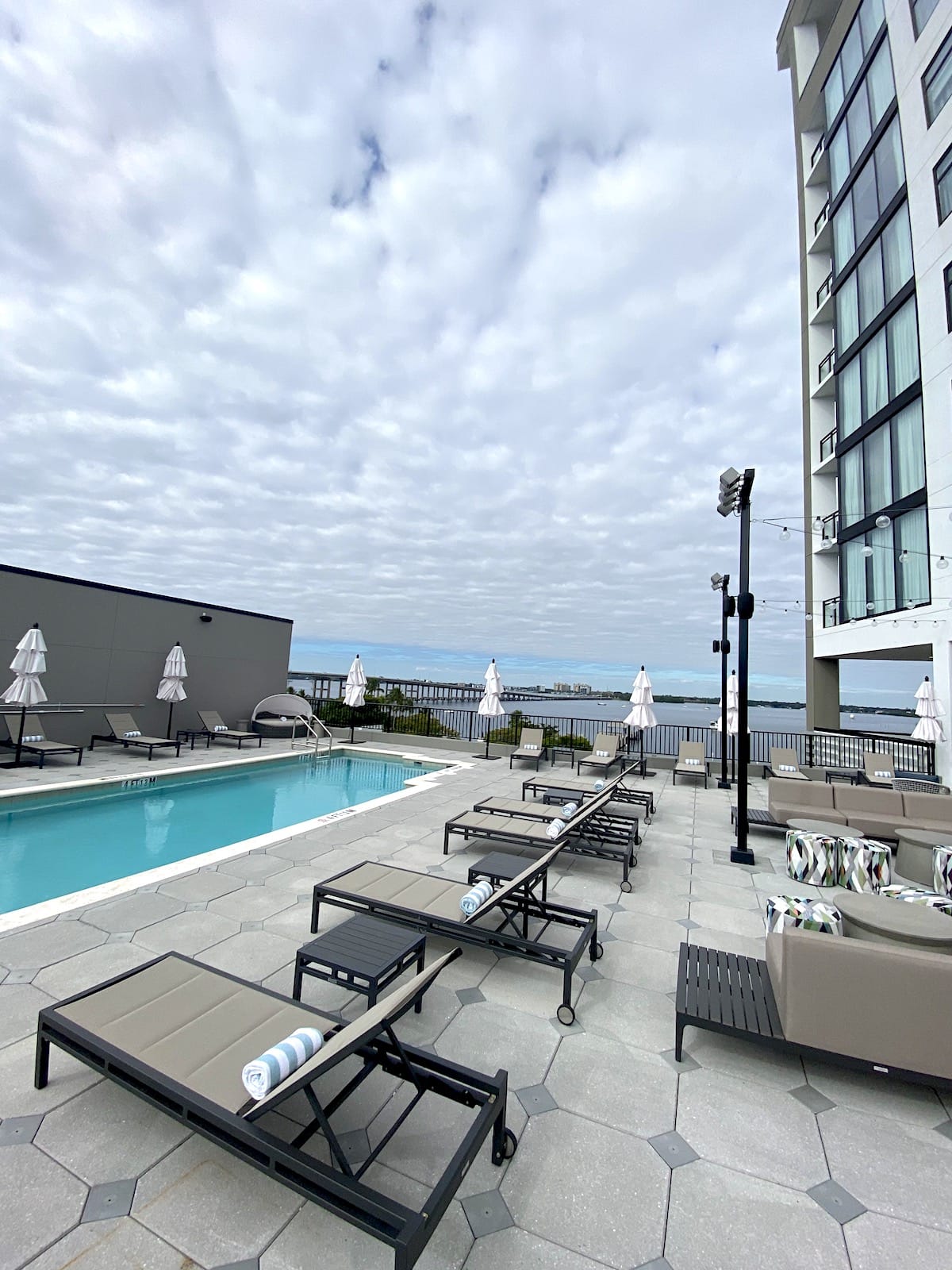 Fitness Center
The fitness center makes it possible for guests who don't like to miss their workout to stay on track while on vacation. It features cardio machines like ellipticals, treadmills, and recumbent and upright bikes, along with resistance training options like benches, dumbbells, and mats.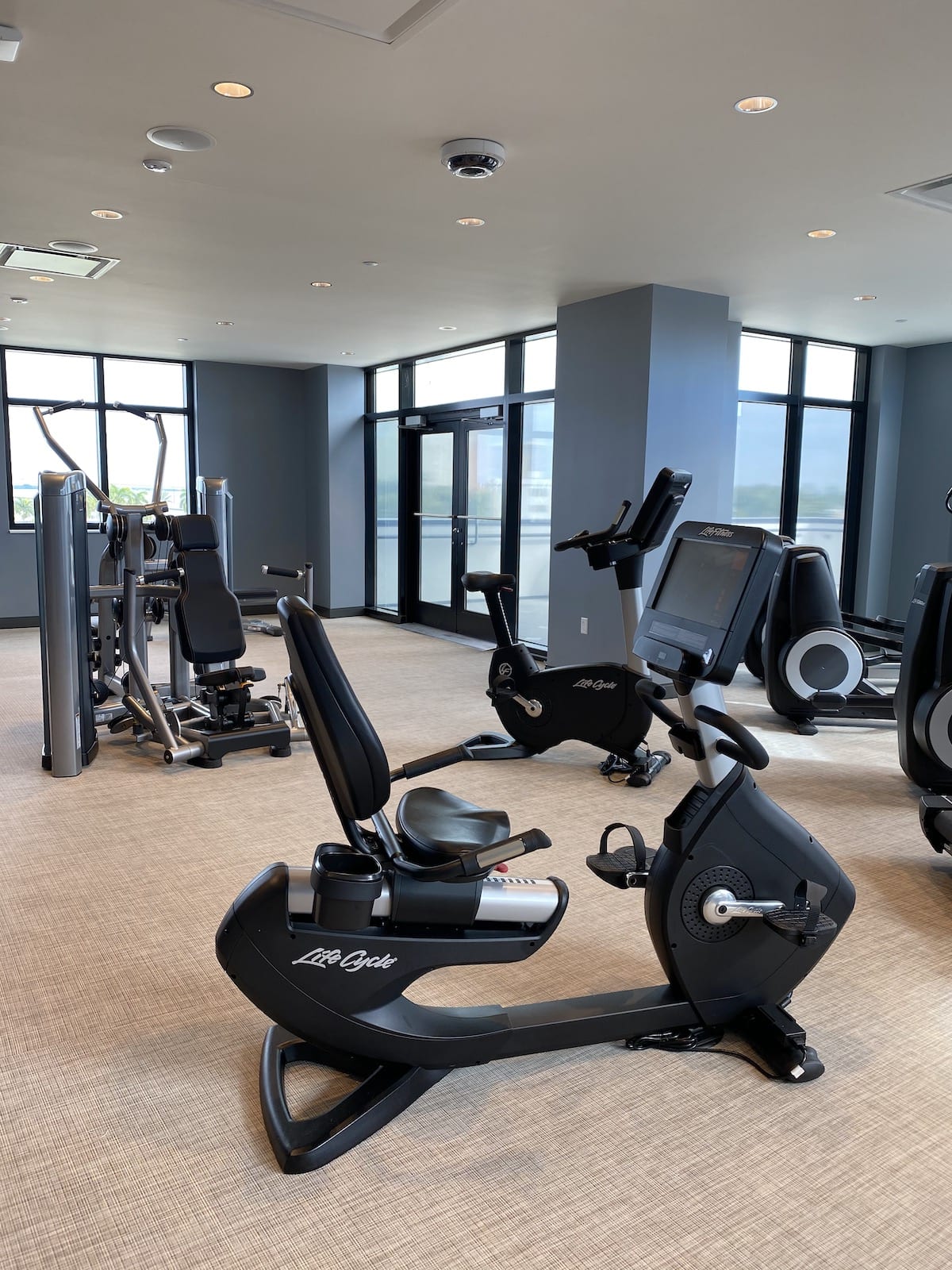 Along with complimentary WiFi, 55" LED flat-screen TVs with premium movie channels, room service at your beck and call, and a plush robe and slippers in every room, you just can't go wrong with a stay at the Luminary Hotel.
Dining
And yet another reason the Luminary Hotel is the place to stay in Fort Myers downtown, this hotel has four excellent dining choices for all guests.
Silver King Ocean Brasserie
The Silver King Ocean Brasserie is Luminary's signature restaurant. This beautifully decorated restaurant offers a fine dining experience and features the freshest seafood used in a chef-driven menu that's unlike any other in Fort Myers.
They also serve the wonderful Belle Glos Pinot Noir by the glass. This has become one of my favorite California Pinot Noirs.
This Potato & Caviar appetizer was one of the best dishes I've ever eaten. Topped with Royal Osetra Caviar, the flavors of this masterpiece were heavenly.
Chef Matthew Mohler is without a doubt one of the most creative chefs I've met to date.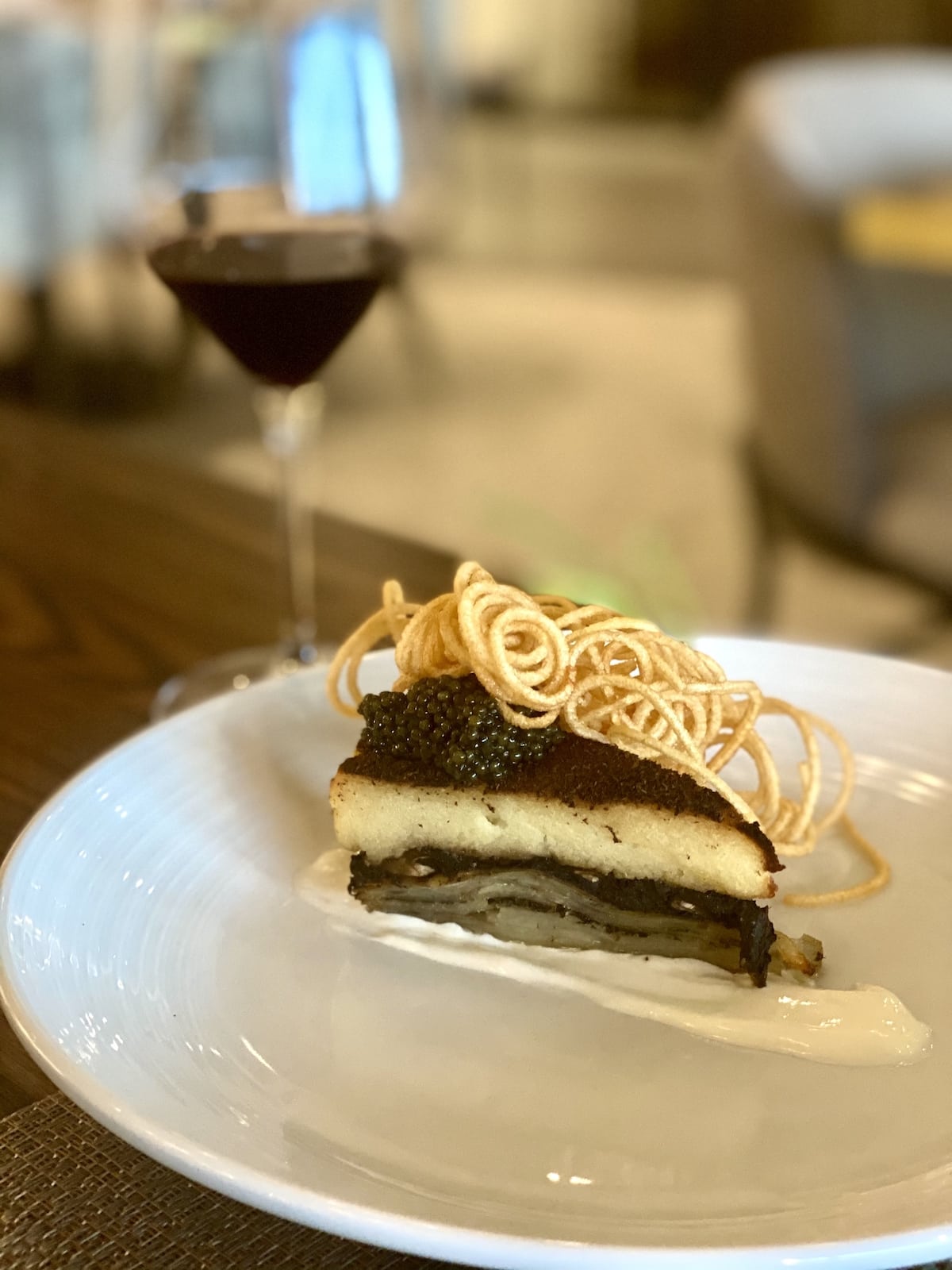 I've had dinner at Silver King twice now and was honestly blown away at this hidden gem.
The Marinated Charred Octopus was insanely good, with just the right amount of char and again, flavor combinations that were just perfection. Who knew papaya and poblano paired so well?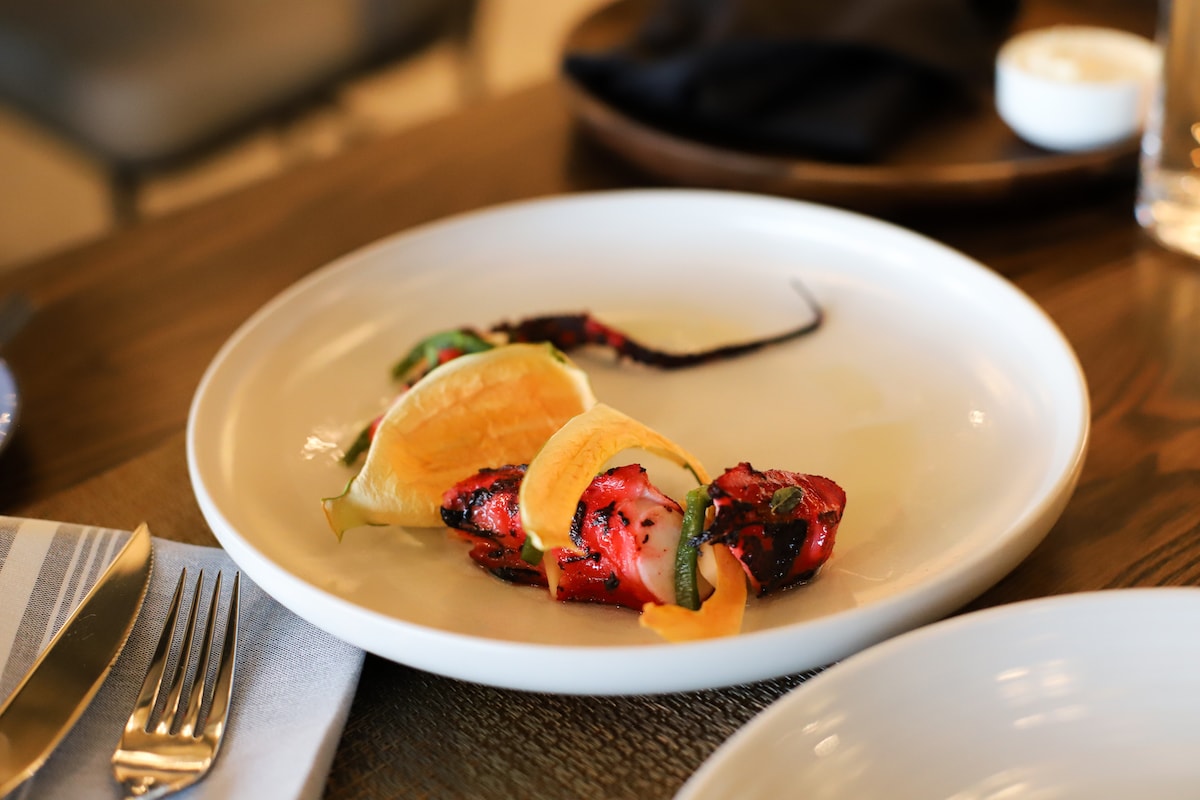 These Sea Scallops were prepared perfectly. If the combinations of flavors have not impressed you so far, how about scallops paired with purple sweet potato discs, pumpkin, Shemeji mushrooms, bourbon, and cashews?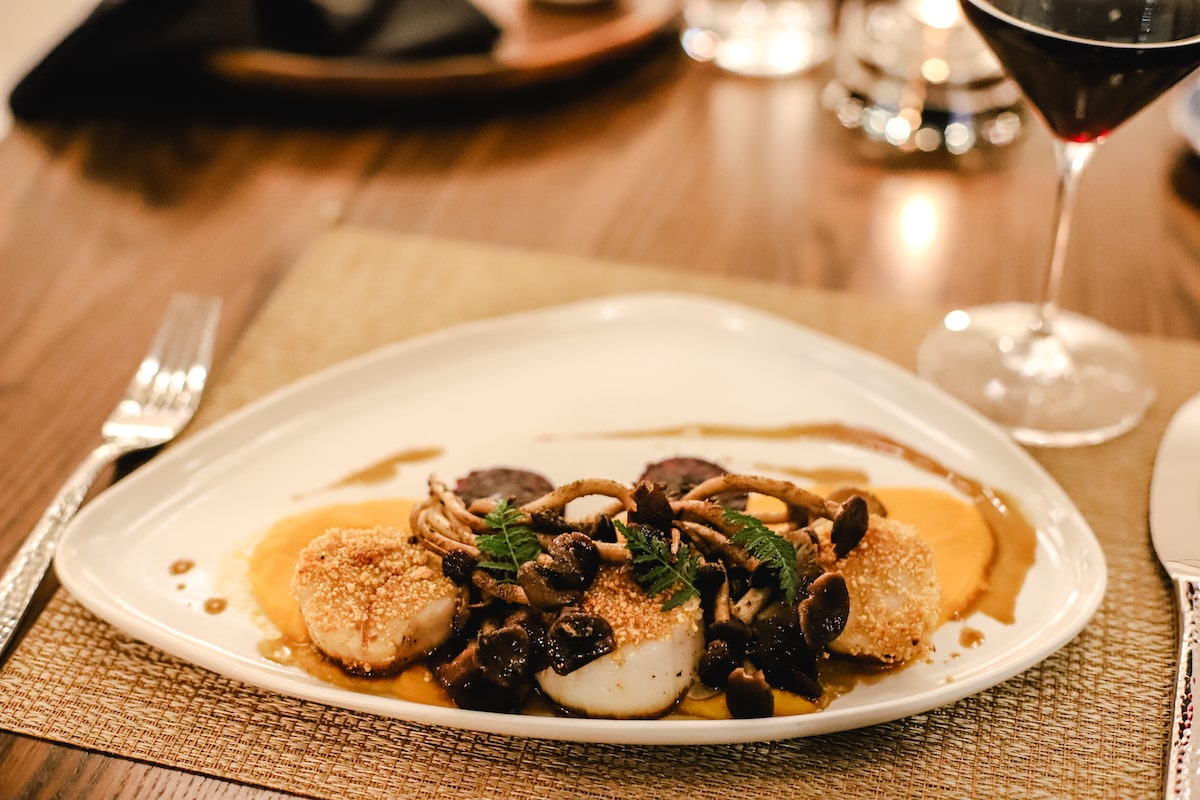 Of course, it's always a plus when the chef changes the menu a lot based on the freshest ingredients, but the downside is that I can't promise these dishes will be on the menu. You'll just have to be pleasantly surprised!
Be sure to save room for dessert. Seriously.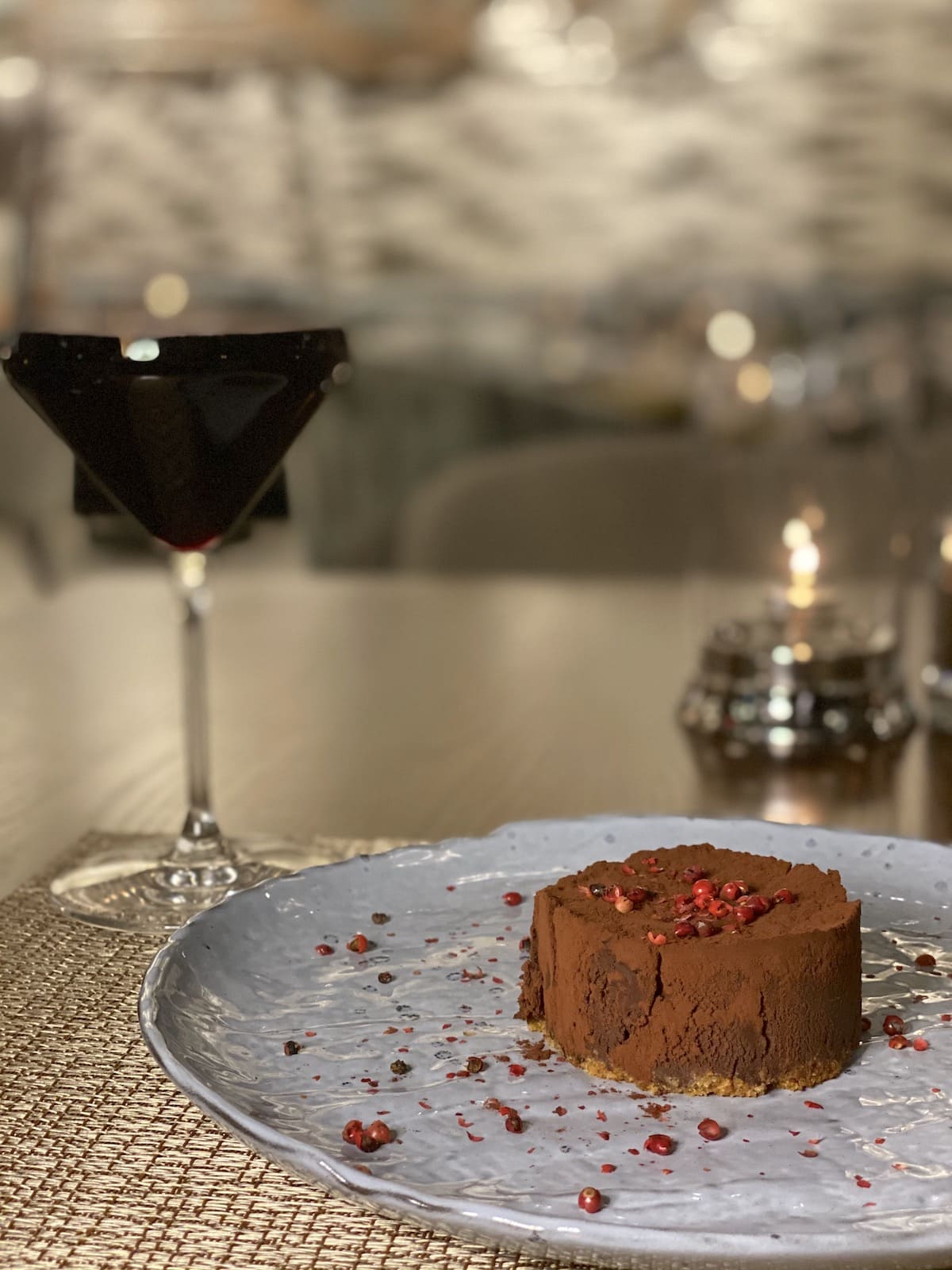 If you're planning a special occasion dinner in downtown Fort Myers, this is the place. And why not just spend the night?
Ella Mae's Diner
Enjoy a healthy dose of nostalgia with your meal at Ella Mae's Diner. Just walking through the doors makes you feel as if you've been transported to yesteryear.
Take a seat in a booth and enjoy classic southern diner fare with a modern twist.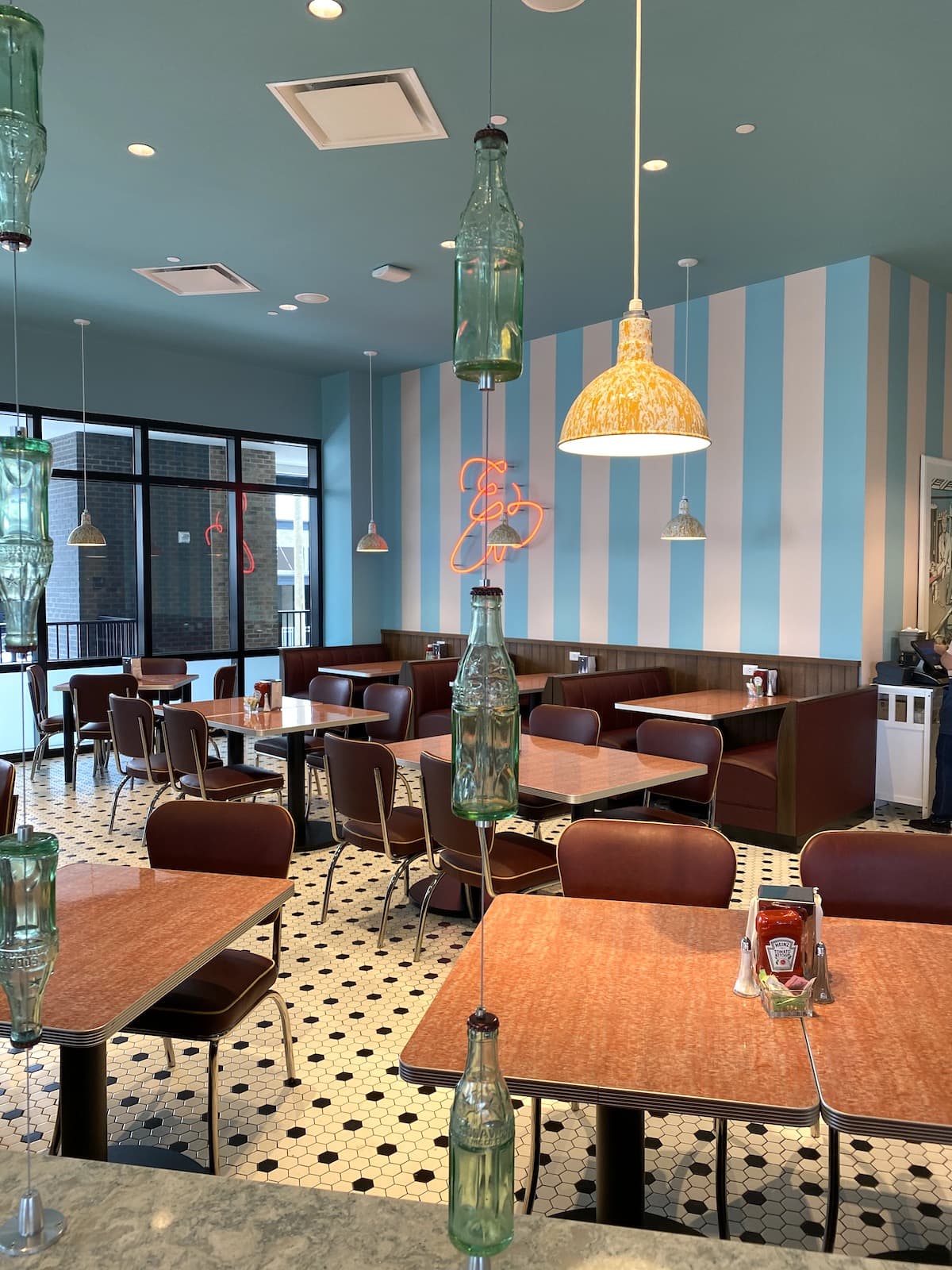 I had breakfast at Ella Mae's and enjoyed it so much. Though they have quite a few hearty dishes like The Southern Bowl - cheesy grits, sausage, scrambled eggs, sausage gravy, along with crispy onions, I went with something a little smaller.
The avocado toast was delicious! I'm still thinking about that Southern bowl though...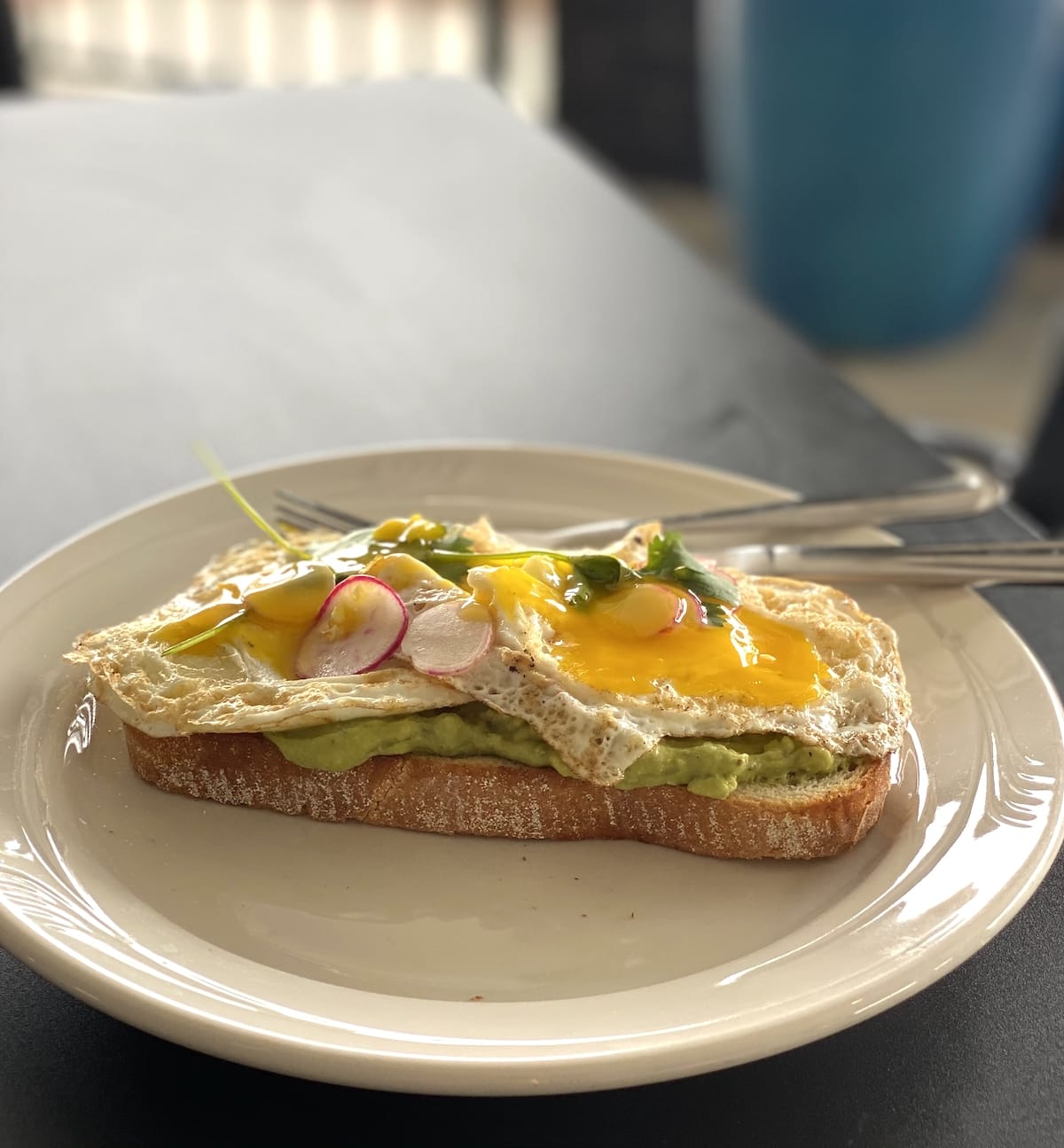 Dean Street Coffee Roastery & Retail
Designed with coffee lovers in mind, Dean Street Coffee Roastery & Retail offers the finest in coffee varieties along with on-the-go eats and locally-inspired gifts. Forget the souvenirs, this is the spot to pick up a gift!
Beacon Street Social Drinkery
Beacon Street Social Drinkery is Luminary's rooftop bar offering gorgeous views of the local surroundings. With a vast selection of craft cocktails, beers, and champagnes, along with fine wines and a delicious menu of small plate specialties, Beacon Street is a must-visit for any adult staying at the hotel.
Though there are other local spots for downtown Fort Myers nightlife, this is the place to be at sunset!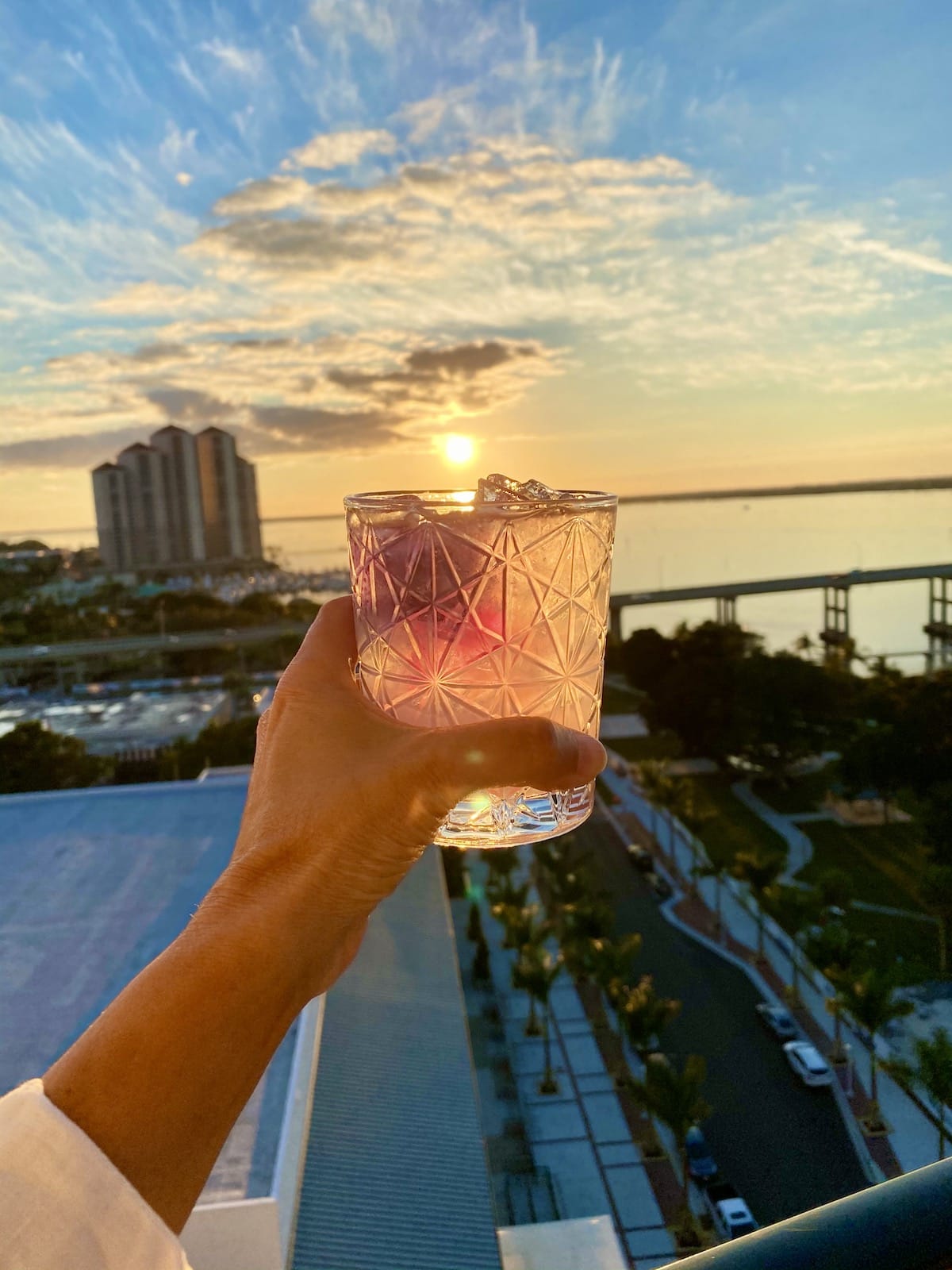 Just around the corner from the hotel, you'll find downtown Fort Myers shops and quite a few restaurants. I walked over and spent the day Christmas shopping while there.
If you're planning a trip to this beautiful area, Luminary Hotel & Co. is where to stay in Fort Myers downtown.
Simple and elegant, Luminary offers everything we love about Autograph hotels, and even more, close proximity to everything we love about Fort Myers. Let me know if you visit!
How far is the hotel from the airport?
The Luminary Hotel is just 16 miles from Southwest Florida International Airport.
Does the hotel offer a shuttle to and from the airport?
The hotel does not have a shuttle service, but recommends Dolphin Transportation. Uber is also available at the airport.
Does the Luminary offer accessible rooms?
The hotel offers accessible rooms that have a 32 inch wide opening. Service dogs are welcome for those with disabilities.
If you're road tripping or find yourself a little further north, make sure to check out this list of best restaurants in Sarasota Florida. Sarasota is another fabulous Florida spot for a getaway vacation!
More Florida Destinations
Start Packing with this Free Printable Packing List!