Wondering where to stay in Vancouver? It's easy to see why the Fairmont Hotel Vancouver is one of the top places to stay in the downtown area.
The Rocky Mountaineer luxury train journey knows a little about the best lodging in that area, and the Hotel Vancouver was where I began the trip that would take me through the Canadian Rockies.
Located roughly 30 minutes from Vancouver International Airport, I felt like I was there in no time, which was great after a long flight.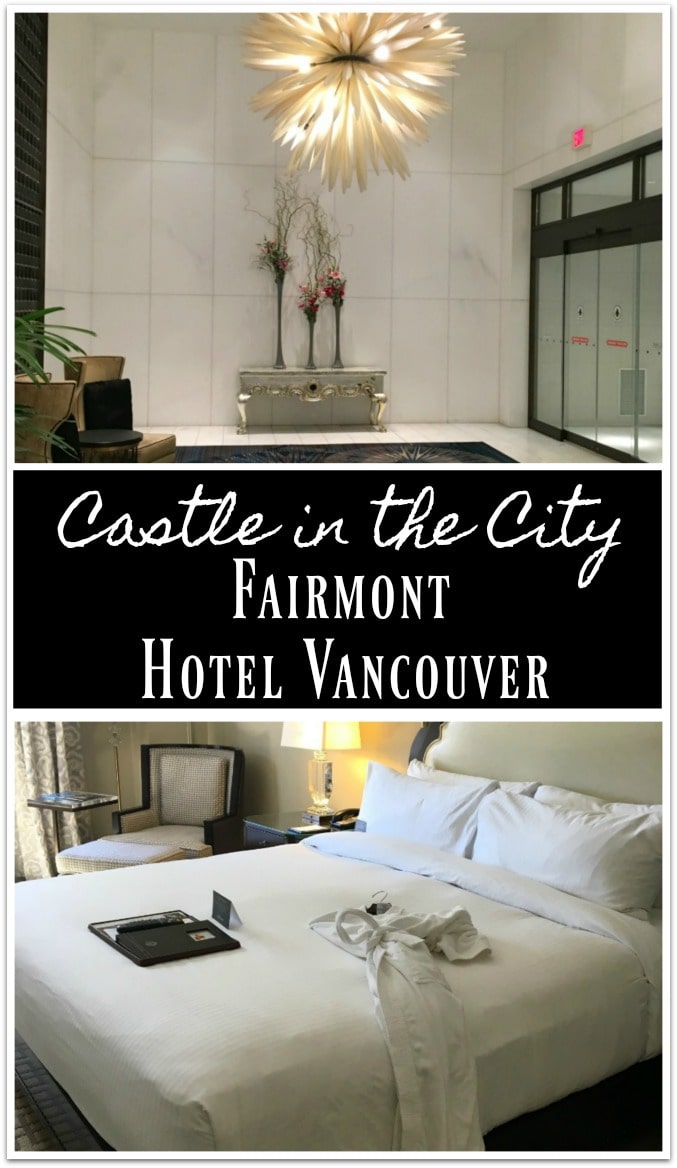 The Fairmont Hotel Vancouver is lovingly known as the "Castle in the City." This beautiful hotel features fabulous amenities, luxury shopping experiences, and even an amazing spa!
This downtown Vancouver location means that you are within walking distance (or a short cab ride) to many of the most desirable attractions in Vancouver.
There is so much I didn't see as I was only able to spend a couple of days, but what I did see made me want to come back for more...soon!
The Fairmont Hotel Vancouver's standard and master room packages include all the amenities you could want, like the typical A/C and personal heat control, bathrobes, coffee maker, hairdryers, an iron and ironing board, and a mini bar.
But that silver pot that heats water for tea in about one minute? I finally bought one for home and use it almost every day!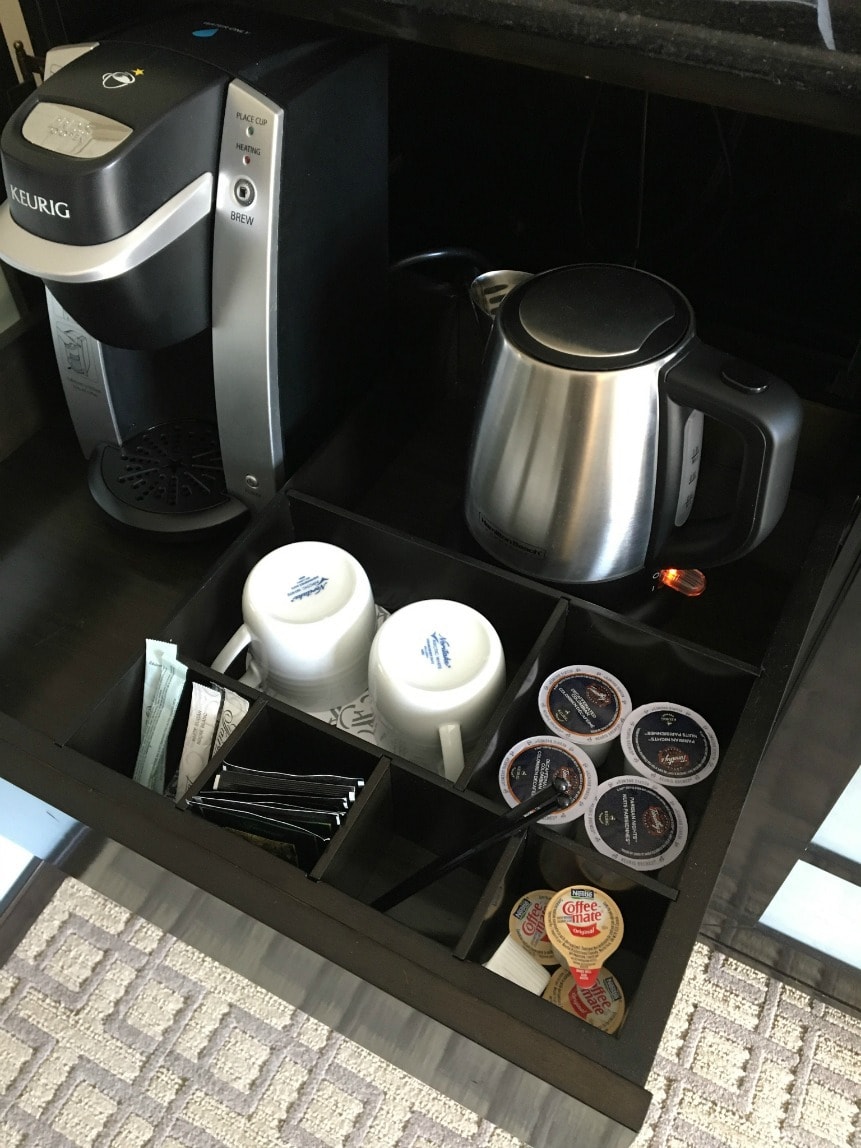 Wifi, of course, is available. (Tip: Joining the President's Club will get you free wifi. Joining is free and took me about two minutes.)
The hotel also offers safety deposit boxes, and their friendly staff is happy to assist with all of your needs. (They even have services for babysitting.)
My room at the Fairmont Vancouver was absolutely perfect. It was spacious, comfortable, and I felt totally spoiled. This was the first time I'd stayed in this city, and I think this is still my favorite of all the hotels in Vancouver.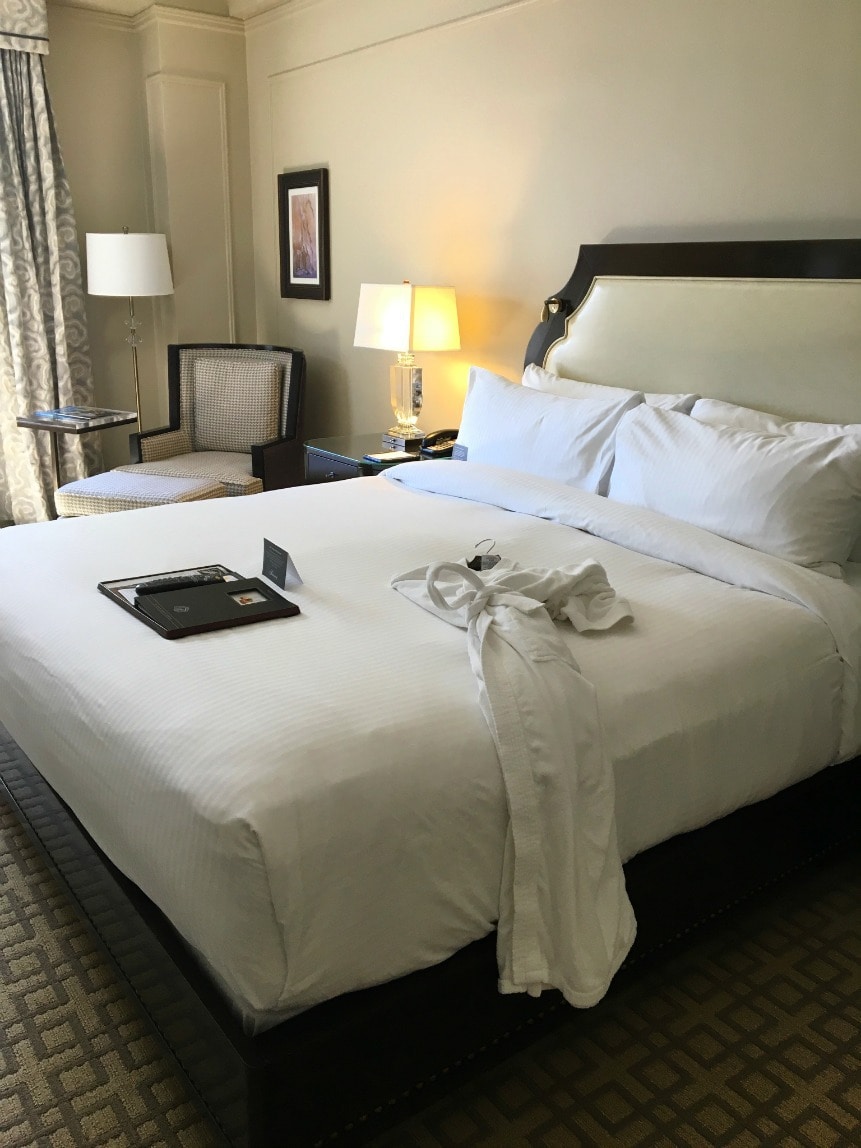 The bathroom was large and had a huge shower and lots of fluffy towels.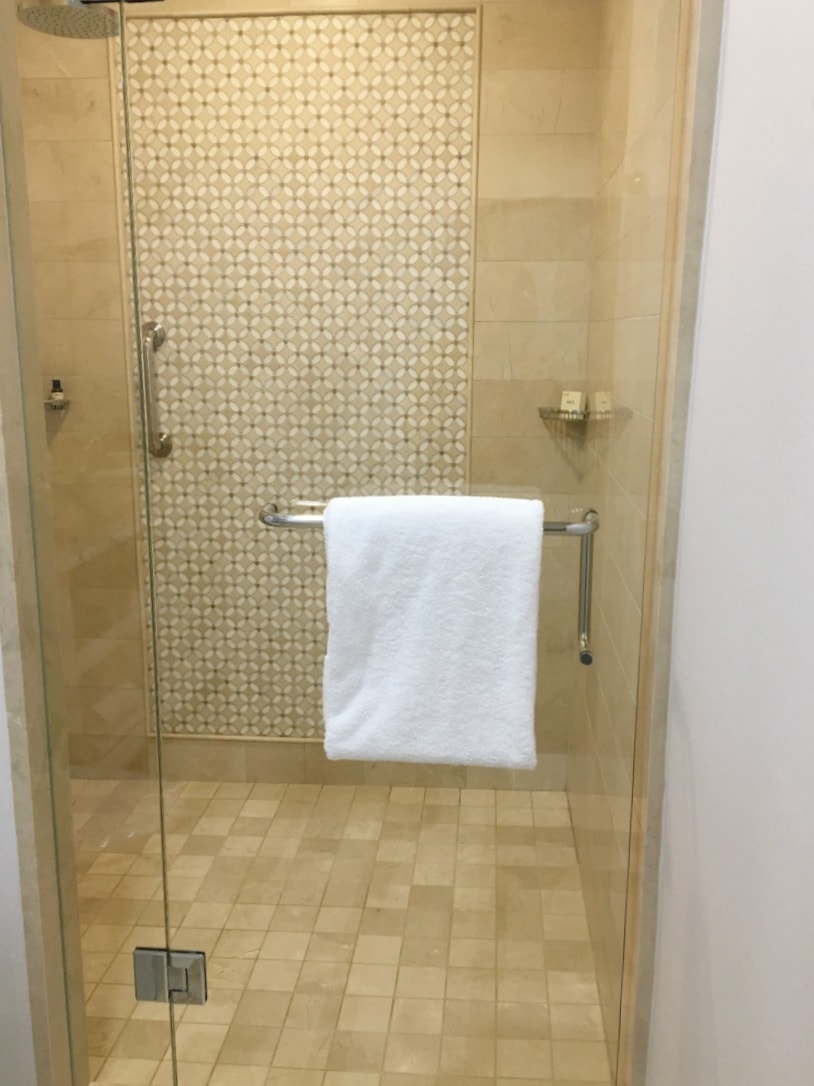 But what surprised me the most was the toiletries. This was a first for me. The Fairmont Vancouver had my name printed on my scented toiletries!
We're not talking just any toiletries, but Le Labo, as in the luxury perfume brand based in New York City. The fragrance was Rose 31, and it's so lovely, I'm now hooked.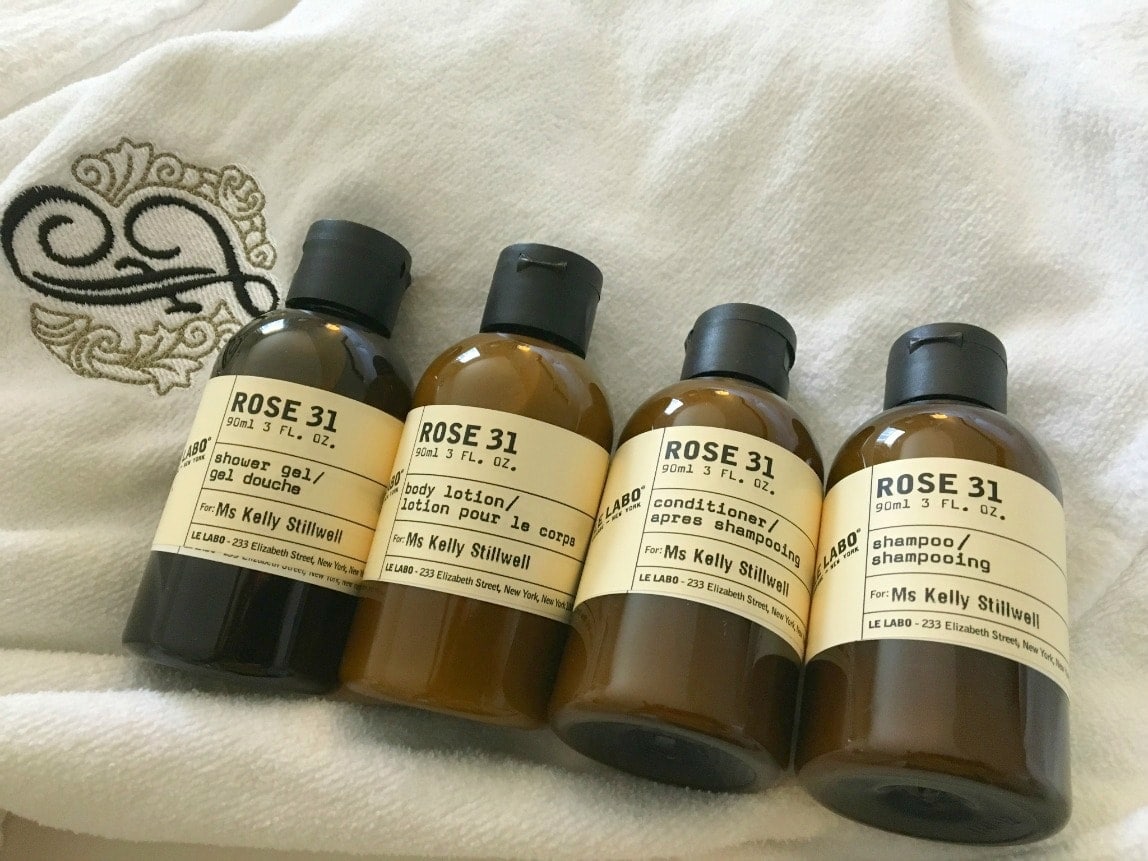 My room also had a comfy sitting area...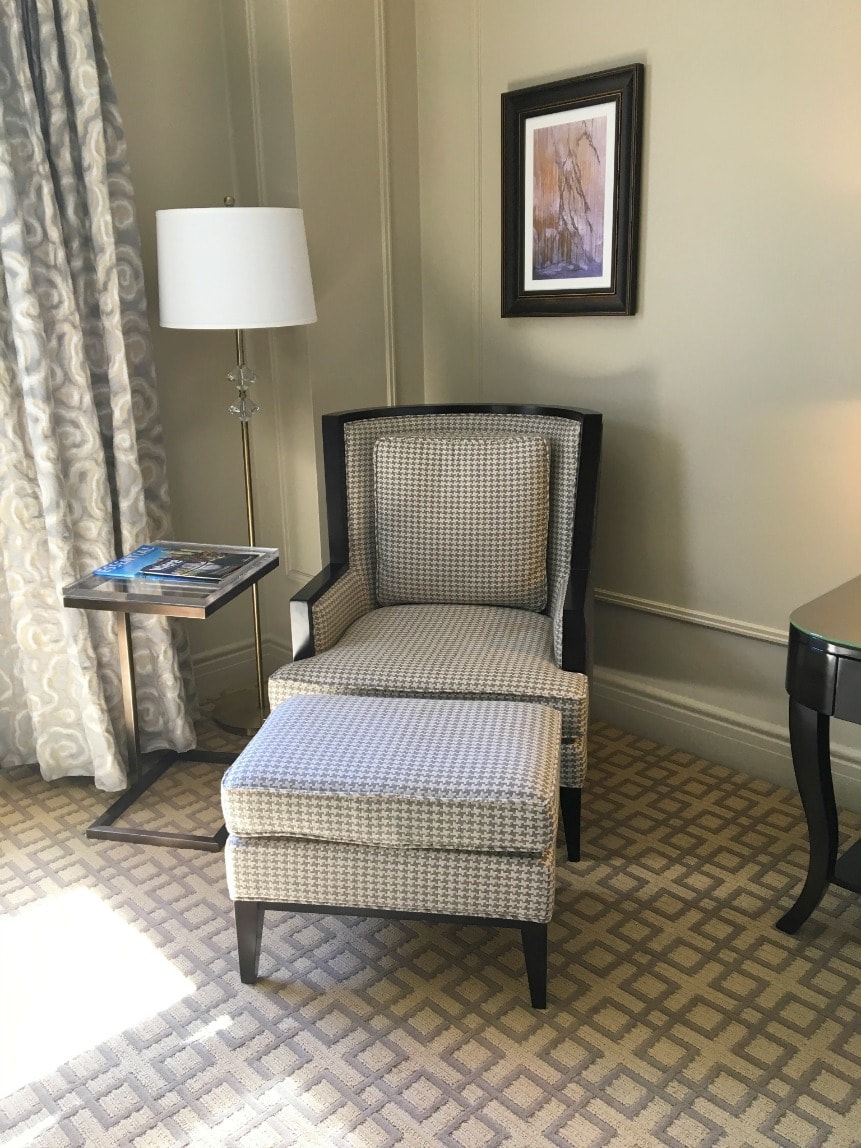 ..as well as a nice sized desk.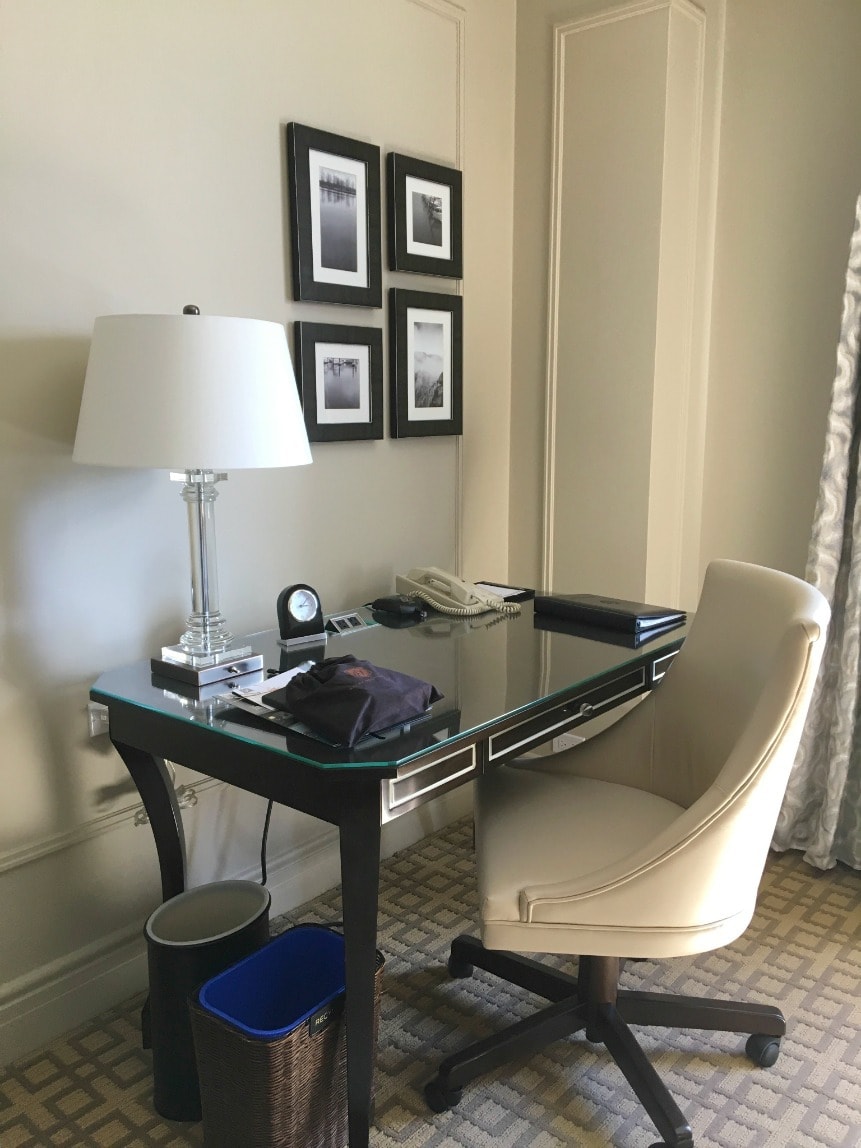 As wonderful as my room was, the entire hotel was fantastic, so I did some exploring while there.
The Fairmount Hotel Vancouver is located in the heart of the shopping district. Vancouver is known for their luxury shopping experiences and as a guest of the Fairmont, all of these amazing locations are close by. Another reason this is where to stay in Vancouver!
While the shopping is fantastic in Vancouver, you won't have to leave the premises to do your luxury buying.
With top high-end shops like Gucci, St. John, Louie Vuitton, and Dior, shopping for that perfect dress or pair of shoes is as easy as taking the elevator down to the lobby.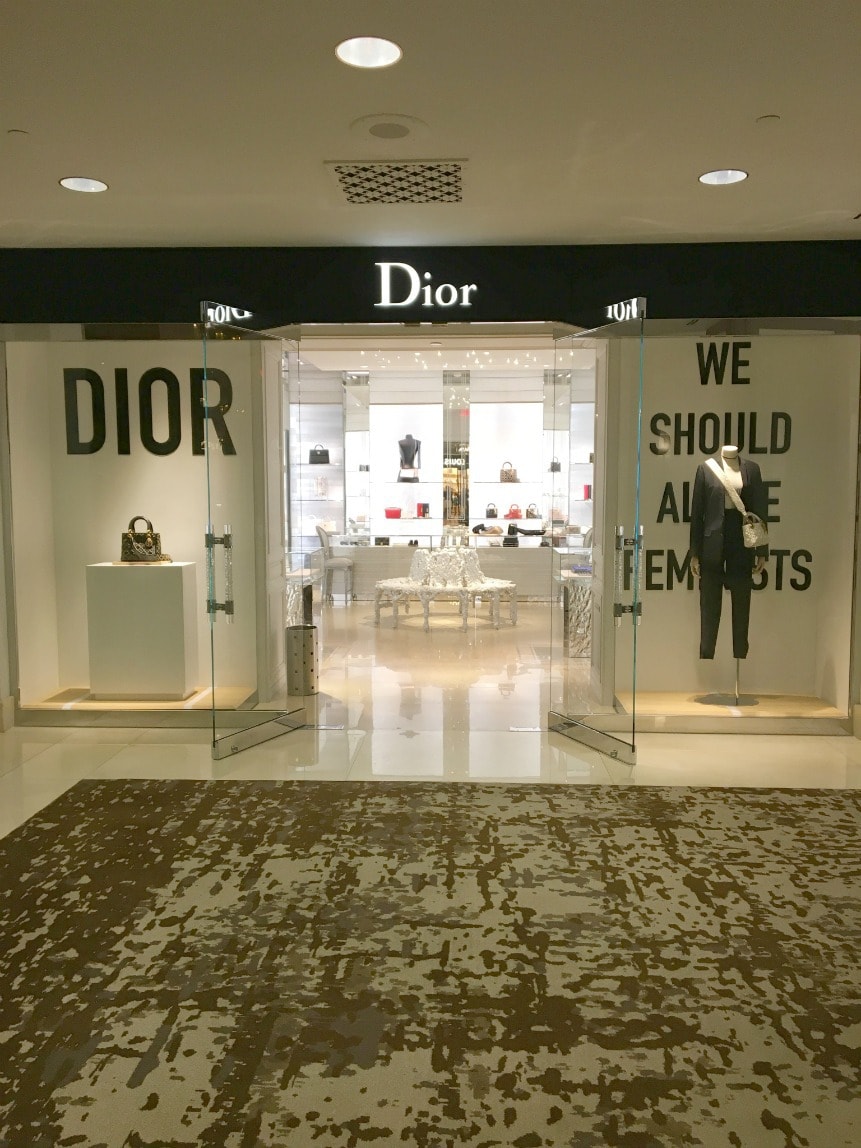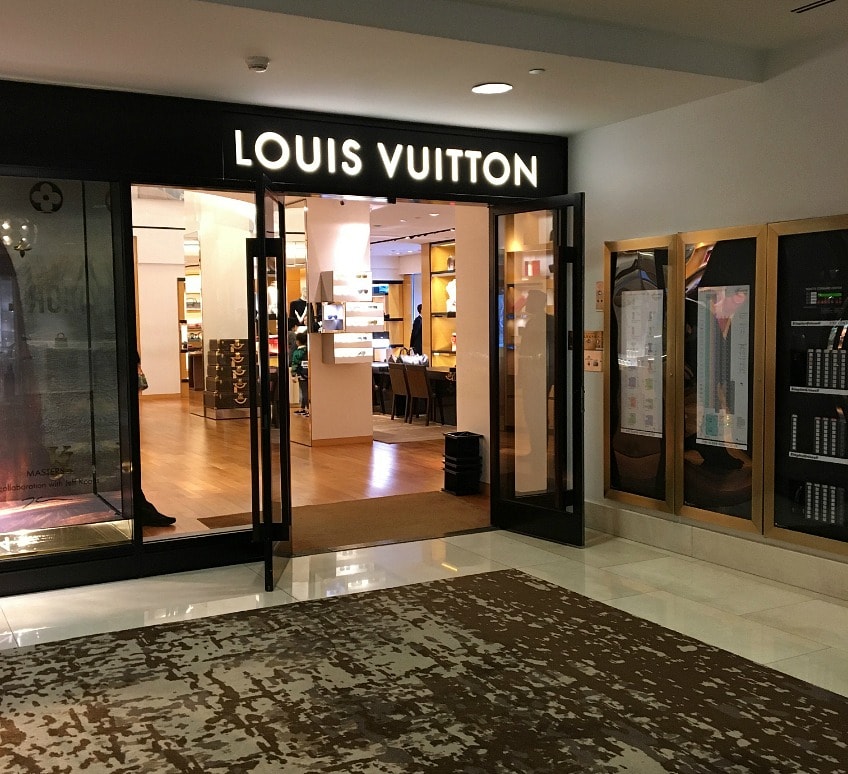 Also in the lobby you'll find Notch8, the in-house restaurant and bar which offers a convenient spot to relax and unwind over a great meal, as well as a lively location for meetings with clients or co-workers.
If you love happy hour, this is the place to be! I loved this sign!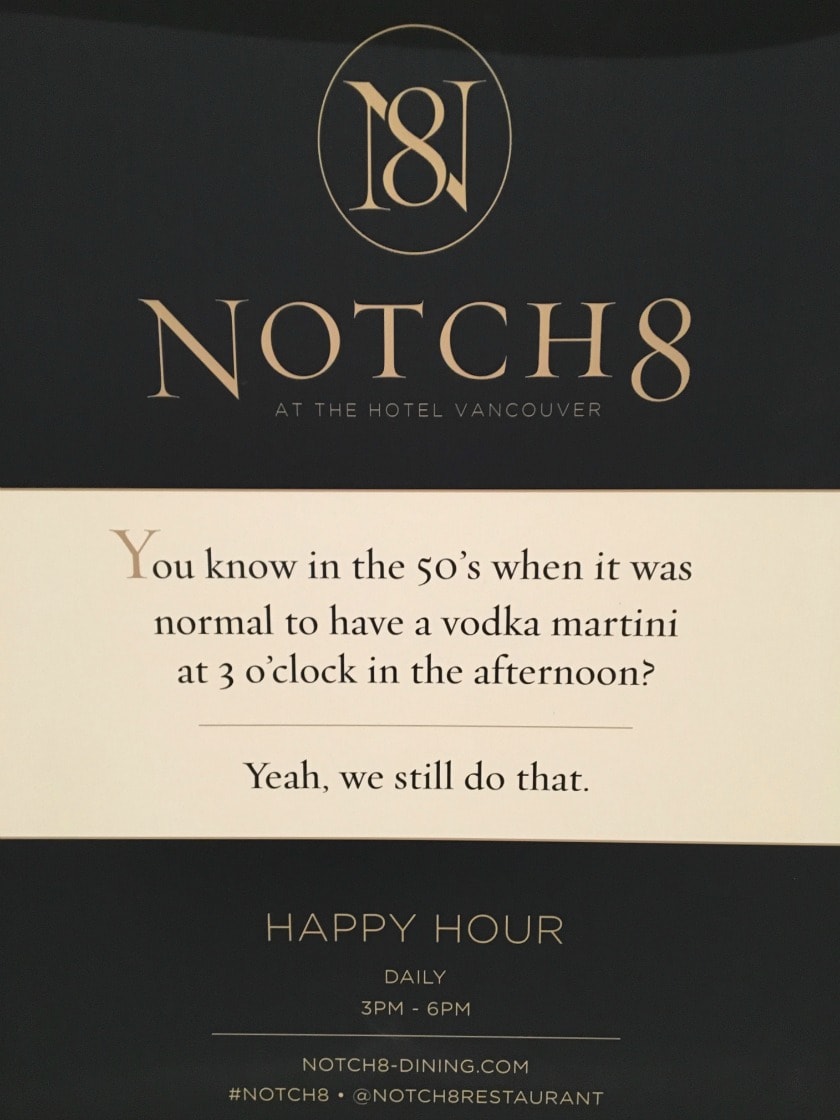 We had an appetizer meet and greet at Notch8 the first night of our stay and the food was amazing. The restaurant is perfect for an intimate dinner or a larger gathering.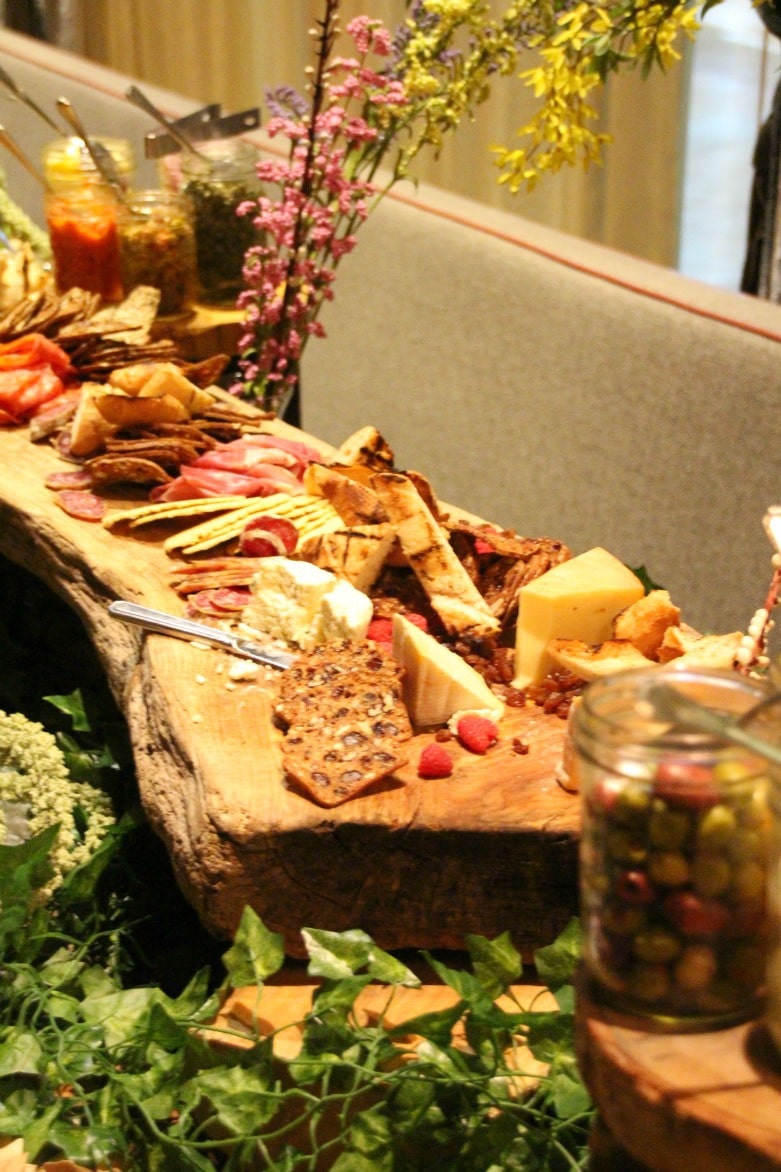 And speaking of delicious food, Notch8 is also open for breakfast, and it is not to be missed. Not a breakfast person? This may change your mind!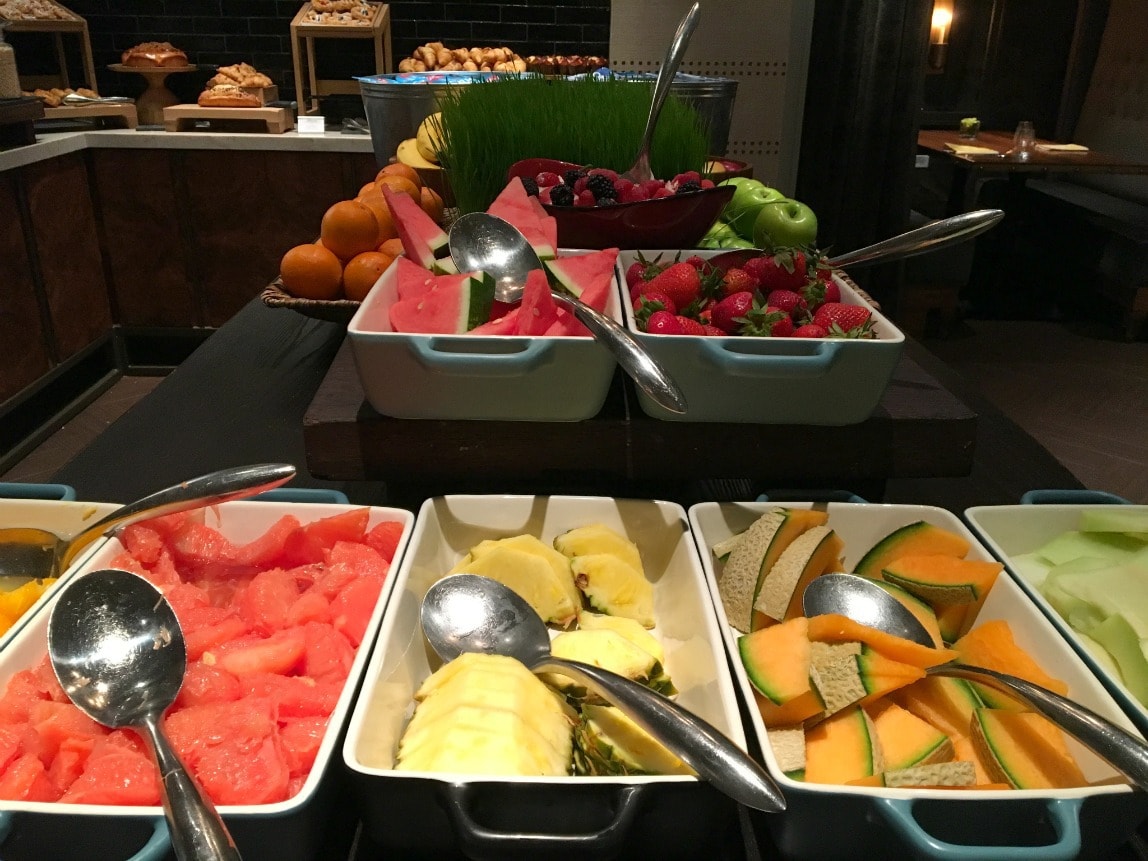 If you're looking for something a little more spacious for a meeting, the Fairmont has conference rooms on site that can accommodate a meeting of nearly any size! In fact, aside from their 557 guestrooms, the Fairmont is also home to 12 functional meeting spaces and several event spaces. Just so you know.
The Fairmont also has an in-house, state-of-the-art health club. You can take a swim in their 50 x 20 lap pool or head to the private spa on site. Their top of the line facility is able to offer a wide variety of services and treatments. Treat yourself to a massage after your workout.
The hotel also boasts an architectural design that reflects the history of Vancouver. When you walk in the door you are greeted by some of the most adorable canine ambassadors.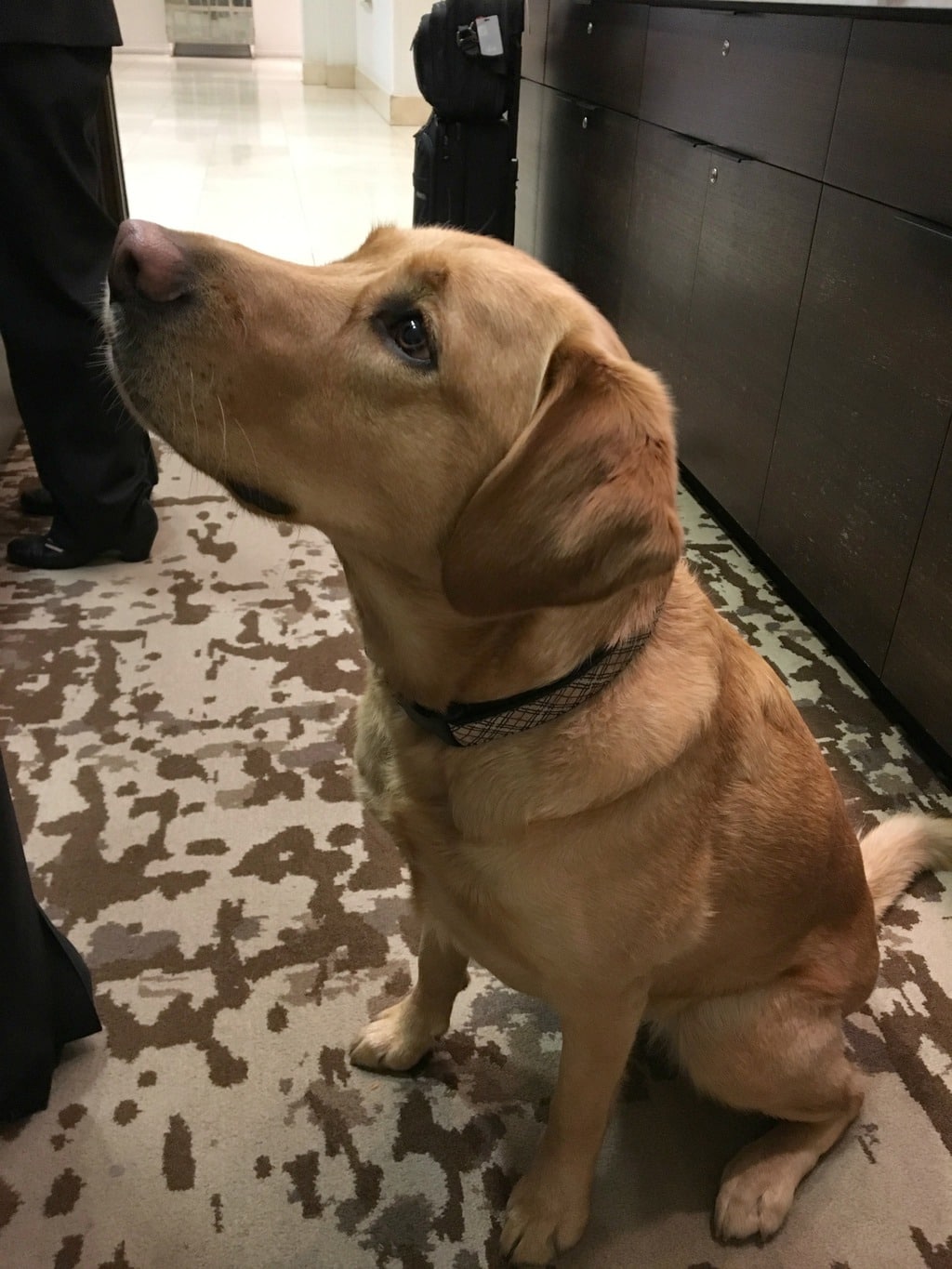 The Fairmont Hotel Vancouver is a pet-friendly hotel so traveling with your furry friend is not a problem!
They have a concierge on staff to help you set up the perfect itinerary during your stay, though you may find you don't need to venture far from the hotel to enjoy some of the most delicious, fun, and luxurious experiences.
In fact, you will be so close to Victoria that you really should take a trip there and stay at the Fairmont Empress Victoria. It's easy to get there by Harbor Air Sea Plane, Helijet, or by boat.
The staff at the Fairmont are part of what makes this hotel so exceptional. They have everything covered from the time you arrive until the time you must, regrettably, head back home.
How To Find Hotel Vancouver
The Fairmont Hotel Vancouver is located at 900 West Georgia Street in Vancouver. Book online or give them a call at 1-866 540-4452 to make a reservation.
When leaving the airport, follow signs to City Centre via Granville Street which will bring you over the bridge where you need to take a left onto Drake Street. After the stoplight, it is about two blocks to Hornby Street; take a right and after two blocks you will have arrived.
By the way, if you are traveling on the Rocky Mountaineer, they offer a stay at a lovely Kamloops hotel after the first day on the train. Kamloops is a fun little area with lots of shops and restaurants.
Now you know why the Hotel Vancouver is my choice of where to stay in Vancouver. Have you stayed at a Fairmont hotel? I'd love to read about your experience. Share in the comments!
Like our content? Follow us on Pinterest!