The Fairmont Vancouver Airport Hotel is not your typical airport hotel. In fact, unless I was flying in late or flying out early, I usually wouldn't have any desire to stay at an airport property.
We have an airport hotel near where I live, and it's great for those early morning trips abroad, but I've never done anything there other than sleep. It's not exactly a destination hotel.
Not so with the Fairmont Vancouver Airport. Now that I've experienced it, I actually would not want to miss it the next time I travel to Vancouver.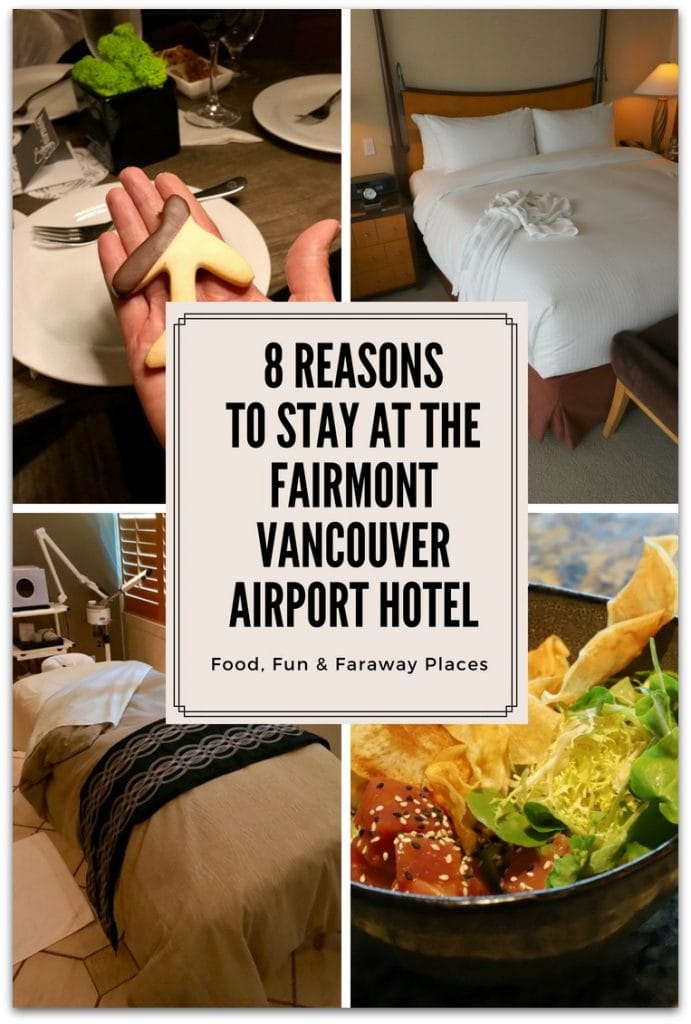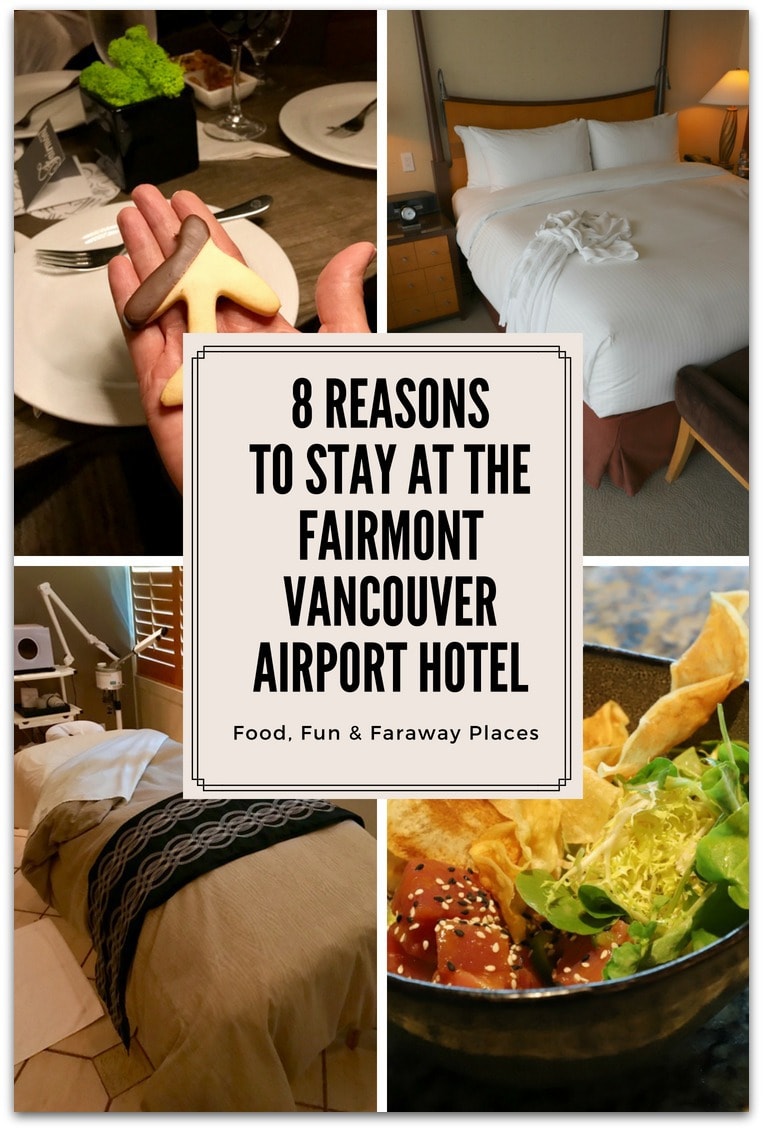 You may be thinking I've lost my mind to recommend you spend at least couple of days at this hotel, but truly, it has so much to offer that I'd feel you were missing out not to experience it.
8 Reasons to Stay at the Fairmont Vancouver Airport Hotel
The Food 
You have a lot of choices for dining at the Fairmont Vancouver Airport Hotel. My recommendation? Try them all!
Globe@YVR
If you're a regular reader of Food, Fun & Faraway Places, you probably know I usually start my lists with the food. During a cooking class at Globe@YVR, the signature restaurant in the hotel, I saw first hand how Chef Colin Burslem always begins with the freshest ingredients. He believes 'simple is best' and to 'learn to use what's around you'.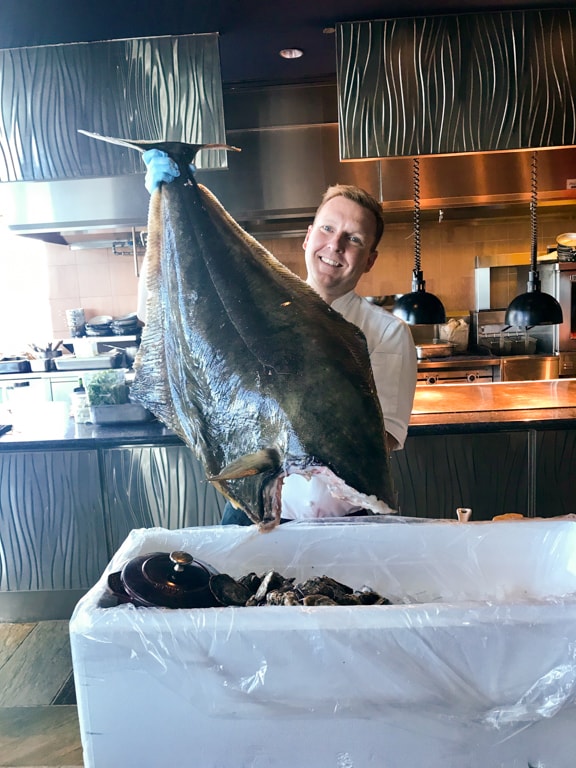 Each fish is tagged, so the chef knows exactly what he is serving his guests.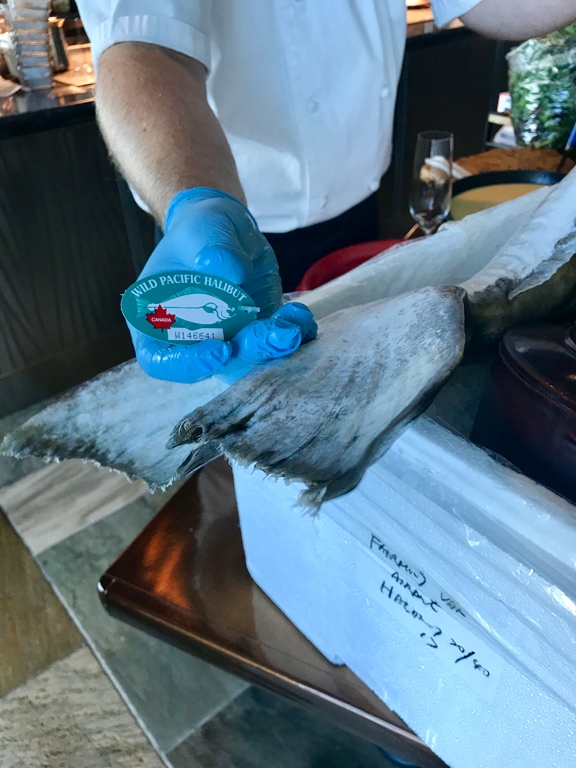 Chef Colin was the Executive Sous Chef at Notch8 in the Fairmont Hotel Vancouver before joining the Fairmont Airport Hotel, and he also helped with the opening of the Richard Sandoval restaurant at Fairmont Mayakoba in Mexico, one of my Fairmont bucket list hotels! (I have many!)
For dinner at Globe@YVR we began with that halibut, sliced fresh and prepared during the cooking class. It was perfectly battered and lightly fried; crispy and so delicious.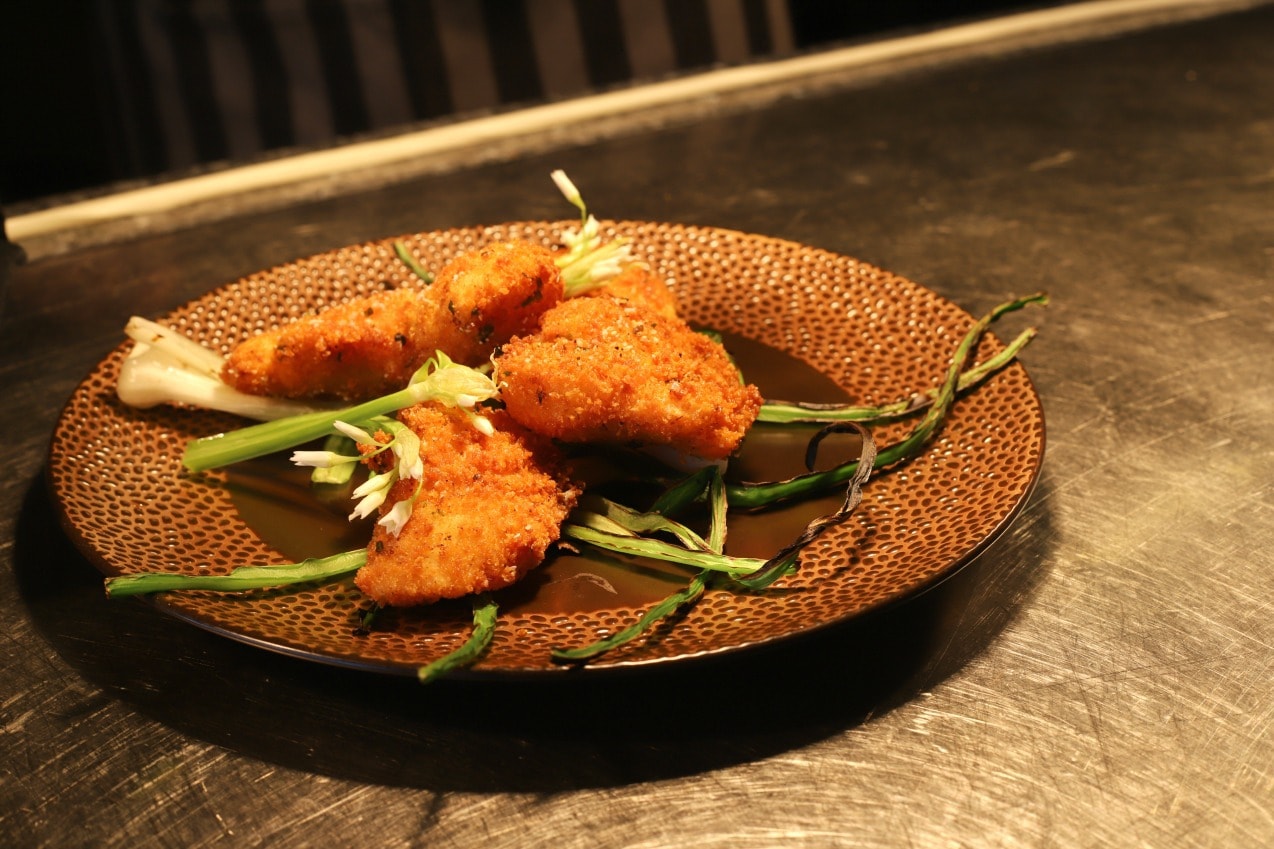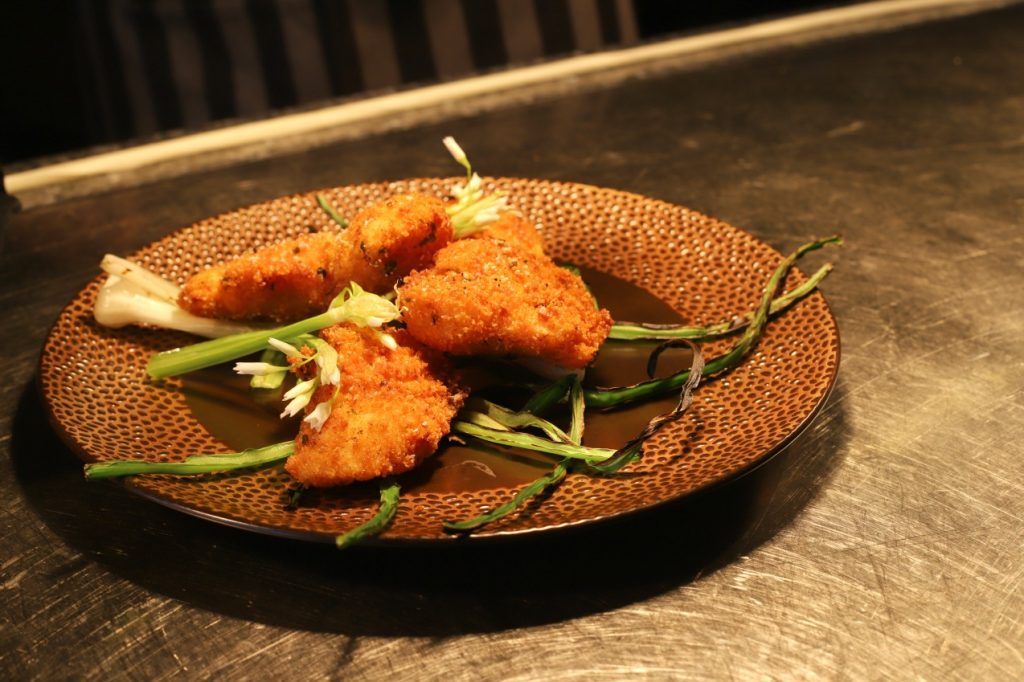 With my help, of course!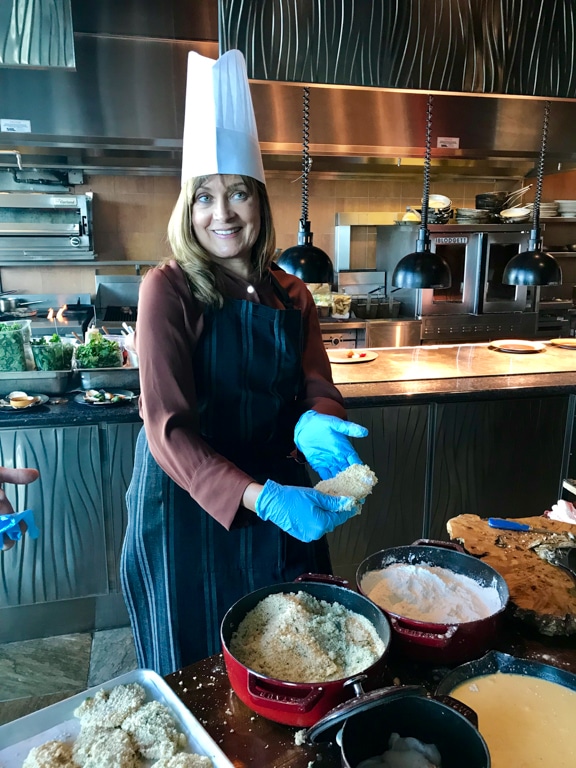 We followed the fish with the Beet Salad. The tender beets paired with Burrata cheese, citrus, and verjus were heavenly.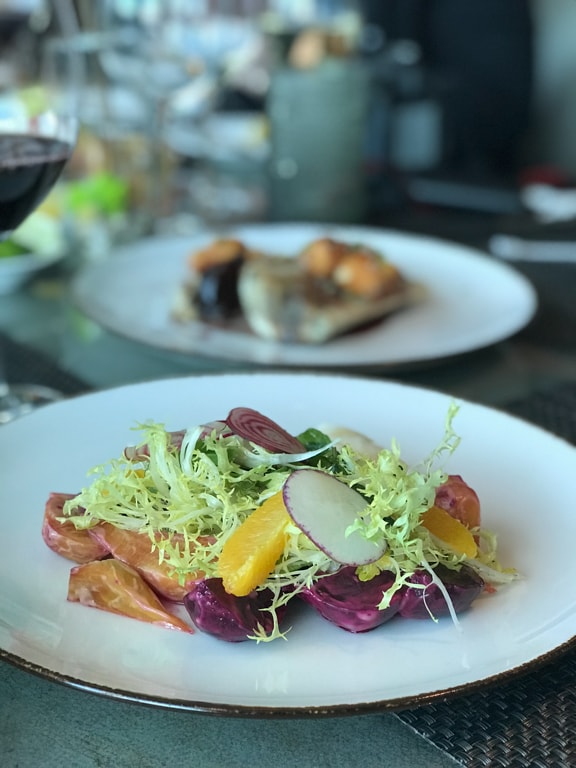 Next, we shared an appetizer of Fried Gnocchi, served with bone marrow, smoked beach mushrooms, and onion.
For seafood lovers, Vancouver is a foodie's dream-come-true. Try the freshly shucked Pacific Northwest Oysters served with cocktail sauce, red wine mignonette, and horseradish. We were treated to several different entrees to share, which is my favorite way to experience any restaurant.
The Seared Scallops were heavenly.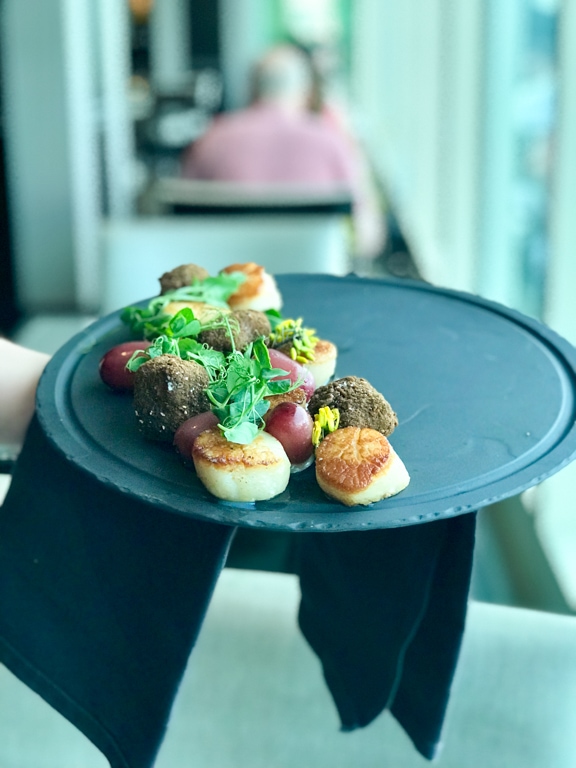 Everything we were served was so fresh.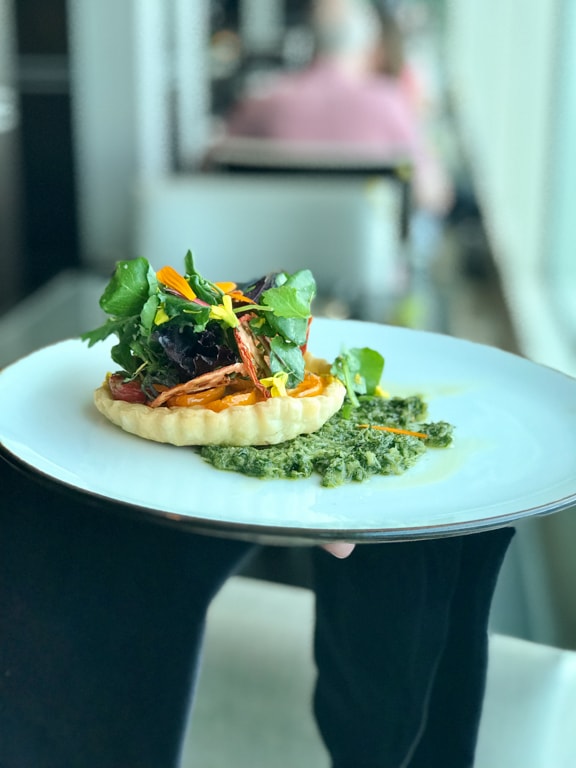 Don't miss the steaks!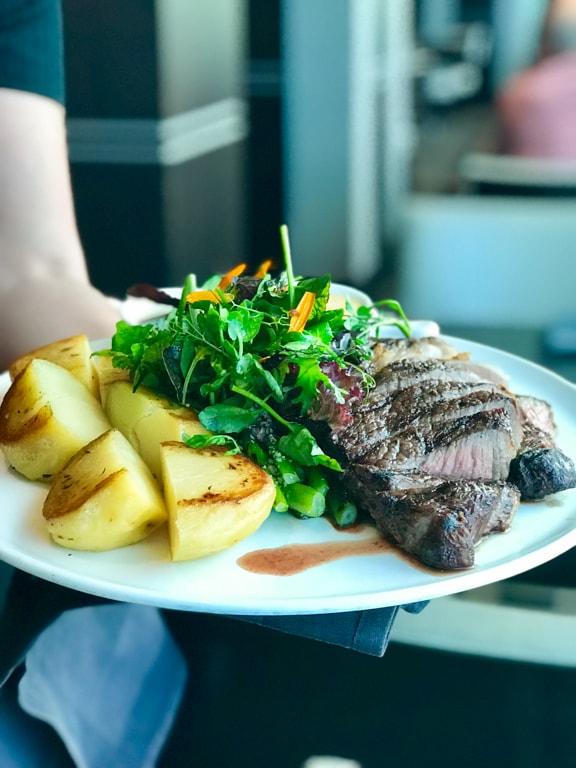 Globe@YVR also has a wonderful wine list, including quite a few from the Okanagan Valley in BC.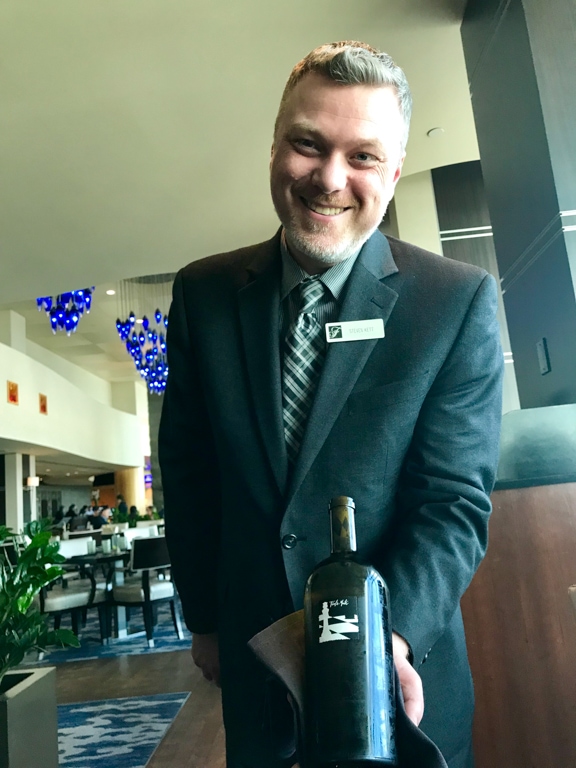 We couldn't decide on dessert, so Chef Colin decided for us. This was one of those times when I was really happy to be doing what I do!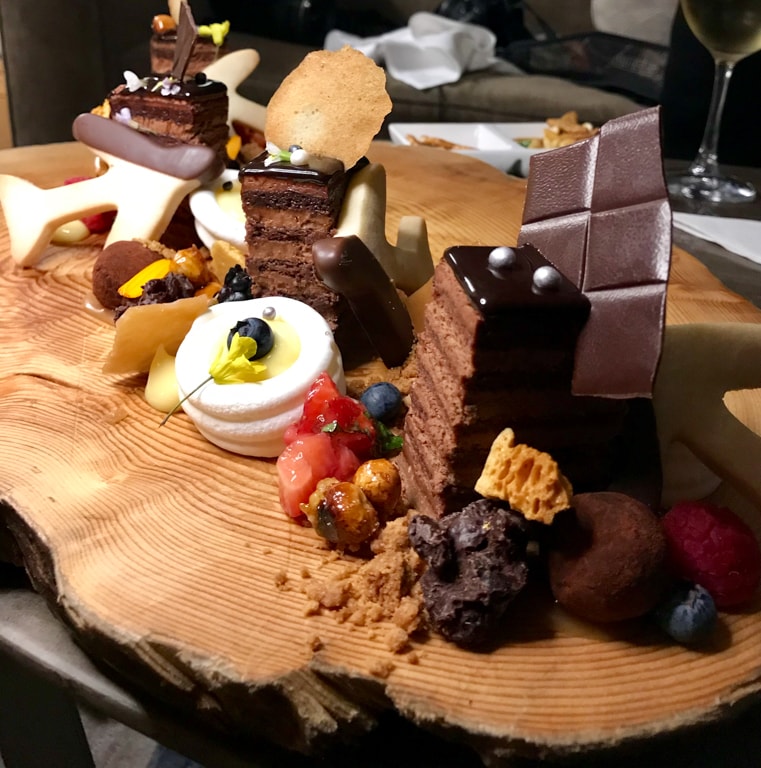 Jetside Bar
For more casual dining, the Jetside bar offers a taste of the West Coast serving up wonderful appetizers, an extensive local and international wine list, as well as original signature cocktails like the Twin Otter and Candy Apple Bliss.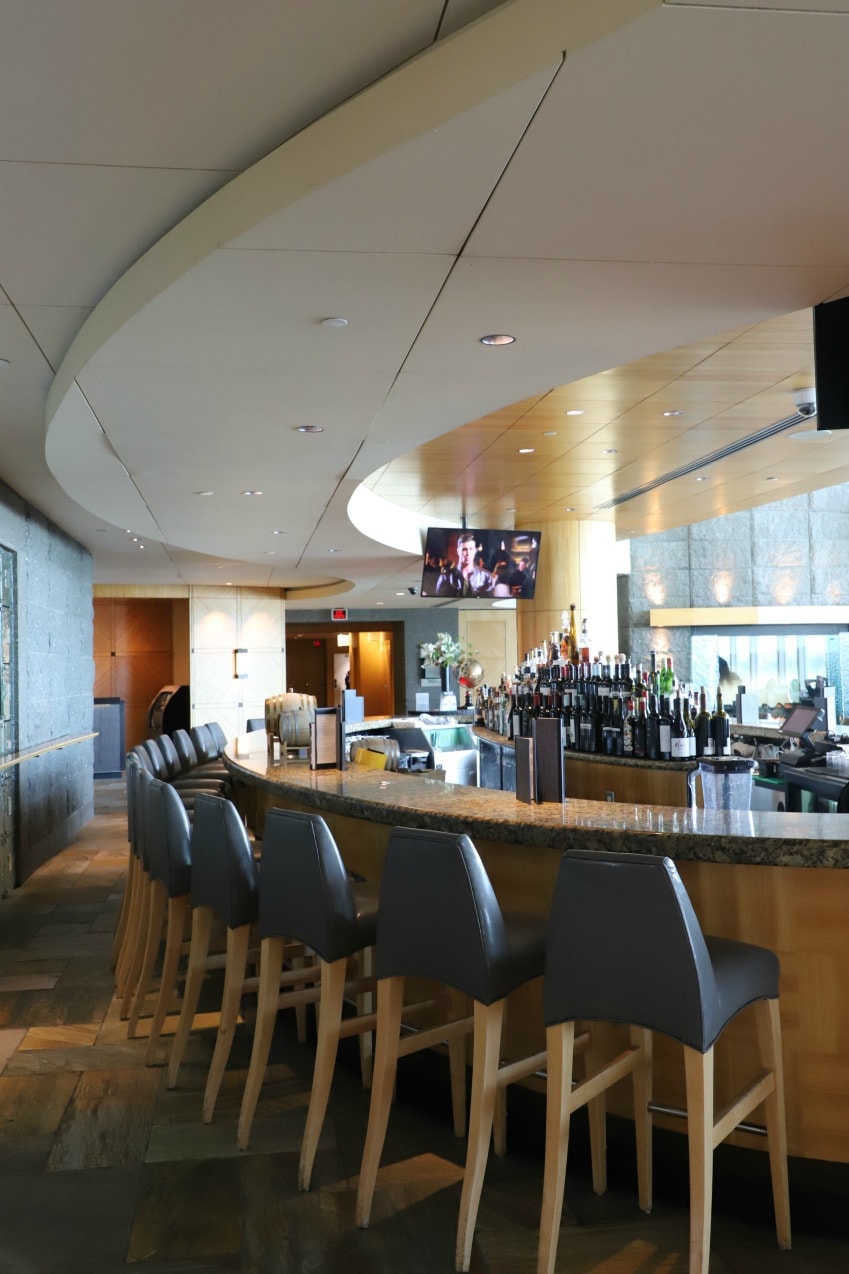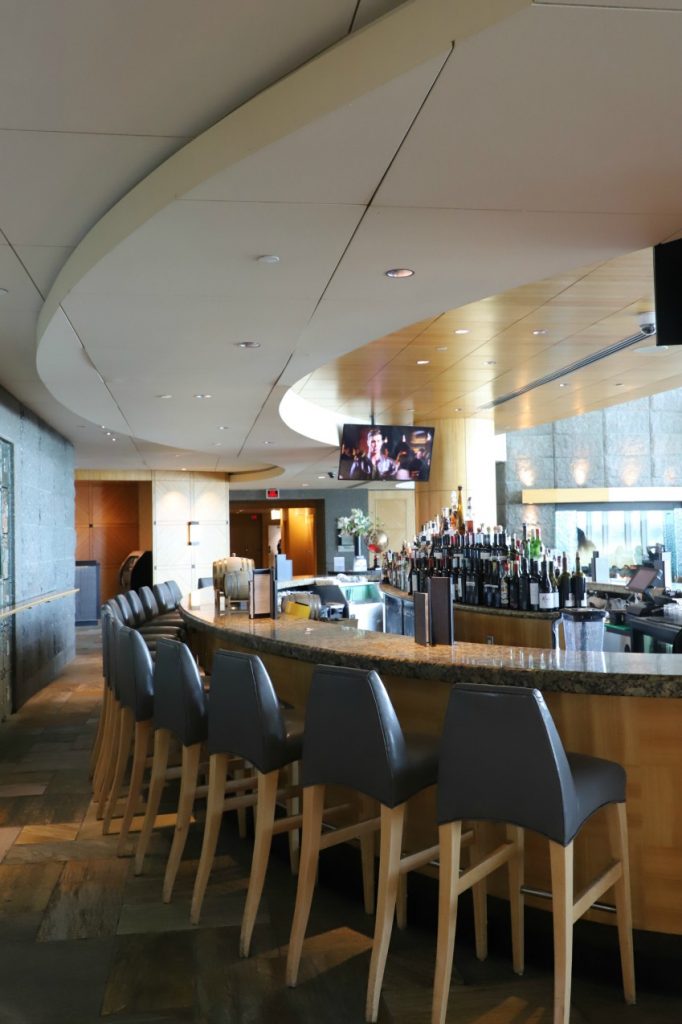 I had the Tuna Poke appetizer which was delightful, served with a combination of guacamole and wasabi. One of my favorite restaurants near my home used to have a similar dish calling that combination guacasabi. They changed their menu much to my disappointment. The combination of those two accompaniments is fantastic together!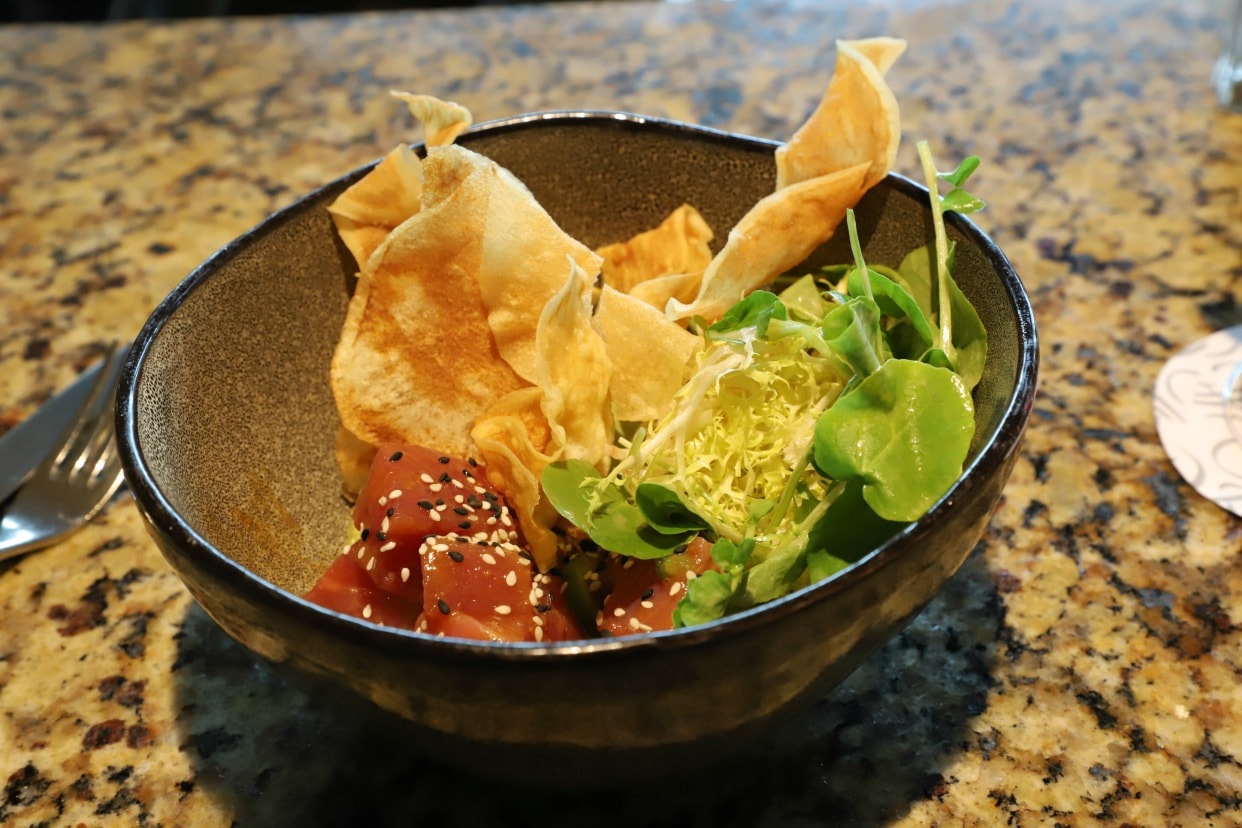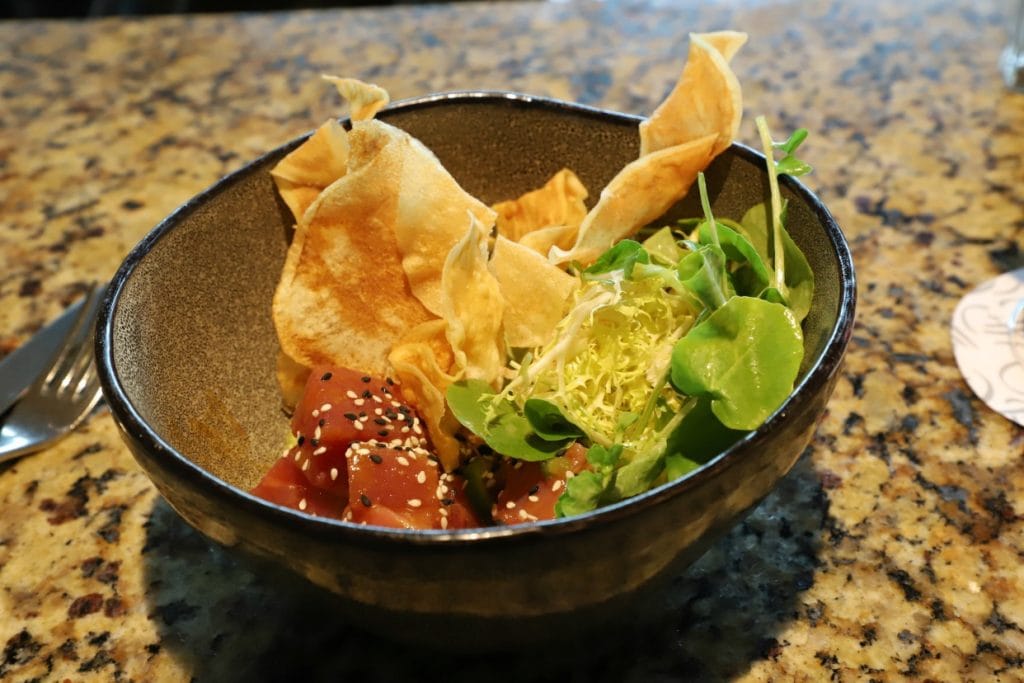 The Jetside Bar also features nightly music, and both the bar and Globe@YVR have spectacular views of the North Shore mountains and the runway.
Afternoon Tea
In the tradition of Fairmont, afternoon tea is served daily at 2:00, 2:30, 3:00, and 3:30. Tea at the Fairmont should not be missed! I have not experienced tea at the Fairmont Vancouver Airport, but I have twice at the Fairmont Empress and it's pretty amazing.
The Fairmont Vancouver Airport Hotel offers all your favorite Fairmont traditions and amenities. Don't miss out on this tea, with four seating per day, there's plenty of time to make it happen!
24 Hour In-Room Dining
If you happen to get in very late or very early, you can also order from the 24-hour room service menu. Breakfast in bed is one of my favorite things!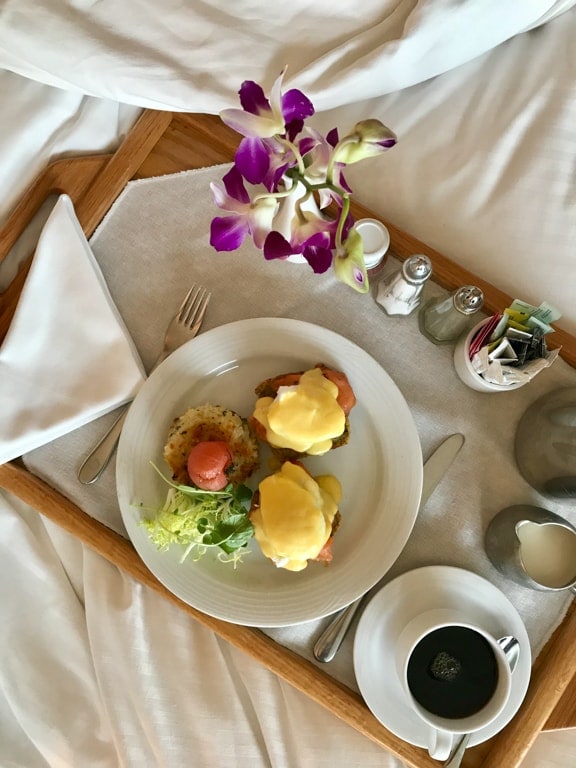 When I'm traveling it's so nice to have the option to just dine in. Sometimes after a day of exploring I just want to relax in my room and have my meal brought to me. This is such a great option for those who are arriving really late. Take a few minutes and order right after checking in, and your food will probably be there by the time you're in your jammies.
The Rooms at Fairmont Vancouver Airport
Next up on our list of reasons to stay at the Fairmont Vancouver Airport Hotel is the rooms! Trust me, you will fall in love with these accommodations.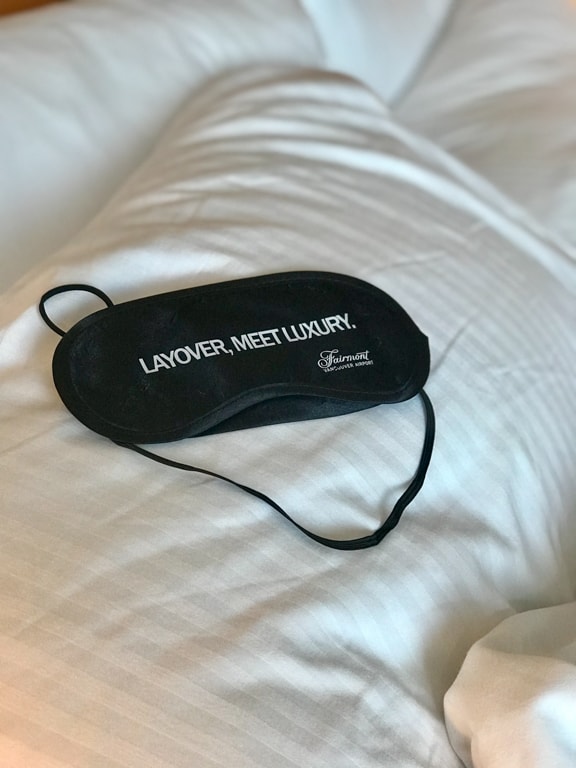 Beautifully appointed and luxurious, the 386 rooms at the Fairmont Vancouver Airport will make you feel like you're being pampered. I had a King room and it had lots of room for me to spread out, get some work done, and take some time to relax, too.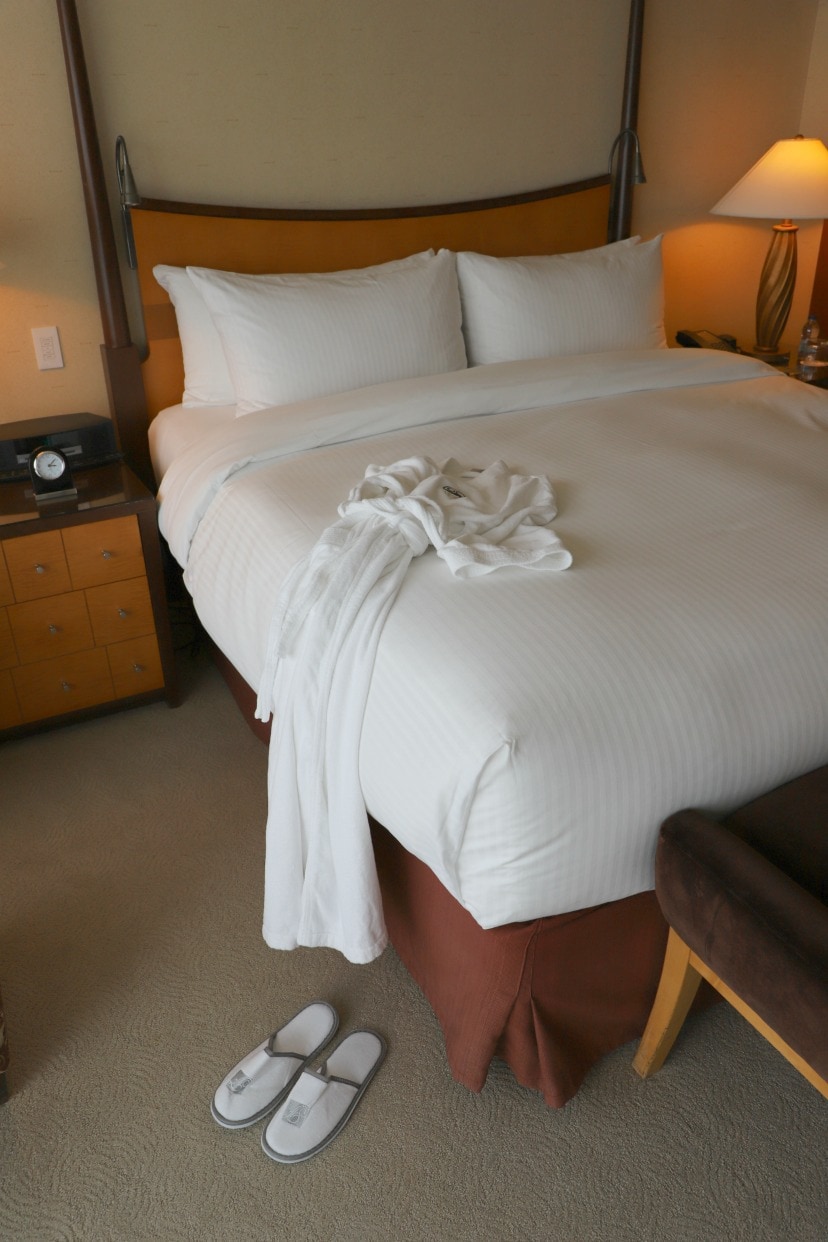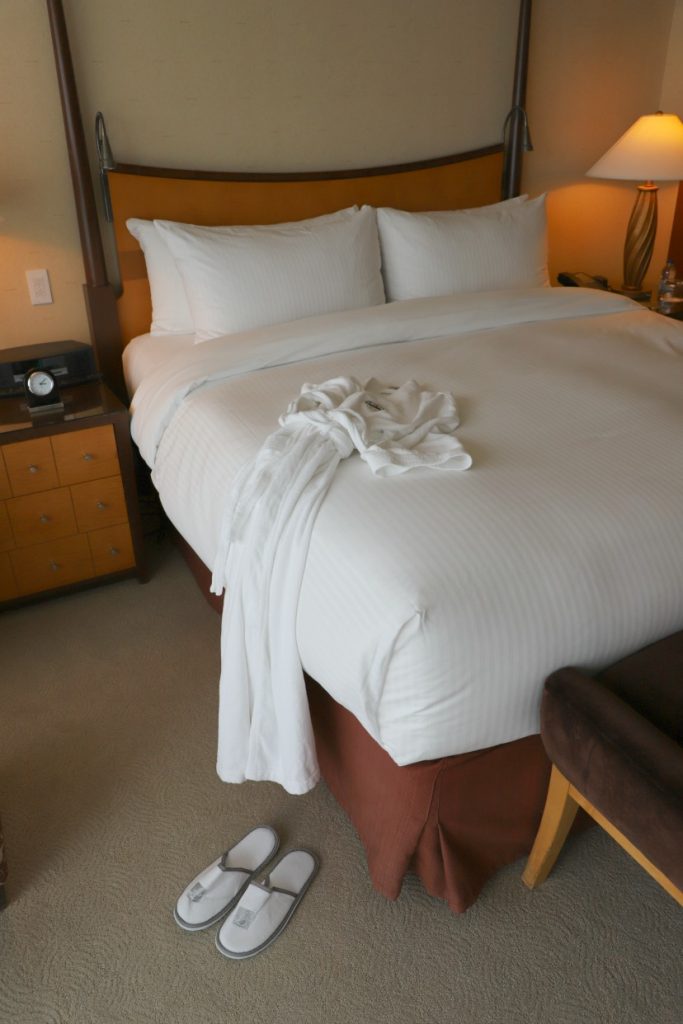 I wish I'd had time to order one of the bath treatments, but that will have to wait until my next trip.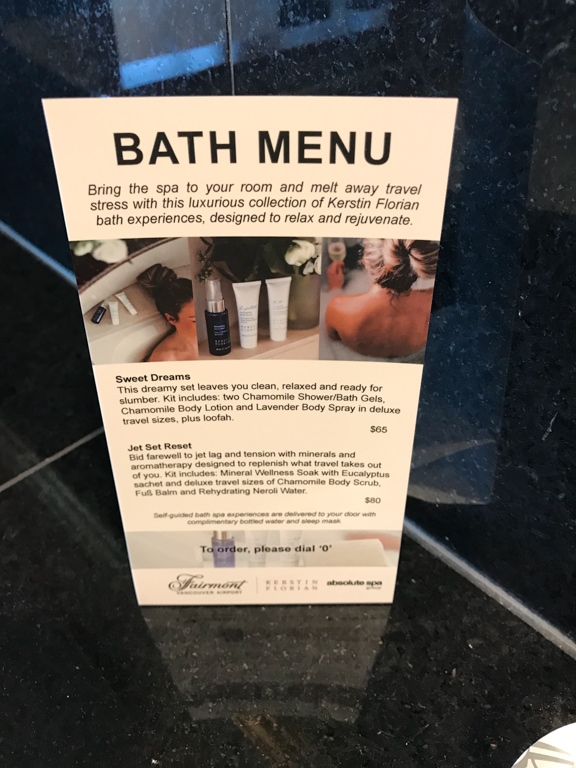 Did I mention the view of the runway and the North Shore Mountains? Spectacular!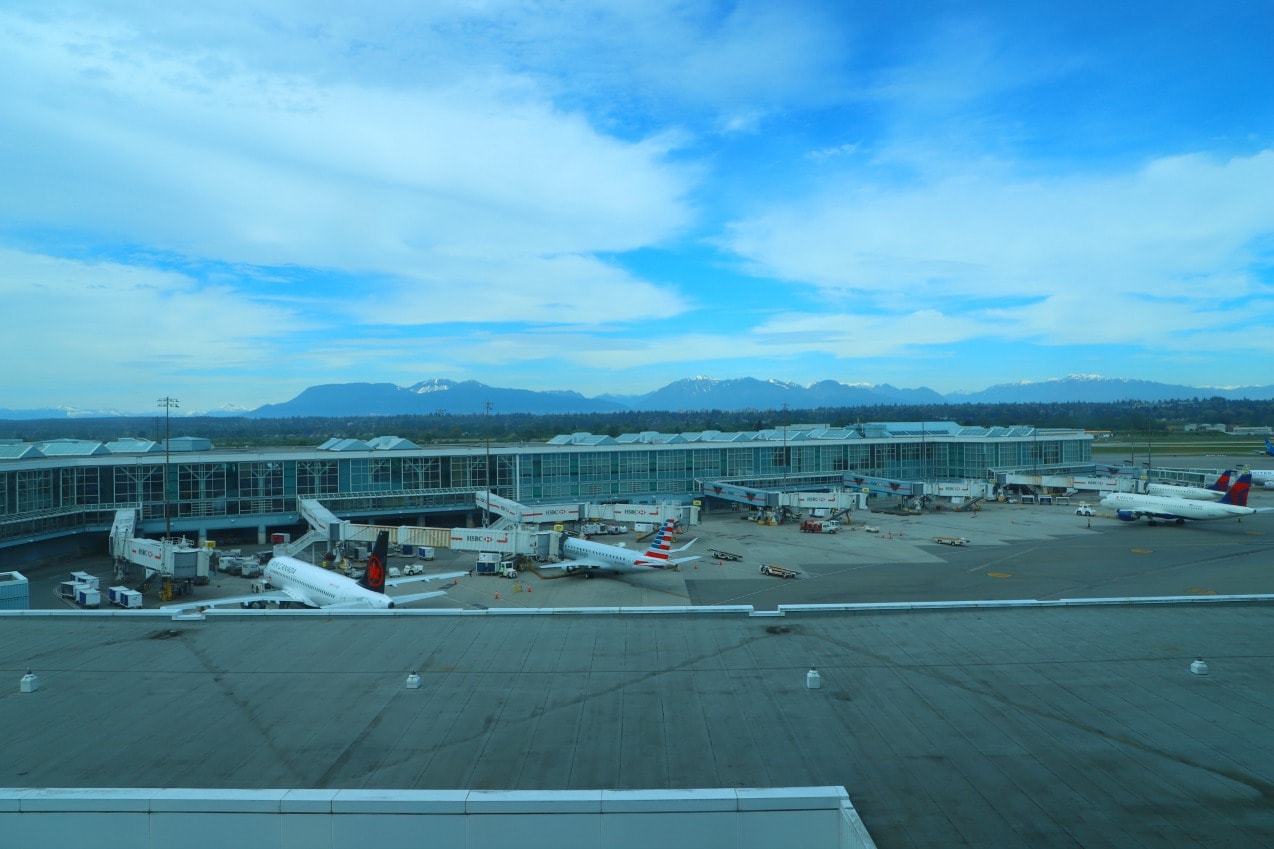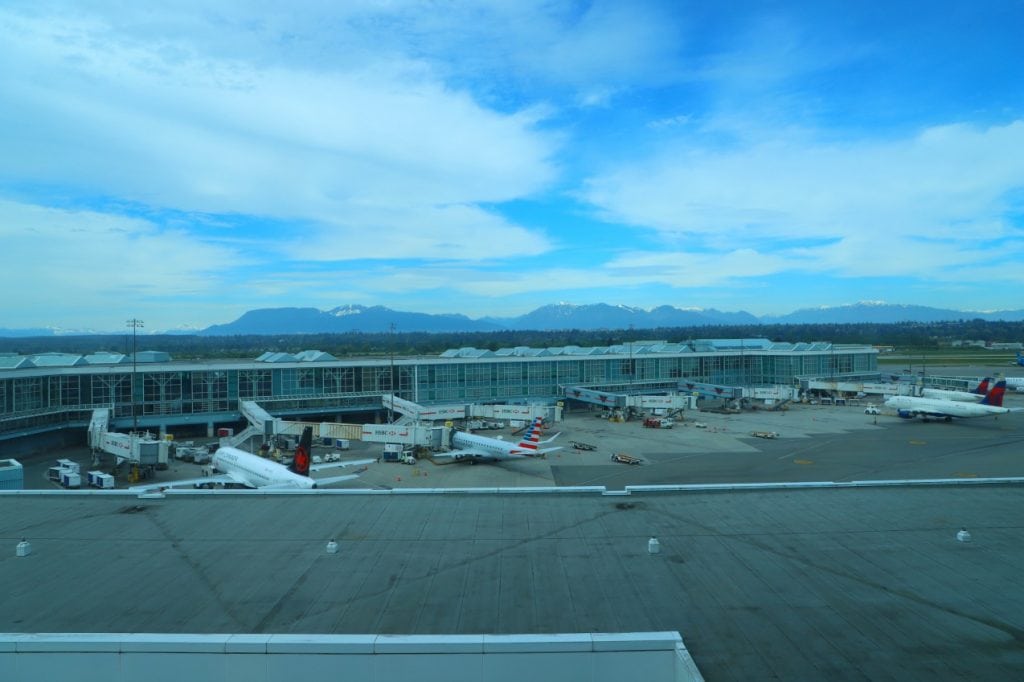 Day-Use Guest Rooms
The Fairmont also offers day use of guest rooms in the quiet zone for those with a long layover in Vancouver. I think back to a few trips when I would have loved nothing more than to be able to have a good meal and a three-hour nap, so I love this extra feature.
The Spa
Do you love to be pampered during your travels? There is nothing like a massage to get rid of the stress of traveling. At the Fairmont Vancouver Airport hotel, you can get their signature Jet Lag Recovery Massage and a number of other treatments to refresh you after your flight.
I think it's brilliant and was pretty excited to try it after my flight from Florida. I didn't realize how tense I was until after the massage.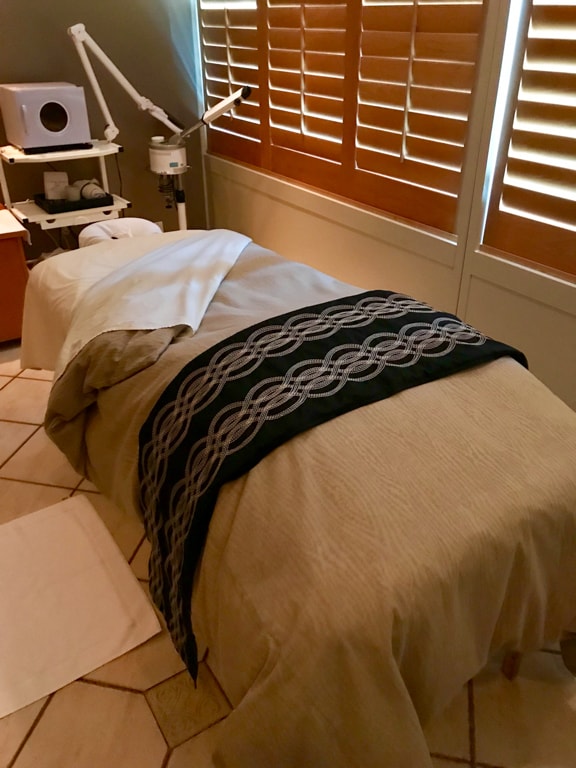 With over 120 treatments to reduce jet lag, what could be better before or after your flight?
And if you've forgotten something or need some new skincare products, the Fairmont Vancouver Airport Hotel has a plethora of products to choose from.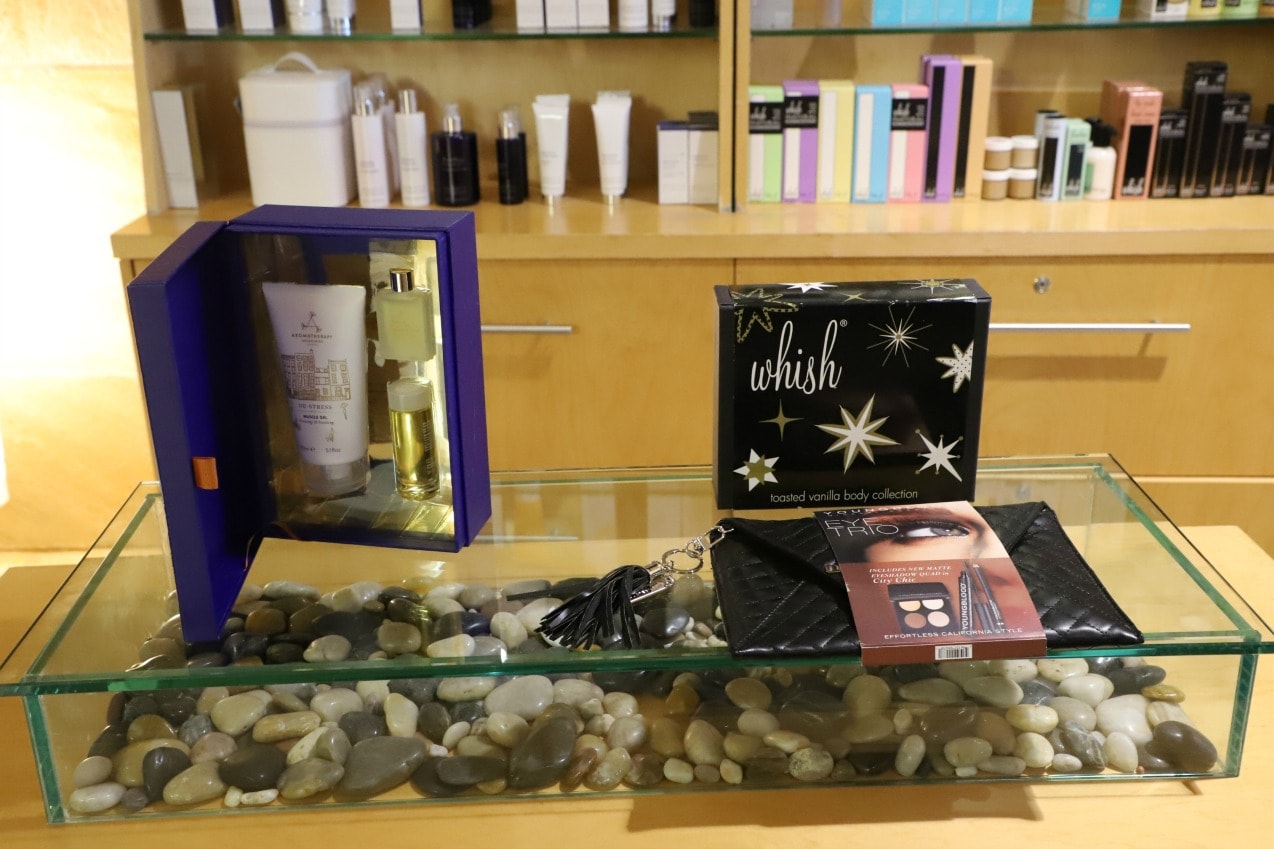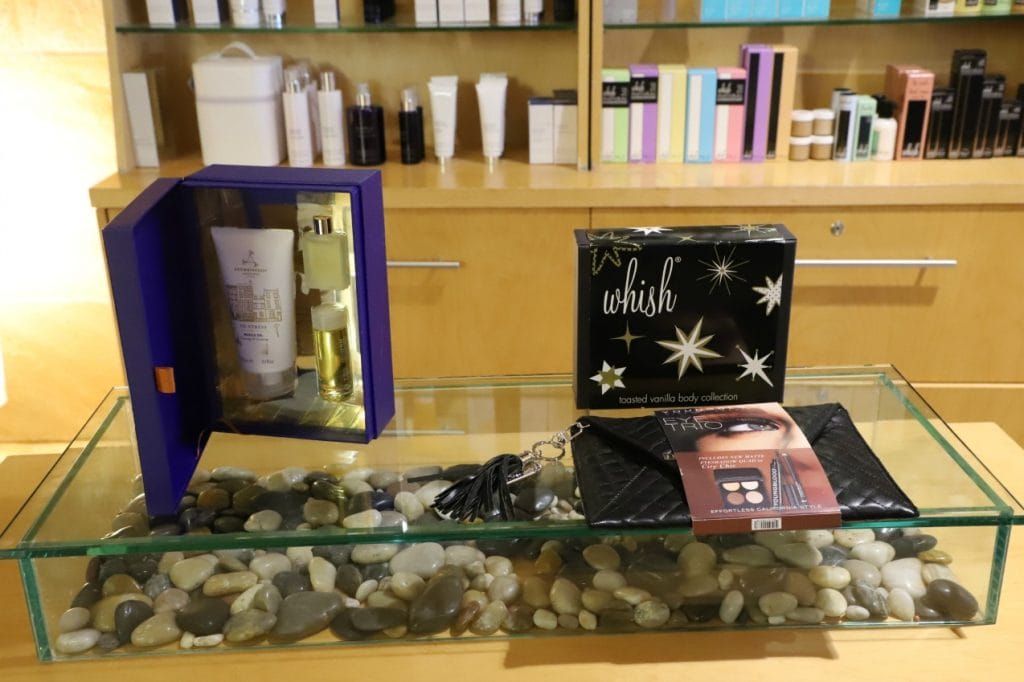 The Health Club
Sometimes it's nice to have the option to visit a health club. The facility at the Fairmont Vancouver Airport is well appointed with a nice variety of machinery, so you can get in a great workout or just some mild exercise to burn off all those extra calories you are going to want to eat!
The View of the Vancouver Airport
Again, most airport hotels simply offer the convenience of a place to sleep when flying, but the Fairmont Vancouver Airport Hotel actually shows off their location with huge floor to ceiling windows so you can see the action.
In fact, you'll find the Plane Spotting Guide on the desk so you can learn to spot the different types of planes.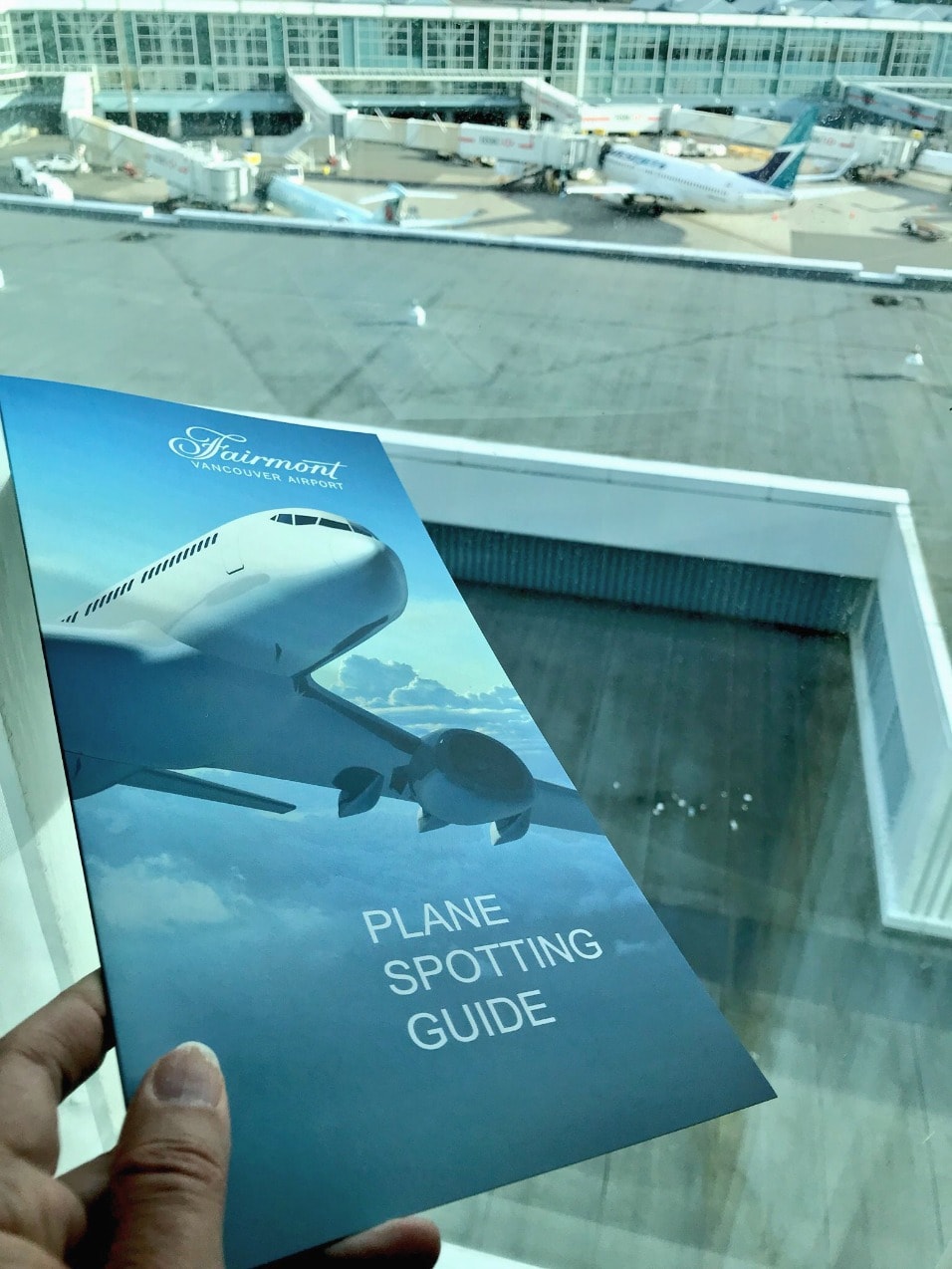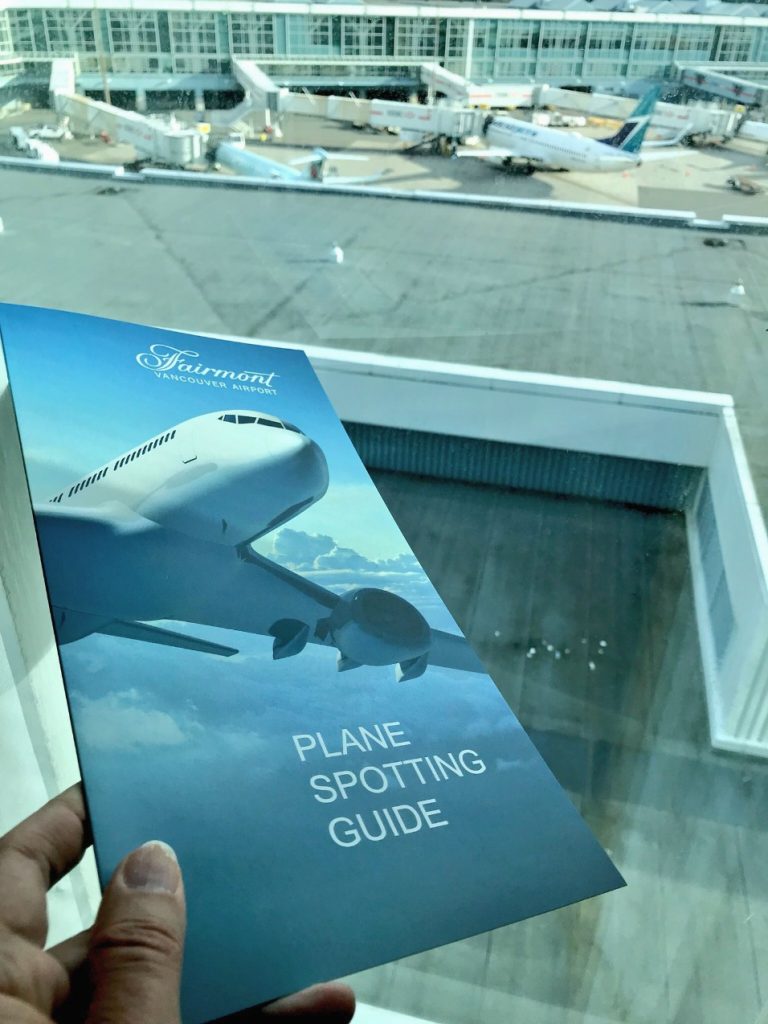 I actually found it fascinating and now I'm kind of hooked. Can you tell the difference between a 747 and an A320? You'll be able to if you check out the Plane Spotting Guide!
If you are concerned about the noise, don't be! The Fairmont Vancouver Airport Hotel is the only soundproofed luxury hotel and spa at YVR. How awesome is that?! You can enjoy the spectacular mountain views and the planes, all in peace and quiet!
Easy Access to Downtown 
I wanted to be able to honestly tell you how easy it is to access downtown Vancouver, so I left the Airport on the Skytrain and went downtown to the Pacific Rim's Lobby Lounge restaurant for dinner on my last night in Vancouver.
You will simply exit the hotel, cross the street, and follow signs for the train. Take the two escalators to the station. Stop and buy your ticket at the machine.
I bought the day pass because it was basically the same price as two one-way tickets, and this way I wouldn't have to stop and buy another ticket. Round trip was just $15.
Do take a good look at the map so you know where you're going as there is more than one stop downtown. I got off at the Waterfront Station, which gives you easy access to the Harbour and downtown areas.
You can even walk to Stanley Park from there if that is one of your destinations, though it is a fairly long walk so be prepared with comfortable shoes.
And if you need to be closer to the downtown area, the Hotel Vancouver is my recommendation of where to stay in Vancouver in the downtown area. I absolutely love Fairmont Hotels, and this one is one of my favorites.
Things to do Downtown 
And if you have a Vancouver layover, you'll want to take some time to explore this beautiful area!
Pacific Center Shopping Mall
There are more than 165 Shops located in the Pacific Center Shopping Mall. If you like shopping at all, you will want to check out this destination just 30 minutes from the hotel. It's easily accessible via train.
Chinatown
Chinatown is just east of the true downtown activity and it's a feast for all of your senses. There is incredible food, shopping, entertainment, as well as sightseeing.
Stanley Park
Stanley Park is one of the world's largest urban parks. It covers nearly 1,000 acres and has more than 22 miles of hiking trails. It's an amazing place to visit and explore. If you have busy little ones, this is a great option! There are even some Indian Totem poles and plenty of things to see to keep you busy for days.
We took the Talking Tree Talaysay Tour led by a Squamish Nation guide and it was a fascinating experience.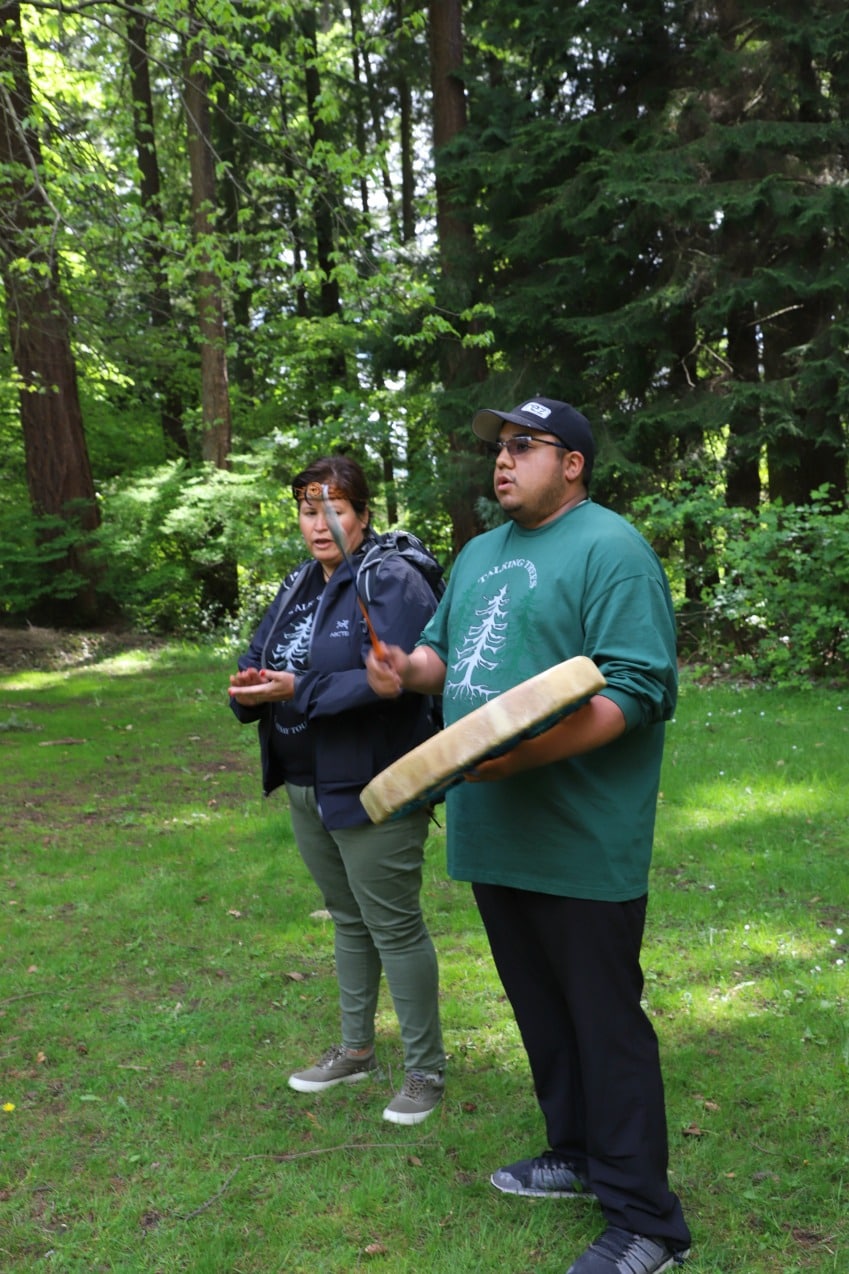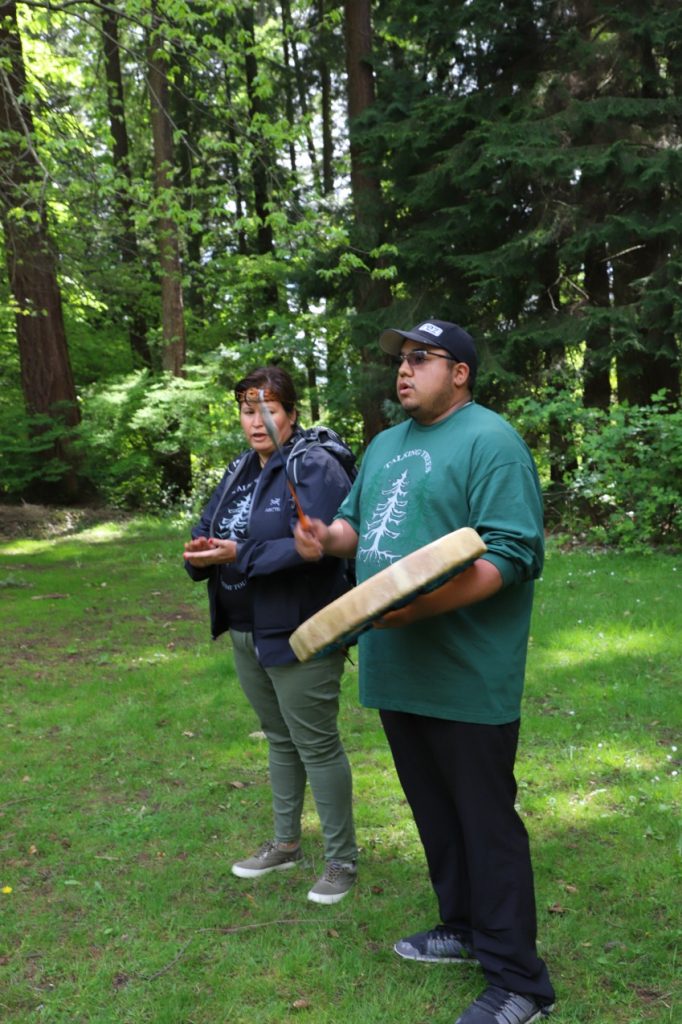 We learned a Red Cedar tree can live to be 2,500 years old, and that the indigenous people of this area learned how to listen to the forest, hence the name of the tour.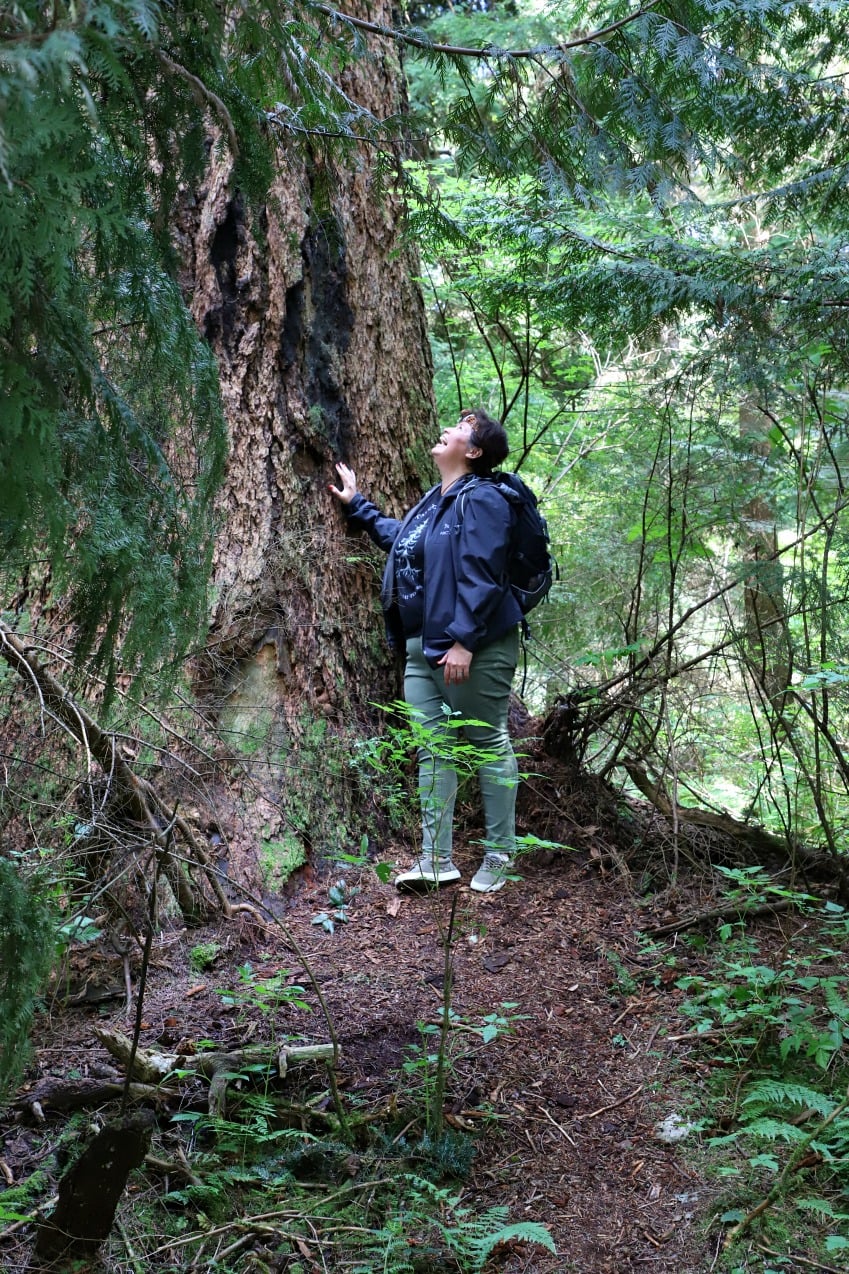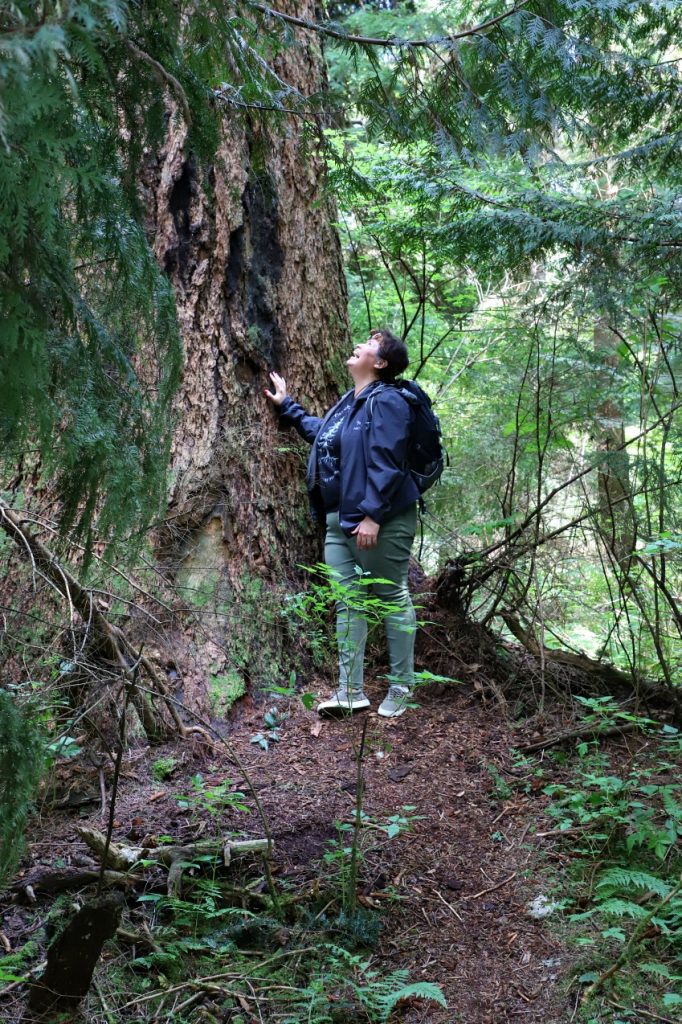 Granville Island Public Market
For foodies, the Granville Island Public Market is a must. We browsed for about an hour before deciding on soup from the Stock Market and an entire loaf from Terra Bread. This pairing was made for Instagram! Are you following me there? Food is my favorite thing to share!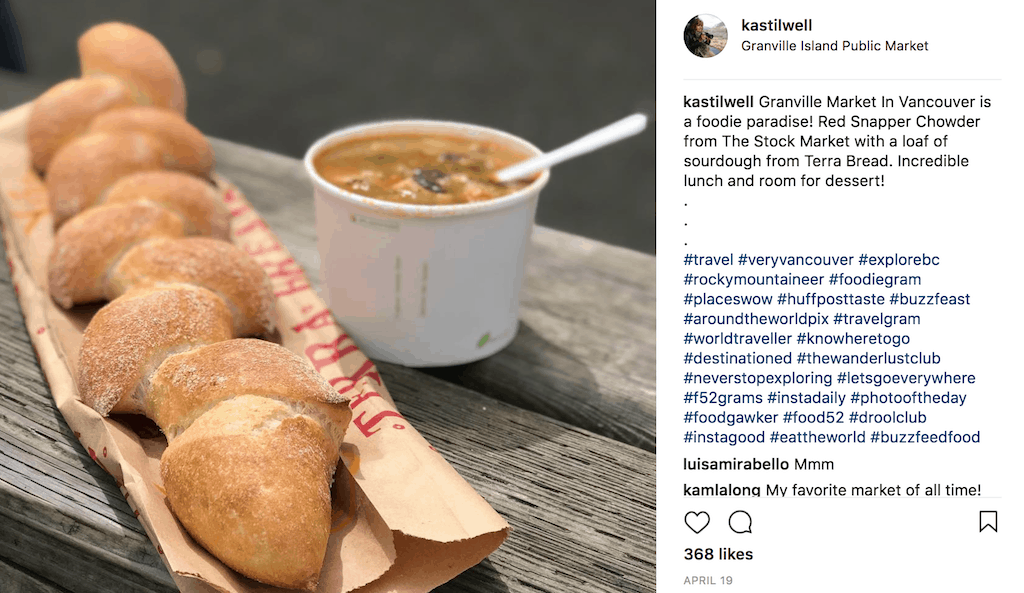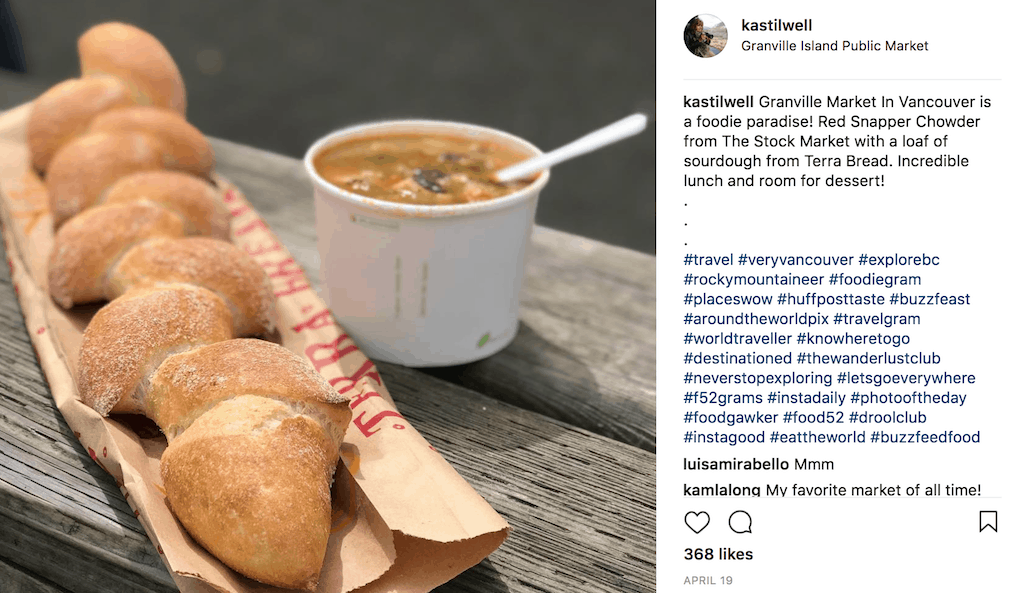 Save room for dessert! It was tempting to buy another suitcase just to bring some of the unique items home with me. I can't wait to visit again.
Capilano Suspension Bridge
The Capilano Suspension Bridge is on the North Shore of Vancouver. You can take a shuttle or public transit and can be there in just ten minutes from downtown. I spent about an hour there walking the bridge and taking way too many photos, as usual. It was just so beautiful there.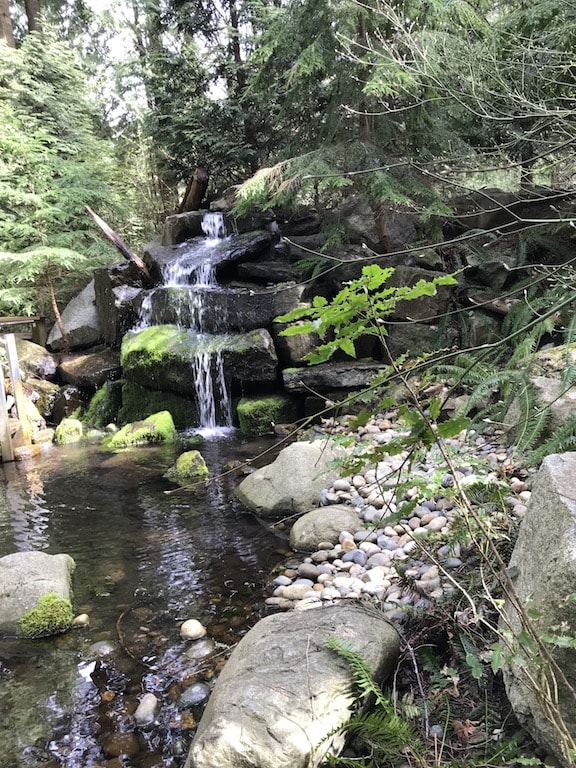 Things to do in Richmond
The hotel is actually located in Richmond, BC, known for its Asian influence. You can just browse the area, or take a guided tour to learn about the history. Check out the options on the Official Travel Guide to Richmond.
The Britannia Shipyard is part of the village of Steveston where you will learn about its roots as an original cannery which employed First Nations people as well as workers from China and Japan. The tour was really fascinating.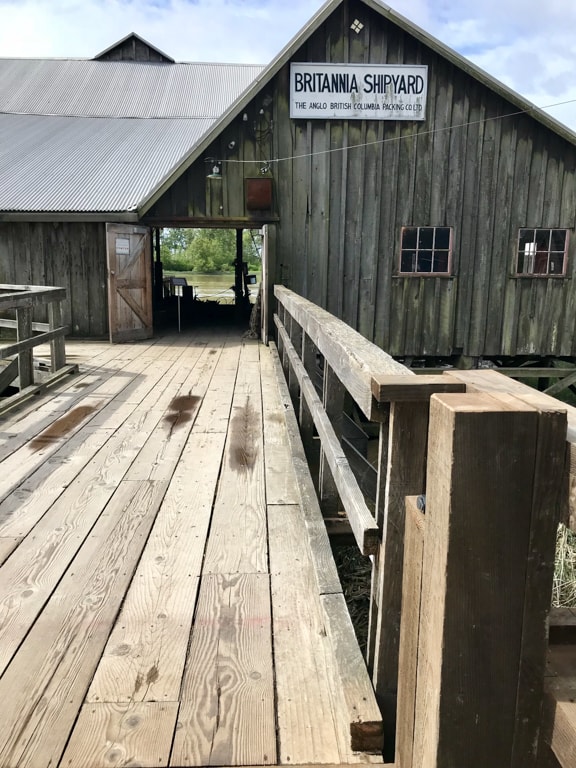 Steveston is a quaint little fishing area with fun shops and restaurants, but you would never guess it was Canada's largest fishing port, or that it was the location for filming Once Upon A Time.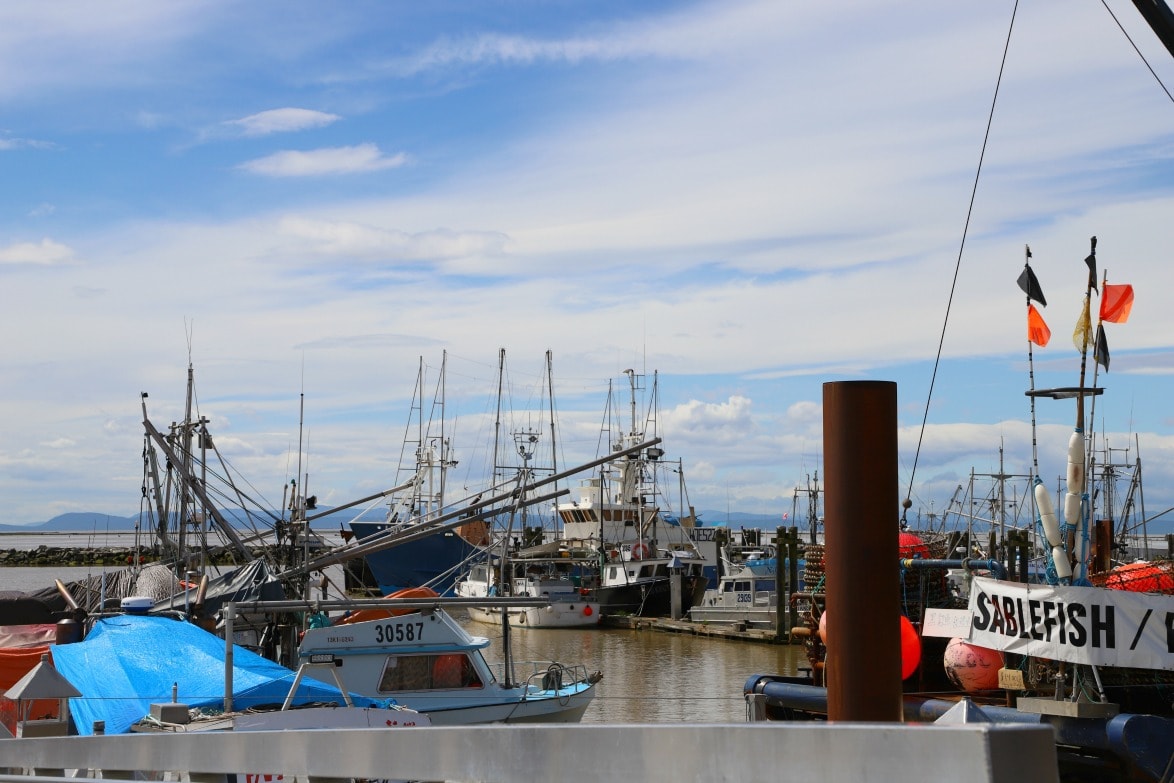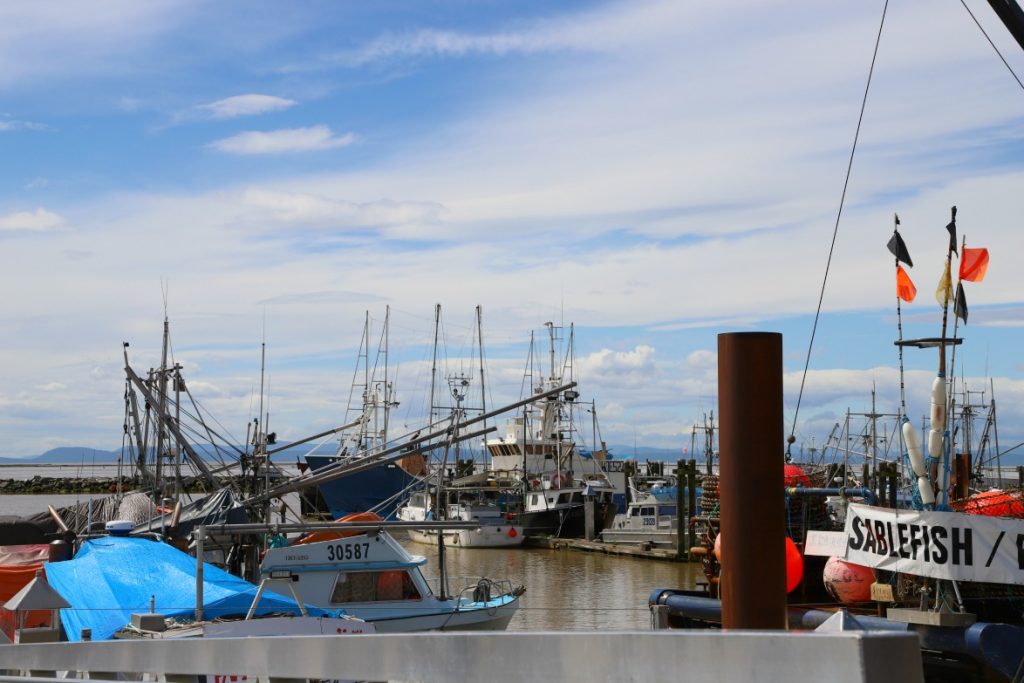 You can walk down on the fishing pier and see the catch of the day. Many of the fishermen are happy to chat once they're back in port for the day.
And if you're hungry, you've got to check out Britannia Brewing Company. It was one of the best places I ate in Vancouver! We started with a tasting of their favorite brews.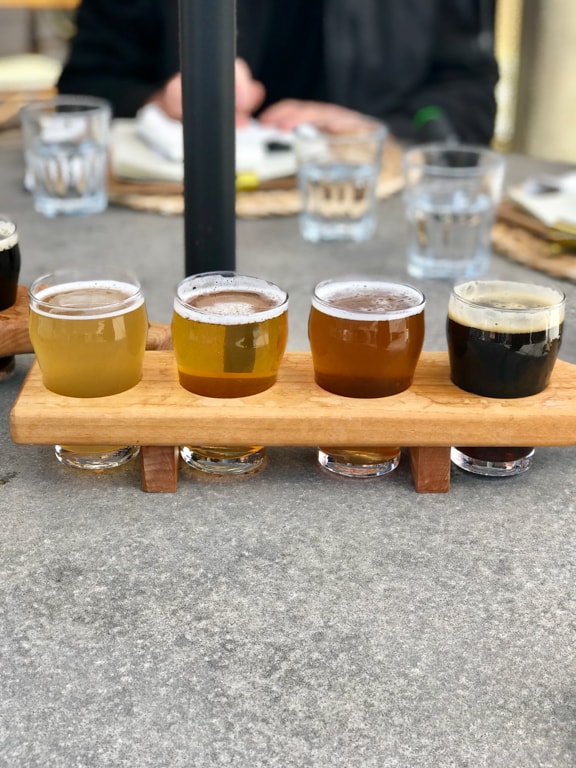 Again, we were treated to several of the best dishes so we could try a little of everything. I loved their style! Charcuterie for the win!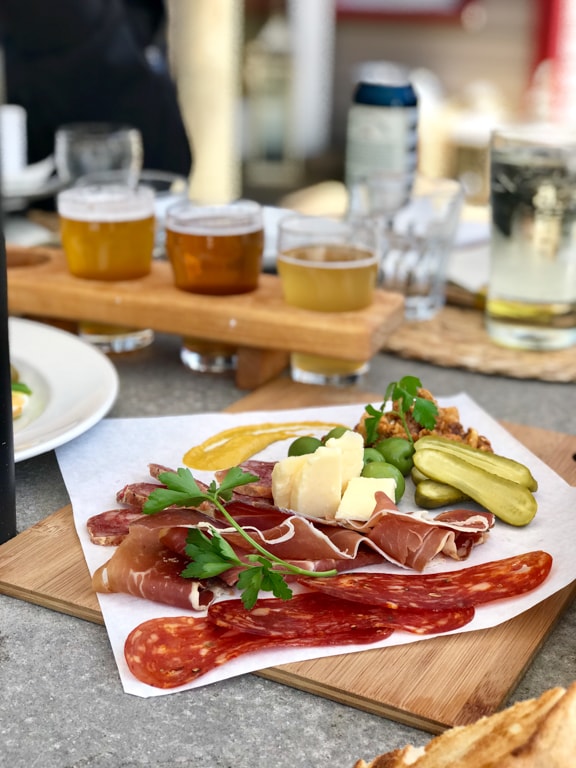 The food here was so fresh. It is definitely on my list for when I visit Vancouver again.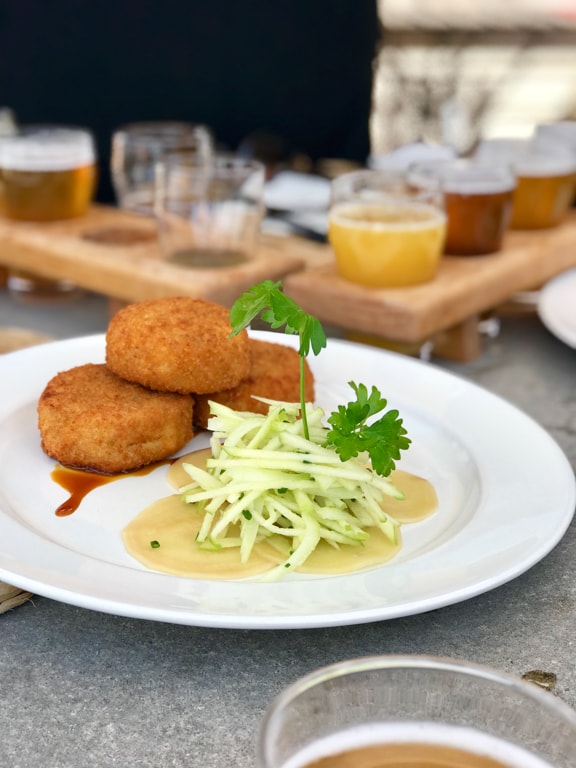 Explore the Fairmont Vancouver Airport Destination Guide for more things to do close by.
8 Easy Access to the Airport
I'd be amiss if I didn't include the easy access to the Vancouver Airport. You'll find an Airline check-in kiosk for major carriers located right in the hotel lobby. There is also an ATM right around the corner if you need local currency.
Regardless of your airline, your gate is a short walk from the hotel. If there is one thing I really don't love about traveling, it's having to get to the airport early or deal with the hassle of getting to my hotel after traveling all day. The Fairmont Vancouver Airport Hotel makes it so easy.
Speaking of easy access, it's also convenient to visit Victoria from the Vancouver Airport via Harbour Air Seaplanes or Helijet which both land at Victoria Harbor.
Fairmont Presidents Club
Be sure to join the Fairmont President's Club on your first visit. It's free, will give you complimentary access to the internet, and you'll acquire points for future visits. You'll also have access to the dedicated Fairmont President's Club desk when checking in, a treat when there's a line!
I joined on my first trip to Vancouver when I took the Rocky Mountaineer train through the Canadian Rockies last year, so it's easy for me to log in no matter which Fairmont I'm visiting.
Depending on the level you reach, this complimentary membership offers incredible benefits. Even as a new member, you receive benefits like complimentary health club access, shoeshine, and discounts at the spa.
It's easy to see why the Fairmont Vancouver Airport Hotel has been rated North America's top airport hotel five years in a row.
You'll find the dedicated hotel elevator right in the Vancouver International Airport. There's nothing like knowing a luxurious room is waiting for you at the other end of that walkway between the airport and the hotel.
Now it's your turn!
I'd love to read about your experience in Vancouver. Have you flown in or out of the Vancouver Airport? Share in the comments.
Like our content? Follow us on Pinterest!