Every Rocky Mountaineer Canada route is spectacular. Traveling through the Canadian Rockies by train is a bucket list trip of a lifetime in itself, but the food takes it to a whole new level.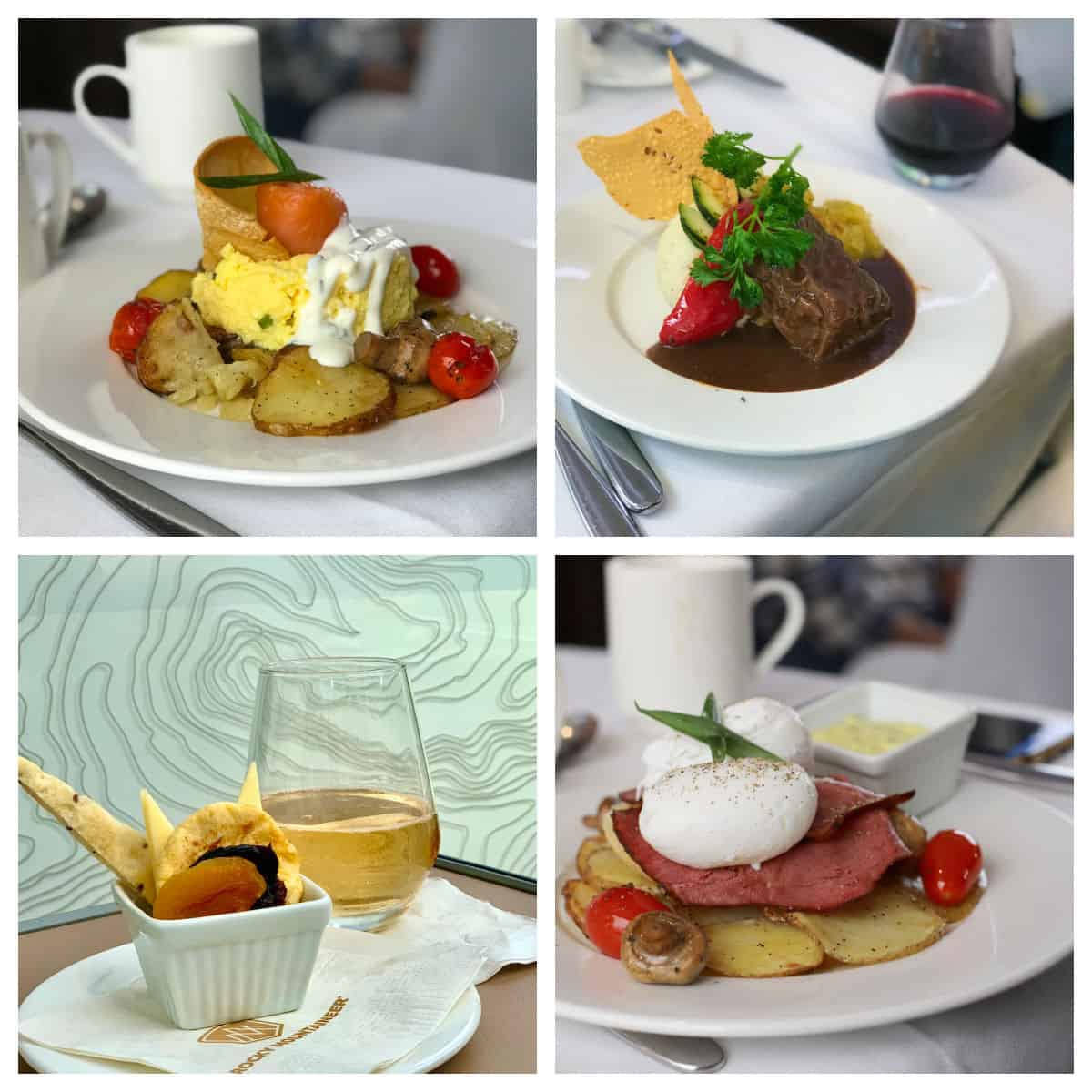 The views are simply stunning and the luxurious feel of the train is beyond compare. And now with the latest route, you can experience the train from Denver to Utah National Parks. It's pretty spectacular!
But Rocky Mountaineer is not just about those views. Each time I've experienced this trip and shared it with friends or on social media, I've had so many comments about the food. There's a simple reason for that - the food on Rocky Mountaineer is a culinary adventure.
Most people would never guess a train would serve the kind of food you'd expect from an award-winning restaurant. After all, food on most trains is on par with airline food - most of which is not great, and much of which is served in a box.
You won't find boxed or packaged food with this experience, and meals are included on Rocky Mountaineer. What's more, dining in Rocky Mountaineer Canada GolfLeaf Service occurs in the lower level of a bi-level, full-dome coach. Those views I mentioned?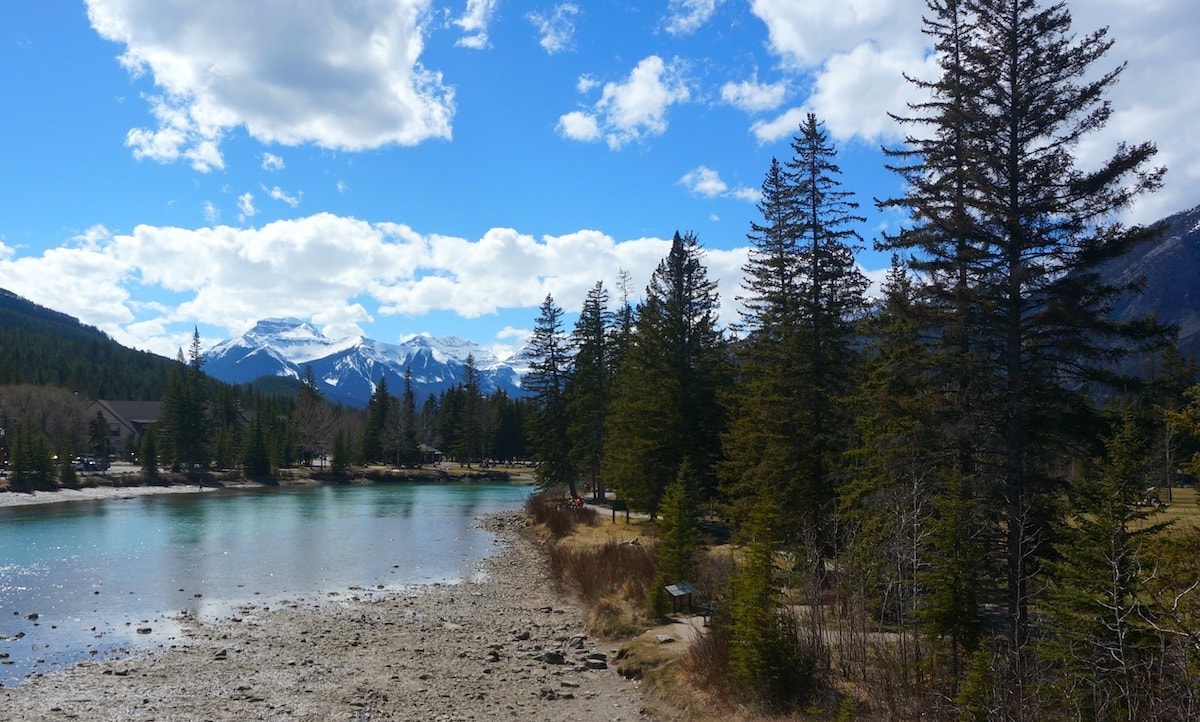 Meals in SilverLeaf Service are served at your seat, where you'll still get those extraordinary views.
By the way, the seats are wonderfully comfortable and you'll have lots of room on either level of the train.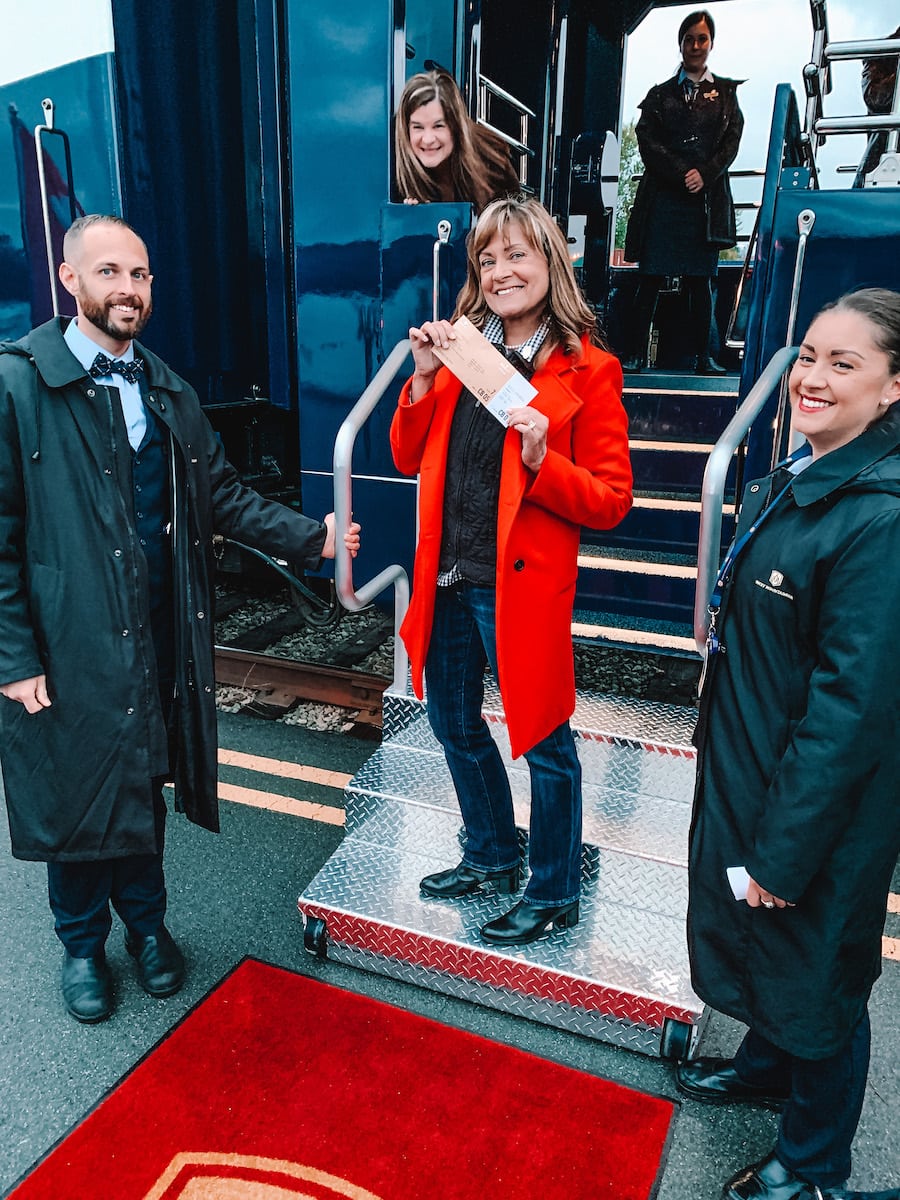 Dining through the Canadian Rockies By Train
Seeing the size of the kitchen on the train on Rocky Mountaineer Canada (about six feet wide by eighteen feet long) makes you wonder how the chefs create such masterpieces of culinary delight.
How do they do it? It's about being organized. Serving over 1 million meals each year isn't easy, but still, it's done with perfection.
My husband and I had a conversation recently about local ingredients. We were at a waterfront restaurant here in Florida and salmon was on the menu.
I adore salmon, but it's rare for me to order it in Florida. When we have wonderful fresh fish here that was probably caught in the Gulf of Mexico the day before, why would I want to order salmon, right?
But in British Columbia and Alberta where salmon is local, I could eat it every. single. day.
I could start my day with the smoked salmon and eggs scramble and still have Pacific salmon (paired with a glass of Okanagan wine) for lunch and be a happy girl!
As an Ambassador, I've participated in three Rocky Mountaineer Canada trips, all beginning in Vancouver, British Columbia.
My first trip on Rocky Mountaineer was the First Passage to the West, which ended in gorgeous Banff, Alberta.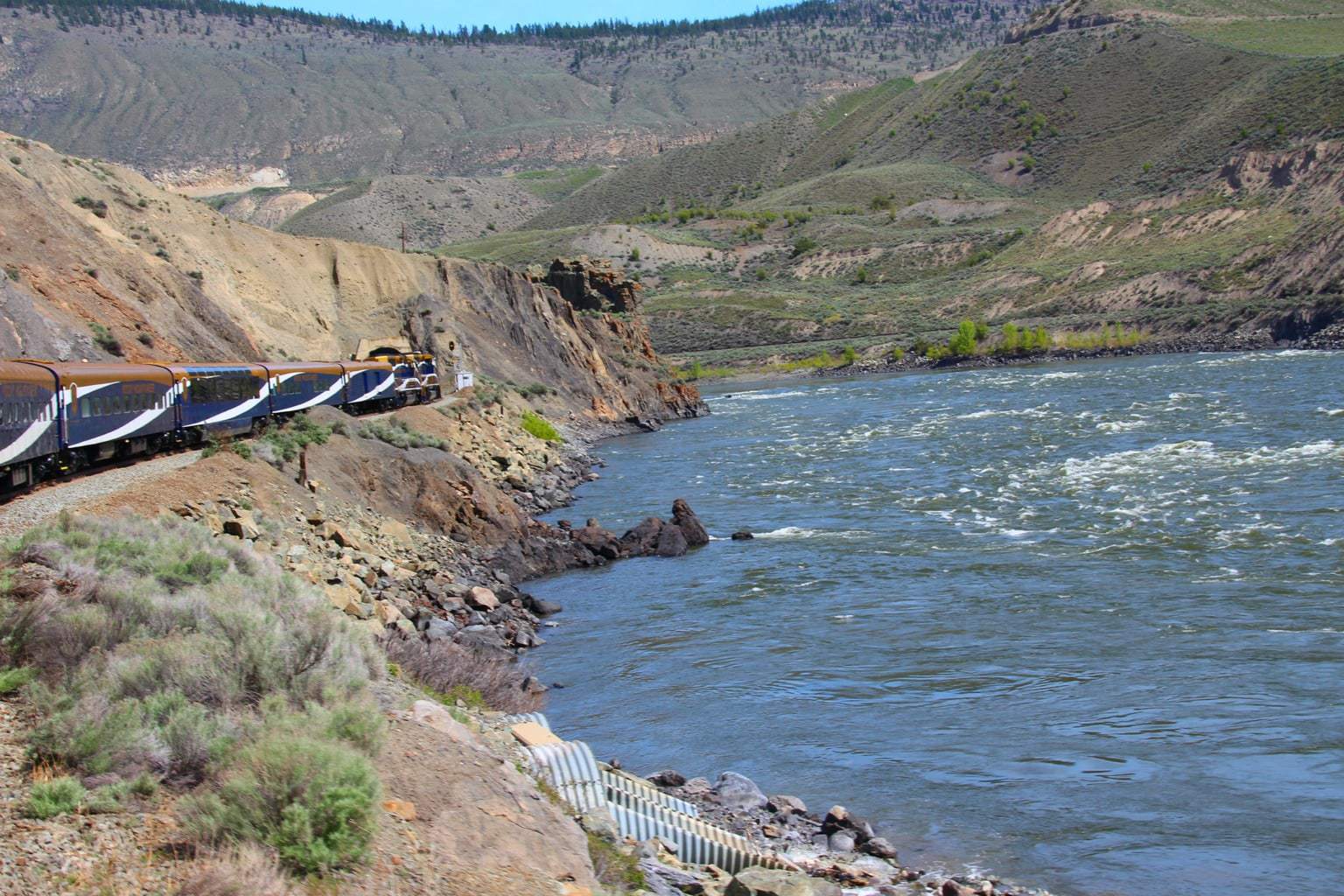 My second Rocky Mountaineer Train trip was the Journey Through the Clouds, ending in Jasper. I was able to take my husband on that trip and it was wonderful to share the experience with him.
We stayed at Jasper Lodge, which was really romantic, and took a tour of Icefields Parkway as part of our trip. This would be a fabulous getaway for an anniversary or other special day.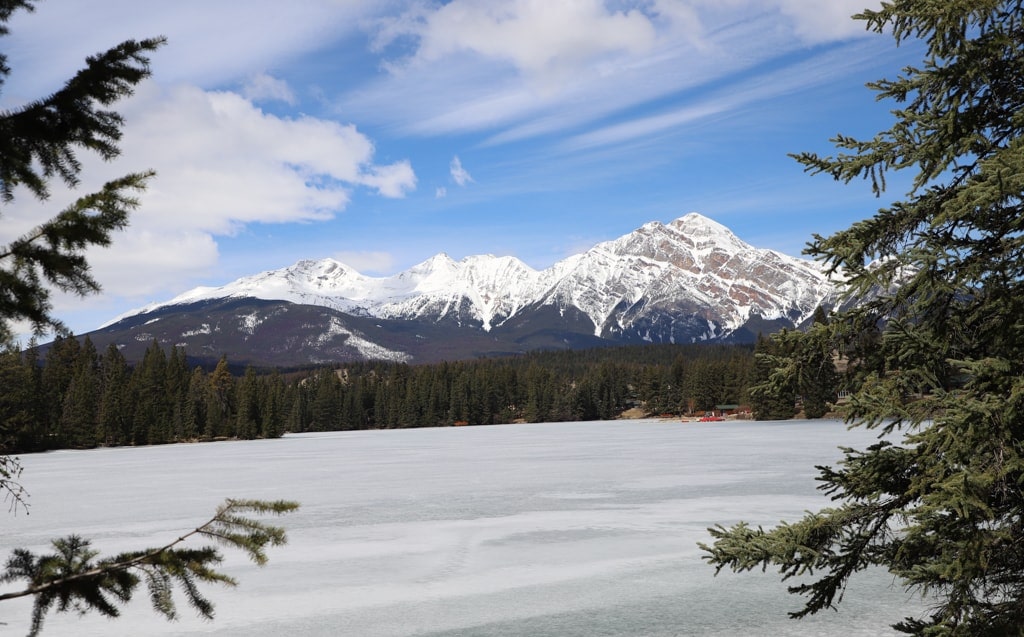 Back in October 0f 2019, I experienced the train for the third time, ending in Banff again, but continuing on to stay at the Kananaskis Mountain Lodge, a fabulous resort with skiing in the winter and hiking in the summer.
But you've already heard how exquisite I think the food is this Canadian Rockies train, so I've reached out to the other Ambassadors to find out what their favorite meal is on Rocky Mountaineer.
One thing is for certain, breakfast is pretty popular! You'll see from the dishes below, the menu on Rocky Mountaineer makes it hard to choose for either meal.
Between the meal and the views, get your camera or phone ready!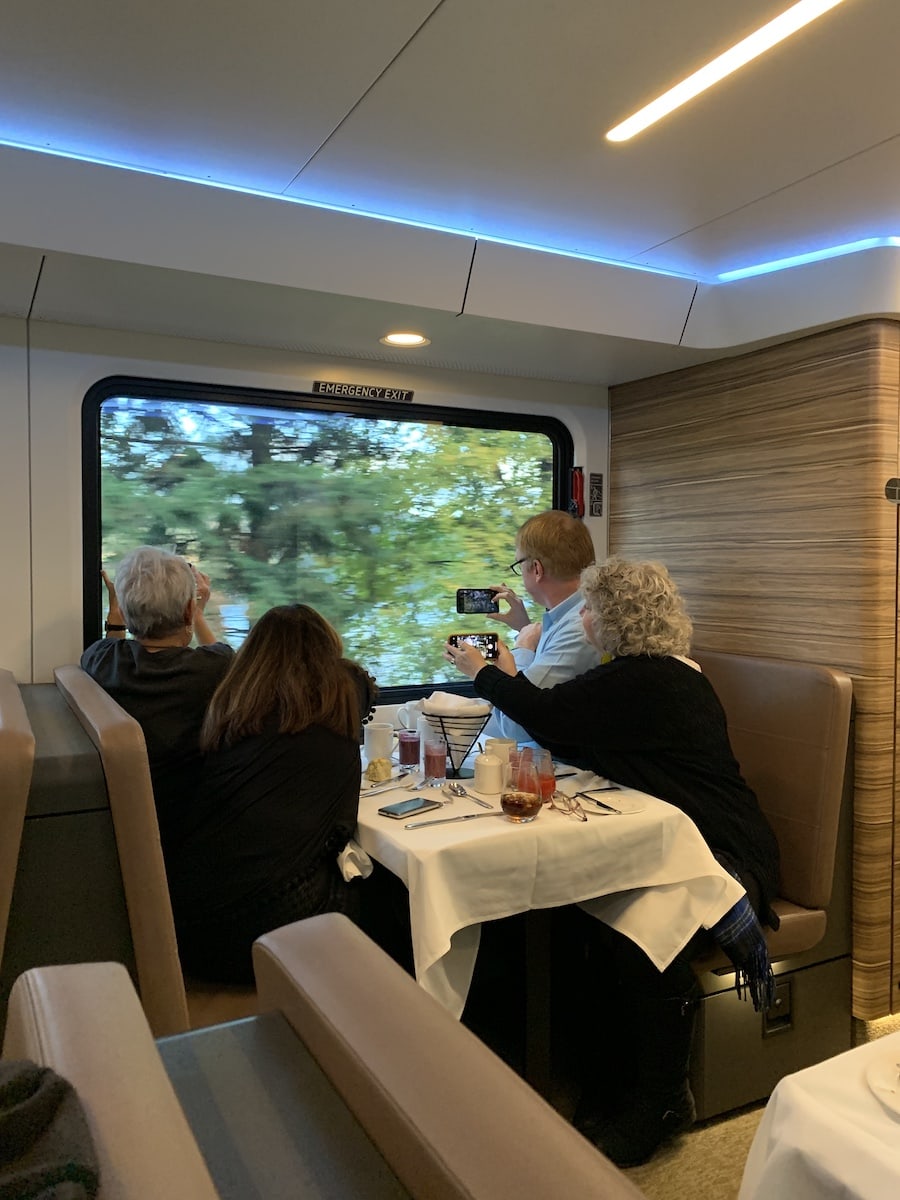 Top Dishes on Rocky Mountaineer Canada
Before I introduce you to the other Rocky Mountaineer Ambassadors, I want to share my favorite meal on the train. Though it is really hard to choose, I have to go with the Braised Short Ribs with garlic mashed potatoes and vegetables.
Paired with the Jackson-Triggs Reserve Cabernet Sauvignon from Okanagan Estate (Canada's most awarded winery) it is absolute perfection.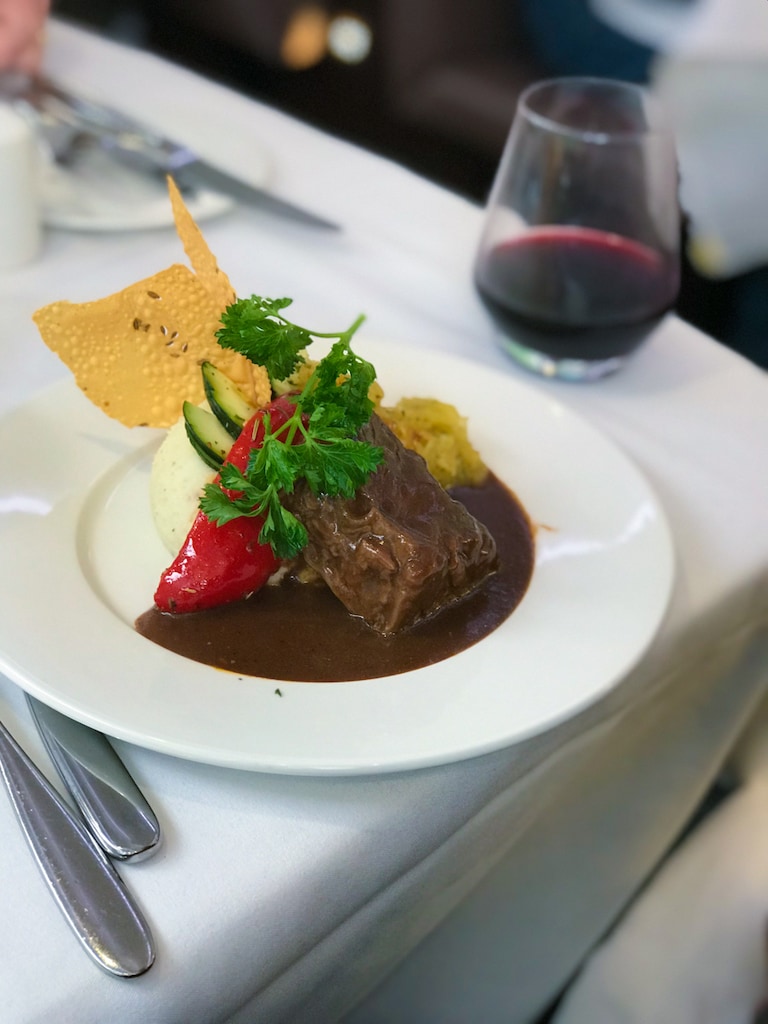 By the way, another really special part of the experience is being treated like royalty by the hosts who are there at your every whim.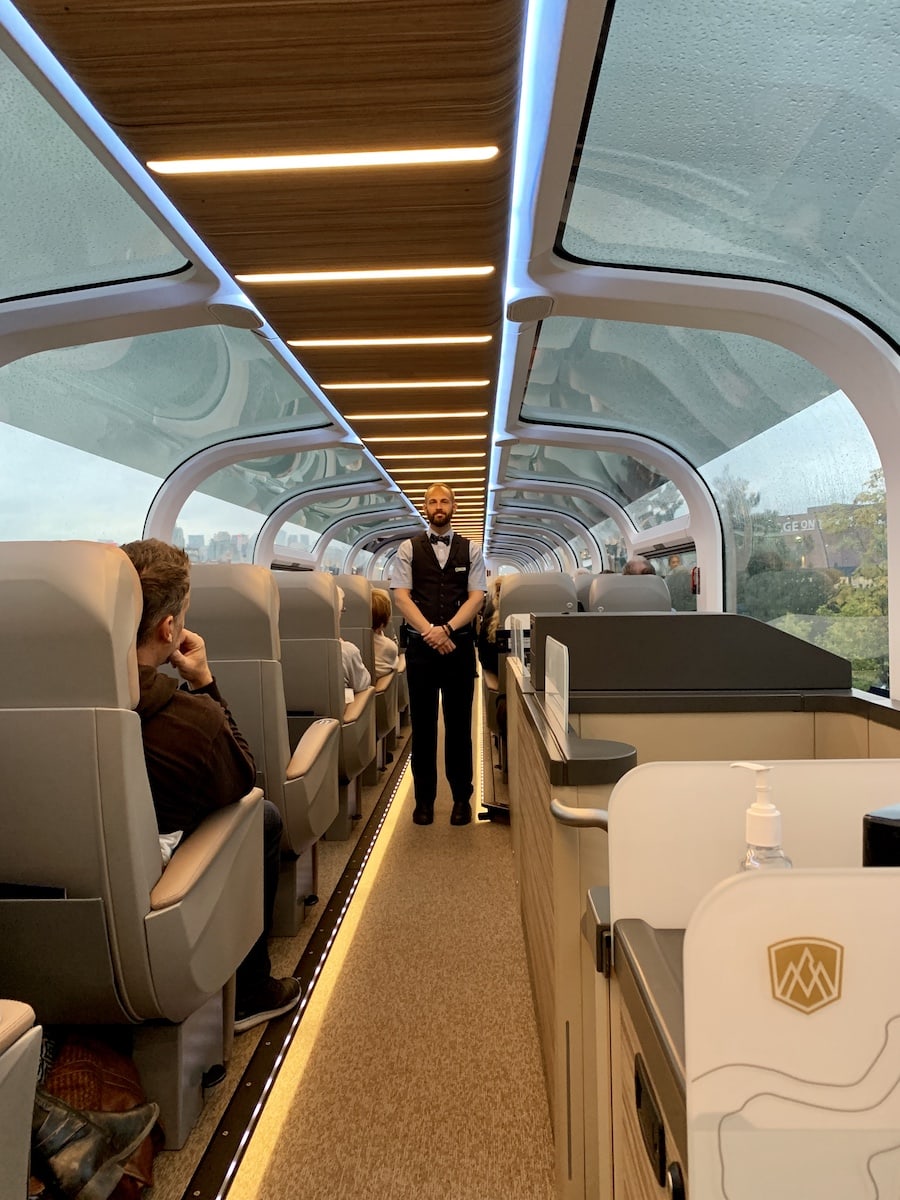 Is it too early for wine? "Never."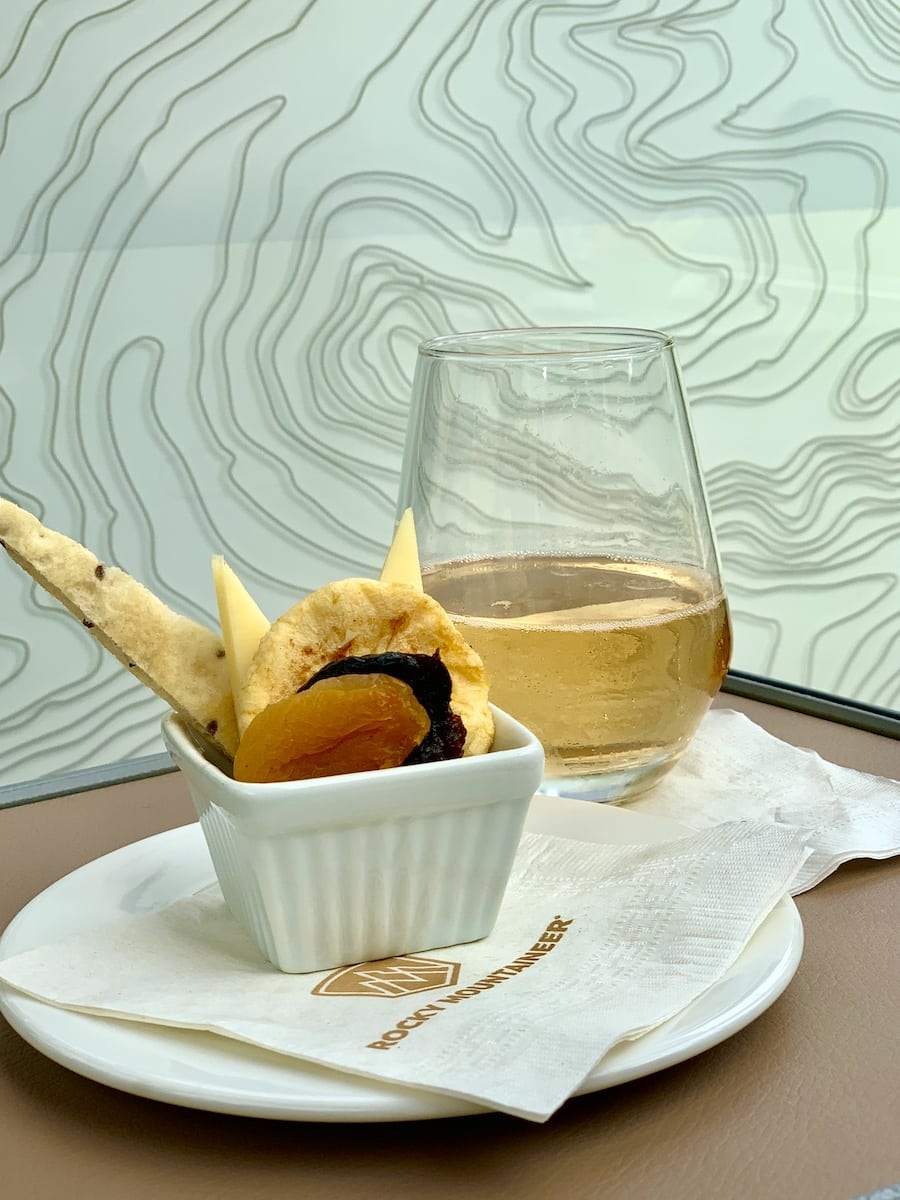 May I have another scone? "Of course."
Could we go back so I can get a better shot of the elk? Okay, I'm stretching it here, but they do aim to please! Have your camera ready so you don't miss any of the incredible opportunities. I actually saw a grizzly bear on my second trip!
I think my favorite meal onboard the Rocky Mountaineer is the smoked salmon with the grilled onions on top. I absolutely love smoked salmon. It has a nice piece of rosemary with plenty of pepper, just the way I like it!
Follow Points and Travel on Instagram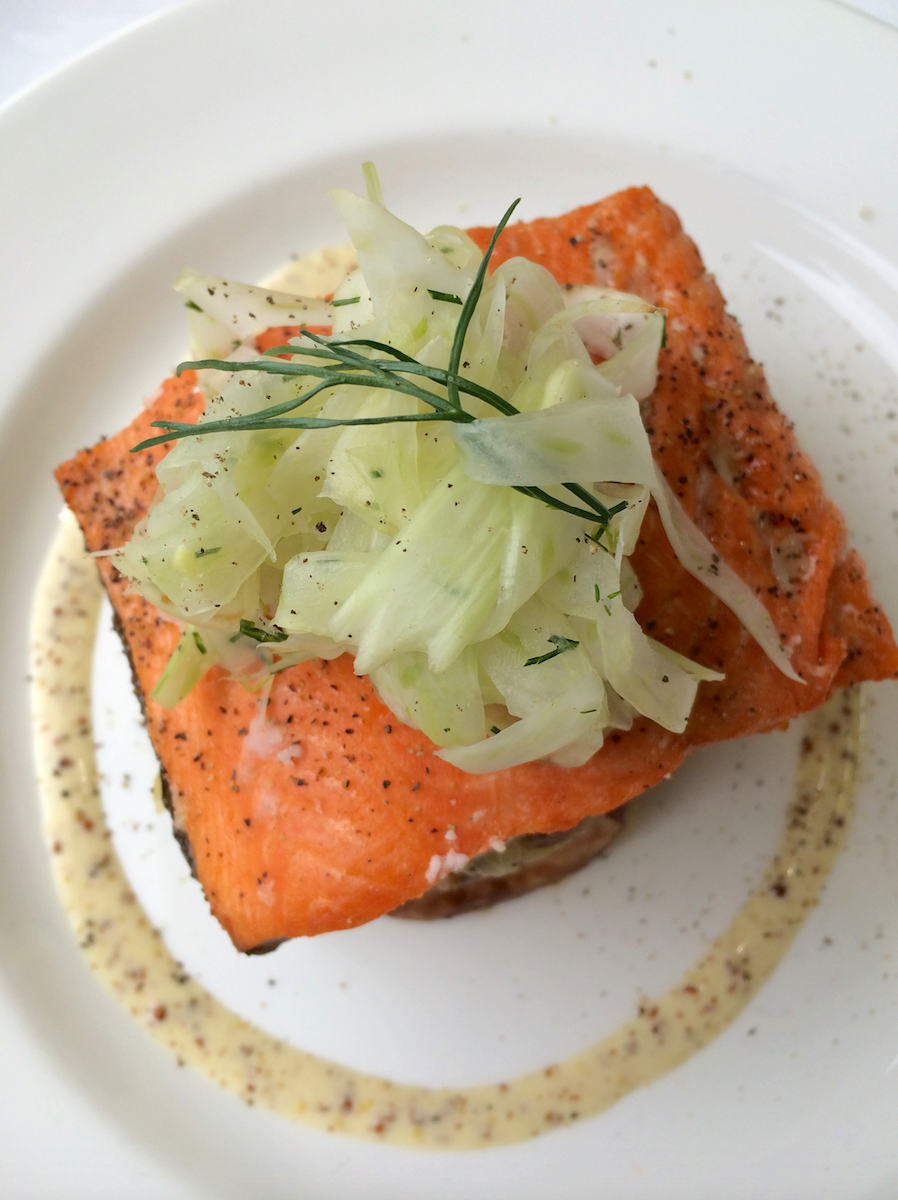 There are many wonderful aspects of the Rocky Mountaineer GoldLeaf service. It is a place of luxurious comforts, views, and, of course, dining! GoldLeaf Service indulges your senses with gourmet meals prepared by Executive Chefs while viewing the Canadian Rockies in an exclusive way.
The panoramic windows are full of amazing views, but there is so much to also enjoy inside your panoramic dome GoldLeaf cabin - like the gourmet food! I could go on and on about it, but my favorite GoldLeaf touches are the golden gooseberries that adorn many of the gourmet food items such as the parfaits and the juices.
They are local to the Canadian Rockies and also match perfectly the GoldLeaf decor and Rocky Mountaineer brand. I look forward to my annual visit to Canada just to eat many of the items only found in this region. They also offer many local wines!
Follow Spa Travel Gal on Instagram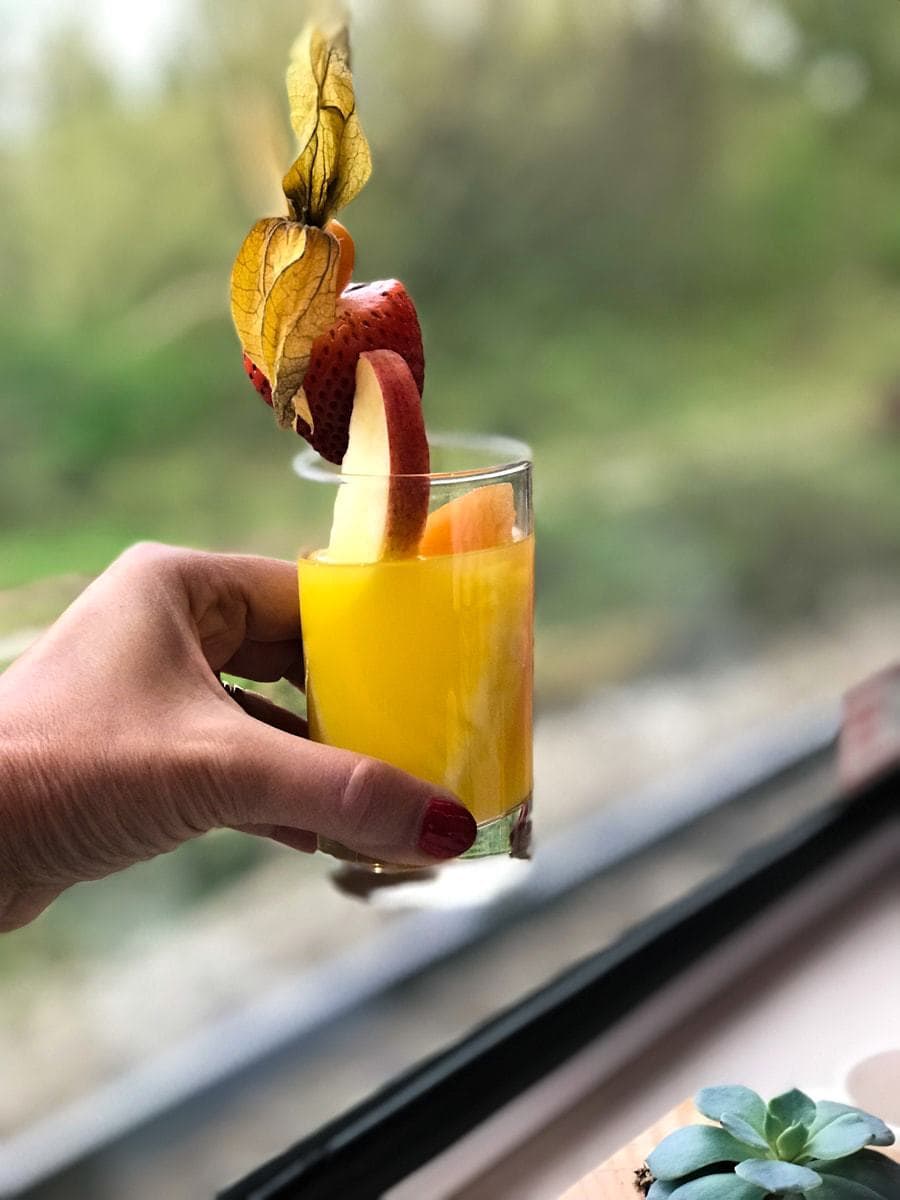 The Rocky Mountaineer luxury train ride is a foodie delight. How about delicious scones BEFORE breakfast?!
And how can you choose anything other than buttermilk pancakes, genuine maple syrup, and Canadian bacon for your first breakfast on board the train?!
Follow Glen Gilmore on Instagram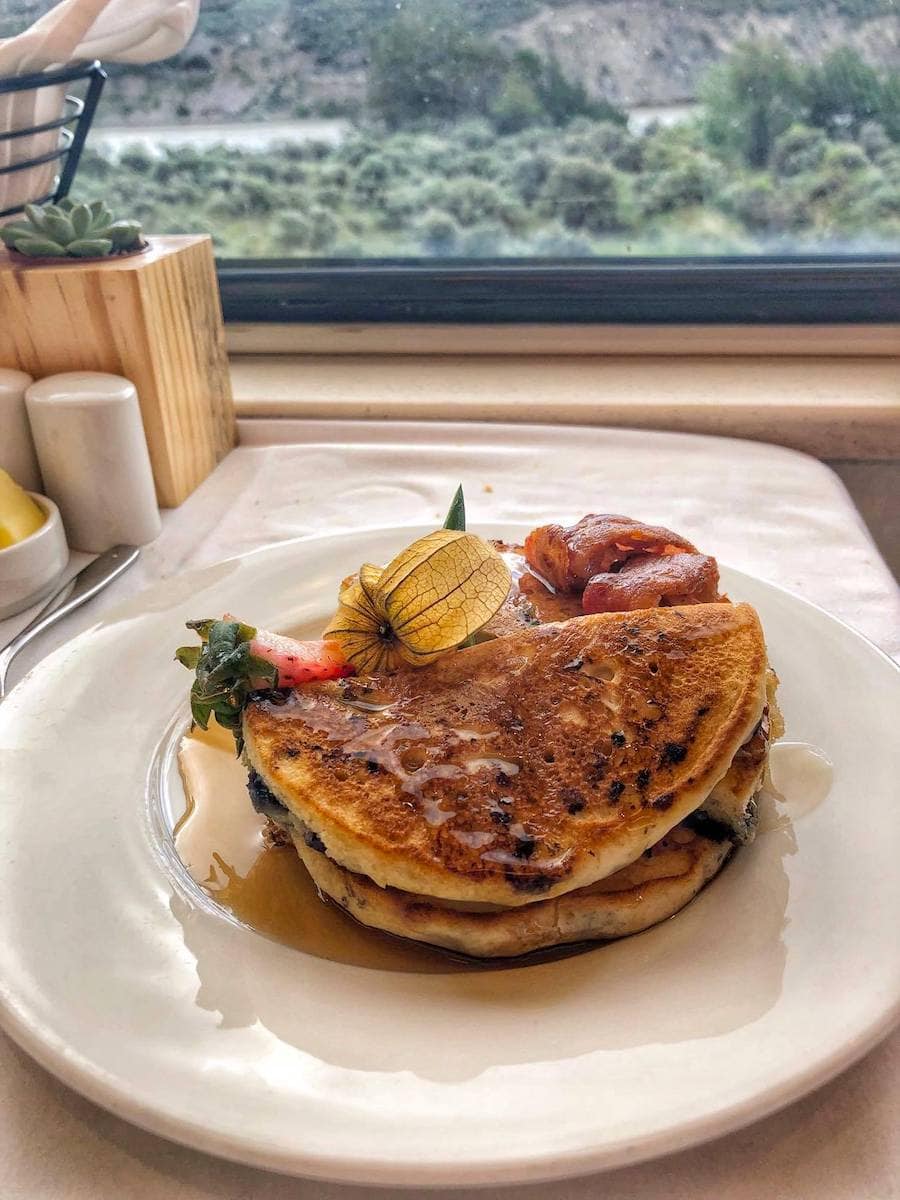 I've been fortunate to ride the Rocky Mountaineer in the spring and fall on different routes. What remains the same is their commitment to quality and locally sourced food.
A sure-fire winner served in the Gold Leaf service dining car is the Eggs Benedict and since this is a splurge vacation, the yogurt parfait is a great choice, too. Where else can you enjoy the scenic beauty of the Canadian Rockies while dining on a luxury train?
Follow Nancy Brown on Instagram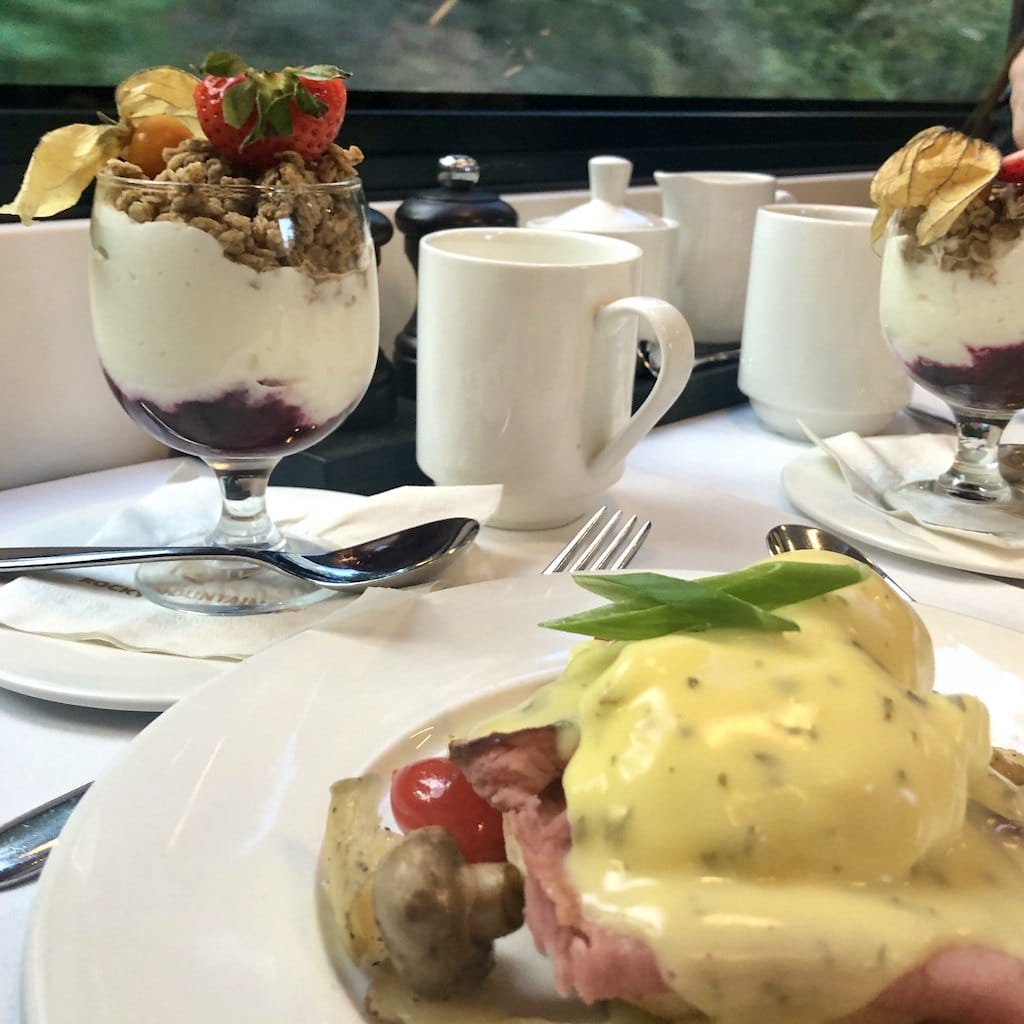 When traveling in GoldLeaf Service, there is a magical moment when it is time to go downstairs to the dining room. The white linen tablecloths in front of those big wide windows beckon the golden age of travel. And then it is time for the food.
I am always amazed at the fabulous flavors that come out of the tiny galley on the trains. I believe the Eggs Benedict on Rocky Mountaineer is the best anywhere. Every time I order it, the eggs are cooked to perfection.
Another great breakfast option is the Sunrise Skillet, where Chef serves a baked egg over a skillet of potatoes, bacon, tomatoes, roasted mushrooms, and delicious local sausage.
After those delicious breakfasts, you're in store for another great meal at lunch, when I usually order Pacific Salmon or maybe a steak made with the freshest Alberta beef.
The meals onboard Rocky Mountaineer definitely rival those awe-inspiring views that slowly move past as you dine.
Follow Wander with Wonder on Instagram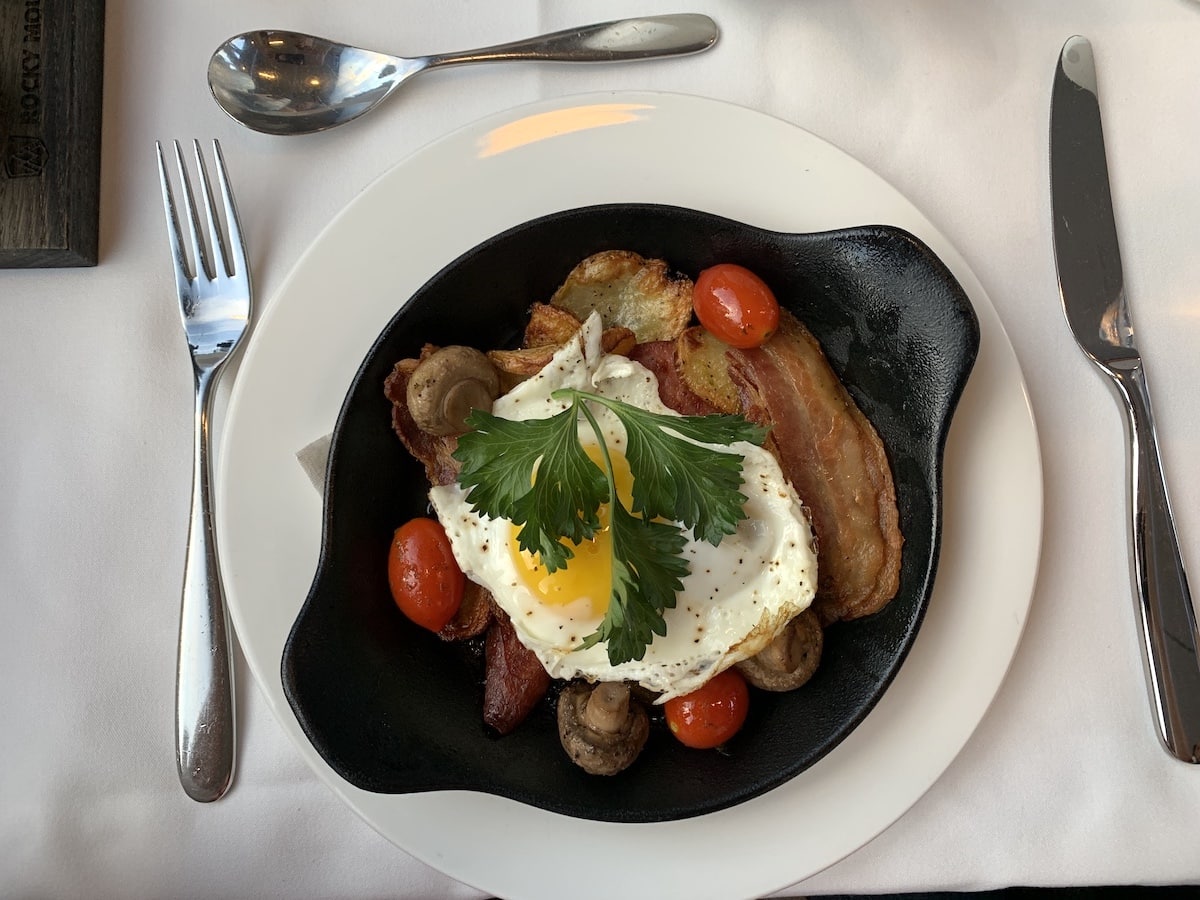 Fraser Valley chicken, roasted Alberta pork, Pacific salmon ... maybe a baby spinach salad with julienne apples and cranberries. The dining experiences on Rocky Mountaineer are not just a delight, they're a way to connect with the region you're traveling through.
Onboard chefs seek out the best local ingredients, bumping up regular train fare to a gourmet level that focuses on the diversity of the Western Canadian landscape. And look out for the oatmeal cookies - they're a freshly-baked surprise.
Follow on Wandering Carol on Instagram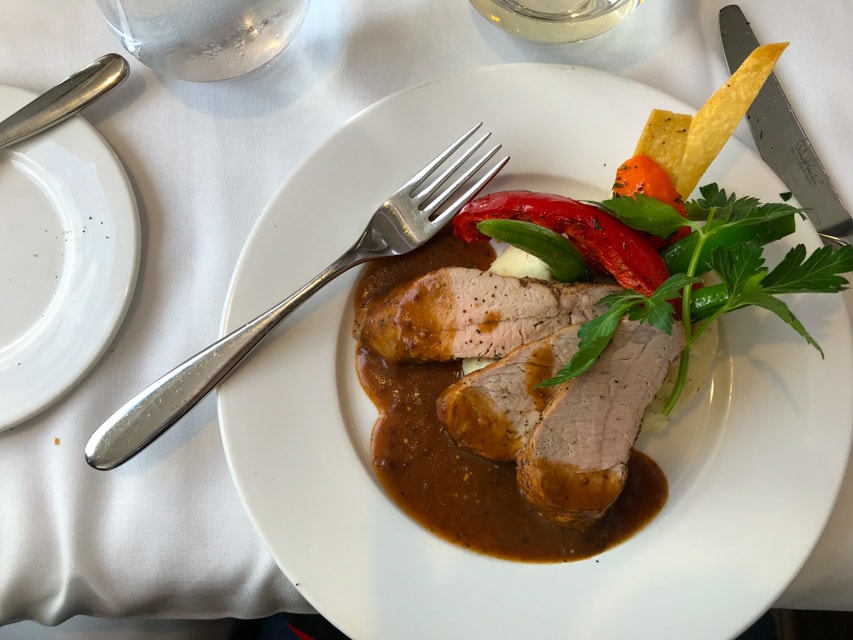 My favorite meal on Rocky Mountaineer tends to be breakfast, which seems odd considering I'm so partial to the complimentary wine and cocktails at lunch and in the afternoon (not to mention my trusty lunch standby, the fantastic burger.)
Maybe it's because I don't normally cook a hot breakfast at home, or maybe it's that comforting smell of fresh-brewed coffee that tells me the day has officially begun.
The simplicity of perfectly cooked eggs, potatoes, bacon, toast, warm scones, juice, and coffee is something I always look forward to on Rocky Mountaineer. It's reliable, delicious, and puts me in just the right mood for whatever the day will bring. And it comes with one hell of a view.
Follow Mike at Travel Tales Podcast on Instagram.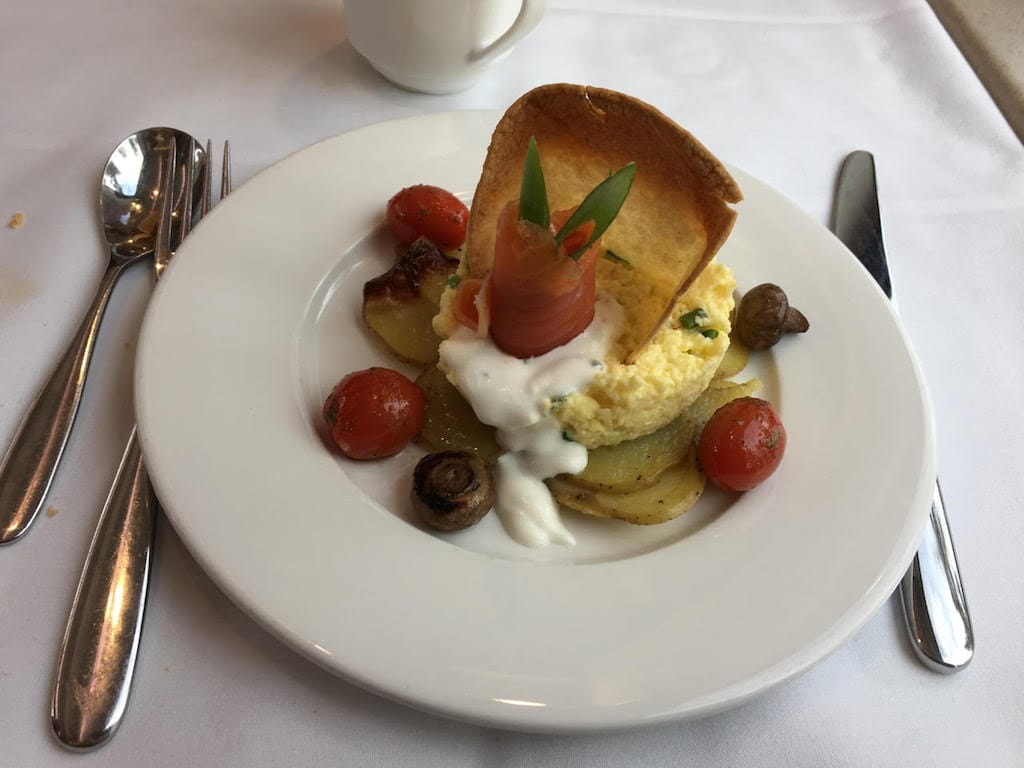 Call me crazy, but I would trade a lobster dinner for the Rocky Mountaineer Sunrise Skillet any day of the week. Don't get me wrong, I LOVE to go out to dinner, but put me in a booth with a gorgeous view, a white tablecloth, and a Sunrise Scramble on my favorite luxury train, and you'll have a happy passenger all day.
There's something so special about the presentation in a personal-sized skillet with this hearty breakfast of eggs, Yukon Gold potatoes, sausage, Canadian bacon, and tomatoes that makes my heart (and my stomach) sing.
Follow Zippy on Instagram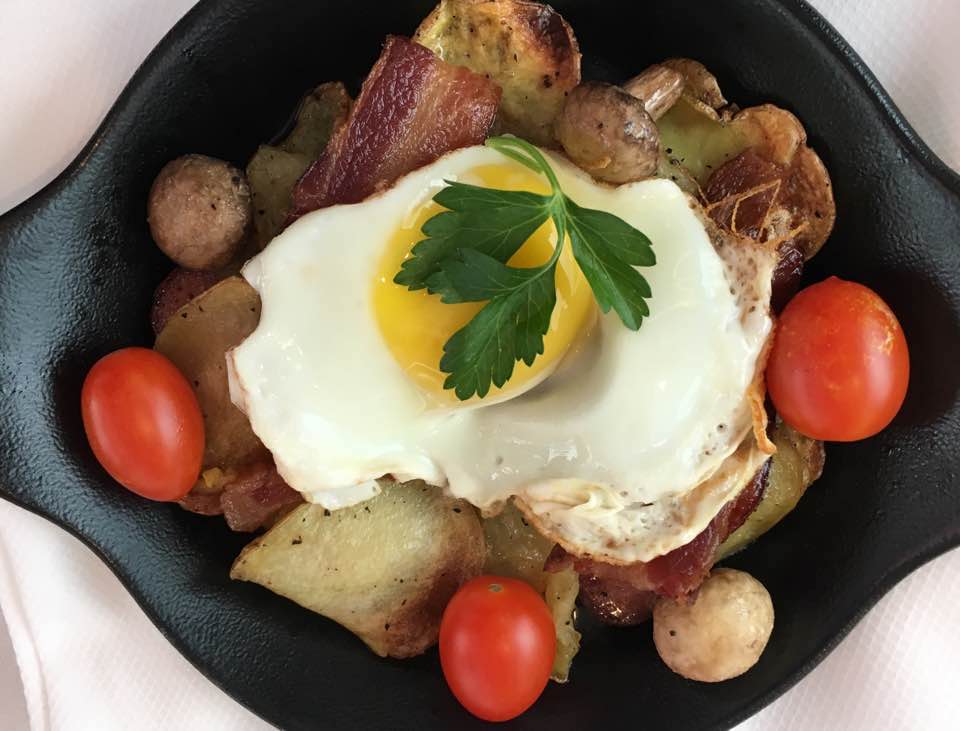 Whenever I am aboard the Rocky Mountaineer, I look forward to breakfast the most. Not only are the cinnamon scones worthy of smuggling home with me (and yes, I've tried to bribe our hosts for more), but the Smoked Salmon and Egg Scramble is what I order every single time I'm on the train.
There is something about those fluffy eggs, potatoes, salmon and dill sauce that I just can't replicate at home. Add a side of the freshly-made pastries, honey, and butter, and you can bet I'll be a happy and full girl when I get back to my seat.
Just remember, the Rocky Mountaineer feeds you constantly, so save room for lunch and that afternoon cookie delivery you get. It rivals the cinnamon scones.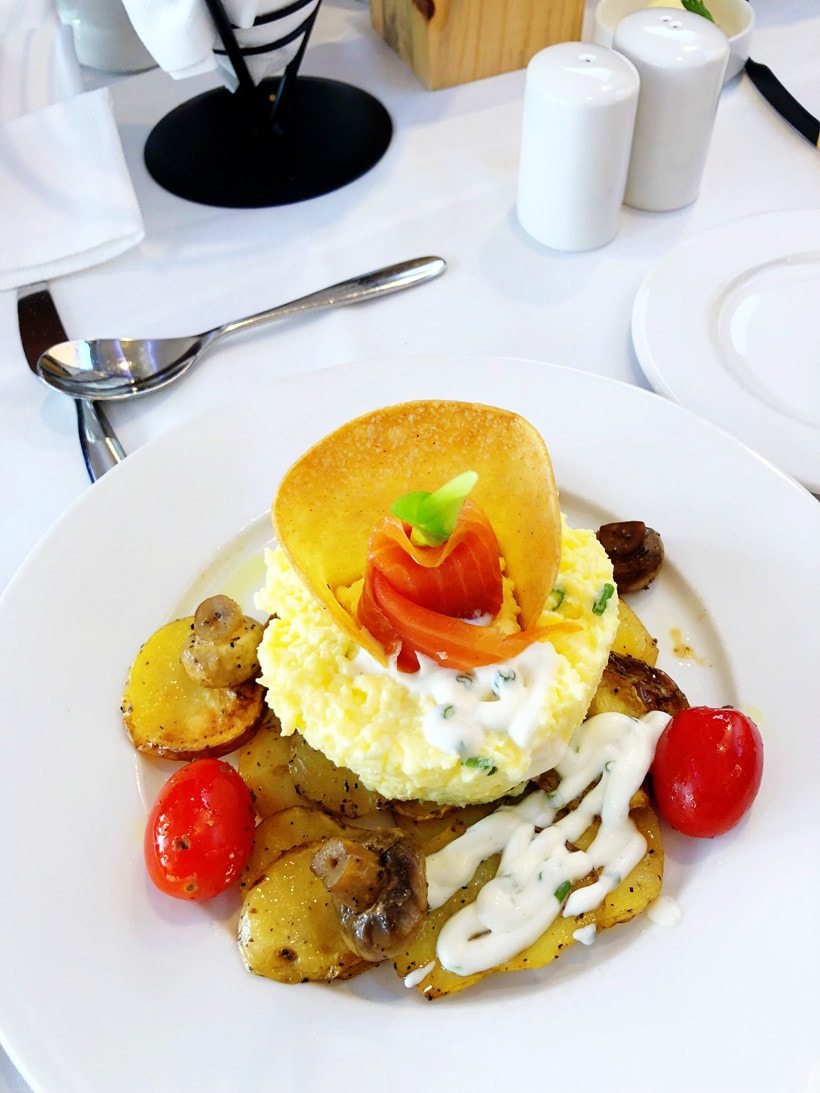 Speaking of those cookies, until you're able to experience Rocky Mountaineer in person, I baked up some of their famous Oatmeal Raisin Cookies with honey so you can try them at home. You're welcome!
You might also want to try this dark chocolate pistachio brownie. I can't wait to try that one the next time I'm on the train!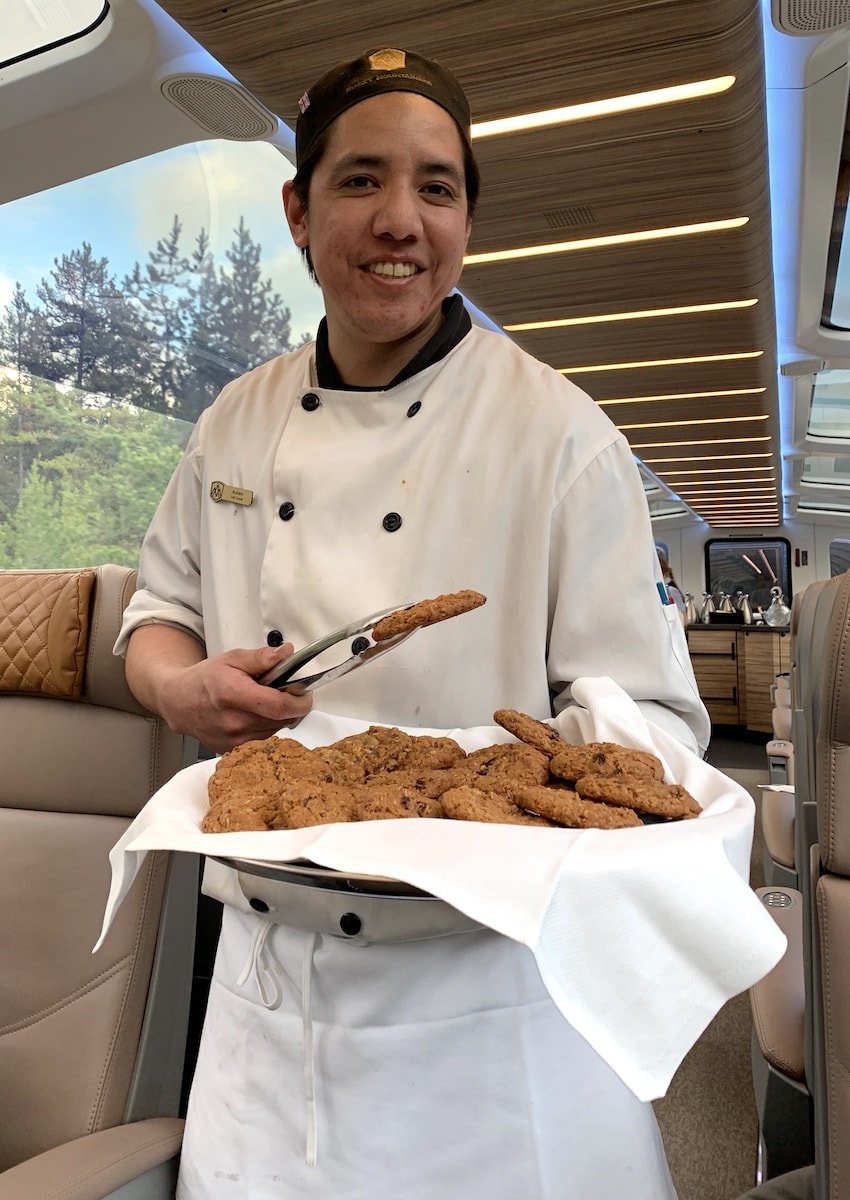 Culinary Adventures Before & After Your Train Journey
I do have to add, for foodies, you'll find exceptional dining off the train as well when visiting this region of the world.
From Vancouver to Kananaskis, check out Best Places to Eat in the Canadian Rockies as well as the best restaurants, brewpubs, and bakeries in Banff, Jasper & Lake Louise.
By the way, Canadian residents can save big on right now! Rocky Mountaineer wants you to see the majesty of your own backyard and is offering amazing promotions designed just for residents.
Don't miss this chance to experience luxury train travel through the Canadian Rockies!
And for those of you who have been wondering why the amazing Rocky Mountaineer Canada adventure isn't available in the United States, I have big news to share with you! Rocky Mountaineer is planning to bring its luxury train journeys to the Southwest United States in 2021!
United States Rockies By Train
This new route, from the Rockies to the Red Rocks, will be a two-day trip on the train between Denver, Colorado, and Moab, Utah. Guests will have an overnight stay in Glenwood Springs, Colorado.
For the 2021 inaugural season in the U.S., Rocky Mountaineer has planned 40 departures over 10 weeks, beginning August 15 and running through October 23. There will be options for additional tours to see more of the area.
And if you're wondering about the food (I'm not the only one who is always wondering about the food, am I?), the culinary experience will be as epic as it is on the Canadian Rockies trips.
The Rockies to the Red Rocks journey will feature ingredients and dishes that are local to the Southwestern U.S., complemented with their always amazing beverage service, served at the seats, so guests can enjoy the beautiful scenery of the U.S. Rockies as they dine.
Don't worry, I hear the scones and cookies served on Rocky Mountaineer Canada will still be part of the culinary adventure!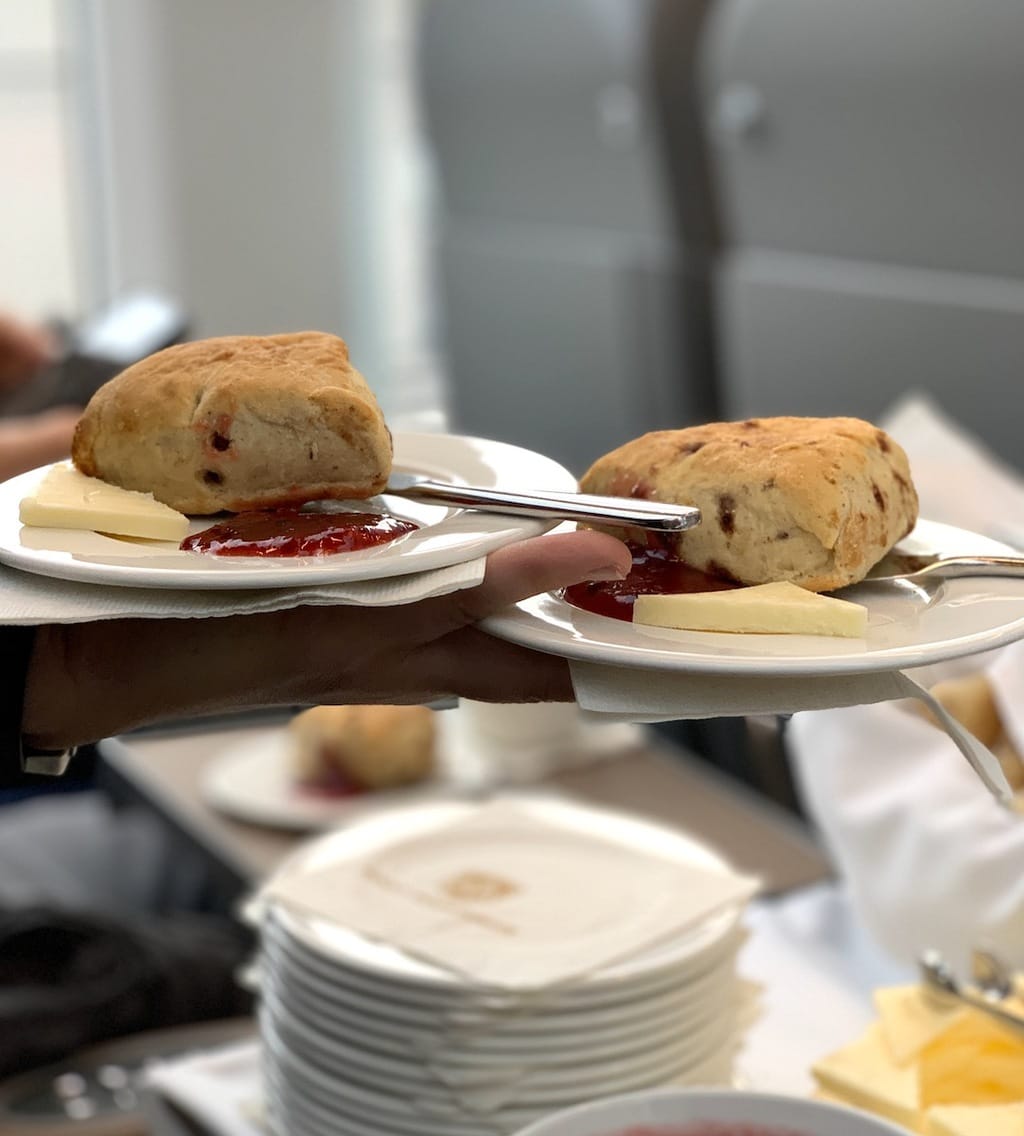 Who's ready to start planning their next adventure?