Rocky Mountaineer Train Journey Through the Clouds is one of the many routes you can take on this luxury train vacation.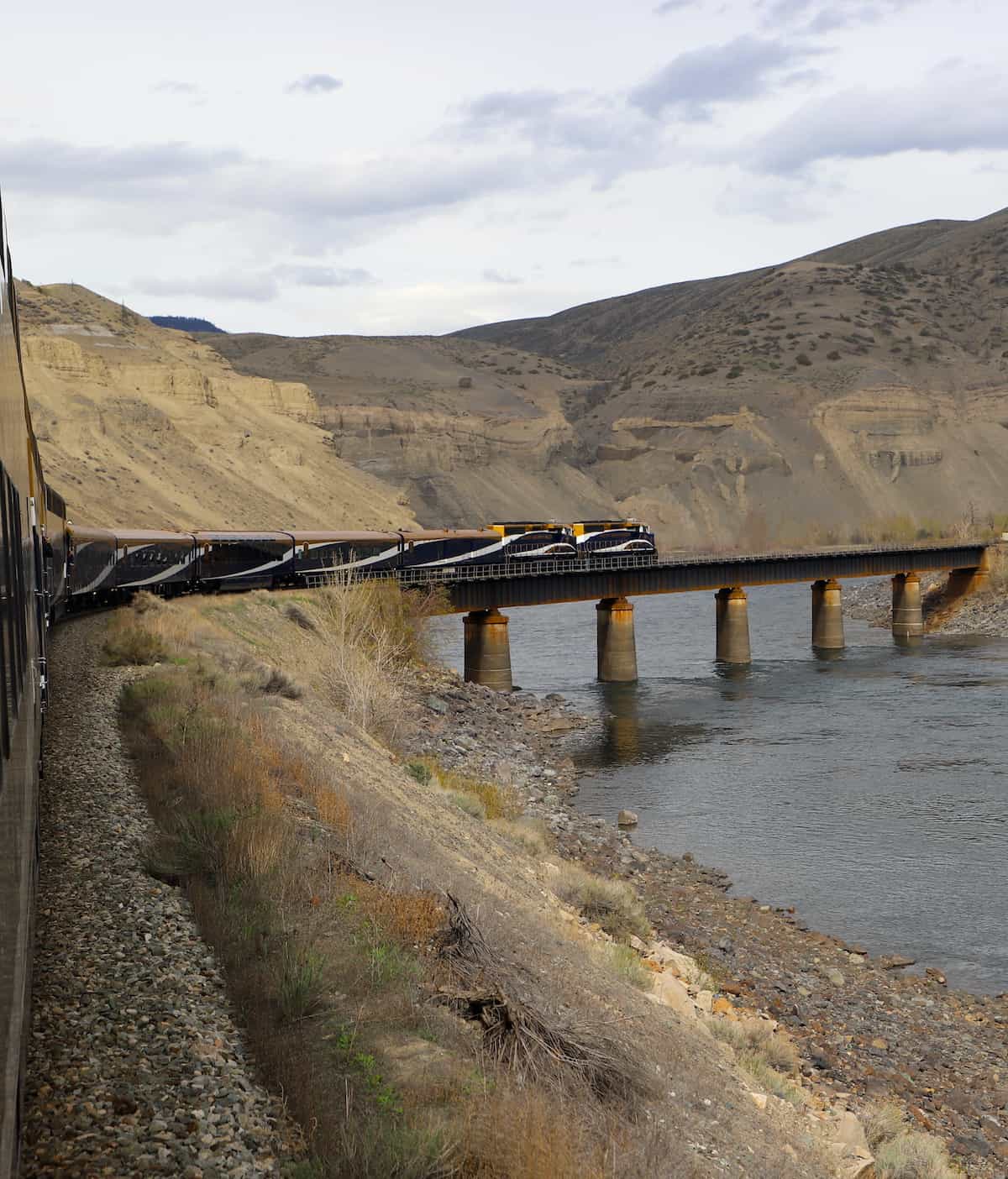 With the latest route, you can experience the train in the United States on the Rockies to the Red Rocks route, from Denver to Utah National Parks.
This was my second trip on Rocky Mountaineer. A couple of years ago, I was able to experience the First Passage to the West route on Rocky Mountaineer.
That route begins in Vancouver British Columbia and goes through the legendary Spiral Tunnels on this historic trip through the Canadian Rockies.
I expected to see gorgeous views, but I didn't expect the level of excellent service or gourmet food served on a train.
Rocky Mountaineer spoils you the entire trip, bringing you treats, glasses of wine, Prosecco, cocktails, or your non-alcoholic beverages of choice, along with delicious snacks to keep you happy between meals.
Where to Stay Before Your Trip
When visiting the area, you need to know where to stay in Vancouver. Since that time, the gorgeous Hotel Fairmont, once a premiere railway hotel, has completed the renovation project they began four years ago.
As they celebrated their 80th anniversary, they have now unveiled 42 luxurious new guest rooms, a private lounge, and more.
The upgrades are all part of the Fairmont Gold program, for the discerning traveler looking for an over-the-top experience. It's spectacular, to say the least.
Spend a Day in Vancouver
Spending a day or two in Vancouver should definitely be on your list as part of the Rocky Mountaineer journey. The Pacific Northwest is so beautiful.
Visiting the Vancouver Tourism site is a great way to start thinking about your itinerary. I've now been to Vancouver three times, and instead of crossing things off my list, I just keep adding to it!
There is so much to see in Vancouver. Be sure to visit Stanley Park and Granville Island Market.
After a day or two in this fabulous city, it will time to begin your train journey.
Beginning Your Journey on Rocky Mountaineer
It's early morning when you're picked up and delivered to the Rocky Mountaineer Train station, but once you're there, it's such a treat to experience the send-off.
The Rocky Mountaineer Train Station, located just east of downtown Vancouver, opened in 1954 as a train repair station for the Canadian National Railway. I think it's so cool that Rocky Mountaineer now owns this historic station.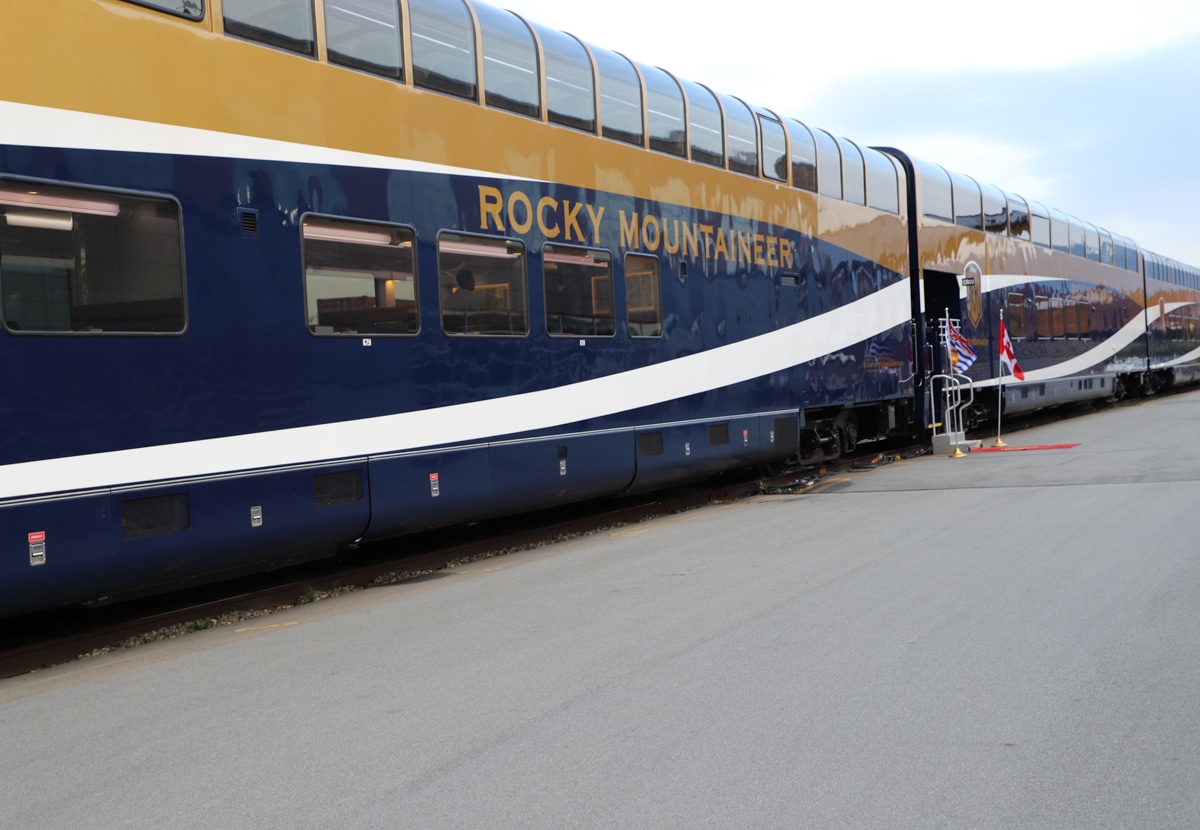 When you arrive, you'll be offered a celebratory glass of juice. Take some time to look around the station while listening to the wonderful pianist.
By the way, I've had people ask me about the Rocky Mountaineer GolfLeaf dress code. Dress is casual on the train, as you can see from the people in the photo below.
There are places to hang or stash your coat, gloves, hats, etc. And those heated seats will keep you toasty warm.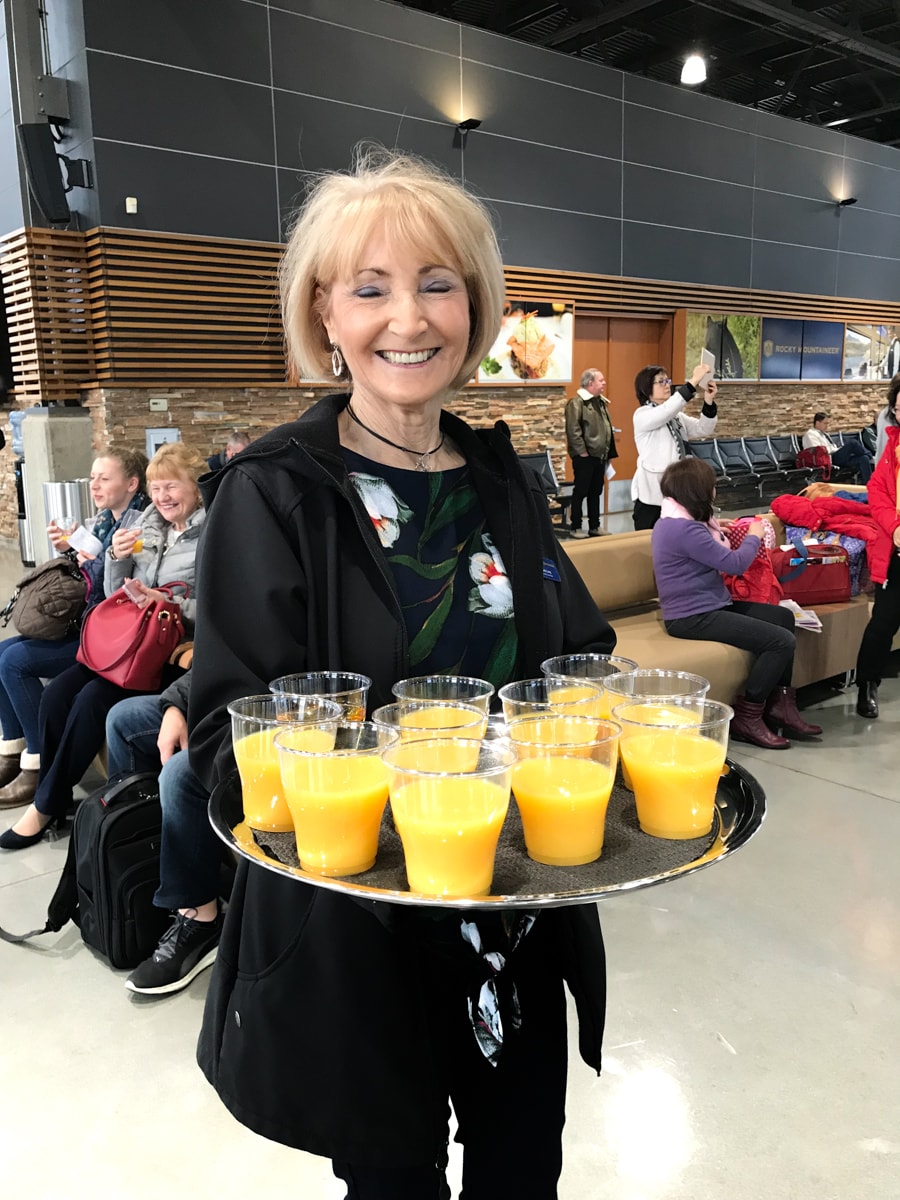 You will have about 30 minutes to browse the small kiosk set up with Rocky Mountaineer merchandise.
I'm a proud owner of one of their jackets, the Lug Overnight Bag, the Tilley hat, a Jasper bear, a cookbook...yes, I'm a bit obsessed!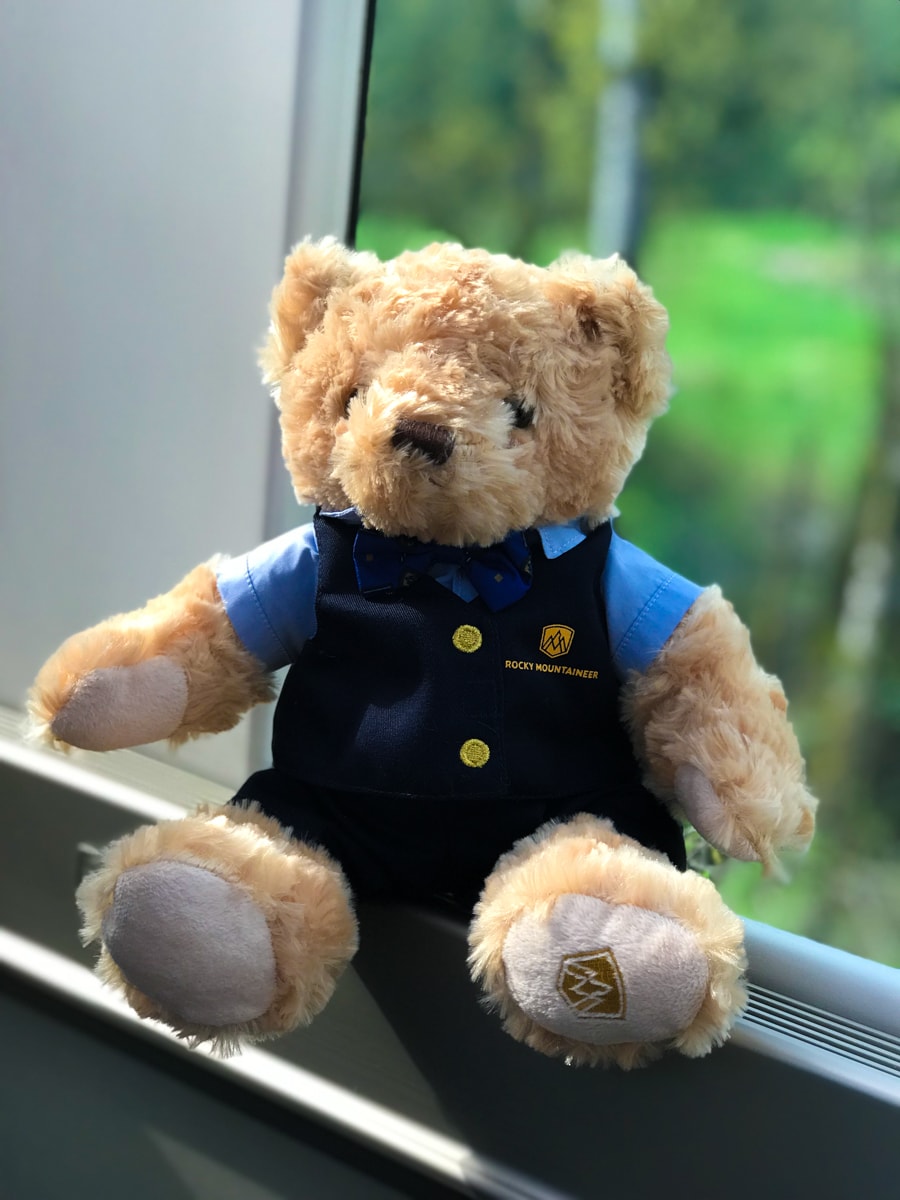 Rocky Mountaineer Send-Off
Just before the send-off, everyone gathers for announcements. Once you hear the Rocky Mountaineer team say All aboard, the real fun begins.
My husband is the selfie king!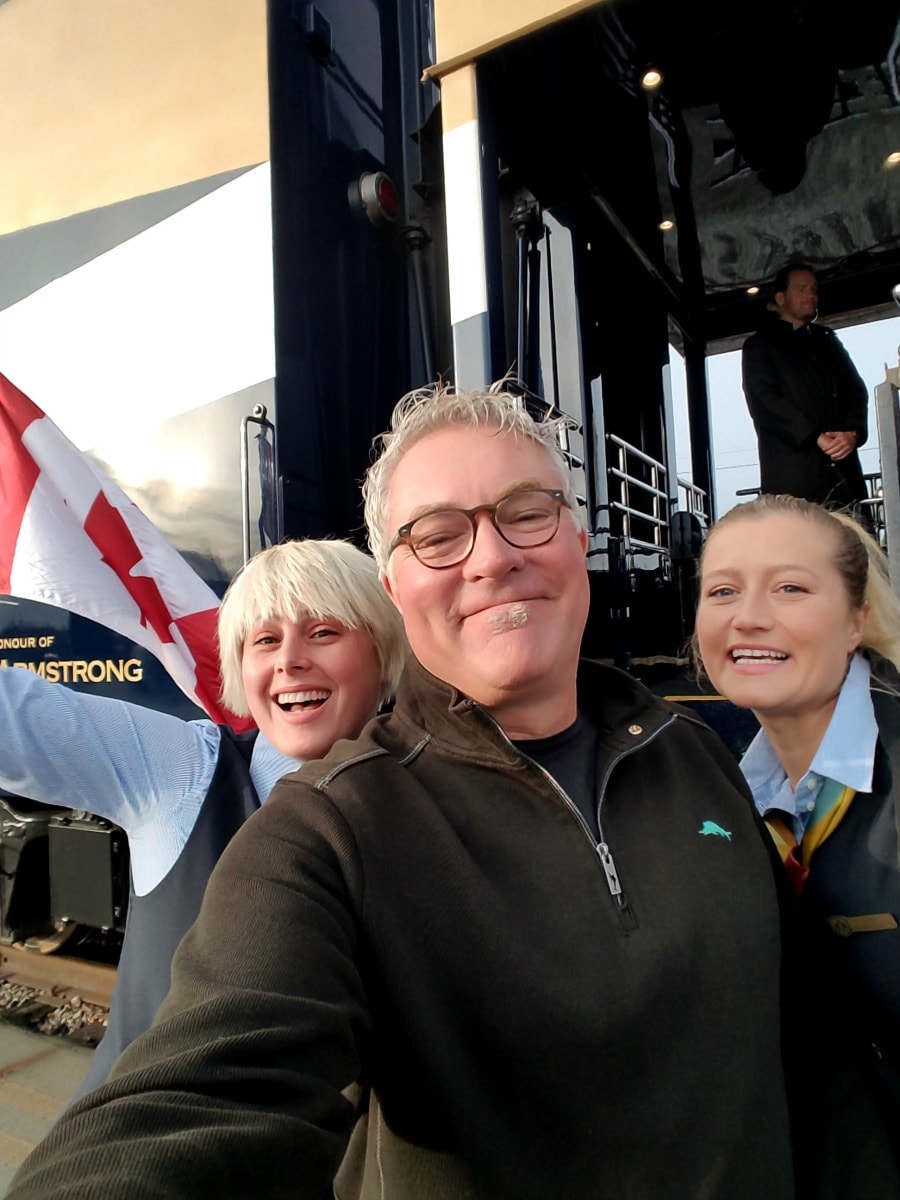 Once everyone is onboard and in their comfy, heated seats, the train departs the station. Get your camera ready, because you'll want to remember this moment!
Journey Through the Clouds on Rocky Mountaineer Train
As I mentioned, last year I was able to experience Rocky Mountaineer First Passage to the West, stopping overnight at the Sandman, a wonderful Kamloops hotel, and ending in Banff and Lake Louise.
The Moose Hotel is where to stay in Banff if you're looking for a beautiful upscale but casual downtown Banff location.
And if you can fit in some extra time, use this Banff itinerary to explore for a few days.
The Journey Through the Clouds is the same on the first day as the First Passage to the West trip, but on the second day, you will go to Jasper instead of Banff.
You spend the daylight hours on the train, and spend the night in upscale hotels. What a way to travel!
There are train trips and then there are luxury train journeys. Rocky Mountaineer is a luxurious train ride through some of the best scenery in western Canada.
The Experience on the Train
Though I say the first day is the same on both trips, of course I'm only talking about the route. You never know what you will see while on the train, or who you will meet.
If you've been a subscriber for a while, you've heard me say that the people often make the trip extra special for me when I'm traveling. This trip was no different.
New Friends
On the first day, we had lunch with a couple from Virginia. Before our lunch was even served, we realized we had mutual friends.
Not just casual friends, but close mutual friends from when we lived in Maryland! What are the chances that would happen when vacationing in Canada?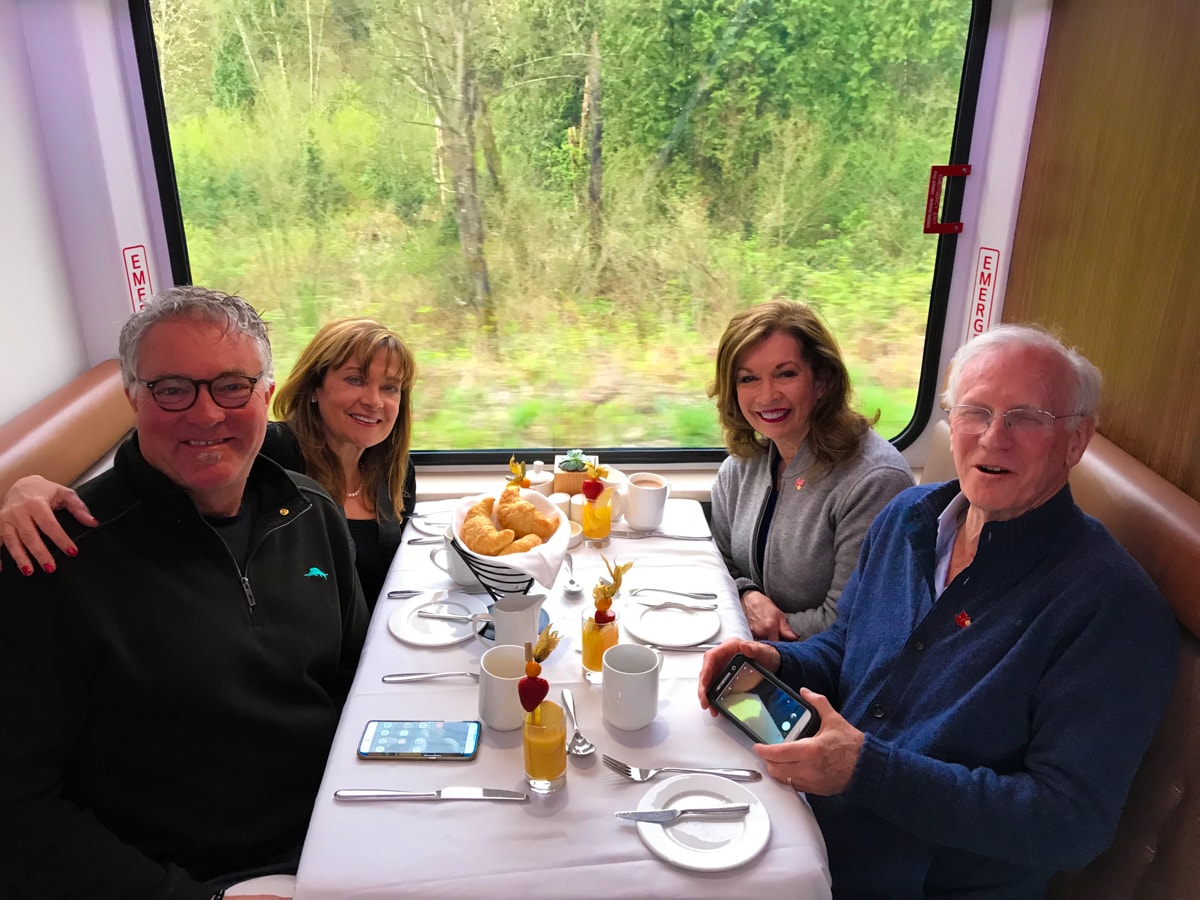 You may have heard there are only six degrees of separation, meaning we are all just six steps away from meeting each other.
Science has proven it to be true, but I already know what a small world we live in because this happens to me all the time!
The story of these new friends gets a little crazier, too. We were disappointed to see they weren't on our train the next day.
I received an email from them letting us know they were taking a different Rocky Mountaineer route, the First Passage to the West journey instead, and that they would reach out later so we could connect again.
We were so disappointed to know we wouldn't be able to spend any more time together. We headed to Jasper for a couple of days, did a tour of the Icefield Parkway, and spent one night in Banff.
The next day when we sat down in our seats on the plane, guess who was directly behind us? We really could not believe it, but there are no coincidences. We will see them again the next time we go to Maryland to visit.
The Food on the Rocky Mountaineer Train Ride
Food is always a huge part of any trip for me, and shortly after the train leaves the station, an announcement is made for breakfast.
If you book with Rocky Mountaineer GoldLeaf Service, group one goes downstairs to the dining room and has breakfast.
(Note: I LOVE the GoldLeaf Service package and recommend it highly. It's nice to go downstairs for meals. However, the SilverLeaf Service package is also wonderful! You can't go wrong with any of the packages.)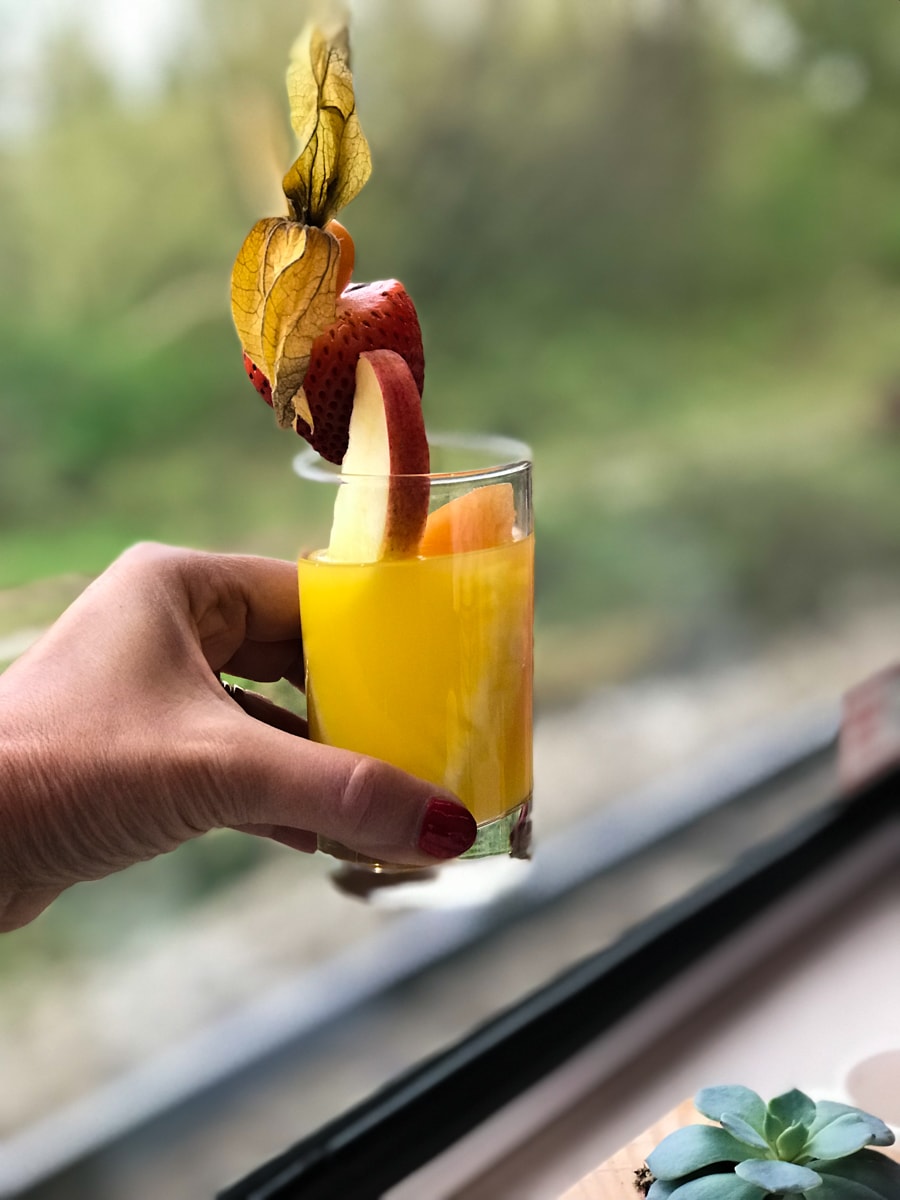 If you aren't in the first group, a Rocky Mountaineer staff member will deliver a freshly baked scone with butter and jam to your seat, along with a beverage of your choice, including coffee, tea, or a mimosa.
Don't worry. As you are on the train for two full days, you'll get both experiences!
Downstairs, seated at a window so w didn't miss a minute of that magnificent scenery, we started with freshly baked croissants.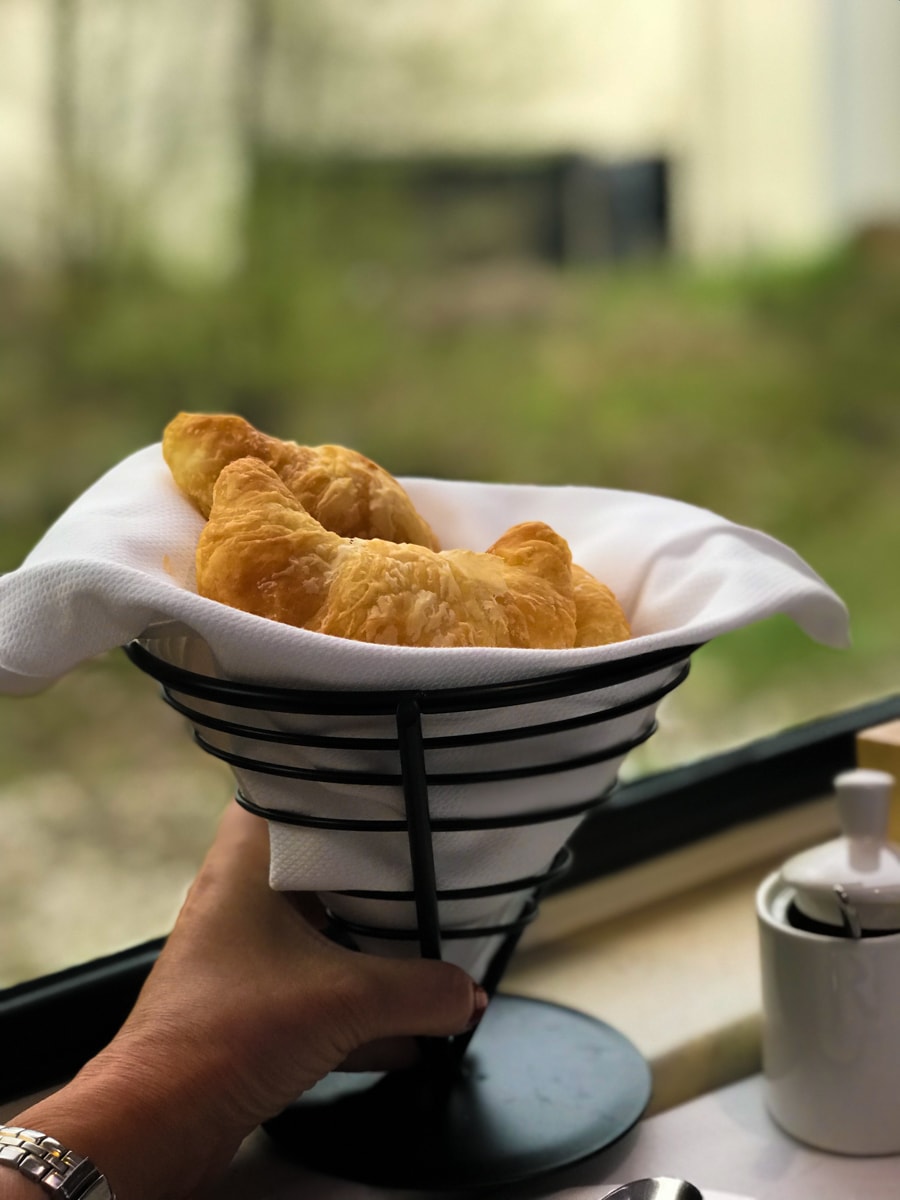 The food on the Rocky Mountaineer train is spectacular. The beauty of being on the train for two or more days is that you can try more than one dish, and there is a lot to try!
Dining on a hot breakfast while rolling through the Rocky Mountains is pure bliss. It's hard to believe these gourmet meals come out of that small kitchen on the train.
I told my husband he had to try the Eggs Benedict with Montreal-style smoked beef as I remembered it being so good on my last trip. It was heavenly again.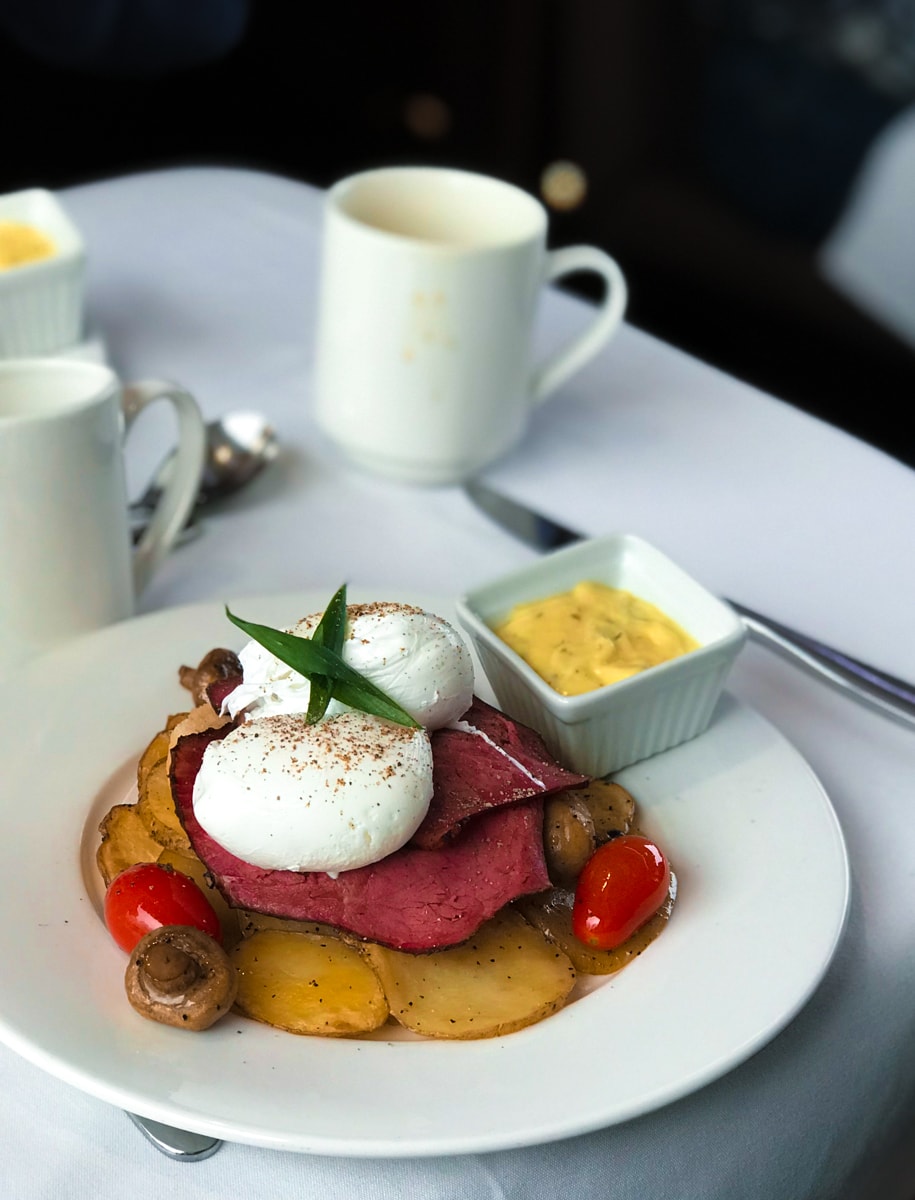 This time I wanted to try something else. So delicious.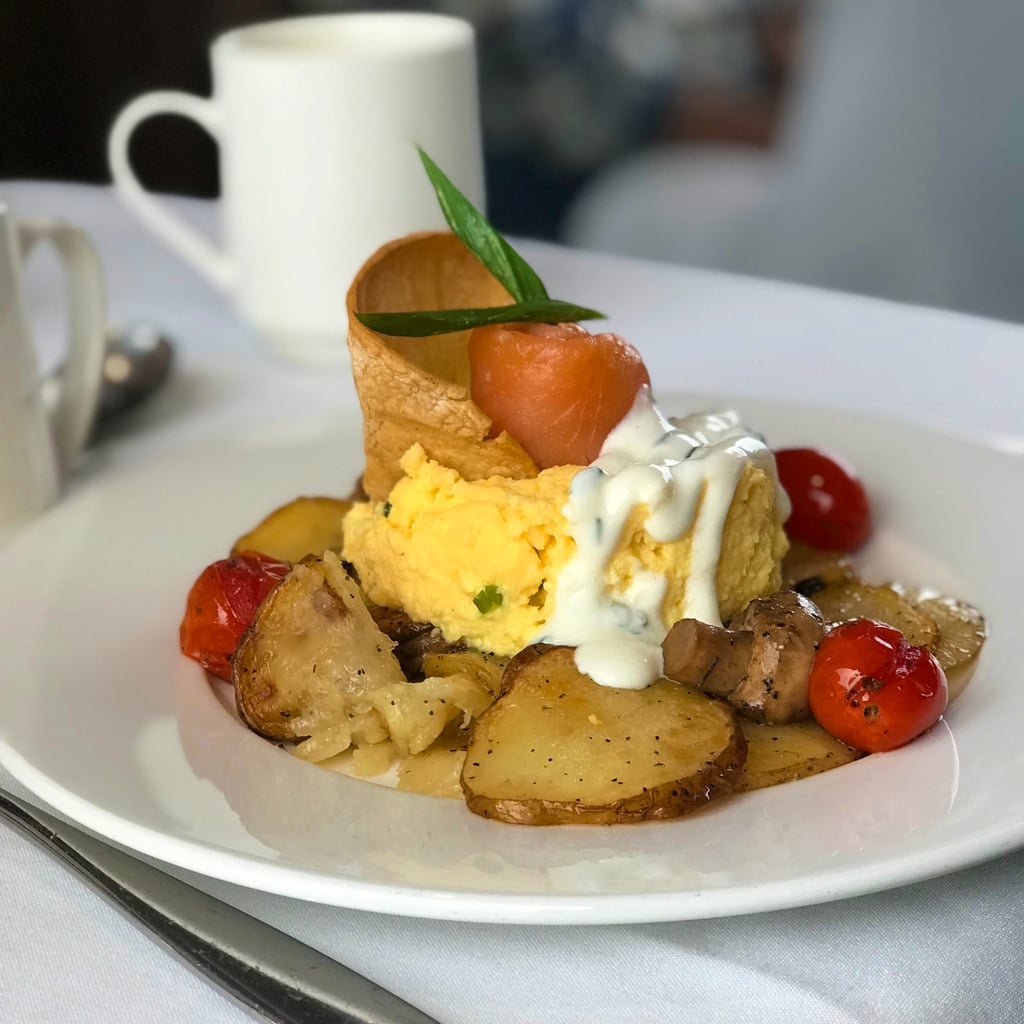 The second day I had the pancakes.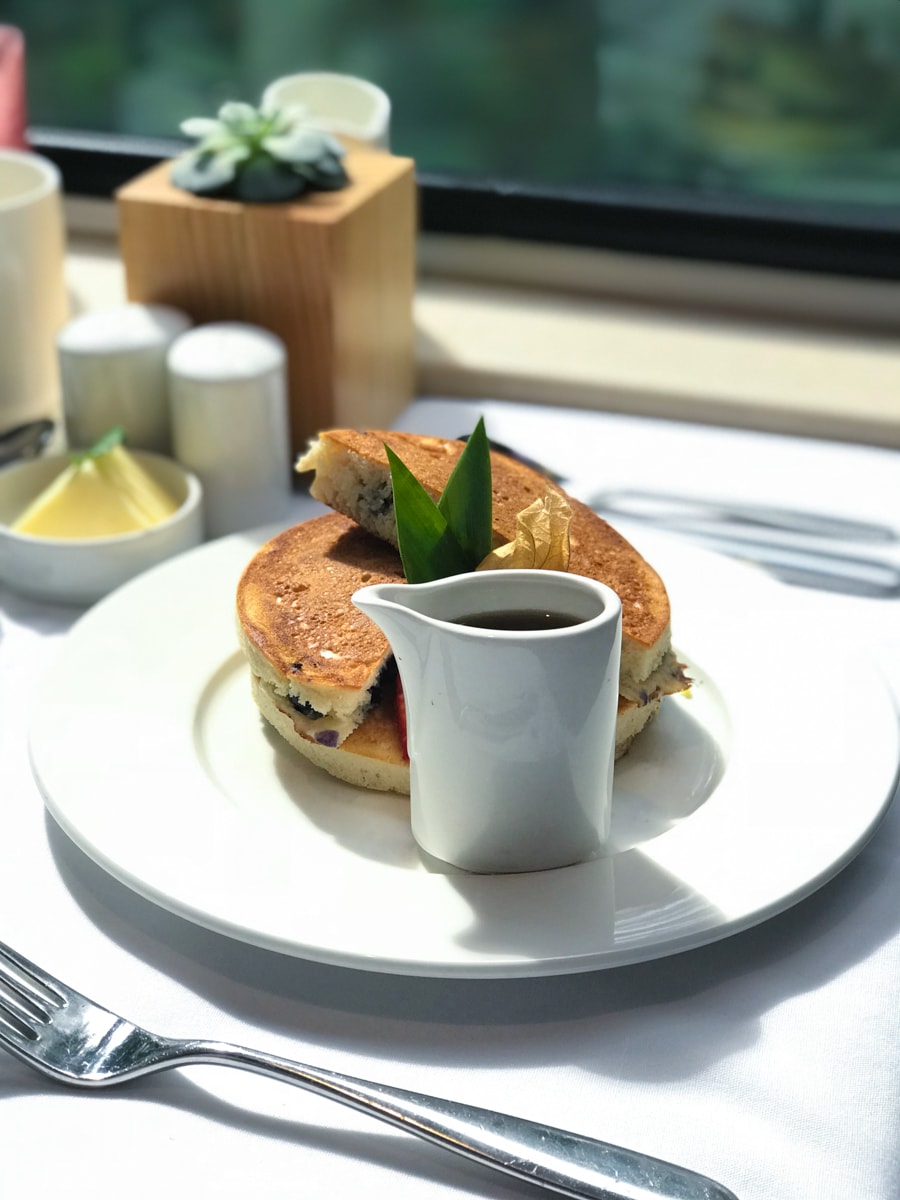 Hungry yet? After breakfast, we headed back upstairs to enjoy the views.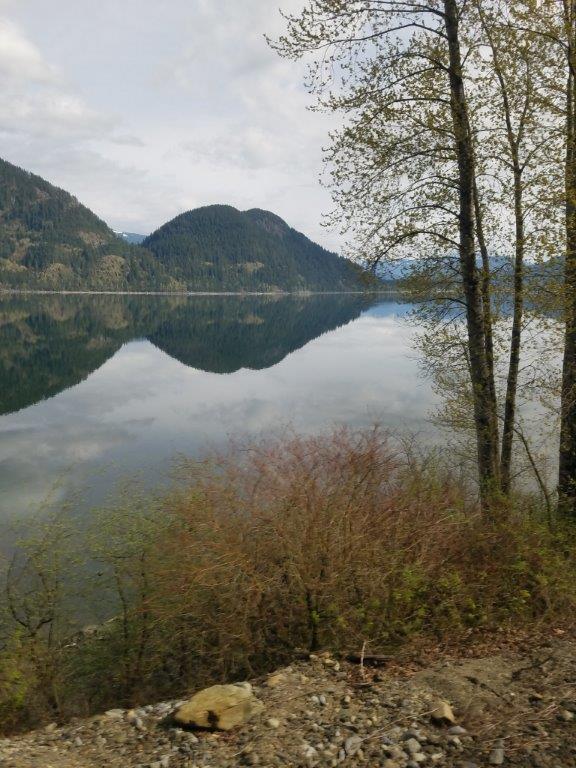 It seemed like before we knew it, we were getting snacks, wine, and cocktails!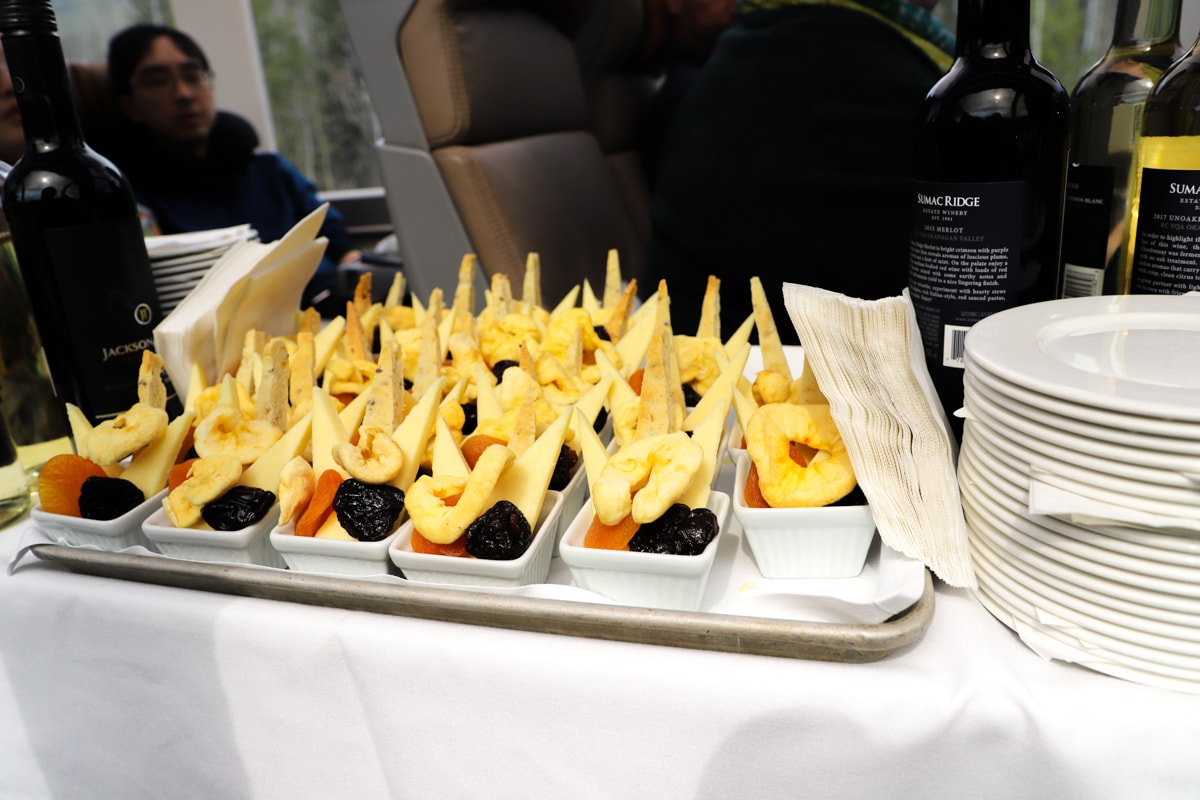 You'll know it's time for lunch when you start to notice the delicious aromas floating upstairs.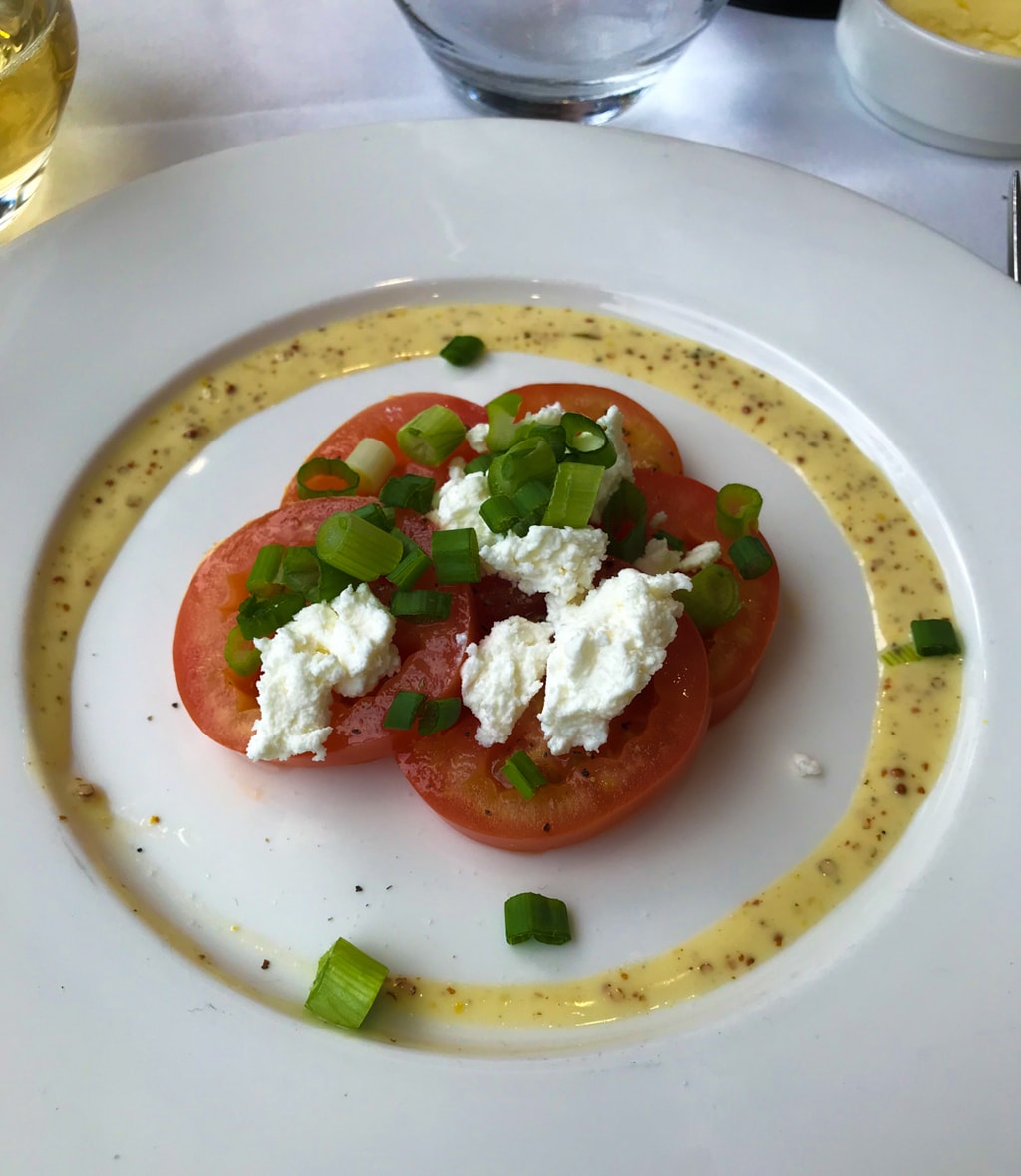 I had remembered the Beef Short Ribs were so wonderful. Braised in Okanagan Valley Merlot, they were so tender and paired perfectly with a local BC wine.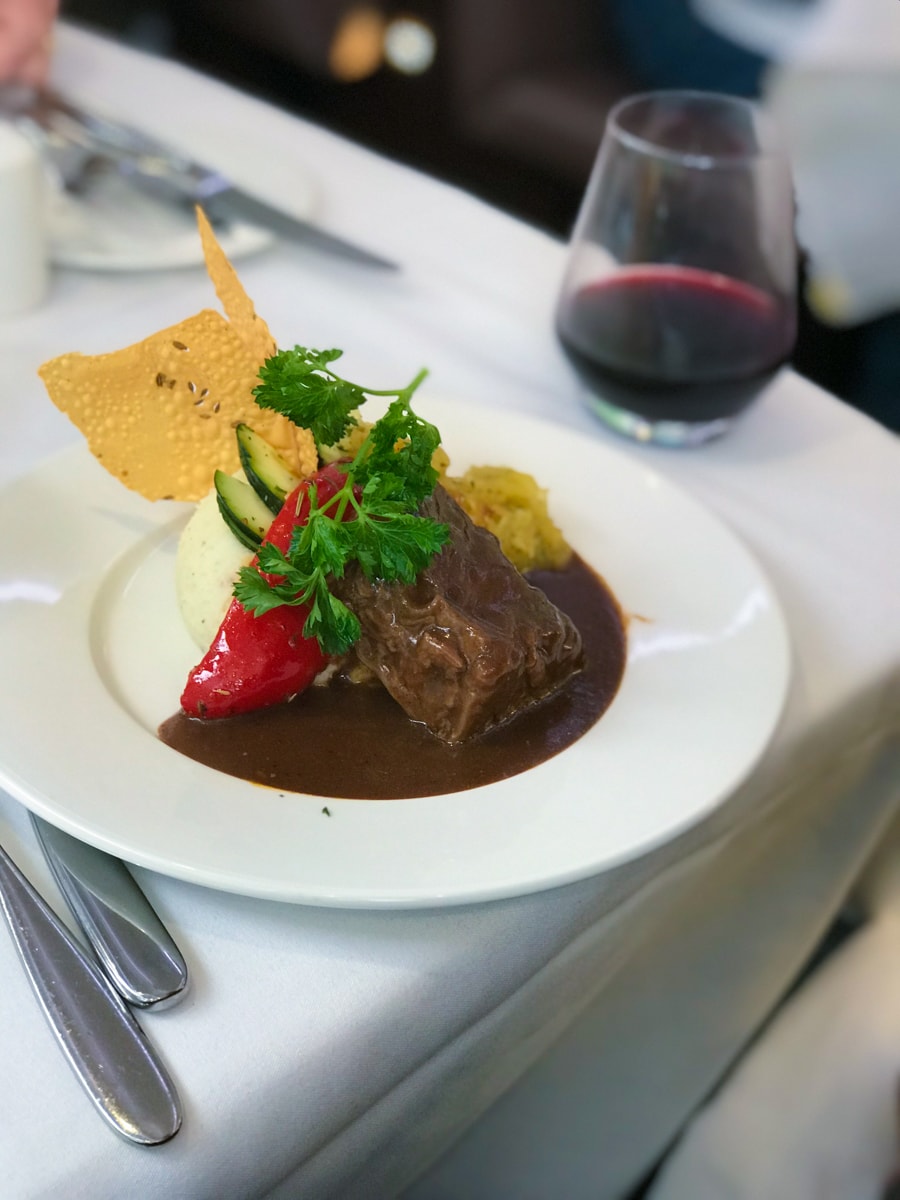 The tuna was wonderful, too, served rare if you'd like. The best way to experience it all is to share so you can try it all!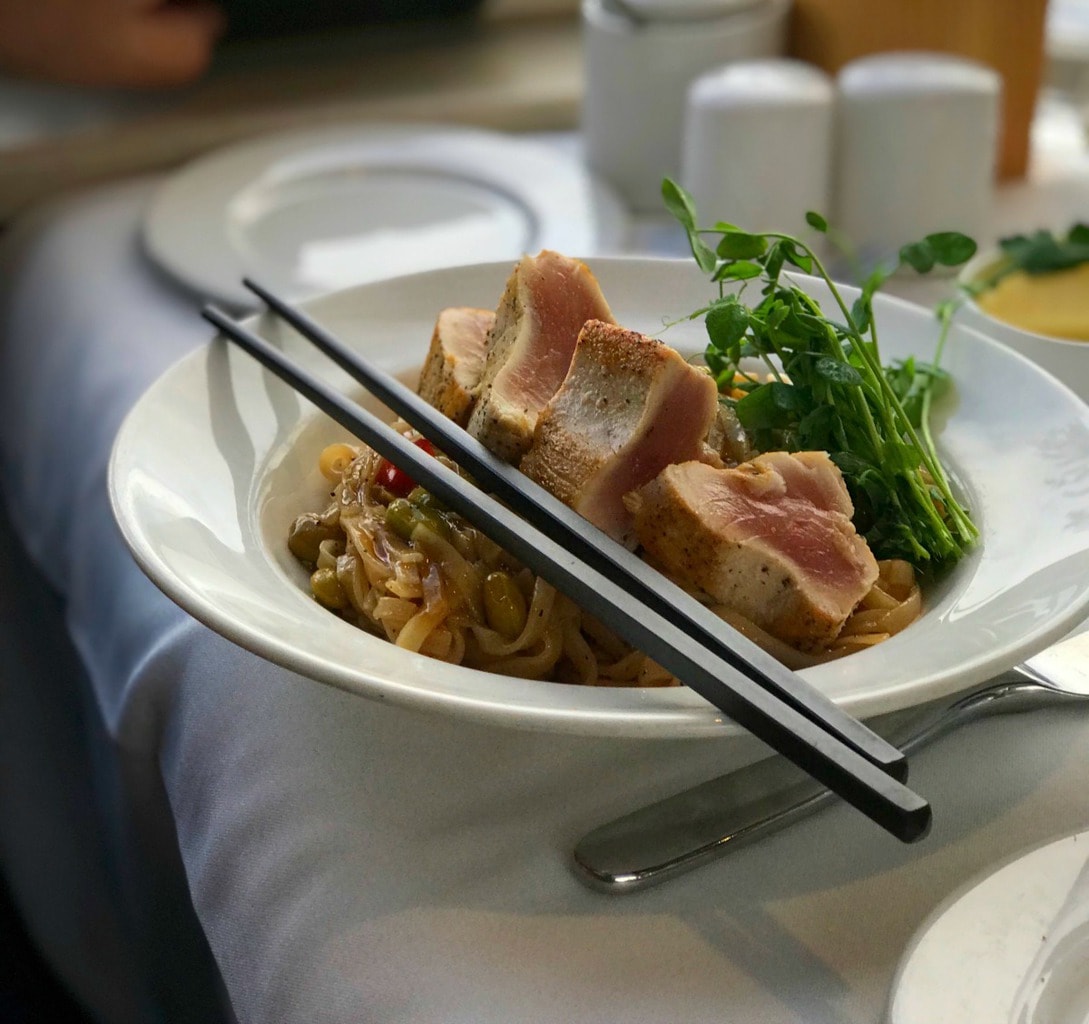 Though dessert is served after lunch, be sure to also save room for the freshly baked famous Rocky Mountaineer Oatmeal Raisin cookies with honey served later with your choice of beverage. Take two. You'll be glad you did!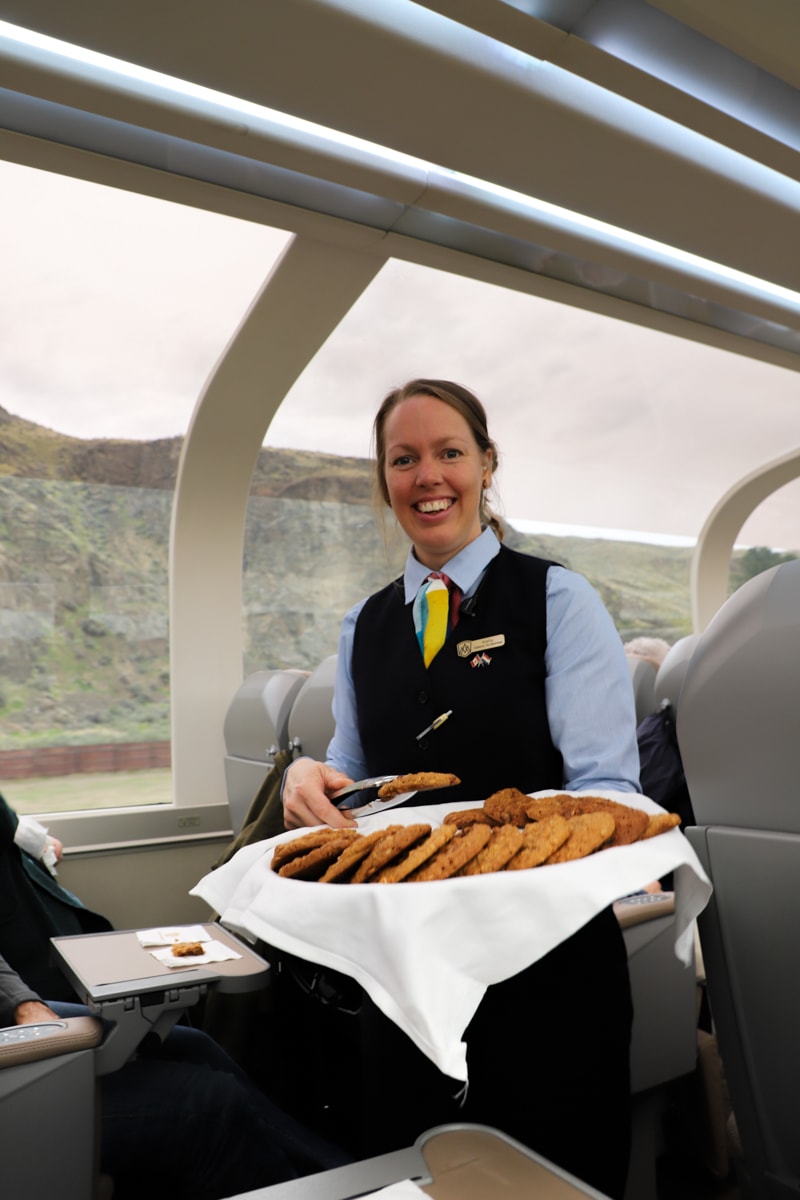 The Views from the Rocky Mountaineer Train
I almost hate to tell you this because I feel like it's a spoiler, but the views on the first day, though spectacular, are just a glimpse compared to the views on the second day.
Take a look at some of the views from the first day as we rolled along at a leisurely pace.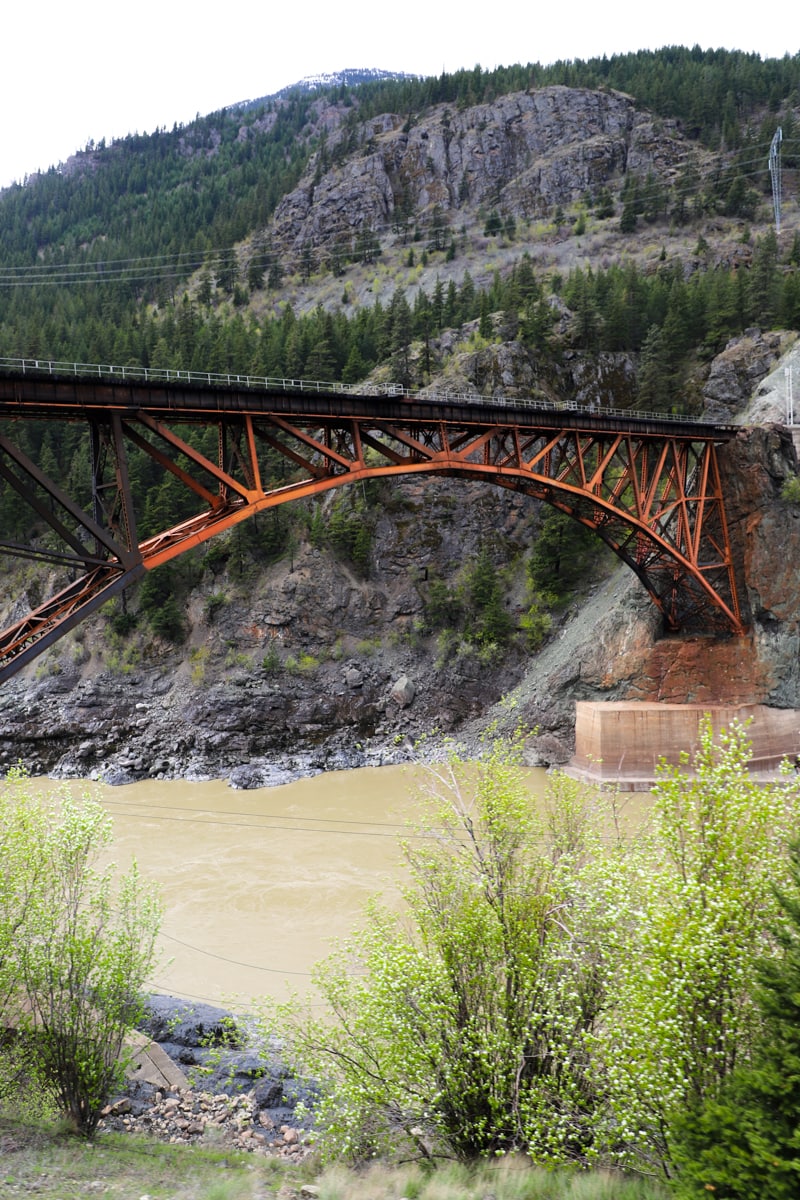 Some of the sights you'll see on this route are Hell's Gate, Pyramid Falls, and Mount Robson, the highest peak in the Canadian Rockies.
The scenery changes so much as you continue along, getting more and more beautiful.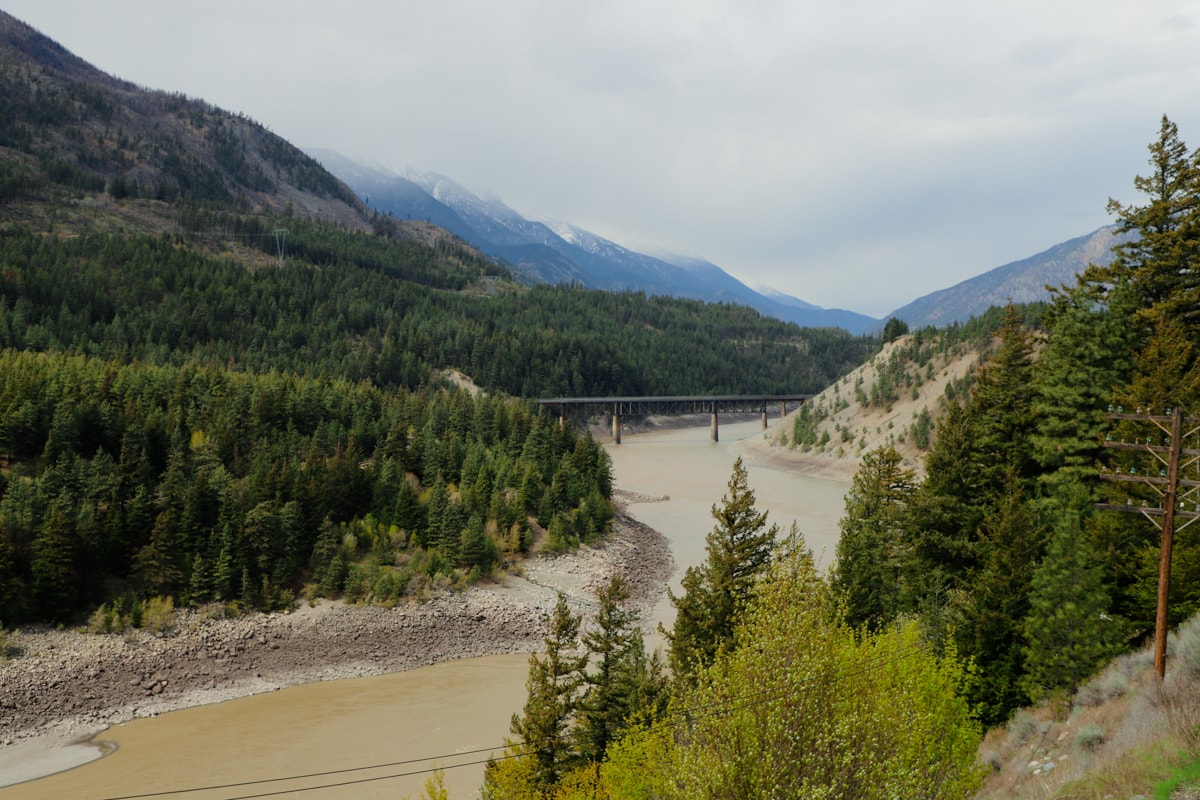 I just could not stop taking photos. I took at least 1,000!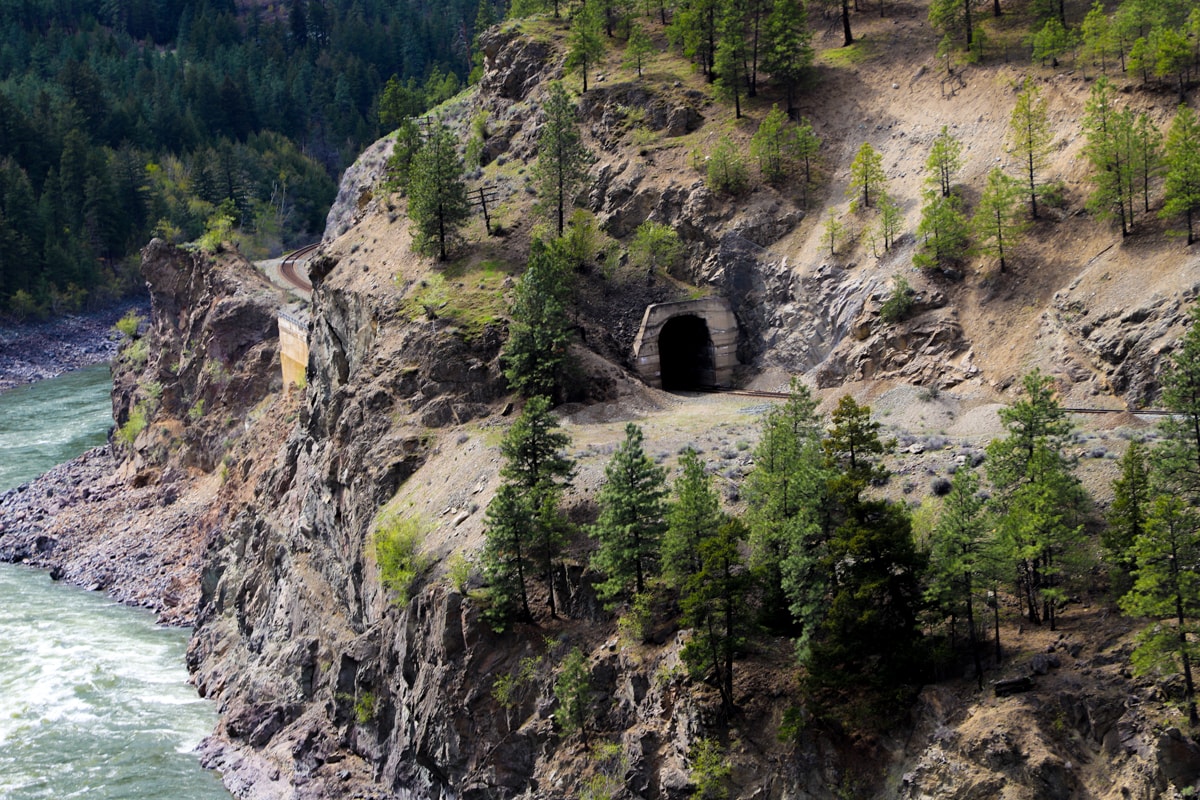 Views of the Thompson River are stunning.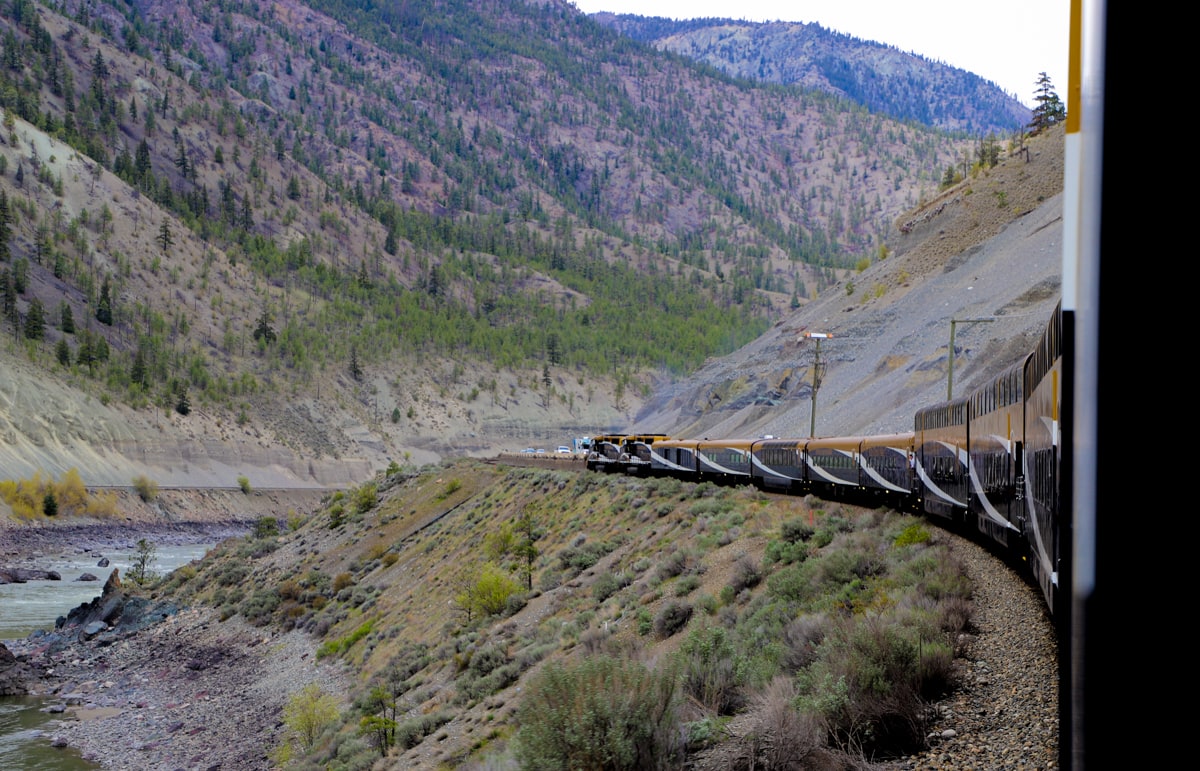 And one of my favorites!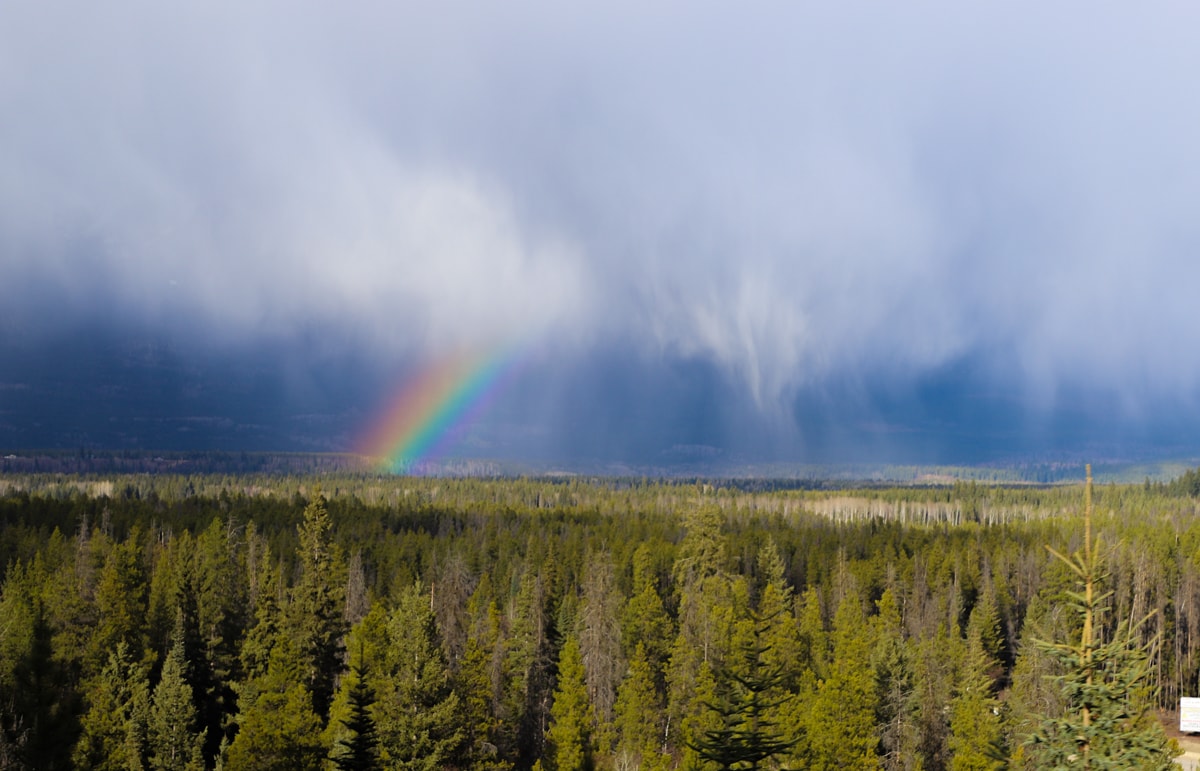 On the second day of the trip, we saw more snow covered mountains.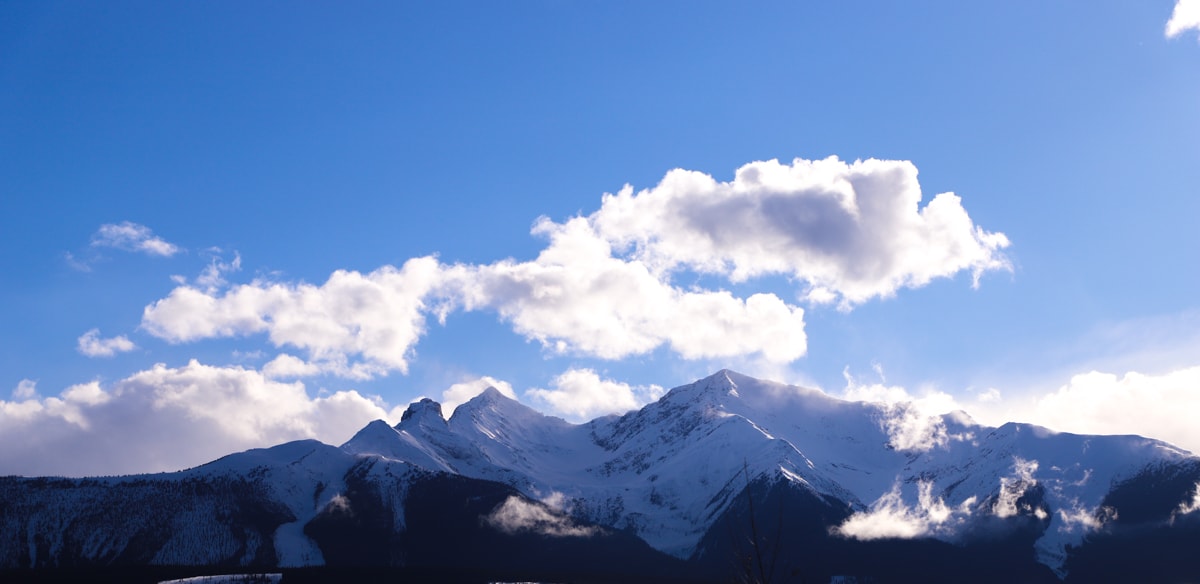 It just got more and more beautiful the closer we got to Jasper. The Rocky Mountaineer team announces wildlife sighting a long the way.
We've seen bald eagles, deer, elk, and even bear! The panoramic views are just breathtaking.
The views are just mesmerizing!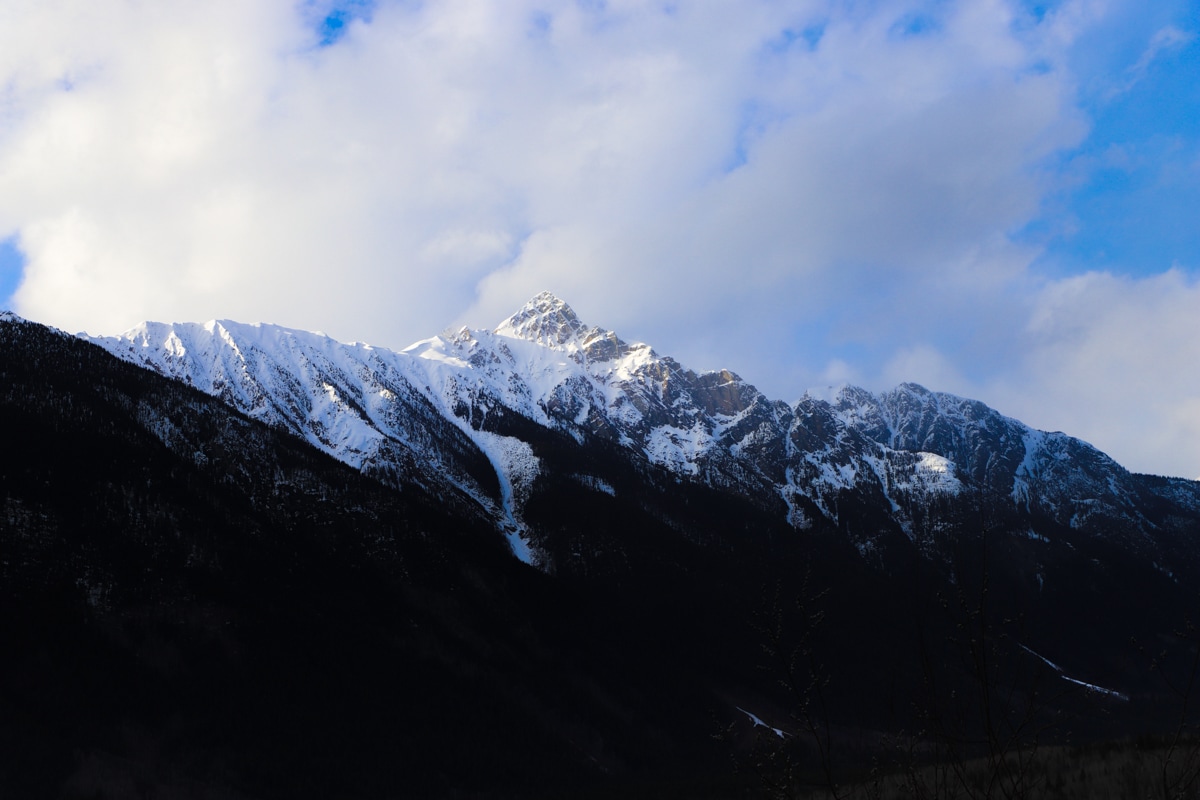 It's a good thing film is digital now because I would have gone through rolls of film!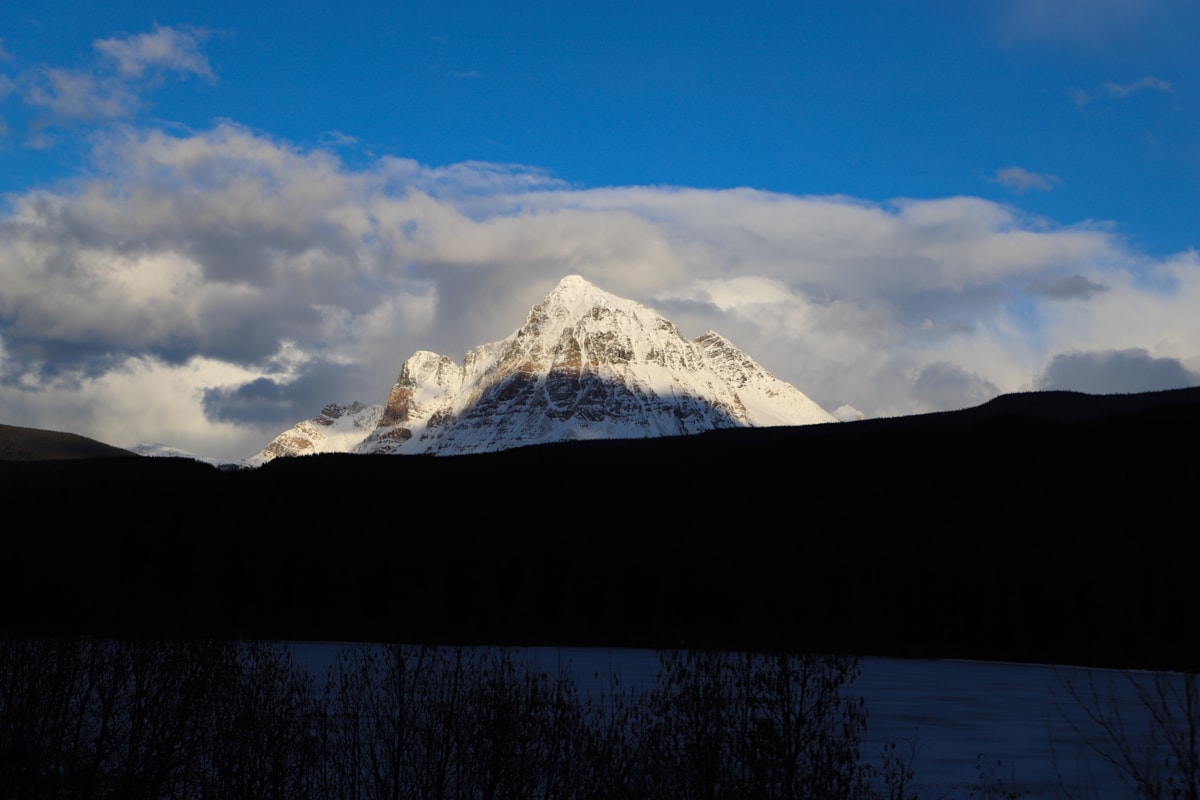 Gorgeous, right? And being able to see this as you're being treated to a luxury experience, rolling along on a train? It's truly incredible.
This is a trip I wish everyone could experience at least once.
Rocky Mountaineer Train Staff
Speaking of being pampered, one of the things that truly impressed me last year on my first Rocky Mountaineer train journey was the staff.
They are sincerely so happy to be part of the Rocky Mountaineer family and feel it's a privilege to serve their guests.
Take a couple of minutes to view a video or two on their site and you'll see why I just love the staff on the train.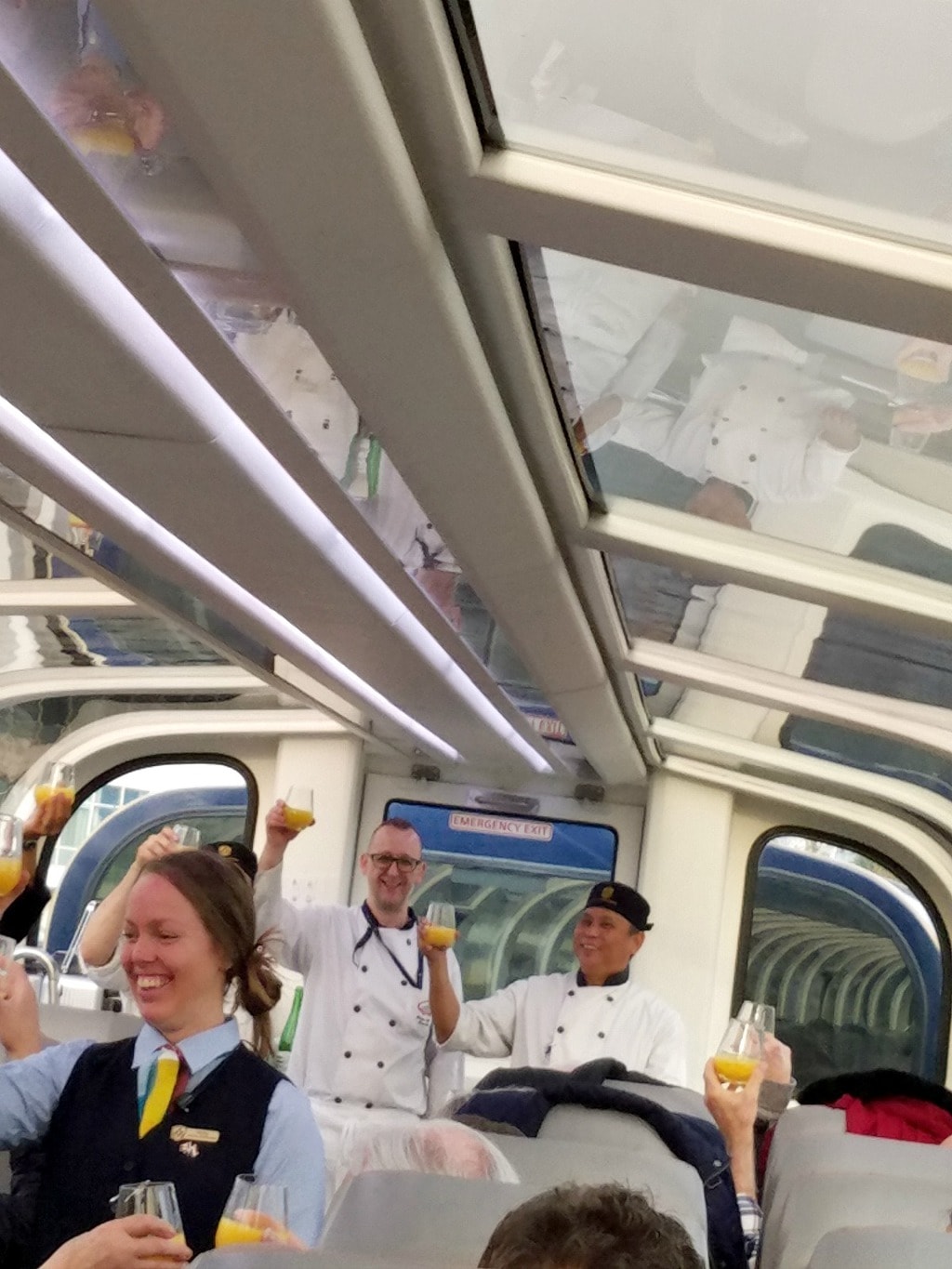 In fact, we had a slight delay due to freight train traffic ahead of us, and the team went into overdrive. If you're wondering what happens when there's a delay, take a look. (No, you can't ask for a delay, though I know you'll be wishing for one!)
So. Much. Fun. Now I want to go again! After our two days on the train, we headed to Jasper to spend a couple of days at the Fairmont Jasper Park Lodge.
We were even able to tour the Icefields Parkway and see our first glacier. You can take a day tour to see this UNESCO Heritage Site. Rocky Mountaineer can help you with this part of your trip, too.
We ended our trip with a stay in Banff National Park at the Moose Hotel, which is where to stay in Banff for a 4-star yet casual experience.
Another option is to stay at the Fairmont Banff Springs, Canada's Castle in the Rockies, and the most luxurious hotel located in Banff National Park.
You can request a free brochure to see more about what the different trips entail. They are now booking for 2021.
I can promise you it will be a trip you will never forget. Please ask if you have any questions at all. I would love to help you plan your Rocky Mountaineer Train journey!
And if you are looking for a train trip in the United States, the brand new route, Rocky Mountaineer Rockies to the Red Rocks, begins in August 2021! Talk about incredible scenery!
This will be one of the most scenic train trips in the US, seeing Salt Lake City, Moab, Glenwood Springs, and ending in Denver. I can't wait to see these new destinations!
Guests have several options for trips, with at least one overnight stay for two-day rail journeys, allowing time to explore the area, and that same attentive service from the Rocky Mountaineer staff.
Visit the Rocky Mountaineer website to explore the Rockies to the Red Rocks route. You can even chat with one of the team members who will be happy to build you one of their custom vacation packages.
Do you sleep on Rocky Mountaineer?
You spend the daylight hours on the train and spend nights in upscale hotels.
Is Rocky Mountaineer GolfLeaf worth it?
When you are taking a bucket list trip like this, I think it is worth it to splurge on GoldLeaf service. However, SilverLeaf service is lovely, too.
Are meals included on Rocky Mountaineer?
Yes, meals are included. GolfLeaf meals take place in the dining car and SilverLeaf meals are at your seat. Either way, you'll be seated near a window so you don't miss any of the sights.