Quebec food was all I'd heard it was and more, and I can't wait to go back to Canada!
Before my first trip to the Great White North, the closest I'd been to Canadian food was at Epcot in Walt Disney World! In fact, Canada is first on my list of Best Food in Epcot!
I was invited to visit Québec for the first time in 2015. In fact, it was the first time I had been to Canada at all, and what an experience!
There was a special event at Notre Dame de Québec as 2015 was an Extraordinary Jubilee Year of Mercy. Quebec's Holy Door was opened for those who wish to pass through.
The history of the Holy Door is fascinating, and being there for the opening was so special.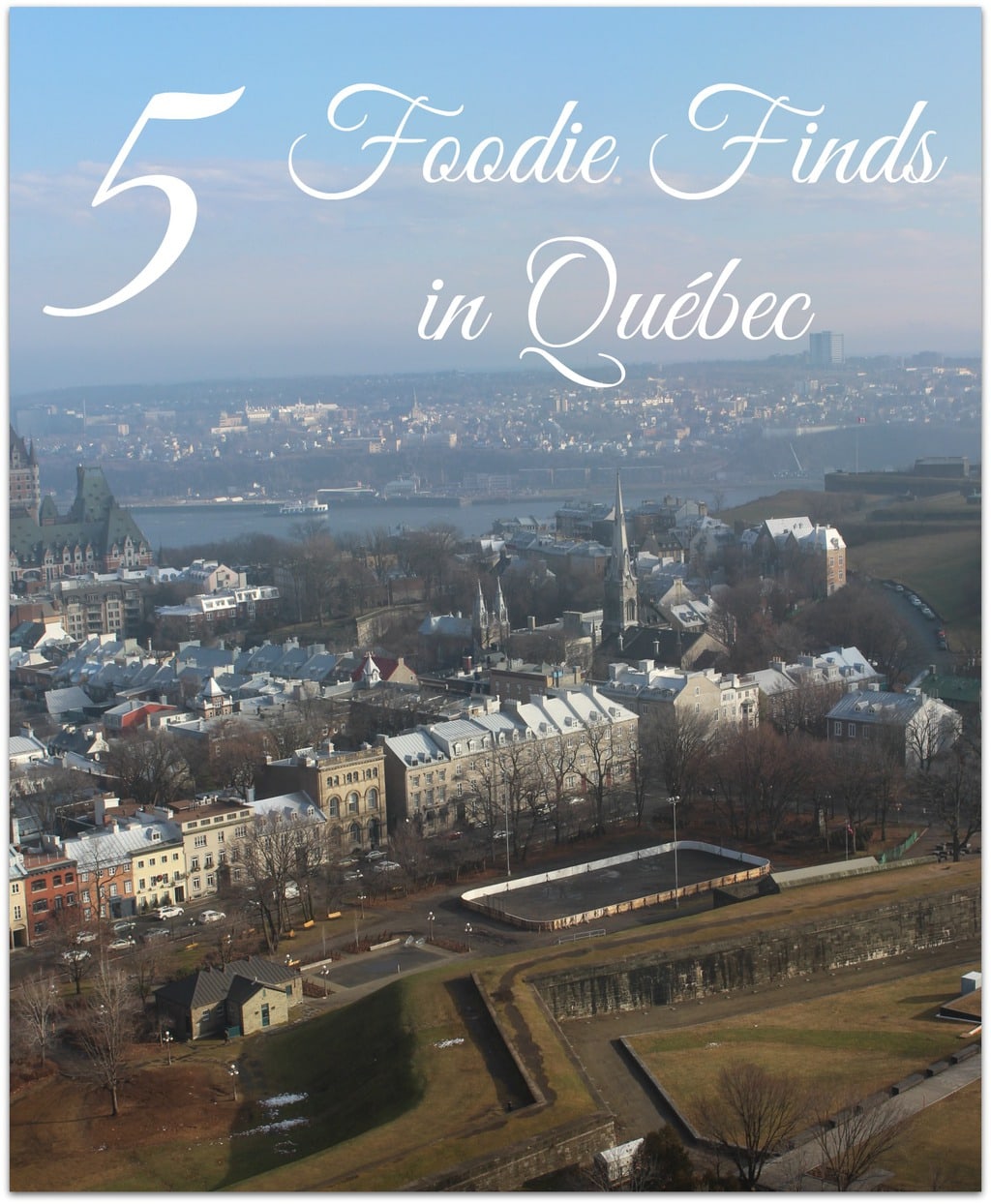 While in Quebec, I was able to visit a few fabulous restaurants.
If you know me at all, you know I kind of judge a destination by the food. Not just the food, but the food definitely comes into play.
I had heard from so many people that I must try the poutine, and I did, but not until I was at the airport for my connecting flight in Montréal to go home!
Though poutine is all everyone said it was and more, I found amazing Quebec food in a few other places that blew my mind. And believe it or not, I found the first fabulous dish in a monastery.
Monastère des Augustines
The first night of my trip to Quebec was spent with The Monastère des Augustines.
We were told a little about our overnight stay at The Moastère but really did not know what to expect. Suffice it to say this was my first time staying in a monastery.
I was intrigued to hear we would attend a healthy silent breakfast in the morning to honor the tradition of the nuns.
What I found was one of the best things I've ever eaten for breakfast.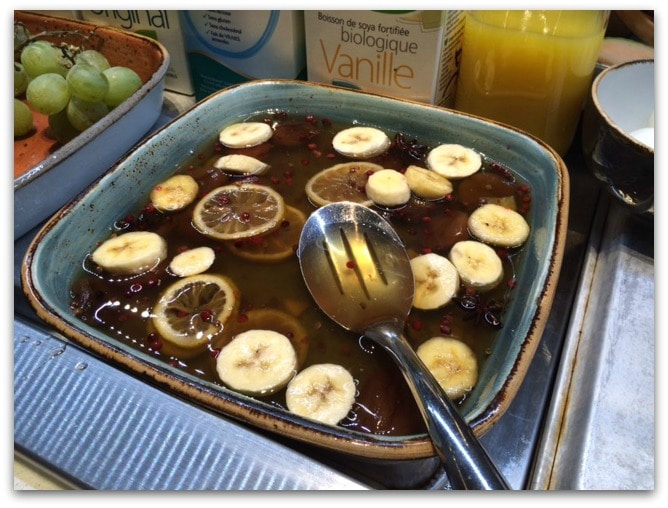 I know! It looks so simple! Bananas, orange slices, and some kind of juice with cloves, I think?
When I find out the recipe, I will share it! It was pure bliss. Then again, perhaps the memory is so sweet, I will not try to recreate it. So wonderful. All I knew is that I was already in love with Quebec food!
Hilton Quebec
The next day our group was hosted at the lovely L23 Restuarant at the Hilton Québec. The view of Québec City from the 23rd floor of this hotel is spectacular.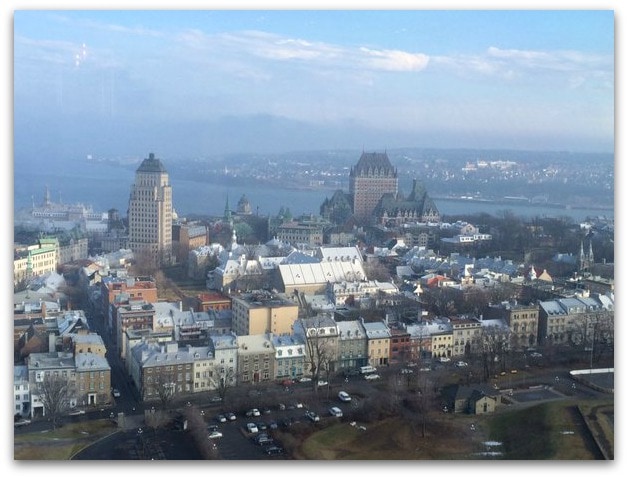 Take a moment to look around using the telescope, too. So gorgeous.
A spectacular buffet is served for lunch at the Hilton Québec. Our hosts knew this was a wonderful way to get a taste of many different kinds of Quebec food.
There was a huge selection of meats, seafood, salads, veggies, and of course, dessert.
My favorite item at L23 was the Tartare De Salmon on the buffet. Yes, those are pomegranate seeds sprinkled over the salmon. Who knew pomegranate seeds paired well with salmon? Unbelievably delicious!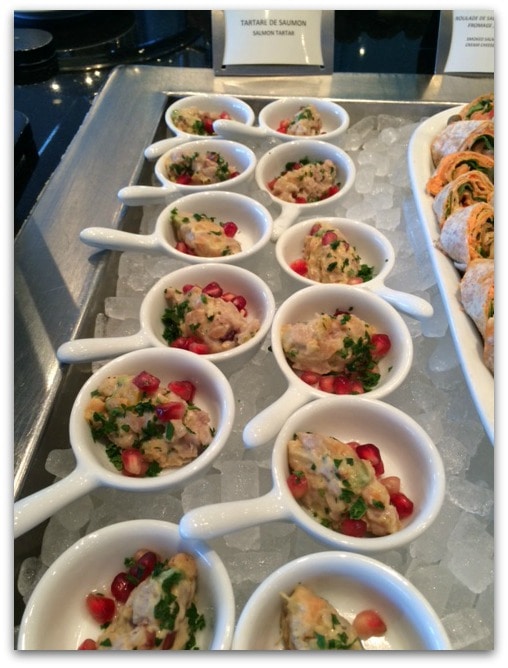 Café-boulangerie Paillard
I had heard from friends that being in Québec is the closest thing to being in France, and it's true, especially at this wonderful little cafe in downtown Québec.
If I haven't shared before, bread is my weakness. But not just any bread. It has to be special, like a crunchy baguette or a buttery croissant.
I had a curry chicken salad sandwich at Café-boulangerie Paillard, and the croissant was the absolute best I've ever tasted. So flaky and light.
Often we are more concerned with the insides of the sandwich. Though the chicken salad was wonderful, the croissant was the star.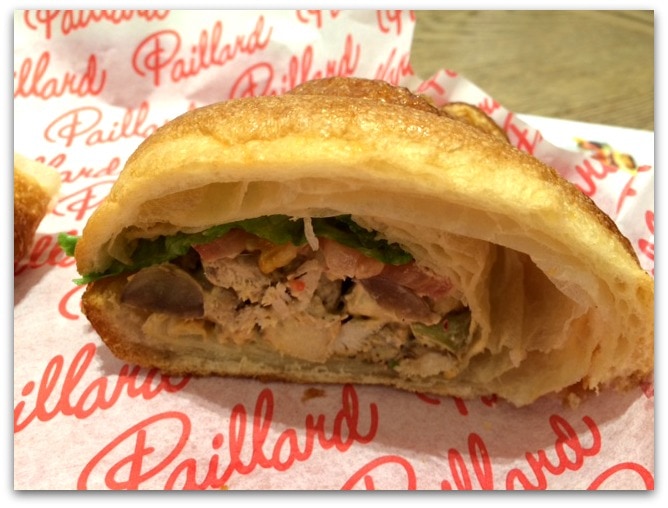 Though the latte was a nice accompaniment...
I really did feel like I was in France at this lovely restaurant in Quebec.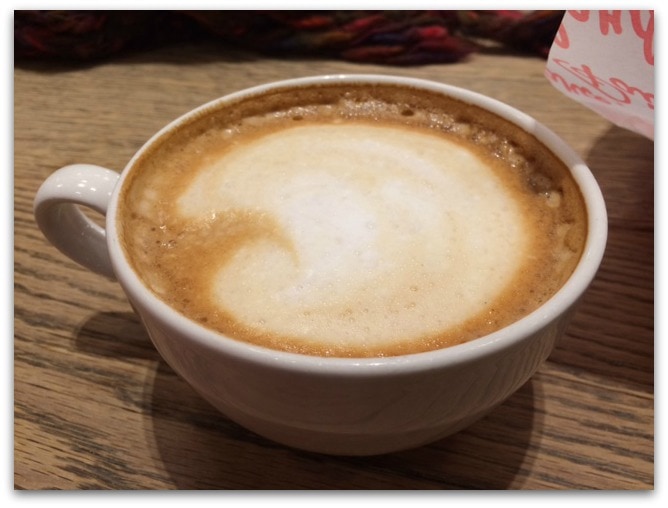 Échaudé
Pork cheeks is not something I would typically order, but my husband ordered it a few weeks before this trip and I timidly took a bite. So good!
One look at the menu at Échaudé, and I knew what I would be ordering. It was fantastic. I tried and tried for better lighting, but trust me on how delicious this was!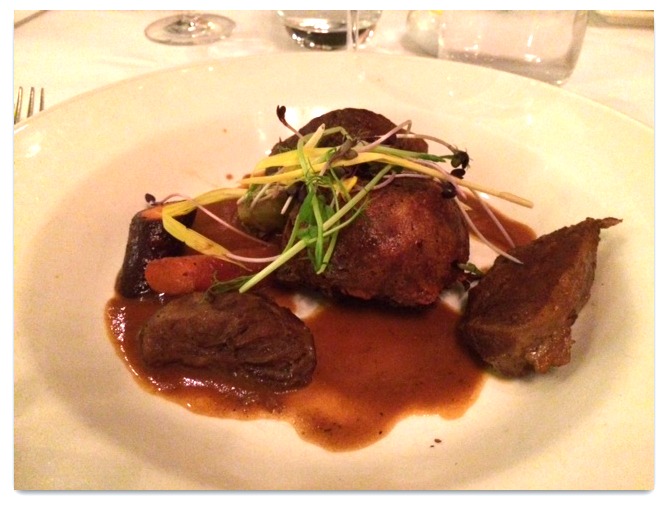 Chez Boulay
Our last night in Québec we ate at Chez Boulay-bistro boreal in the Hôtel Manoir Victoria.
Since I was on a roll with ordering something different, I decided to trust our host's opinion and ordered the confit goose and duck parmentier with scalloped parsnips, sautéed green cabbage, herb pesto with Labrador tea, and cooking jus.
It was one of the best things I have ever eaten, anywhere. Tender pieces of goose and duck, not at all gamey, and the herb pesto with Labrador tea...who thinks of this? I can't wait to visit again!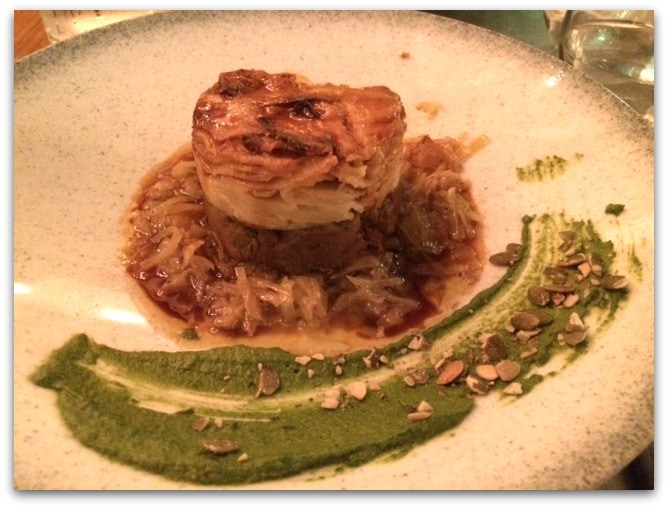 Poutine
And finally, not one of the foodie finds in Quebec (as I ate it in Montréal), but one of the most amazing, and fattening dishes on the planet...drum roll please...POUTINE. And though I did not eat it in Québec, Poutine was born in Québec in the 1950s.
Basically, this dish is simply french fries, meat and/or gravy, and cheese curds. OH-My-Word.
Is it no surprise I gained weight on this trip? I will happily say I did not finish the poutine, though I did finish the local beer.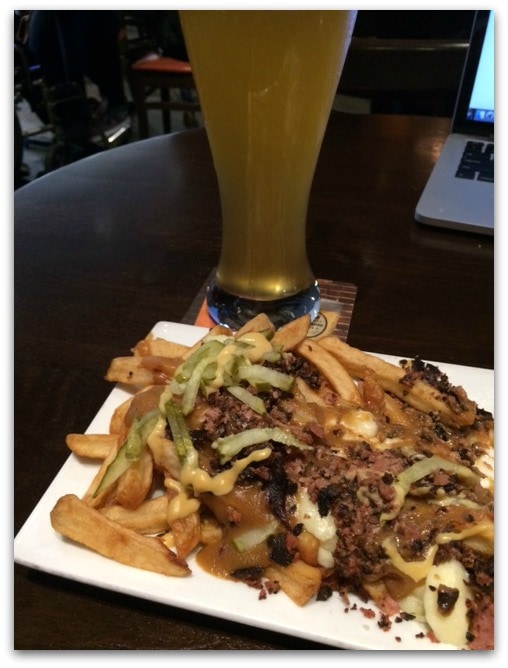 I've spoken to so may people who love Québec, but no one told me about the food scene there. With only a few days to experience it, I can only share a smattering. But rest assured, Québec is for foodies!
I'd love to hear about your experience in beautiful Quebec! Share in the comments!