So many people forget to add condiments to a charcuterie board, but they really make it so much more delicious and special!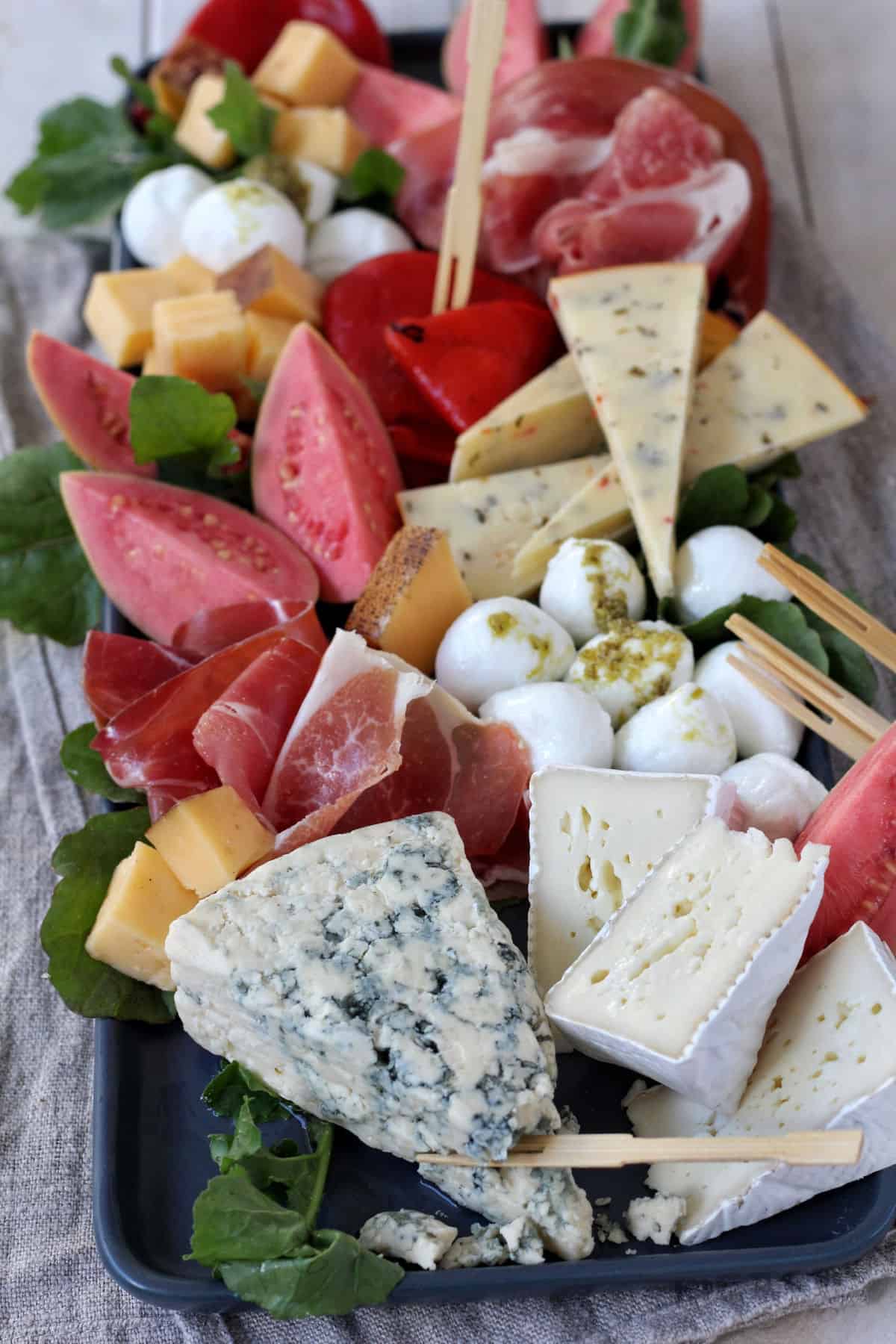 Charcuterie boards have been all the rage in recent years, and with good reason. They offer an easy, delicious, and visually appealing way to enjoy a variety of meats, cheeses, fruits, and more.
Knowing how to style as well as how to cut cheese for your charcuterie board is essential.
But no classic charcuterie board is complete without a selection of condiments. Condiments can take a simple charcuterie board from good to great by adding extra flavor, different textures, and variety.
For a fun hand-held appetizer, you can make these amazing DIY charcuterie cones!
What is Charcuterie?
The French word charcuterie actually refers to meats arranged on a platter. In fact, when I spent 3 days in Rome, I found many places had separate menus for meats and cheeses.
It's only in recent years that charcuterie has come to mean beautiful wood boards piled high with gourmet aged meats, a variety of cheeses, fresh fruit, condiments, along with a sliced baguette.
In reality, a cheese plate is not charcuterie, but let's face it, it's a fun word to say!
Charcuterie has become so popular that some restaurants have entire sections of their menu dedicated to it. In fact, when I visted Hotel Xcaret in Riviera Maya, their brunch features an entire room of charcuterie!
Serving charcuterie is one of the easiest ways to serve appetizers, and it pairs perfectly with red wine. My husband and I often make a charcuterie board for our main course for dinner.
Our Favorite Condiments for Charcuterie
Fig Spread
Our favorite addition to a meat and cheese charcuterie board is fig spread or jam.
We pick up a jar of this jam at least once a month because we use it so much. Spread this on a slice of toasted baguette, top it with prosciutto and Gouda cheese, and it's heaven!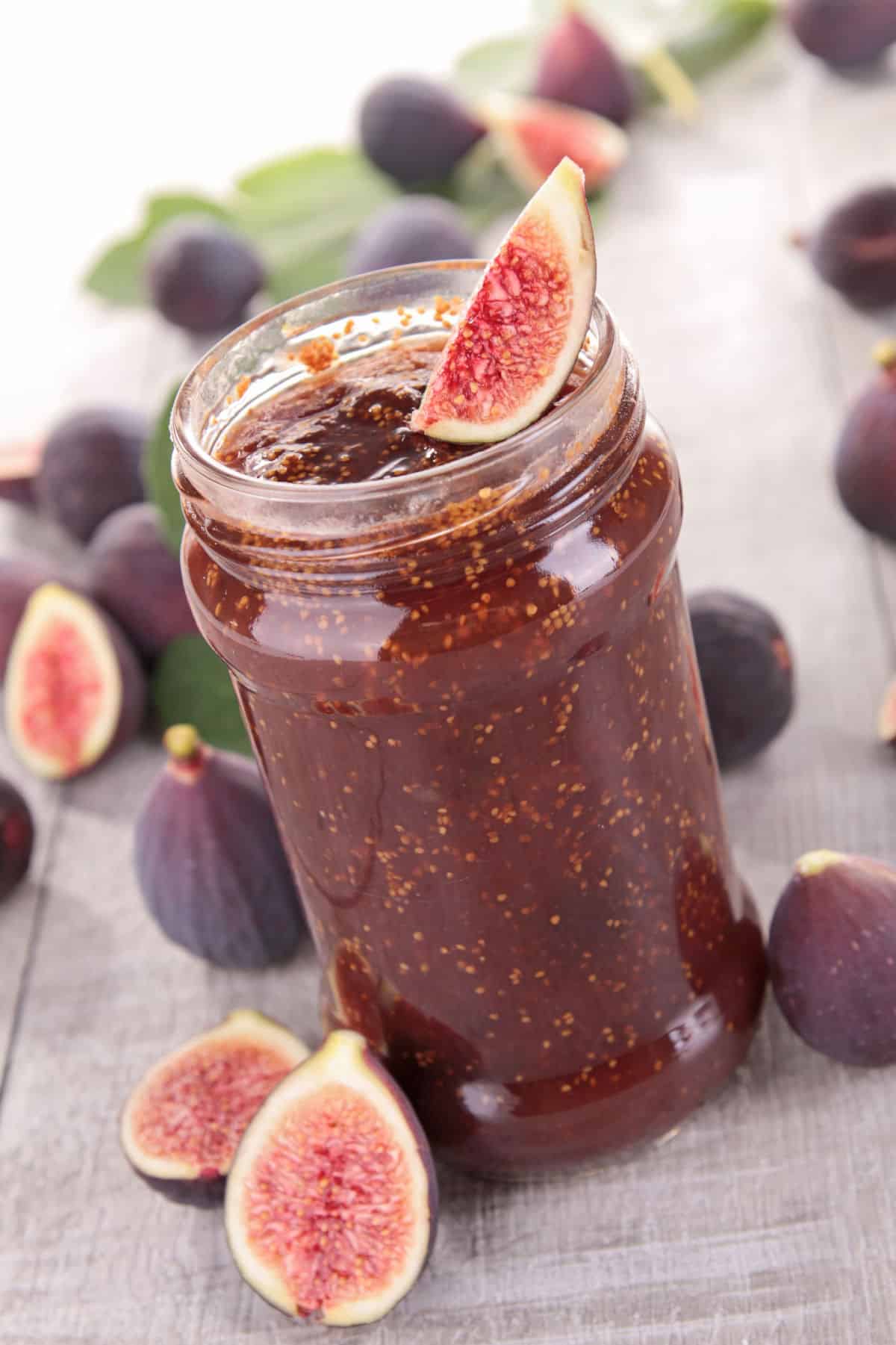 Fig Spread goes well with both hard cheeses and soft cheeses. Date spread is very similar, also delicious, and easy to make.
Another wonderful (and surprising!) pairing with cheese is carrot chutney! Who knew?!
I bought small jars with spoons for serving jams and spreads like this black olive tapenade after seeing them in Rome. How's that for a charcuterie board?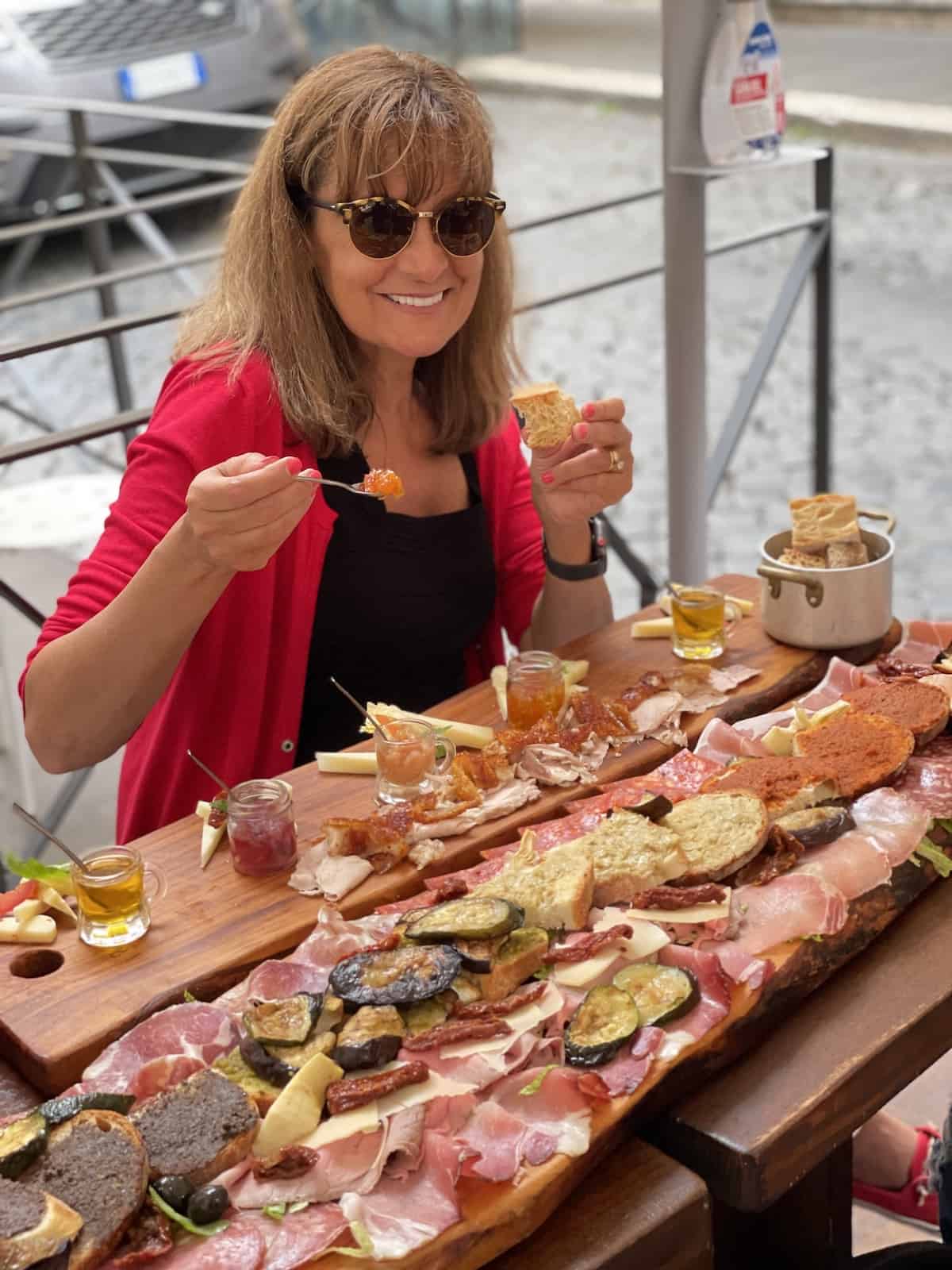 The jars are so easy to store in the fridge with leftovers to pull out again the next day. Small bowls work for the condments, too.
Pepper Jelly
Red or green pepper jelly is lovely for a cheese board. It pairs incredibly well with Brie and Gouda. It also adds nice color to the board, especially over the holidays.
Chutney
Chutney originated in Indian cuisine and has recently become a popular addition to charcuterie boards. It's a flavorful blend of fruit, spices, and vinegar, and can come in a variety of flavors such as mango, apple cranberry, or a classic combination like this Old Farmhouse.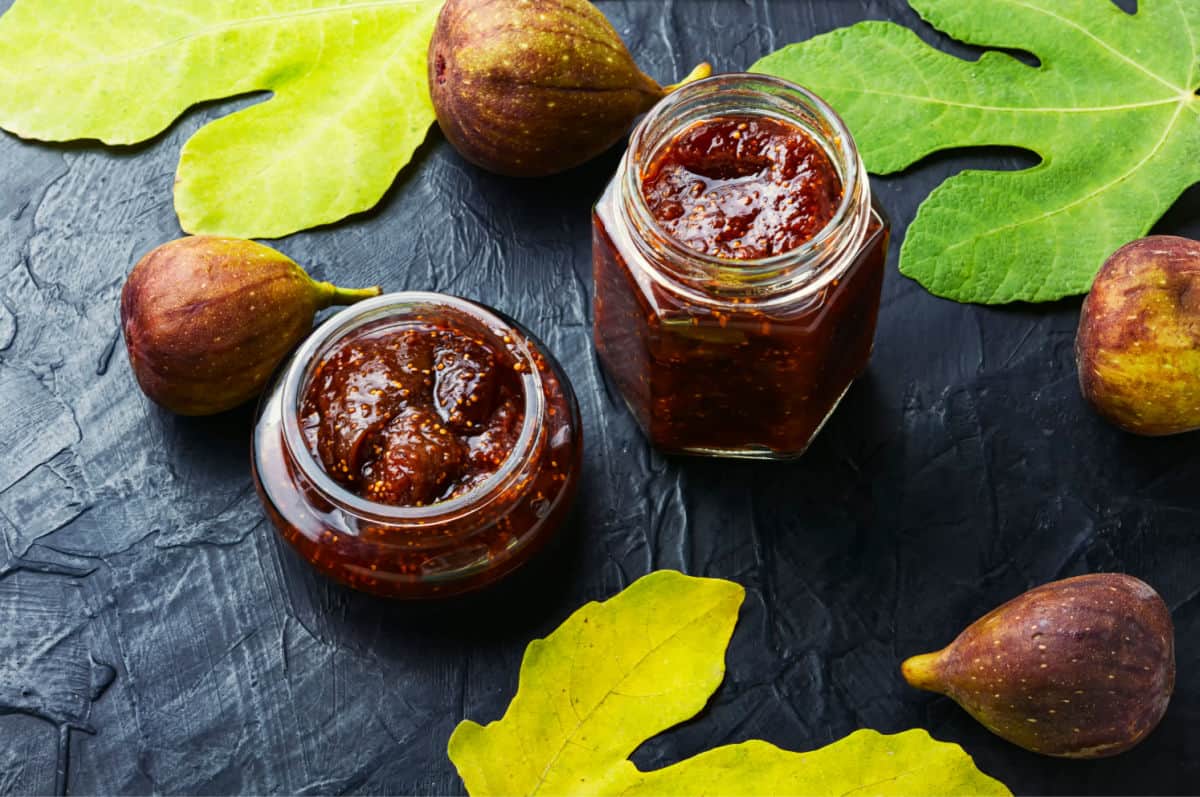 Fruit Jelly or Jams
Adding a fruity jam or jelly to your charcuterie board can provide a sweet contrast to salty and savory meats and mild or sharp cheeses.
We love Apricot Jam which pairs well with Brie, sharp cheddar, and blue cheese, but any kind of jam will do!
Apple Jelly is delicious with goat cheese and fontina. Try this Jalapeno variety if you like a little spice.
Raspberry or Strawberry Jam is wonderful with different types of cheese like cream cheese, Havarti, or goat cheese.
Though we prefer sweet jams, savory jams are delicious, too. Caramelized onion jam is a delicious accompaniment to cheese or deli meats.
Honey
Honey is a versatile condiment that pairs really well with a variety of meats and cheeses. A drizzle of honey can add a touch of sweetness to your charcuterie board, and it's also a great way to balance out spicier meats like salami.
We like serving a slice of honey comb on our boards. It gives it an elegant look and tastes fantastic.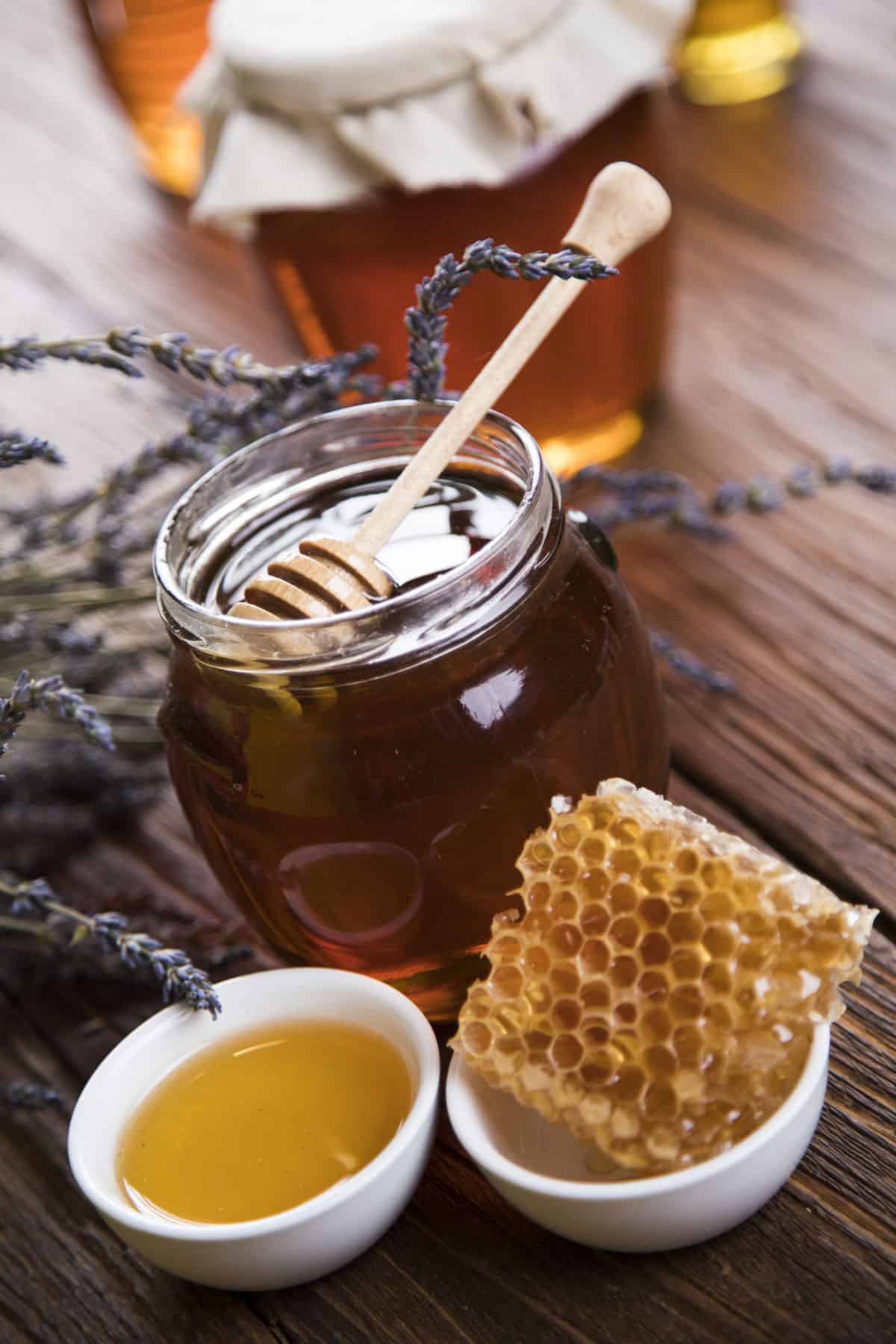 Dried Fruits
Don't leave out dried fruits when making your board. Dried apricots, raisins, mango, and cherries are all good choices.
Mustard
Mustard is a classic condiment that pairs perfectly with charcuterie. Whether you prefer spicy, sweet, whole grain, or tangy, there's a mustard out there for you! Dijon mustard is a popular choice, but whole grain or honey mustard can also add a unique twist to your charcuterie board.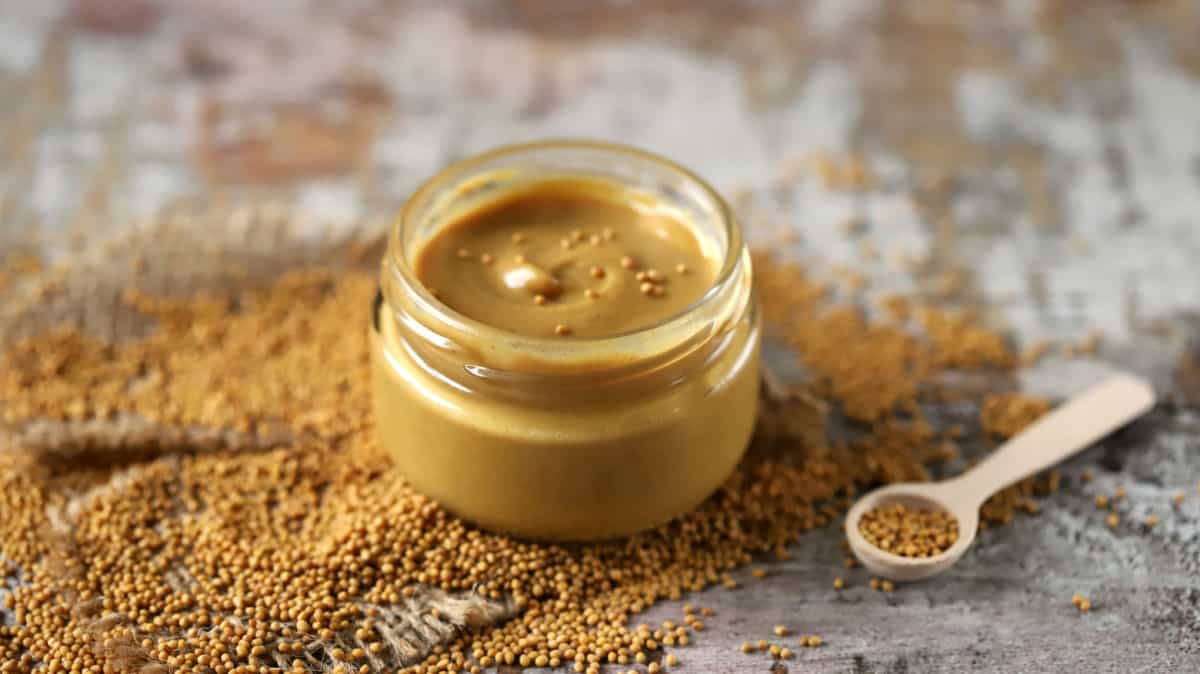 Pickles
Pickles add a nice crunch and tang to your charcuterie board. Cornichons, a type of small pickled cucumber, is a classic choice. Pickled onions, roasted red peppers, beets, or even pickled carrots would also be good and bring a fun twist.
Olives
Olives are so good with cheeses and meats and adding them to a charcuterie board will not only add flavor but also color. Try Kalamata olives with aged cheddar or feta.
We also love Castelvetrano olives as they are mild and buttery. Serve them with brie or goat cheese.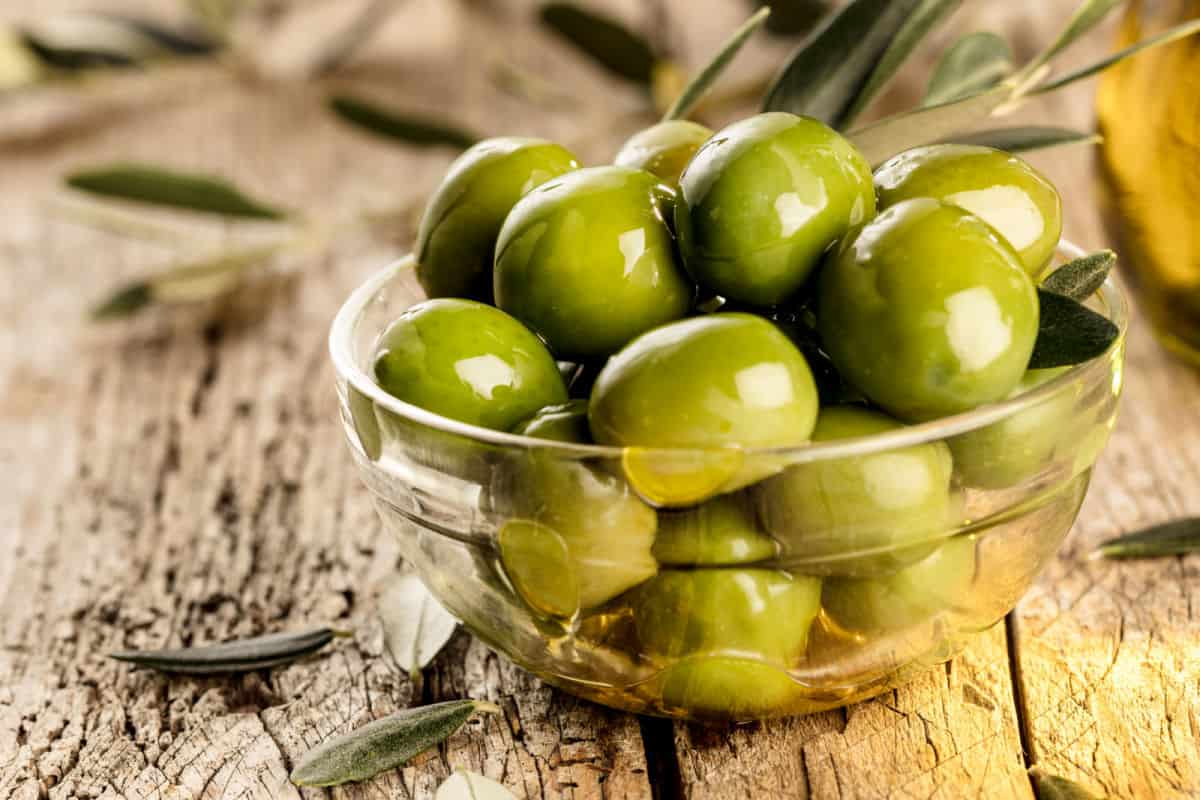 Note: Be sure to pick up the pitted variety of olives as they are easier to eat.
Nuts
We always have nuts on our boards. Our most recent favorite is Marcona Almonds. They have the perfect crunch and go with everything. We also like Macadamia nuts, walnuts, and even pistachios.
Dips
There are so many perfect dips that go well on a charcuterie board. In fact, you can pair things like stuffed grape leaves, Greek olives, and feta cheese for a Greek charcuterie board.
For a Middle Eastern board, serve this hummus, red pepper dip, Baba Ghanoush or other savory dip, along with toasted pita bread.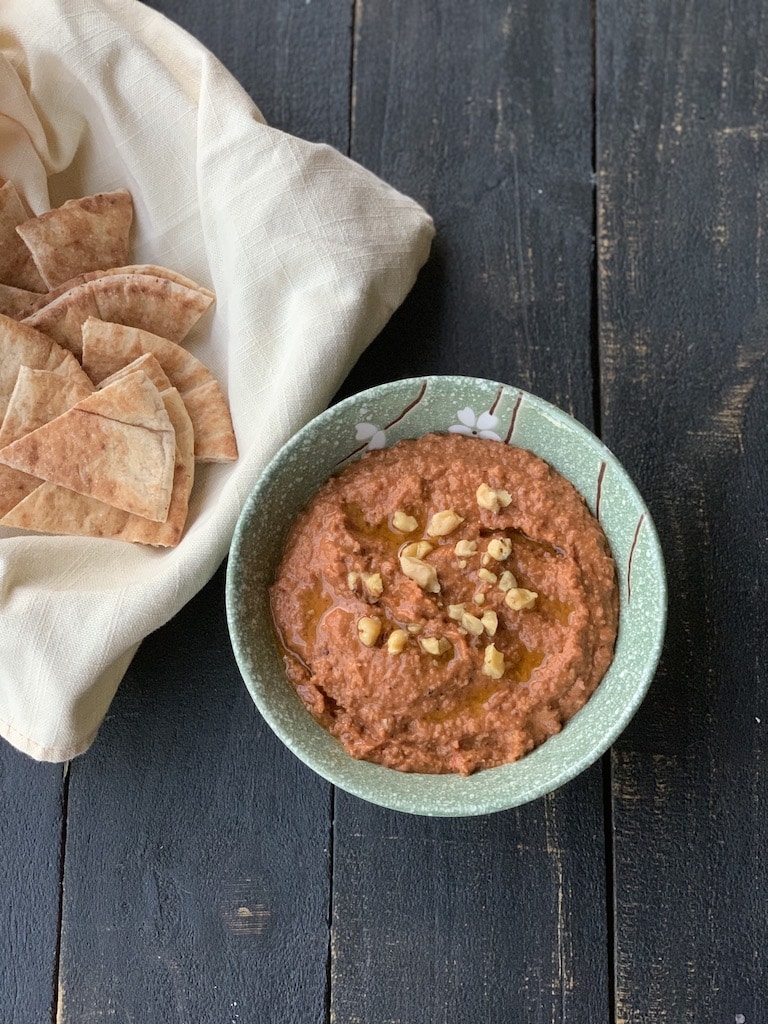 Fresh mozzarella, sun dried tomatoes, proscuitto, and these little stromboli crescents would make a wonderful Italian board.
Frequently Asked Questions
How do you store charcuterie board ingredients?
Store in a plastic container with compartments to be used again within a day or so. You can also use Ziploc baggies.
Do I need cheese on my charcuterie board?
You don't need cheese, so if you or your guests have lactose issues, just leave it off. Fill in the gap with something like fresh veggies or sliced apple or pear.
How do you pronounce the word charcuterie?
The pronunciation is actually simple. It sounds like shar-coo-tah-ree, typically with the stress on the coo and the ree.
Tips for Making the Best Charcuterie Board
The first thing I do after deciding what will go on the board is plan out where each of the food items will go. Depending on the size of your board, this can get complicated.
I have even written out notes when making a simple charcuterie board, so I could remember where I wanted everything once I was ready to serve at dinner parties.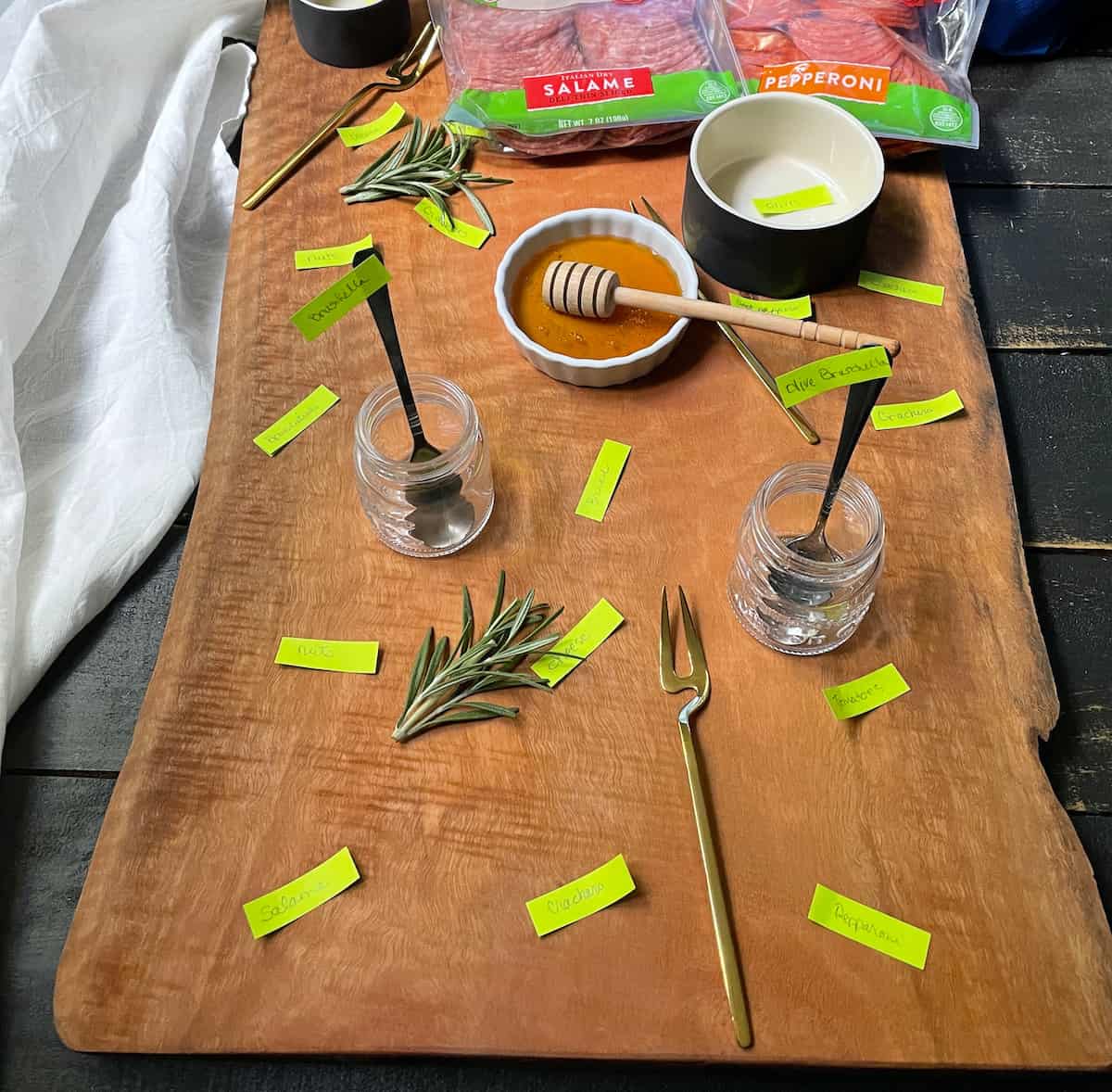 I have three wood boards now and would love a few more. They make great gifts for birthdays or holidays. I have a small round board but love this large one.
We gave this elaborate one to my husband's brother for Christmas and they bought it for all their adult kids. It's fabulous!
You might also want to have accessories or cheese knives for serving.
It's easy to see why condiments are an important component of any good charcuterie board. They add extra flavor, texture, and variety to your meats and cheeses.
Whether you prefer sweet or savory, mild or spicy, choose a few condiments to take your perfect charcuterie board to the next level!
More Recipes for Charcuterie Boards