This sweet and savory Brie Charcuterie Board combines the perfect hint of elegance with simple snacking. It's fun to put together and makes entertaining a breeze.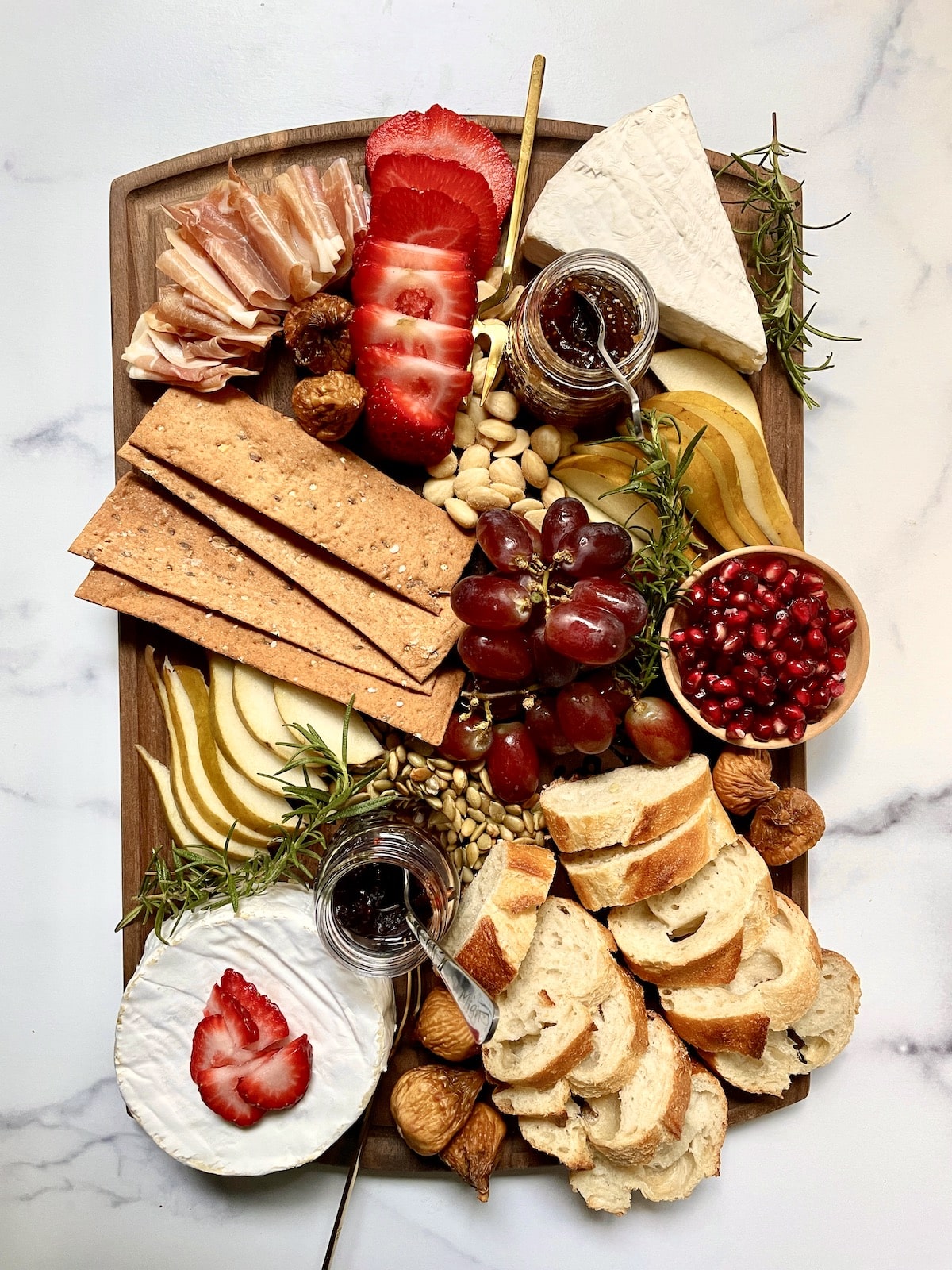 Whether it's for a major holiday, or just a casual night with friends, there's just something so inviting about walking into a kitchen to a snack board prepared with an assortment of sweet and savory finger foods.
With this charcuterie board idea, a wheel of brie is arranged with an array of other delectable snacks that have an irresistible combination of tastes and textures.
And the best part? This brie board can be thrown together in minutes with just a few simple pantry items.
With a selection of cheeses, salty prosciutto, a variety of crackers or bread, and some accompaniments like nuts and jams, you'll have the perfect last-minute appetizer or even a light meal.
These recipes with Brie cheese will give you more ideas for creating delicious dishes with one of our favorite cheeses.
Why We Love this Brie Board
We love all cheeses and eat charcuterie a lot as it's the perfect appetizer or quick bite for the two of us.
This brie board is one of our favorites because it has such a wonderful combination of different flavors.
Plus, it makes a pretty presentation, which is great for when we have guests over for a dinner party.
Charcuterie cheese boards are completely customizable and can be served at just about any time of the day and for any occasion.
A breakfast charcuterie board on the weekend makes the day feel special, and this simple charcuterie board is all we need for dinner!
If we're having a large gathering, these charcuterie cones are perfect for mingling while eating.
What Goes into This Recipe
Key ingredients
Cheese- we used two different varieties of soft brie cheese. One brie was Double Brie, which is the standard method of making Brie cheese. Triple Brie has cream added, so it has an even more smooth texture. The combination was delicious.
Italian meat-we used prosciutto.
Jam and jelly-we used fig spread and red pepper jelly.
Seeds- we used sweet pomegranate seeds and crunchy pumpkin seeds for a fun contrast in colors and flavors.
Nuts- we used Marcona almonds, which are shorter, rounder, and plumper compared to regular almonds, but you can use what you can find.
Fresh herbs- rosemary sprigs add color and help to fill in the board.
Fruit-we added dried figs because of their chewy texture as well as a couple of fresh fruits.
Recommended Tools
Large board: This can be a large cutting board or just a large serving platter. We love the look of a board with handles.
Cheese knives: Knives made specifically for cheese are very useful for cutting and serving various types of cheeses.
Small bowls: Use small bowls or ramekins to hold dips, spreads, or condiments like mustard, honey, or jam. This set is really pretty, too.
Cocktail toothpicks: Used to skewer small items such as figs and pieces of cheese.
Small tongs: The best way for serving slices meat and cheese.
Small plates: Helps guests serve themselves.
How to Make a Brie Charcuterie Board
Step 1. Start by placing the brie on each corner of the board. If you're using a round board, I would suggest placing it right in the center.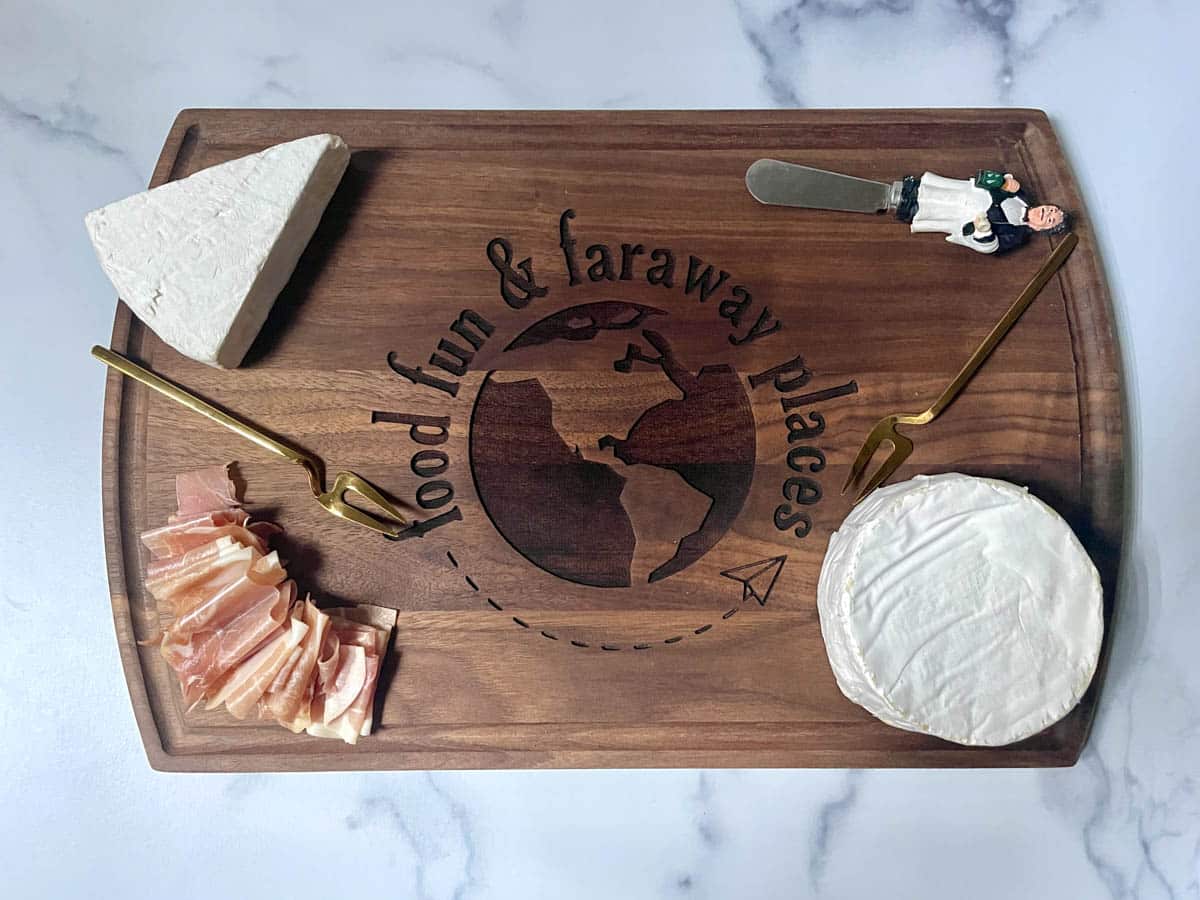 Step 2. To the opposite corner, add bread on the corner. Add prosciutto to the other corner.
Place each half sliced pear on opposite sides of the board. Add a small dish of pomegranate seeds.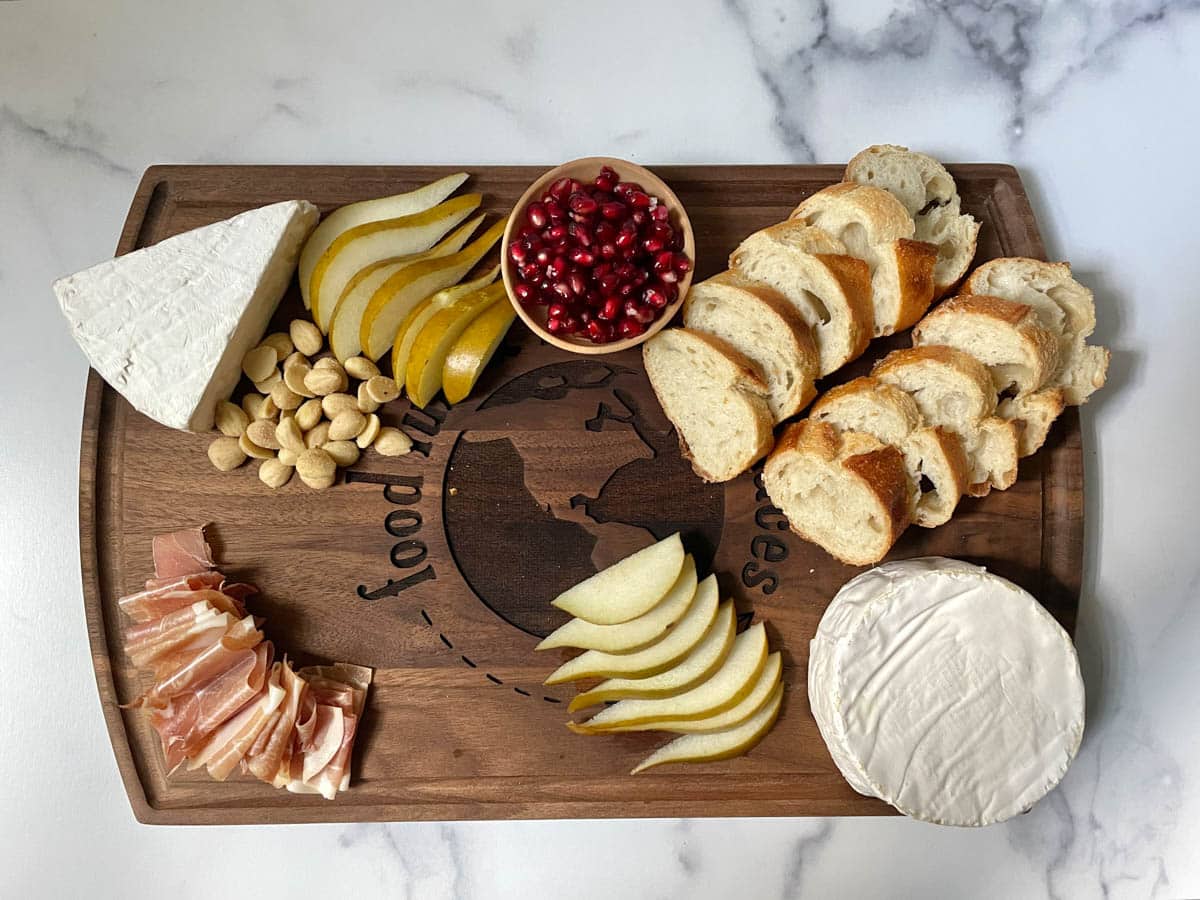 Step 3. Work your way around the board by placing the crackers where they fit.
Add small jars of jams or jellies. To balance it out, always add them across from each other on the board.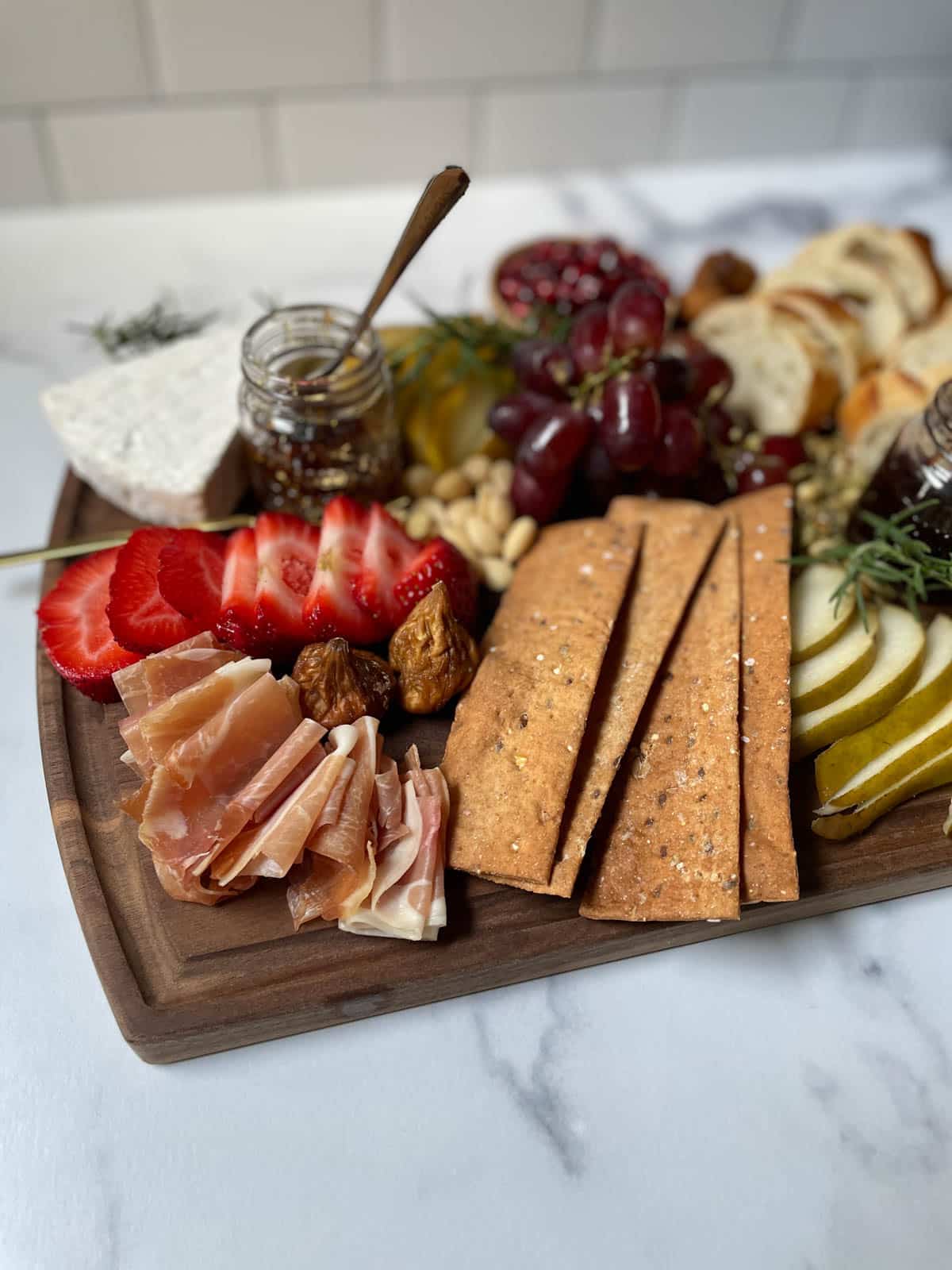 Step 4. Fill in the empty spaces with the seeds, rosemary, and fruit.
Fresh herbs like rosemary or thyme making a nice garnish.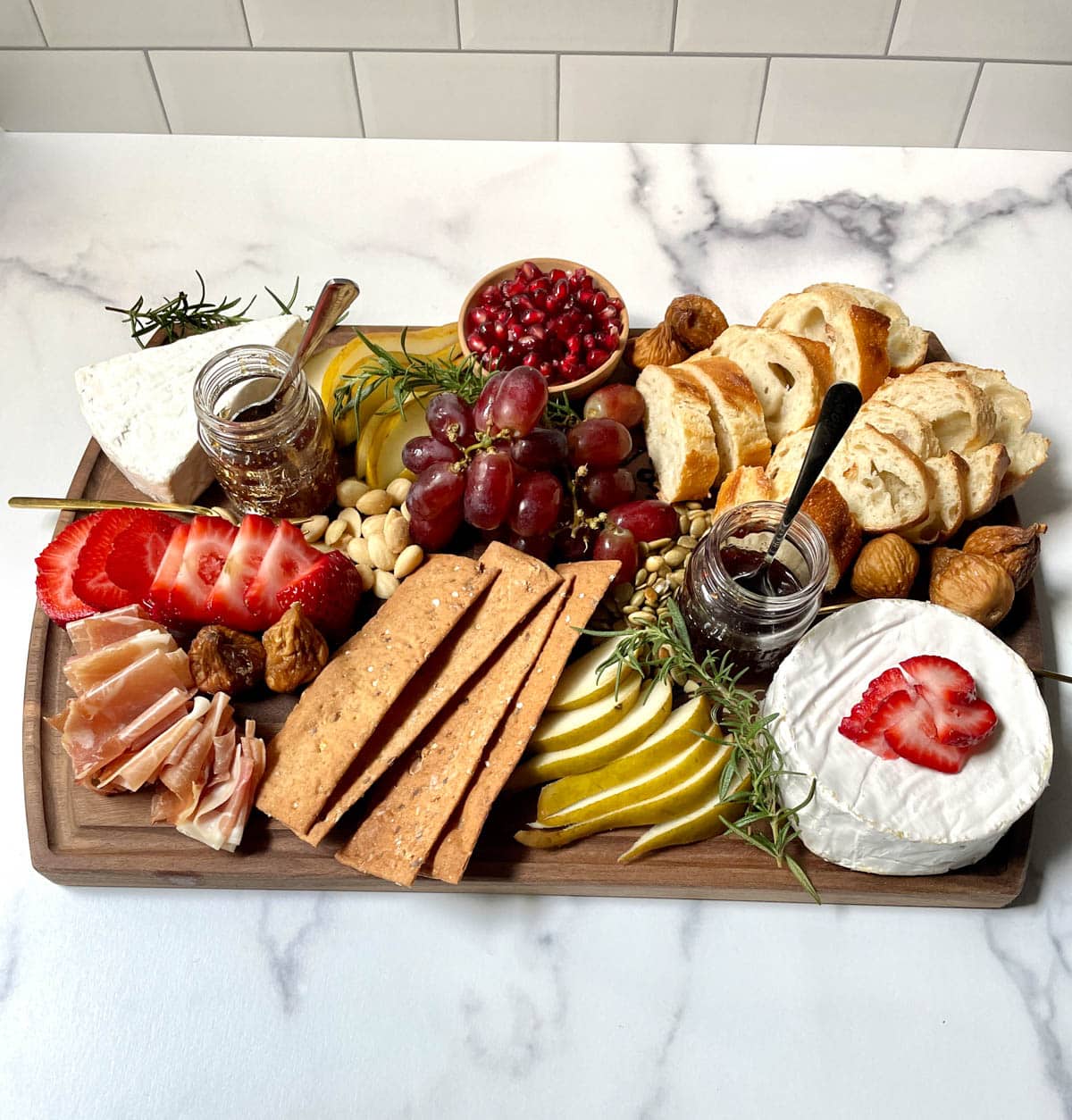 Recipe Variations
Custom charcuterie boards are easy to make with any of these tasty suggestions or even some of your own:
For the brie: We did not bake the brie for this charcuterie board.
If you prefer to make a baked brie charcuterie board, place the brie on a parchment paper lined sheet pan and bake at 350 degrees F for about 15 minutes.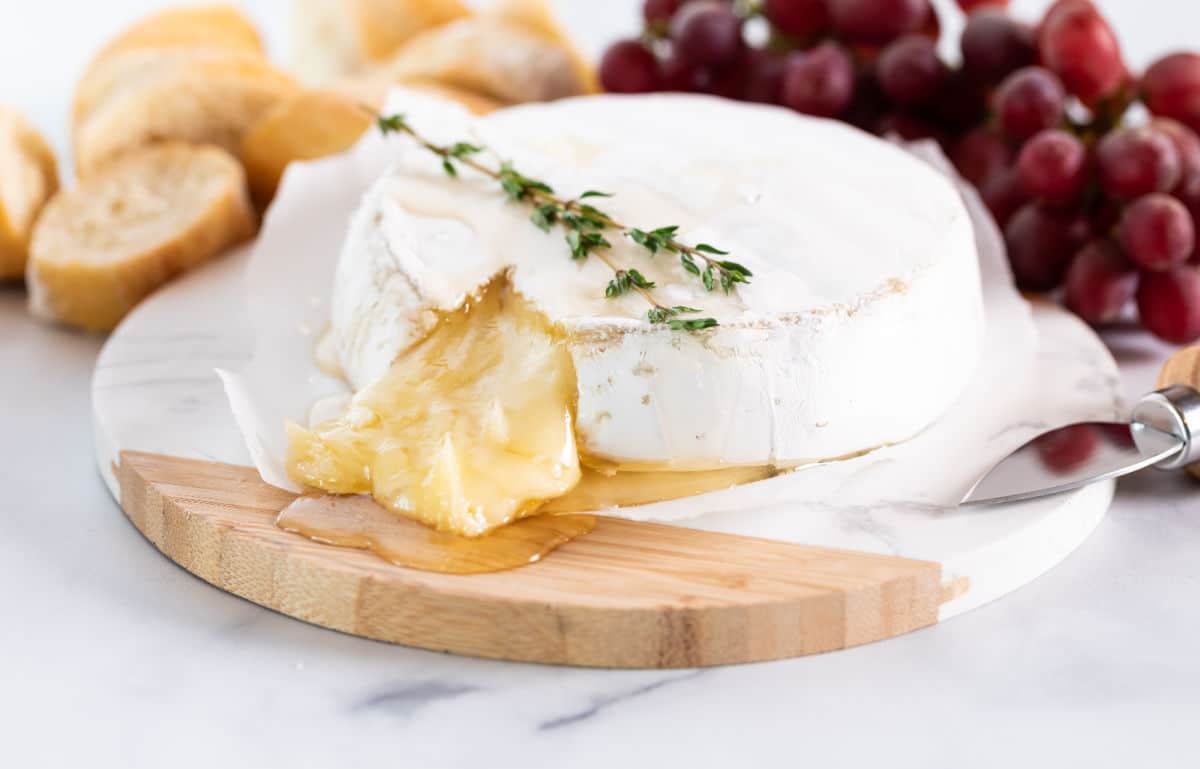 Meats: You can use any type of Italian meats, such as, salami, chorizo, pepperoni, Coppa or pancetta.
Cheeses: When creating a meat and cheese board, try to select a variety with different degrees of hardness.
Some favorite choices are cheddar (sharp and mild) gouda, Comté, Manchego blue cheese, camembert, gorgonzola, parmesan wedges, goat cheese, or any artisan cheese you like.
Fruits: You can stick with simple fruits and berries or go for a little something extra, such as sliced kiwi, dragon fruit, passion fruit, star fruit, and persimmons. For dried fruit, you can use apricots, raisins, and prunes.
Nut and seeds: Feel free to use any of your favorites, because you really can't go wrong here. You can use toasted or untoasted, salted or unsalted...it's up to you.
Walnuts, pistachios, pecans, cashews, and hazelnuts are some great nut choices. You can also use sunflower seeds or sesame seeds.
Jams and spreads: Instead of pepper jelly and fig preserves, you can use raspberry jam, strawberry jam, blackberry jam, or apricot jam.
Check out these other tasty condiments for a charcuterie board you can use.
We loved eating this outside with a glass of wine. Let me know what you add!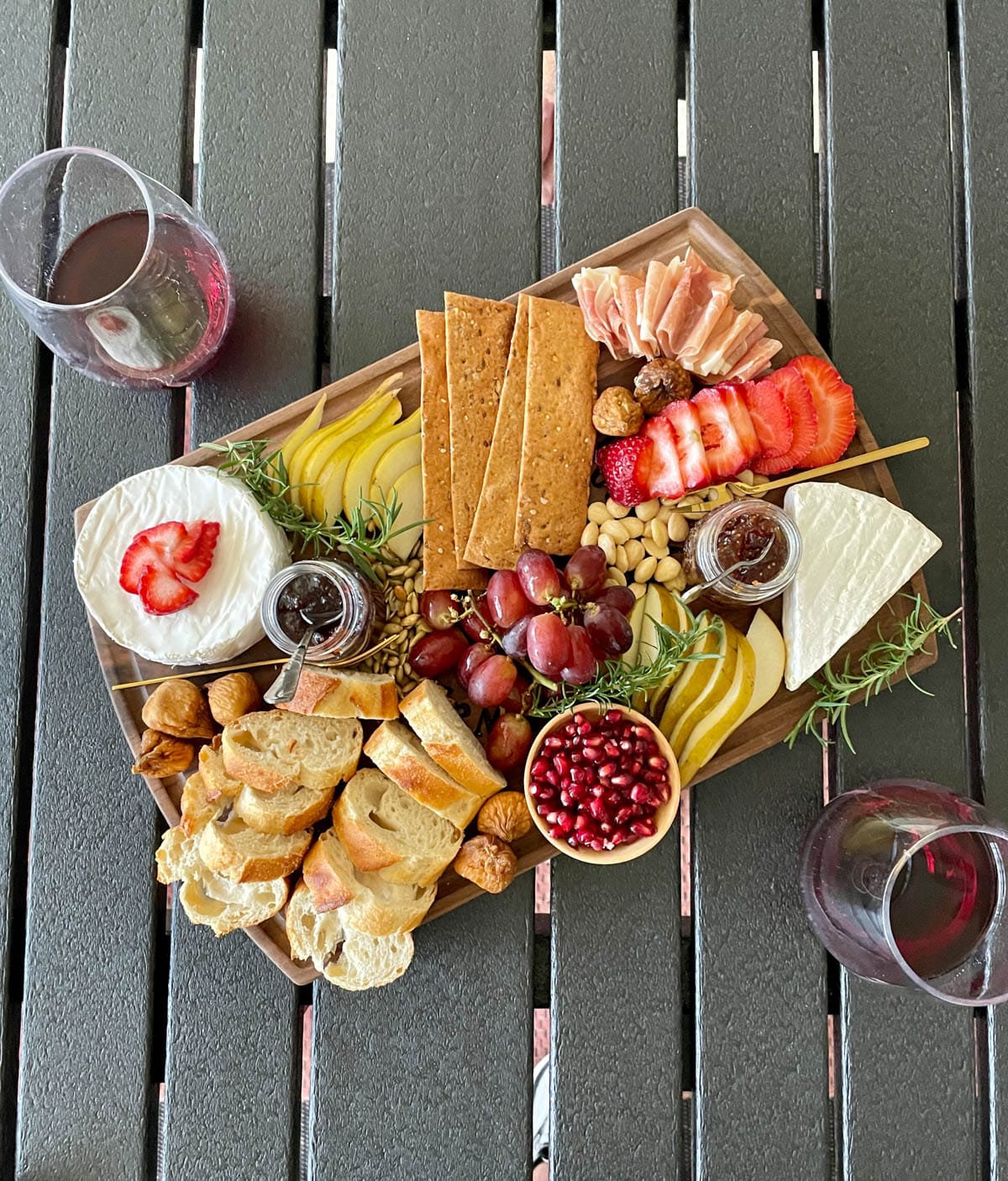 Frequently Asked Questions
Do I eat the rind on brie?
The rind of brie cheese is completely edible. It has a slightly earthy and mushroom-like flavor that's a nice contrast to the smooth and creamy interior of the cheese.
Can I make this charcuterie board in advance?
It's best to prepare it within a couple of hours of serving it. This helps keep the flavors of the foods separated, especially cheeses with that have strong flavors. Plus, it keeps the bread and crackers fresh.

You can prepare the meats and cheeses in advance and keep them in an airtight container or freezer bag in the fridge.

You can also add the jams and other wet ingredients like pickles or olives to the small bowls, covered in plastic wrap in the fridge. Then all you have to do is quickly assemble it when you're ready to serve it.
Can a charcuterie board be served as a main meal?
A charcuterie board can absolutely be a meal as long as there is enough food for everyone. If you're feeding a crowd, plan on about 2 ounces of meat and cheese per person, along with other filling foods like fruits, nuts, and bread.
Top Tips
Plan out the food items ahead of time and envision where they are going on the board. This will prevent those last-minute dashes to the grocery store right before a special occasion.
When selecting the items for your board, it's good to consider a balance of sweet, salty, tangy, and savory as well as soft and crunchy elements.
Keep leftovers fresh by removing them from the board and storing them separately in freezer bags in the fridge.
Though parties can last for hours, it's best if you don't leave only leave cured meats out at room temperature for an extended period of time.
If you're using a creamy dip, you'll want to place it back in the fridge after an hour.
More Delicious Appetizers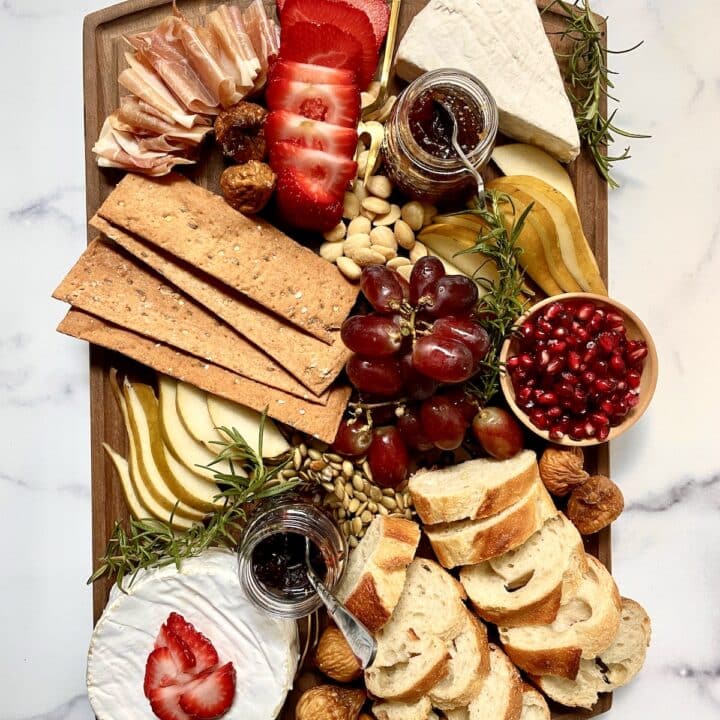 Brie Charcuterie Board
This charcuterie board made with two types of brie along with fruit and nuts to make the perfect snack for parties or just the two of you.
Print this Recipe
Pin this Recipe
Rate
Ingredients
7

ounces

Double Brie Cheese

8

ounce

Triple Brie

½

Marcona almonds

2

strawberries

large, sliced

8

ounces

Proscuitto

½

cup

Pomegranate seeds

1

cup

grapes

1

pear

sliced

7

dried figs

½

cup

pumpkin seeds

¼

loaf

baguette

10 slices

5

crackers

4

ounces

fig jam

4

ounces

red pepper jelly

rosemary sprigs

optional
Instructions
Start the board with Brie on each end.

To the opposite corner, add bread on the corner. Add prosciutto to the other corner.

Place each half sliced pear on opposite sides of the board. Add a small dish of pomegranate seeds.

Work your way around the board by placing the crackers where they fit. Add small jars of jams or jellies.

Fill in the empty spaces with the seeds, rosemary, and fruit. To balance it out, always add them across from each other on the board.
Nutrition
Serving:
6
|
Calories:
639
kcal
|
Carbohydrates:
52
g
|
Protein:
23
g
|
Fat:
39
g
|
Saturated Fat:
18
g
|
Polyunsaturated Fat:
5
g
|
Monounsaturated Fat:
13
g
|
Trans Fat:
0.1
g
|
Cholesterol:
96
mg
|
Sodium:
797
mg
|
Potassium:
456
mg
|
Fiber:
4
g
|
Sugar:
33
g
|
Vitamin A:
460
IU
|
Vitamin C:
9
mg
|
Calcium:
180
mg
|
Iron:
2
mg