If you're planning a vacation on the Yucatan Peninsula, Hotel Xcaret boasts two of best hotels in Riviera Maya Mexico. What's more, you'll have a choice of a family friendly and an Adults only resort.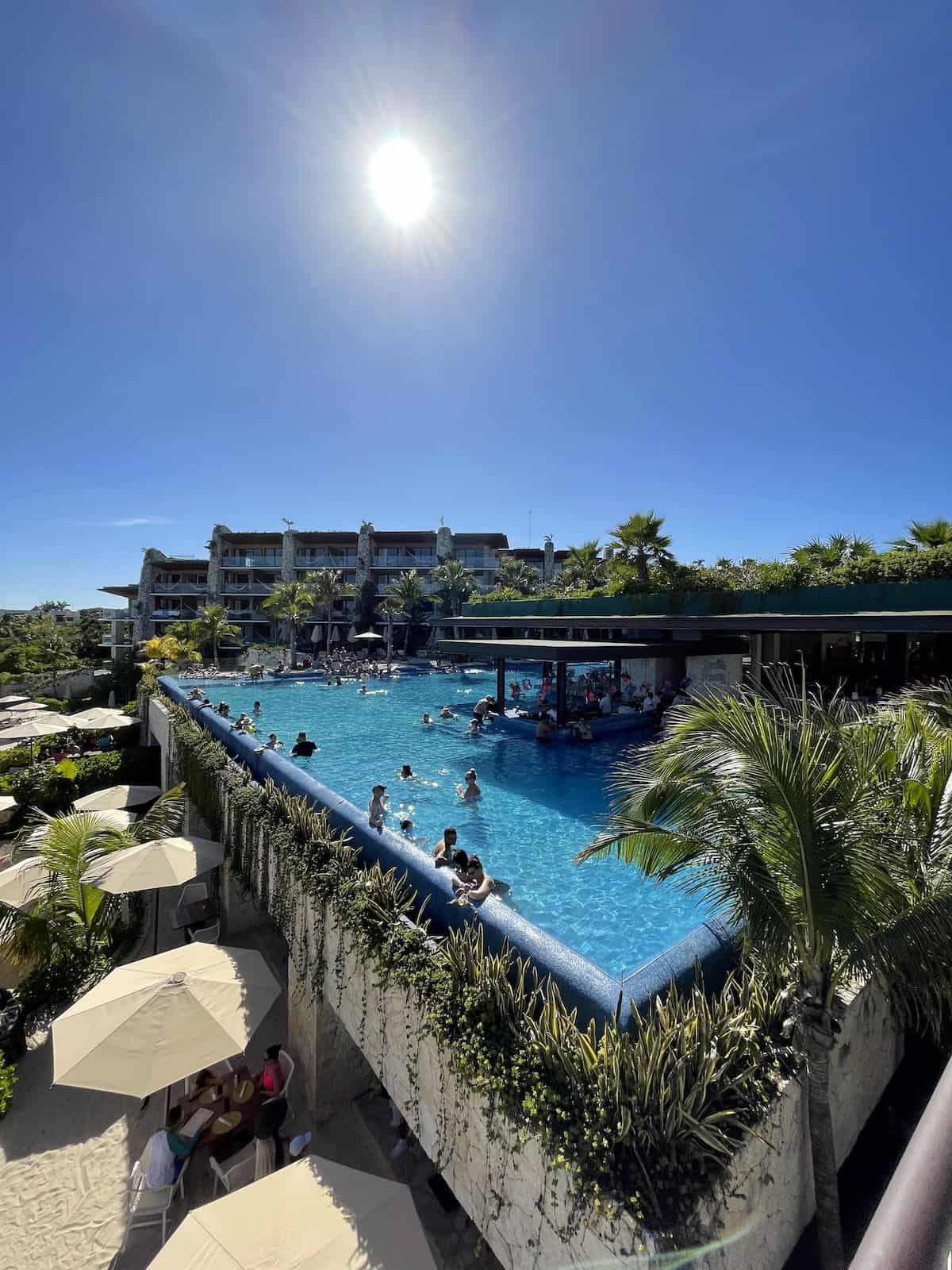 The Hotel Xcaret experience is unique. In addition to being an all-inclusive resort located on the beautiful beaches of Playa del Carmen along the turquoise waters of the Gulf of Mexico, Hotel Xcaret offers what they call All-Fun Inclusive.
This means you have unlimited access to all nine of the Groupo Xcaret entertainment parks included with your resort hotel stay. This alone would make these the best hotels in Riviera Maya, but there is so much more!
Where is Riviera Maya?
Riviera Maya is located on Mexico's Yucatan Peninsula, on the mainland across from the island of Cozumel. The nearest major city, Cancun, is a 90 minute drive north along the coast.
The exact address of Hotel Xcaret is Chetumal-Puerto Juarez Highway Kilometer 292, Solidaridad, 77710 Playa del Carmen, Quintana Roo.
But don't worry about trying to remember that. Included in your stay is transportation to and from the Cancun airport.
What you do need to know is that Riviera Maya is located in one of the best places for a tropical getaway.
This spot along the Mayan Riviera has everything from nearby lush jungle settings filled with Mayan mysticism to the white sand beach. It truly is one of the best hotels for a dream vacation.
If you want to spend some time at a resort and then explore an area off the beaten path, check out things to do in Holbox. There are a lot of options for getting there, including a ferry and driving.
What is Hotel Xcaret?
Hotel Xcaret makes the most of its tropical location. There are two resorts located here, the Hotel Xcaret Mexico and Hotel Xcaret Arte.
Hotel Xcaret Mexico is the main hotel, with 900 suites and contemporary rooms among the different "Casas" of the resort. Each Casa is themed to elements of Mayan culture: Spiral, Wind, Water, Earth, and Fire.
Guest rooms range in size from 575 square feet studios up to the massive family master suite at almost 2500 square feet! I loved my room that opened up to the river.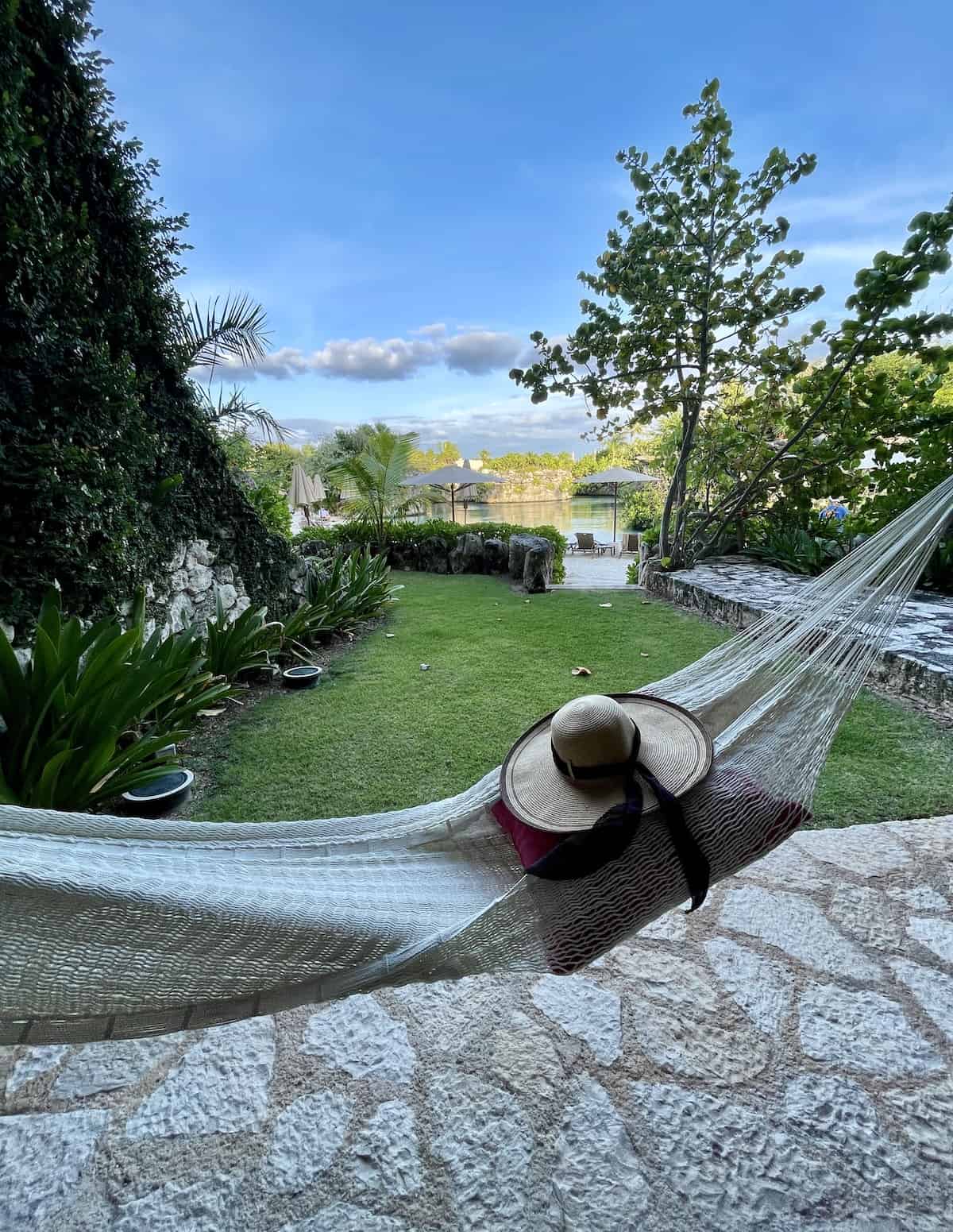 I had a lot of space, with large sitting area and flat screen TV, but those views brought me outside! The bathroom was huge, with a separate tub, shower, and large closet.
The toiletries were upscale and they provided everything you could need right in the room, like toothbrushes, a luffa, upscale shampoo and conditioner, and even a mini Hydro Advance facial kit!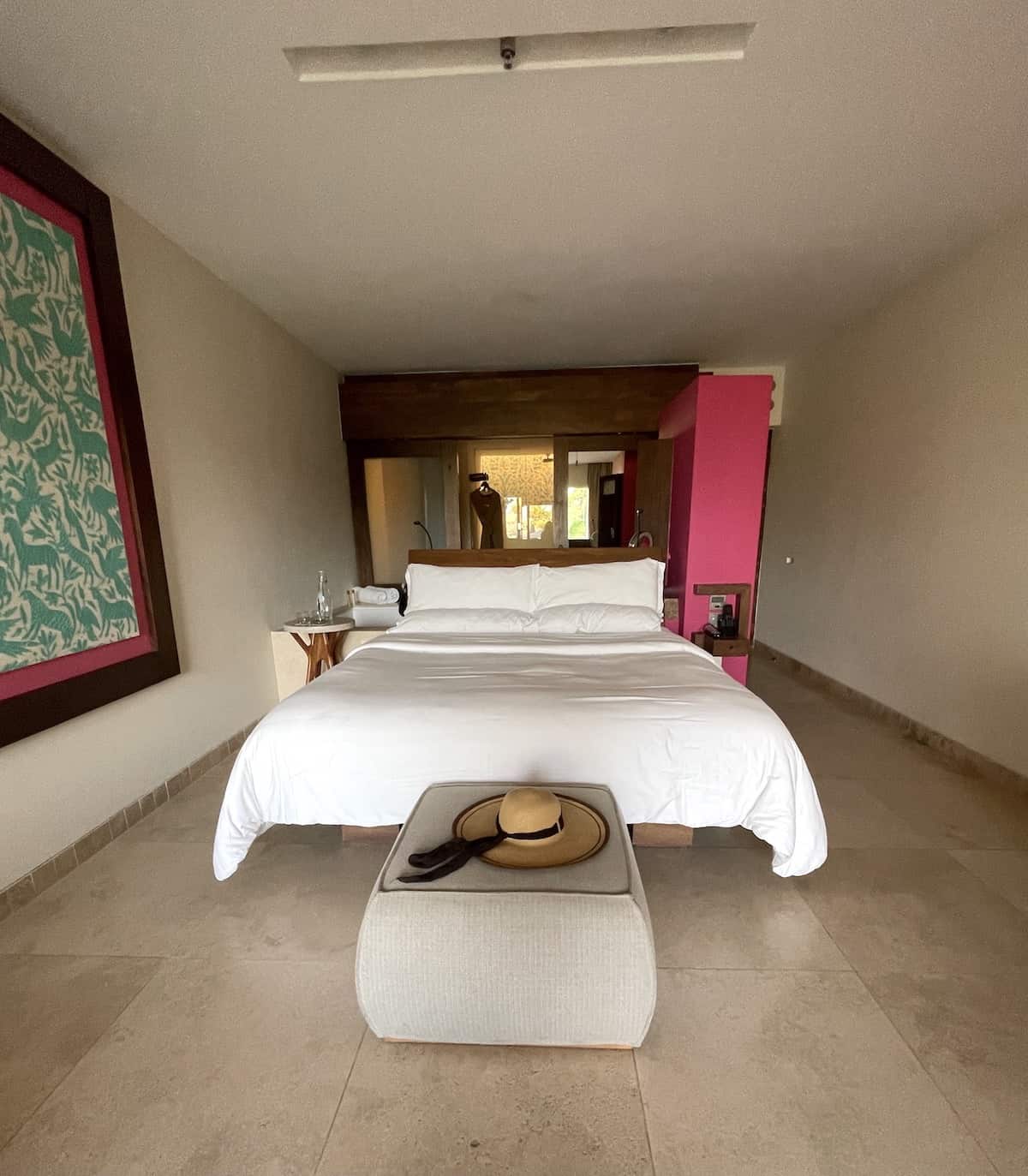 I also had a coffee maker (ask for milk if you don't like powdered creamer) and a stocked mini-fridge. There was also a tray of snacks, though with room service included, I was never hungry!
You'll also have a dining table for when you order room service, and a couch to chill for when you're spend time in your room.
I was out and about so much I never used it. There's just so much to do!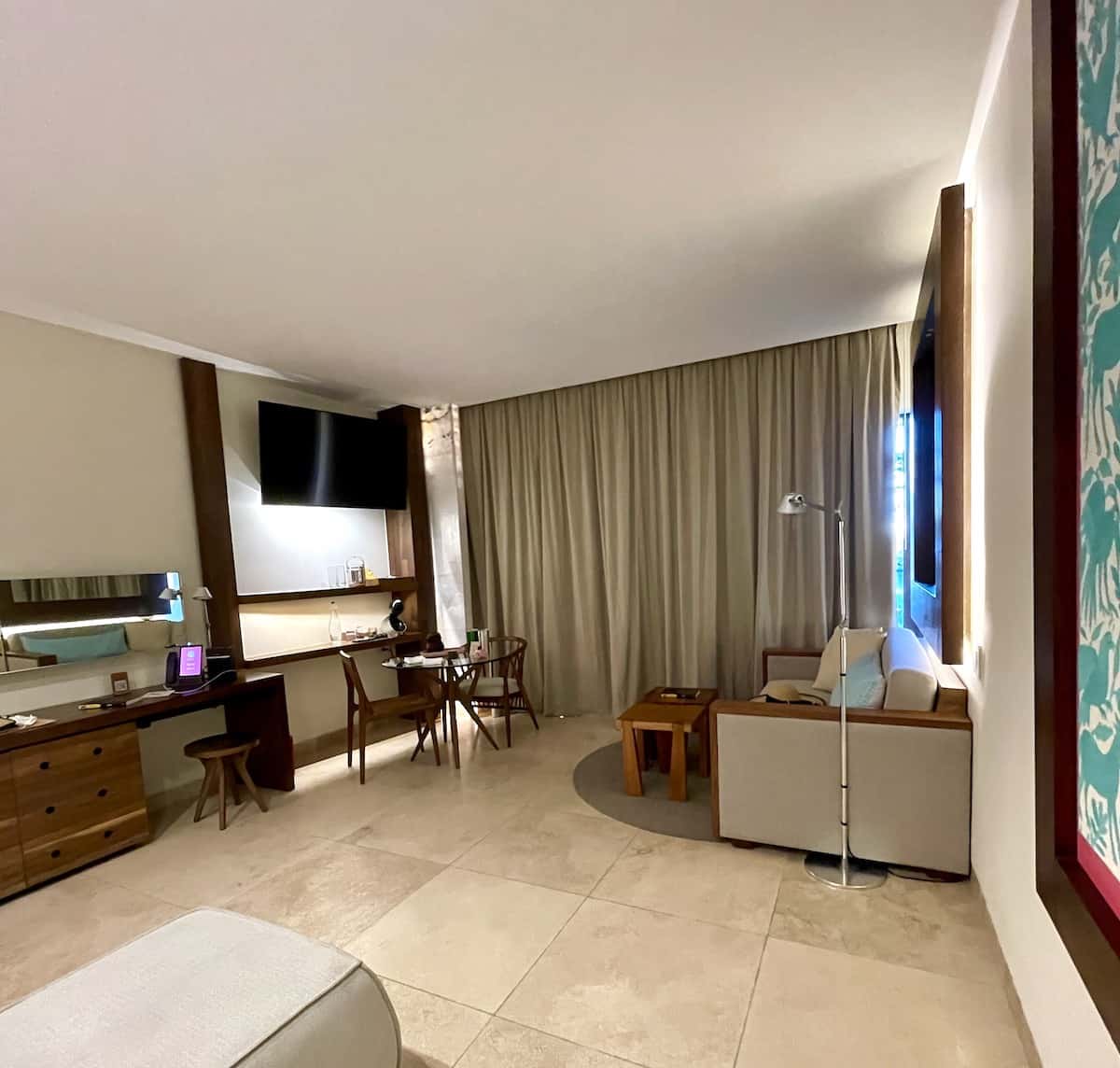 Hotel Xcaret Arte is a smaller resort that has a maximum capacity of 900 adults (ages 16 and up). The theme of this resort honors the visionary work of Mexican artists.
Both have access to the nine parks in Grupo Xcaret: Xcaret Park, Xel-Ha, Xplor Park, Xavage, Xenses, Xoximilco, Xplor Fuego, Xavage, and Xenotes.
Between the two hotels, there are two dozen bars and more than a dozen restaurants. It truly is an all-inclusive location with everything you need to have an amazing vacation all in one place.
Why We Love these Resorts
There's a lot to love about Hotel Xcaret, starting with the fact that it is all inclusive, with the exception of spa treatments and some signature dining.
If you hate going on vacation and stressing about how much meals and entertainment are adding up, you can relax knowing that your meals, drinks, and entertainment are included.
With daily flights to Cancun from Florida and at other major airports in the southeastern United States, it is easy to get to the Yucatan.
Transportation to and from the Cancun airport to Hotel Xcaret is also included, so you can sit back and enjoy the ride. Once you are at the resort, the biggest challenge will be deciding what to do.
Different types of rooms provide amazing views of the jungle, river, or ocean from their private terraces. Some are swim-up rooms, and some have their own private plunge pool.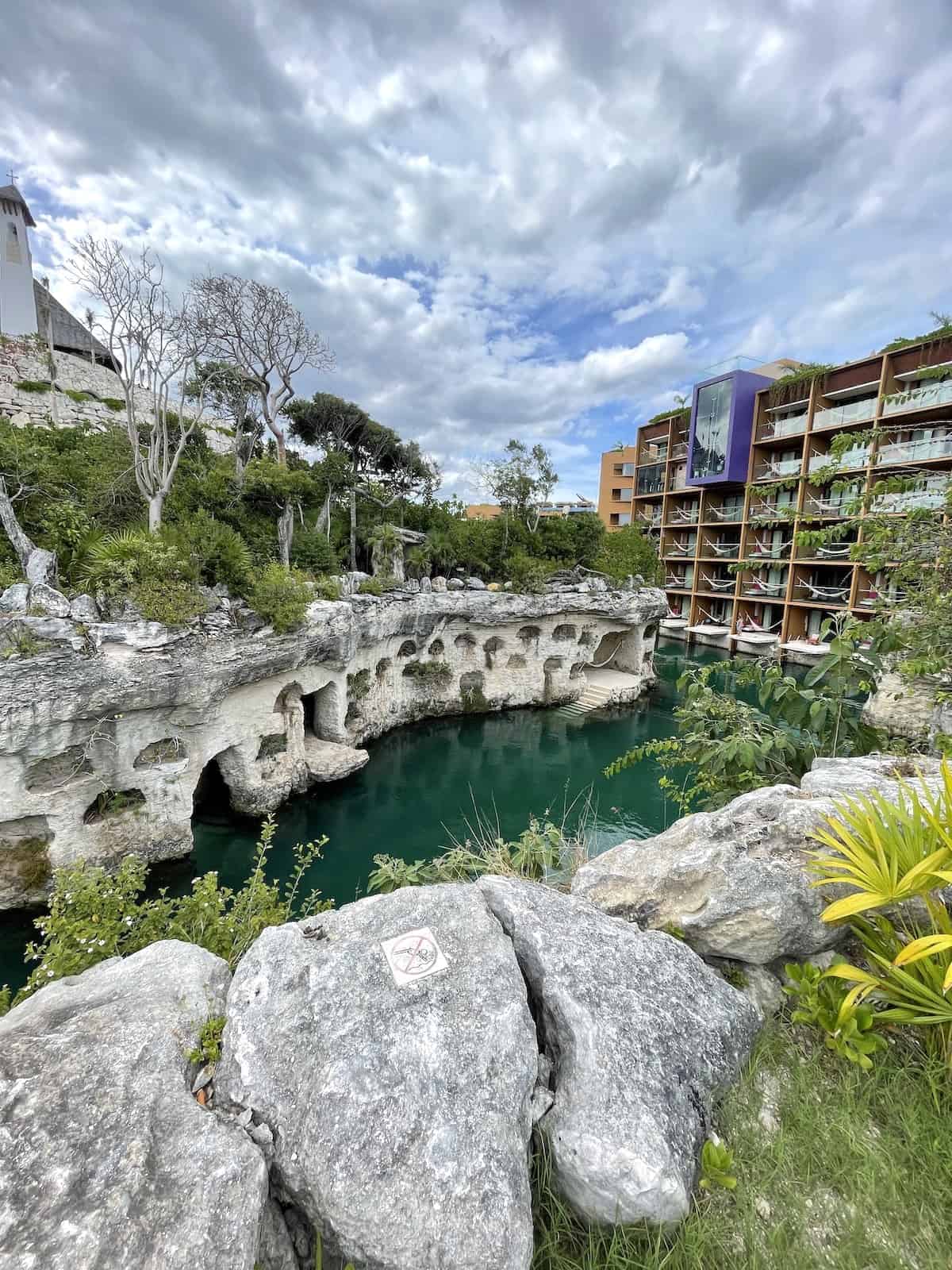 The rooms are beautiful, with plenty of space to spread out. Many rooms have features like jacuzzi hot tubs and hammocks to get you into full relaxation mode.
Hotel Xcaret Arte offers a variety of workshops to embrace the arts theme. And of course, just strolling the lush and beautiful resorts or sitting poolside or at the beach to soak up the sun is its own kind of paradise.
Xcaret Parks
One of the best benefits of Hotel Xcaret Mexico and Hotel Xcaret Arte are the nine parks that are included with your stay.
Though I didn't make it to the parks this time as I was attending a culinary event, I wanted to be sure to share the details with you because it's a huge reason why we think these are the best hotels in Riviera Maya!
And by the way, if you really wanted to do something outside of the resort, there are so many things to do with kids in Playa del Carmen, which is really close to the hotel.
Xcaret Park
Xcaret Park is the signature park for all things Mexico. The park includes underground rivers, exotic birds in an aviary, and a coral reef aquarium. You can also learn more about the ancient Mayan culture and civilization and sample a variety of Mexican cuisine.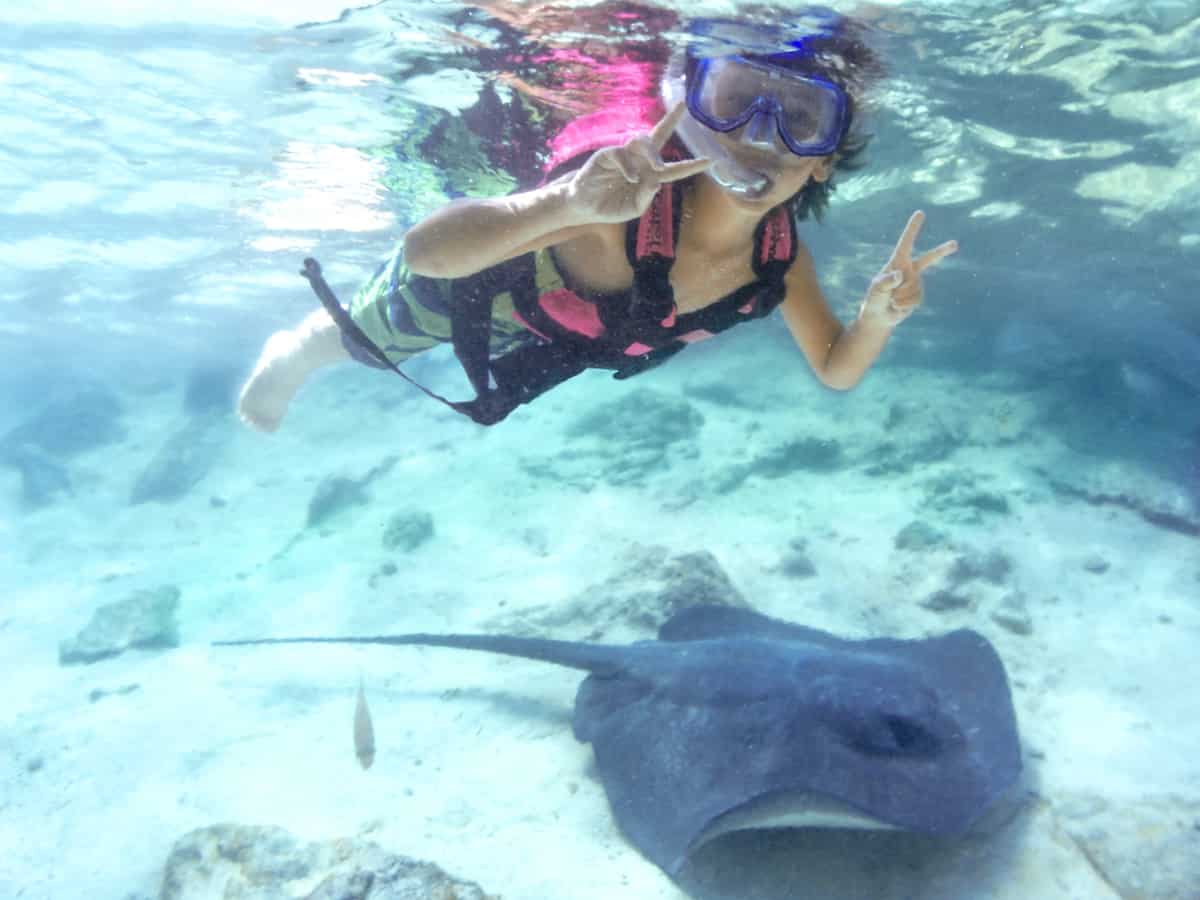 Xplor Park
Xplor Park is for the adrenaline junkies! Deep in the Mayan jungle, you can explore on amphibious vehicles, tour caves, and zip line over it all with the highest zip lines on the Riviera Maya!
Xenses
Xenses is a park that will blow your mind. The focus of this park is on tweaking your senses as you explore ecosystems in total darkness, explore optical illusions that will test your sense of balance, and let you explore aerial thrills as well as places to calm your senses.
Xel-Ha
Xel-Ha is the hidden wonder park of Xcaret. From snorkeling in the river and cove to zip-lines and walking or biking through tropical forest trails, this park offers exploration of the natural beauty of Mexico. There's even an excursion to tour the Tulum archaeological site.
Xoximilco
Xoximilco is the place to party, fiesta style! Dance and sing to live mariachi music, play traditional Mexican games, and enjoy food and drinks, complete with an open beer and tequila bar.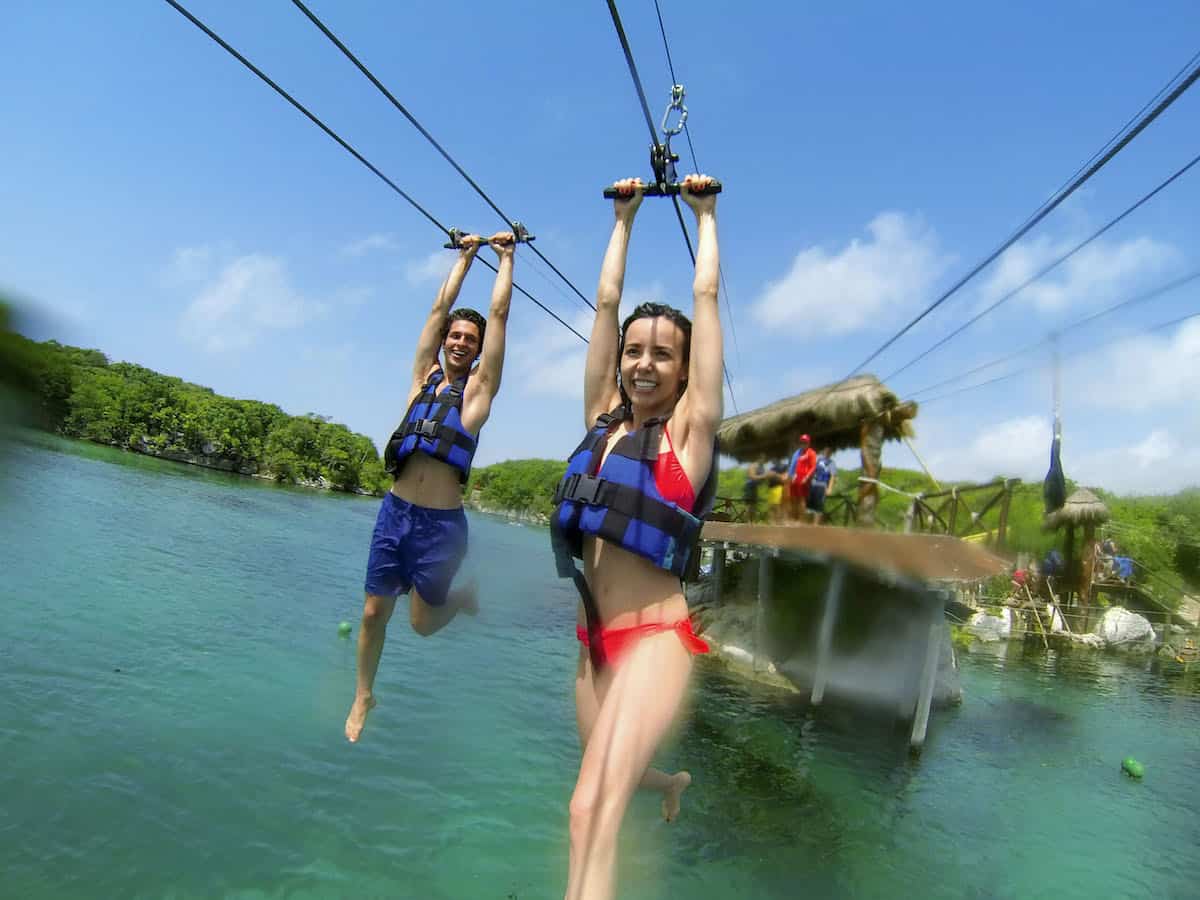 Xplor Fuego
Xplor Fuego gives a whole new meaning to nightlife as the Riviera Maya's only nighttime park. Explore torch-lit paths as you drive around with amphibious vehicles, paddle along "lava" lit rivers, and sail above the trees on a nighttime zip-line ride.
Xavage Park
Xavage Park offers exciting options for the whole family. From kayaking to a ropes course and off-roading to river rapids, there's a ton of thrills at this adventure park.
Xenotes
Xenotes offers a guided tour to connect with the legends and mysticism of the jungle and its sacred waters. Some activities include kayaking, swimming, and rappelling, but there's plenty of time to just relax and soak in the surroundings, too.
Xcaret Xailing
Xcaret Xailing to Isla Mujeres takes you by direct access ferry to one of the most beautiful beaches in the world on this small island off of Cancun. While you are there, visit the Cancun Scenic Tower for incredible views of the Caribbean Sea.
More Things to Do
In addition to the parks, there's more to do at each of the hotels like outdoor swimming pool areas (including infinity-edge pool areas), swim up bars, and pristine beaches.
For those who want to keep up their fitness level, you'll have access to a state-of-the-art fitness center with incredible views, and even tennis court areas for those who want to get a game in.
Where to Eat & Drink
My trip to Hotel Xcaret was to attend a food event, and I can honestly say these are the best resorts in Riviera Maya to find something for everyone.
If you're looking for an upscale food experience, you'll find it there. Prefer to just chill and eat outstanding Mexican food and fresh seafood? You'll find that, too.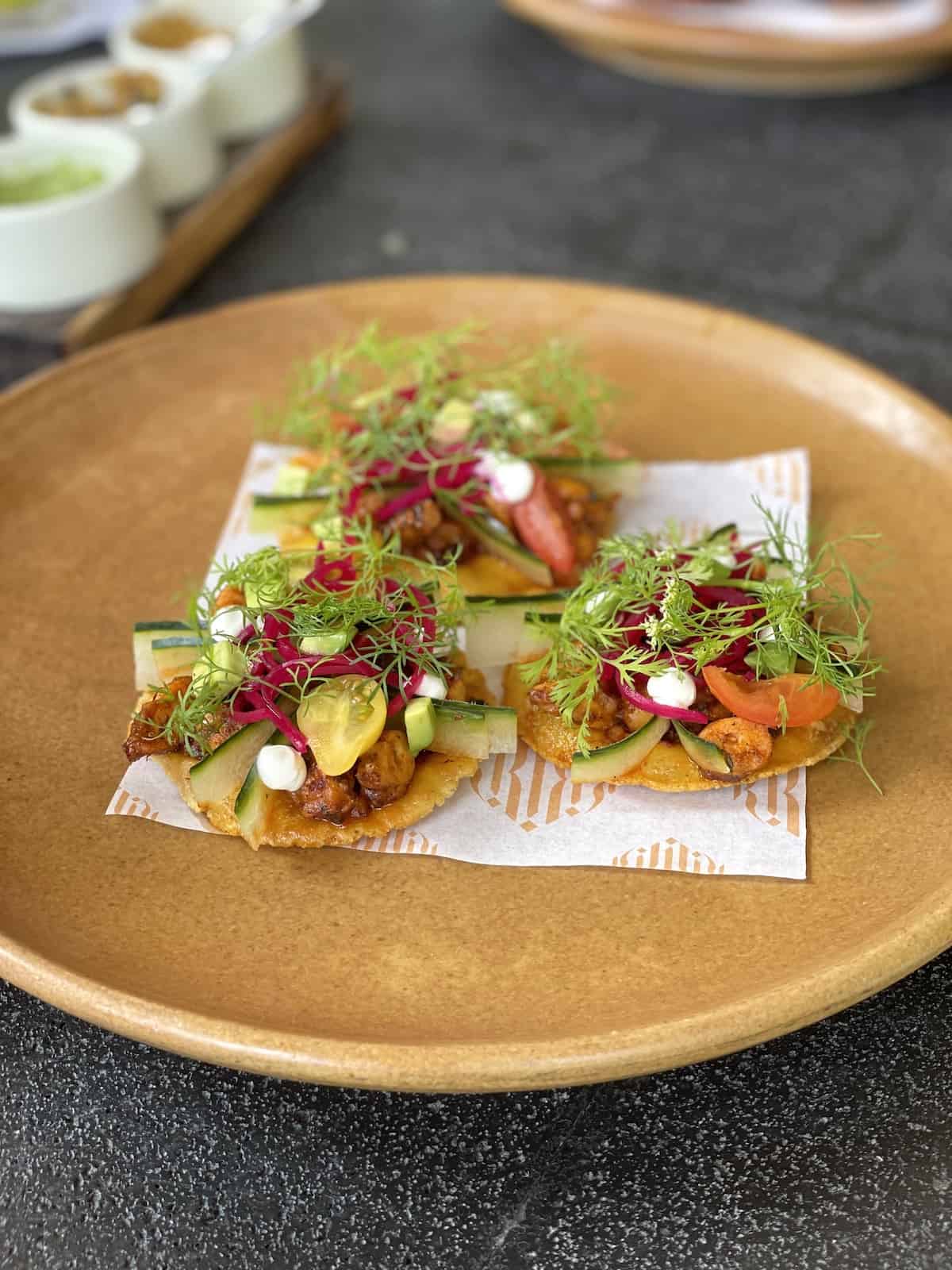 The restaurants are scattered around the different buildings, so you'll always be close to some great food anywhere you go.
Hotel Xcaret Arte has nine dining experiences and ten bars:
Xaak
Chef Ricardo Muñoz Zurita provides regional food with Pre-Colombian influences to showcase the history of Mexican cuisine. (Signature dining, with an extra cost)
Chino Poblano
East meets West with the fusion of Chinese and Puebla cuisine from Chef Jonatán Gómez Luna.
Kibi-Kibi
Open for breakfast, lunch, and dinner, this restaurant is exclusive to Casa de los Artistas guests, featuring Yucatan cuisine with Lebanese influences from the artistry of Chef Roberto Solís.
Cayuco
Located in the main pool area, this buffet provides Mediterranean and Mexican cuisines offered up by Chef Franco Maddalozzo.
Arenale
You'll love the ocean view at this lunch and dinner buffet with comfort food and local ingredients under Chef Orlando Trejo.
Encanta
Michelin Star chef Paco Méndez provides an elegant meal for dinner in an enchanting setting.
Cantina VI.AI.PY.
Chef Alejandro Ruiz brings the vibrant flavors of Oaxacan to life. This restaurant offers breakfast, lunch, dinner, and a late-night menu, plus live music at night.
Mercado de San Juan
Explore the flavors of one of Mexico's most iconic markets with Chef Ricardo Muñoz Zurita. This restaurant offers food for breakfast, lunch, and dinner.
Tah-Xido
Chef Luis Arzapalo offers the best of contemporary Japanese cuisine in this dinner restaurant.
For libations, a full bar is available at Changarrito Playero, El Deseo Speakeasy, and Changarrito Casa de Los Artistas.
The poolside bars are Wet Bar Casa de la Pirámide, Wet Bar Casa de la Música, and Wet Bar Cayuco. Rooftop bars with stunning views can be found at Casa de Los Artistas, Casa del Diseño, and Casa de La Pirámide. For coffees, visit Cafeteca and Cafecito.
The Hotel Xcaret Mexico luxury resort offers twelve restaurants and fourteen bars.
Ha'
Ha' is a signature restaurant under Chef Carlos Gaytån. Chef Gaytán is the first Mexican chef to earn a Michelin Star, and has put together an amazing nine-course tasting menu with wine pairing.
This restaurant does have an additional charge, but it is completely worth it!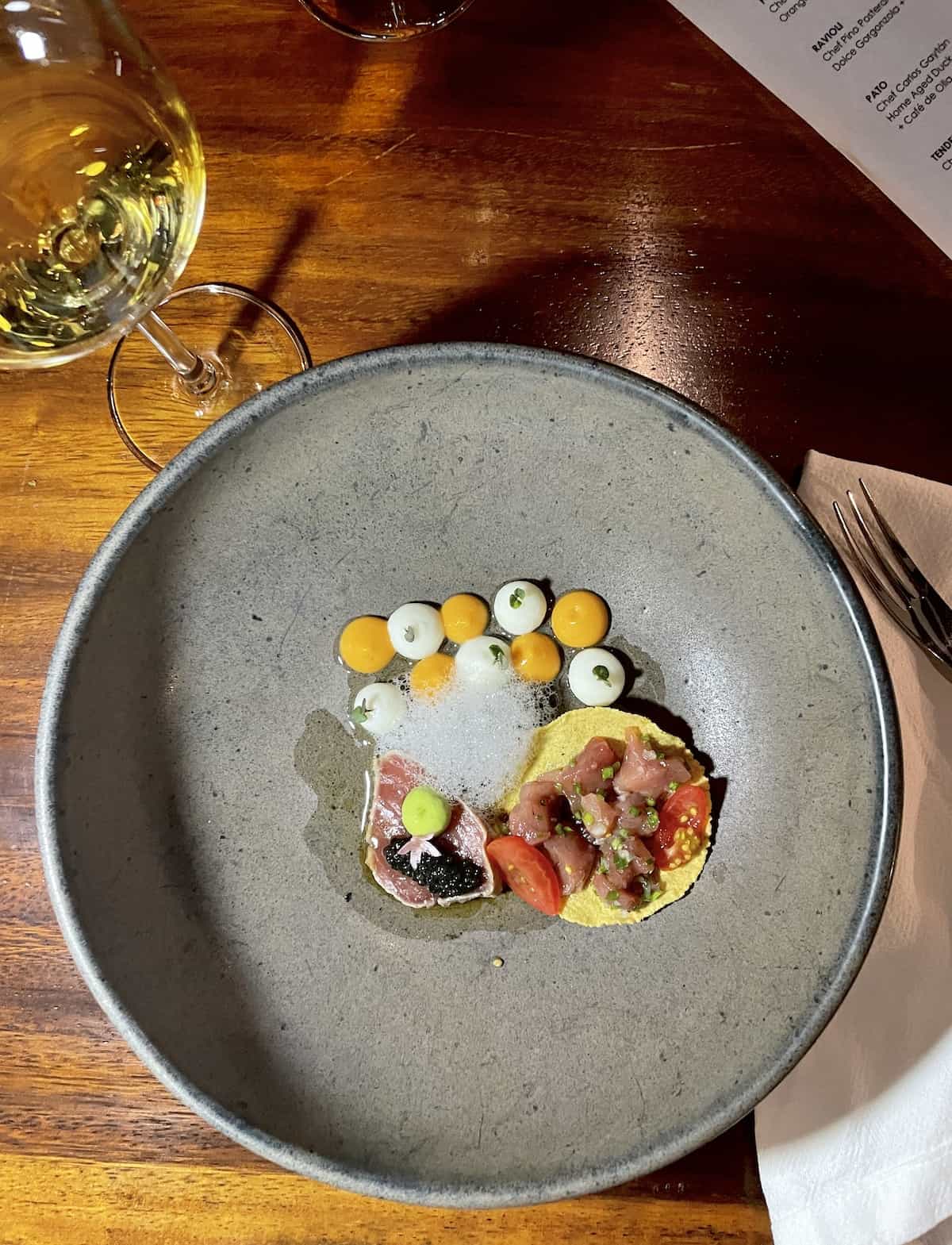 Not only was the food incredibly delicious, but it is also presented so beautifully.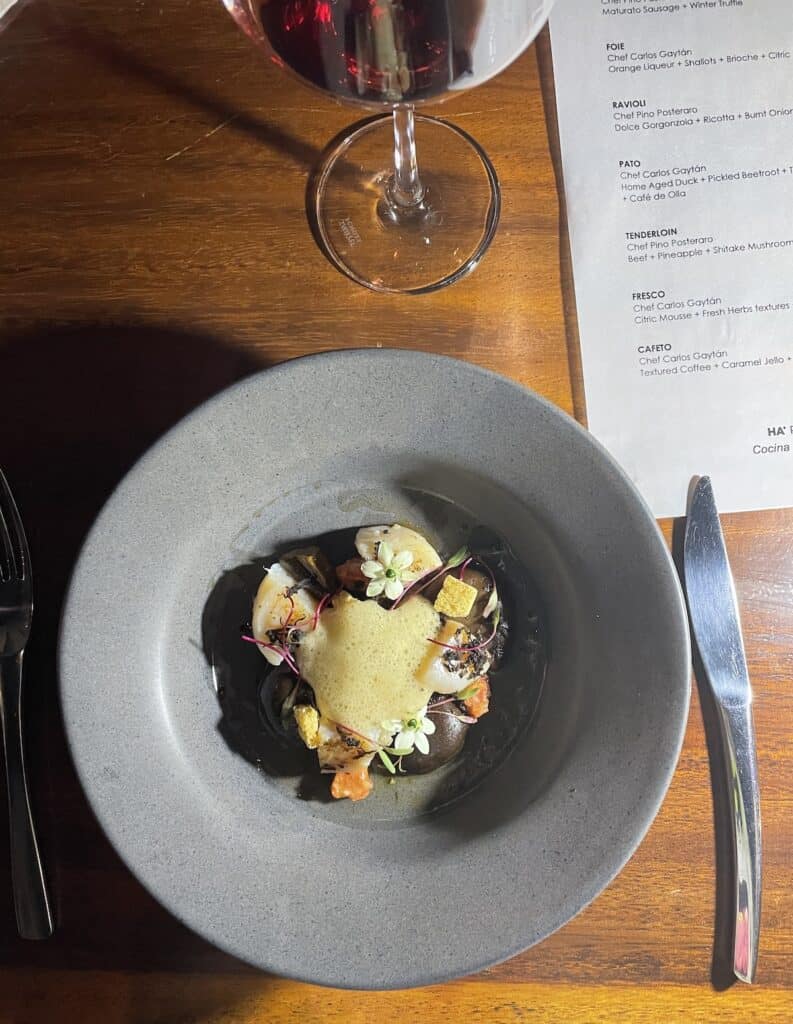 La Trajinera
La Trajinera pays homage to the gondola boats of the Xochimilco lake area with a buffet lunch and a la carte dinner. The focus of the food is on coastal delights.
Cantina los Faroles
Cantina los Faroles from Chef Alejandro Ruiz offers breakfast, dinner, and a late-night snack menu with the bright flavors of Oaxacan markets. In the evening, this area has such a vibrant atmosphere well into the late hours.
Mercado de La Merced
Mercado de La Merced by Executive Chef Orlando Trejo is a buffet with ten themed stations providing the flavors of Mexico. Located in the main building, this restaurant is open from early in the morning until late at night for whenever your cravings hit.
Chibali
Chibali is a family-friendly restaurant catering to a wide variety of palates. One of the favorite attractions here is the fun dessert options like milkshakes, cotton candy, and Mexican candies.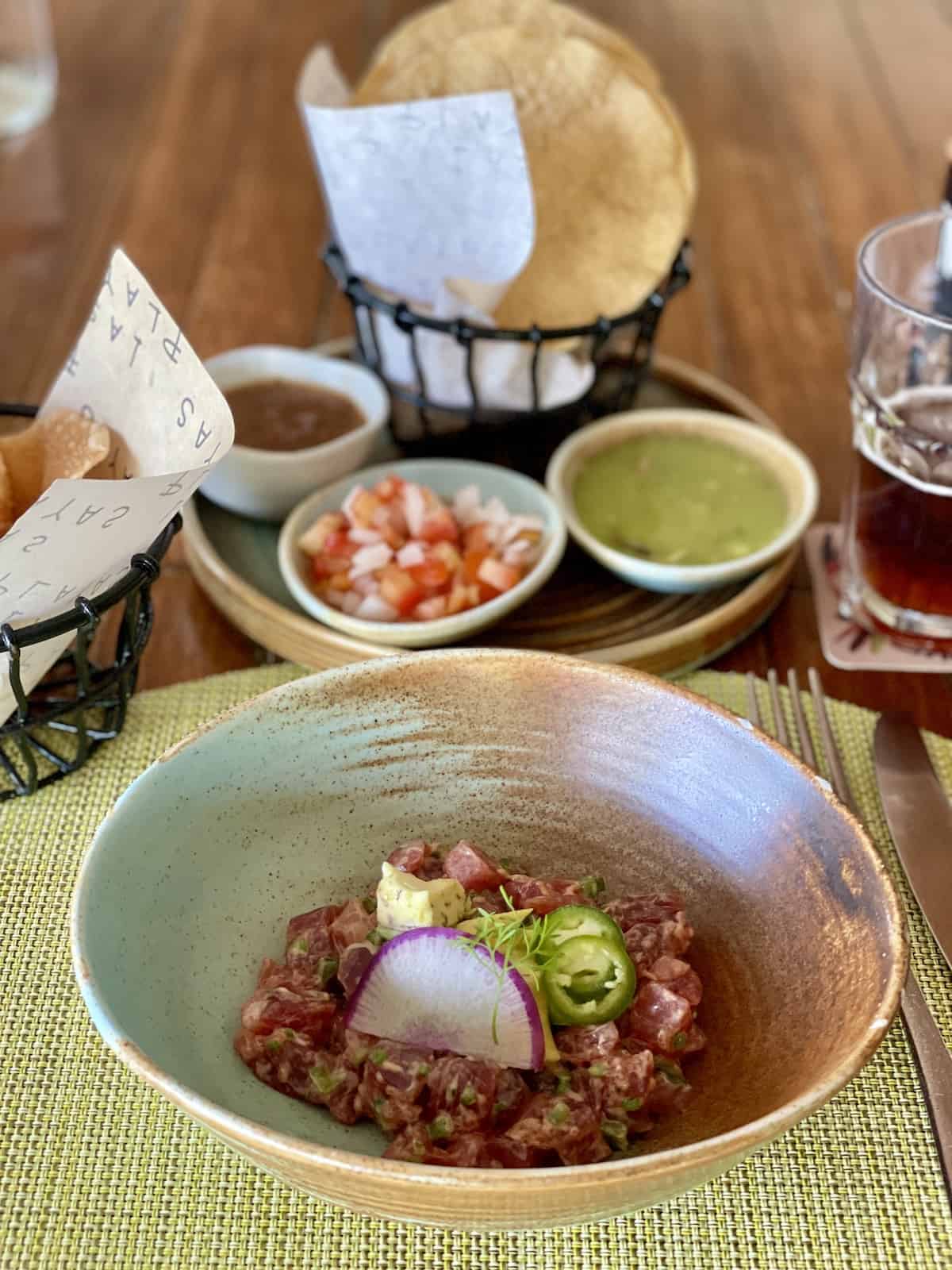 Teatro del Río
Teatro del Río is both a meal and show. This five-course dinner is inspired by sustainable foods to support local fishing seasons and local food producers. On Monday, Wednesday, and Friday, the meal is accompanied by a Caribbean Show, and Tuesday, Thursday, and Saturday is the México Olé Show.
Xin-Gao
Xin-Gao brings a taste of Asia to Mexico, with Teppanyaki, Robatayaki, fusion offerings, and the ever-surprising Omakase.
Fuego
Fuego by Chef Franco Maddalozzo offers Italian traditions in the beautiful Casa Fuego. This restaurant is exclusive for Casa Fuego, and provides incredible views of the Caribbean Sea to go with the delicious food.
Las Playas
Las Playas is the perfect essence of beach dining. The restaurant is out on the sand, with the cool ocean breeze wafting by. A menu of comfort food items makes this a perfect relaxation destination for lunch and dinner.
Las Cuevas
Las Cuevas is built by nature for romance. The food includes delightful cuts of meat or vegan options, along with an international buffet.
This is a signature location that costs extra except for Casa Fuego guests. They also offer a Sunday brunch that is hands-down the best brunch I've ever seen.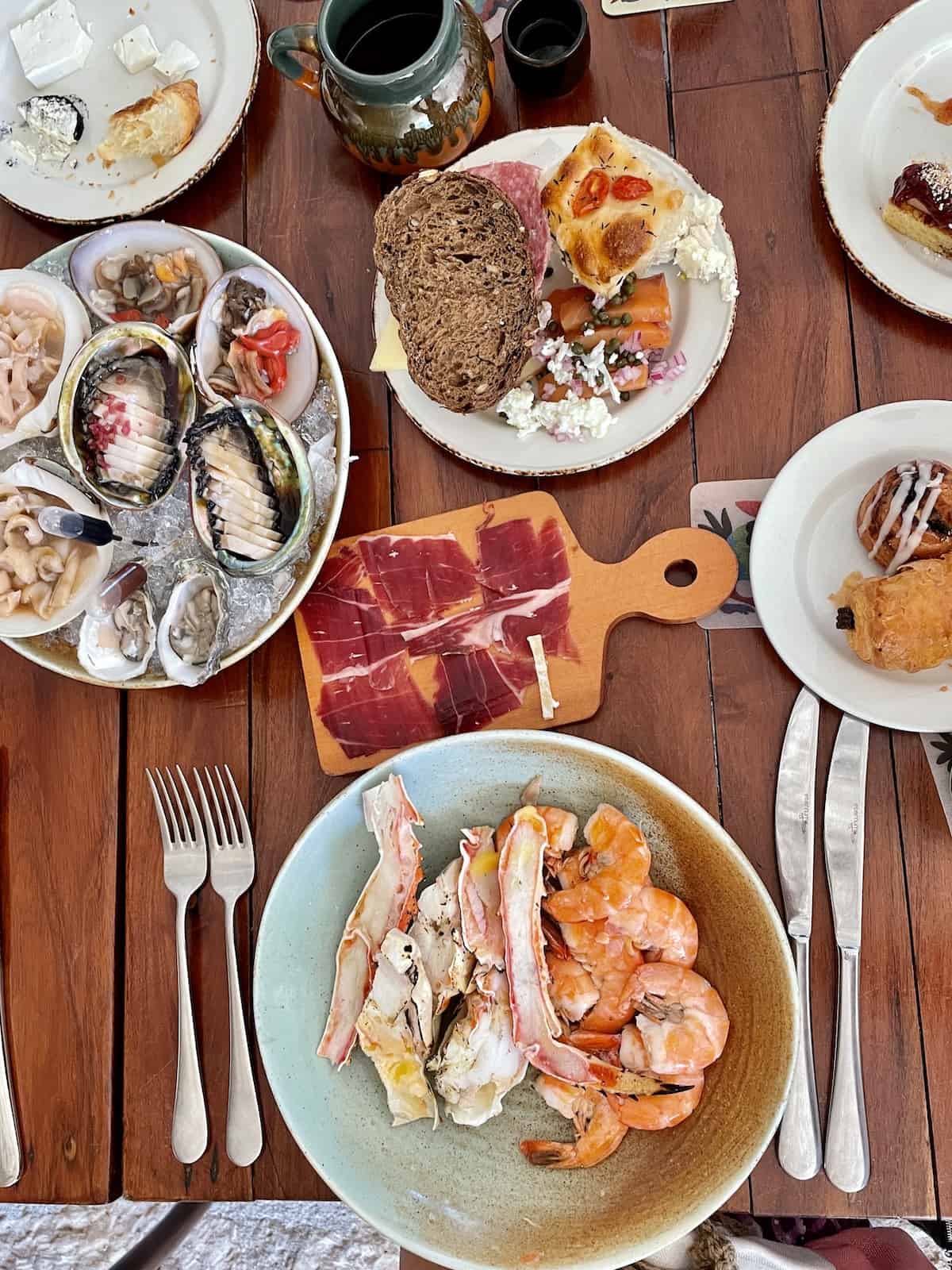 Bio
Bio provides outstanding cuisine that builds on wholesome and wellness themes. Chef Miguel Bautista has done an incredible job making a vegan menu for breakfast and lunch that will leave you feeling nourished inside and out.
The bars at Hotel Xcaret include the Lobby Bar, four pool pars, a swim-up bar at the main pool, restaurant bars at Cantina los Faroles, Ha', Xin-Gao, Bio, and Fuego, a wellness and spa bar at Muluk, and the hidden Palapa Fuego bar for guests of Casa Fuego.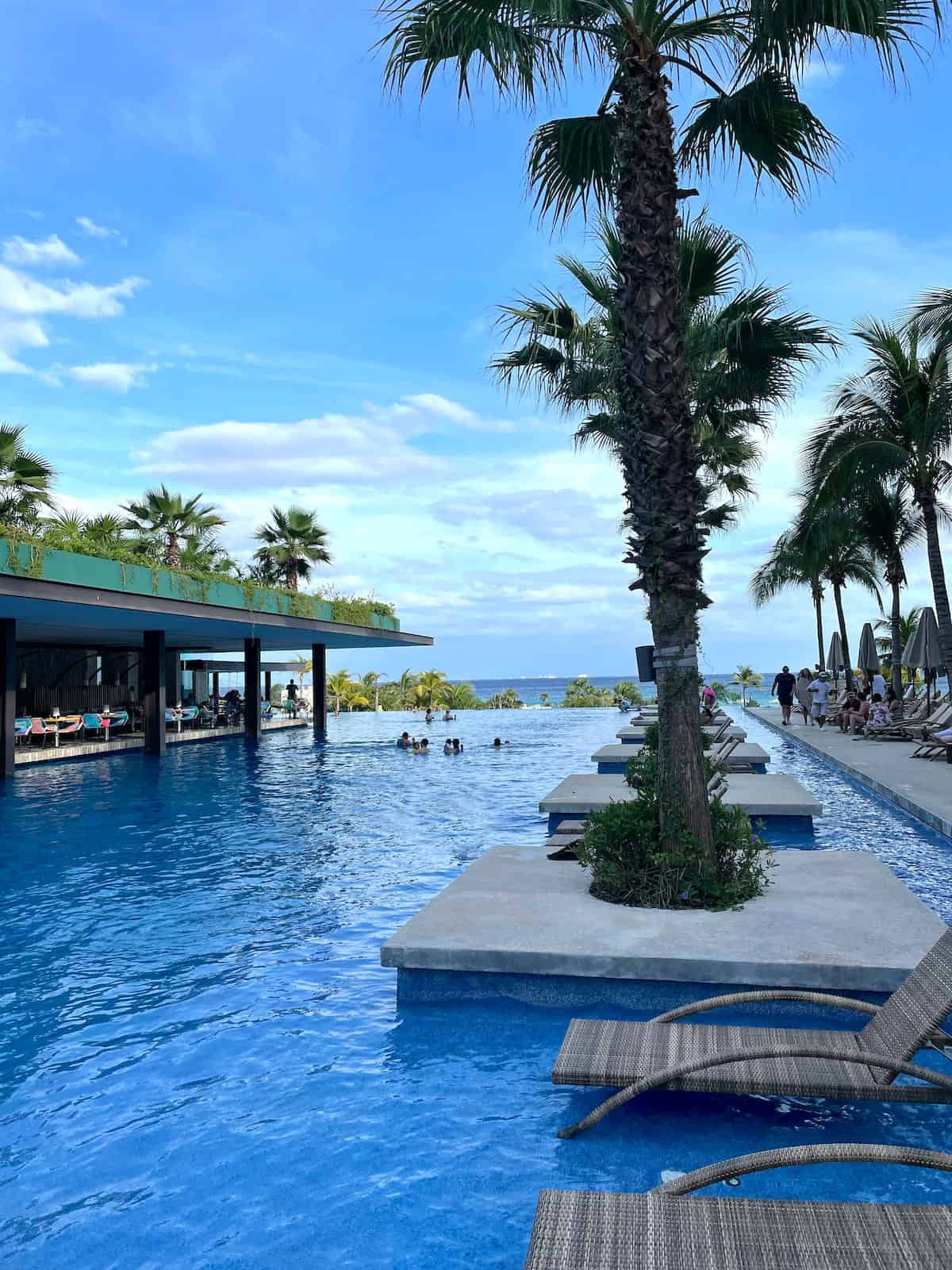 Spa Services
Looking for some added relaxation? The Muluk Spa at Hotel Xcaret offers a wide variety of spa treatments. This full-service spa has it all, with an incredibly unique setting in a natural cave!
This is yet another reason I'm choosing these as the best hotels in Riviera Maya.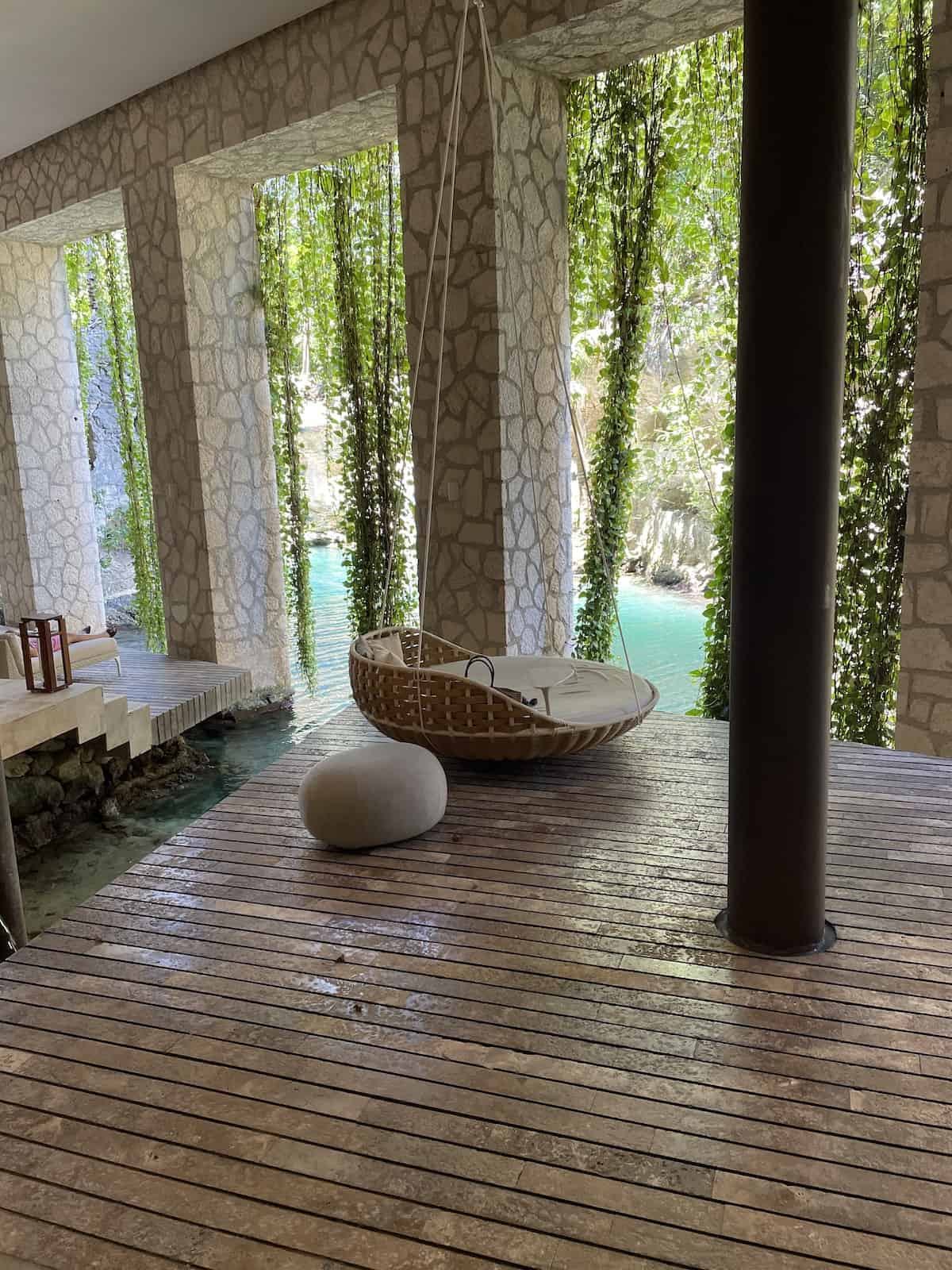 In addition to traditional spa treatments like massages, facials, and beauty treatments, there are spa journey themes combining a variety of techniques.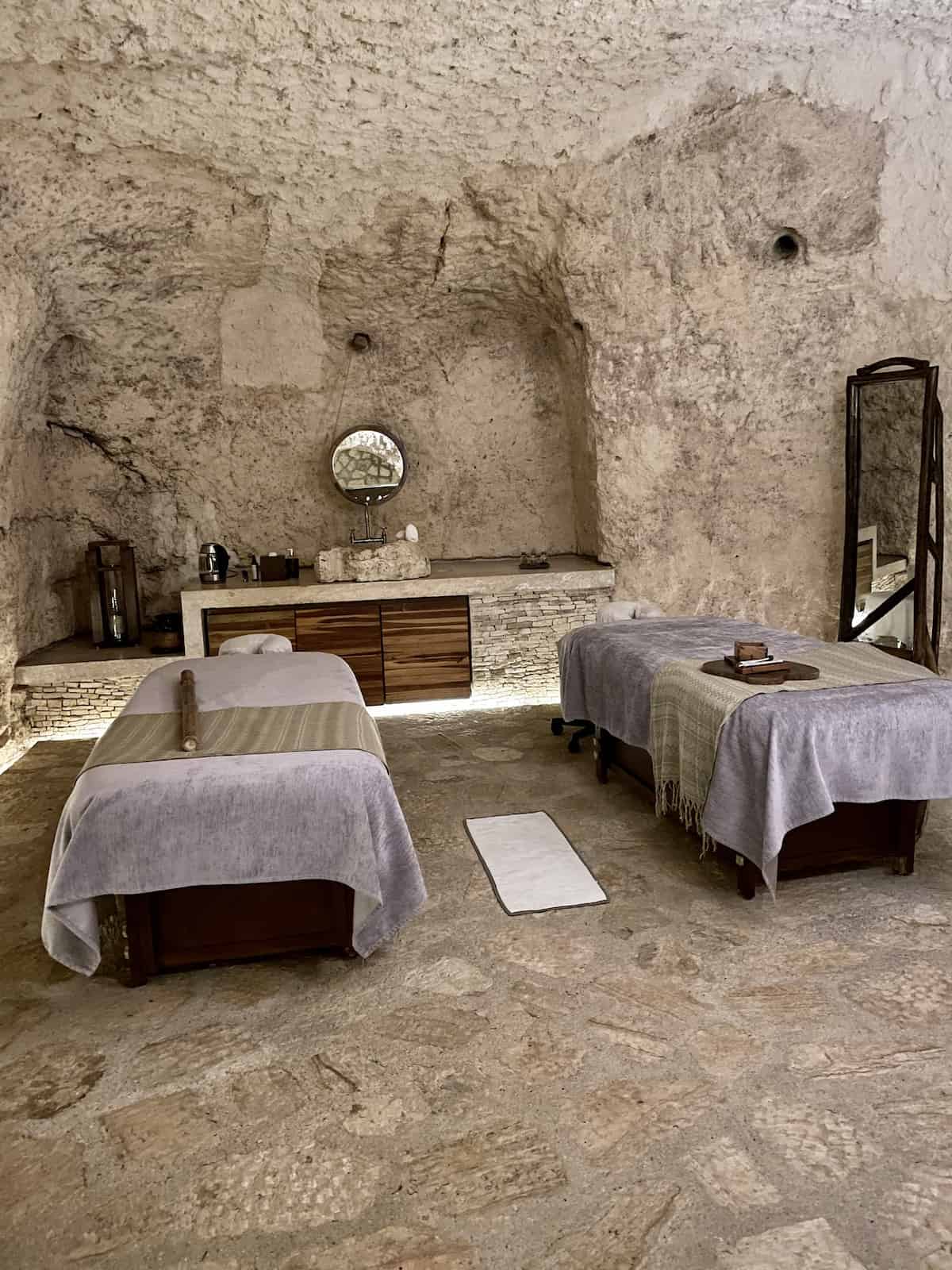 One of the unique offerings is the hydrotherapy ritual. Its focus on purification through water includes experiences with hot and cold water tubs, steam room, sauna, pool, and more.
This is an amazing ritual to bring a sense of wellness throughout your being.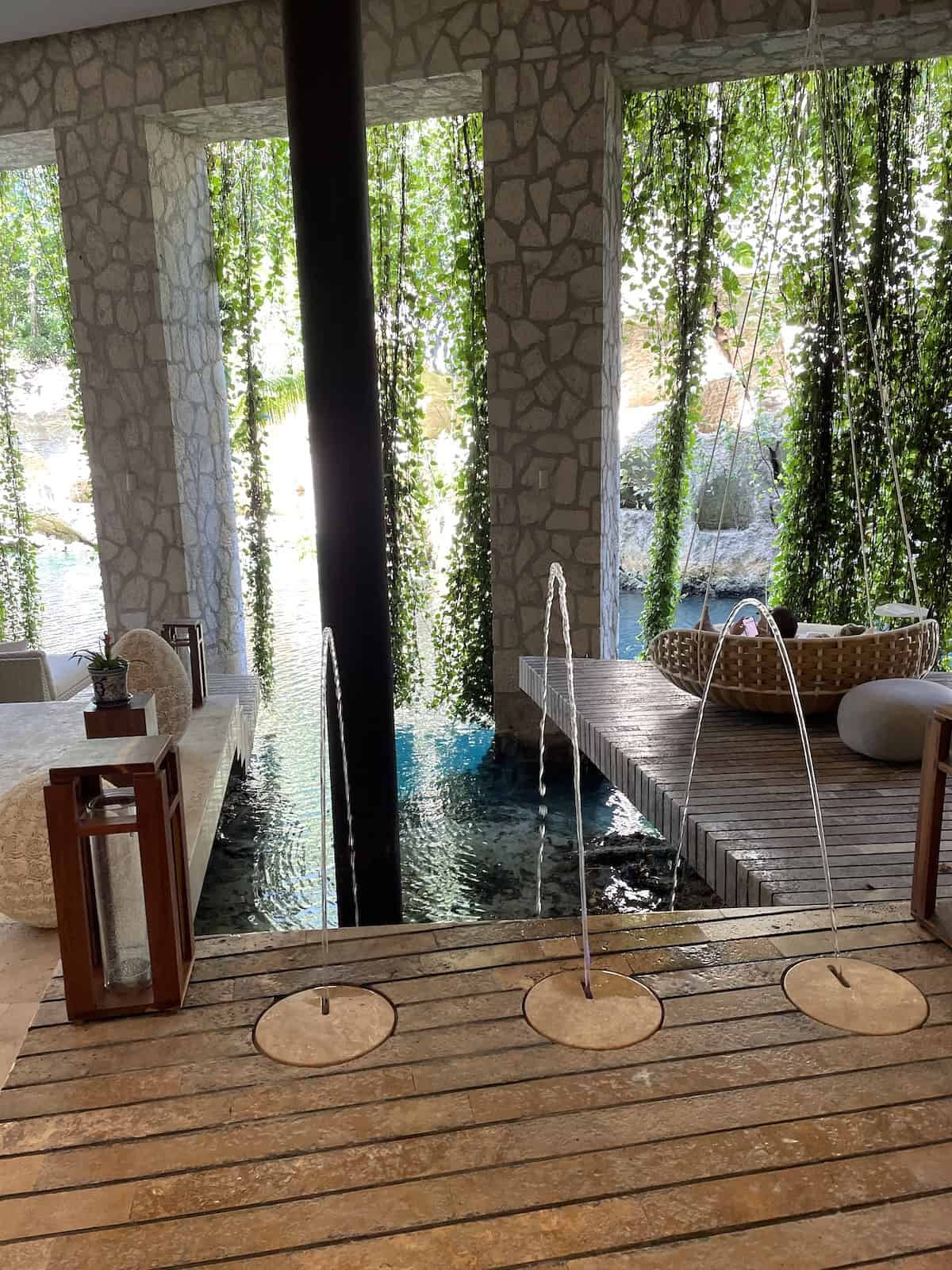 The Mukluk Spa does have an additional cost, but the high quality of these services is worth every penny!
Top Tips
Though the Xcaret Parks are included, you will still need to make a reservation for some of them. Be sure to have a family meeting and decide what you want to do well in advance so no one is disappointed.
Even though they are part of the same resort, the vibe between the Hotel Xcaret Mexico and Hotel Xcaret Arte is quite different. If you're looking for a quiet getaway, the Hotel Xcaret Arte is your better bet.
The resort is all-inclusive (with the exception of a couple signature dining options and spa services), but you'll still want to bring some cash with you for tips, souvenirs, and other incidentals.
The hotel can exchange US dollars for Mexican pesos, but tips in US currency are also happily accepted.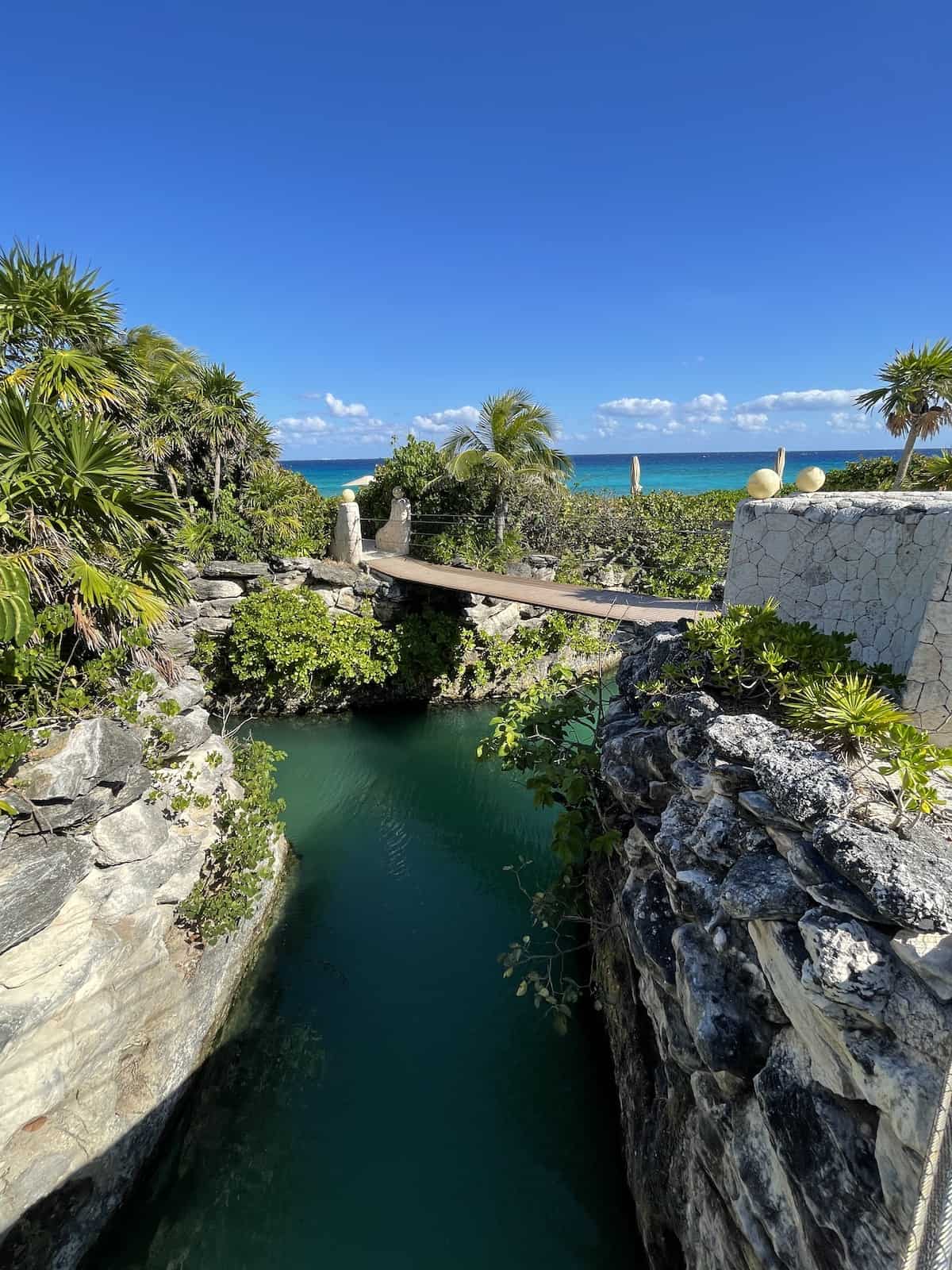 There are many dining options for vegetarians, but it's always a good idea to let the concierge know ahead of time of dietary restrictions, especially if you're attending a special dinner or occasion.
We always drink either bottled water, mineral water, or soda water when in Mexico.
Frequently Asked Questions
Is Hotel Xcaret really all-inclusive?
Yes. Not only are rooms, meals, beverages, and hotel activities included, but the Xcaret Parks are also all part of your package. The only additional cost is for spa services and a couple of the signature dining locations.
When is the best time of year to go to Playa del Carmen Beach? 
It can be rainy in June and October, as well as in between the two. However, it can rain just enough to cool things off, which can be a welcome blessing. April, May, November, and December are the best months. These resorts book up quickly, so choose dates you're able to do with work and school and book it as far out as you can. 
Is there a Kids Club?
Yes, there is a kids club. Inquire when you make your reservations. Though there is so much to do for families at Hotel Xcaret Mexico, I can see where parents might want to enjoy dinner at one of the upscale restaurants, and kids would probably rather be with others their age than sitting at dinner for hours.
I'll be sharing some recipes from the resort later, but for now, if you're looking for delicious Mexican food, try this authentic Mexican salsa and this healthy nachos recipe (it's vegan!)
Like our content? Follow us on Pinterest!