This 3 days in Rome itinerary will help you see as much as possible if you are there for a short time as I was.
Rome is one of the most beautiful places on Earth. The Italian capital has something for everyone, including sites of historic, artistic, and religious significance.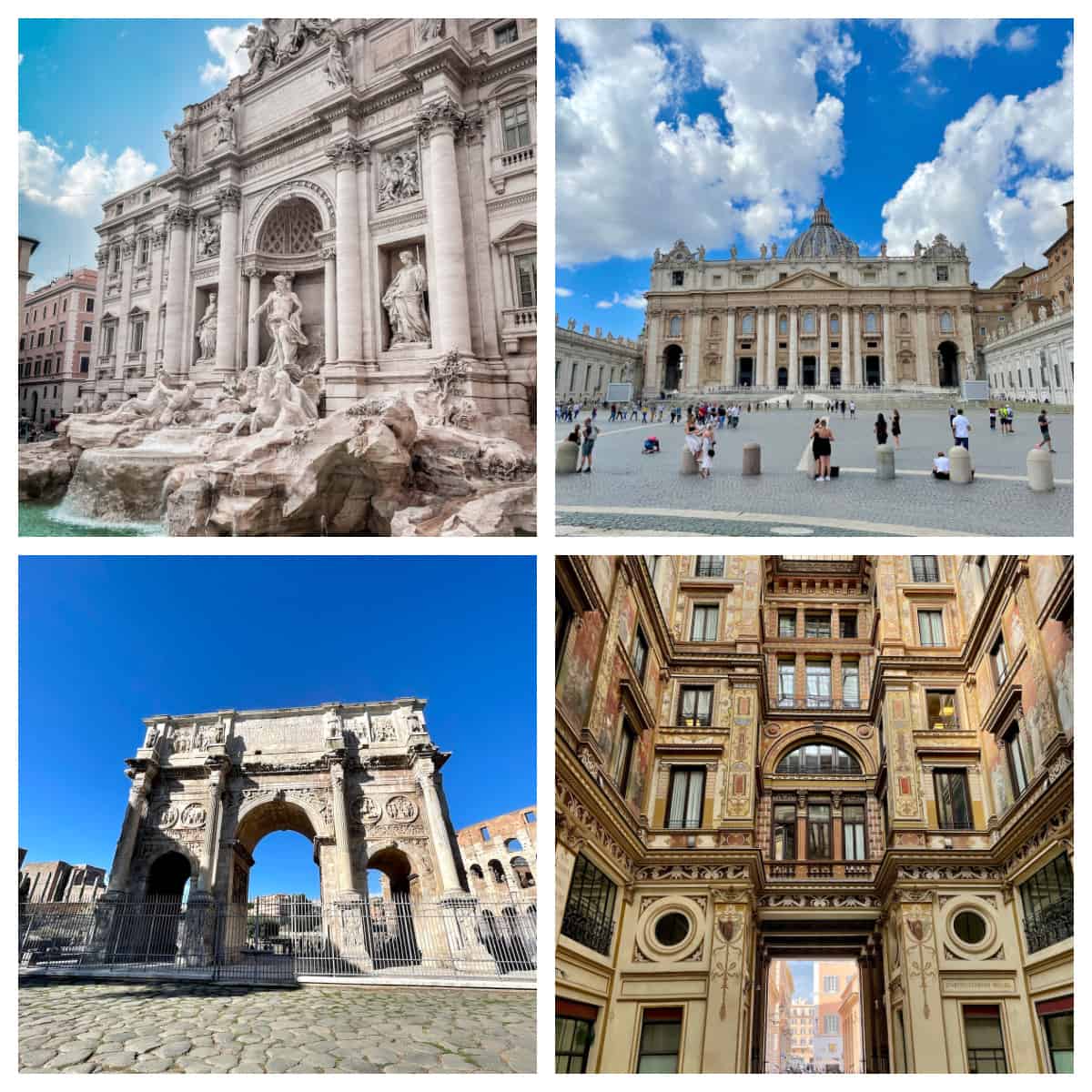 There's also amazing food, incredible shopping, and some of the most recognizable tourist sites in the world. It's no wonder why about 9 million international tourists visit Rome every year.
It may initially seem overwhelming when deciding where to go first, simply because there are so many things you'll want to see.
But if you only have 72 hours to take everything in, as I did, I have some suggestions that will help you explore as much as you can in 3 days in Rome.
When to Visit Rome
Since Rome is such a vacation destination for all ages, it isn't surprising that the biggest crowds come in the peak summer months.
But if you can avoid those months, you not only avoid the tourist crowds, you also avoid the hottest temperatures. I spent three days in Rome at the end of a Costa Smeralda Mediterranean cruise in September, and it was the perfect ending to the trip.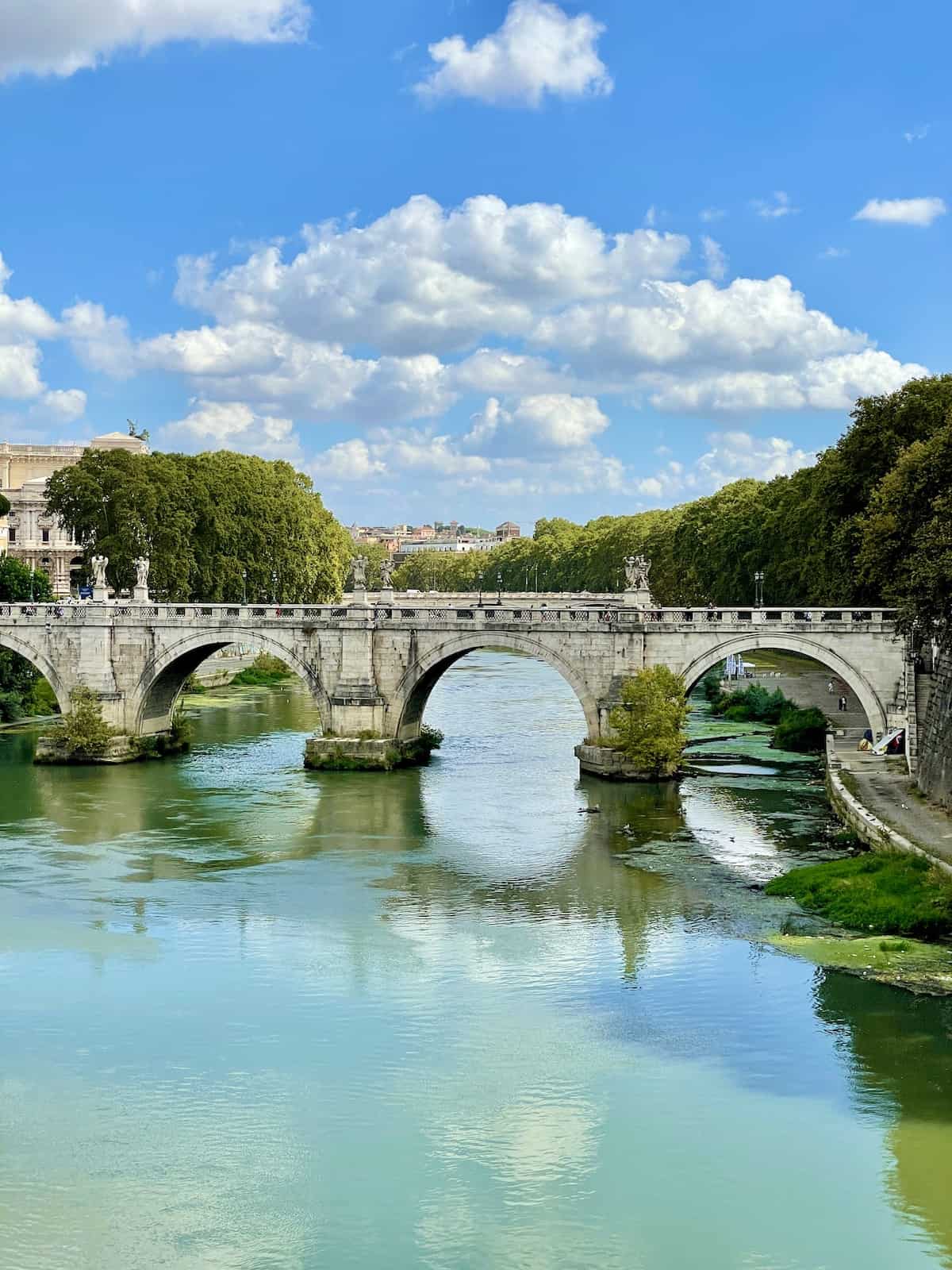 October through April means cooler temperatures, fewer crowds, and lower room rates.
If you don't want to bundle up through potentially chilly winter temperatures, May and September have lower crowds and amazing weather, making them the best time for a balance between crowds and weather.
This was only the second time I've visited Italy, with the first time further north in Florence.
The next time I visit, I'm determined to head south to explore this Puglia itinerary. It's been on my bucket list for too long!
Why I Loved Exploring this City
Everywhere you look in Rome, you'll see signs of its centuries of history. The city is safe for you to get around on foot, by taxi, or with a tour bus.
One challenge that I did find is that tour buses are so spread out that I had to take a taxi to get back to the bus! Even so, the tour buses are a decent value for the money.
Before you head out, make sure to familiarize yourself with Google maps, and grab a map whenever you book any tours.
Must-See Sites in Rome
It's impossible to see everything that Rome has to offer, even if you're staying for a lengthy visit. Still, there are some essential must-see sites that you don't want to miss during your visit to Rome. Here are some of the best things to see.
Vatican
Whether or not you are Catholic, a trip to the Vatican is definitely a must stop.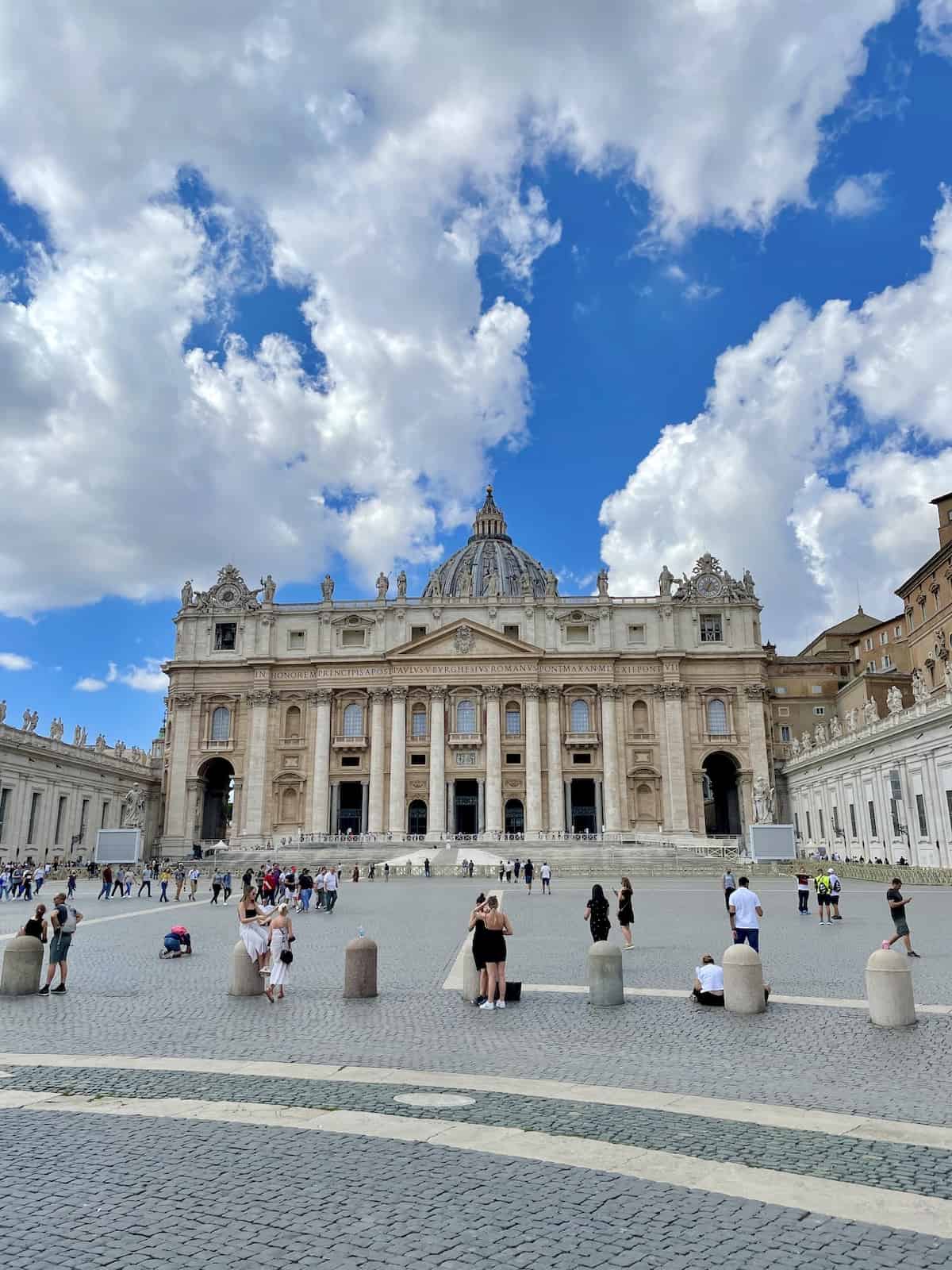 There's so much to see that it is impossible to mention it all, whether you're interested in Roman history, love to visit the historic center of artifacts in Rome, or are an art lover.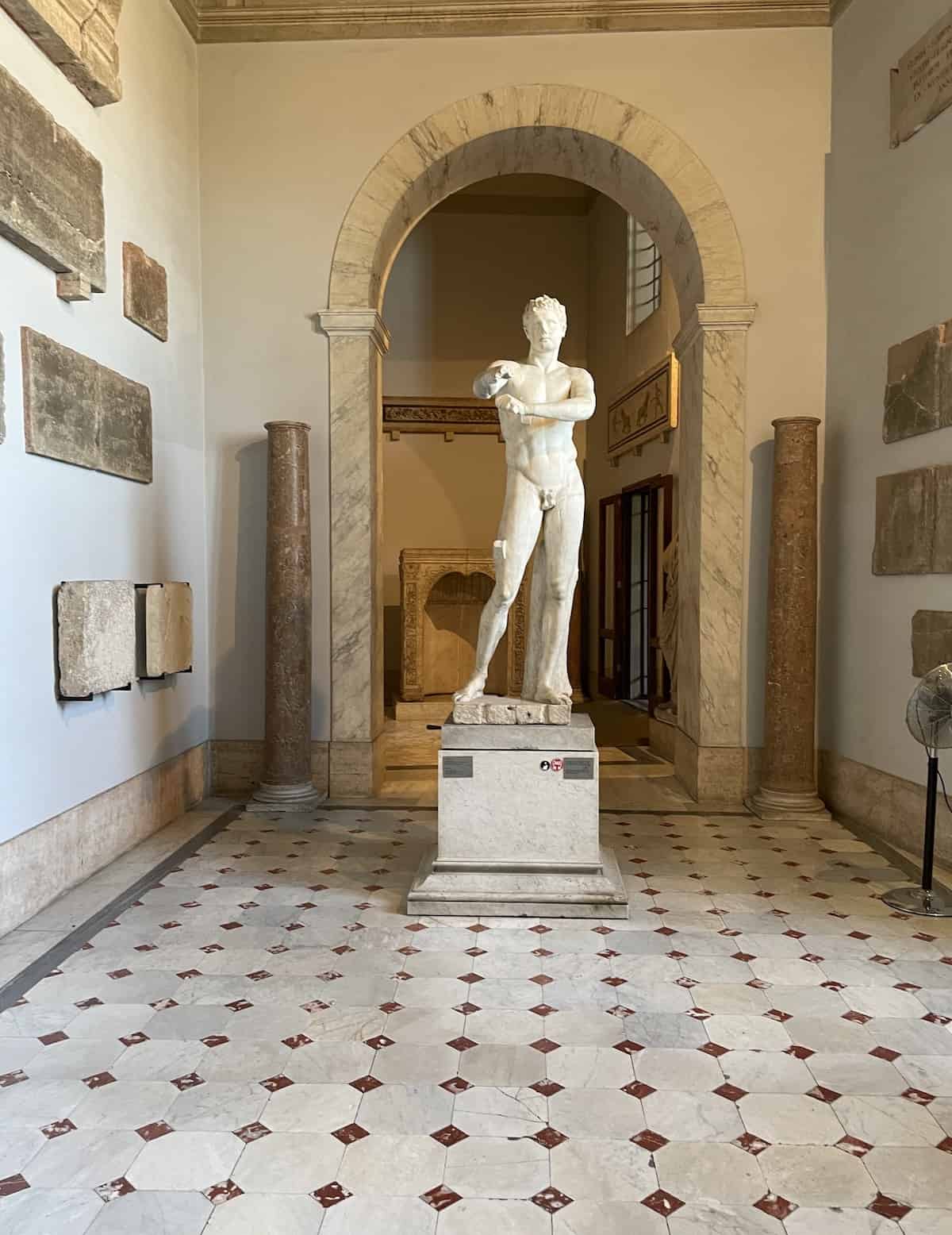 Some highlights at the various Vatican Museums stops include historic artwork and sculptures from the great masters like Leonardo da Vinci, Raphael, and of course Michelangelo's masterpiece of the Sistine Chapel.
Note: Photos are not allowed in the Sistine Chapel.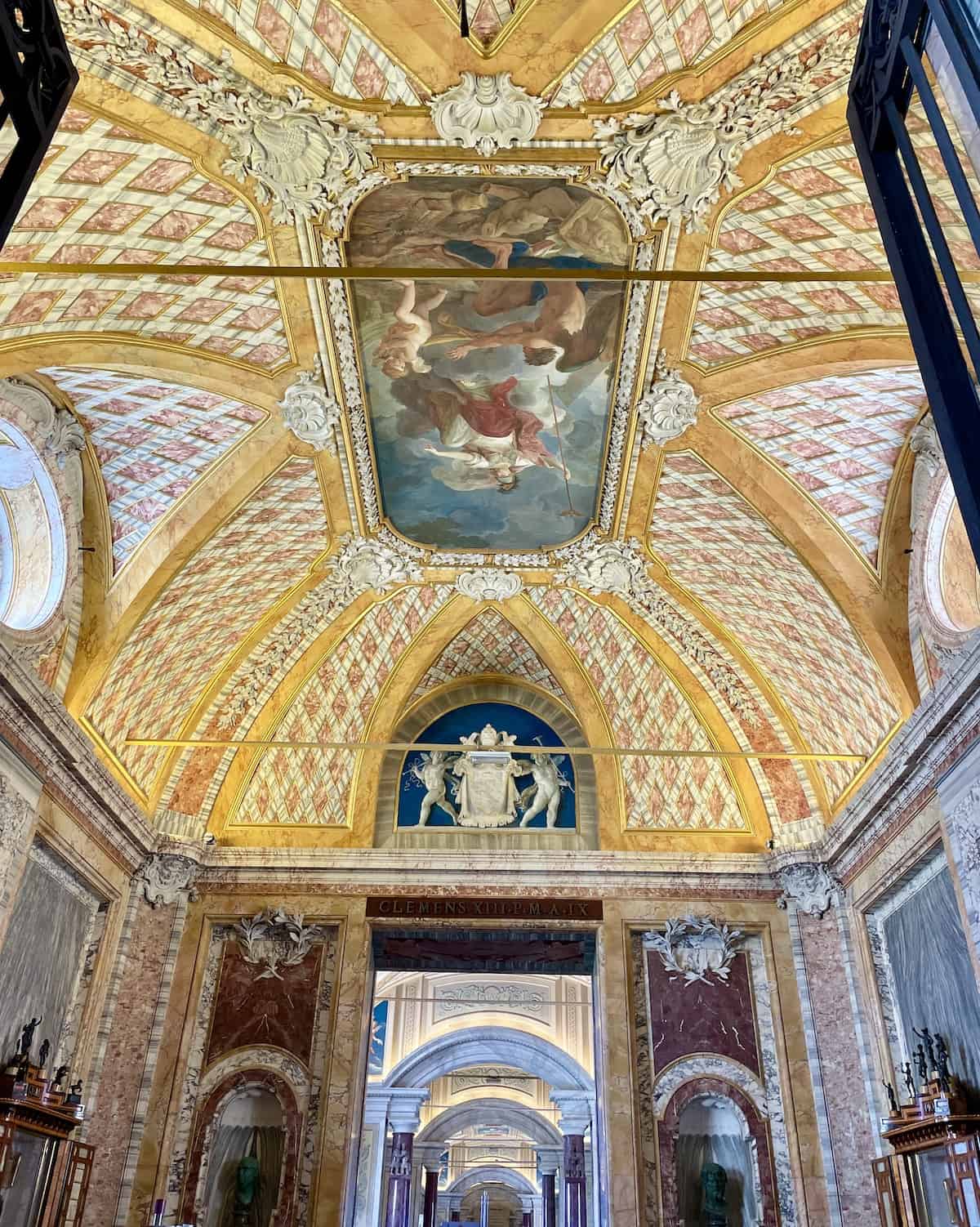 There's the architectural wonder of the Momo Spiral Staircase and the jaw-dropping Gallery of Geographical Maps. Remember to look up in this hall! In fact, look up everywhere. It's all just breathtaking.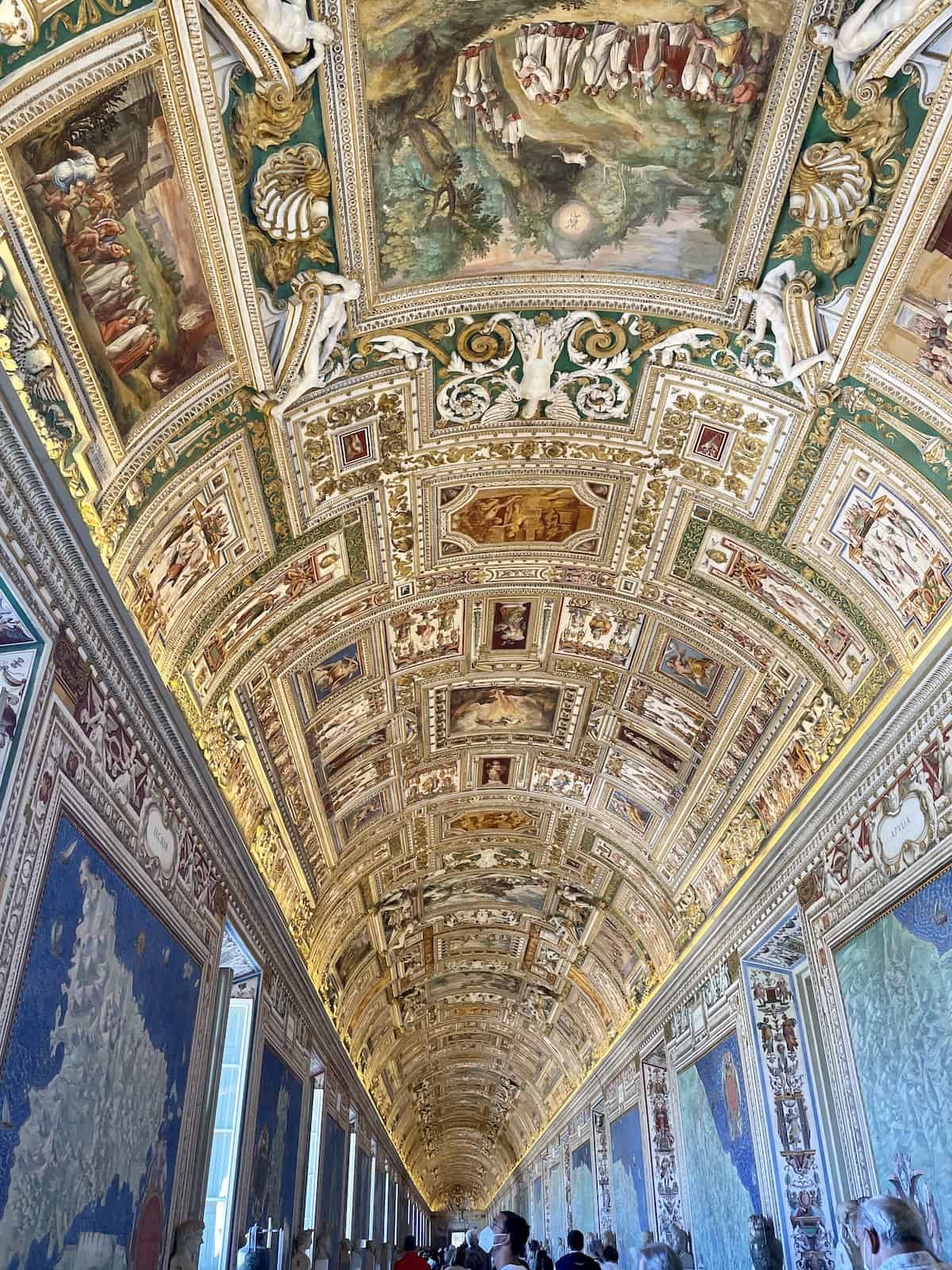 To make the most of your time, purchase a skip-the-line ticket online. It is the best way to avoid long lines.
The Vatican Museum area is a very popular spot and you can easily spend so much time just touring this site, so you don't want to waste time in lines.
Address: Viale Vaticano, 100, Roma 00192
Hours: Monday to Saturday, 9 a.m. to 6 p.m.
Cost: A full entry ticket which covers the museums is € 17, but various discounts and add-ons are listed on their website. You can buy a skip the line ticket and be ready to go in as soon as you arrive.
It is free to enter the Basilica and Vatican City, though a Vatican tour is extremely helpful and includes your ticket.
Note: The Vatican does have a dress code for certain areas that must be adhered to. Information is available on their website.
The Arch of Constantine
Commissioned in the year 312 and built over the next 3 years, The Arch of Constantine was dedicated to the emperor Constantine the Great. This is one of the best preserved monuments of ancient Rome.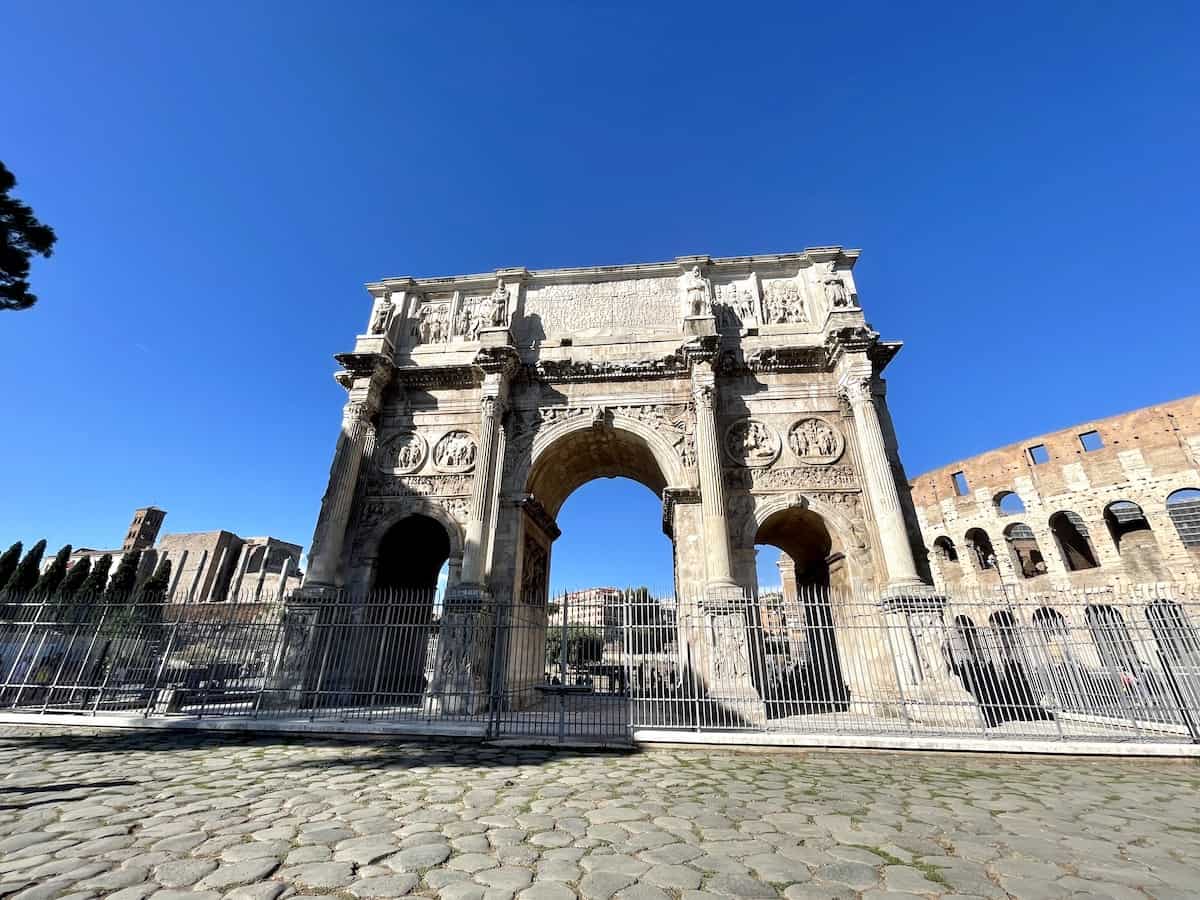 You'll find the Arch between the Colosseum and the Palatine Hill. Military leaders would walk down Via Triumphalis and under the arch when in procession.
As you can see, this is just around the corner from the Colosseum, so be sure to get a photo.
Colosseum
Can you say you visited Rome if you didn't see the Colosseum? It is one of the most iconic buildings in the world, recognized as one of the seven wonders of the world, and should be a must-see on your list!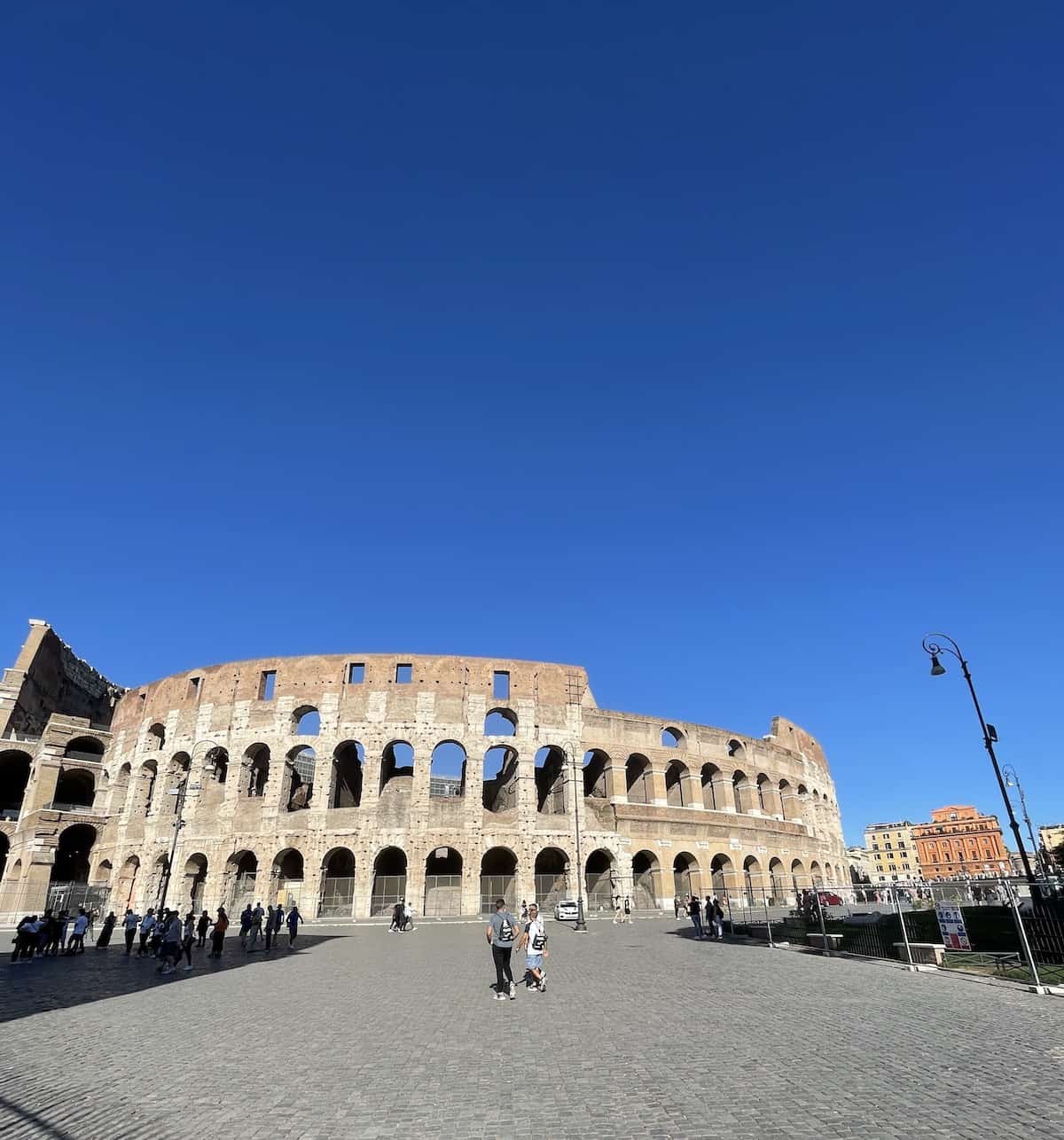 Built during the era of the Flavian emperors, this giant amphitheater could seat 50,000 spectators. They would come to watch battles with gladiators, animals, and even mock naval battles.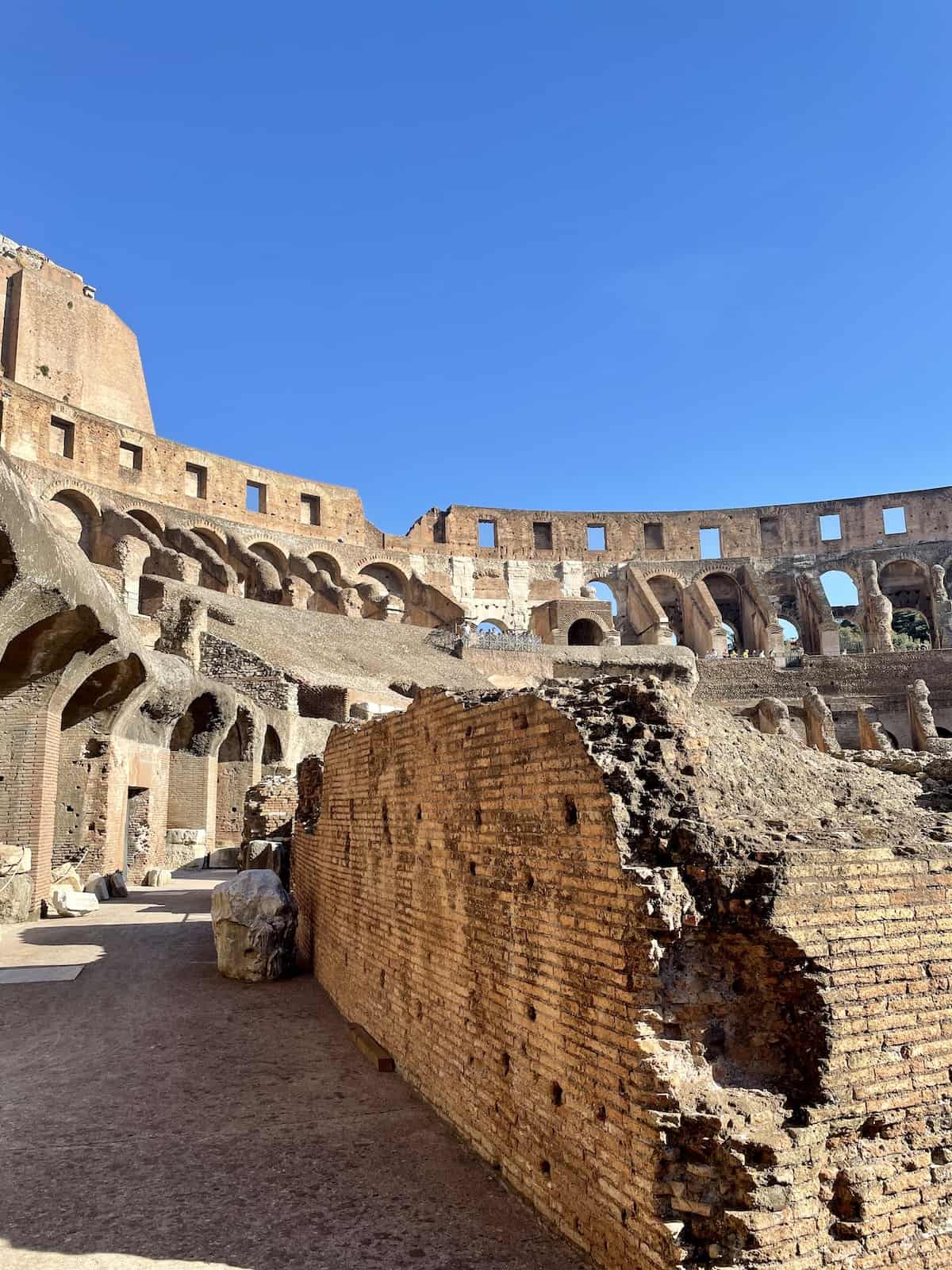 This is one of the most visited famous landmarks and historical sites in Rome, so you have to be very early if you want to enjoy it without huge crowds.
As this is one of the most popular tourist attractions in Rome, save time and look at the options to buy your tickets to the Colosseum before you arrive.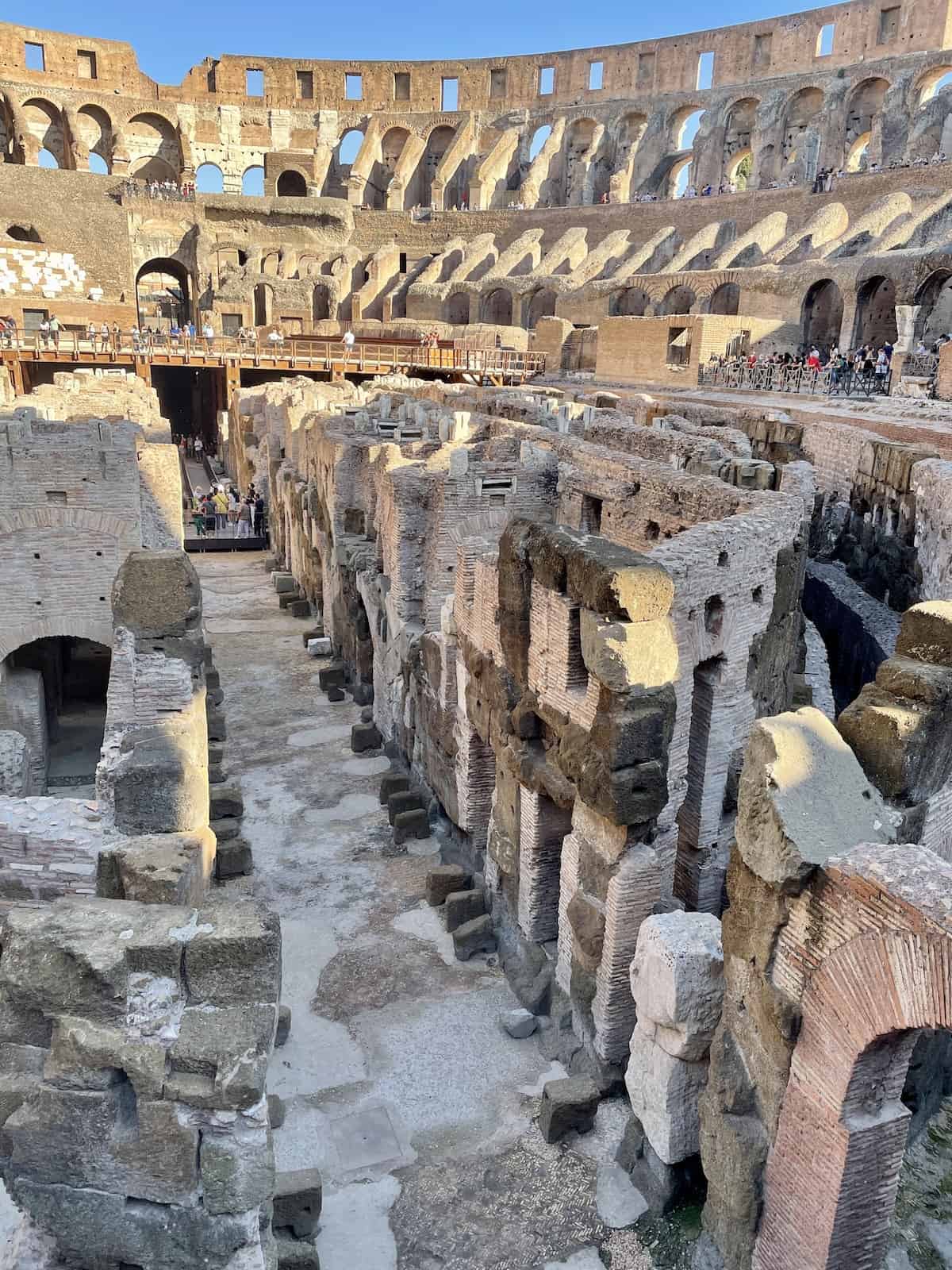 Address: Piazza del Colosseo, 1, Roma 00184
Hours: Open daily 8:30 a.m. until 7 p.m. except December 25 and January 1
Cost: € 16. Children under 17 years of age and seniors over 65 are free.
Note: Large bags, suitcases, or backpacks are not permitted. Small and medium-sized bags will be subject to security screening.
Altare della Patria
To get a birds' eye view of Rome, make your way to the Altare della Patria. From the outside, this building shines with white marble and its impressive statue of Vittorio Emanuele (Victor Emmanuel II), Italy's first king following unification.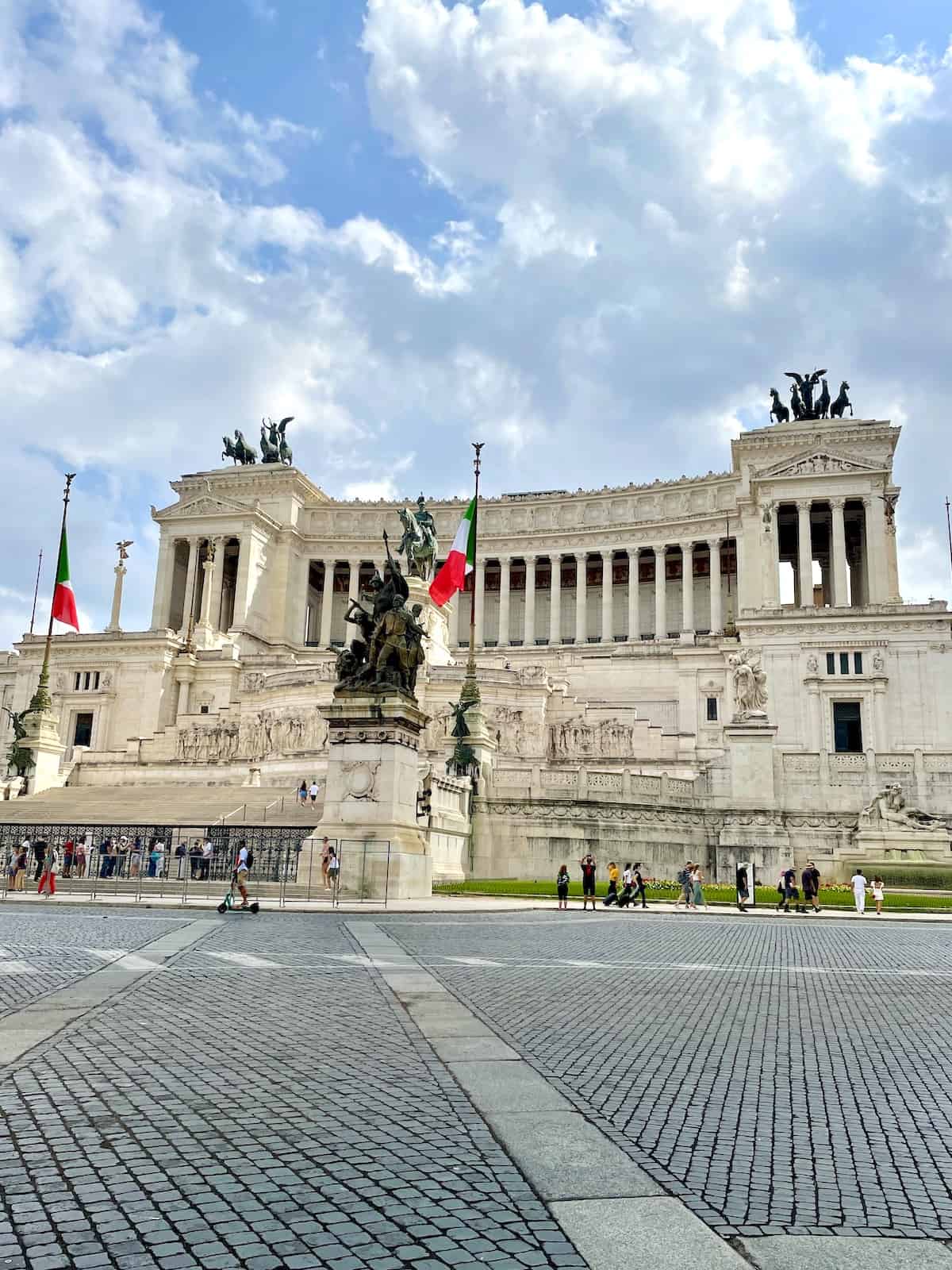 The building is also topped by two chariots driven by the goddess Victoria. If you take elevators to the top of the building, you'll get the best views of Rome from the height of those sculptures.
Address: Piazza Venezia, Roma 00187
Hours: Open 9:30 a.m. to 7:30 p.m., closed December 25 and January 1
Cost: Panoramic lifts, € 7 for adults, € 3.50 for children under 18 and seniors over 65
Trevi Fountain
Quite possibly the best-known fountain in the world, Fontana di Trevi (Trevi Fountain) is famous for wishes.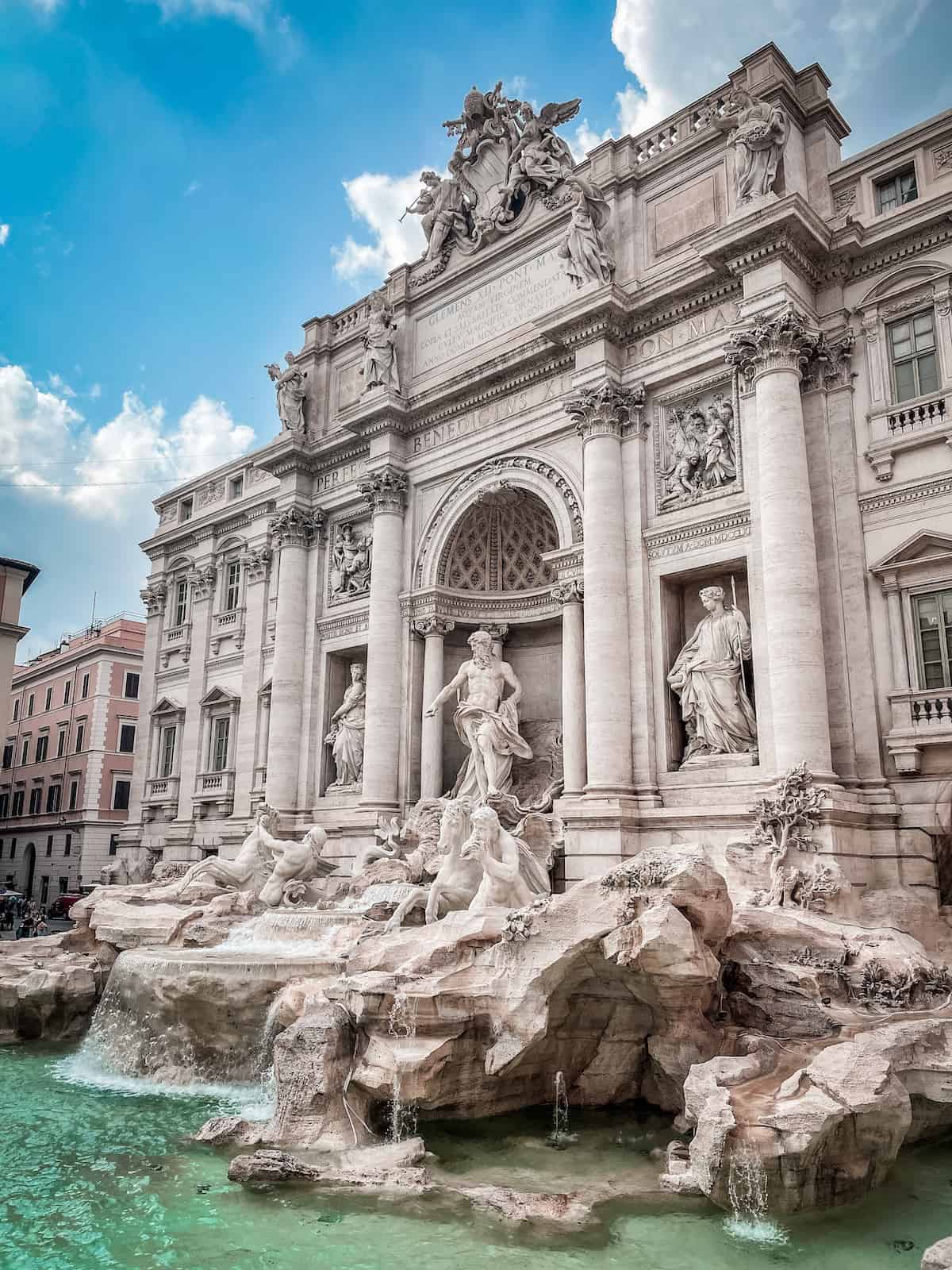 According to legend, if you throw one coin in the fountain over your left shoulder, you will return to Rome. For two coins, you will fall in love with an attractive Italian, and three coins mean you will marry that person.
As I am happily married, I only tossed one coin. I'll let you know if my wish comes true!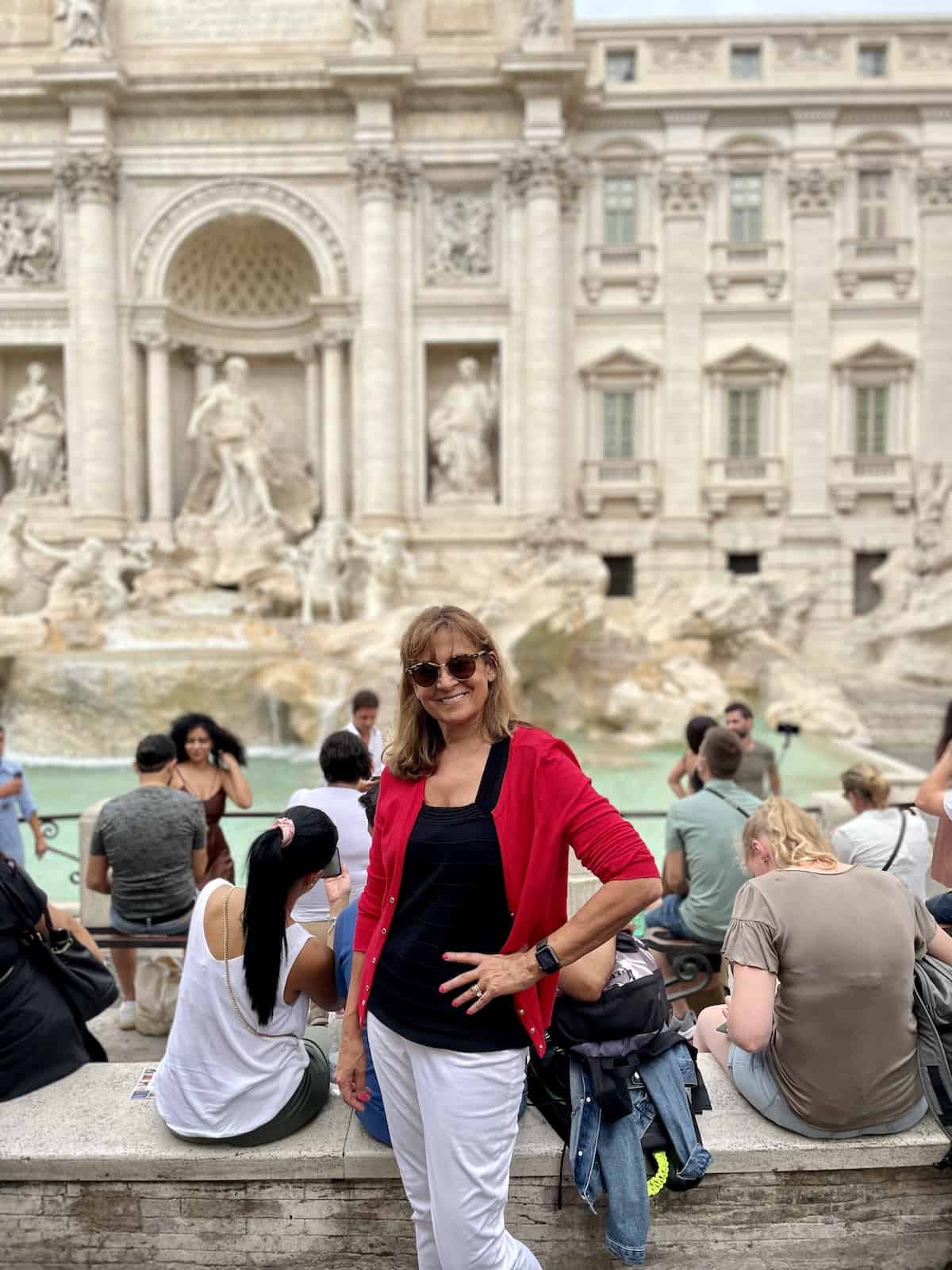 Its name comes from "Tre Vie" meaning three ways, since three streets met in that area. The fountain is beautiful both during the day and at night, and is worth a visit – whether you make wishes or not.
Address: Piazza di Trevi, Roma 00187
Hours: Open 24 hours
Cost: Free (aside from any coins you throw in)
Galleria Sciarra
Just another thing I love about Rome. You're strolling along after seeing the Trevi Fountain just 2 minutes ago, and happen upon a place like this.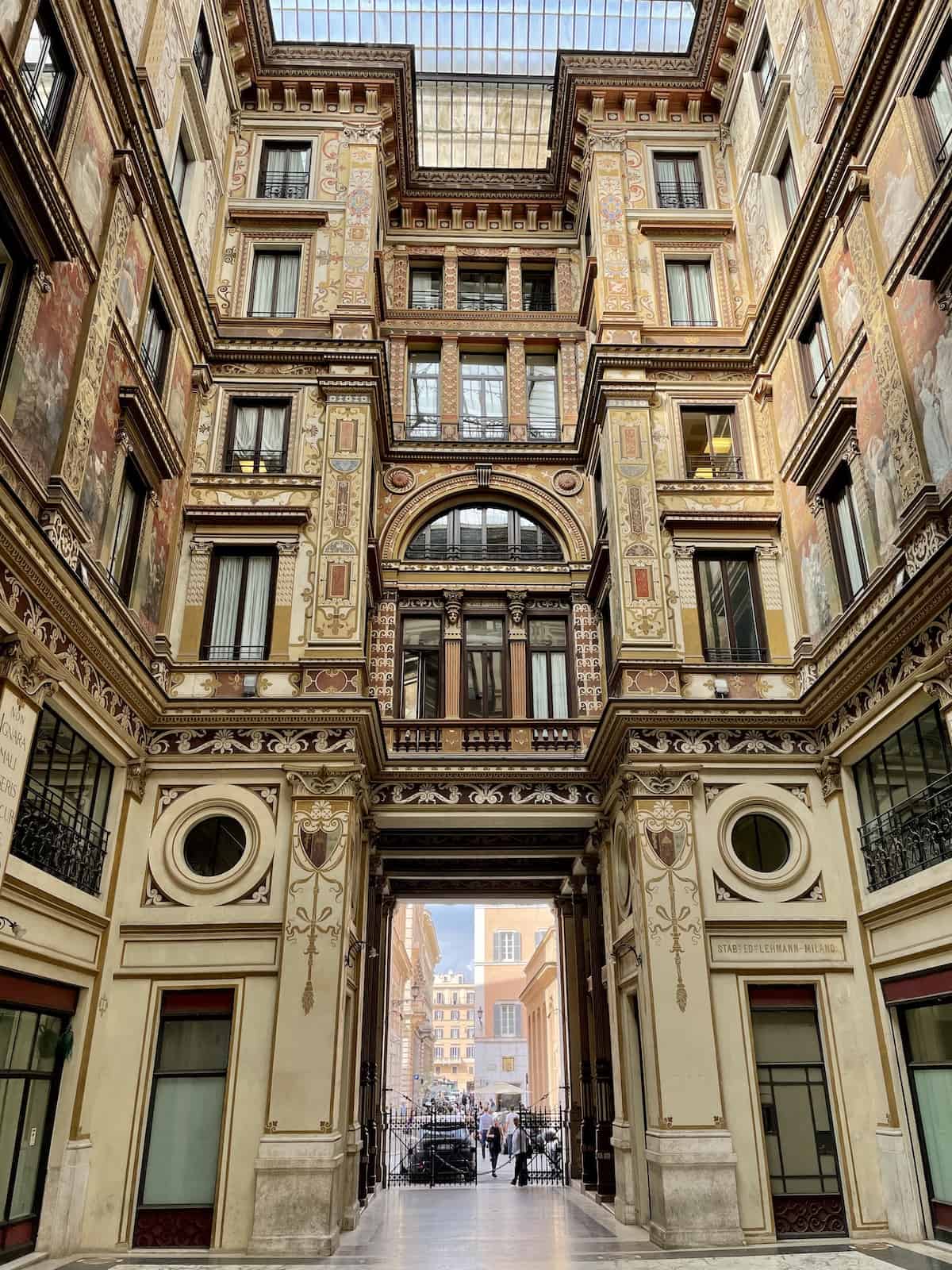 Dating back to the late 1800s, the Galleria Sciarra is a courtyard area for the Palazzo Sciarra Colonna. The architecture here is simply stunning, and was revolutionary for its time.
The work was done by Giuseppe Cellini and featured a technique called encausto, which takes wax and mixes it with pigment. The result is a bold area with influences of ancient Rome, Etruscan cultures, and Art Nouveau motifs.
Don't forget to look up!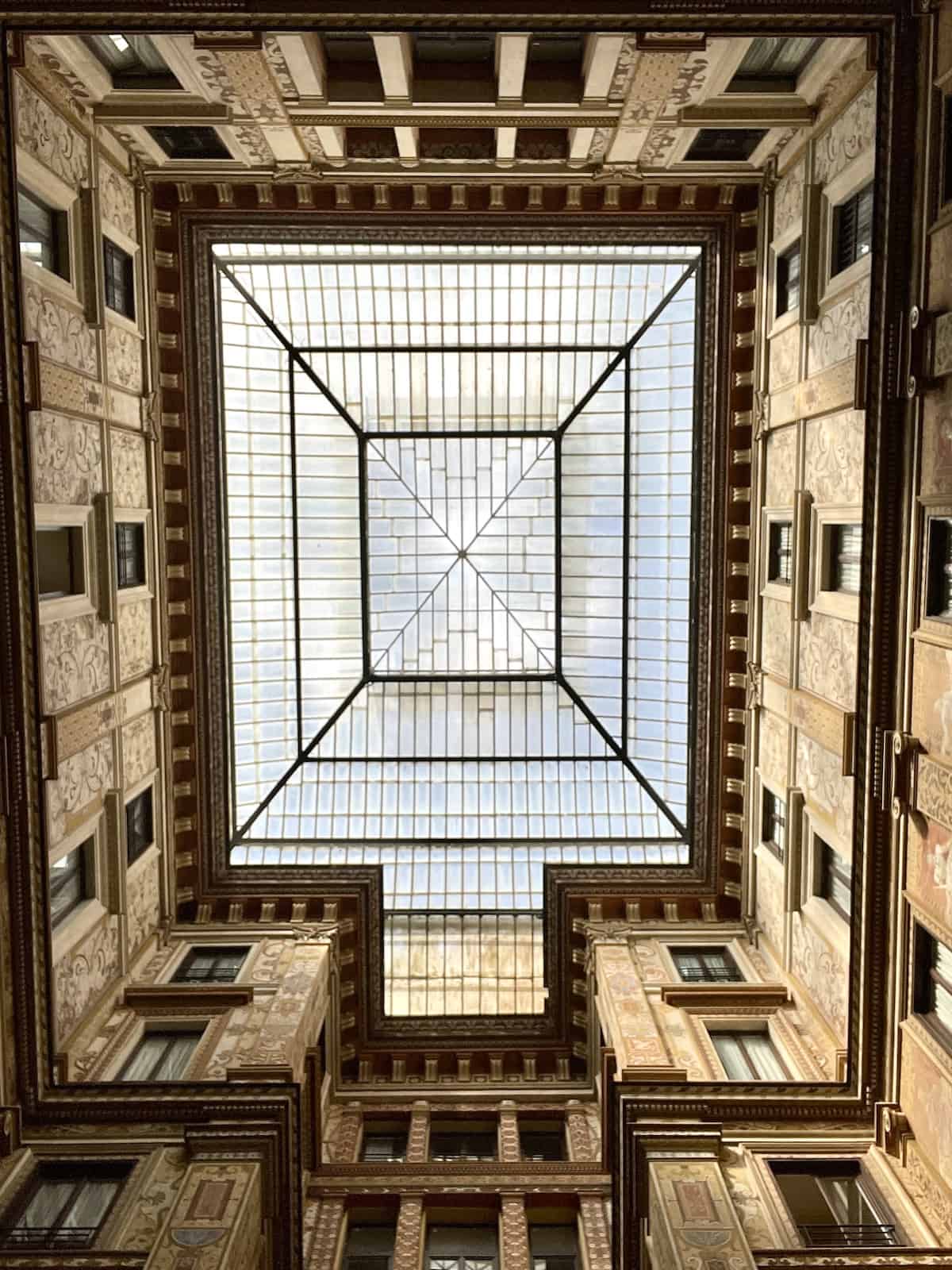 Address: Via Marco Minghetti, 10, Roma 00187
Hours: Open daily from 12 p.m. to 12 a.m.
Cost: Free entry
Castel Sant'Angelo
You may be more familiar with Castel Sant'Angelo by its other name: Hadrian's Tomb. This imposing structure was built by Emperor Hadrian to be used as a mausoleum for himself and family members.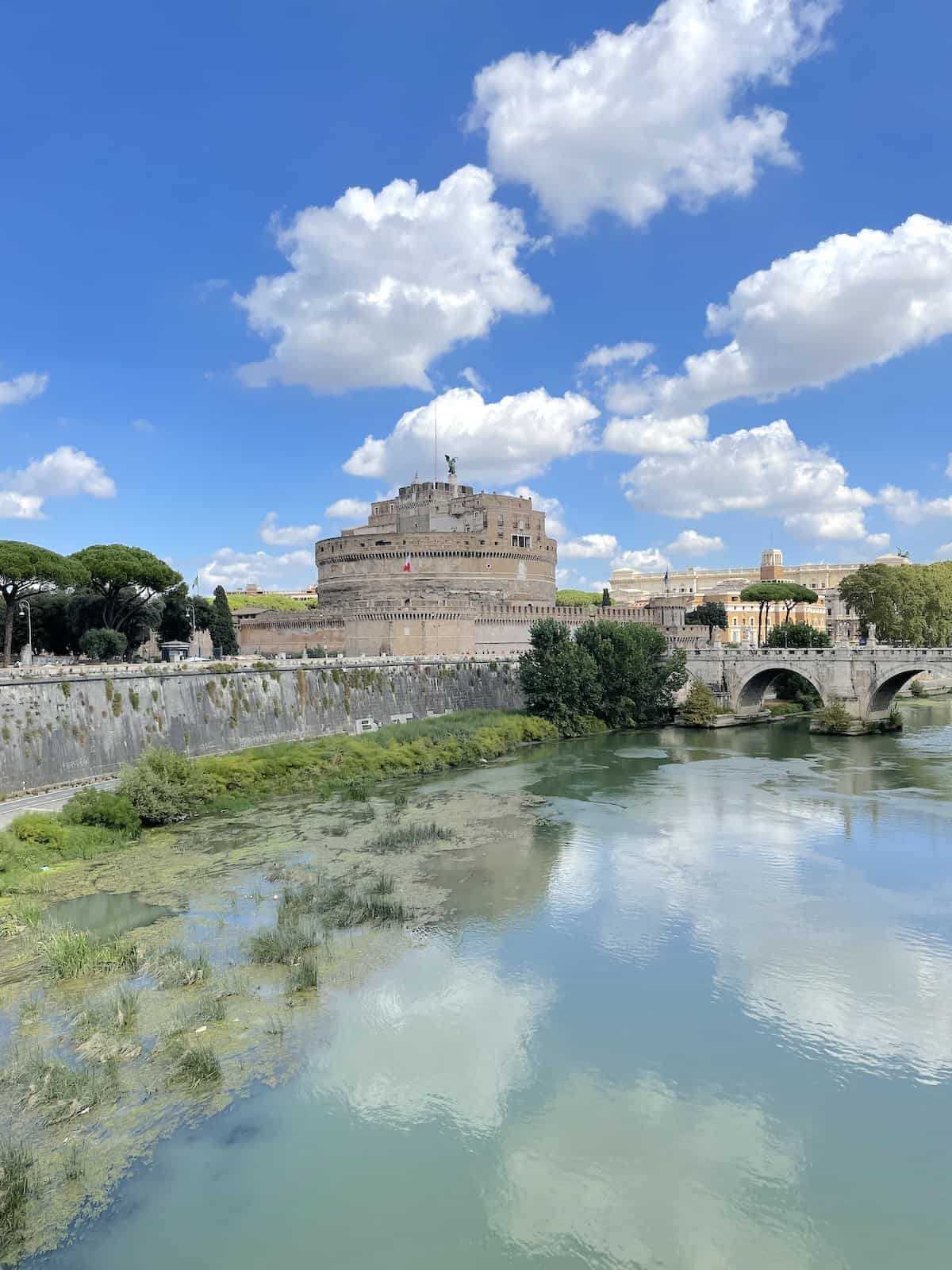 It was heavily fortified, which meant that it could be used as a refuge for the Pope during any sieges in Rome. Today, the castle showcases an extensive collection of weapons as well as Renaissance-era frescos and rooms that were used as a Papal residence.
Address: Lungotevere Castello, 50, Roma 00193
Hours: Daily 9:00 a.m. to 7:30 p.m.
Cost: € 12
Basilica Santa Maria degli Angeli e dei Martiri
Originally the site of a Roman bathhouse, the Basilica Santa Maria degli Angeli e dei Martiri (St. Mary of the Angels and the Martyrs) was repurposed by none other than Michelangelo himself. Like many other locations around Rome, this building has stunning artwork and architecture.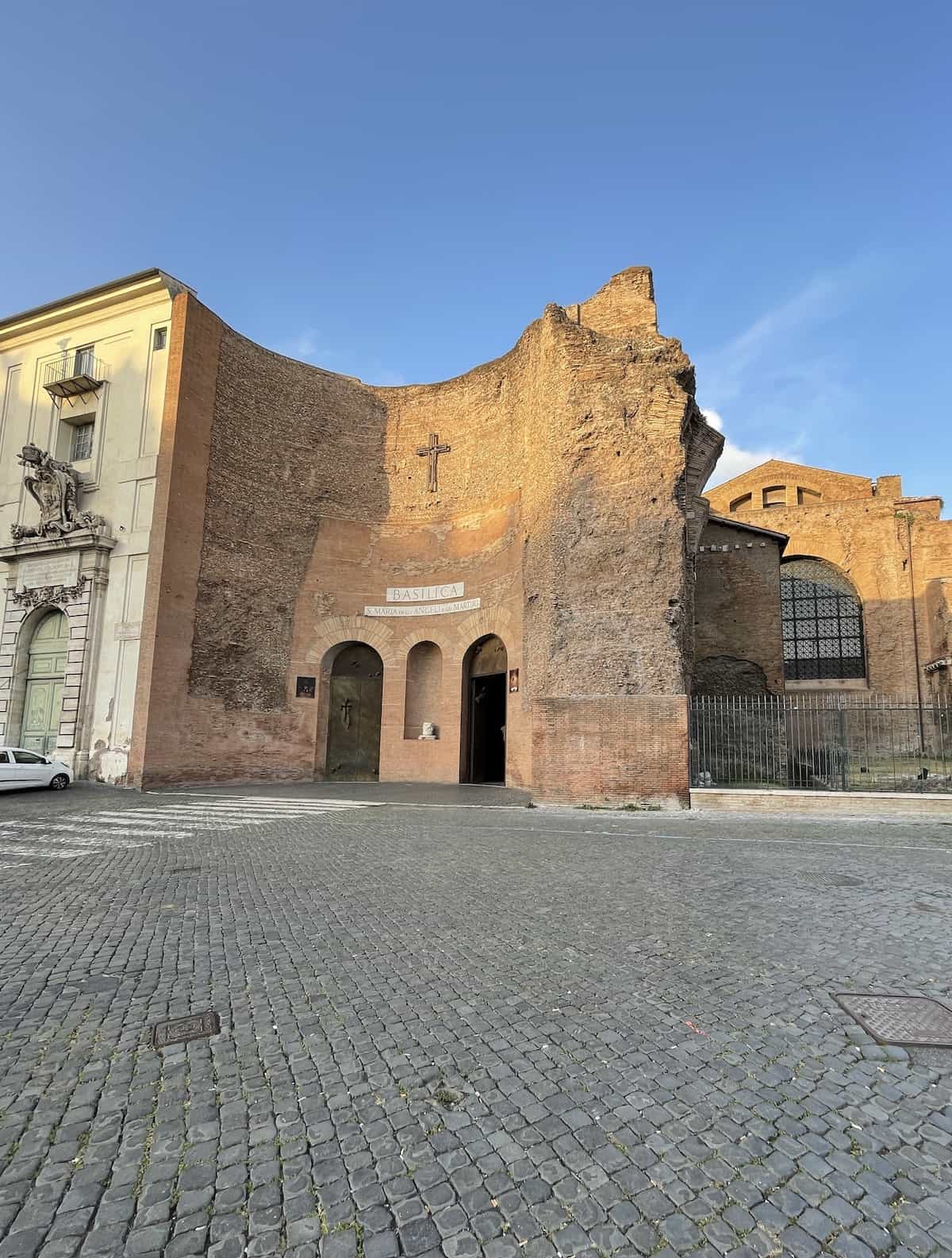 But what makes this particular location unique is the meridian sundial, installed by Francesco Bianchini. A meridian line was put into the church down one side of the Basilica to calculate the length of a year. The science behind this is really fascinating and worth seeing.
Address: Plaza della Repubblica, Roma 00185
Hours: Open daily 7:00 a.m. to 7:30 p.m.
Cost: Free
Note: this is an active church and place of worship, so be mindful not to disrupt services.
Porta Pia Gate
One of the gates in the Aurelian Walls, the Porta Pia gate was actually a replacement for the original one. As the city of Rome grew, the original gate in the wall was unable to handle access.
Michelangelo was contracted to provide three designs for the gate, and legend has it that the Pope chose the cheapest one, which is what was built.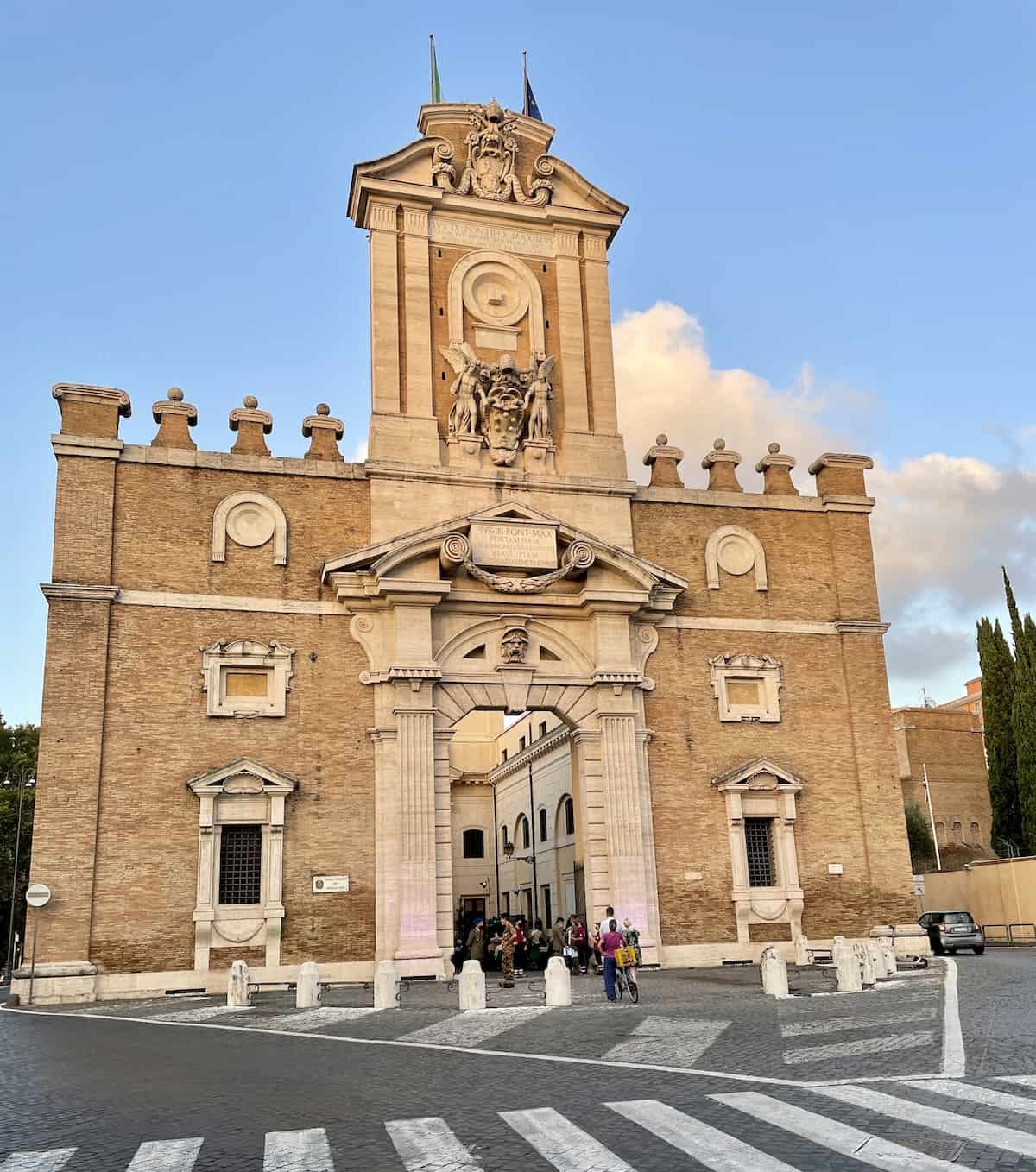 Don't let that dissuade you from visiting this site, however. It's still an architectural site worth seeing.
It also is notable because it was Michelangelo's final architectural work. He died shortly before the Porta Pia was completed.
Address: Via Venti Settembre, Roma 00187
Hours: Open at all times
Cost: Free
If You Have More Time in Rome
The above spots are really not to miss, and you should be able to see them all in the 3 day itinerary. If you have more time, the below sites are also worth visiting!
Basilica of Santa Maria in Via Lata
Santa Maria in Via Lata was believed to be a warehouse in the 3rd century, and turned into the Diaconia of Pope Sergius I towards the end of the 6th century. The Upper church was built around 1049.
The basilica that stands today was built in the 15th century, and has been renovated several times.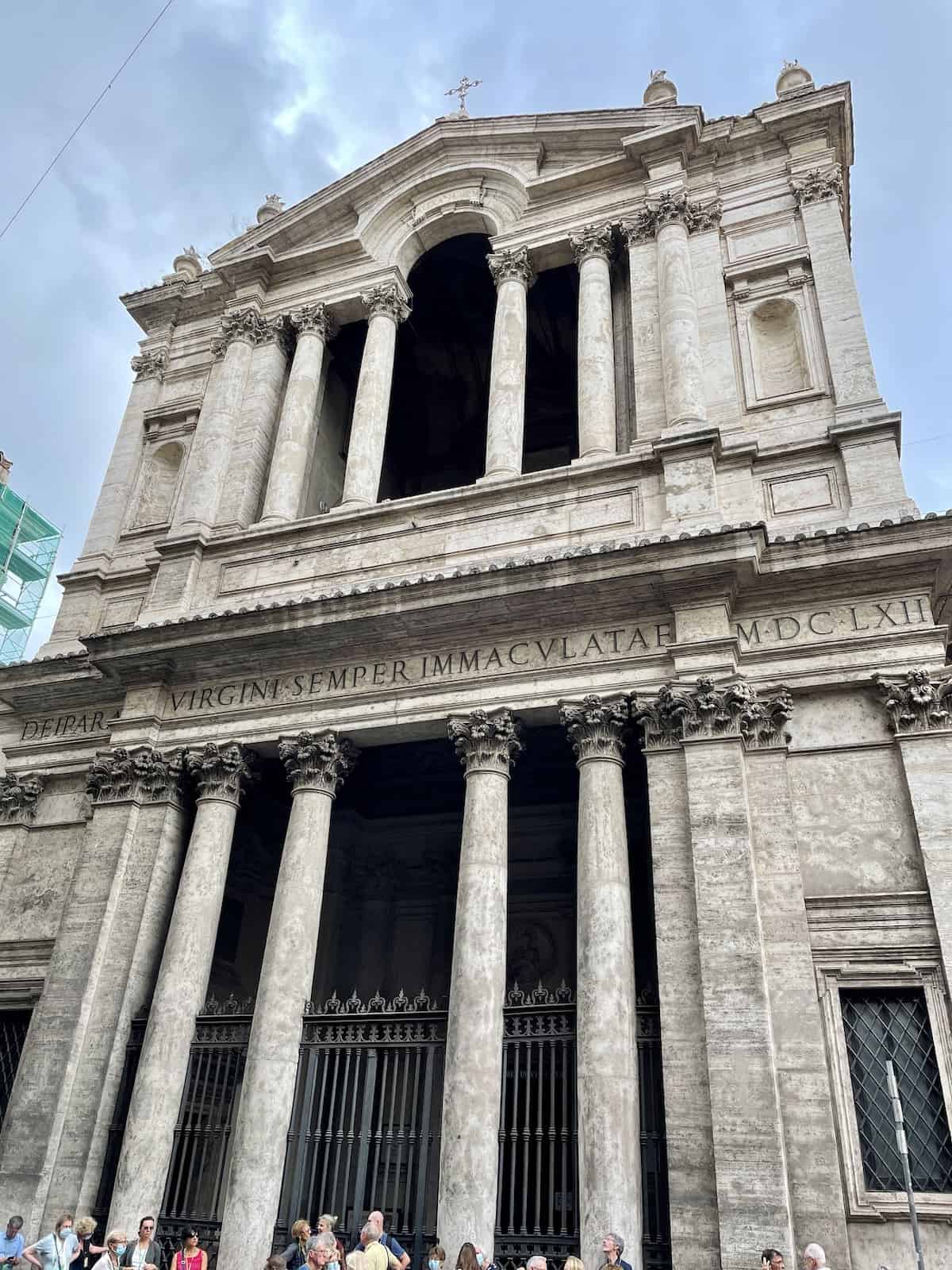 It's one of the most beautiful barque churches. Go inside and see the Upper Church, Crypta, Oval Canvases, and the Alters.
Some say Paul of Tarsus lived here when he was under house arrest awaiting trial.
It's also believed that this was where Luke wrote his Gospel, as well as wrote the Acts of the Apostles as Paul's assistant. Kind of mind-boggling to imagine, don't you think?
Address: Via del Corso, 306, 00186 Rome
Hours: 6 p.m until 9:30 p.m. daily. May differ on Feast days.
Cost: € 3
NOTE: Modest attire is requested, as well as knees and shoulders to be covered for women. No flash photography inside.
Santa Maria di Loreto
Santa Maria di Loreto was originally designed by Donato Bramante in 1507. More than 25 years later, the lower section was completed, covered by a temporary roof for the time being.
In 1573, Jacopo del Duca, who was a student of Michelangelo, designed the dome and bell tower.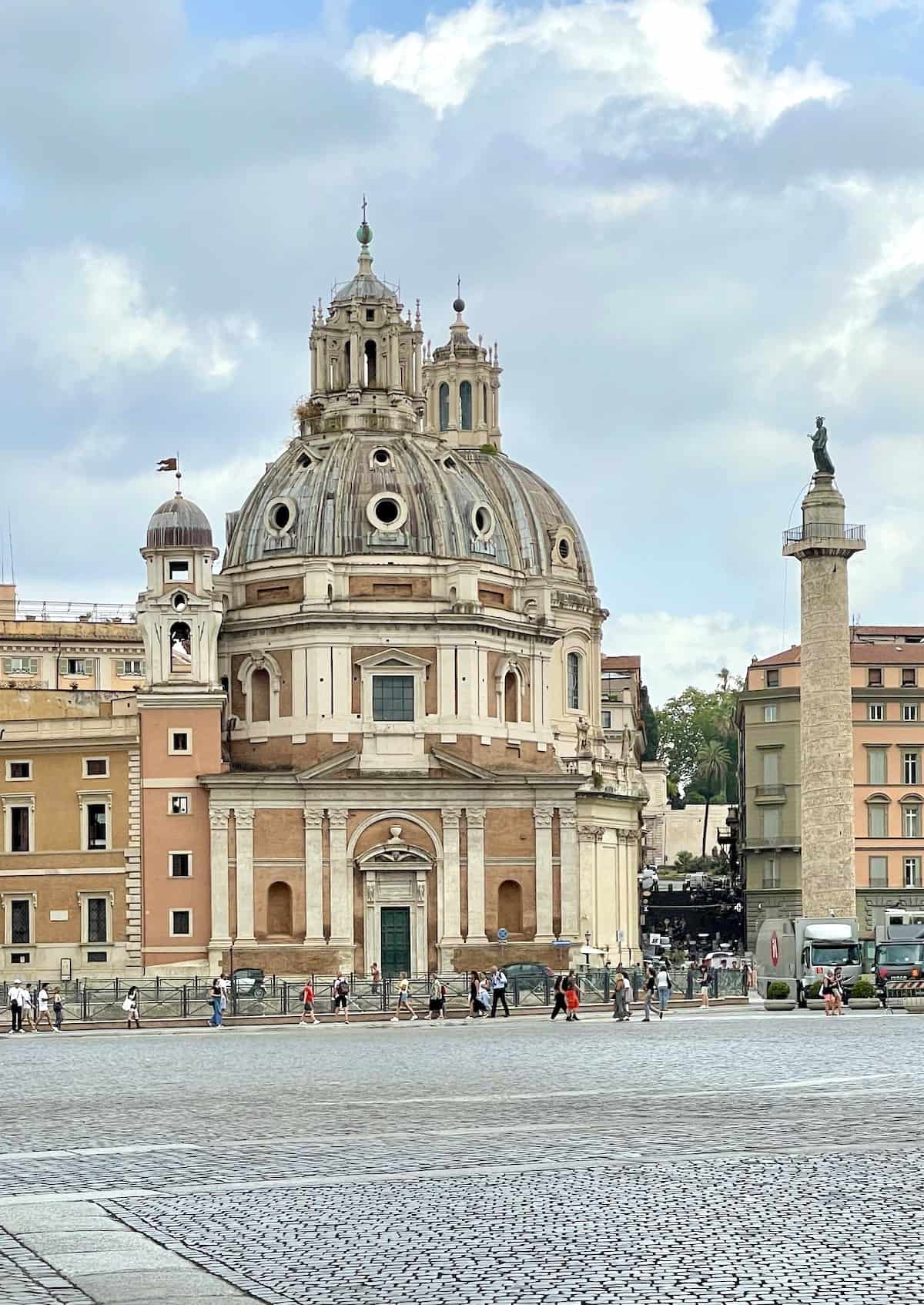 The architecture is quite beautiful on the exterior, but the interior is just breathtaking. It's best known for the statues and artwork inside.
Address: 26 Piazza Madonna di Loreto
Hours: 10 a.m. - 1 p.m., 3 p.m. - 6 p.m daily. May be closed on Feast days, so check before you go.
Cost: Free
Palazzo delle Esposizioni
This neoclassical exhibition hall is absolutely stunning inside, and holds events all year, like orchestra concerts, and art exhibits. Some events do cost extra.
The Palazzo delle Esposizioni also houses a museum, library, and offers free family activities.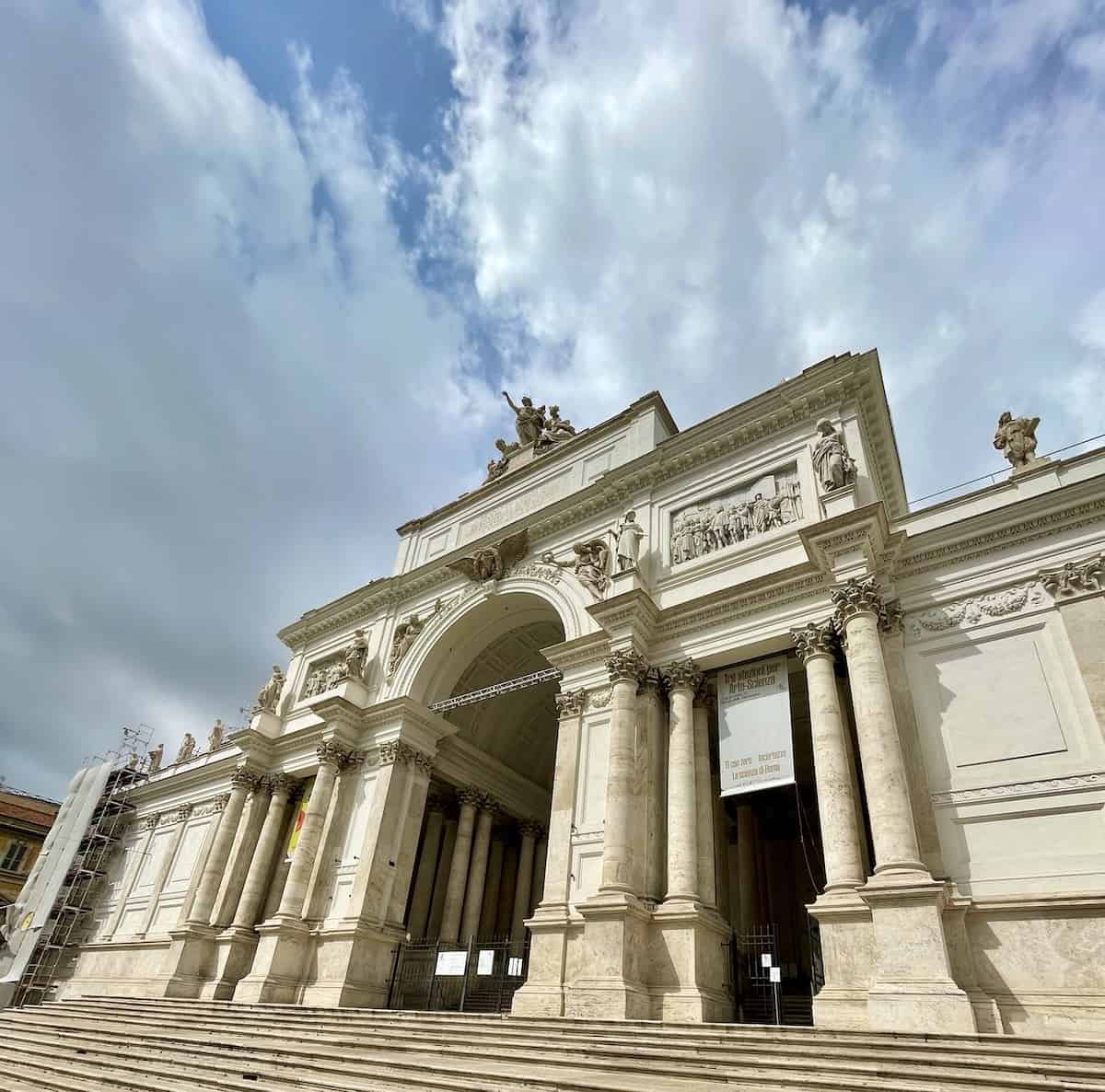 Address: Via Nazionale, 194-00184
Hours: Tuesday through Sunday, 10:00 a.m. until 8 p.m.
Cost: € 10 Euro for adults, € 4 children 7-18 year old, free for children up to 6 years old.
Where to Eat in Rome
Whether it is an outgrowth of the delightful climate producing quality fresh fruits and vegetables or just the Italian hospitality, it is impossible to go hungry when in Rome.
In fact, the best way to bring back a little of the flavors of Italy would be to take a couple of cooking classes in Rome while you're there. There's nothing like learning from a local!
There are so many amazing places to grab everything from a quick bite to a full meal, but here are a couple of the best places that stood out to me.
Tip: Know how to order food in Italy before you go!
Pane e Salame
With a name that translates to "bread and salami", you know what to expect here. And while the sandwiches at Pane e Salame are amazing, you really have to try their charcuterie boards.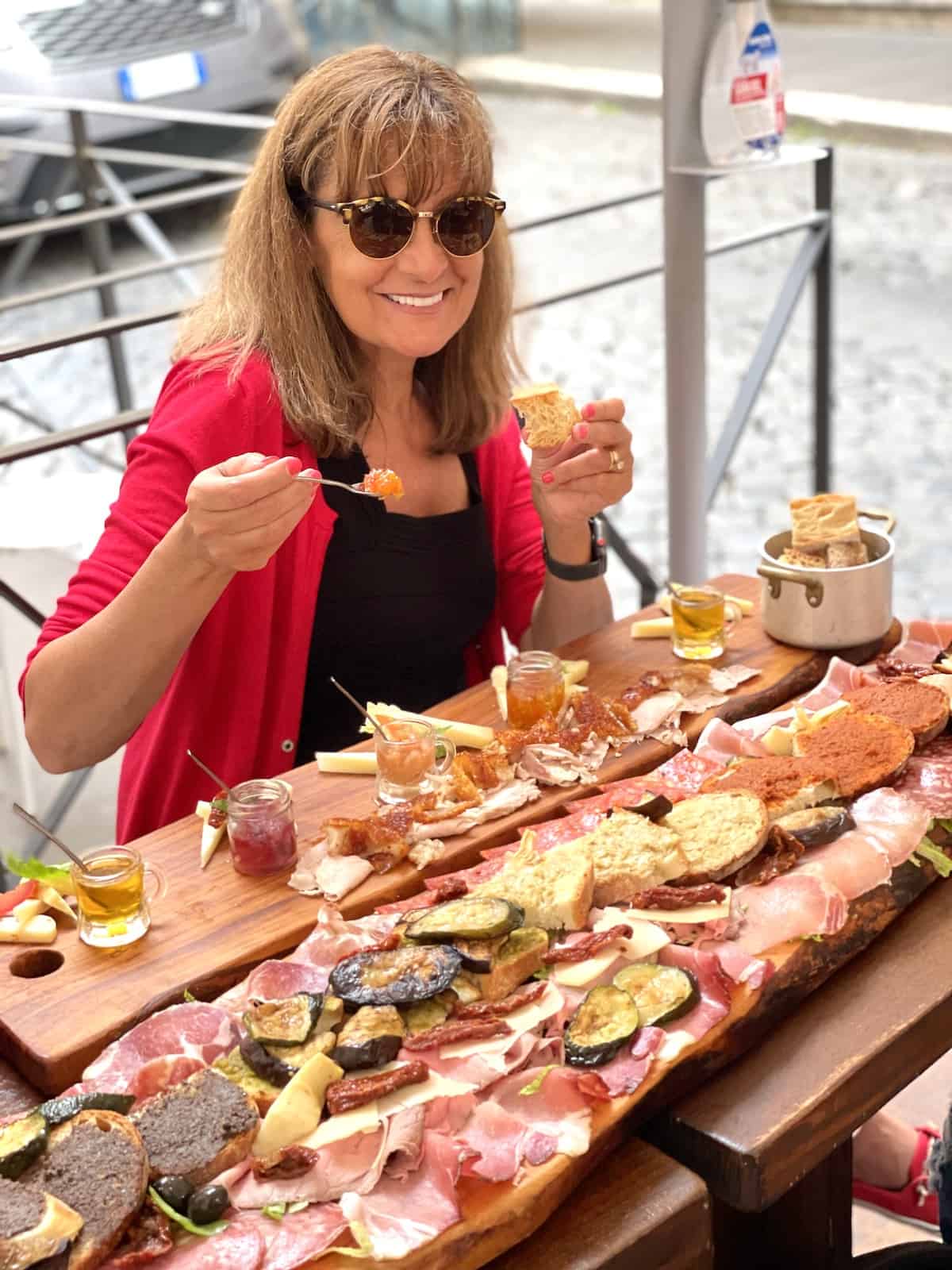 The charcuterie boards are huge and contain tremendous flavors to match. You can get a mixed cutting board with a variety of cheeses, meats, vegetables, and bruschettas, or you can select specific types of meats and cheeses.
If you're not feeling like meats, their vegetarian sandwiches are an exceptional value and full of flavor, too.
Address: Via Santa Maria in Via, 19, Roma 00187
La Buca Romano
For authentic Italian flavors that are sure to wow, La Buca Romano is the place to go.
Much of the menu will be familiar to fans of Italian food, with dishes like Lasagna, Fettuccine, and Spaghetti, but the way these are prepared is authentically Italian, with ingredients like pork jowl, minced meat, and pecorino cheese.
From antipasti to dolci and everything in between – yes, including pizza – the most difficult decision at La Buca Romano will be narrowing down what you want to eat.
I stayed just across the street at the 4-star Albergo Quirinale hotel, so La Buca Romano was very convenient.
Address: Via Nazionale 251/A, Roma 00184
Gelato Anywhere!
A visit to Rome in the warm summer months (or spring, or fall), calls for gelato! If you've never had gelato, think of it as ice cream's more sophisticated cousin. Nothing beats real Italian gelato in Rome.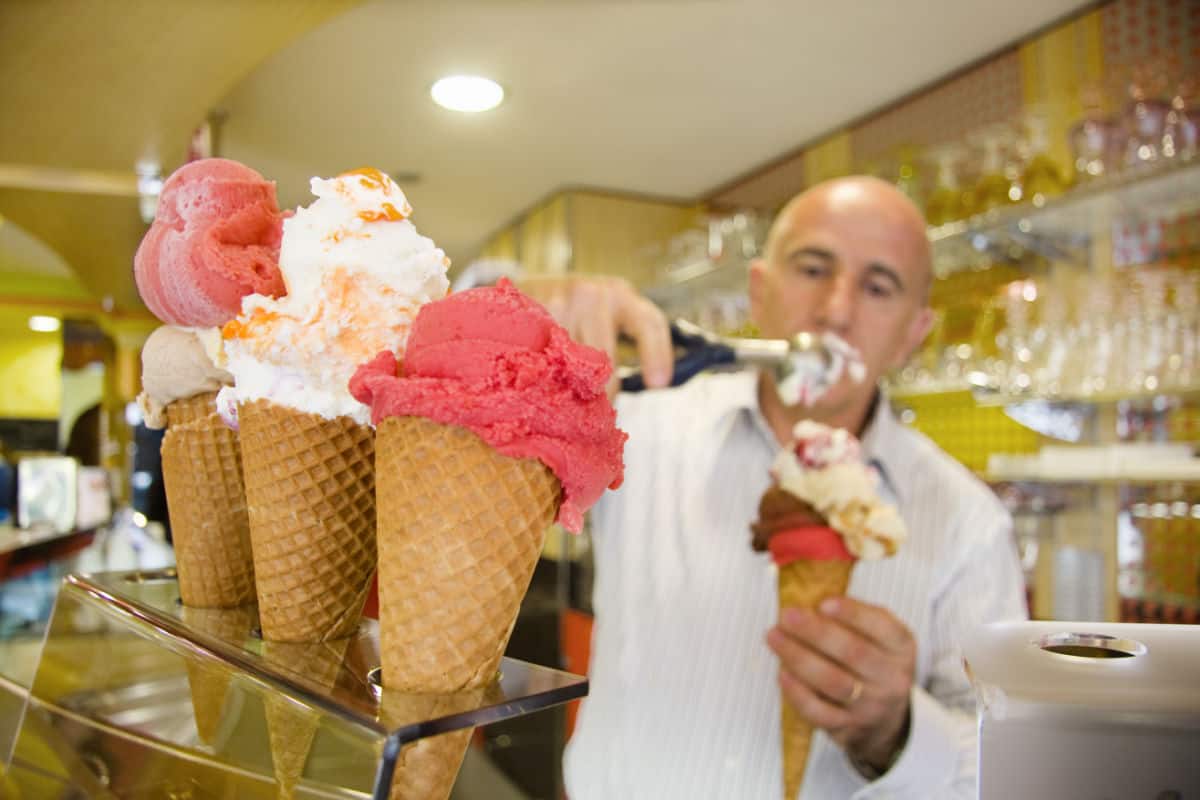 There's an abundance of places, and any of them is a great pick for those fresh and creamy flavors.
Where to Shop in Rome
Whether you want to bring back typical souvenirs or something that is distinctly Italian, there are many options for shopping in Rome.
You'll find a huge variety of stores – some will be very familiar, but there are also local businesses that sell items that are unique to Italy and to Rome. Here are some suggestions for where to shop.
Piazza Navona
At one time, the Piazza Navona was the Circus Agonalis (a competition arena for Roman games). Today, it is a large, open space with upscale shopping and beautiful fountains.
This area is a great place to shop at trendy boutiques specializing in clothing, jewelry, and more. The stylish items for sale here are pricey, but the quality is exceptional.
Campo de'Fiori
Located in the center of Rome, Campo de'Fiori literally translates to "field of flowers". You'll find this square south of Piazza Navona.
Although the name is still fitting because frequently you can find fresh flowers, fruit, and herbs for sale, the name actually dates back to the Middle Ages when this was just a meadow.
Monday through Saturday, this area hosts the Italian version of a farmer's market, and is a great place to get a taste (even literally!) of Italian life.
Via del Corso
This narrow street (only 10 meters wide!) is a road that dates back to ancient times, and the architecture reflects that. But when you look at what is offered on this street, it is very modern.
You'll find many brand-name stores including Armani, Prada, and Cavalli, mixed in with small boutiques. It's a charming area to take a walk along, even if you just want to window shop.
Via dei Coronari
Another narrow and ancient street in Rome, the Via dei Coronari was once home to a variety of homes of nobles. As such, the architecture is impressive.
This quaint street has a variety of antiques, shops for leather goods, and boutiques, and is worth a visit to find some lovely souvenirs that don't scream tourist quality.
FAQs
Is it easy to get around Rome? 
Yes! Rome is very walkable. Plan your days around what you want to see first, and bunch places that are close together.
I took a bus tour one day, but the stops were not always convenient. Still, I do think it saved me money on taxis. Take some time to plan based on where the stops are located.
Should I book a tour of the Vatican?
If you have plenty of time, visiting the Vatican City is free, and you can research it online before you go. If you are in a hurry as I was, a guided tour is really helpful. There is a lot of walking between the buildings and just finding your way around takes a lot of time. I was glad I booked a tour.
Do I have to speak Italian to be able to get around?
Although speaking Italian is useful, many people in Rome speak English to some extent. However, I did not find Rome to be the friendliest of cities. Let's face it, some destinations have to try harder to please tourists. Rome is not one of them. Learning basic phrases will be useful, but usually you'll find someone to help you who speaks English, especially at tourist attractions.
Top Tips
If you have any questions about where you're going, your hotel concierge or front desk is a great place to ask questions. They probably have a map of the local area and can help you plan your day.
Bring appropriate clothing and good walking shoes. For some religious locations, it is inappropriate to wear revealing or short clothing.
If you're planning to visit churches, check to see if they have a dress code.
Good walking shoes are a must, and you may want a light jacket even in summer because some museums keep their A/C very cold!
Carry euros for incidentals. Ideally, you'll have a credit card with no foreign transaction fees for any big purchases, but bring euros for smaller purchases.
You can order foreign currency at your bank before your trip. Give the bank at least a week's notice.
Use the public transportation, but be cautious about pickpockets. Overall, Rome is a very safe place, but like any big city with lots of tourists, pickpockets do exist.
It can be easy to have your wallet lifted when on crowded public transportation. As long as you are aware of that, the public transportation system is one of the easiest and most cost-effective ways to get around.
For convenience, look into getting a Roma Pass. This ticket includes public transportation, admission to various archaeological sites and some major attractions, and more. It can be purchased directly from the Roma Pass official website.
As you can see, it is very easy to fill a three day itinerary in Rome with so much to see, explore, and eat. What would be your must-dos on a trip to Rome? Would three days be enough for you, or would you want extra time to build your perfect itinerary?
More Places to Visit in Europe