Looking for the best restaurants in Sarasota Florida? Located in the southeastern part of the United States, Florida has been given the title the Sunshine state with good reason.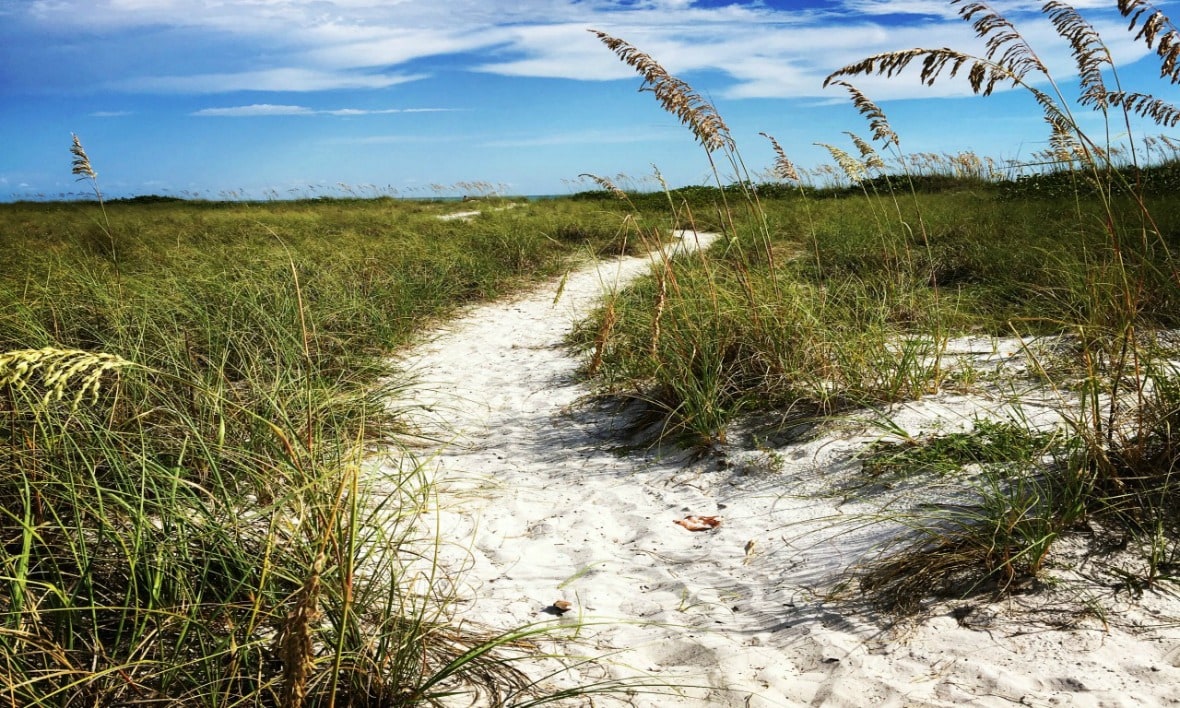 It's sunny most of the time and has more than 1,200 miles of coastline. With so much to do, it's not surprising it's often the first place vacationers think of when booking a trip to a warmer climate.
While you're in the area, check out the top restaurants in Bradenton FL, best restaurants in St. Armand's Circle, and these amazing Anna Maria Island restaurants. Make a note of these things to do on Anna Maria Island, too!
Just about halfway down the state in southwest Florida on the gulf coast, below Clearwater and St. Petersburg, is the gorgeous city of Sarasota.
Through the vision of John Ringling of the Ringling Museum and Circus, Sarasota County has become one of the most popular destinations in the world with over 2,000,000 visitors each year.
With that many visitors to feed, Sarasota is brimming with fantastic restaurants. And while you're in the area, don't miss these best restaurants in St. Armands Circle.
My Favorite Sarasota Restaurants
As a local, I wanted to share my list of the spots we frequent so you don't have to go searching for the best places to eat with outstanding service. This list is not in order of preference as they are all wonderful.
I have eaten at every restaurant on this list and can't wait to hear about your experience, so be sure to come back and let me know your favorites!
Sophie's
Sophie's is hidden inside the second floor of Saks Fifth Avenue in Sarasota.
With one other location at Saks in Chicago, this little gem has been a secret. Until now. Because once you eat there, you'll want to tell all your friends. It's that good.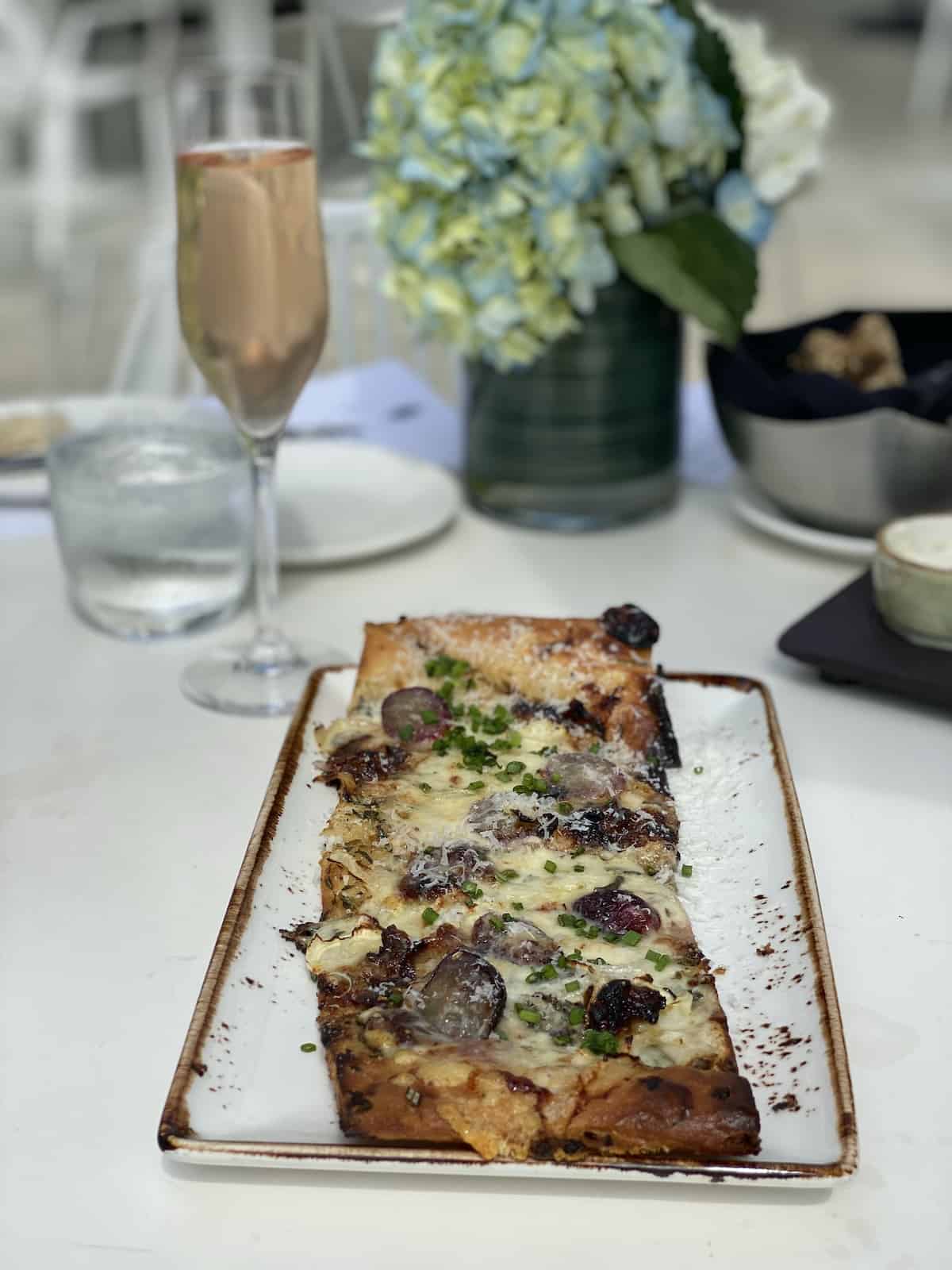 Be sure to have one of their craft cocktails or order a bottle of wine from the extensive wine list. And if it's warm enough, eat outside on the deck! It's lovely!
Address: Sophie's is located at 120 University Town Center, inside Sak's 5th Avenue, in UTC Mall.
Hours: Their temporary hours are 12 p.m. until 3:45 p.m. every day. I know the hours aren't optimal but go for lunch. It really is so good.
Selva Grill
We had visited the Selva Grill in downtown Sarasota a few years ago and loved it, but as we live in Bradenton, we kind of forgot about it.
Now that we have a location near University Town Center where we shop all the time, we're excited to have this amazing restaurant 20 minutes away.
Selva Grill serves a Latin Fusion menu. I hadn't had Causa since I was in Lima a few years ago, and had forgotten how flavorful Peruvian food could be. Taking a cooking class was one of my favorite things to do in Lima Peru, and I learned to make traditional Peruvian Causa after visiting a local market.
The Grilled Octopus Causa was not only a thrill for the taste buds, but a work of art! The octopus was served over yellow pepper potato salad with tomato, red onion, corn, and avocado mousse.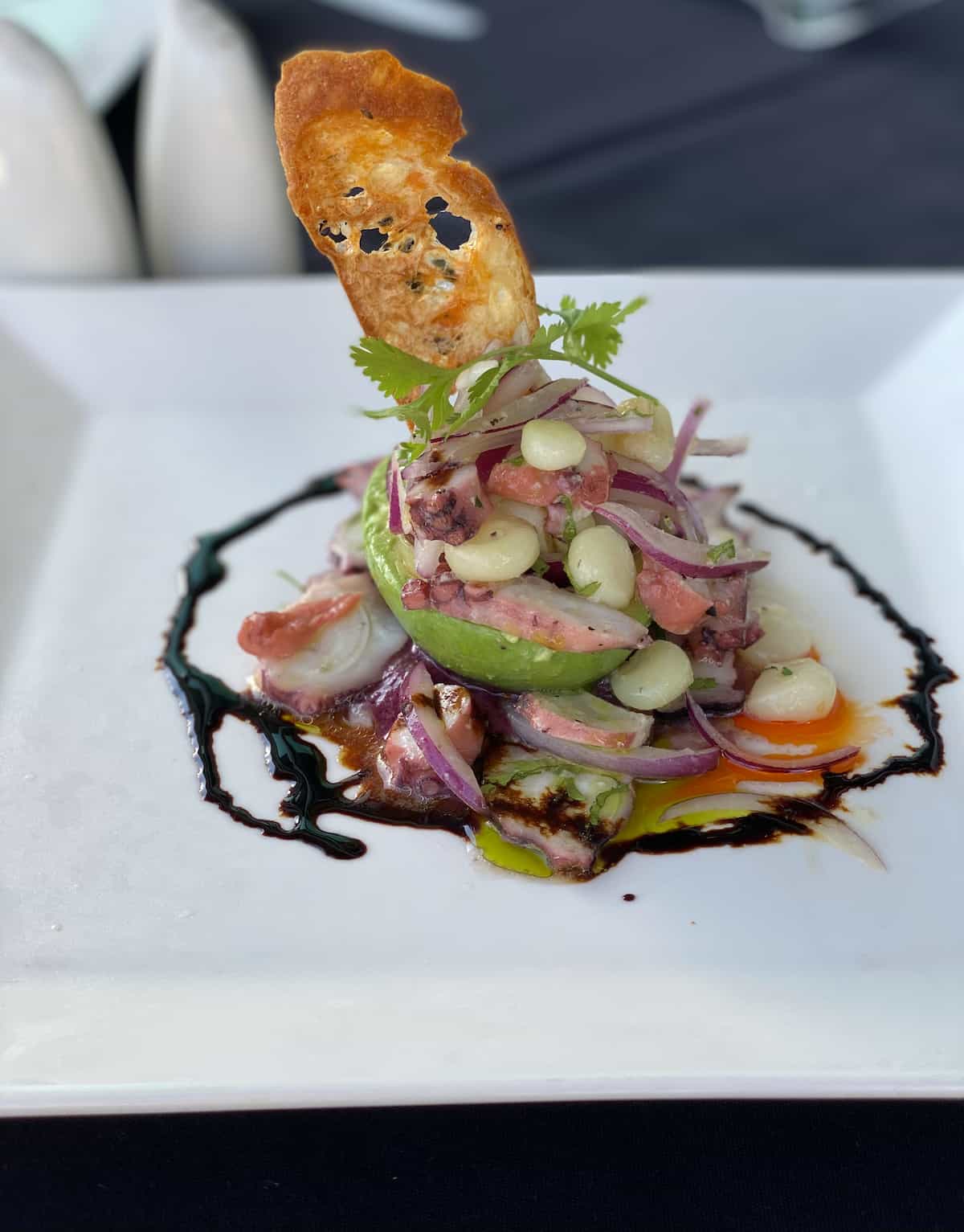 I also had to order the Pisco cocktail as I haven't seen it on a menu since Cusco Peru!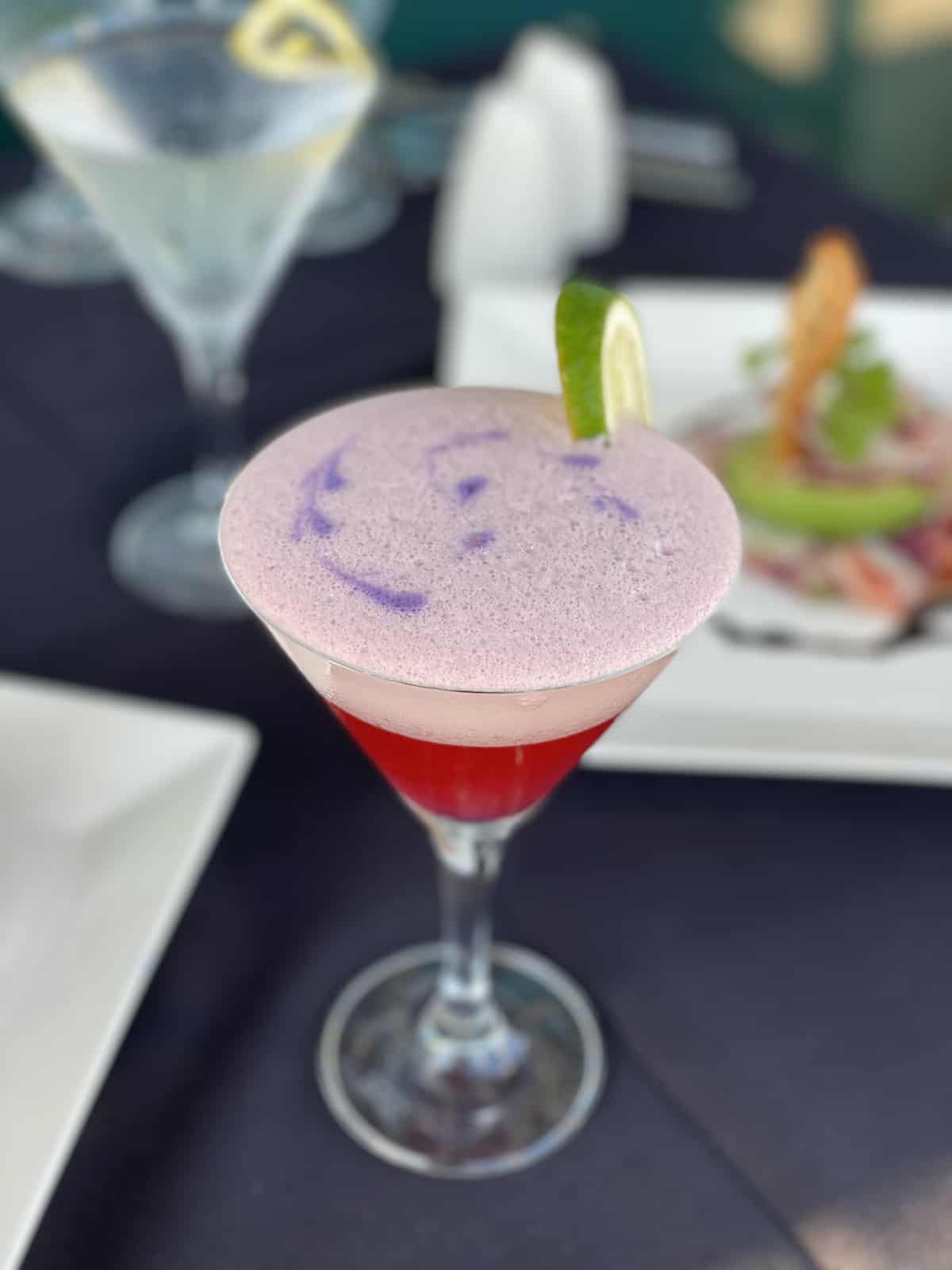 We went with our typical approach, ordering several appetizers and sharing, which is almost always my recommendation.
Address: You'll find Selva Grille at 67 N Cattlemen Rd and at 1345 Main St.
Hours: The Cattlemen location's hours are 4 p.m. until 11 p.m. Monday through Thursday, closing at midnight on Friday and Saturday. At Main St., visit them from 5 p.m. until 11 p.m. Monday through Thursday and until 1 a.m. Friday and Saturday.
Note: As this is one of the most popular places in the UTC area, make a reservation or you may have to wait for a table. The bar is lovely so grab a cocktail.
Cooper's Hawk Winery
I had been to Cooper's Hawk Winery when I visited West Palm years ago. There are so many things to do in Palm Beach Florida, and eating at as many places as possible was big on my long list!
When I saw we were getting a location in Sarasota, I was thrilled! I remembered the food being so good at the Palm Beach Gardens location, so I was hoping it would be as good as I remembered. It was!
Start with a tasting before heading to the dining room. I just enjoy that aspect of Cooper's Hawk Winery so much. After all, it is a winery, and they have so many delicious wines.
The food really was spectacular. The Drunken Shrimp is one of their most popular dishes. Shrimp is my favorite food, so I always order that one!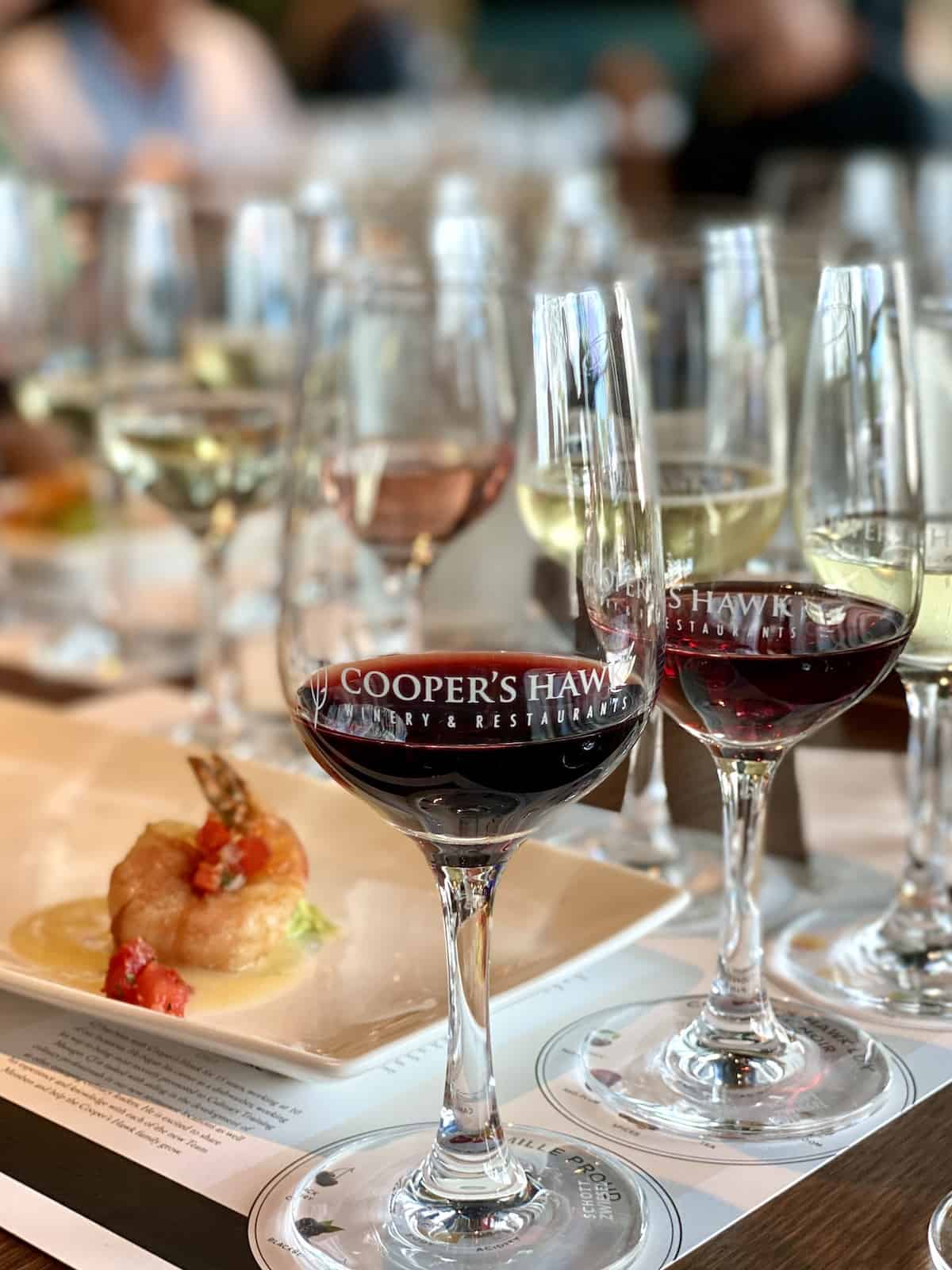 The Asian Ahi Tuna Sashimi is out of this world, and the Crispy Shaved Brussels Sprouts are a must. Trust me!
As you hear me say over and over, I often order appetizers for dinner so I can try more dishes. This is such a great restaurant to use that strategy as they have so many delicious choices! Asian Pork Belly Tostados? Yes, please! Thai Lettuce Wraps? Oh yes! Bruschetta? You know I'm in! A few apps and a flatbread and I'm a happy girl.
For seafood fans, I have to also recommend the Pan-Roasted Barramundi or the Potato-Crusted Scallops. Both are wonderful.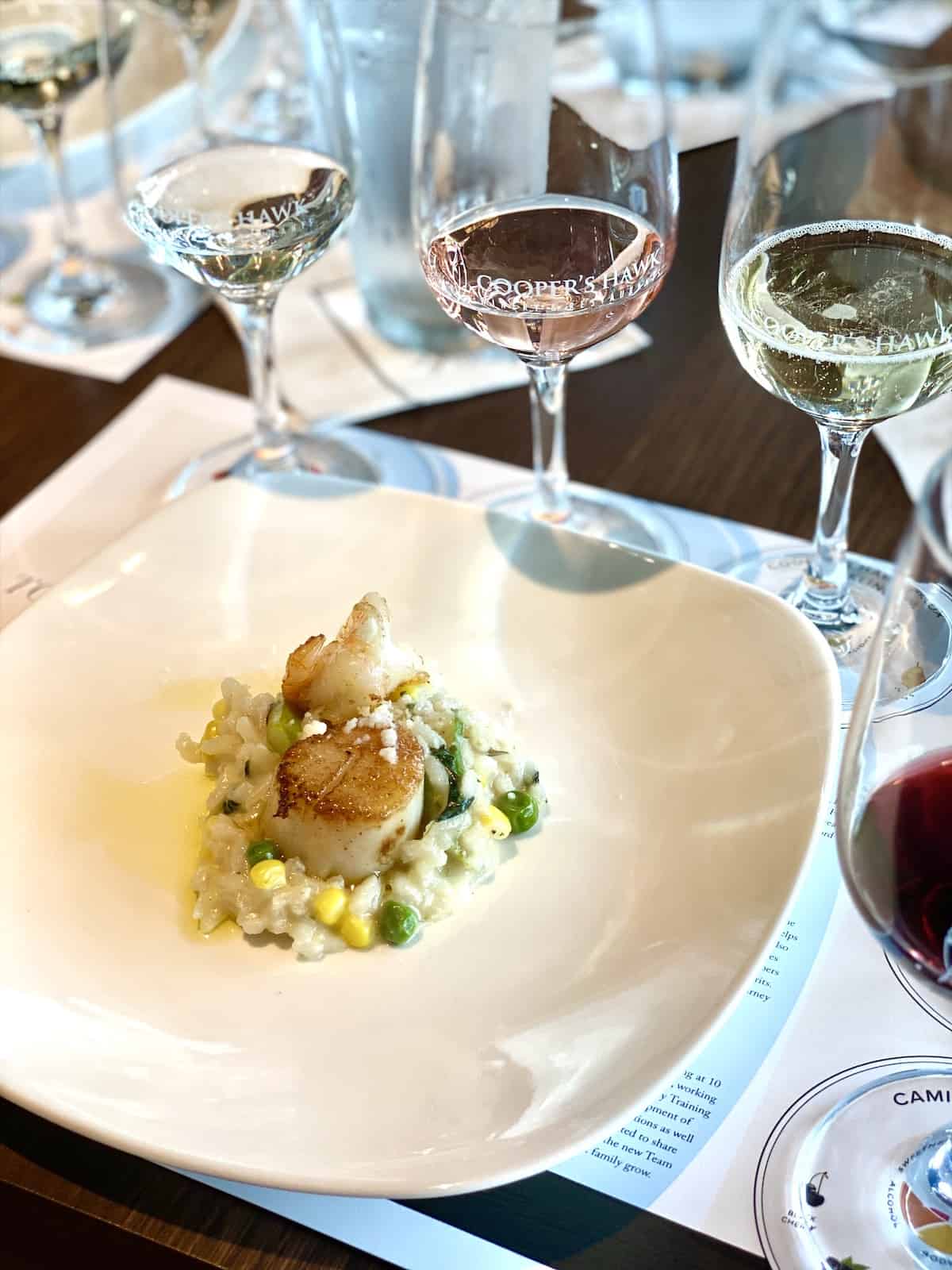 Address: 3130 Fruitville Commons Blvd.
Hours: 11 a.m. until 9 p.m. every day.
Sage Restaurant
We met Chris Covelli, owner of Sage, through my involvement with Florida Winefest. Chris is a wonderful chef, and we were so excited to experience his latest achievement.
We had eaten at Sage once before, so when a wine dinner came up in the live auction at Florida Winefest, my husband would not be outbid!
We had a wonderful time with five other couples last year and a good portion of the money went to charity. Win-win!
As the menu changes with the seasons, my favorite dishes may not be on the menu when you go. Just know that whatever you order, it will be scrumptious.
At the wine dinner we had a Spicy Pumpkin Soup served in baby pumpkins that I am still dreaming about. It was heavenly.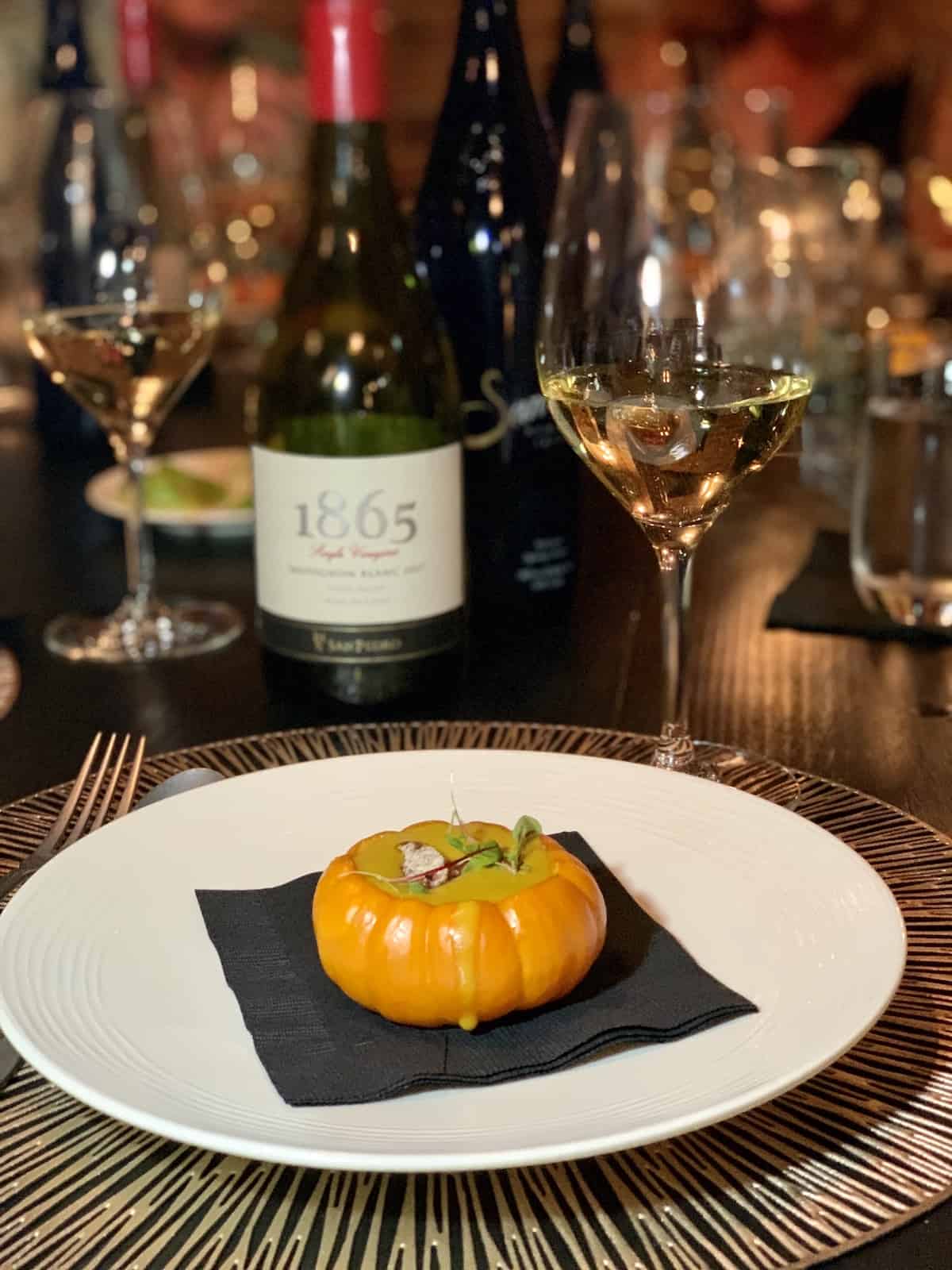 The wine list is long and Chris obviously oversees it. For our wine dinner, he had already selected our pairings. We took a lot of notes because we loved each one!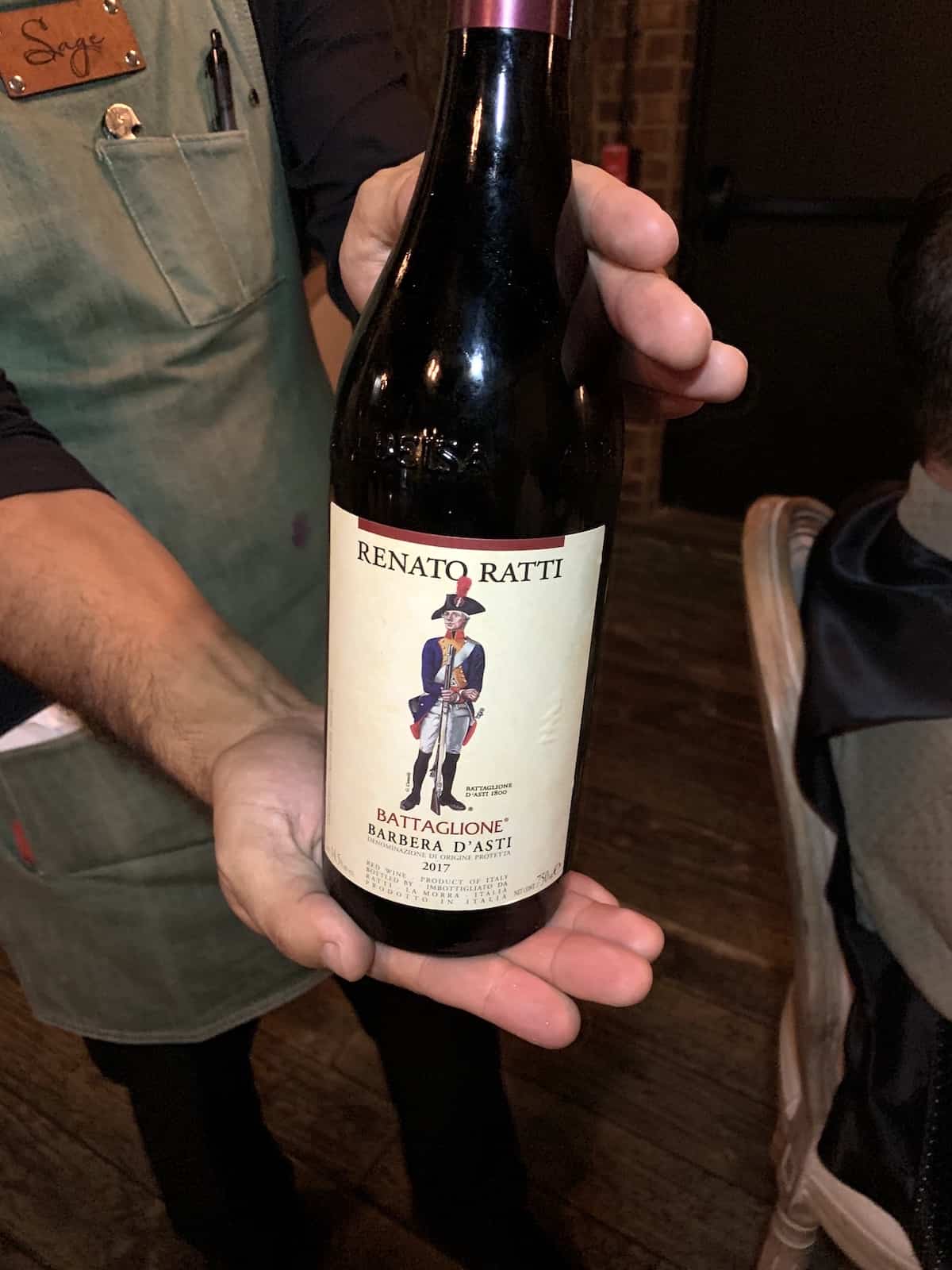 You really can't go wrong with anything on the menu. Check for current offerings and make a reservation on the Sage website.
The rooftop bar is lovely for a drink before dinner. Though Florida is pretty casual, this is fine dining. Take it as an opportunity to dress up a bit. Sage is the perfect place for special occasions or date night.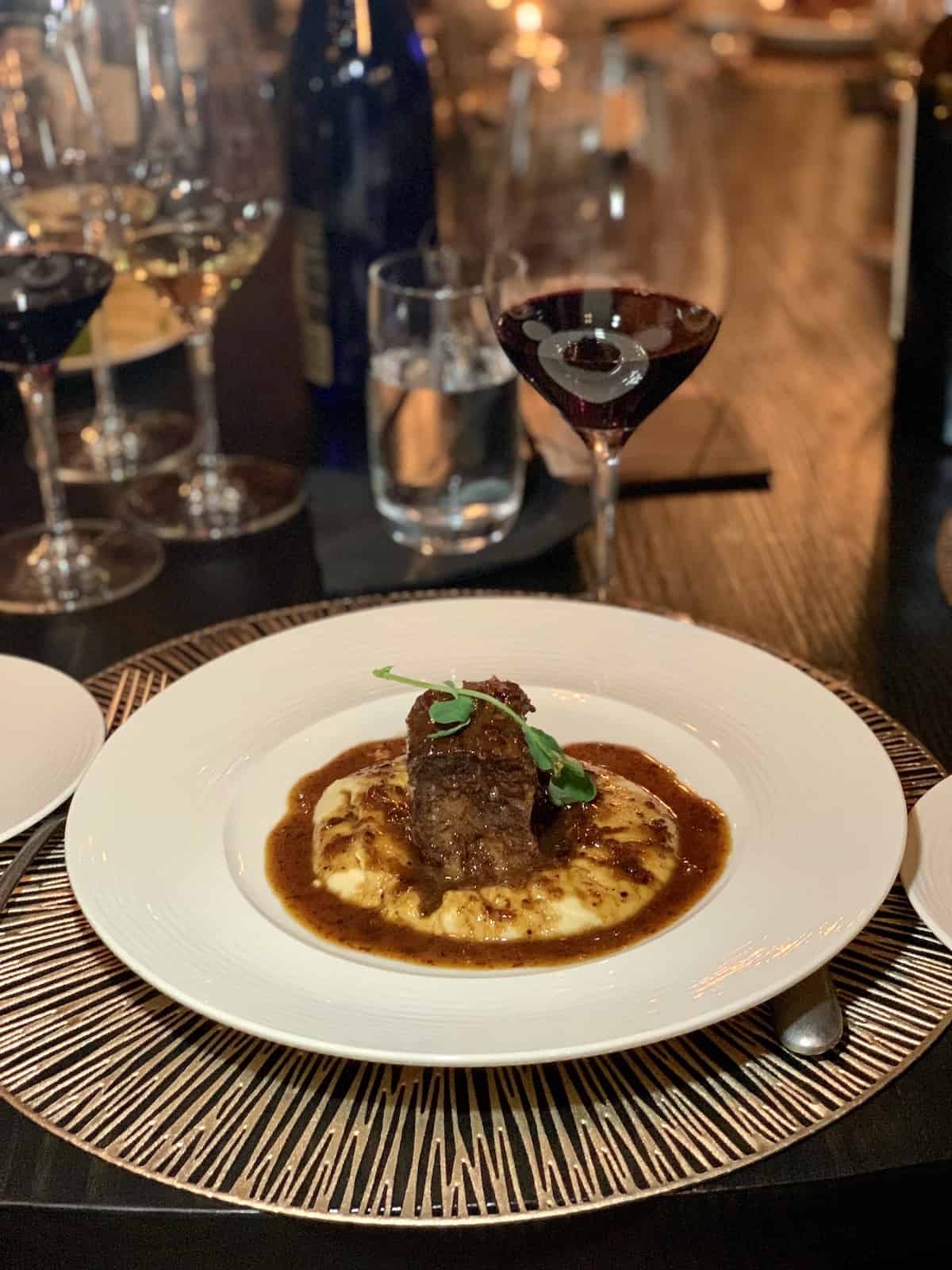 Address: 1216 First Street.
Hours: Sage is open Tuesday through Thursday from 5 p.m. until 9 p.m., and open until 10 p.m. on Friday and Saturday.
Bijou Garden Cafe
I hadn't been to Bijou Garden Cafe in years when a friend invited me to their Sunday Broadway Brunch. Knowing that Chris Covelli had become Executive chef and co-owner, I had high hopes.
Though called a cafe, it is much more elegant than you'd expect. The restaurant is broken up into large rooms, which is lovely, and gives it an intimate feel.
The brunch menu was limited, but still had choices for everyone. I asked the server for help and she suggested the Lane Snapper.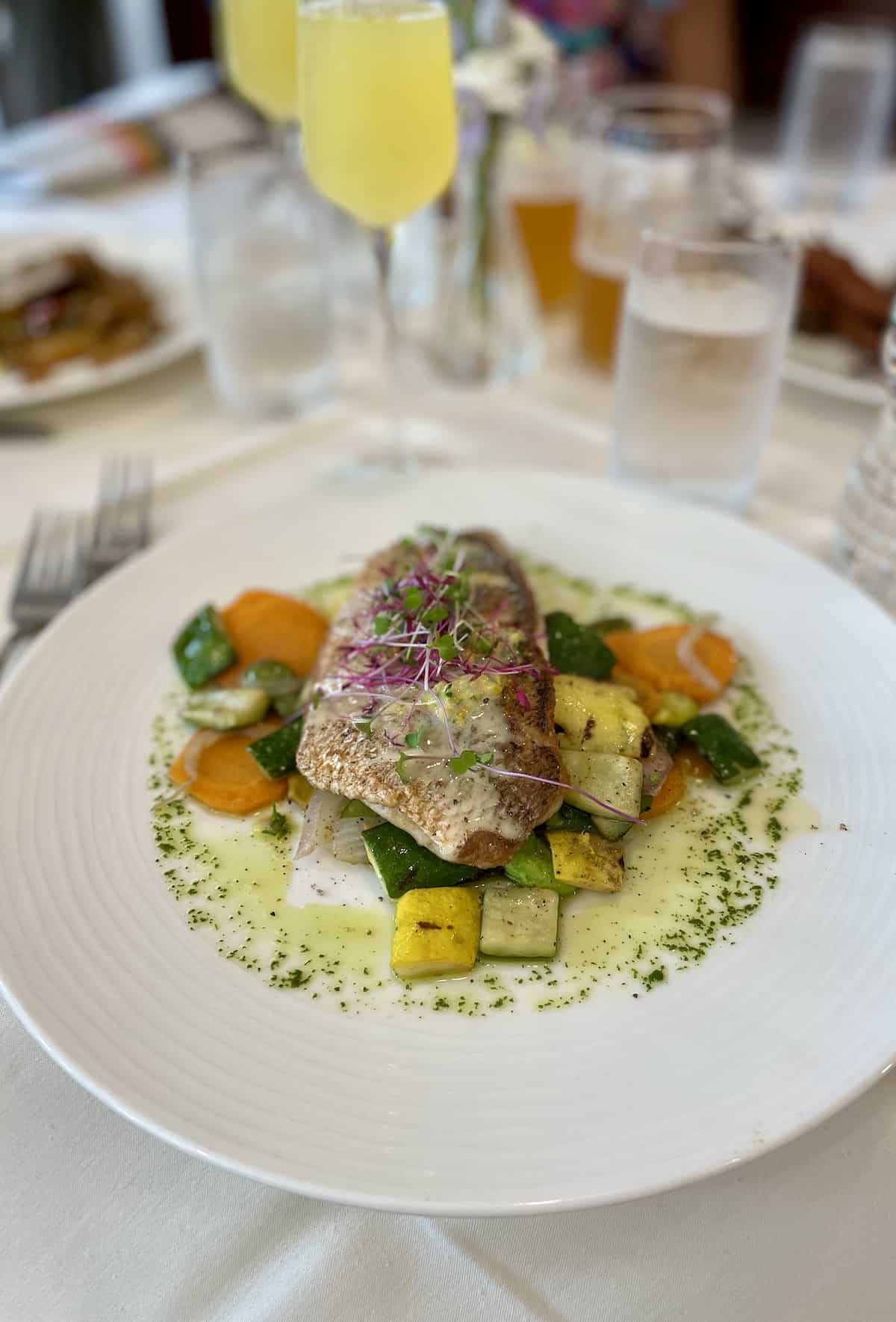 Served with a light lemon sauce along with Fava beans, Zucchini blossoms, and a medley of squash, it was outstanding.
Of course, the Broadway Brunch also features entertainment, and you may even get the chance to hear Covelli sing.
Though we loved the brunch, do check out Bijou another time as well as the menu looks fabulous. (Duck confit? Yes, please!)
Address: 1287 1st St., near the Sarasota Opera House
Hours: Tuesday through Thursday, 5 p.m. until 9 p.m. Friday and Saturday, until 10 p.m. Open Sunday for brunch only from 11 p.m. until 3 p.m. Closed on Monday.
Note: Make a reservation if you want to be sure to get a table.
Libby's Neighborhood Brasserie
You just can't go wrong at Libby's. It's been ages since we've been to the Sarasota location, but we had dinner at the new location in Bradenton and it was fantastic. The menu is the same at both locations.
Starting with the Crispy Brussel Sprouts is a great choice. Delicious!
I'm always about the appetizers and if you're a fresh seafood fan, the Tuna Tataki is also incredible.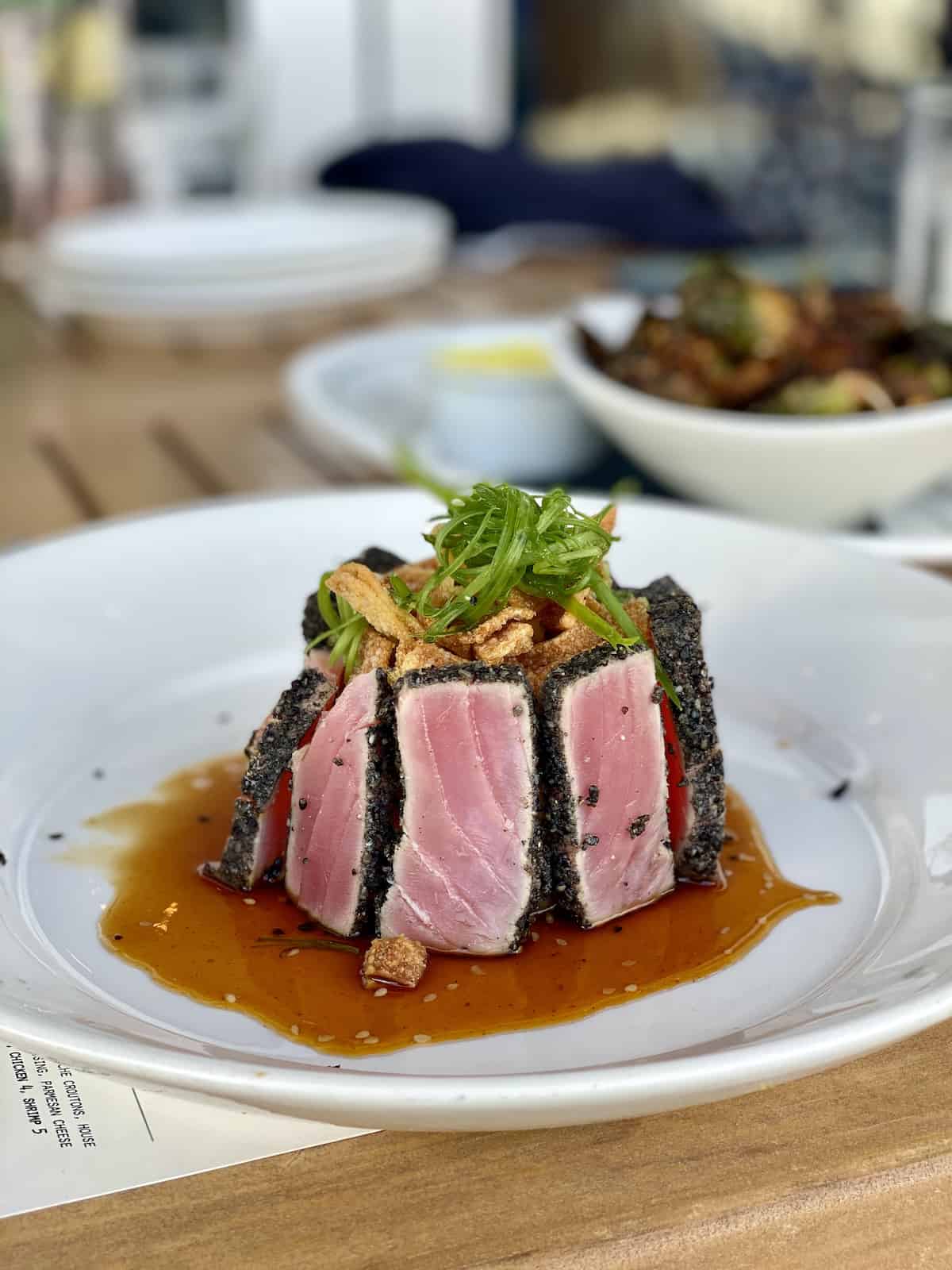 The Mussels Maryland were also fantastic, with crunchy bread and all that deliciousness in the bottom of the bowl to sop up.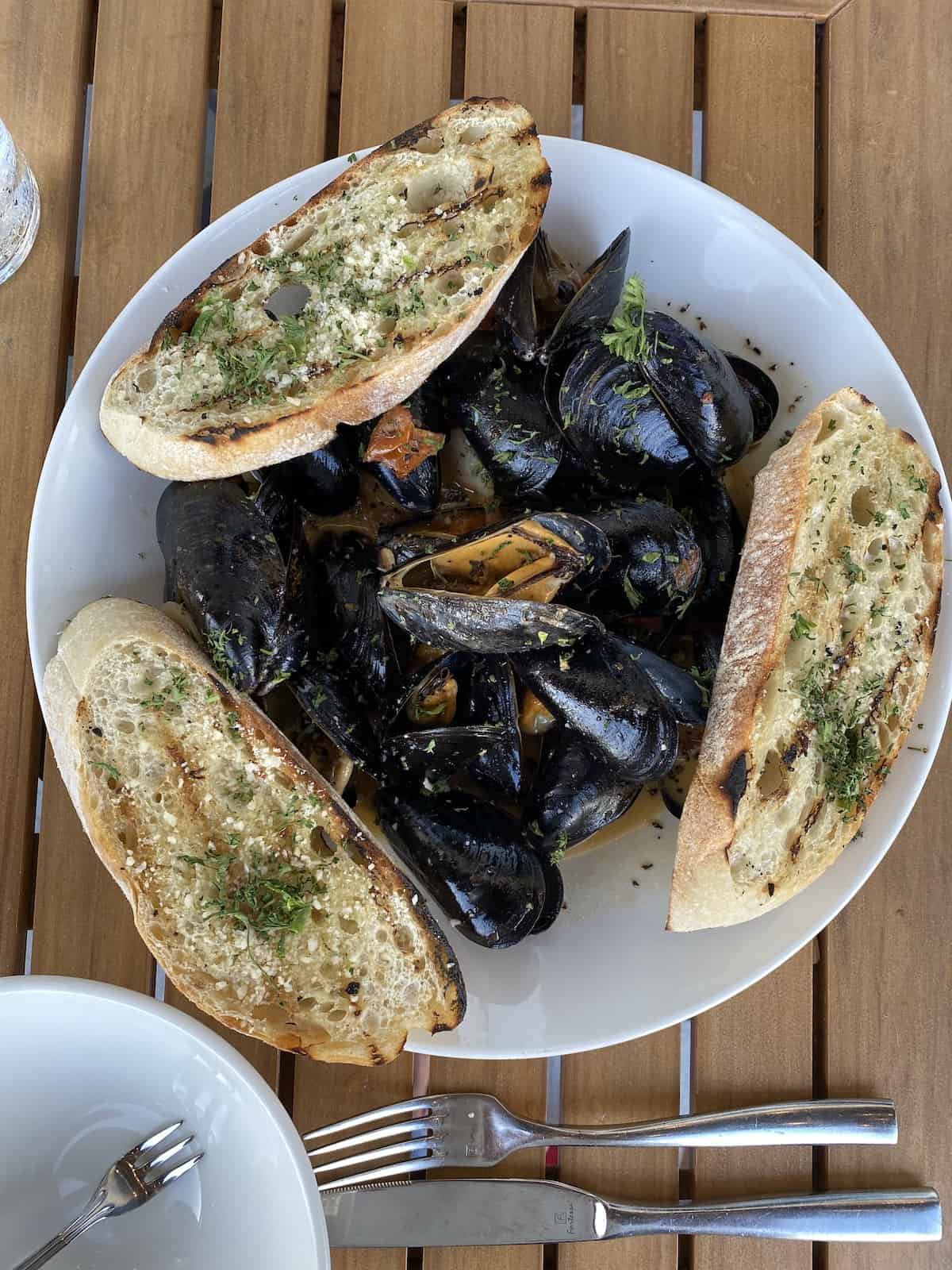 And do order dessert. The Strawberry Shortcake disappeared in no time!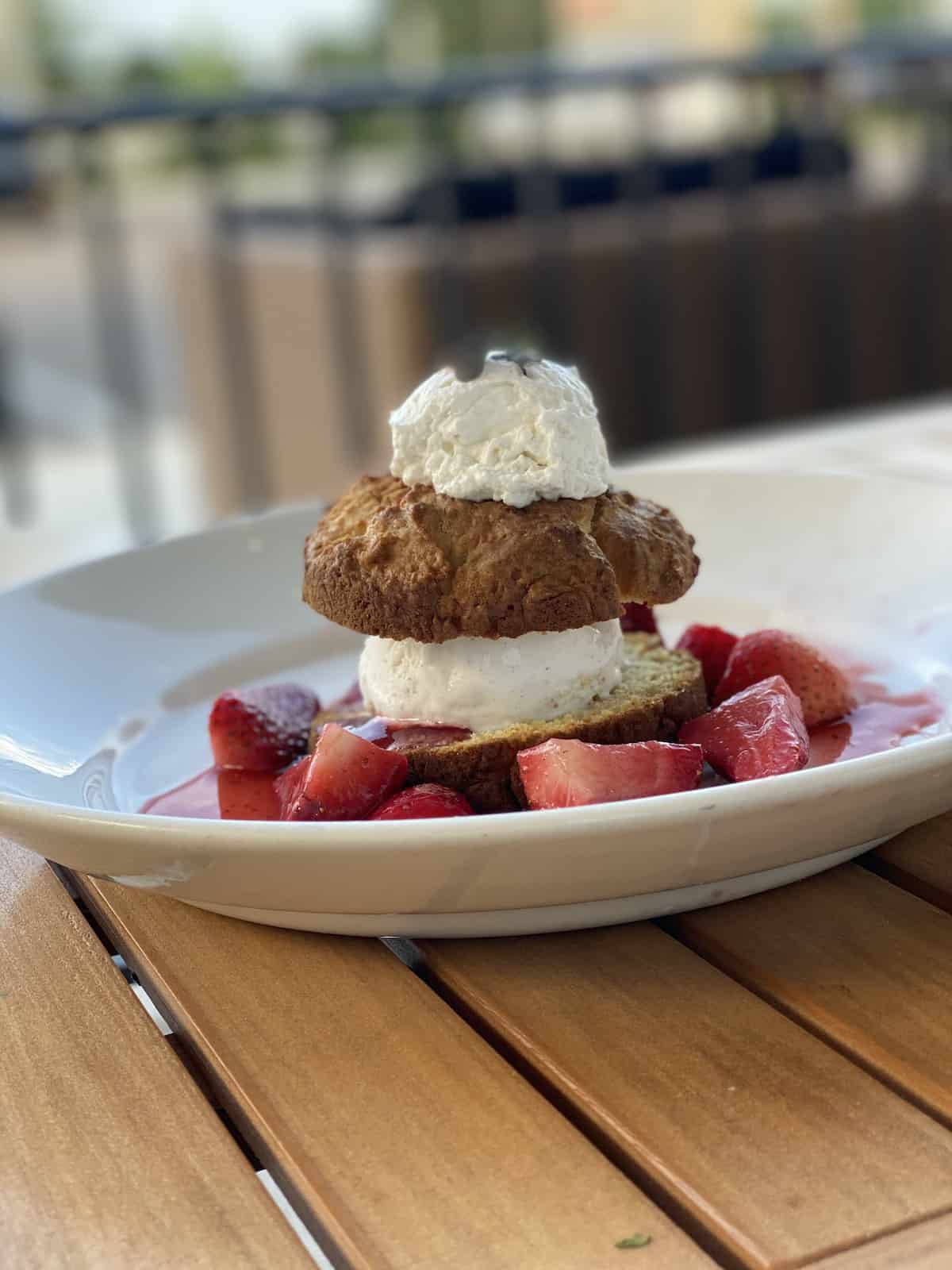 Address: Libby's in Sarasota is located at 1917 South Osprey Avenue.
Hours: They open at 11 a.m. every day, and close at 9 p.m. during the week and 10 p.m. on Friday and Saturday.
Tommy Bahamas
Tommy Bahamas has been on of our favorite restaurants since before we moved to Florida. Located in St Armands Circle where you can also shop til' you drop, the food and service is always amazing.
Though the menu is extensive, we hardly even look anymore unless one of our favorite is replaced. Why do they do that?!
Go with appetizers like the Macadamia Crusted Goat Cheese or World Famous Coconut Shrimp.
Yes, the dinner menu is wonderful, but by ordering appetizers you can try more of their scrumptious dishes. Trust me!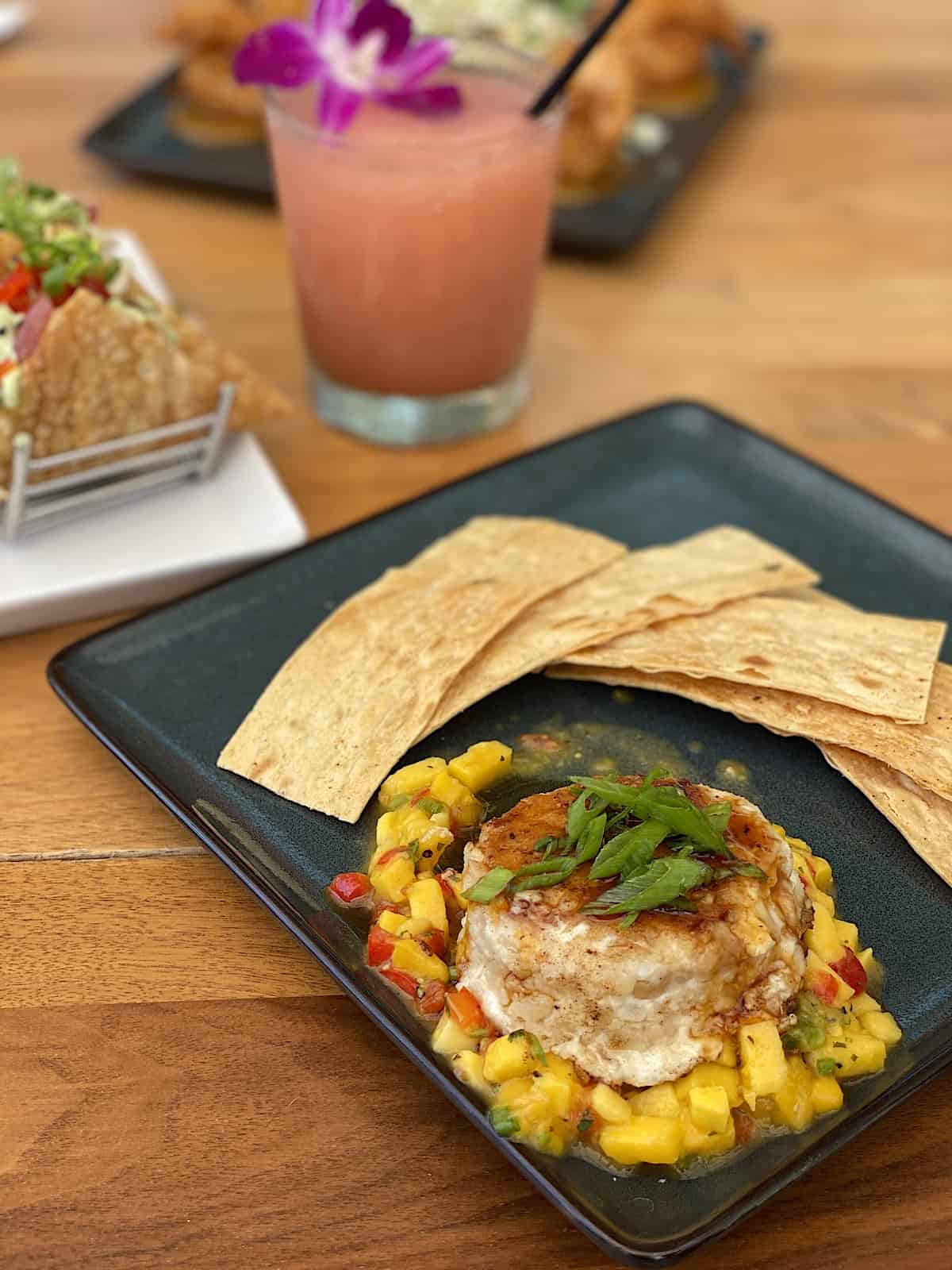 You also have to try the Ahi Tuna Tacos, with the freshest tuna tucked into wonton wrappers along with Island Slaw and Wasabi-Avocado Crème. Seriously to die for.
This is a great place to sit at the bar. There's also outside seating and plenty of big tables in the dining rooms indoors and upstairs for larger parties.
Though I consider the menu to be a bit upscale, this location is just a couple of blocks from the beach so it's casual dining.
They also often have live music. The toughest choice is whether to order the coconut cake for dessert or walk to Kilwins for ice cream.
Address: The Sarasota location is at 300 John Ringling Blvd.
Hours: 11:00 a.m. until 8:30 p.m. Sunday through Thursday and until 9:30 on Friday and Saturday.
Venezia
Venezia Italian restaurant has been around since 1966, and has been one of our favorites since we moved to Florida in 2009.
The pizza is epic, with all kinds of choices of their fresh signature creations. You can't go wrong with the Bruschetta Crostini, Crostini Napoli, or the Antipasto Italiano. Order them all and share.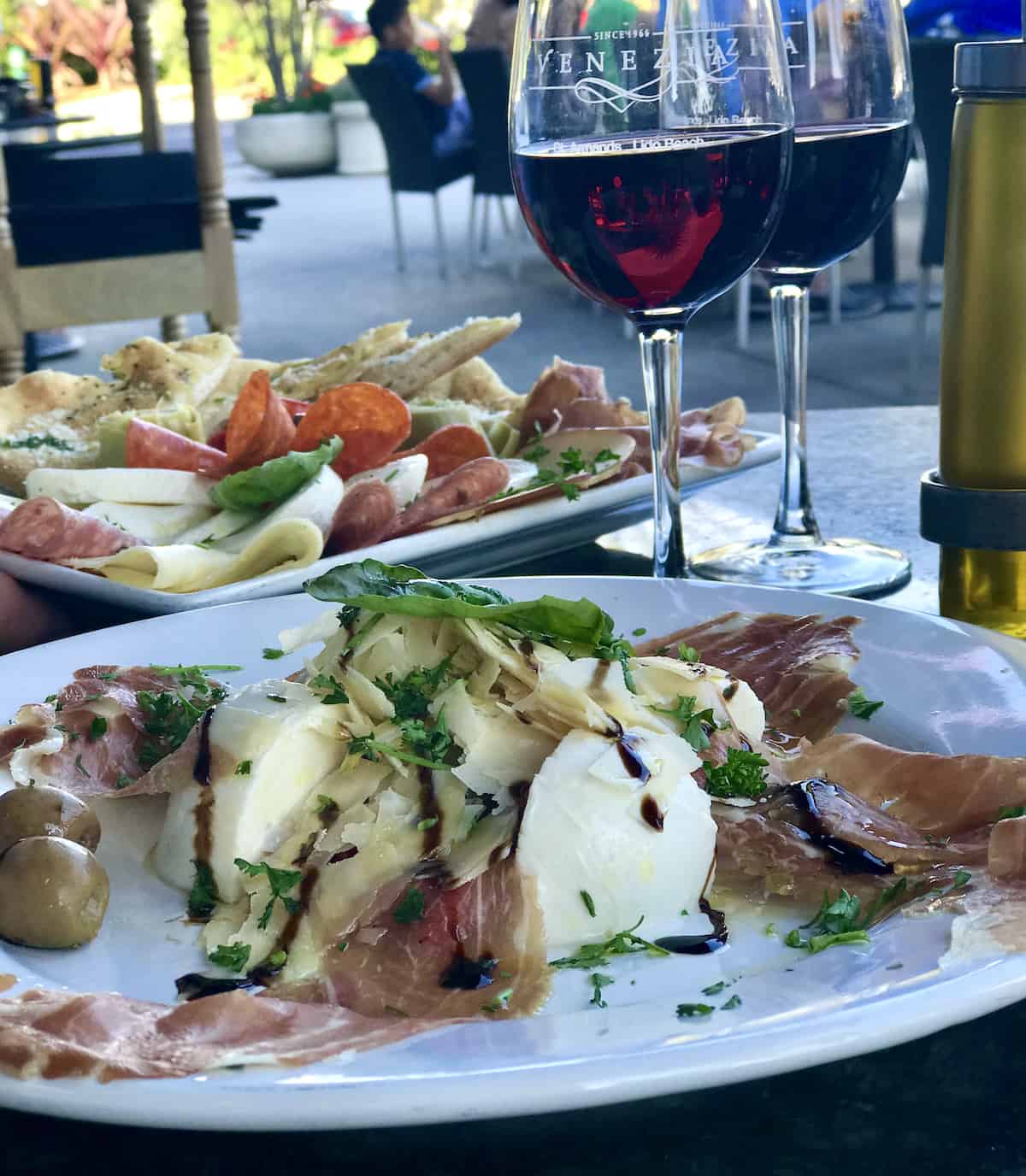 This is one of my favorite places for people watching, with plenty of outdoor seating.
Address: 373 Saint Armands Circle.
Hours: 11 a.m. until 10 p.m. every day.
Good Liquid
Located in a fairly new area of Sarasota called Waterside, Good Liquid is a brew pub with a huge menu of craft brews in addition to really great food.
I'm a fan of stout so that's what I get every time as they often have more than one on tap. Order a flight to try 4.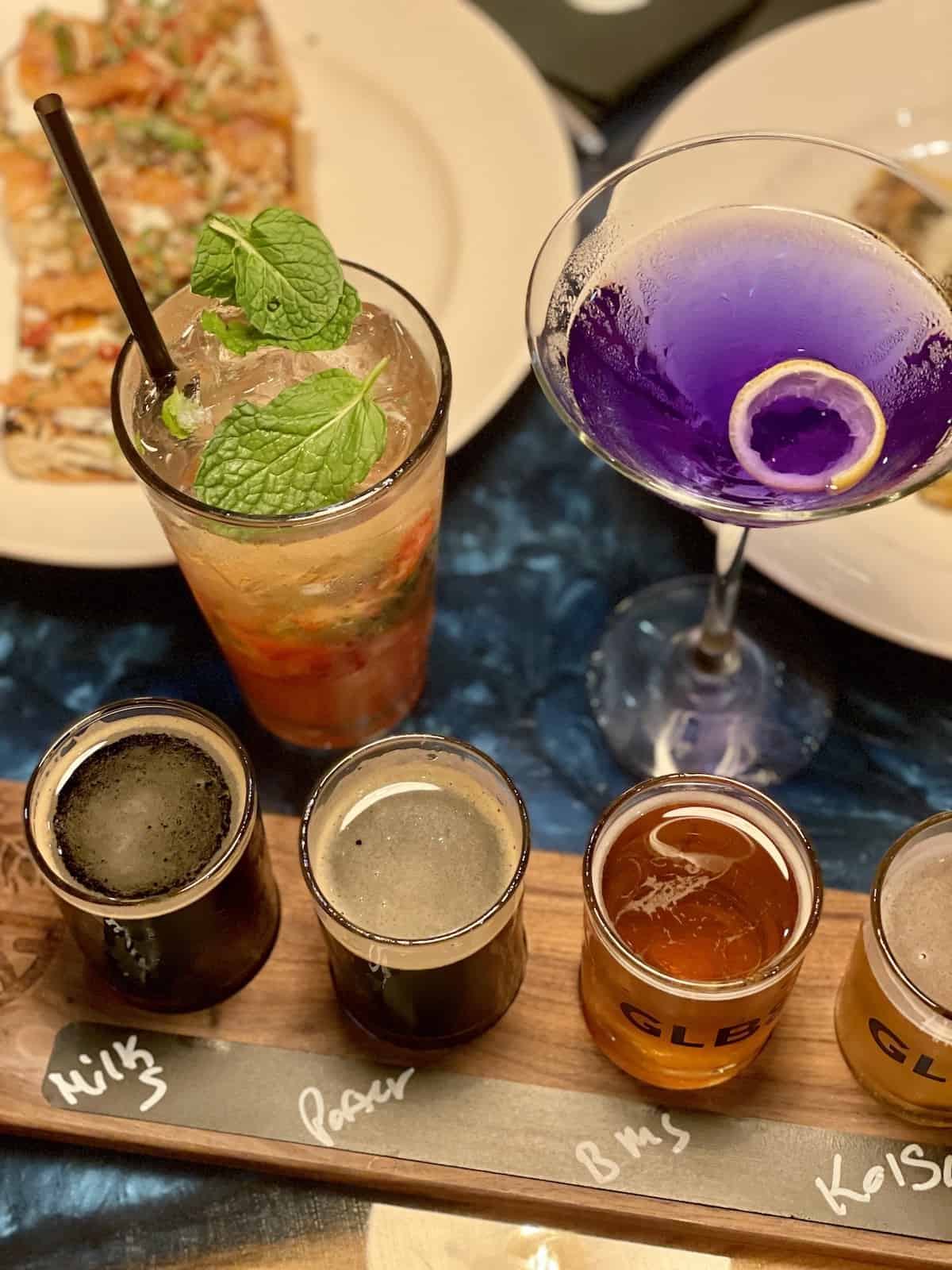 For appetizers, we loved the Meatballs and the Tempura Cauliflower. The blistered Brussels Sprouts and the GLB Pretzel are delicious, too.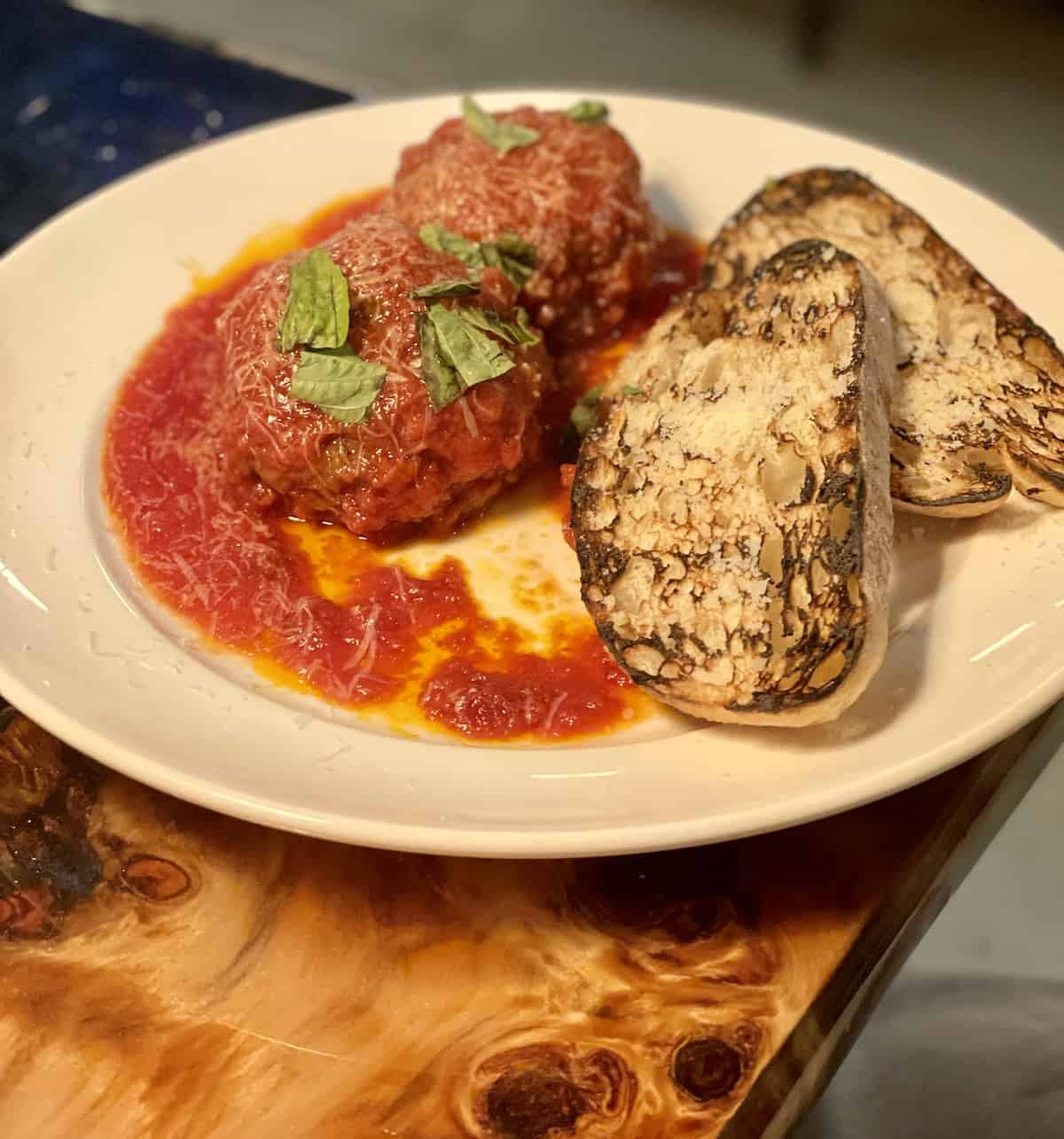 For an entree, indulge in one of their burgers. The Coconut Ginger Mussels are in a light sauce and served with bread for dunking.
I've also ordered the Black Pepper Chicken and Shrimp a couple of times and it's wonderful. We have friends from Canada who visit and they order it every time.
As of now, there are only two restaurants open, but many more are to come along with shopping. Though there isn't a lot going on yet, it's still lovely to take a stroll after dinner.
Location: 1570 Lakefront Drive
Hours: 11 a.m. until 9 p.m. Sunday through Thursday, open until 10 p.m. on Friday and Saturday.
Tip: I don't count Kilwins ice cream shop as a restaurant, though you really should top by for dessert.
Evōq
My husband and I spent the night downtown for my birthday this year (in lieu of going to Italy again!) and ended up at Evōq. I don't know how we missed this place, but it quickly became a favorite.
The Mahi Mahi Tacos were truly incredible, with fresh fish prepared perfectly blackened, stuffed into a corn tortilla, and topped with pickled onion, cabbage, and a drizzle of spicy sauce.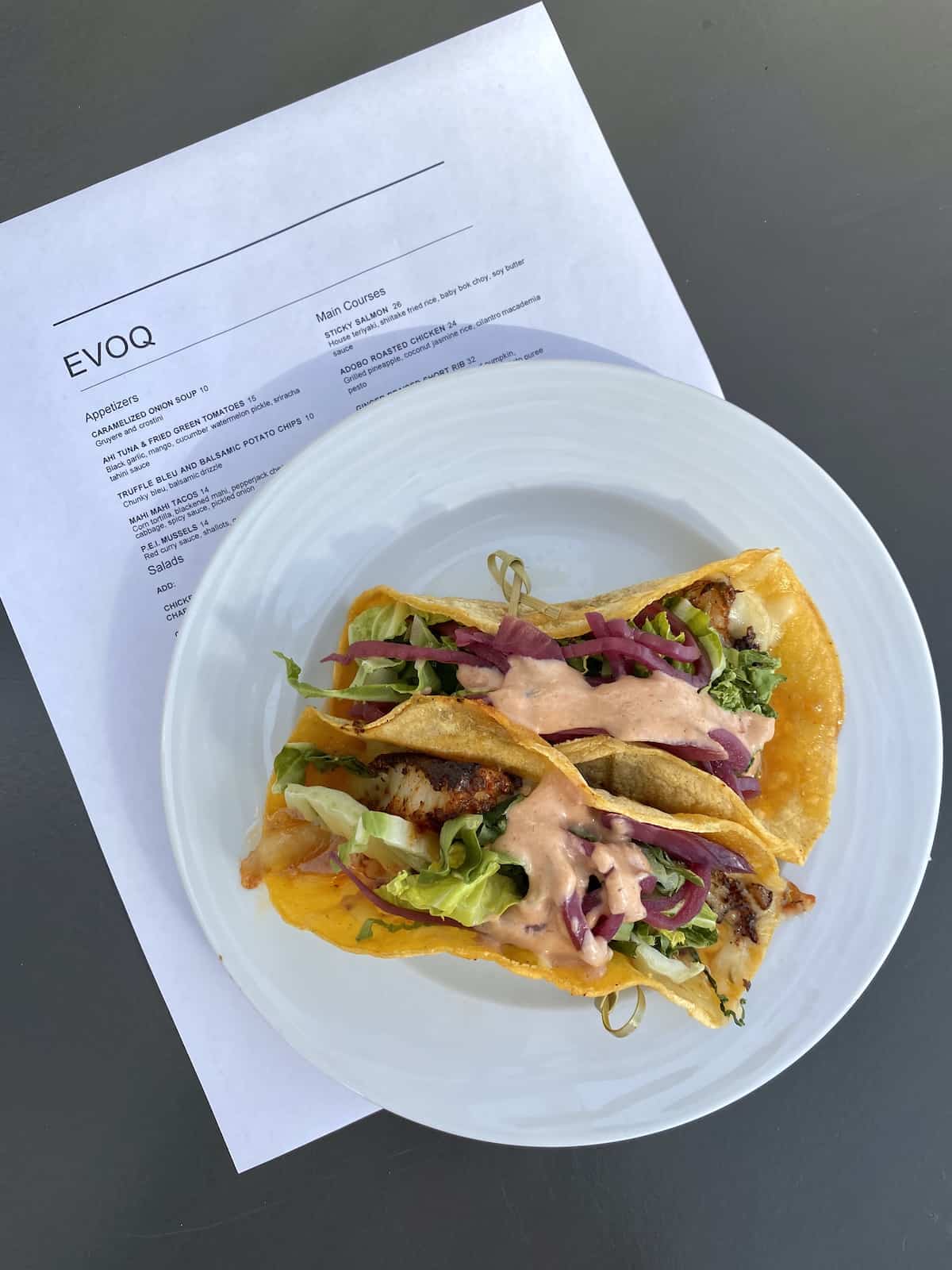 The Pei Mussels are served in a red curry sauce and are also wonderful. This is classic comfort food with a twist at its best.
Address: 100 Marina View Drive in the Westin Hotel
Hours: 6:30 a.m. until 9:30 p.m., serving breakfast, lunch, and dinner every day.
Indigenous Restaurant
With a focus on sustainability, you'll find the freshest ingredients paired with serious creativity from award-winning chef Steve Phelps at Indigenous Restaurant.
This is a favorite local restaurant you don't want to miss when visiting the area. Take a look at the menu before you go as you'll probably have a hard time deciding.
As this is known to be one of the best seafood restaurants in Sarasota, I'd suggest ordering one of those delicious dishes. They really do have some of the freshest seafood in the area.
Indigenous does also partner with Niman Ranch so the dishes with meat will be excellent, too. Indigenous also features vegetarian dishes.
Whatever you order, be prepared to take a photo for Instagram. You're going to want to post that one. Every dish comes out beautiful.
This is one of the top restaurants in Sarasota so you will need a reservation.
Address: 239 S Links Ave.
Hours: 5:30-8:30 Tuesday - Saturday. Closed Sunday and Monday.
Boca
I just discovered Boca this year and the food is fresh and delicious. It's also one of the best places for outdoor seating, which I always prefer when visiting any of the restaurants on this list, simply because the weather is almost always nice.
The salads are huge and you can't go wrong with ordering appetizers. The food is seasonal and fresh and we haven't ordered anything we didn't like!
Go for the Smoked Fish or any of the flatbreads. My favorite is the Sambuca PEI Mussels. Order extra bread to sop up that sauce!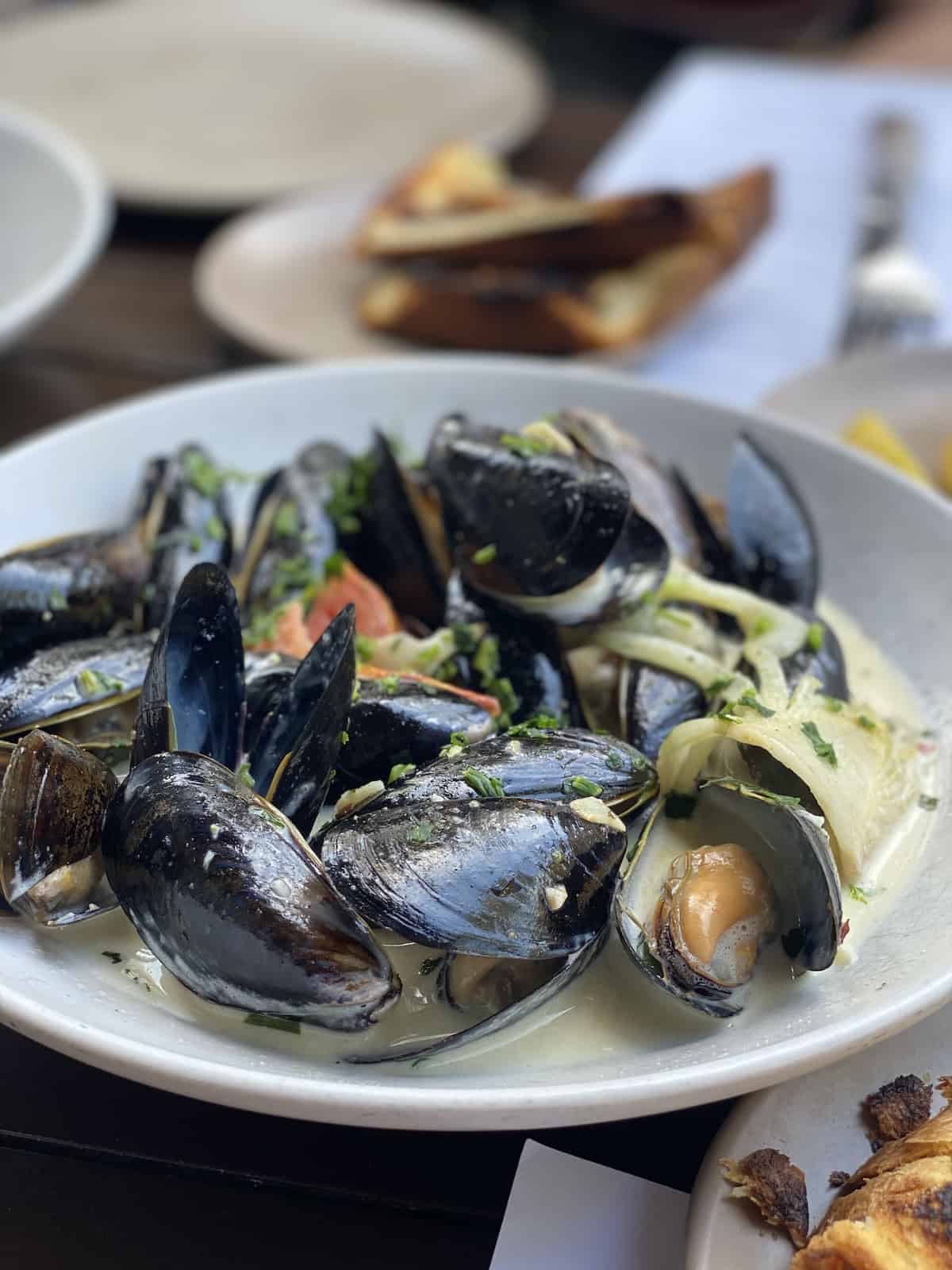 I've been three times and it truly was fantastic every time.
There's also a location in Winter Park. Check out my list of things to do in Winter Park if you're planning to go.
Address: 19 South Lemon Avenue.
Hours: 11 a.m. until 11 p.m. Monday through Thursday, until midnight on Friday, 9:30 a.m. until midnight on Saturday, and 9:30 until 10 p.m. on Sunday.
Tip: There's a Farmer's Market in Saturdays, perfect for picking up some local items before lunch at Boca. Do watch the parking meters as there's nothing like a ticket to ruin your day!
Owen's Fish Camp
Owen's Fish Camp has charm in addition to fantastic food, despite the creepy guy outside. His name is Tate and it's said he guards the place.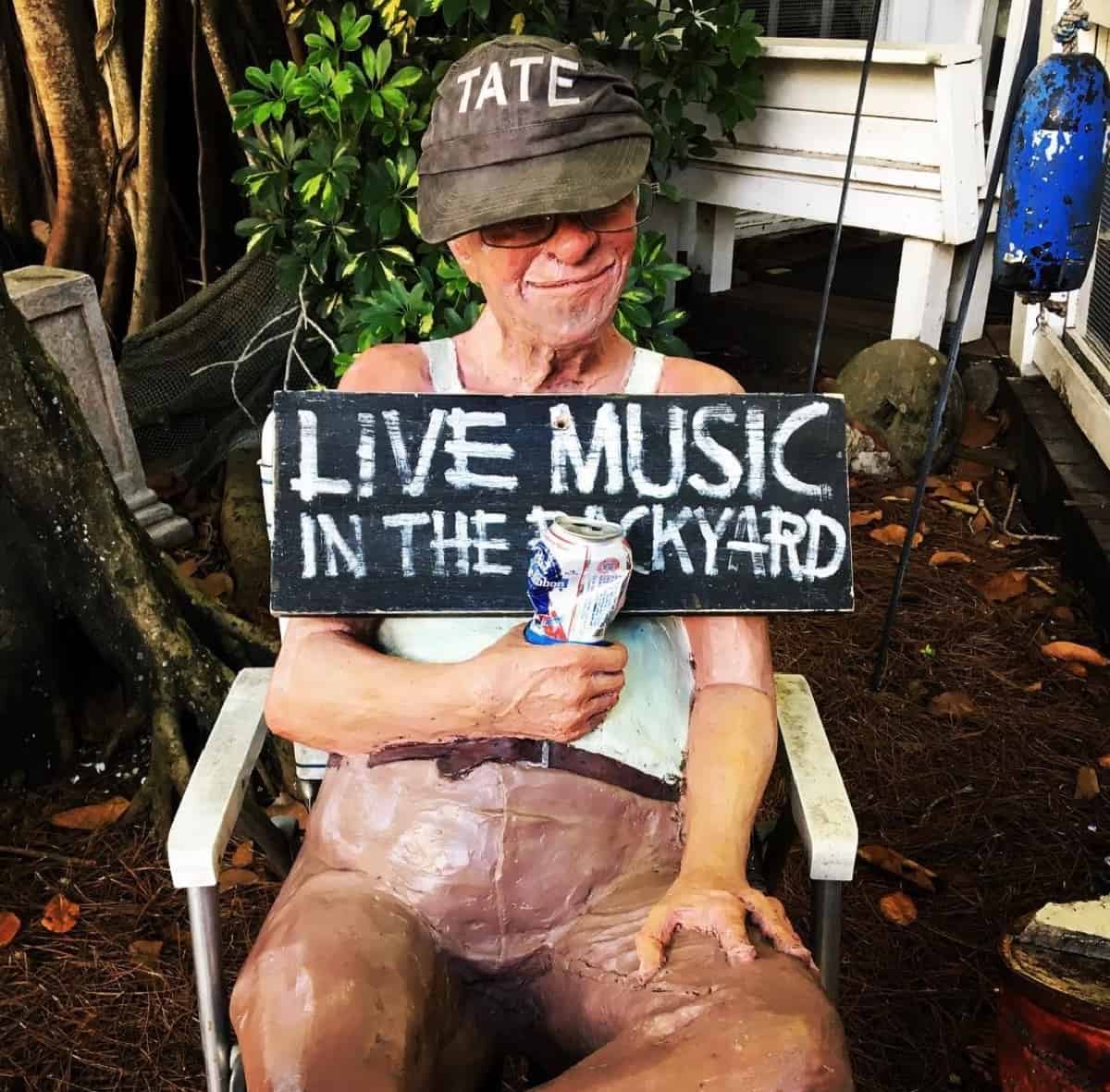 For some of the freshest local seafood in Sarasota, this is the spot as they bring in local fish daily.
The menu is vast and everything we've tried has been delicious. For starters, I'd recommend the Deviled Eggs with "redneck caviar" or the Bowl of Mussels with leek broth. So good.
For your entree, try the Shrimp and Grits or Lobster Cobb Salad. Like I said, you can't go wrong with anything on the menu.
Location: 516 Burns Court
Hours: Open every night at 4 p.m.
Tip: Though they do not take reservations and there may be a wait, especially in season (January though March is high season) it's worth it.
Have a drink at the bar while you wait and go outside for a photo with the Banyan tree donated to Sarasota by Thomas Edison.
Mattison's City Grille
You can't go wrong with anything on the menu at Mattison's City Grille, unless you don't like artichokes like my daughter!
My husband and I order the Artichokes Ester-Style every time and rejoice that we don't have to share them!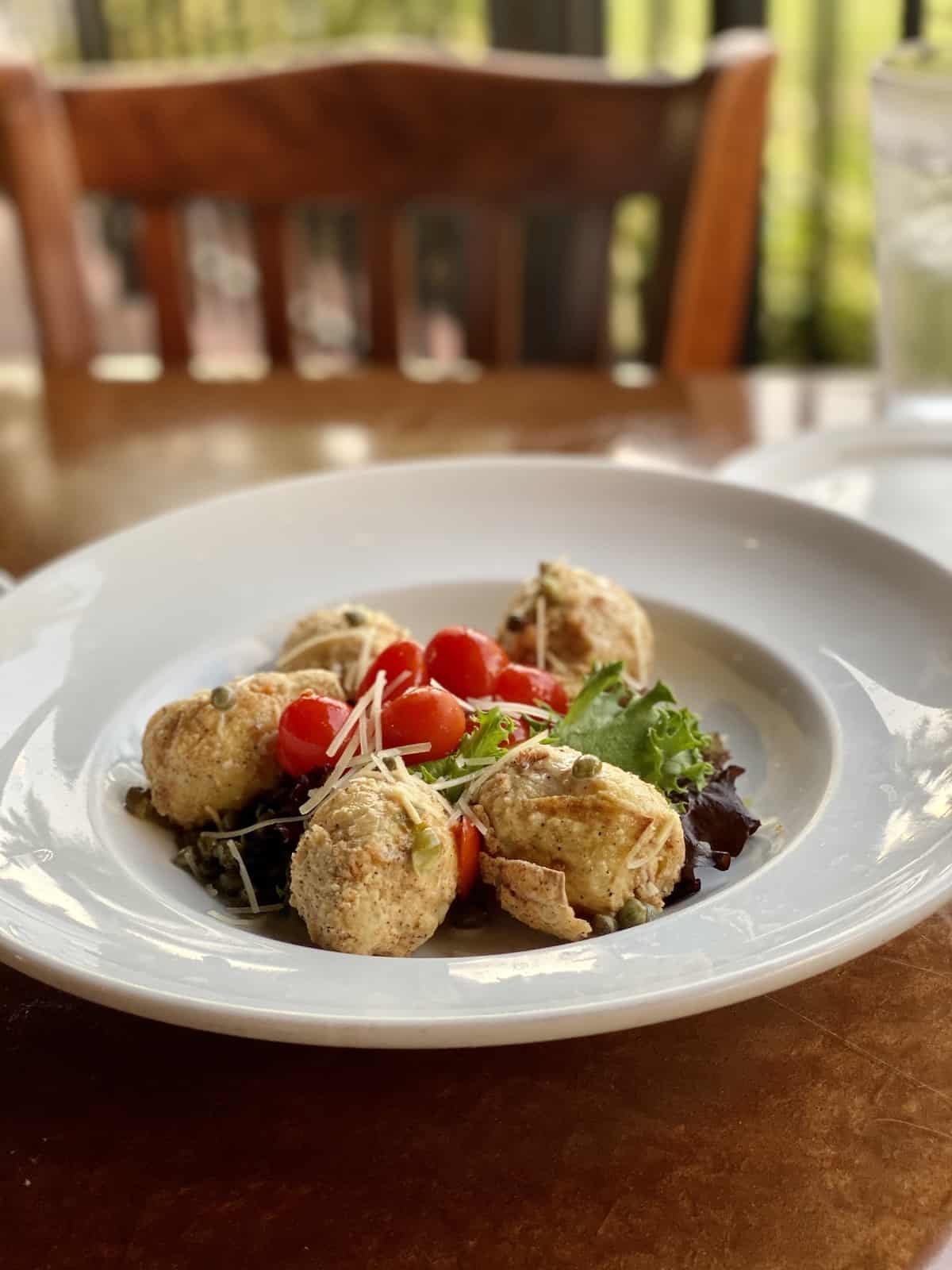 With 15 items on the Starters and Shareables menu, this is our happy place.
The Bruschetta is a little different, topped with goat cheese pesto and marinated tomatoes served on rustic bread. It's another of my top choices.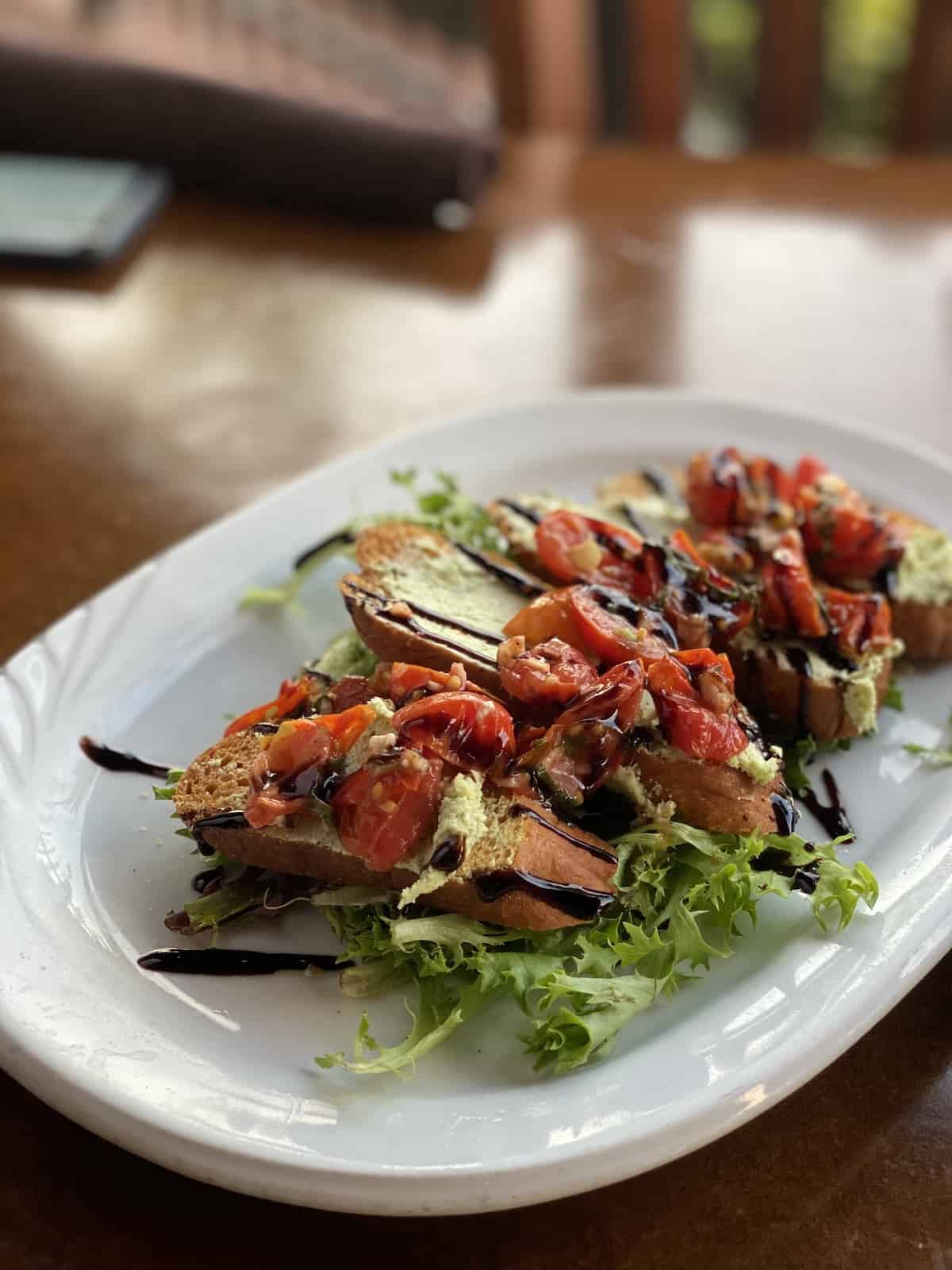 The meatballs are delicious, too. Order a couple of appetizers and the Duck Confit Flatbread and you'll be set.
For those not quite as adventurous, the Margarita Flatbread is also fantastic.
This is one of the most popular downtown Sarasota restaurants so expect a wait, especially on weekends where they offer Saturday and Sunday brunch.
Address: Mattison's City Grille is located at 1 N Lemon Avenue. Take a walk down Main Street for a little window shopping afterwards.
Hours: Open at 11 a.m. every day closing at 10 p.m. on Sunday and Monday, 11 p.m. Tuesday through Thursday, and midnight on Friday and Saturday.
Cassariano Italian Eatery
If Italian is your jam, you'll love Cassariano Italian Eatery. My husband and I went for our anniversary a couple of years ago and we've been back since and enjoyed it again.
Though we were intrigued with their wine dinner menu, we order appetizers like the Carpaccio di Carne Tartufato or the Gamberetti Scottati.
The appetizer menu is pretty extensive so order 3 or 4 and a couple of glasses of wine or a bottle from their long list.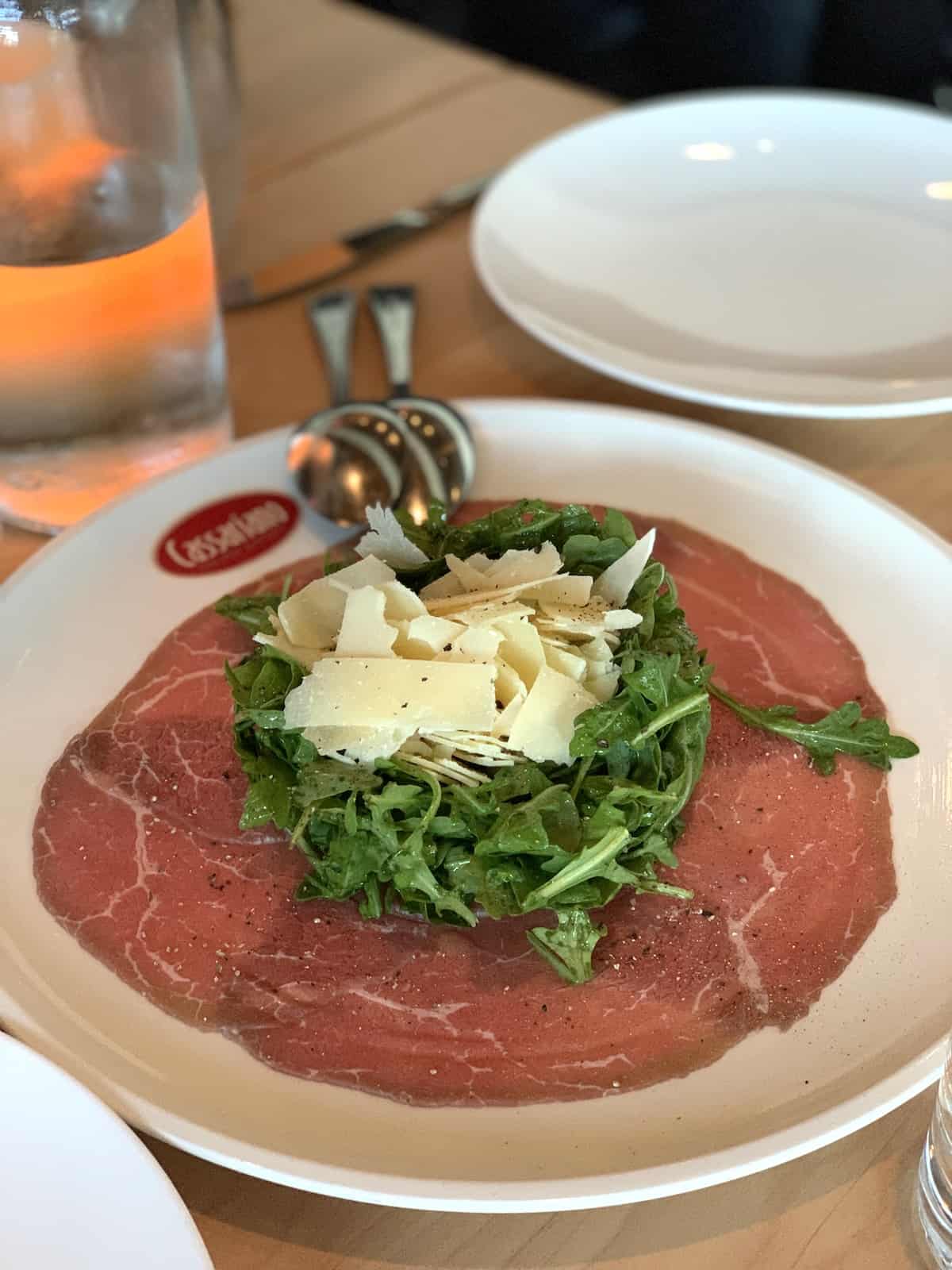 Address: 243 N Cattlemen Rd.
Hours: 4 p.m. until 9 p.m. Monday through Friday, and until 10 p.m. on Friday and Saturday. They are closed on Sunday.
H20 at Hotel Indigo
Believe it or not, Hotel Indigo is not only a lovely affordable boutique spot to stay in the Rosemary District, but the food is really good at H20 Bistro, their one restaurant.
This is one of the best Sarasota restaurants for breakfast, and if you're already staying there, even better. You'll have so many choices of menu items, like this huge breakfast sandwich, along with delicious French Toast and plenty of healthier options, too.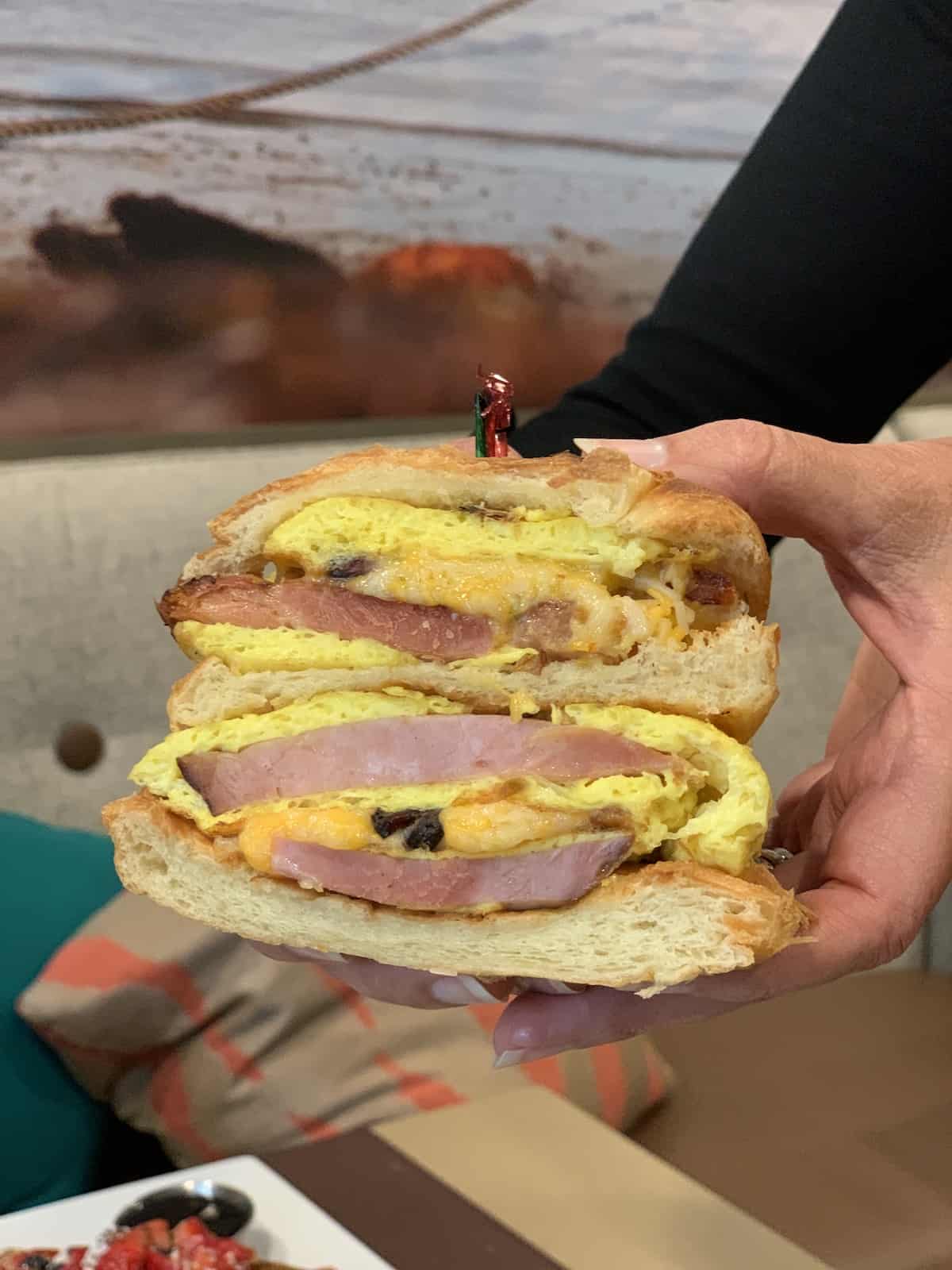 Address: 1223 Boulevard Of The Arts, right next to the lobby in Hotel Indigo.
Hours: 6:30 a.m. until 10 p.m. Monday through Thursday, until 11 p.m. on Friday, 7 a.m. until 11 p.m. on Saturday and 7 a.m. until 10 p.m. on Sunday.
First Watch
First Watch is only open for breakfast, lunch, and brunch. I've only had breakfast there and they offer some of the healthiest and most delicious dishes to start your morning.
The first thing I order is a cup of their award-winning Project Sunrise Arabica bean coffee. Sip while you browse the extensive menu.
Whether you prefer savory dishes like the short rib omelet or have a sweet tooth and crave those pumpkin spiced donuts, you must try the Million Dollar Bacon. The presentation will impress, but the flavor will blow your mind.
This is a great spot for healthier options, too, like the A.M. Superfoods Bowl or the Power Wrap paired with one of their high quality nutritious juices.
There's something for everyone, so you do you! This is a fun place to meet friends for breakfast.
Address: 5354 Fruitville Rd.
Hours: 7 a.m. - 2:30 p.m. every day.
Turtles Restaurant
Located on Little Sarasota Bay, Turtles Restaurant is casual and fun. With old Florida charm and wonderful outdoor seating on the water, you can't go wrong with a visit here.
As their website says, you can come by land, trolley, or boat where you'll find them at mile marker 48. You may even see a manatee or dolphin from the deck.
Order a cold beer or a cocktail and browse the menu as there are a lot of choices. We ordered the Grouper sandwich, blackened, and the Coconut Shrimp Platter with Pineapple Dipping Sauce. Yum.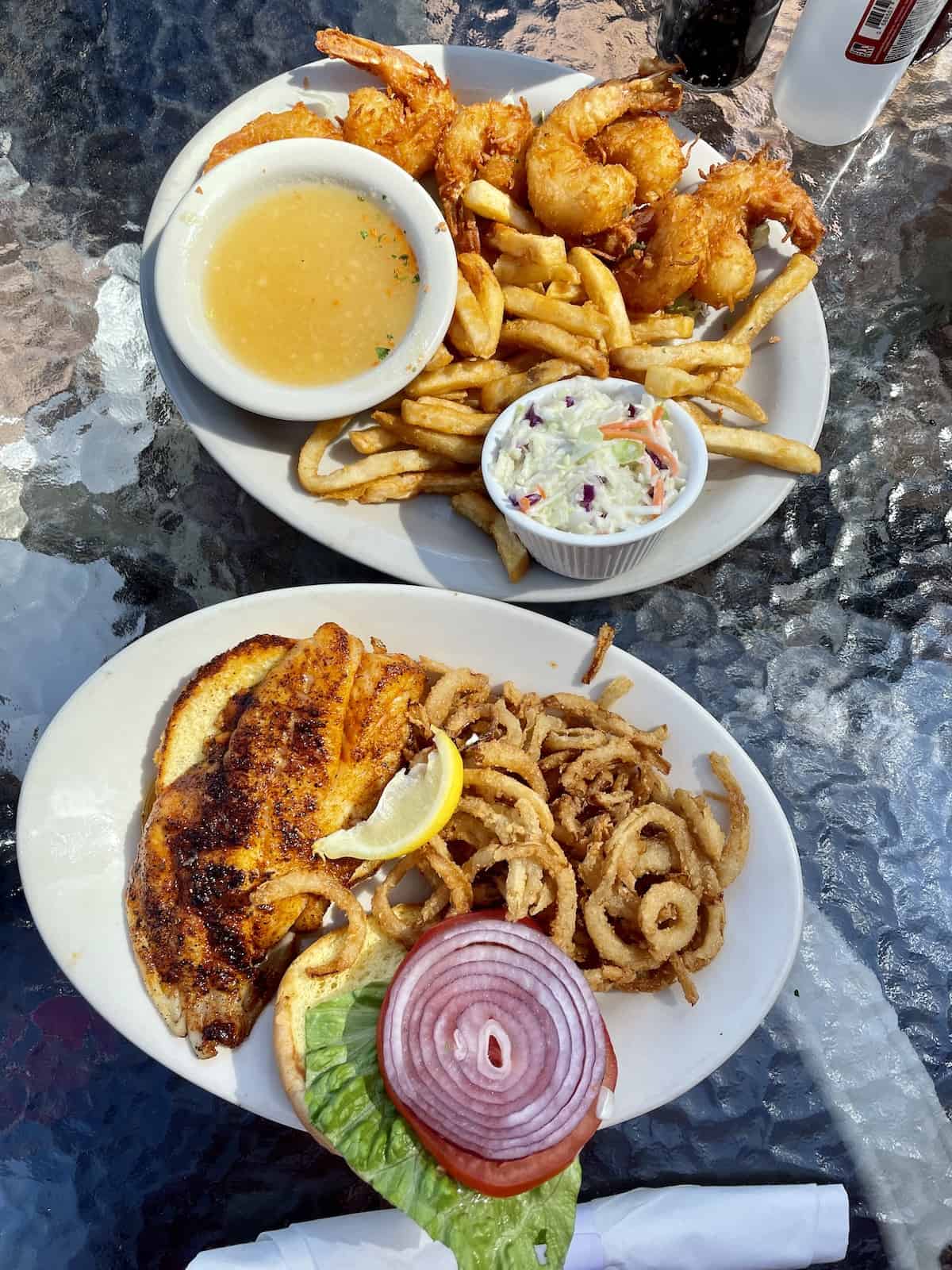 Location: 8875 Midnight Pass Road
Hours: Open 365 days a year. 11:30 a.m. until 9 p.m. Monday through Saturday, 10 a.m. until 9 p.m. on Sunday.
Ford's Garage
Though it is a chain, we love Ford's Garage, especially after a day of spending too much money between University Town Center and Target!
Located just across the street from the mall and at the end of the strip center where Target sits, this is a fun spot to sit at the bar and enjoy the camaraderie.
We have only ordered the burgers and the Crispy Chicken Sandwich because they are so good, but the menu has so many offerings.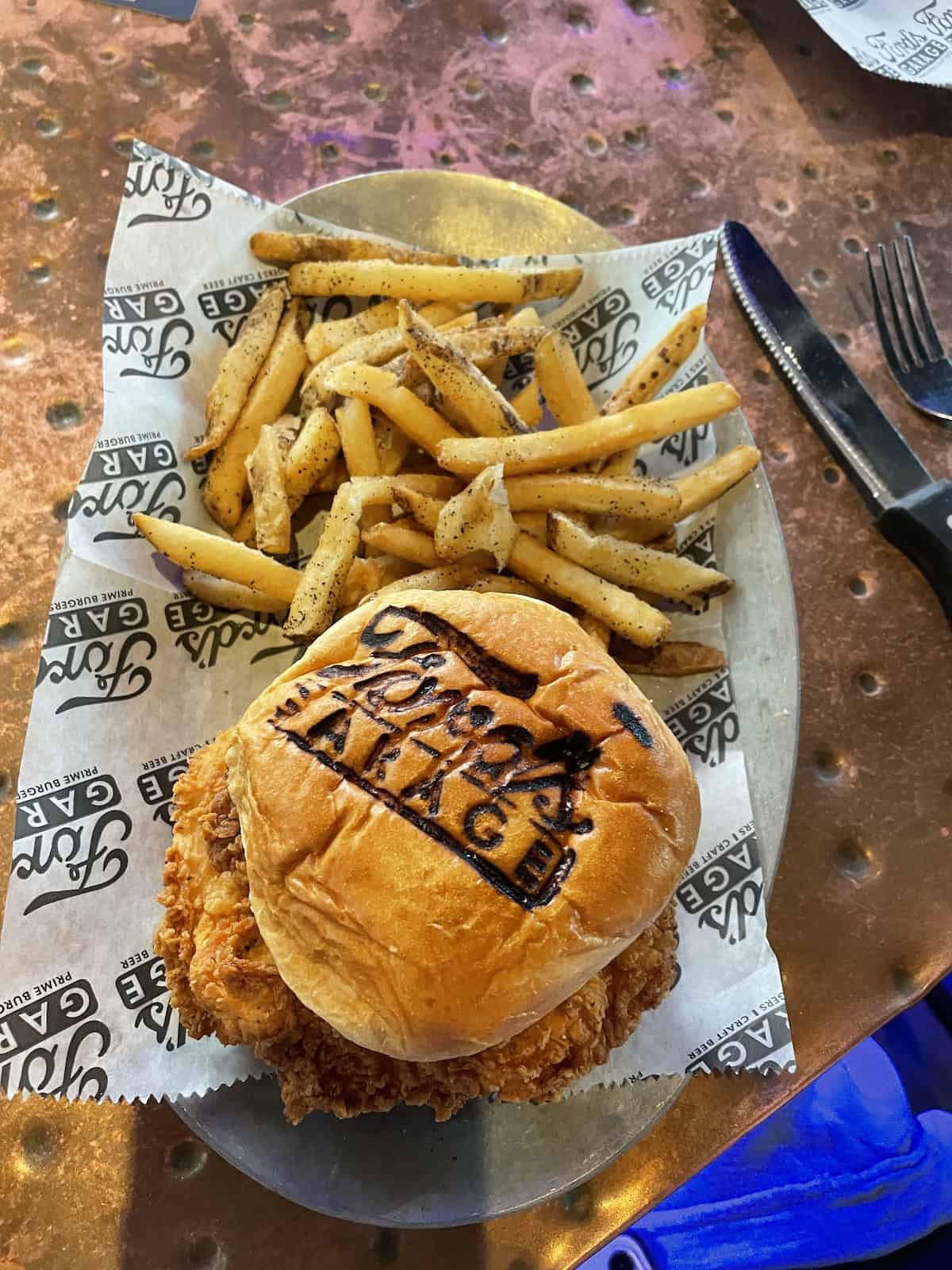 There really is something to please everyone, including big healthy salads and delicious appetizers for sharing.
Location: 295 North Cattlemen Road, Unit #1.
Hours: Open 11 a.m. until 10 p.m. Monday through Thursday, until 11 p.m on Friday and Saturday, and from 10:30 p.m until 10 p.m. on Sunday.
Bonefish Grill
Yes, another chain, but we've been going to Bonefish Grill for years and we've always enjoyed it.
Though I have ordered an entree and enjoyed it, I'd still prefer to share several appetizers like the Ahi Tuna Poke or the Beef & Ginger Potstickers.
Everyone who knows this restaurant raves about those Bang Bang Shrimp, and with good reason. They are SO delicious!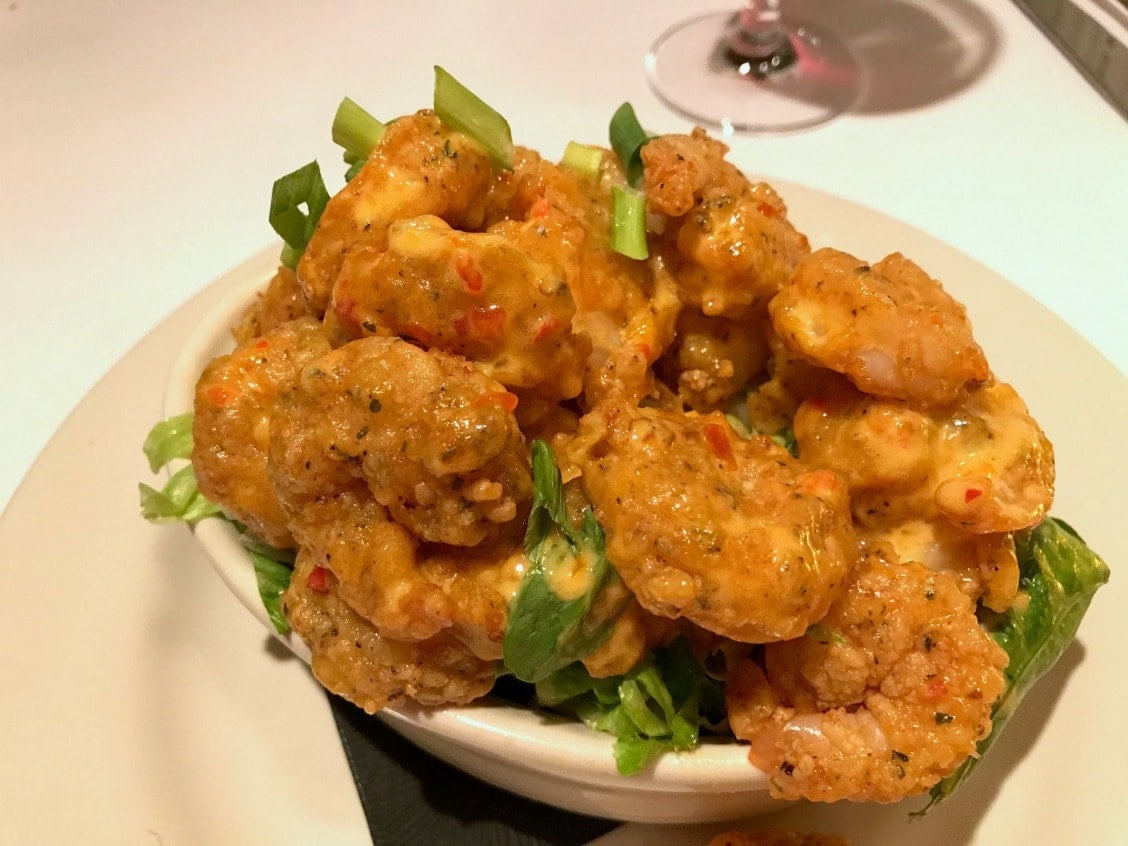 Address: You'll find two Sarasota locations, one at at 3971 South Tamiami Trail and the other at 8101 Cooper Creek Boulevard.
Hours: 11 a.m. until 10 p.m. every day.
Tips: Reservations at any of the best restaurants in Sarasota Florida are always a good idea, especially in winter when it's high season. For last minute visits, check the website to see if they do call ahead seating.
Do all these Sarasota restaurants have outdoor seating?
Most do have outdoor seating, but it's best to check the restaurants you're thinking about visiting to be sure. Outdoor tables usually go first, so ask about same day reservations or call ahead seating.
Do these restaurants all have kids menus?
Most do have kids menus, though a couple of the upscale spots may not. Check the website to be sure.
What kind of food is Sarasota known for?
Because of it's proximity to the Gulf of Mexico, Sarasota is known for seafood. That being said, most restaurants have other options knowing not everyone likes seafood.
Sarasota may have a lot of great restaurants, but the surrounding areas are pretty fabulous, too, so be sure to explore!

This article first appeared on Food, Fun & Faraway Places on September 21, 2021, and is updated regularly.