This list of my favorite Anna Maria Island restaurants is from years of eating on the Island. No more worrying about where to eat!
If you are visiting AMI, you really should drive next door and check out the best restaurants in Sarasota Florida, our favorite restaurants in Bradenton, as well as best restaurants in St. Armands Circle. We have so much good food here at the beaches!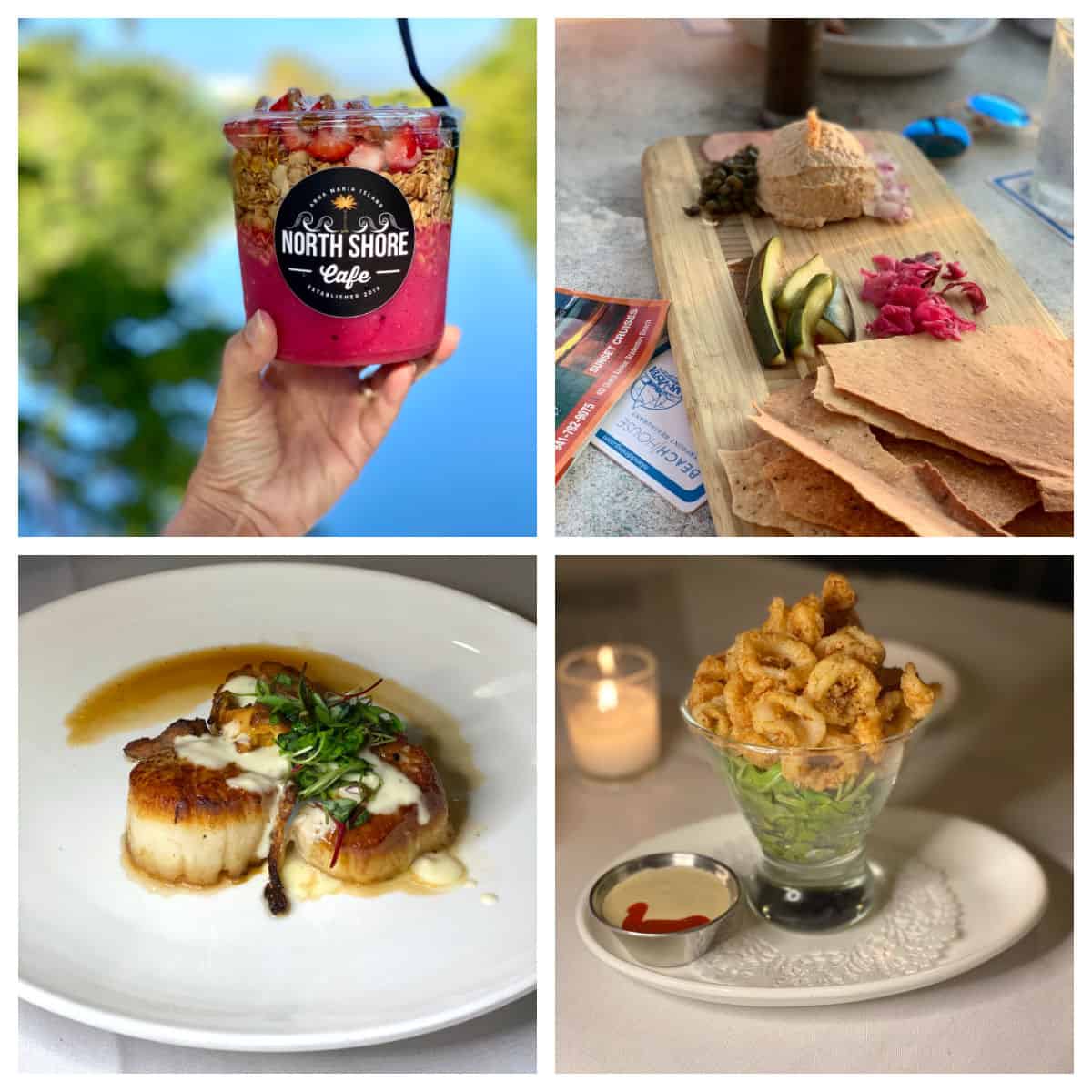 I've lived 30 minutes from AMI for over ten years now, and though I've eaten at my favorites over and over again, I'm always up for a new spot with great food.
For the sake of simplicity (and to keep this list manageable for you) we will focus on restaurants in Anna Maria and Holmes Beach. Bradenton Beach will be for another day!
Once you decide where to eat, take a look at things to do on Anna Maria Island and best beaches on Anna Maria Island.
And don't worry about where to stay as I found a wonderful spot right on the beach and I've included it, as well. Ready to get packing?
Where is Anna Maria Island?
Anna Maria Island is on the Gulf Coast of Florida. The Island is actually made up of three different cities; Bradenton Beach, Holmes Beach, and Anna Maria, at the northern tip of the island.
The Island is about seven miles long and eight blocks wide and surrounded by many beautiful beaches.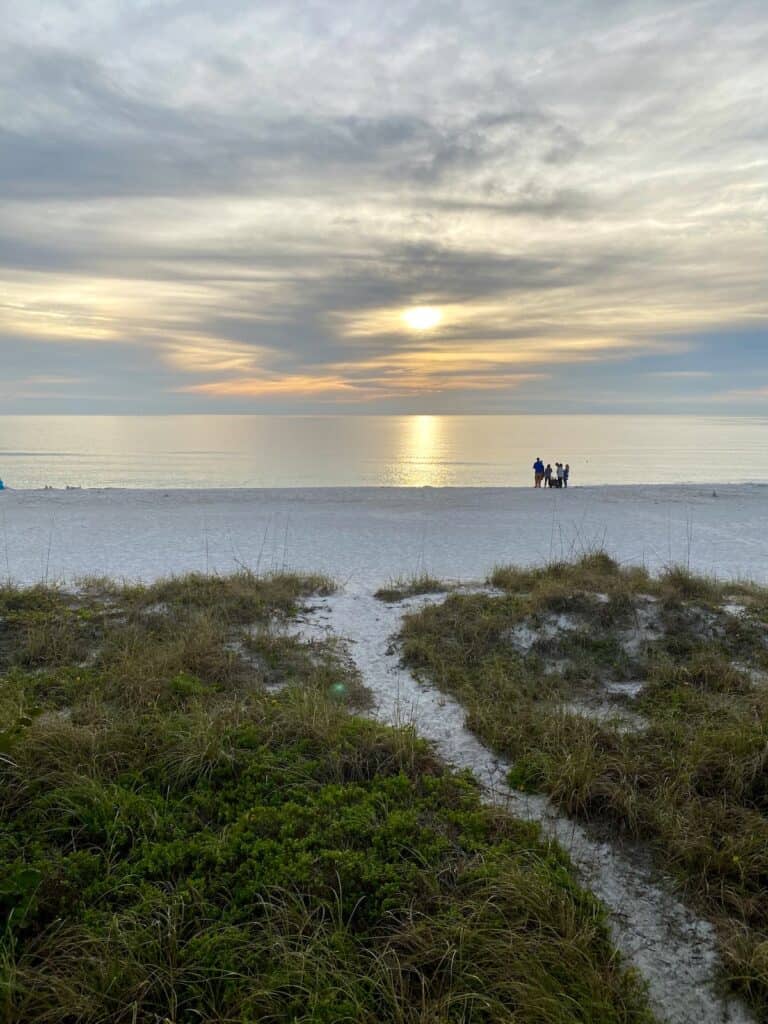 If you are traveling down Manatee Avenue (from Tampa International Airport) and you make a right at the beach, you will eventually end up in the city of Anna Maria, on the north end of Anna Maria Island.
This route will take you over the Manatee Avenue Bridge via one of three access drawbridges.
Before you get to AMI, you will pass through part of Holmes Beach. This area is all part of Anna Maria Island.
Traveling south, once you pass State Road 684, you will be in Bradenton Beach.
If you were flying into Sarasota Airport (always my first choice!), your access bridge would be Cortez Bridge. Don't miss this area!
You'll find some of the best places for fresh seafood in Cortez. It's truly old Florida at its best.
Continuing south on Gulf Drive, you would leave AMI by crossing the Longboat Key Bridge.
The Restaurants
I have eaten at every one of these restaurants, so this is not hearsay, but my opinion on the food. I've also had great service at each of these places.
All photos you see here were taken by me, though you'll see a few without photos as I need to get back with my camera!
Because I want you to be able to go right to the meal you're looking for, I've started the list with a couple of breakfast spots.
Some of these places are open all-day as I'll note in the description. The rest of the list is for lunch and dinner.
I'll also note whether the restaurant has outdoor seating and if there is a nice view. Click on each link to access a full menu.
Let me know which is your favorite, and enjoy your time here in my neck of the woods.
Breakfast Restaurants
Ginny and Jane E's
Ginny and Jane E's was one of the first Anna Maria Island restaurants I discovered after moving to the area and is a local favorite.
Known for their Cinnamon Buns and Pecan Rolls, it was a hard decision. I went with the cinnamon bun this time.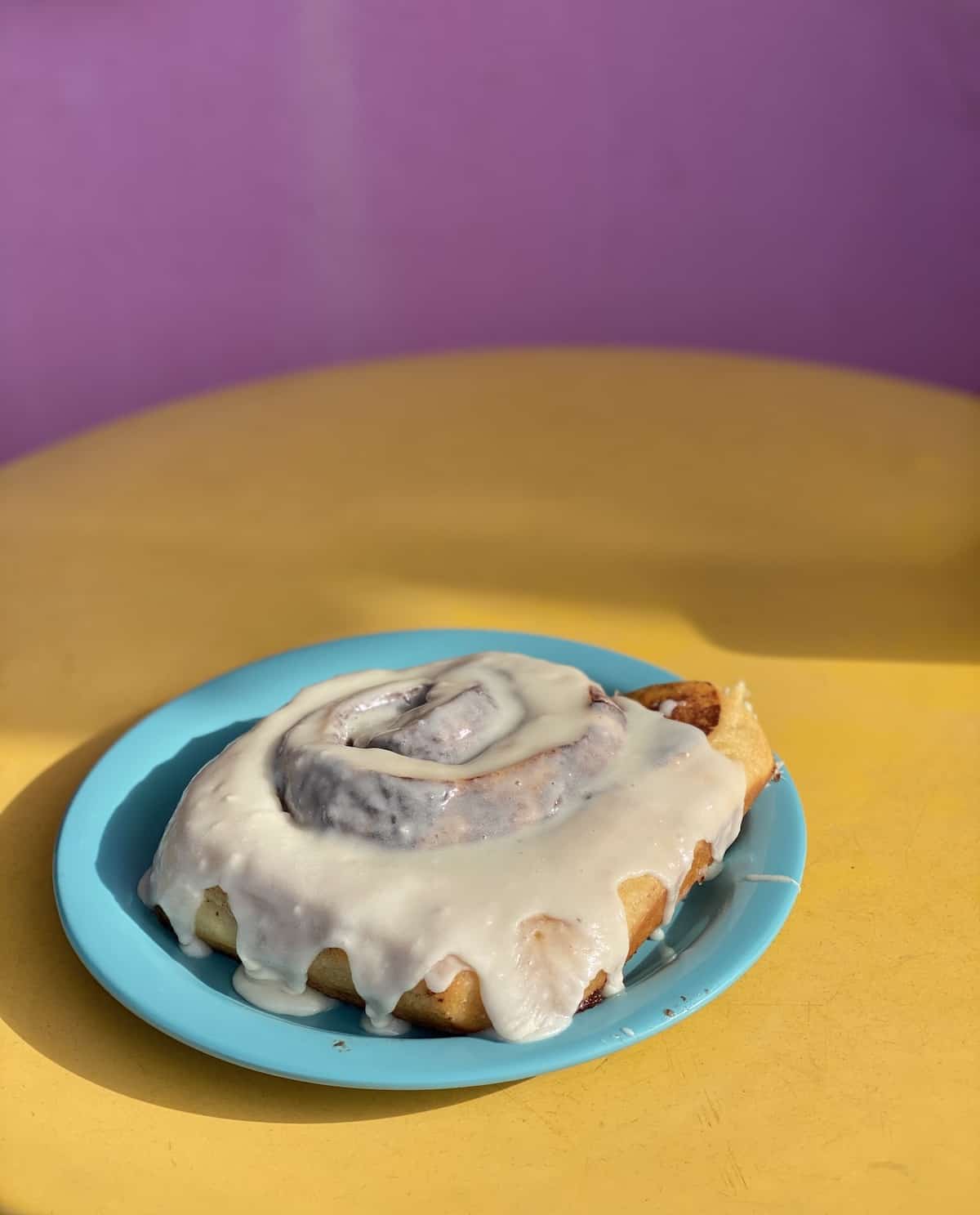 The menu offers loads of savory breakfast items, too, as well as a lunch menu. You can even order a beer or mimosa.
There are a handful of tables outside right on Gulf Drive, so it's not the best view, but I always seem to meet new friends there. There's lots of seating inside, as well, even for larger parties.
The store is huge so definitely give yourself time to explore the home decor and local souvenirs.
You'll find Ginny and Jane E's at 9807 Gulf Drive. They are open every day from 7 a.m. until 4 p.m.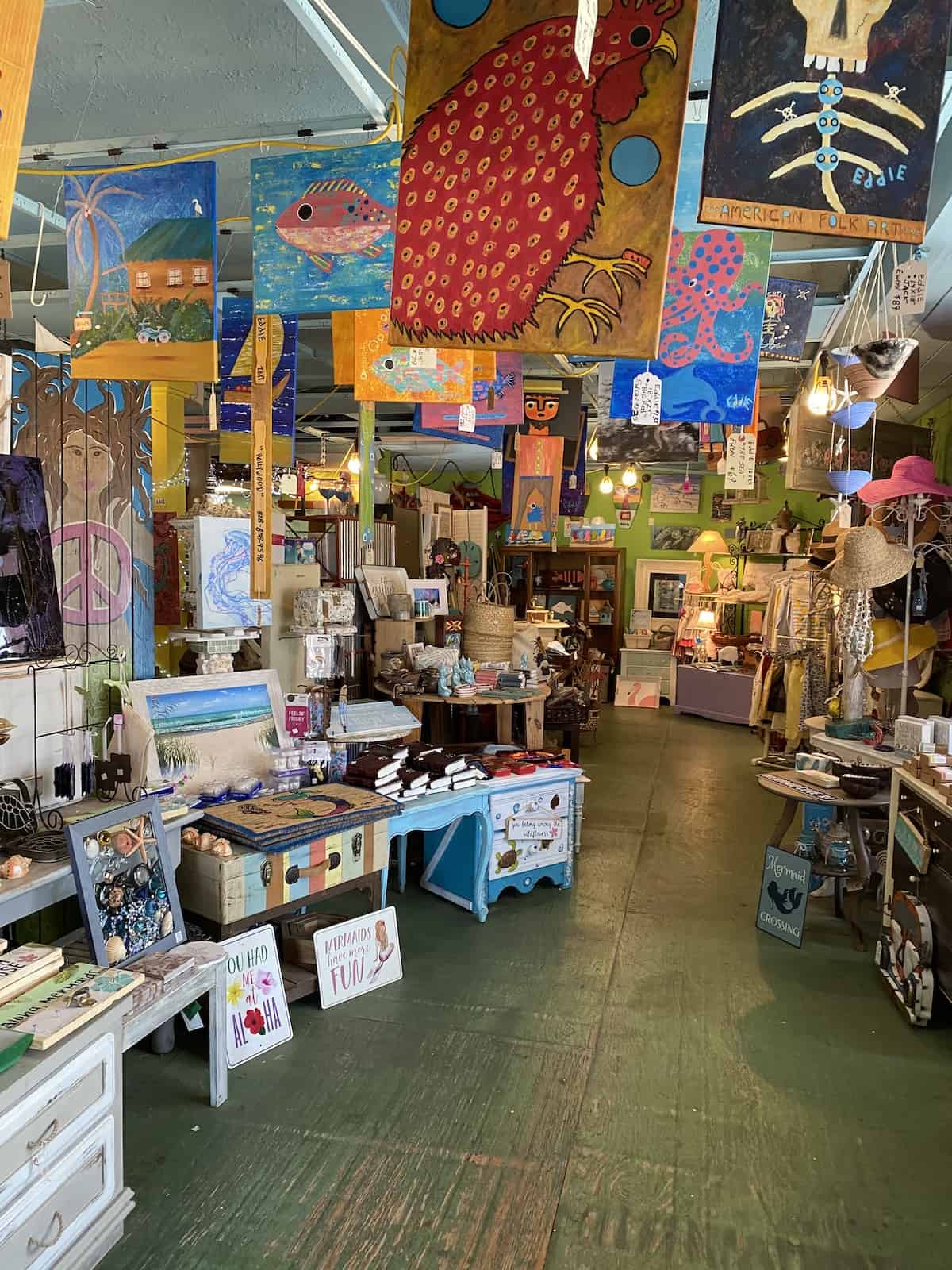 North Shore Cafe
North Shore Cafe is another local favorite, and it's easy to see why the minute you arrive.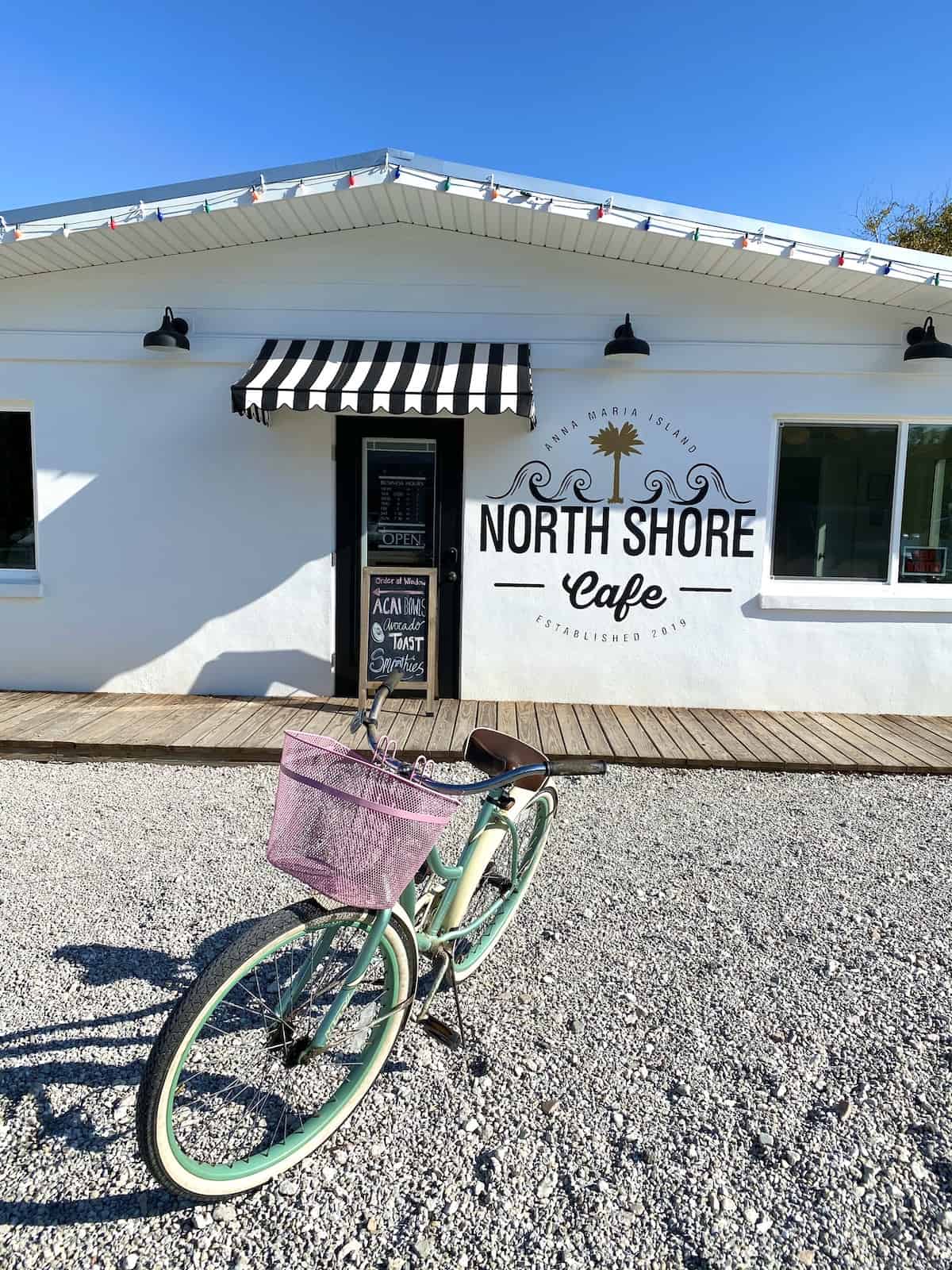 The Cafe has seating out back with Adirondack chairs set along the water. It's a lovely way to start the day.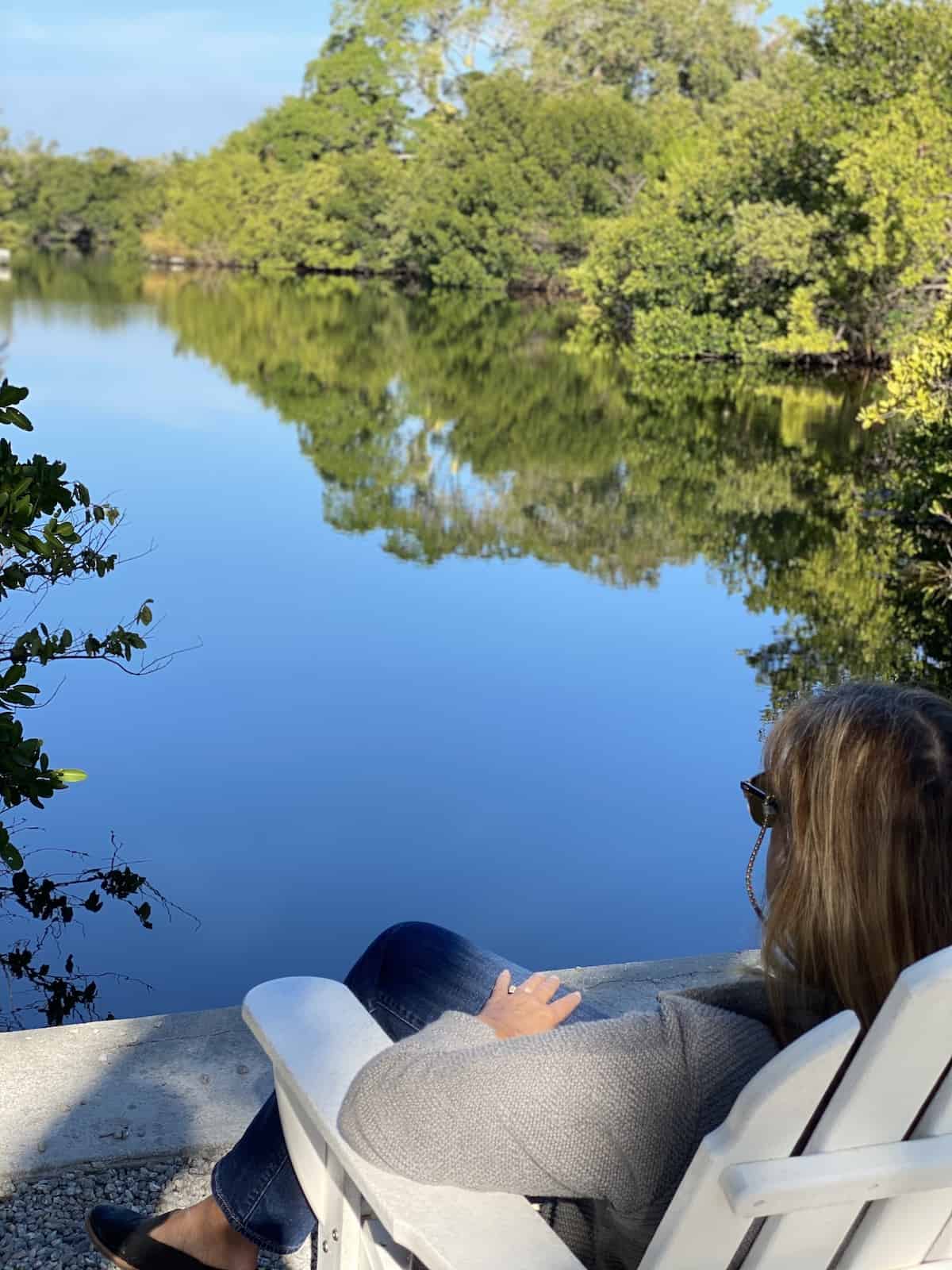 You'll find a lot of healthy options at North Shore Cafe. They have breakfast bowls and sandwiches, as well as beer and wine. This smoothie bowl was heavenly.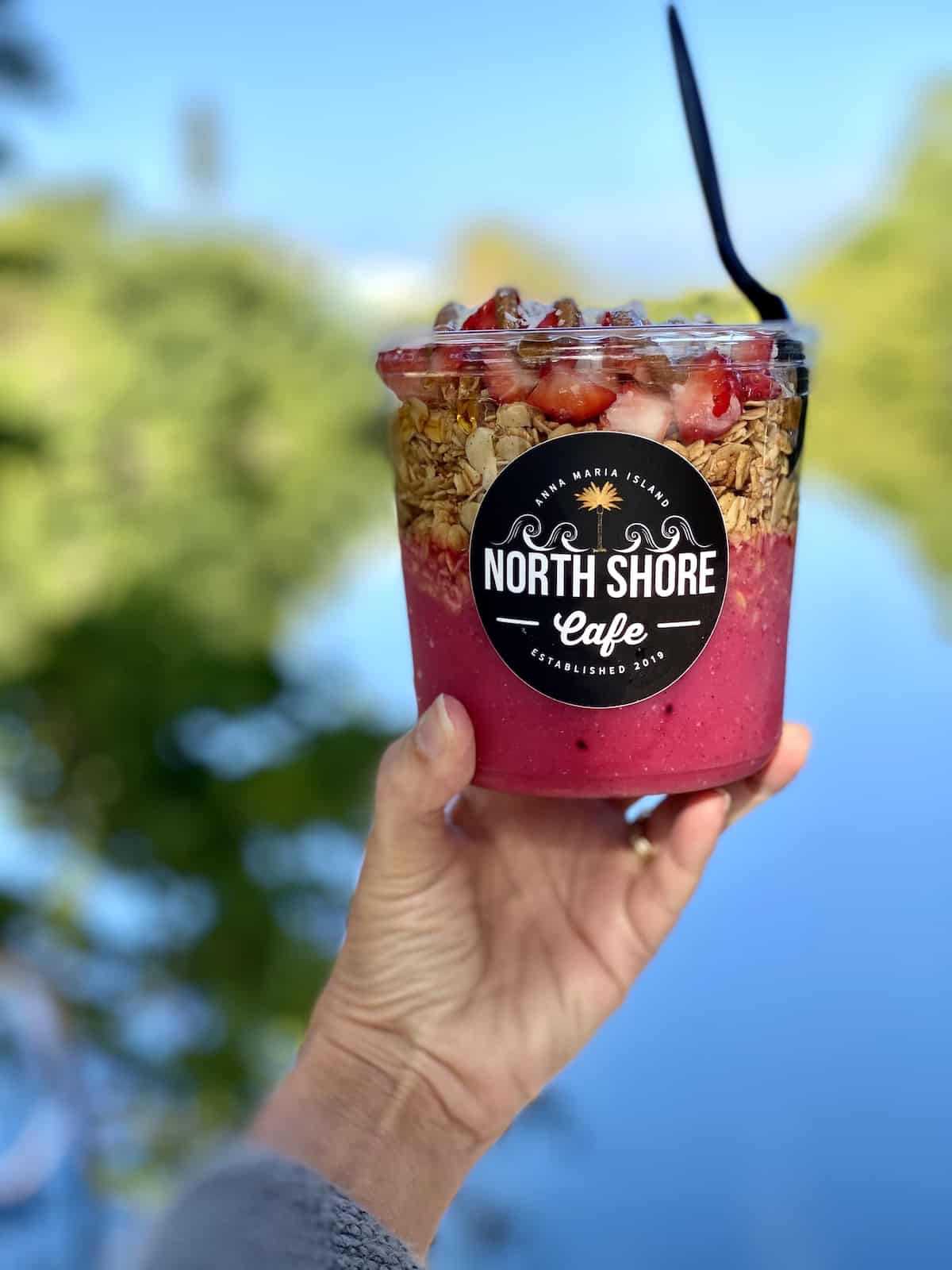 The Cafe serves delicious food for breakfast and lunch. This is probably the most popular local coffee shop, as they serve specialty coffees and teas.
Be sure to get your Instagram shot near the Anna Maria Island sign!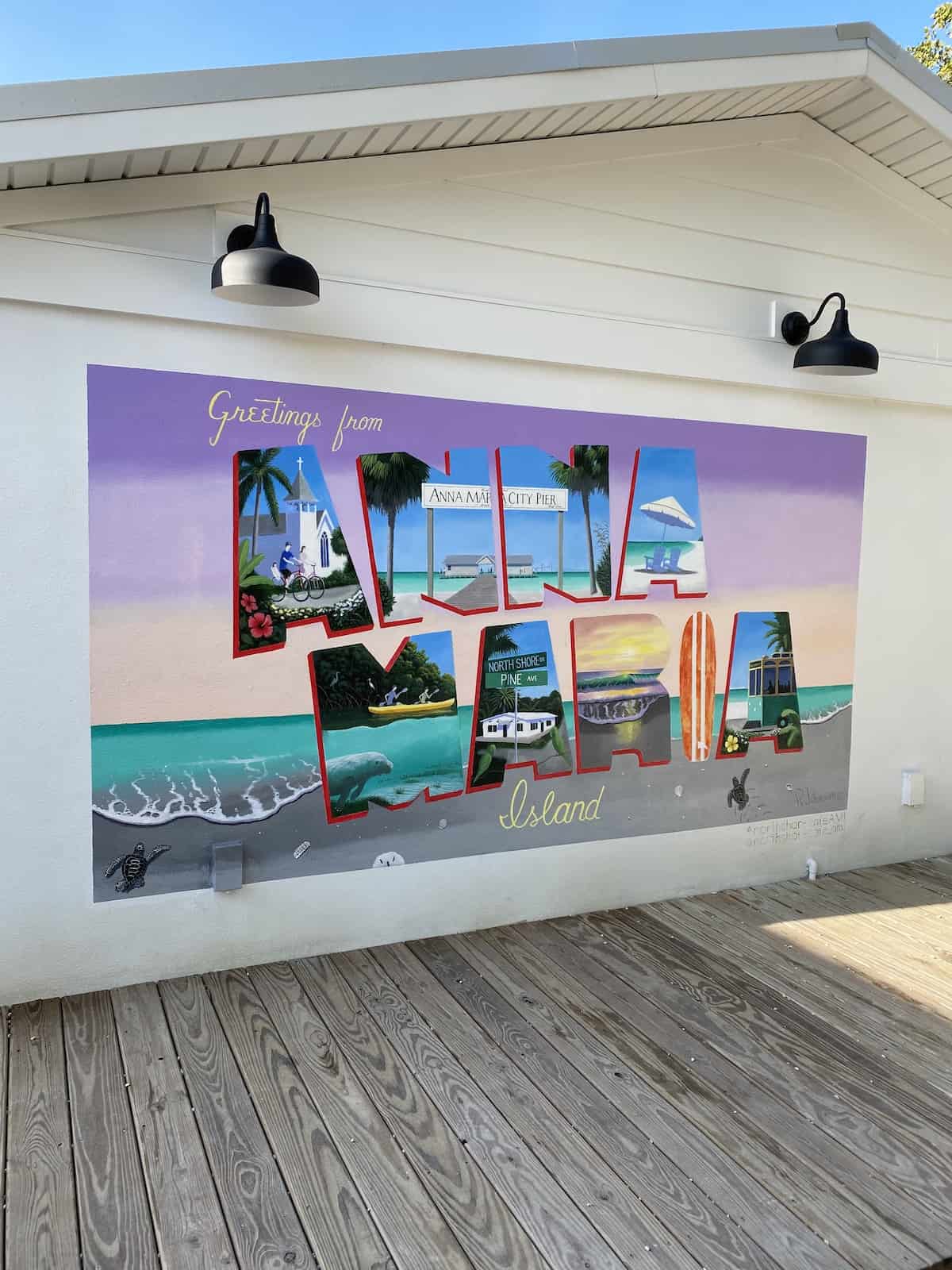 You'll find North Shore Cafe at 304 Pine Avenue. Their hours are 8 a.m. until 2 p.m. on weekdays and 7:30 a.m. until 3 p.m. on weekends. Note: The Cafe is closed on Tuesday.
Lunch and Dinner Restaurants
Beach Bistro
Beach Bistro is our favorite of Anna Maria Island restaurants. Though the food is superb, it's not all about the food.
Dining at Beach Bistro is an experience, from the service to the wine list to the view of the beach and the Gulf of Mexico.
To be fair, I'll let you know up front that this is not an inexpensive night out. When you're dining at a restaurant with the highest Zagat scores in Florida, it's to be expected.
The menu at Beach Bistro is a five-course tasting menu with a few choices for each course, and it runs $100 per person with the option of upgrading to The Exotics for an extra $50 or Food Heaven for $100.
Every meal begins with the Prelude which is a small cocktail, a taste of their specialty praline dessert, a cup of soup, and their incredible house pan bread topped with tapenade, pesto, and stewed tomatoes.
After the Prelude, you'll have choices of appetizers for Act Two. I ordered the Shrimp and Lobster Cocktail while my husband devoured Chef Clay's Bistro Pate.
Again for Act Three, you'll have a handful of choices. I ordered the Scallop Pan Roast which was just divine.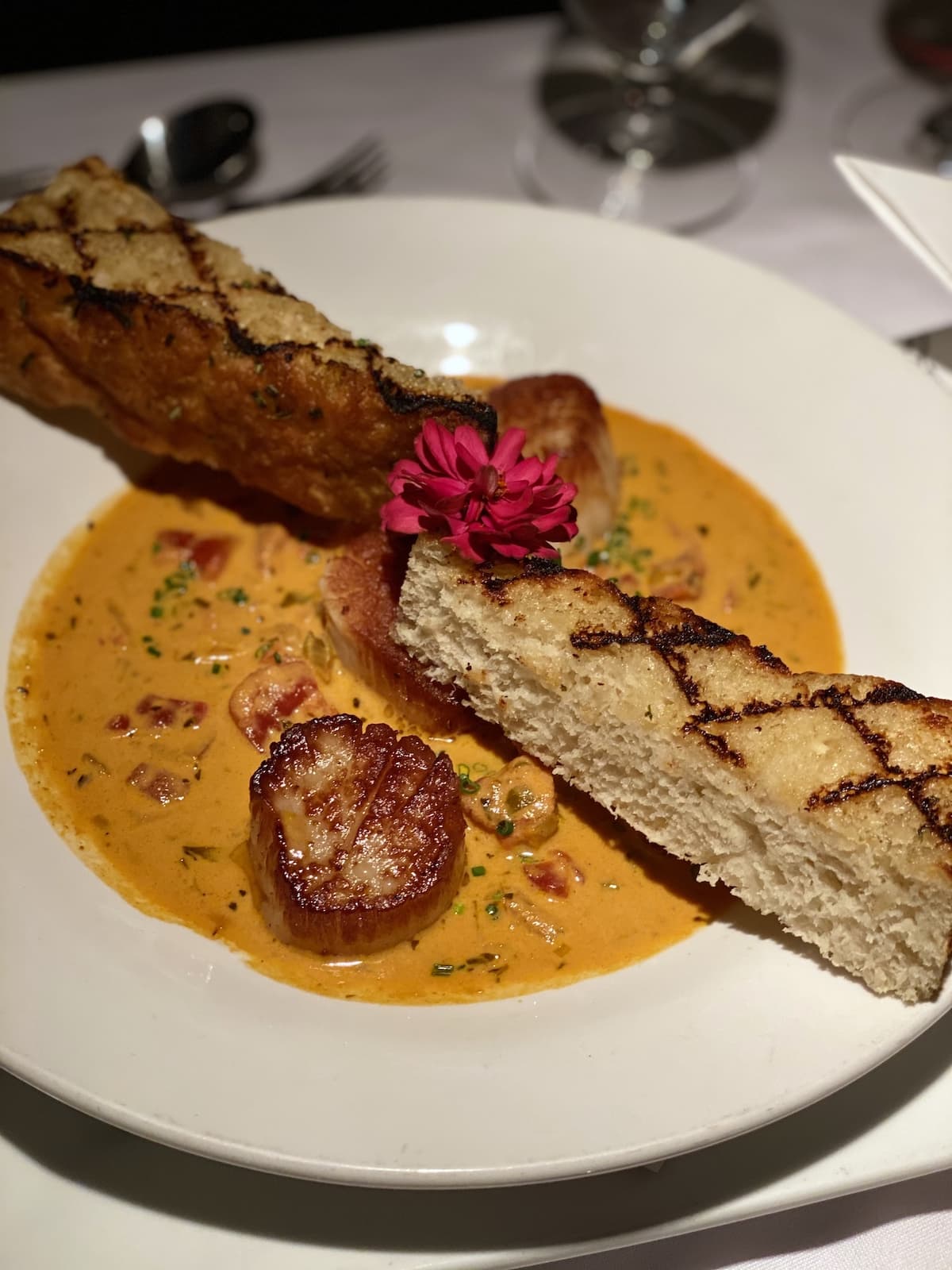 Order from five choices in Act Four for your next course. I ordered the Grouper Floribbean, served with a bell pepper papaya jam that was perfect with the coconut and cashew-crusted local fish.
My husband enjoyed the American Ranchlands Domestic Lamb served with a port-rosemary demi-glace.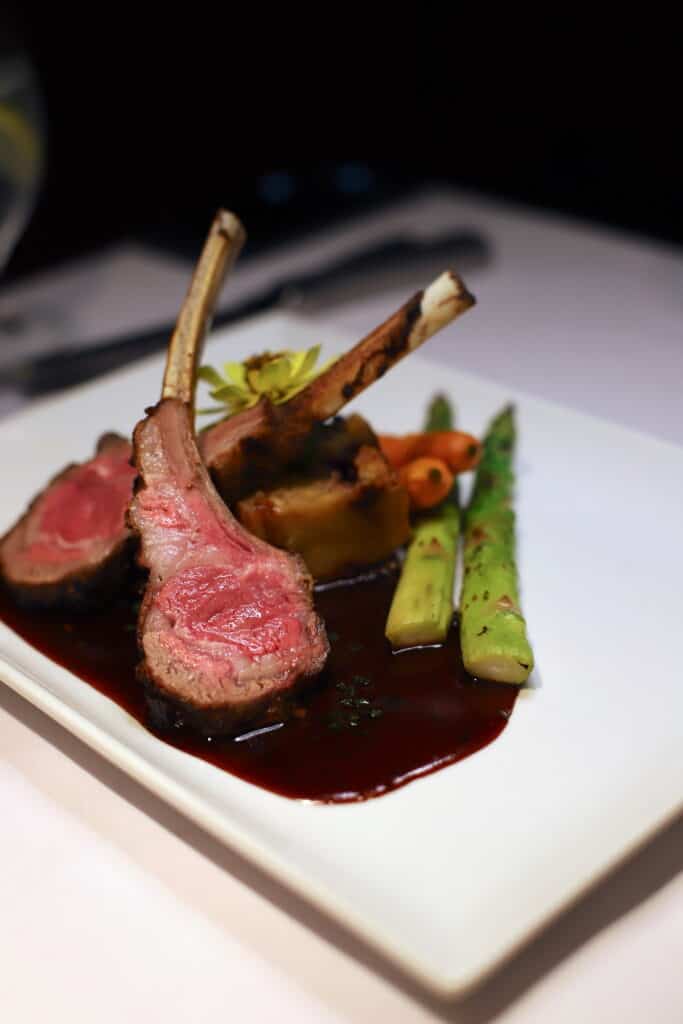 For dessert, we would share the decadent Key Lime Pie and the cheese platter.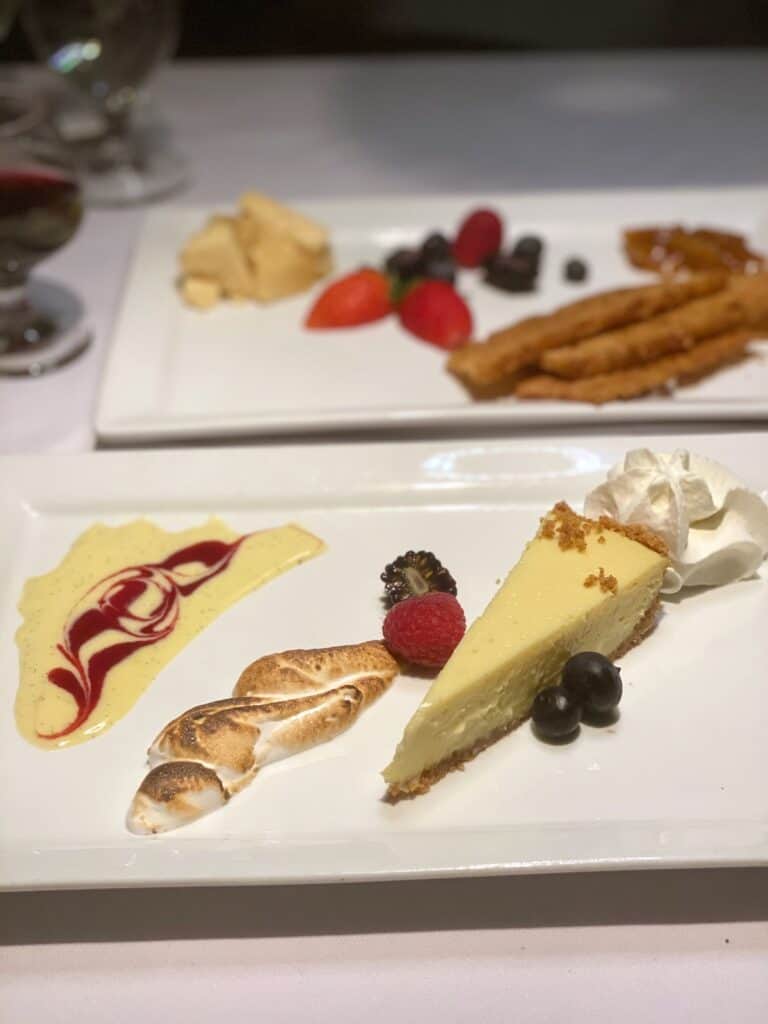 Beach Bistro is located at 6600 Gulf Drive and dining is by reservation only. Hours are 5 p.m. until 10 p.m. seven days per week.
The Sandbar Restaurant
The Sandbar Restaurant is one of our favorites in this region of Florida. We've got a lot of great restaurants, but the Sandbar has always been consistently wonderful.
When we plan to be at the beach for sunset, our Tommy Bahama beach chairs are often right in front of the Sandbar.
We put our name in for a table and there is usually about an hour wait.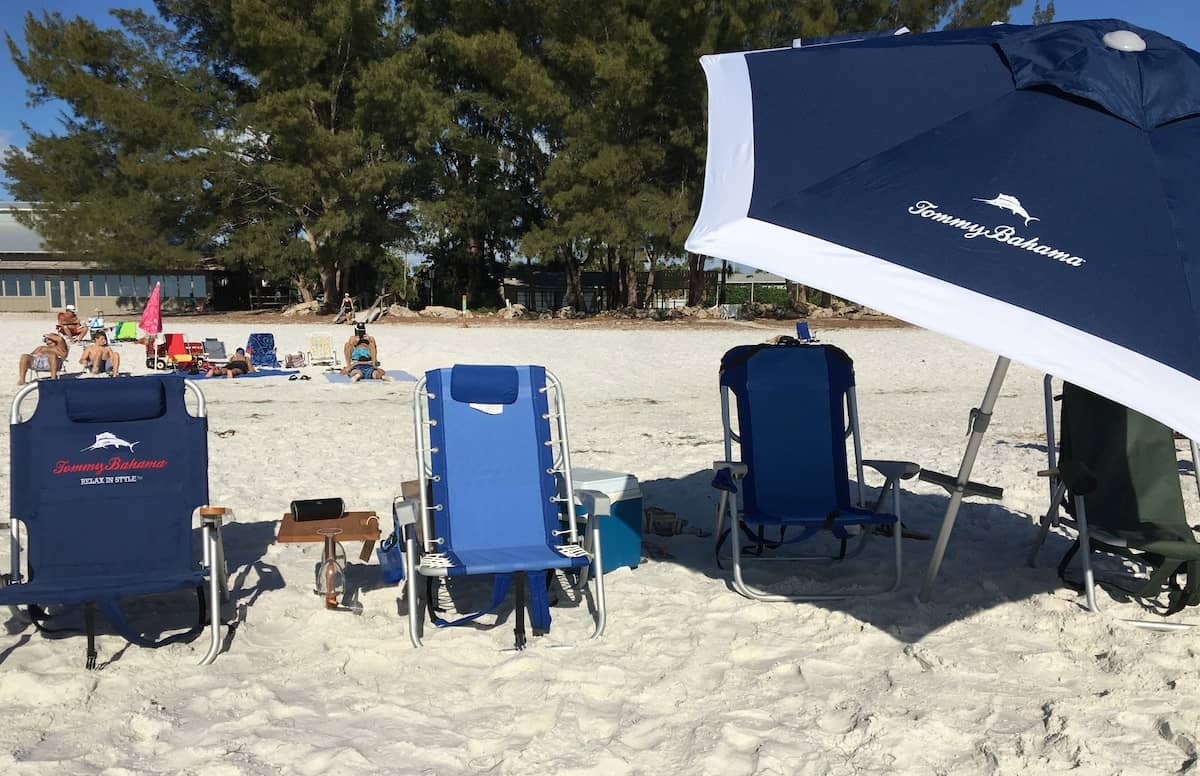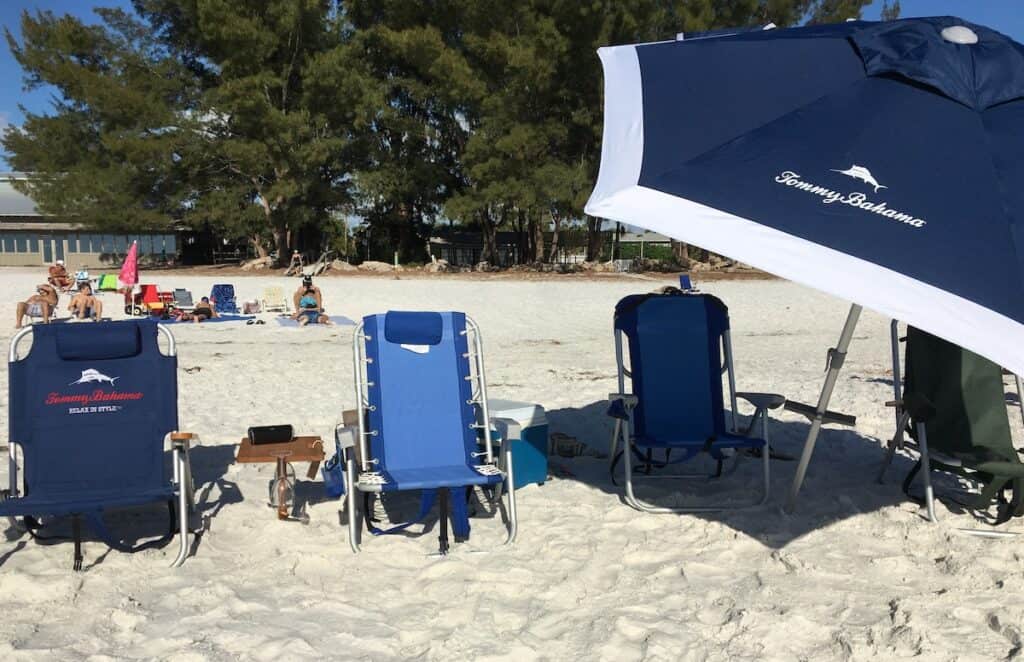 During the winter when the sun goes down early, we watch it set and then eat. This is one of the best restaurants for a view of the sunset.
We move our chairs a little closer so the pager works, and enjoy the beach until our table is ready. Not a bad way to wait for a table, right?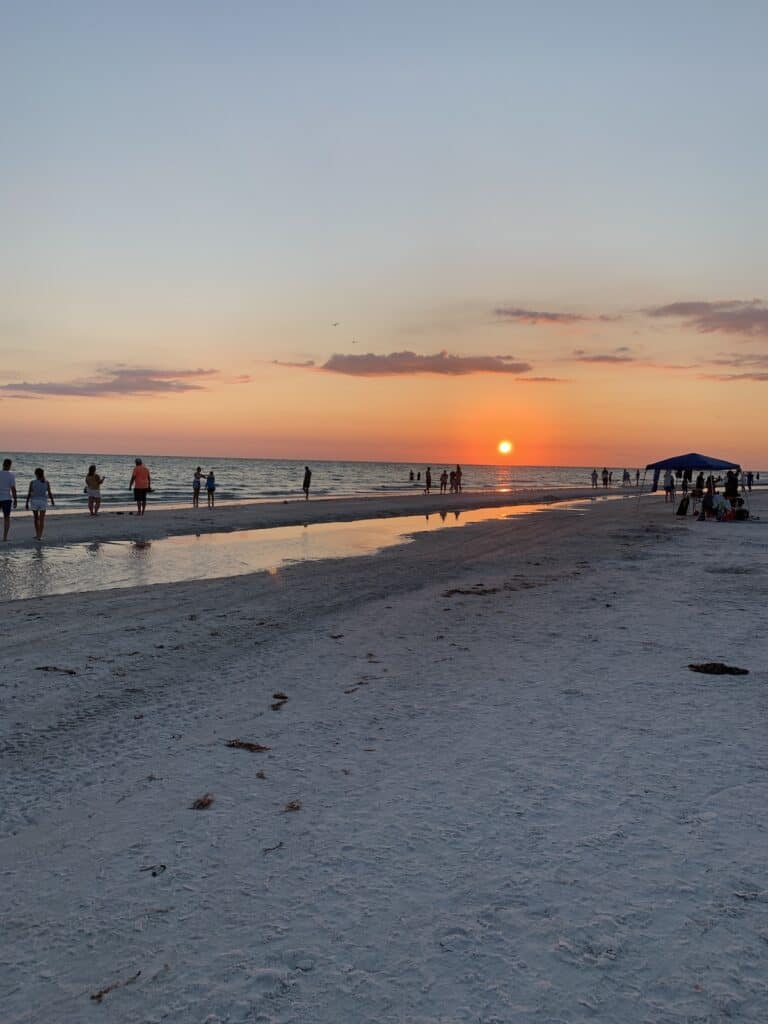 When a restaurant is known for something, you should always try it.
At the Sandbar, they are known for their Grouper Sandwich. I've had it at least a half dozen times and it's always fresh and delicious.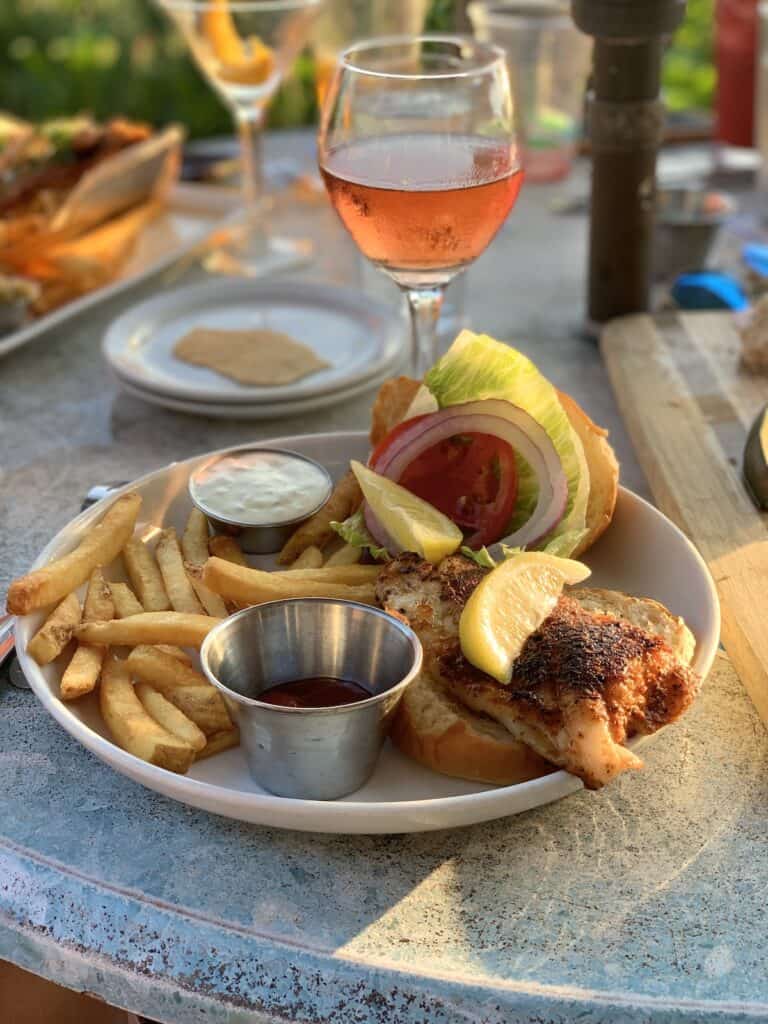 The grilled octopus is absolutely incredible. It's charred and so tender. The fish dip is always a great appetizer, too.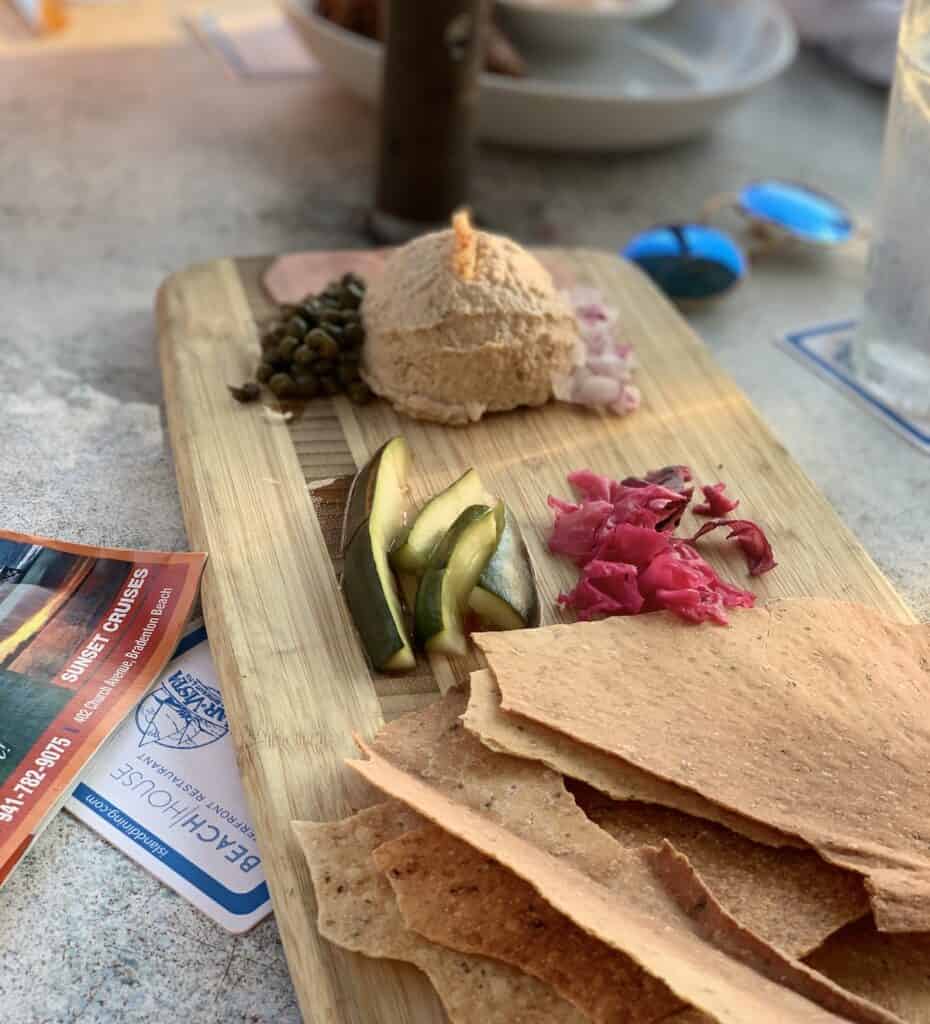 The Sandbar is located at 100 Spring Avenue in Anna Maria. They do not take reservations.
The hours are 11 a.m. until 10 p.m. Monday through Saturday. On Sunday they open at 10 a.m. serving brunch until noon.
The Waterfront
The Waterfront Restaurant is the perfect spot for lunch or dinner before or after your shopping trip on Pine Avenue. This restaurant has a huge menu for lunch and dinner.
Below is the Steamer Bowl. The menu says Clams or Mussels, but you can also mix the two. We got the Tomato Basil Sauce.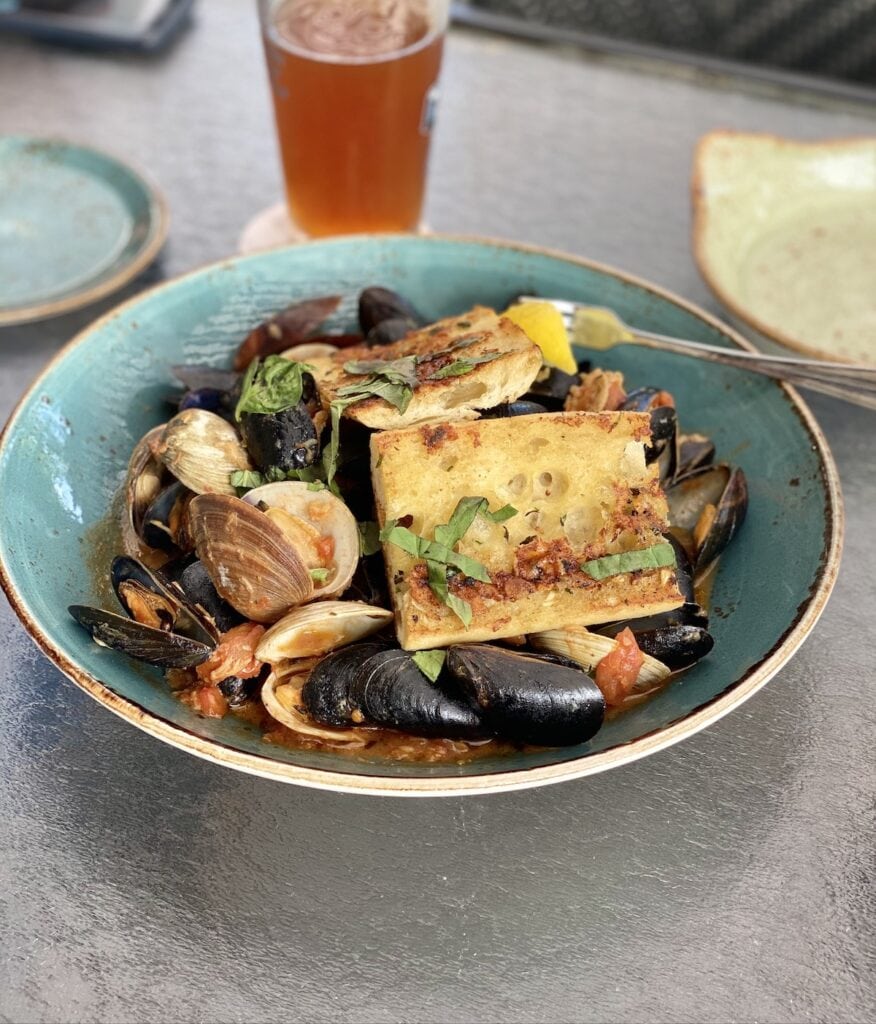 For entrees my husband ordered the fish tacos and a Caesar salad. I ordered the beet salad with Grouper. It was a delicious meal and the service was great.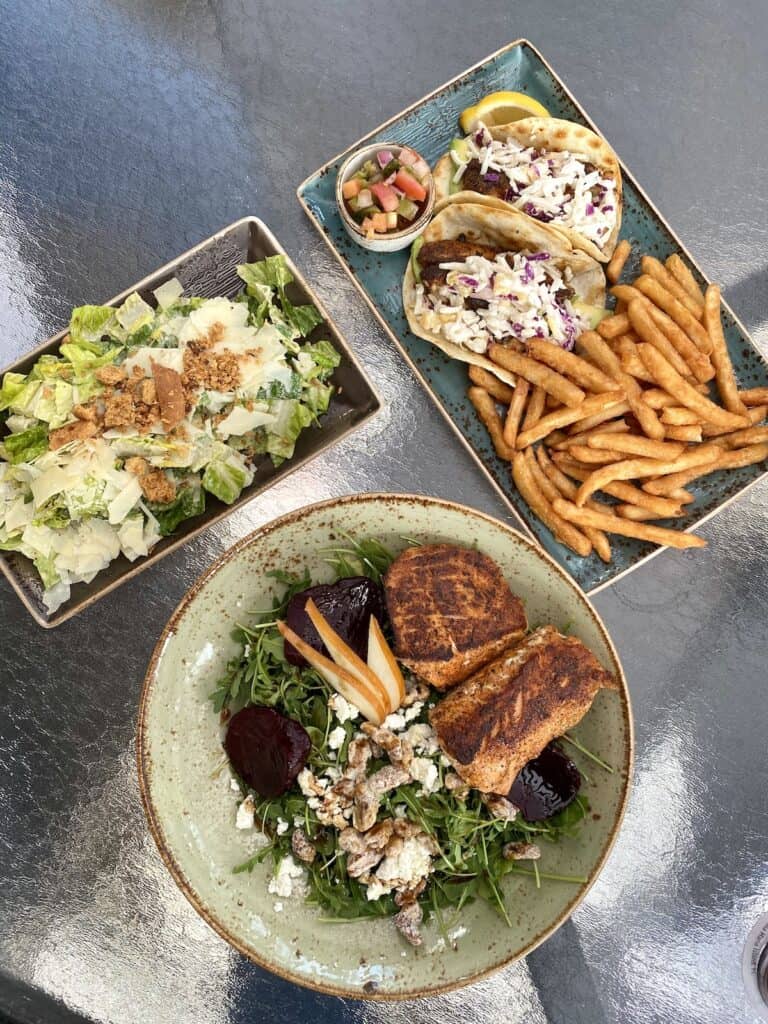 Tip: Ask to sit in the garden. It's lovely!
The Waterfront is located at 111 South Bay Boulevard in Anna Maria. Make sure you take a stroll for great views of Tampa Bay.
Hours are Sunday through Thursday from 11 a.m. until 9 p.m. Closing is at 10 p.m. on Friday and Saturday. They do not take reservations.
The Chateau Anna Maria
This is one of our newest restaurants and we are so lucky to have it! Located on the first floor of the Waterline Marina Resort, The Chateau Anna Maria has a wonderfully eclectic menu.
Open for lunch, dinner, and brunch on the weekends, this restaurant has a large open dining room with beautiful traditional decor.
The food is American gusto and French-inspired. What inspired the chef to create this Graham Cracker Crusted calamari, I don't know, but I'm so glad he did!
You know I'd have to order something that original, and it was fantastic from the tender texture to the hint of graham cracker breading.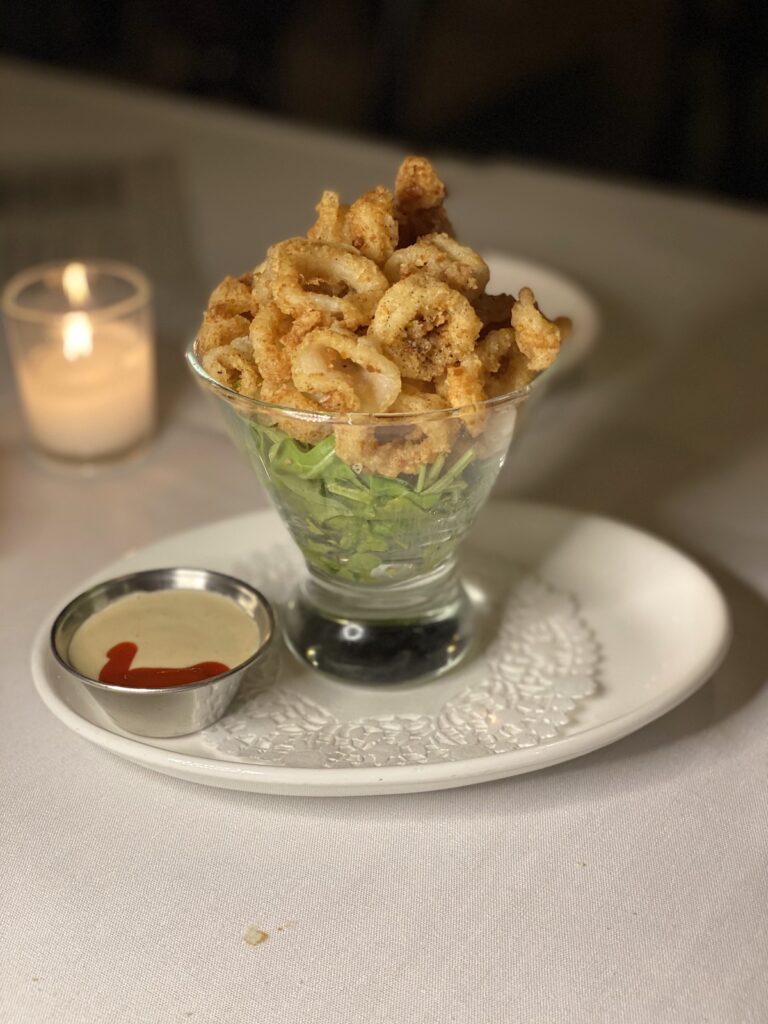 The scallops were also amazing. The key to a good dish is using the freshest seafood, and this was one of my favorite meals on the Island.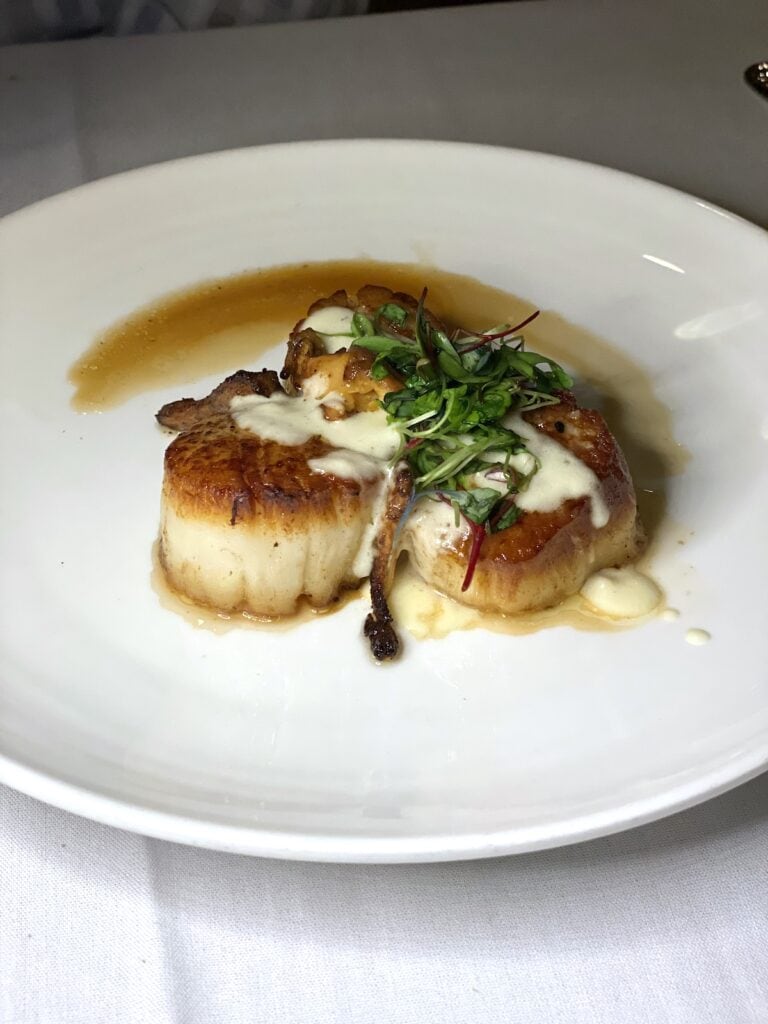 Chateau Anna Maria is located at 5325 Marina Dr. at the Waterline Marina Resort. Hours are 10:30 a.m. until 11 p.m. every day of the week.
The Doctor's Office
This is without a doubt one of our favorite bars on Anna Maria Island. It reminds me of a Speakeasy and has such a friendly vibe.
If I were to give you a bucket list of things to do on Anna Maria Island, The Doctor's Office would be on that list.
Note: I have only had drinks at The Doctor's Office and it's pretty dark inside. However, I saw food come out of the kitchen and it looked so good!
With the same owners as Beach Bistro and Eat Here, you really can't go wrong.
The Doctor's Office is located at 5312 Holmes Blvd. #B, and hours are 5 p.m. until 11:45 p.m. every day.
Note: Seating is limited. If you have a party of 6 or more, you should try to make a reservation. You must be 21 or over to enter.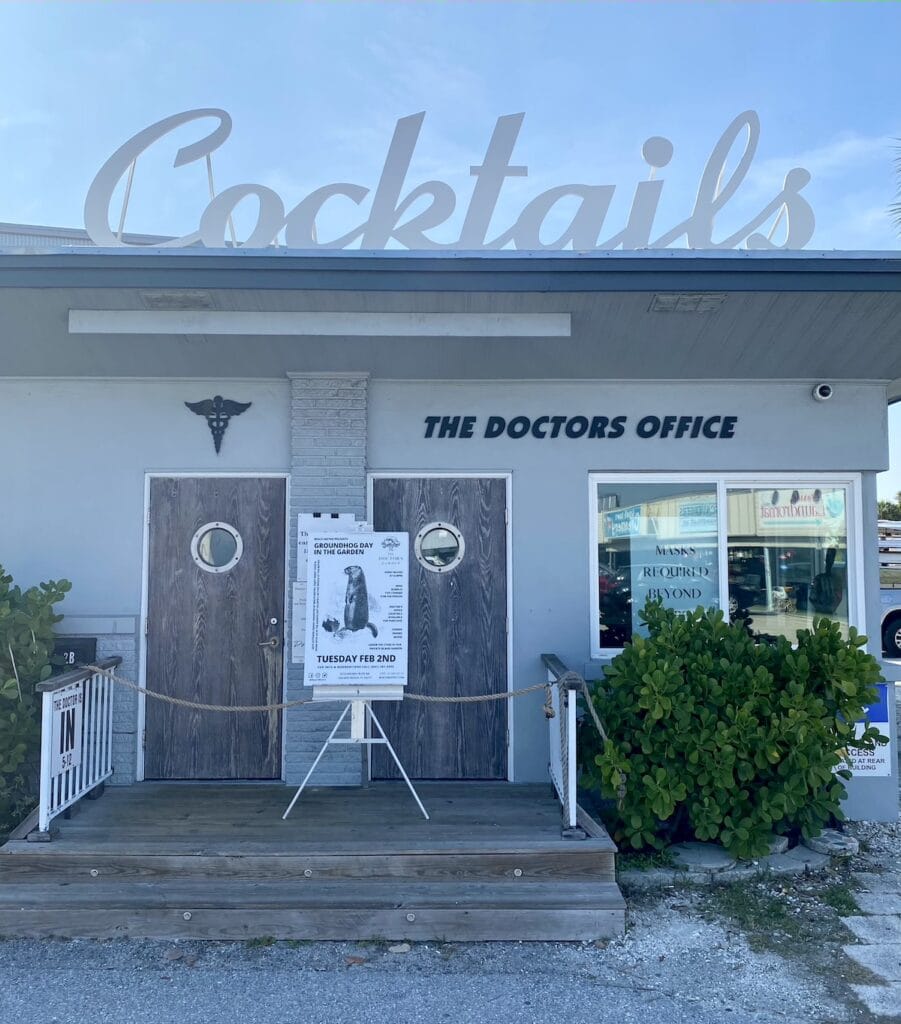 Rod and Reel Pier
One of the most popular restaurants on AMI, Rod and Reel Pier is located at the end of the Pier in the far North of the Island.
The food is impressive, which is why there is often a wait. Benches line the Pier, so put your name in and grab a seat.
Enjoy the birds and beauty of the Gulf of Mexico while you wait, or grab a menu so you can start making a decision.
Rod and Reel is known for their Grouper. My daughter said this was one of the best Grouper sandwiches she's ever eaten.
You'll have a lot of choices for fresh fish here.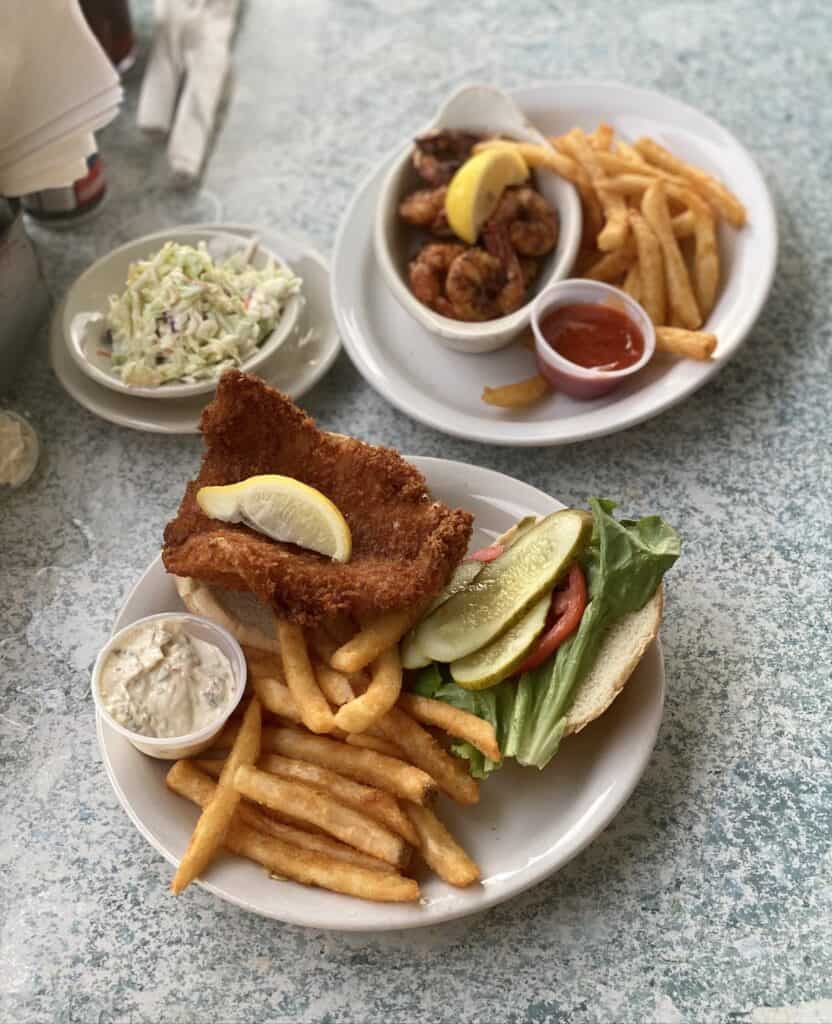 The Blackened Shrimp platter was also scrumptious. I ordered fries (surprise!) and coleslaw.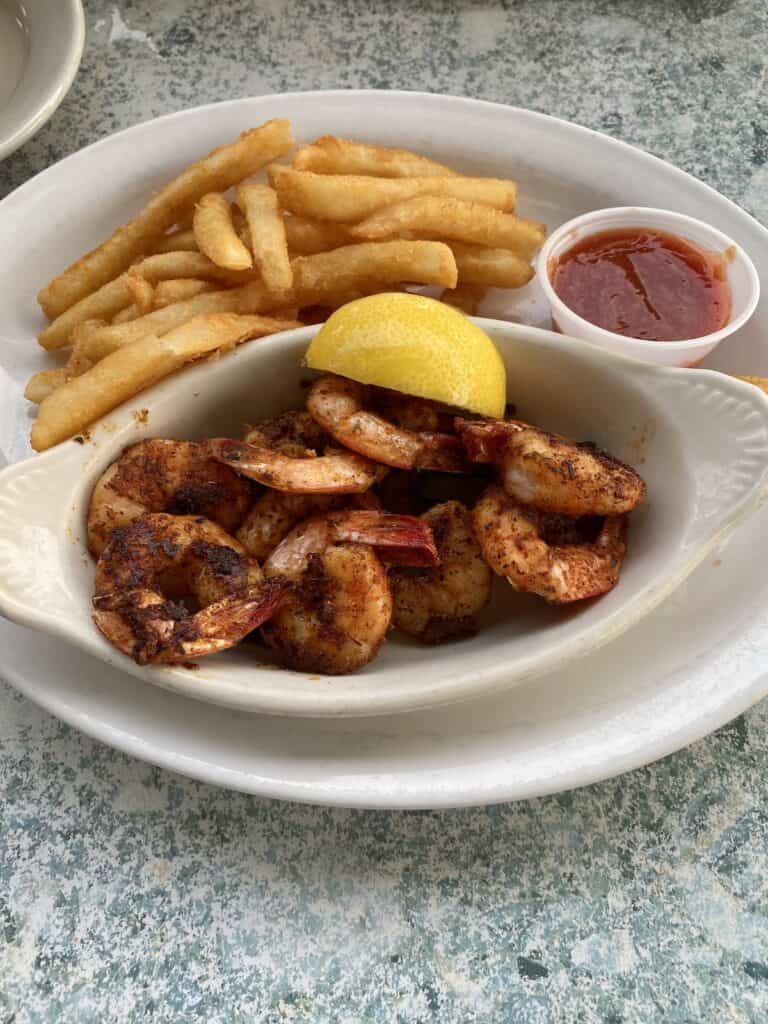 Rod and Reel Pier is located at 875 North Shore Dr., Anna Maria. Hours are 9 a.m. until 8 p.m. every day. And yes, they serve breakfast and it looks amazing!
Take a stroll down the Anna Maria City Pier after dinner to work off some of the calories! It's just 5 minutes drive away and you can check it off you AMI bucket list.
Hurricane Hanks
You won't get a view at Hurricane Hanks, but you will get one heck of a Grouper Sandwich. When we first moved to Florida this was one of our favorite spots.
The menu is surprisingly extensive for a restaurant in a shopping plaza, but don't let that fool you!
From beer-battered seafood baskets to fresh sushi-grade tuna to burgers and more, there's a lot to choose from.
Located at 5346 Gulf Drive, Hurricane Hanks is open from 11:30 a.m. until 9 p.m. Sunday through Thursday and stays open until 10 p.m. on Friday and Saturday. The bar is open until 11 p.m. every night.
The Ugly Grouper
The laid-back vibe of The Ugly Grouper is perfect for lunch or a day after relaxing on the white sand beaches of AMI.
The atmosphere is fun, with games for the whole family, live music, and lots of outdoor seating.
Sit back and enjoy one of their specialty cocktails like the Dragonberry Lemonade or one of the craft beers.
The Grouper sandwich has been voted #1 on the Island, but the menu has a lot of other choices. Try the Ugly Shrimp & Grits.
The Ugly Grouper is located at 5704 Marina Drive in Holmes Beach. Hours are 11 a.m. until 10 p.m. every day.
Skinny's Place
At Skinny's Place, you find the quintessential beach shack. You might miss it if you aren't paying attention. Look for the blue shack. It's been standing there since 1952.
When we're talking local favorites, this is the spot for a burger and a beer or soda. The burgers are excellent and the beer is cold!
This is a local favorite, probably because only locals know it's there! Now you know!
The menu is no frills. Burgers, burgers, and more burgers. Get a side of fries and a side of onion rings. Seriously, Skinny's is what vacation is all about.
You'll also find hot dogs and chicken on the menu, though we always go with the burger.
Skinny's is located at 3901 Gulf Drive in Holmes Beach. At the end of Manatee Avenue, make a left on Gulf Drive and you're there!
Open 11 a.m. until 8 p.m. 7 days a week. Note: Skinny's does not accept credit cards.
Harry's Grill & Bistro
If you haven't been to Harry's Grill, what are you waiting for? This award- winning spot is known for their burgers, but there is so much good food here.
In the mood for a draft beer and fried green tomatoes? They're delicious. Rather have Mahi Mahi with Harry's delicious mango salsa? The flavors take you on a tropical vacation.
The outdoor patio is pet friendly and Harry's hosts regular entertainment. Make a reservation for the Hallelujah Brunch from 10 a.m. until 11:30 a.m. on Sundays!
Harry's Grill & Bistro is located at 9903 Gulf Drive, Anna Maria.
Open at 11:30 a.m. until 9:30 p.m. Monday through Saturday. On Sundays, hours are 10 a.m. until 11:30 a.m. for brunch, and 1 p.m. until 9:30 p.m. for lunch and dinner.
Vinny's Italian Market
Known as Little Italy in the heart of Anna Maria, Vinny's Italian Market is a new spot for me and I'm so glad I found it. In all fairness, I only had a cappuccino and a biscotti on this visit, but the menu and deli look amazing.
You'll find a couple of tables outside. This is a great place to stop and put together a picnic for the beach.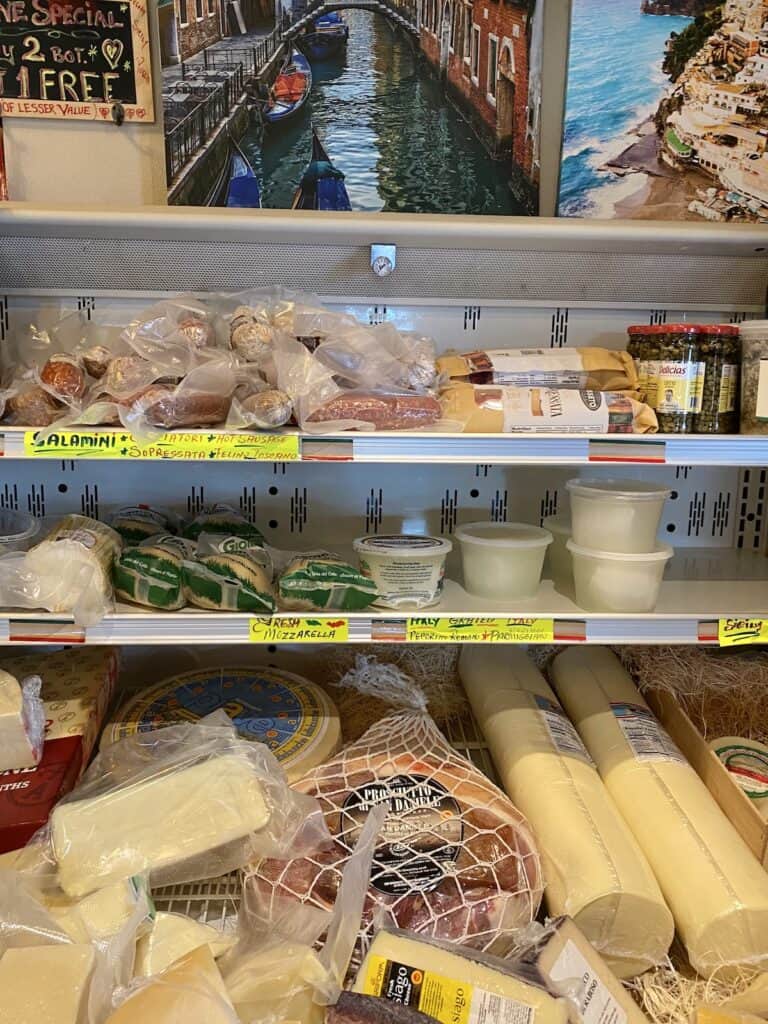 If I was on vacation with family and had a kitchen, I would be stopping by Vinny's for their prepared lasagne or one of the many pasta dishes and take it back to my room for an easy dinner in.
Grab a bottle of wine while you're there and you're set. Vinny's is located at 5337 Gulf Drive, Holmes Beach. Hours are 11 a.m. until 7 p.m. Monday through Saturday.
Now that you know where to eat, check out the complete review of my favorite place to stay right on the beautiful white, powdery sands of Anna Maria Island beaches.
Where have you been on the list? Let me know if I've missed something and I'll be sure to check it out!
Which Anna Maria Island restaurants are favorites for the locals?
You'll find locals at the places with the best food! My favorites are The Sandbar, Anna Maria Oyster Bar, and The Ugly Grouper.
Are all the restaurants on this list kid-friendly?
Everything on this list is kid-friendly with the exception of Beach Bistro and The Doctor's Office. If you have young kids, I'd probably go to The Ugly Grouper as there's a lot to do and the kid's menu is fantastic.
Can you drink alcohol on Anna Maria Island?
You can drink alcohol anywhere it's served or in your rental house or hotel. Drinking on the beach is not allowed.
More Florida Vacation Ideas
Exploring Florida will turn up all kinds of fabulous beach vacation ideas. Below are several ideas to get you started. Also check out my top reasons for visiting Bradenton, Florida.