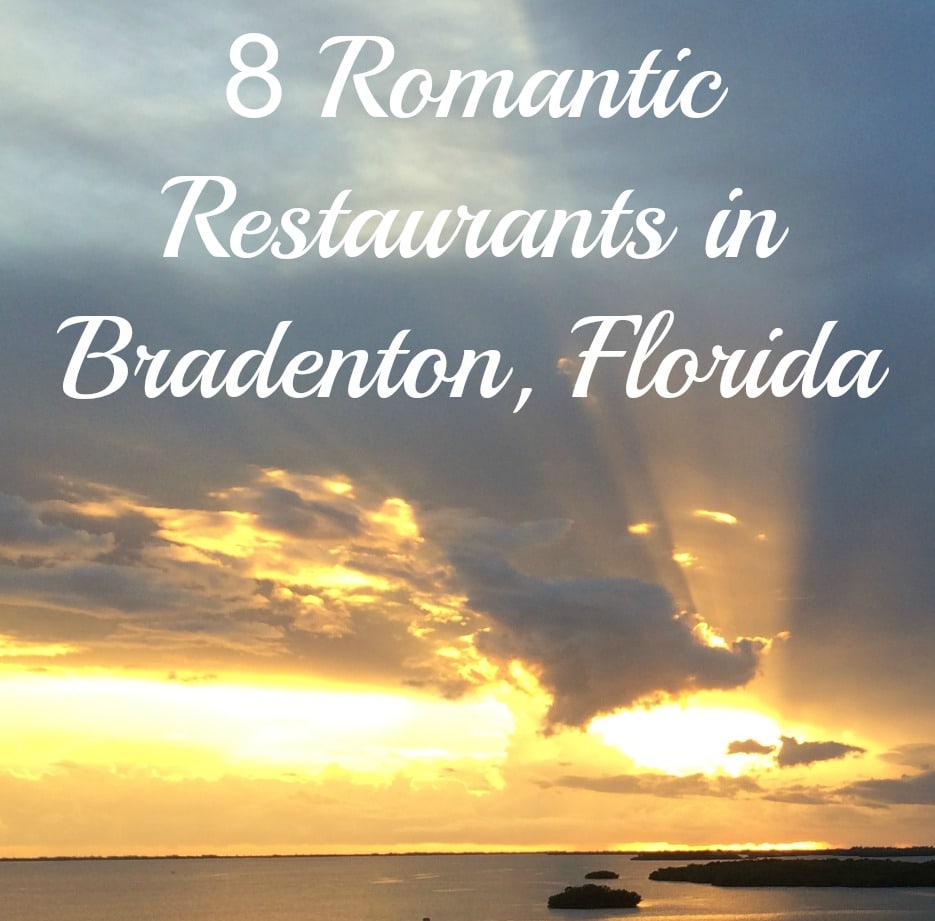 Looking for romantic restaurants in Bradenton, Florida? With Sarasota right around the corner, many people pass by our less crowded, less traffic, little piece of paradise. But you would be surprised at how many great places we have to eat right here in Bradenton.
I have eaten at every restaurant on this list, so you can trust it's really good. My husband and I consider ourselves to be foodies, often posting the deliciousness to Twitter, Facebook, and Instagram even before the first bite! But these restaurants have more than just good food. They are all perfect for a romantic night out, too. This list is not in any order, but I must admit, the first one on the list is my current favorite.
Derek's is pretty new to us. We've only been twice, but, oh my gosh, this place is unbelievable! Chef Derek worked with Emeril Lagasse at Emeril's in New Orleans before opening his own restaurant here in our area. The first time we visited I had the Braised Short Ribs in a red wine reduction served with garlic mashed potatoes, wild mushrooms, and baby green beans. We just went again last week, and I had Blackened Salmon with Sweet Potato Hash. Get in my belly! The wine list gives you a lot of choices, and you have got to order dessert. By the way, Derek is great! He will come by and say hi even when they are swamped.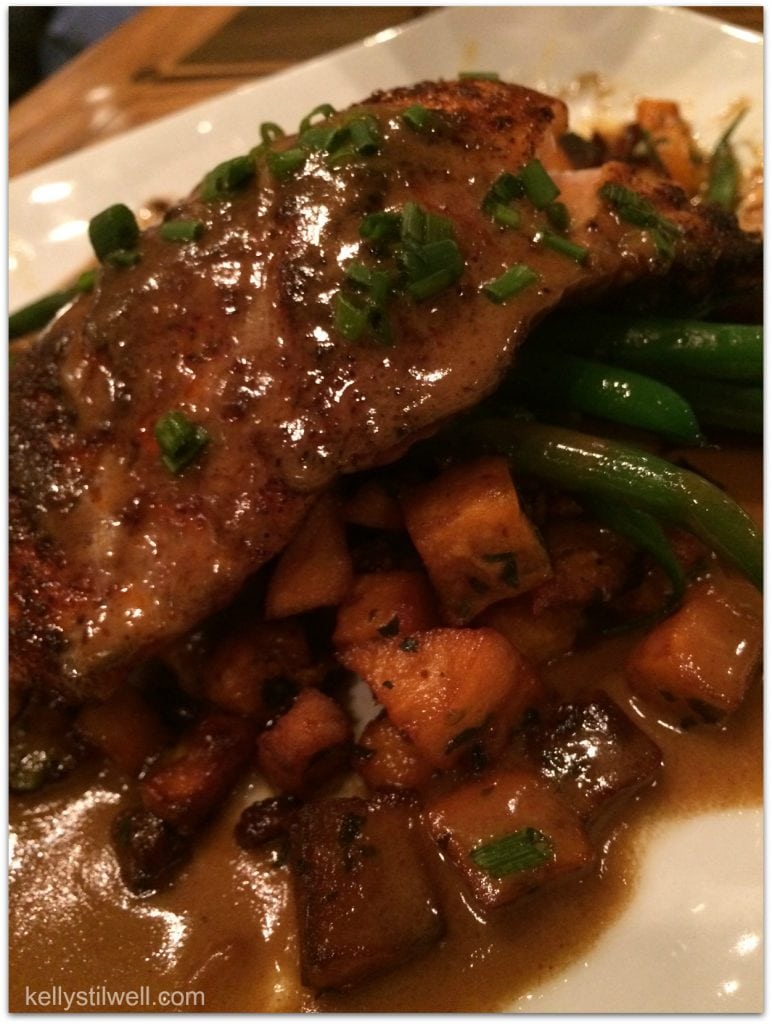 Carmen's is a little Italian restaurant we heard about from neighbors. Carmen is from Sicily, so he knows Italian cooking. I love that it's important to Carmen to support local by buying as much local produce as he can. Carmen's specialties are filet mignon, stuffed lobster, and Osso Buco. The menu always boasts several different specials as well as Italian specialities, like one of my favorites, Chicken Marsala. By the way, please try the Shrimp Tostini. It's to die for. We have never ordered anything we didn't love at Carmen's. If you're up for it, Carmen's often has entertainment in the lounge if you want to end the evening with a dance or two.
The only country club on the list, River Strand is a bit of an upscale restaurant, but also serves a grill menu. The chef, Estaban Herrera, is creative and changes the menu regularly to keep it fresh. My favorite dish is potato-crusted grouper, and my girls both love the lamp lollipops. A lunch menu offers plenty of sandwiches and salads, and brunch is served on occasion as well. Call ahead for times. The Club has a fun happy hour, too. Outdoor seating is available overlooking the Golf Course. For a romantic evening, asked to be seated on the formal side of the dining room after you have a drink at the bar. Below is a vegetarian option, Portobello and Eggplant Napoleon. It's fabulous.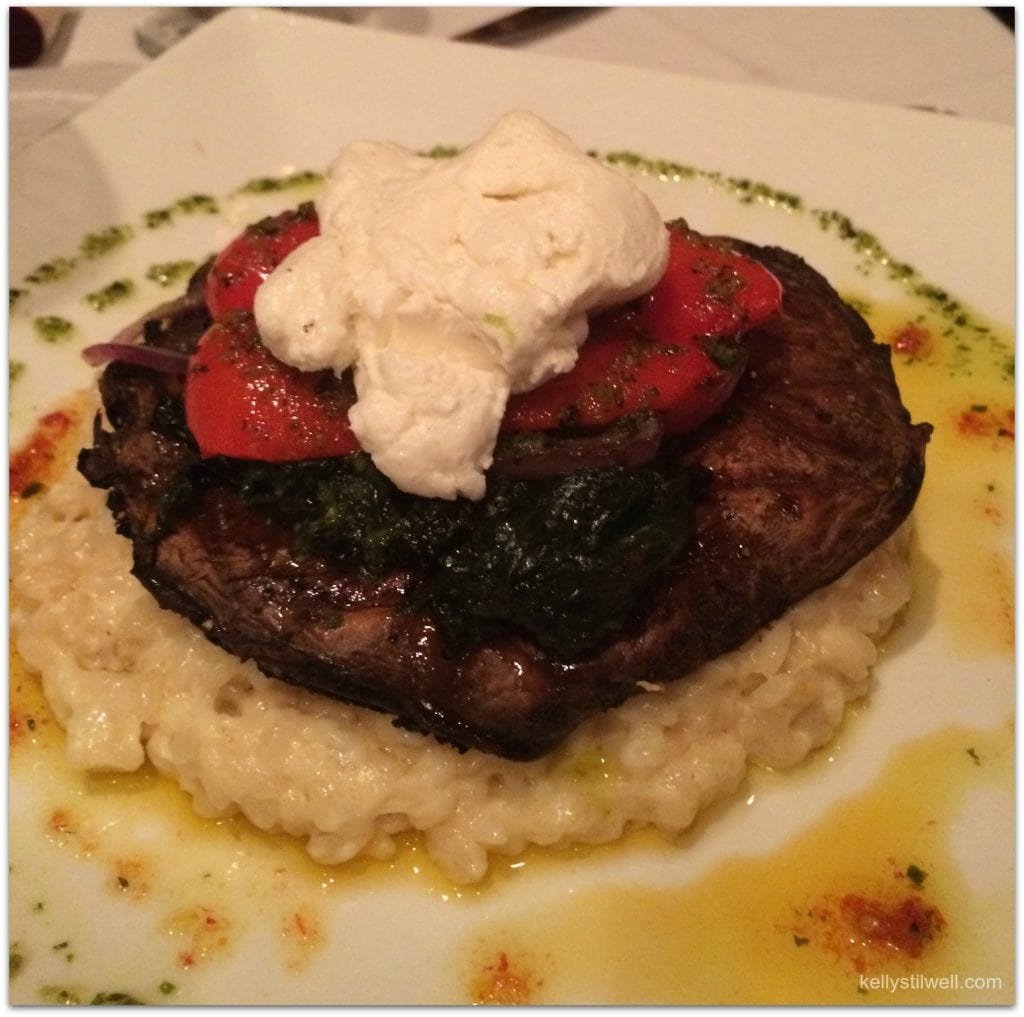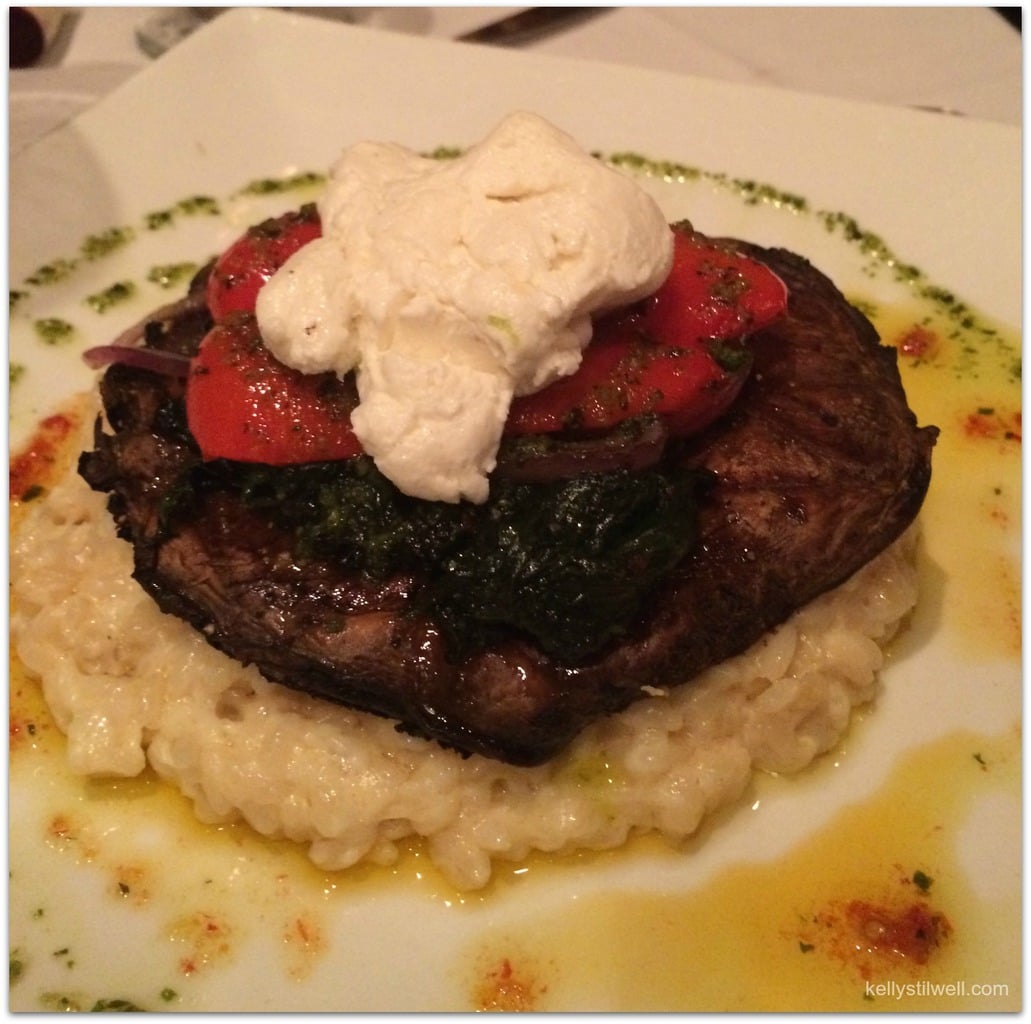 I haven't been to Soma in a while, but I just looked at their website and they now have $5 appetizers, so it's on my list for this weekend! The food is outstanding! The last time I visited they were still in their old location, which was small, so you really couldn't just decide to go at the last minute, which is how we roll. I celebrated a friend's birthday there a few years ago and we raved about how good it was. A couple of the eclectic specialties are the Blue Crab Cake Louie salad for lunch and the Sauté Shrimp & Cheese Grits. Don't miss the Truffle Tater Tots. I just made a reservation online. That was easy!
Pier 22 is the largest of the restaurants on this list, with a huge amount of seating in the formal dining room, another huge area with entertainment that is partially outdoors, as well as another area that is completely outdoors. Located on the Manatee River, the views are gorgeous, and sunsets worth sticking around for if you are there at that time. Speaking of huge, the menu is expansive. Start looking right away because you'll change your mind three times before deciding. Oh wait, that's me. Pier 22 also has a sushi menu, and the sushi bar does a great job, delivering rolls, sashimi, and tempura that rivals any sushi bar I've been to. But the real star is the cooked seafood, from grouper to seabass to red snapper. Again, we've loved everything we've ordered at Pier 22. They also have a great small plates menu and happy hour specials. A table for two outside is the way to go. If the weather isn't great, get a table in the formal dining room where it's more quiet.
Thai Wasabi has a location in Sarasota, too, but we order carry out quite a bit from the Bradenton location. The sushi is fabulous, and my non-sushi-eating oldest loves their duck fried rice. The sushi menu is really long with a lot of specialties, like the Thai Wasabi Roll and the Sexy Man, which is my favorite. The Thai food is very good, too. We've ordered several of the curry dishes and enjoyed them all. Though Thai Wasabi can be crowded, they have booths that offer a little privacy. Call ahead.
Michael John's is a nice surprise. When you pull into the parking lot, adjacent to a convenience store and an apartment complex, you are not expecting an elegant upscale restaurant with Bartlett Pear & Goat Cheese Salad and Cote de Boeuf Dinner for Two to be on the menu. The food is absolutely outstanding. If you like Caesar salad, their "Dirty" Caesar may ruin you forever for ordering one any place else. It's that good. Don't forget to ask about the dessert menu. They make their own chocolate. Seriously.
Shake Pit
Don't judge me on this one. I took it off the list and my daughter insisted I add it back! After a long hard day on the beach, followed by a romantic sunset, the Shake Pit is the place to go. Still in my beach coverup and covered in sand, the outdoor benches are perfect to chill and enjoy one of the best burgers around. I get it with everything, and sometimes I even finish it. The fries and onion rings are good, too, but their specialty is the ice cream. Shakes, cones, banana splits, and even dip tops. YUM. My daughter said it's very romantic to share a milkshake or banana split. Come to think of it, she's right. This is also a great option for a less expensive evening, as the others are all in the mid to high price range. The Shake Pit does not seem to have a website, so I'll just share that they are located at 3801 Manatee Ave West in Bradenton.
I'd love to add others to the list if I missed any! Please let me know if you find a romantic restaurant in Bradenton not listed here. I'd also love your feedback if you visit any of these. Tell them I sent you!