With so many amazing restaurants in Bradenton FL, it's really hard to choose! I've personally eaten at every restaurant on this long list.
Whether seafood is your thing or you prefer a steak or burger, there is something on this list for everyone.
With Sarasota right around the corner, many people pass by our less crowded, less traffic, little piece of paradise, but we really do have some of the best restaurants around.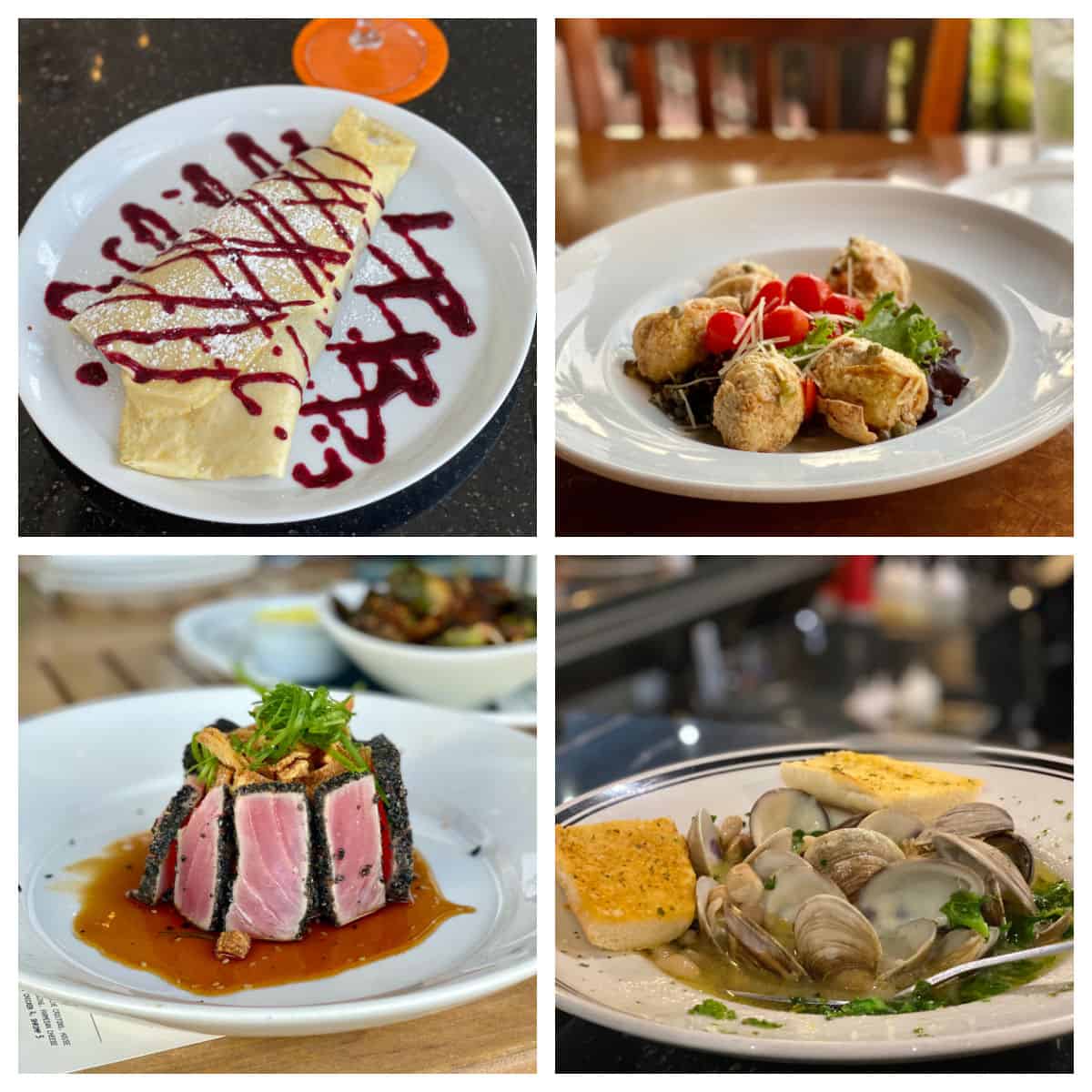 My husband and I consider ourselves to be foodies, often posting the deliciousness to Twitter, Facebook, and Instagram even before the first bite!
You'll be surprised at all the wonderful restaurants in Bradenton FL.
One thing to remember with any restaurant in this area is that winter is season, and the wait will probably be a bit longer.
Where is Bradenton FL?
The city of Bradenton is on the gulf coast of Florida, about 45 minutes south of Tampa, on the Manatee River, in Manatee County.
If you look at a map, you'll see Bradenton is in the western part of Central Florida.
We actually moved to Bradenton because of easy access to I-75 as my husband and I both travel for work. Bradenton is only 45 minutes from the Tampa International Airport.
There are so many things to do in Bradenton that you'll have no problem filling your vacation days. My suggestion would be to split up your trip between Bradenton and the beaches.
I know the perfect place to stay right on the Anna Maria Island beaches. You'll also find a of things to do on Anna Maria Island.
Even if you decide to stay in Bradenton or even Longboat Key Florida, you've got to check out some of the Anna Maria Island restaurants.
Where to Eat
This is not a restaurant review guide. I won't tell you about bad experiences here, because who wants to read about that?
If I have a bad experience, those restaurants won't be on the list.
Things happen, so I want to try to give everyone a second chance, so I do usually go back another time if I have bad service and even a bad food experience.
I also want you to know a little about the ambiance of each place. Some of these restaurants in Bradenton FL are better for date night, where another might be better for a family dinner.
Let me know if you've been somewhere not included here so I can try it!
Also let me know if you try one of these restaurants in Bradenton FL and what you thought.
Amuse 5 Bakery
Another wonderful find for breakfast or lunch, this beautiful little restaurant packs some delicious flavors into its small space!
The desserts looked incredible, but we were there for lunch. My daughter ordered the crepes and said they were the best she's ever eaten.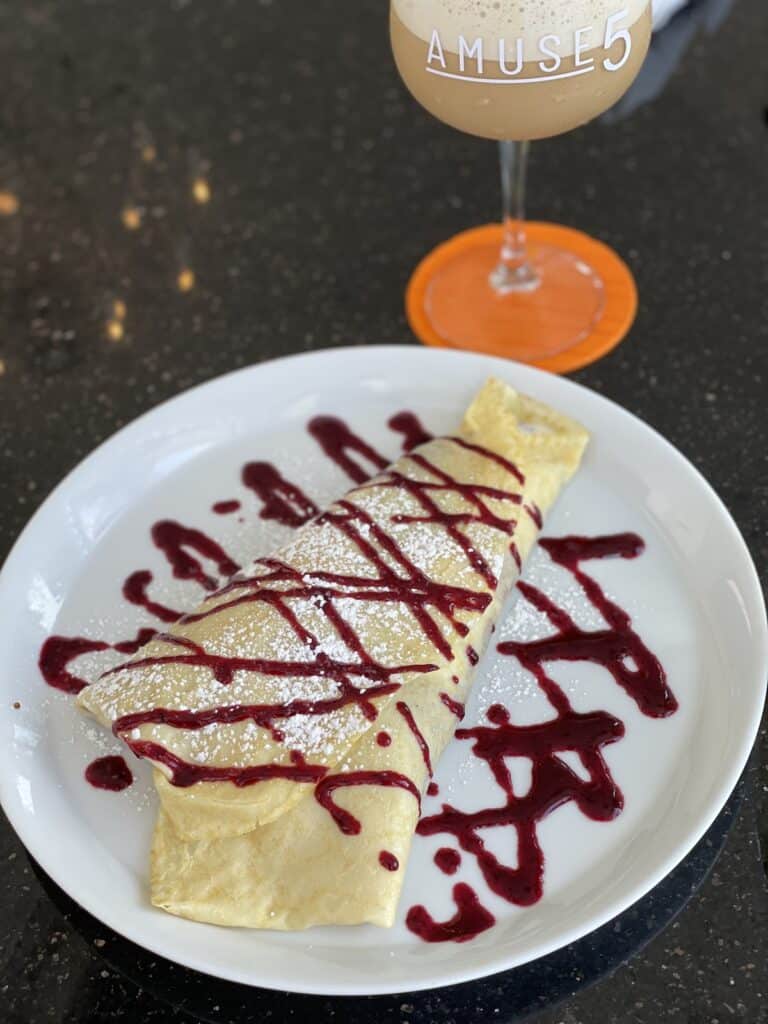 The sandwiches are also wonderful. I had chicken salad on a fresh baked croissant.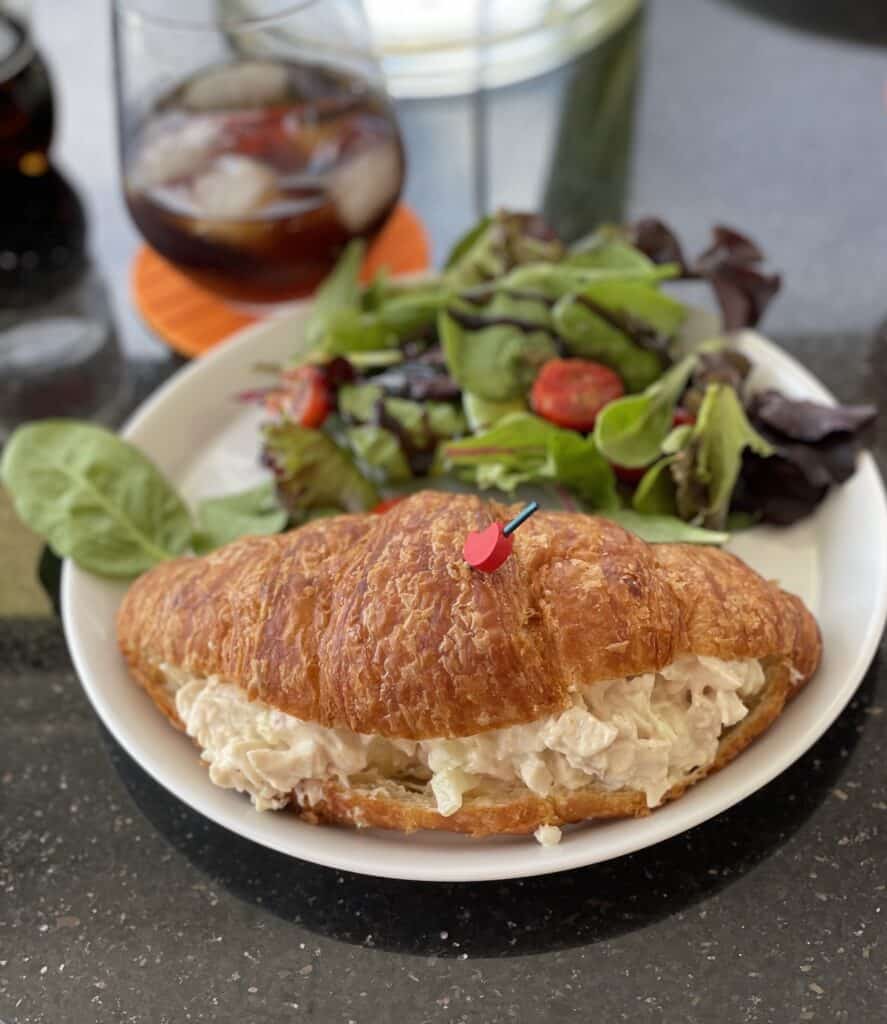 Find Amuse 5 Bakery at 5850 14th Street West in Bradenton. Visit their website or on Facebook for hours and specials.
Speaks Clam Bar
This is my favorite restaurant for date night, but it's a great place for families, too. We sit at the bar and almost always order the same thing. The bartenders always deliver good vibes and great service.
The fresh seafood is really good at Speaks Clam Bar, but they are also known for Italian. Some of their pasta is made fresh in house.
We started with the Smoked Fish Dip which is really delicious. It's served with capers, chopped onions, tomatoes, and cherry peppers, and served with crostini.
My husband ordered the oysters and said they were fabulous.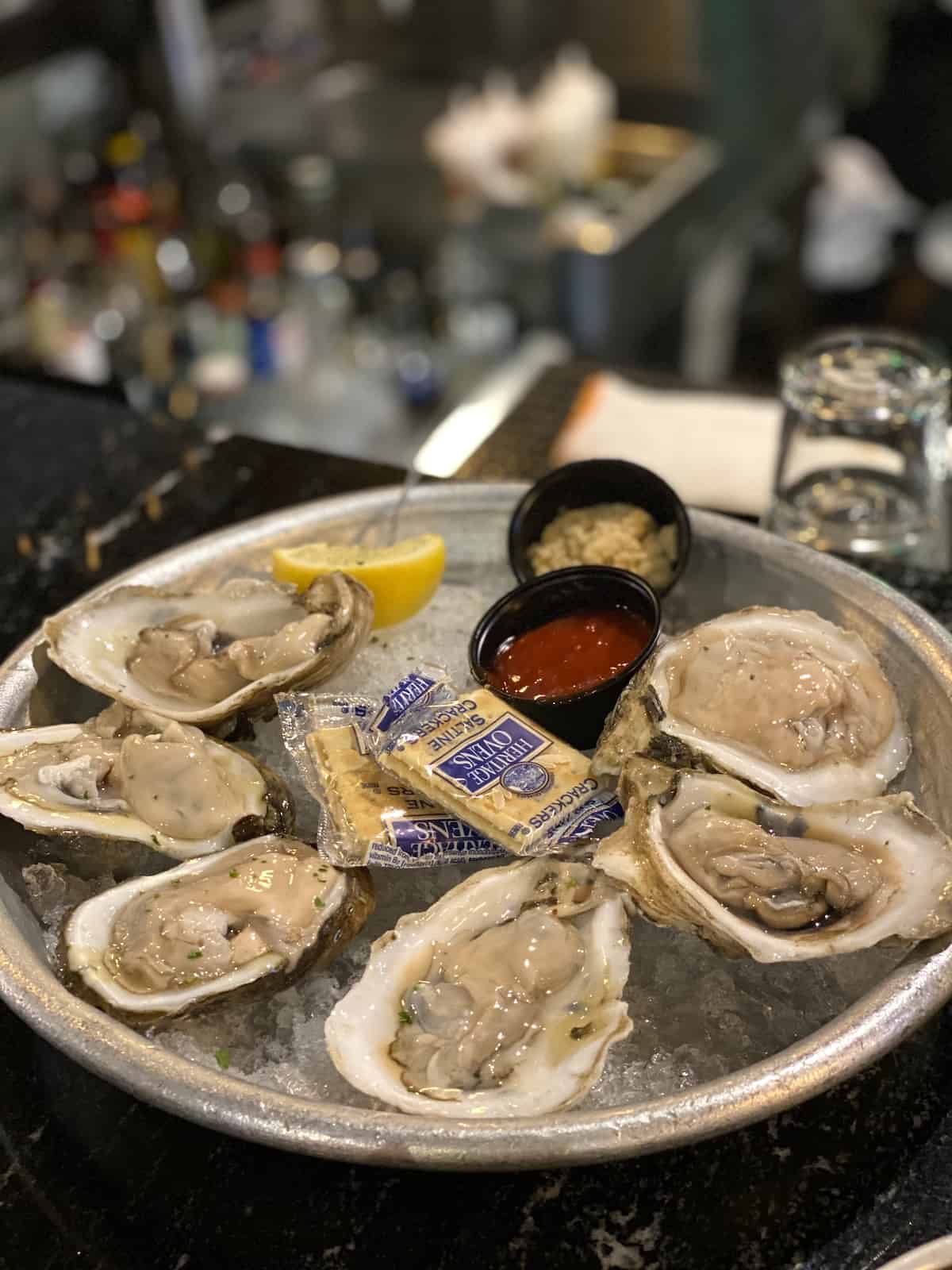 My go-to is the Clam Bowl. Middle Neck Clams are served in a garlic white wine broth with white beans, broccoli rabe, and served with garlic toast.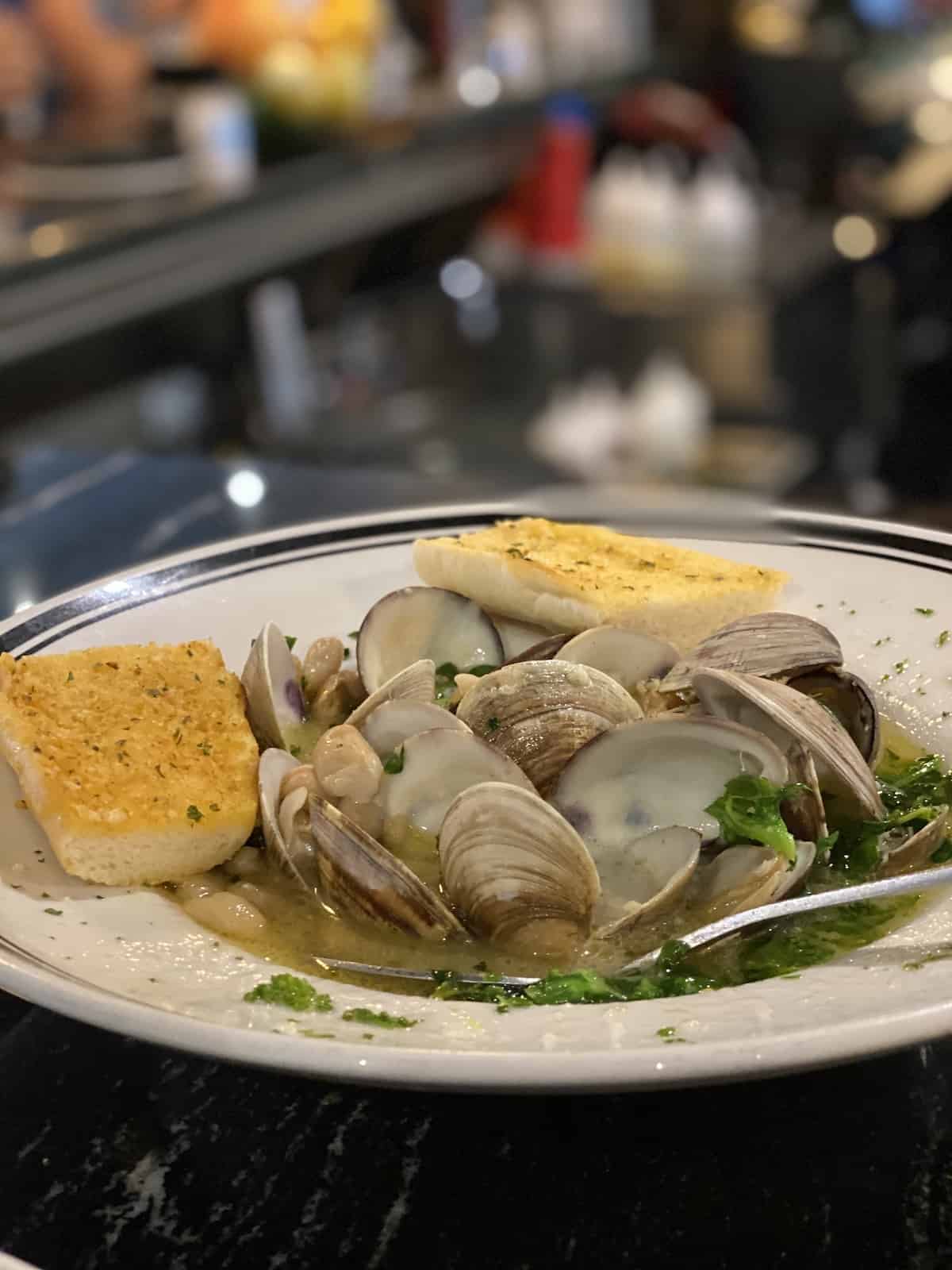 This dish can also be ordered with shrimp, but I like the clams better. It's an appetizer but the perfect amount of food for me after the fish dip appetizer.
My husband gets the Drunken PEI Mussels, steamed and served with that same amazing white wine sauce.
This location is at 8764 E State Road 70, but there is also another location in Sarasota at St. Armands Circle.
Hours are 11 a.m. until 10 p.m. Monday through Thursday, until 11 p.m. on Friday and Saturday, and noon until 10 p.m. on Sunday.
Carmen's Italian Cafe
Carmen's is a little Italian restaurant we heard about from neighbors. Carmen is from Sicily, so he knows Italian cooking.
The restaurant is in a small strip center, so it's not a spot you would probably happen upon, but you should definitely visit as they have great food! It's one of our favorite Italian restaurants.
My favorites are the bruschetta, the shrimp tostini, or this tomato and mozzarella salad.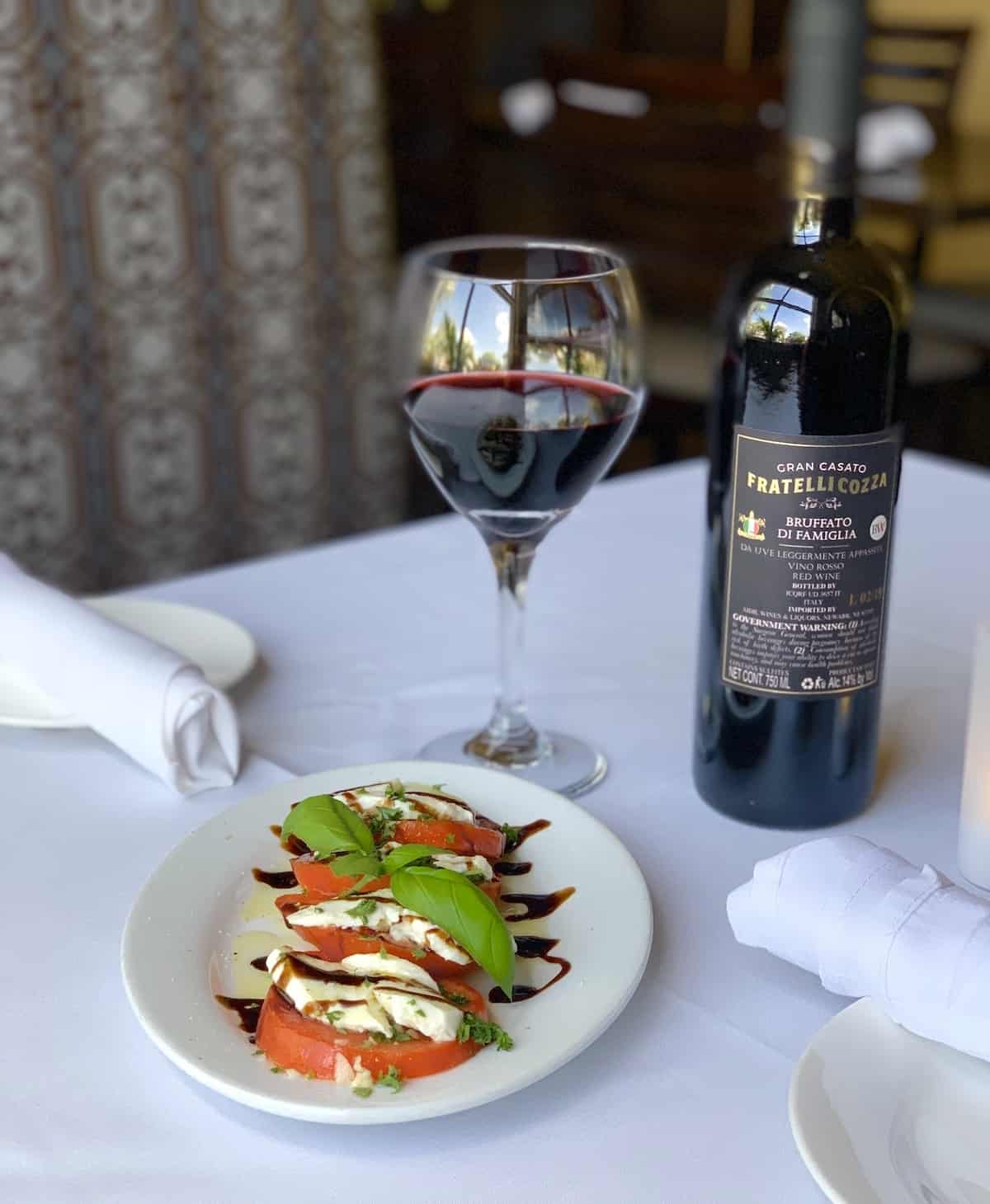 I love that it's important to Carmen to support local by buying as much local produce as he can. Carmen's specialties are filet mignon, stuffed lobster, and Osso Buco.
The menu always boasts several different specials as well as Italian specialties, like one of my favorites, Chicken Marsala.
Know upfront that because it's typically just Carmen and a sous chef in the kitchen, it might take a little onger for your food to come out.
Order an appetizer and your food at the same time. Have a glass of wine and relax.
Carmen's is nice for special occasions like an anniversary dinner, but it's laid back enough for a last minute meal, too.
The spaghetti and meatballs is always a win!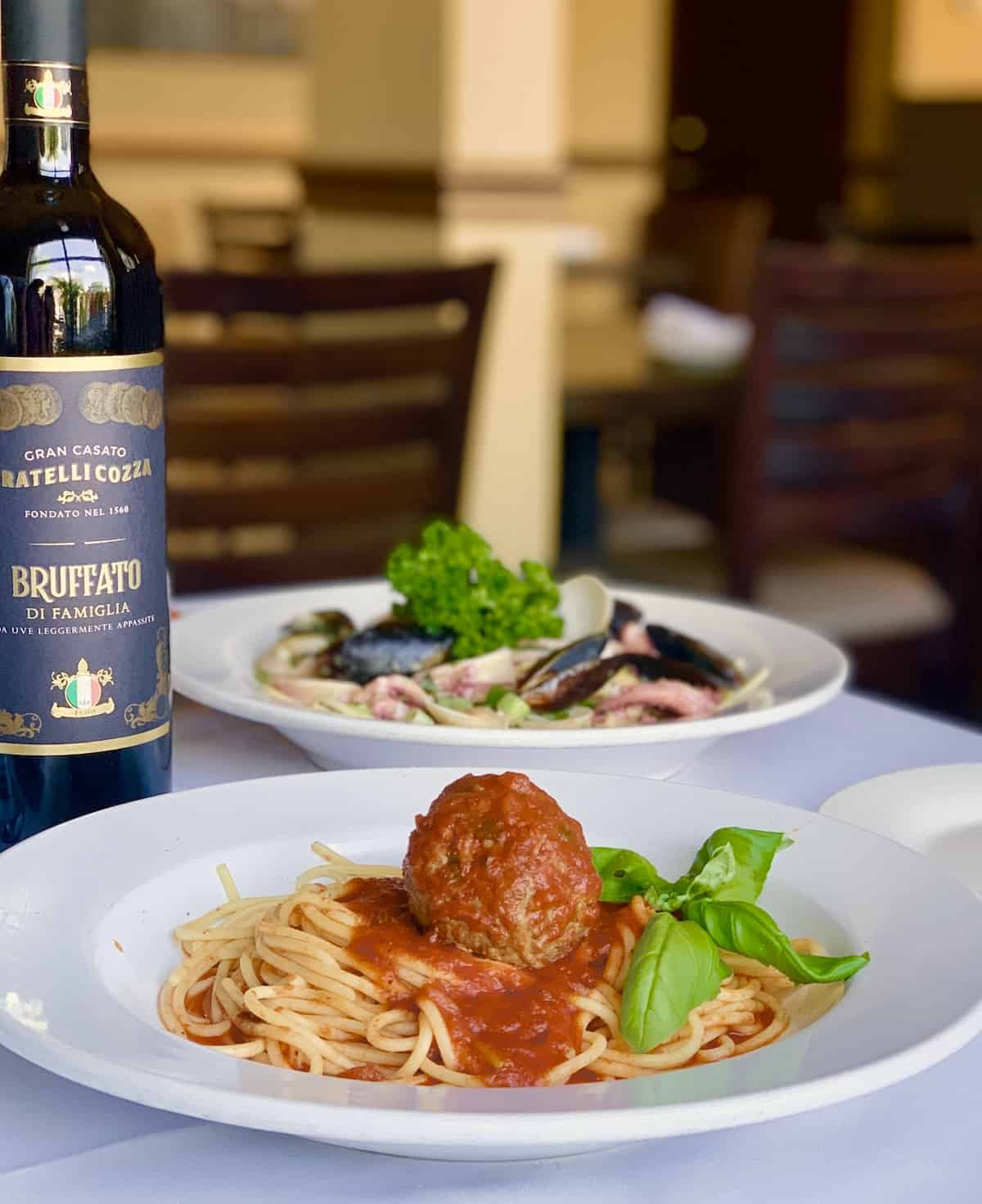 By the way, please try the Shrimp Tostini. It's to die for. We have never ordered anything we didn't love at Carmen's.
If you're up for it, Carmen's often has entertainment in the lounge if you want to end the evening with a dance or two.
Carmen's is located at 515 27th Ave East. Hours are 11 a.m. until 10 p.m Monday through Saturday and 3 p.m. until 10 p.m. on Sunday. They do not have outdoor seating.
Pier 22
Pier 22 is the largest of the restaurants on this list, with a huge amount of seating in the formal dining room, another huge area with entertainment that is partially outdoors, as well as another area that is completely outdoors.
Located on the Manatee River, the views are gorgeous, and sunsets worth sticking around for if you are there at that time.
Speaking of huge, the menu is expansive. Start looking right away because you'll change your mind three times before deciding. Oh wait, that's me. The Seafood Cobb is one of my favorites.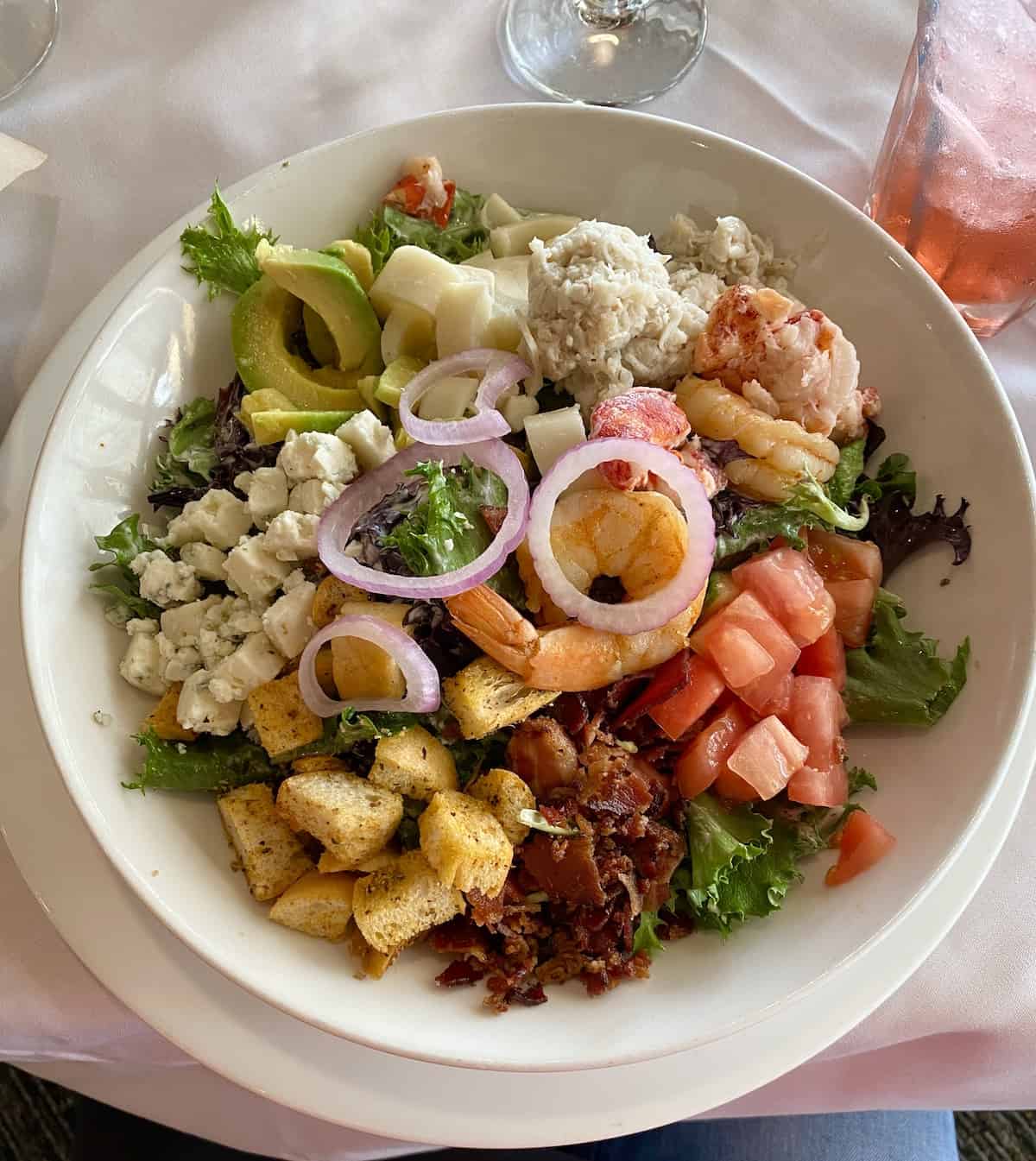 Pier 22 also has a sushi menu, and the sushi bar does a great job, delivering rolls, sashimi, and tempura that rivals any sushi bar I've visited.
But the real star is the cooked seafood, from grouper to sea bass to red snapper. The calamari salad is delicious, too.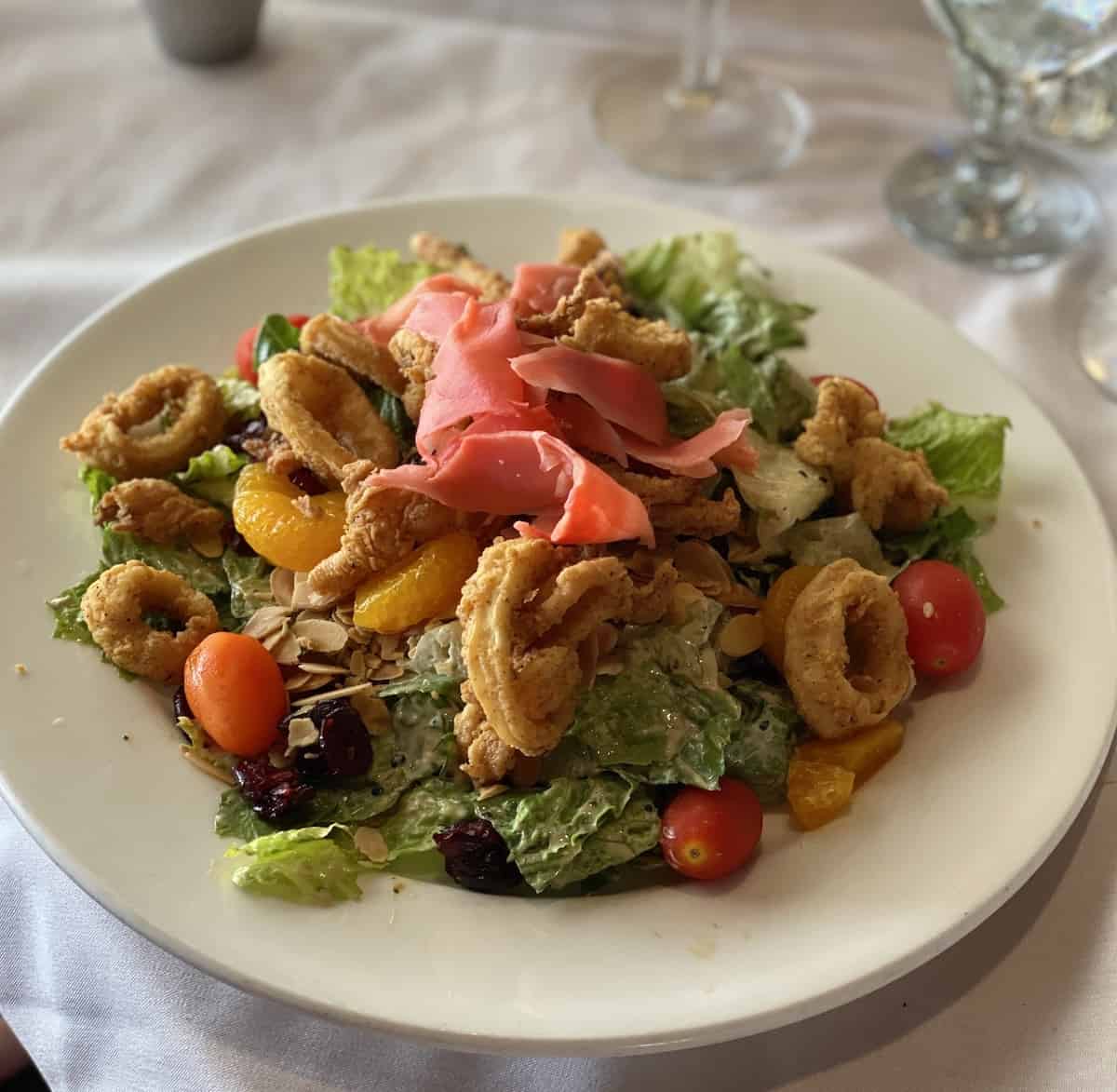 Again, we've loved everything we've ordered at Pier 22. They also have a great small plates menu and happy hour specials. My daughters ordered the Monte Cristo every time we visited for years, to the point that I learned to make it.
An outdoor table is the way to go. If the weather isn't great, get a table in the formal dining room where it's less noisy.
Pier 22 is located at 1200 1st Ave. West. Hours are 11:30 a.m. until 10 p.m. Monday through Thursday and until 10:30 p.m. on Friday. Weekend hours are 8 a.m. until 10:30 p.m. on Saturday and 10 p.m. on Sunday.
NOTE: Do not park in a spot that is specified as the marina or you'll likely get a ticket. I did.
Take a stroll on the waterfront after dinner.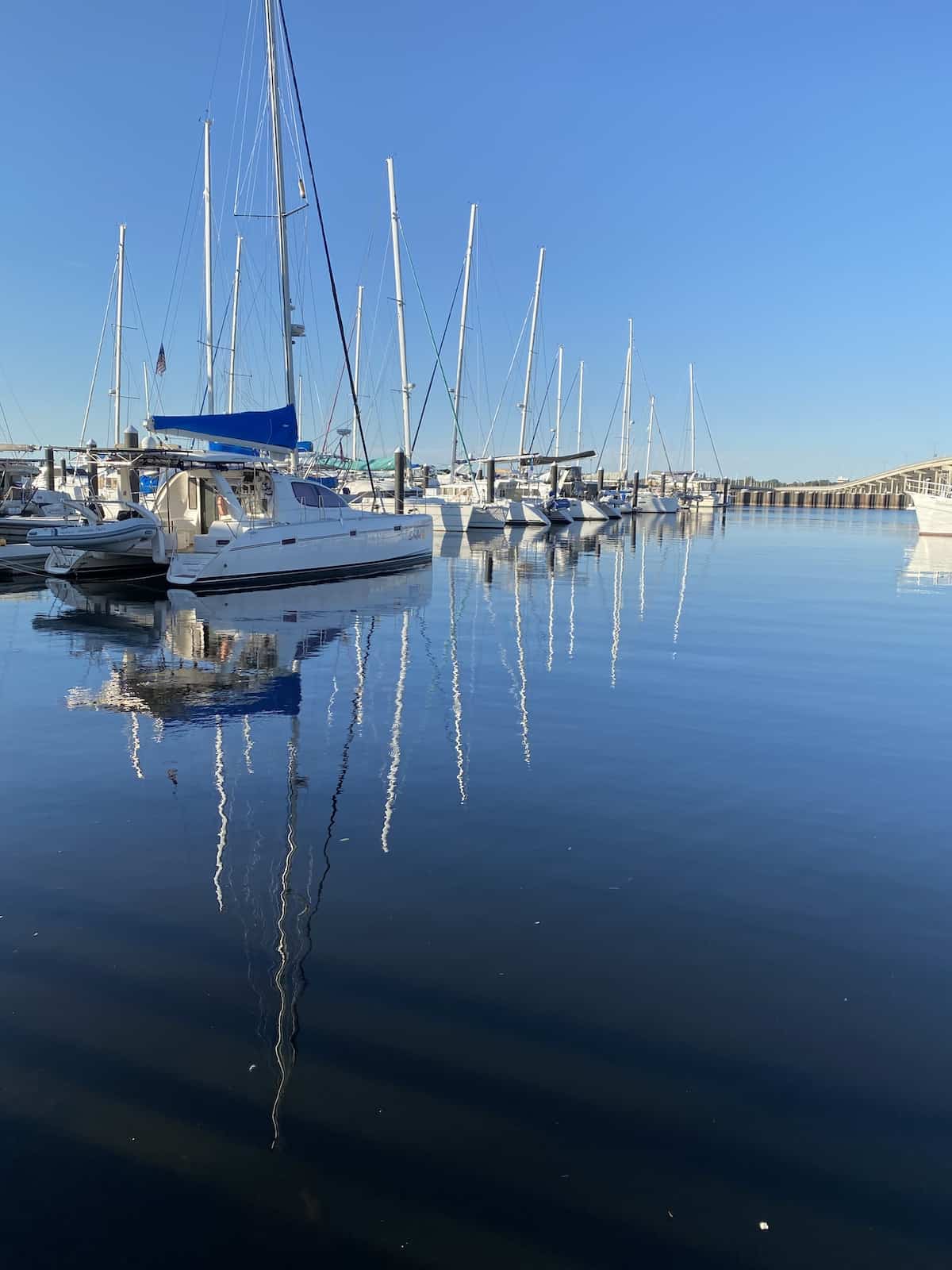 Mattison's Riverwalk Grille
Paul Mattison owns two restaurants in Sarasota and one in downtown Bradenton. We've been to this spot on the Riverwalk quite a few times and the food is always great.
As you've heard me say before, sharing a few appetizers is my favorite way to dine out. The Artichokes Esther Style is heavenly.
Lightly battered and crisp nuggets of artichoke hearts with caper butter a fresh side salad of lettuce, tomatoes, and aged parmesan is a perfect way to begin your meal.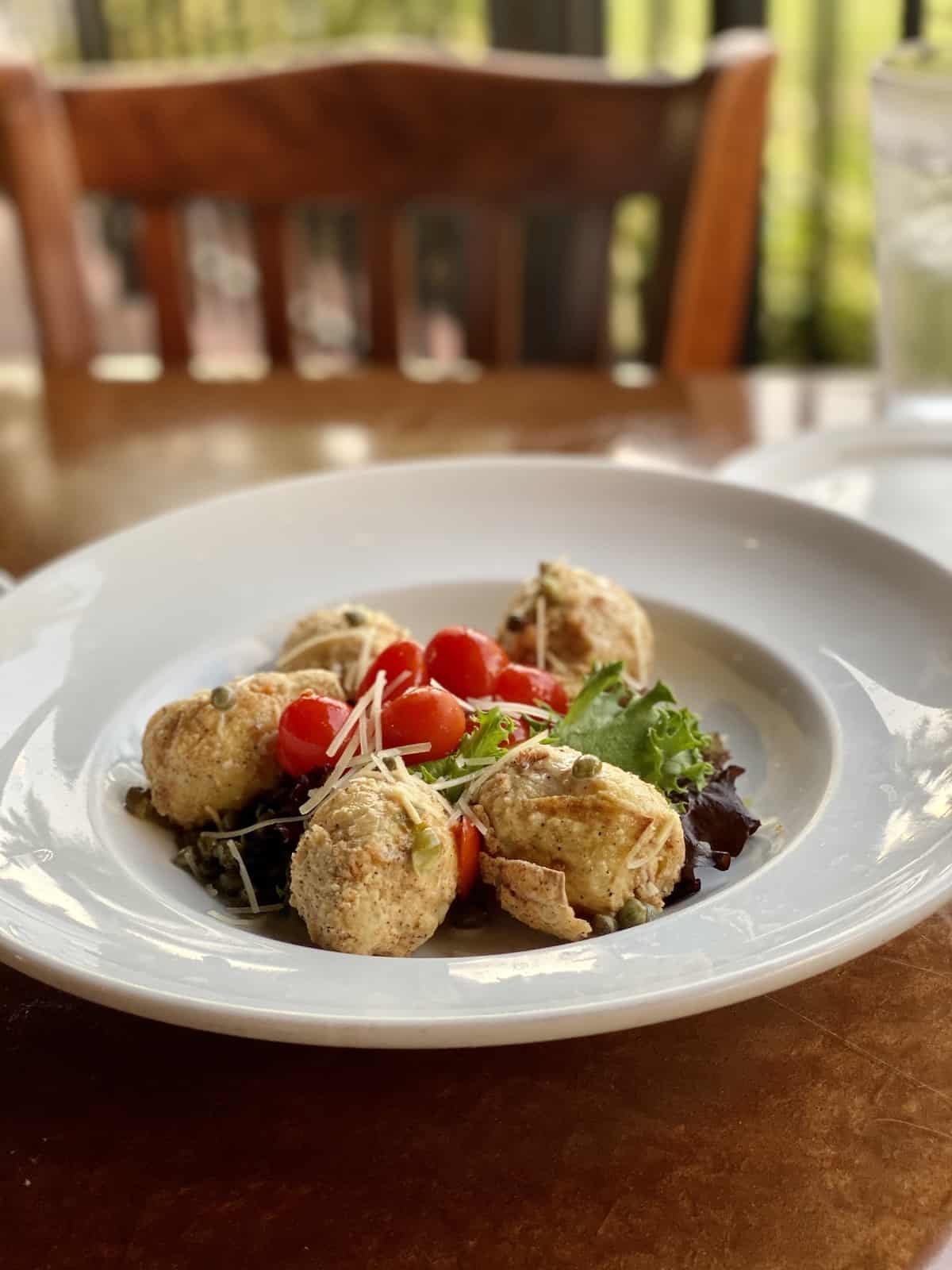 If there is bruschetta on the menu, I will likely order it.
This version spreads pesto goat cheese on the toasted bread and tops it with the bruschetta mixture. We get this every time we go!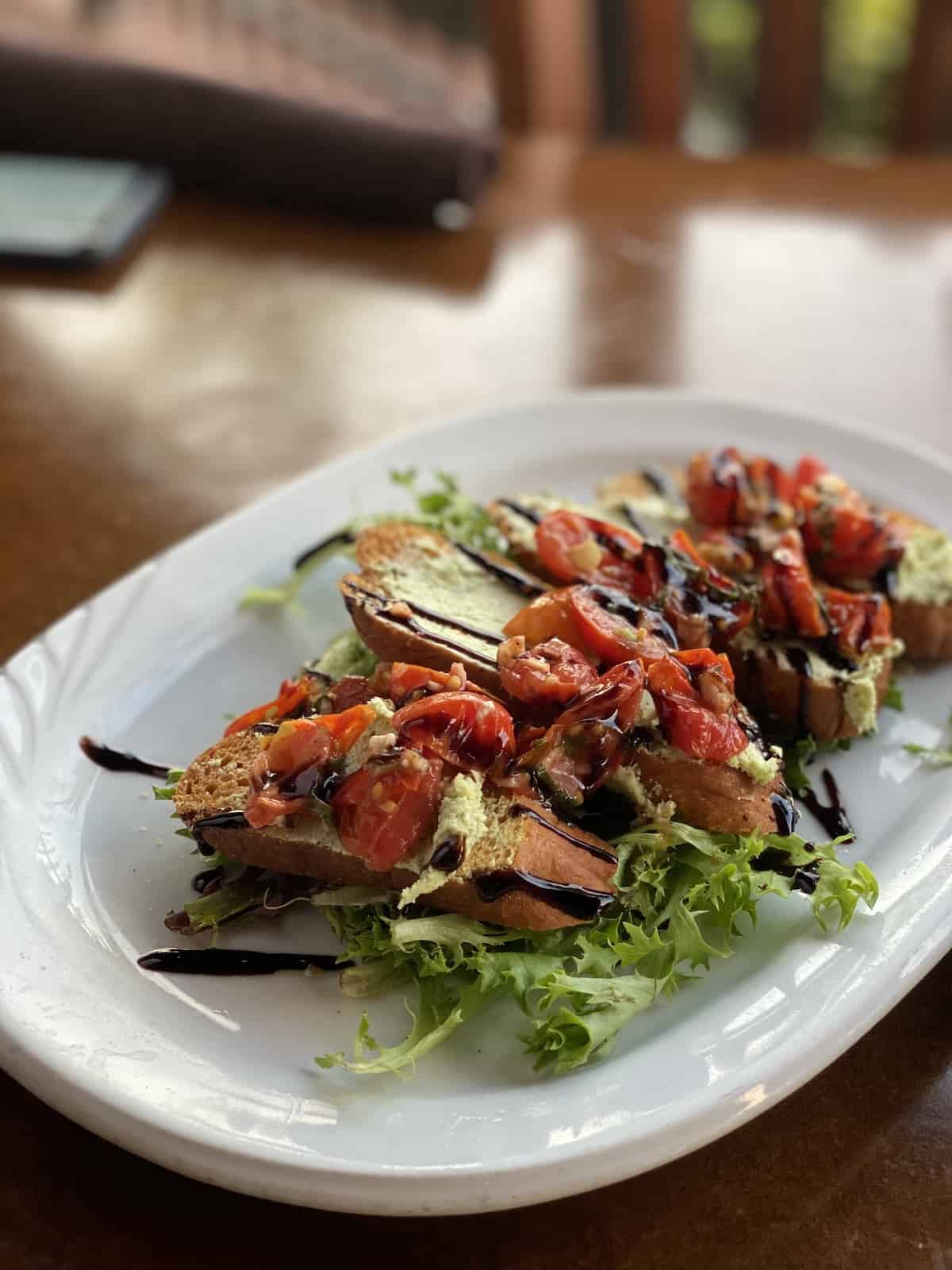 Paul Mattison is a huge part of the Bradenton and Sarasota community. He's involved in a lot of charity work, like the Florida WineFest that benefits children in Manatee and Sarasota counties.
Mattison's Riverwalk Grille is located at 101 Riverfront Blvd #120. It's steps from the Riverwalk which is nice after lunch or dinner.
They open every day at 11 a.m, close at 8 p.m. on Sunday, 9 p.m. Monday through Thursday, and 10 p.m. Friday and Saturday. Mattison's Riverwalk Grille also offer a weekend brunch on both Saturday and Sunday until 3 p.m.
Mitaka Ramen
Who knew Bradenton had a fabulous ramen restaurant? Not us until a few months ago! Mitaka is one of our favorite spots now. We love to surprise people as no one would think you'd find ramen this good in this area.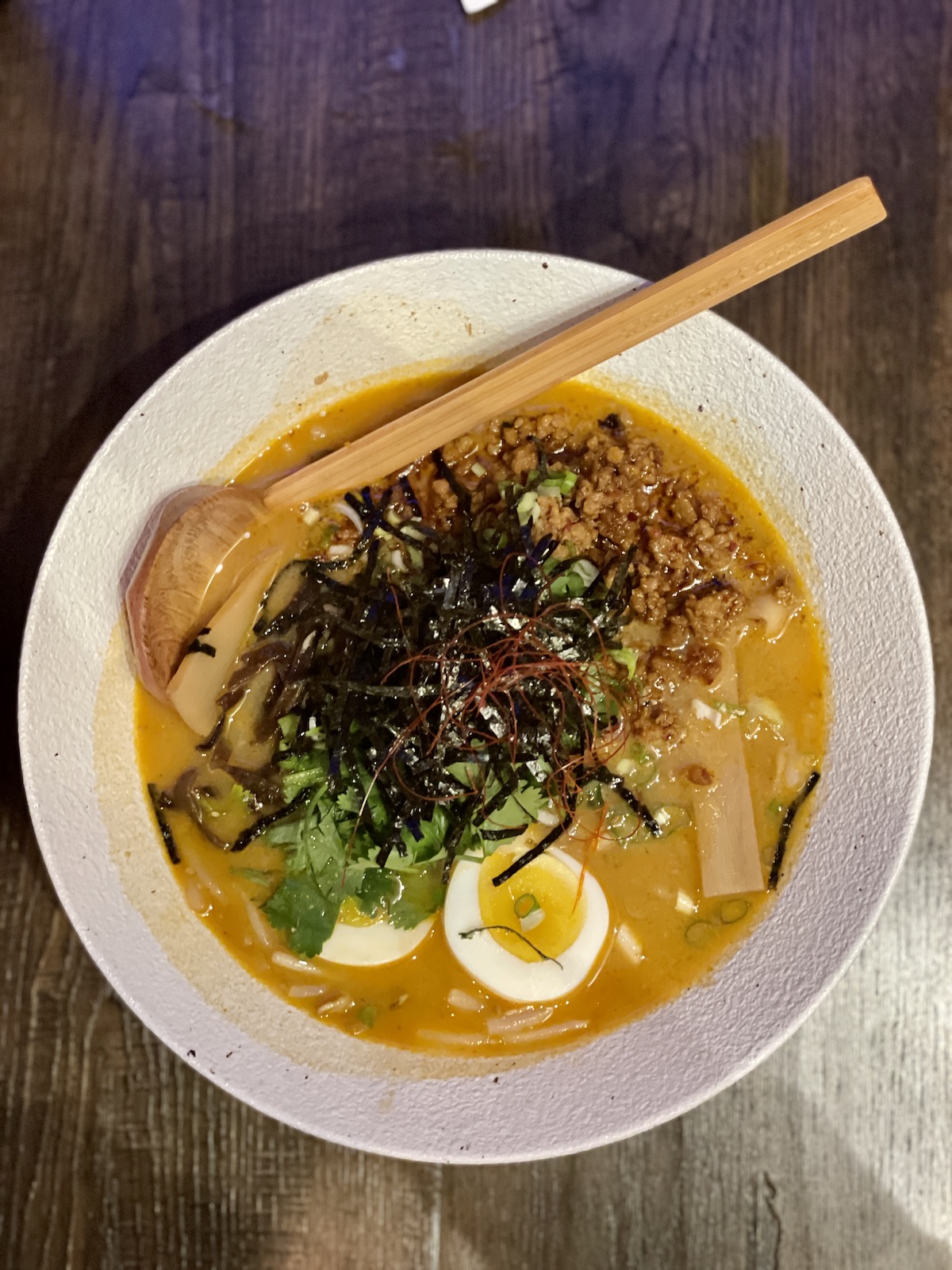 Nancy's BBQ
We visited Nancy's BBQ the first time on Main St. in Lakewood Ranch. She's moved to a bigger location now with lots of outdoor seating.
Too many menu options makes it hard to order from the best BBQ joint around. Chicken? Pork butt? Brisket? Ribs? Get a combo and try a few things. It's all so good with Nancy's Sweet or Chipotle Bar B Q Sauce.
We ordered from Nancy's BBQ a couple of weeks ago and my husband picked up the order. Once he got home, he realized only my order and my daughter's order was in the bag.
Too tired to go pick it, he called to let them know to cancel that part of the order. Nancy personally delivered the order to our home!
You'll find Nancy's BBQ at 14475 SR 70 E at Lorraine Rd. They open at 11 a.m. every day, closing at 9 p.m. Monday through Thursday, 10 p.m. on Friday and Saturday, and 8 p.m. on Sunday.
Oak & Stone
Oak & Stone has a fabulous view as it's on the roof of the Springhill Suites Hotel. The really do have excellent food, with so many different choices.
I loved the Tuna Poke Salad. It was fresh with a variety of of textures and the dressing was wonderful.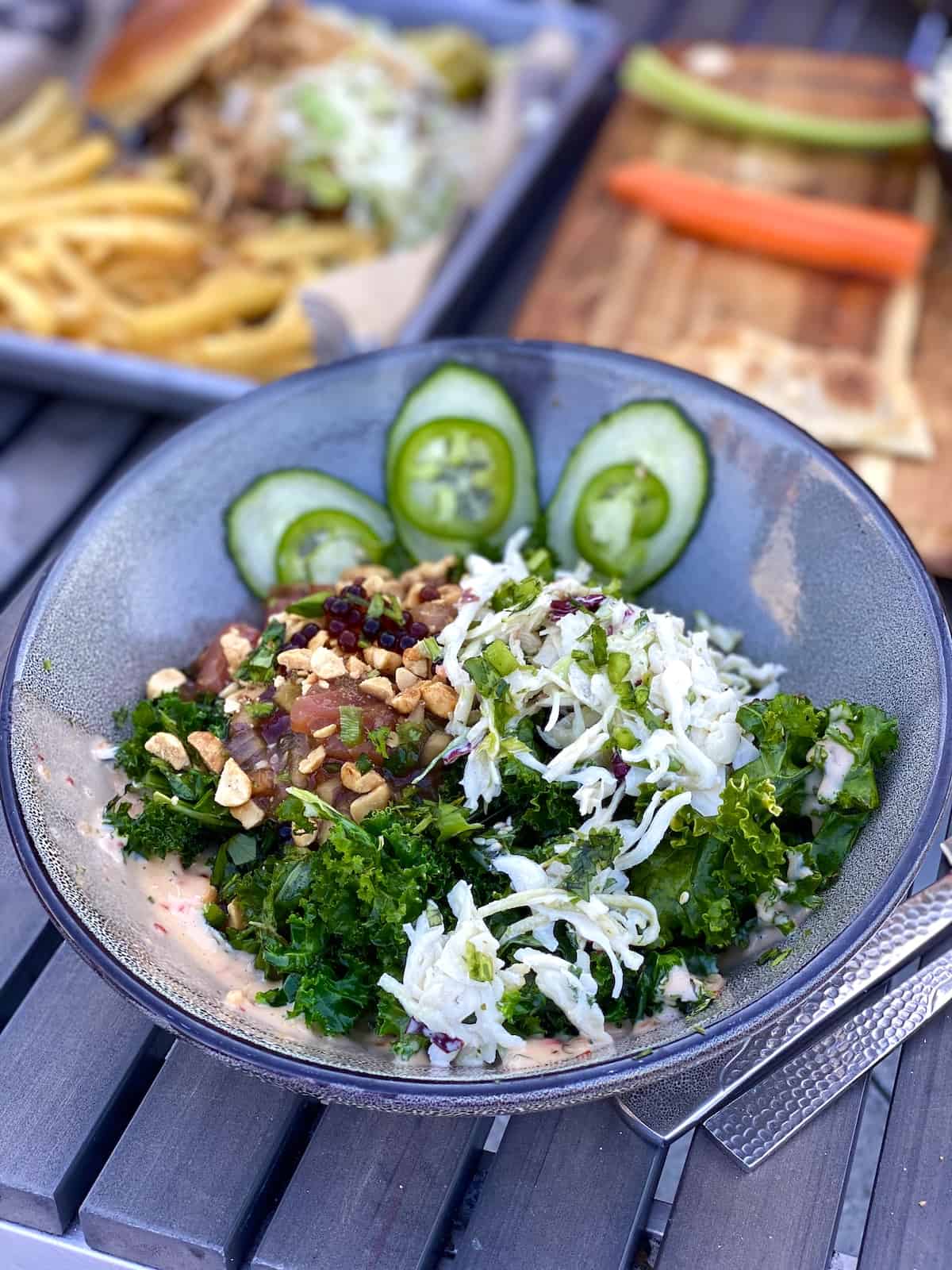 My husband ordered the Crispy Grouper BLT and it was fantastic.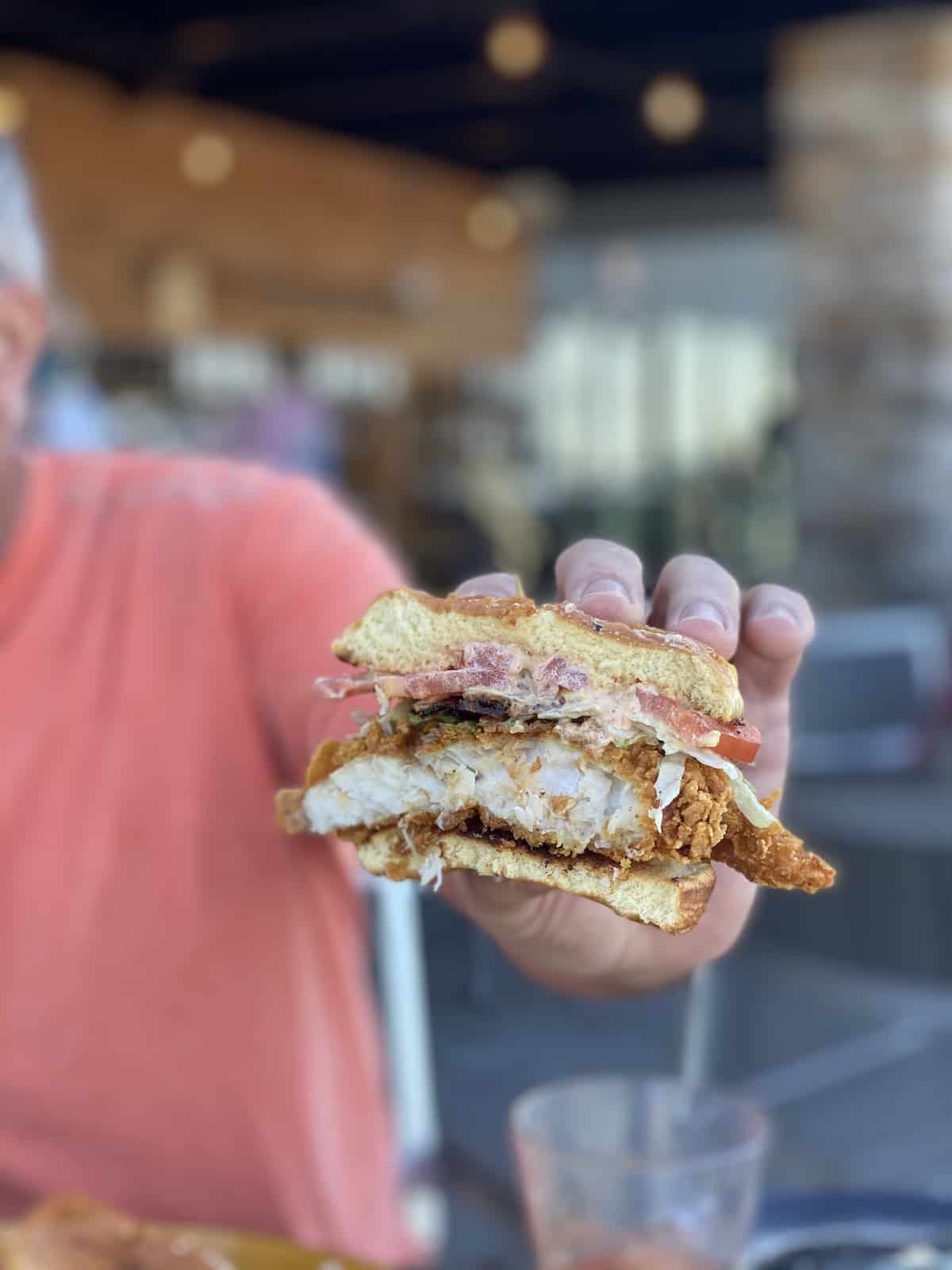 We like the atmosphere and they have a couple of tables with fire pits, which is nice in the evening. They offer quite a few craft cocktails and between 40-60 brews.
For the beer lover, get a wristband and try your favorites. They always have interesting choices.
Oak & Stone is located at 1201 1st Avenue West on the roof of the Springhill Suites Hotel. They have another location in St. Petersburg Florida.
Hours are 11 a.m. until 11 p.m. Sunday through Thursday, closing at midnight on Friday and Saturday.
Motorworks Brewing
Motorworks Brewing is an ideal spot for casual dining. Grab one of the outside tables in the beer garden.
Enjoy a craft beer or cocktail under the 150 year old oak tree and enjoy live music on a pretty regular basis. There's also a tap room if you need a little air conditioning.
Visiting local breweries is one of my favorite things to do when traveling, and I can't believe it took me so long to check this one off my list. If you missed my visit to Southwest Idaho Breweries, check it out!
I had to try a flight of their dark beers, which are always my first choice for craft beer.
The Datil Pepper Chocolate Imperial Porter won the Silver in the World Beer Cup in 2018.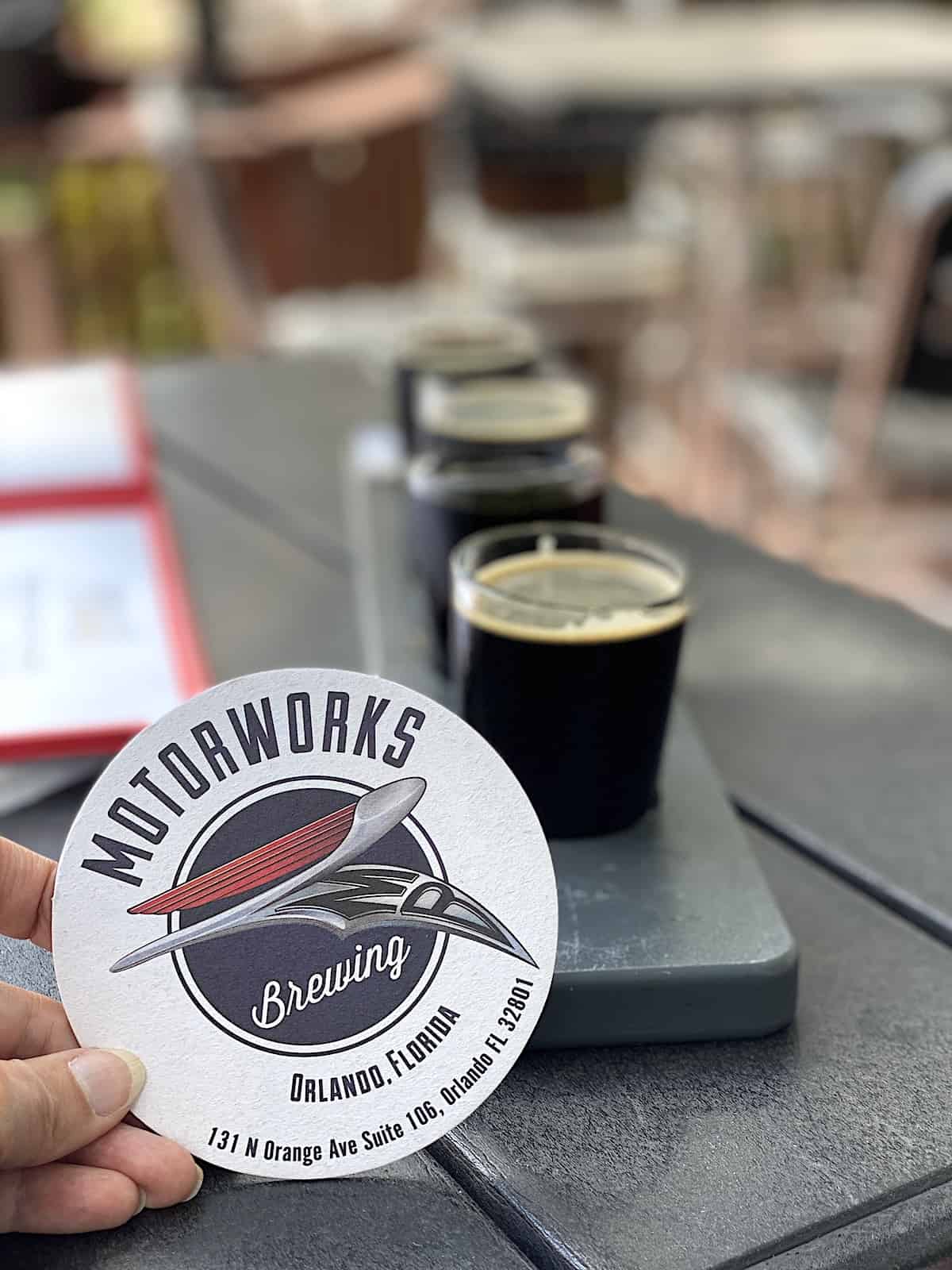 The Frostfang was fabulous, and was also a winner in the 2020 U.S. Beer Tasting Championships.
Take a look at the menu featuring good food from different food trucks every day. The day we were there Rocco's Pizza and Stick It! Street Kitchen were serving.
My daughter and I both ordered from Stick It! I had the Happy Scamper Shrimp Skewers with turmeric rice and veggies. It was flavorful and healthy.
My daughter ordered the Wicked Sticky Chicken at the recommendation of our server, Zack.
Fried spicy maple chicken tenders with a side of tots to soak up that sauce, it was a huge portion and delish. She brought most of it home.
Check out the weekend Brunch with bottomless mimosas. Looking for dog friendly restaurants in Bradenton FL? Bring your pup for Yappy Hour. Check the calendar for events.
Motorworks is located at 1014 9th Street in West Bradenton just outside the Village of the Arts. They have a new location in Orlando, too.
Hours are 11 a.m. until 10 p.m. Monday through Wednesday, staying open until 11 p.m. on Thursday and midnight on Friday and Saturday. They open on 10 a.m. on Sunday and close at 10 p.m.
Thai Wasabi
Thai Wasabi has a location in Sarasota, too, but we usually go to the Bradenton location. They have small booths that give you a little privacy for date night or a special occasion. Call ahead to reserve.
The sushi is fabulous, and my non-sushi-eating oldest loves their duck fried rice.
The sushi menu is really extensive with a lot of specialties, like the Thai Wasabi Roll and the Sexy Man, which is my favorite.
The Thai food is very good, too. We've ordered several of the Thai dishes and enjoyed them all.
You'll find Thai Wasabi at 5250 East State Road 64.
Hours are 11 a.m. until 2:15 pm for lunch Monday thru Saturday and 5 p.m. until 9 p.m. for dinner. Thai Wasabi is closed on Sunday. They do not have outdoor seating.
Michael John's
Michael John's, known as MJ's by locals, is a nice surprise. Located next to a convenience store and across from an apartment complex, you are not expecting an elegant fine dining restaurant.
With dishes like Bartlett Pear & Goat Cheese Salad and Cote de Boeuf Dinner for Two on the menu, be ready to be amazed.
The food is absolutely outstanding. If you like Caesar salad, their "Dirty" Caesar may ruin you forever for ordering one any place else. It's SO delicious!
Don't forget to ask about the dessert menu. They make their own chocolate. Seriously.
Michael John's is located at 1040 Carlton Arms. Hours are 5 p.m. until 9 p.m. Monday through Thursday and until 10 p.m. Friday and Saturday. They do not have outdoor seating.
Anna Maria Oyster Bar
Anna Maria Oyster Bar is a fun seafood restaurant you'll find in several locations. The only menu difference is at the Pier in Bradenton Beach where they have a few special items.
The oysters are plentiful and you can get them many different ways, which makes my husband happy.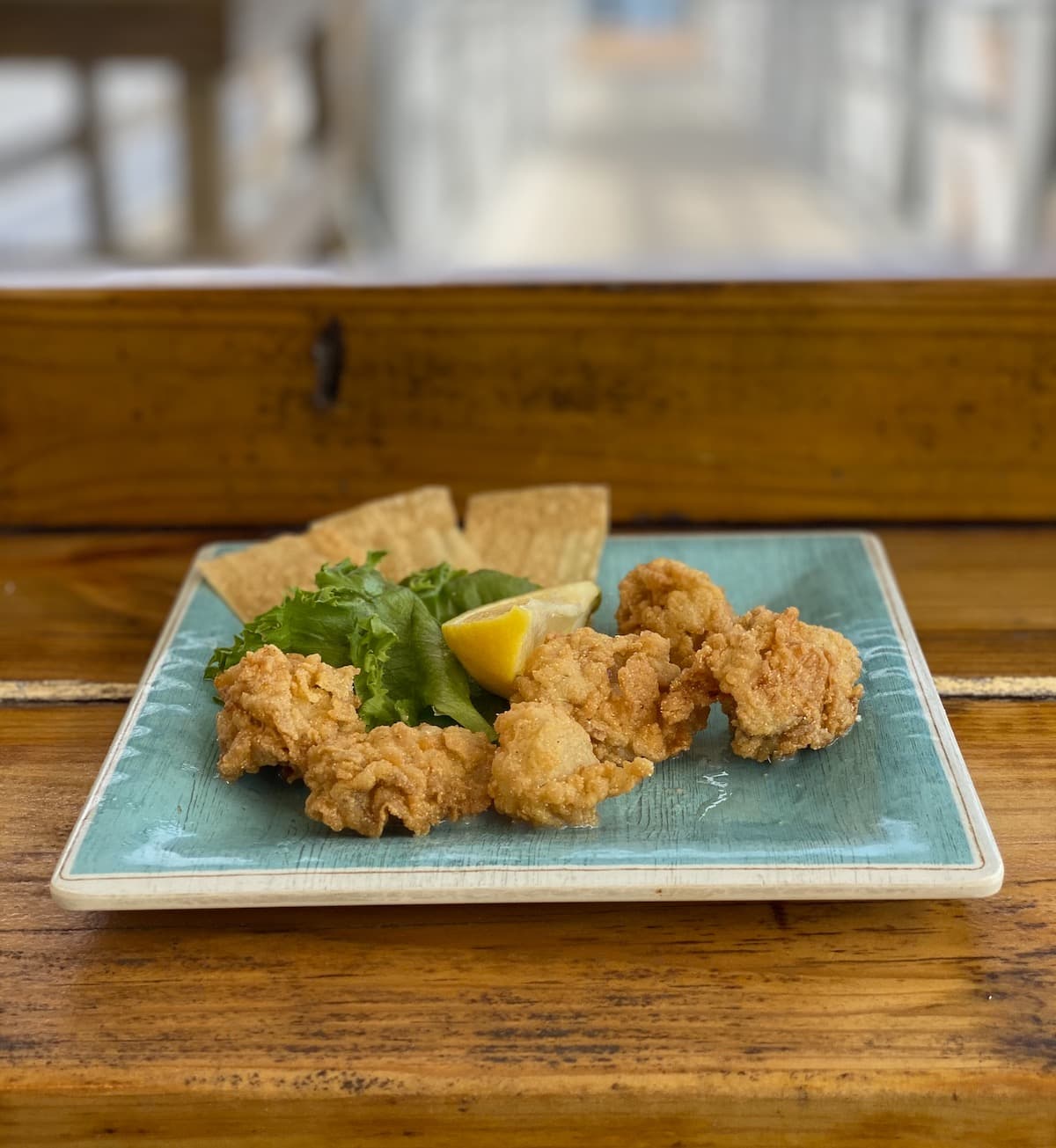 You can't go wrong with Grouper, whether it's on a sandwich on added to a salad. It's always delicious. As you can see, the view is pretty amazing, too.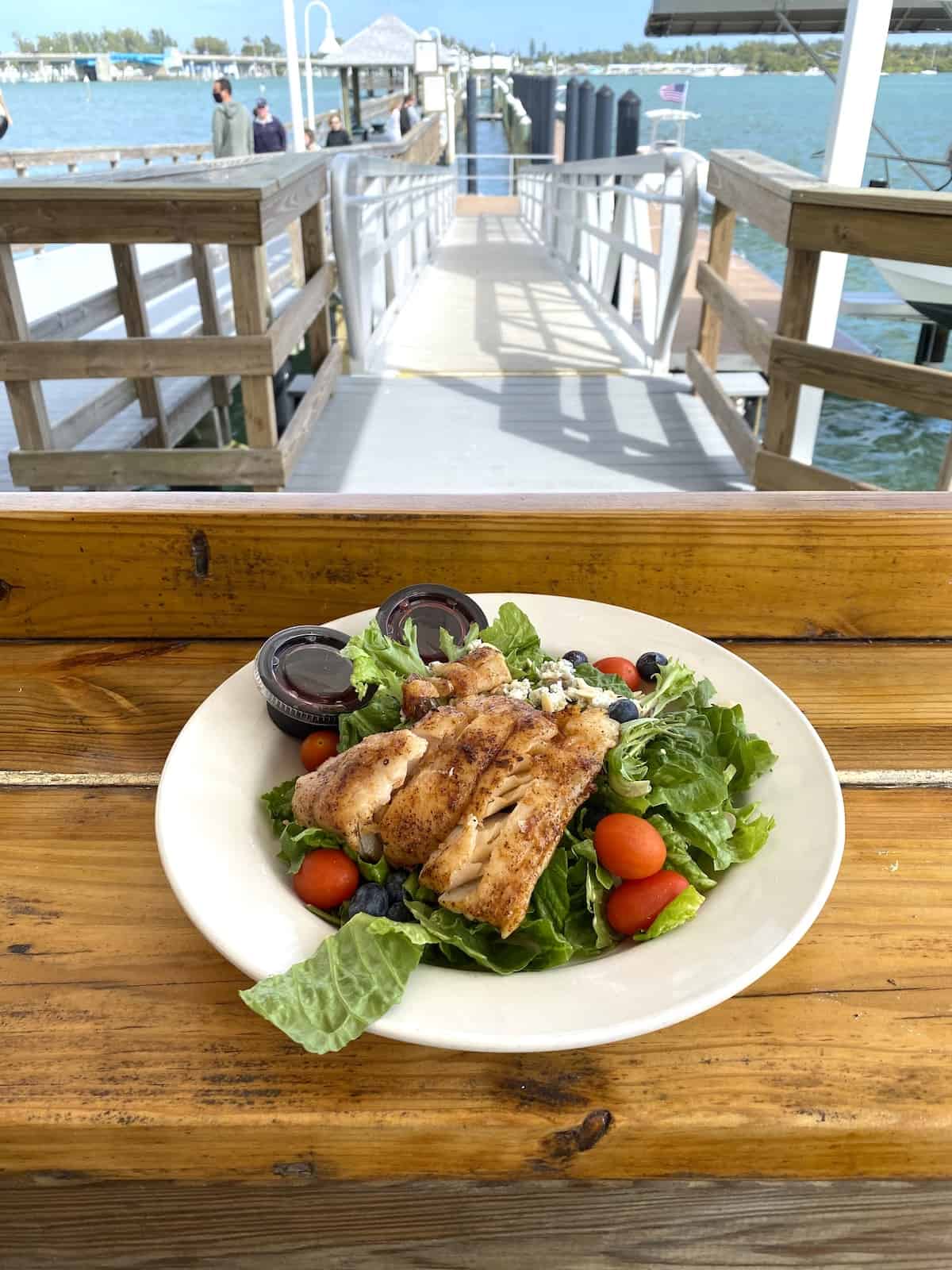 The Bradenton restaurants are located at 6906 14th St. W and at 6696 Cortez Rd West in Bradenton.
Additional locations are in Ellenton and Bradenton Beach.
Paris Bistrot
Paris Bistrot is our French go to restaurant. Located on Main Street in Lakewood Ranch, we like to go for brunch and sit outside with a glass of Prosecco.
On our last visit I had been craving a Tuna Niçoise salad so knew what I was ordering as soon as I sat down. It was so delicious and so filling! I almost finished along with a few pieces of their fresh baked French bread.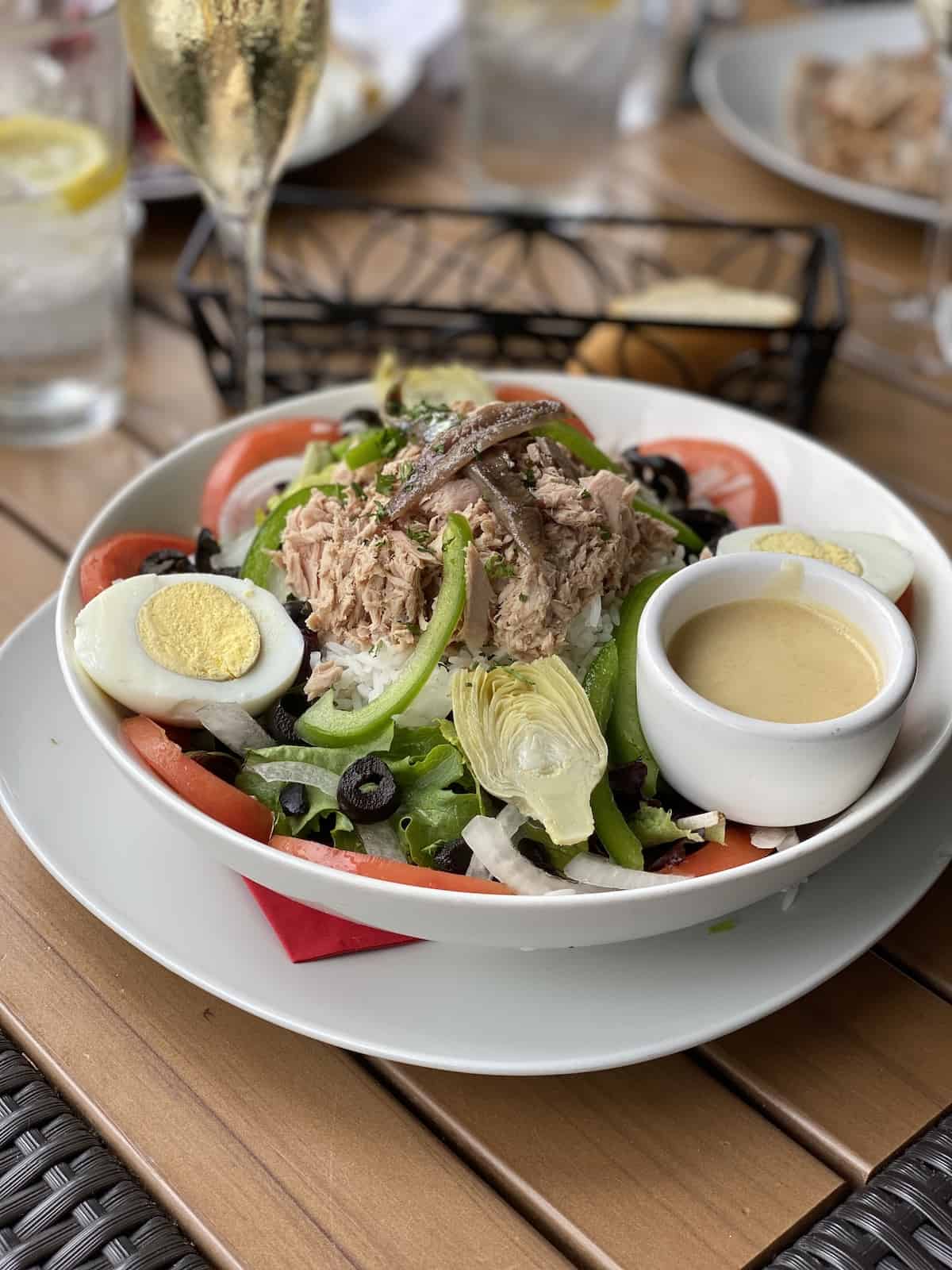 The crepes are also heavenly with choices of savory or sweet. The menu has a lot to choose from, so order a glass of wine and a starter if you're hungry.
Paris Bistrot is located at 8131 Lakewood Main Street. They are open for lunch every day except Monday from 11 a.m. until 2 p.m., dinner every day from 5 p.m. until 9 p.m., and for breakfast on Saturday and Sunday starting at 8:30.
Pinchers
Pinchers is where we go for blue crabs like the ones we would get in Maryland, with loads of Old Bay seasoning.
But the menu at Pinchers is huge, so you can also order a darn good burger or chicken wings. Hushpuppies are a must. Just saying.
The Grouper sandwich is always full of flavor. I think my daughter gets the Grouper tacos every time we go.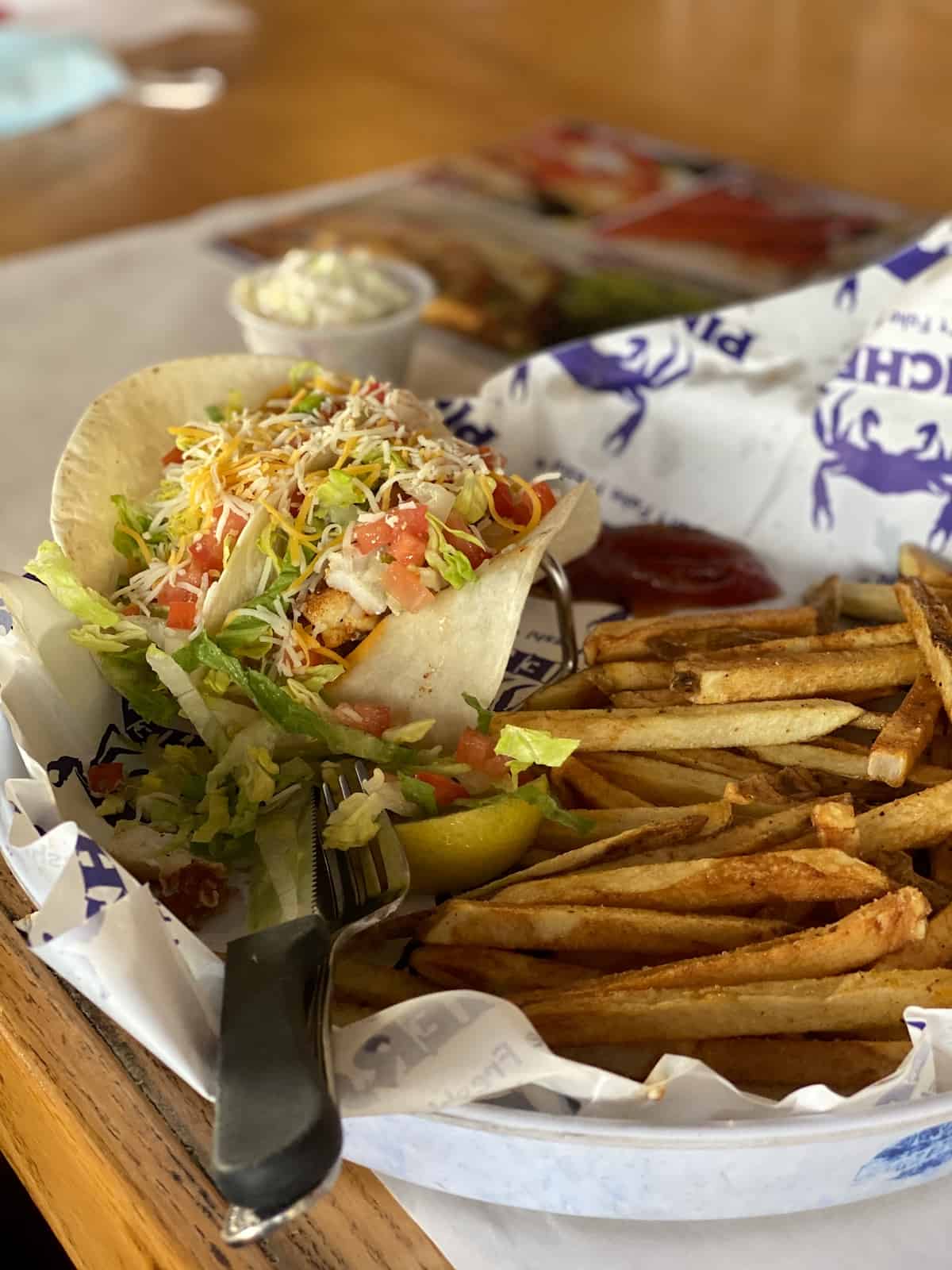 My husband ordered Alaskan King Crab legs on our last visit, and I ordered Snow Crab legs so we could share.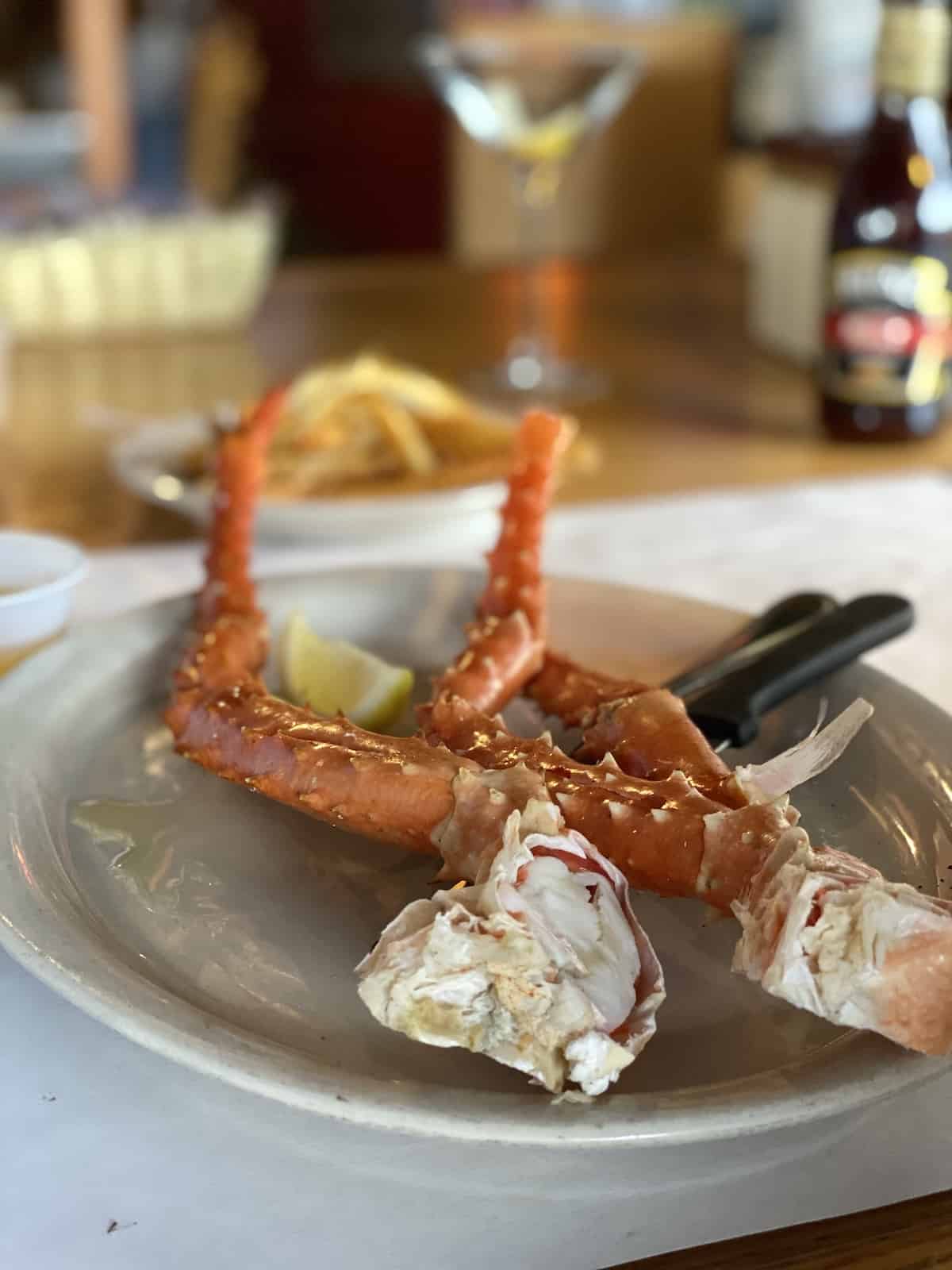 Both were good, but we were wishing we had ordered Blue Crabs which Pinchers does so well.
Drinks are 2 for one all day every day. My husband orders a beer and gives me one so they stay cold.
I'm sure is against the rules, but we like cold beer and always order another round so it works out!
Pinchers has quite a few locations, all in Florida, from Tampa all the way down to Key West. All have a fun atmosphere.
Our location is 10707 Rodeo Drive. in Lakewood Ranch, a suburb between Bradenton and Sarasota.
Hours are 11 a.m. until 10 p.m. Sunday through Thursday, staying open until 11 p.m. Friday and Saturday. Kids eat free at Pinchers.
Happy Hour is from 3-6 every day. They do not take reservations but do offer 30 minute call ahead.
Libby's Neighborhood Bistro
We were excited to get a more local location of Libby's about 15 minutes from my house. It's one of our favorite Sarasota restaurants, but when we want to run out for a bite, we don't always want to get on the Interstate.
Libby's has a lot of fantastic appetizers, so that is usually how we order. The Crispy Brussels are perfectly crisp and flavorful.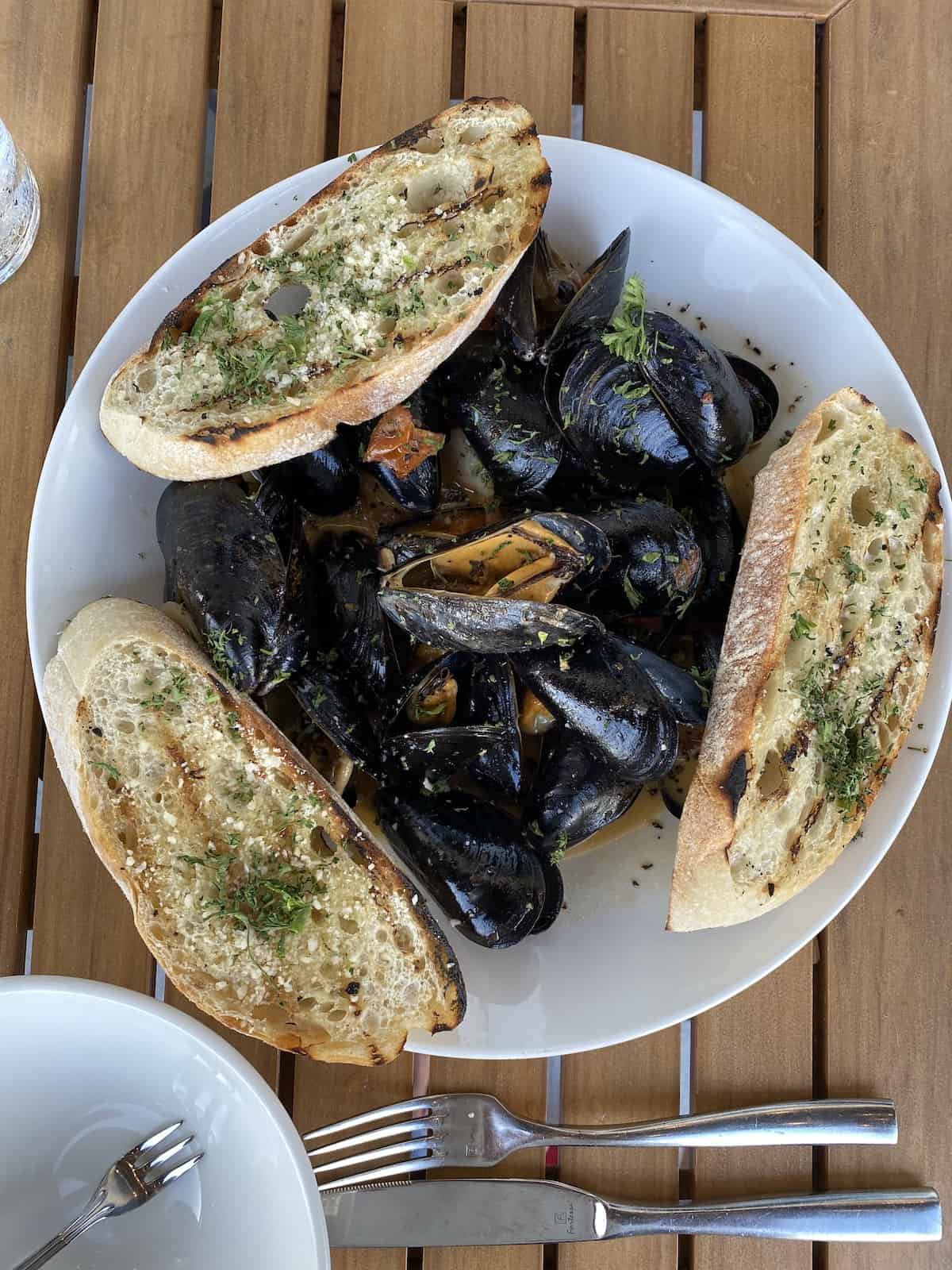 I will always order the Tuna Titaki because I love tuna! It's perfectly seared and the sauce is heavenly. They also have a nice dessert menu, so go ahead and satisfy that sweet tooth while you're there.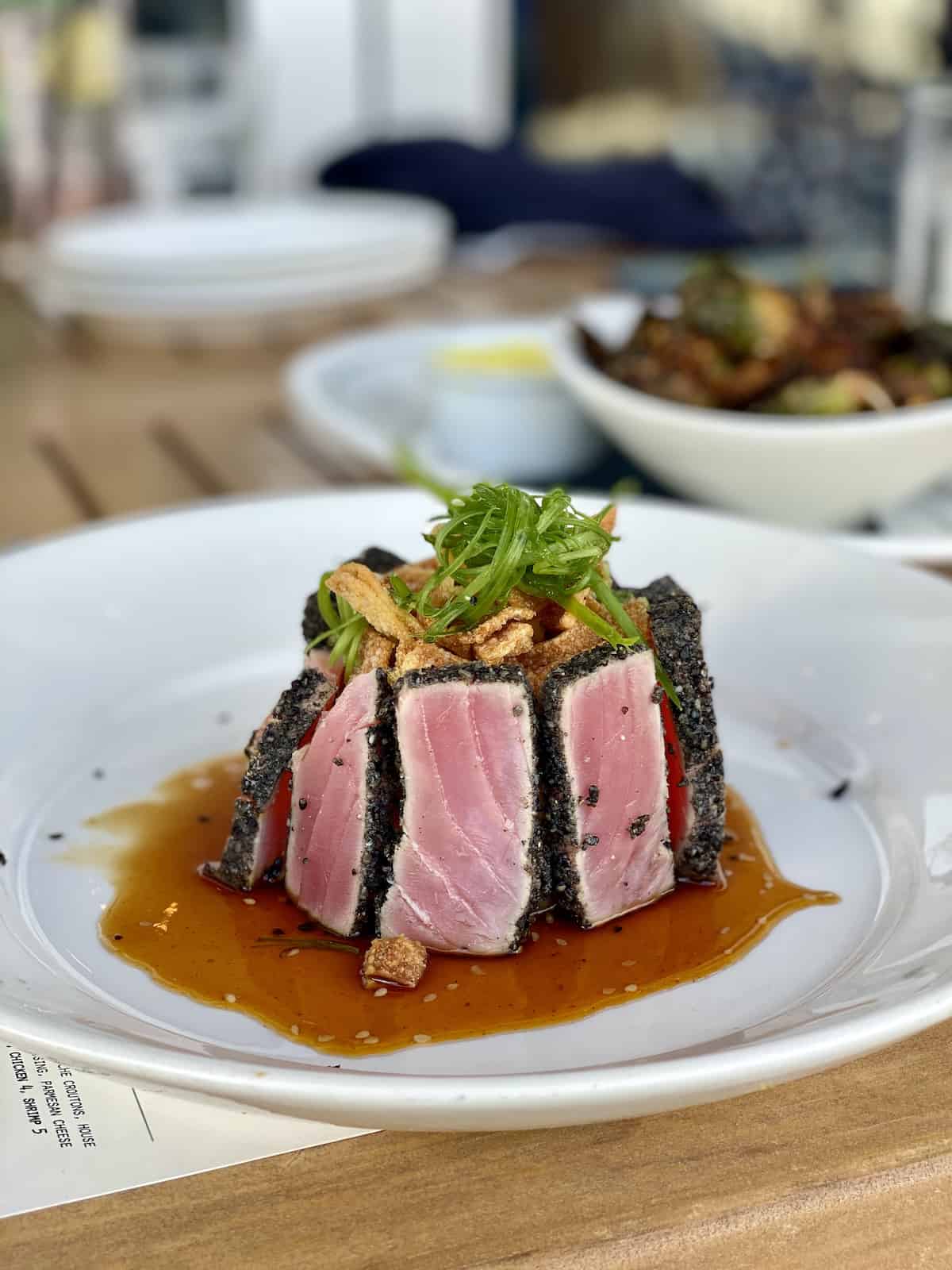 Libby's new location is at 8445 Lorraine Road in Lakewood Ranch. Yes, the website says Sarasota, but we consider any locations on the Bradenton side of I-75 to be Bradenton, so I'm including this one here. They open at 11 a.m. every day, and close at 9 p.m. during the week and 10 p.m. on Friday and Saturday.
Chateau 13
We have always enjoyed this small spot for charcuterie and wine. Both lists are long! We usually go for appetizers but we recently visited and ordered entrees.
A charcuterie plate is nice to share as a starter as this is what they are known for. I had the mussels and though they were small, they were really tasty in the lemon butter sauce. I had a dunkel beer from Germany and loved it.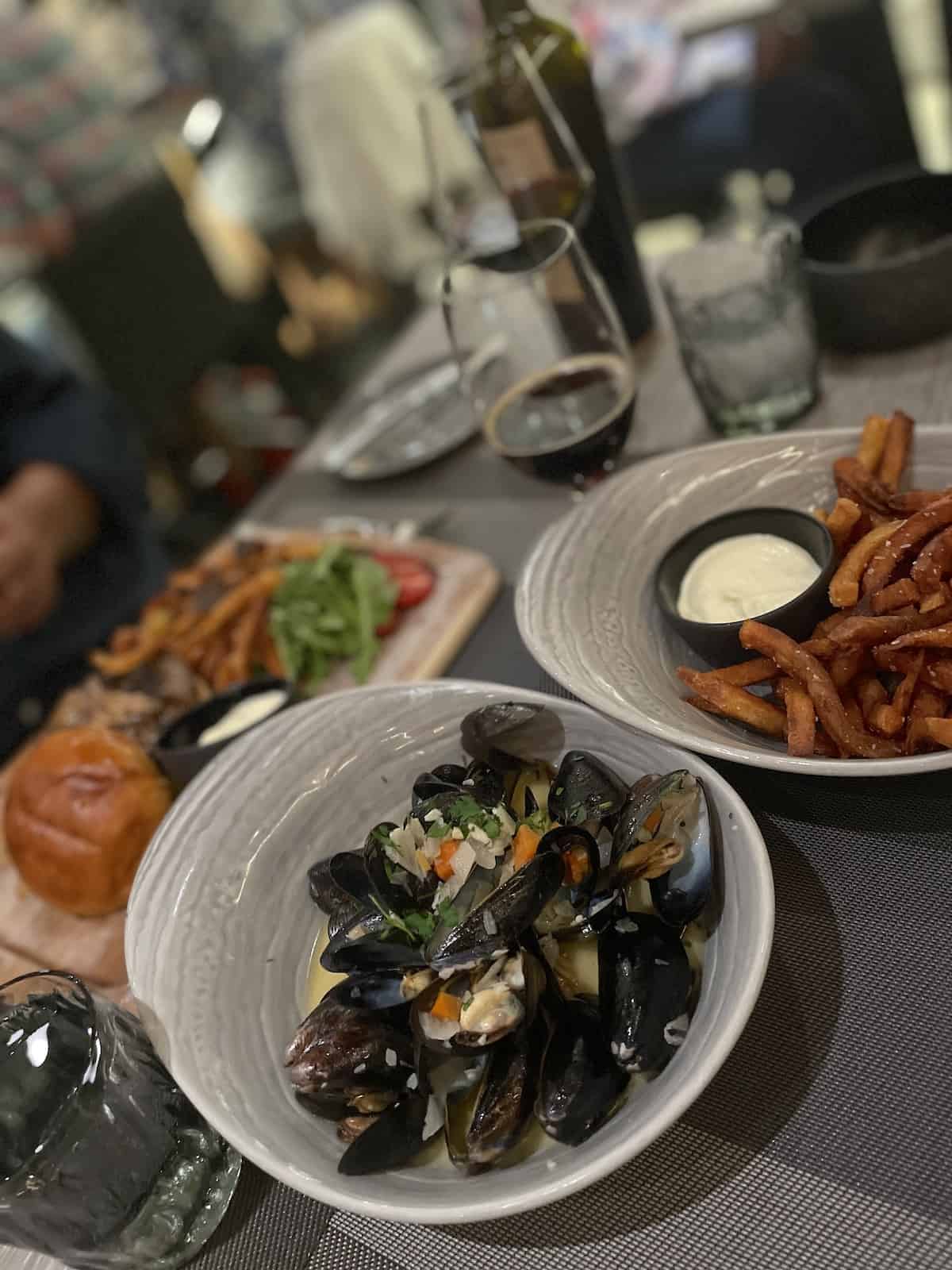 My husband had The Louis XIII burger which is always excellent. Topped with truffled mushrooms, shallot jam, gruyere, and foie gras, it's right up his alley!
Chateau 13 is located at 535 13th Street West. They are open Tuesday through Saturday beginning at 5 pm. Reservations are strongly recommended. They are closed on Sunday and Monday.
Shake Pit
Don't judge me on this one. I took it off the list and my daughter insisted I add it back!
After a long hard day on the beach, followed by gorgeous Florida sunset, the Shake Pit is the place to go.
Still in my beach coverup and covered in sand, the outdoor benches are perfect to chill and enjoy one of the best burgers around.
I get it with everything, and sometimes I even finish it. The fries and onion rings are good, too, but their specialty is the ice cream. Shakes, cones, banana splits, and even dip tops. YUM.
My daughter said it's very romantic to share a milkshake or banana split. Come to think of it, she's right.
This is also a great option for a less expensive evening, as the others are all in the mid to high price range.
The Shake Pit is located at 3801 Manatee Ave West in Bradenton. They open at 11:30 every day except Sunday when they open at noon and Wednesday when they are closed. They close at 10 p.m.
I'd love to add others to the list if I missed any! Please let me know if you find a restaurant in Bradenton FL you loved that's not listed here.
I'd also love your feedback if you visit any I've listed here. Tell them I sent you!
Do these restaurants have outdoor seating?
Some of them do not, so look at each individual restaurant.
Are these restaurants kid-friendly?
You could bring kids to any of these restaurants.
Can I make a reservation at these restaurants?
Most do, but check Open Table or call the restaurant.