You'll find a lot of things to do on Anna Maria Island Florida, on the beautiful west coast of the state. From beaches to food to shopping, there really is something for everyone.
Because of the year-round wonderful weather, there's a lot to do outdoors. The average high temperature is in the lower 90s and the average low is in the mid-50s, though from personal experience, it rarely gets that low.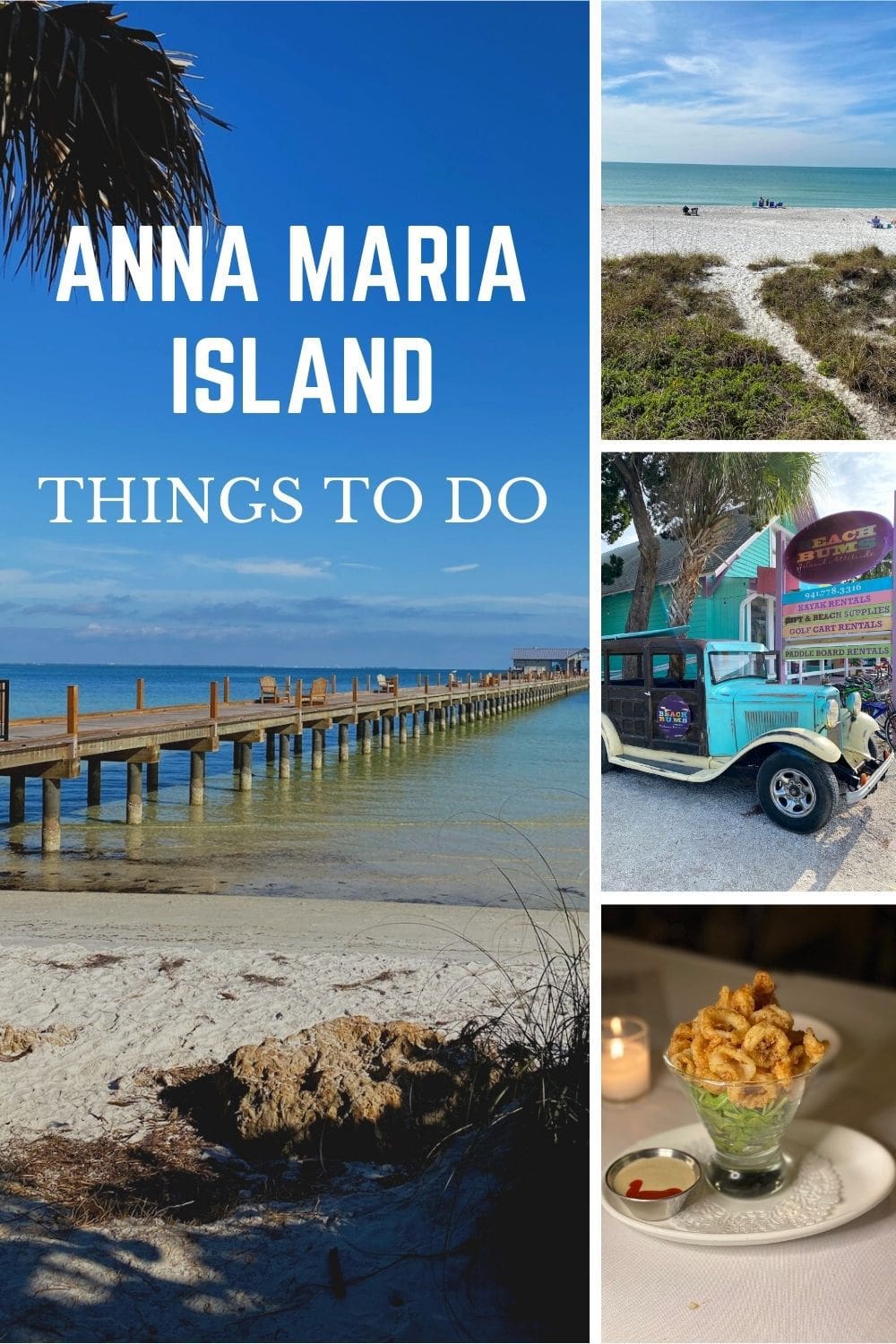 Anna Maria Island Activities
You'll find a plethora of things to do on Anna Maria Island. I've been here for eleven years and I'm still discovering new spots!
If you're looking for a family vacation destination, you've found the perfect place.
Where is Anna Maria Island?
If you look at a map, Anna Maria Island is a barrier island in southwest Florida, about halfway down the state, on the west coast, right on the Gulf of Mexico.
As I live in Bradenton, I can tell you it is hot and humid in the summer, and perfect in the winter! It truly is one of the best beach vacations in the U.S. And right next door to Bradenton is lovely Sarasota, with great shopping and so many places to wine and dine. It's minutes away, and I've got you covered with this list of best restaurants in Sarasota.
We go to the beach on Anna Maria Island and Bradenton Beach all year long and have spent New Year's Day in our beach chairs many times. It's one of the best places for a winter holiday.
Beaches on Anna Maria Island
Anna Maria Island is just seven miles long and you can access the beach from both the Gulf of Mexico and the Sarasota Bay.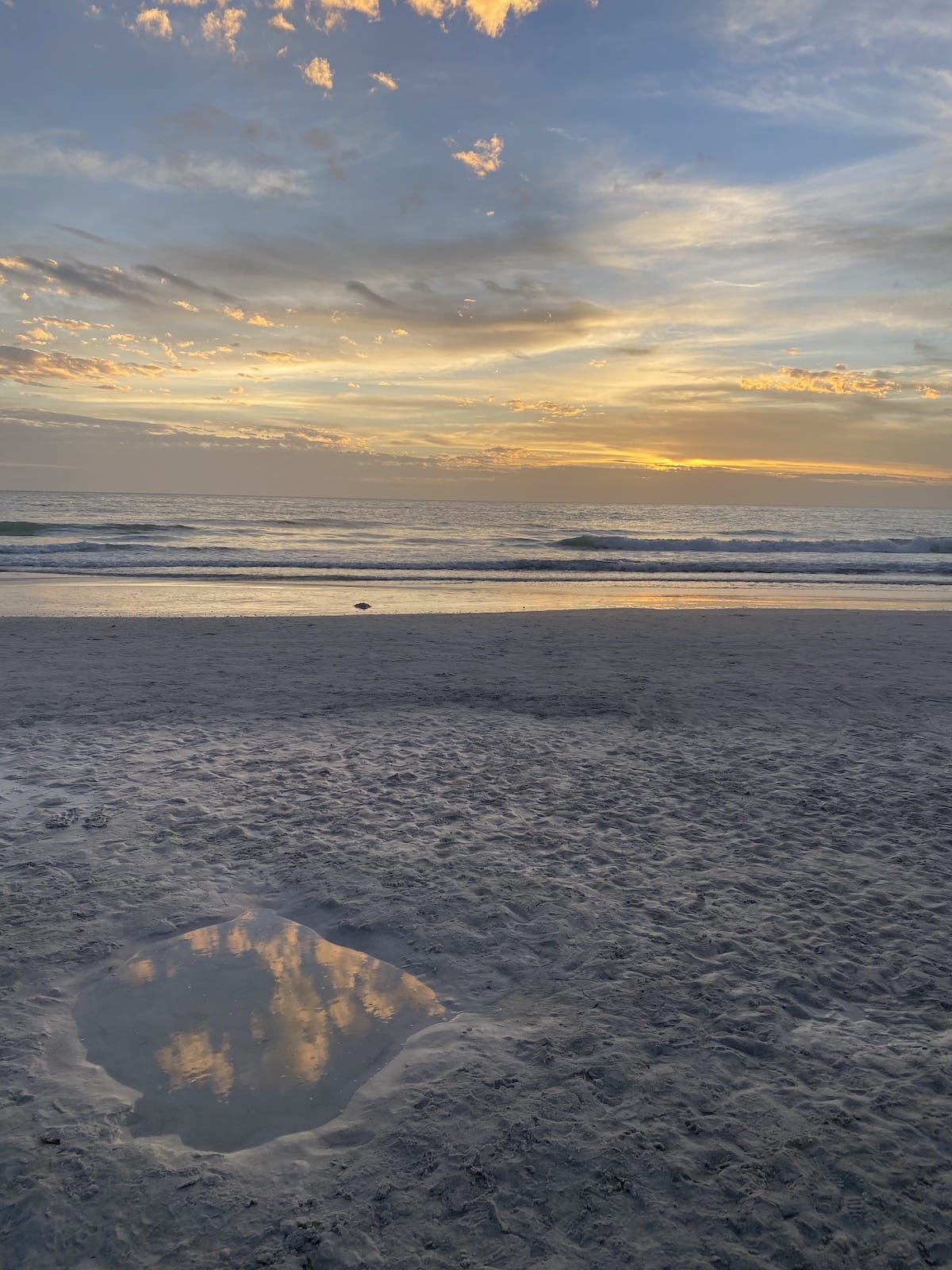 Right on AMI, you have six beaches. They all offer something different, but one thing they all have in common is that soft and powdery white sand this area is known for. Check out this article about beaches on Anna Maria Island for more information about where to park your beach chair.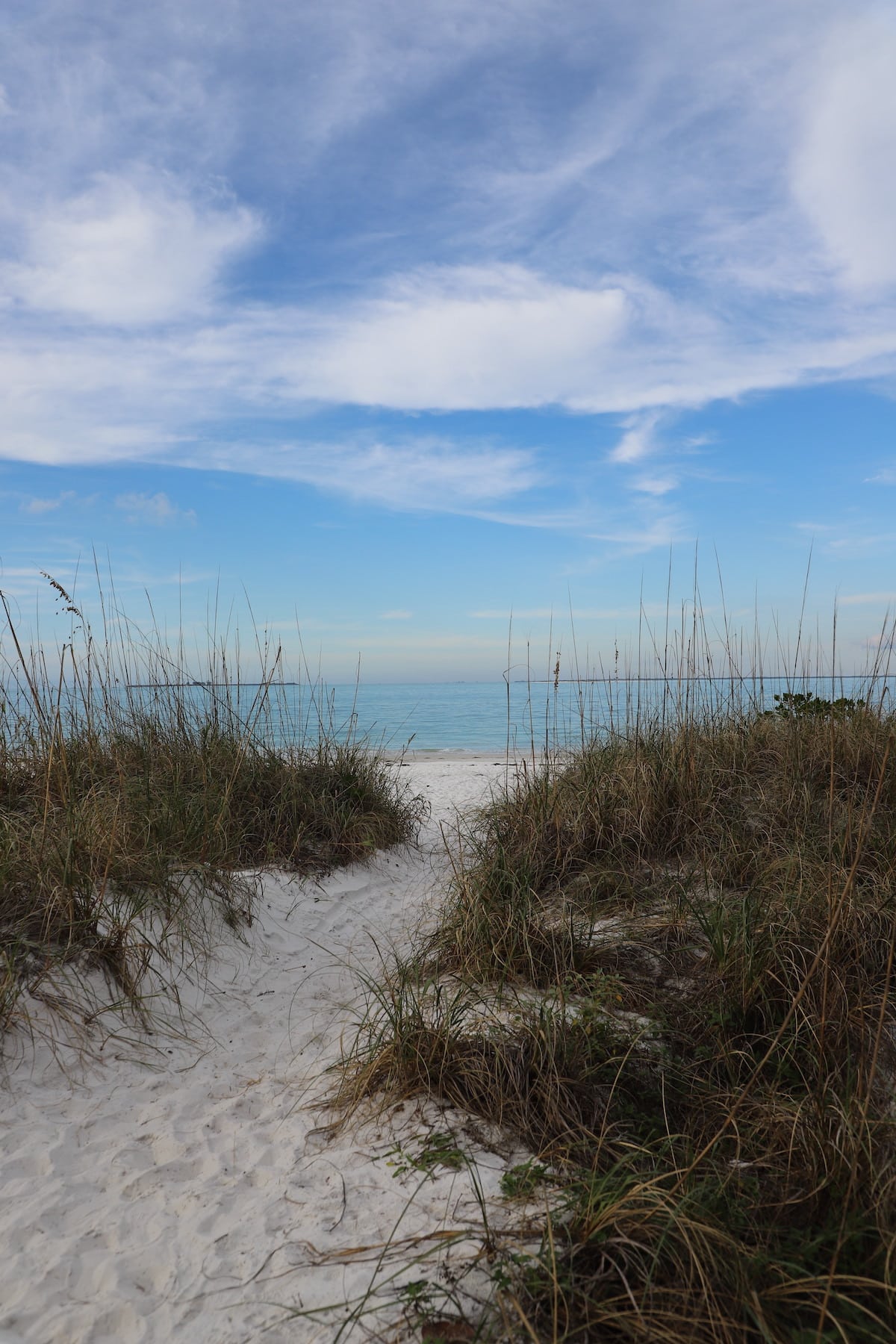 Pack those swim goggles and fins as the water is clear for snorkeling on Anna Maria Island Florida!
Exploring the Island
The Historic Anna Maria City Pier is a must-see. The Pier was built in 1912 to have a place to dock both small and large ships.
Now the Pier is used for sightseeing, dining, and fishing.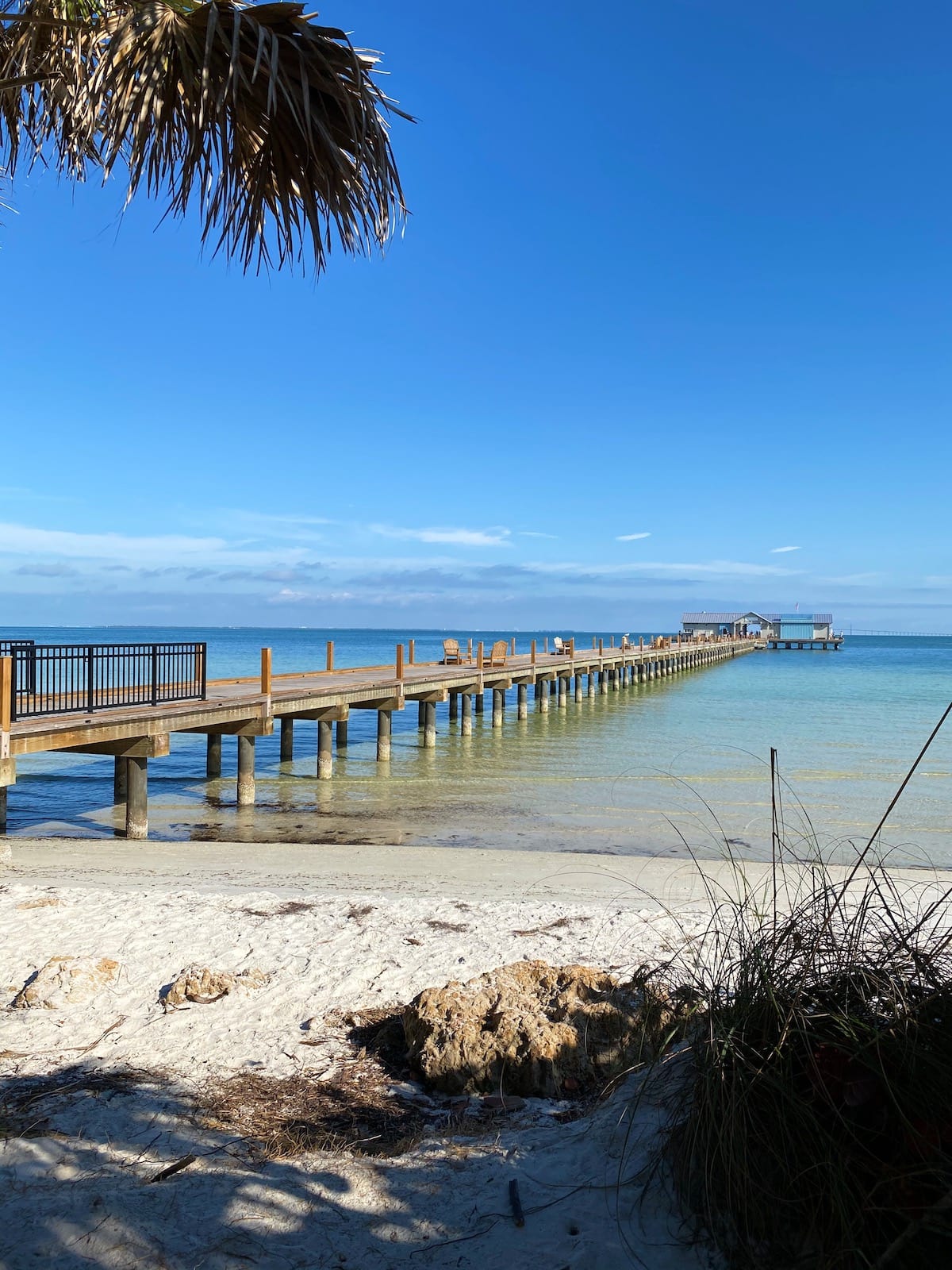 Bridge Street Pier
I can't believe we haven't spent more time in this part of Anna Maria Island. There are so many restaurants we need to visit!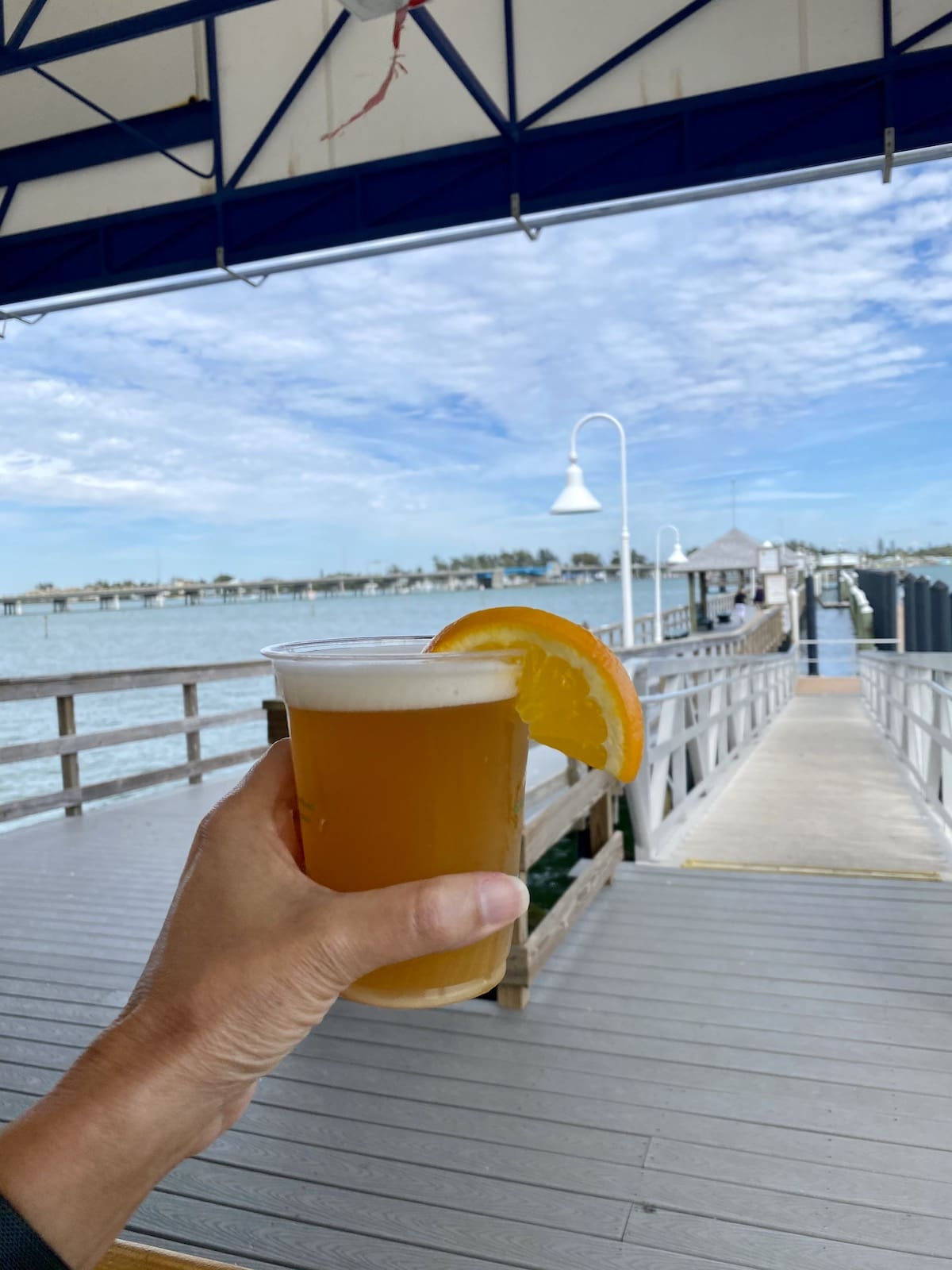 Anna Maria Island Historical Museum
If you'd like to learn about the rich history of AMI, the Anna Maria Island Historical Museum is a good place to start, and it's right on Pine Avenue.
This 1920s icehouse hosts exhibits on local history and the city's original jail.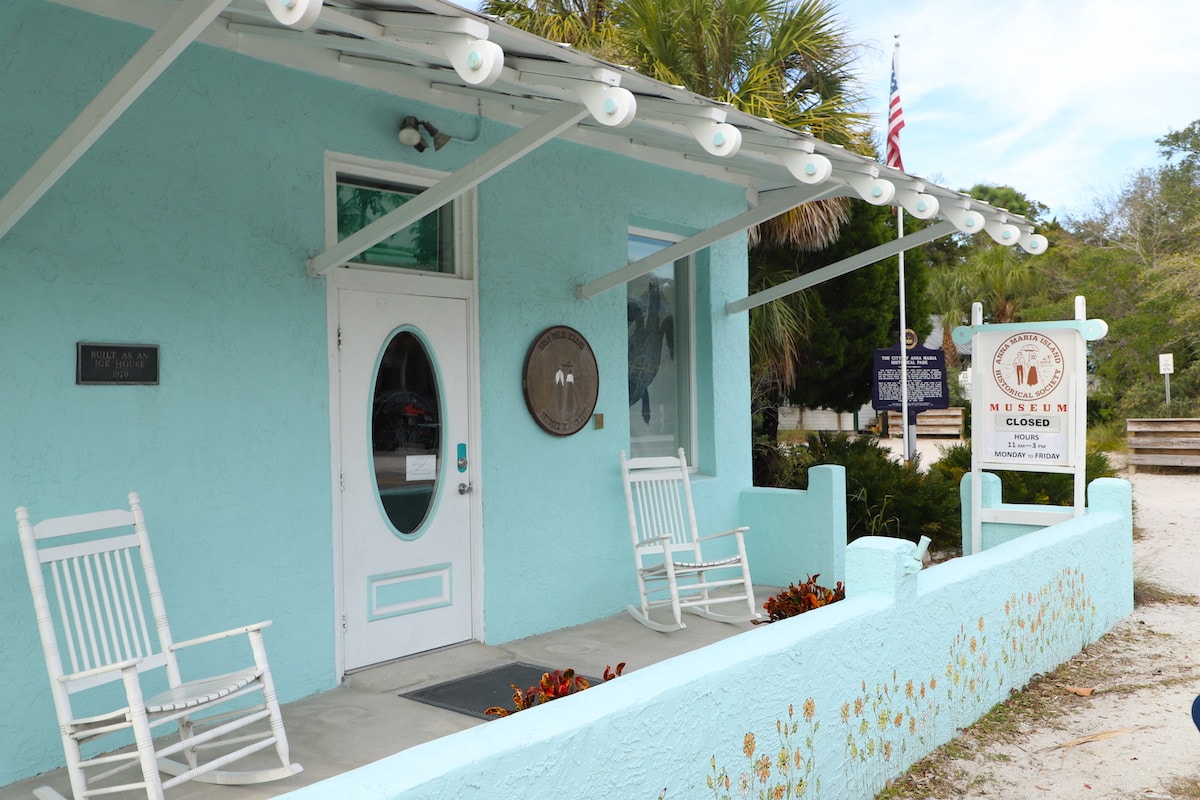 Dolphin Cruise
To get a closer glimpse of Florida marine life, get out on the water for a dolphin tour. We saw so many the day we went out!
It seems the folks at Paradise Boat Tours know just where to look! Dolphins love to follow boats, as you can see!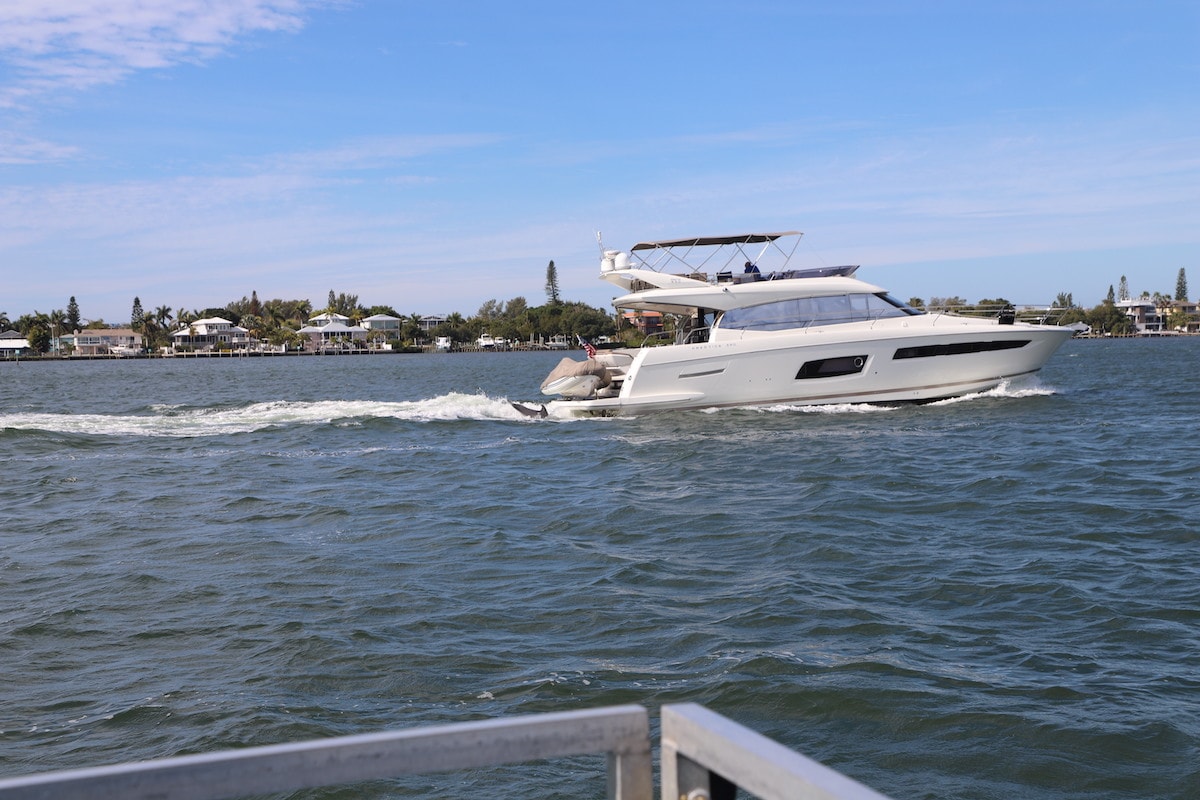 Shopping on Anna Maria Island
If you enjoy shopping for beachy attire, accessories, and decor, add this one to your list of things to do on Anna Maria Island.
Pine Avenue, known as the Greenest little Main Street in North America is my favorite area to shop.
Here you'll find everything from shabby chic beachy furniture to starfish earrings.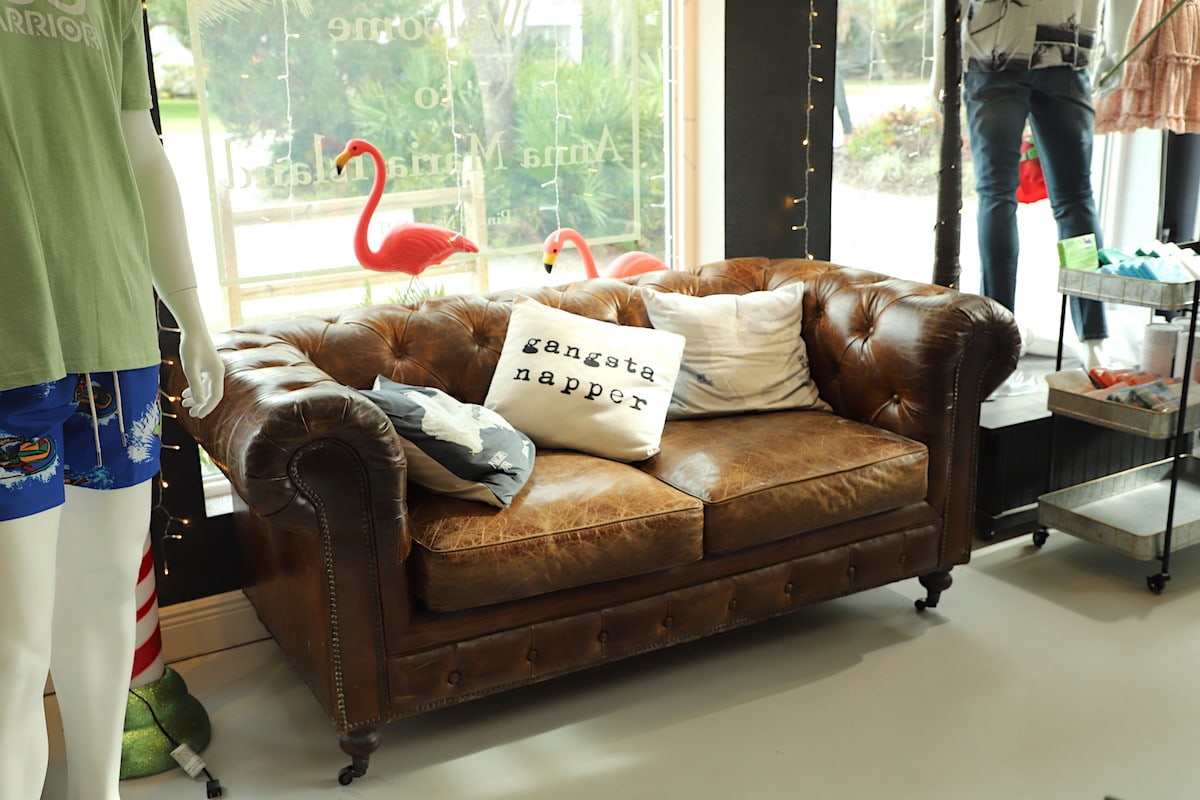 There's even a shop that carries everything from olive oil to wine and cheese!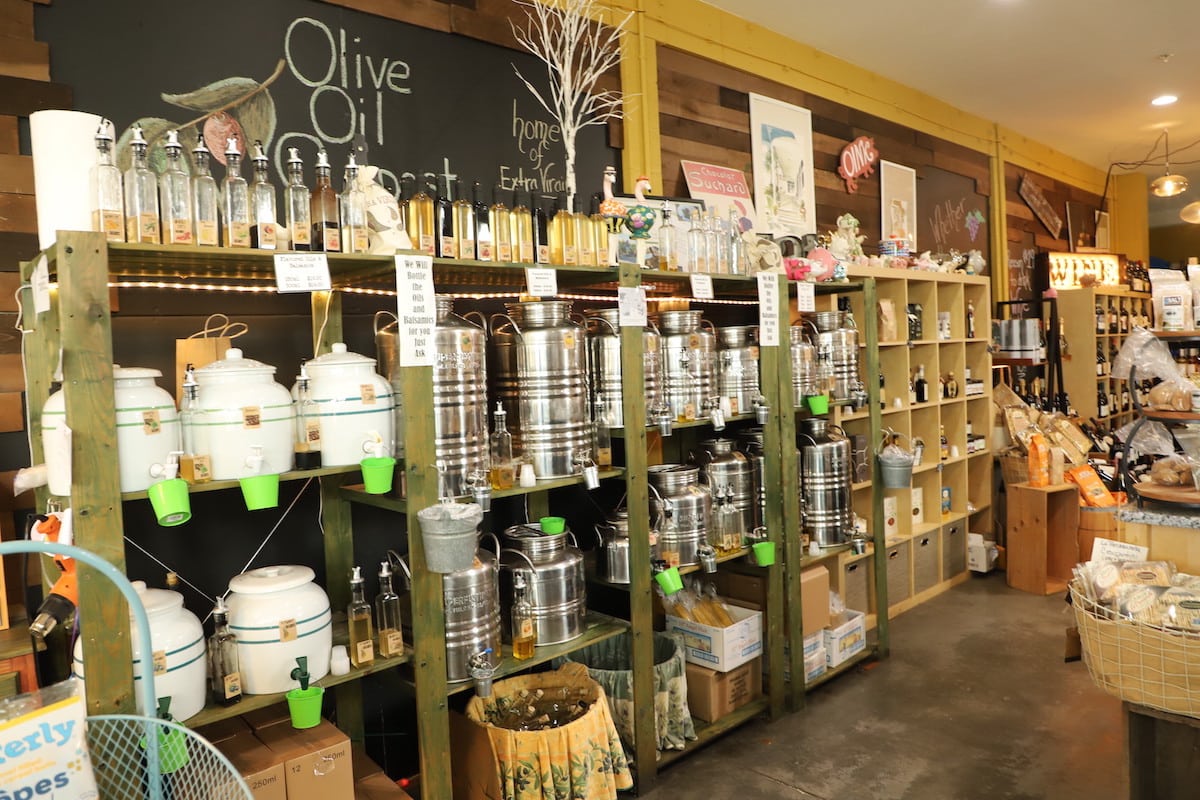 Be sure to check out Beach Bums where you can rent bikes, kayaks, paddle boards, beach chairs, and umbrellas. You can even rent a golf cart, a popular way to get around the island.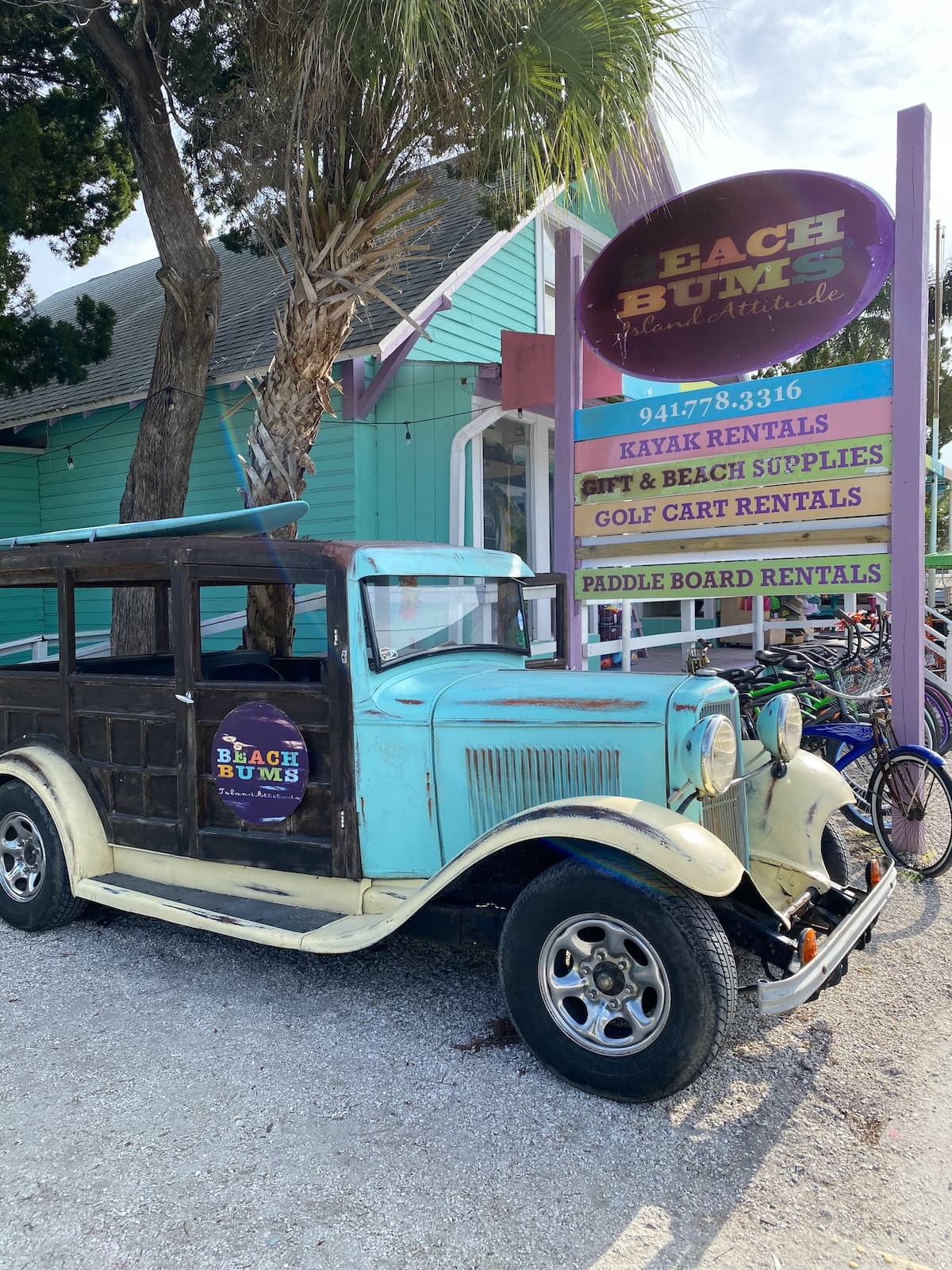 Ginny and Jane E's has become an institution on Anna Maria Island! This is a fun stop for gift items and decor. Ginny and Jane Es is also a great spot for breakfast or lunch!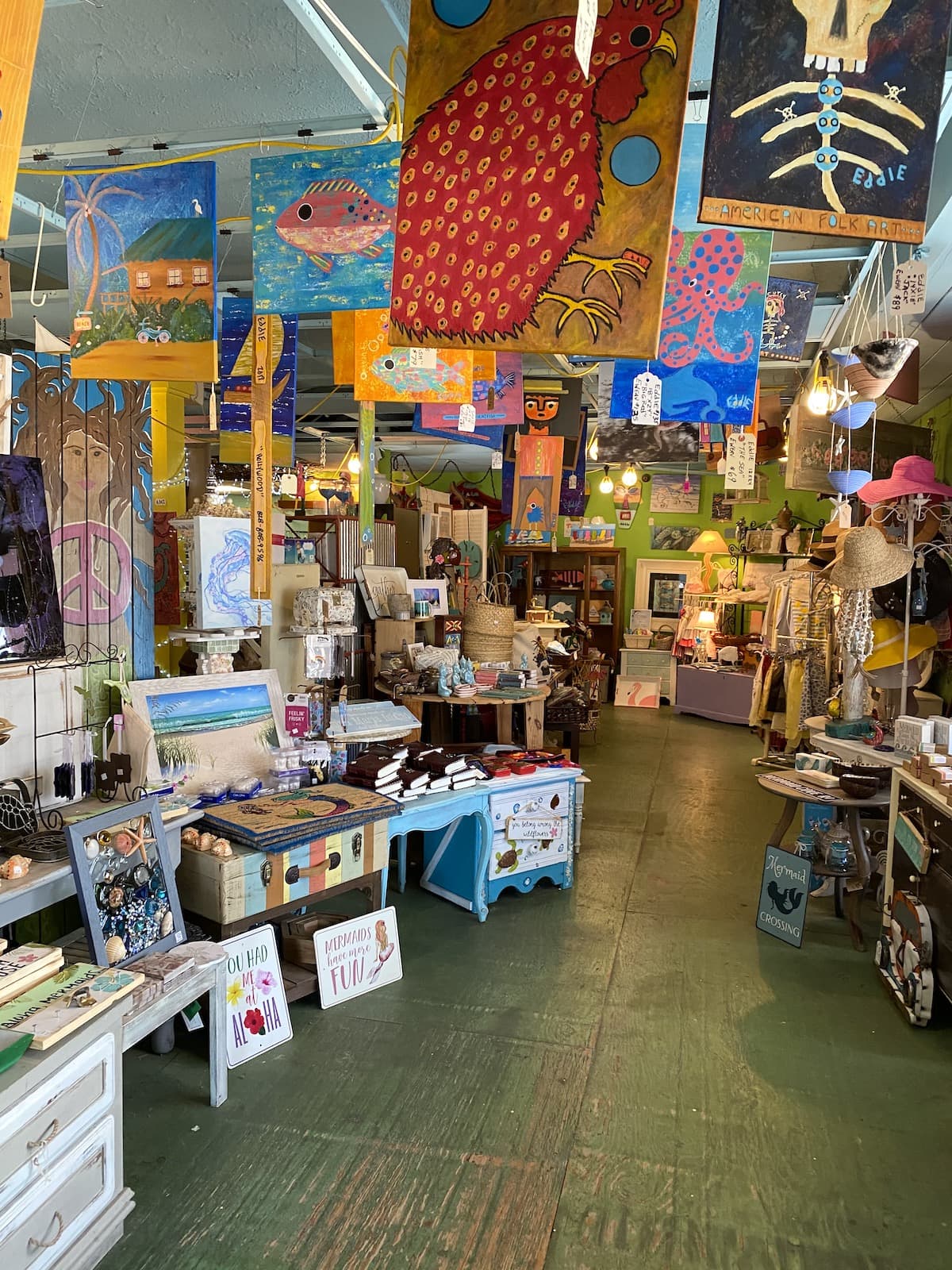 Scavenger's Marketplace AMI
Every time I visit this shop, it reminds me of the show Pickers. Treasures abound in every room! You'll find a lot of local handmade gift items and decor.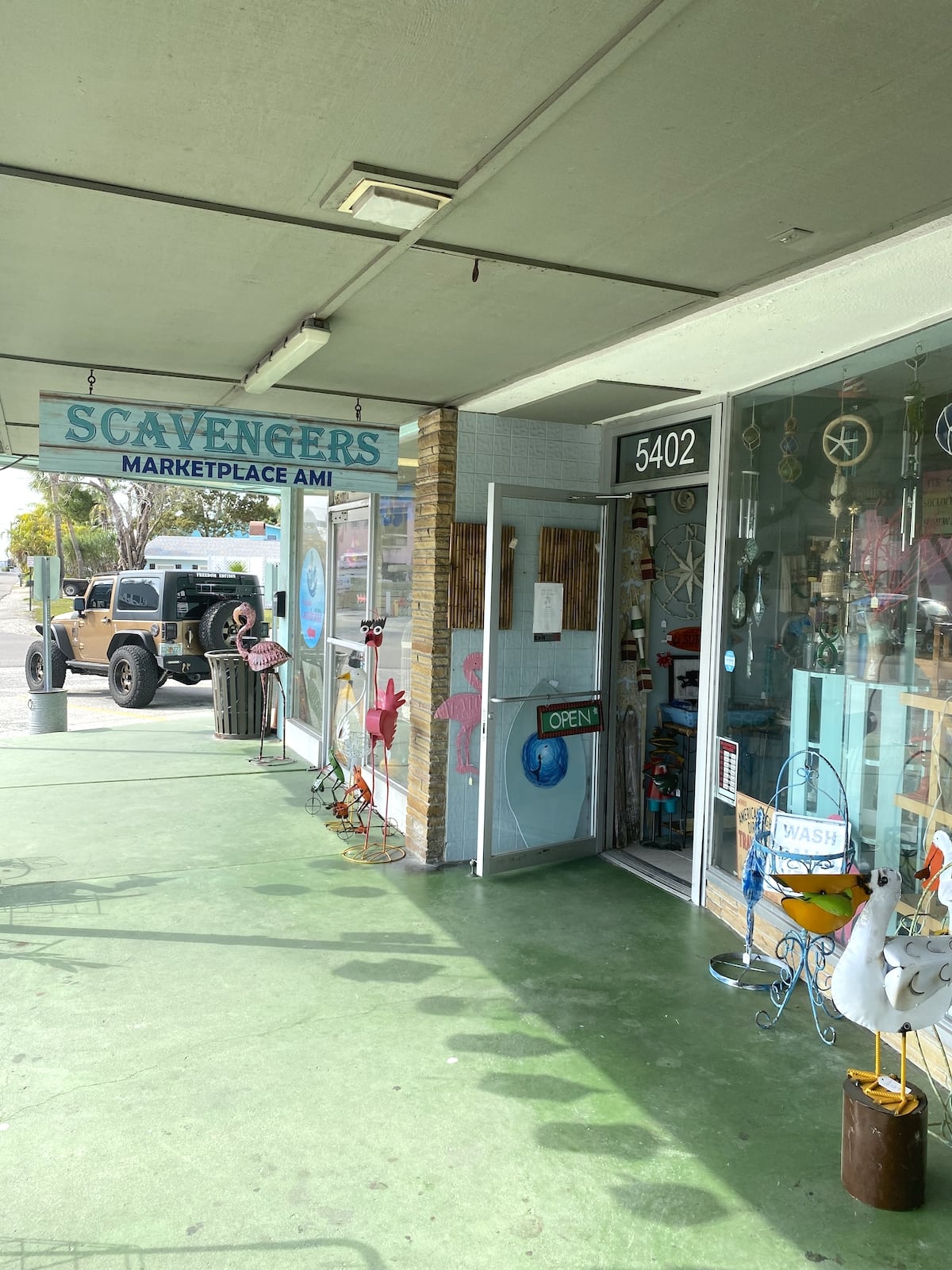 Sun and Surf
If you like tropical birds, you have to stop at Sun and Surf. It's just down the sidewalk from Scavenger's, on the corner of the plaza. The owner wheels out the birdcages and visitors stop by just to see them.
The shop has clothing, shoes, swimwear, and more, but has become known as the store with the birds.
City of Anna Maria Farmer's Market
If you happen to be visiting on a Tuesday, head to the end of Pine Avenue and check out the Farmer's Market. It's not huge, but it's definitely worth a stop.
Where to Eat
You'll find a plethora of great food on Anna Maria Island. Sometimes when I'm traveling I'll choose a restaurant based on location, and I'm often disappointed. I find that if a restaurant has a fabulous view, they really don't need to have great food.
I'm here to tell you, AMI is a culinary hotspot and hidden gem. These are just a few of my favorites to whet your palette. Check out this list of my favorite Anna Maria Island restaurants.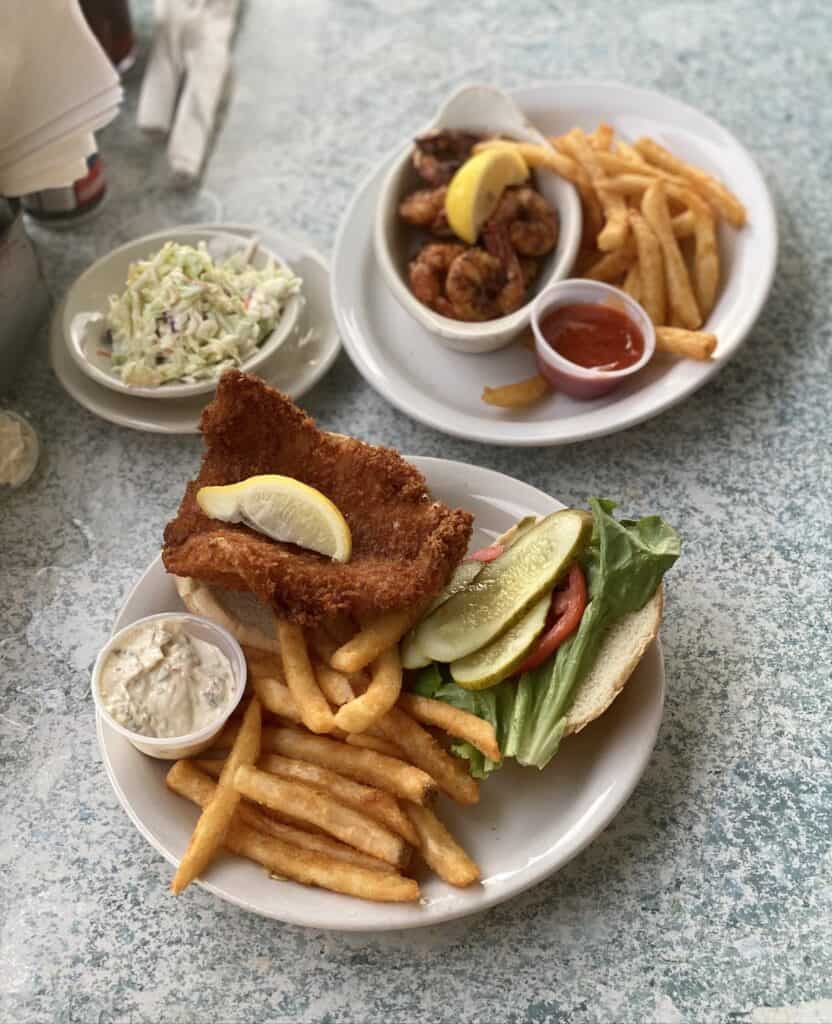 Where to Stay on Anna Maria Island
There are no large resorts or hi rises on Anna Maria Island, and honestly, I hope it stays that way.
You'll only find one hotel on Anna Maria Island that is part of a chain, and that's Waterline, which is lovely. I haven't stayed there, but the restaurant inside is fabulous.
Our favorite place to stay is Mainsail Beach Inn right on Anna Maria Island Beaches. We absolutely loved it. If you're vacationing at the beach, don't you want to stay on the beach?
Not only is it Oceanfront, but this wonderful boutique hotel is right next door to Beach Bistro, so you can walk to dinner.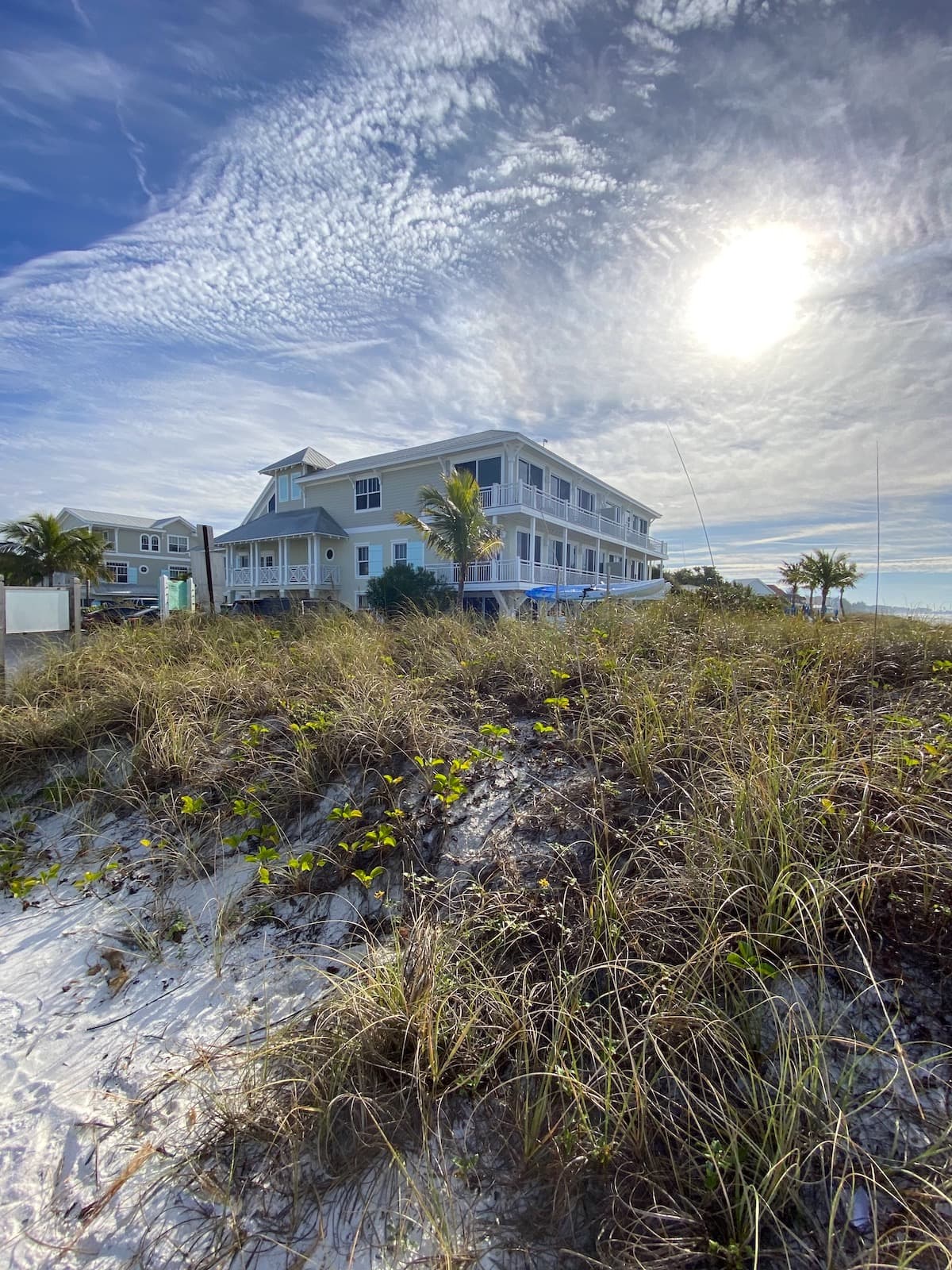 Getting to Anna Maria Island
Getting to Anna Maria Island from Sarasota International Airport typically takes 30-40 minutes. Once you hit Gulf Drive, you'll hang a right and it's a short drive to AMI.
Driving from the Tampa Bay area to Anna Maria Island takes about an hour depending on the time of year. The season is typically from October until May as that's when the snowbirds visit.
If you happen to be visiting during the Christmas season, do try to visit the Ringling in Sarasota. It's beautifully decorated!
Let me know if you visit Anna Maria Island. I haven't been everywhere (yet!) and I'd love to know what you do while you're in my area!
If you're thinking about adding a trip a little farther south to your itinerary, you really should check out this list of things to do in Naples Florida. We found so much to do that we had to spend three days to fit in all in, and I still wish we'd had more time to relax!
Top Tips
Head to the Anna Maria Chamber of Commerce for the FREE Anna Maria Island Passport. Once you get 20 stamps from participating businesses, stop back in and pick up your free T-shirt!
This would be fun for families or even family reunions to do together. You could even have a race to see who gets their T-shirt first (and photographs it!)
Don't park in a spot that says no parking or you may get ticketed. Make sure to look around for signs!
Wear sunscreen and hats as the sun is strong all year long!
When is the best time to go to Anna Maria Island?
Really, any time of year is the best time to visit! The weather can be very warm in the summer, so for those who love the warm sun and warm water temperatures, summer is best. The winter is a bit more comfortable as temps are typically in the 70s, but the water is not as warm. My kids would have no problem swimming on Christmas day when they were younger!
Which airport should I fly into to go to Anna Maria Island?
You can fly into Sarasota Bradenton International Airport or Tampa International Airport. From someone who travels a lot, Sarasota Bradenton International Airport (SRQ) is a dream! It's small and so convenient. Tampa (TPA) is a nice airport, too, but it's much larger and a bit farther away.
Do I need to rent a car?
You can easily Uber to Anna Maria Island from either Sarasota Bradenton International Airport or Tampa International Airport and take advantage of the free Anna Maria Island Trolley which runs 6:30 am until 10:00 pm every day. If you do decide to rent a car, it's easy to do at either airport.
If you happen to be heading to the other coast, check out all the things to do in Daytona Beach!