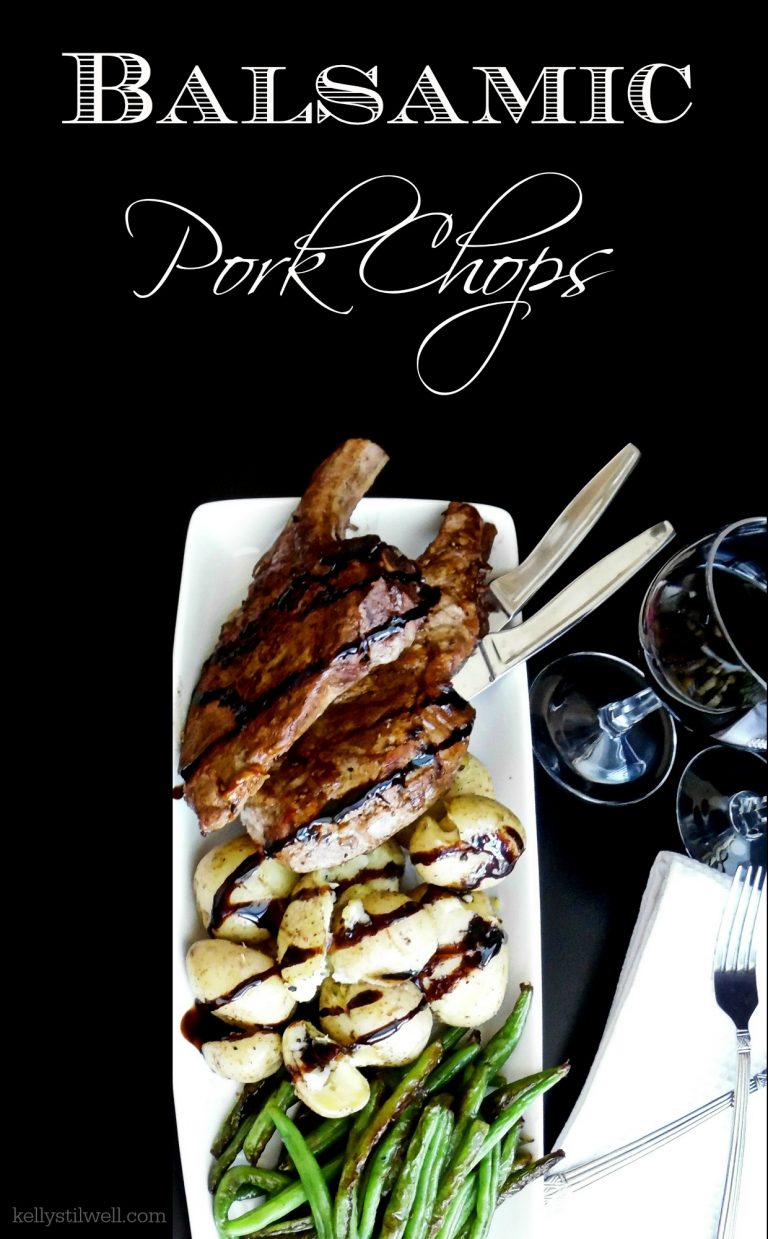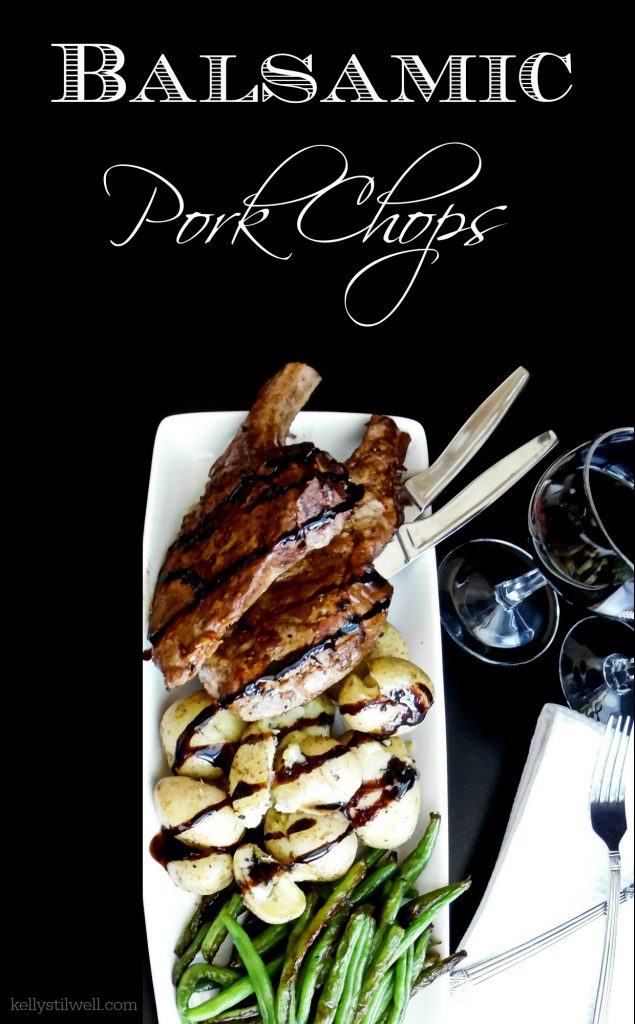 Looking for an easy romantic dinner for two?  We've got you covered with delicious Balsamic Pork Chops, Smashed Potatoes and Brown Buttered String Beans. Add a small salad and a bottle of wine and you're set!
Balsamic Pork Chops
Ingredients
2 – 4 Pork Chops (or Veal Chops)
Salt & Pepper
Oil
2 Shallots – chopped thin
⅔ Cup Balsamic Vinegar
2 tsp Raw Sugar
Directions
Heat oil in sauté pan – add salt and pepper. Add shallots and stir one minute on medium heat. Lay pork chops barely touching one another over shallots.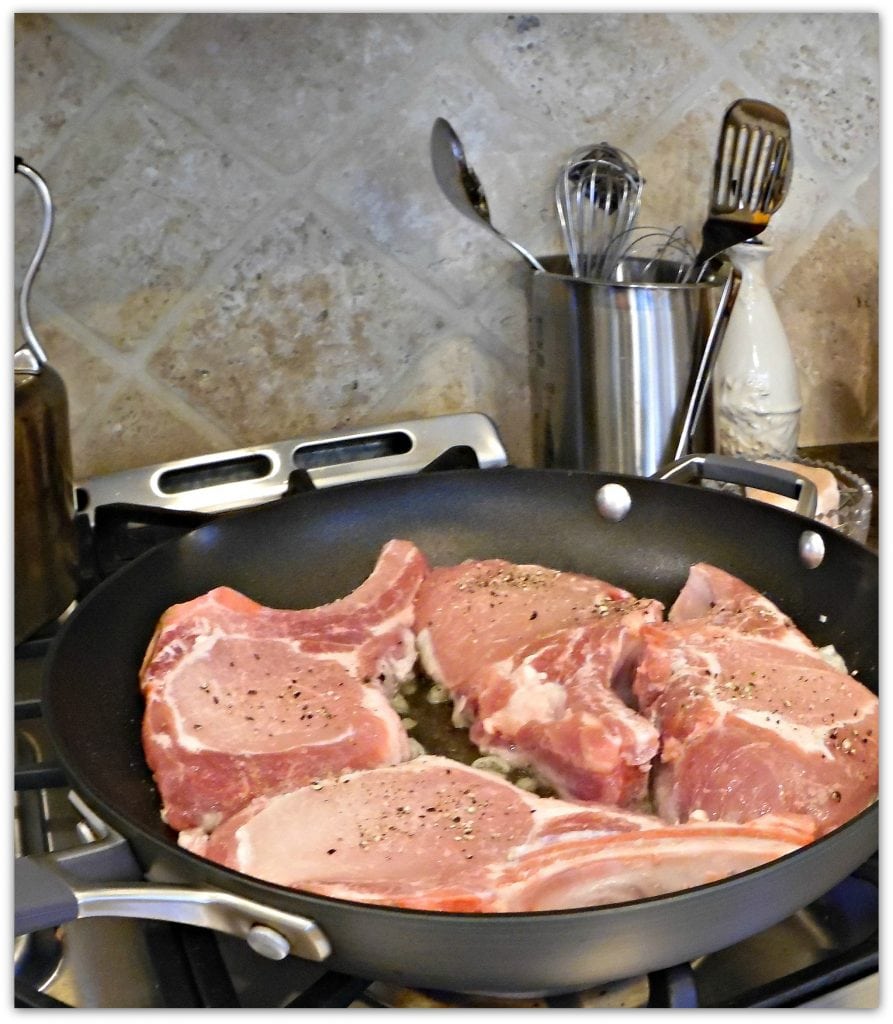 Cook and turn only 1 time so it is braised evenly. Transfer meat to platter. Using wooden spoon stir drippings with shallots, add balsamic vinegar and sugar and stir. Cook until starts to thicken (about 2 minutes). Return chops to pan and cook 2 minutes, turn and cook an additional minute. Remove from heat. Plate and drizzle with sauce. Serve immediately.
SMASHED POTATOES
Ingredients
10-15 Fingerling Potatoes
Salt & Pepper
Butter
Directions
Preheat oven to 350. Boil potatoes until just tender over medium heat. In pyrex dish add 1 TBS Butter – salt and pepper the dish. Place in oven and let butter melt completely (Be sure oven is completely preheated… otherwise glass will crack!). Drain boiled potatoes. Place in pyrex and "smash" with the back of a spoon. Add a few thin pats of butter over the potatoes and sprinkle with salt & pepper. Return pan to oven for about 15 minutes until potatoes brown evenly. Serve immediately.
BROWN BUTTERED STRING BEANS
Ingredients
1 Microwavable bag of String Beans
2 TBS Butter
Salt & Pepper
Directions 
Microwave string beans as per directions. In sauté pan, heat butter with salt and pepper. Let butter begin to brown and add cooked string beans. Saute about 10 minutes on low heat. You'll want the beans to caramelize/brown nicely. Serve immediately. Can garnish with lemon zest and parsley.
This romantic meal is best served with a nice, smooth Bordeaux wine. A chocolate dessert would make the perfect ending!