With so many things to do in Bradenton Florida, it's easy to see why it's the perfect vacation destination. We're all about outdoor activities here in the Sunshine State!
Besides the beautiful Anna Maria Island Beaches, you'll find lots of popular attractions including history, outdoor adventure, shopping, and more.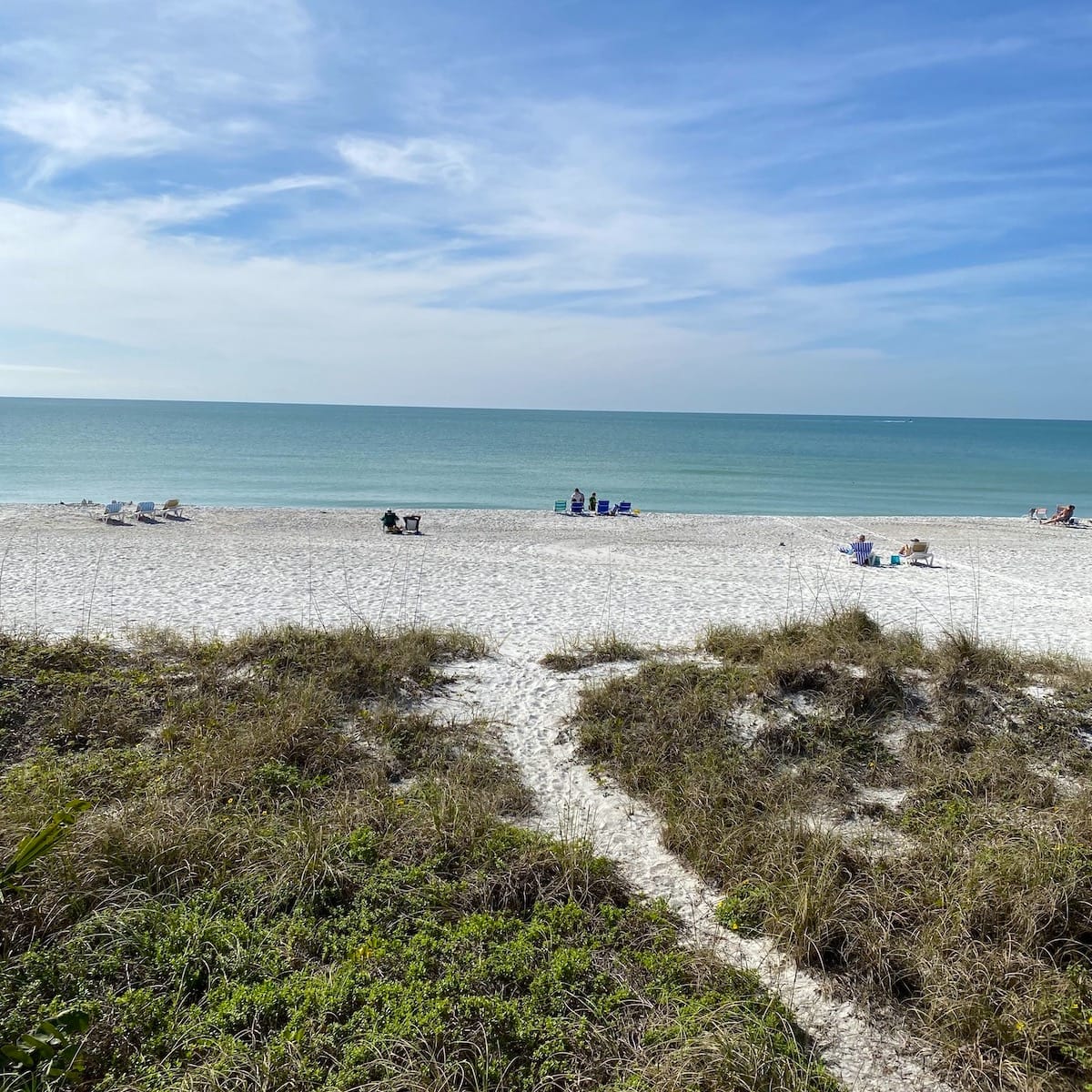 The Bradenton restaurants scene is also pretty amazing, so choose a date and starting packing. Use my free printable packing lists to help you decide what to wear!
Where is Bradenton?
Bradenton Florida is on the Gulf Coast of Florida. Florida is a long state, with the Atlantic Ocean on the East Coast and the Gulf of Mexico on the West Coast.
If you're looking at a Florida map, you'll see St. Petersburg sticking out about a third of the way down the state.
Trace your finger south just a bit, and you'll find Bradenton. Located in Manatee County, Bradenton is well known as the home of IMG, the sports academy started by Nick Bollettieri.
Bringing tennis players like Andre Agassi and Pete Sampras to stardom way back in the early days of IMG, the list gets longer every year and now includes football, baseball, basketball, and golf.
Unless you have a child prodigy on your hands, you probably wouldn't be visiting Bradenton to see IMG, but people from all over the world do visit just for that.
I would imagine you are thinking about a Bradenton Florida vacation, and let me just say it will probably be the first of many. People fall in love with Bradenton for all the reasons we did.
Not only do we have beautiful white sand beaches, but we've got so much to do besides the beach! Want to know where to go to the beach? Be sure to check out best beaches on Anna Maria Island and don't miss the beaches in Siesta Key.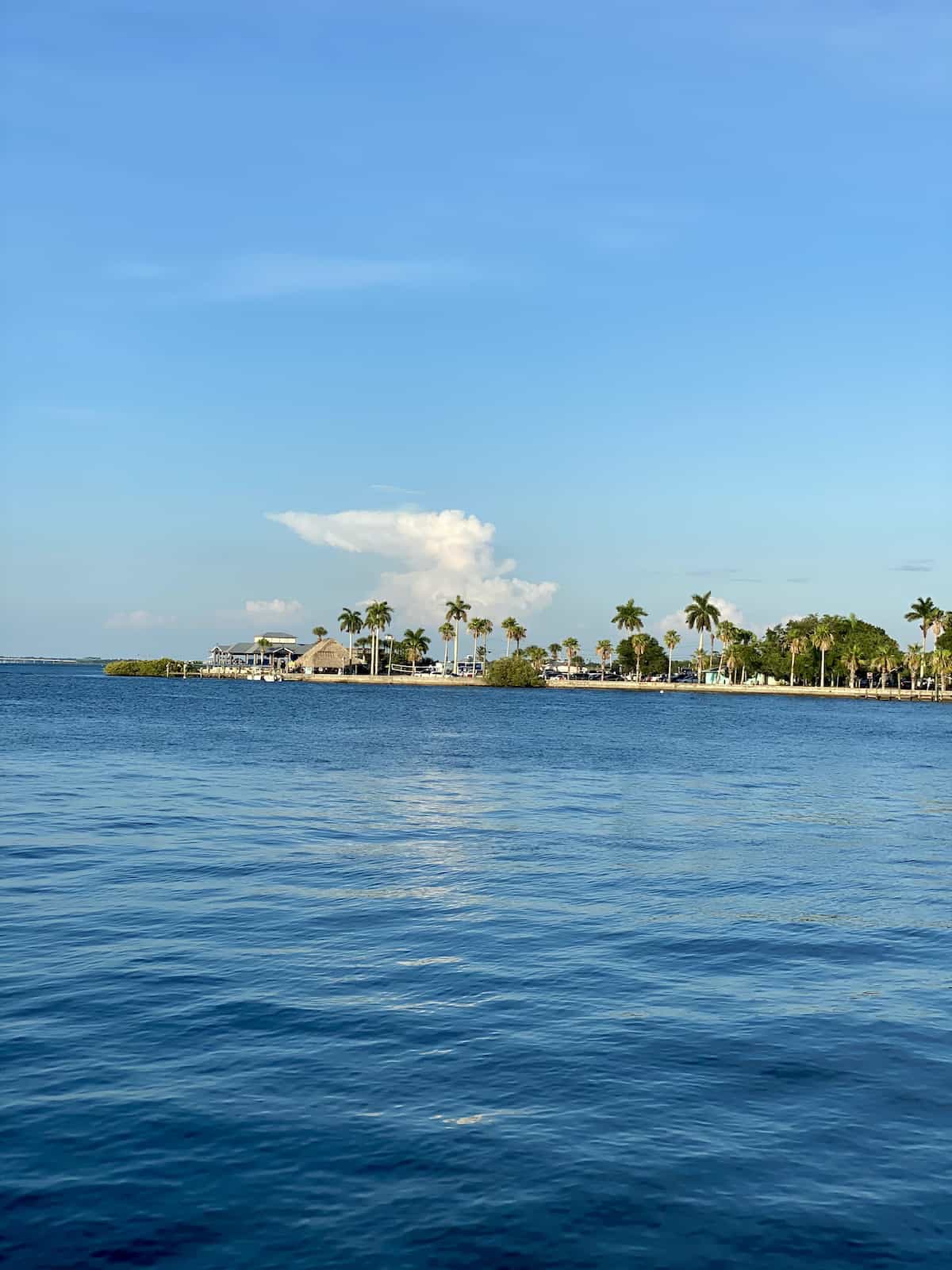 Get Outside at the Riverwalk
The photo above is the view from the Riverwalk, a 1 ½ mile public space on the Manatee River.
You'll find fantastic beach volleyball courts. Bring some friends and put together a game or sit and watch games in progress.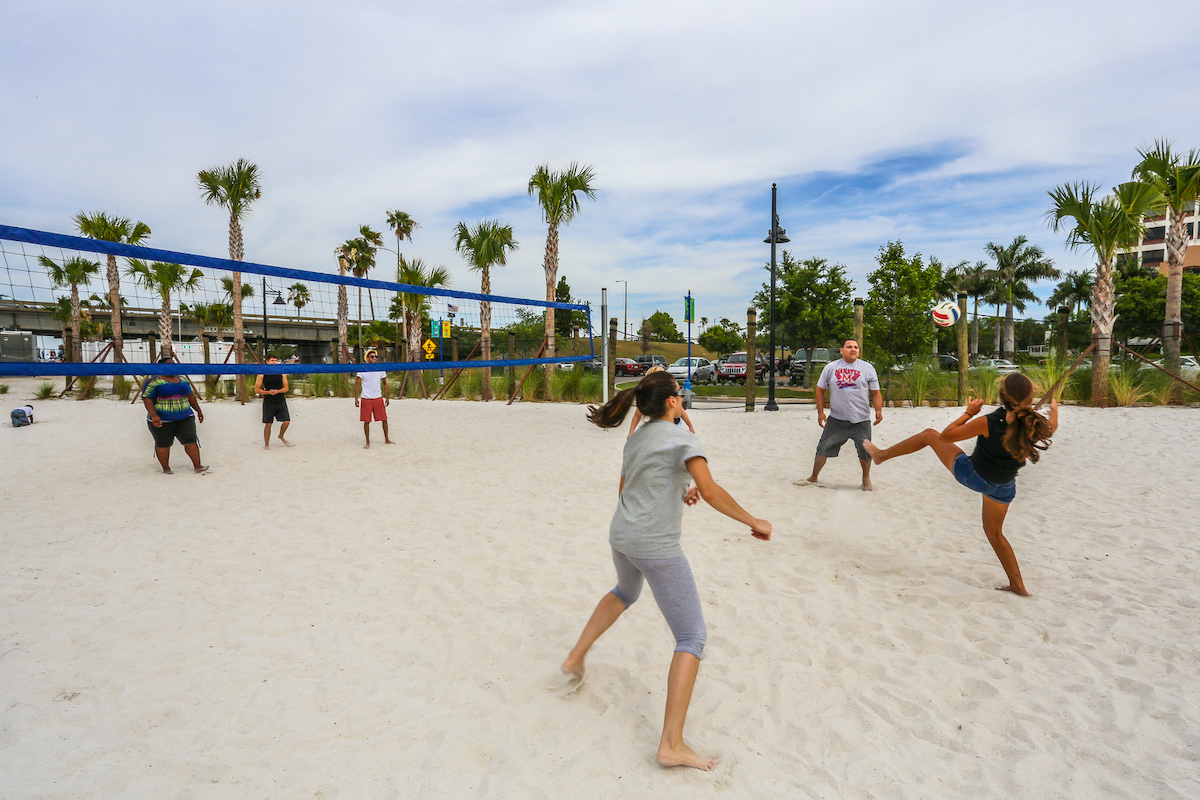 The older kids will want to bring their skate boards and try out the skate park, and the younger kiddos will love the Splash Park.
There are many places to stop and sit to enjoy the scenery, including concrete lounge chairs.
The Riverwalk is a nice stop after eating at one of the many local restaurants. You'll find the Riverwalk at Riverfront Blvd. right on the Manatee River.
History & Museums
Manatee Village Historical Park
Located at 1404 Manatee Avenue East, Manatee Historical Park is open Monday through Friday from 9 a.m. until 4 p.m.
You'll see Old Cabbage Head, the 1913 steam engine, from Manatee Avenue.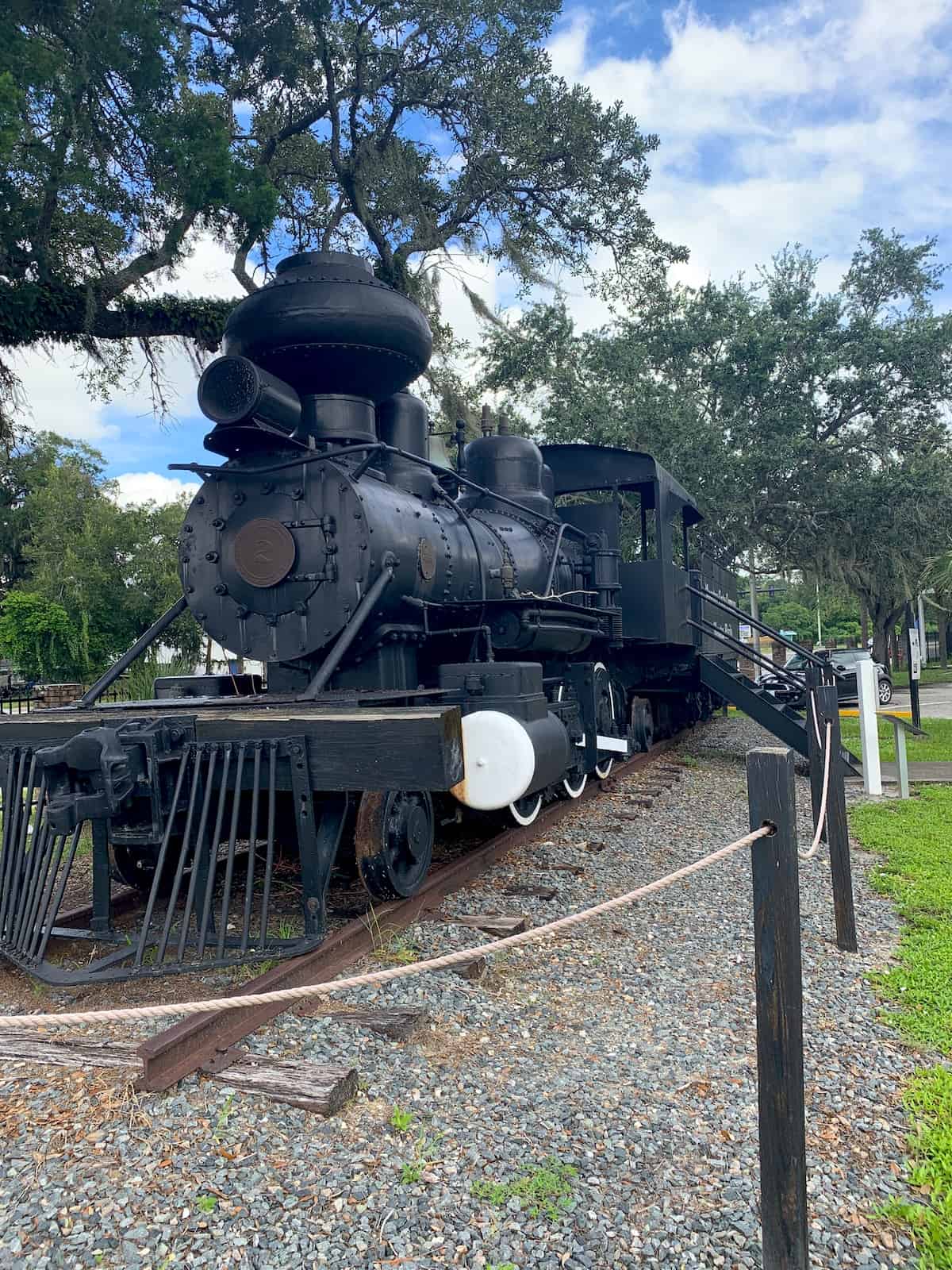 You'll be able to browse the historic buildings, including Wiggins General Store. You could easily spend an hour looking at all the items from the past. The old phone on the wall is in amazing shape, and the cash register is a beauty.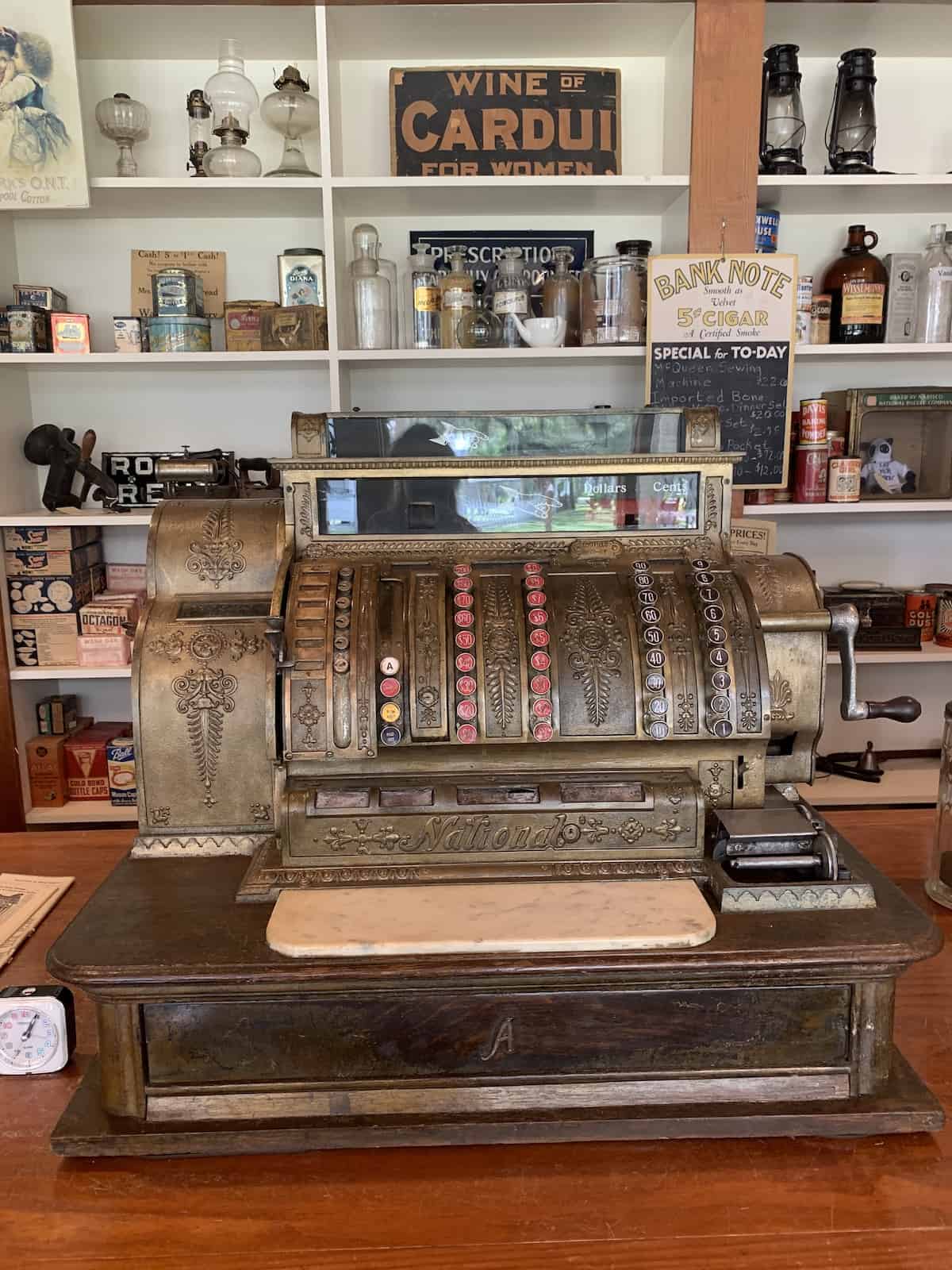 The 1887 Church is just beautiful. It took two full years to build as it was interrupted by an outbreak of yellow fever.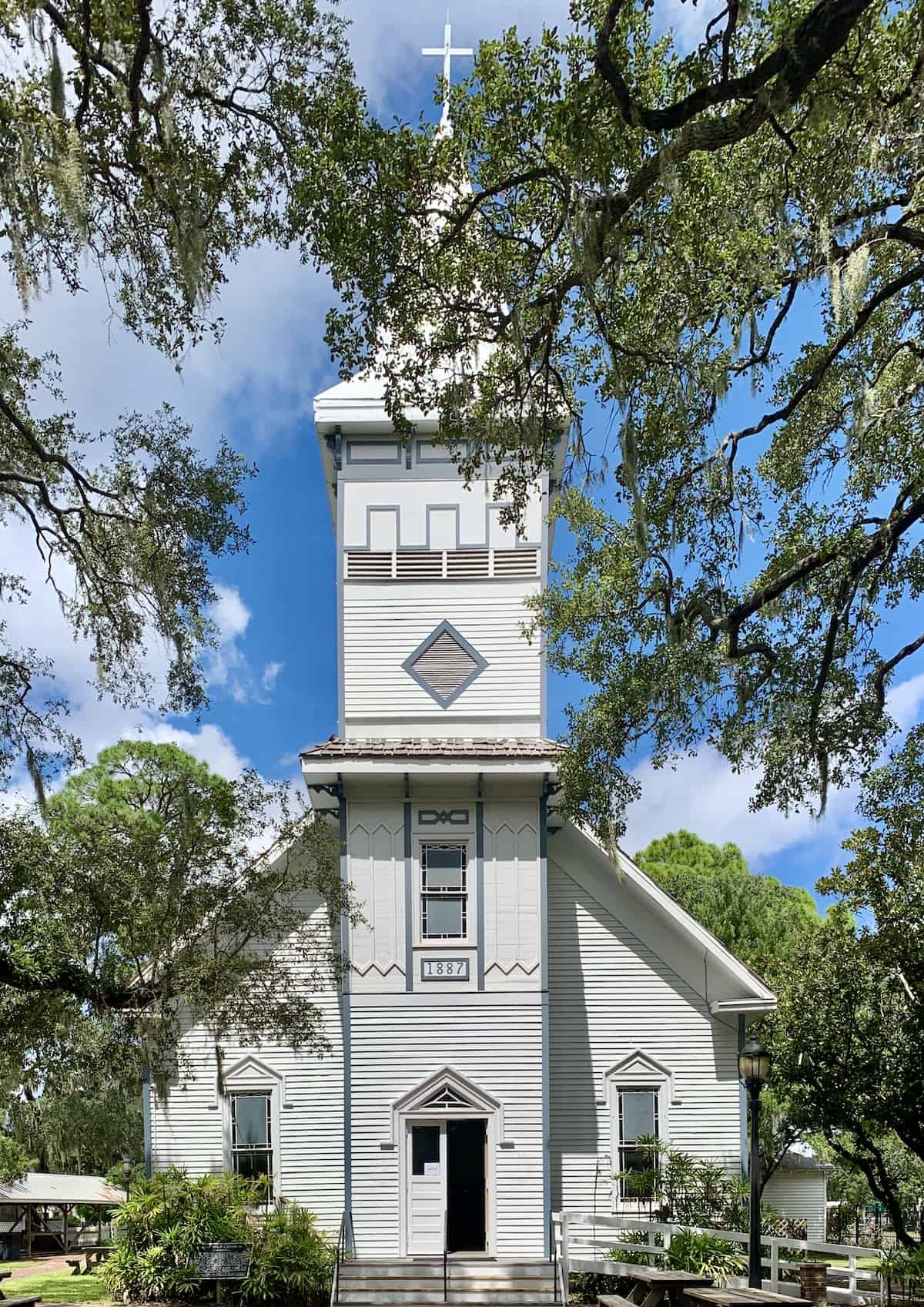 You'll find picnic areas around the Park and a nice playground where the kids can run around. Check out the gift shop before you leave.
The Park is closed on weekends and holidays. Admission is free.
The Bishop Museum of Science & Nature
The largest natural and cultural museum on the Gulf Coast of Florida is located in Bradenton just steps from the Riverfront.
There is so much to see here to learn about the history of the area. Kids will love all the fun things to do, like the interactive exhibits and the Mosaic Backyard Universe.
Visit the Bishop Planetarium and Museum at 210 10th Street West.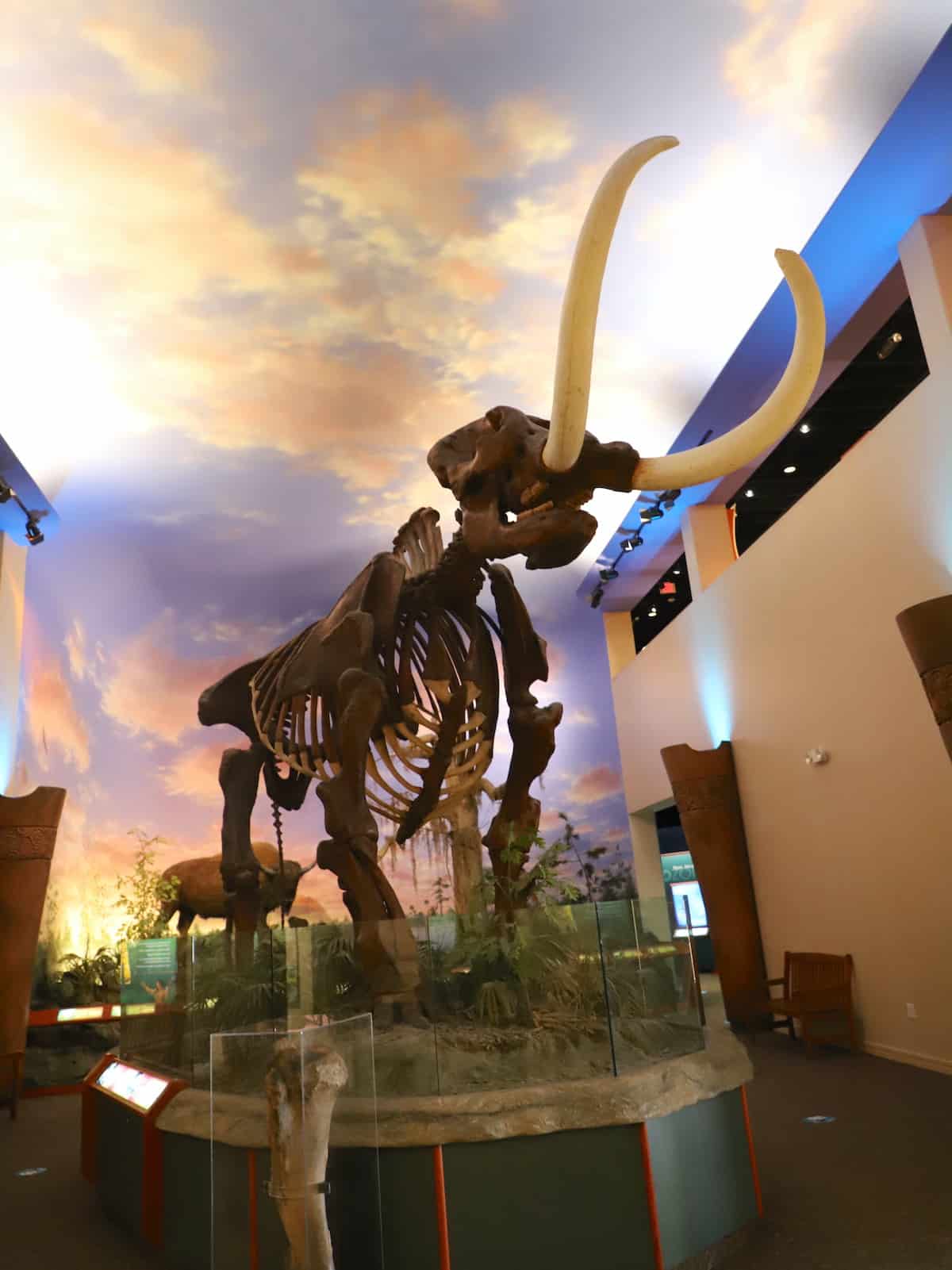 Braden Castle Ruins
It doesn't look like much, but this one-time "castle" on Braden Castle Drive was the property of Dr. Joseph Addison Braden from Virginia.
In the early 1840s Dr. Braden was living Tallahassee and decided to move to the Manatee River where he bought around 900 acres of land to build and operate a sugar and grist mill.
This structure was at one time two-stories, built with sand, shells, and lime, and using slave labor. See the sign nearby to see the a photo of the house as it was.
You'd miss the castle ruins if you weren't aware of it, but for history buffs, it's an interesting story, and it's where Bradenton gets its name.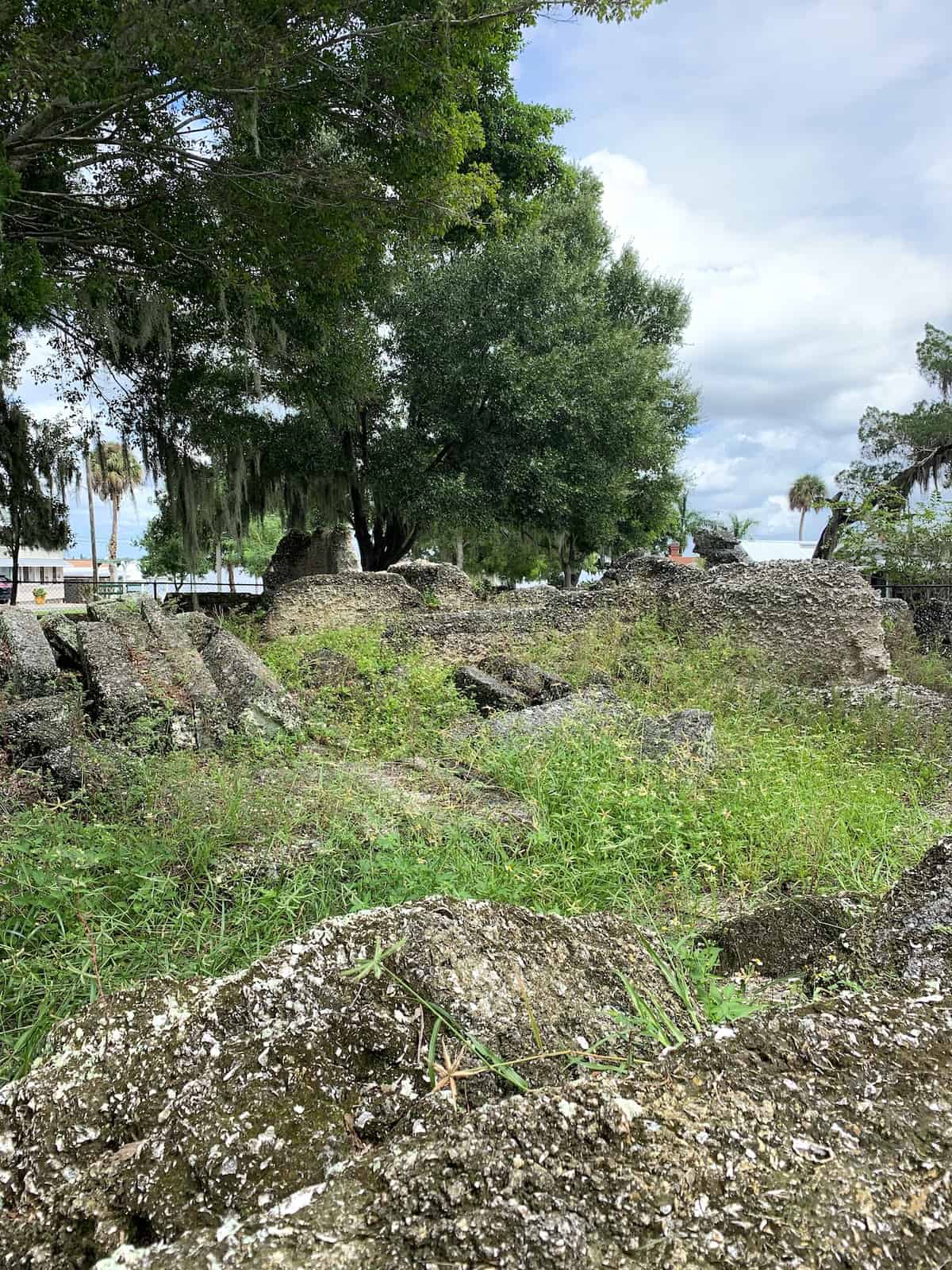 Other museums include the Florida Maritime Museum, Florida Railroad Museum, and the Manatee County Agricultural Museum.
Nature & Hiking
Robinson Nature Preserve
One of our prettiest parks, Robinson Preserve is a 600+ acre preserve on the coast of northwestern Bradenton. This is a great place to hike, kayak or canoe among the mangroves, or simply take lunch and dine at one of the picnic tables.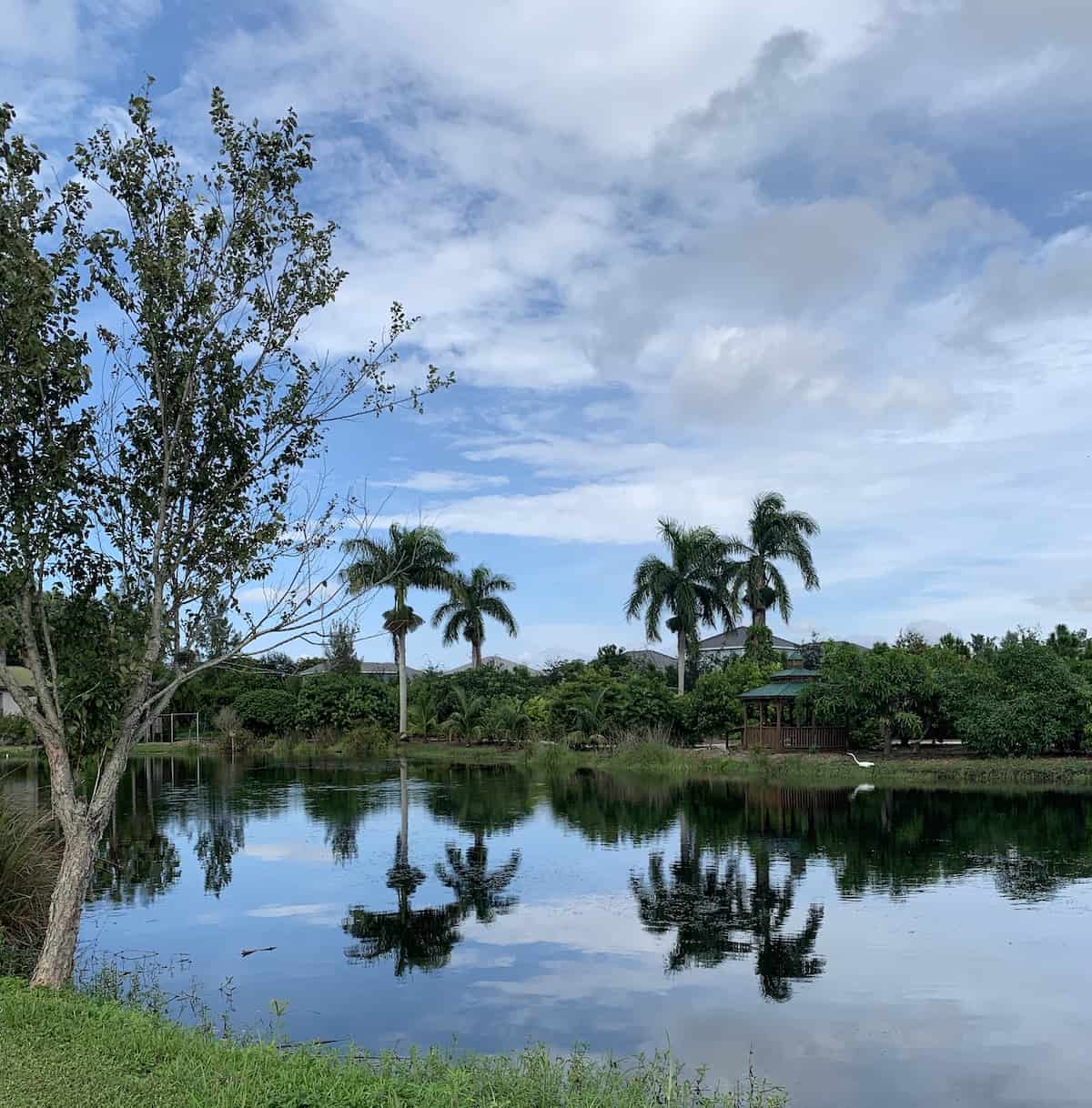 Check out the 120 year old Valentine House (also now the visitor center), which you'll see as you enter the park.
The first entrance of Robinson Preserve is located at 1704 99th Street NW. This is where you'll see the Valentine House. The second entrance is at 10299 9th Ave NW. This is where you'll find the new Canopy Zone adventure course and NEST Nature Center.
Neal Preserve
A beautiful 120-acre preserve is small but so pretty. There's a 20-foot observation tower as well as a small trail and boardwalks.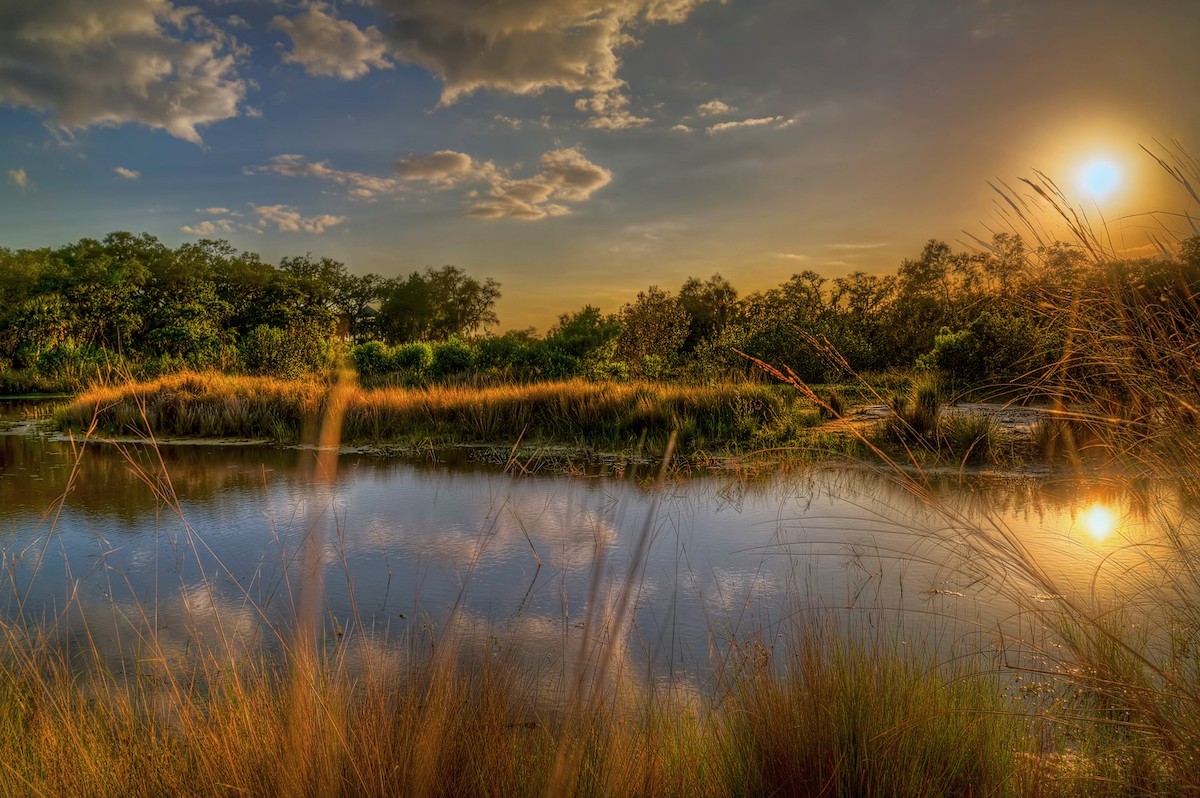 You'll wind your way around reconstructed Native American burial grounds from this area that was inhabited from 3000 BC to 1400 AD. The Smithsonian excavated the original burial mounds in the 1930s.
No bikes are permitted in Neal Preserve. This is also a popular nesting area for birds, so no dogs are allowed.
You'll find Neal Preserve at 12301 Manatee Avenue W.
De Soto National Memorial
You really can't visit Bradenton and not at least stop by to see the spot where Hernando de Soto first landed and began the exploration by Europeans of what we now know as the southern United States.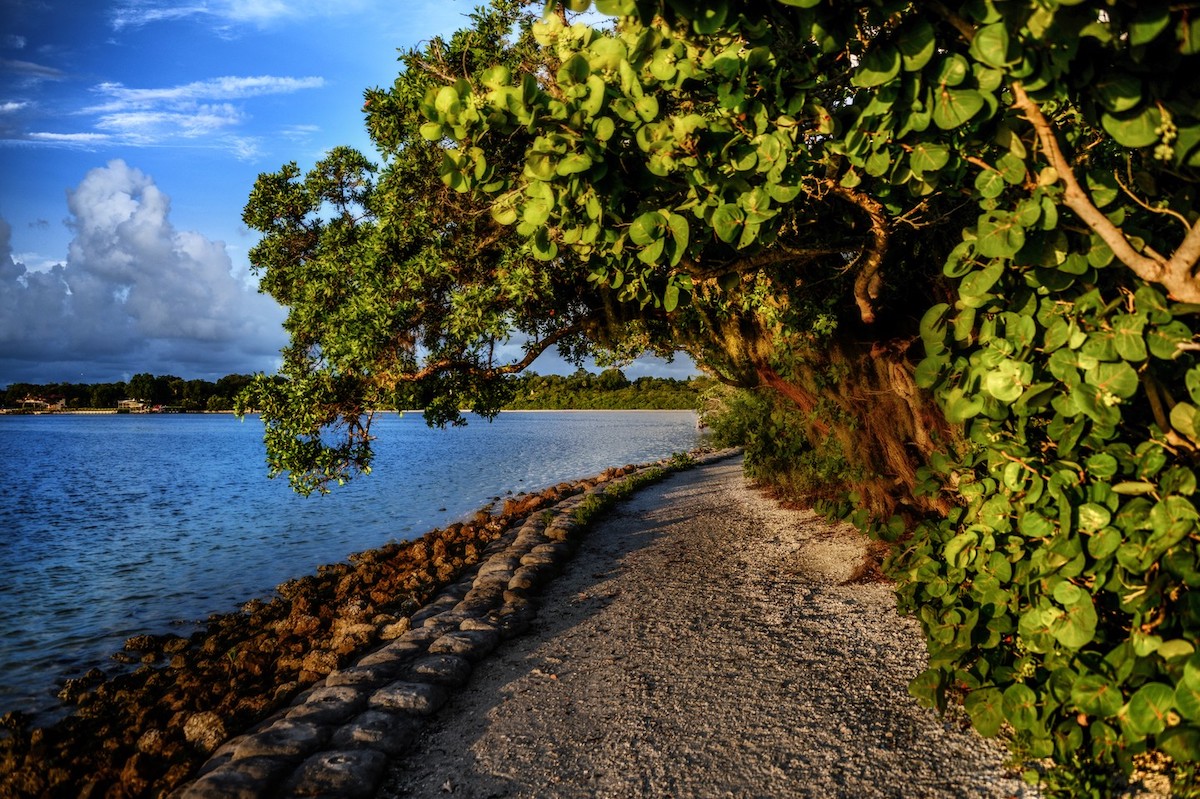 At De Soto National Memorial, You'll find ranger led kayak tours, bird watching, and beautiful trails with interpretive signage telling the de Soto story.
Living History educational programs have returned to De Soto, running Thursday to Sunday from 10 a.m. until 3 p.m. You'll find the park at 8300 De Soto Memorial Highway.
Shopping
Thrift Stores
If you like thrifting, you're in luck! You'll find so many thrift stores in Bradenton, there's actually a bus tour!
Specialty Shops
The area also has quite a few wonderful little specialty shops where you can find that perfect gift or a souvenir from your vacation.
Crowder's Gadgets and Gifts is one of my favorites for beach decor, kitchen accessories, fashion, and gift items.
You'll also find lots of little beachy shops featuring decor, clothing, jewelry, and other items.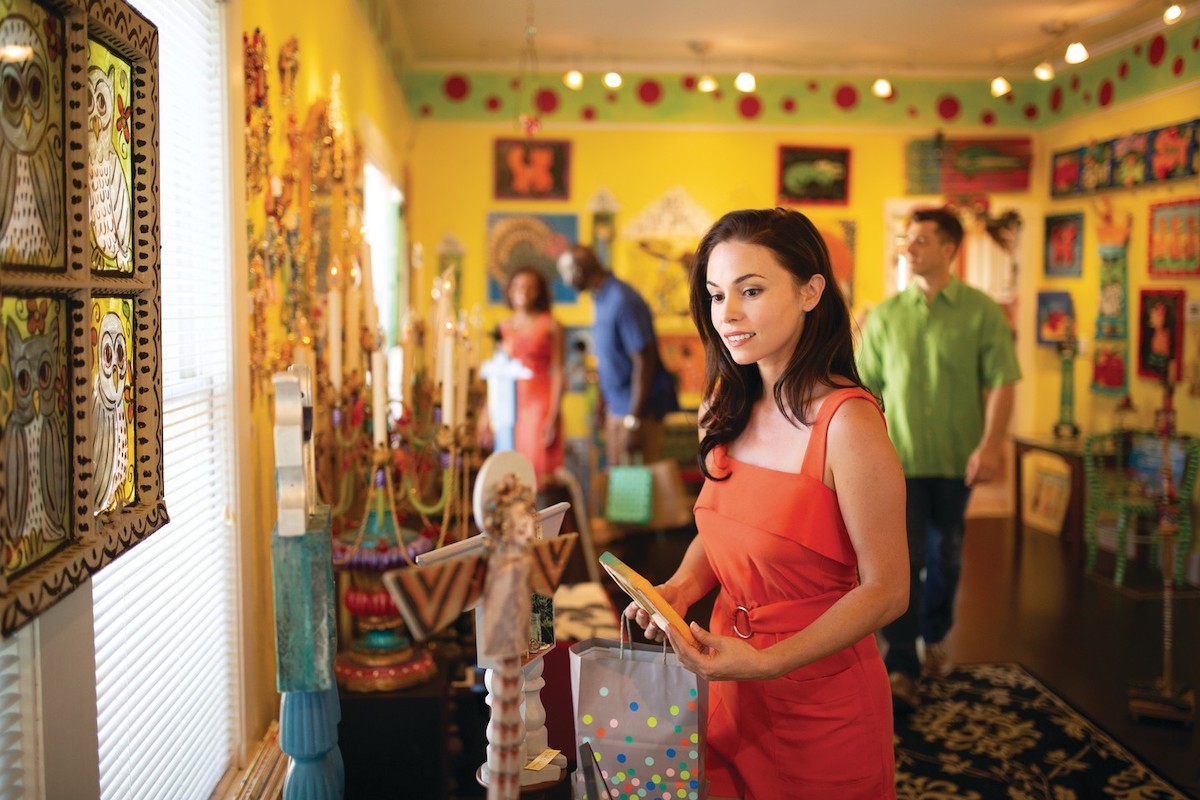 In addition, you'll be just minutes from University Town Center Mall with all your favorite stores and restaurants, and in the other direction, Ellenton Outlets for all the bargains you could want.
Village of the Arts
An eclectic neighborhood in the heart of Bradenton, this is a wonderful area to browse for art and other treasures on a nice afternoon and stay for dinner.
Art lovers will enjoy this vibrant art community featuring galleries, colorful houses, shopping, and restaurants in this district.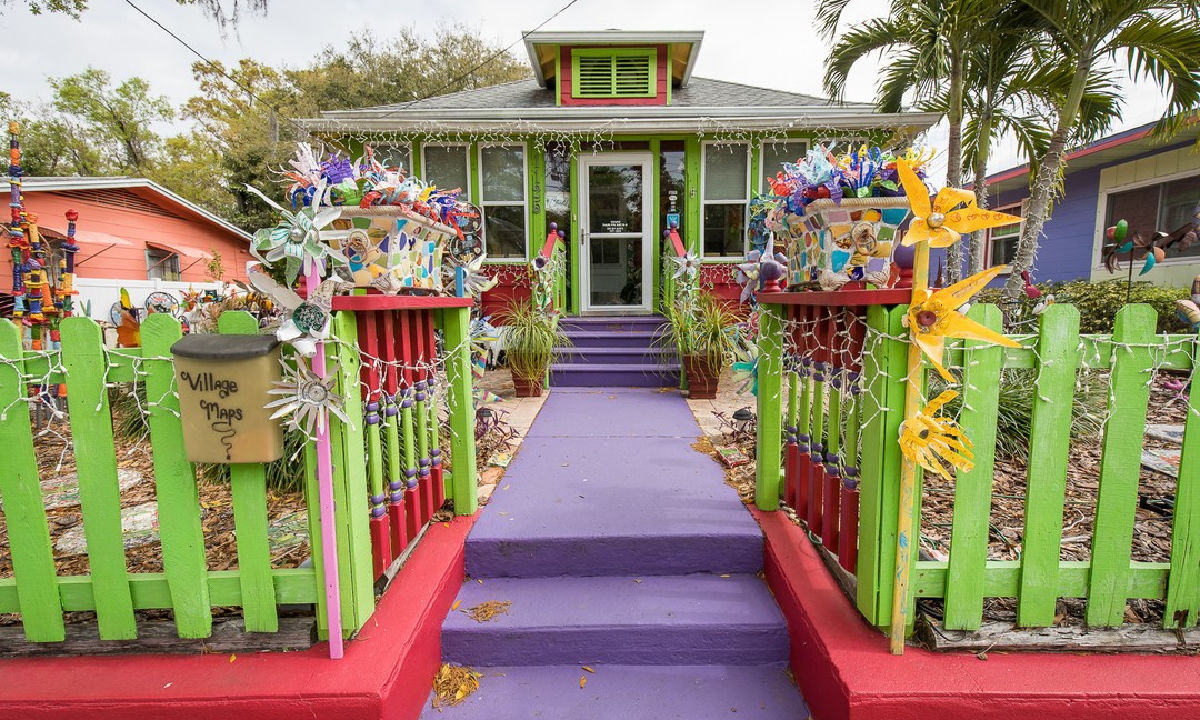 You'll find Village of the Arts at 1017 12th Avenue West.
Professional Sports
LECOM Park
Home of the Bradenton Marauders, LECOM Park is also the Spring Training facility for the Pittsburgh Pirates!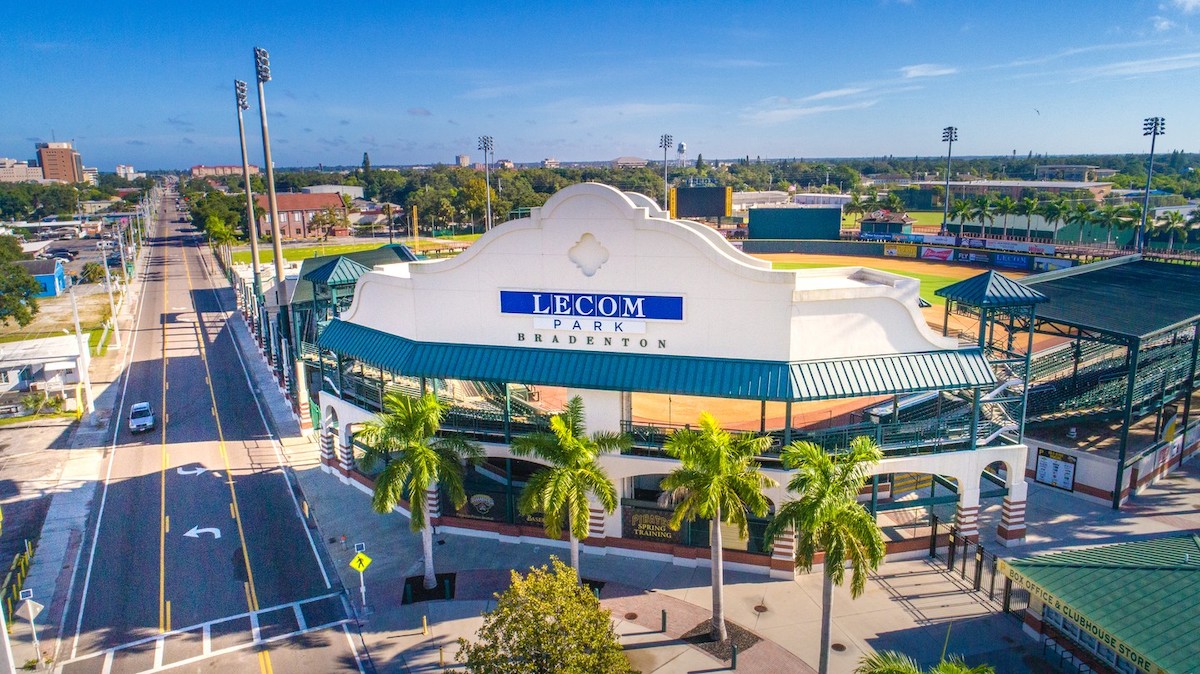 It's hard to believe there's pro baseball going on in this little area of Bradenton, but the fans show up, again and again, to cheer on their home team, whether their home is Bradenton or Pittsburgh!
Open since 1923, this beautiful historic stadium is located at 1611 9th Street West.
Eating & Drinking
There's a plethora of fresh seafood around every corner right here in this little piece of heaven, so be sure to check out the restaurants in Bradenton FL. You'll even find an epic place to get ramen!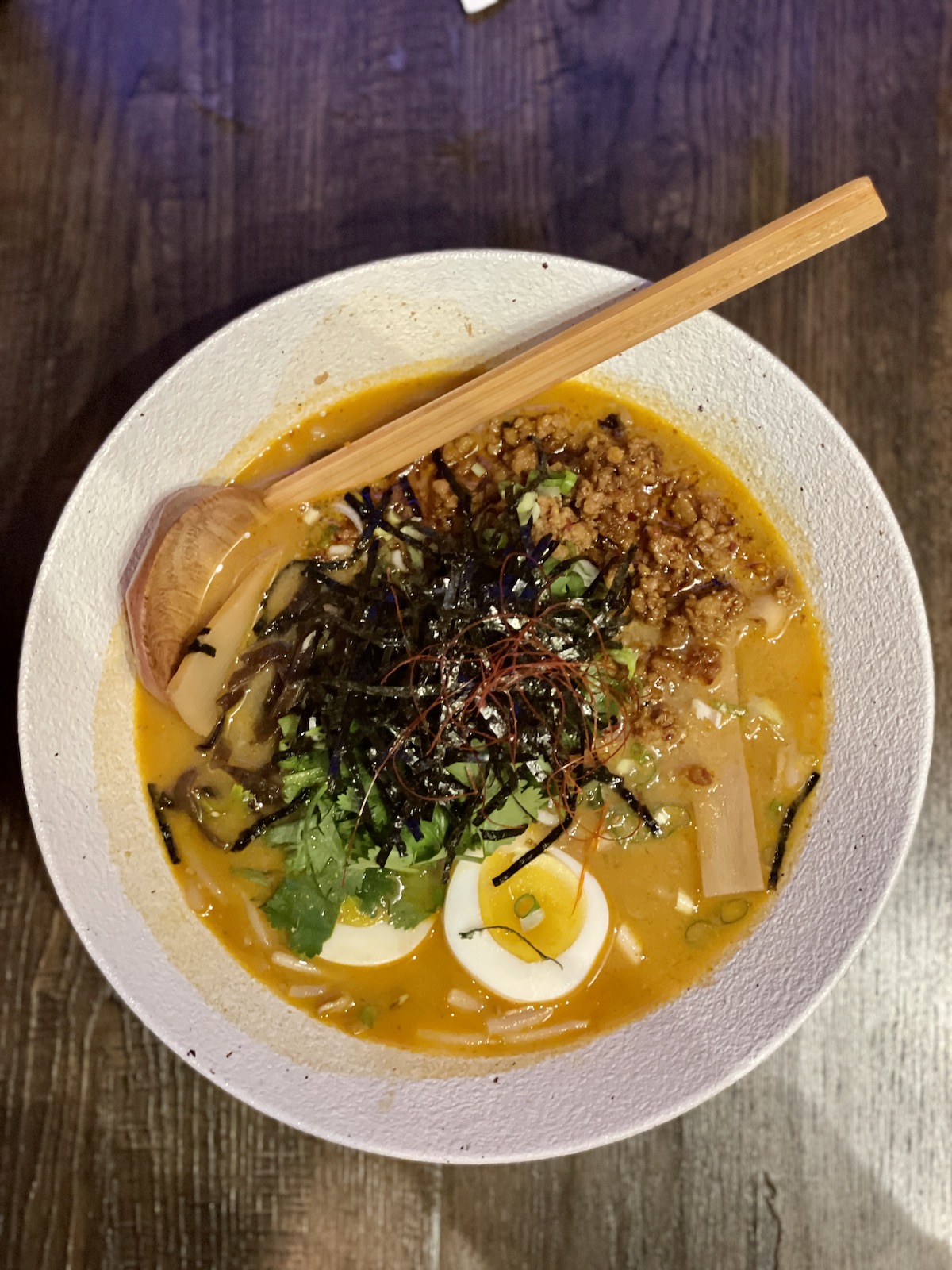 Whether you want breakfast (see my Baker's Dozen to start your day right!), lunch or dinner, we've got recommendations for the best food around.
You're sure to visit AMI while you're in Bradenton, so bookmark this list of Anna Maria Island restaurants. And if you're visiting our next door neighbor, check out our list of best restaurants in Sarasota.
Historic Cortez Fishing Village
The lines get a little blurry as to where Bradenton begins and ends, but I have to include this as a stop when visiting Bradenton.
You can see the fish come right off the boats in Cortez fishing village, one of the last small working fishing villages in Florida. On the National Register if Historic Places, it's definitely worth a visit. Check out the museum if you have time.
The food is so fresh and delicious, you'll want to make this a regular stop whenever you're visiting the area. Check out Tide Tables and Star Fish Company (Star Fish is cash only.)
Head towards the beach on Cortez and before you hit the bridge to the beach you'll see the fishing village on your left.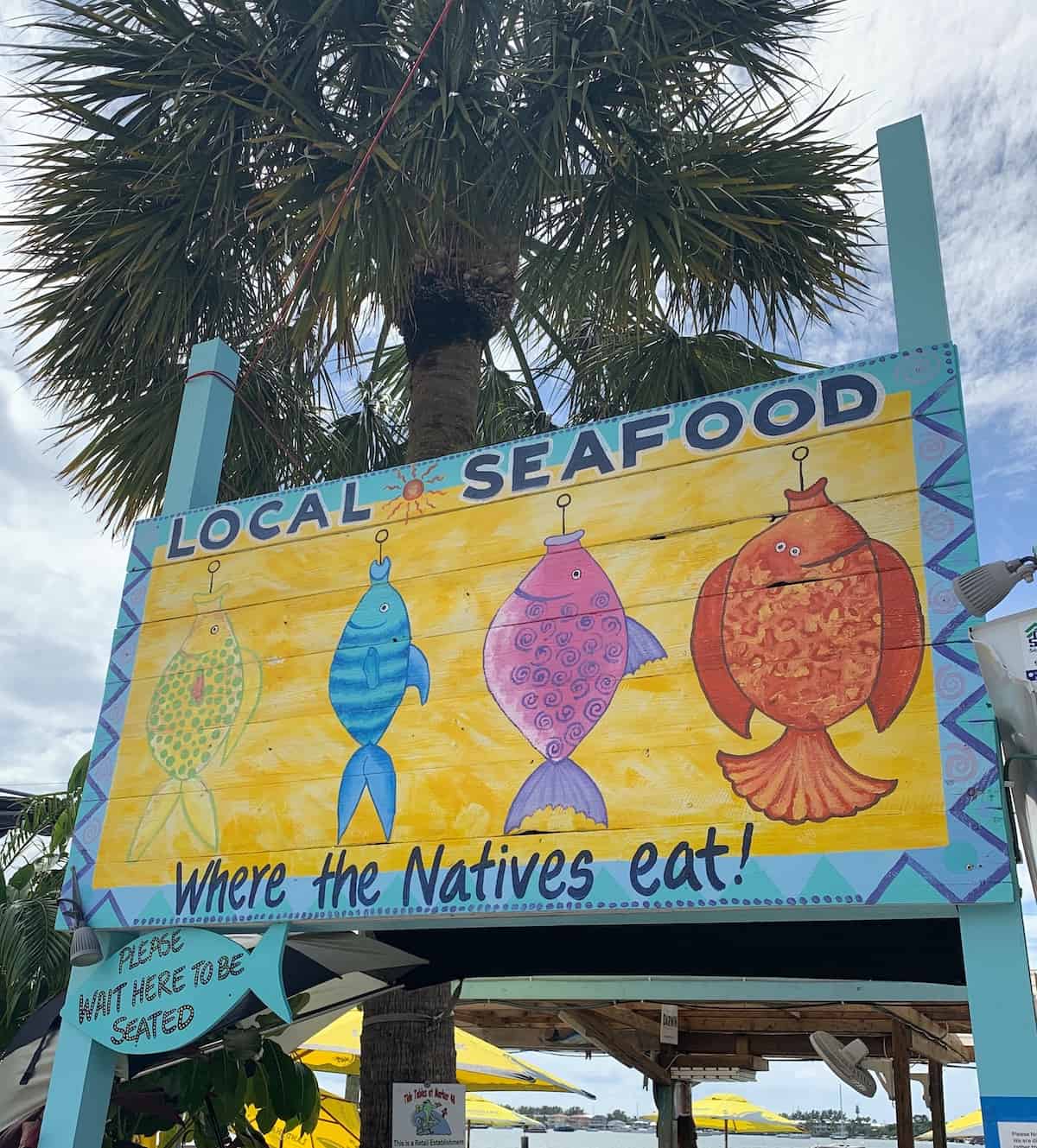 Visit a Brewery
We have several breweries in the Bradenton area. We frequent 3 Car Garage quite a bit as they are just down the street.
It's a great place to chill and one of our favorite spots. Food trucks and live music on the weekends makes everyone happy in our house!
Check their Instagram page for the lineup. This food was from British Open Pub Fish & Chips. Find 3 Car Garage at 8405 Heritage Green Way.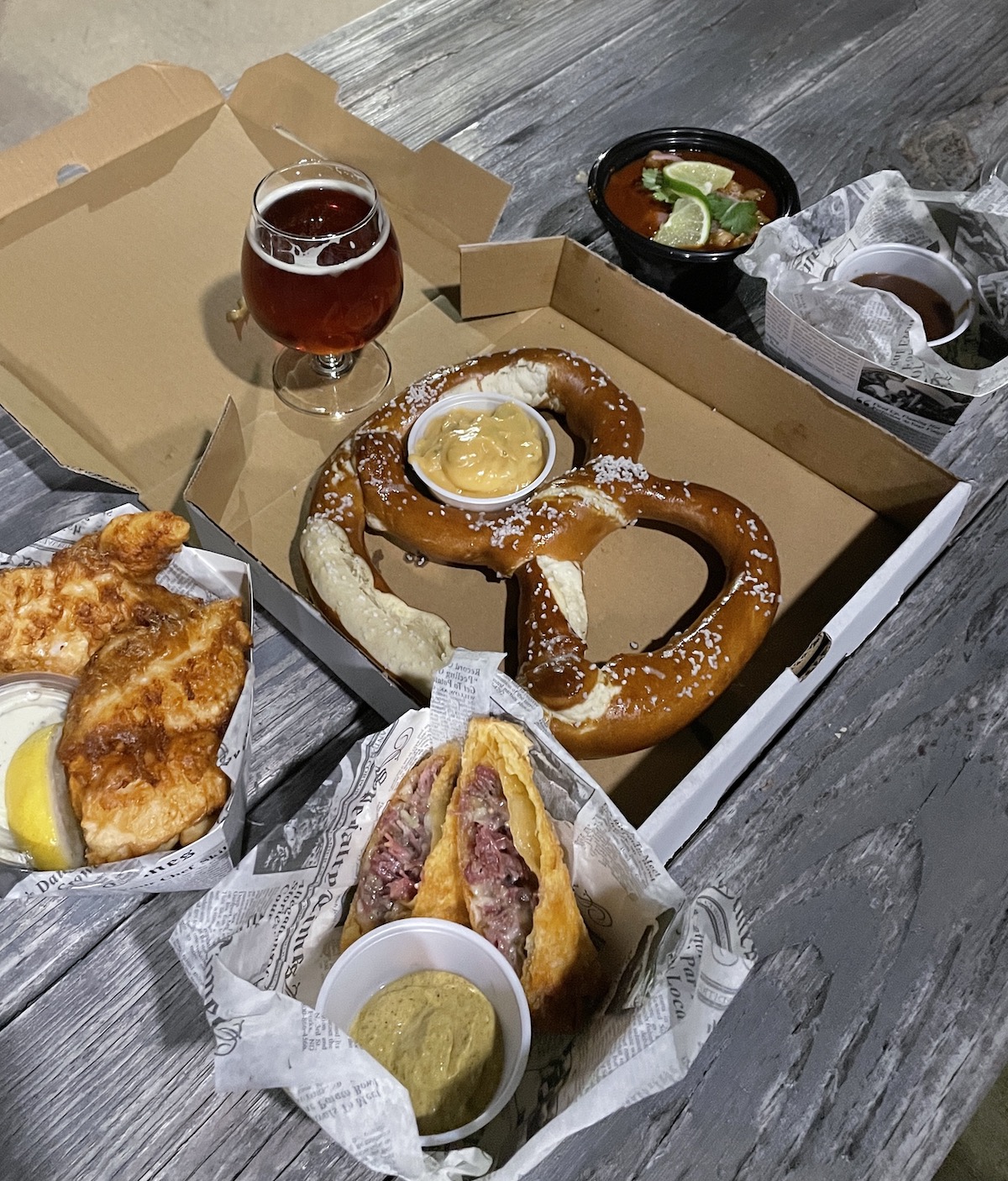 We just visited Big Top Brewery for the first time and enjoyed a flight of their most popular brews. They also have a large food menu and serve a great burger. Find them at 2507 Lakewood Ranch Blvd.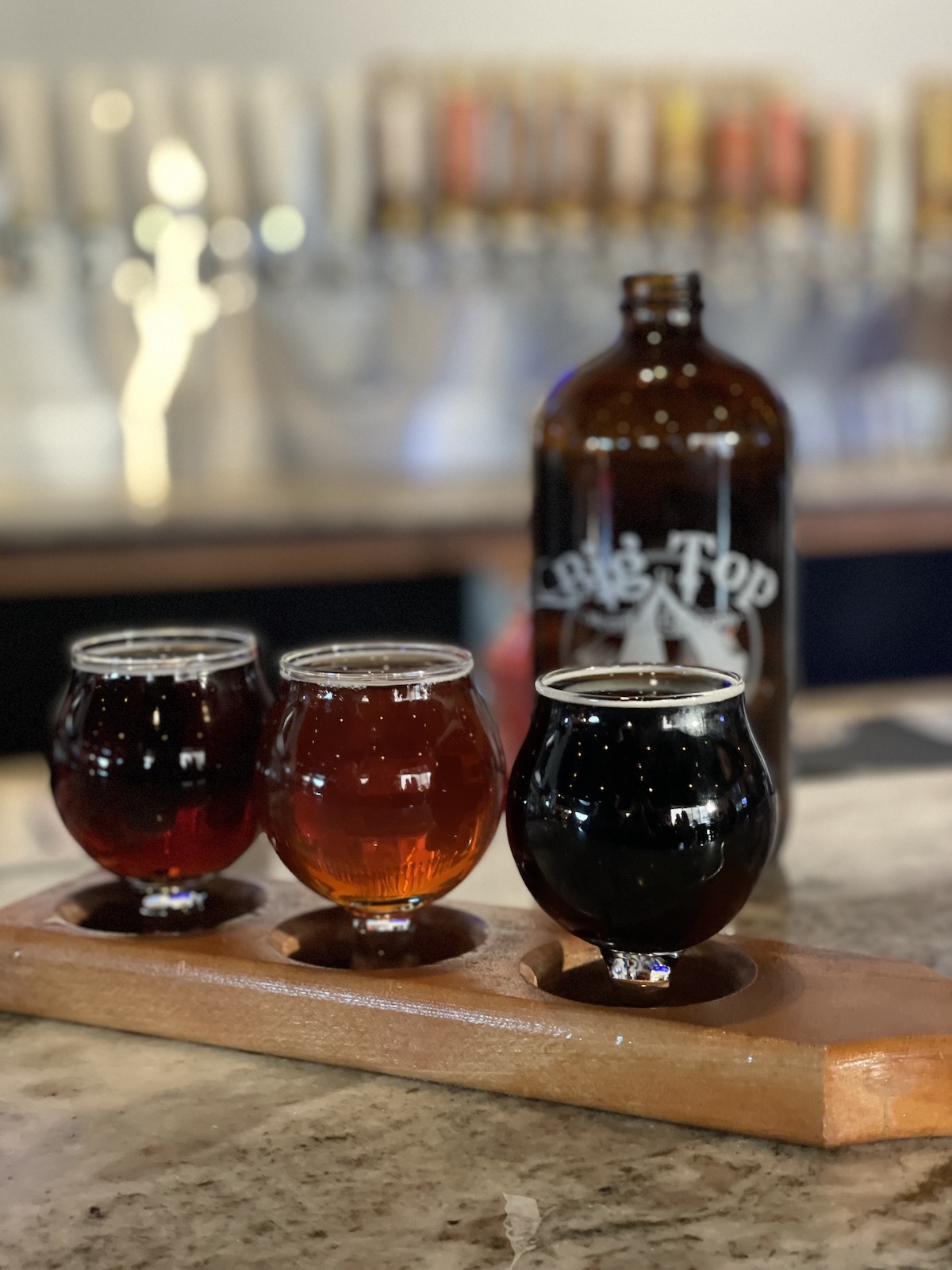 3 Keys Brewing is another fun spot. The menu is extensive and the burgers are good.
Check them out for live music on the weekends and activities like axe throwing during the week.
Voted Best Brewery in Tampa Bay, they are located at 2505 Manatee Avenue East.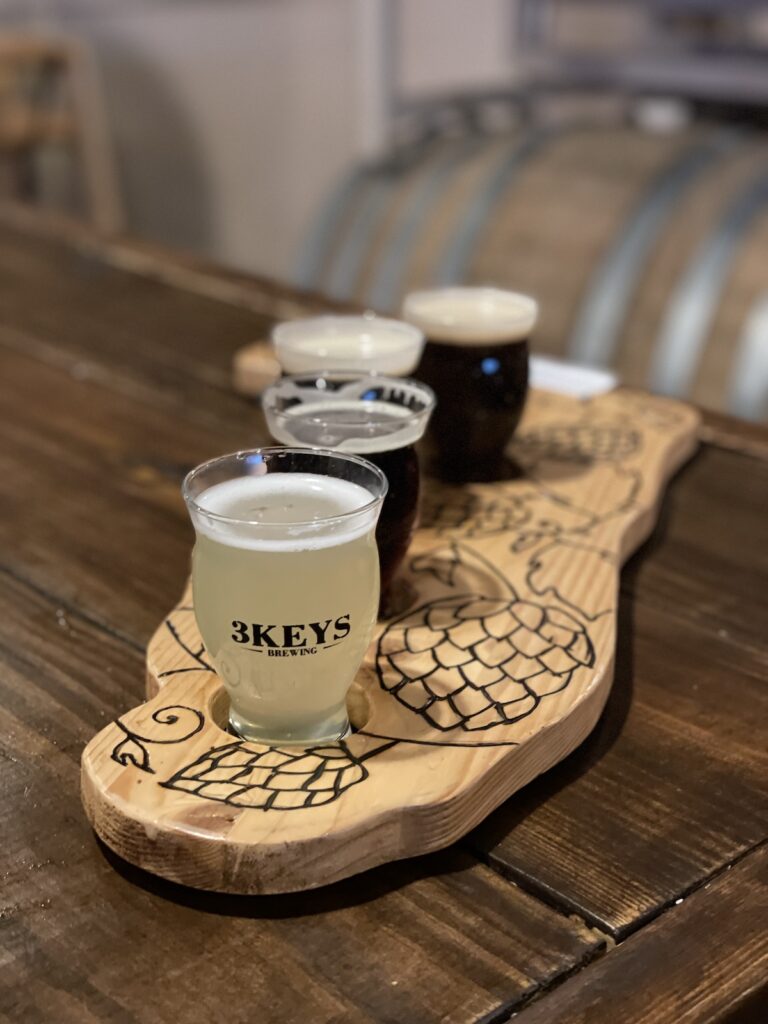 Motorworks Brewing in downtown Bradenton has a huge outdoor seating area and live music on the weekends including Sunday Brunch. Motorworks has two permanent food trucks, and the food is pretty good. Visit them at 1014 9th Street West.
If you're going to be in town for a while, you really should check out some of the fantastic places to eat. We visit the St. Armands Circle restaurants quite a bit.
Not far from there, some of the top spots in our area are on this list of best Sarasota restaurants. You'll also find great restaurants on Anna Maria Island. Let me know which ones you try!
Top Tips
Visit offseason: The weather is beautiful year round in Bradenton which is why people from all over the world flock here to spend some time in the sun. If you can, avoid high season from late November through April.
If you're visiting during summer, bring an umbrella or poncho as pop-up thunderstorms are common. Don't worry, they usually don't last long and cool things off.
Plan ahead: Though you may get lucky with a last minute booking, it's a good idea to try to book as far in advance as you can.
Wear sunscreen: Yes, you should wear it year round where ever you live, but especially in Florida where it's sunny most of the year.
Most places offer free parking, but do look at signs. If you park in a restricted or private area, you could get a ticket.
Use Bradenton's app, WalkBradenton.com, to find more things to do like art walks, attractions, as well as places to eat. It's a great tool for planning your vacation!
Frequently Asked Questions
How far is Bradenton from Disney World?
You can usually get to Disney World from Bradenton in under 2 hours taking I-75 to I-4.
Is there good public transportation in Bradenton?
Though there is a free trolly down at Anna Maria Island, I wouldn't rely on public transportation in East Bradenton. Renting a car is the best way to get around. Uber is also available.
Does Bradenton currently have any restrictions for travel?
Some places do require masks, but most do not.
Like our content? Follow us on Pinterest!