Visiting Idaho breweries was not the first thing that came to mind when I was invited to check out this state most of the country knows for potatoes.
I was heading to the southwest region and was looking forward to exploring the gorgeous mountains and lakes I had seen in so many Instagram shots.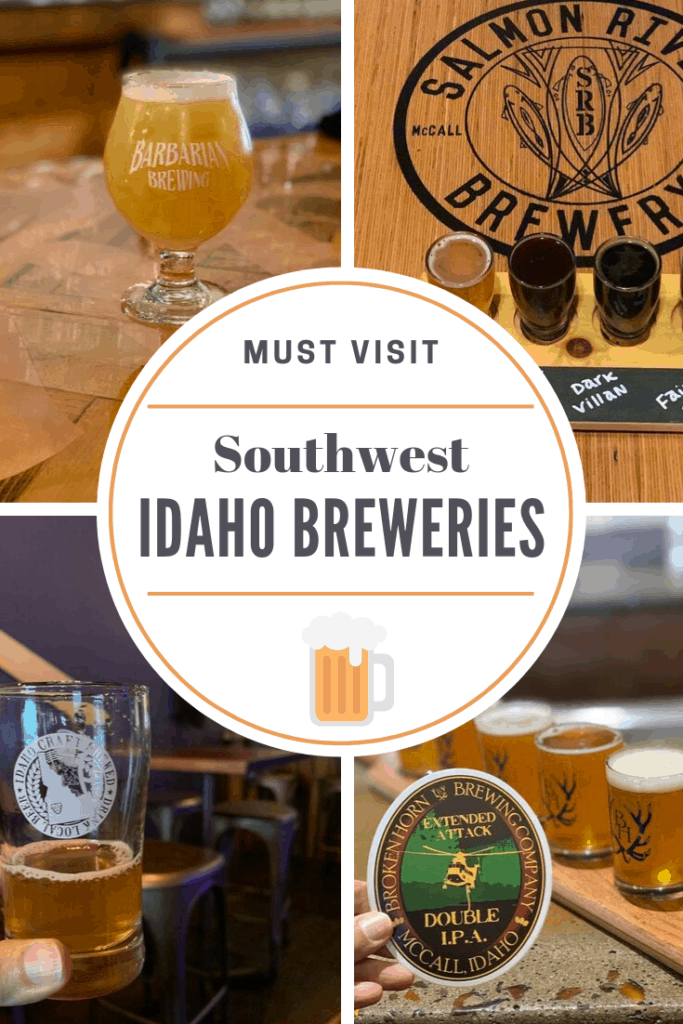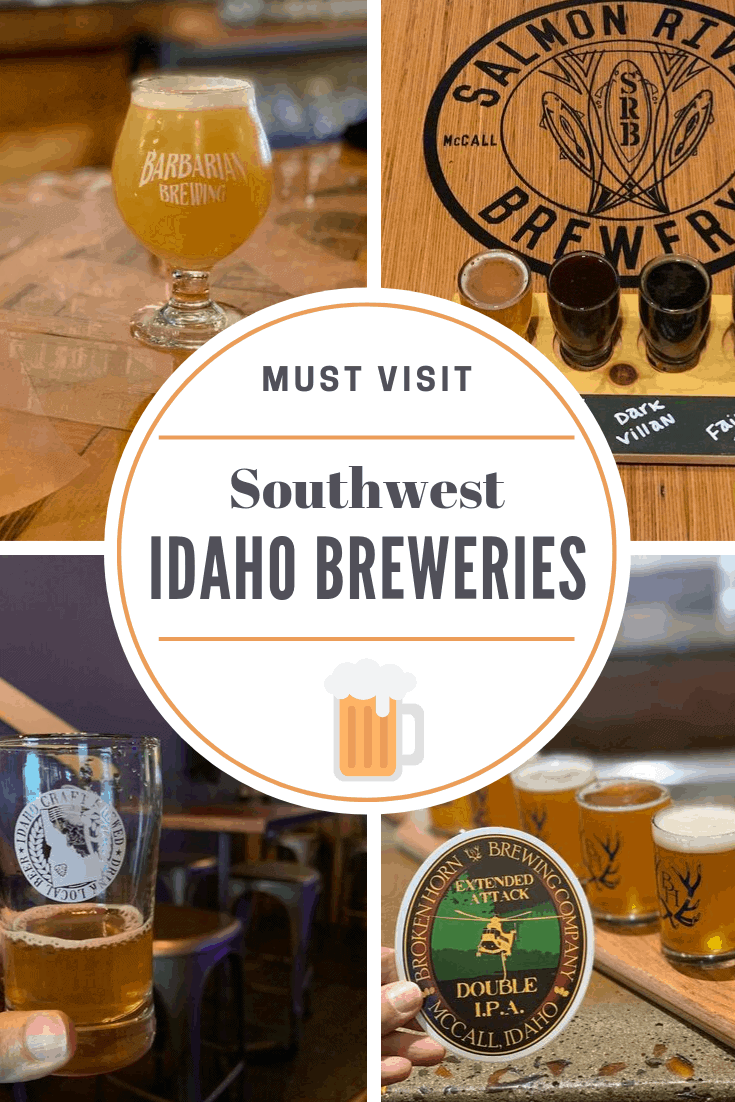 Experiencing temperatures a little cooler than the 95 degrees it's been for what feels like forever here in Florida was also high on my list. And let me tell you, the weather is glorious in September in Southwest Idaho!
As you probably know if you've been a reader here for even a short while, my favorite way to explore a new destination is through food and drink. I even sought out the best breweries in Juneau Alaska!
The beauty of Idaho is breathtaking, but it's the breweries and restaurants that would bring this foodie back!
List of Must See Breweries
I only had five days in Southwest Idaho, beginning in Boise, spending time in McCall, and ending back in Boise where I got to see some of the sights.
There never seems to be enough time, so I'm going to have to go back to see more of the state. This list of the best things to do in Northern Idaho has me itching to go!
If checking out the brewery scene is something you like to do, too, head to these fabulous Southwest Idaho breweries.
White Dog Brewing
As with most smaller brewing companies, it all started with home brewing. Joe & Troy Moore began brewing beer in their garage. The White Dog Brewing storefront is now located at 705 W Fulton St in Boise.
The decor is warm and inviting. With touches like wood from a 100-year-old cattle ranch on the bar and art inspired by dogs and other badasses, how can you go wrong?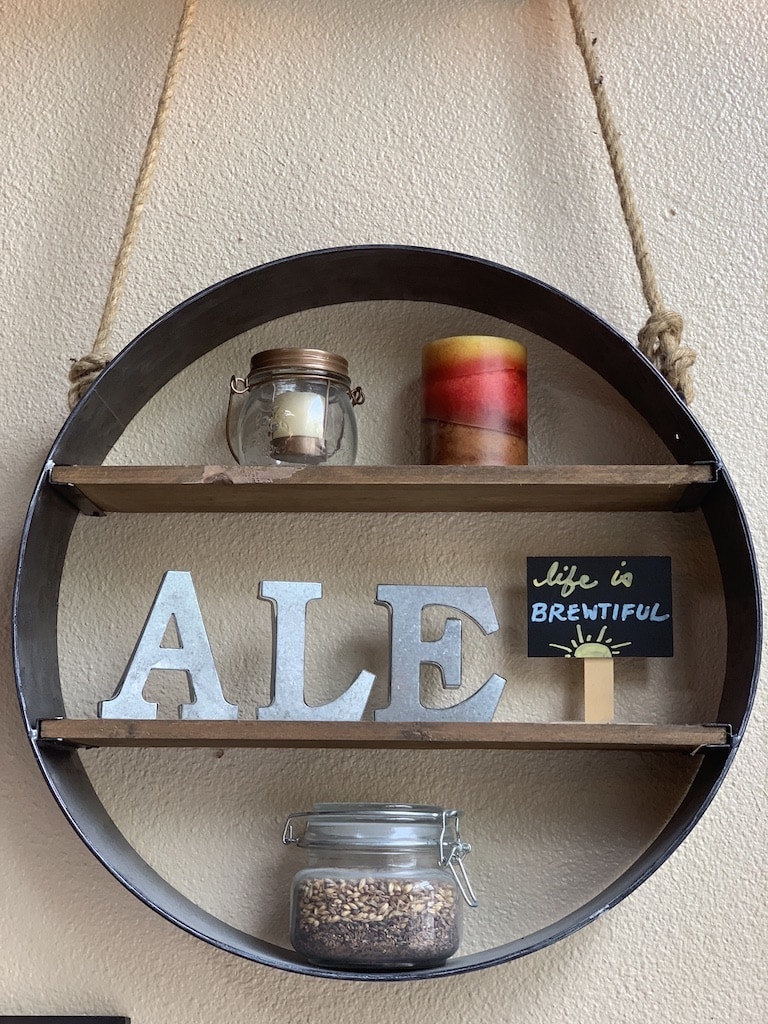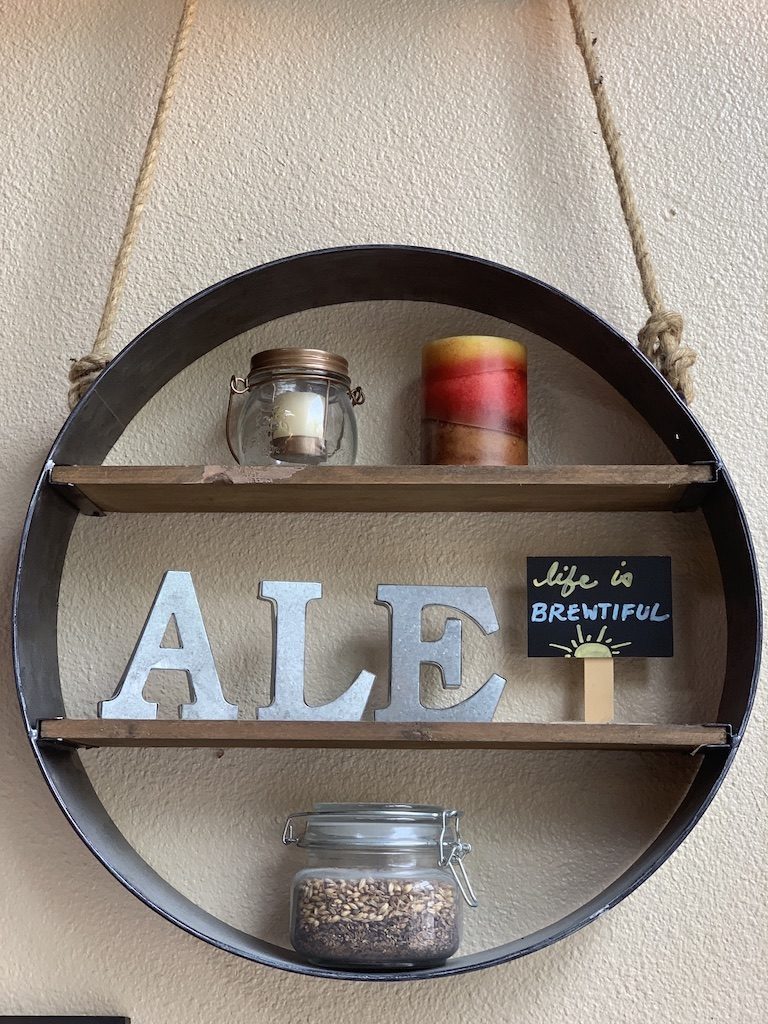 Oh - the beer! That is, after all, what brings you in the door in the first place. I tried a flight of the River Beer, Blood Orange Hefeweizen, Vanilla Creme Ale, and the Scotch Ale. This was a great intro to Idaho craft beer.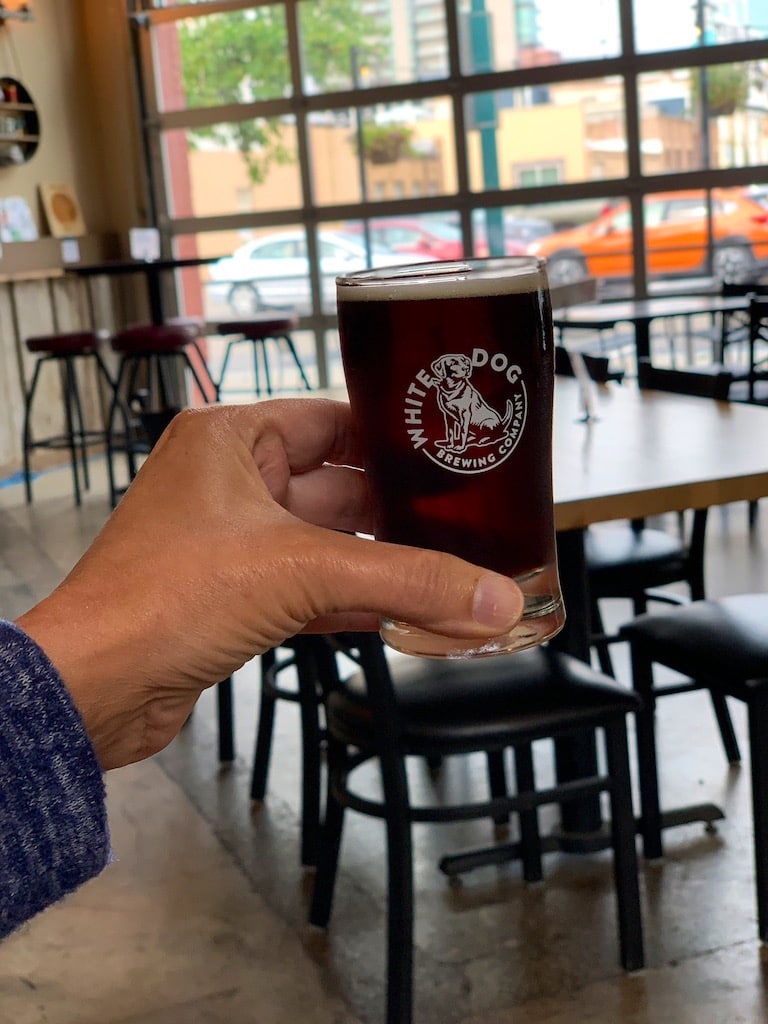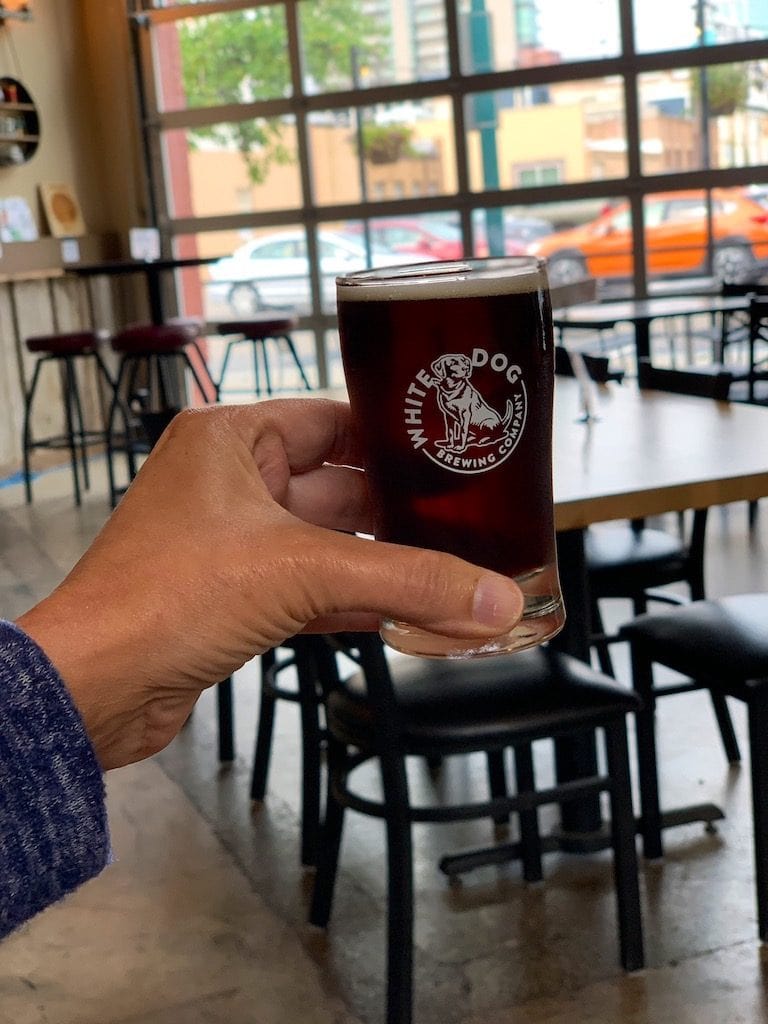 You won't find any artificial flavorings in White Dog brews. Those flavors all come from real purée.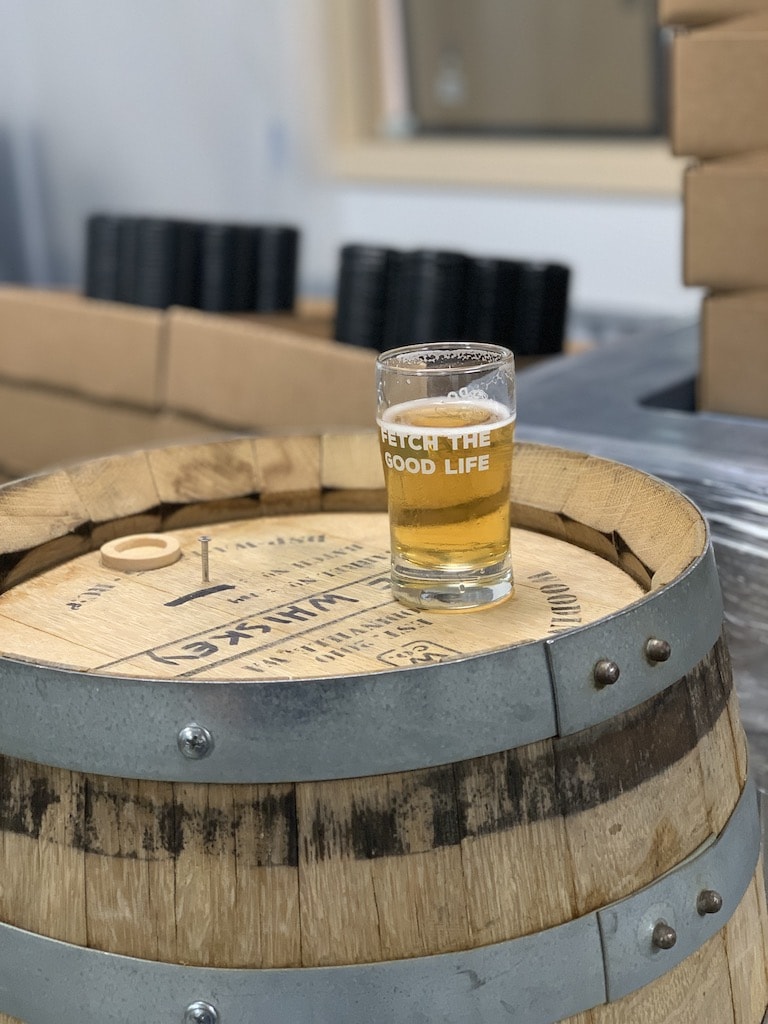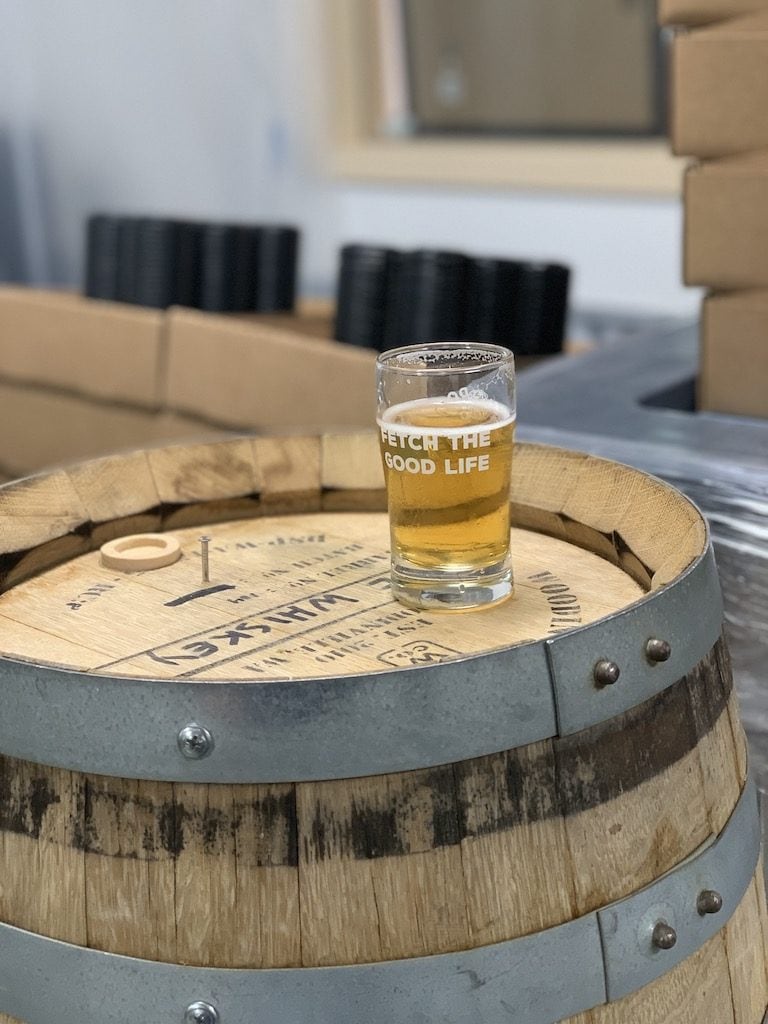 Food is available from Smoke and Thyme. I was excited to learn that the White Dog Brewing Scotch Ale is used in their burgers and a few other dishes.
I was sorry to miss the Peanut butter Creme brûlée with Irish Stout as it wasn't quite ready. Those seasonal beers are a good reason to visit often. Right now, Octoberfest is on, which means it's a perfect time to check them out.
White Dog, as with many Idaho Breweries, is family-friendly, so feel free to bring the kids. You can visit Sunday through Thursday from 11 am - 10 pm, and from 11 am - 11 pm on Friday and Saturday.
Cloud 9 Brewery
Cloud 9 Brewery was founded in 2012. Again, the owners began with homebrewing. What's really unique about this brewery, besides that it's the only certified organic brewery in the State of Idaho, is the number of taps.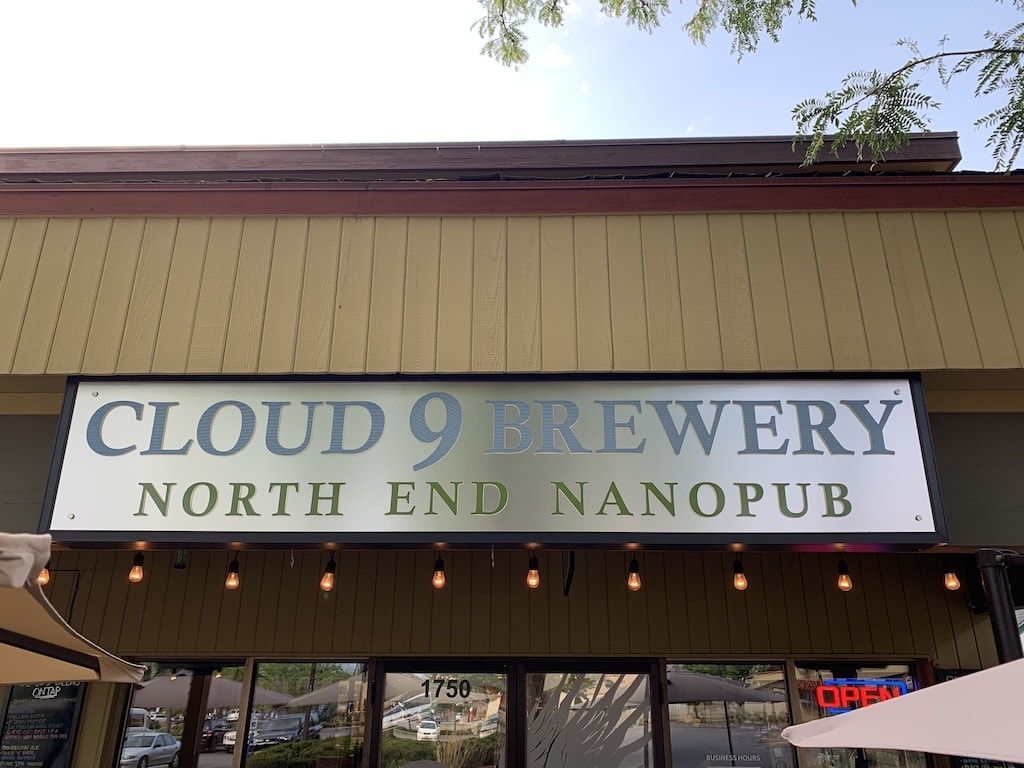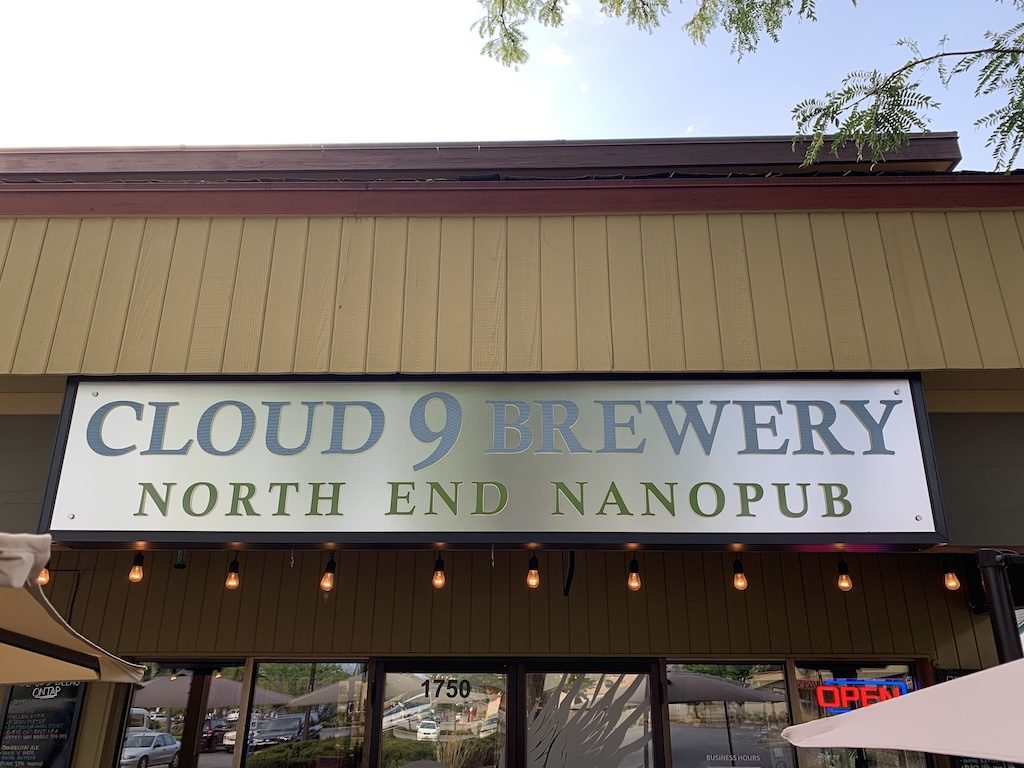 With only six year-round brews, this gives Cloud 9 the opportunity to really show their stuff by changing out as soon as the last drop from the previous batch has been poured. If you like trying a variety of craft beers, this is the spot.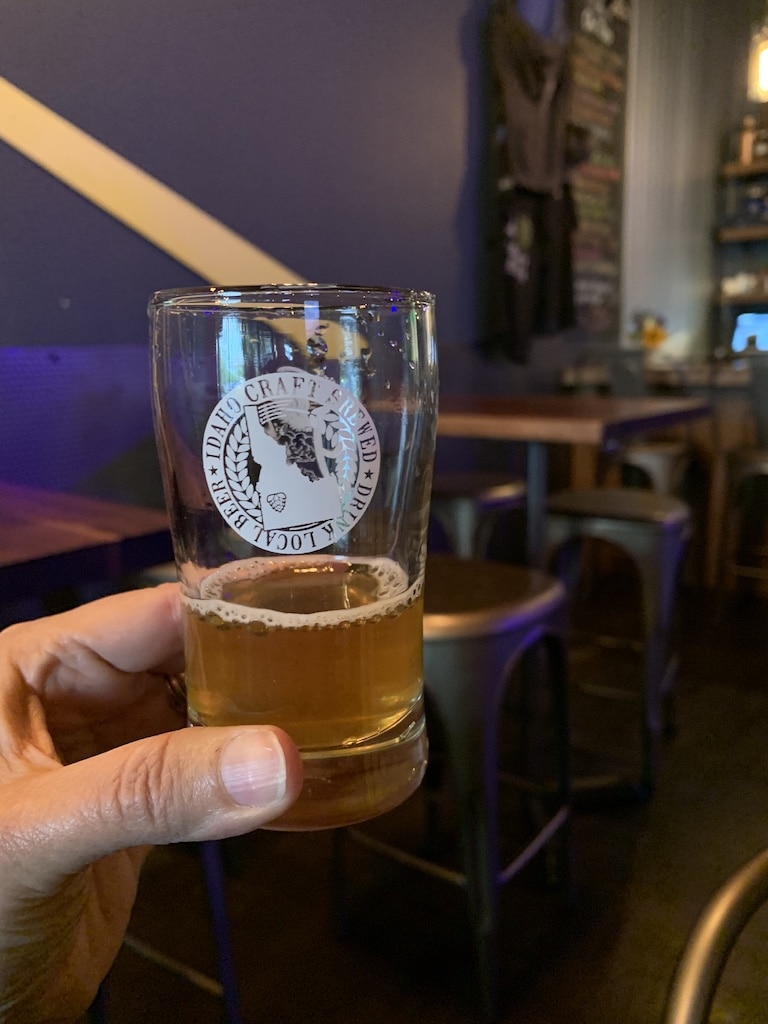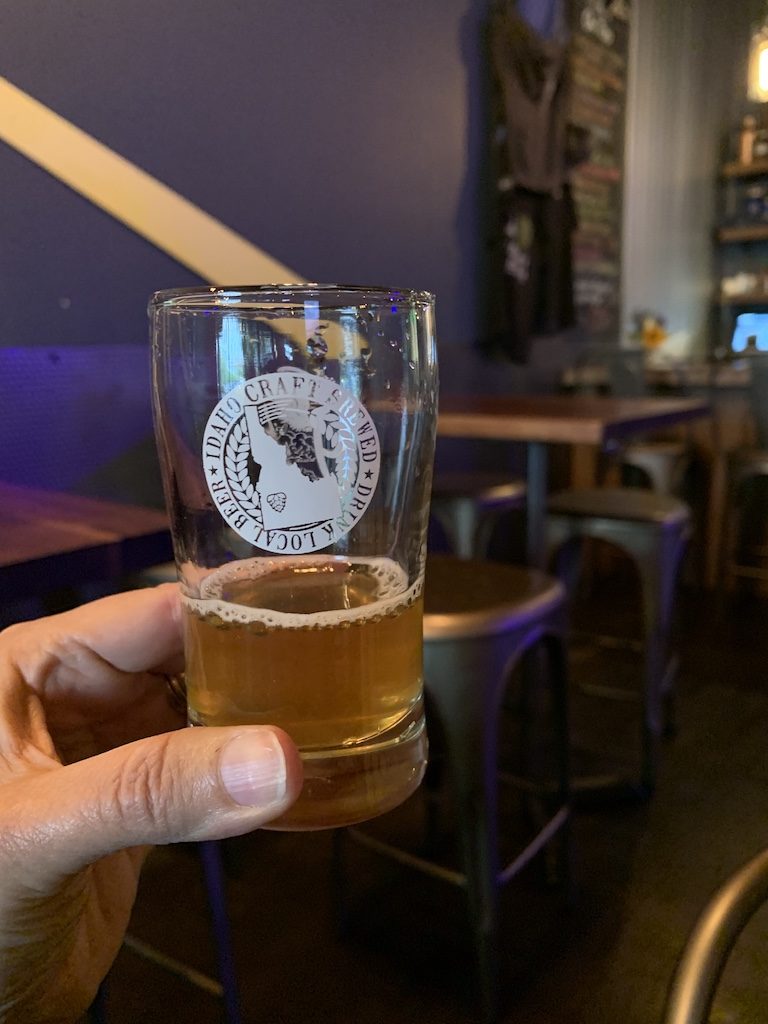 Cloud 9 is considered a nanobrewery. Not familiar with the term? It's pretty simple; a brewery that produces no more than three barrels in a batch, or no more than 2,000 barrels annually, is considered a nanobrewery. Cloud 9 easily falls under that at 300-330 barrels per year.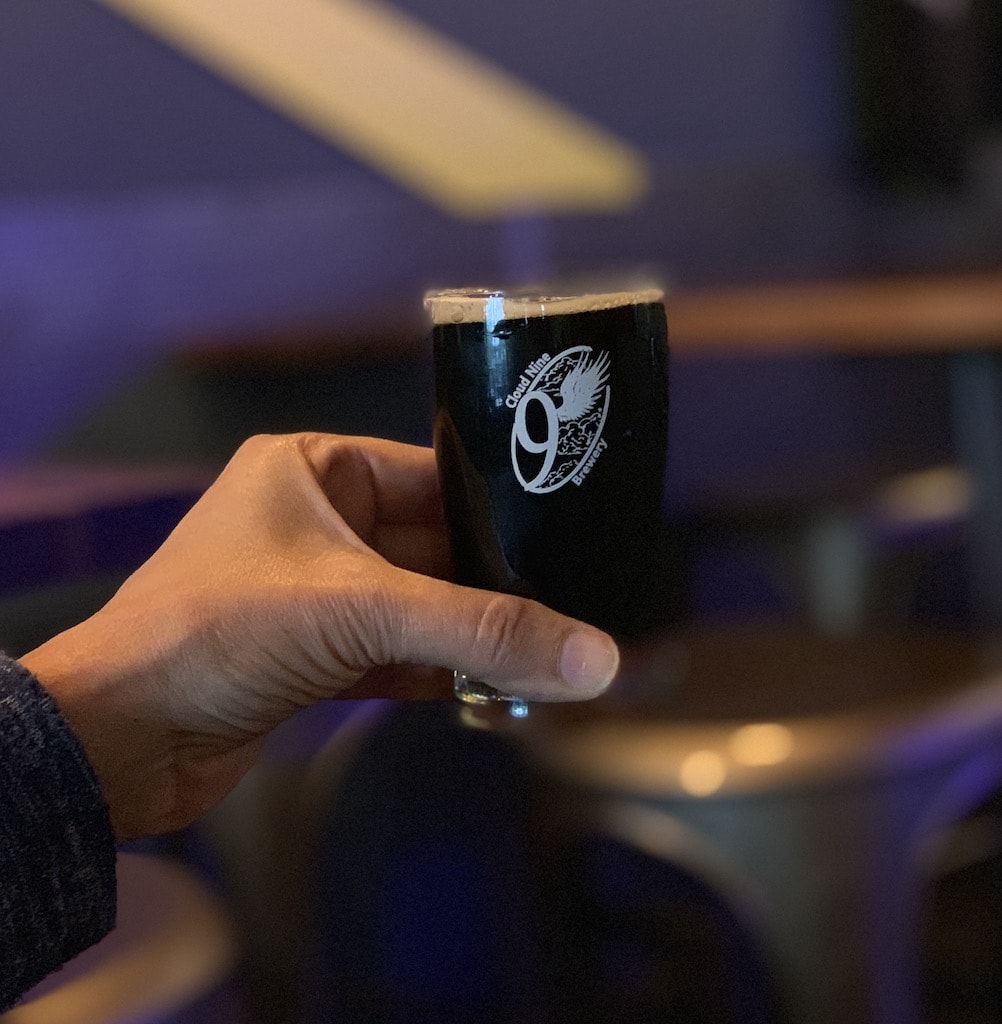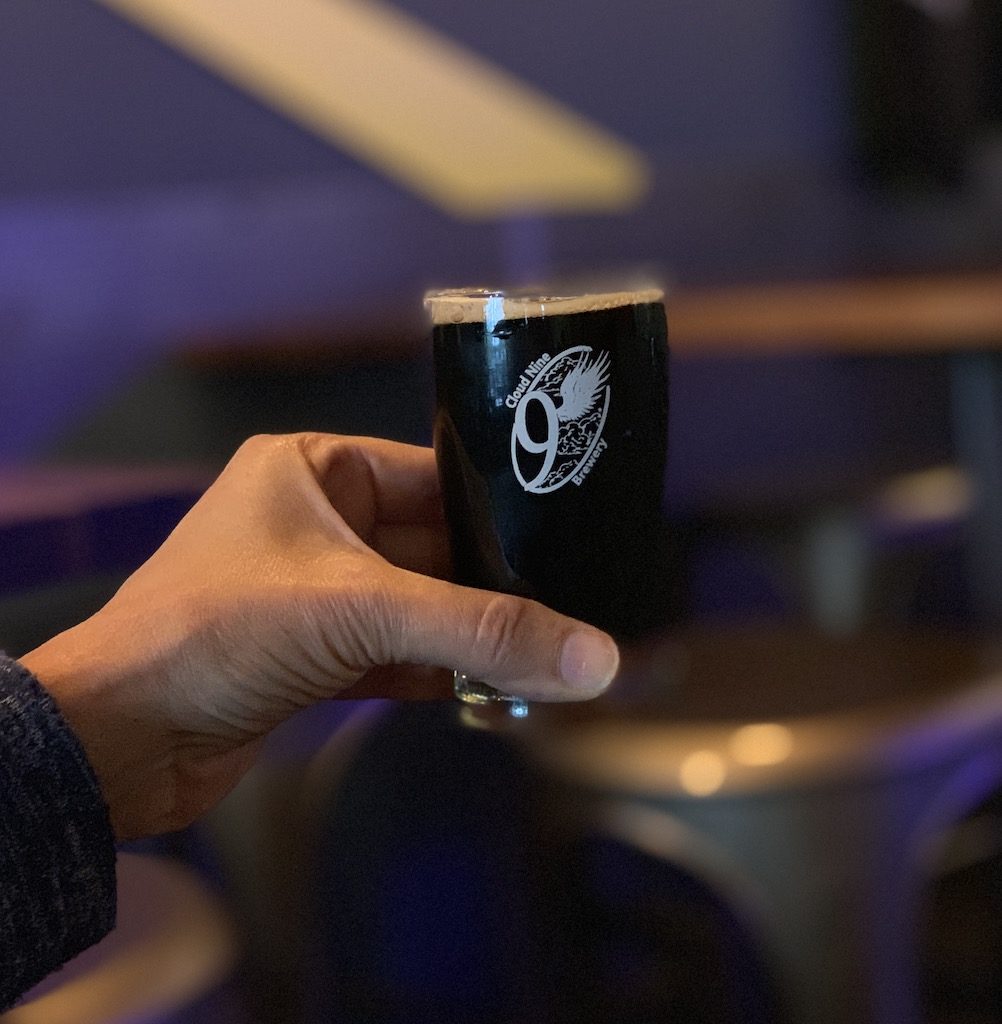 Of course, these breweries will still fall under the microbrewery description in that they should be small and independent. This doesn't mean they have to stay that way. Many large brewers began as nanobreweries - some of which are nationally well known.
Another huge plus at Cloud 9 is that they serve creative and delicious food and sometimes incorporate their beer into their food, which I loved. The salted caramel stout is in their beer mustard, brisket, fish and chips batter, and even in the tiramisu.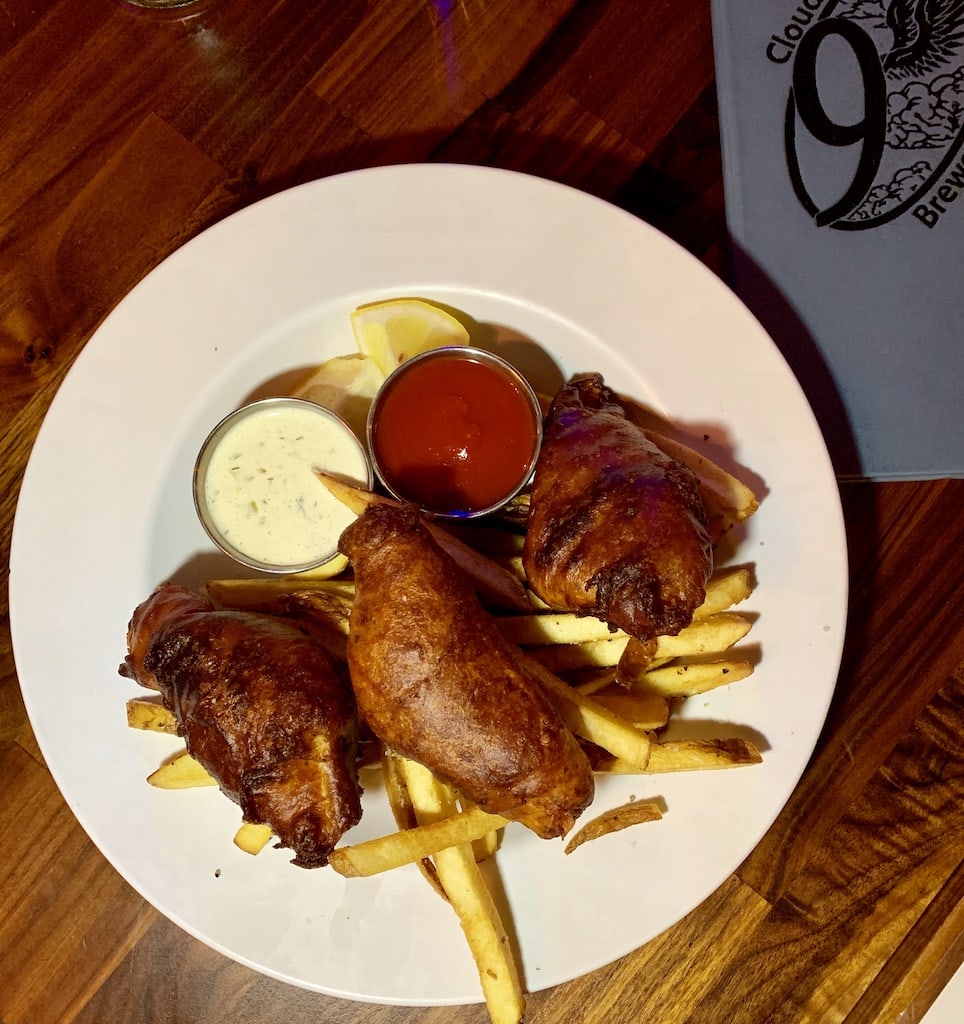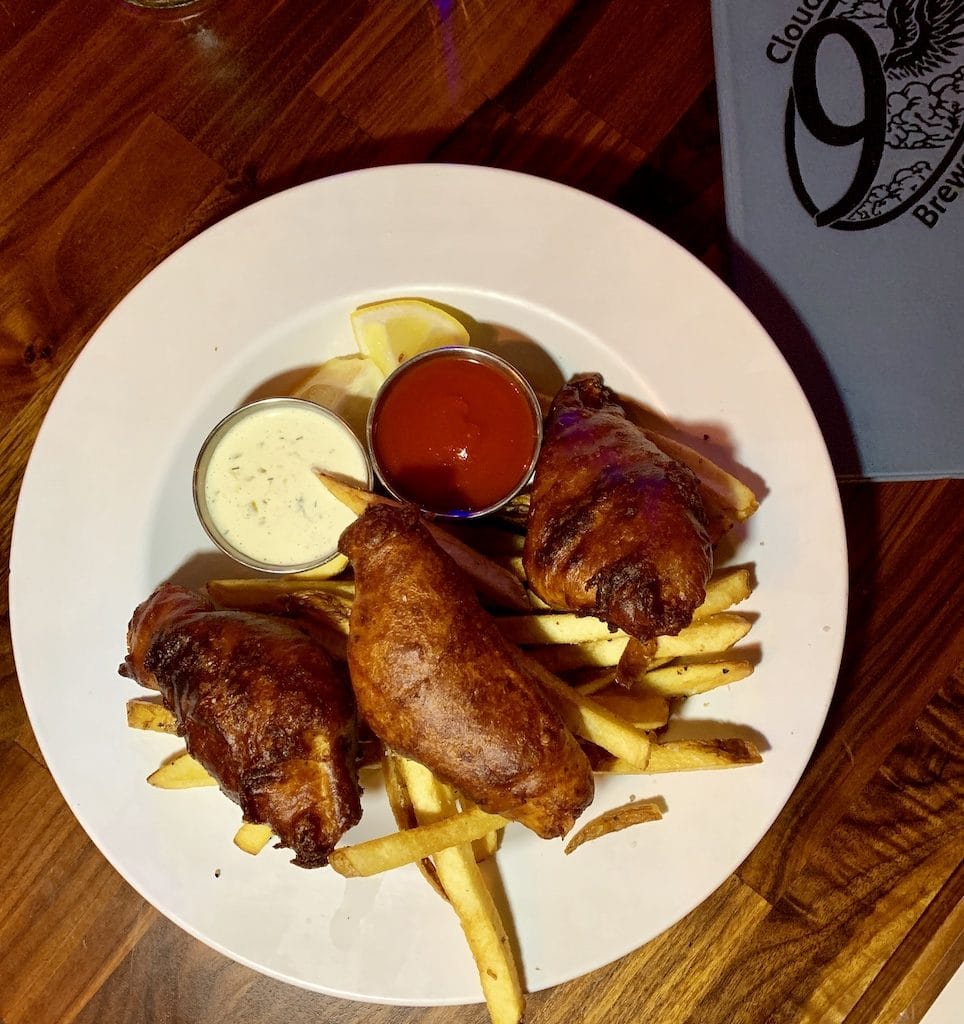 I ordered the street tacos as they had some unusual combinations, like the vegetarian option of house-pickled and roasted beets, shredded cabbage and onion with Ancho chili sauce. It was surprisingly delish!
I really enjoyed the smoky flavor of the Carnitas. The citrus chipotle pulled pork was topped with cabbage, cilantro, scallions, and that spicy chili sauce.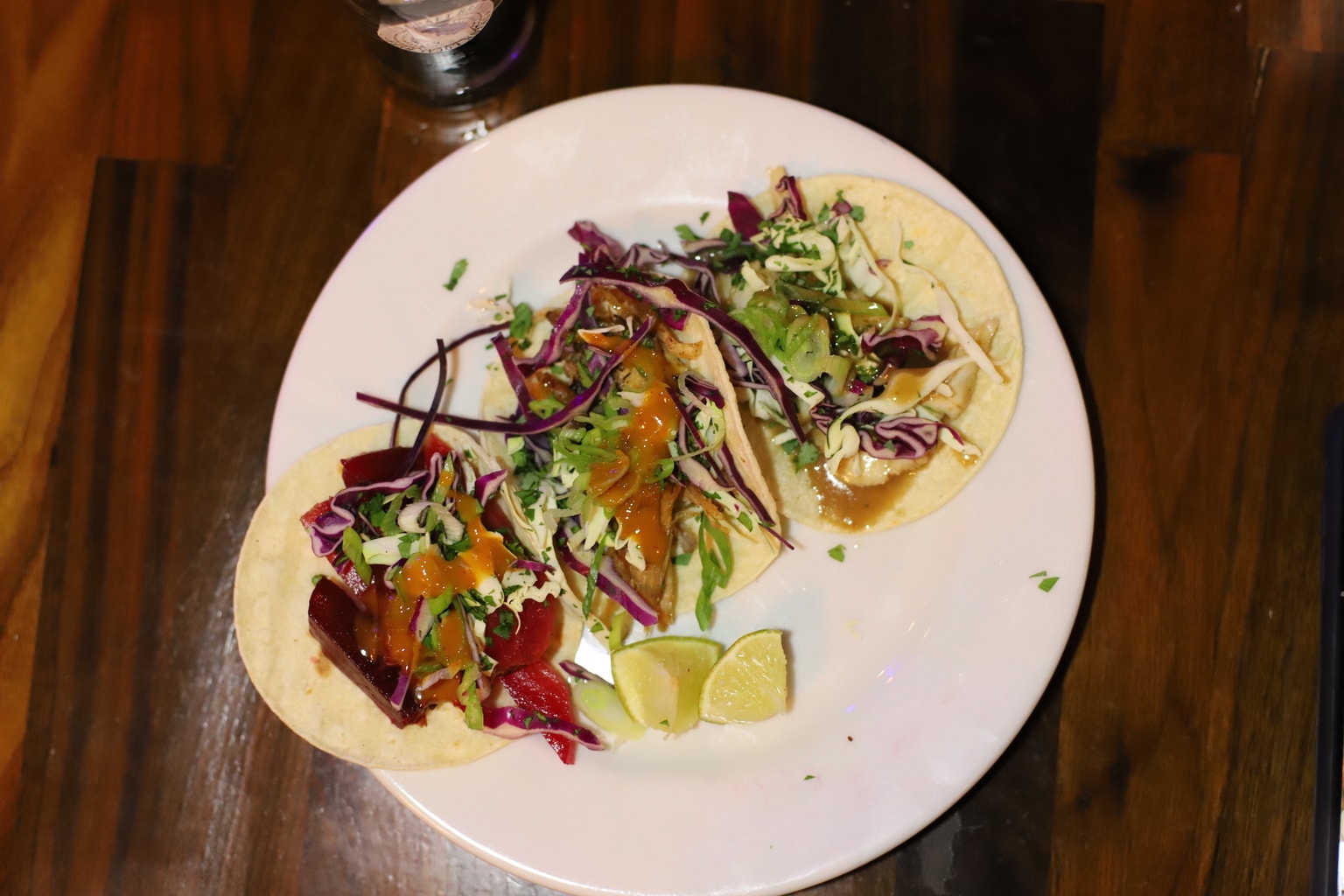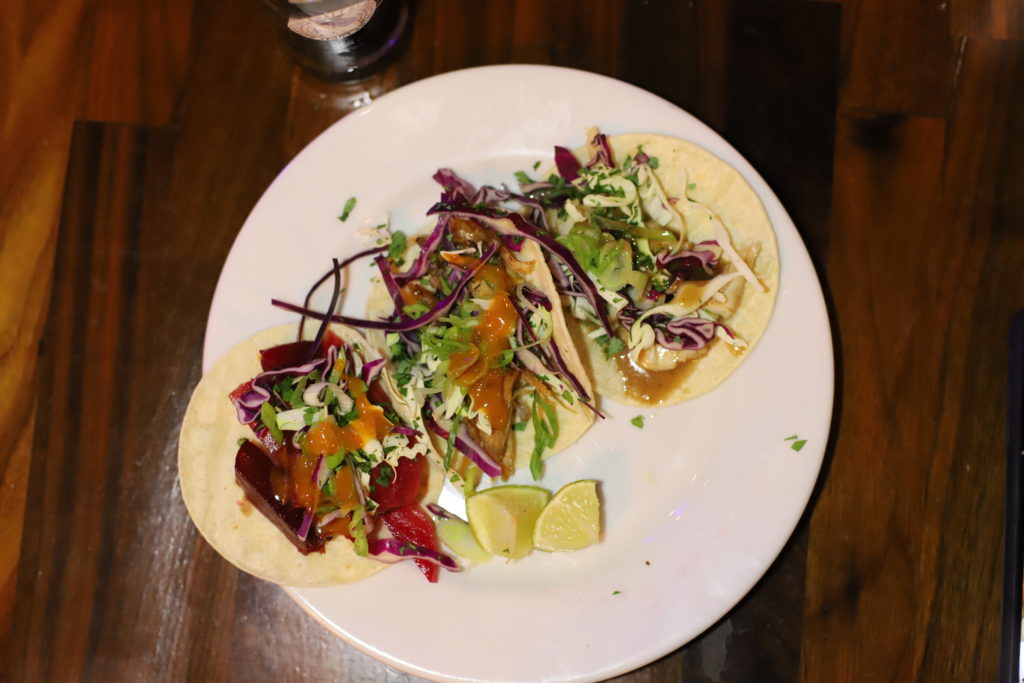 The food and beer are both excellent at Cloud 9. The only disappointment was that the pumpkin lager wasn't available yet. Guess I'll have to go back!
Visit Cloud 9 at 1750 W State Street in Boise. They open at 11 am every day and close at 10 pm Monday through Thursday, 11 pm Friday and Saturday, and 9 pm on Sunday.
Barbarian Brewing
Barbarian Brewing was a fun stop, and I think their chocolate milk stout was my favorite of everything I tasted while visiting these Idaho breweries.
There is no brewing on-site, but it's the perfect stop for a tasting. Fill out your favorites on the flight sheet from all the choices on the blackboard.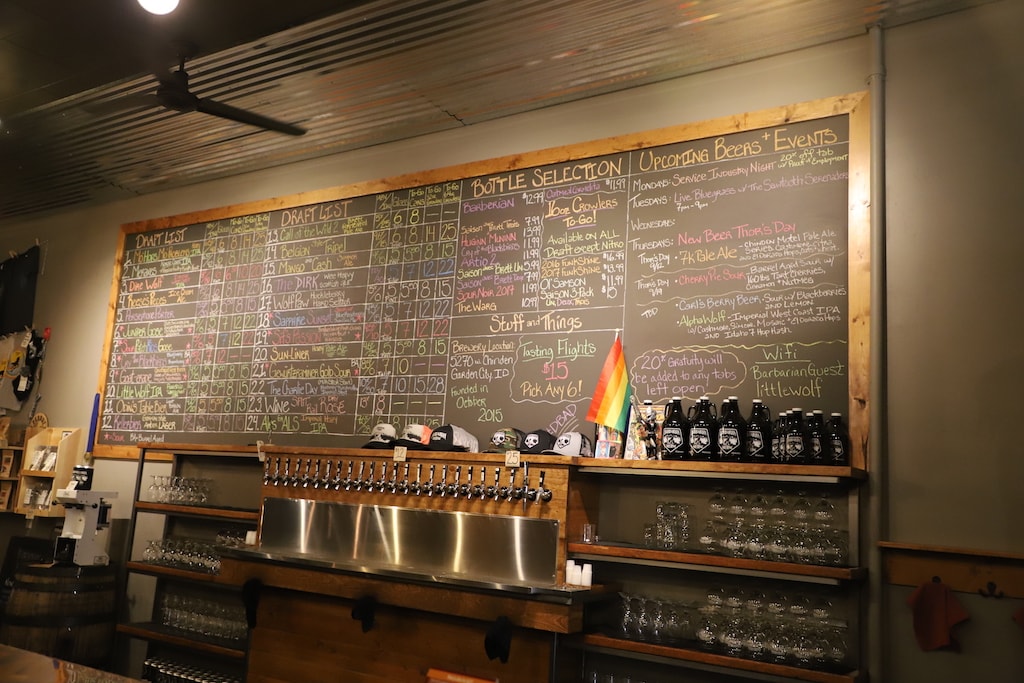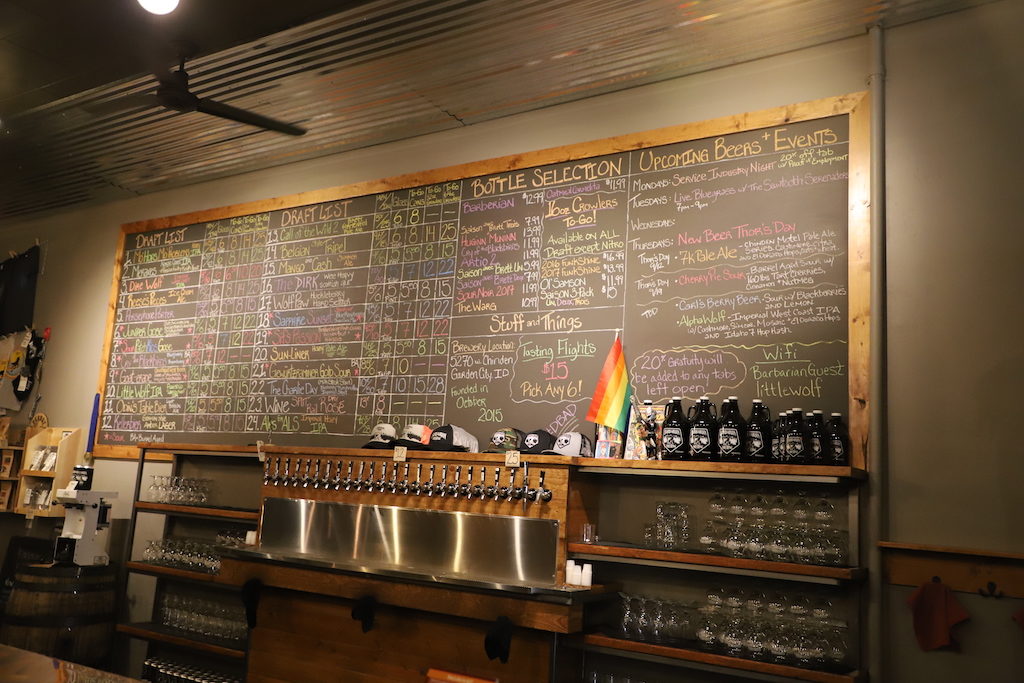 I tasted a flight of some of their most popular beers and enjoyed them all, but The Charlie Day stout was my absolute favorite.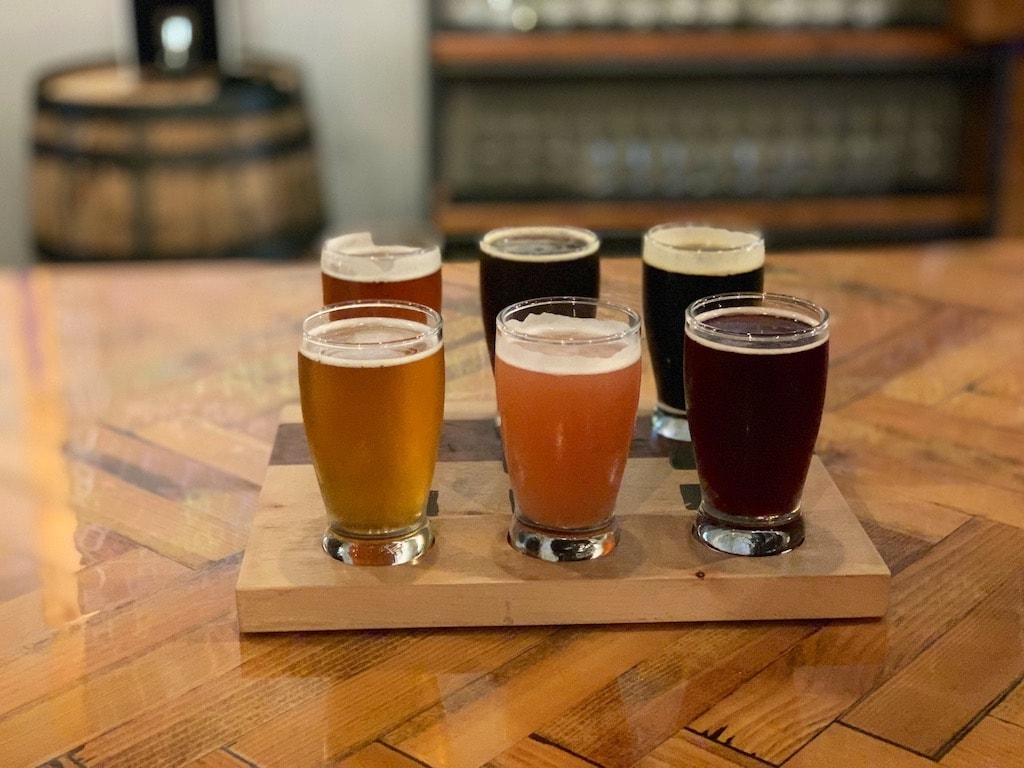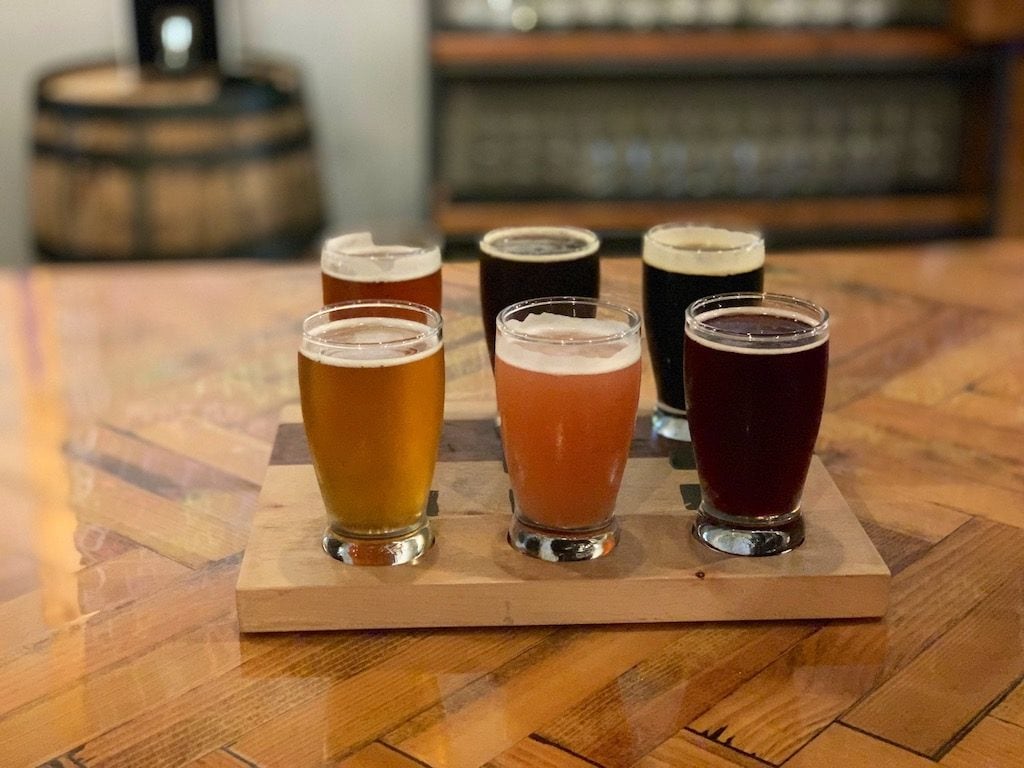 With more than 20 beers on tap, you're sure to find a few you love. If you're traveling with kids in tow, know that this is a 21 and up establishment so this will have to be on your itinerary for adult night.
Visit Barbarian Brewing at 1022 West Main Street in Boise. Hours are Monday through Thursday from 3 pm until 12 am, Friday and Saturday from 12 pm until 12 am, and Sunday 12 pm until 10 pm.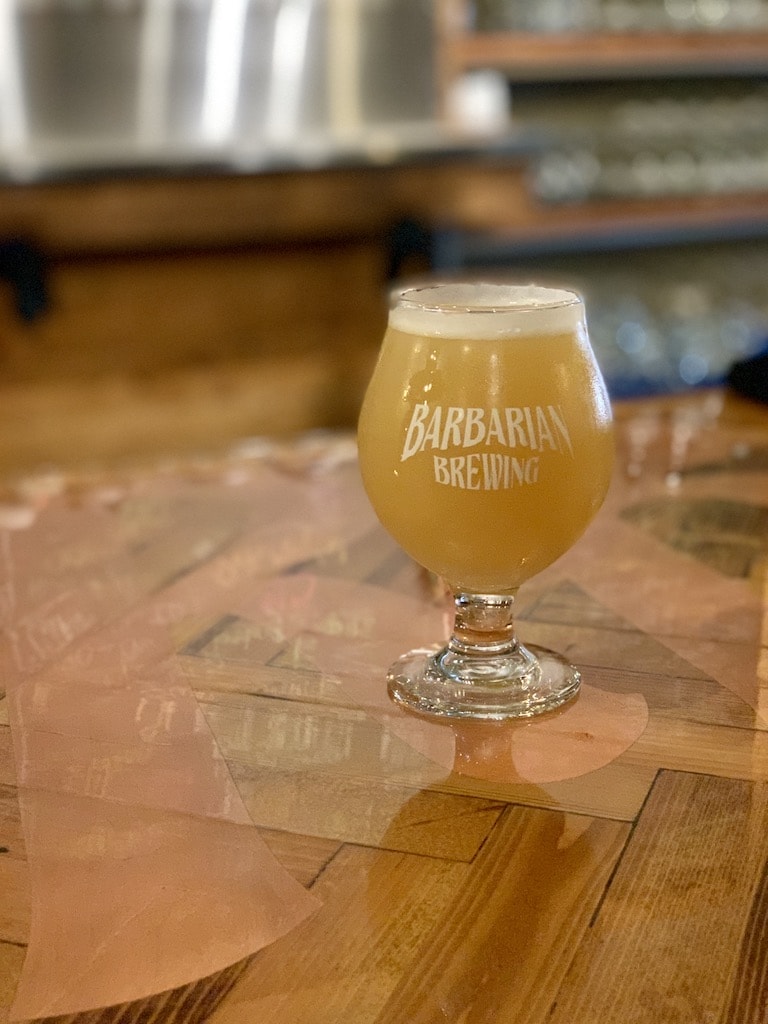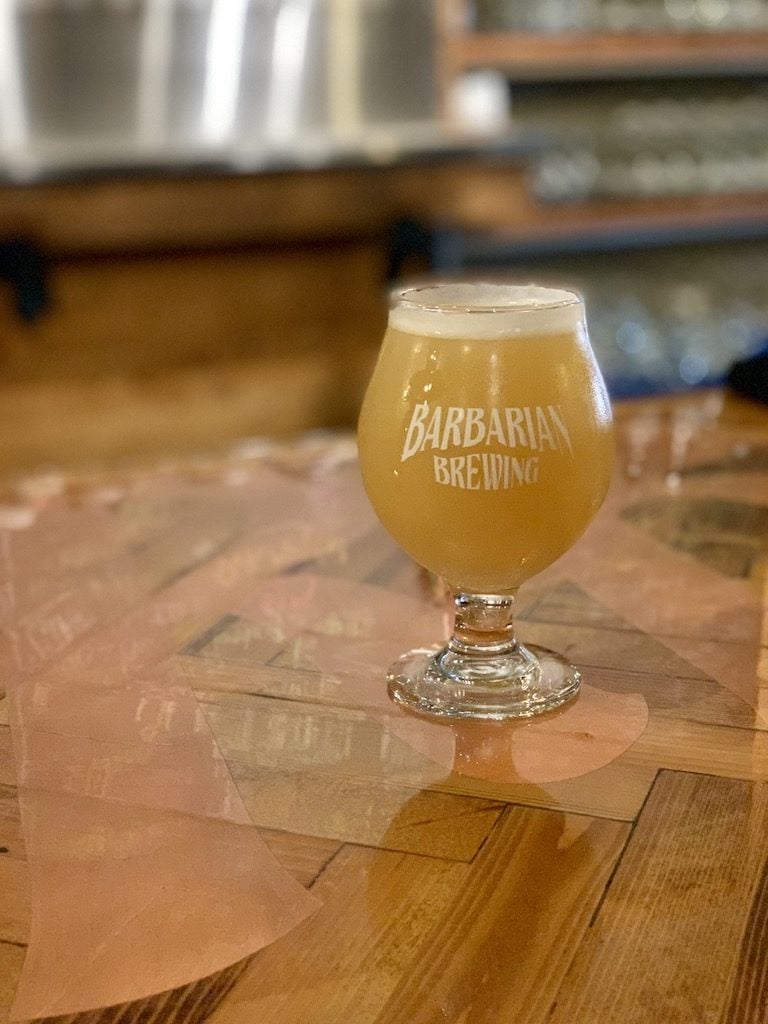 Sockeye Brewing
Sockeye Brewing is Idaho's most awarded craft brewery and the second-largest craft beer producer in Idaho at 10,000 barrels. They've become quite good at their craft over the last 22 years.
Sockeye was also the first canning facility to open in Idaho since the 1950s. Crazy, right?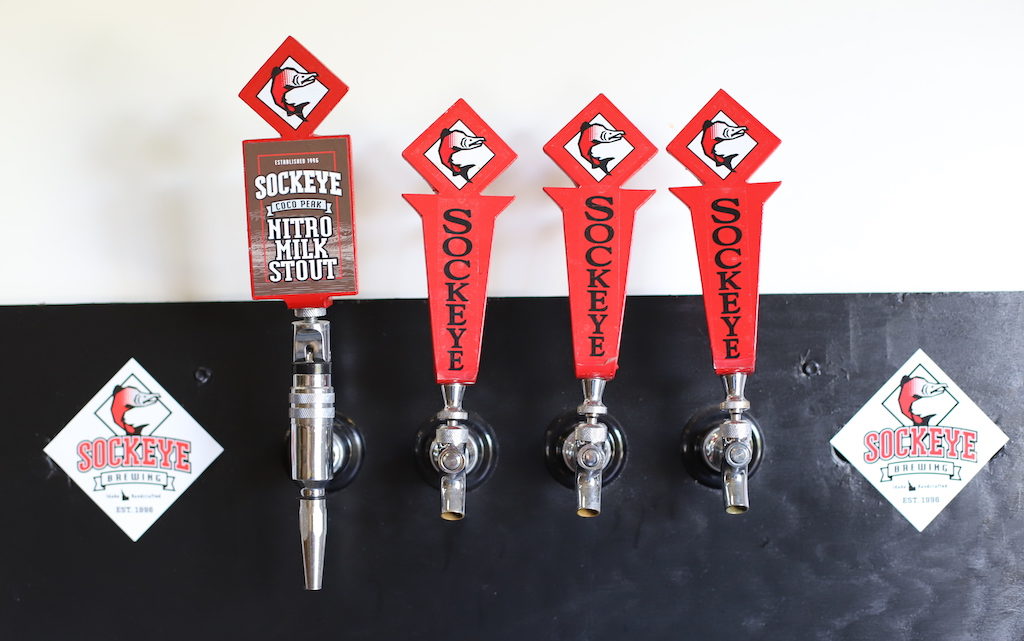 And they've been well rewarded for their faith in craft beer. Their flagship beer, Dagger Falls, is Idaho's #1 selling IPA. Be sure to choose a few of your favorites for a tasting and take a tour if you can.
We visited the Fairview Avenue location. As I was trying to experience as many different craft beers as possible while visiting these Idaho breweries, I ordered a flight again. The Power House Porter was my favorite.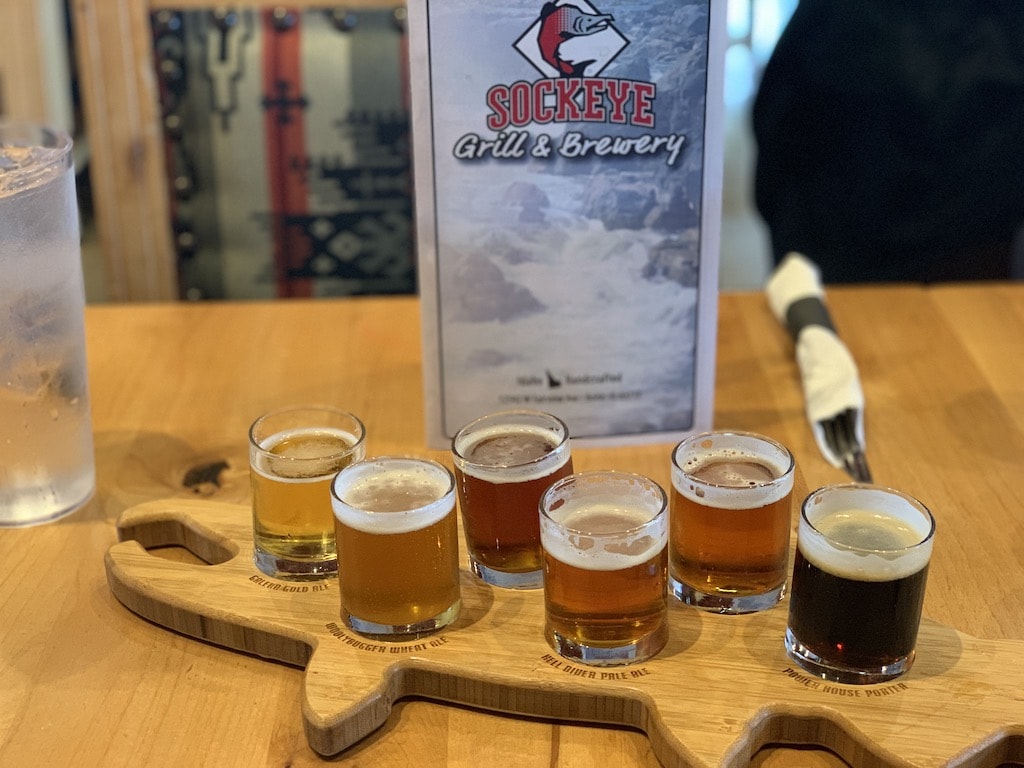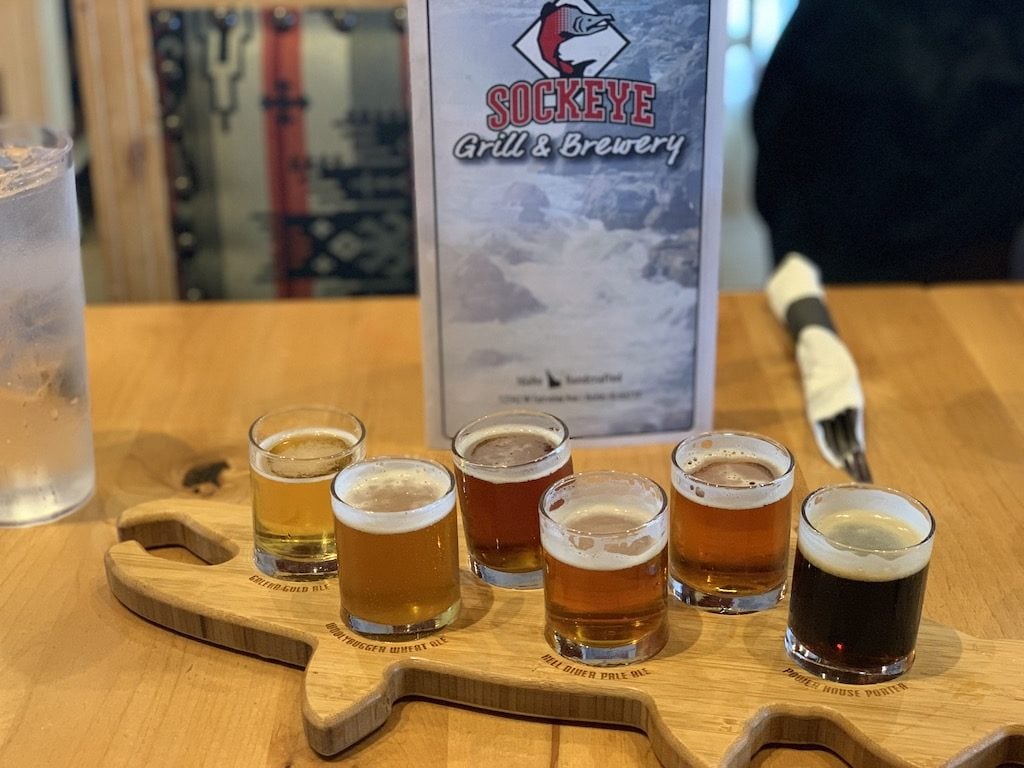 Sockeye added their first full-service restaurant in 2002 and added this location in 2012. It's always good to eat when you're drinking, so ask to see a menu. We shared the ginormous nachos and they were the perfect pairing.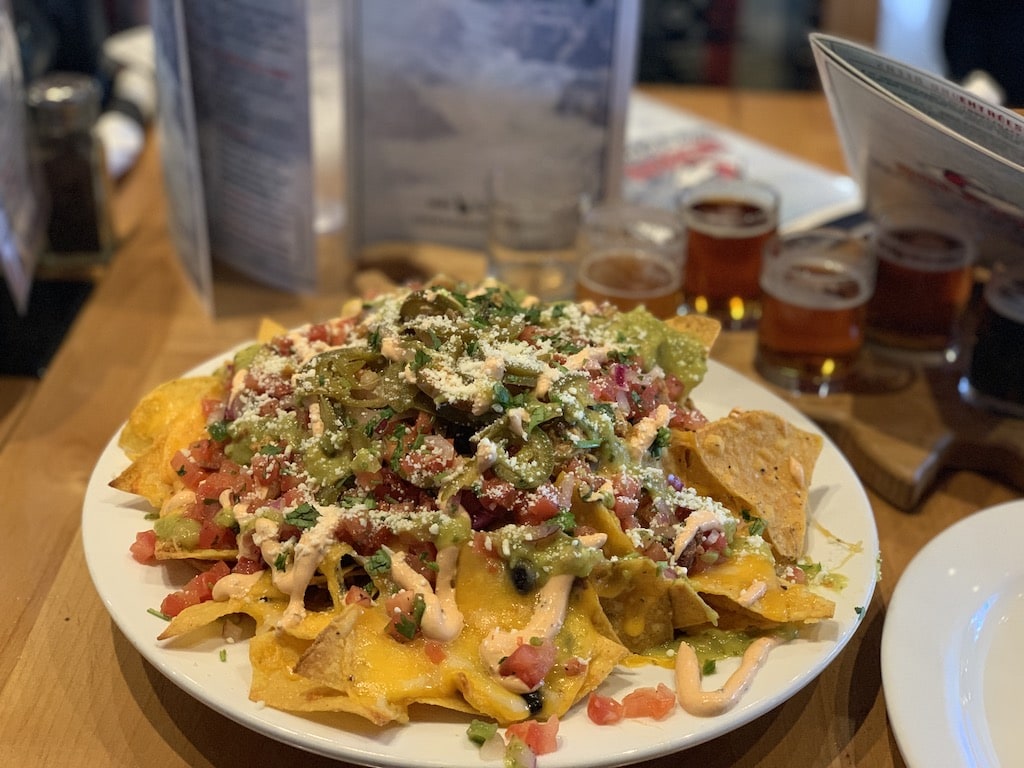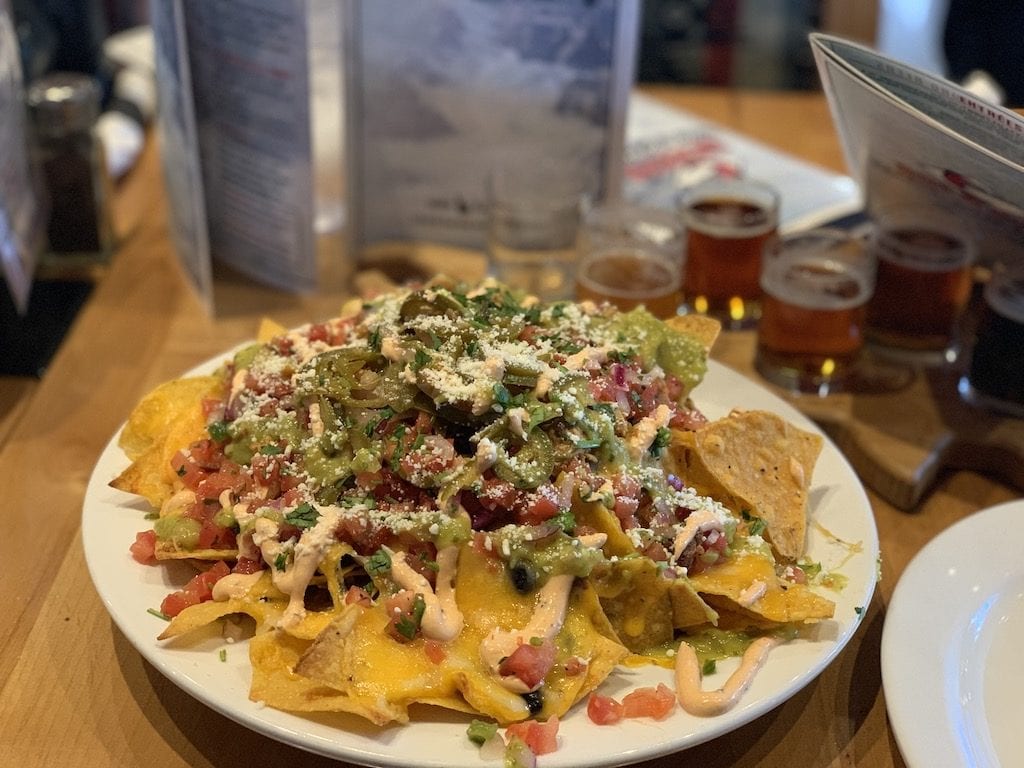 Visit Sockeye Brewing at 12542 West Fairview Avenue in Boise. Hours are 11 am - 9 pm Sunday through Thursday and 11 am - 10 pm Friday and Saturday.
Happy hour is 3- 6 pm Monday through Friday and Sunday offers $10 pitchers and growler fills on selected beers.
Where to Stay in Boise
Staying at the Courtyard by Marriott Downtown Boise makes it convenient to get around town to see the sites and visit the local breweries. The rooms are spacious and comfortable.
Not far from the Courtyard, bacon-lovers must visit BACON, the hippest breakfast spot in Boise! We enjoyed meeting with representatives from Idaho tourism and beer-related agriculture commissions to learn more about Idaho Breweries.
Salmon River Brewery
We had such a good time at Salmon River Brewery. Located in McCall's old train depot, the decor is fun and the staff is amazing. We had a pretty big group, but they had no problem accommodating us as we had called ahead.
The pub was packed, but there is also seating above the brewery. Watch brewing in action at the bar.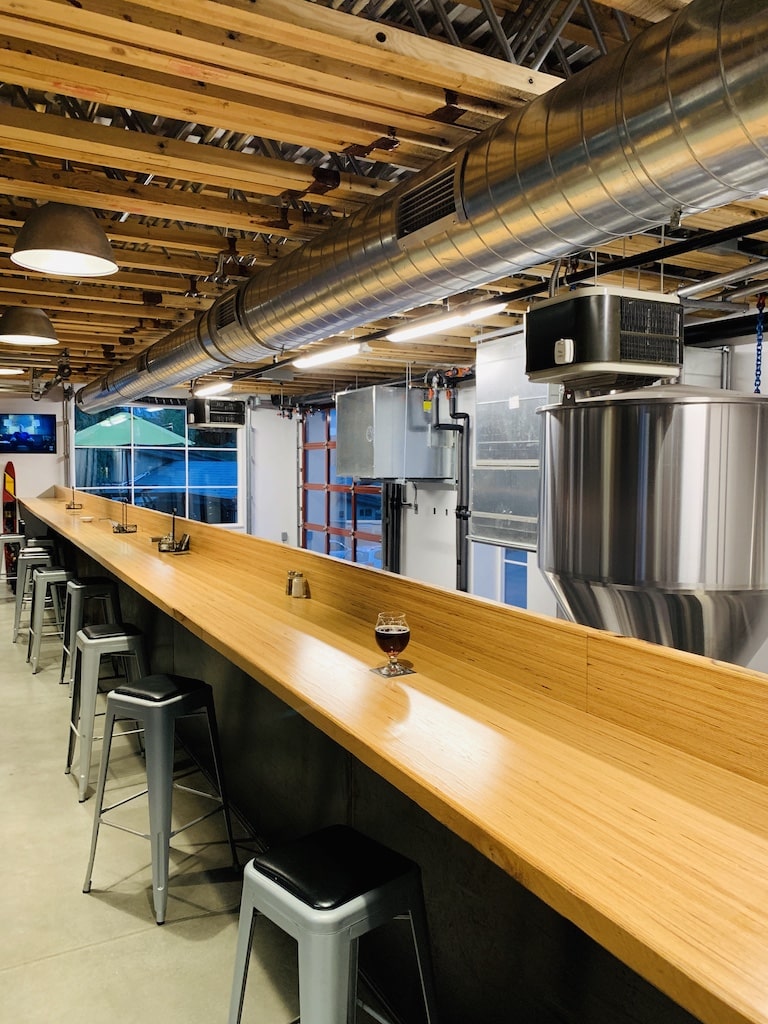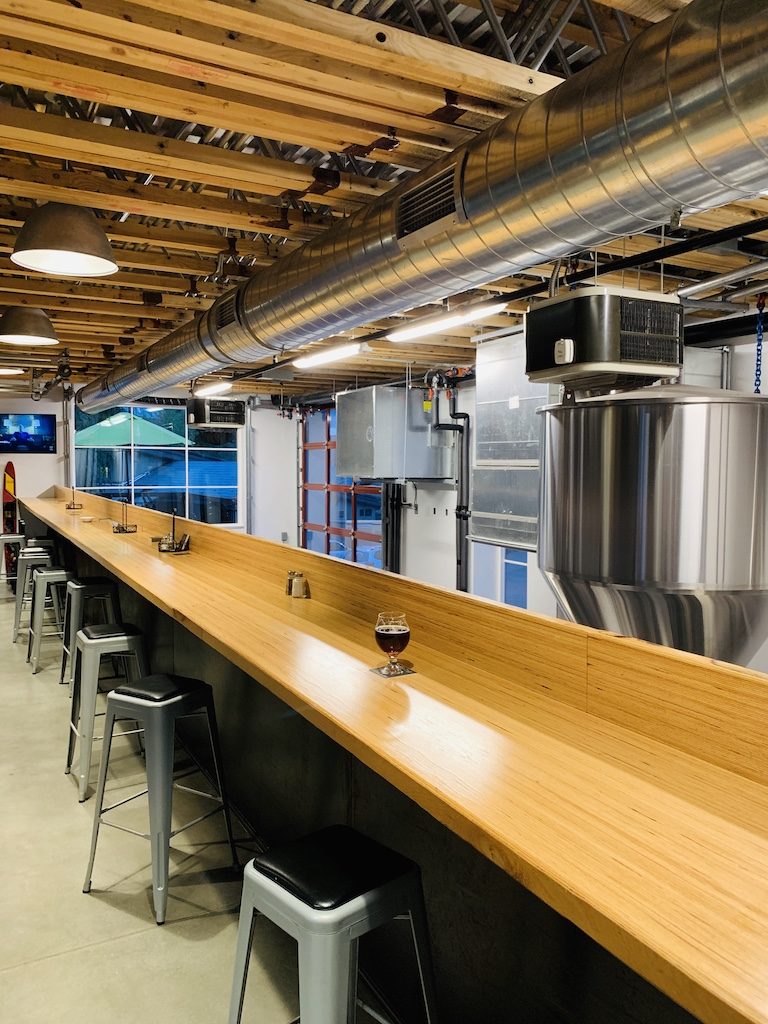 You'll also find outdoor seating at the window or at the rooftop bar.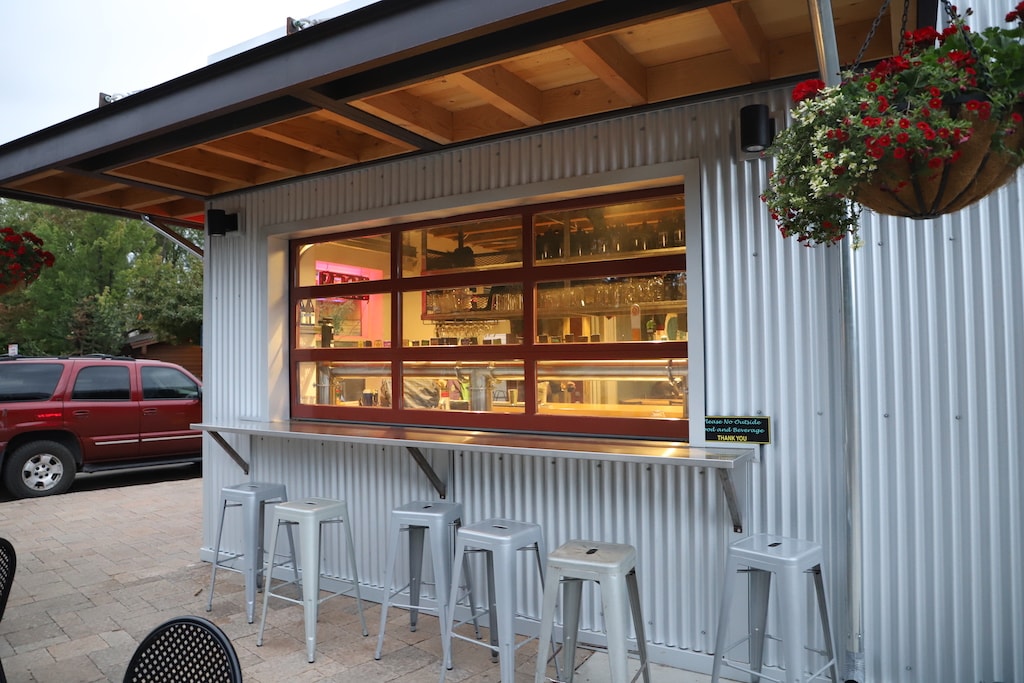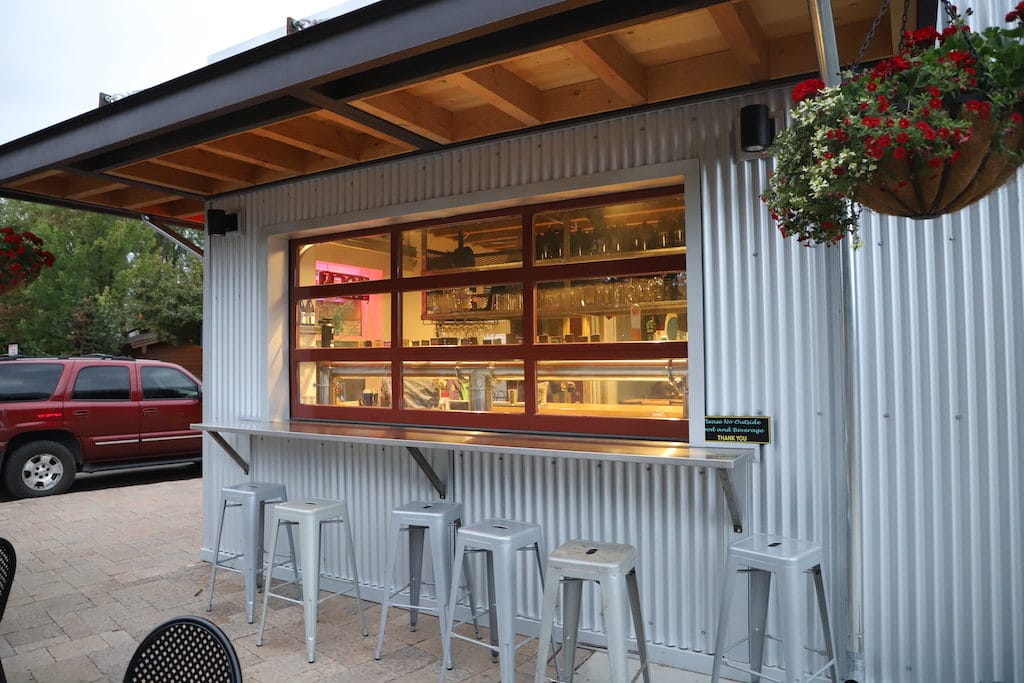 The view was pretty sweet up on the roof, overlooking Payette Lake with a backdrop of Brundage Mountain. (Cue the Drifters or James Taylor, depending on how old you are!)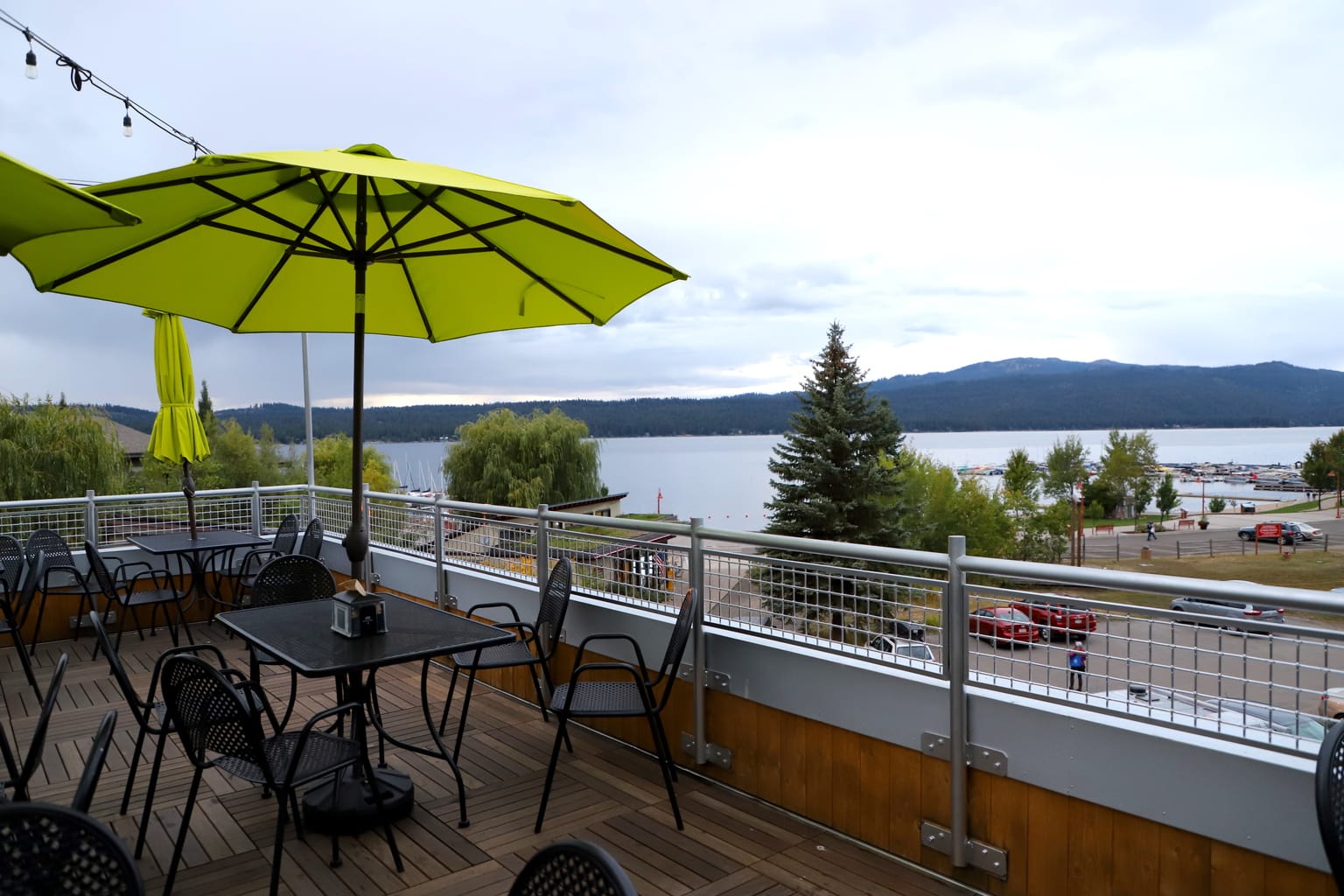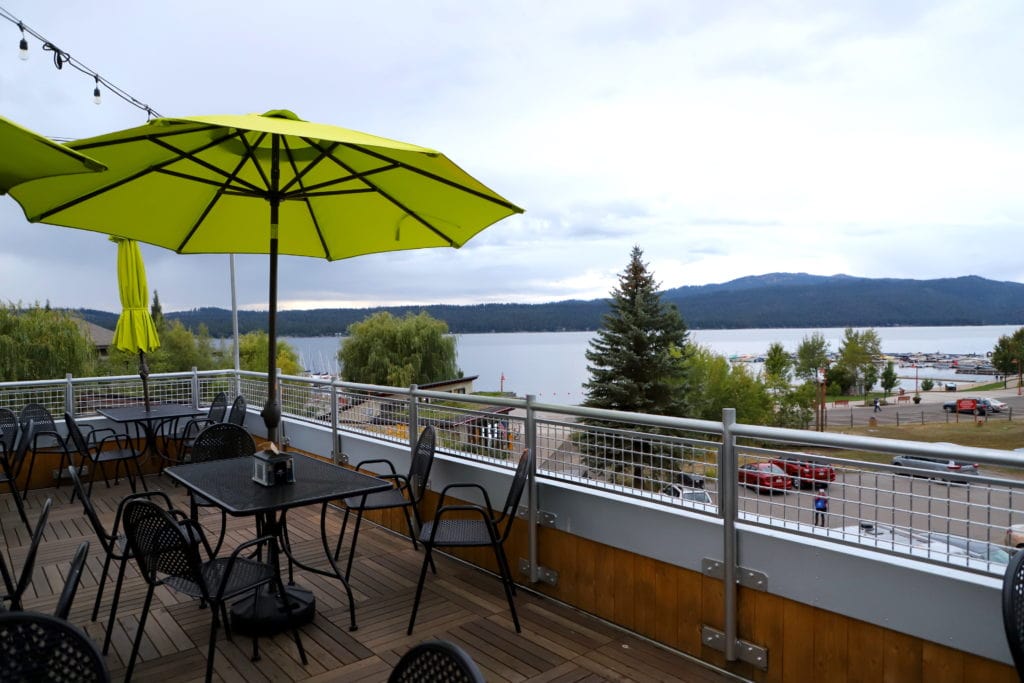 My favorite of the flight at Salmon River was initially the Co-Chillin, then it was the Dark Villain, and finally, it was the Fairy Dust. Did I mention we had a good time?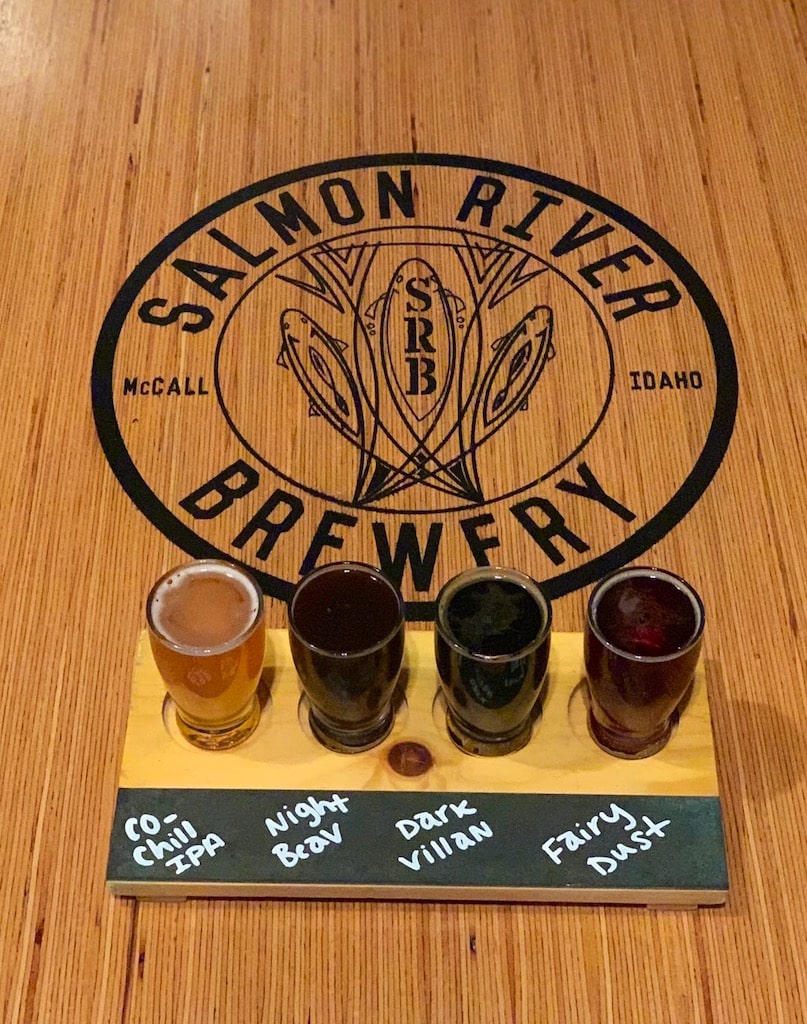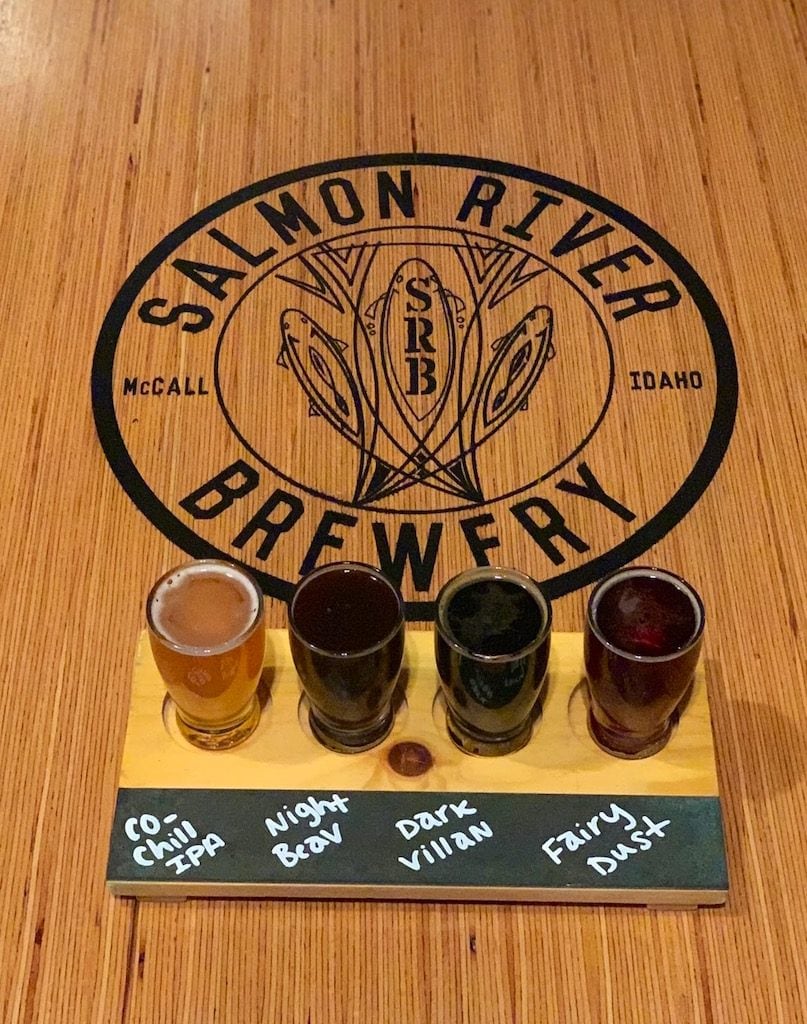 Salmon River Brewery is located at 411 Railroad Ave in McCall. Hours are 11:30 am until 10 pm every day. Happy hour is from 3:30 pm until 6 pm every day, as well.
McCall Brewing Company
Located at 807 North 3rd Street, McCall Brewing Company also overlooks Payette Lake. They've been brewing craft beer since 1994.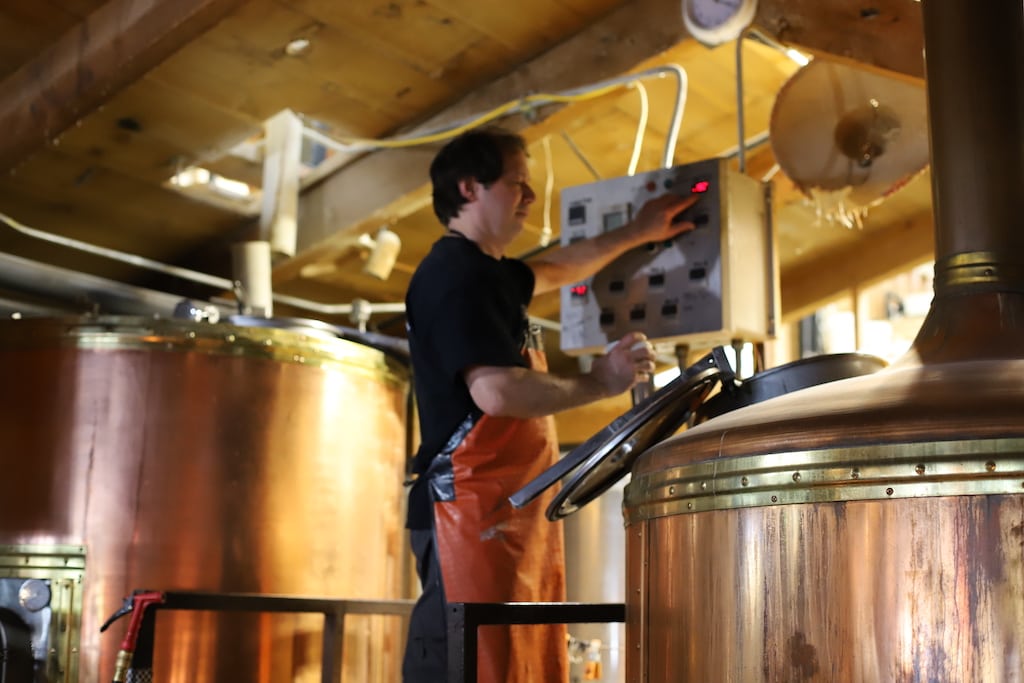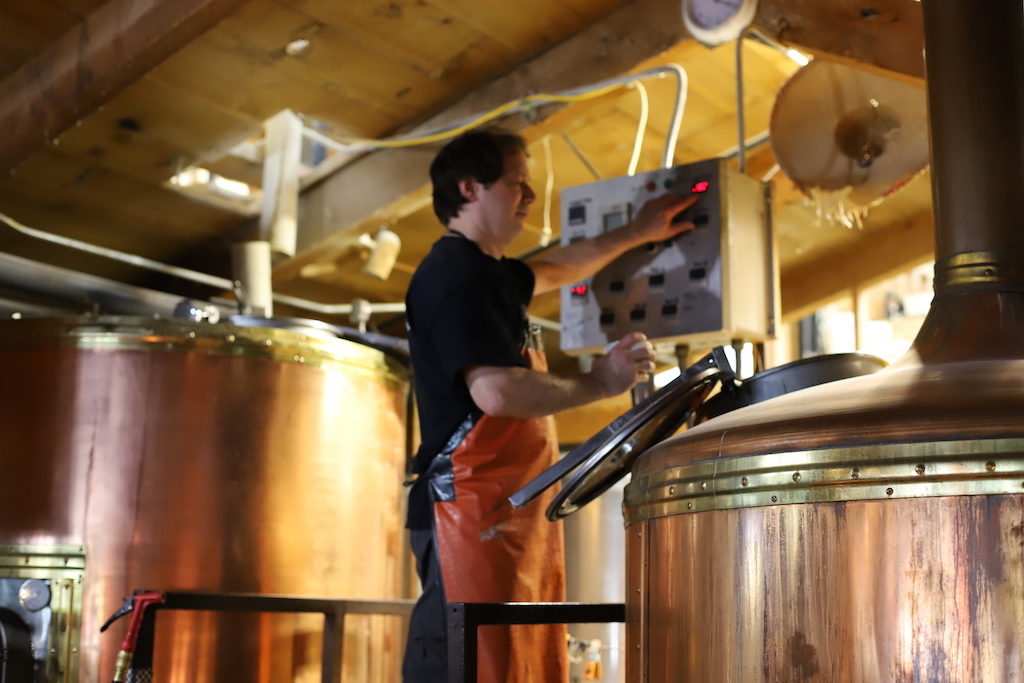 McCall Brewing also has a full-service restaurant, and the Payette Dip - roast beef on a perfect hoagie roll with au jus on the side - was really delicious.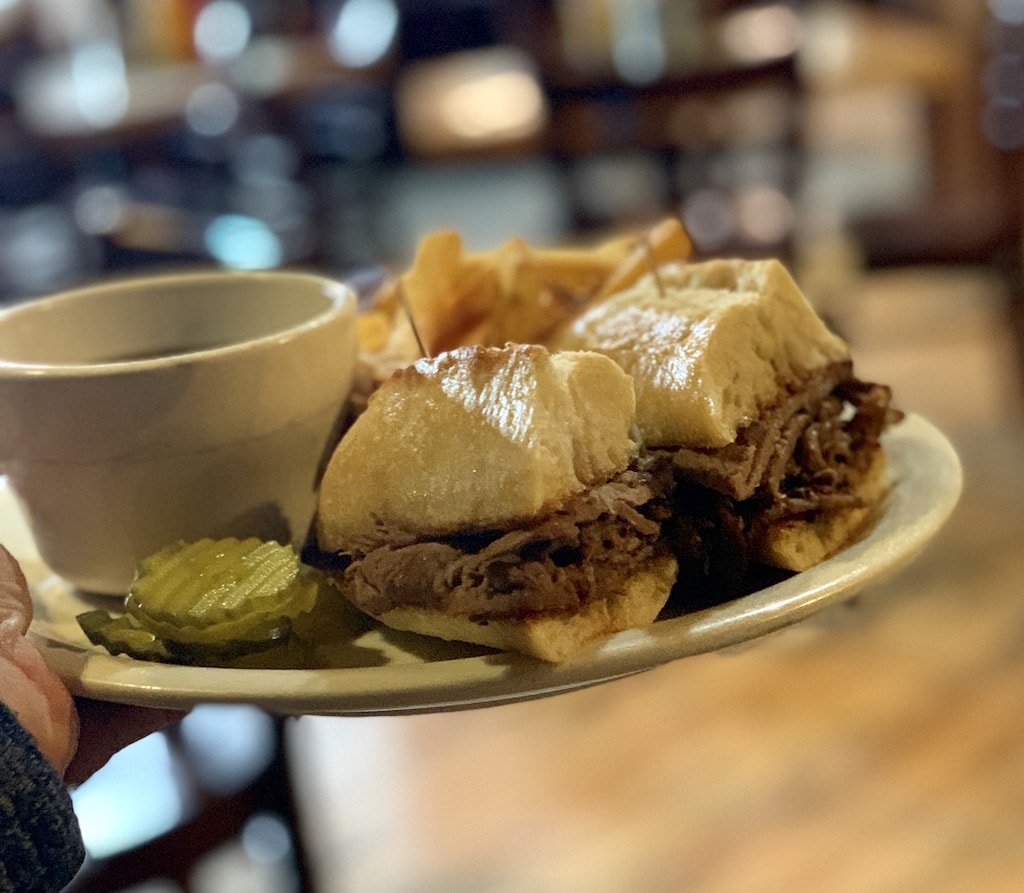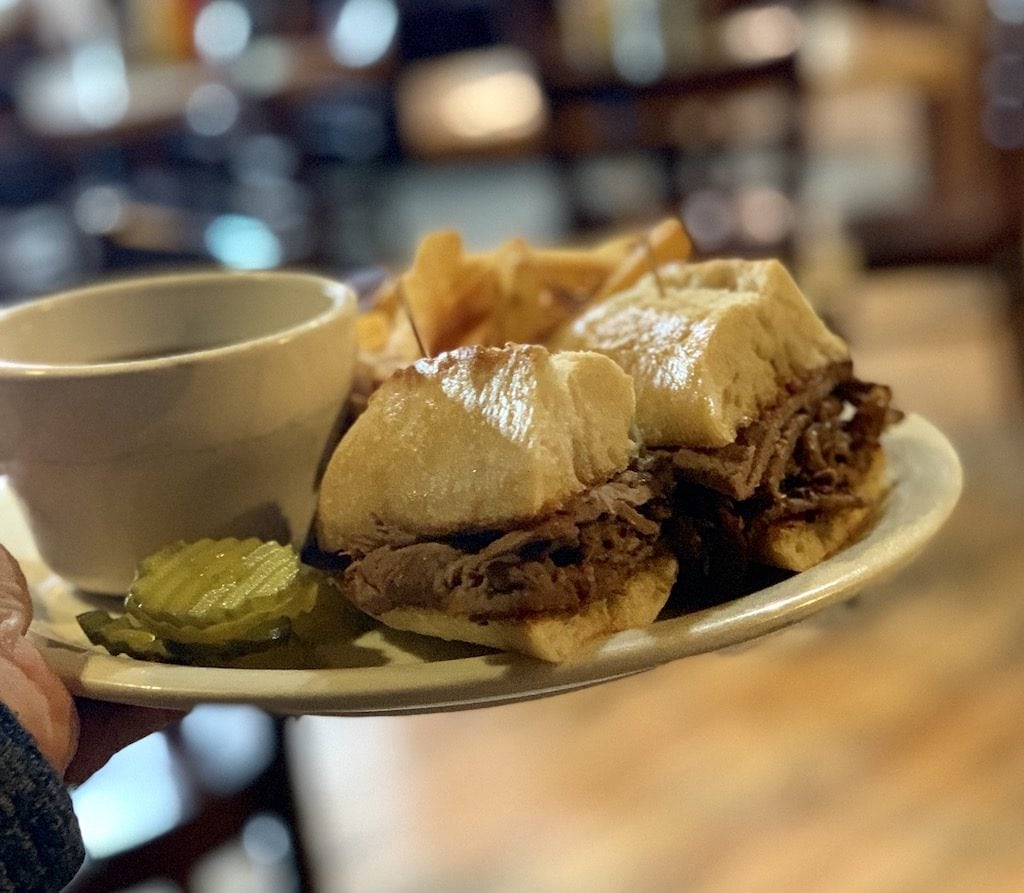 Paired with a flight, of course, I was a happy camper.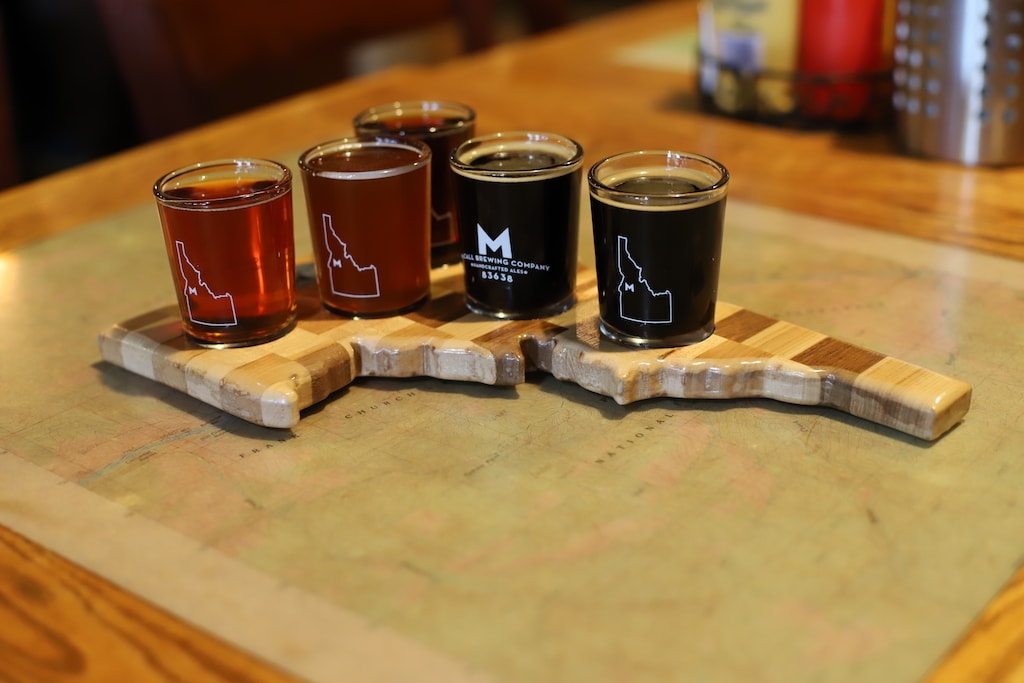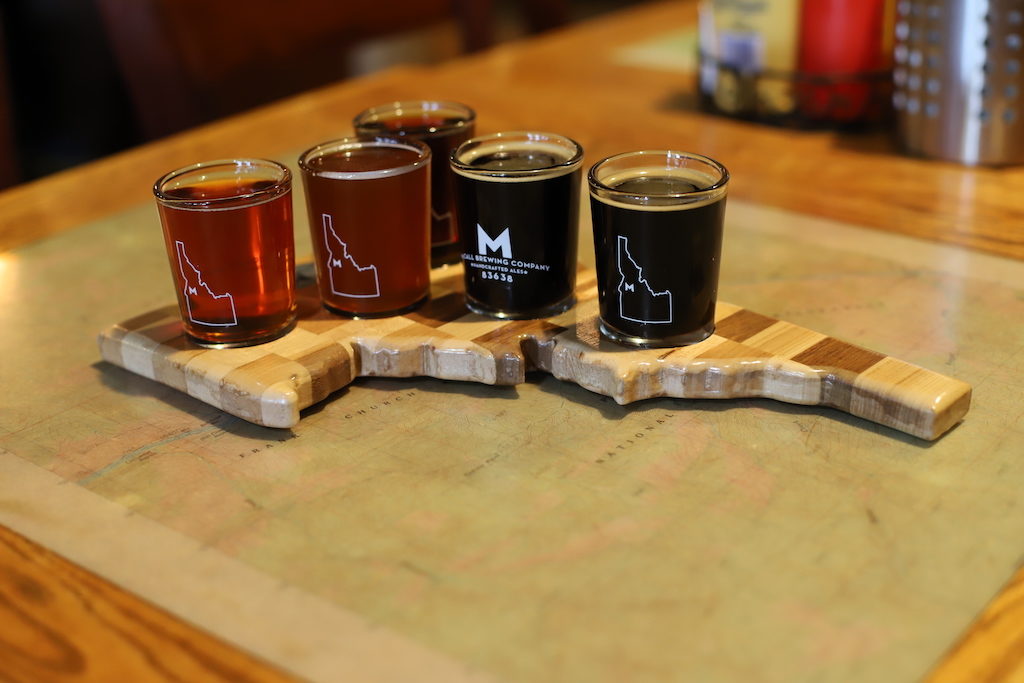 A local sitting next to our table was happy to give me suggestions on what beers to try, and it was good advice. I loved the Wobbily Man Smoked Scotch Ale he recommended, but the Devious Intent Imperial Stout was my favorite. Have you noticed a pattern here? I do love stouts.
Visit McCall Brewing Company at 807 North 3rd St in McCall. Hours are from 11 am until 9 pm during the week, and until 10 pm on weekends.
Broken Horn Brewing
Broken Horn Brewery is located in a smaller building next to the airport in McCall. What they lack in size, they make up for in flavor and creativity.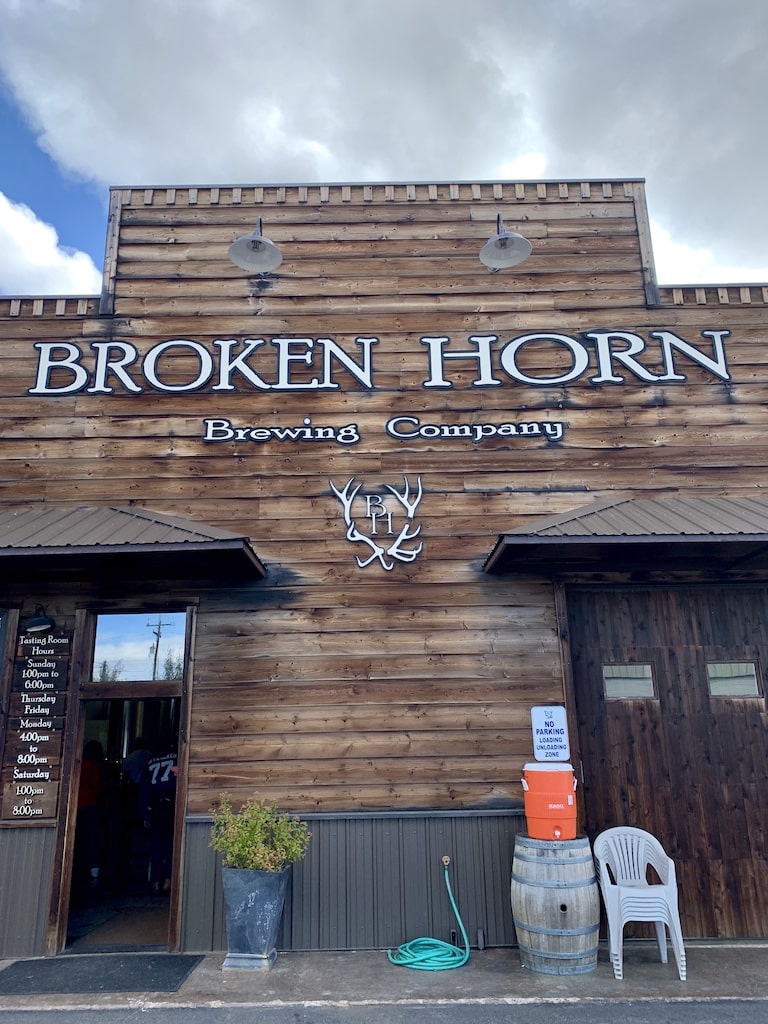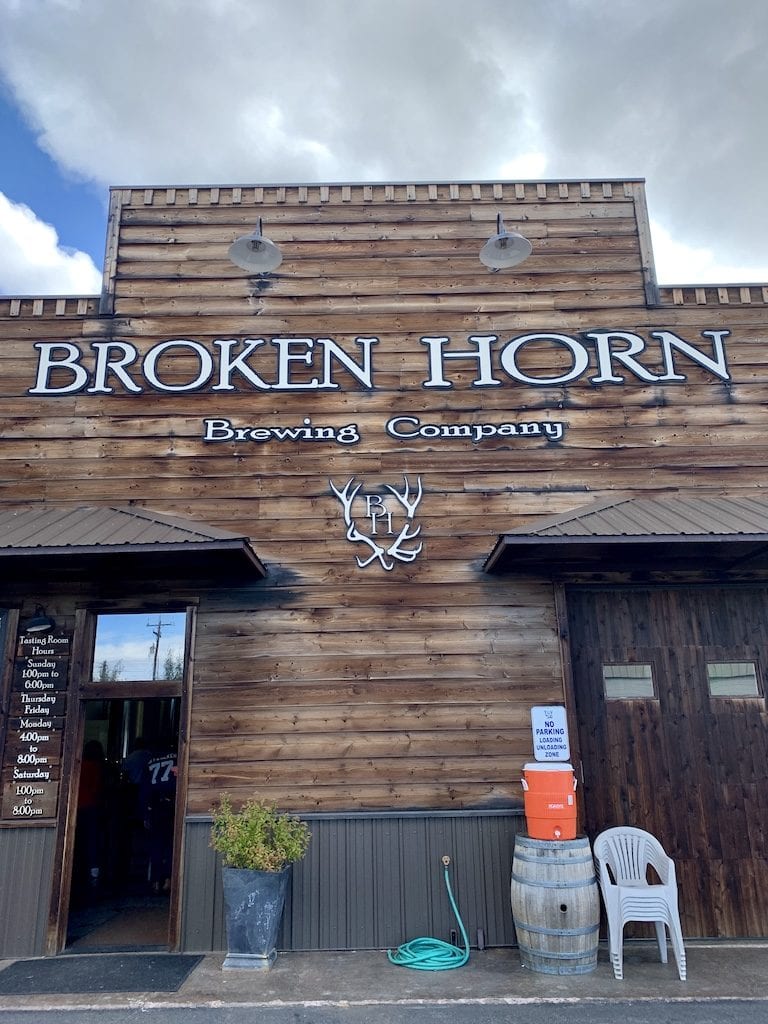 We had a good time tasting a few of their most popular brews.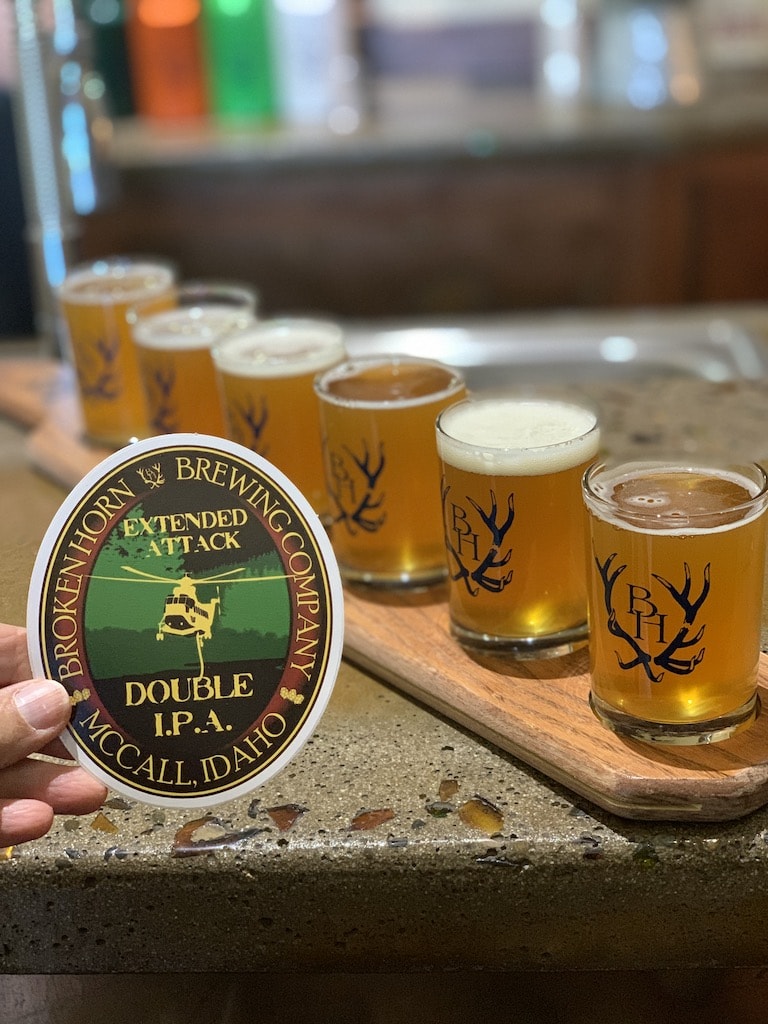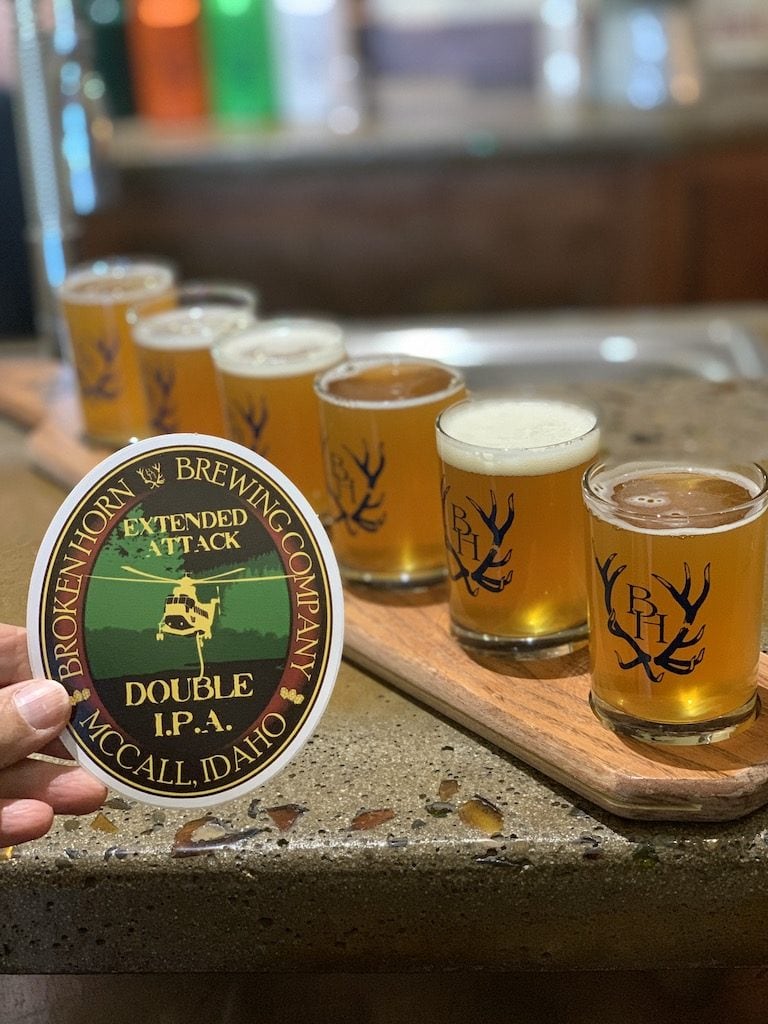 As with several of the breweries we visited, the beers are named after places in Idaho. Hell's Canyon is the deepest river gorge in North America, running along the border of Idaho as well as Oregon and Washington.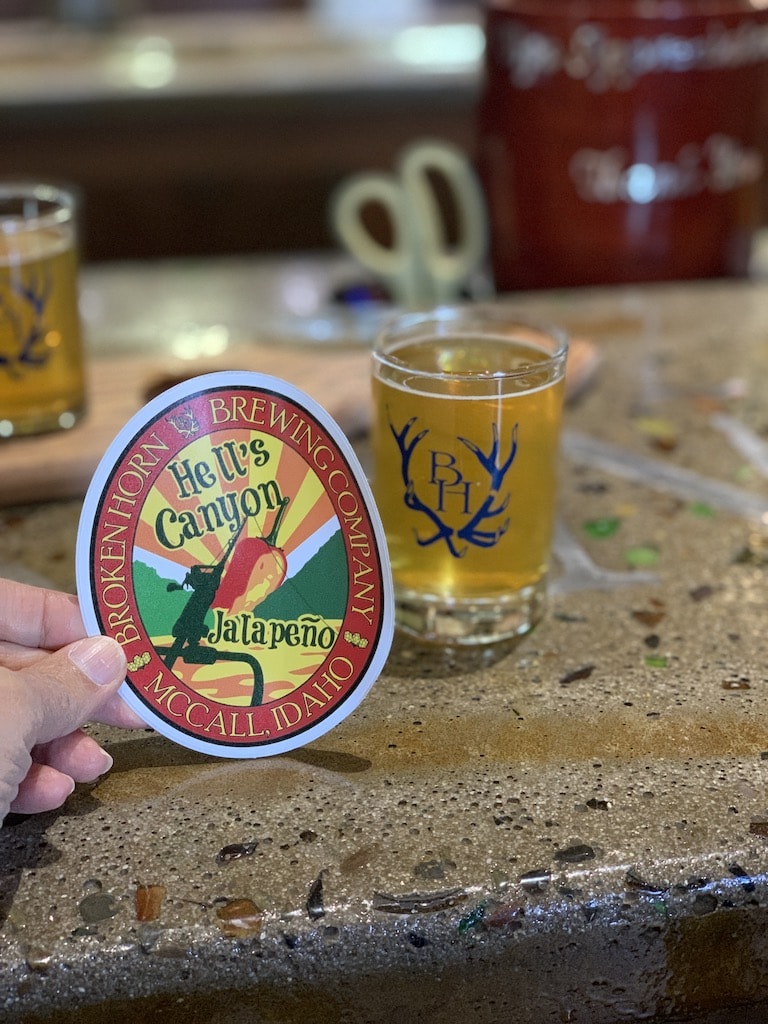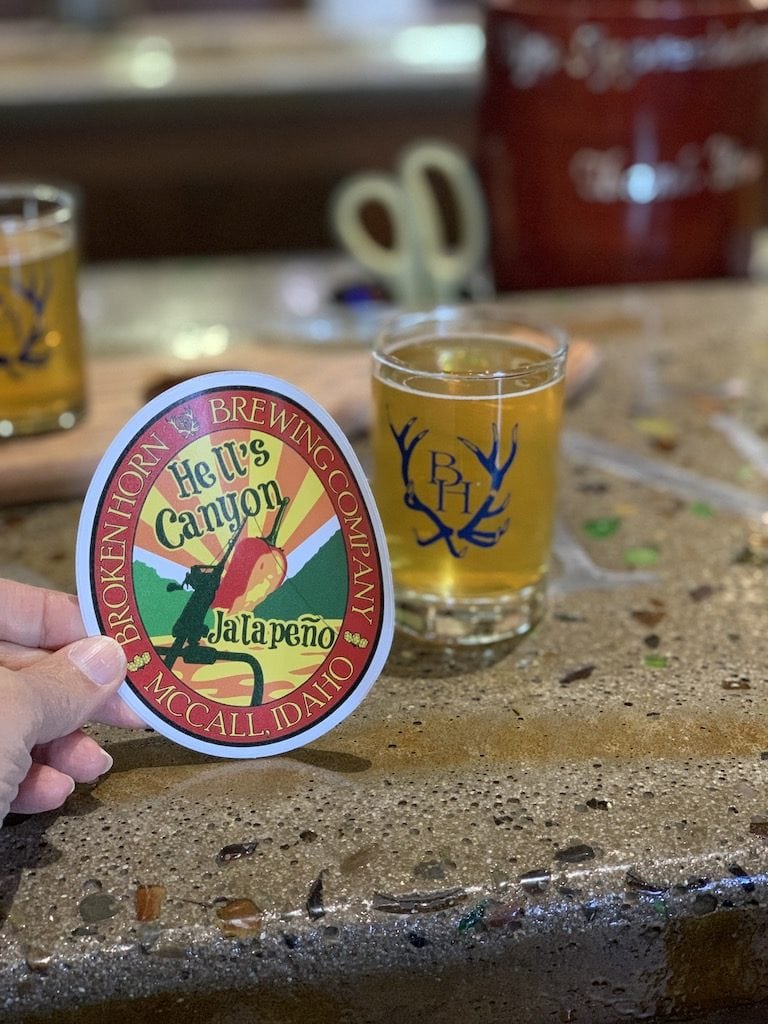 Visit Broken Horn Brewing at 201 South Mission Street. Hours are 4 pm - 8 pm Monday, Thursday, and Friday, and 1 pm until 8 pm on Saturday and Sunday. For event information, visit the Broken Horn Brewing Facebook page. They have a lot going on, including food trucks, music, and even wine tastings.
McCall has their very own Ale Trail page, so be sure to visit the site to plan out your Idaho brewery visits.
Where to Stay in McCall
We spent three nights in lovely McCall. Hotel McCall is a charming boutique hotel right downtown. With Stay & Play golf packages in the warmer months, an indoor saline pool, fantastic spa, as well as the delicious Rupert's Restaurant right on site, this is a great addition to your vacation plans. Hotel McCall is also really convenient to everything downtown.
Tamarack Resort is a vacation in itself, but we were only there for a short time. Offering ski-in, ski-out vacations, incredible accommodations from the Lodge at Osprey Meadows all the way up to Estate Homes and everything in between, you really should put this on your list.
Payette Brewing Company
The last Idaho brewery we would visit took us back to Boise. Payette Brewing Company was another fun spot with delicious beer. We sat outside and enjoyed the wonderful fall weather. There's a grassy area where kids were playing and families were enjoying hanging out.
Payette has a great story. The owner was an engineer at Boeing and went back to school to study brewing. After getting his degree, he worked at another brewery briefly and decided to come home to Boise and start his own.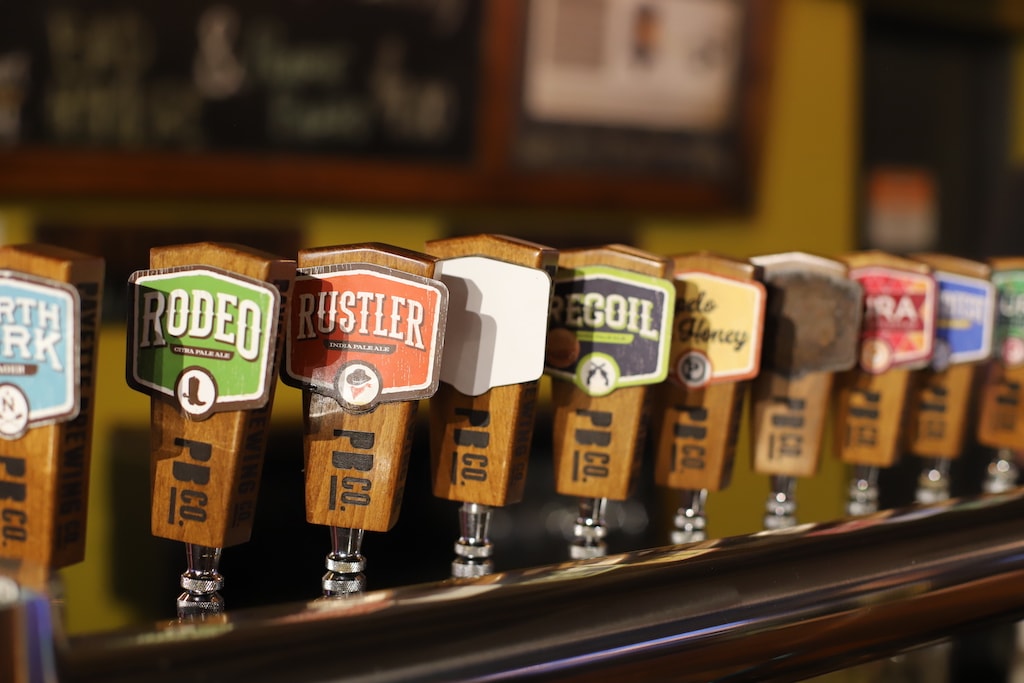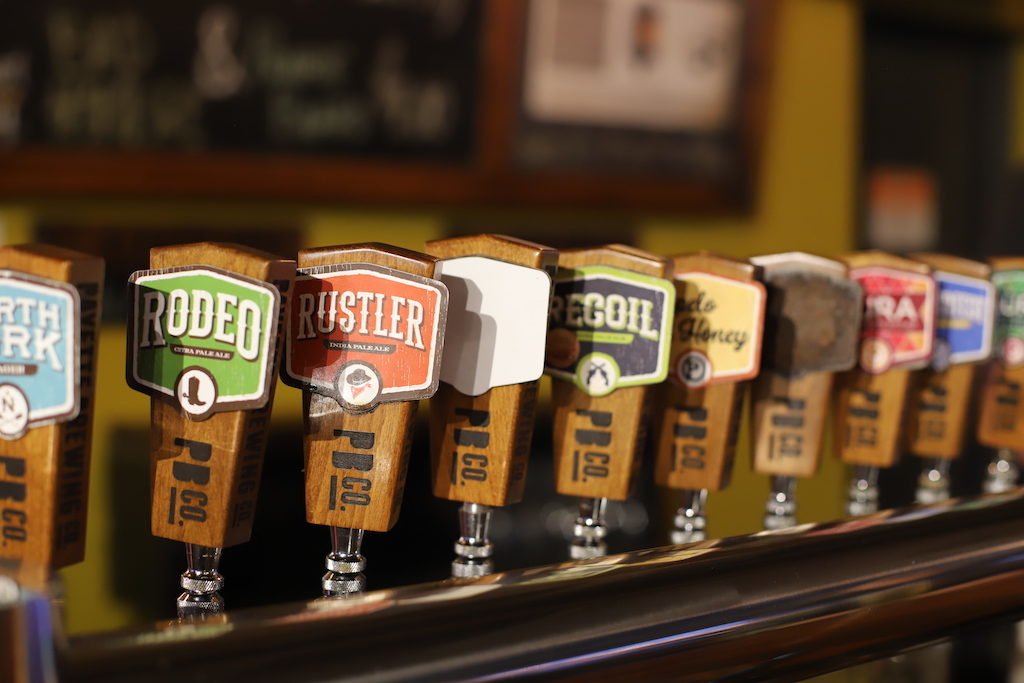 You'll be glad he made that decision when you taste what they're brewing at Payette Brewing.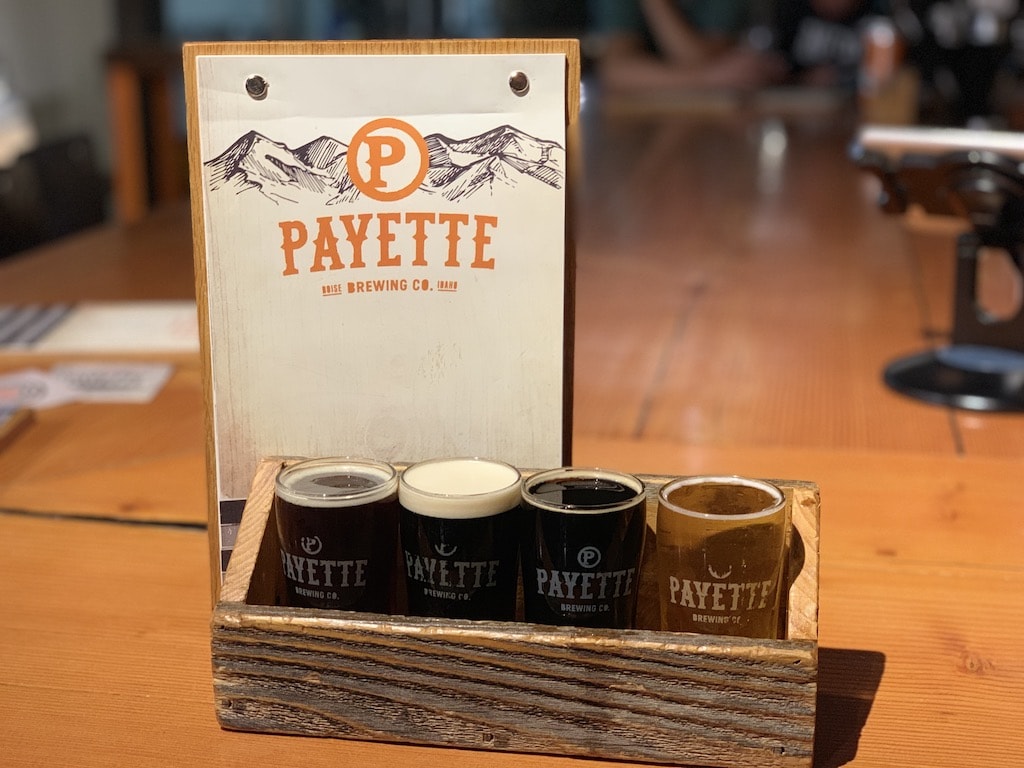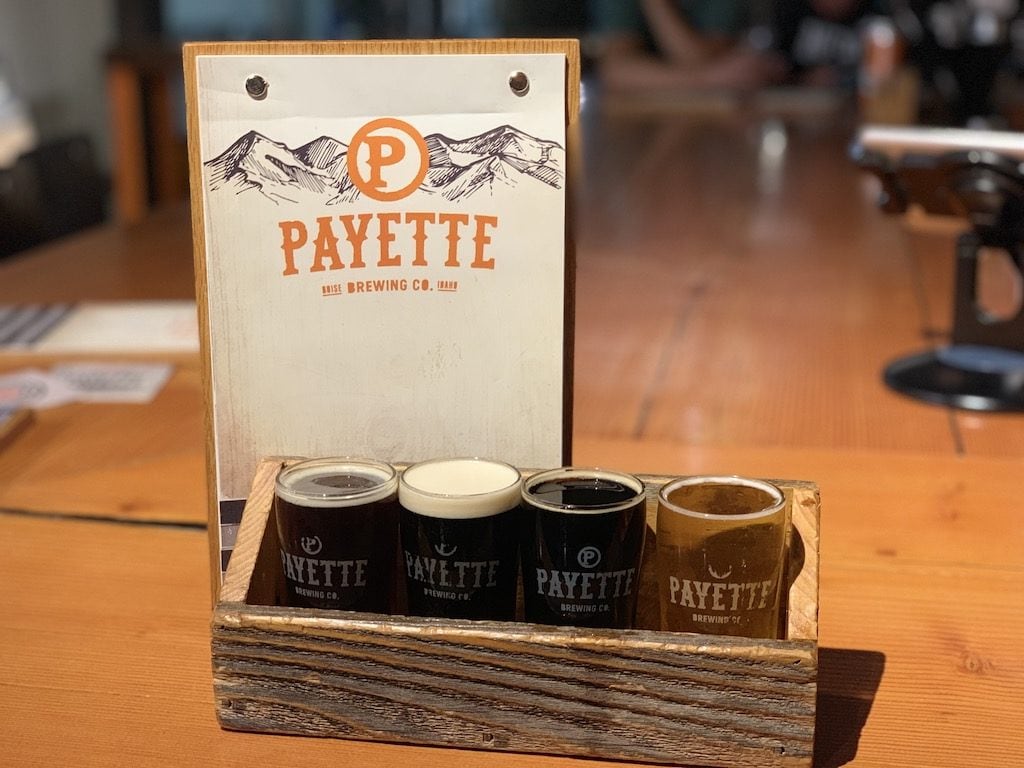 They don't have a kitchen at Payette Brewing, but they do team up with food trucks. The night we were there, the food truck was Cuban. I'm a big food truck fan and it was fun to try my newfound pairing skills.
Try a couple of the crazy varieties in cans, like the small-batch Gummy Bear Apocalypse. They also have a Sofa King Brut IPA that looked interesting.
Payette Brewing is located at 733 Pioneer Street in Boise. Hours are 11 am until 10 pm daily.
Idaho Brewery Beer and Food Pairing
Ragazza Di Bufalo
When you think of pairing a meal with a beverage, you typically think of wine pairing. I've had a dish paired with a beer now and then, but I've never sat down to an entire meal paired with beer until visiting Ragazza Di Bufalo.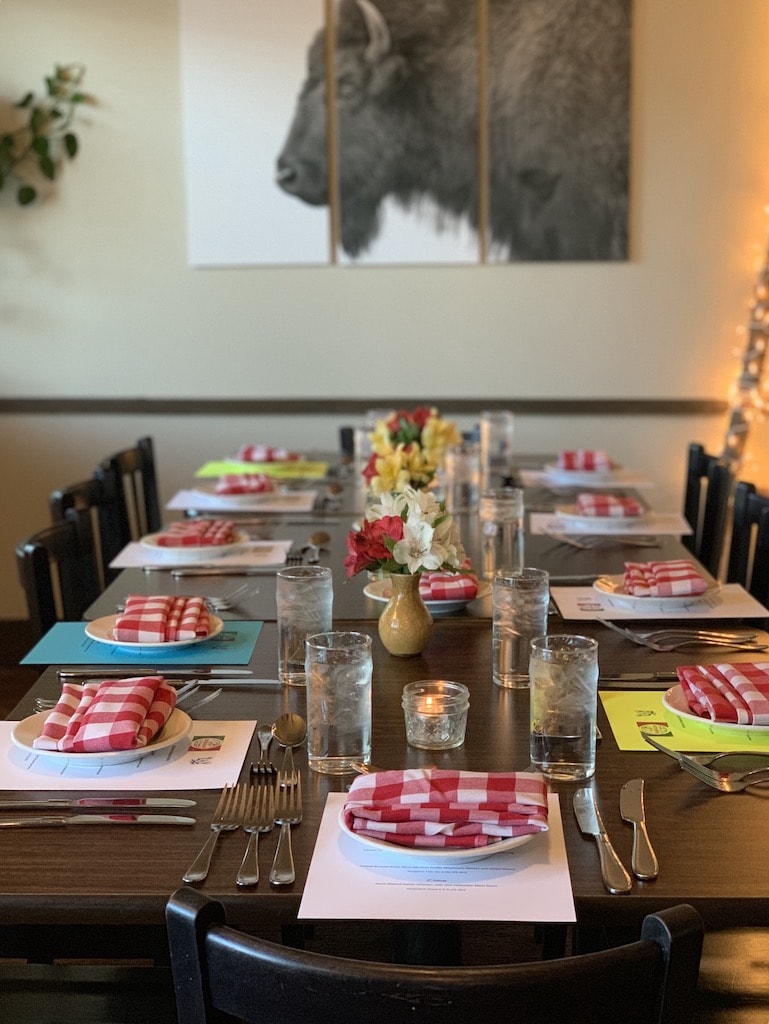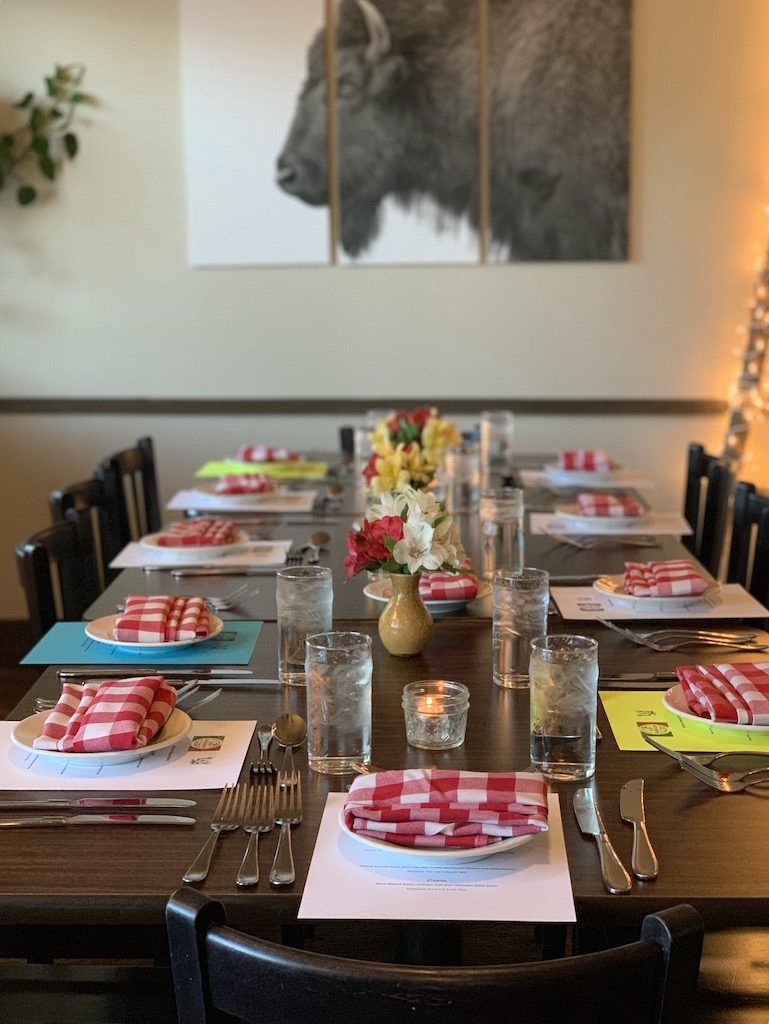 Chef Steven Topple paired each dish with a beer from Broken Horn Brewery, and it was fabulous.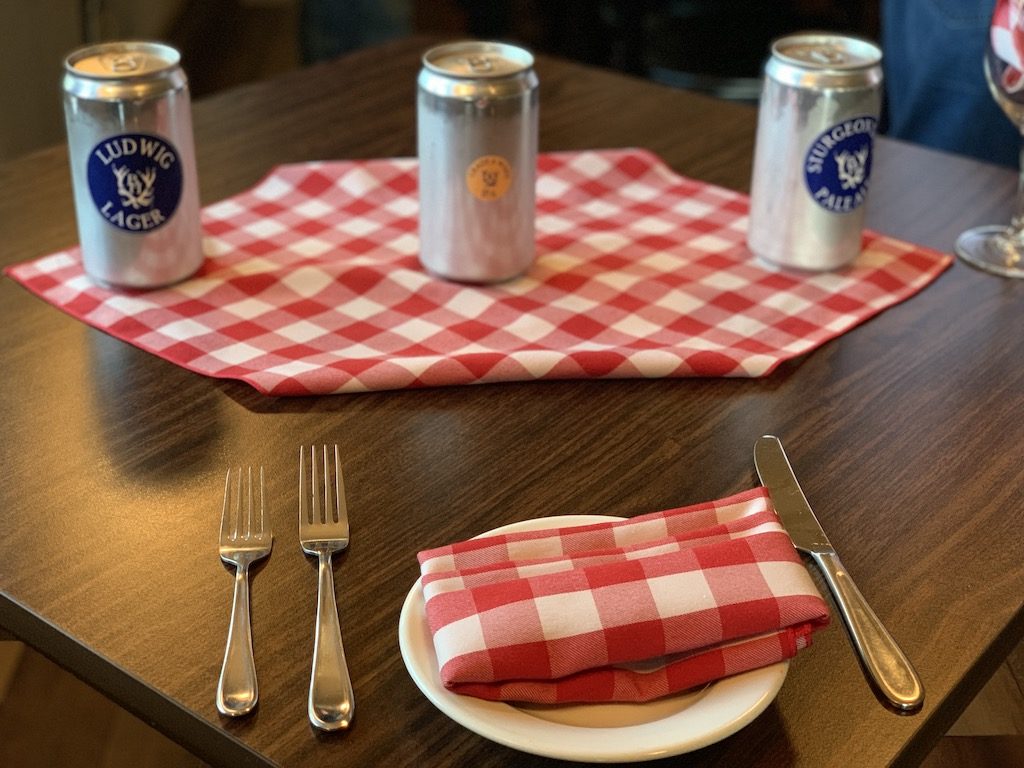 We started with crispy artichokes with creamed spinach sauce that was absolutely heavenly, paired with Broken Horn's Ludwig Lager.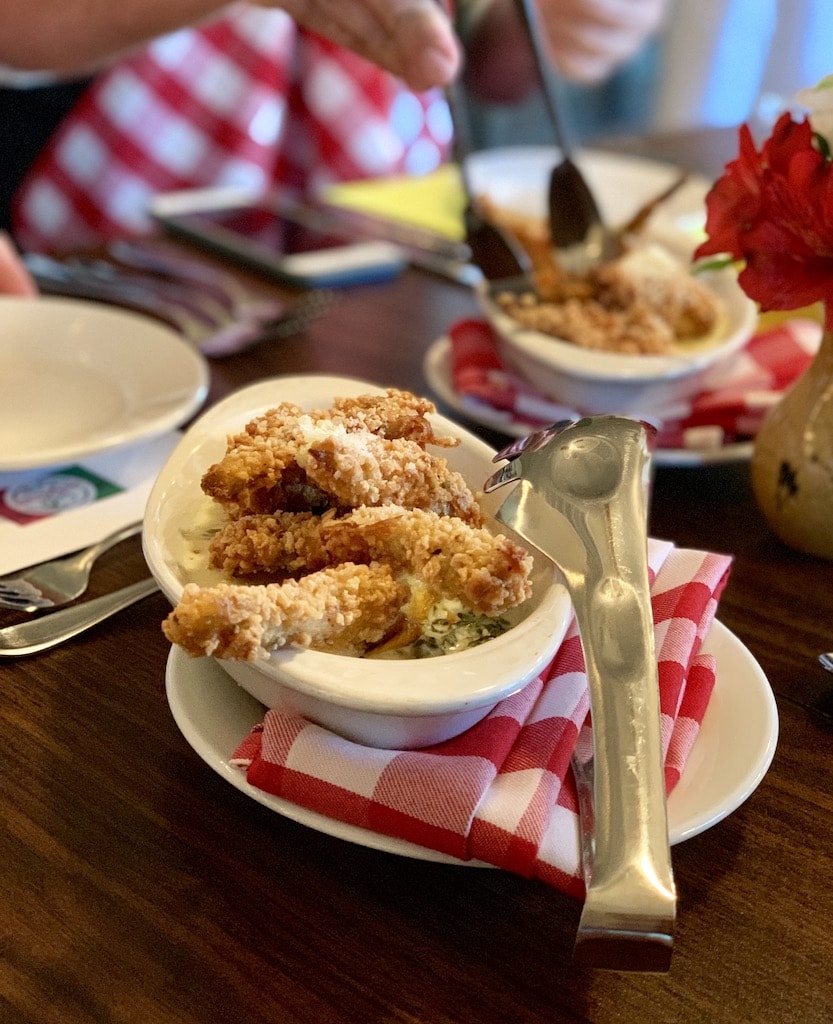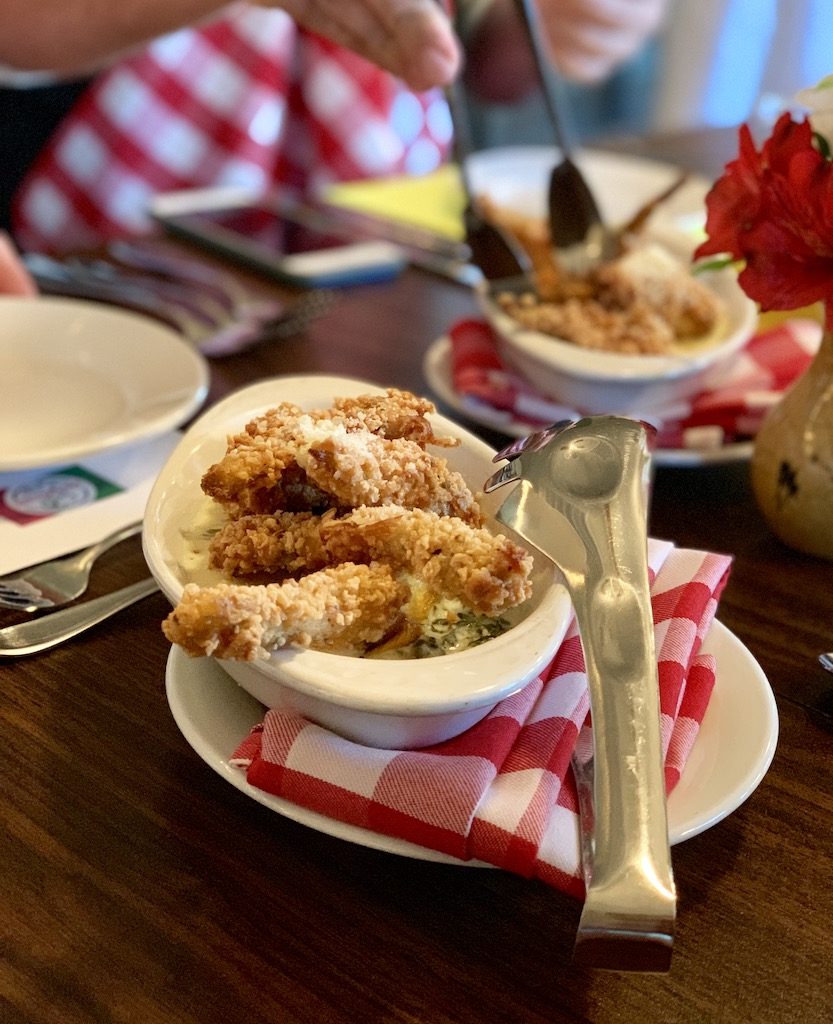 The entree of salmon piccata with caper basil dressing was incredible, paired with the Seasonal White IPA.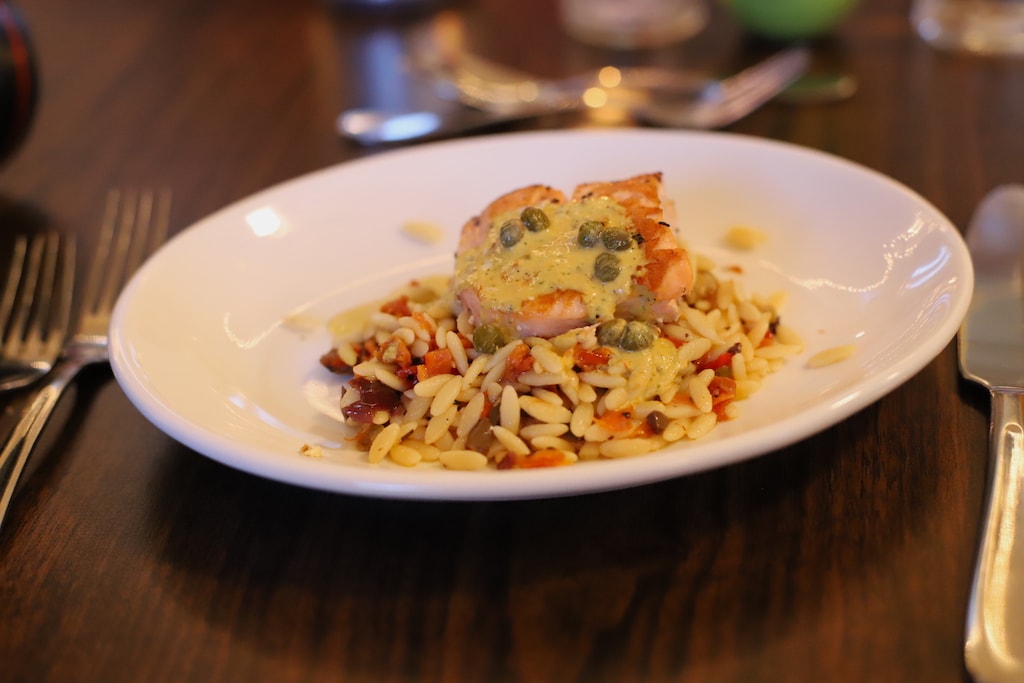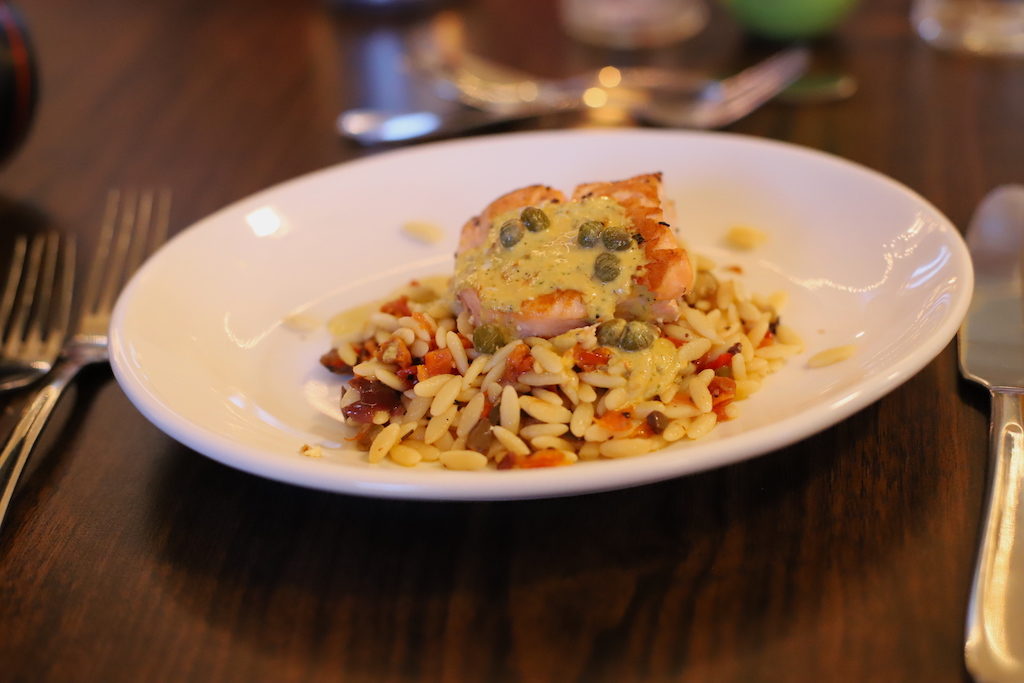 For the third course, we were served chianti-braised short rib over truffle mushroom risotto and crispy onions, paired with Sturgeon Tale Ale. And now I wish I had that to eat all over again!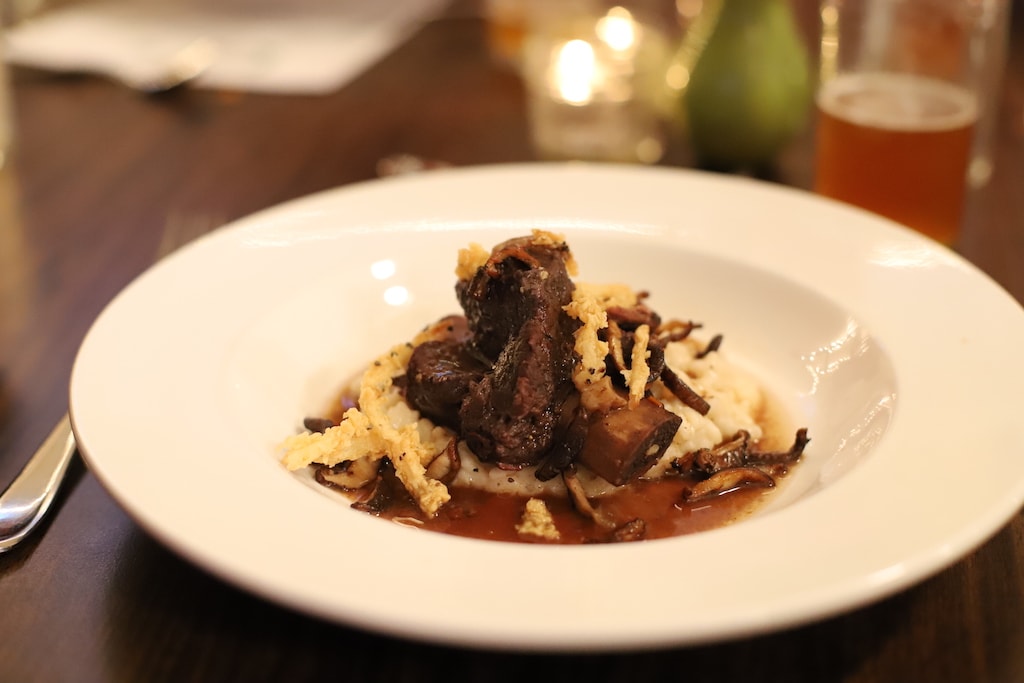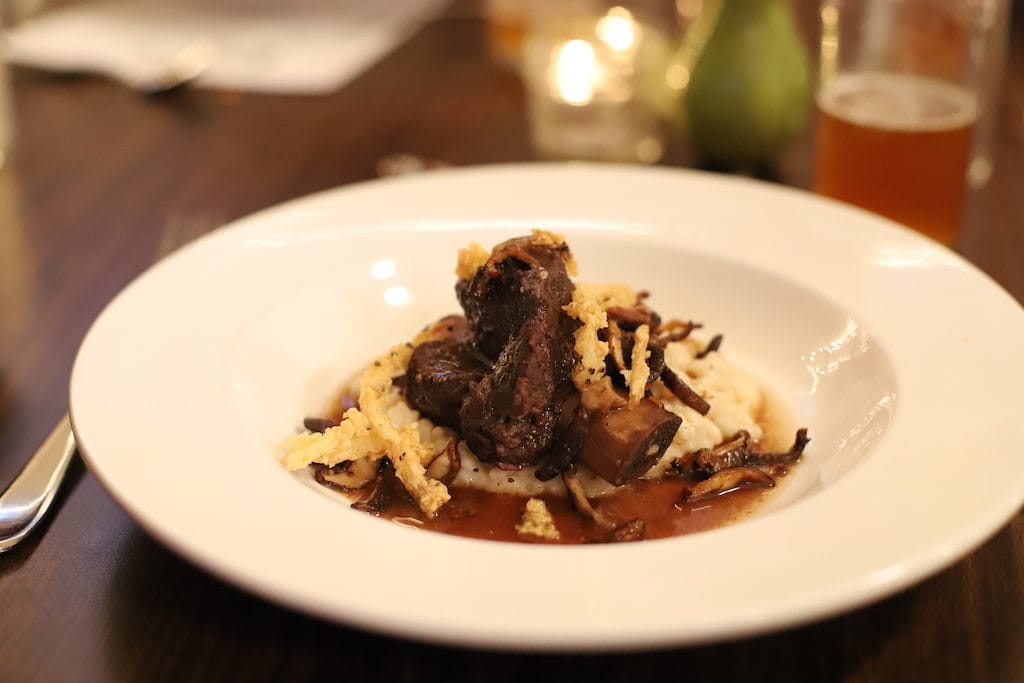 Finally, the dessert of stout soaked Tiramisu with rich chocolate stout sauce was paired with Sasquatch Stout, and I was officially in love with beer pairings.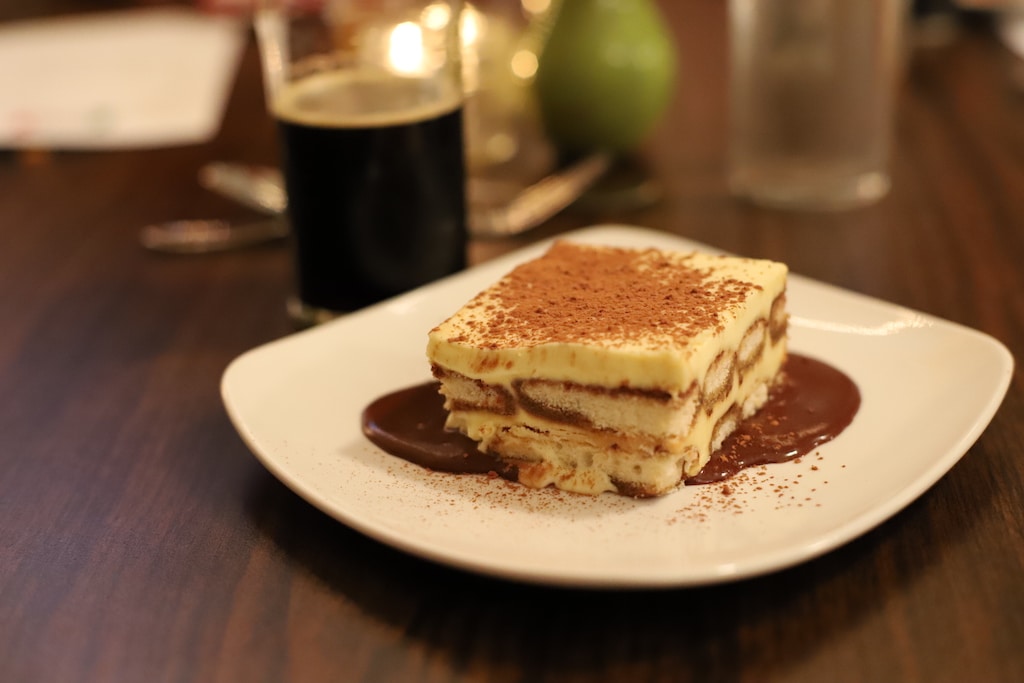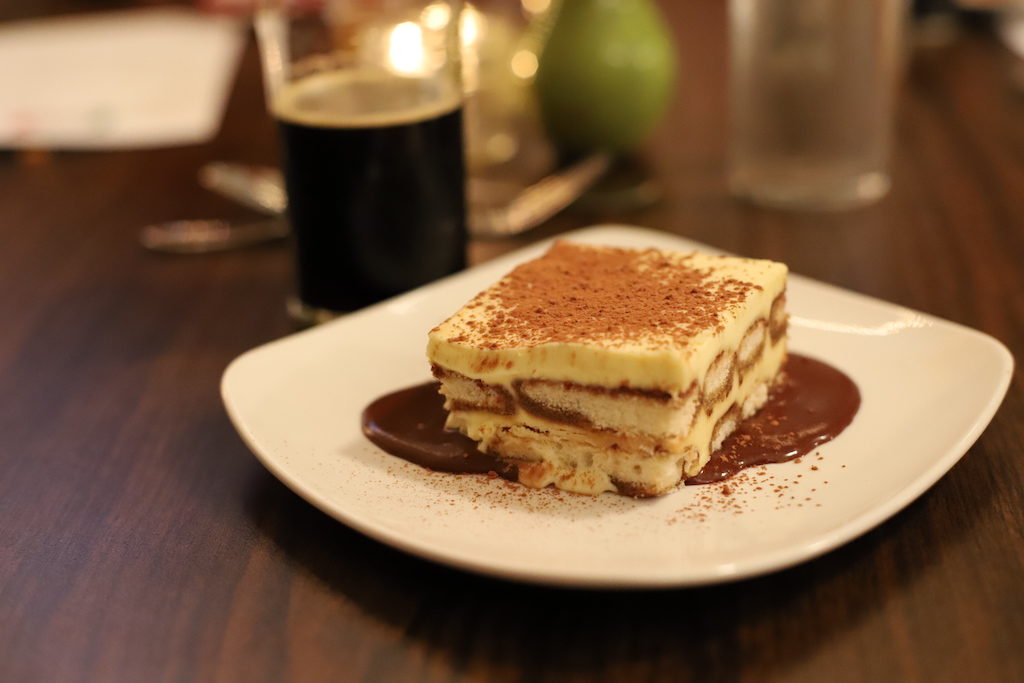 Intrigued? I was, too, so I bought Chef Steven's book, Signatures, and can't wait to share a few recipes with you soon.
Visit Ragazza Di Bufalo at 319 Main Street in Donnelly. Hours are Wednesday through Sunday from 5 pm until 9 pm. It's best to make a reservation.
Jug Mountain Ranch
The other pairing we were treated to was at the beautiful Jug Mountain Ranch Clubhouse Restaurant in McCall. Chef Gary Kucy, who was a semi-finalist in a recent James Beard Foundation Award, paired several local Idaho breweries with the dishes he created.
Just before the first course was served, we all ran outside to enjoy the stunning sunset. You don't see this every day!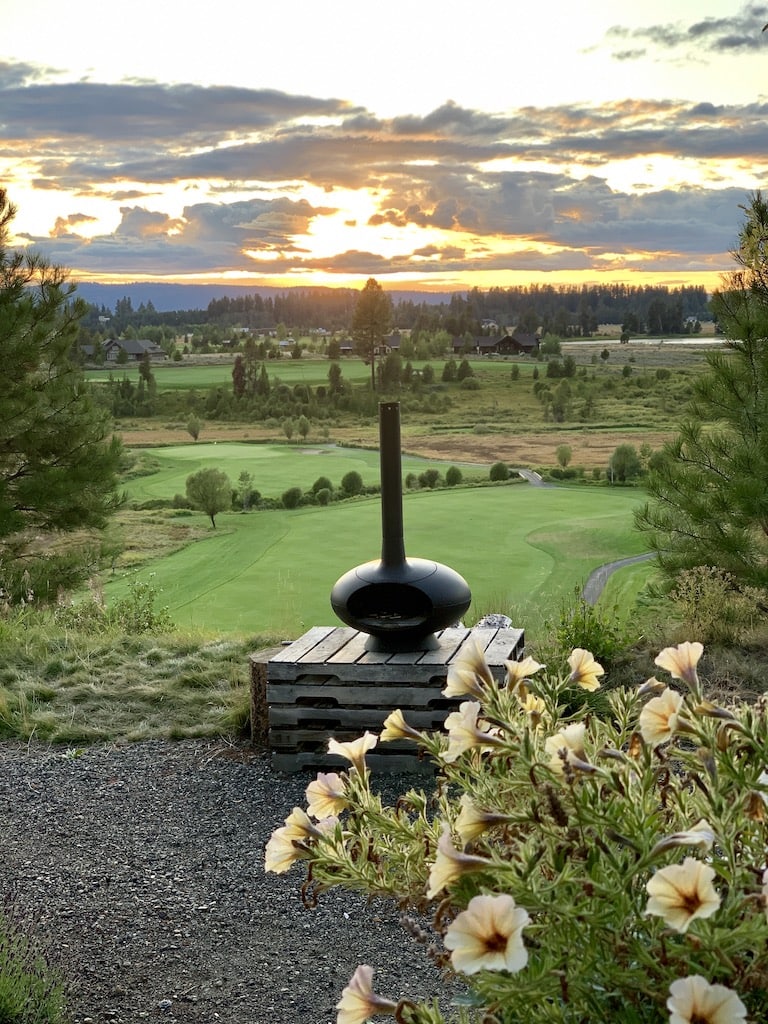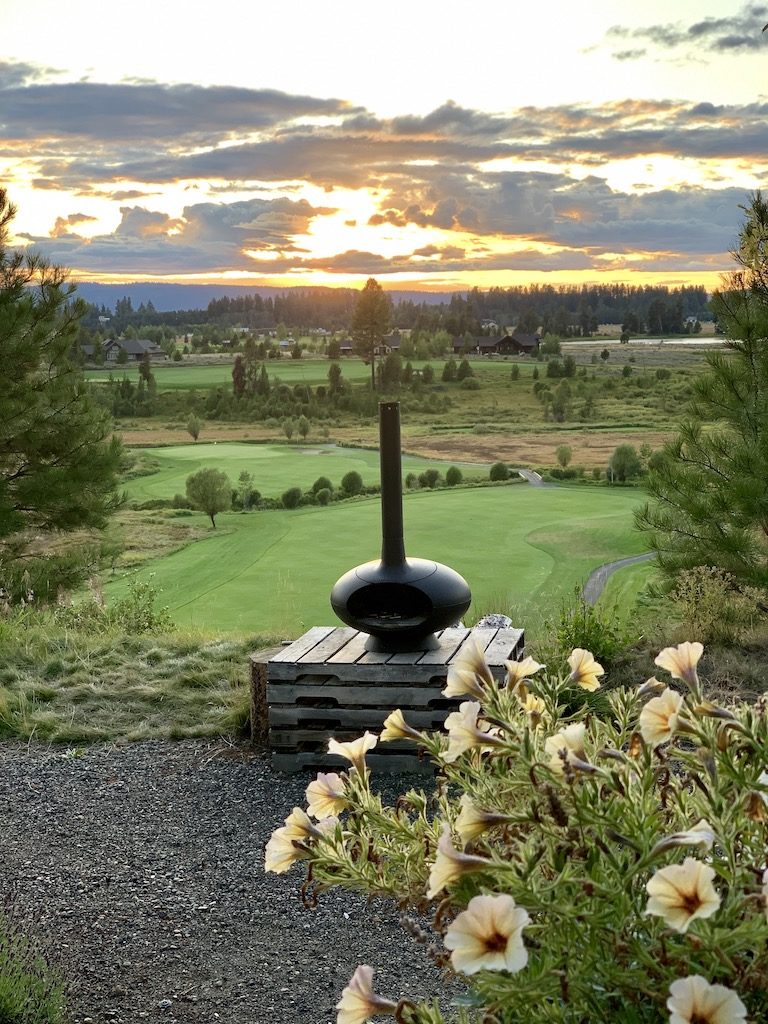 Our server brought out the appetizer of shrimp ceviche paired with the Lemon Ginger Hefeweizen from McCall Brew Pub.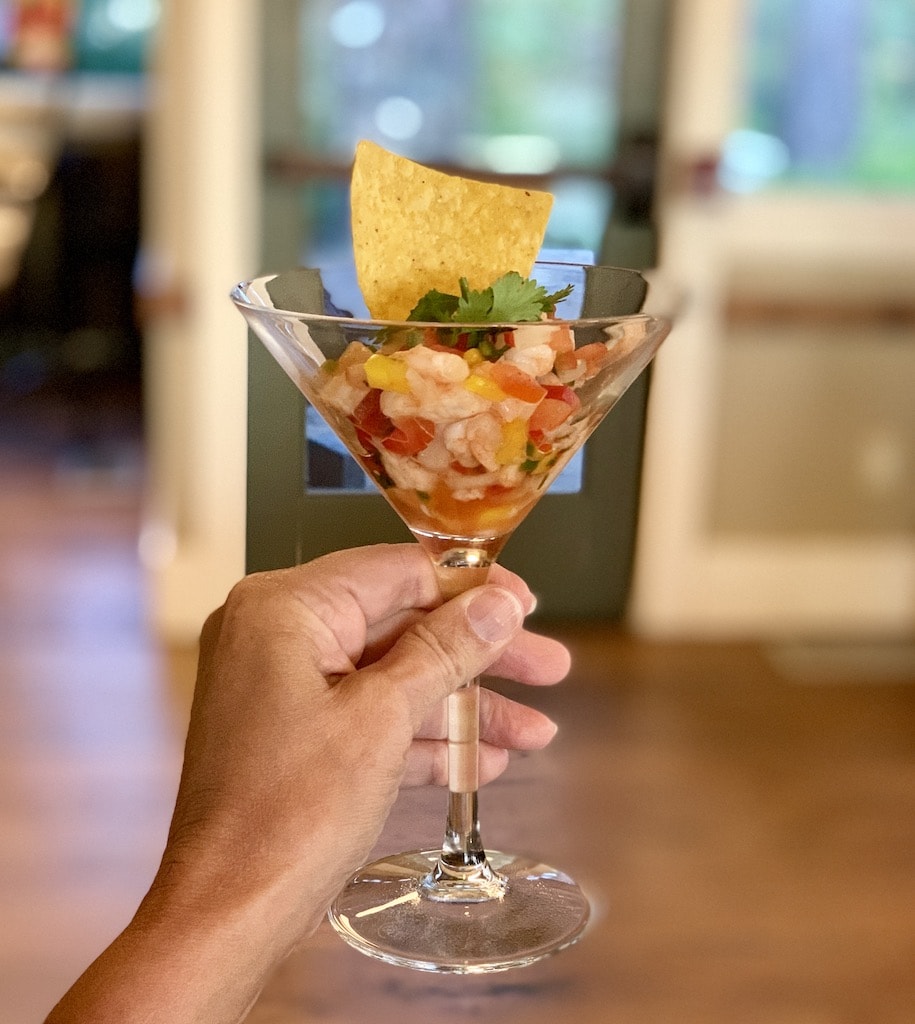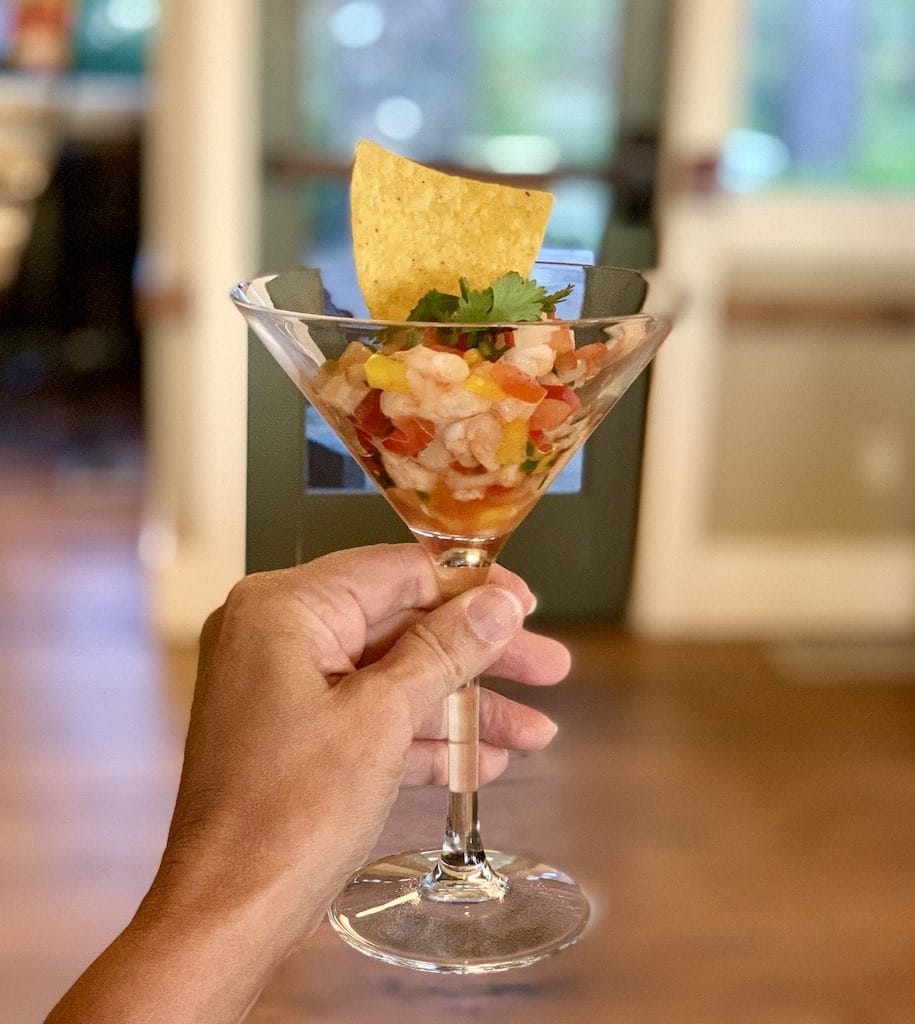 The next course was Himalayan yak meatballs served with Amber ale from Grand Teton Brewing Co. We all loved the soup and the meatballs were wonderful.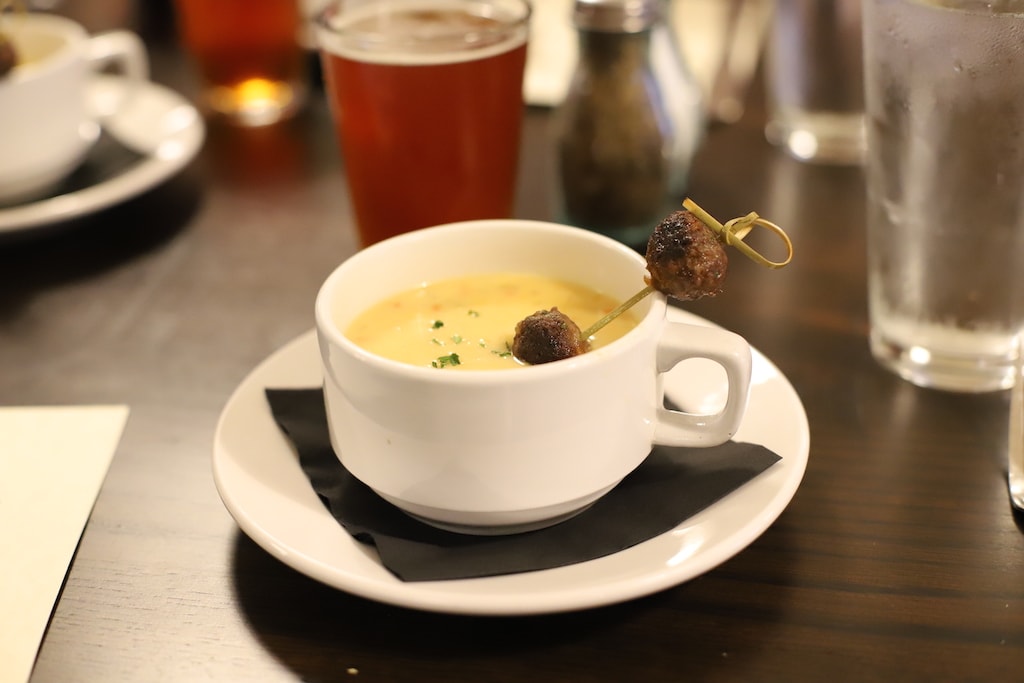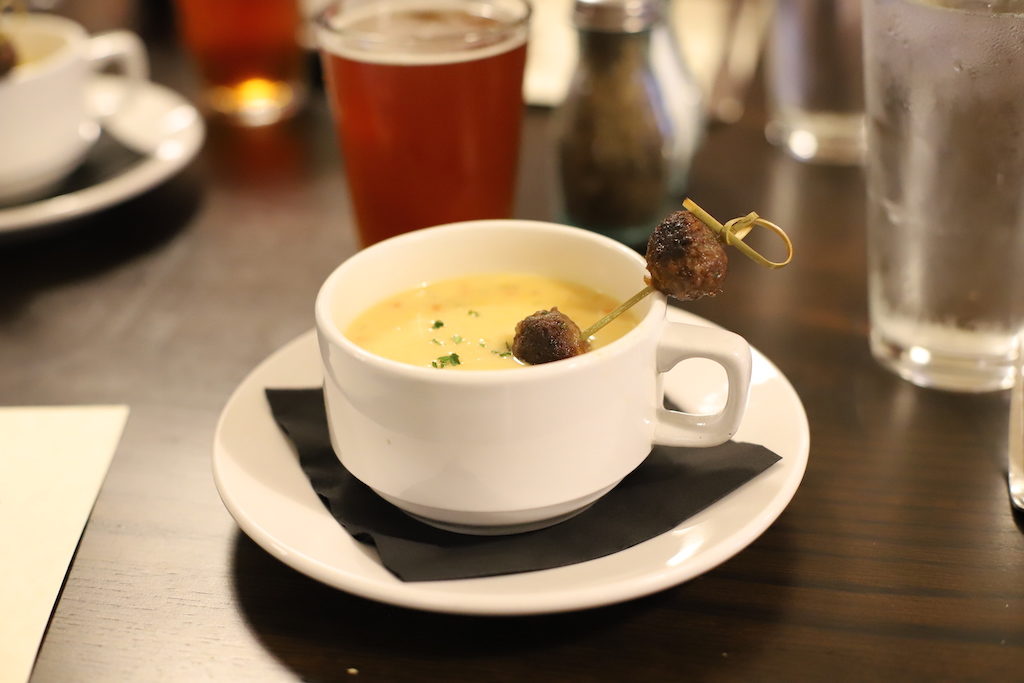 Our entree was Grand Teton 208 huckleberry glazed pork tenderloin with a twice-baked potato and seasonal vegetables. The blonde ale paired really well with the pork.
Unfortunately, once the sun goes down, sometimes I just can't get a good photo. Nothing I took would do the pork justice, so you'll just have to visit!
I did, however, get a good shot of the dessert; Stacey Cakes Chocolate Cake, served with the Buzz Buzz Porter from Salmon River Brewery. I loved this one when we visited Salmon River, and pairing it with the chocolate cake was brilliant.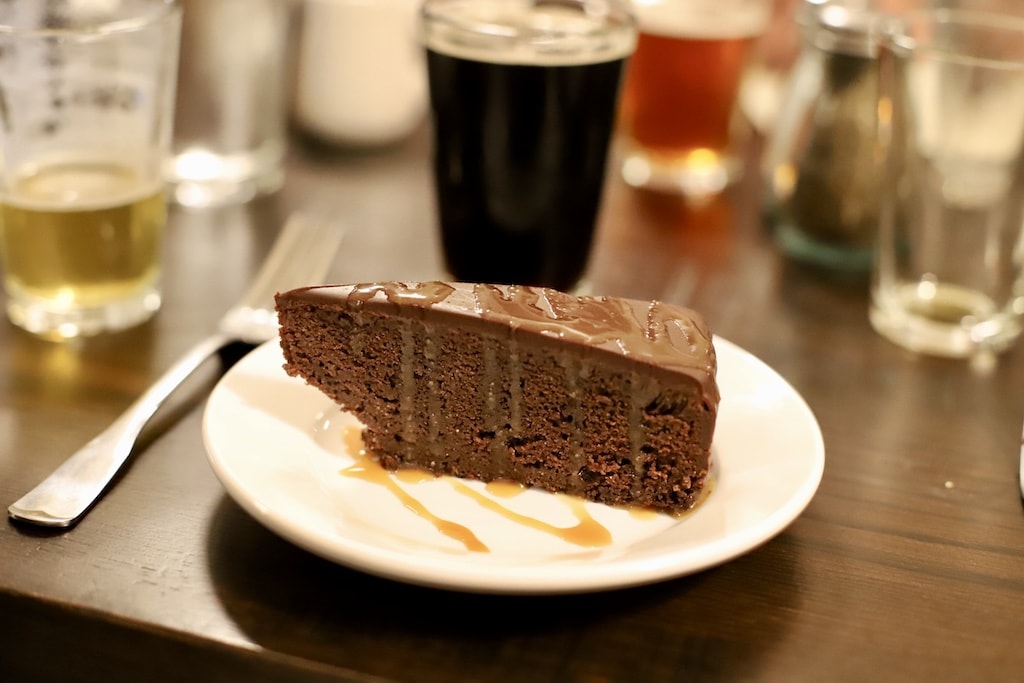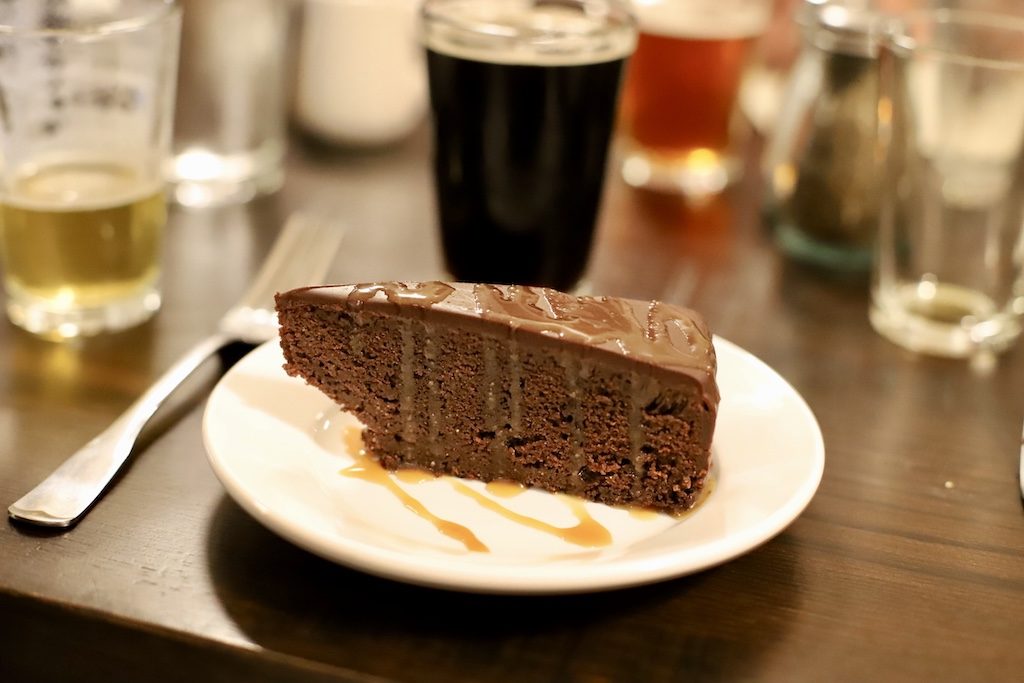 How to Pair Beer and Food
There are no pairings in Chef Steven's book, but fortunately, my new friends who really know beer recommended Beer Pairing, An Essential Guide by Julia Herz and Gwen Conley. I can't wait to get started learning about how to pair beer with food!
Learning About Idaho Brewing
You really can't go to Idaho to explore breweries without visiting a couple of places where it all begins. I can talk your ear off about food and hold my own when it comes to wine, but I had a lot to learn to keep up with the writers on this trip who specialized in beer.
Asking questions is the best way to learn, and I had a lot of them! Kendall Jones from Washington Beer Blog was so patient in helping me understand. For instance, I know yeast plays a part in brewing, but when Kendall said wild yeast can go wild, it took me a few minutes to understand.
In terms of food, if you've ever made a bread starter, you know how the yeast is what gives the bread the rise. In fact, wild yeast is so much better for you than store-bought yeast because wild yeast breaks down the phytic acid that causes digestive discomfort. This is also why kombucha has become wildly popular lately. (See how I did that?)
But back to beer. As yeast is a factor that you have to control or it can spoil beer, a lot of people avoid letting the wild yeast 'go wild.' BUT, if you want to be creative in your brewing, you can tame that wild yeast and create something really fun. I'm looking forward to learning more about the intricacies of brewing!
Hopland USA
You'll find Hopland USA at 25765 Fern Lane in Wilder. Here they grow 900 acres of hops, supplying breweries with that all-important ingredient for crafting beer.
This land has been farmed by the McKay family for six generations and is now 160 years old. The family was growing hops in Oregon and decided to expand to Idaho where all their hops are now grown.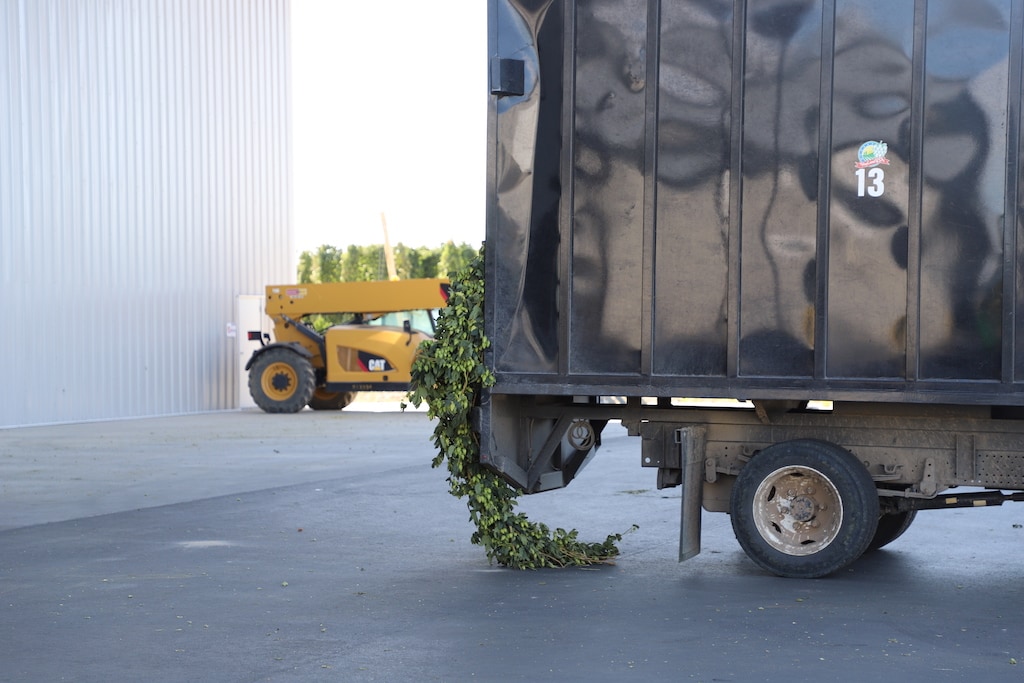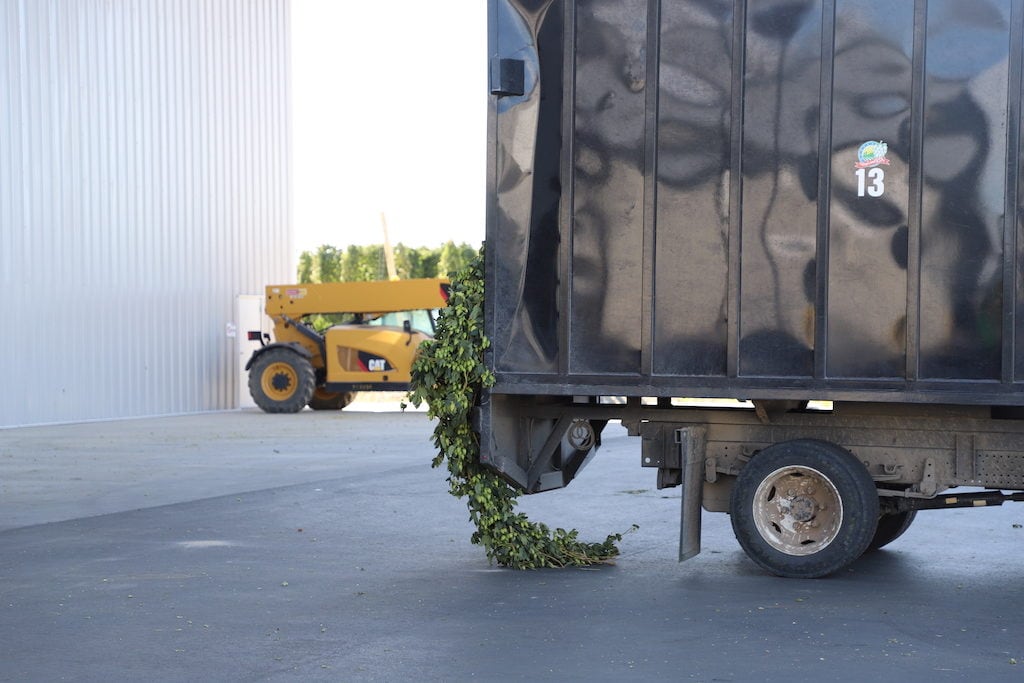 Did you know that hops plants are actually called bines? Unlike vines that are held up by their tendrils, bines are held up by stiff hairs or bristles. The hops are actually the flowers of the plant.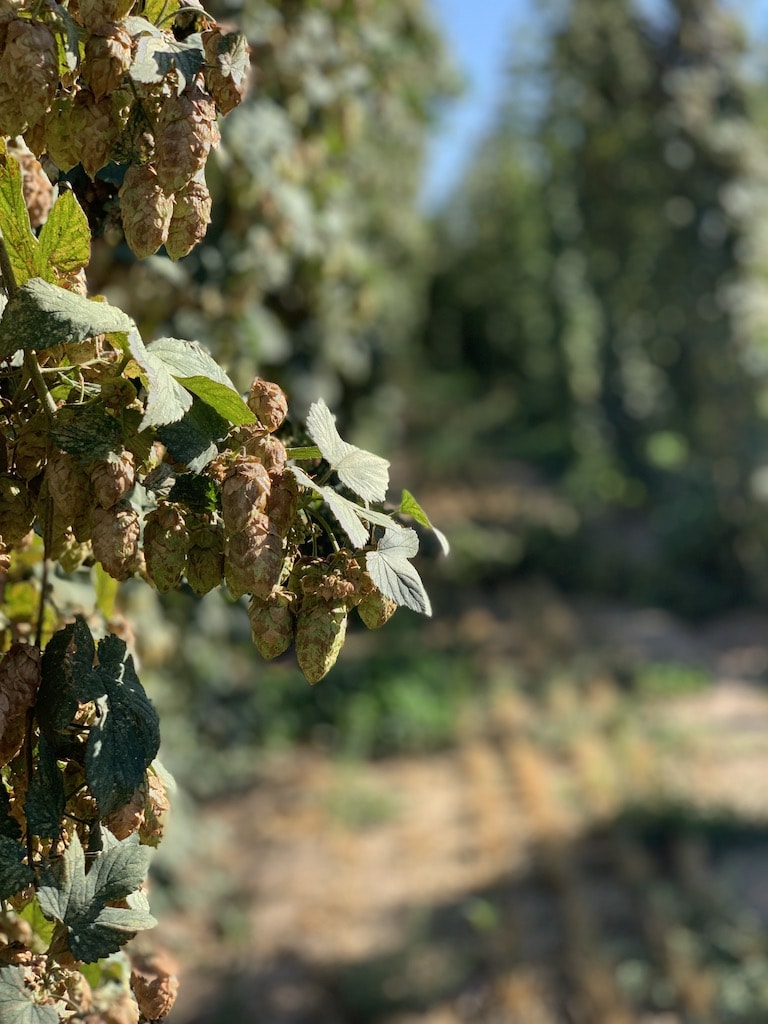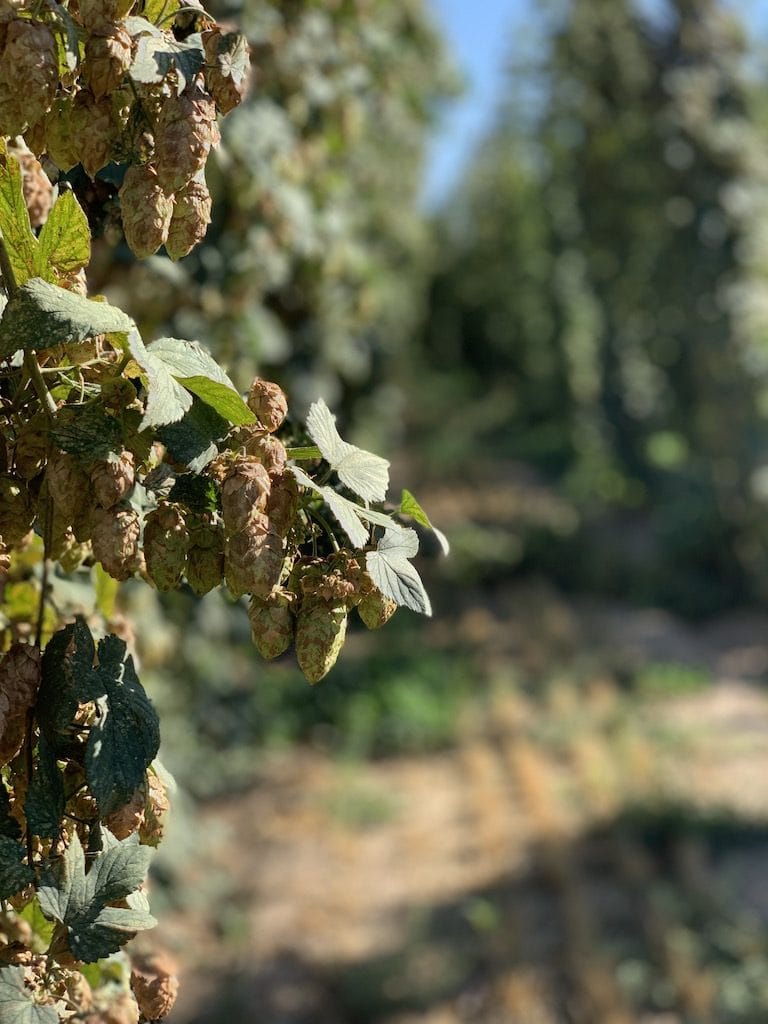 When we were touring Hopland USA, on September 12th, they were sixteen days into the harvest. They were on a tight timeline because if there was a freeze, it changes things a lot.
The flowers are separated from stems and other debris a couple of times because it has to be done so gently. Getting rid of moisture as quickly as possible is really important, too, as you can imagine.
They can do a great job of growing and a great job harvesting, but if they do a poor job drying, it really shows in the flavor.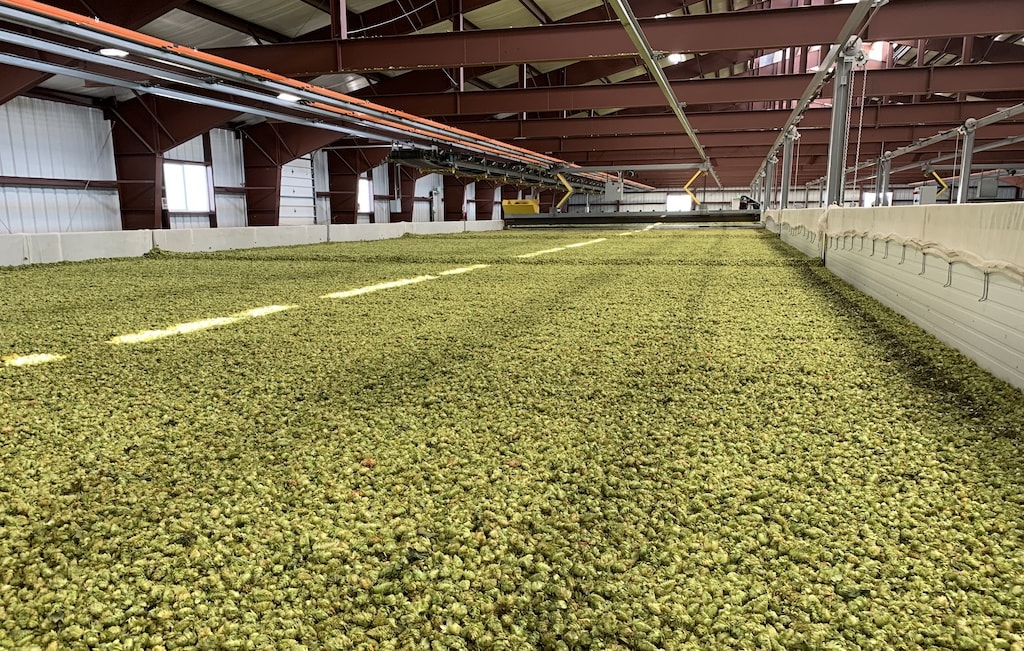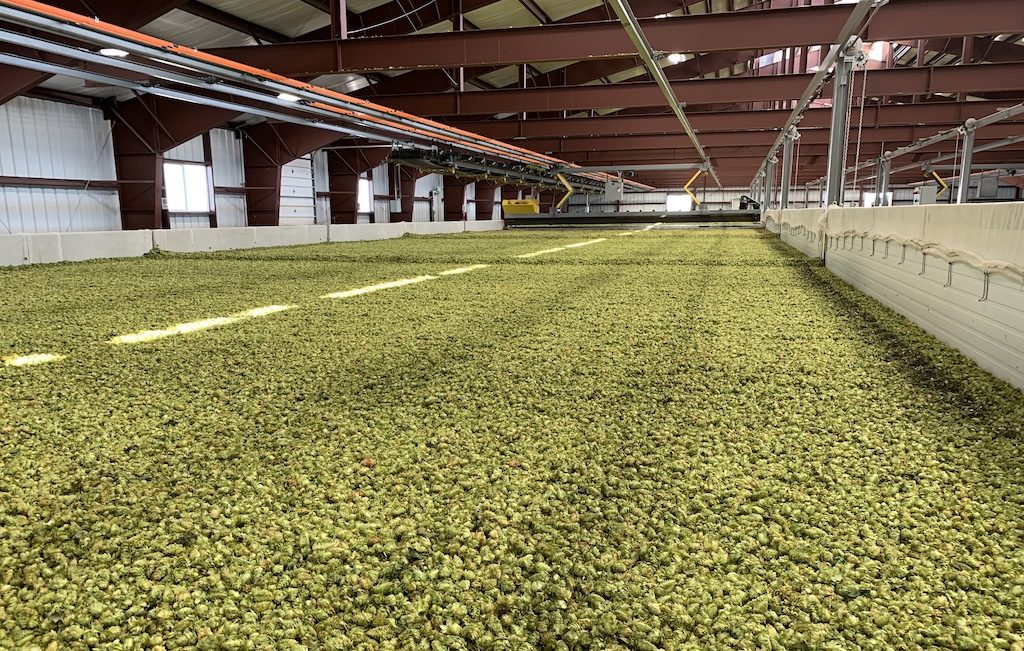 Speaking of flavor, we were also treated to a tasting at Hopland USA. Be sure to stop by the Taproom!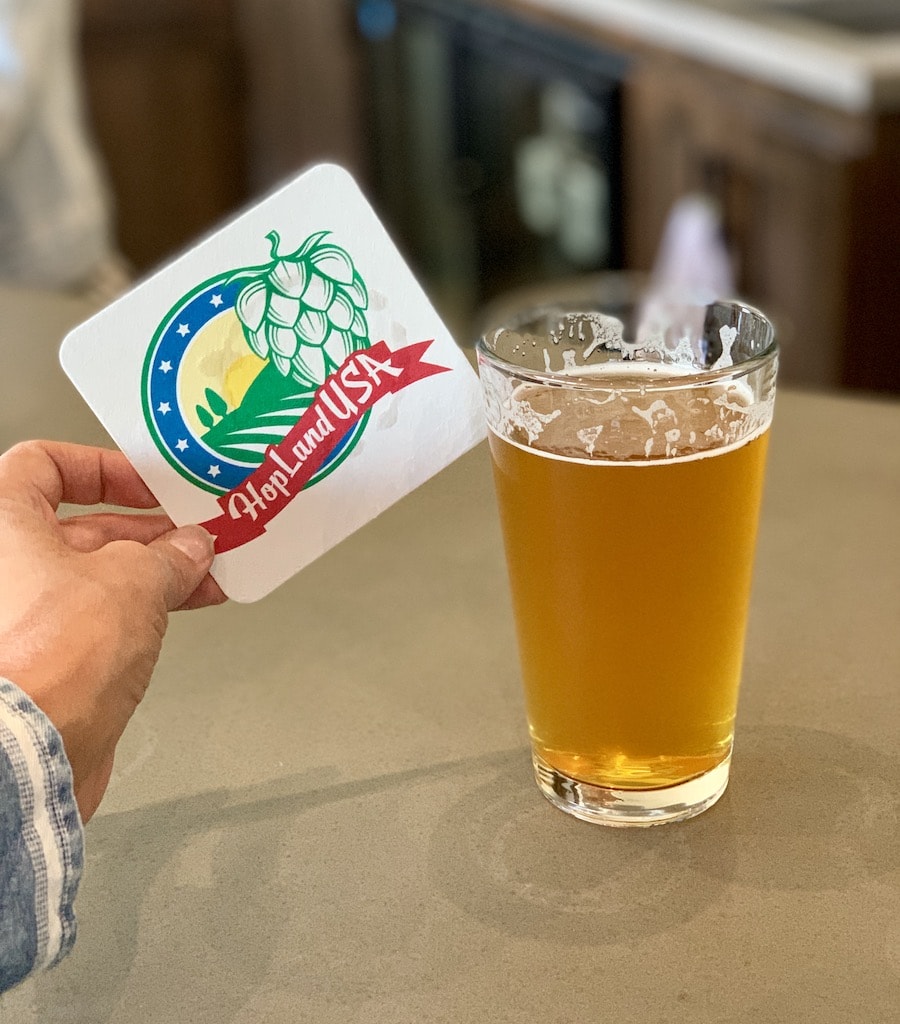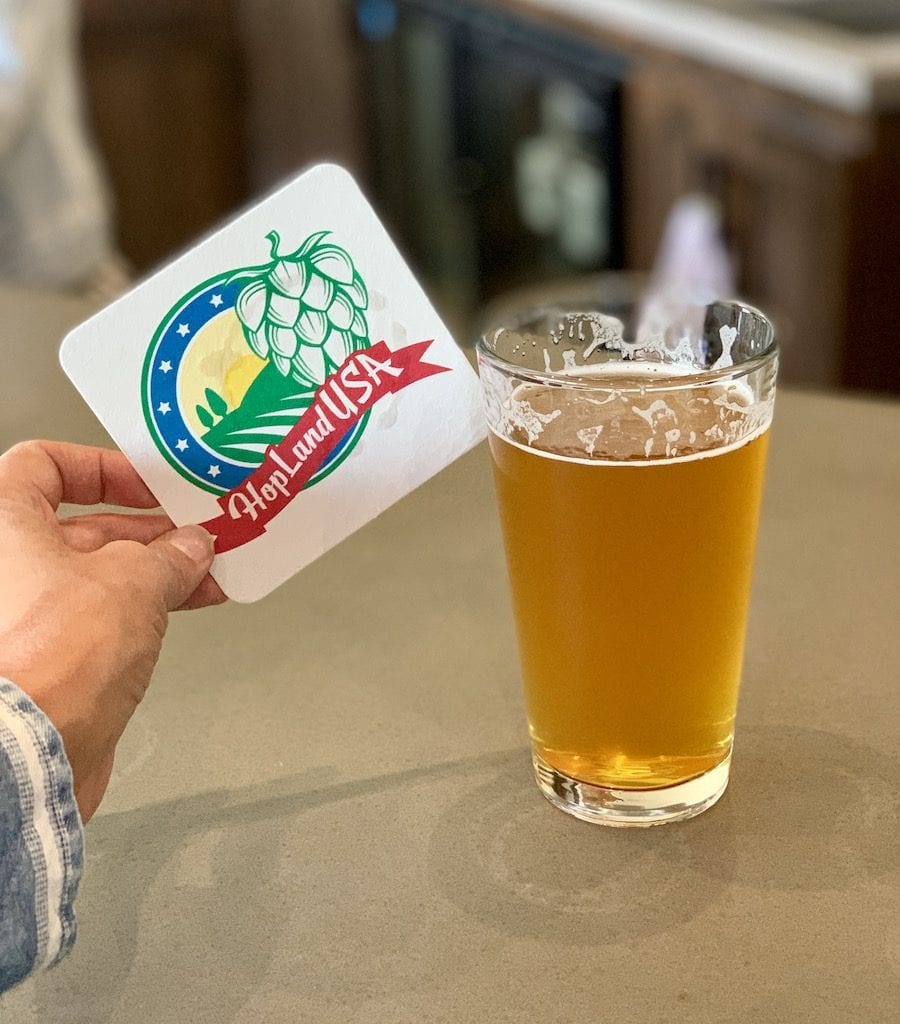 Mill 95
Mill 95 is the next step for the hops. They evaluate, care for, and process hops from Idaho and the Pacific Northwest.
Located just 15 minutes from all their growers, Mill 95 processes 13 different varieties of hops. This means they can supply a lot of breweries with what they need. We didn't spend a lot of time at Mill 95, but it was fascinating to see the process of the hops from the farm to the brewer.
Visiting Idaho Breweries
An easy way to set up an itinerary is to head to the brewery section of the Visit Boise website and take a look around. You can add breweries to your backpack and you'll be set!
Pick up an Idaho Brewer's Trail Map when you arrive or go ahead and grab one here so you can start planning. The map lists all 72 breweries in the state of Idaho.
Pick out your region for this trip (you'll want to come back) and start exploring. I'd love to see what you find, so be sure to come back and share!
A huge thanks to Visit McCall for hosting me on this trip.