Living within 30 minutes from the Gulf of Mexico, I was so excited when I heard about a new Longboat Key resort right on the water.
My husband and I like to celebrate special holidays, like our anniversary or Valentine's Day, down at the beach, but our favorite hotel was not beachfront.
It's difficult to find a beachfront hotel that also offers luxury and incredible food, but Zota Beach Resort has it all.
From private cabanas alongside the infinity-edge pool to chairs and umbrellas right on the white sand beach to Viento, the truly spectacular restaurant right on the premises, once you arrive at Zota, you won't have a care in the world.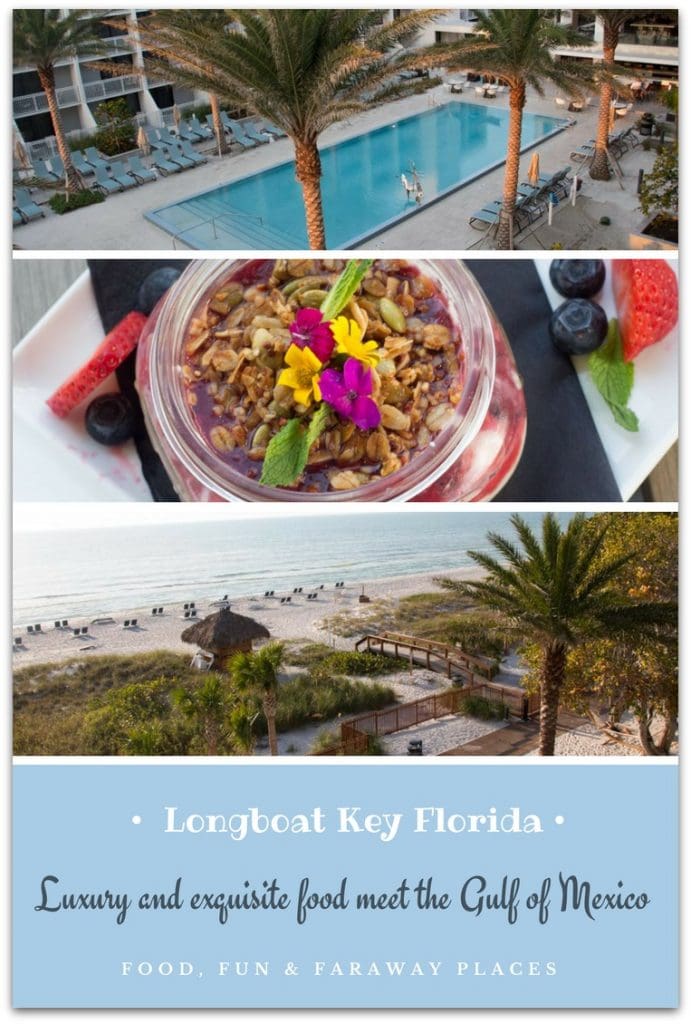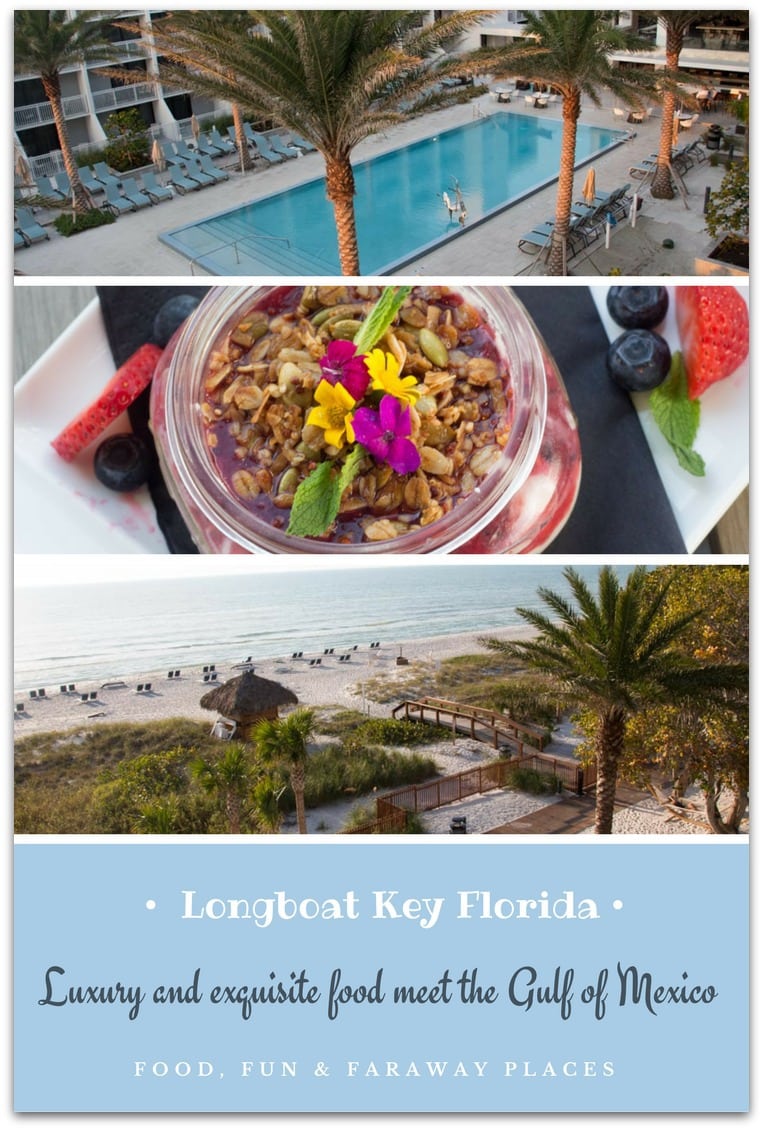 My husband and I wanted to check out Viento as we had heard Executive Chef Jason Pellett was creating mouthwatering fare served upstairs overlooking the pool and Gulf of Mexico. That's really all I needed to know! I saw photos of the resort before we planned to visit and spend the night, but didn't expect what I found.
As a true foodie, I'm often disappointed with hotel restaurants, but Viento truly delivers. We arrived in the afternoon and had a friend visiting Sarasota, so we told her to meet us at Zota. We grabbed a table outside in the bar area and ordered cocktails and wine from the extensive menu.
So many choices made it hard to decide on appetizers though I don't think you can go wrong. We definitely went right with the charcuterie board.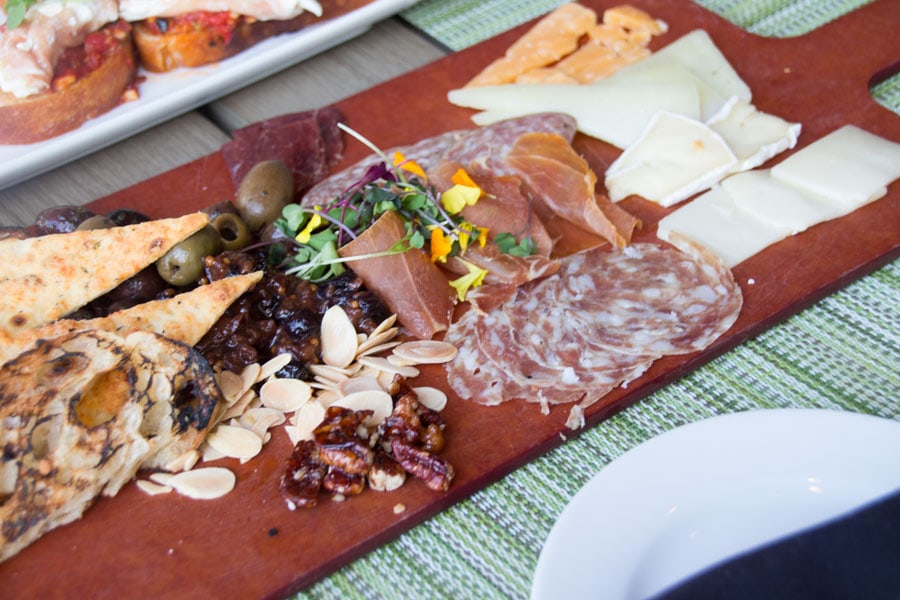 Anytime I'm out and see a charcuterie board on the menu, I'm in! I love the different flavor combinations, and this one had imported domestic meats and cheeses, along with marinated olives, candied pecans, grilled ciabatta bread with a seasonal jam, as well as parmesan crisps that are made in-house.
And that cheese up in the corner on the right? I don't know what variety it is, but it was heavenly. I'll make a note to get the name!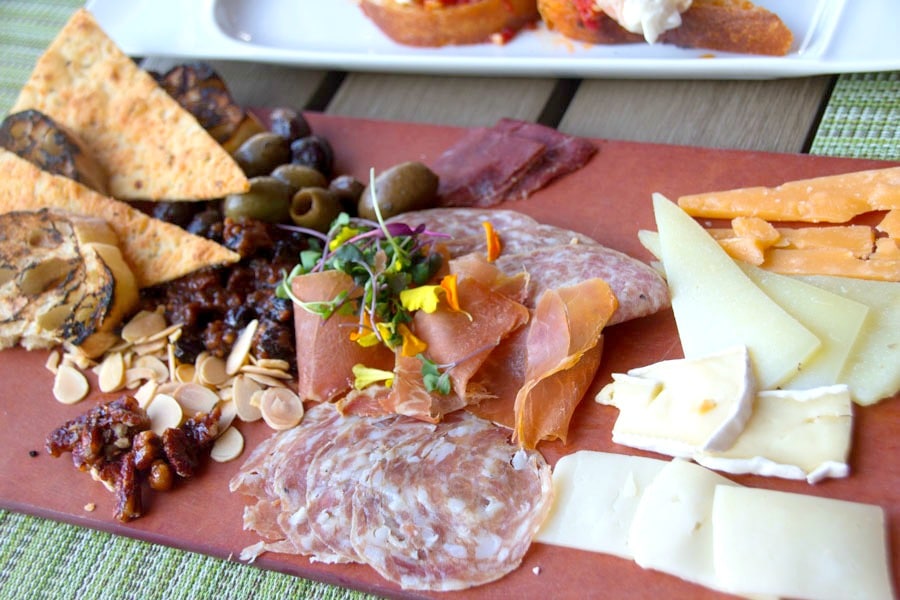 We ordered the grass-fed beef carpaccio served alongside balsamic pickled shallots, arugula, lemon aioli, and Parmigiano-Reggiano cheese, which we promptly demolished.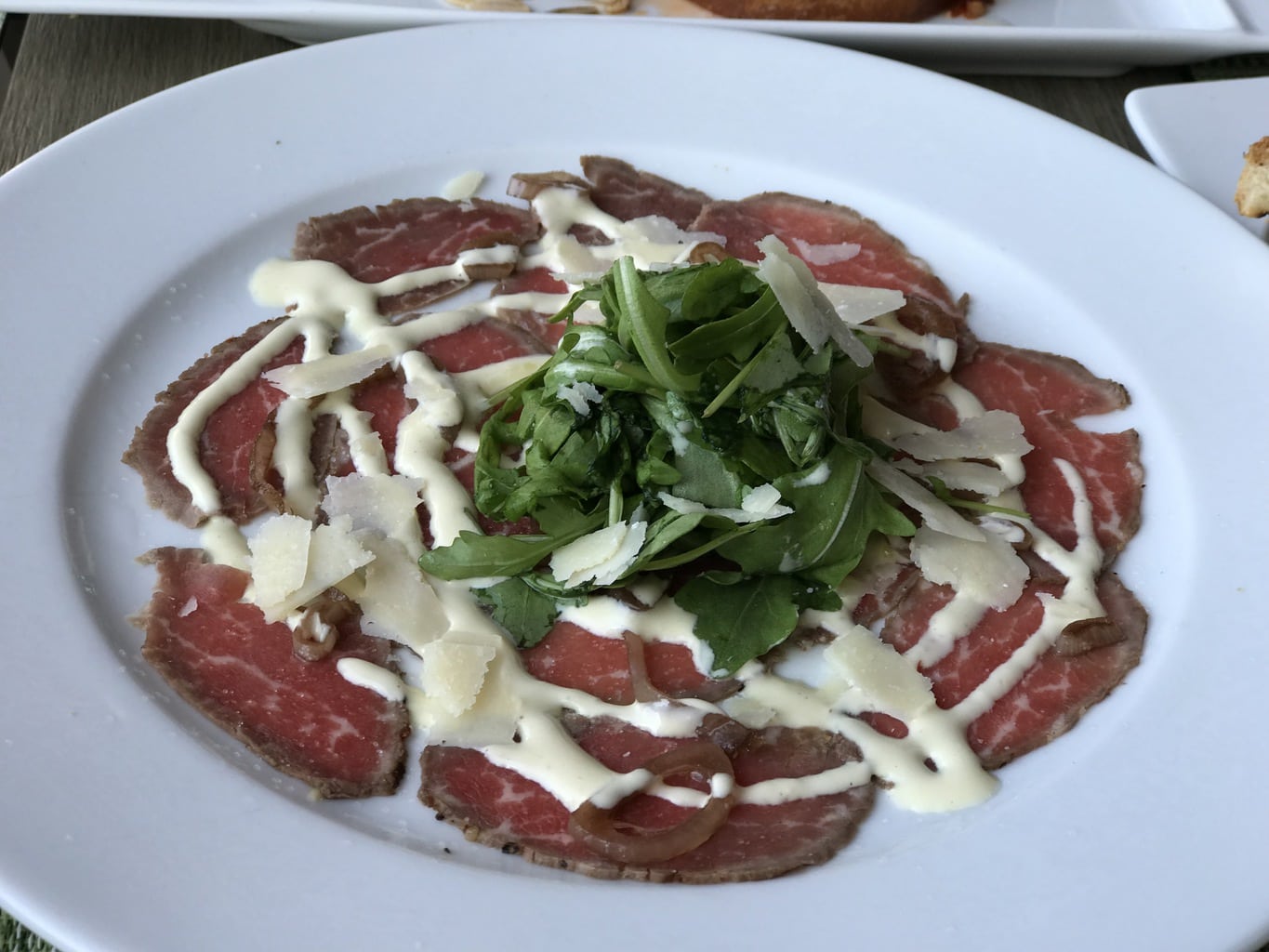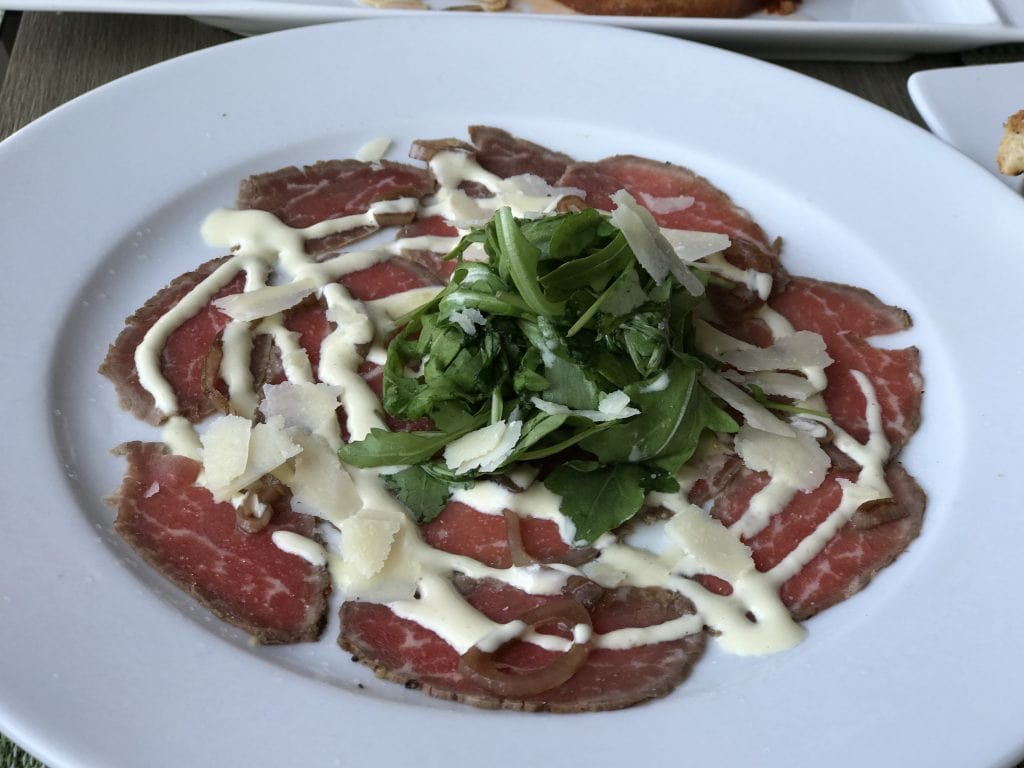 Being from Maryland, I don't often order crab cakes. You just can't get them better anywhere else. But Viento has their own spin on this recipe, served with pickled fennel, mango, arugula salad, and a creamy horseradish sauce.
They were prepared perfectly and really, really good, but Maryland crab cakes still have my heart.
When you leave Zota to explore, refer to this list of best restaurants in Sarasota Florida so you know where to eat!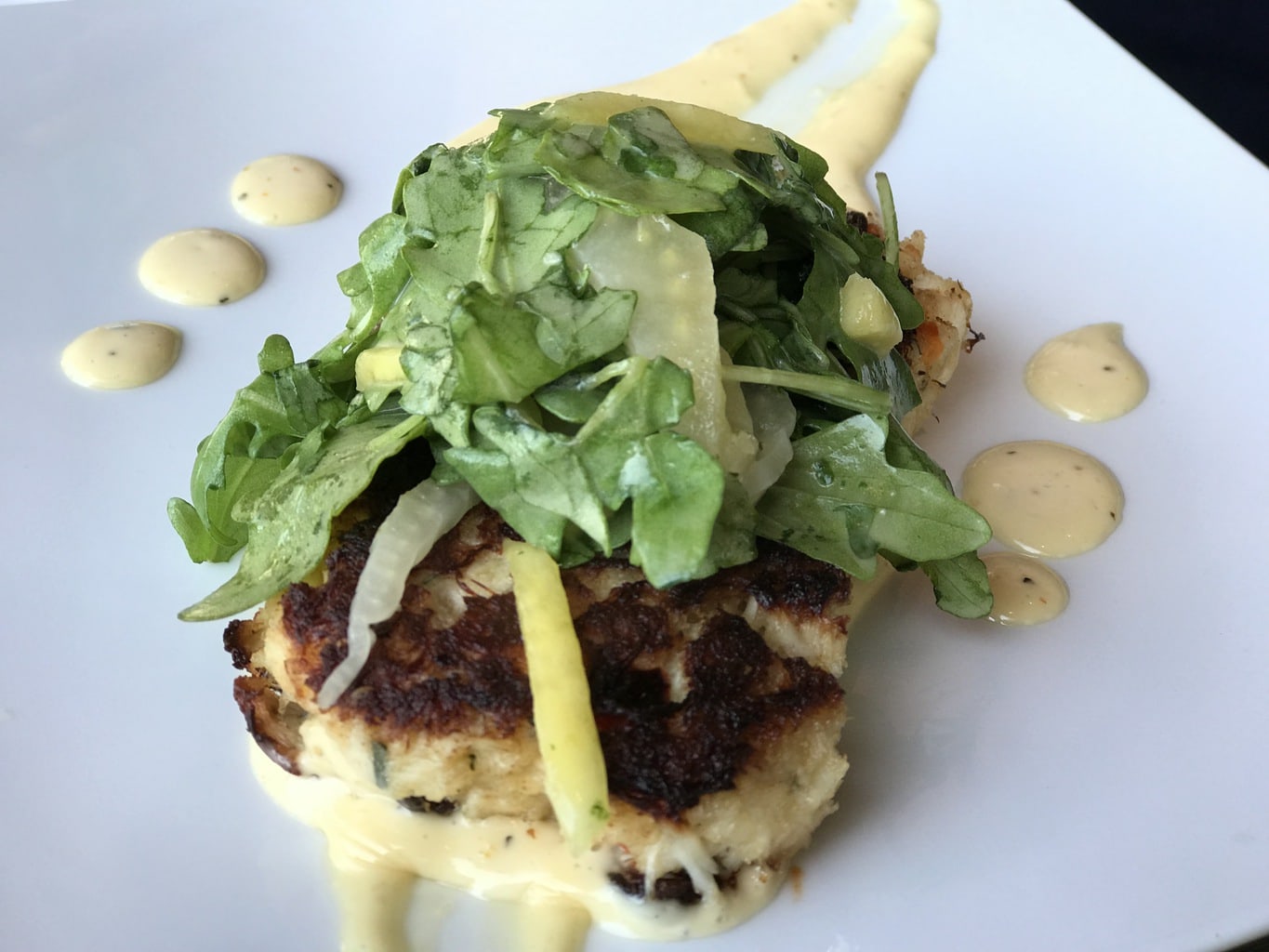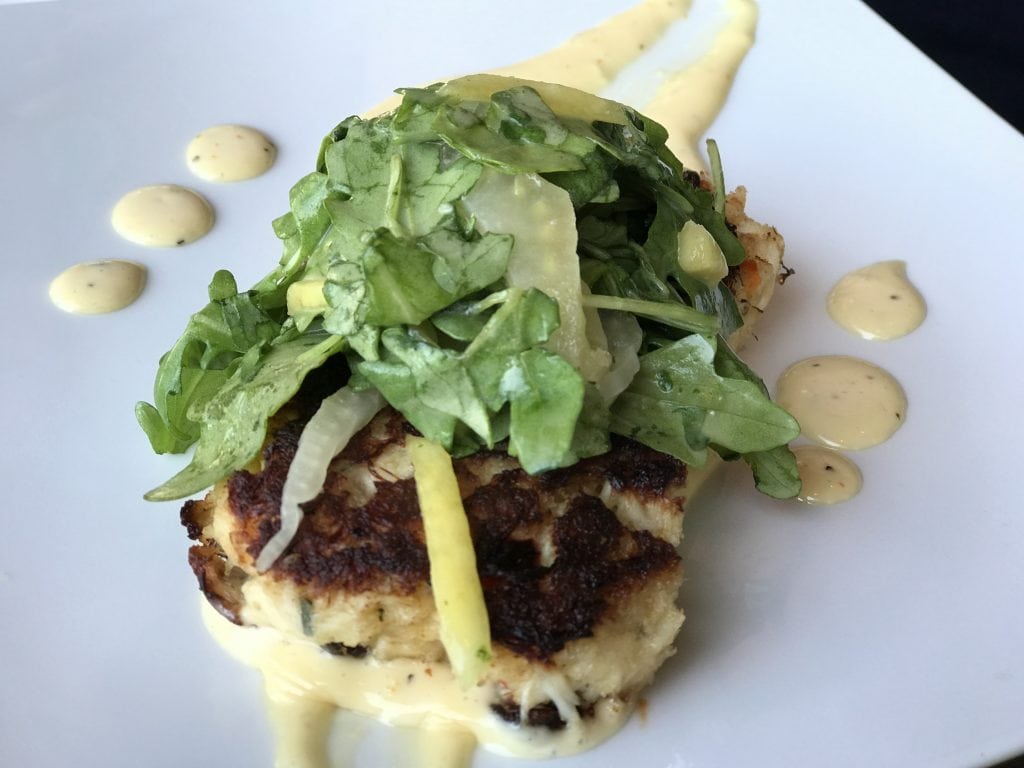 I took a tour of the resort and saw the banquet rooms that they can expand for larger parties as weddings are very popular on Longboat Key. Seeing Zota from the outside, you would never know there is so much space inside.
The rooms are spacious and luxurious, with a contemporary style.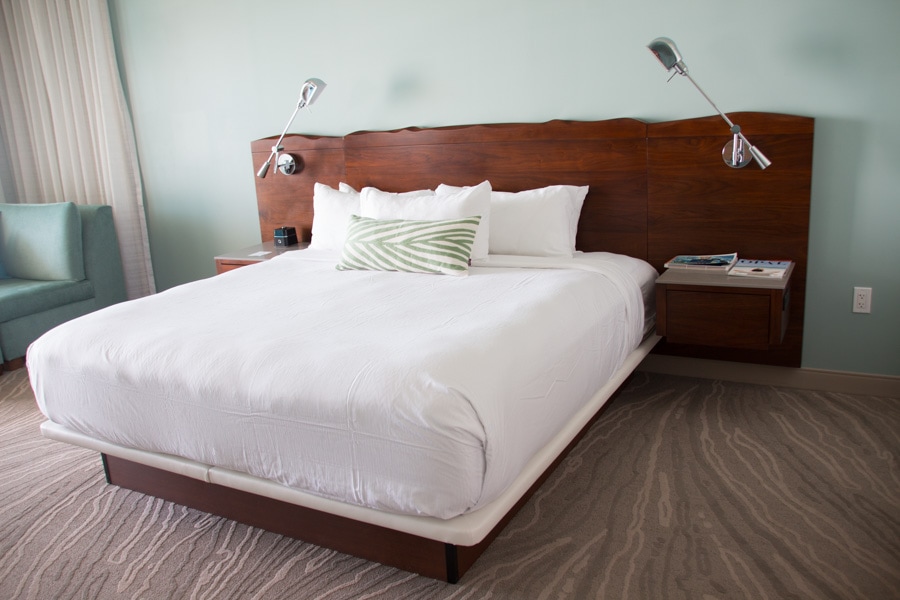 Each room has all the typical amenities, like a large-screen TV, a dresser so you can put things away, and a small table with chairs for in-room eating or working.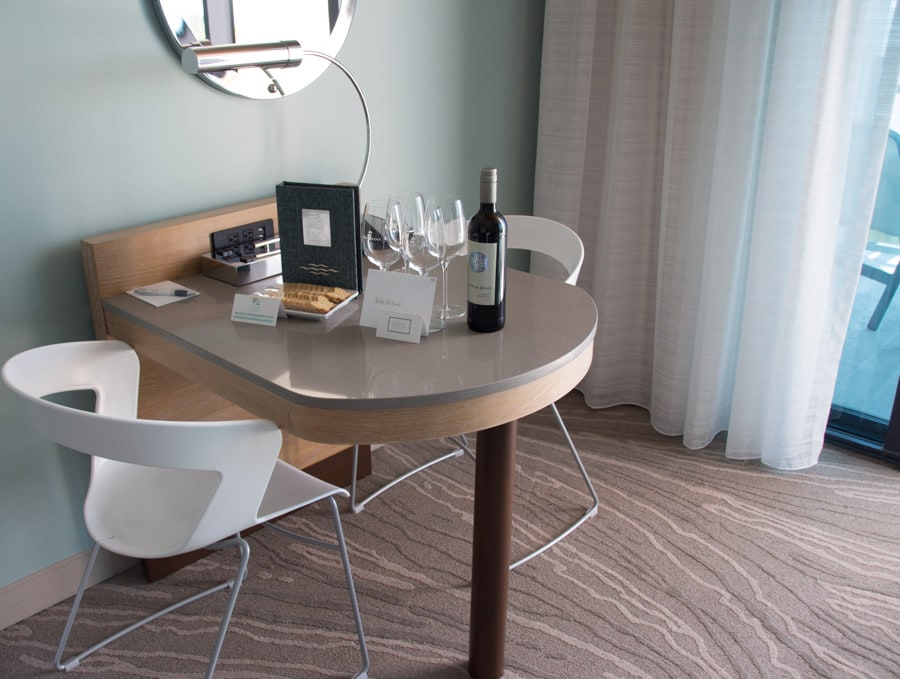 There's also a chair near the balcony for relaxing.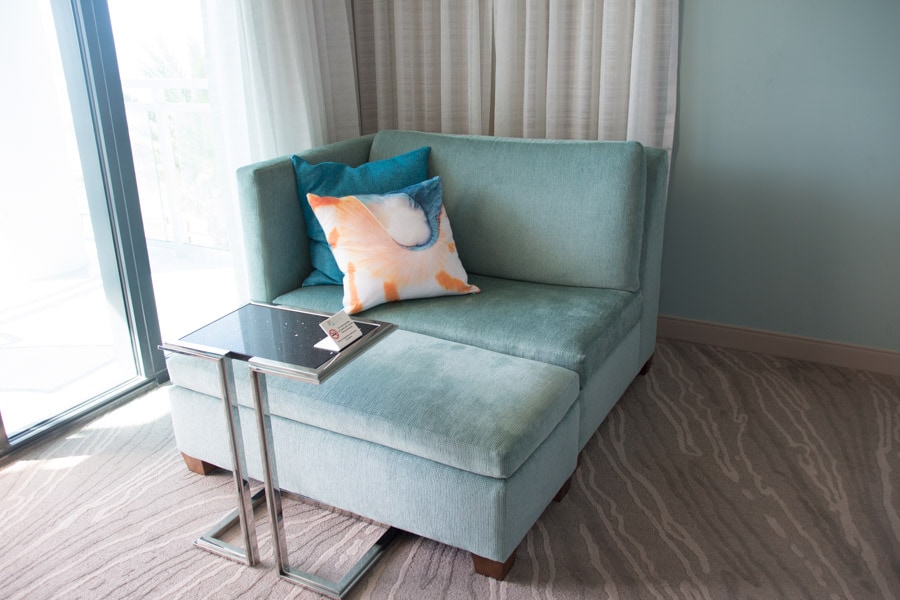 Though as long as the weather is warm, which is most of the year in this part of Florida, the balcony is the place to be. Order a snack from room service.
Savor some time away from the craziness of life.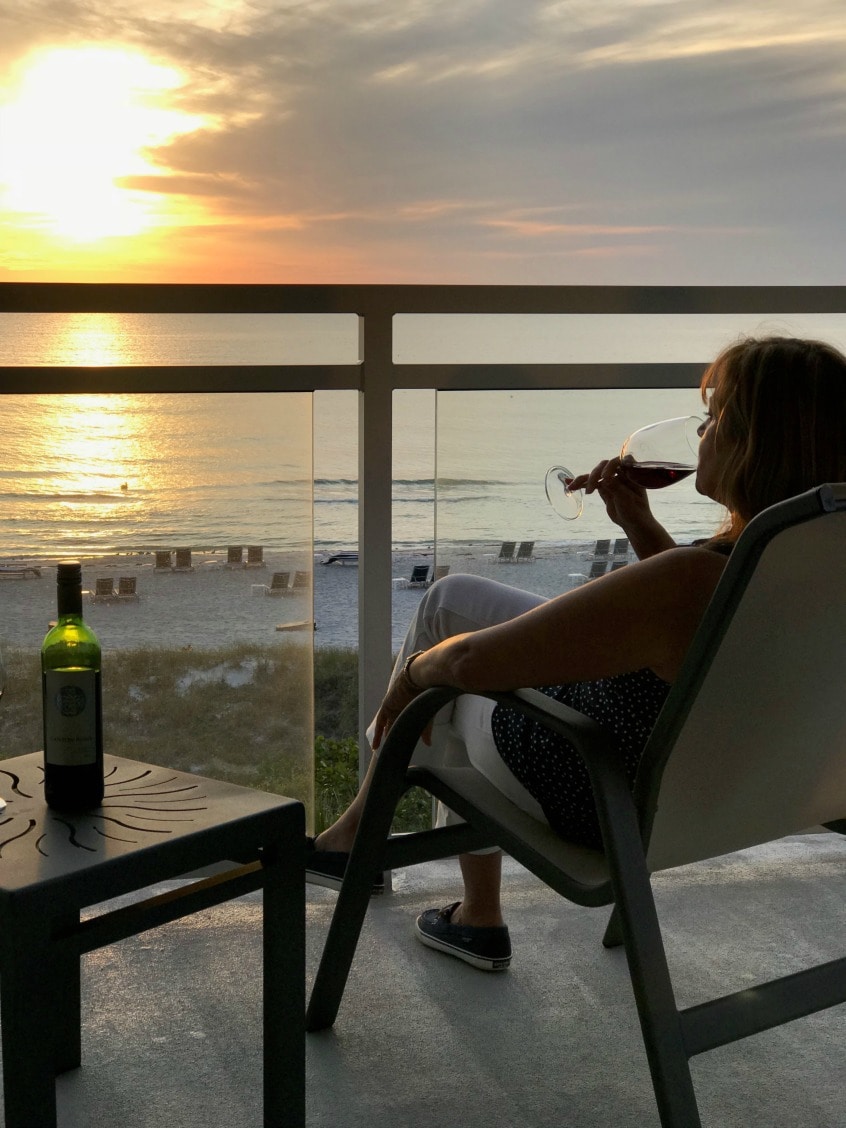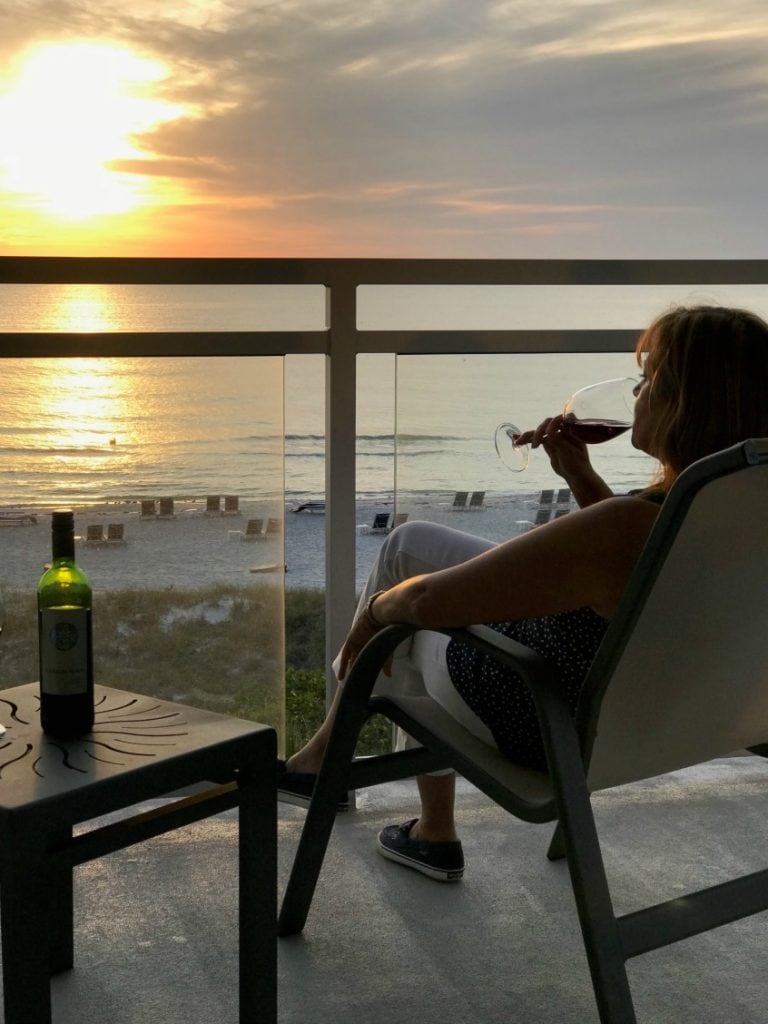 Especially during sunset.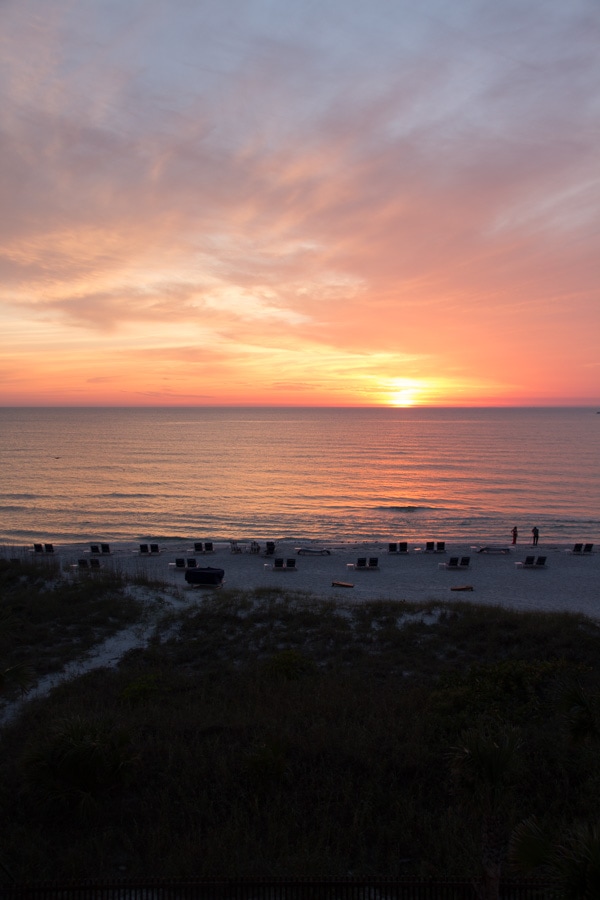 The sunsets in this part of the world are spectacular. As much as I travel, I'm always happy to be at the beach near home, too.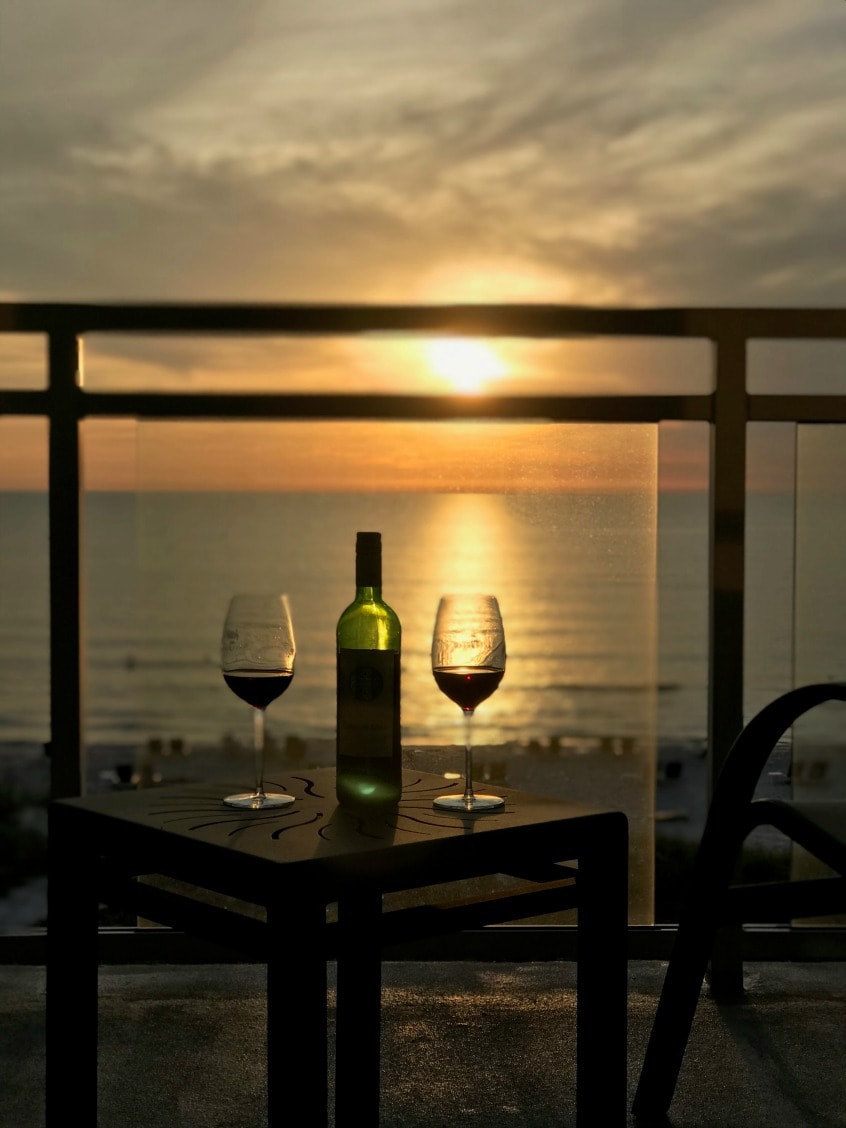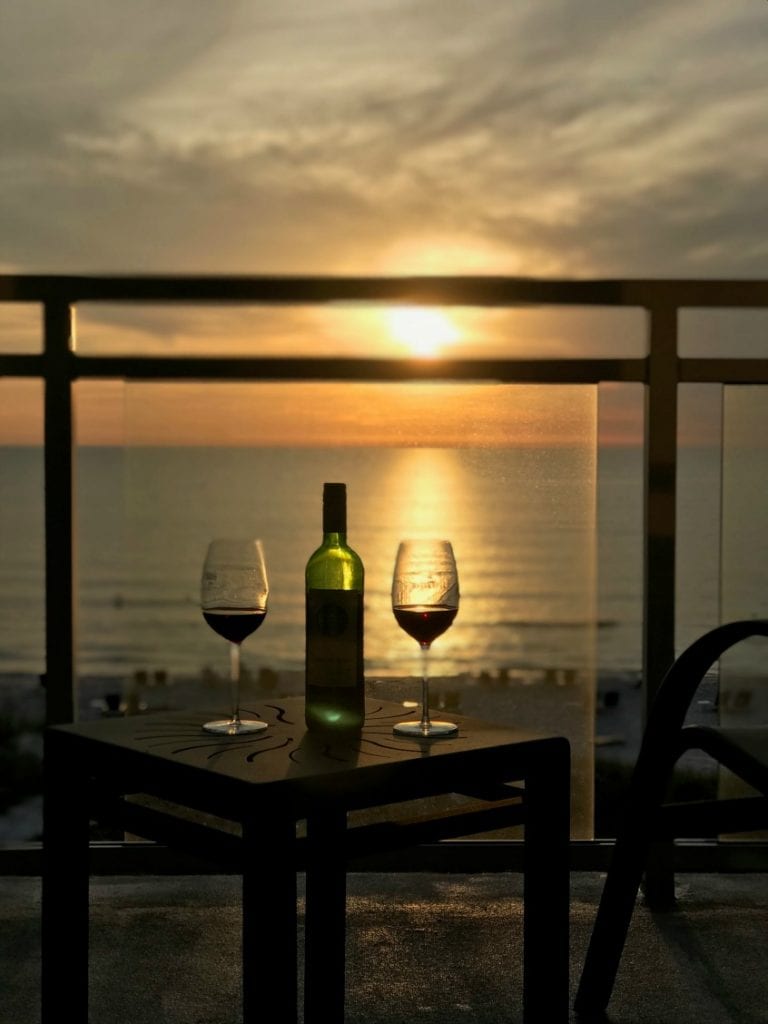 Zota also has something special for your outdoor enjoyment. If you want to relax by the pool and have your own space, you can reserve a private poolside cabana.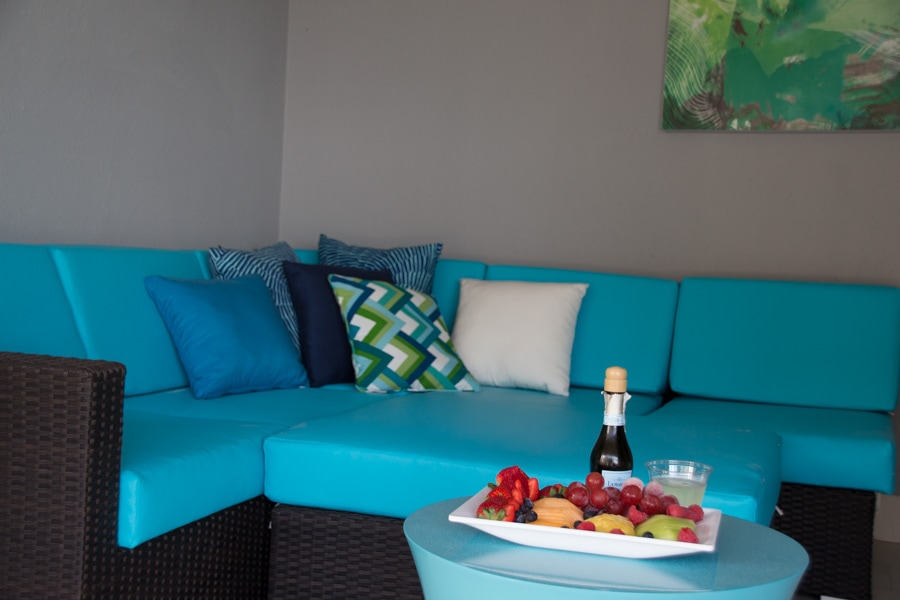 The cabana comes with a server who will take care of your every need. I was feeling a little spoiled.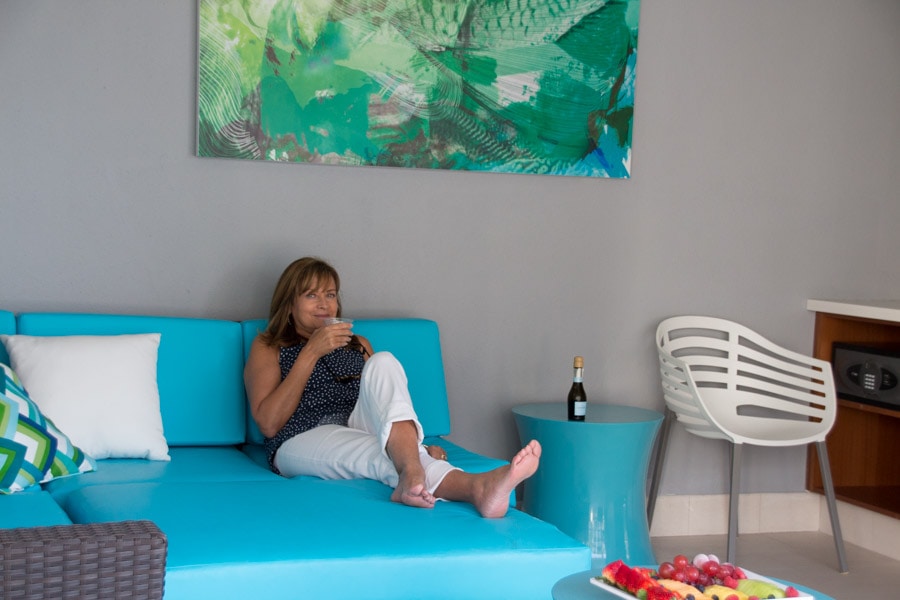 Life gets so busy and it was nice to have some time to relax and catch up with my husband.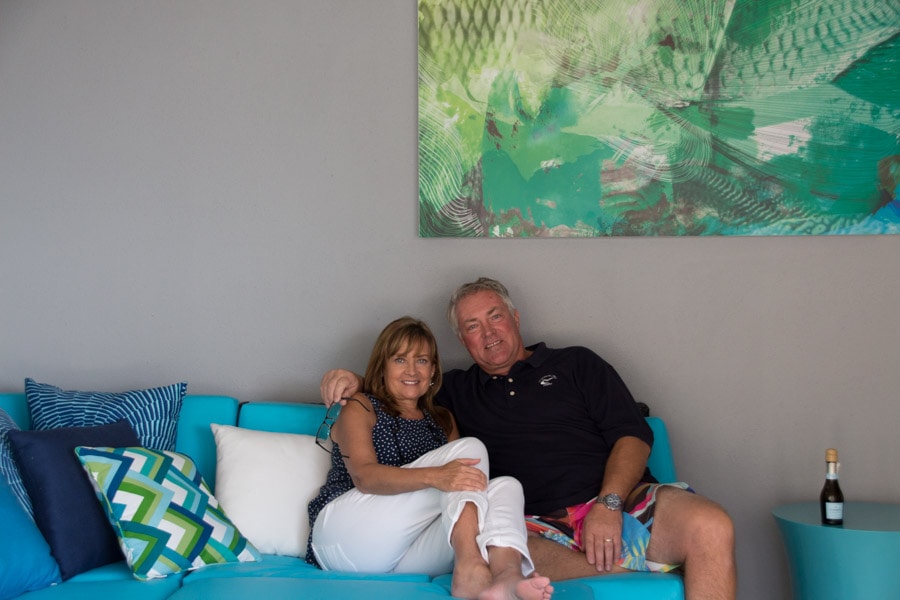 The infinity pool was steps away, but we decided to just relax in the cabana.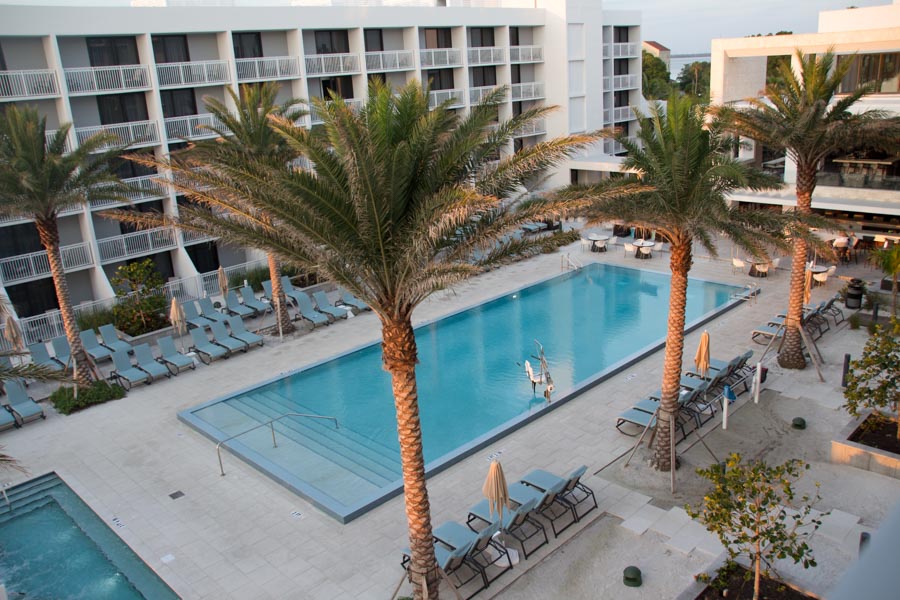 Also steps away is the white sand beach. And here's a secret tip for you. Siesta Key may win the best beach in the country every few years, but this is the same beach, just less crowded.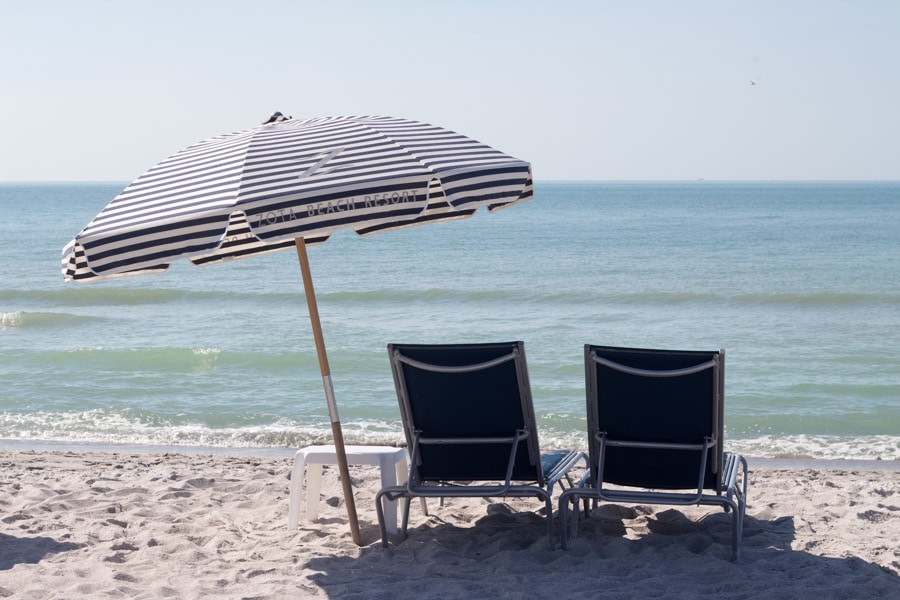 The same soft sand that doesn't get hot, the same turquoise water.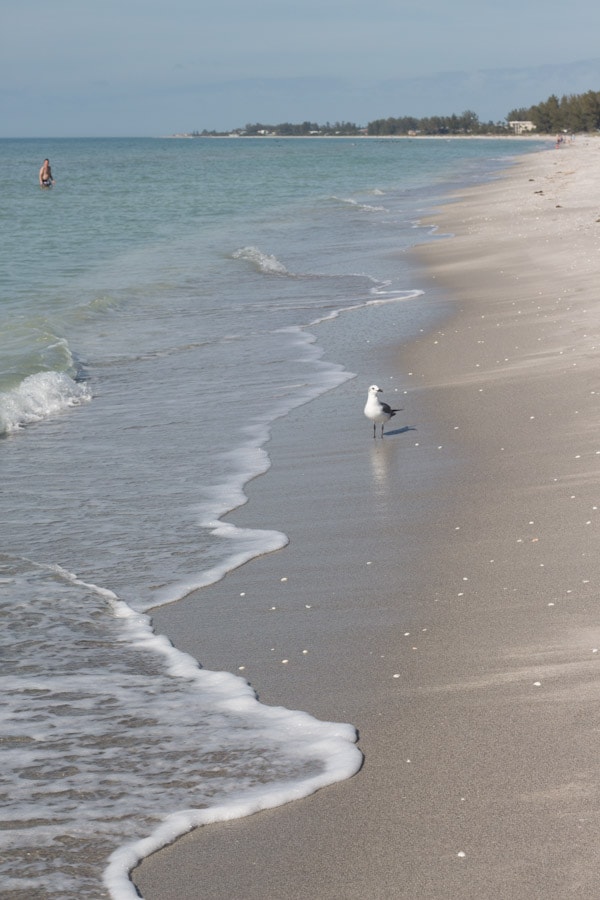 Zota even has a covered bed you can reserve right on the beach. I spoke to one person who had spent a few hours relaxing on the bed. He said at first he thought it would be awkward, but he had one of the best naps he had ever had in that bed. I'll take it!
And speaking of naps, I think this looked pretty inviting, too.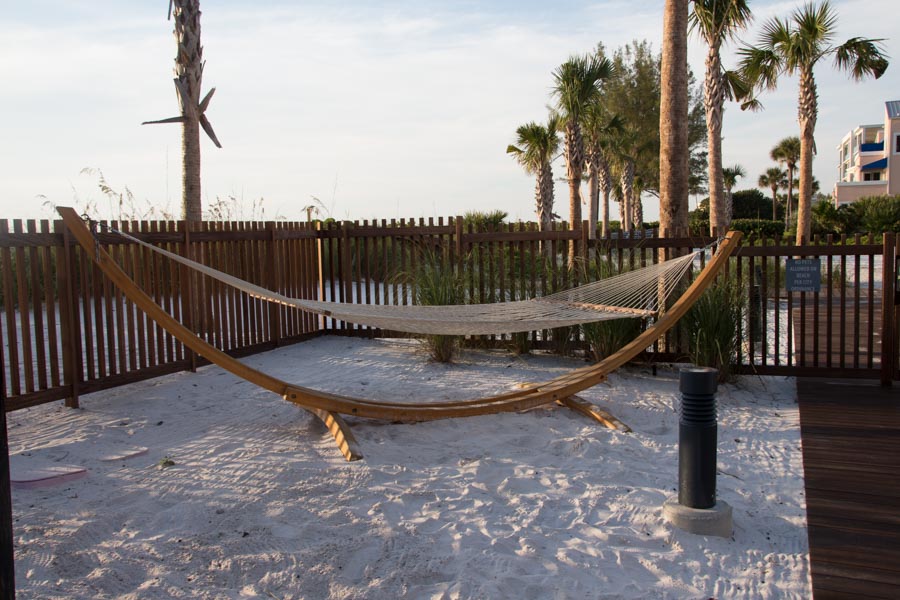 But for those of you who prefer a little more action, you can take out a kayak or boogie board. You'll find them right out near the tiki hut where you can get that sunscreen you forgot.
You'll also find toys for the kids in this play area. My kids would have spent the whole day playing here when they were little.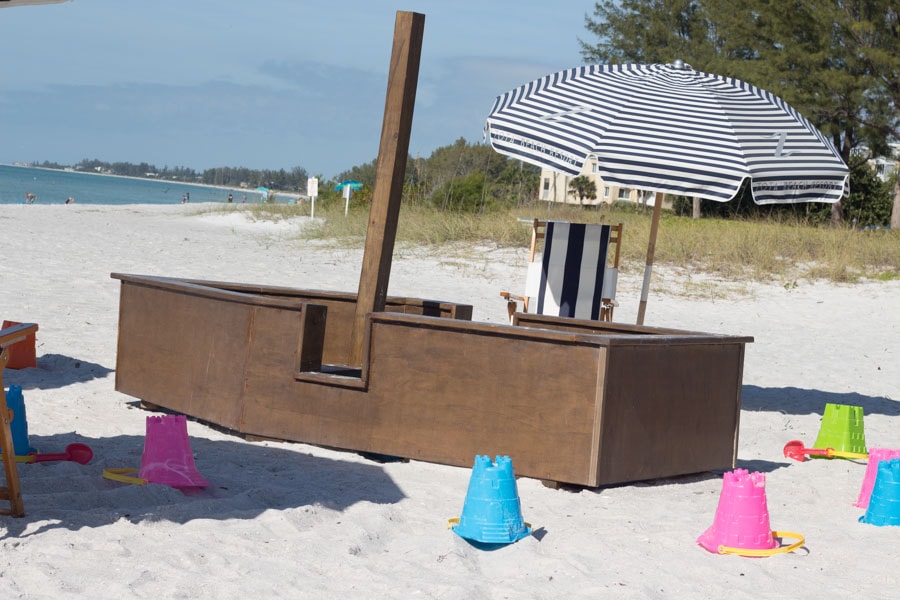 We headed to dinner at Viento after sunset. They have an extensive menu and quite a wine list.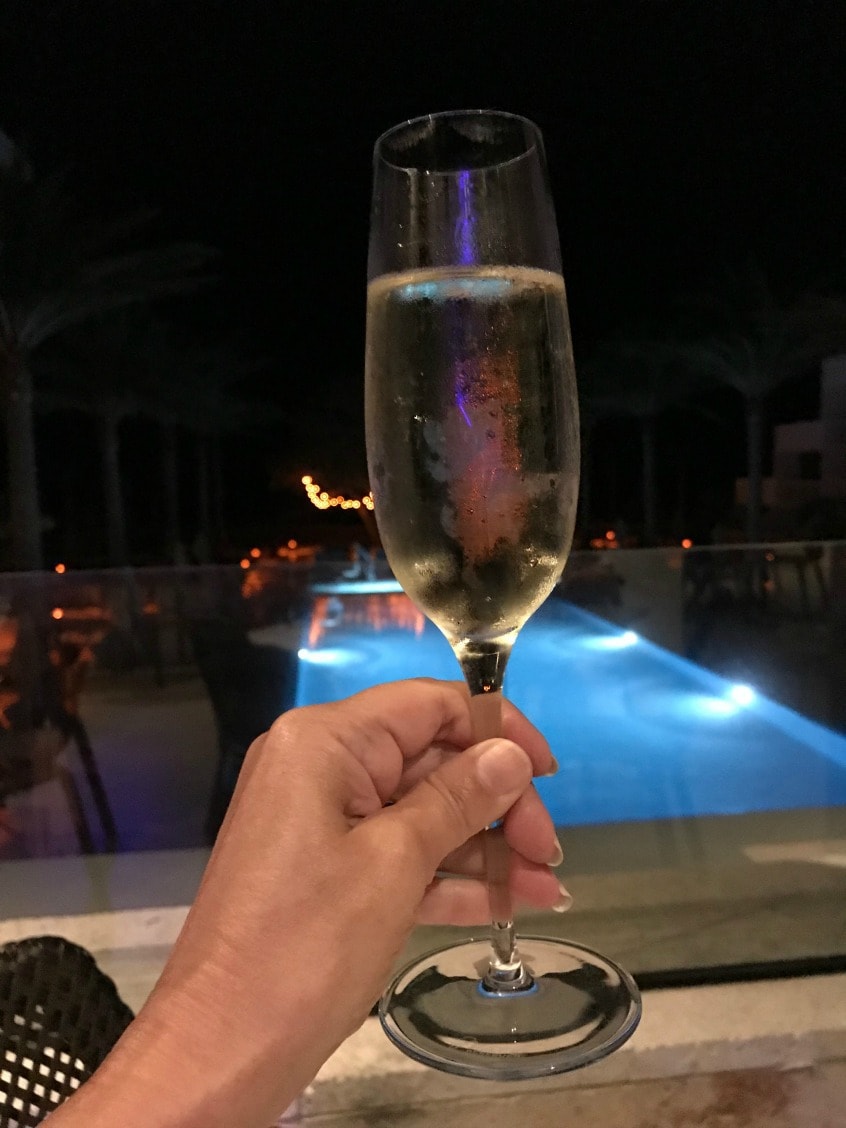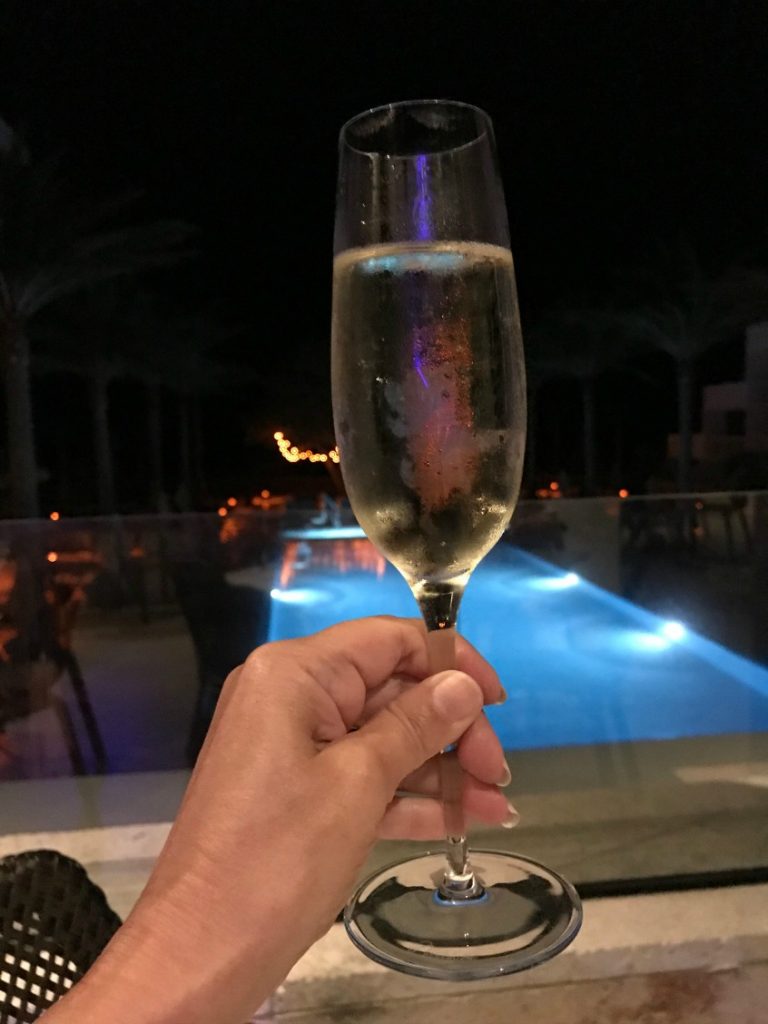 I began with the spinach salad; tender baby spinach with strawberries, crumbled gorgonzola, sliced almonds, perfectly crisp pancetta, and a strawberry vinaigrette.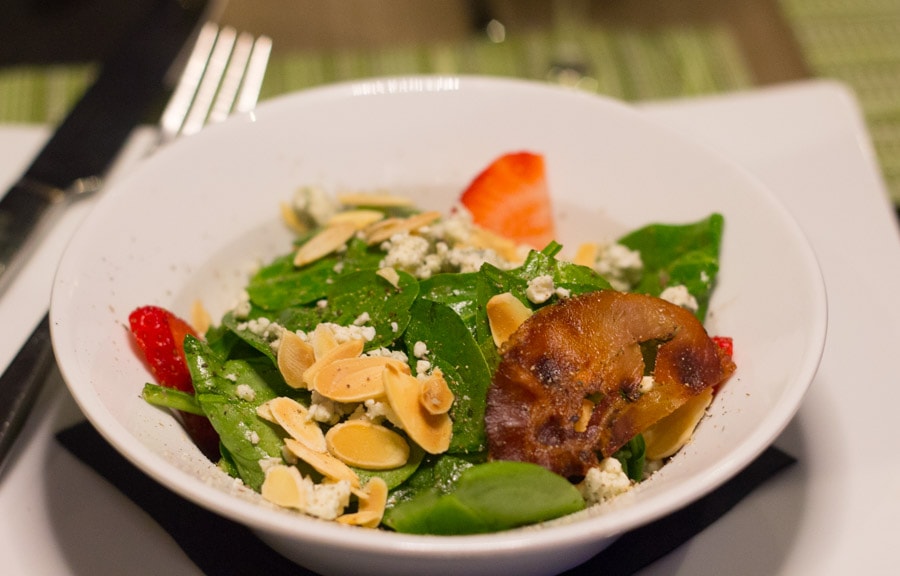 If shrimp is on the menu, there is a pretty good chance I will order it. I was thrilled I had made that decision this time. The jumbo shrimp were plated with slightly crisp grilled asparagus tips, red quinoa, citrus kale, roasted red peppers, and crumbled feta. It was delightful.
My husband ordered the grilled grouper served with artichoke champagne risotto, saffron butter, and gremolata. It was scrumptious.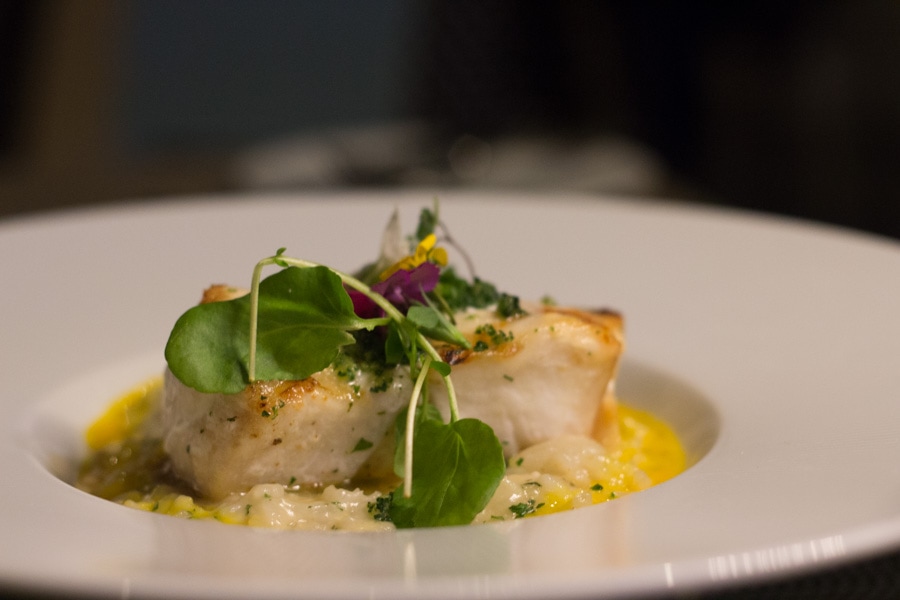 And sometimes you just have to order dessert, especially when French press coffee is served, though the chocolate paired quite nicely with the wine, too.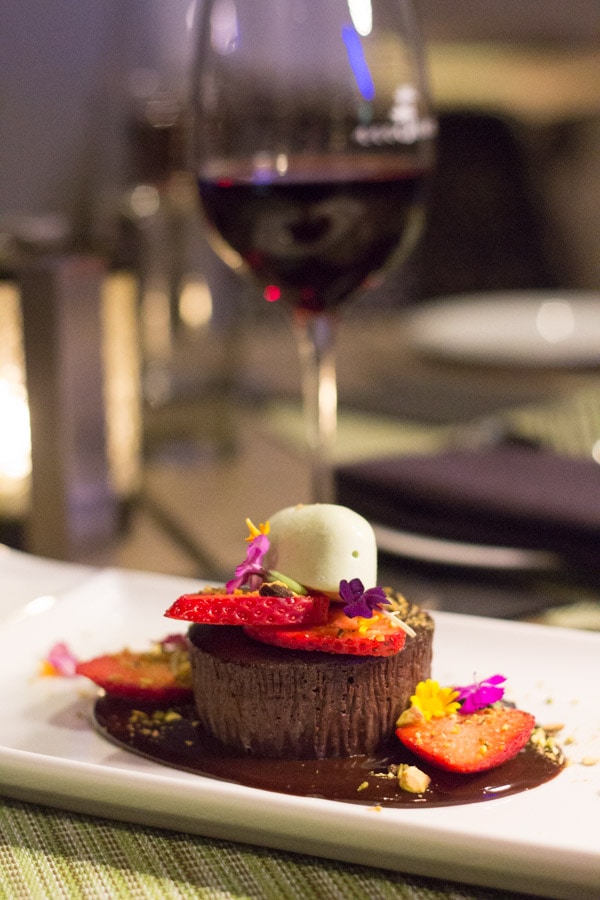 I have to add that the wait staff at Zota is also exceptional. We had so much fun with Missy, especially after finding out she is from Maryland and we have a mutual friend. Small world.
The next morning we decided to sleep in and relax for a bit in the provided Zota robes.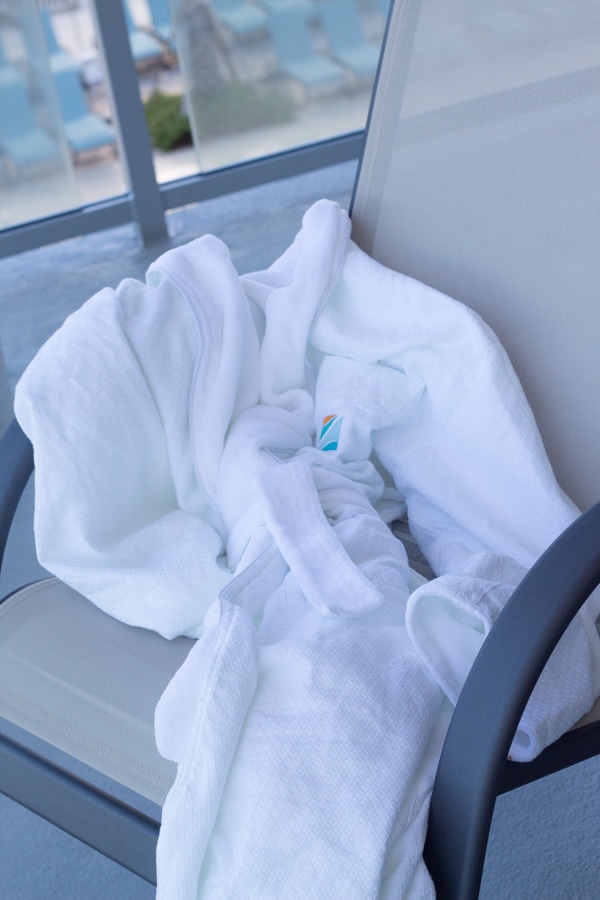 As we were ordering a pot of coffee anyway, I decided to try the bagel I had heard so much about. Consider it an appetizer before breakfast. Don't judge me. It was everything I'd heard and more.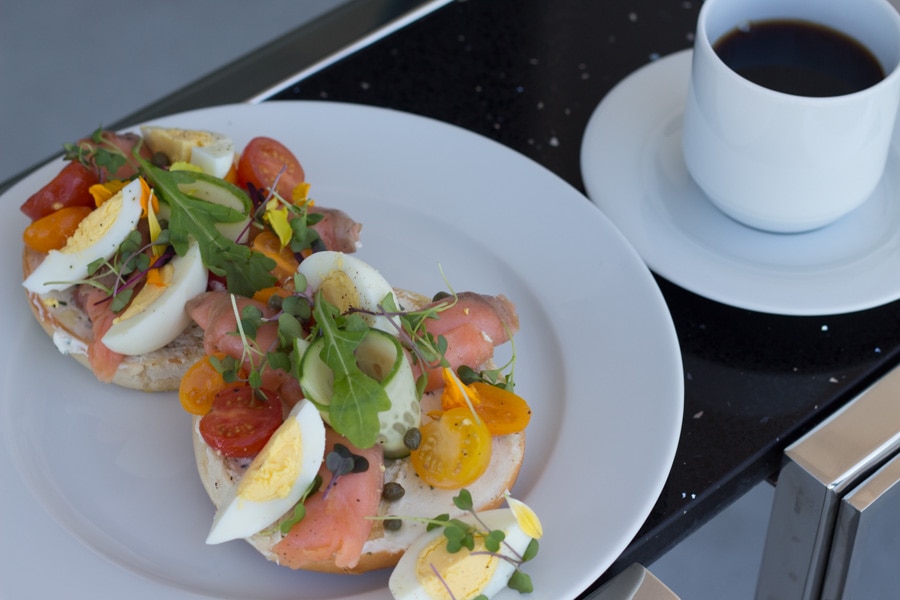 A couple of hours later we headed down to breakfast. Again, the menu offers a lot of choices. I settled on the French toast; brioche stuffed with golden honey mascarpone, Grand Marnier strawberries, and sprinkled with powdered sugar.
My husband ordered the Florentine Benedict; poached eggs, sautéed spinach, roasted tomato, topped with hollandaise on a griddled English muffin. And those potatoes were so yummy. After 25 years, he's used to me tasting everything he orders.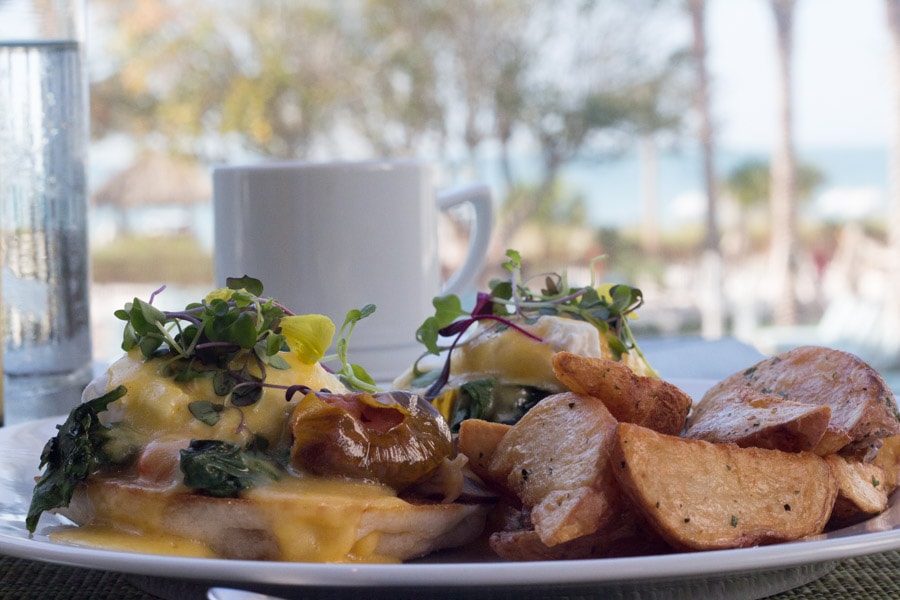 I had to try the parfait because the description sounded so good, and I wanted to get my probiotics. (Good excuse, right?) It was orange-scented ricotta, golden honey quinoa granola, with fresh berry compote.
I want to eat this every day. So I asked for the recipe and made my own Viento Fruit Parfait recipe at home. Yes, I did! You're welcome!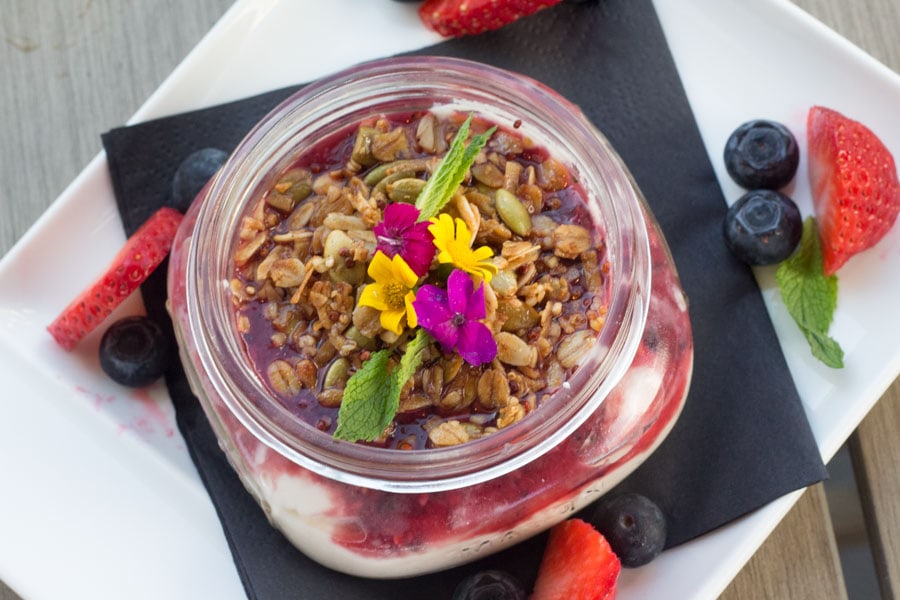 We took a walk on the beach to get some exercise after all that eating. Next on the agenda was heading to St. Armand's to do some Christmas shopping. And have lunch. Yes, we did.
By the way, Zota also has a fully equipped gym with treadmills placed so you can look out at the beach while exercising. We just prefer to be outdoors when at the beach. And if you like to travel with your furry friend, Zota is a dog-friendly property, too.
When planning your next getaway, be sure to check out the Zota Beach Resort. Part of the Opal Collection and a Preferred Hotel, I can promise you it will be a wonderful experience. Let me know if you visit and perhaps we can meet for a cocktail.
Be sure to check out the sandcastle. It changes periodically and is pretty amazing.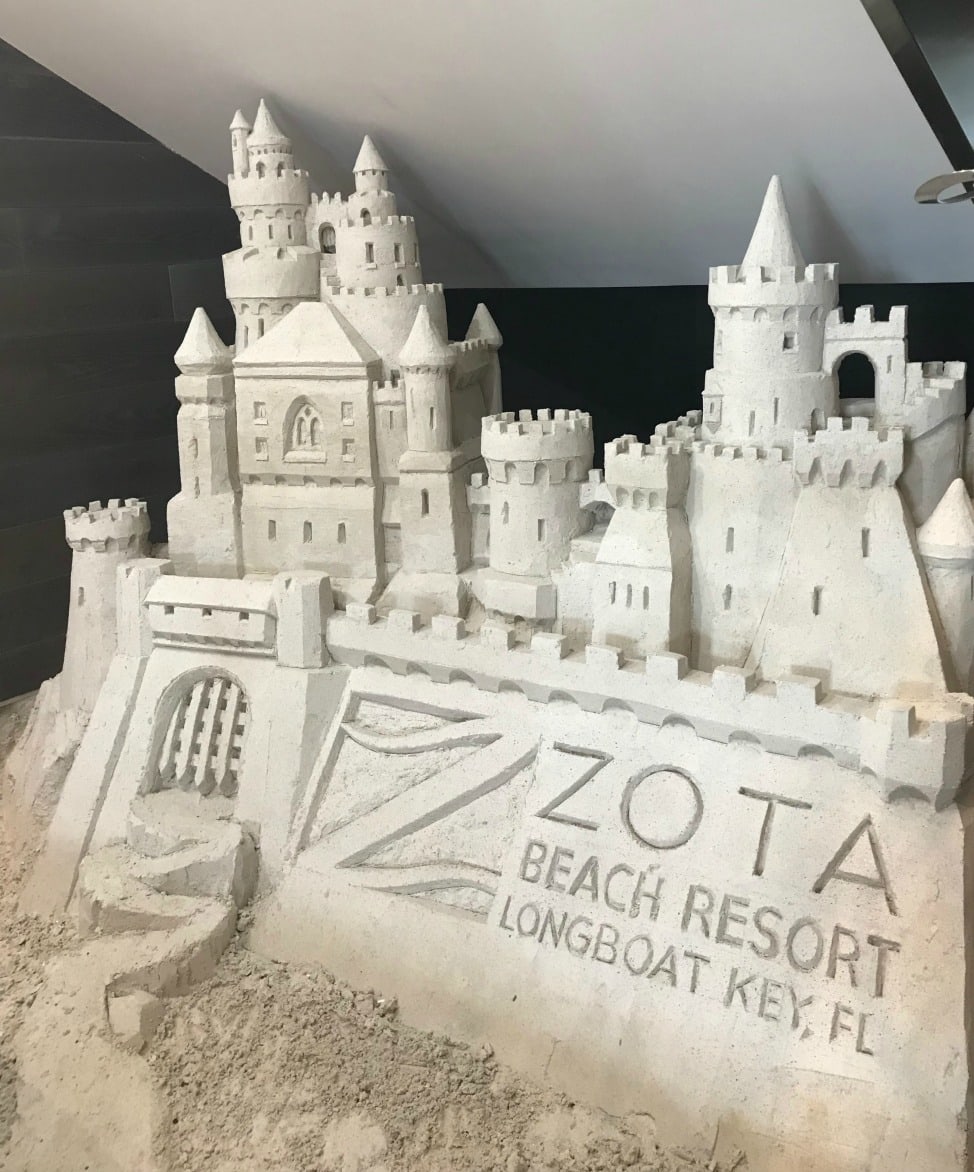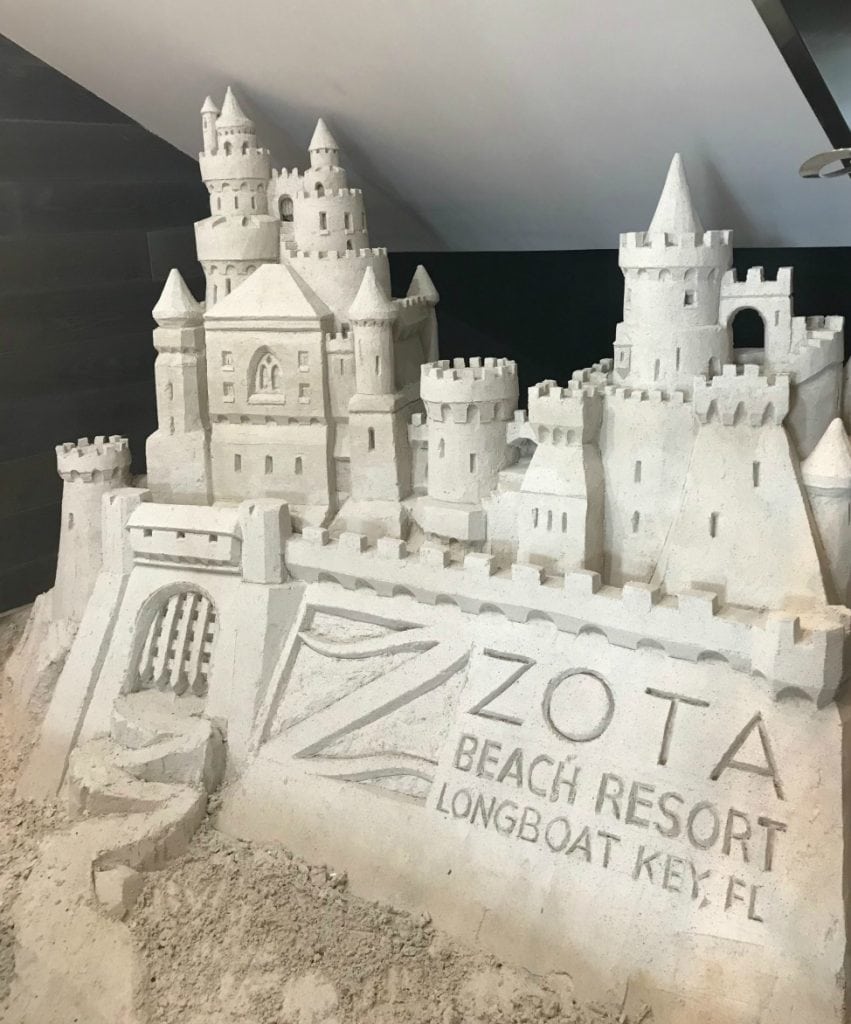 Where are you headed for your next vacation? Share in the comments so I can discover something new.
Many thanks to Zota for inviting me to check out their property in exchange for sharing it with you.
Like our content? Follow us on Pinterest!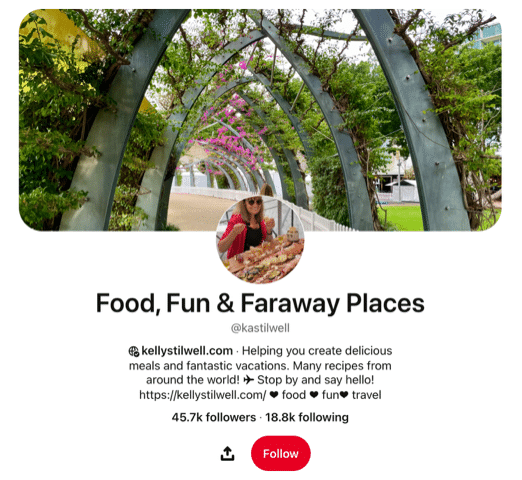 More Florida Destinations