The Kimpton Lighthouse Hotel Key West is a true gem. Part of the family of Kimpton Key West properties, it offers luxurious rooms and an excellent location for exploring all the fun in Florida's southernmost point.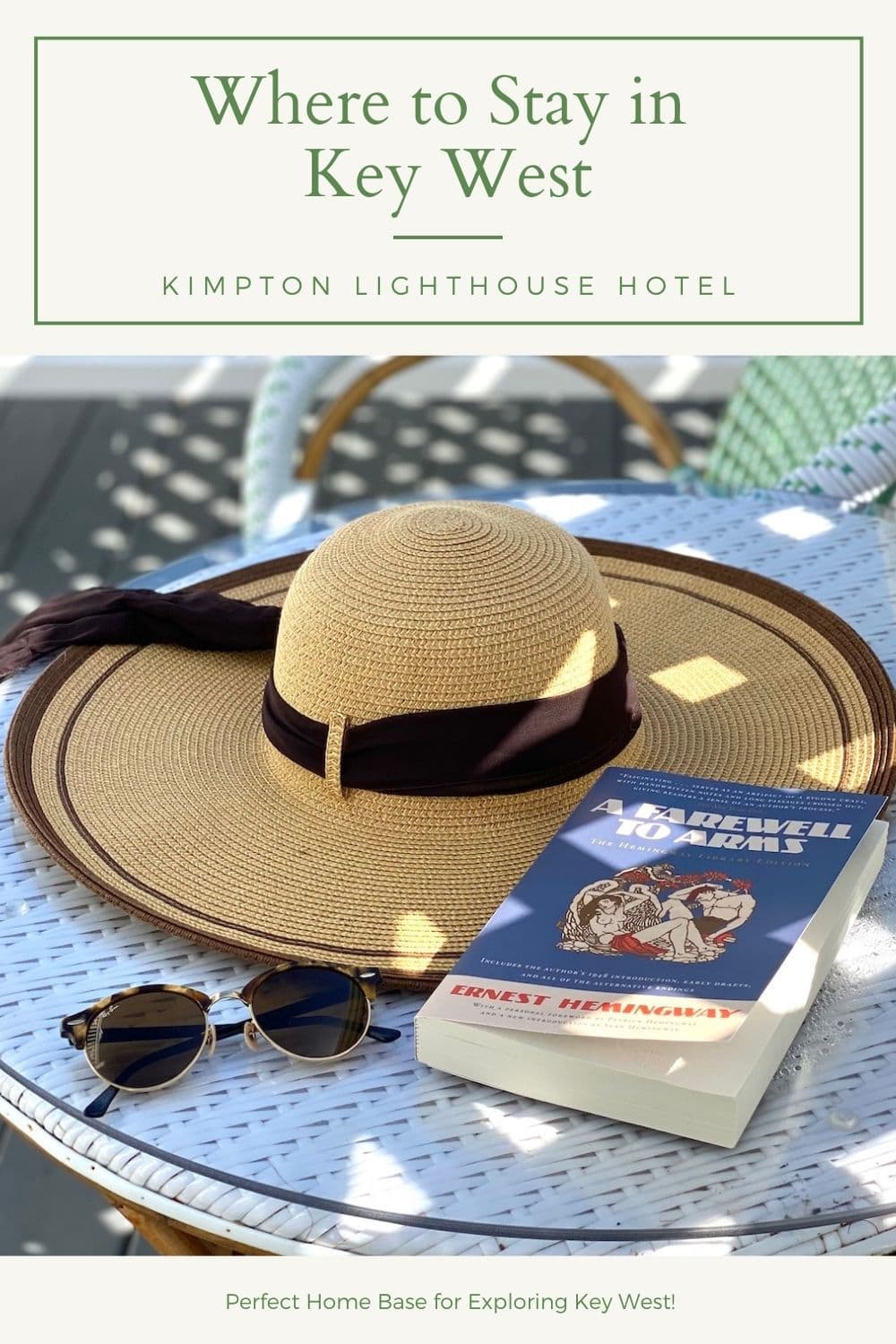 I don't know anyone who doesn't have Key West on their bucket list. There are so many things to do in Key West with kids and the weather is pretty much perfect all year round.
Many people head south as part of a Miami to Key West road trip. We love Miami, but for this trip, we had things to do in Naples Florida.
The Lighthouse Hotel is a boutique hotel offering a unique blend of luxury and a laidback feel.
This is your ideal spot to kick back and relax with a drink by the pool and get a good night's rest in your luxurious bed in between exploring the sights of Key West.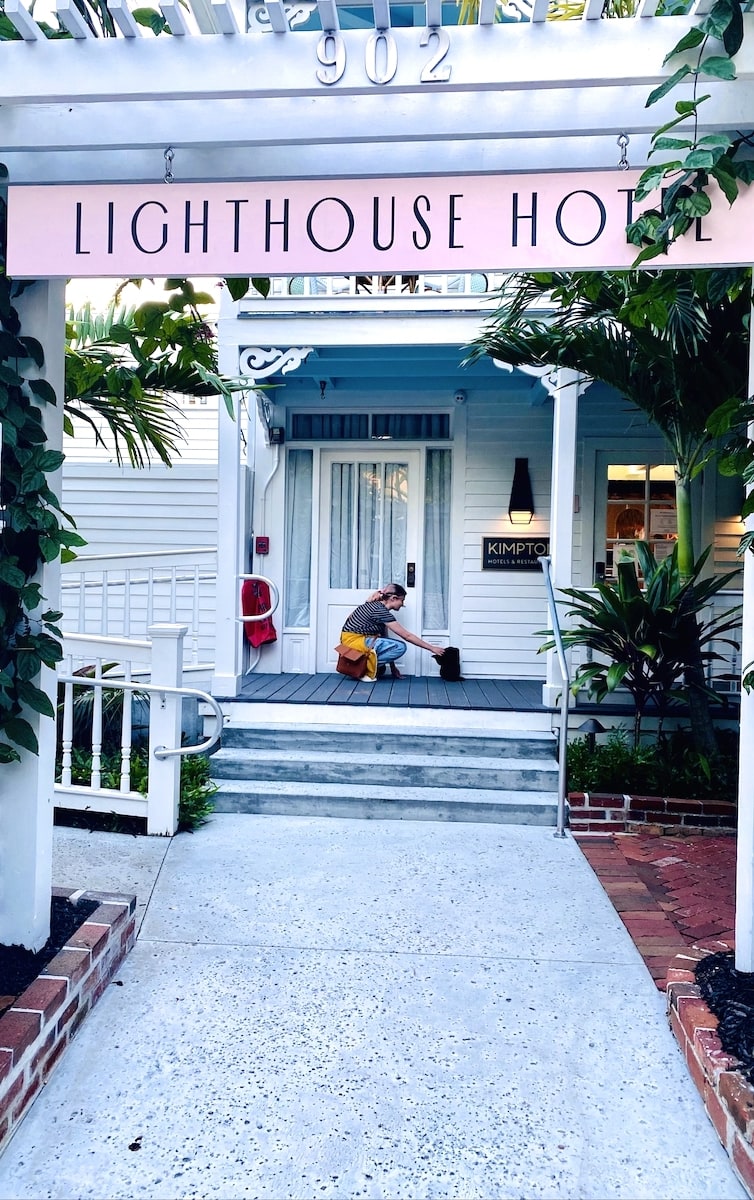 Lighthouse Hotel Getaway Destination
Located in Key West's Historic District, Lighthouse Hotel is a stone's throw away from both the iconic Key West Lighthouse and Hemingway's historic home.
It's also in close proximity to all the wonderful sites that Key West has to offer, making it the prime spot to enjoy a Key West trip.
This hotel boasts a feel quite unlike many other hotels that I've visited. Whereas many hotels, even with the nicest accommodations, still feel like hotels, this hotel feels more like a tropical home away from home.
The Lighthouse Hotel is a collection of cottages surrounded by tropical palms and shrubs. It has a cozy, homey feel that welcomes guests with open arms.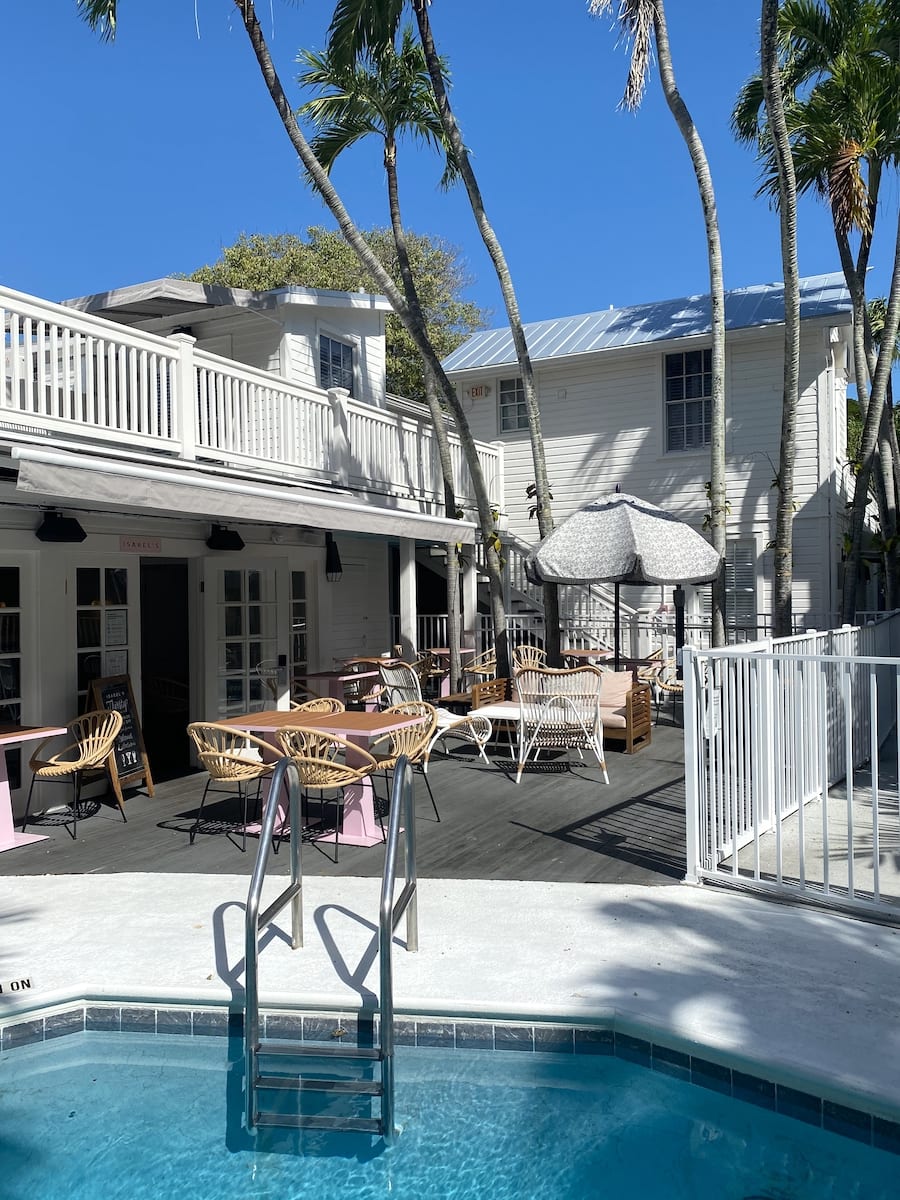 The relaxing feel combined with its convenience to all the things to do in Key West makes for a getaway that's perfect for both tranquility seekers and those who like to mix it up when the sun goes down.
From the moment you step onto the grounds, you'll feel like you made a good decision booking the Lighthouse Hotel.
Lighthouse Hotel Accommodations
Lighthouse Hotel offers a variety of room choices, all of which are beautifully decorated in a style that blends modern elegance with Key West whimsy.
The 45 rooms feature tropical cane beds and splashes of those classic Key West colors.
Combined with the architectural details, the rooms practically ooze that Key West vibe.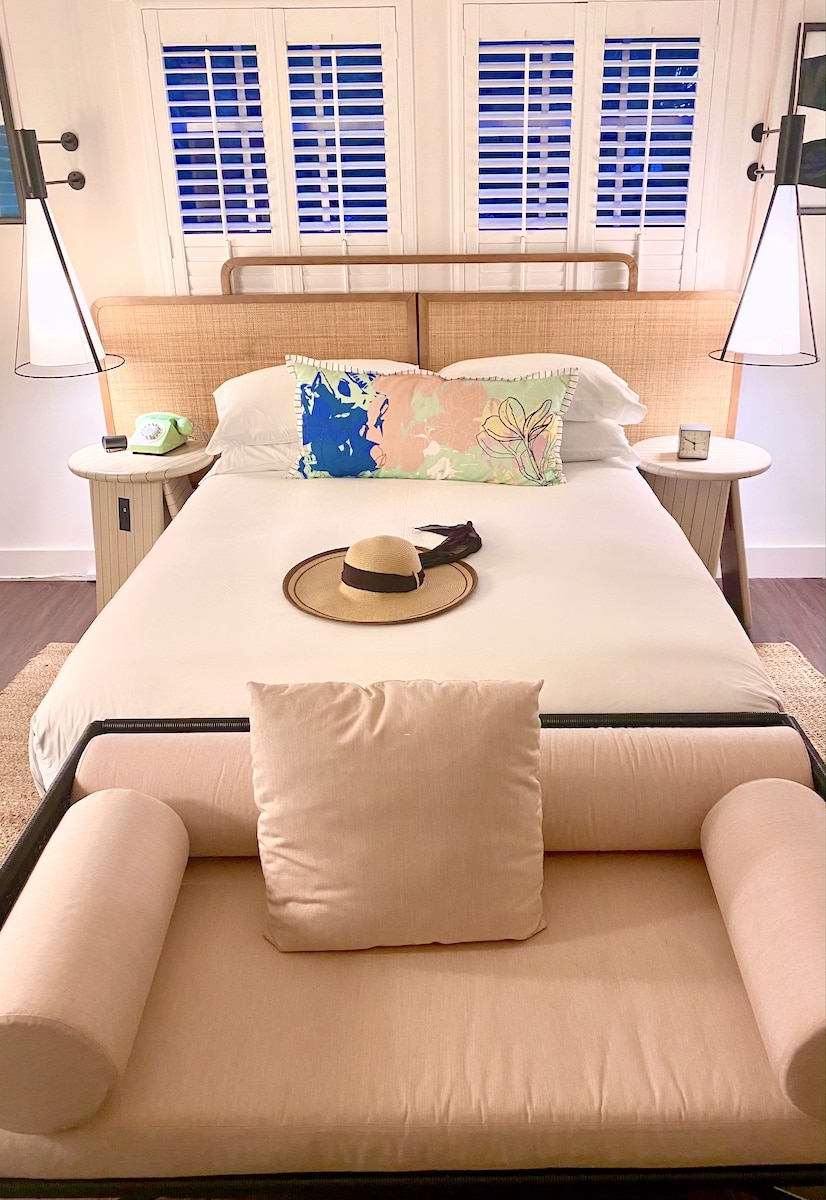 Room Types
Whether you book the Essential Queen, Deluxe Queen (offers a balcony or patio), or the Essential King, where the room is a tad bigger, your room will have a refrigerator, a Samsung HD television, Luxury Atelier Bloem bath amenities, Turkish bathrobes, and yoga mats in every room.
The Premium King rooms offer a private patio or balcony, and the Premium Queen offers the patio and an extra Queen bed.
The One Bedroom Suite is a bit larger and offers your choice of 1 king or queen bed.
The Two Queen Bedroom offers all the amenities of the Premium Queen Patio along with an extra 200 square feet, giving you a bit more living space.
The Two Bedroom Patio Suite is a two-story loft offering 2 queen beds and a private patio.
Finally, the ultimate getaway, the Hemingway Suite offers a two-story loft with 1 king bed and a private patio.
Our room had a separate bedroom where my daughter stayed.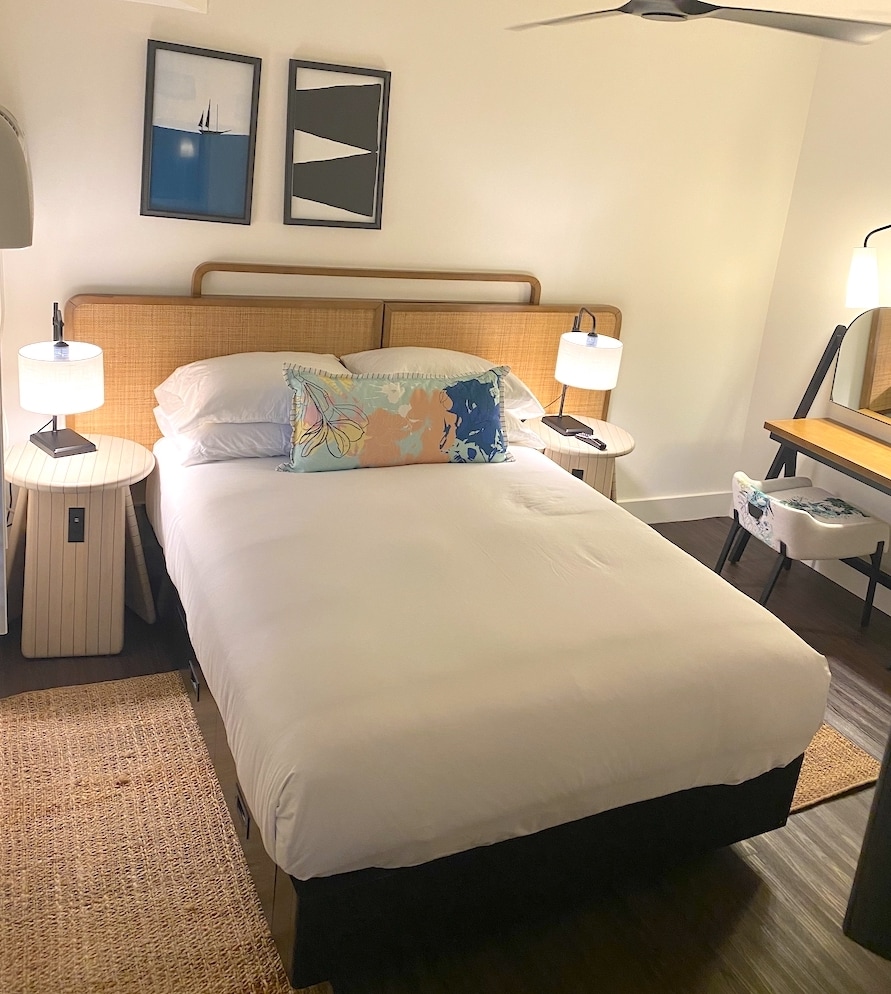 Both rooms had a vanity with a mirror, which was a nice extra touch.
We had a beautiful view of the Key West Lighthouse.
Some of the rooms have loungers on the patio, and all are close to the pool area where you can grab a chair and a beverage and chill with a good book.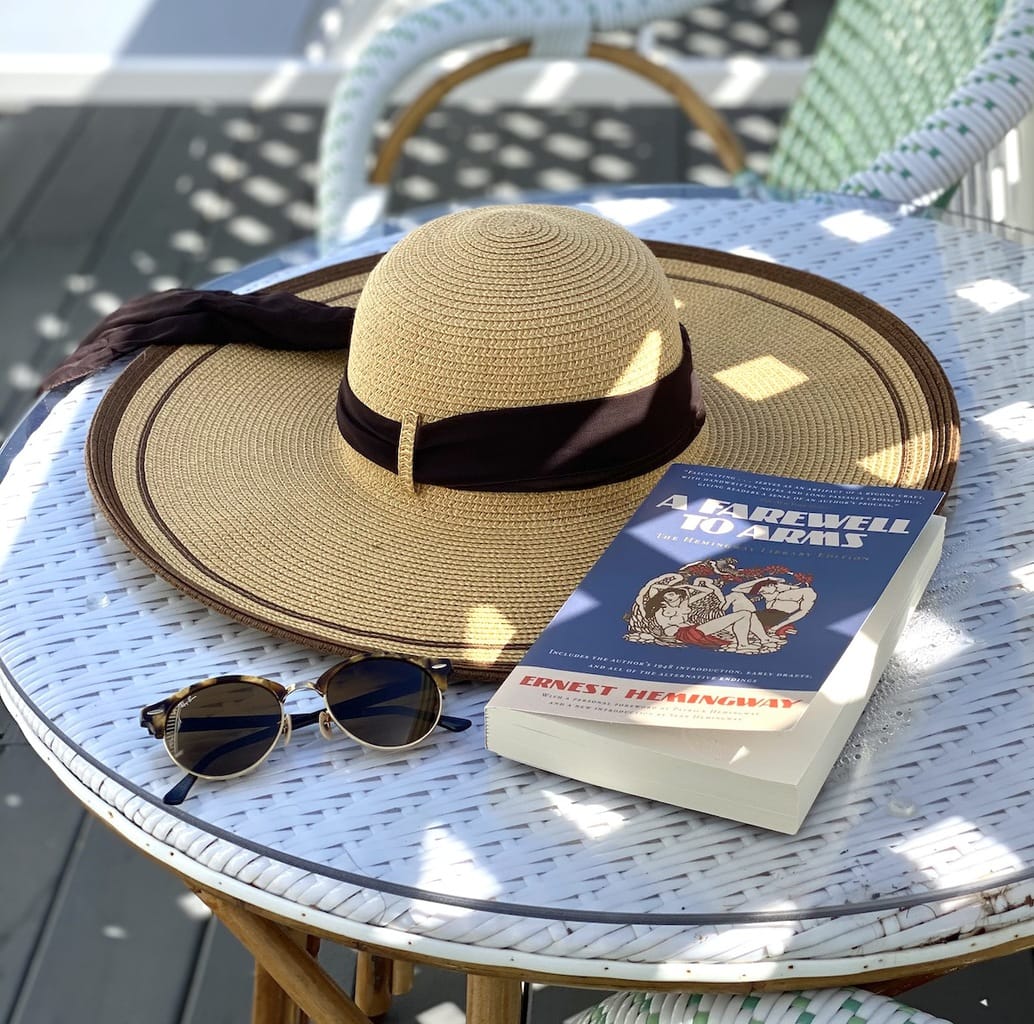 I know there is a lot to see, but take time to relax, too. In the end, you'll be glad you did. After all, you are on vacation!
Lighthouse Hotel Amenities
Lighthouse Hotel offers a variety of amenities to guests aimed at creating the ultimate getaway.
Outdoor pool
Complimentary WiFi
Explore Key West loaner bikes for all guests and snorkel kit with mask and snorkel (first come first serve)
Complimentary continental breakfast
Boozy welcome arrival drink
Access to Press Reader, offering over 7,000 newspapers and magazines on guests' smart devices
Yoga on the Greens, Sundays at 9 AM
Lighthouse Hotel is pet friendly, too, with lots of open spaces to chill with friends.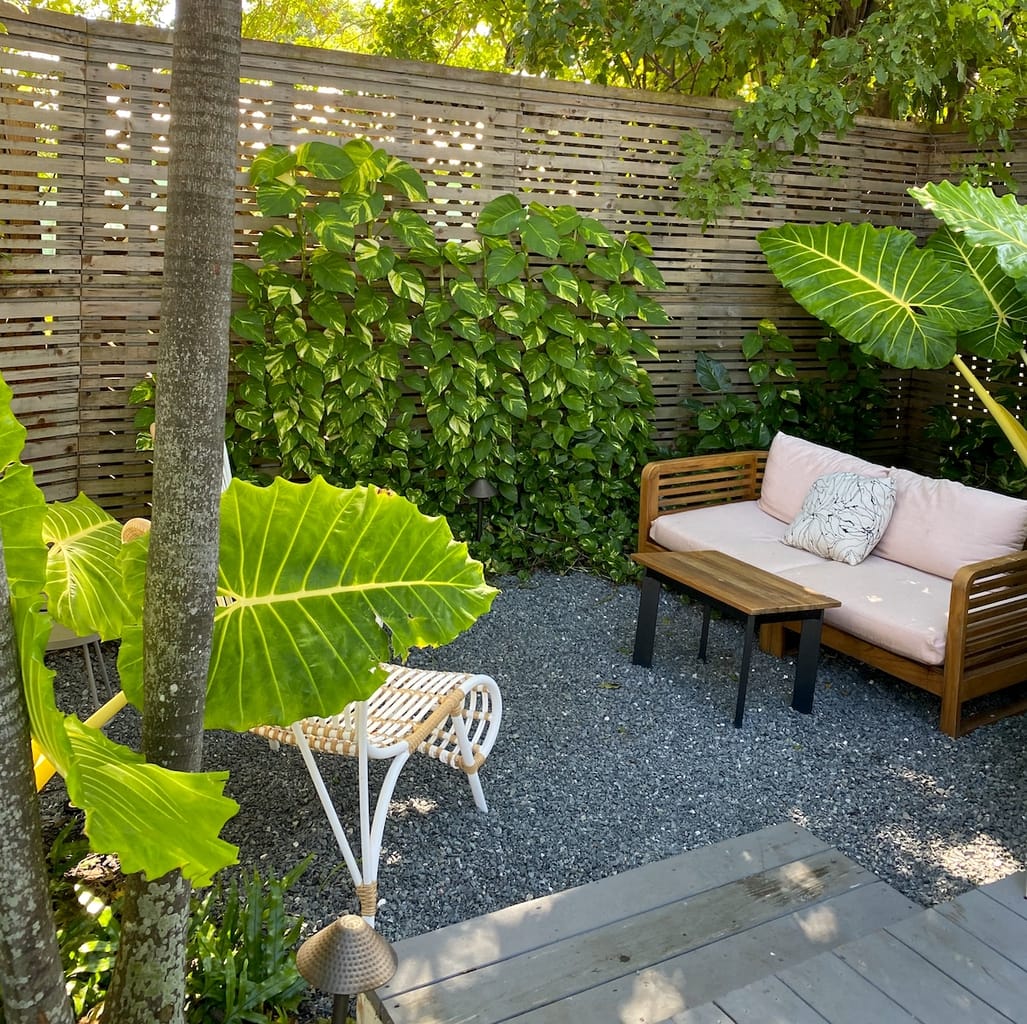 Lighthouse Hotel Refreshments
Isabel's
Located by the pool, Isabel's offers a wide variety of adult beverages including specialty cocktails, beer, and wine.
Order a refreshing Mojito or Bloody Mary at the bar and grab a lounge chair to enjoy it by the pool.
Be sure to stop by for happy hour before taking in the beautiful Key West sunset.
Lighthouse Hotel - Simply Spectacular
Lighthouse Hotel is a gorgeous place to forget your cares for just a bit and enjoy the relaxed atmosphere of Key West.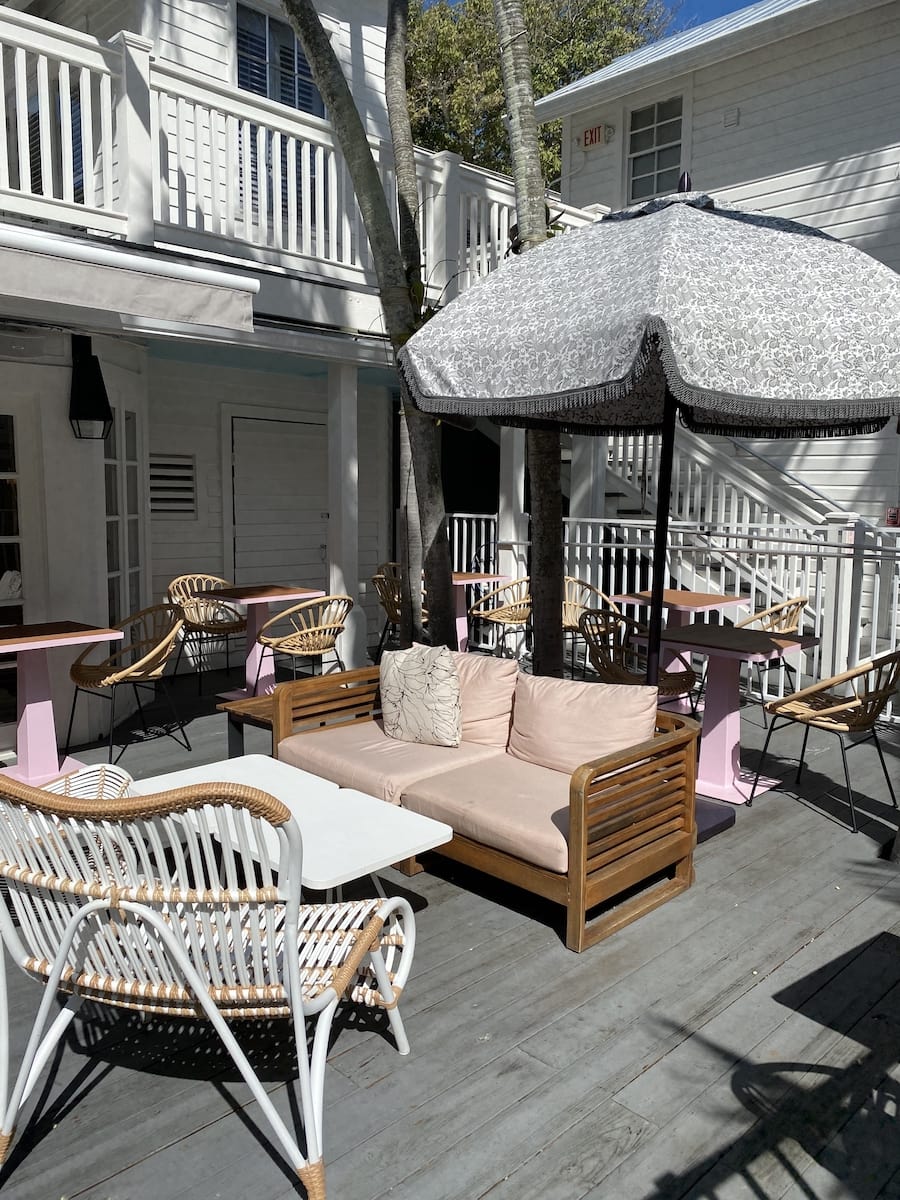 The onsite concierge is happy to help you with directions or ideas of what to see - and there is a LOT to see on this four-mile-long, two-mile-wide island in paradise!
With all the fabulous luxury amenities, the hotel still remains very simple - just like Key West itself.
It really is the perfect spot to have as your home base while exploring the quaint town of Key West.
When Is the Best Time to Go?
You will find all kinds of opinions on the best time to go to Key West. My personal opinion is that there isn't really a bad time to go!
It's sunny year-round in Key West. It's warmer in summer if you like it hot, and it's a little cooler in winter, but still warm and tropical. We were last there in November.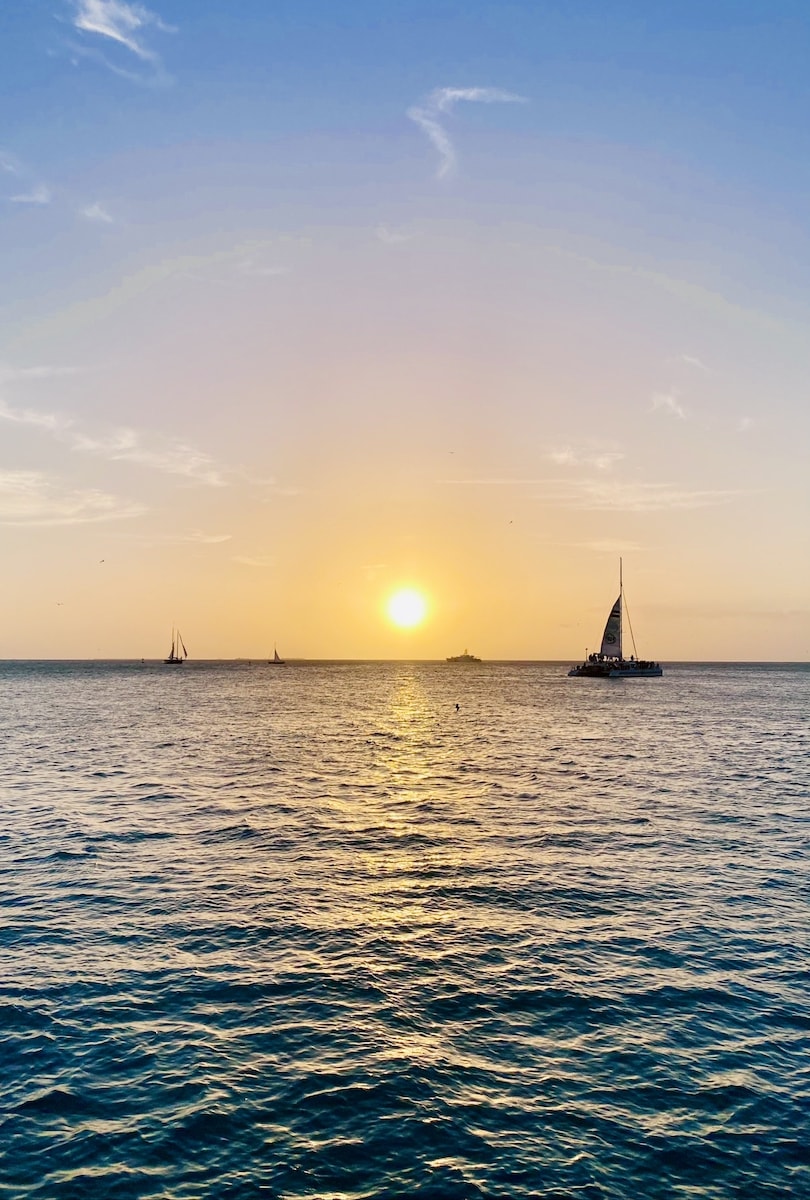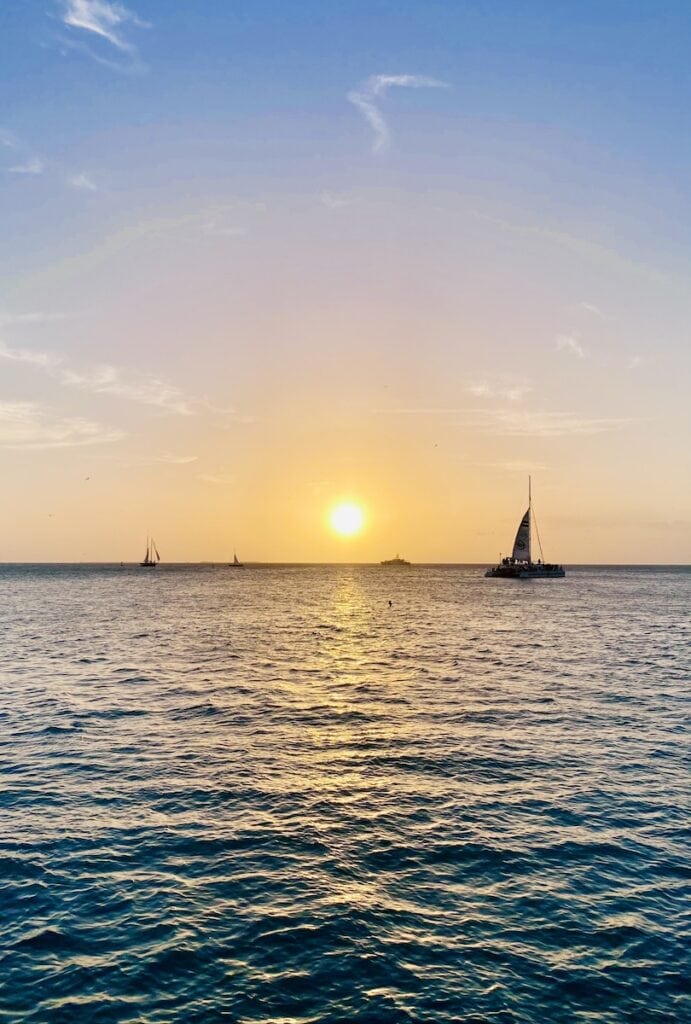 How Do I Get to Key West?
If you're flying, you can fly directly to Key West International Airport. The easiest connections are through Miami, Fort Lauderdale, Tampa, Orlando, or Atlanta.
If you're driving within Florida, Key West is about four hours from Miami, but there are some fun stops so why not take your time?
The Overseas Highway is 113 miles from the mainland, around Homestead, Florida, to Key West. The views are spectacular and we stopped quite a bit for photos.
Road tripping in this 2020 Lexus NX F Sport made the drive even more fun!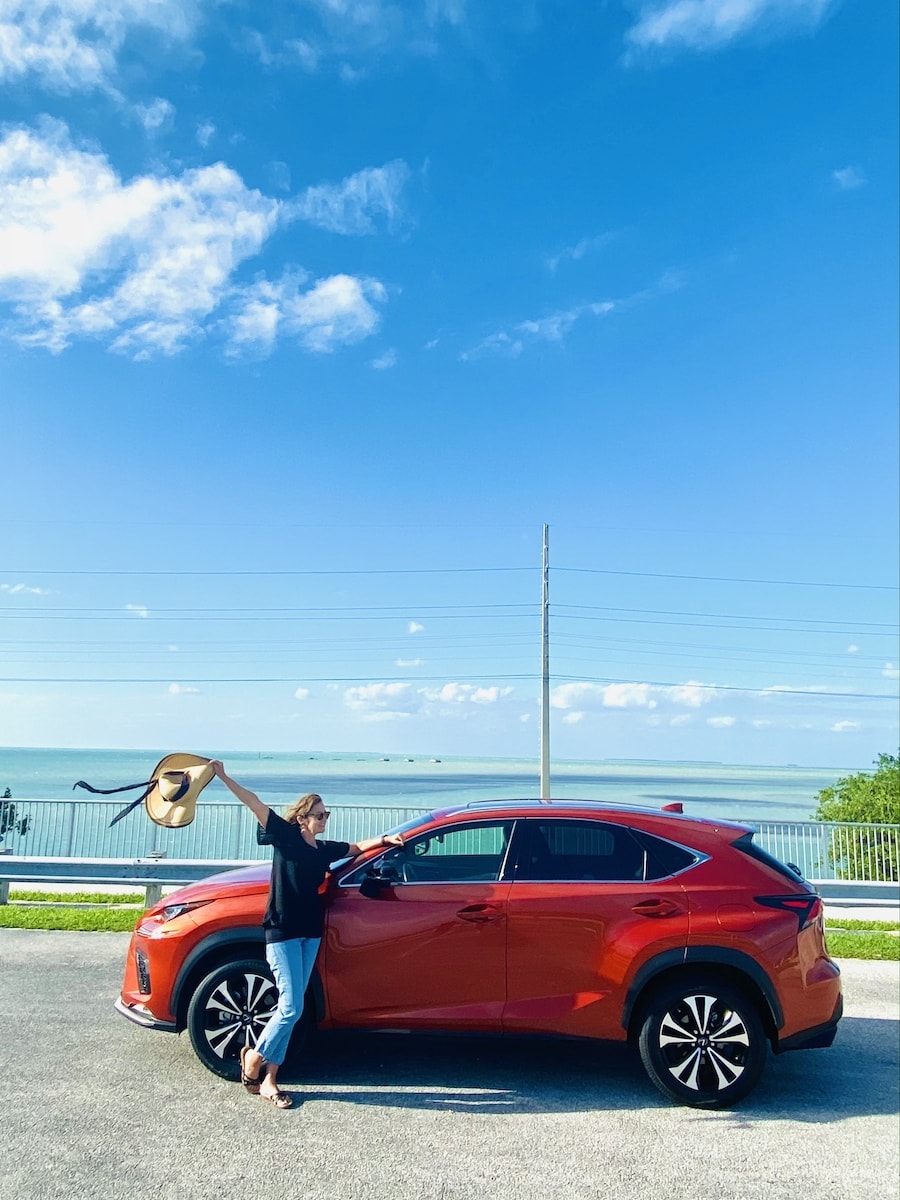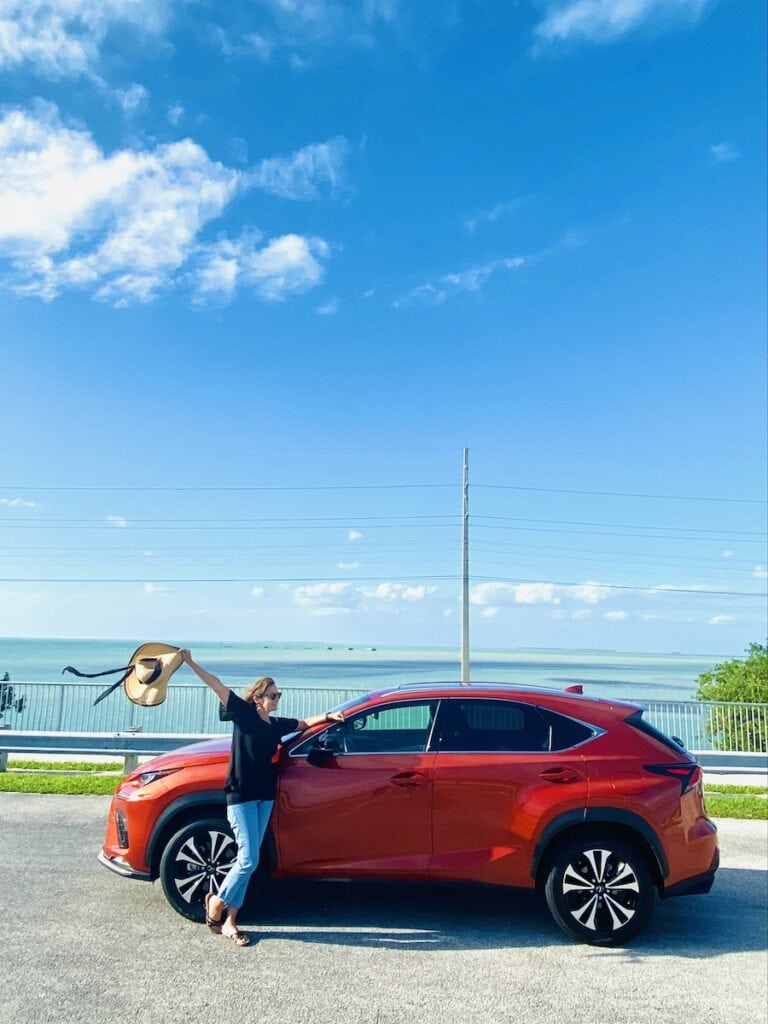 We drove to Naples to stay at the Inn on Fifth for a couple of days before heading to Key West. The Inn on Fifth is my favorite luxury hotel in Naples.
On the way back, we stopped in Duck Key to stay at Hawk's Cay for a couple of days. It's a fantastic resort for families about 2 ½ hours from Key West.
How Do I Get to Lighthouse Hotel?
From US 1 South, turn right onto Roosevelt Boulevard, continuing on to Truman Avenue. Turn right at Whitehead Street. The Lighthouse Hotel is located at 902 Whitehead Street.
There are only 4 parking spots at the hotel and I managed to get one and left my car there the whole time we were in Key West.
If there are no spots open, there are also temporary spots where you can unload your luggage and park in the lot used by the Lighthouse Hotel. The front desk will give you directions.
You can reach the Lighthouse Hotel at 305-294-9588 or visit their website.
Don't miss the the photo opp in the swing!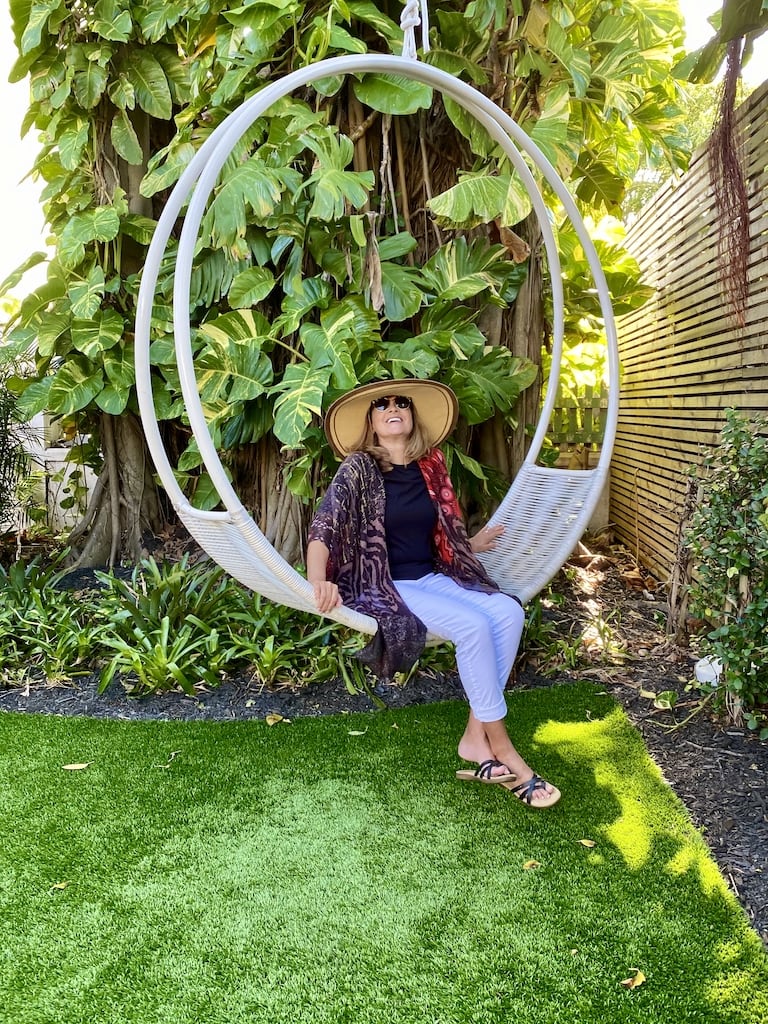 Also check out the other Kimpton Key West properties to see which one is a best fit for you.
Ella's Cottages is located at 811 Simonton Street. Fitch Lodge is at 1030 Eaton Street. Ridley House is at 601 Caroline Street, and Winslow's Bungalows is at 725 Truman Avenue.
To book any of these hotels, call 1-855-KIMPTON or visit Kimpton Key West.
All the Kimpton properties are within walking distance or a short Uber ride to anything you want to do or see in Key West.
We walked everywhere only taking an Uber once at the end of the day when we were exhausted.
Be sure to stop by the Hemingway Home & Museum, just steps from the Lighthouse Hotel, and say hello to Rita Hayworth for me!
Rita is one of about 50 cats who live at the museum and is a polydactyl, with six toes on each paw.
She's also a descendent of Ernest Hemingway's cat, Snow White. You can learn a bit more about my favorite cats there in my Instagram post.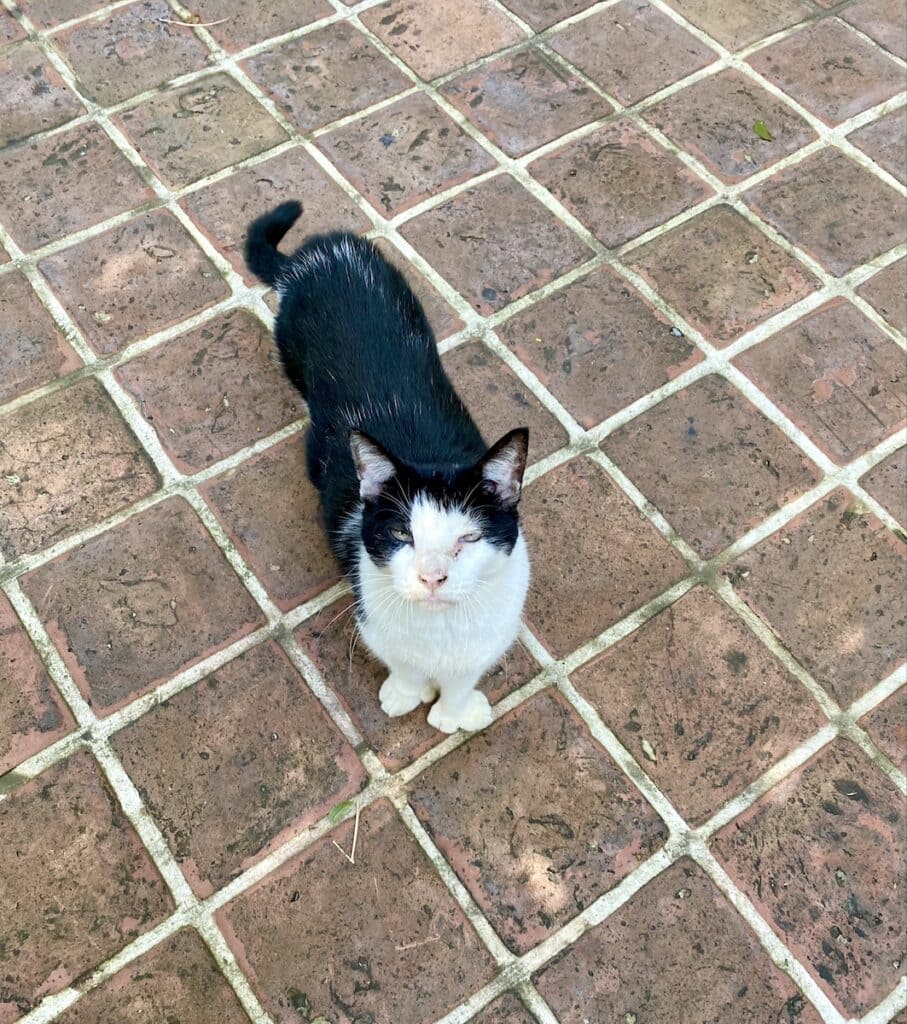 Have you been to Key West? Let me know what you discovered while there!
Though we found so many things to do, I know we missed some things and I can't wait to go back.
This post was written in partnership with Kimpton Lighthouse Hotel. All thoughts are my own.
More About Florida
Things to Do in Panama City Beach Florida
Things to Do In Winter Park Florida
Where to Stay in St. Pete Beach