Most people would not expect to find amazing food on a Canadian Rockies train, but Rocky Mountaineer is about the whole experience, and exceptional food is a huge part of the journey.
The first time I was invited to experience Rocky Mountaineer I was most looking forward to the views.
Now I know, from experience, the views are exceptional. But I also know I'll be enjoying some of the best meals I've ever eaten along with the exceptional service this Canadian Rockies train is known for.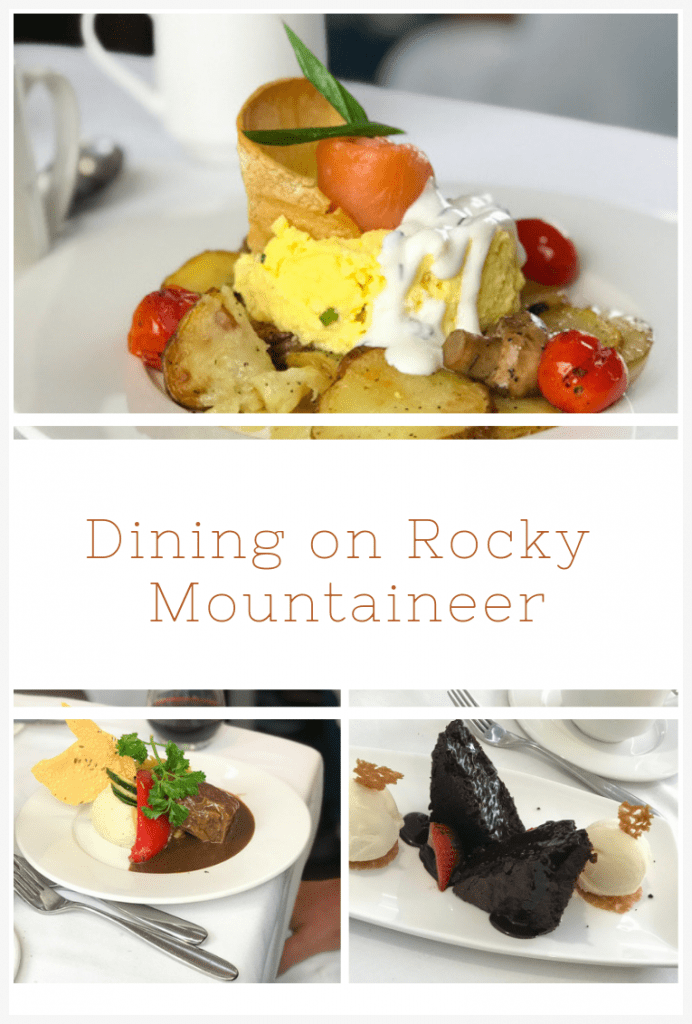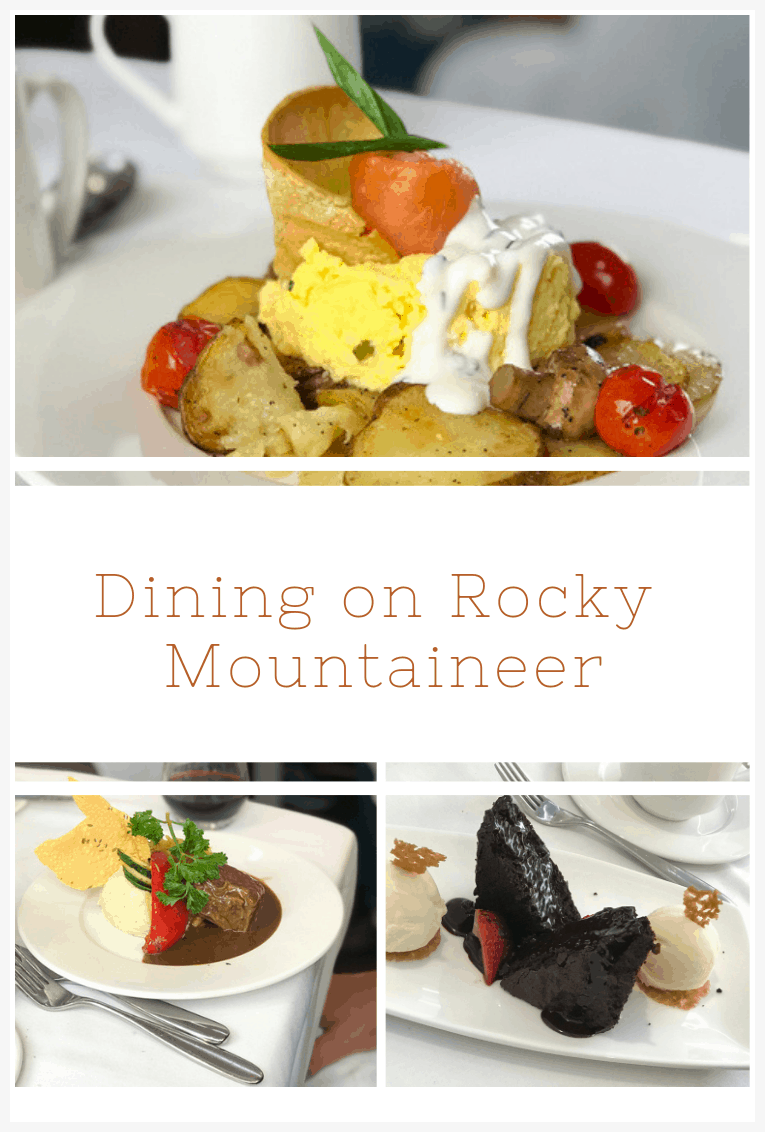 Save This to Pinterest for Later Planning!
Exceptional Food on a Canadian Rockies Train
You'll be served two three-course meals each day on your Rocky Mountaineer journey, paired with a beverage of your choice. I have to suggest the GoldLeaf Service because it's just an over-the-top experience. If you're splurging on this bucket list, go for the Gold!
GoldLeaf Service
With the GoldLeaf Service, you will leave your regular seat and go downstairs to the exclusive dining car with crisp white linens and a beautiful setting.
There are two seatings for breakfast, and you will have five choices of entrees. If you are in the second seating, you will be served a freshly baked scone and coffee at your seat to tide you over.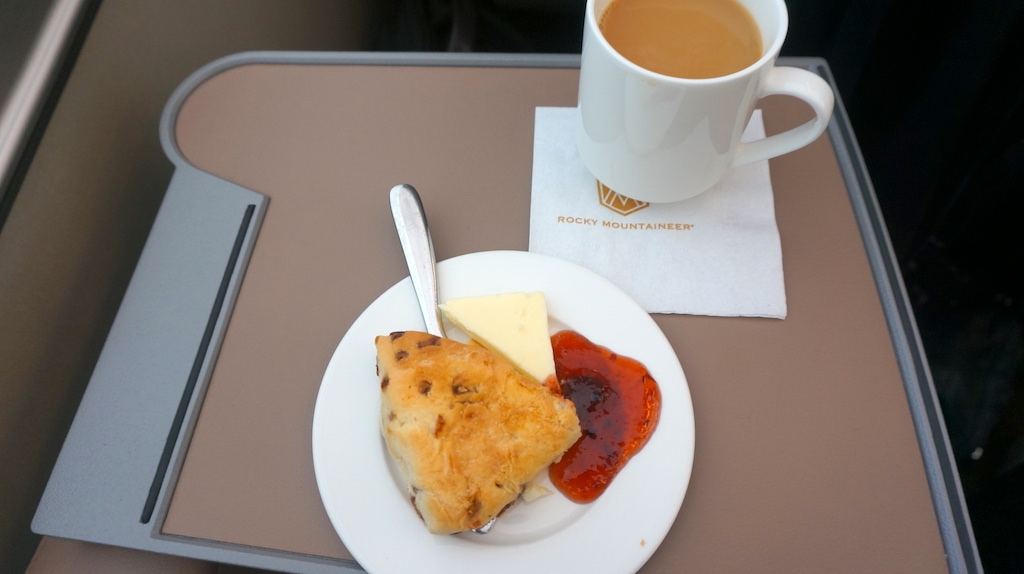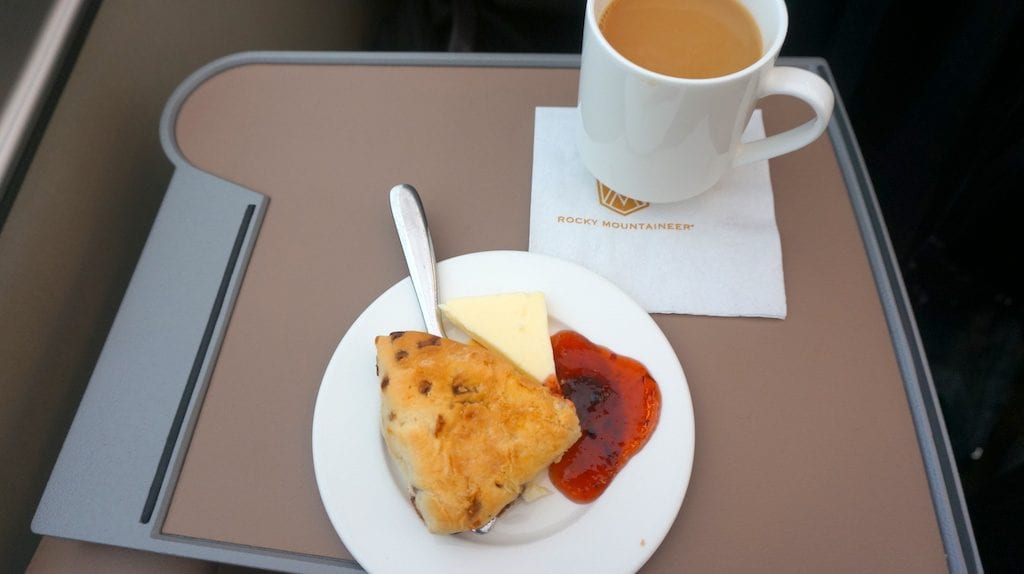 Don't worry if you're in the first seating- your treat will be served sometime between breakfast and lunch, just in case you feel like nibbling, and the next day your seating will be reversed, so you'll get to experience both.
They really do think of everything.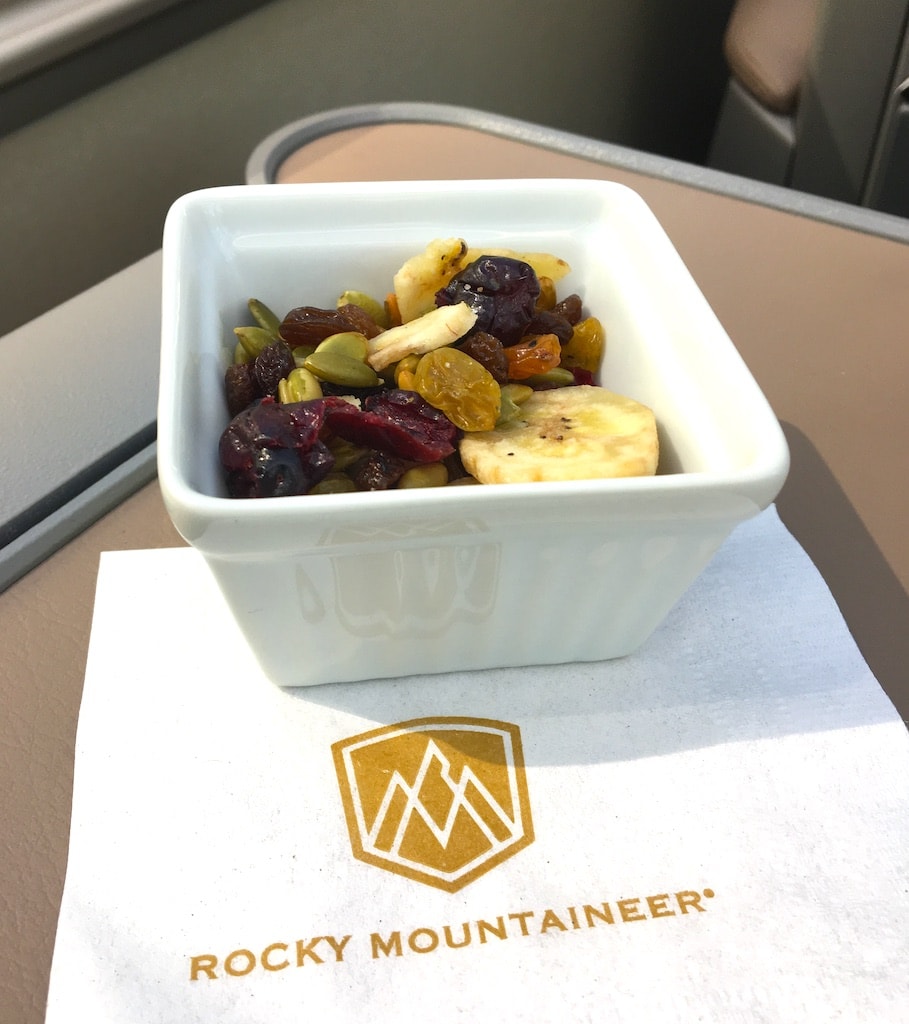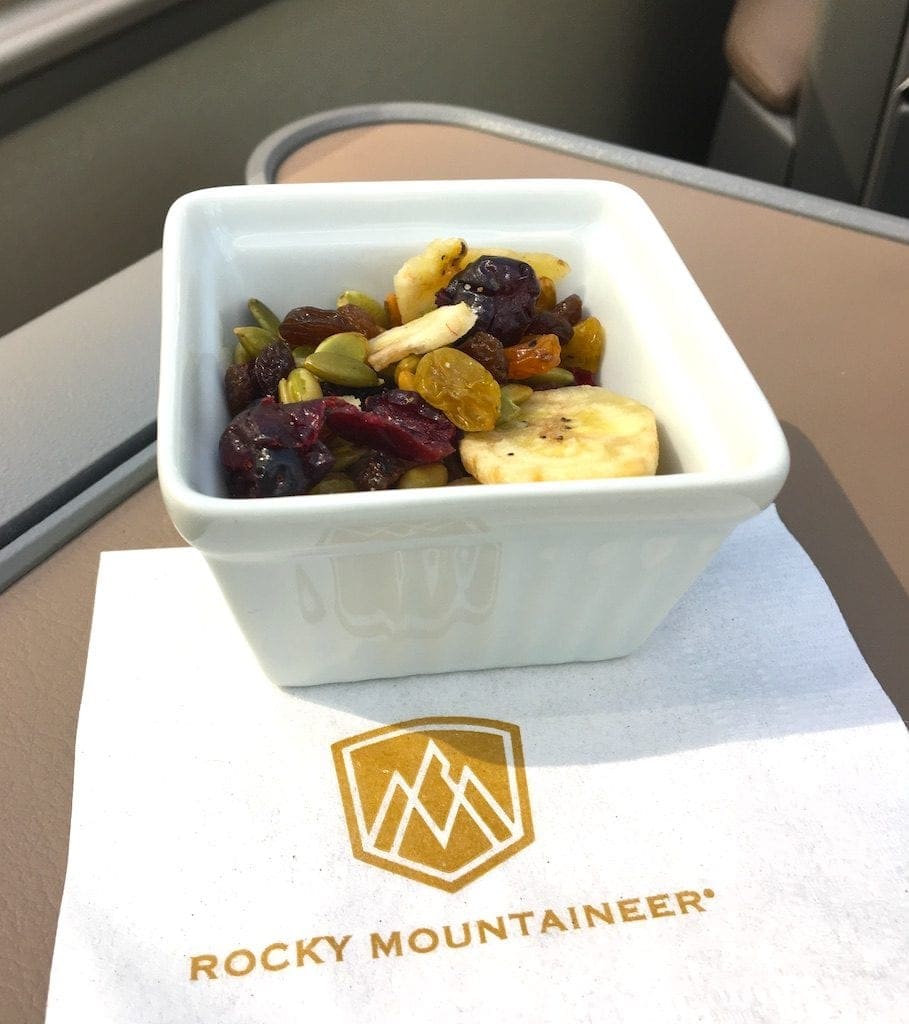 There is such great camaraderie in the dining car. We have met new friends just because we ended up sitting with them for a meal on the train!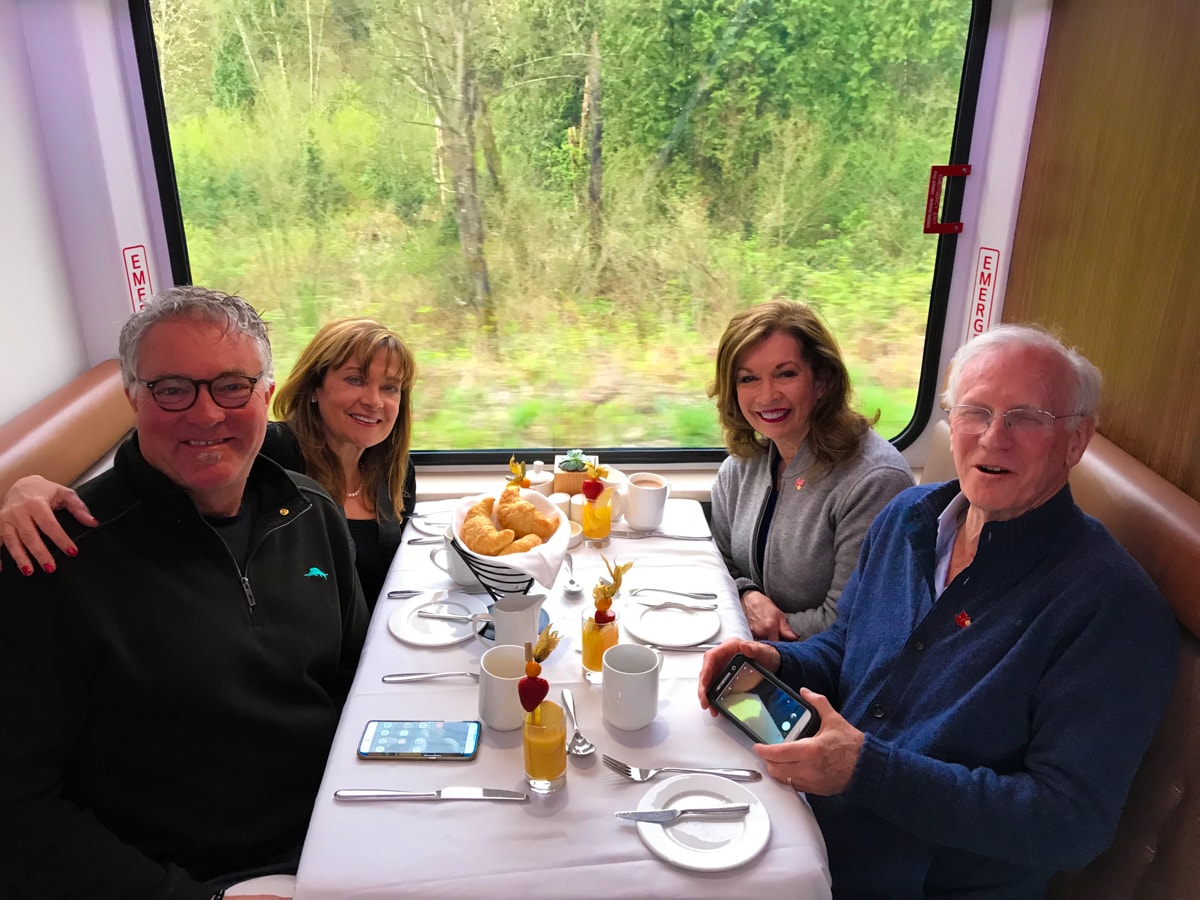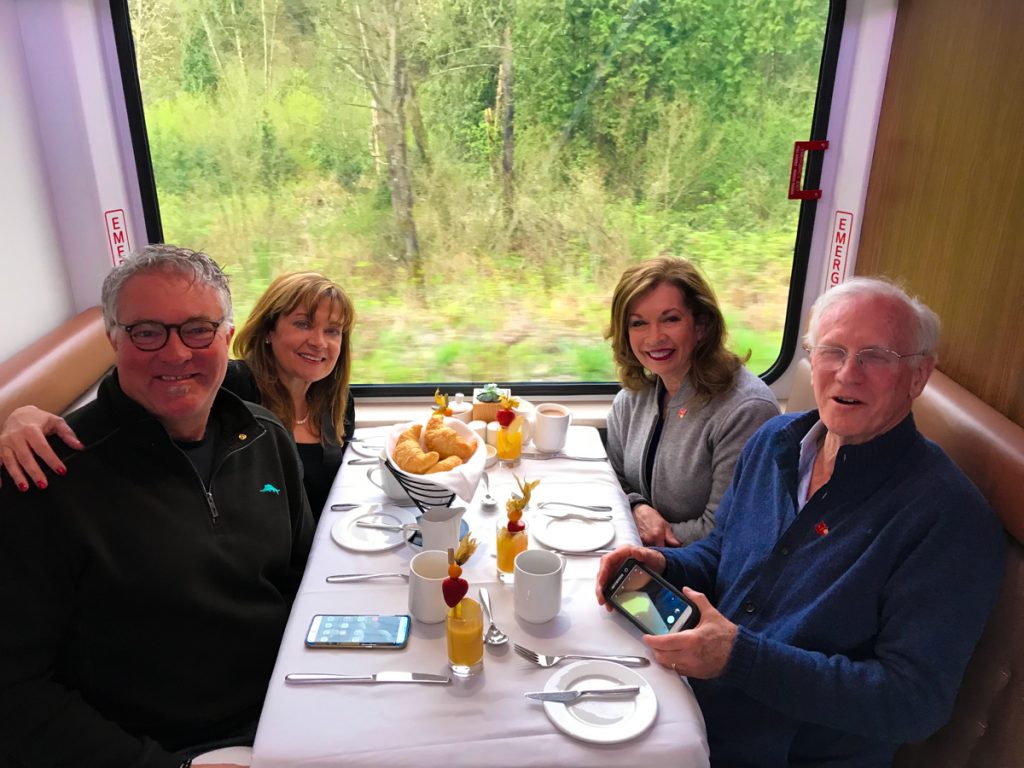 Also with the GoldLeaf Service, when you are in your seats upstairs, you'll enjoy the views of the two-level, glass-domed coach featuring full-length windows.
You will also enjoy upgraded deluxe accommodations between your days on the train.
Silver Leaf Service
With that being said, the SilverLeaf Service is also wonderful. You will simply dine in your seat while enjoying the views through the single-level glass dome with oversized windows.
You will still have delicious meals, gourmet snacks, and the same beverages served with the GoldLeaf Service, but your meal choices are limited.
As you can see, the GoldLeaf Service is an upgraded experience - and one you won't soon forget! Who knew rail travel could be so luxurious? But let's get back to that gourmet food!
Gourmet Meals on a Moving Canadian Rockies Train?
This is what I thought, too, before I experienced Rocky Mountaineer for myself. This is not what you would expect from rail food. How in the world do they do it?
I spoke with the chef while on the train, and he shared with me that they have to carry two to three days worth of supplies for the chefs and the bar. They have their own generator and water supply.
"You can't make a mistake, can't forget anything", says Chef Jean Pierre Guerin, one of Rocky Mountaineer's Executive Chefs.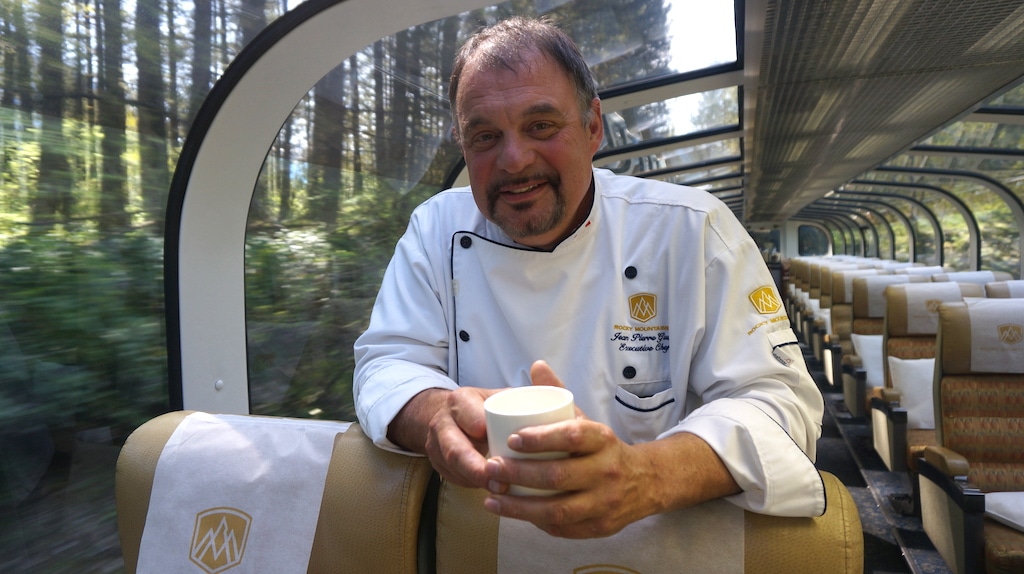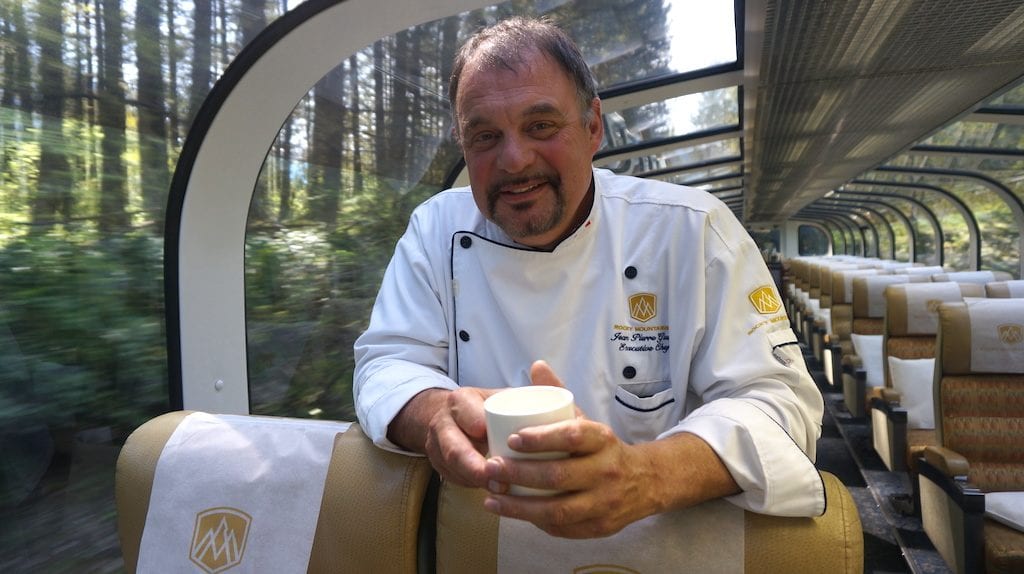 They use as much local food as they can find. Most of the meat and seafood comes from British Columbia or Alberta.
In a season, a half-million plates are served. For the trip I was on, about 1200-1300 plates were served to about 300 people. Some trains have up to 700 guests.
Meals and snacks are served at specific times on the trip, and even coordinated with what you might see on the journey. Rocky Mountaineer doesn't want you to miss something spectacular as you're being served!
The idea that they even think of that tells you how incredible the service is on this Canadian Rockies train. 
Ninety percent of the foods are prepared on the train with soups, stews, and stocks being prepared ahead of time. 
If you have a special request they will try to do it, and can easily accommodate gluten-free requests.
Vegetarians are not treated differently than other guests, there is always a vegan and vegetarian option on the menu.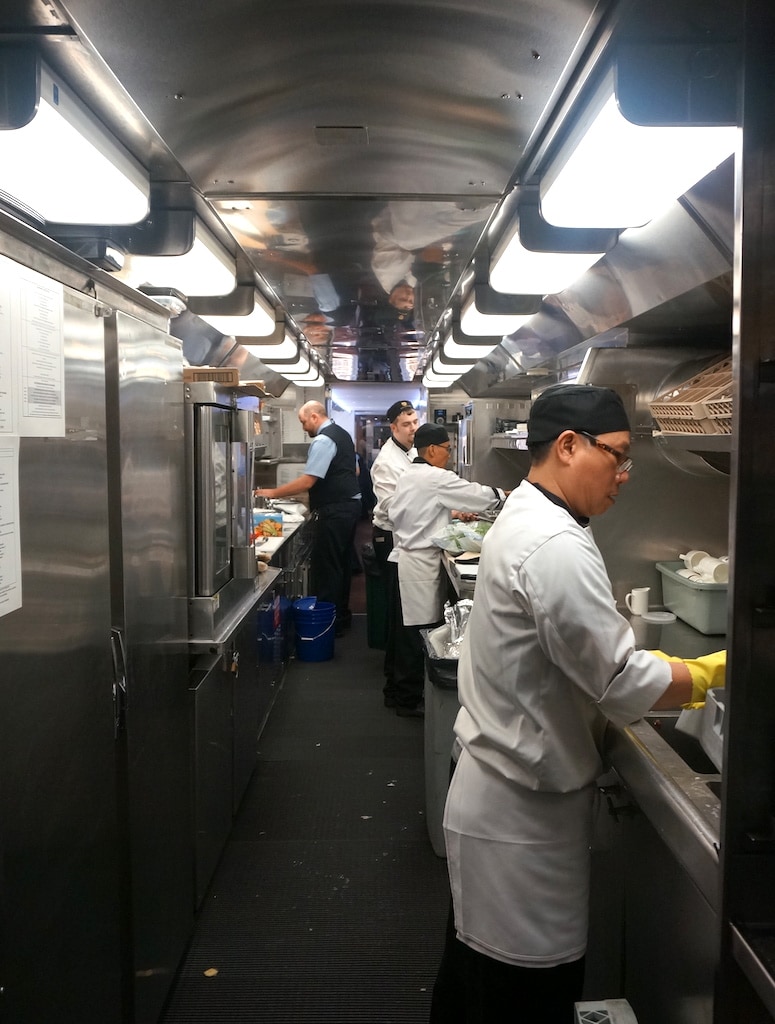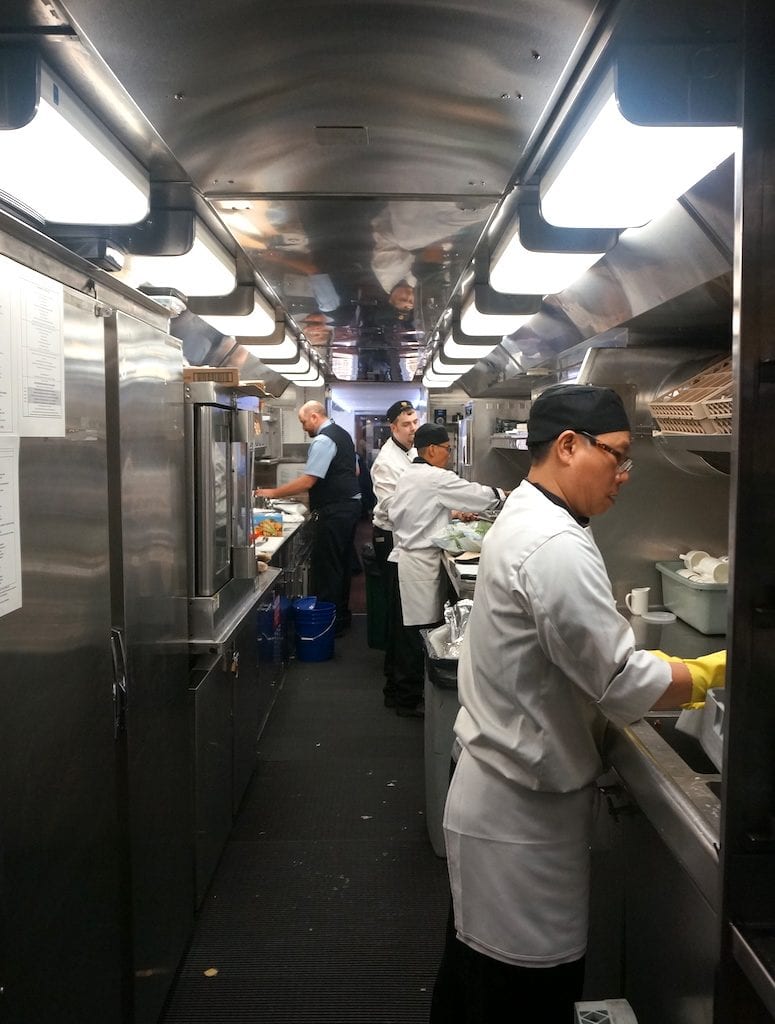 All baking is done on board. It is brought on the train as raw dough, but proofed and baked on board.
The chef said they are going to have a grill eventually, adding "Every season adds a brand new menu. When we have a good item like short ribs we leave it on the menu. We get feedback from guests and that's how we make the decision on the menu." 
An Executive Chef rides the train once a week for one or two days. He boards at random times as well to make sure everything is in order.
On one particular trip I was on, there was a delay because of a freight train.
We would not arrive at our destination until dinner time. Typically, dinner is not served on the train, but Rocky Mountaineer does not want you to be hungry, so the team whipped up a chicken curry on the fly!
It still boggles my mind! Ah... the benefits of a delay!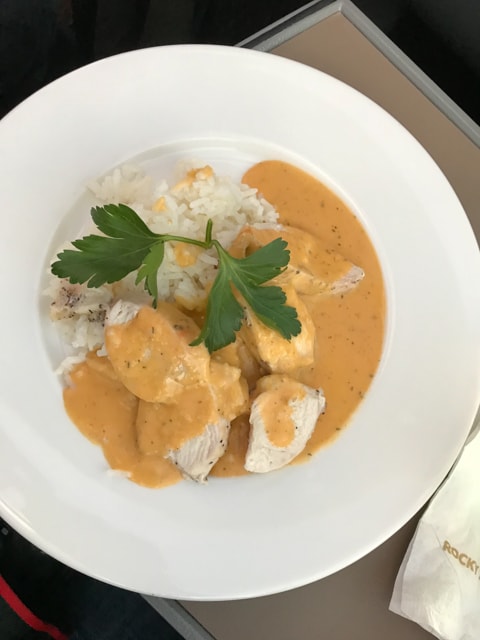 Breakfast on Rocky Mountaineer
For a lovely start to your day (you are on vacation!) try a Caesar, Canada's version of a Bloody Mary, or opt for a cup of coffee, tea, or juice while you peruse the menu.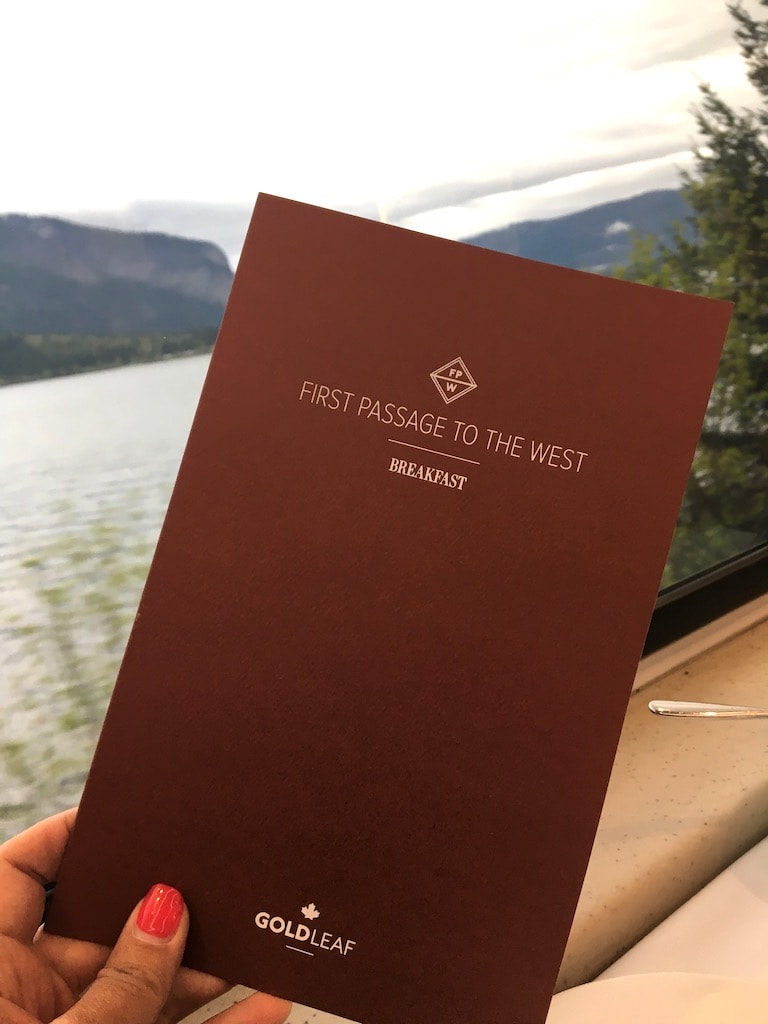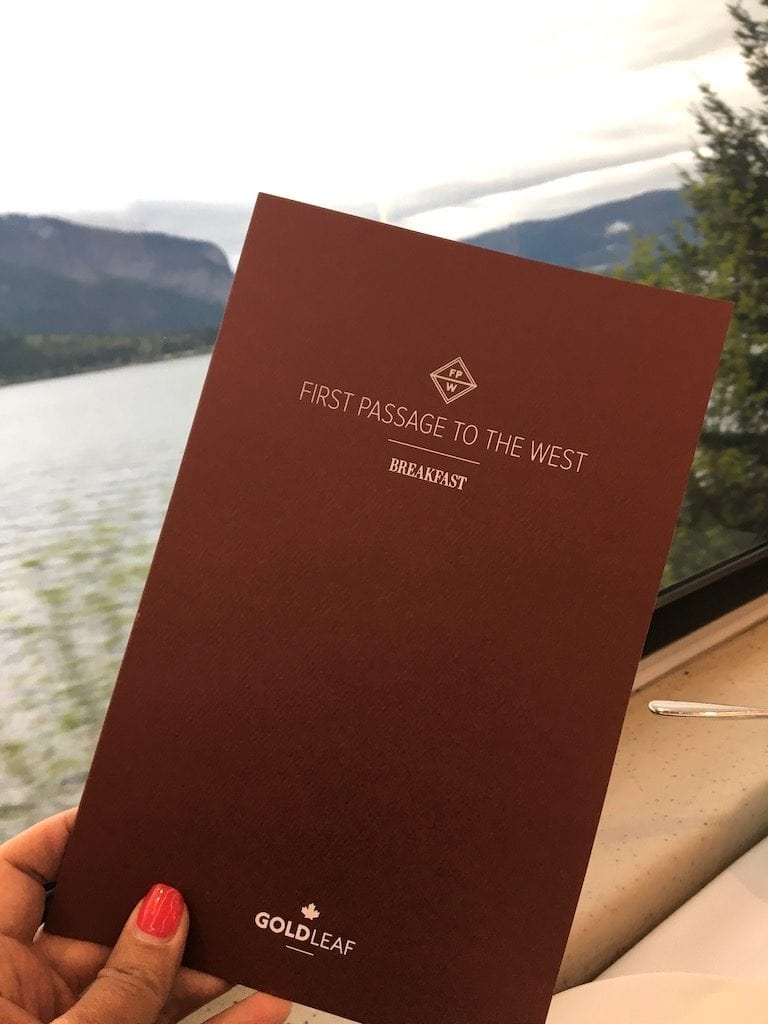 You'll be served a freshly baked breakfast treat...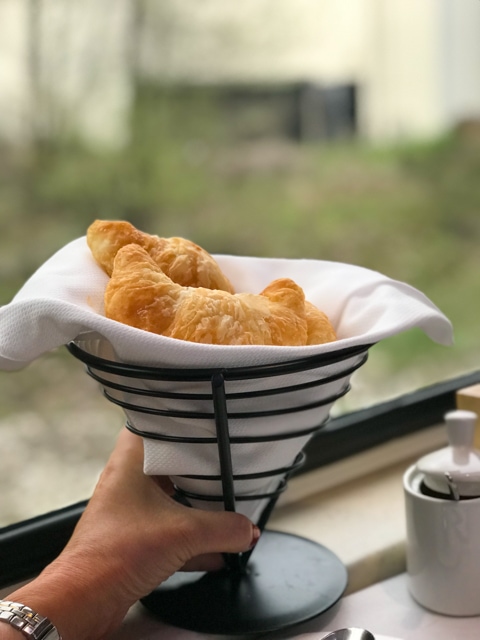 ...along with a seasonal fruit creation to start your day.

Perhaps you'll be in the mood for pancakes. The Sourdough Stack features Caramelized sourdough flapjacks that are so light and fluffy.
They are served with country chicken sausage and cranberry maple cream or real Canadian maple syrup.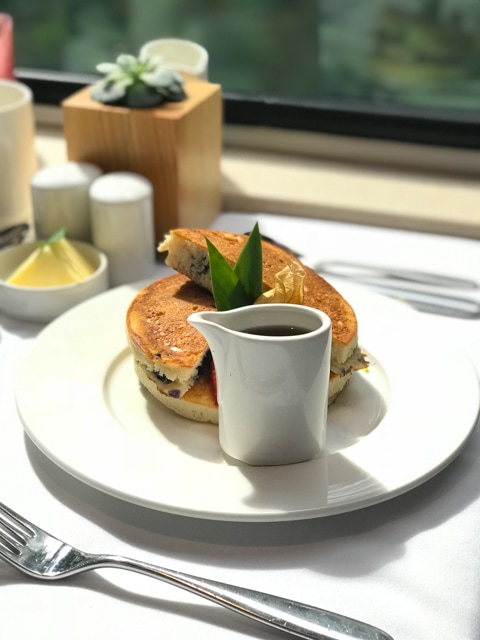 Another choice may be the scrambled eggs with smoked salmon.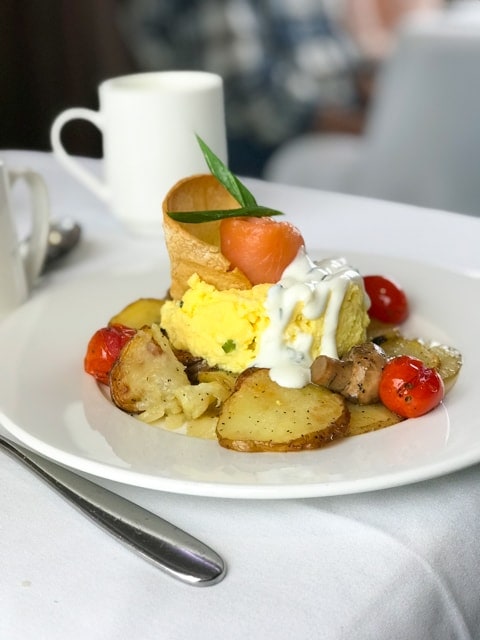 My husband loved the poached eggs on Montreal-style beef with potatoes, served with tarragon hollandaise.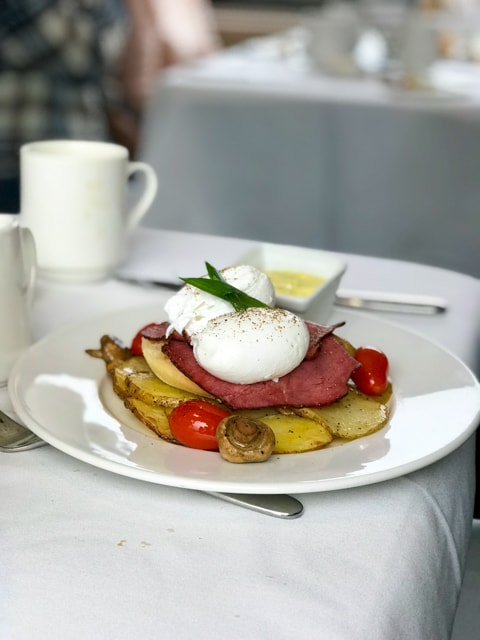 So many choices.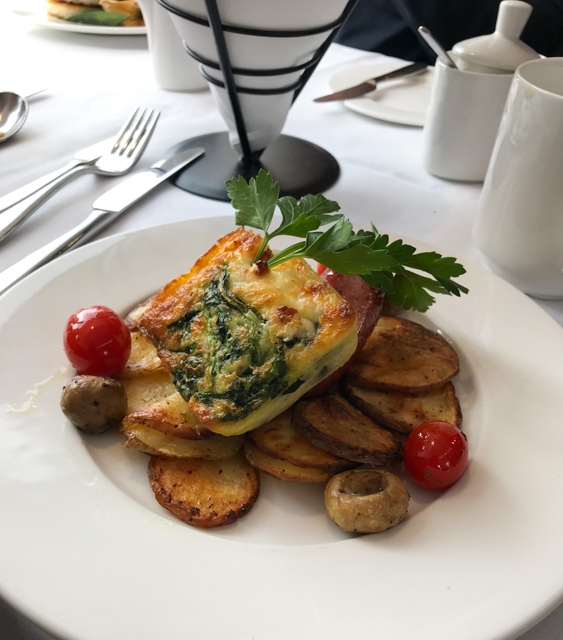 As the menu changes, I'm not sure which of these will be on your menu, but they were all so wonderful!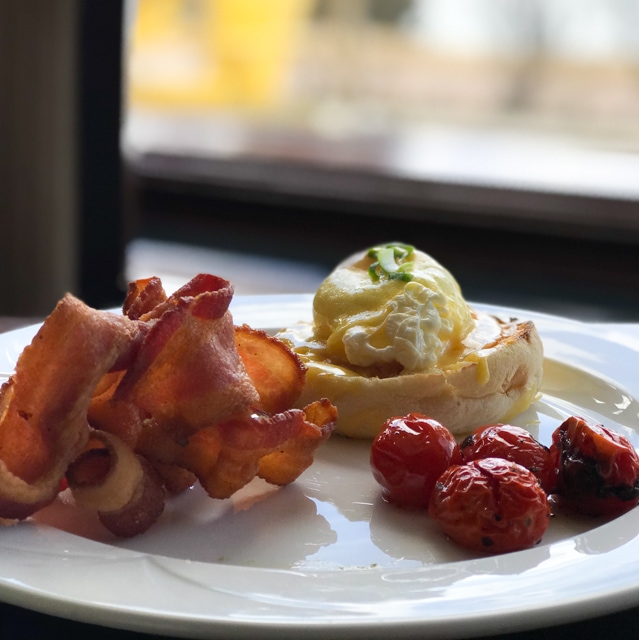 The chef is so creative!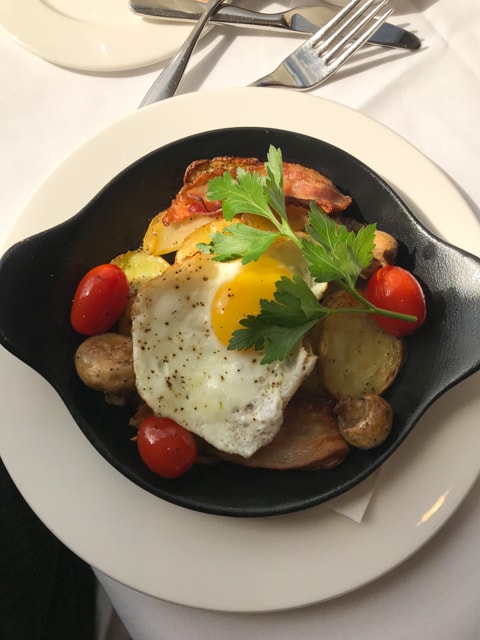 As I mentioned, you can always ask for a light meal. This wasn't mine. No judging!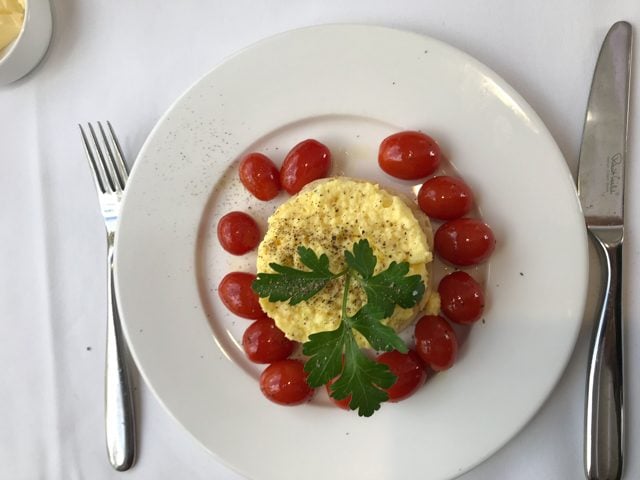 While you're enjoying the morning relaxing, the Rocky Mountaineer team is getting ready for lunch, and it's time before you know it!
Lunch Options
Lunch begins with soup or salad.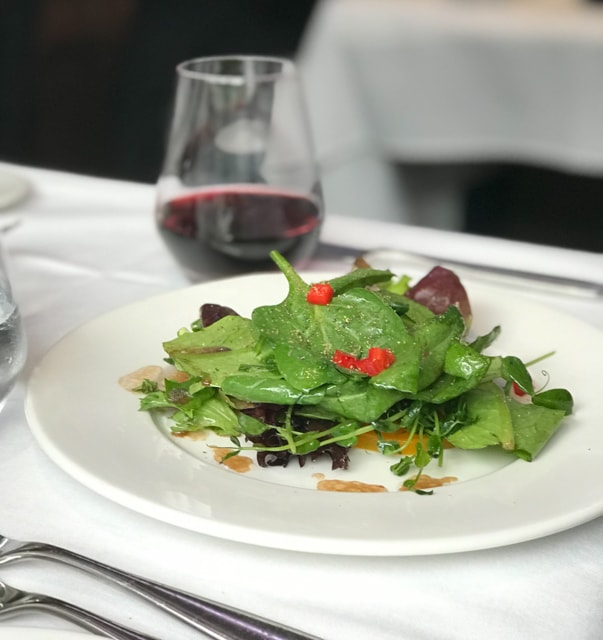 For GoldLeaf Service, you'll have a choice of five entrees. With SilverLeaf, you will choose between two.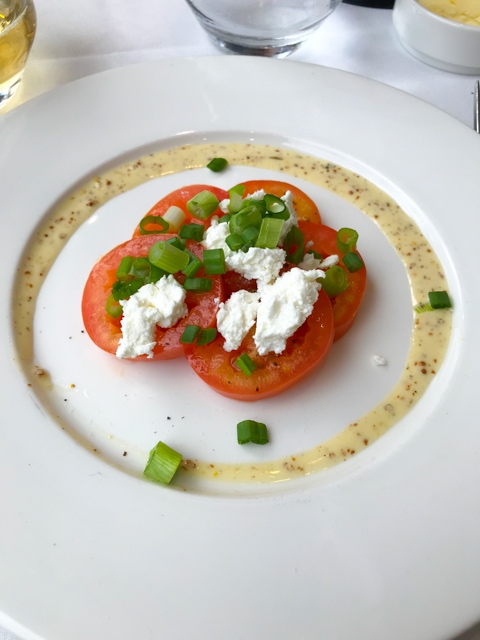 Everything is delicious! We had choices like Steelhead Salmon with Garlic Herb Rice Risotto or Beef Short Ribs braised in Okanagan Merlot.
You'll have a choice of a white or red BC wine with meals but can order other beverages as well.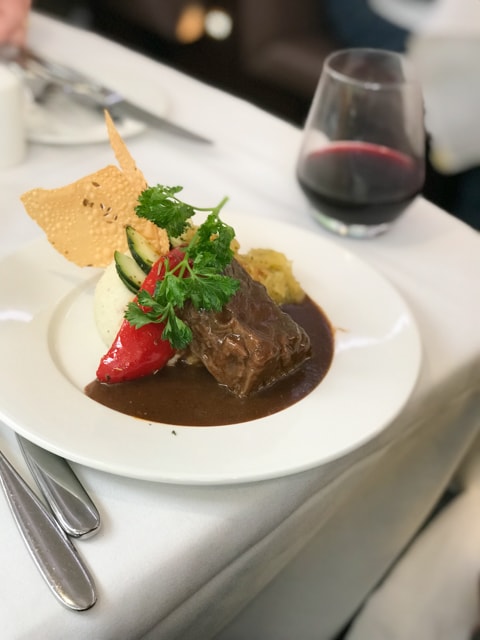 On one trip the menu offered Alberta Ranchhands Pork Tenderloin, roasted and served with an onion fondue, local vegetables, and mashed yams.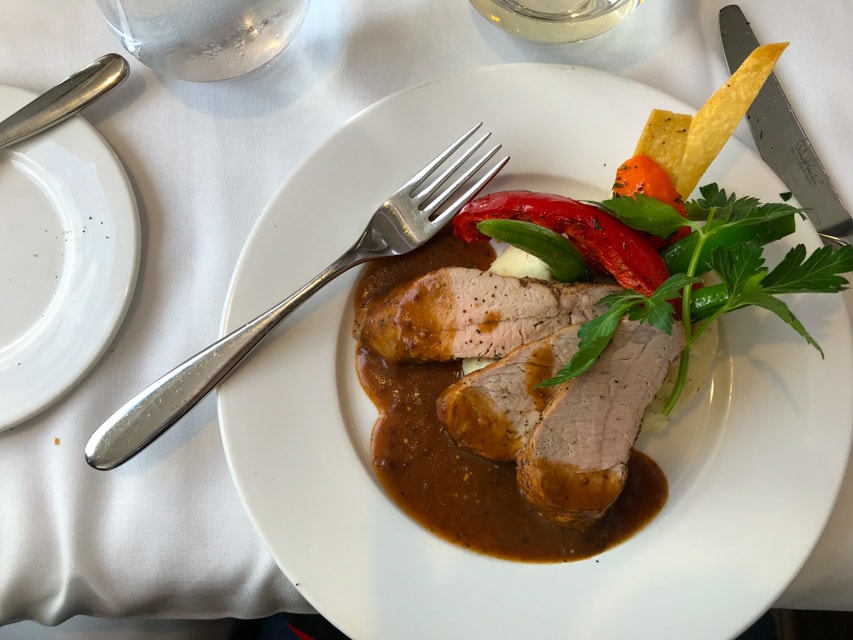 The tuna was one of my favorite meals on the train.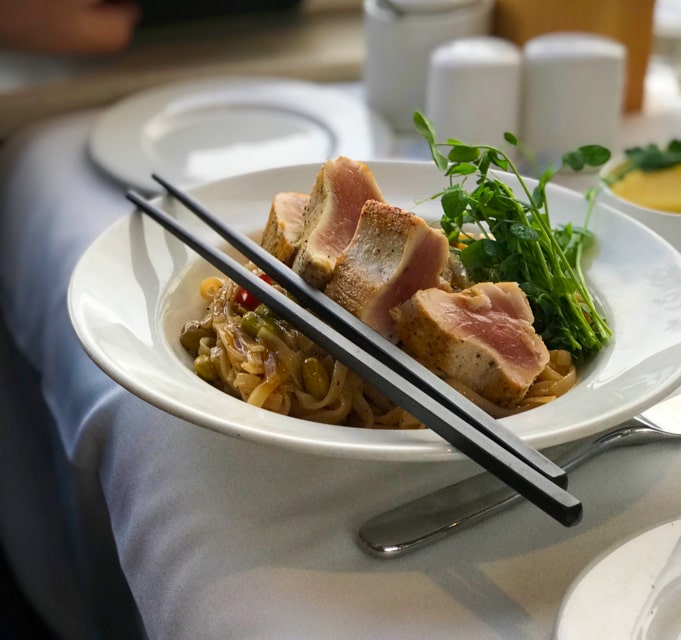 The salmon is also wonderful. I always order salmon when in BC as it's just so fresh. 
There will be a Chef's Creation for dessert, with a gluten-free or light option for that, too. This was the heavenly option.
Spectacular Views on a Canadian Rockies Train
While you're enjoying your meal, you'll be wowed with views like this one.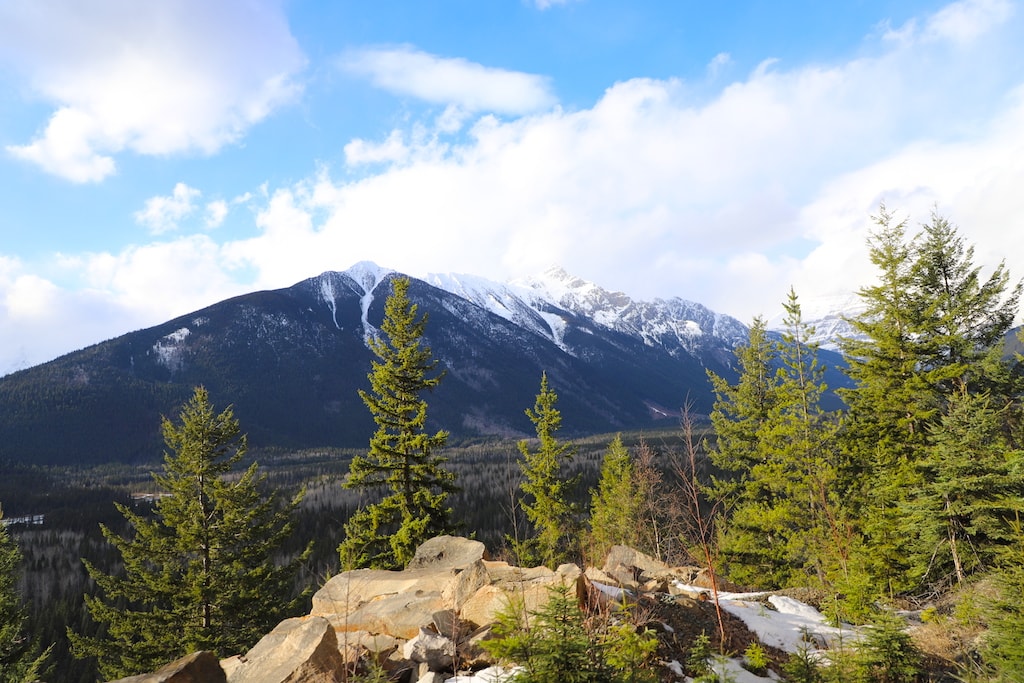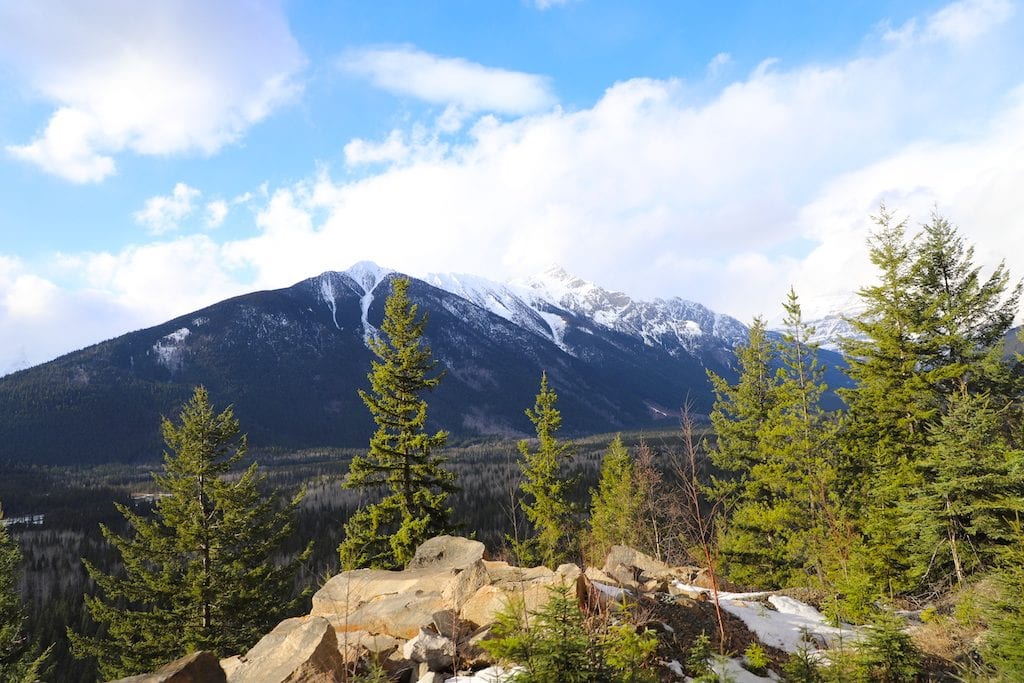 Once your afternoon meal is over, sit back and relax in the spacious reclining seats and enjoy more of the scenery.
Listen for announcements about wildlife sightings.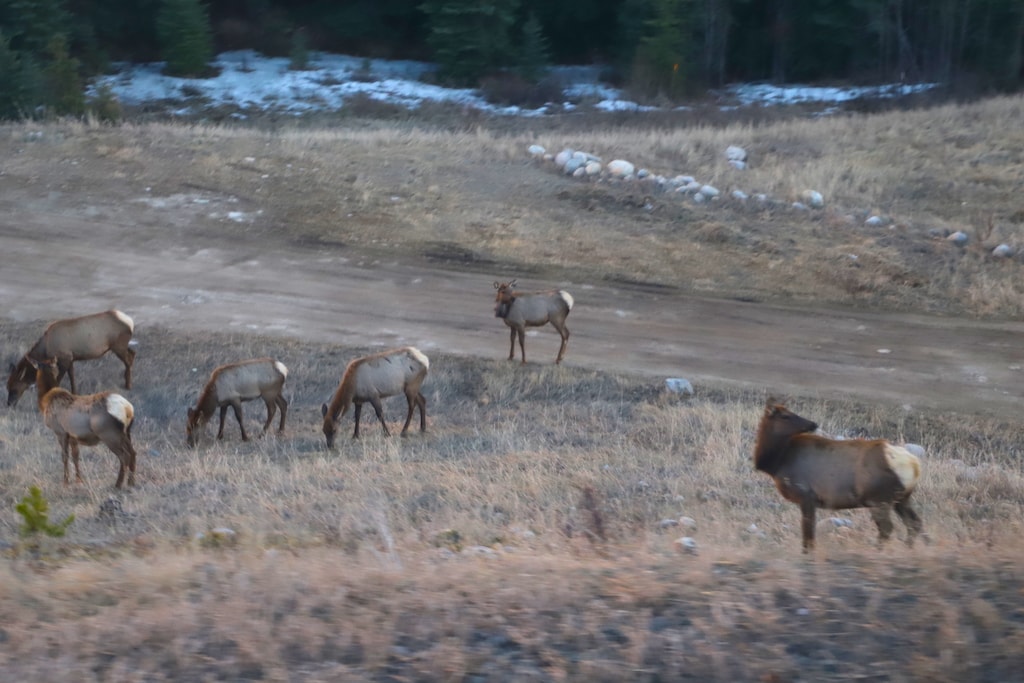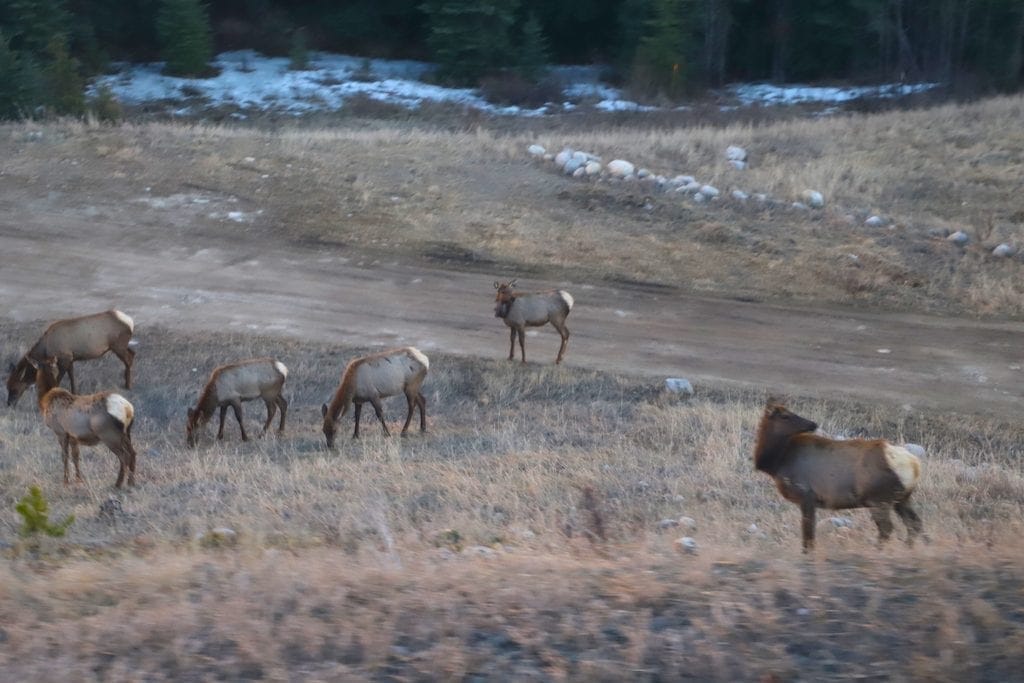 If something is seen in the front of the train, a team member will radio back to the rest of the team who will make an announcement to your car.
I've seen a grizzly bear, black bear, elk, deer, and some of the most gorgeous mountain views in the world while on Rocky Mountaineer.
In fact, if nature is your thing, plan a trip to Nimmo Bay Resort before your train trip! It's crazy not to explore more of beautiful British Columbia while there.
You could also spend a night at the lovely Oak Bay Resort in Victoria and take a ferry or seaplane to Vancouver. In fact, This would be the bucket list trip of a lifetime!
More Food!
Later in the afternoon, you'll be served snacks and your choice of beverage.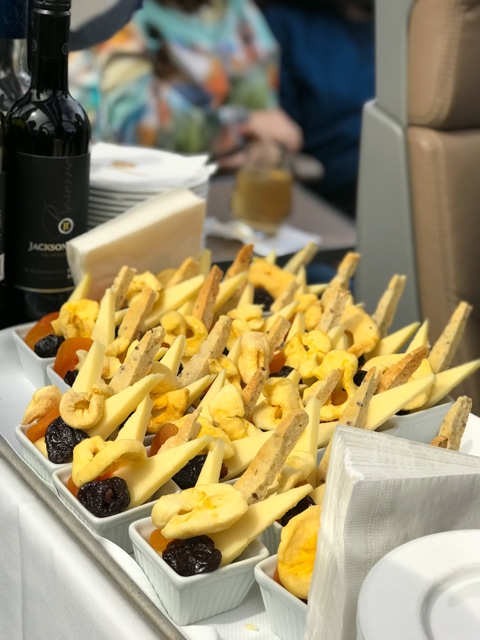 Before arriving at your destination, you'll be served mouthwatering warm oatmeal raisin cookies with honey.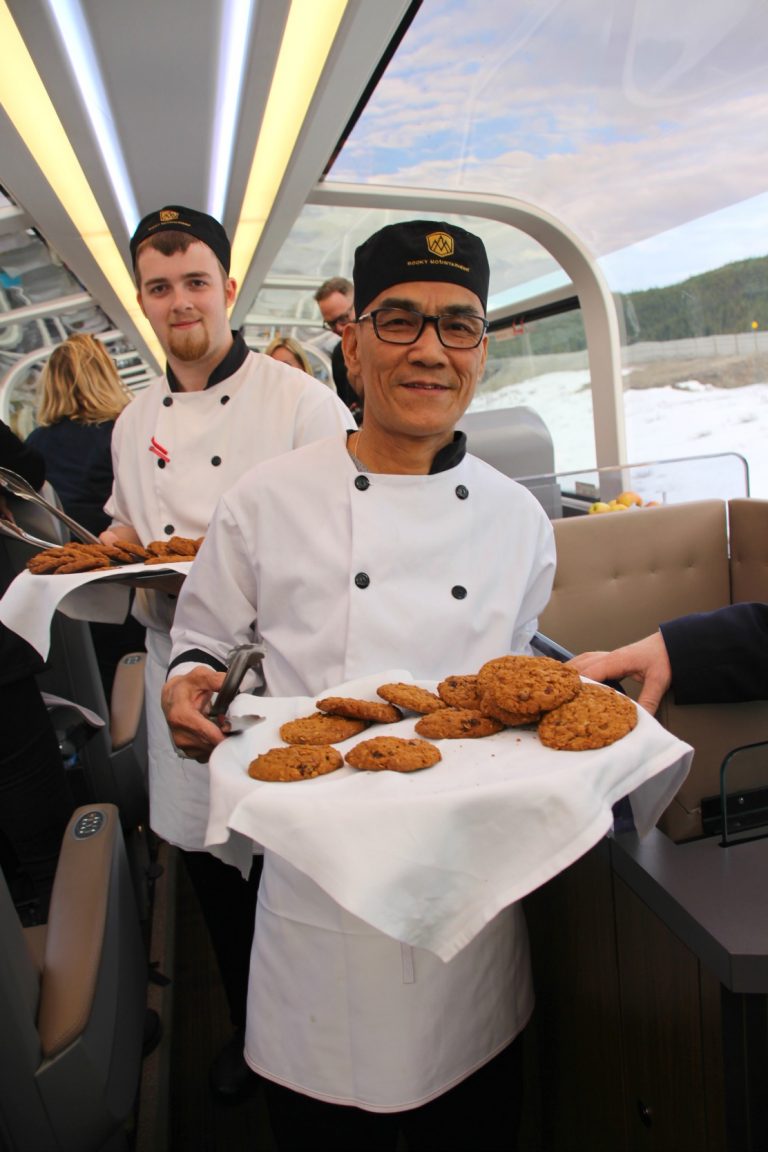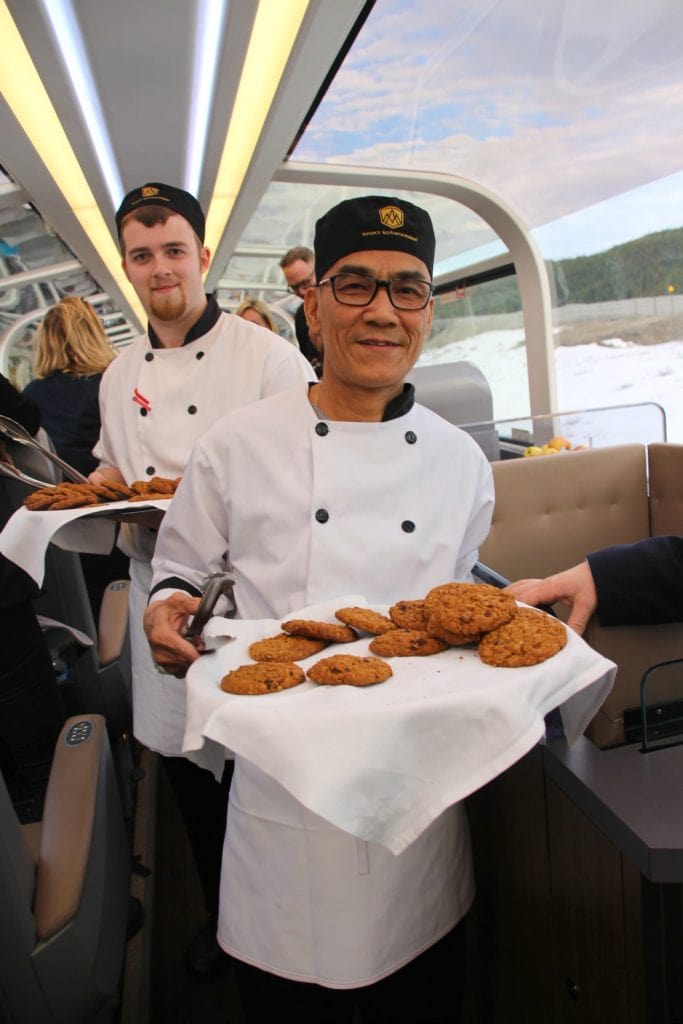 I've been blessed to take two different routes with Rocky Mountaineer.
If you'd like to read more about the whole experience, check out my first trip, First Passage to the West through the Canadian Rockies. 
My last trip on the Rocky Mountaineer Train was the Journey through the Clouds route.
You might be interested to read about the lovely hotels we stayed at, like the Fairmont Hotel Vancouver, the Sandman in Kamloops , The Moose - perfect for a getaway in Banff, or the gorgeous Fairmont Jasper Lodge.
And if you're close, don't miss the Icefield Parkway from Banff to Jasper or in the reverse. It was an incredible experience to see glaciers up close!
Have I whetted your appetite for traveling on Rocky Mountaineer? I can't wait to experience another route!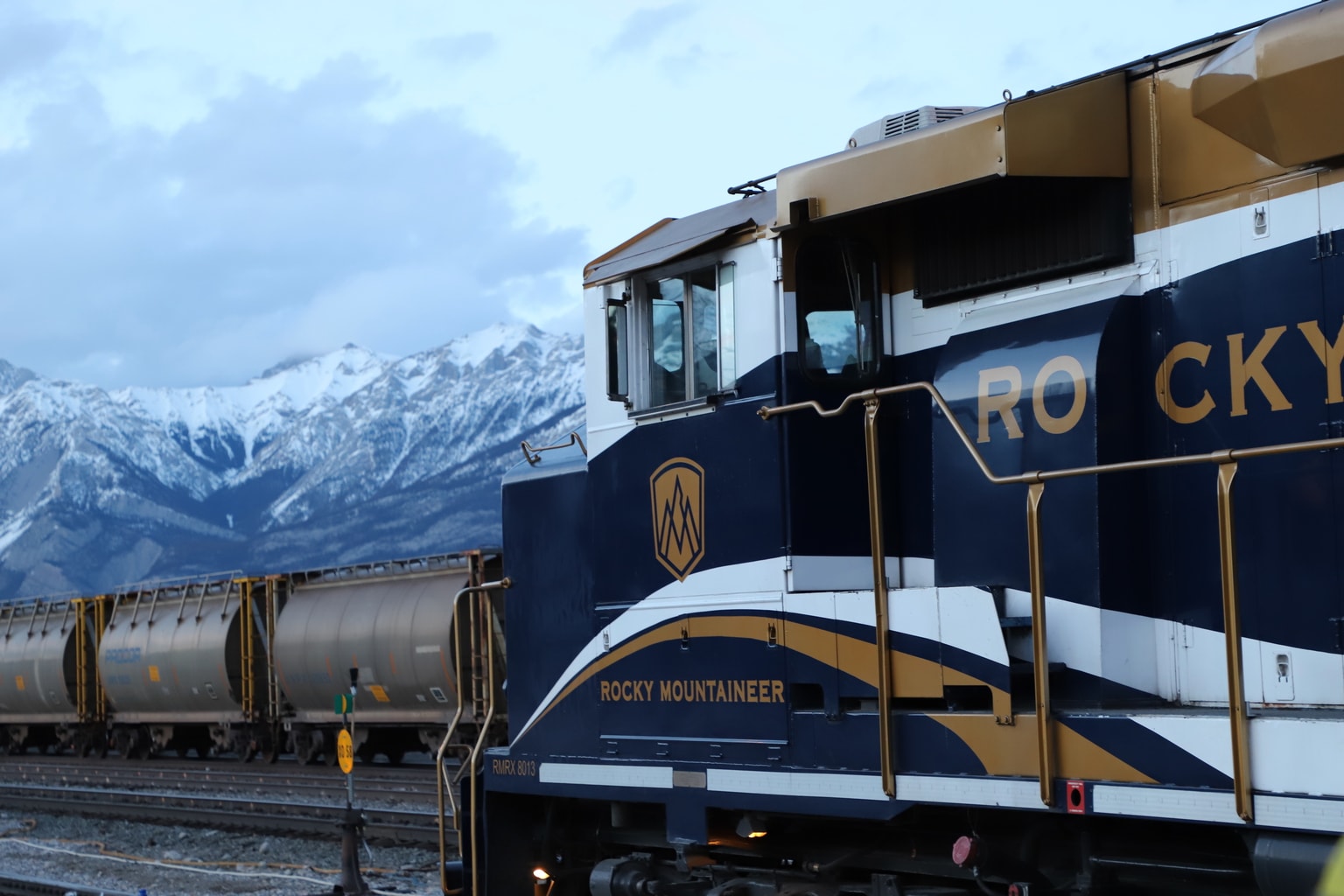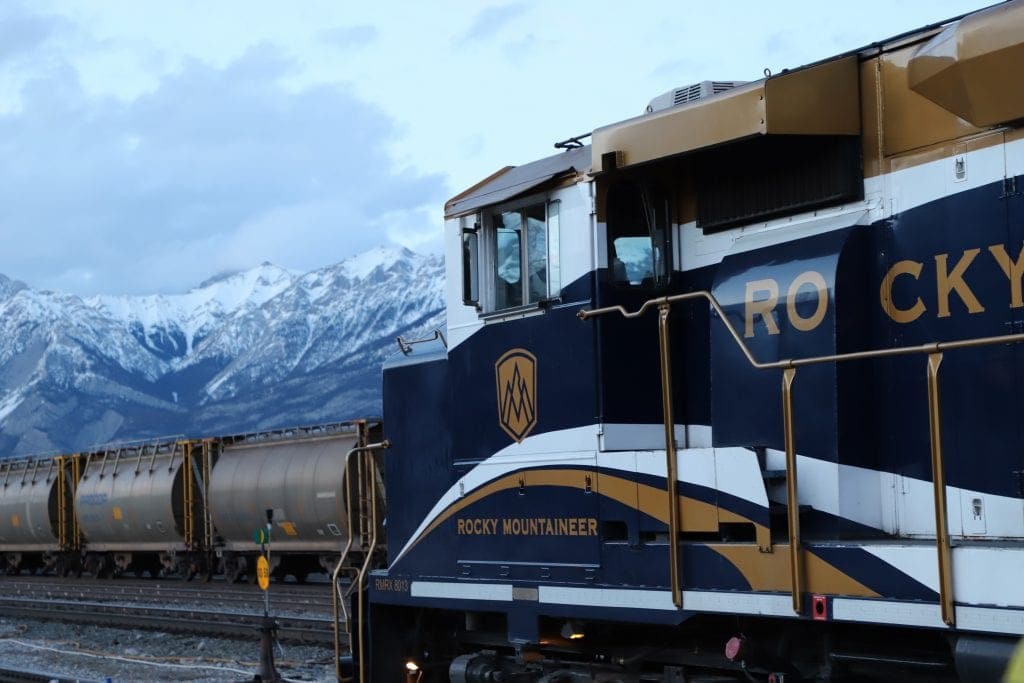 Is a train vacation on your bucket list? I'd love to know! Share in the comments.
Like our content? Follow us on Pinterest!