Which are the best restaurants in Disney World? As someone who has been a lot, I have my favorites, but I'm sure you do, too.
I was invited to join a group of photographers to capture the best food in Disney World and Disney Springs.
The event was sponsored by Capture the Bite and Walt Disney World, the main goal of the workshop was to experience (ie; eat!) food all around the parks, photograph it and share it on social media. It was a tough gig!
Check out this post just about visiting the best restaurants in Disney Springs, too!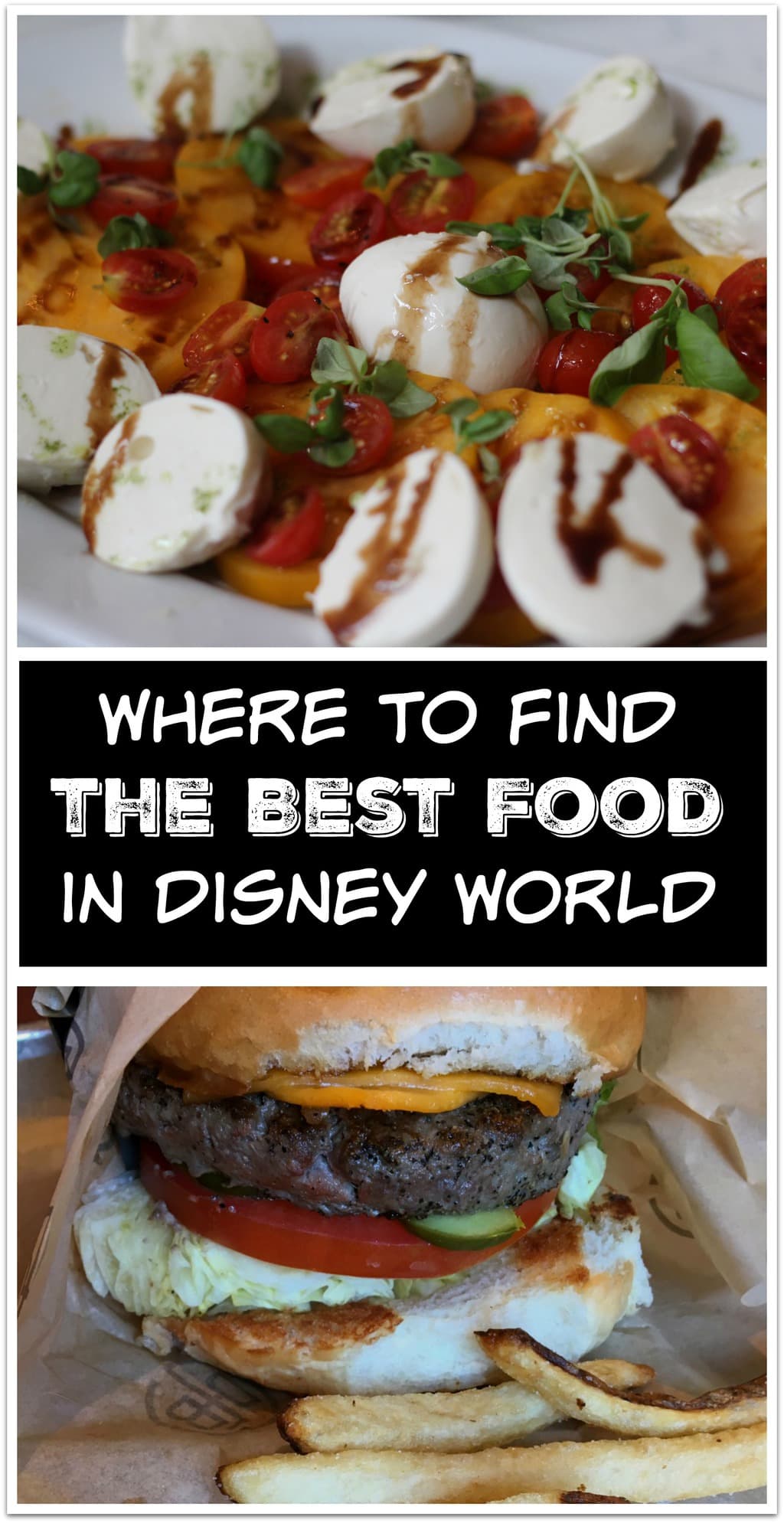 Capture the Bite is run by Julius Mayo, Jr. of Droolius.com and Faith Gorsky of An Edible Mosaic, both incredibly talented food photographers. I learned so much about styling food, lighting, and the overall composition of food photography that I feel like my photos are all already on a new level.
It was the best few days I've spent at Walt Disney World, too, staying at Animal Kingdom Lodge and learning from the entire group.
I have to admit, though the photography and friends were amazing, it was the food that really blew me away. I visit the parks pretty regularly but on this trip, I experienced some of the very best restaurants in Disney World, chosen by Disney World! I found many new places that are an absolute must for foodies!
If you haven't experienced the food side of Disney, you are really missing out! From Burgers to Cocktails, here are my top food experiences and best restaurants in Disney World.
Best Restaurants in Disney World
Tiffins at Animal Kingdom Lodge
Tiffins is a fairly new addition to Animal Kingdom, and just in time as it's right by Pandora (details coming soon, but it is AMAZING!) As soon as I walked in I knew this would be a favorite of my family because the food is crazy good!
You probably know how much I love appetizers. I always want to try a little of everything! We tasted the Marinated Grilled Octopus, the Black-Eyed Pea Fritters, and the Watermelon with Barrel-Aged Feta. So good.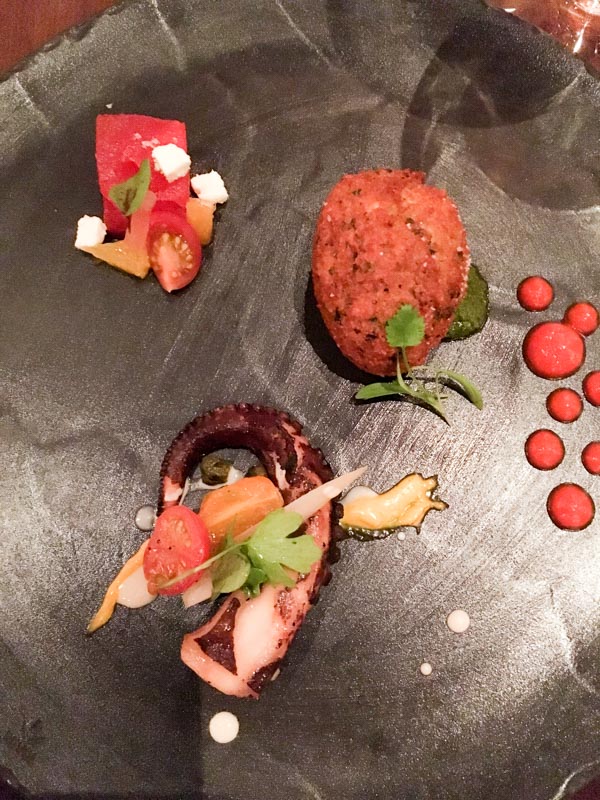 The dinner menu has so many choices, but I have a thing about Wagyu beef and short ribs, and there was a combination on the list. I had to have it.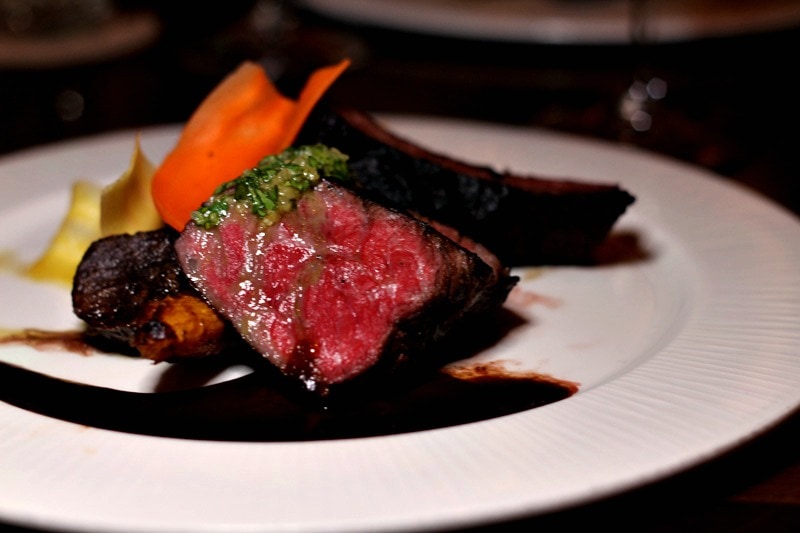 The desserts were heavenly, too!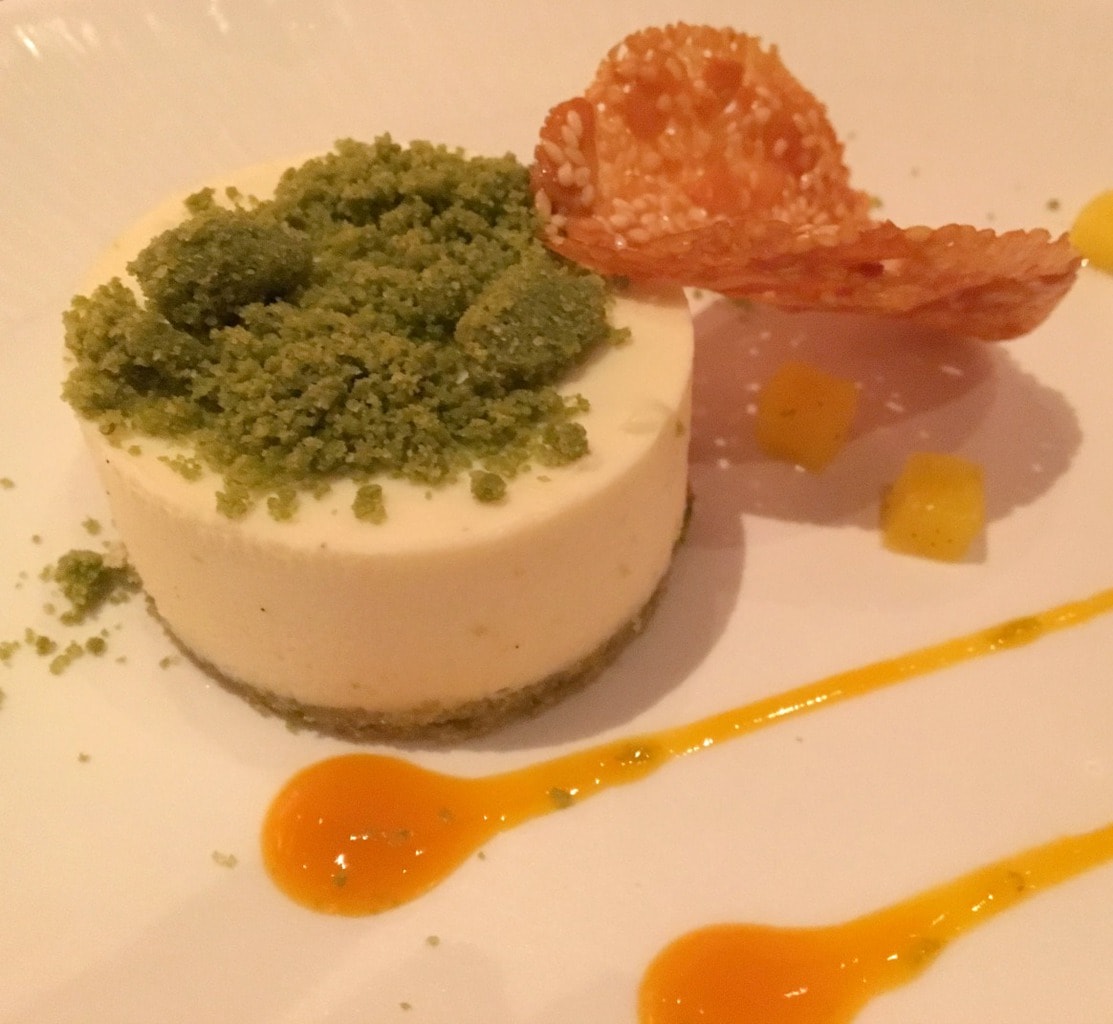 We were introduced to a signature drink called the Snow Leopard which is made with Snow Leopard Vodka and actually benefits saving this beautiful animal. The cocktail was so good! I'm going to try to recreate it soon so stay tuned!
Outdoor Kitchens at the Epcot International Flower and Garden Festival
There was a time when the Food and Wine Festival was the really big draw for foodies, but in recent years the Flower and Garden Festival has really stepped up the food offerings.
This year Epcot introduced the International Festival of the Arts, so now foodies can experience the deliciousness of Epcot food fests almost all year round. I ate my way through the 2017 Flower and Garden Festival a few weeks ago and had to get this strawberry salad again! Grab your own at the Berry Basket in Showcase Plaza.
Trattoria al Forno at Disney's Boardwalk The Boardwalk is adjacent to Epcot and has fantastic places to eat. This was my first time to Trattoria al Forno and it will not be my last. I can't wait to visit again with my family as we are all about appetizers and they were fantastic.
From the Ricotta al Forno which will be on the menu in June...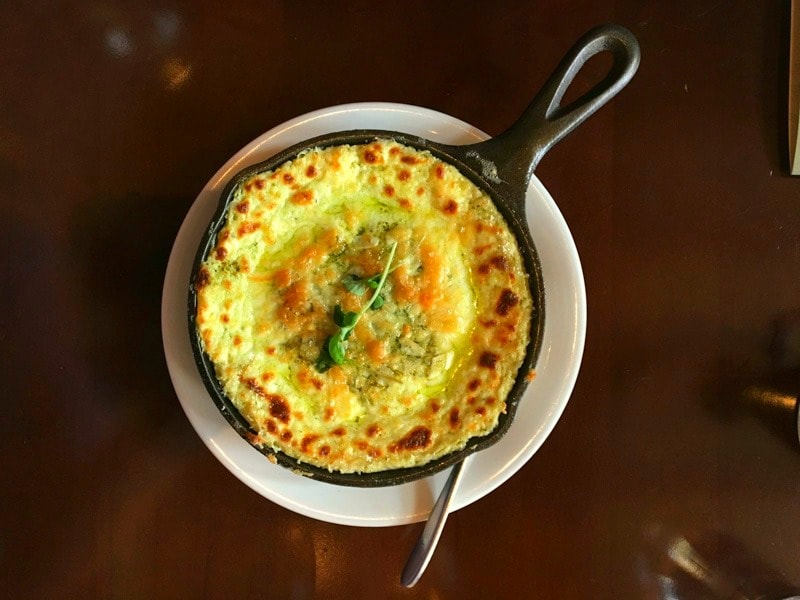 to the fresh Caprese salad and the calamari that was to die for...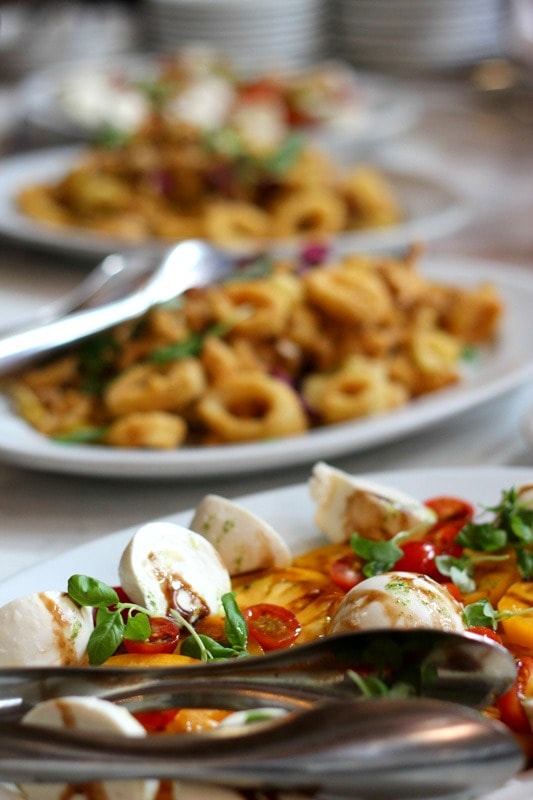 to the rich sauce and tender pasta of the Pasta Bolognese paired with a glass of Rufino Modus...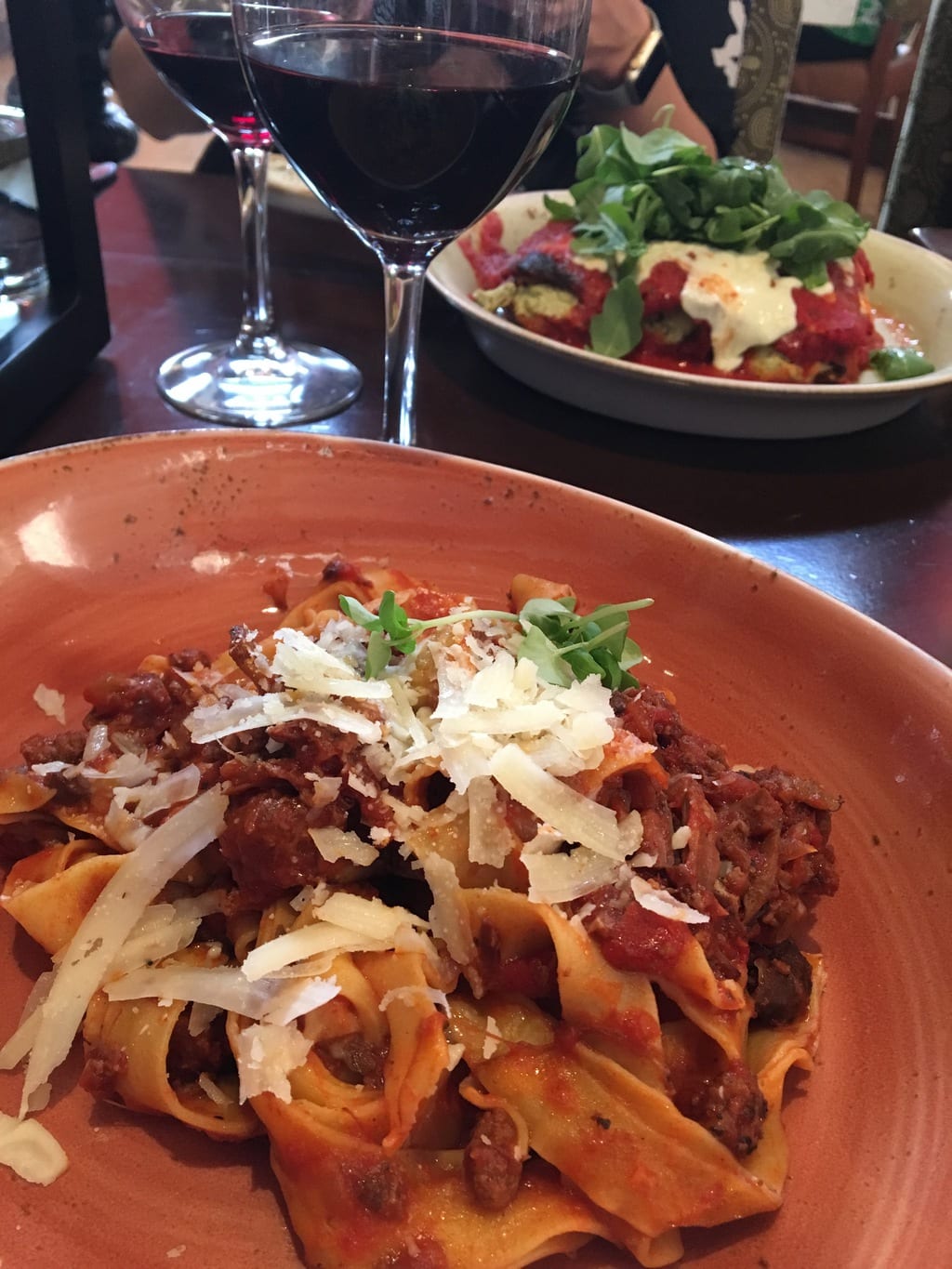 to the mouthwatering desserts.
Oh my gosh, friends. Those bits of deliciousness in the front are Zeppolis, similar to a donut but so light and airy. Seriously, you must order them when you go!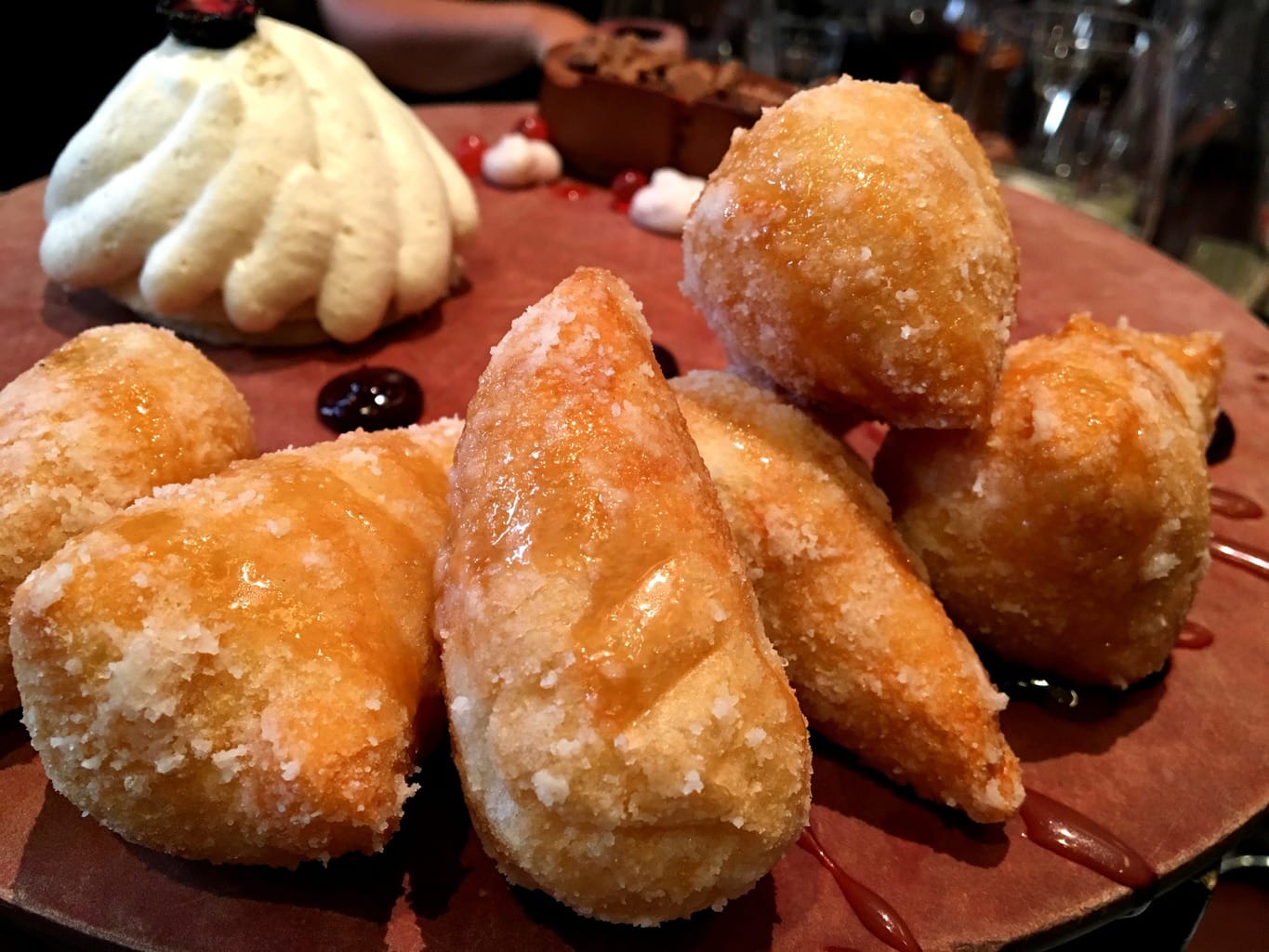 Illuminations Dessert Party at Epcot
In all fairness, these treats are not something you can just pick up at Epcot, but you can make a reservation for the Illuminations Sparkling Dessert Party and be treated to desserts and wines while watching Illuminations from a VIP view. It's worth every penny!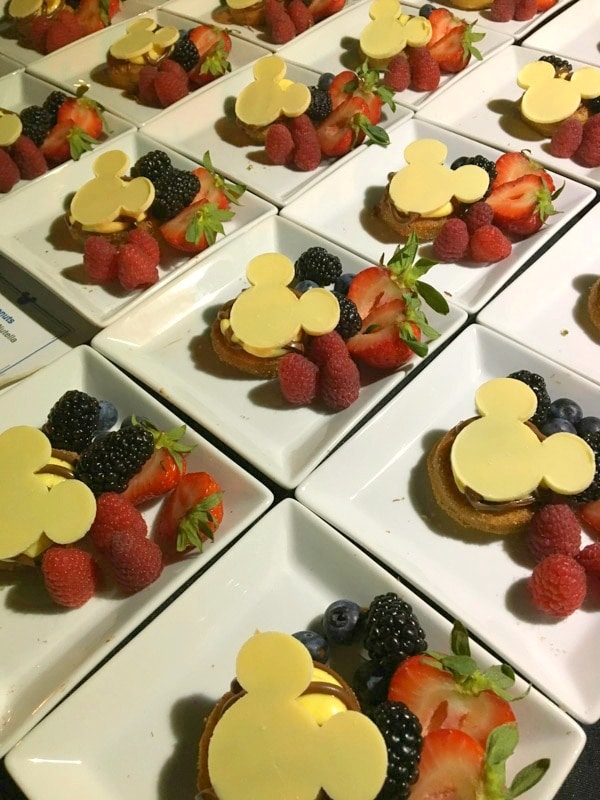 The chef made a bourbon sauce for ice cream that was out of this world! Take a look at her in action: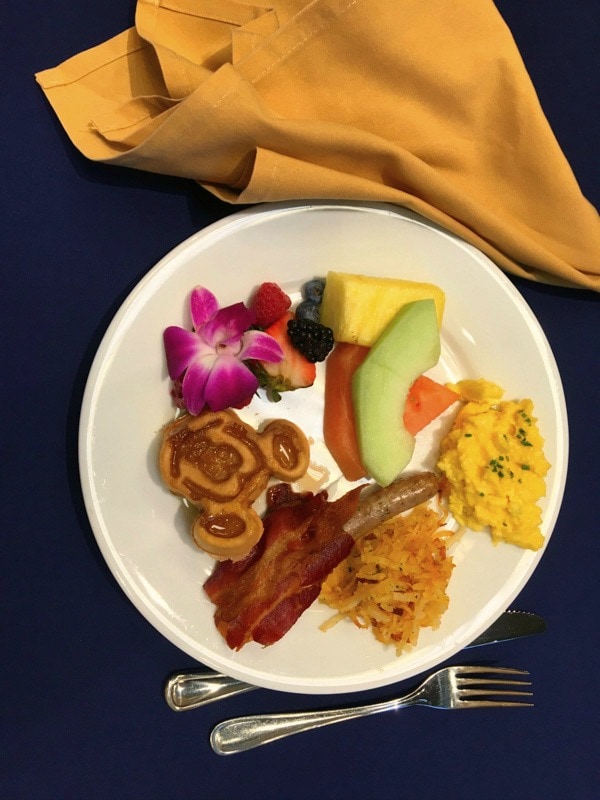 Breakfast at The Contemporary Hotel
Breakfast in Disney is made perfect with Mickey waffles! I've been to the Contemporary Resort several times for conferences and the food is always amazing.
I have to add that we had a few "props" delivered to our conference room, and after we shot them, we devoured them!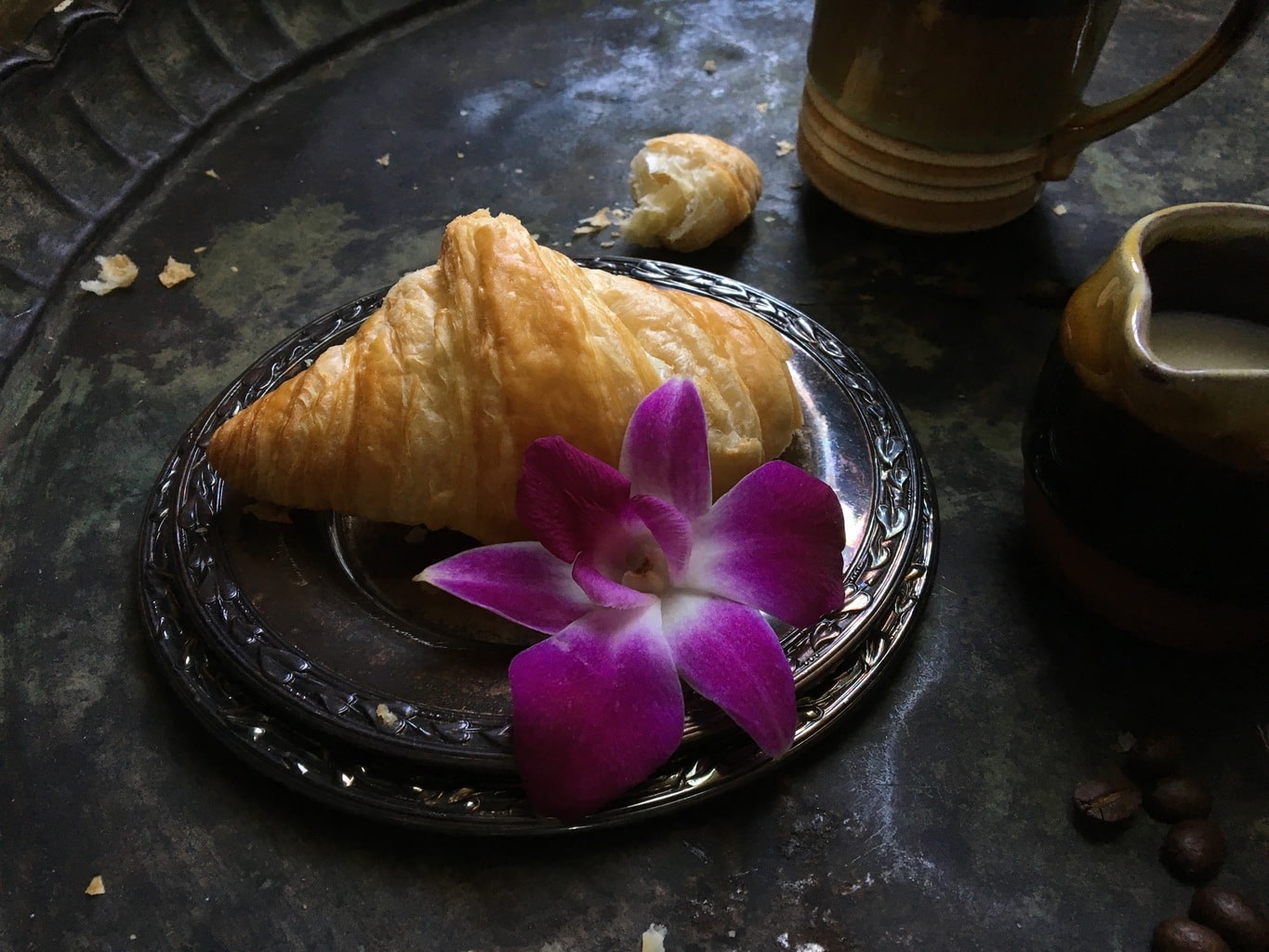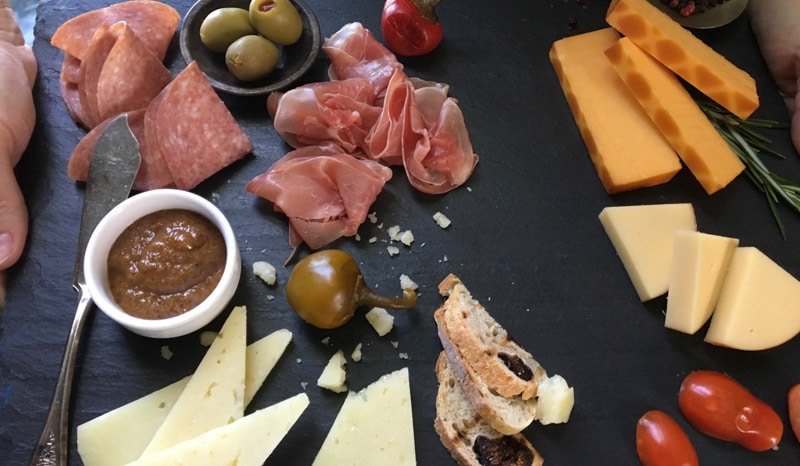 D-Luxe Burger at Disney Springs
As much as I love burgers, I had never been to D-Luxe. This is another spot I can't wait to take my family!
The burgers, the fries, and the shakes are all so delicious!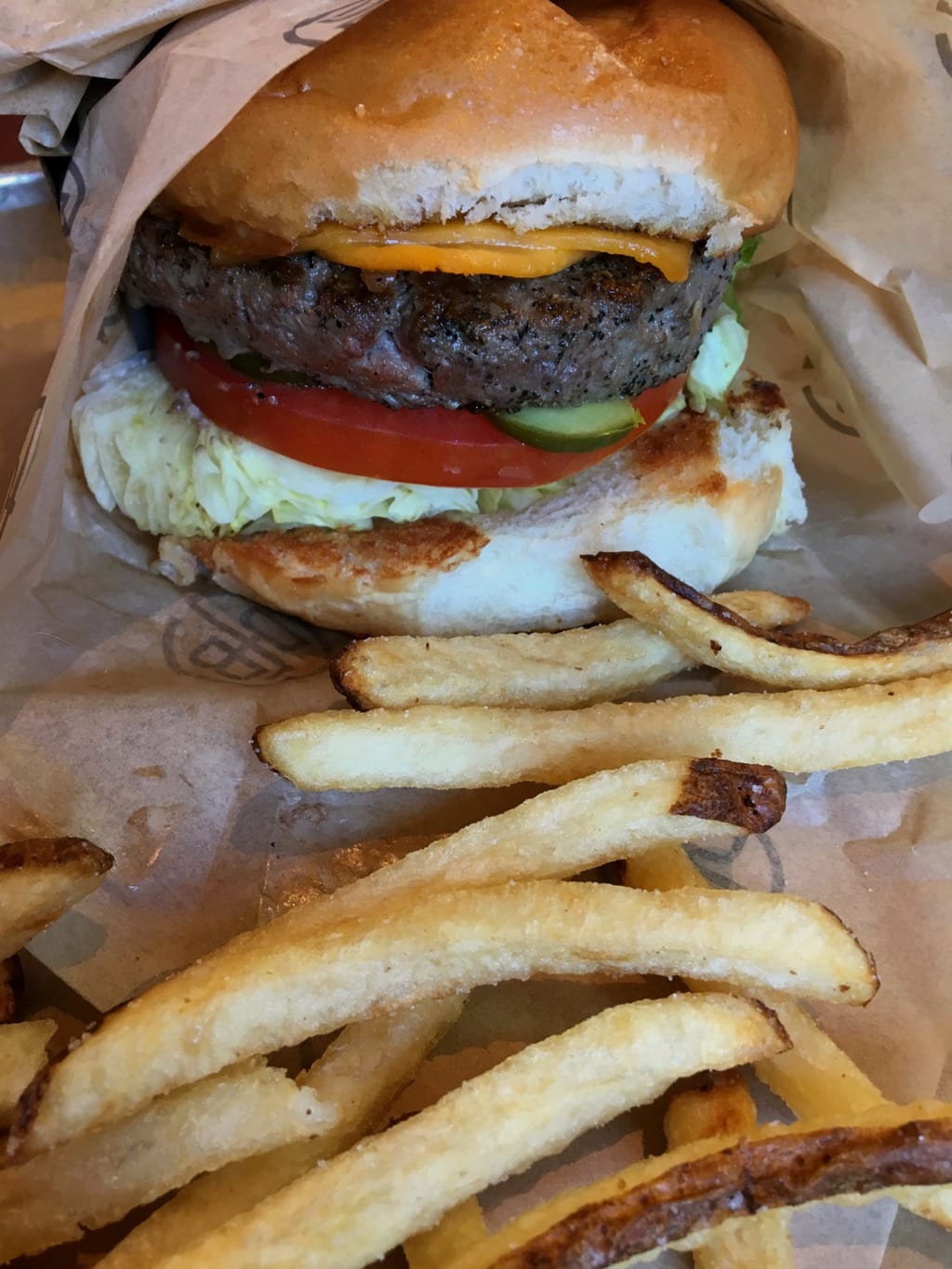 Raglan Road at Disney Springs Desserts
Though I have eaten at Raglan Road about fifty times (no exaggeration!) I had not tasted these desserts before.
I'm usually too stuffed from the Rack of Heaven Guinness glazed ribs, Scallop Forest, Dalkey Duo, Smokie City, and the Kiss Before Shrimp appetizers. But how could I resist Chocolate Heaven...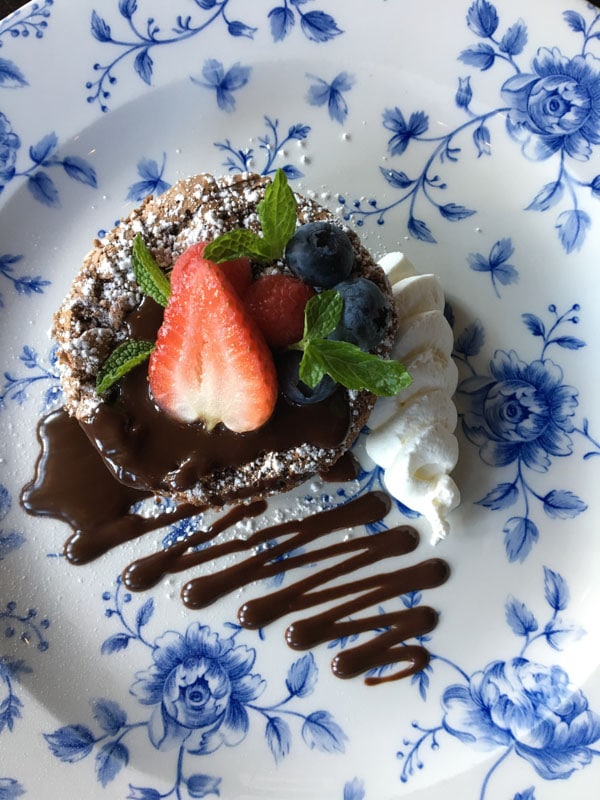 Ger's Bread and Butter Pudding.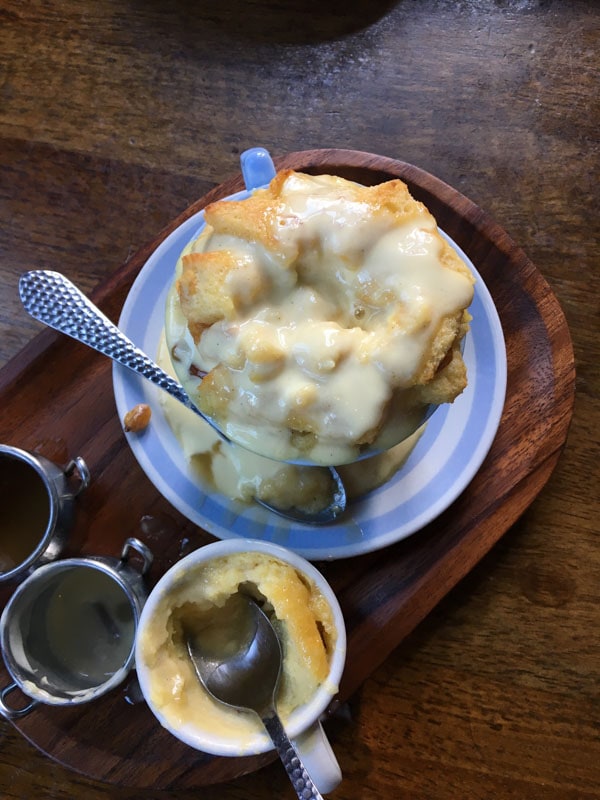 and Trifle Sinful. Hey, you're on vacation, right?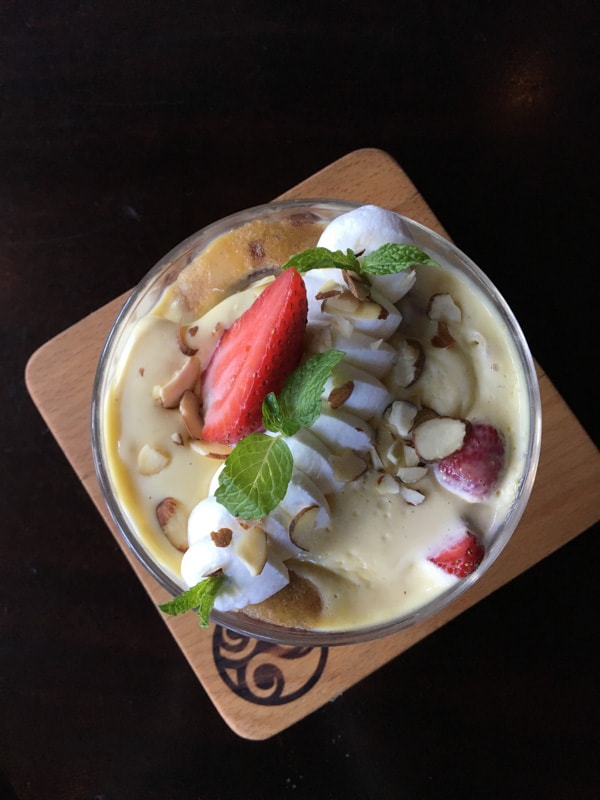 We also tried a few cocktails. This was the Blood Orange Bourbon.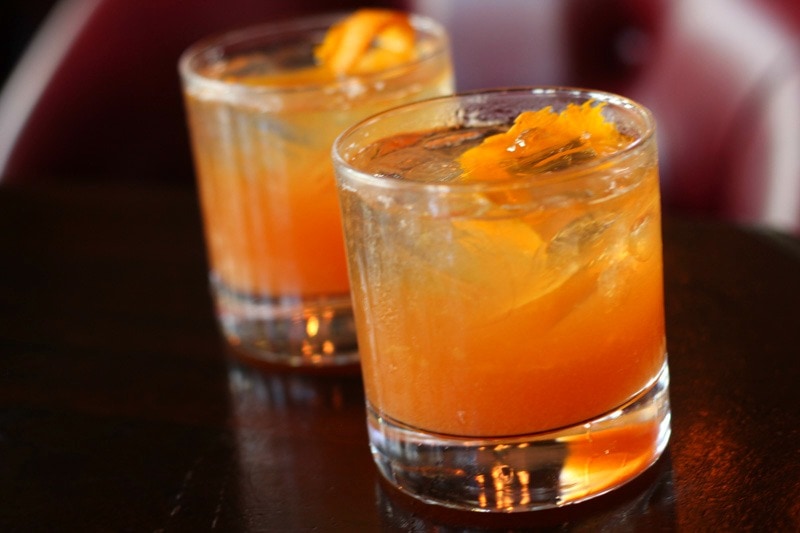 And the Chocolate Covered Strawberry Martini.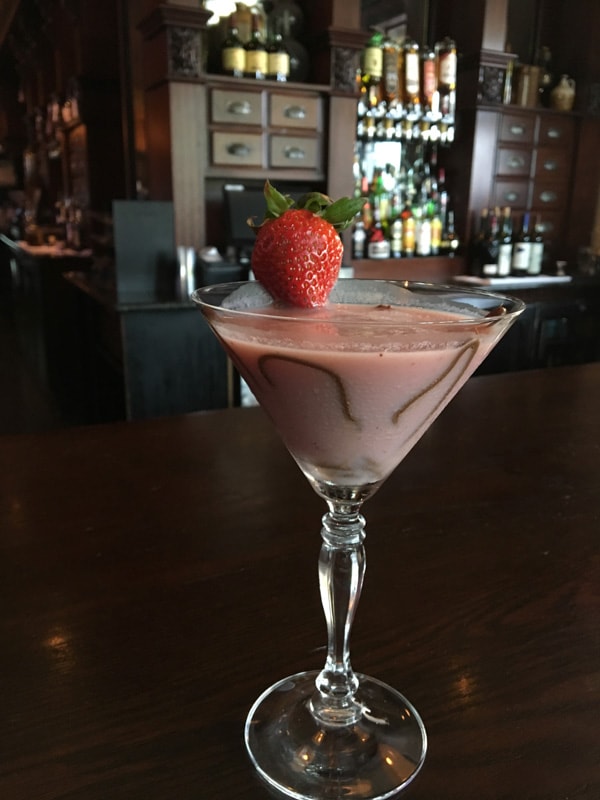 The beer flights are a lot of fun, too. Raglan Road has so many different beers to choose from! The Irish Coffee Stout is incredible. Check out what I found the last time I visited Raglan Road! Raglan Road has always been at the top of my list of best restaurants in Disney World.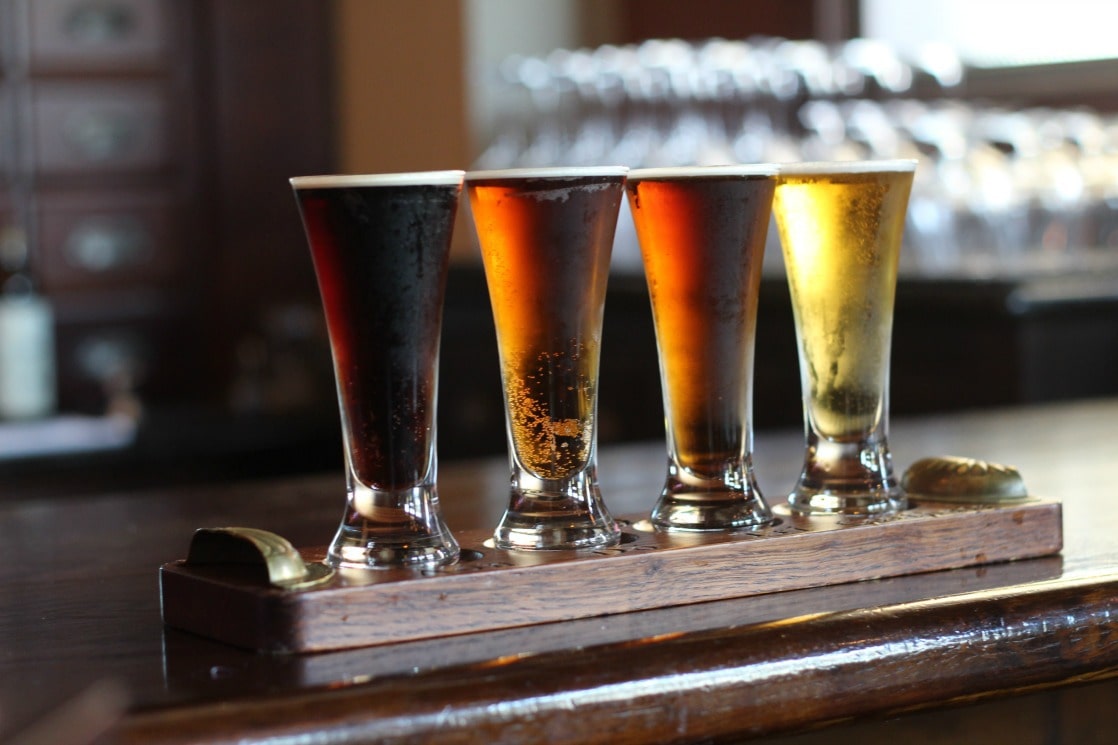 Jungle Navigation Co. Lt. Skipper Canteen
At Walt Disney World's Magic Kingdom, this was not the first time I had been to what we refer to as Skipper Canteen, but it was the first time I had been for dinner and ordered an entree.
This time I decided on the Sustainable Fish served over Chinese vegetables in a deliciously light Lemon Grass broth, paired with the Don Miquel Gascon Malbec.
They have a fantastic wine selection, too. The bonus is that our hosts also ordered appetizers! Happy! (Note: You can't go wrong with anything you order! So good!)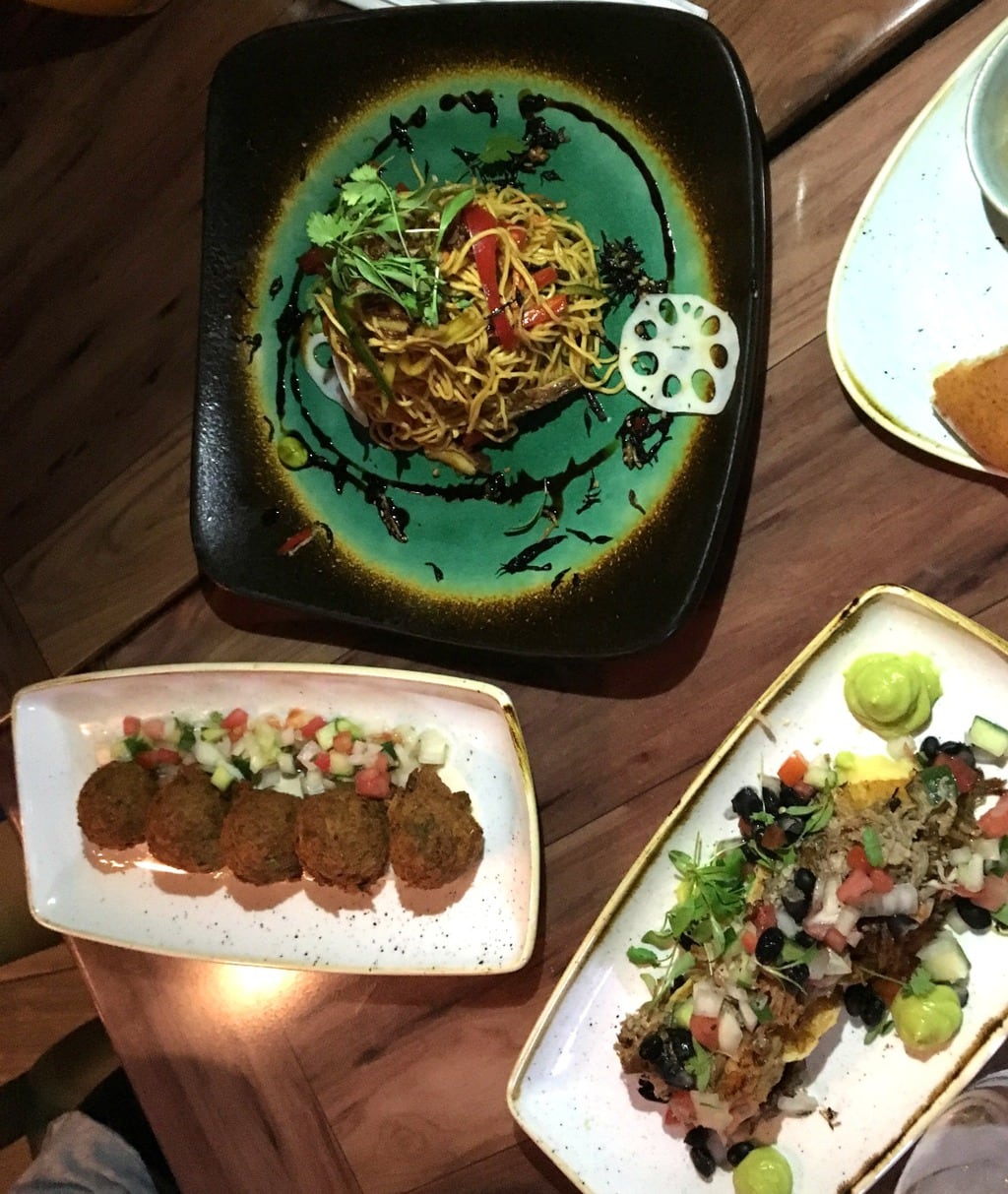 I was sorry to see our time together end, but I learned so much about photography, editing, styling, and spent four days eating in the most magical place on earth!
Visit the Disney World site to book your next vacation so you can experience these spots for the best restaurants in Disney World. It's never been easier to track your stay, including all your activities, food stops, fast passes, and more with the newly redesigned My Disney Experience Mobile App!
When will you be visiting? Share your plans in the comments!
More Disney World Fun