I've lost count at how many times I've been to the Epcot Flower and Garden Festival over the 20-plus years it's been going on, but it's a lot! And there's a good reason for that. This is a garden party that is a feast for your all your senses!
If you've visited the Festival in past years, don't say you've seen it, because you haven't! Every year I've enjoyed it more than the year before, and every year it is different.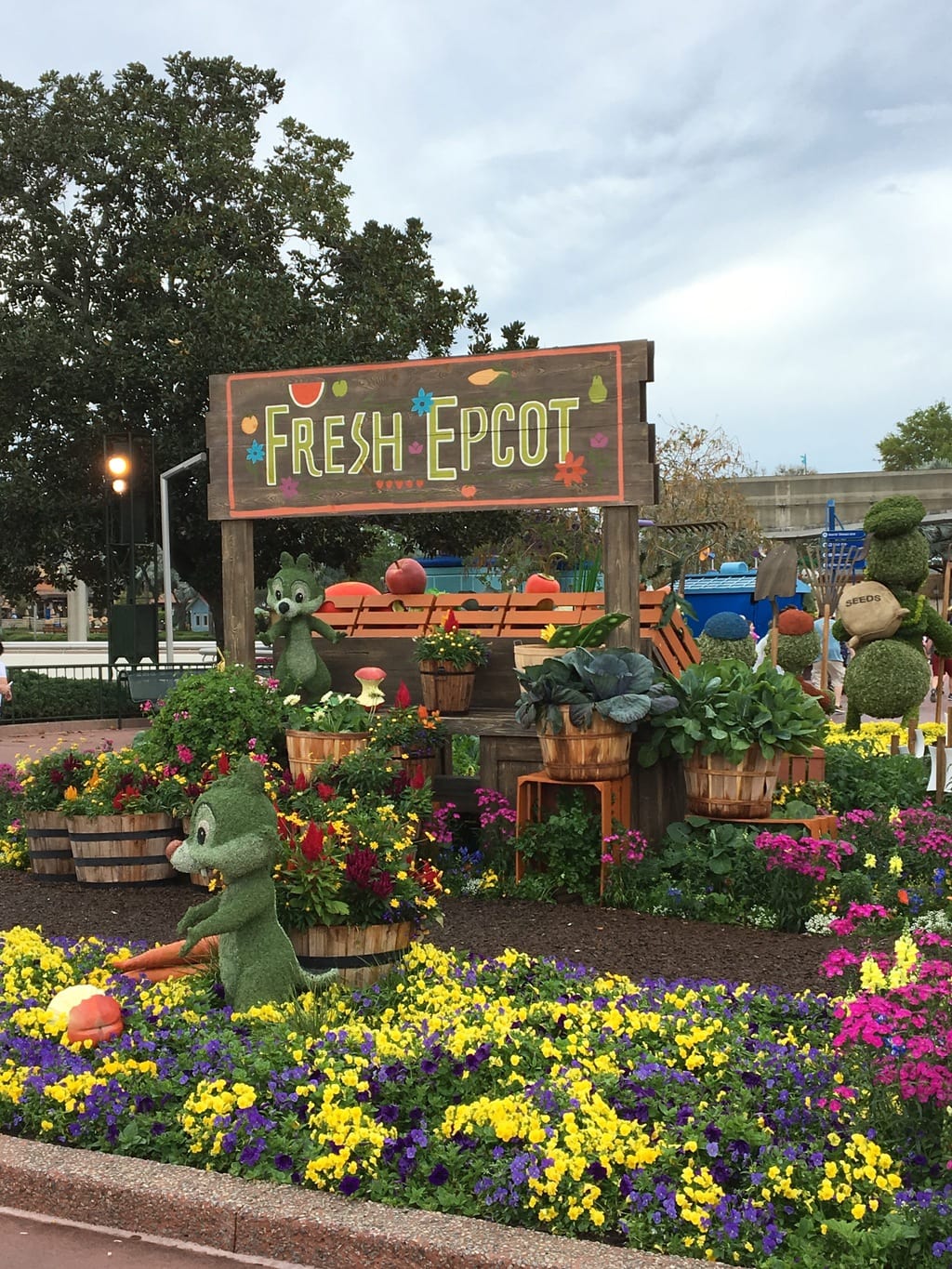 The first thing you should do when arriving at the Epcot International Flower and Garden Festival is pick up your Garden Passport.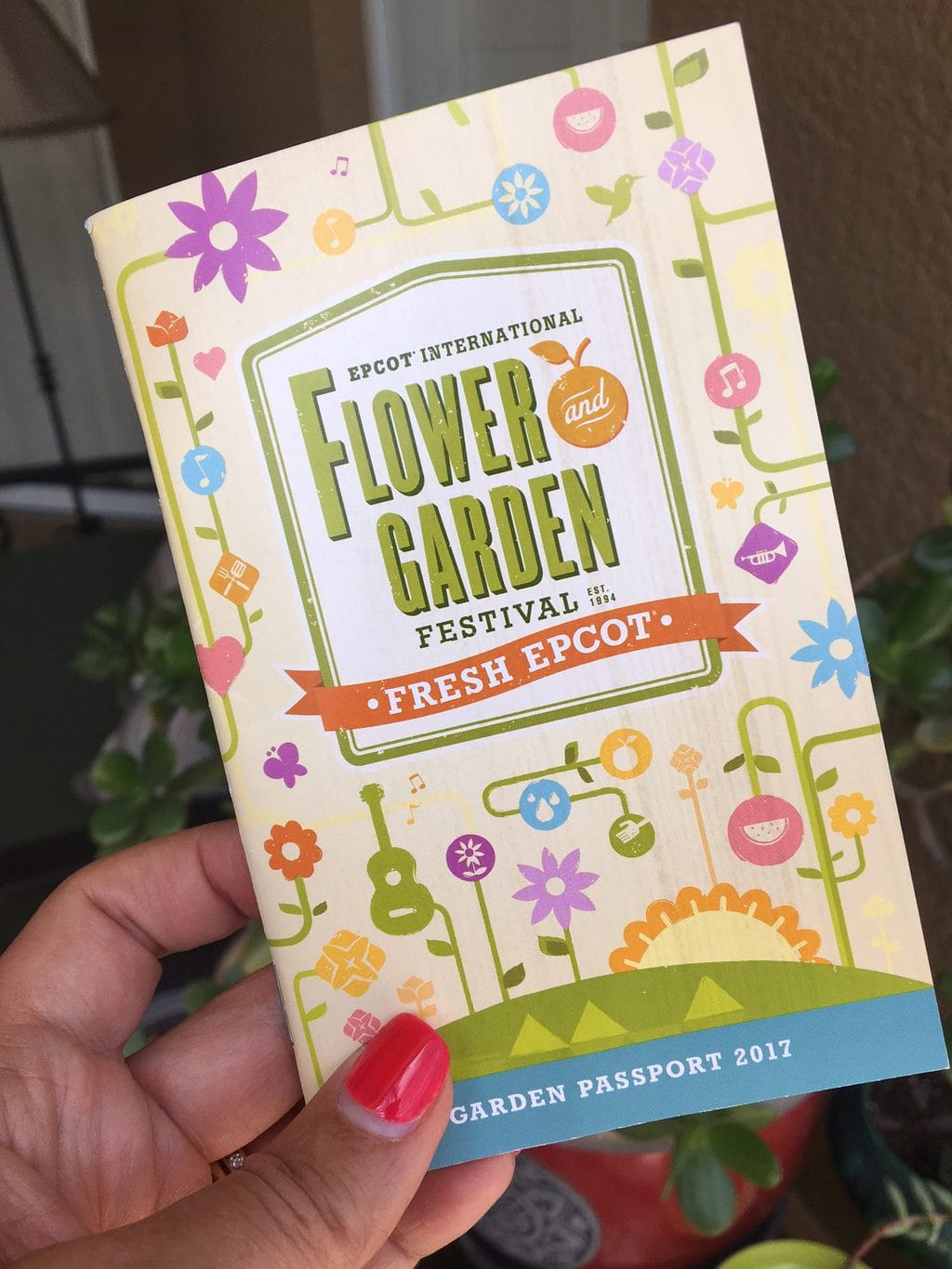 The Passport will help you find your way around so you don't miss anything, and it's a great souvenir of your visit as you can get a stamp for each place you stop. I love that anything that's new will be indicated so if you've been before and you're pressed for time you can just visit all the new exhibits.
Your eyes will be the first of the senses mesmerized by the flowers and stunningly gorgeous topiaries from your favorite Disney movies. This year Beauty and the Beast seemed to be the most popular. Of course, the new live-action movie is the reason for all the excitement. Belle is lovely as always, and her Beast is quite a sight, too.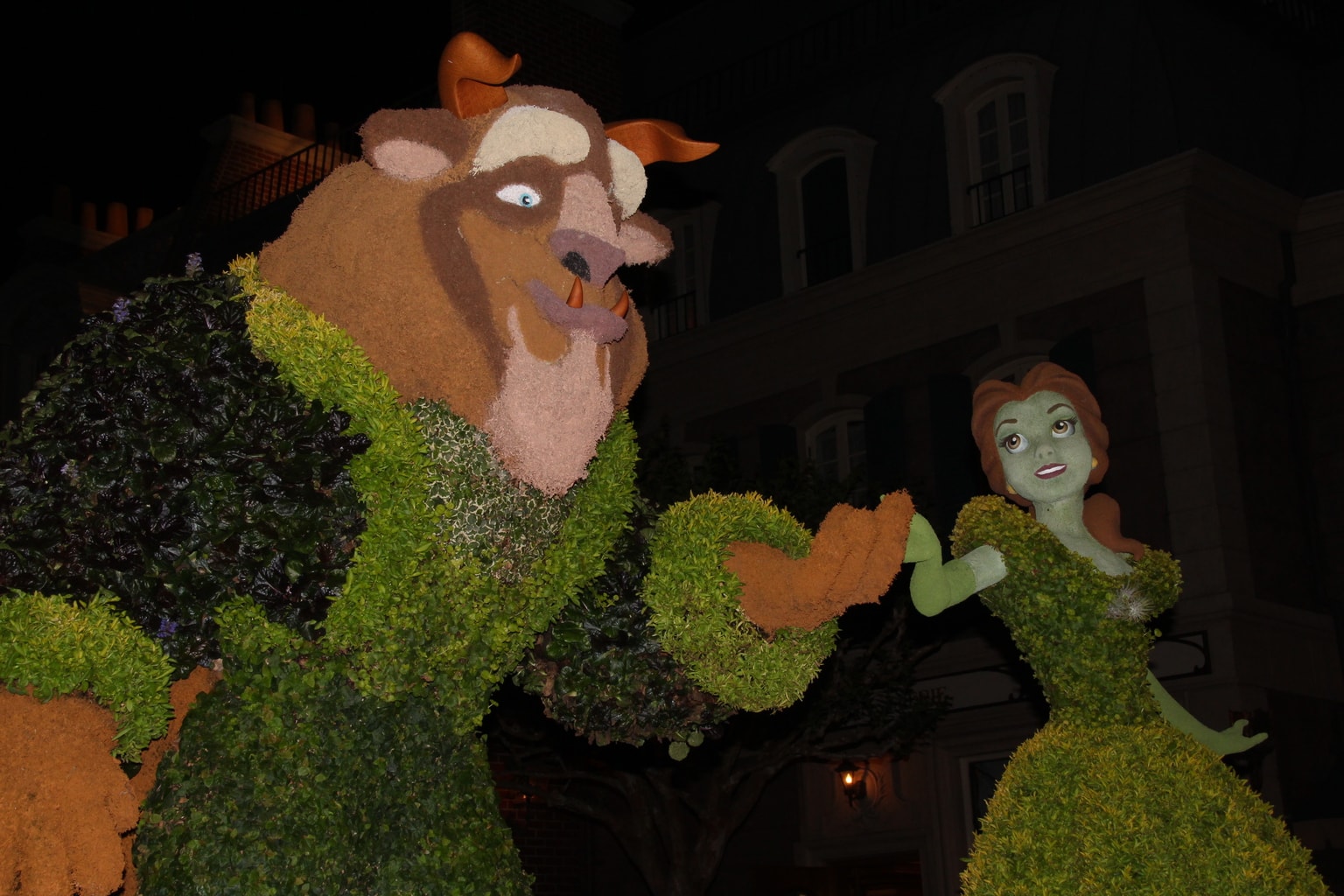 Snow White and the Seven Dwarves was one of my personal favorites this year. I love how her foot is up and just sticking out from under her dress.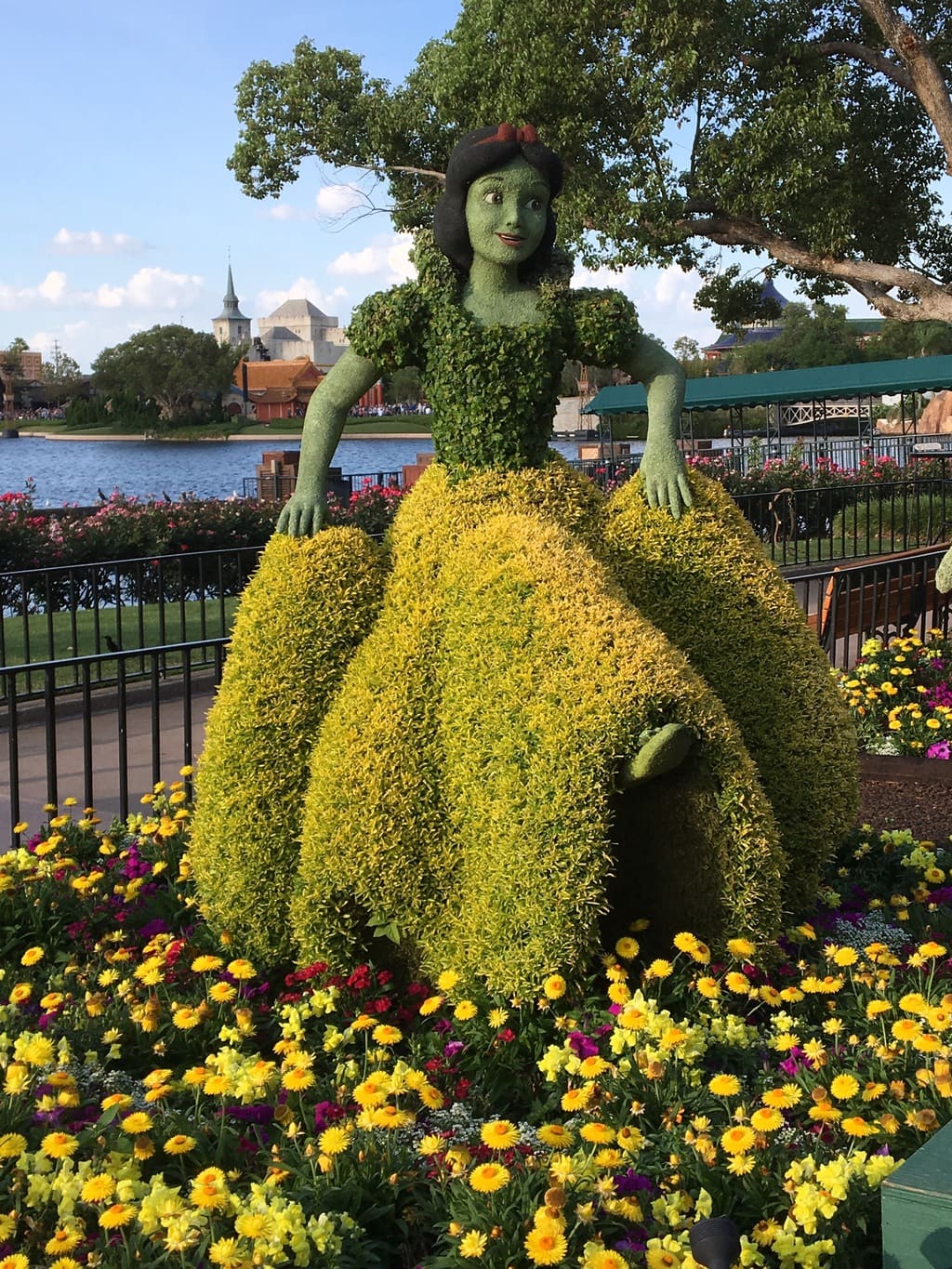 Just look at that beard on Grumpy!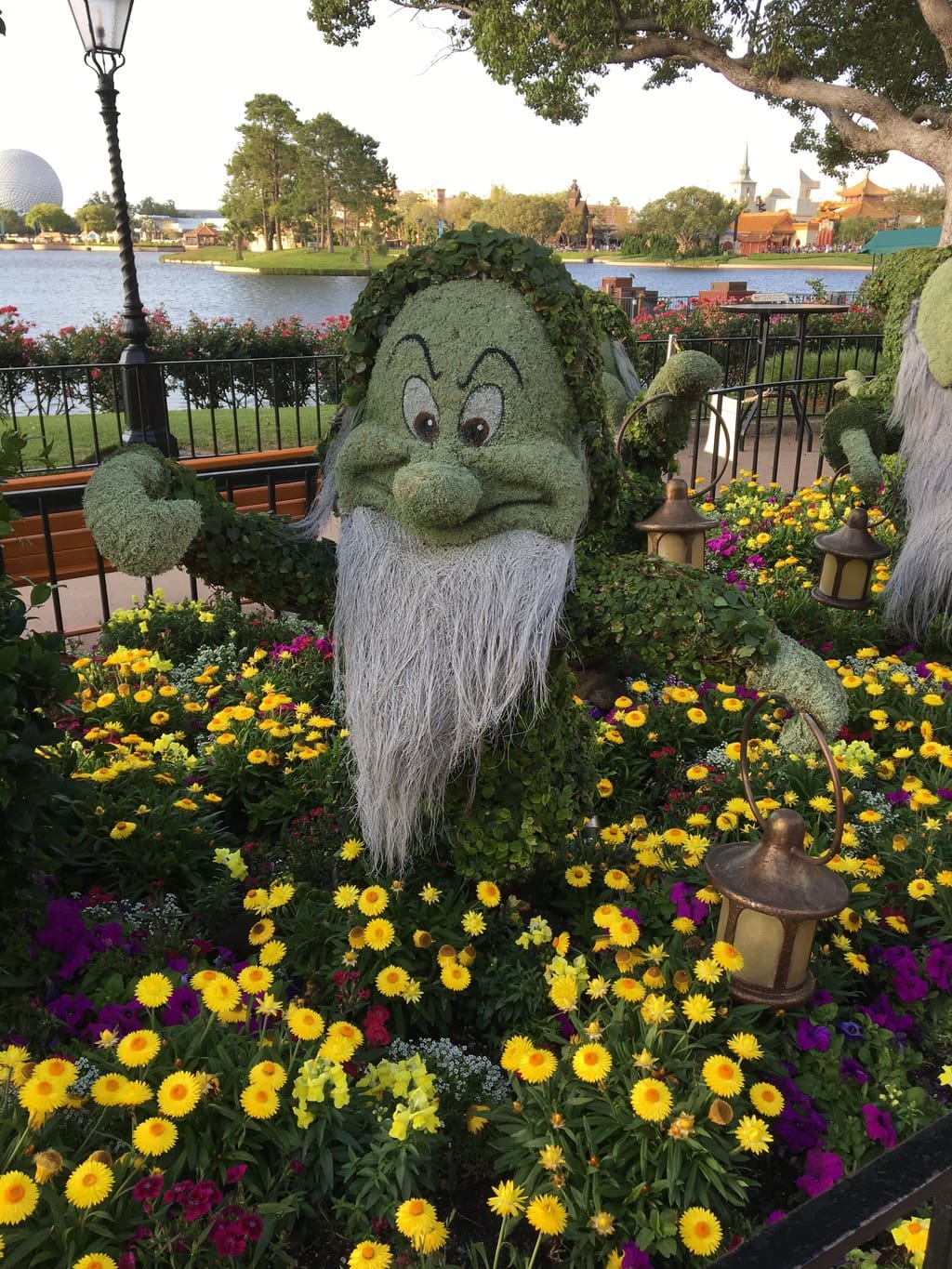 And Dopey. That face! And again, the foot is sticking out just a bit. It's those little touches that make it magical.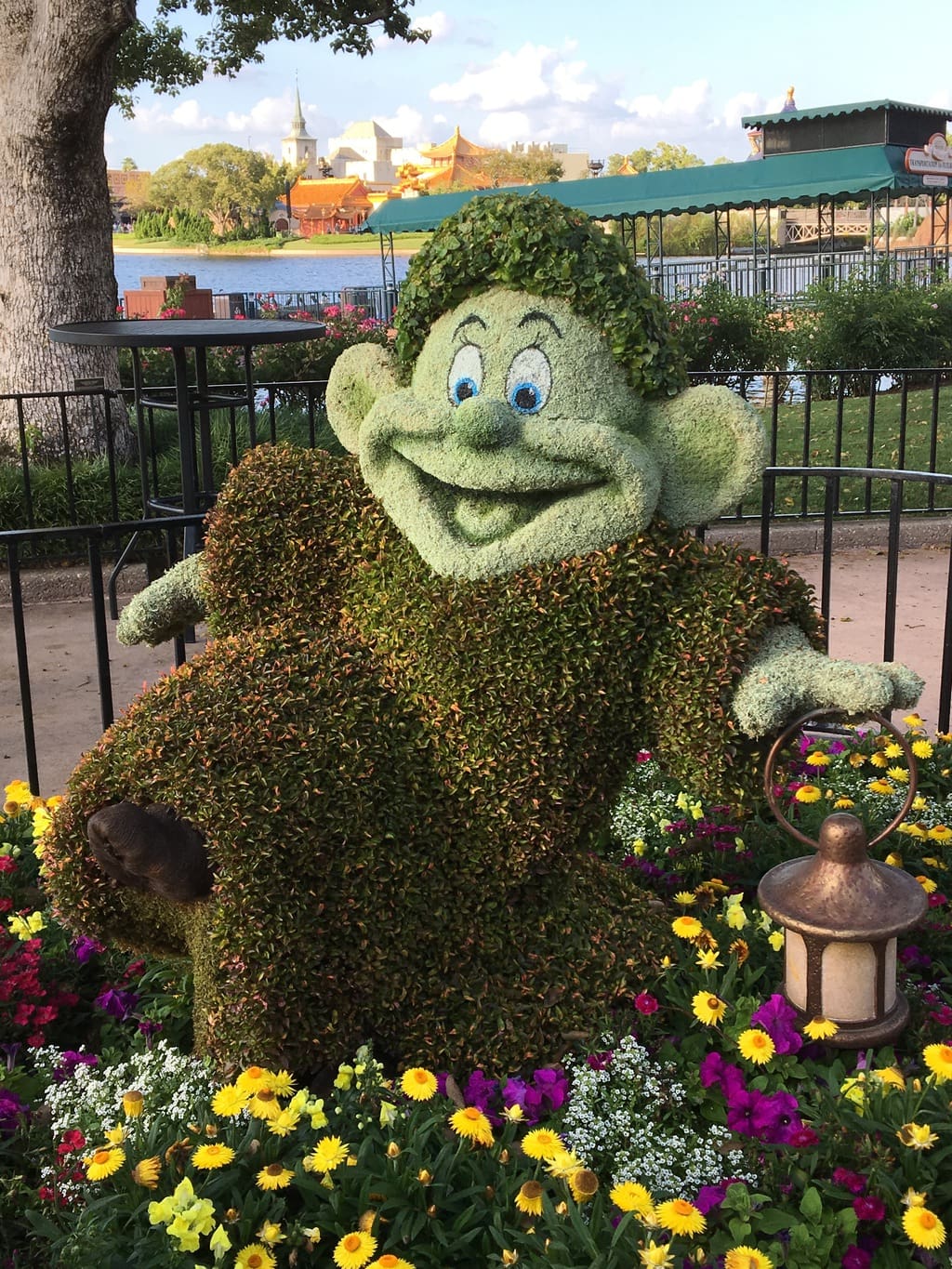 Flower is always so precious.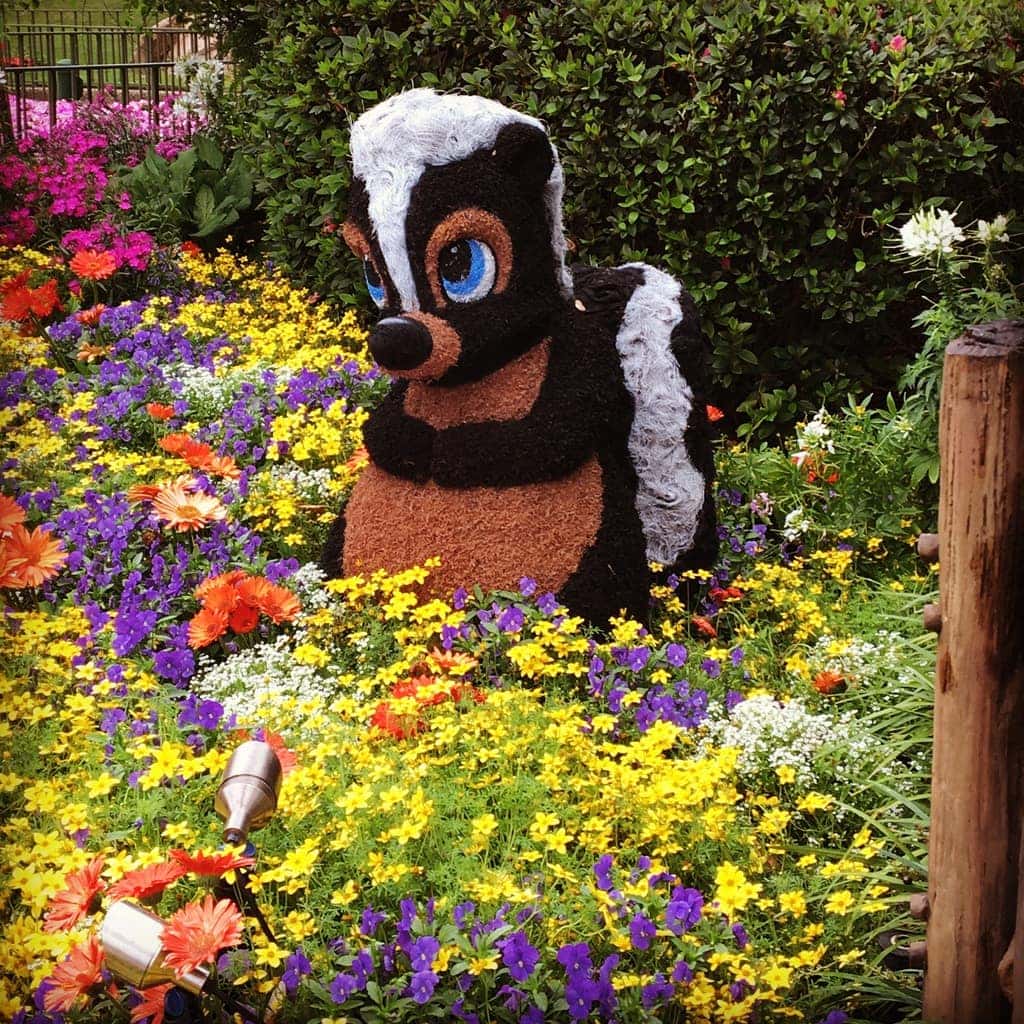 Though seeing these colorful topiaries is a lot of fun, the sweet scents of the flowers wafting through the air as you're walking past is another treat for the senses! This is definitely a time to stop and smell the roses, as there are about 30 million blooms throughout the park!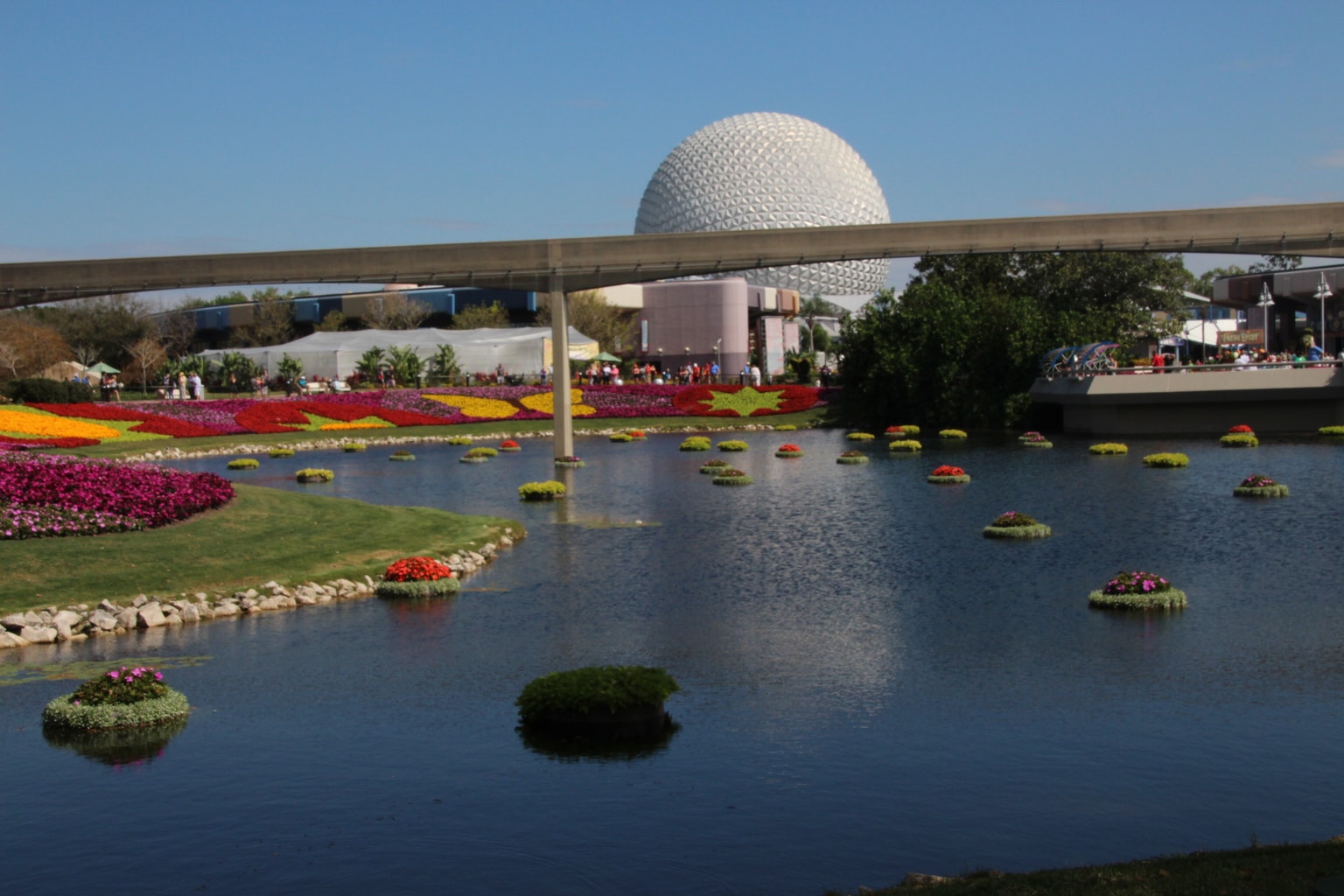 A new adventure for me this year was learning about the tea at Twinings. If you have ever thought about stopping by the Twinings area, you may want to book the Royal Tea Tour. I enjoyed the tour so much and can't believe it took me this long to do it!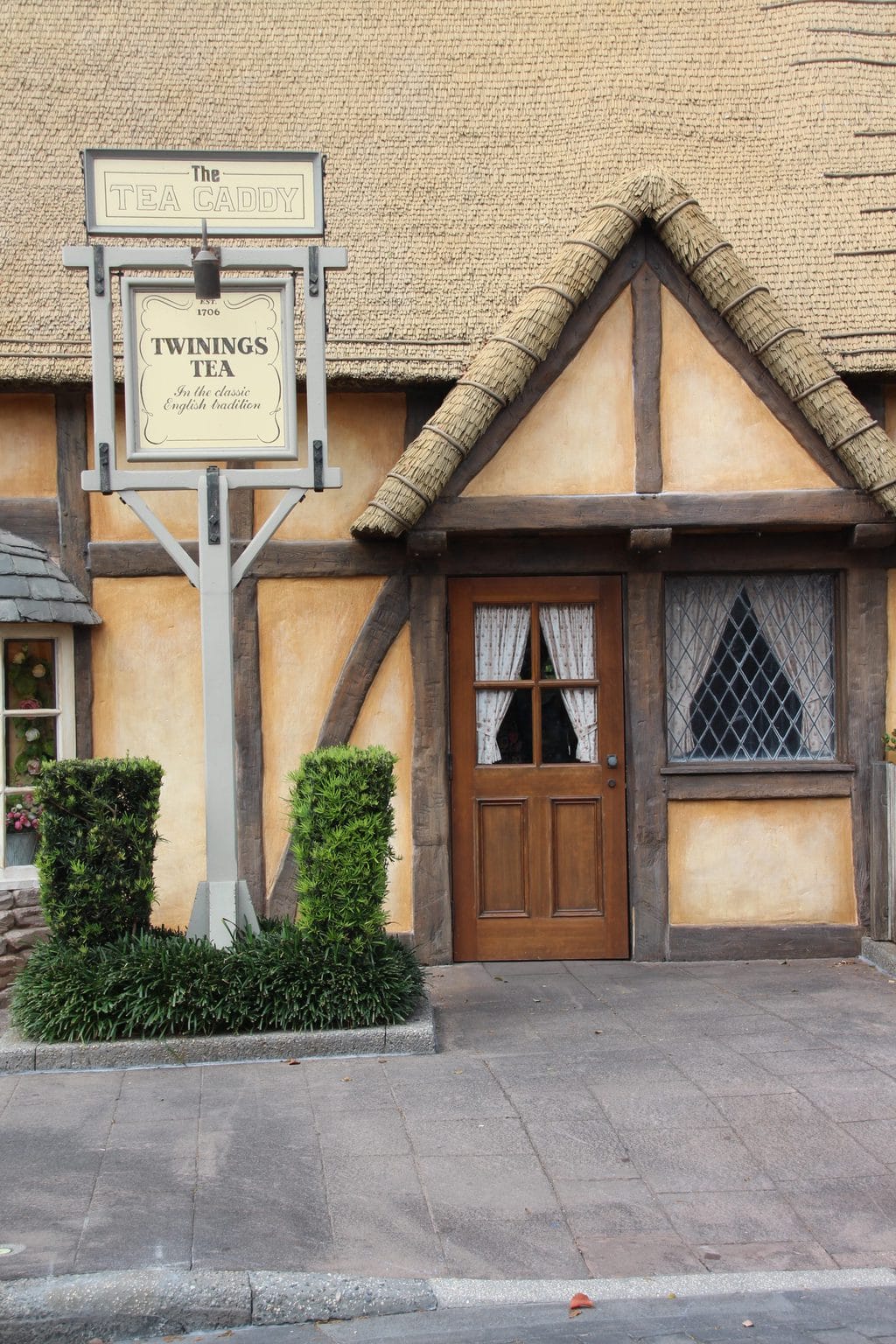 After the Royal Tea Tour, I was invited to taste some of the dishes served in the Festival's 15 Outdoor Kitchens. This year's theme was Fresh Epcot, focusing on farm to table flavors. As always, the Disney Chef's seem to outdo themselves from the year before, because I always say the food is the best ever!
Some of the dishes we tried this year:
Beef Brisket Burnt ends Hash with White Cheddar Fondue and Pickled Jalapenos
Field Greens with fresh Strawberries, Blue cheese, Strawberry Vinaigrette and Spiced Pecans
Seared Scallops
The scallops were served with French Green Beans, Butter Potatoes, Brown butter Vinaigrette and Apple-wood Smoked Bacon (No gluten added)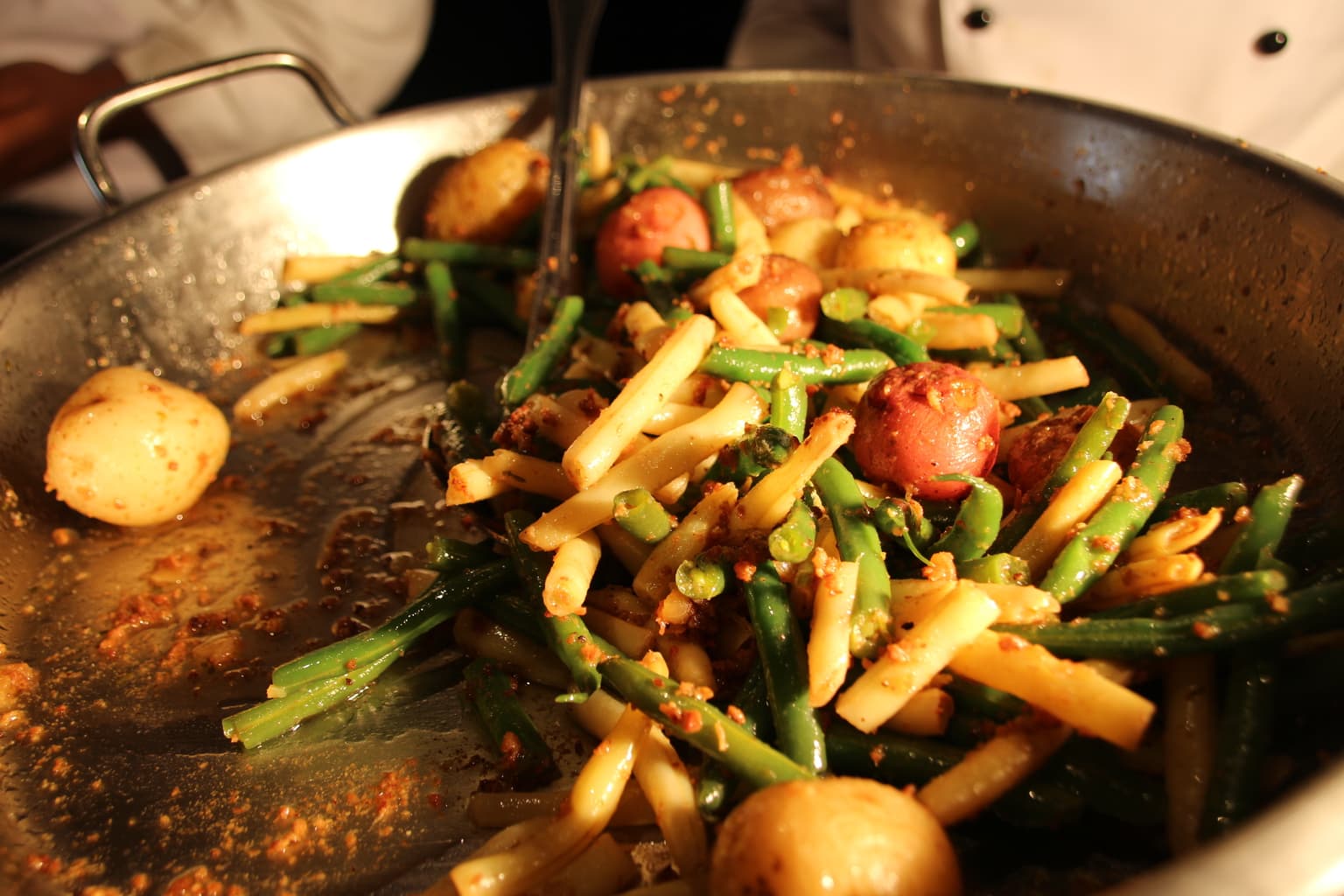 Sugar Cane Shrimp Skewer with Steamed Rice and Coconut Lime Sauce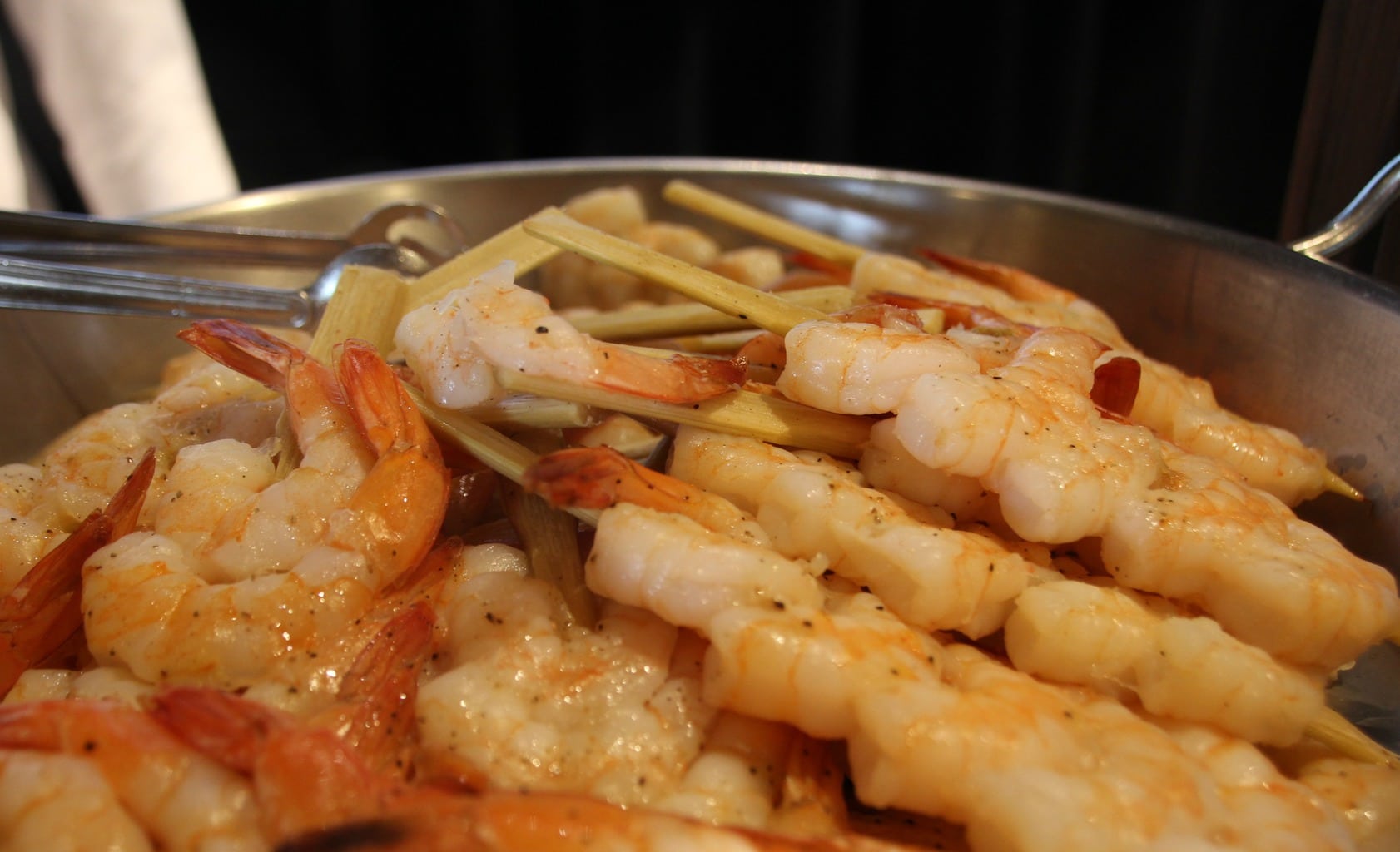 Crabless Cake with Crispy Vegetable Slaw, lemon Vinaigrette, and Old Bay Remoulade
Carne Asada with Black Bean Cake and Cilantro Lime Cream
Warm Cheese Strudel and Mixed Berries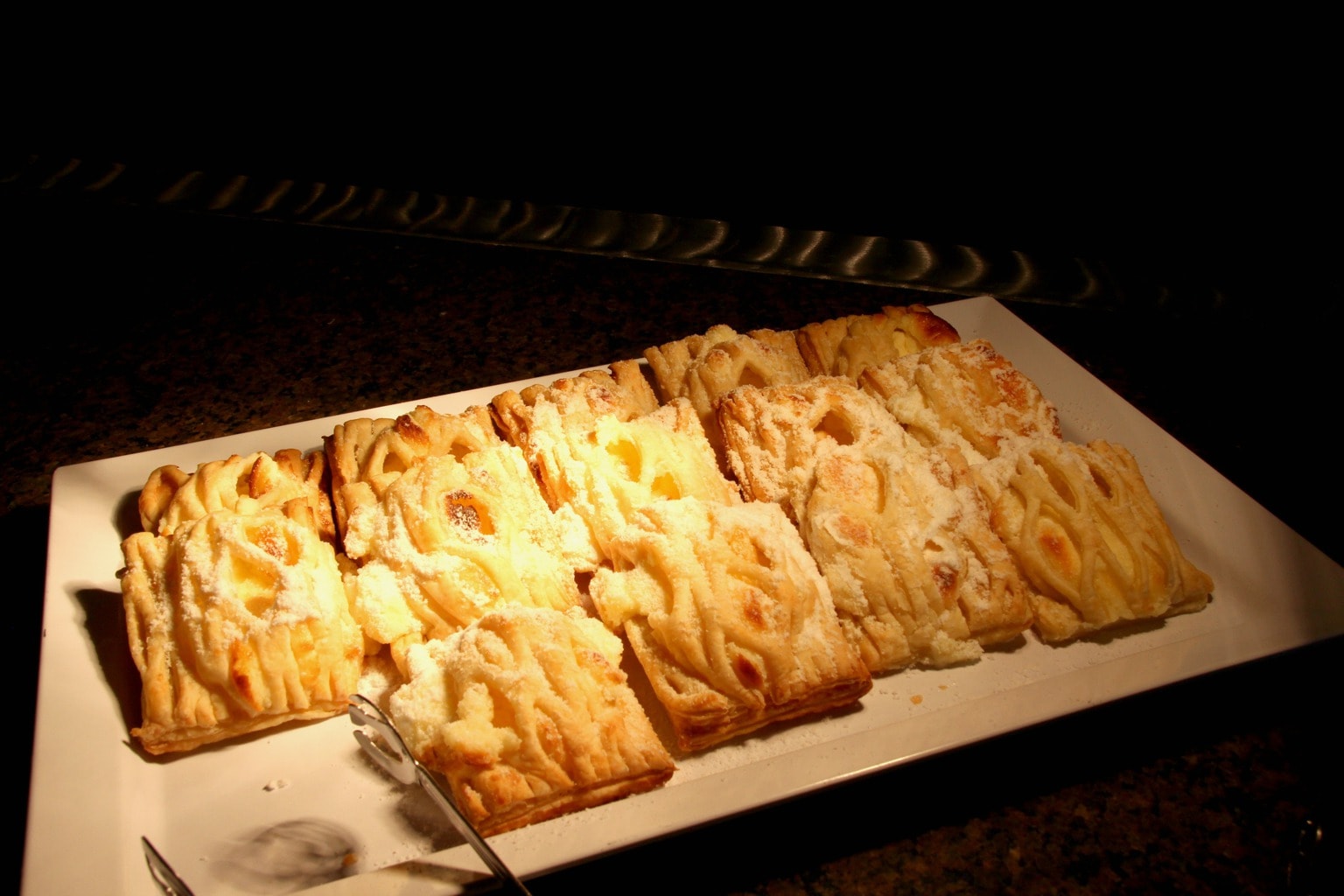 Key Lime Tart with Toasted Meringue
All this deliciousness was served with Floriography Blooming Red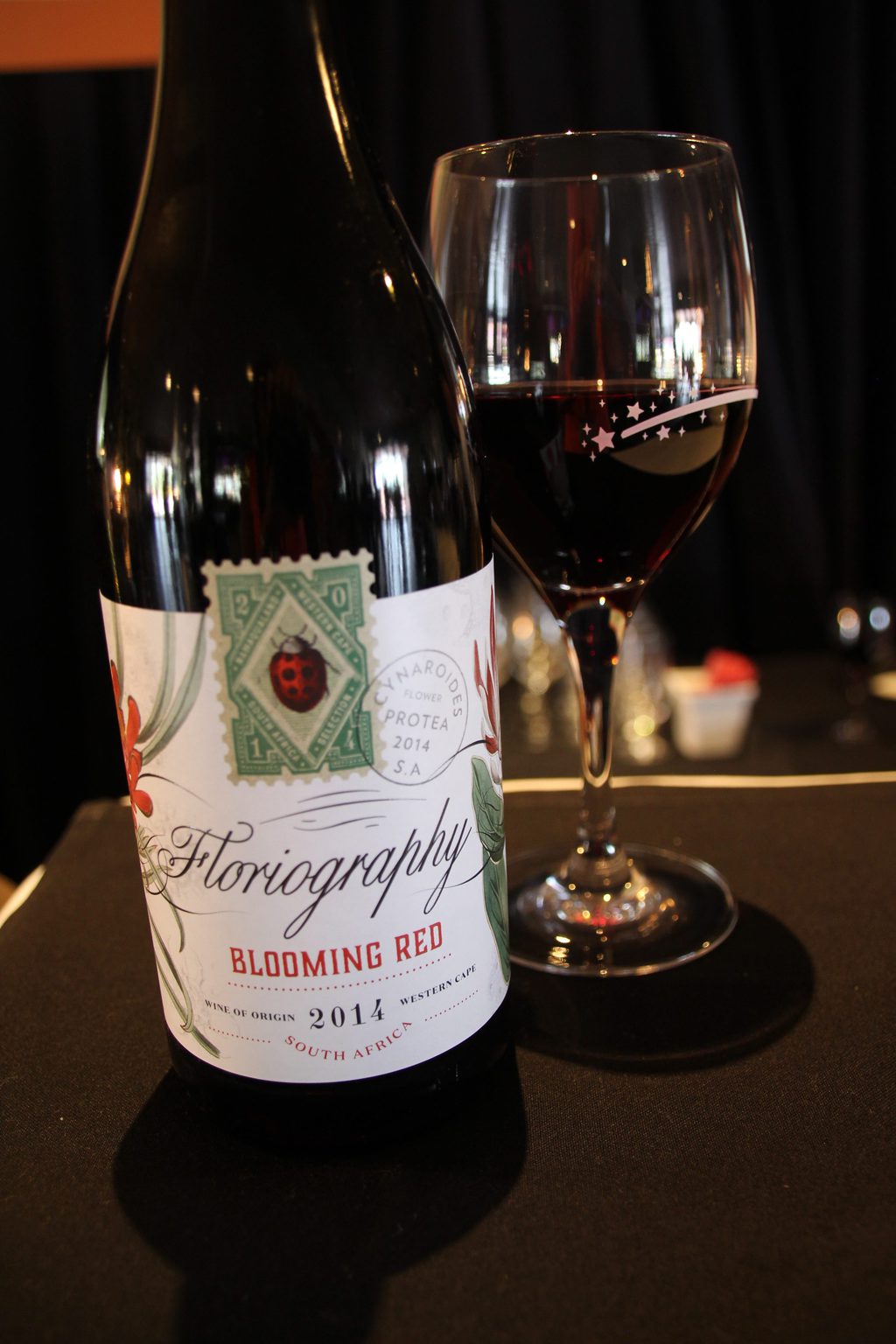 As well as Blooming White, both from South Africa and both wonderful. I tried them both so I could let you know. I'm always looking out for you!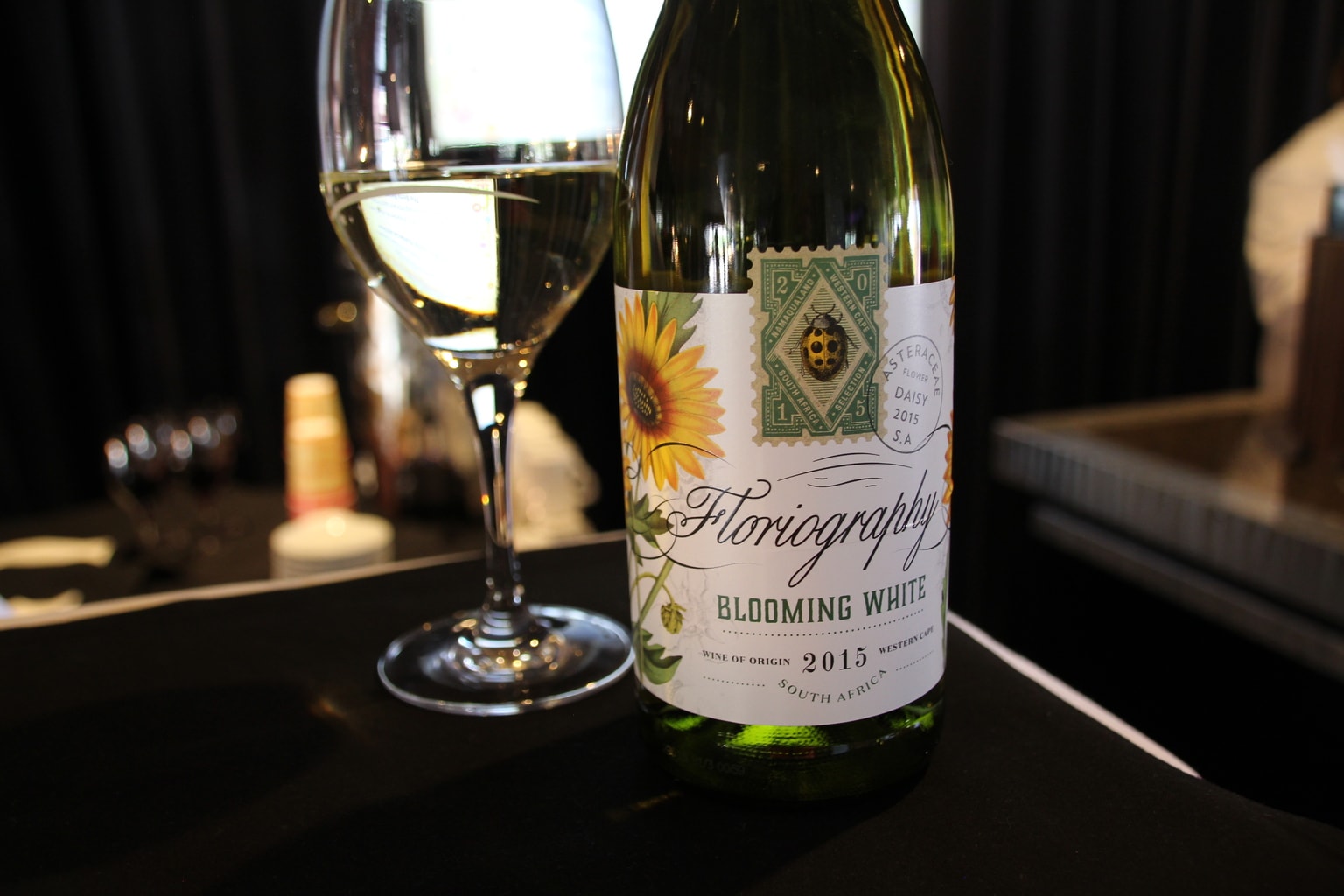 At the end of the tasting we were treated to a Beer Flight Seminar, which was fabulous, as well.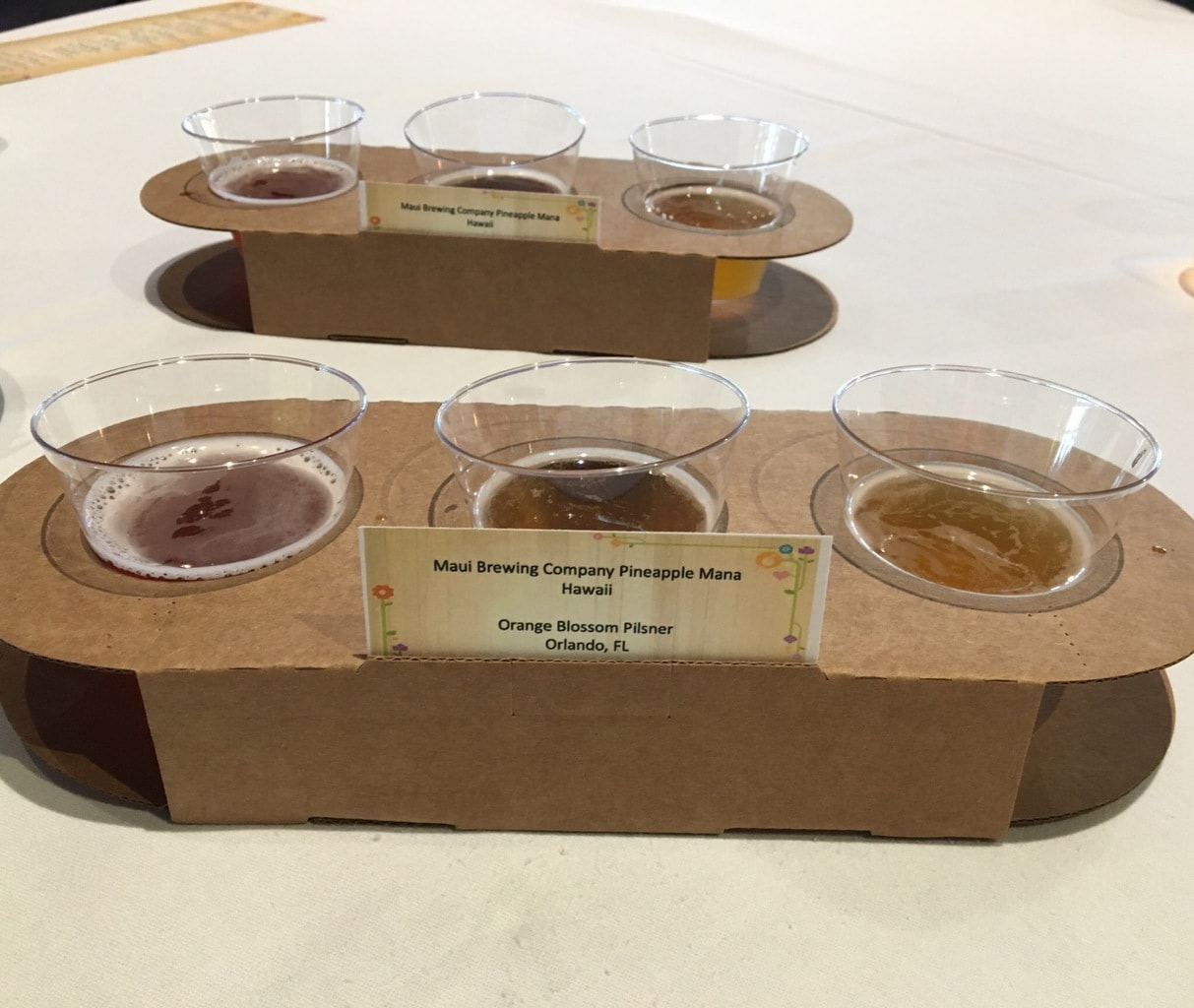 We tasted and learned about Maui Brewing Company's Pineapple Mana from Hawaii, Orange Blossom Pilsner from Orlando, and Founders Rubaeus Pure Raspberry Ale from Grand Rapids, Michigan, which was my favorite. Try them all when you visit the Festival!
After lunch we headed over to meet Captain Ron, Conservation Dog. We learned a lot about the conservation efforts of Walt Disney World.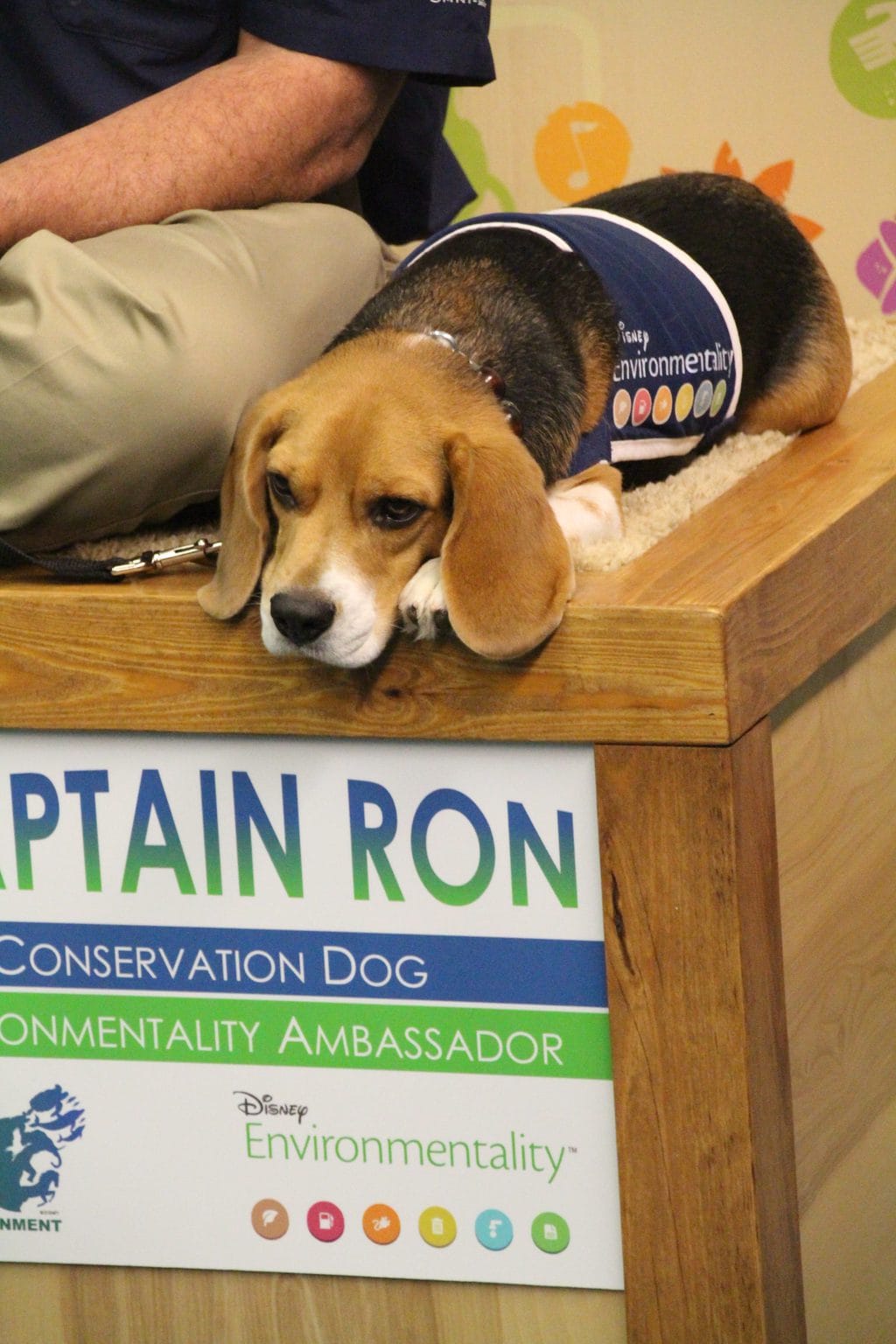 Energy and water conservation are both important to Disney, and they want their cast members and partners to understand why by providing education. Disney feels they have the responsibility to inspire kids to become environmental stewards and care for animals and nature. We all know this is an important piece in the future of our planet.
I was surprised to learn about some the efforts behind the scenes:
Each day Walt Disney World Resort housekeepers collect used soaps and amenities that are donated to Clean the World which recycles them and donates them to people in need both locally and around the world.
Disney Harvest reduces food wast by gathering excess prepared food from the Resort kitchens (more than 680,000 pounds!) and distributes it through the Second Harvest Food Bank of Central Florida.
Walt Disney World uses almost 1 billion gallons of reclaimed water a year for irrigation of landscape as well as other needs.
Captain Ron does his part by scouting out sea turtle nests so they can be marked for protection. He's even started to train another dog to learn the process.
I live near Anna Maria Island and I'd love to see a dog there doing what Captain Ron does. I think it would save a lot of endangered turtles. The best part? I got kisses!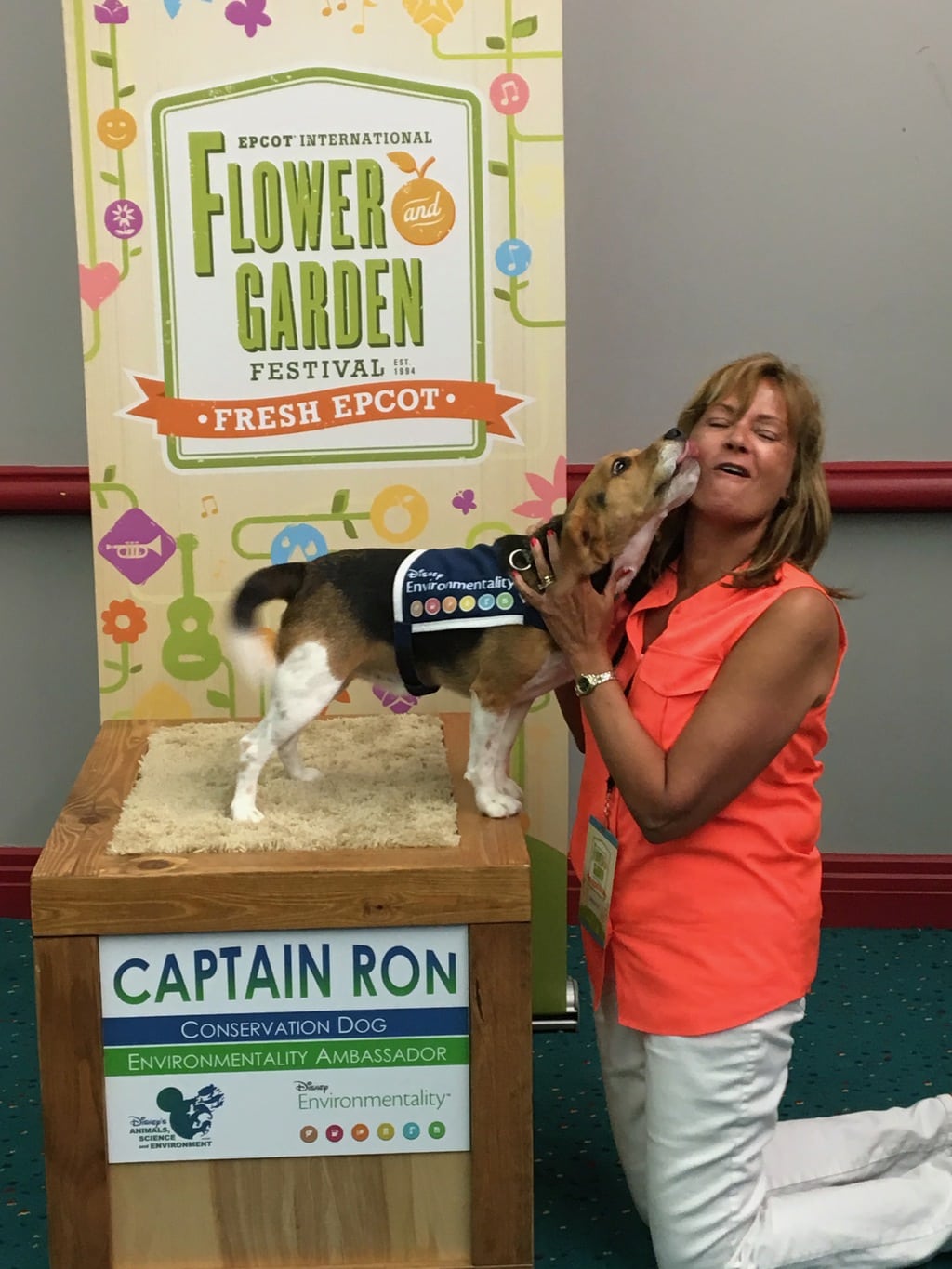 The last treat of the day was seeing a band I grew up with, Little River Band. I think I knew every single song by heart! The concert was part of the Garden Rocks Concert Series at America Gardens Theater.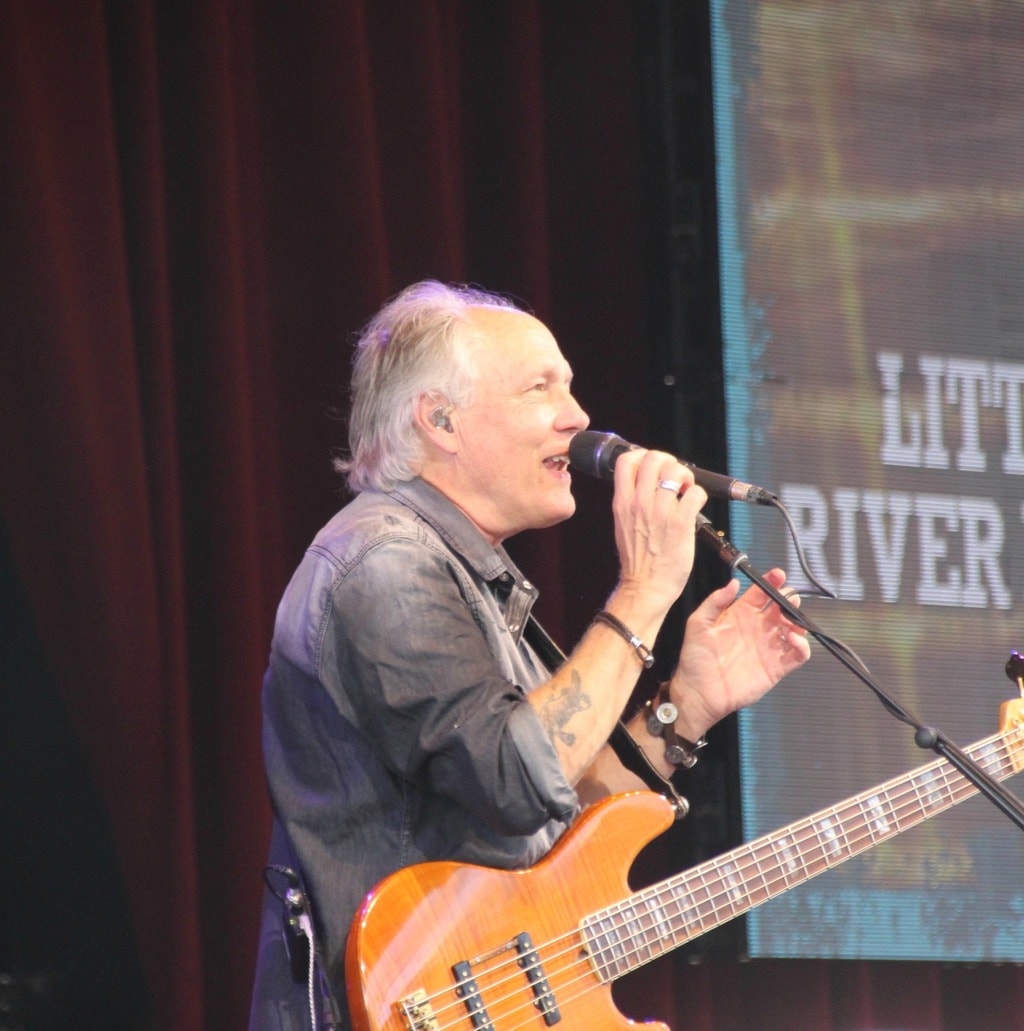 The Little River Band was very popular in the 70's and 80's.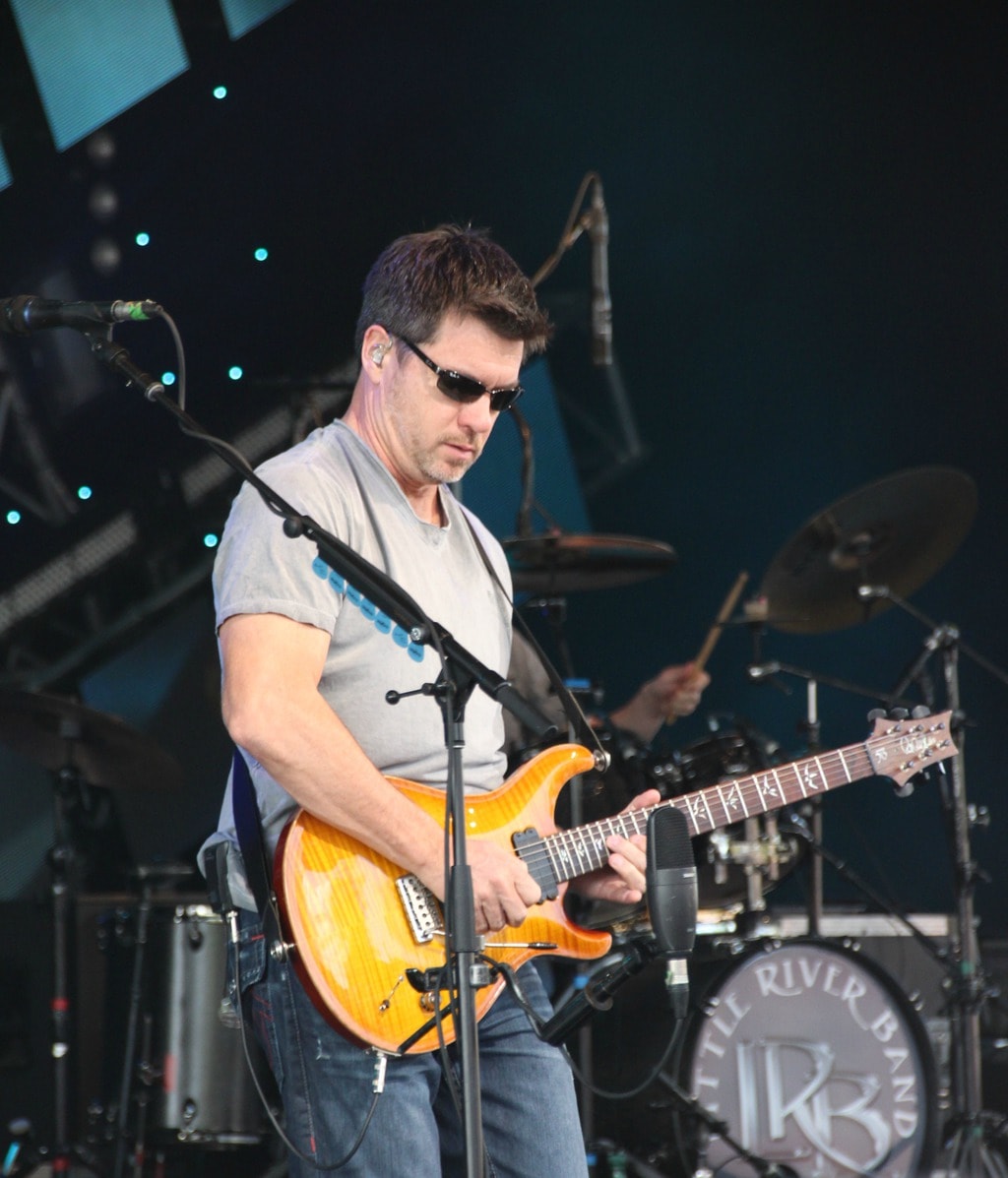 They sang several of my favorites and I was thrilled to have VIP seating to photograph the band.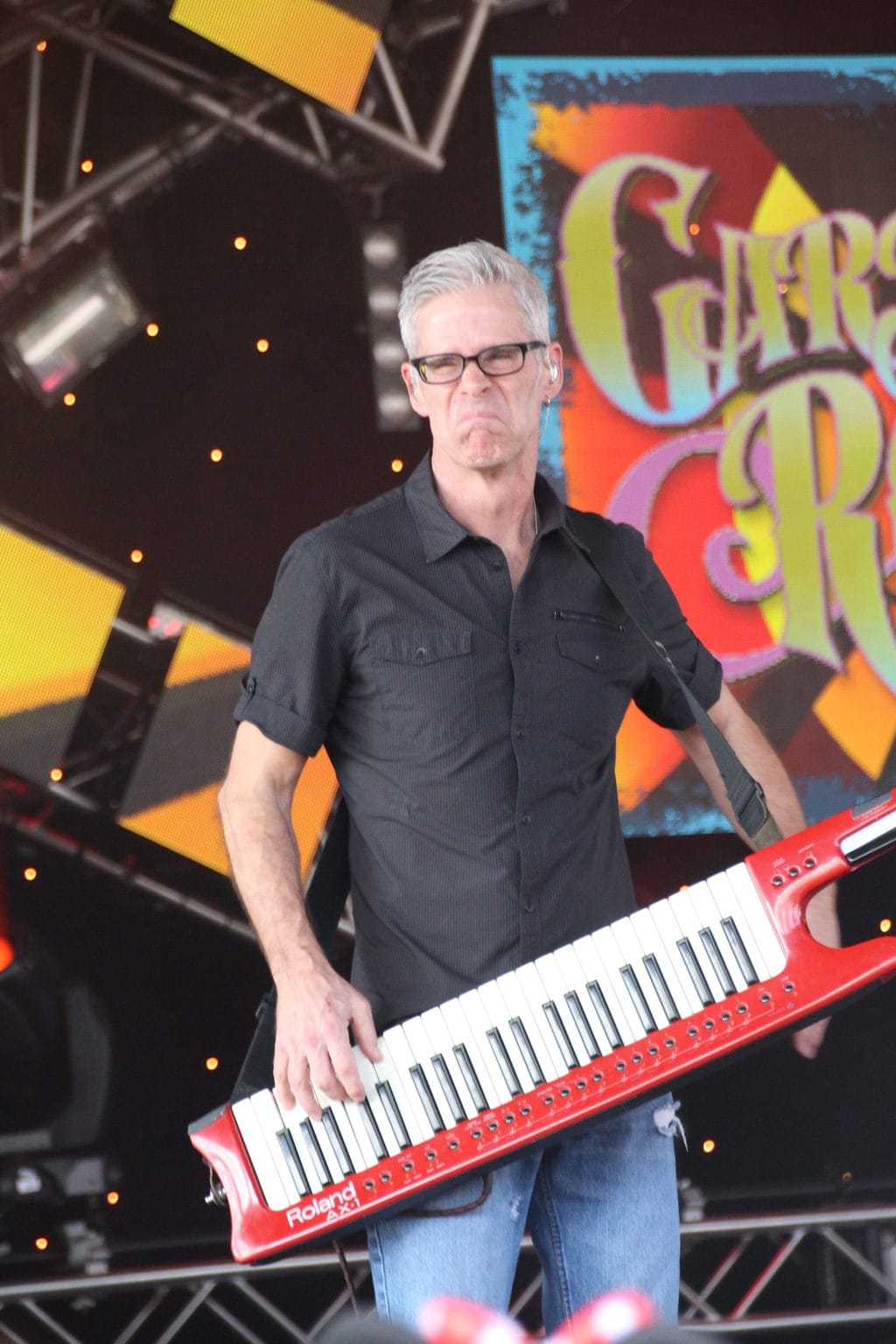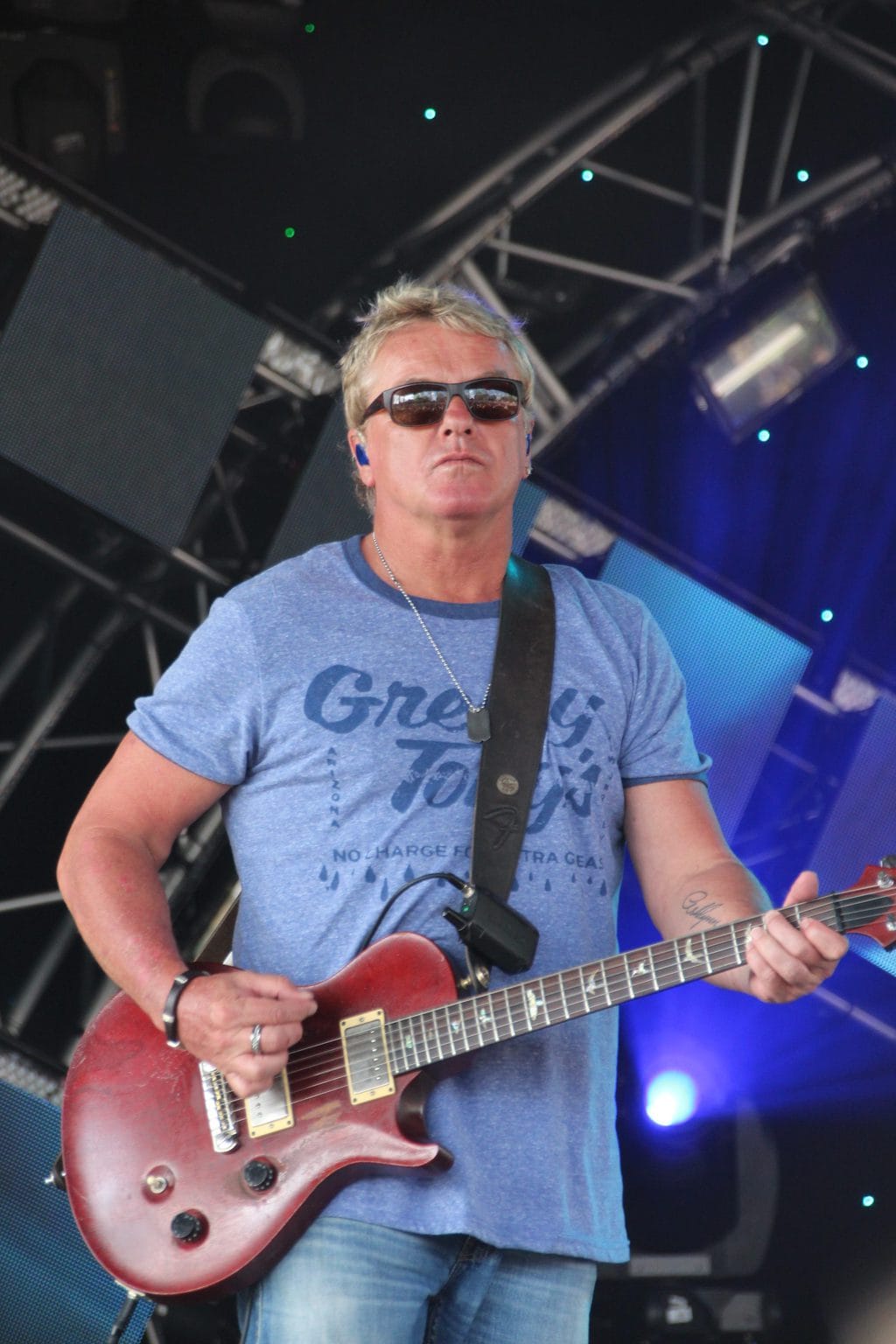 This was a great ending to my day at Epcot, though I must admit, I almost stayed for the second show.
The Garden Rocks Concert features top artists in a small venue. It's such a great opportunity to see your favorites up close and personal.
You won't know who is on for that year until Disney releases the lineup, but in the past, you could have seen the Gin Blossoms, The Orchestra starring former members of ELO, Starship starring Mickey Thomas, and The Guess Who. I've seen so many of my favorite there, and the show is included with admission!
Check the dates each year and choose your favorite Garden Rocks performances and go!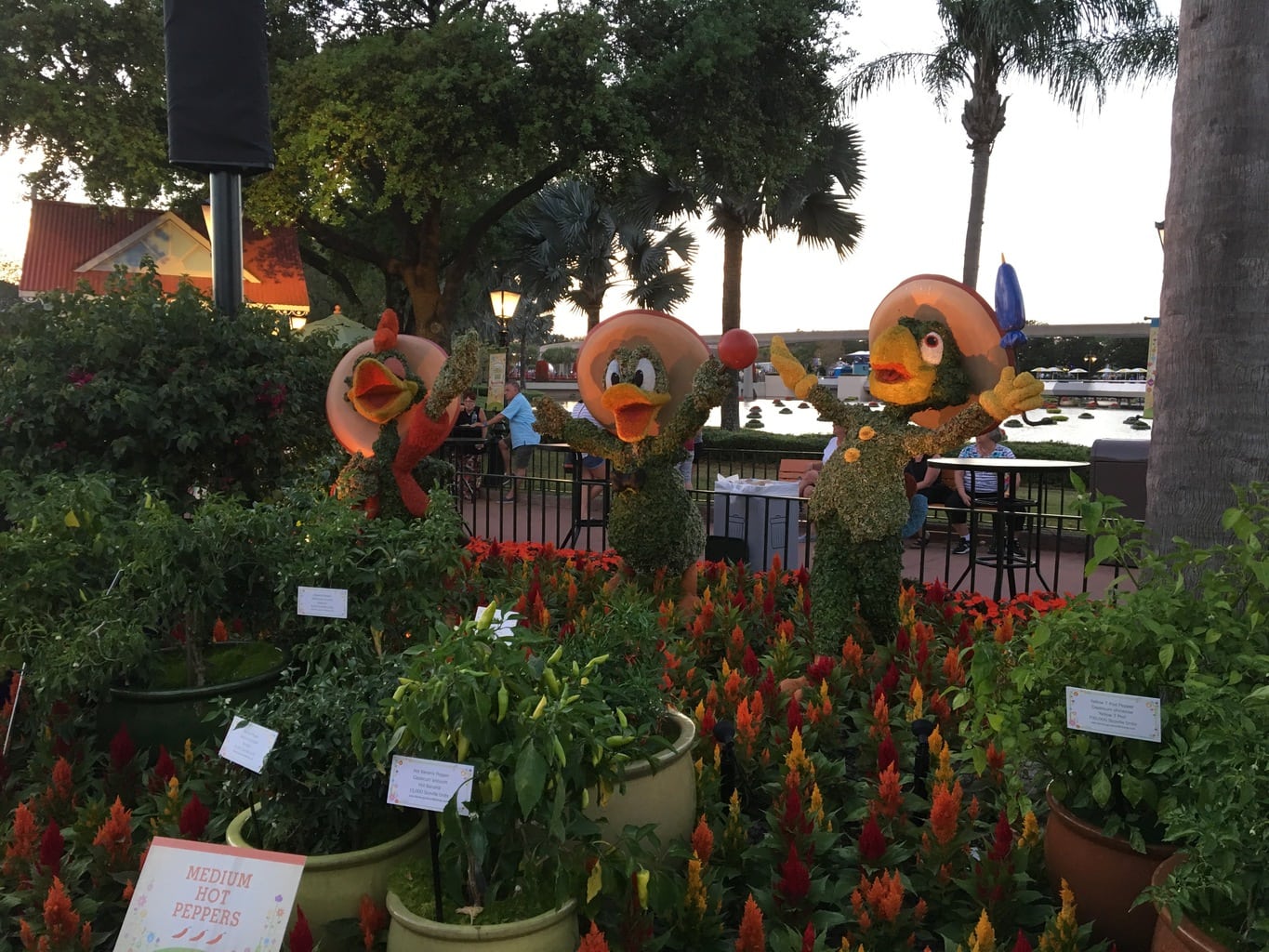 A huge thank you to Walt Disney World for hosting me at this event.