If you're looking for the most delicious food in Victoria, you'll find enough ideas to keep you busy for a few days.
Besides being the capital of British Columbia and a perfect destination for a plethora of sightseeing and adventure activities, Victoria has some of the best food in the entire world.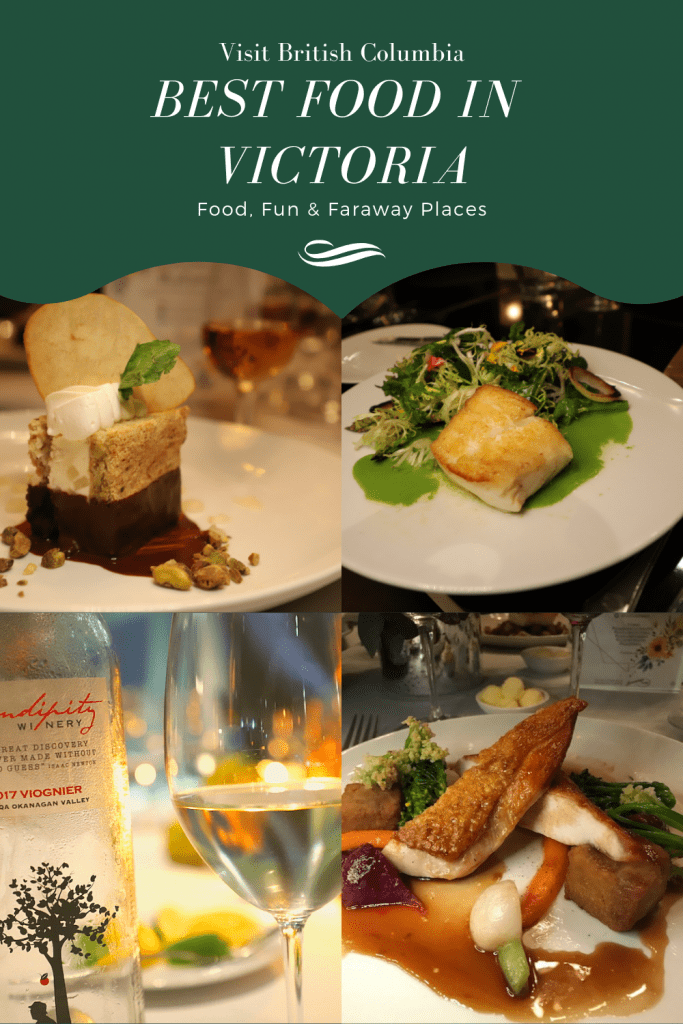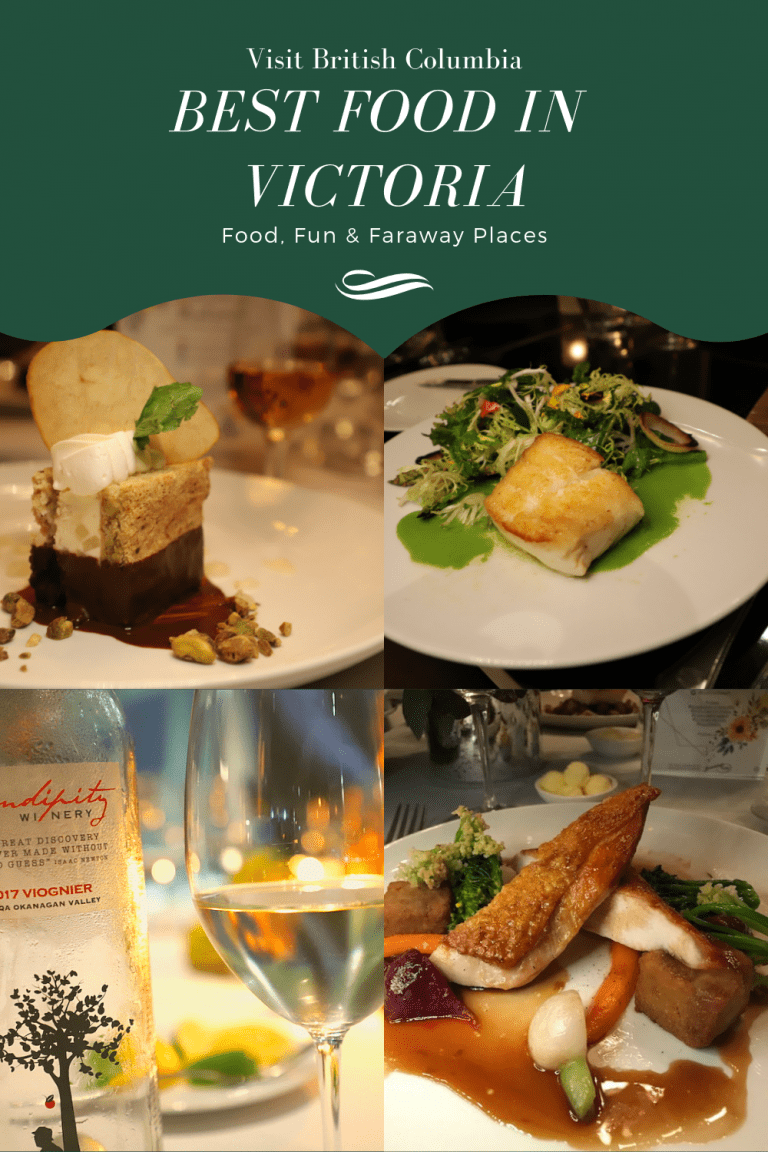 I've been pretty fortunate the past year to be hosted in Victoria three times. My first trip was back in May and included a stay at the Fairmont Empress.
Shortly after checking in, I was invited to experience Tea at the Empress. What an introduction to the food in Victoria!
Later in the spring, Victoria was a stop on the Norwegian Bliss cruise ship, so friends joined me for Tea at the Empress. You just can't visit Victoria without experiencing the Empress Tea!
In October I went back to Victoria once more and stayed a few days at the Fairmont Empress again, but this time I also visited the Oak Bay Beach Hotel and flew by seaplane about an hour away to Nimmo Bay Resort, located in the Great Bear Rainforest. You might say that was a bucket list trip!
Yes, you'll find some spectacular places to stay in Victoria, and so much to do, but it's the food experience that will make you want to visit again and again.
Where to Find the Best Food in Victoria
Fairmont Empress
The Empress is where it all began for me. The Tea at the Empress is really special. This iconic hotel has been around for over 110 years. 80,000 people have Tea at the Empress each year!
Tea at the Fairmont Empress
The Empress searches the world for only the best teas. Ask for the Tea Sommelier, and he will tell you all about the different teas; where they're from, how they are dried, and what flavors you'll find in each one.
He's a wealth of information, and absolutely charming to boot.
Along with your choice of tea from the 21 varieties, you'll be served freshly baked scones with in-house made strawberry jam.
The berries are local and combined with honey from hives right at the Empress, as well as lavender from their garden.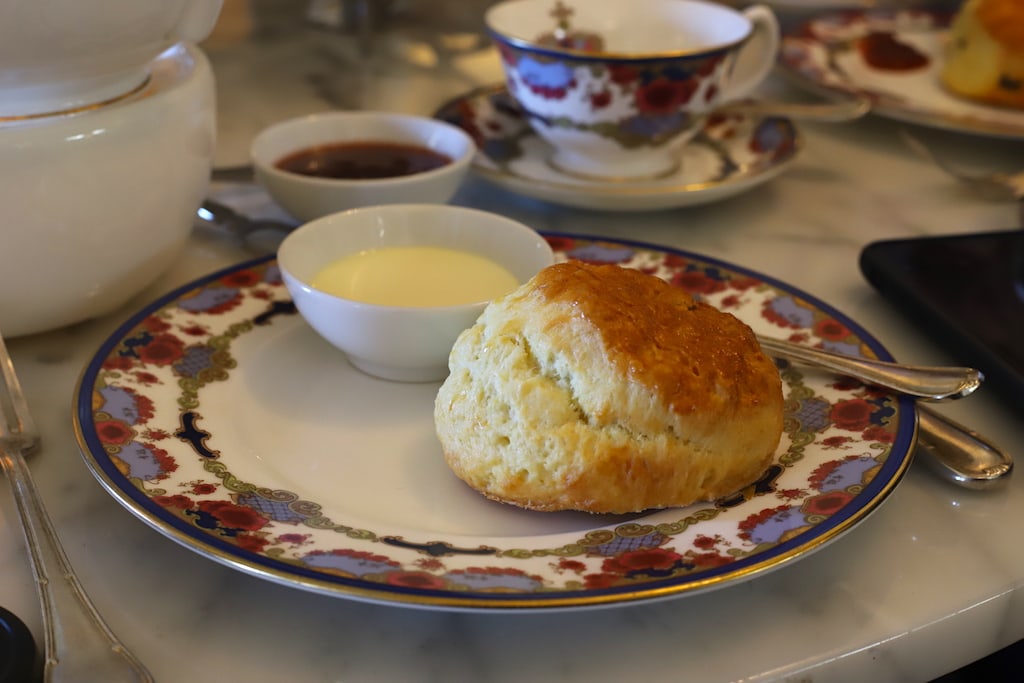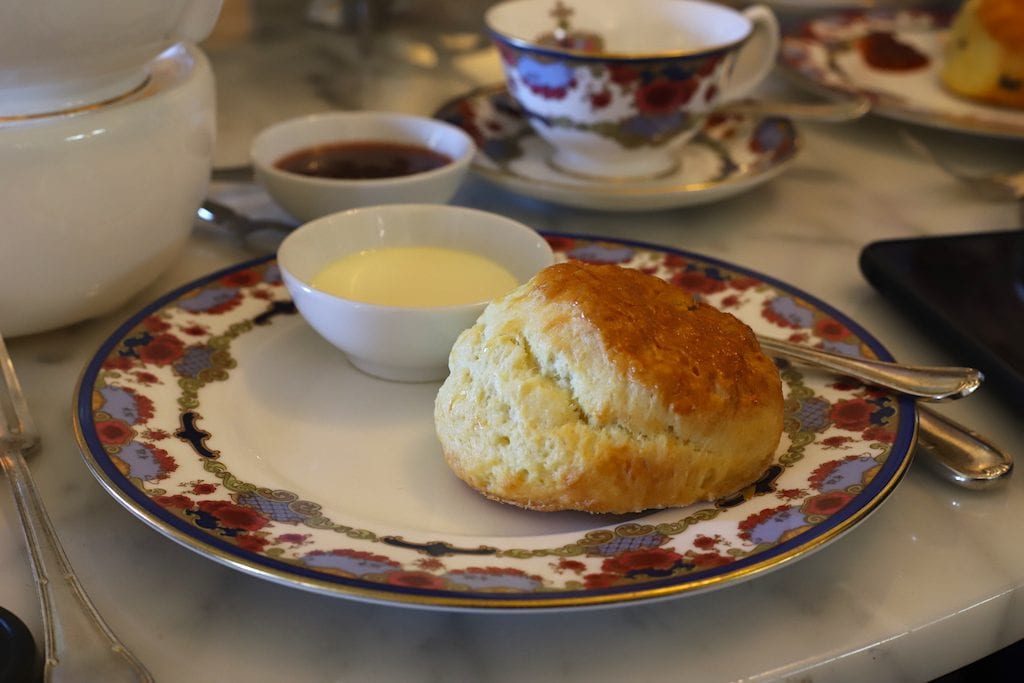 You will also be served a tiered tray of tea sandwiches like Smoked Salmon on Blini (my favorite!) and hand peeled Tofino Shrimp Tartlets. Of course, one of the platters will hold the decadent desserts, like Queen Bee Shortbread and Caramel Banana Cake.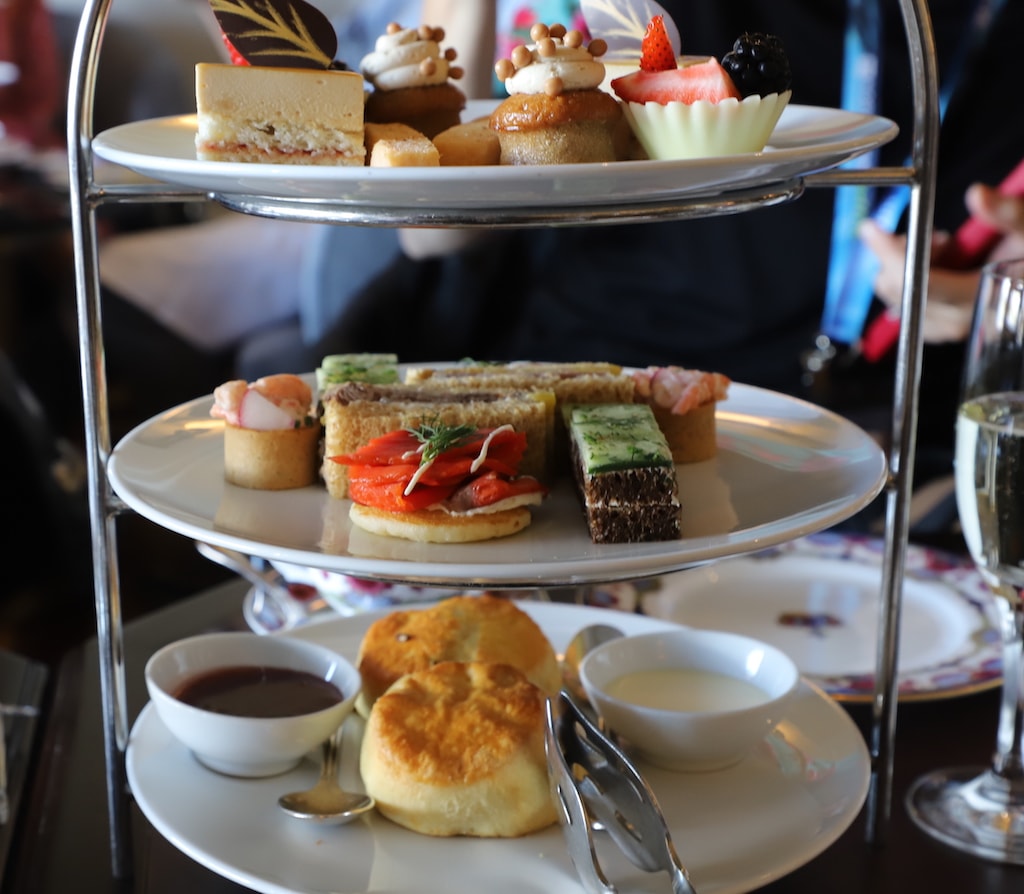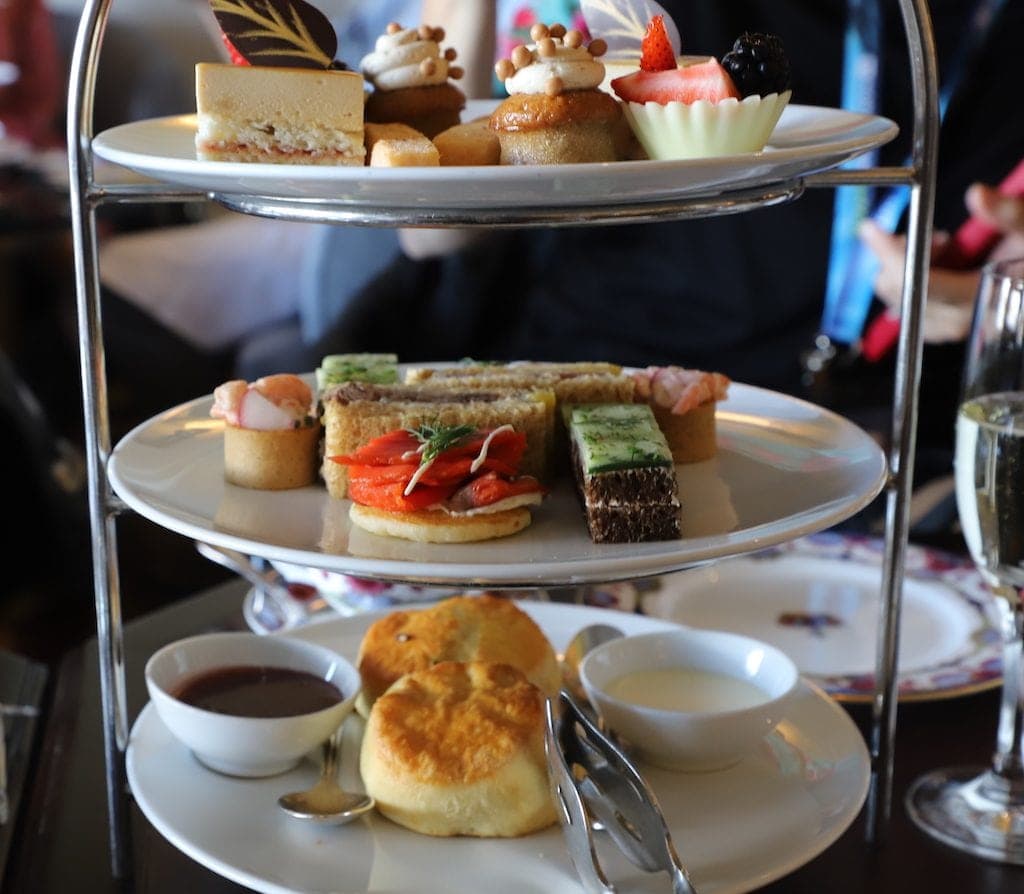 But Tea at the Empress is only one spot to experience the wonderful food at this hotel. Their restaurant, Q at the Empress, is also incredible.
Q at the Empress
Open for breakfast, lunch, and dinner, you'll have a hard time choosing from the expansive menu. Q at The Empress has partnerships with many local farms and the chef has his own garden and herb farm. You'll find sustainably sourced seafood and meats that are traditionally raised.
A great way to begin your meal is with the 1908 Cocktail with Empress Gin. Even if you don't typically drink gin, you should really try this cocktail. It's heavenly.
If you time it right, you'll be able to try the delicious spot prawns. They were in season in May. The local salmon was possibly the best I've ever tasted.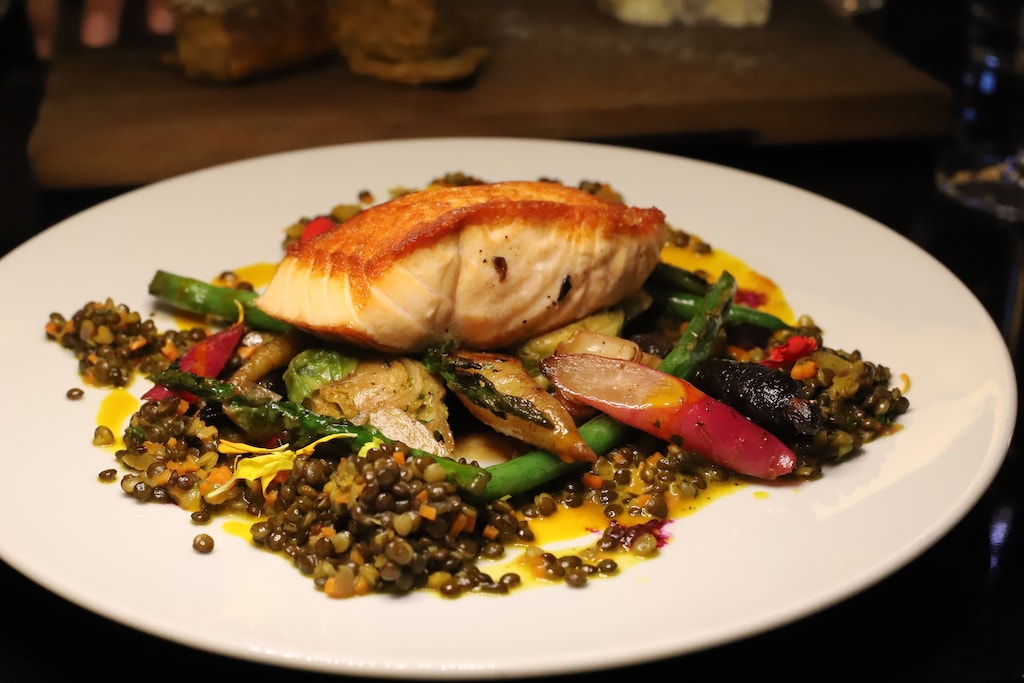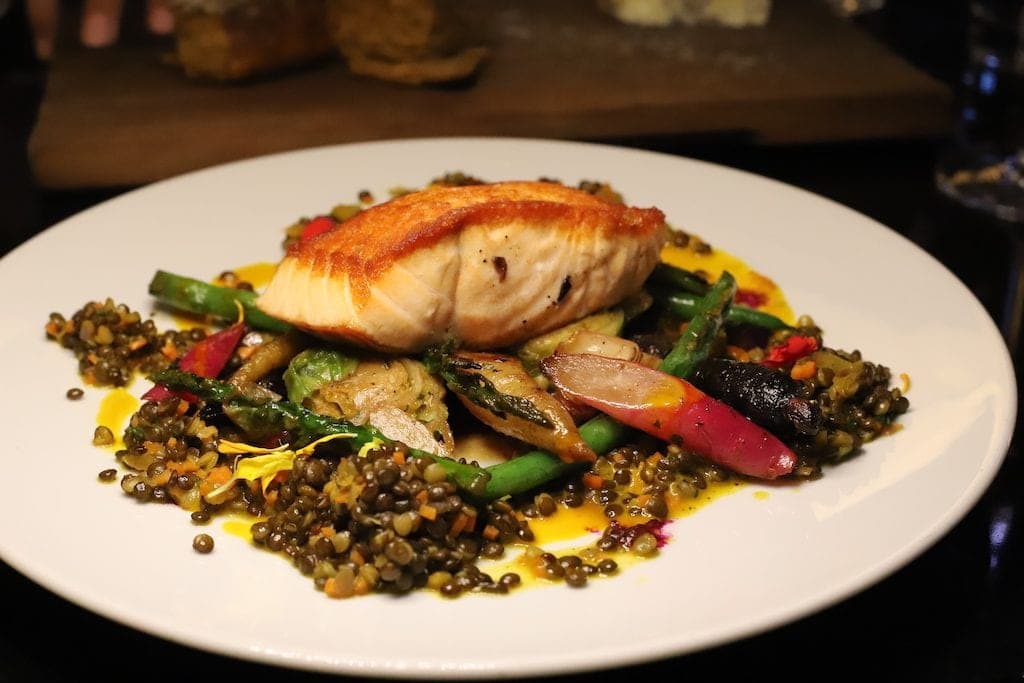 Though I am a creature of habit when I find something I really love and could have eaten the salmon again, I wanted to try something different the last time I was there.
At our waiter's recommendation, I decided on the halibut. Good move. Served with fermented asparagus and spring pea puree, it was perfection.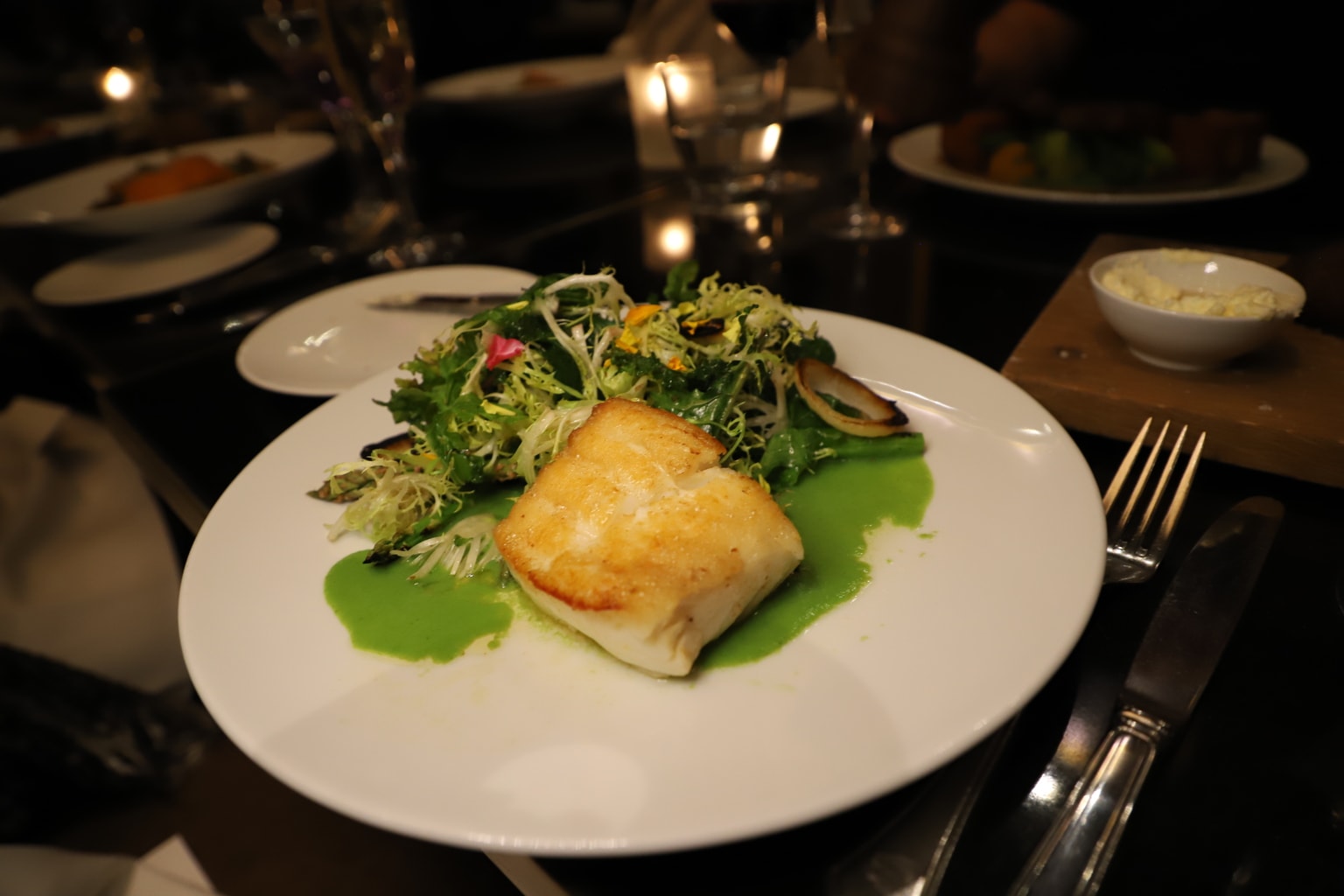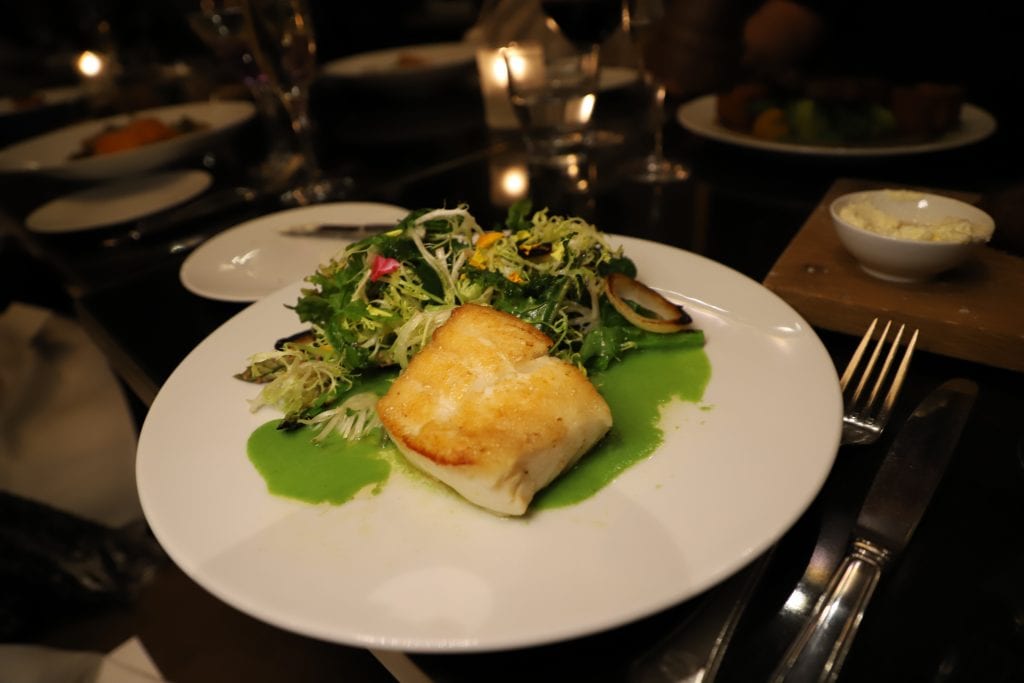 My neighbor who ordered the Poached Ling Cod offered to share, and it was equally as delicious.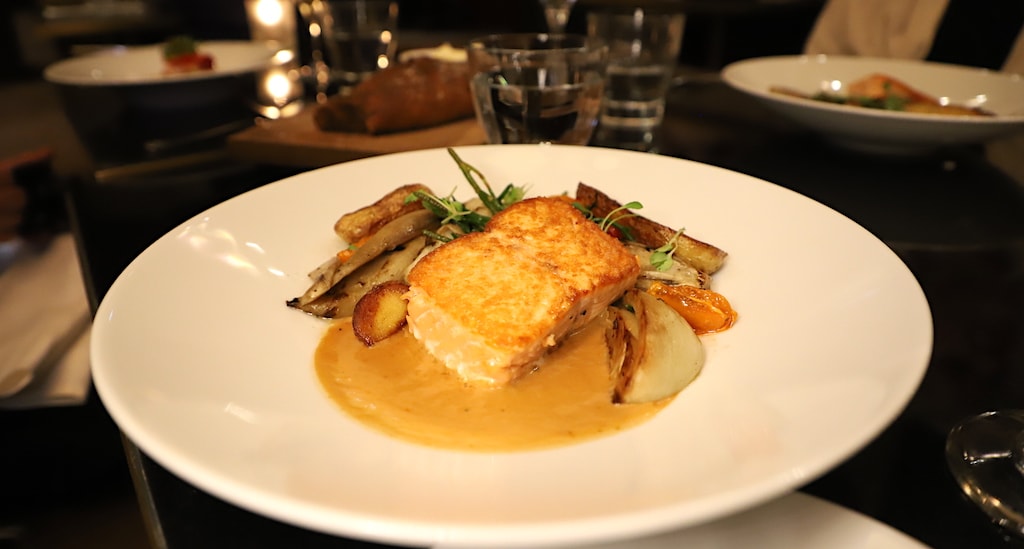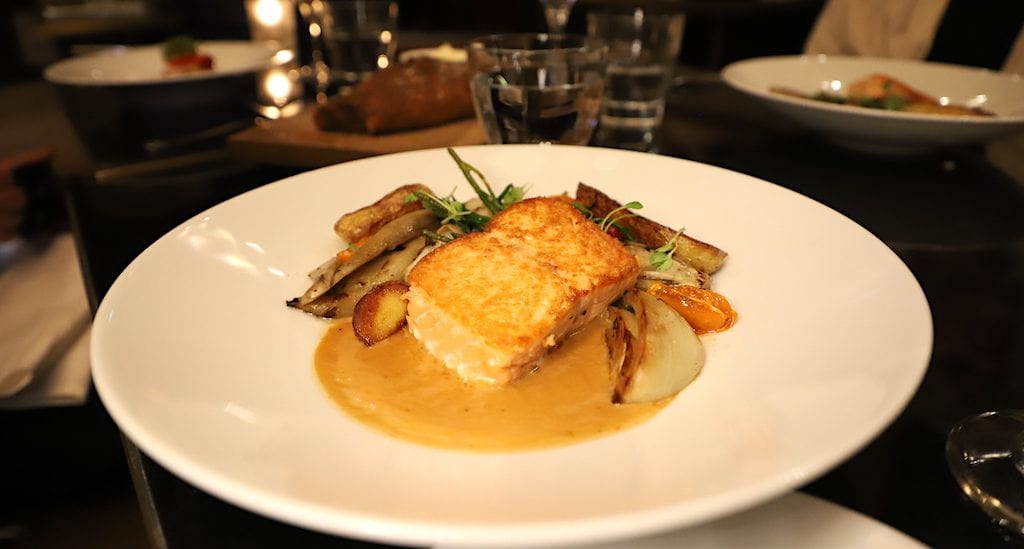 Please save room for dessert! You'll find a plethora of choices on the menu, and we were able to taste them all! That's the famous Empress chocolate cake at the bottom. So good.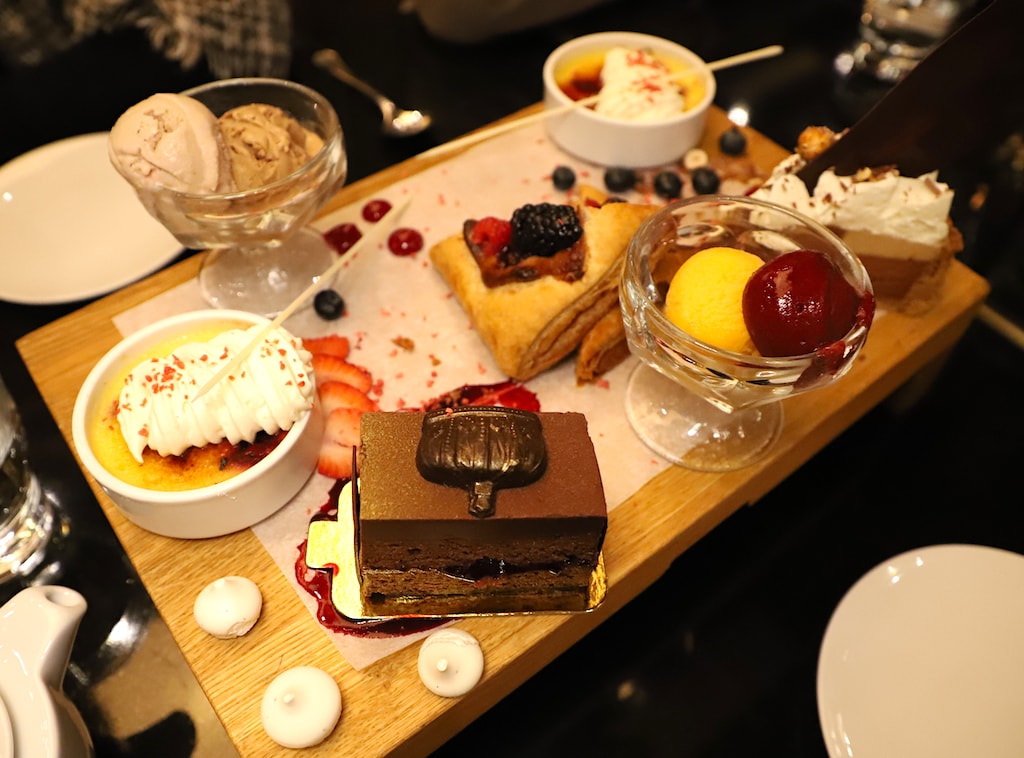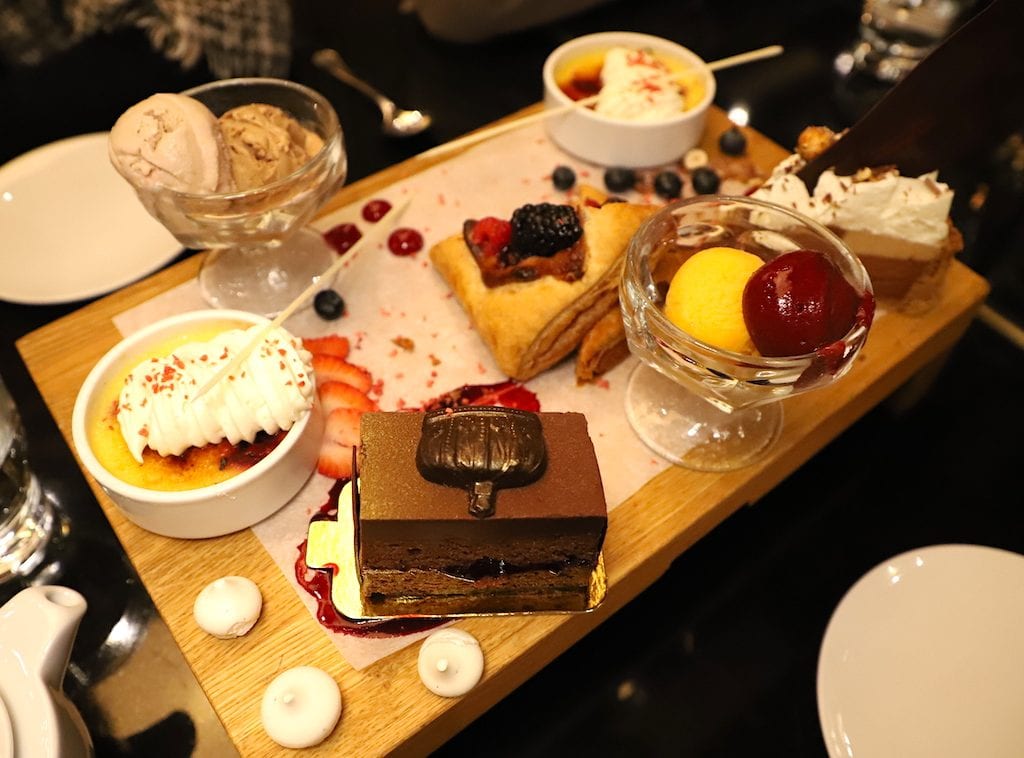 There is one more feature at the Empress you really should consider. If you are planning to stay there (and you should!) splurge and stay on the Gold Level. You'll have access to the Fairmont Gold Lounge, and the food is wonderful there, as well, and included in your stay.
The breakfast buffet is outstanding, and the appetizers, wine, and cocktails are presented around happy hour. Okay- enough gushing about the Empress. There really is so much more in Victoria!
10 Acres Kitchen
10 Acres Kitchen was such a treat. This restaurant is serious about fresh farm to table food. They have a twice a week harvest where they pick the freshest vegetables and herbs from their garden.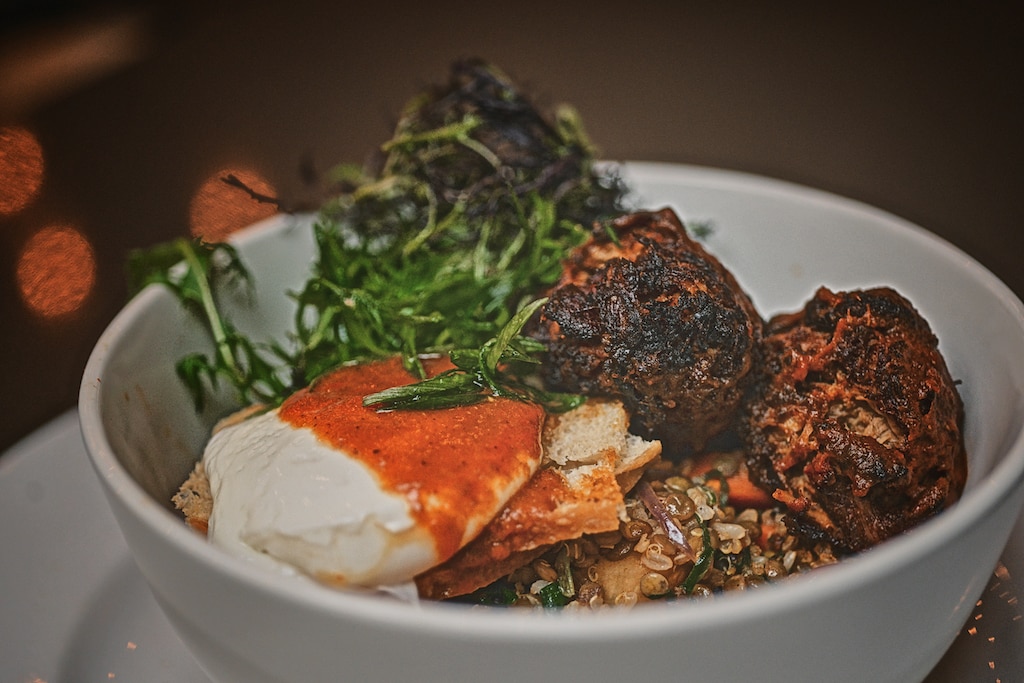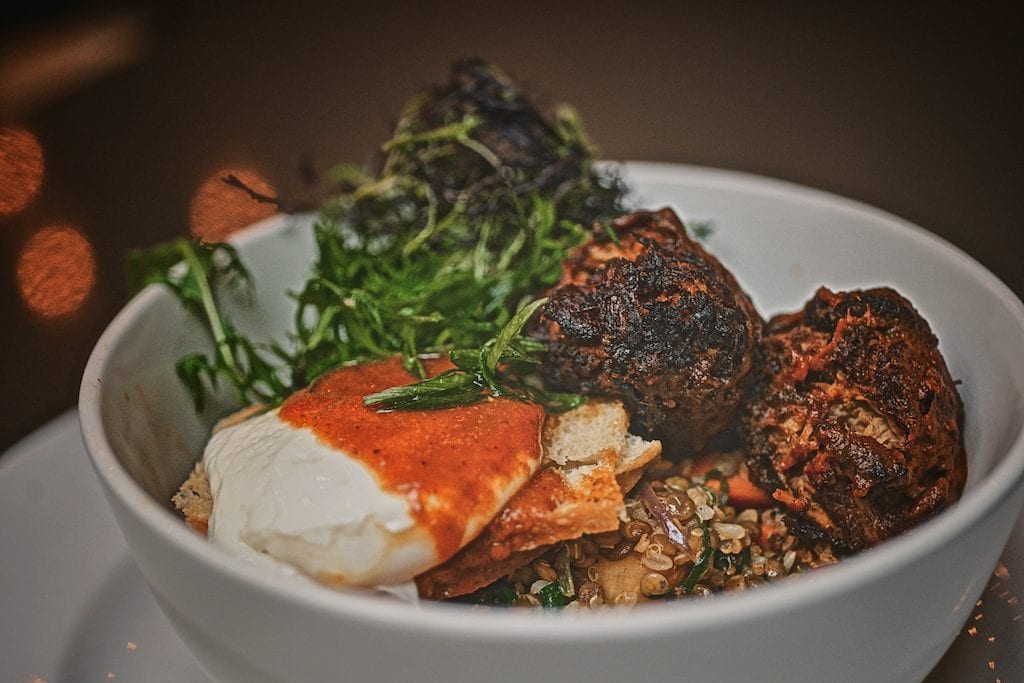 10 Acres have their own hens which provide eggs for dishes in the restaurant as well as baked goods for the in-house bakery. Bees provide honey for the restaurant in the fall. They also have an exceptional craft cocktail menu.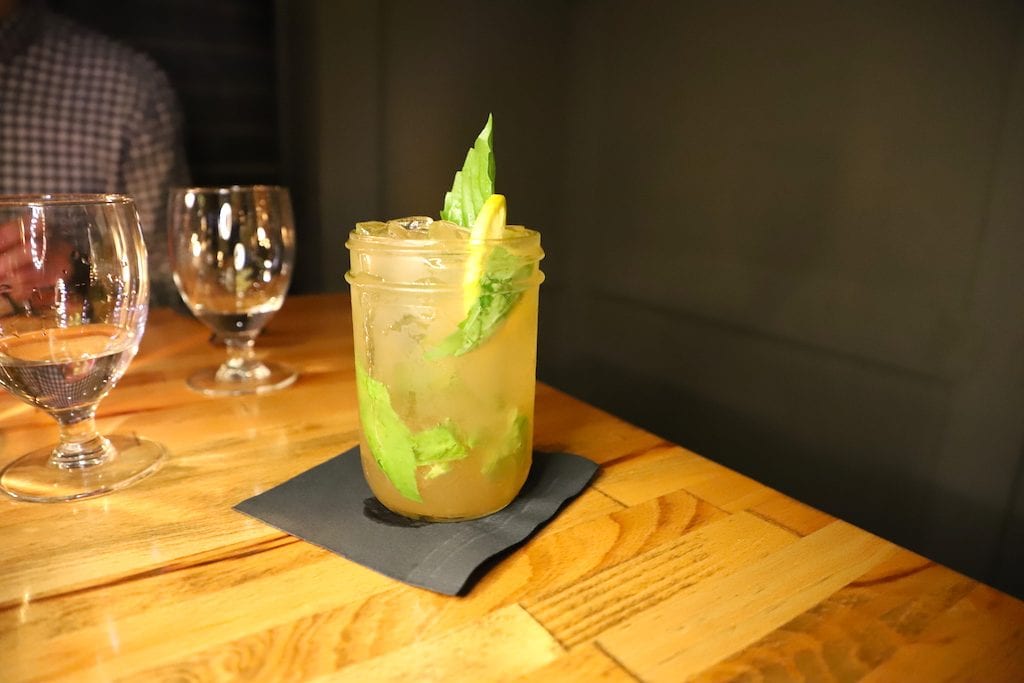 The menu at 10 Acres is built around what is fresh at the time. What they don't grow at their own organic farm in North Saanich on Vancouver Island, they get from local farmers. Their house-made pasta was so tempting, but I was feeling like something a little lighter, and the fish was so fresh!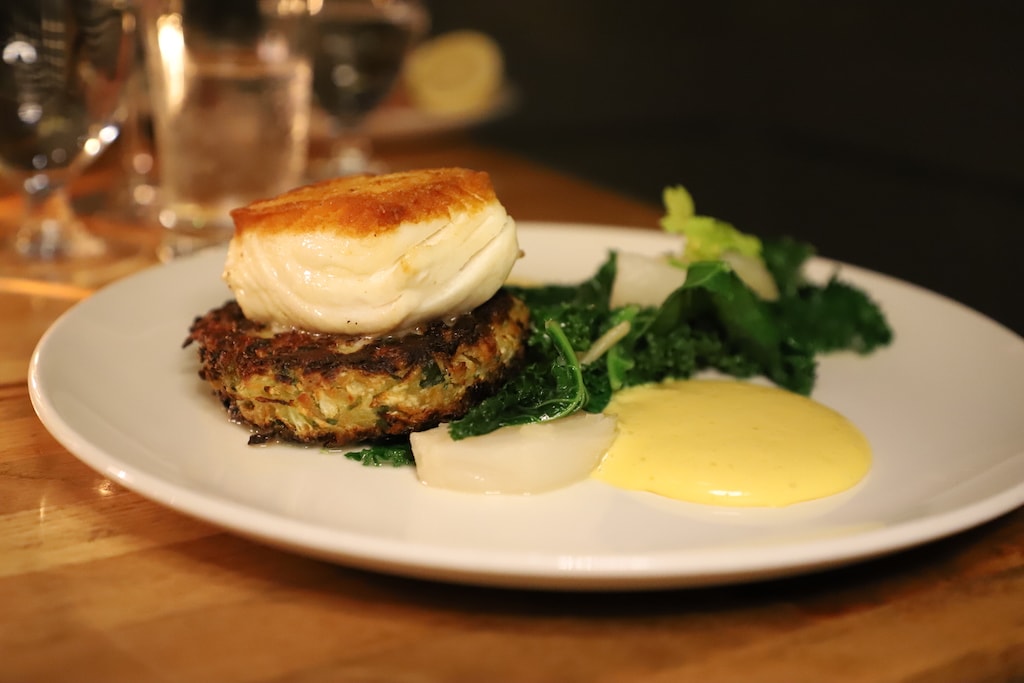 The scallops looked delicious, too.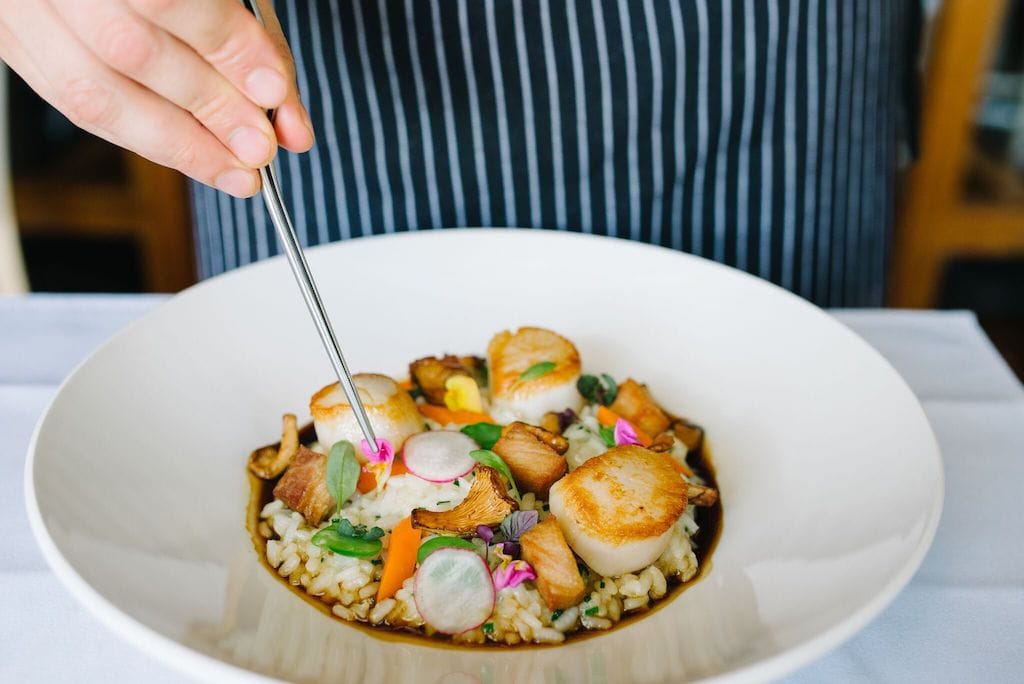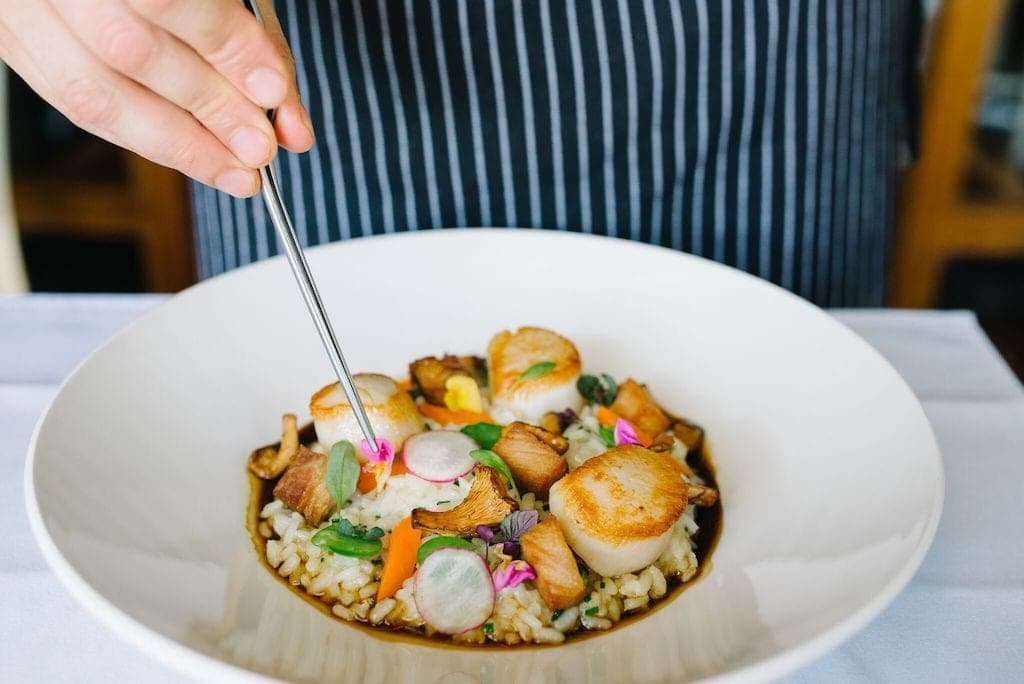 Murchie's Tea Room
There was not enough time to eat at Murchie's, but just look at that display case! It's a very popular spot in Victoria, so do try to stop in.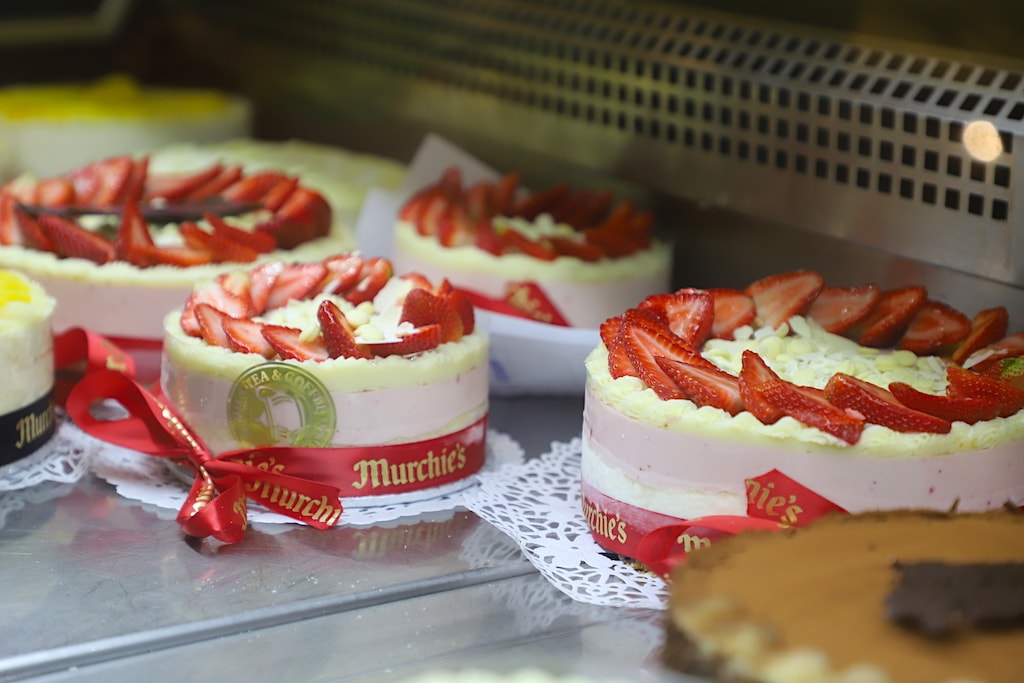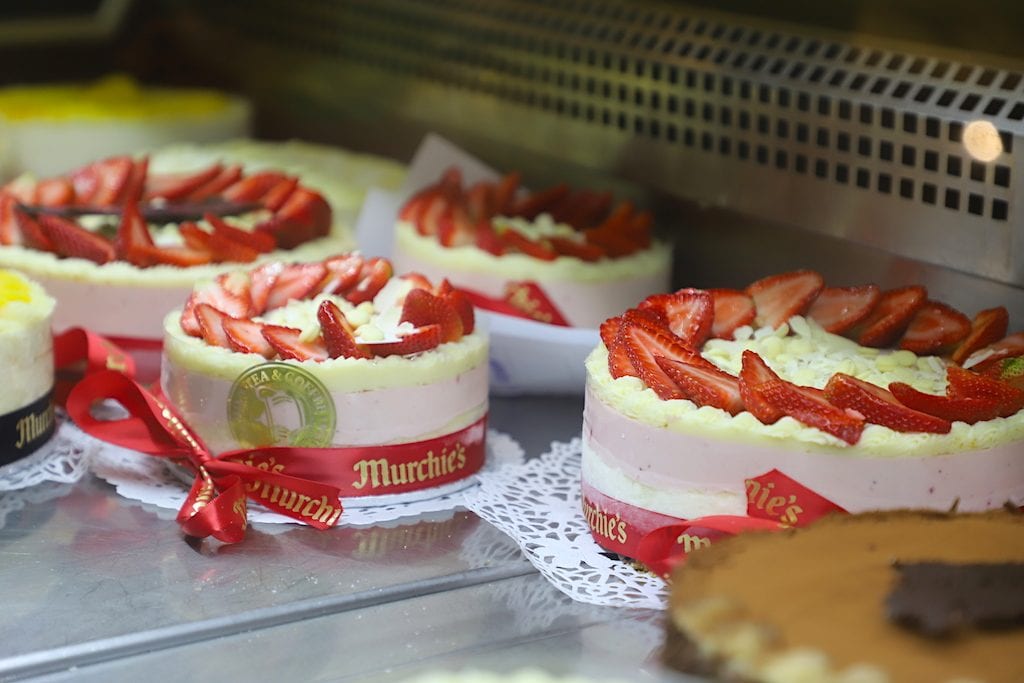 Boom + Batten
Another great spot for wonderful food in Victoria is the soon-to-open Boom + Batten at the Victoria International Marina. This marina will have world-class yachts moored in the beautiful Victoria harbor.
It's going to be the place to see and be seen! They would not share names of who has already docked there and who already has a slip, but this 28 slip Marina is for boats from 65 to 175 feet, so I think it's safe to say Victoria will be seeing more celebrities in the near future.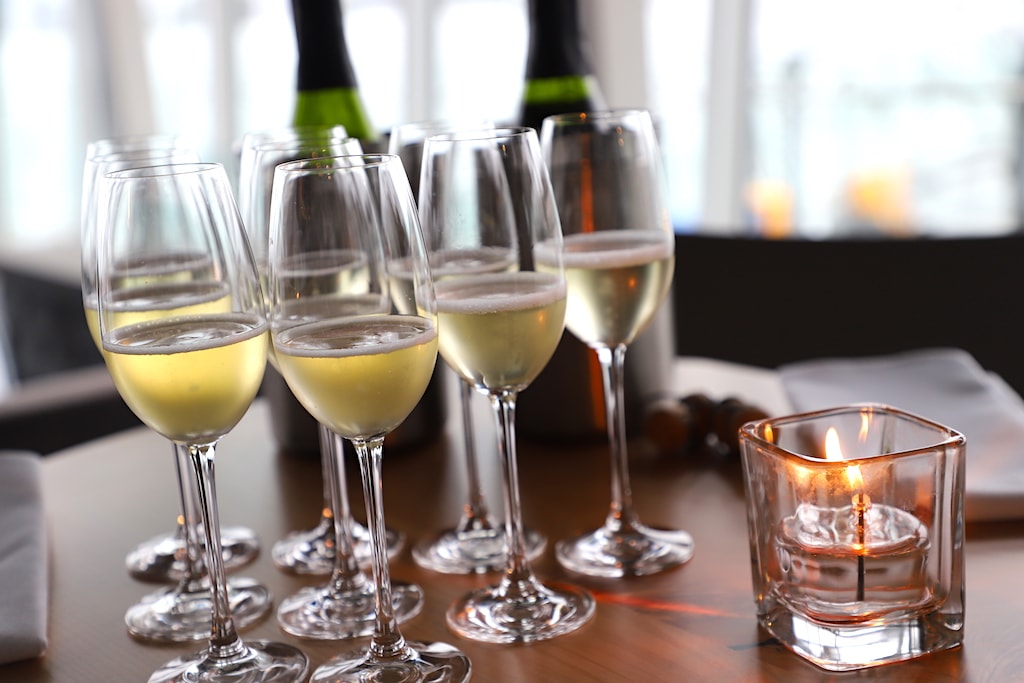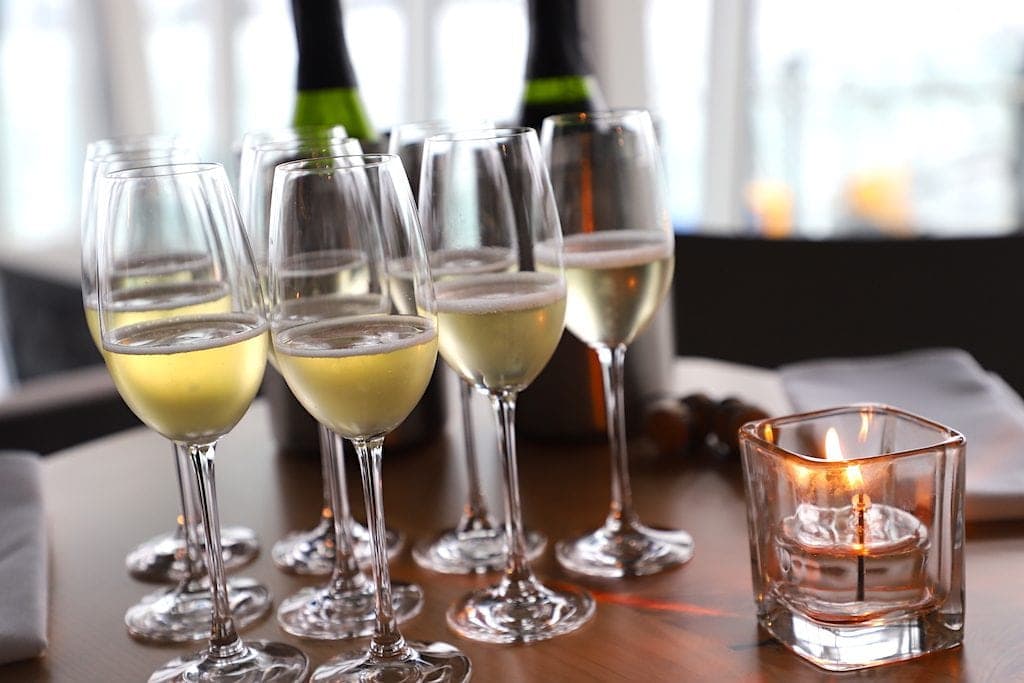 Inspired by the Pacific Northwest coast, the food is fresh and creative. We began the evening with a West Coast Dungeness Crab Cake served with cauliflower purée and edible flowers, and paired with champagne from the Okanagan.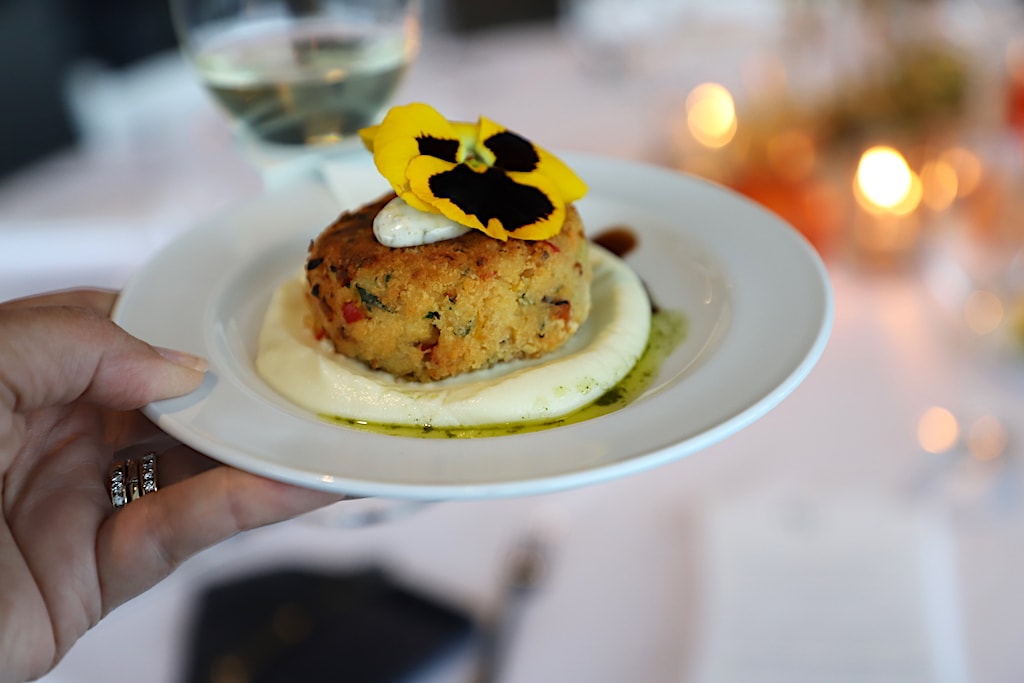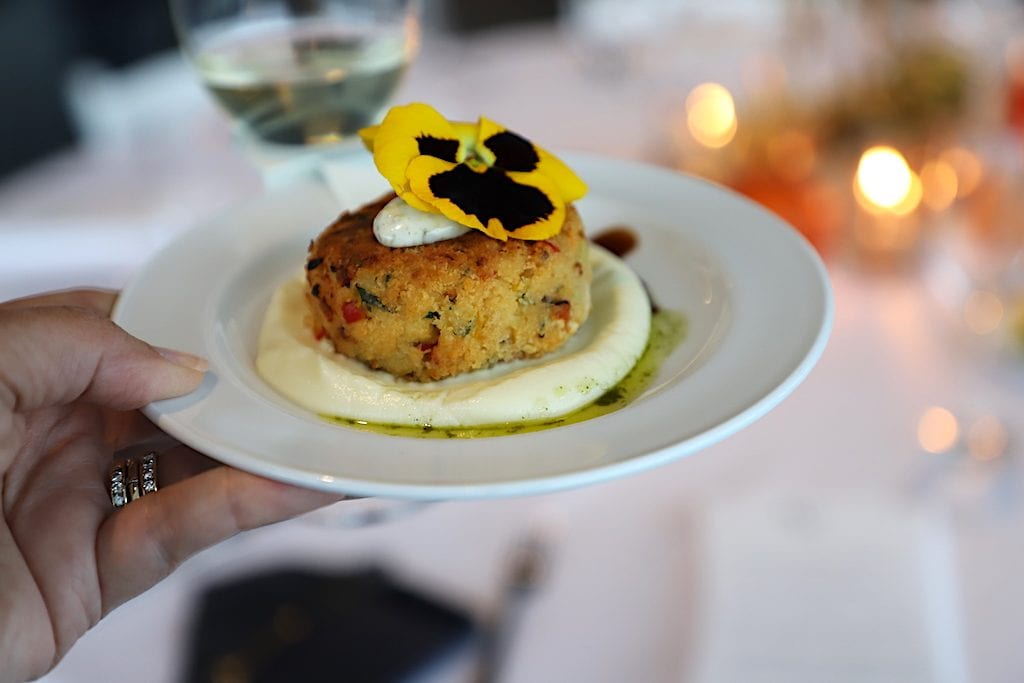 Next came a Phyllo Wrapped Comox Brie, followed by a mouthwatering butternut squash soup with bacon bisque.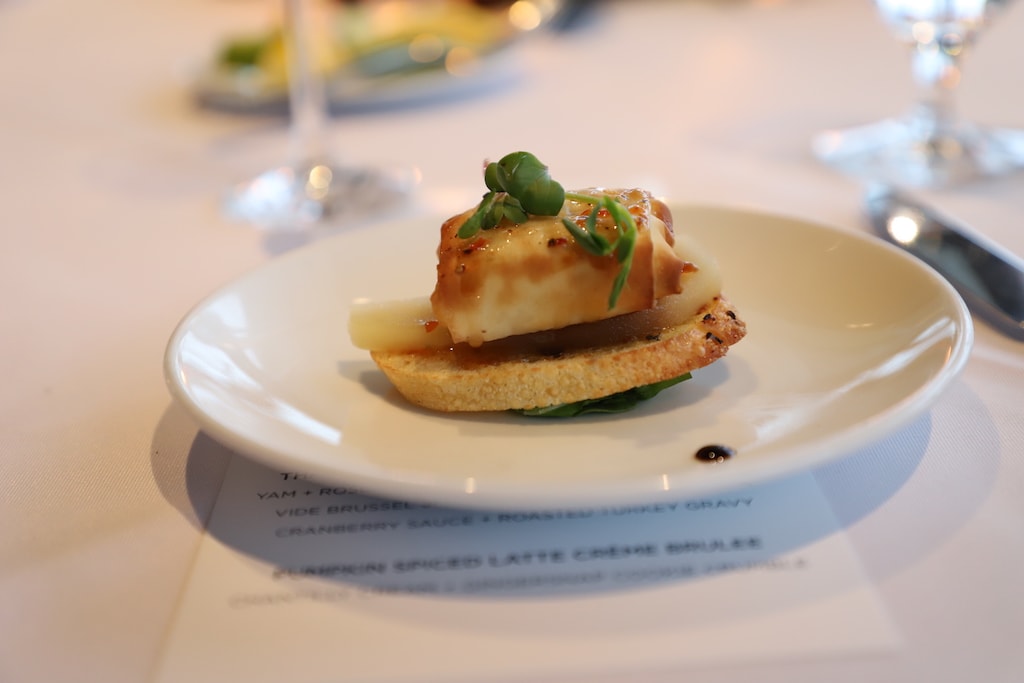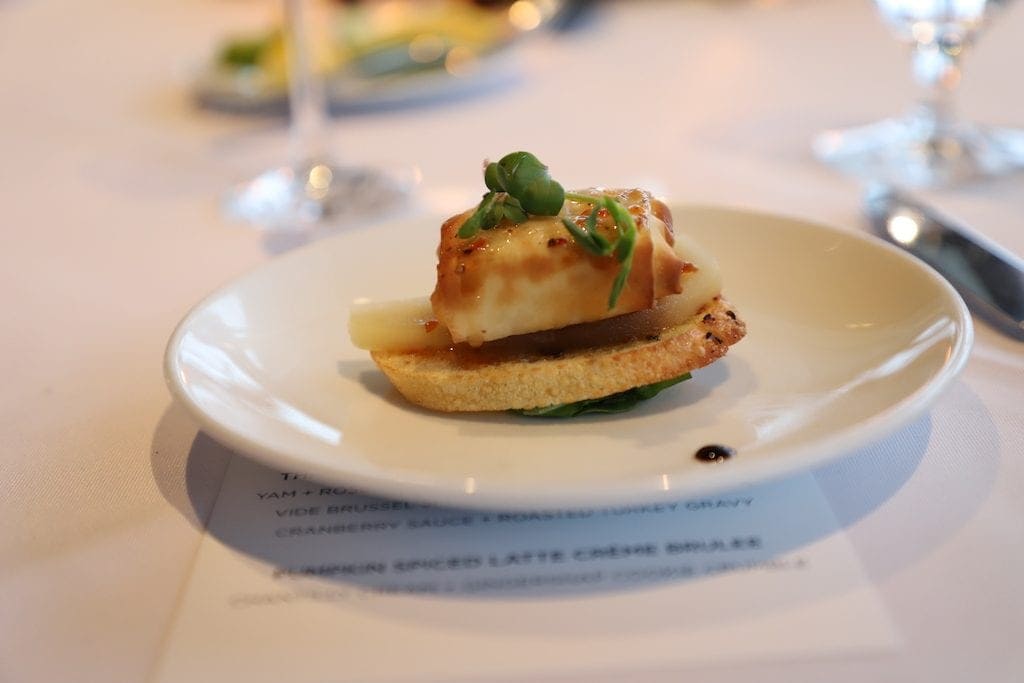 The salad of shaved fennel, pink grapefruit, goat cheese, and candied almonds was served next. Isn't this presentation just beautiful?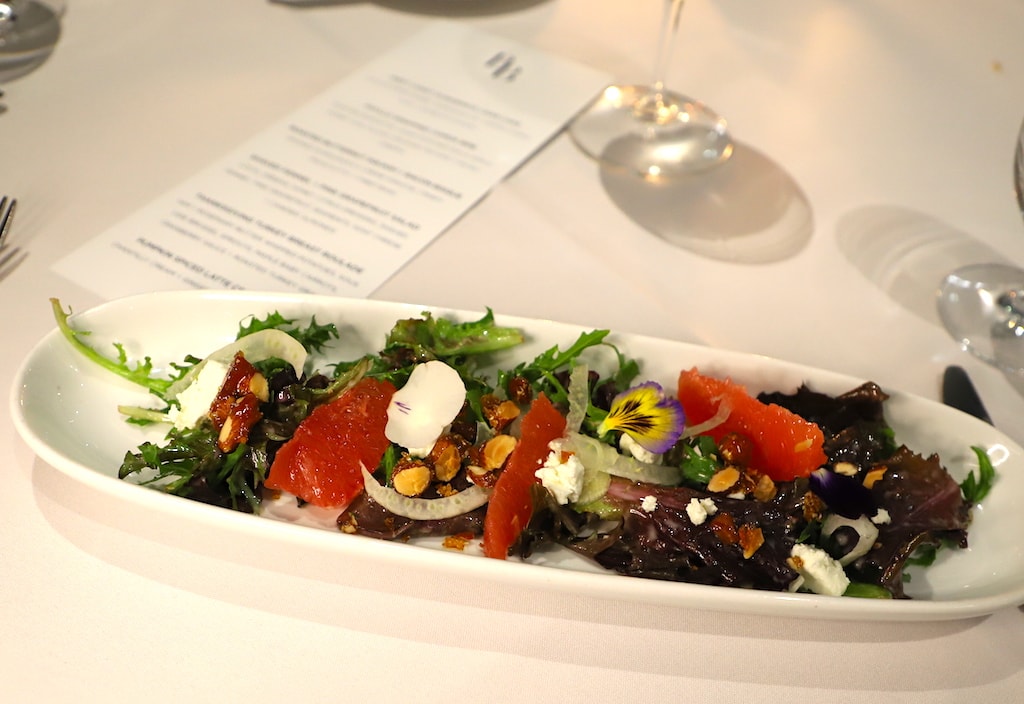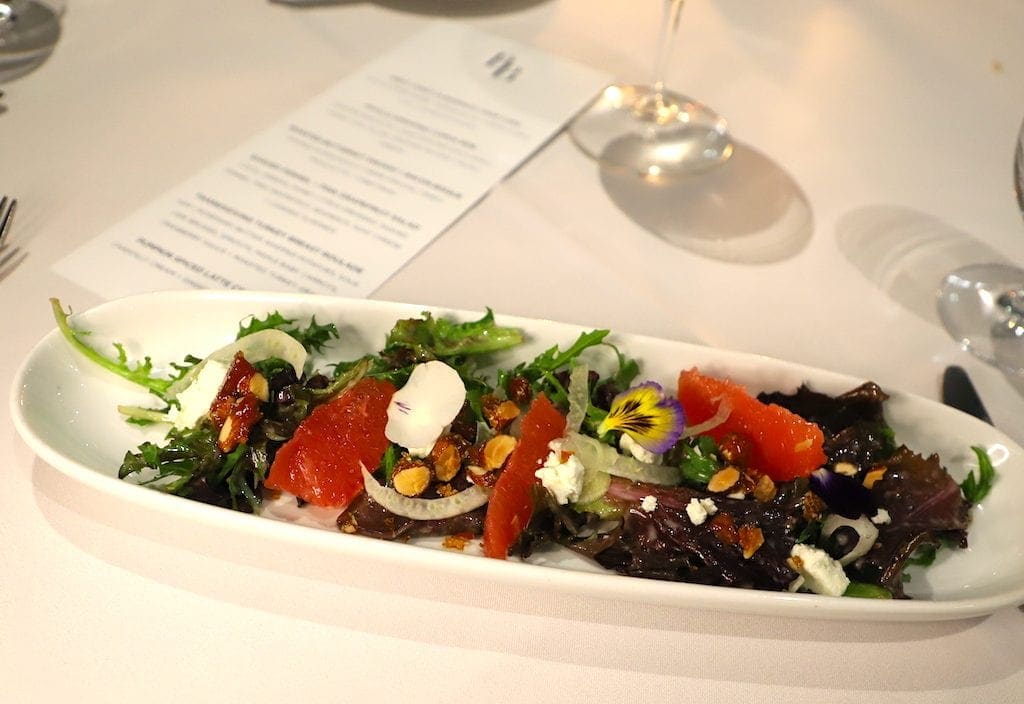 They really spoiled us, and as we were there for Canadian Thanksgiving, we were treated to an early holiday meal of Turkey Breast Roulade, yam and rosemary butter potatoes, brussels sprouts, maple baby carrots, and cranberry sauce. Who's hungry now?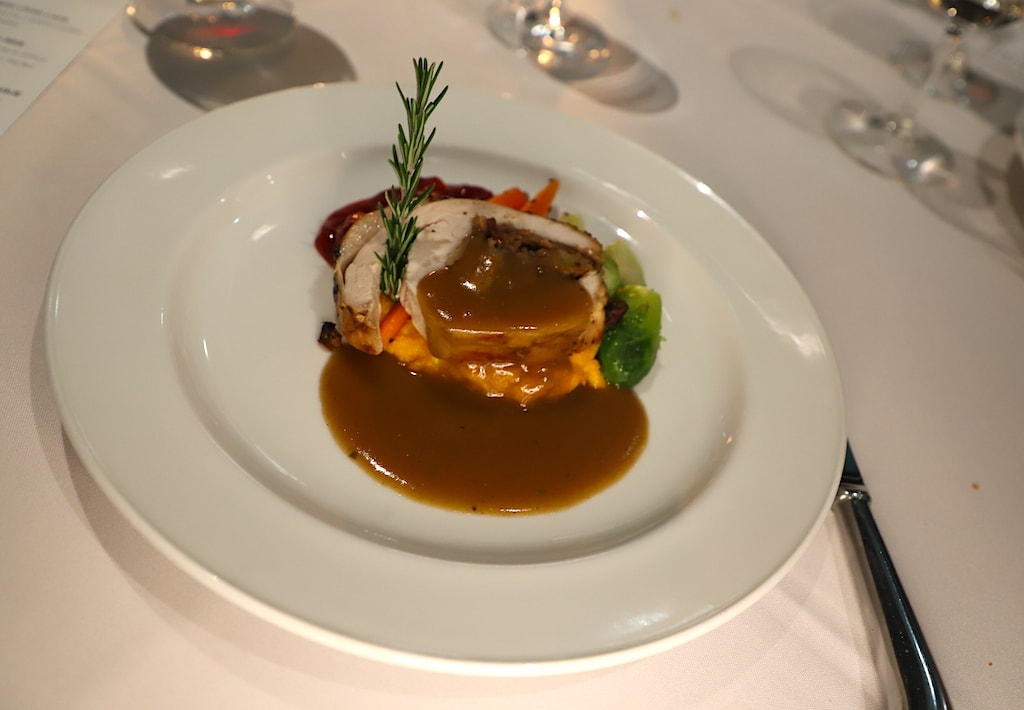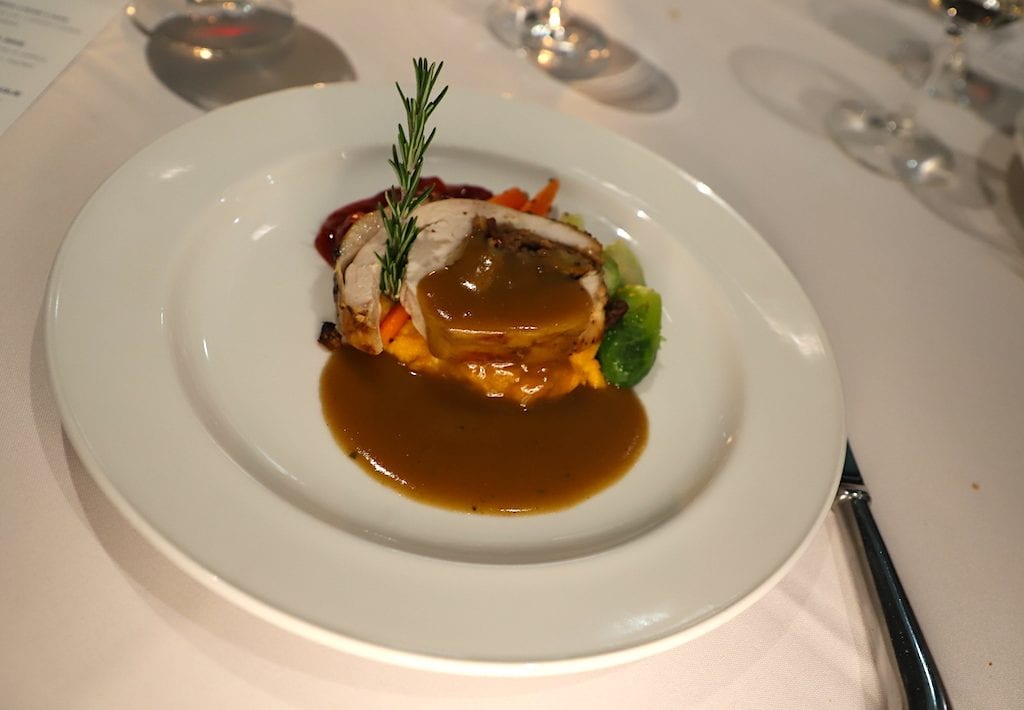 The meal was spectacular and served with a Viognier wine from Serendipity Winery. I only wish I could get this wine in the States!
This winery located in the Okanagan Valley in Naramata Bench, BC, looks like an incredible place to visit, too.
I've wanted to visit the area for a couple of years now. Maybe I'll get there in 2019!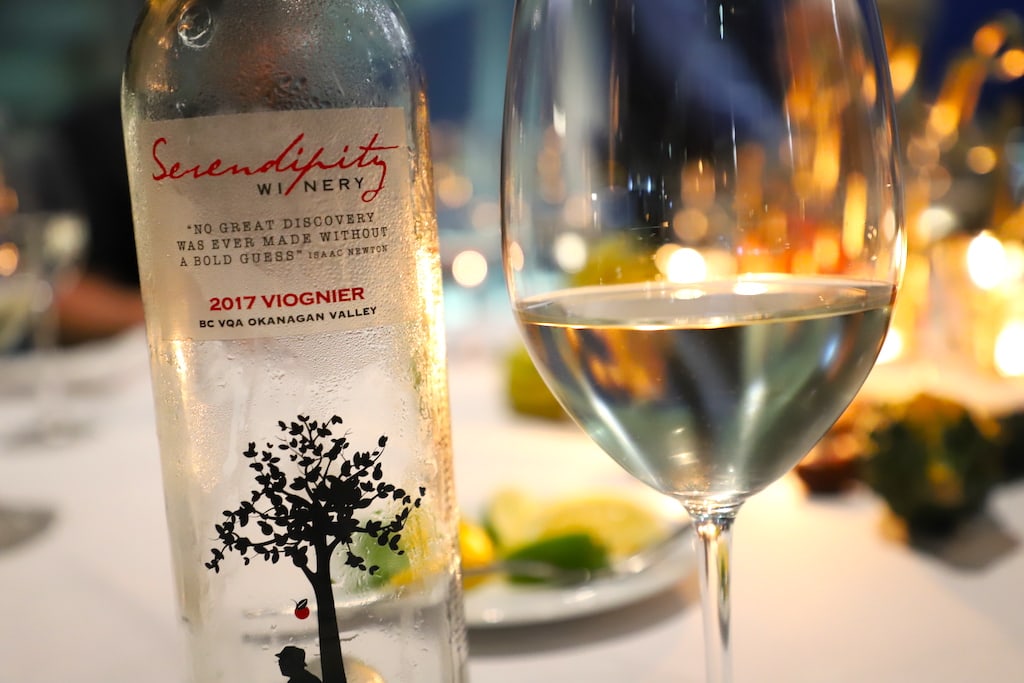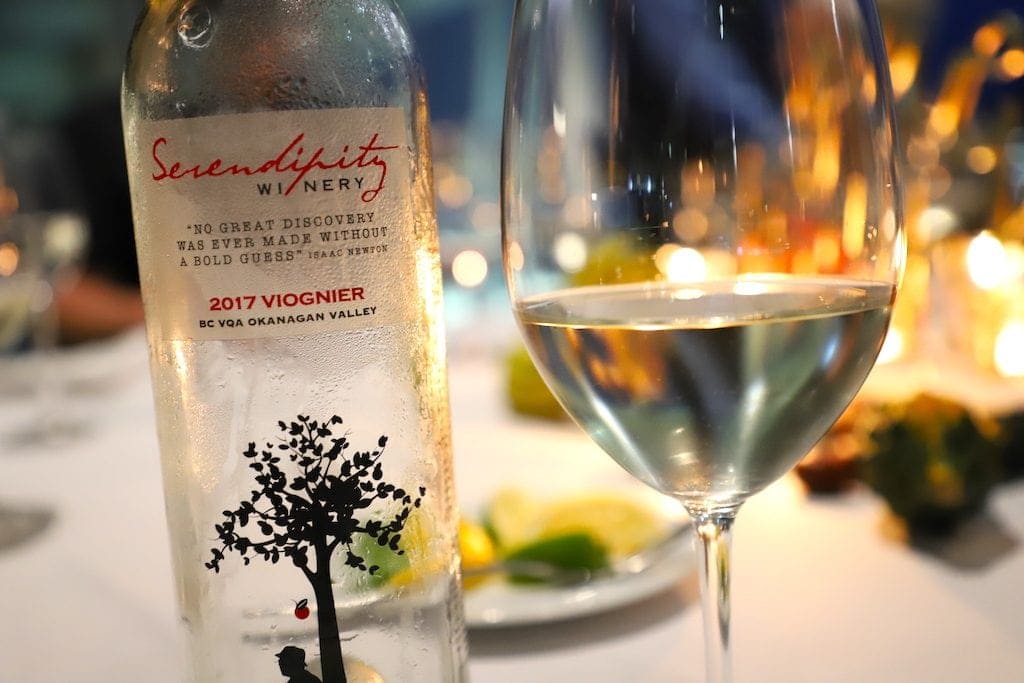 Of course, Thanksgiving must end with dessert, and this one was a Pumpkin Spiced Latte Créme Brulee.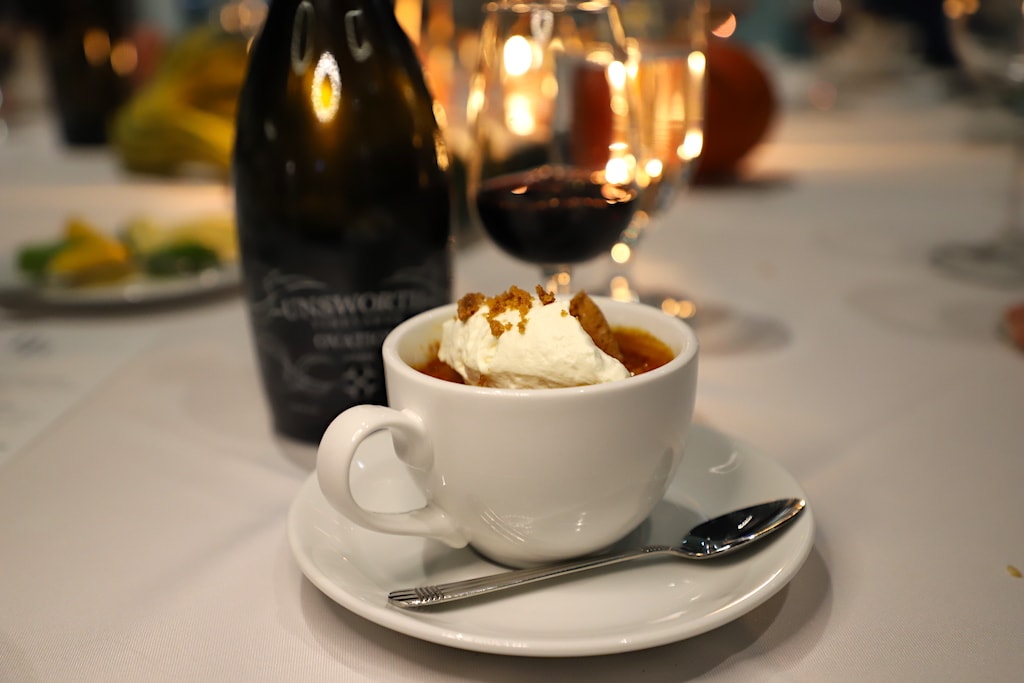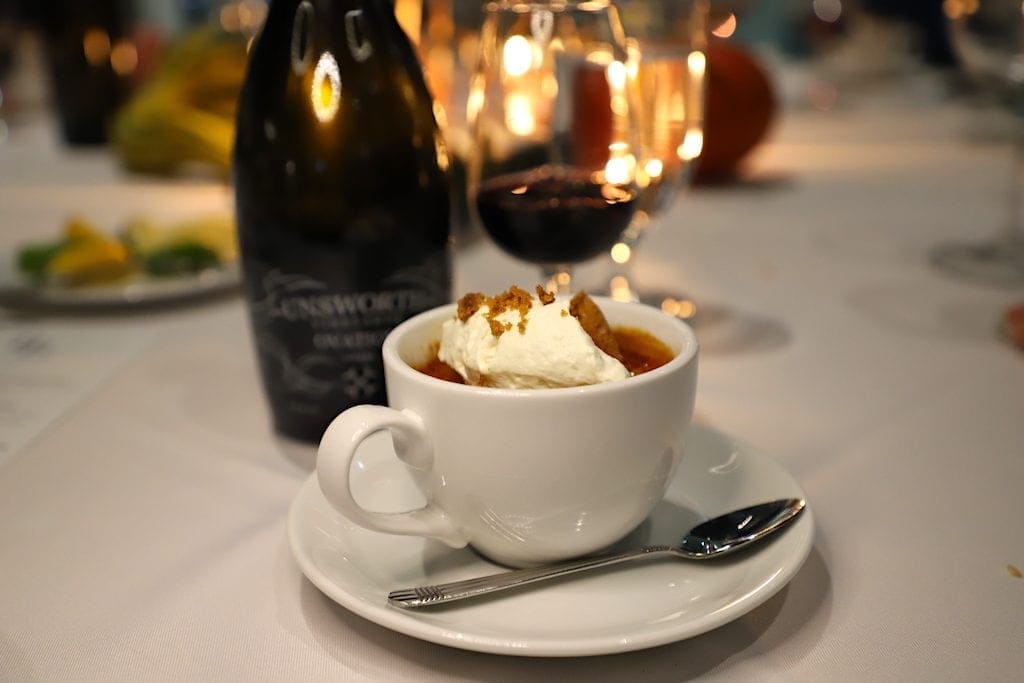 The Dining Room at
Oak Bay Beach Hotel
The Oak Bay Beach Hotel is a luxury resort very close to downtown Victoria. Inside the hotel, you'll find The Dining Room where Executive Chef Kreg Graham works his magic. Truly one of the best meals I've ever had, The Dining Room is not only creative in their locally sourced dishes, but the service is absolutely outstanding.
I started with the Ahi Tuna Tataki, and it was divine.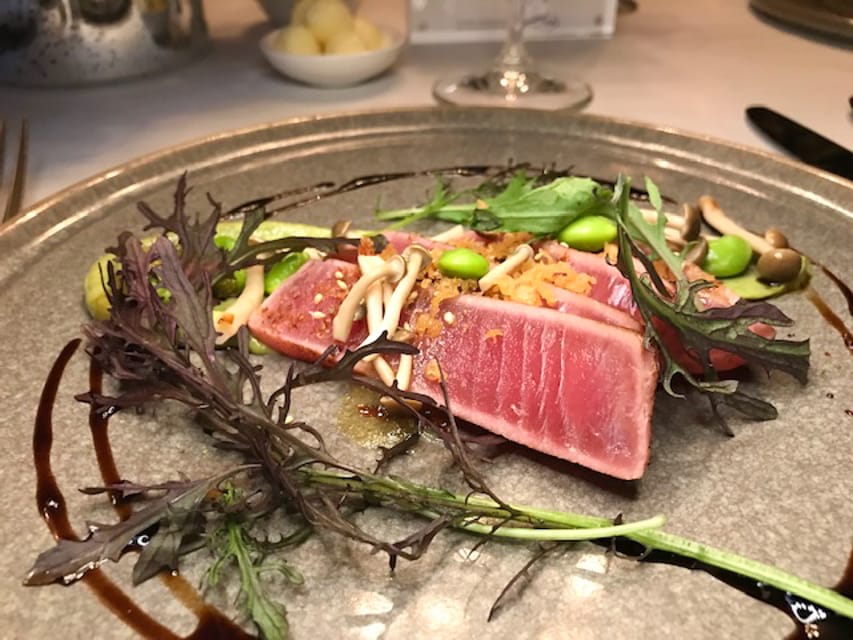 Our waiter recommended the chicken breast which was prepared perfectly and so beautiful. It's such a joy to be able to photograph food like this!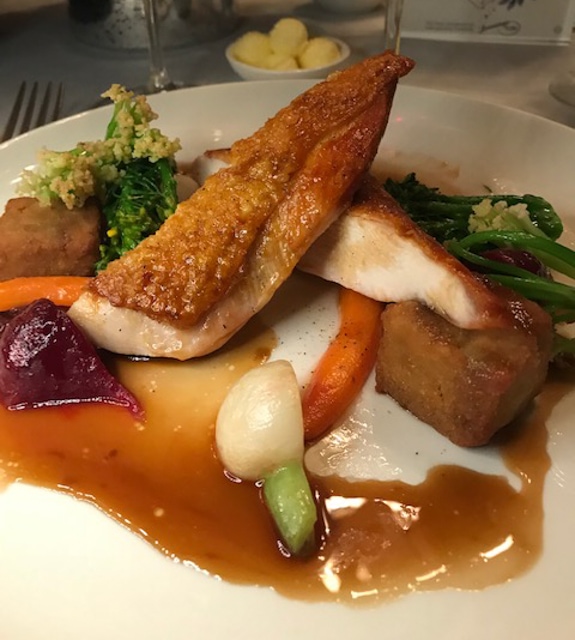 Of course, I had to taste the pear and ricotta cake with pistachios and chocolate. How can you not just taste it? And then, how do you not eat the entire thing?! Don't miss The Dining Room.
Note: This restaurant is small, so make a reservation to be sure they can seat you.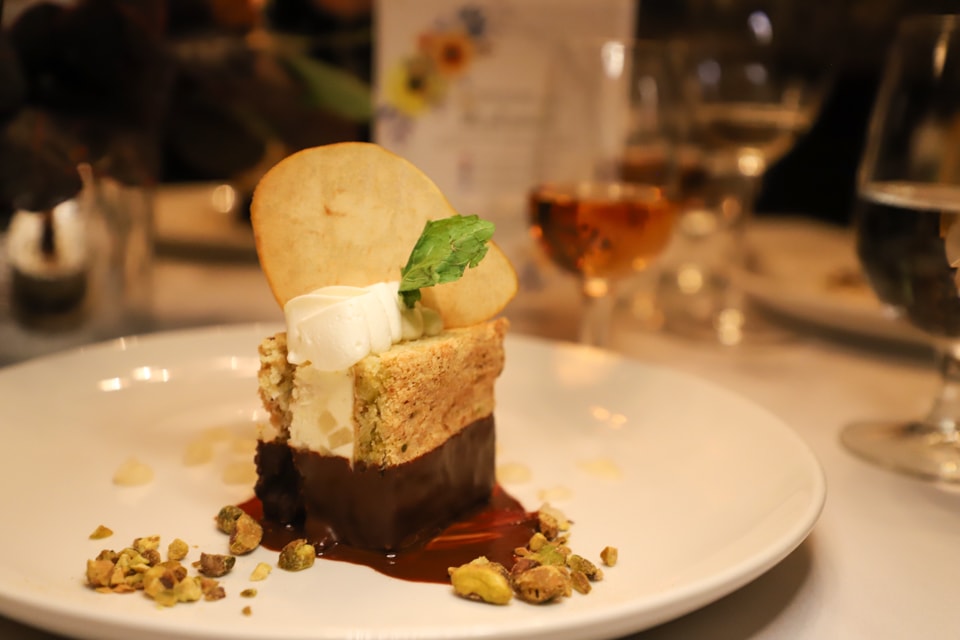 Vis a Vis
Vis a Vis is a bar and restaurant in Oak Bay, just outside of Victoria. This casual bistro has an extensive menu which always makes it hard for me to choose. Chef Sophie Fenlon brought us one of their specialties, the Fromage and Charcuterie Board with two meats, two kinds of cheese, mustard, chutney, and baguette slices.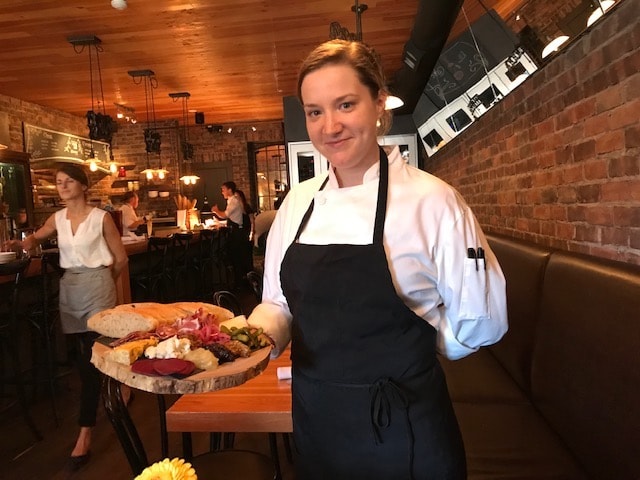 The lamb burger was crazy good and the truffle fries were perfectly crispy. After lunch, take a walk around the area to work off some of those calories!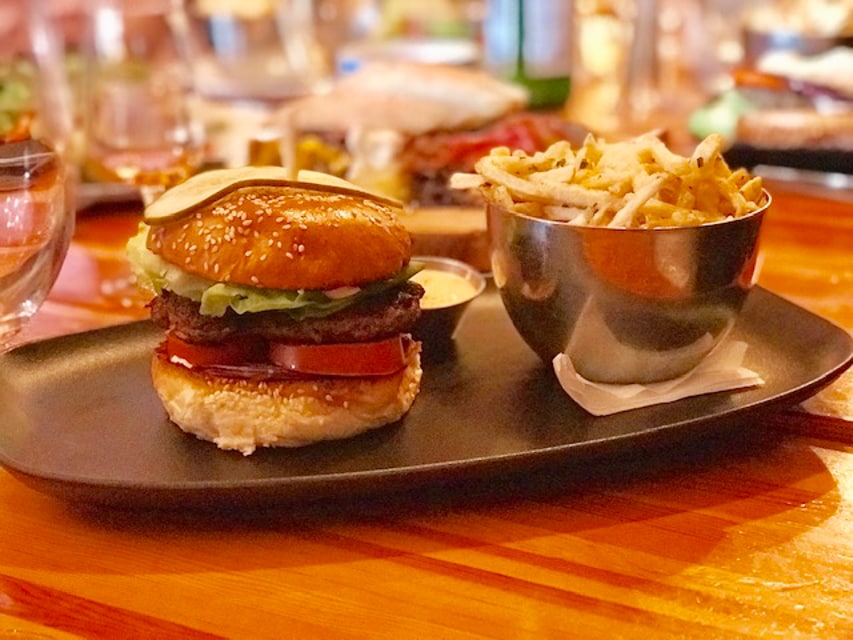 Kid Sister Ice Cream
Love ice cream and milkshakes? I don't know if you'll find better of either anywhere else. I loved the look of this shop on Fan Tan Alley, so had to stop in.
Kid Sister Ice Cream is a small batch, from scratch ice cream shop. I was amazed at some of the flavors, like Lemon Meringue, Tiramisu, and Rhubarb & Ginger.
But this hidden gem doesn't just have scoops and shakes, they also offer marshmallow paletas, which is basically a marshmallow dessert on a stick.
Is this heavenly, or what? It takes ice cream to a whole new level! They have a couple of flavors, and this one also had sweet potato inside. The bad news is that Kid Sister is seasonal, so they are closed in October until spring.
Check out more ways to have fun in Victoria in my article on Travelocity.
If you've never been to Victoria, I hope I've given you at least a few reasons to want to spend some time there. If you've been and have more ideas of where to eat, please share! I'd love to try some new places the next time I visit.
Like our content? Follow us on Pinterest!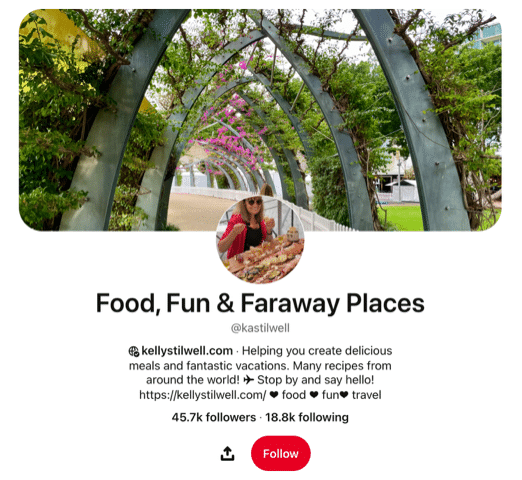 More British Columbia