Anna Maria Island Florida beaches provide a laid-back, old Florida feel – a perfect place when you just need some rest and relaxation.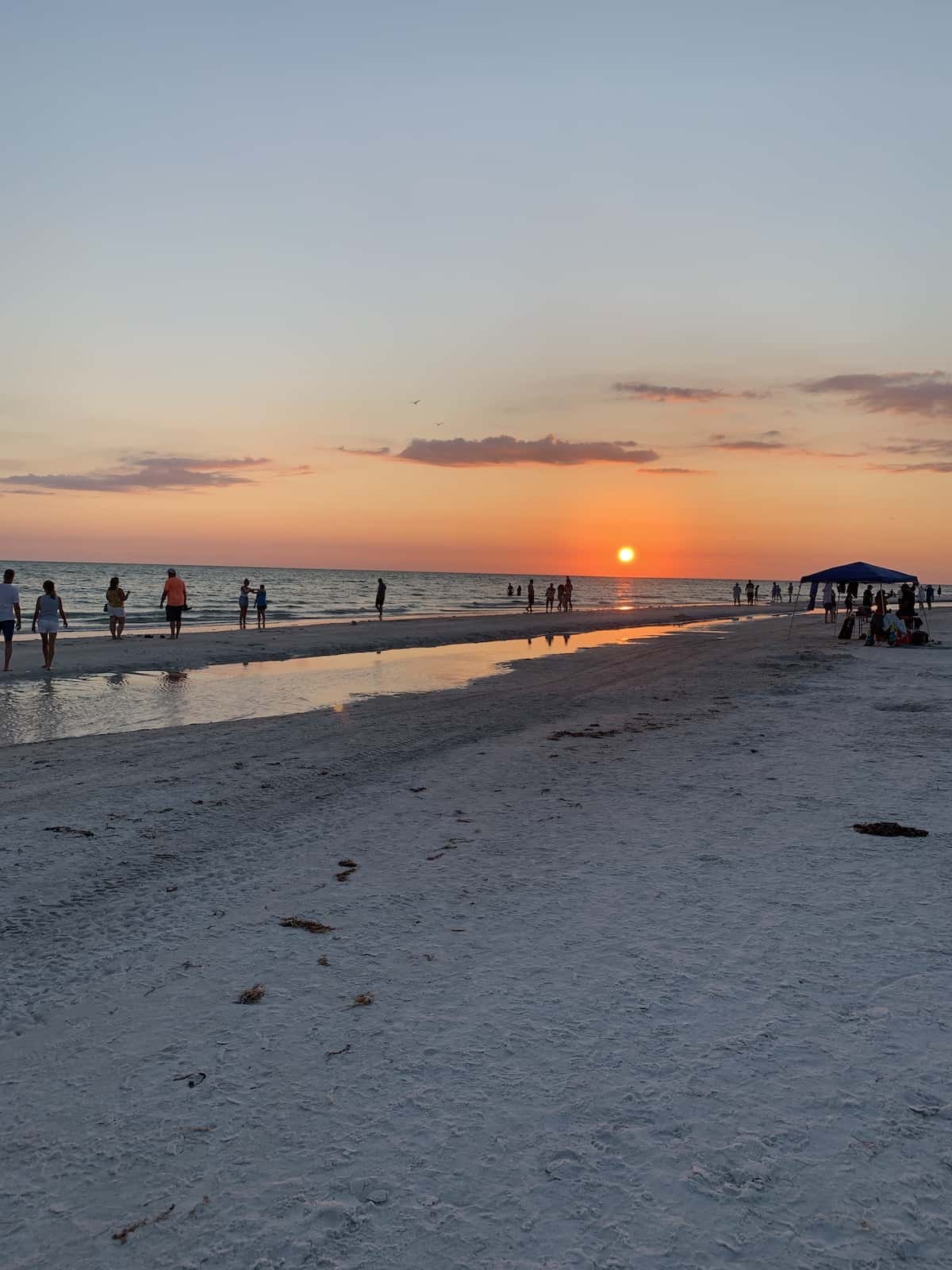 If you're looking for things to do in Anna Maria Island, we've got plenty of that, too. There's more than the beach! Check out this list of Anna Maria Island restaurants so you know where to eat and can make reservations in advance.
You have probably heard about Siesta Key beaches as Dr. Beach has named them the best beach in the country several times. And there are a lot of things to do in Siesta Key, too.
But I think Anna Maria Island beaches are just as nice if not even more beautiful! See for yourself. They are close enough to visit both!
There are three cities on Anna Maria Island, and between them you'll find six beaches in all. Sometimes there can be confusion about the names of beaches and cities, so here's a simple explanation.
Holmes Beach (a city) has one public beach, Manatee Beach. Bradenton Beach (a city) has three beaches: Bradenton Beach (the beach), Cortez Beach, and Coquina Beach. The City of Anna Maria has two beaches: Bean Point and Bayfront Park.
No matter which one you choose, you'll find beautiful white sand beaches with stunning turquoise water along the Gulf of Mexico from these Anna Maria Island Florida Beaches.
Where is Anna Maria Island Florida?
Anna Maria Island is a barrier island on Florida's gulf coast. It is located between the southern end of the mouth of Tampa Bay and the Gulf of Mexico, just north of Longboat Key.
The island is accessible from the Florida mainland at the city of Bradenton by the Cortez Bridge (State Road 684) at Bradenton Beach and the Anna Maria Island Bridge (State Road 64) at Holmes Beach.
There is also access in the south to Longboat Key by crossing the Longboat Pass Bridge (State Road 789). This is one of the main north-south roads on Anna Maria Island and is also known as Gulf Drive.
You may choose to vacation on Longboat Key, but do still visit these beautiful beaches on AMI.
From downtown Bradenton, Anna Maria Island is a 35-minute drive to some of the best beaches in the world.
Where Should I Go to the Beach on Anna Maria Island?
With seven miles of pristine coastline, you can't go wrong with any of Anna Maria Island's six beaches located in the three cities on the island. Here's a quick rundown of what to expect from each beach on the island.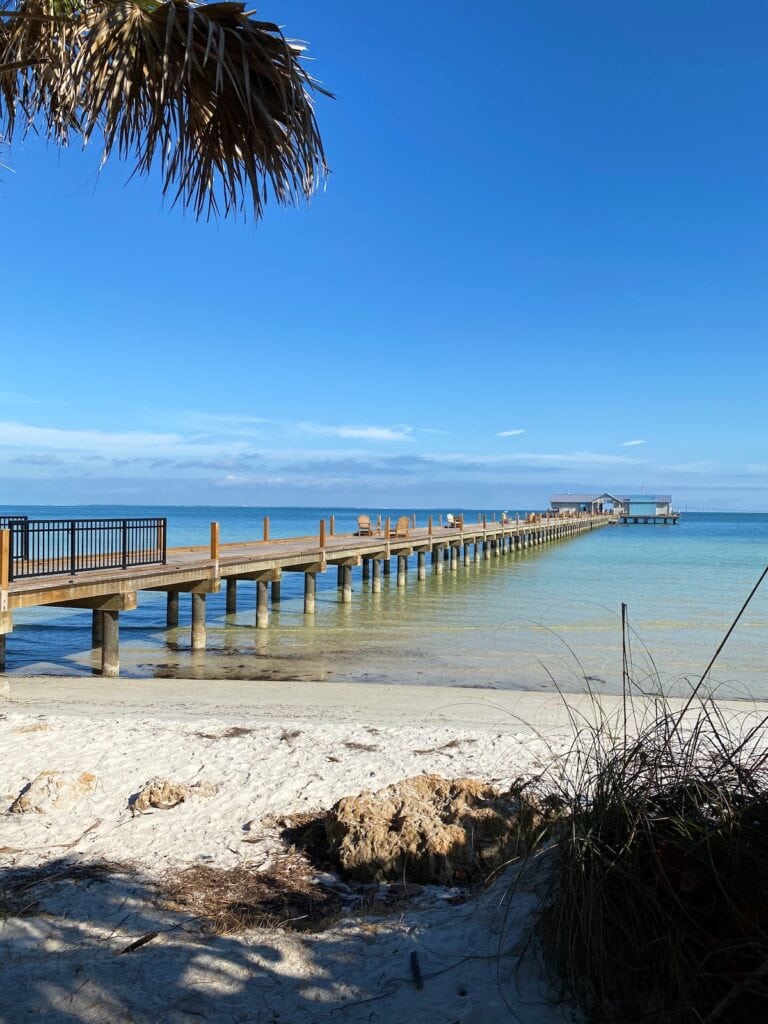 Manatee Beach
Manatee Public Beach is located in the city of Holmes Beach, in the center of Anna Maria Island. The beach is open from sunrise to 10 p.m.
This area provides ample amenities like changing cabanas, public restrooms, and showers.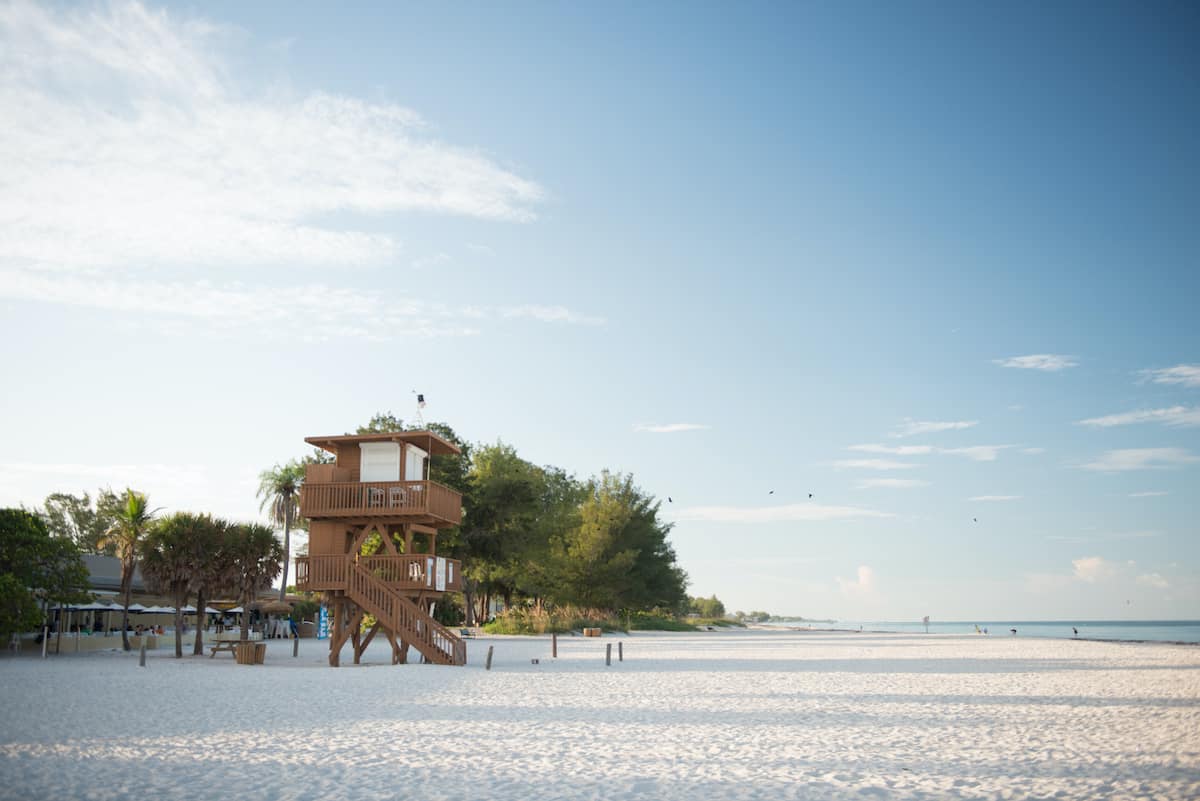 For your comfort, there are chair and umbrella rentals, plus lifeguards on duty. Located along the trolley line, it is easy to access even if you are parking or staying somewhere else.
There are good dining options nearby, and sometimes you can find live music and entertainment. Overall, it is easy to see why this is one of the more popular beach locations on the island.
Oh, and make sure you stop by the Anna Maria Island Beach Cafe for their all-you-can-eat pancake special!
Bradenton Beach
One of the beach areas in the city of Bradenton Beach is the aptly named Bradenton Beach. Located south of the city of Holmes Beach, this area embraces small-town beach living. You won't find drive-through restaurants or high-rise condos here!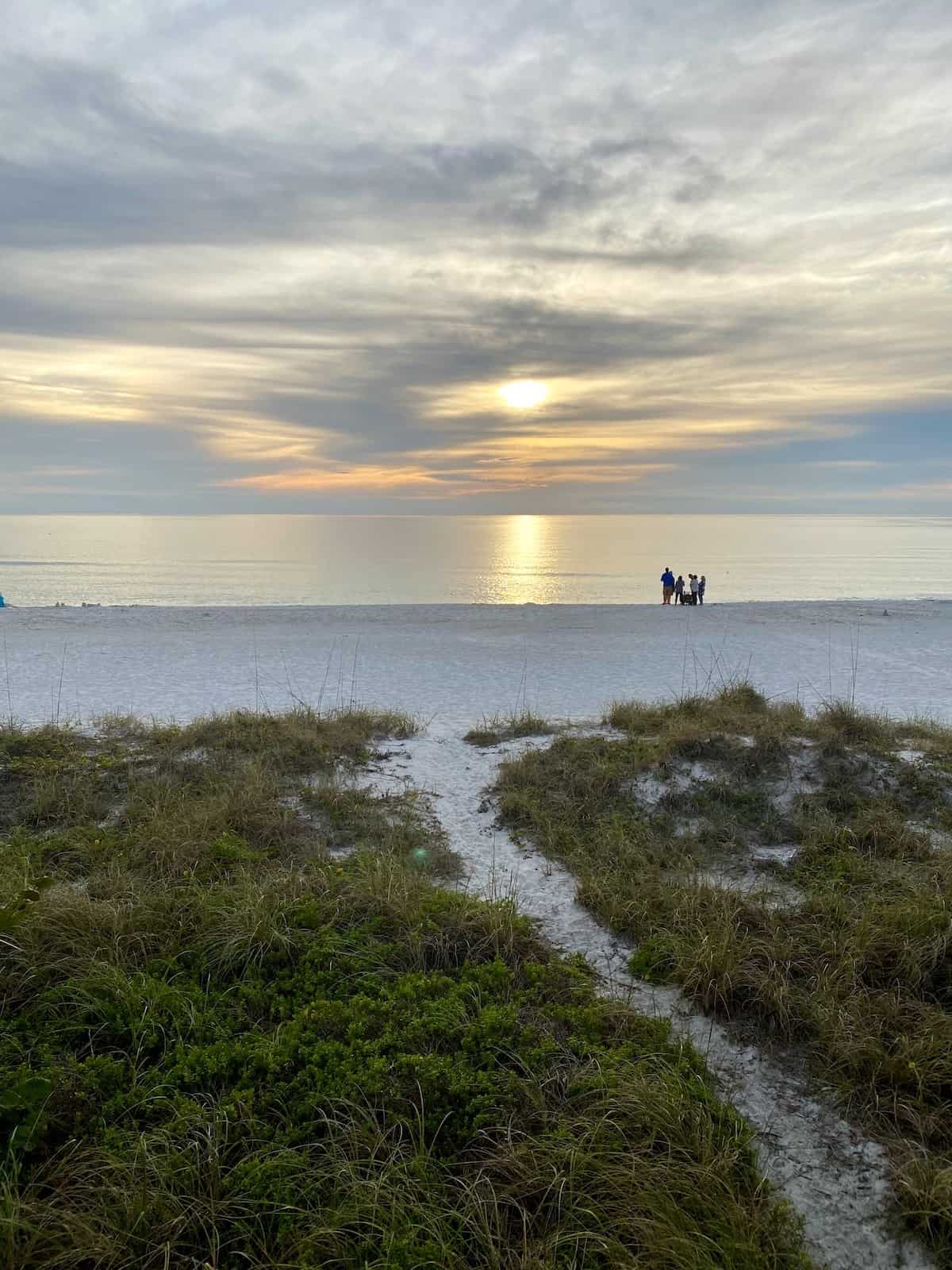 This is a great place for a day of family fun. Rent bikes or kayaks. Take a paddle board out into the crystal blue waters. Do some shopping at local art galleries. And, of course, soak up the sun on the beautiful beach.
One site of interest for history buffs is the Anna Maria Island Historical Society Museum. An especially fun sight is the Old City Jail, a must-do photograph stop when visiting the island.
Bradenton Beach is open from 6:00 a.m. to midnight.
Cortez Beach
Cortez Beach is located in the city of Bradenton Beach, just south of the Cortez Bridge. The beach stretches 140 feet along the Gulf of Mexico.
Unlike some of the other beaches, this beach has limited facilities. There is parking, however, and there are nature trails. Lifeguards are on duty from 9:00 a.m. to 5:00 p.m. The beach itself is open from 7:00 a.m. to 10:00 p.m.
Toward the south end of Cortez Beach there are restrooms, a fishing pier, and changing areas. Essentially Cortez Beach has all that you'd need for a basic beach day, with some of the most gorgeous sunsets imaginable.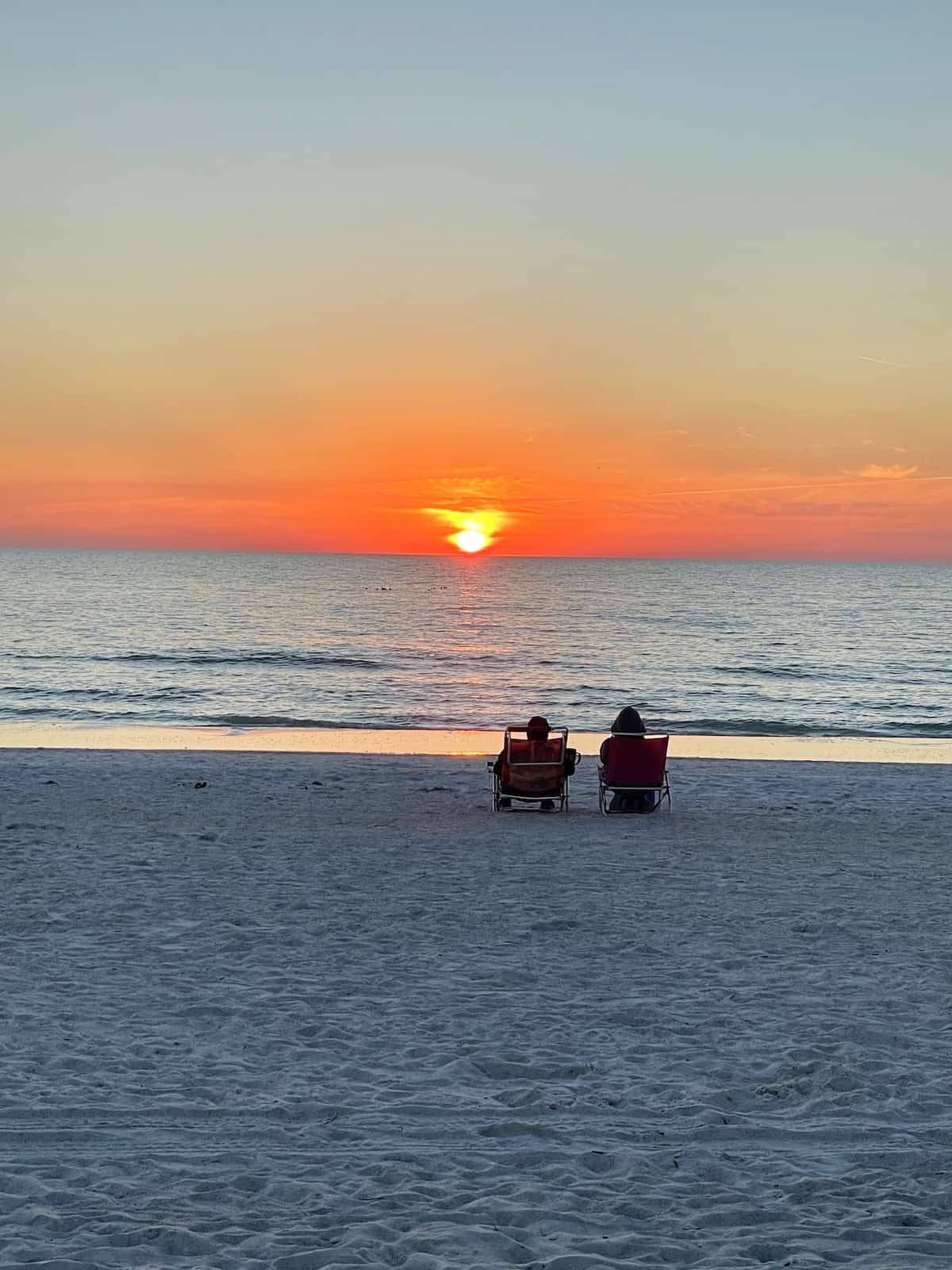 Coquina Beach
The southernmost beach on Anna Maria Island, Coquina Beach has a lot to offer. In addition to beach essentials, like changing cabanas, restrooms, and picnic areas with grills and pavilions, there are plenty of other amenities.
That's not to say that Coquina Beach is commercial and developed – it still provides that secluded beach feel – but you have easy access to concessions, parking, a boat launch, and a trolley stop.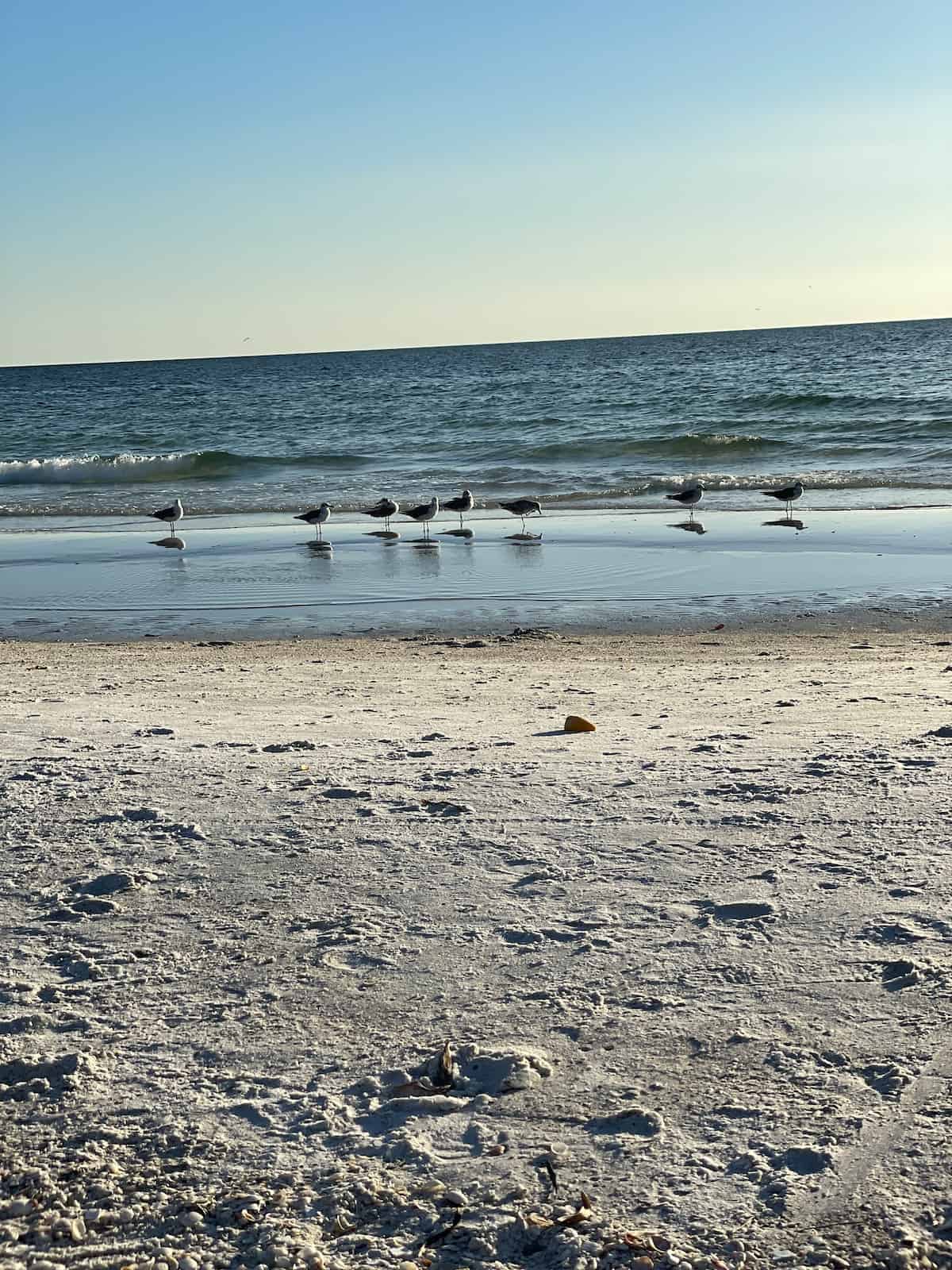 For nature lovers, the Leffis Key Preserve is a short walk from the beach. As the name suggests, Coquina Beach is also a great location for collecting shells.
Other amenities include a cafe on the beach, pavilions with grills and picnic tables, sand volleyball courts, and changing cabanas and restrooms.
Coquina Beach is open from sunrise to midnight.
Bean Point Beach
Looking for a hidden gem in Anna Maria Island? Bean Point Beach is the right choice for you.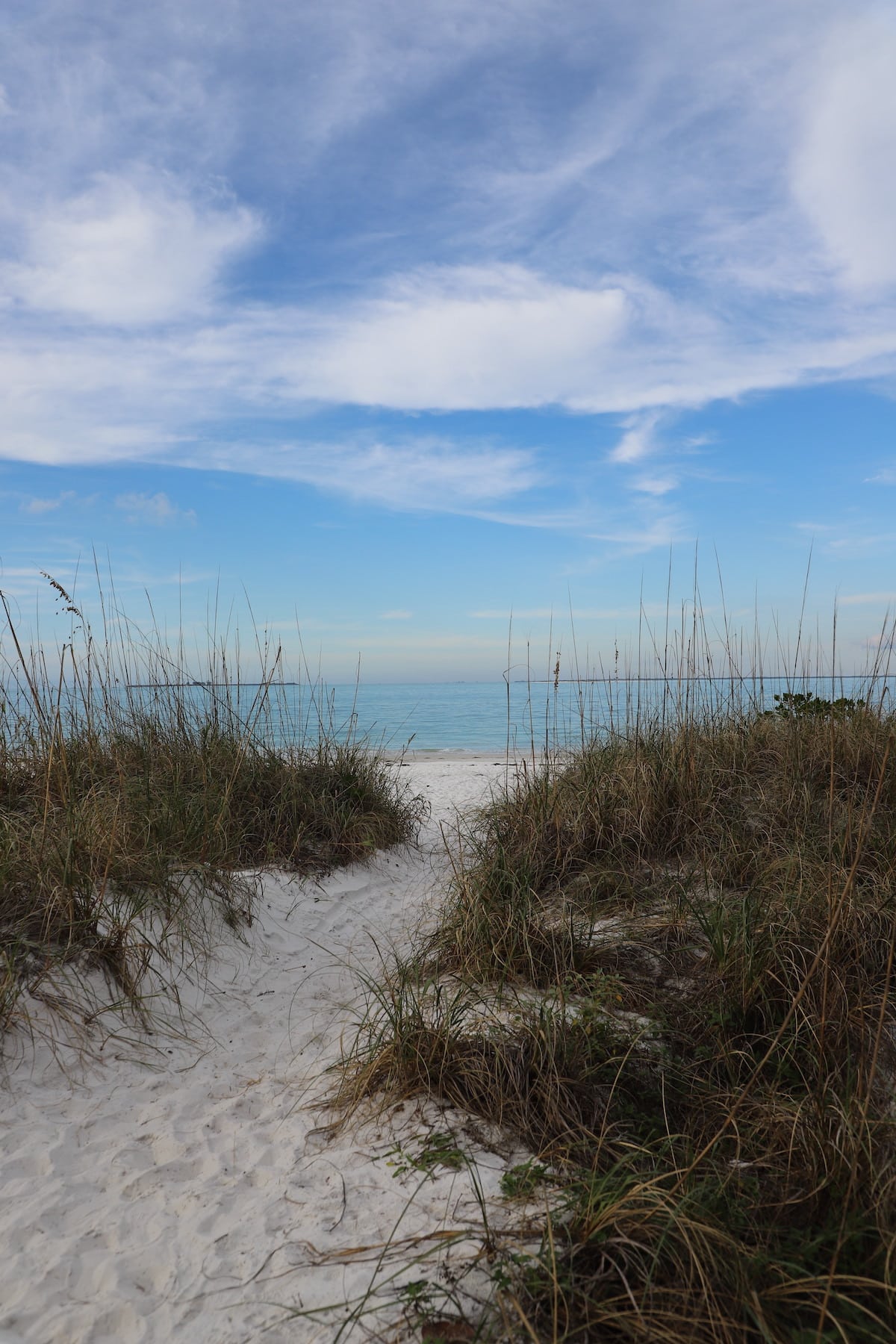 It's a secluded location, so look for the public beach access signs north of the Anna Maria City Pier. There are no lifeguards or amenities here.
With soft, white sand and incredible views across Tampa Bay, this beach is the picture-perfect image of island paradise.
Bayfront Park
Located between the Rod & Reel Pier and Anna Maria City Pier at the northern end of the island, Bayfront Park offers an amazing view of Sunshine Skyway Bridge.
This park is a great getaway on a family vacation. In addition to gentle waves on the shore, there are grassy areas to relax, playground equipment (currently in the process of being replaced), pavilions and grills for picnics, and more.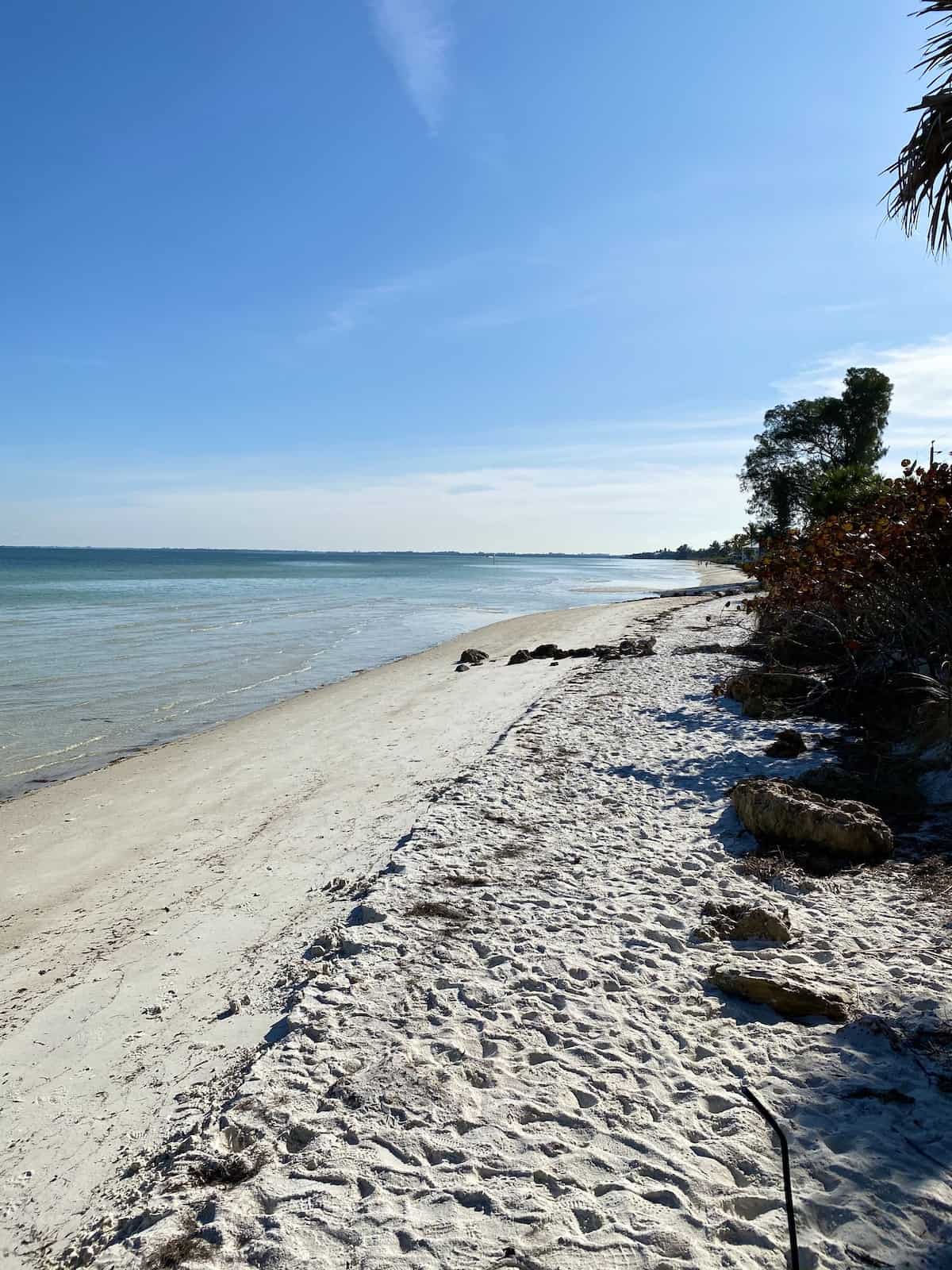 Other amenities include restrooms and showers and convenient free parking. You can often find a lot of families visiting this beach, which is perfect for your little ones to make new friends.
Bayfront Park is open from 6:00 a.m. to midnight.
What To Bring with You for a Day at the Beach
No matter what time of year you go to Florida, apply that sunscreen often!
We keep our beach chairs in the car...just in case we get the chance to dip our toes in the Gulf of Mexico!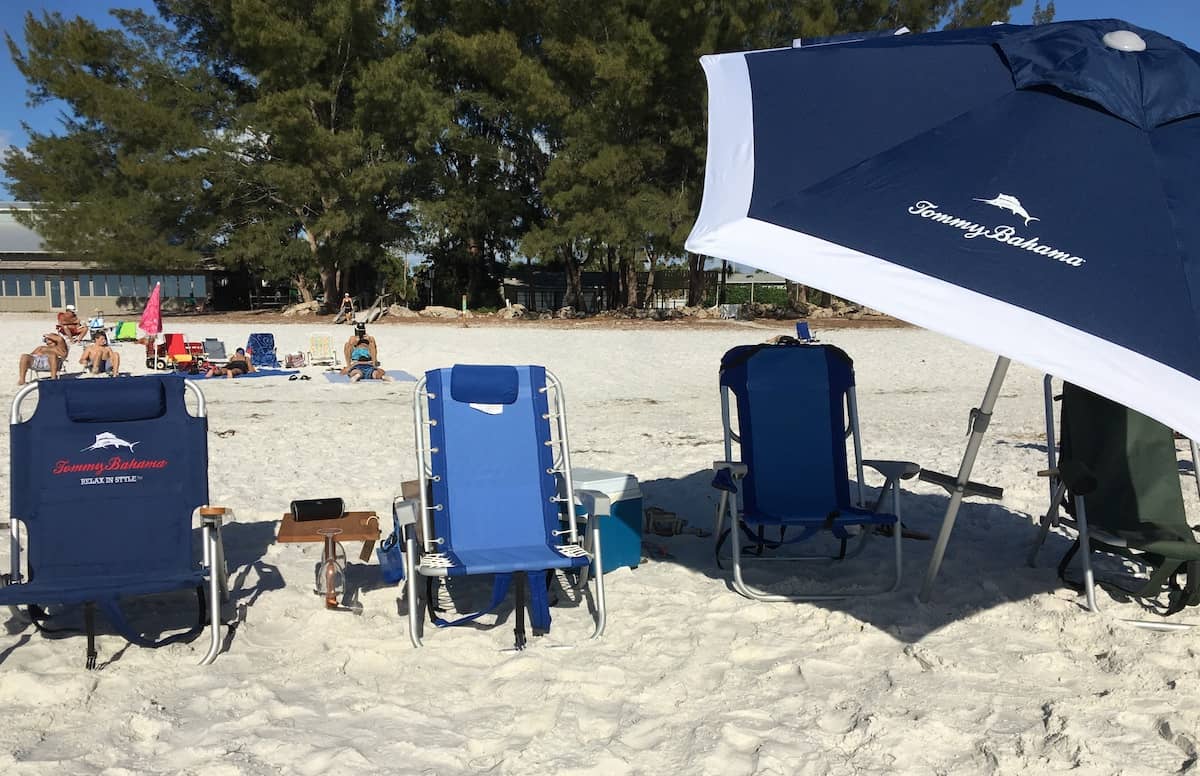 Beach towels are a must, and you may want to toss an extra towel or two in your bag. To help get the sand off your feet, bring a paintbrush and some baby powder. Sprinkle the baby powder on your feet and then use the paintbrush to brush away the dry sand.
Other items to bring are floats and beach toys if you have kids, and maybe a beach wagon to help you carry everything. Bring a beach picnic for lunch! My two favorite places to pick up picnic foods are Publix grocery store and Vinny's Kitchen.
Of course, hydration is a must. Bring a cooler with drinks, especially water. Make sure not to include any glass bottles, as these can be a hazard in the sand if they break.
Frequently Asked Questions
Are there good restaurants a
round Anna Maria Island?
Yes! From quick snacks to gourmet meals (and so much fresh seafood!) there's something for every taste and budget. See this list for our favorite AMI restaurants.
Is there a lot to do besides the beach on Anna Maria Island?
Yes! From fishing to sightseeing and nature hikes to shopping and more, there's plenty to do on Anna Maria Island. See our list of things to do above.
Are there a lot of hi-rise hotels on Anna Maria Island?
There are no hi-rise hotels on the Island. There are many small locally owned hotels. The MainSail Beach Inn is our favorite place to stay on Anna Maria Island.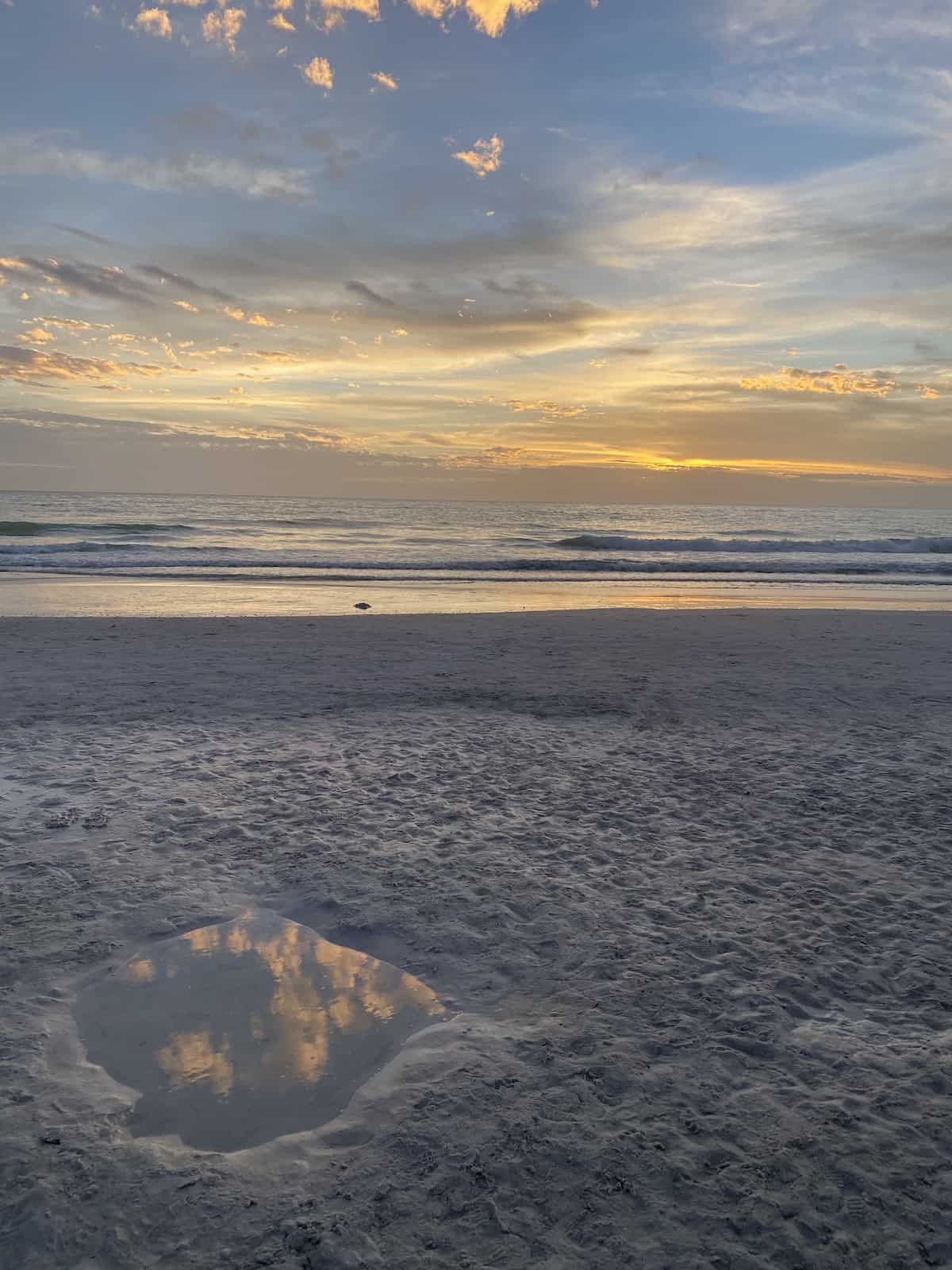 Top Tips
Travel off season for the best hotel rates and availability. Because Anna Maria Island doesn't have hi-rise hotels, the smaller hotels can book up quickly and often charge a premium during those peak summer months.
During peak season, arrive early to be able to find parking. The free parking at beaches and legal street parking can fill up quickly, especially on weekends. Once you've found a parking spot, leave your car there and use the free Manatee Trolley.
Speaking of parking, park in designated areas only. Even though the vibe on Anna Maria Island is laid back, parking ordinances are strictly enforced.
Looking for things to do beyond laying out on the beach? Anna Maria Island is also home to a huge variety of wild birds. You may also spot dolphins or manatees in the Gulf. We've had them swimming around us!
Anna Maria Island is also a fisherman's paradise with plenty of local charter tours to help you catch the big one, so plan ahead and book a fishing cruise if that's your thing!
Feel free to reach out with questions as I'm a local and happy to help. Enjoy your time on our beaches!
Like our content? Follow us on Pinterest!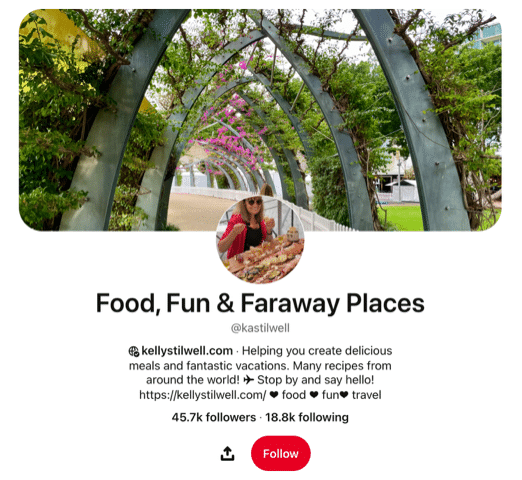 More Ideas Near Anna Maria Island