If you're planning a trip to the Black Forest Germany and wondering about what to do, you'll be surprised at how many diverse activities you'll find. I really didn't know what to expect, but we had so much fun!
I had seen photos of the forest, but at the same time, I'd seen that decadent Black Forest Cake. What would you actually do if you spent the day in the village of the Black Forest?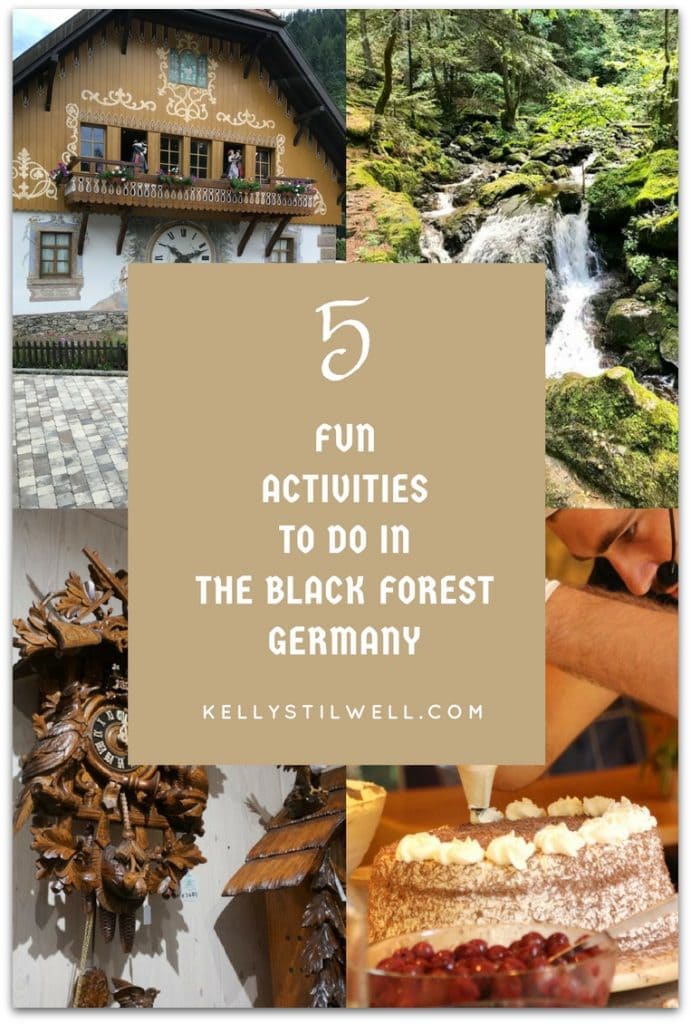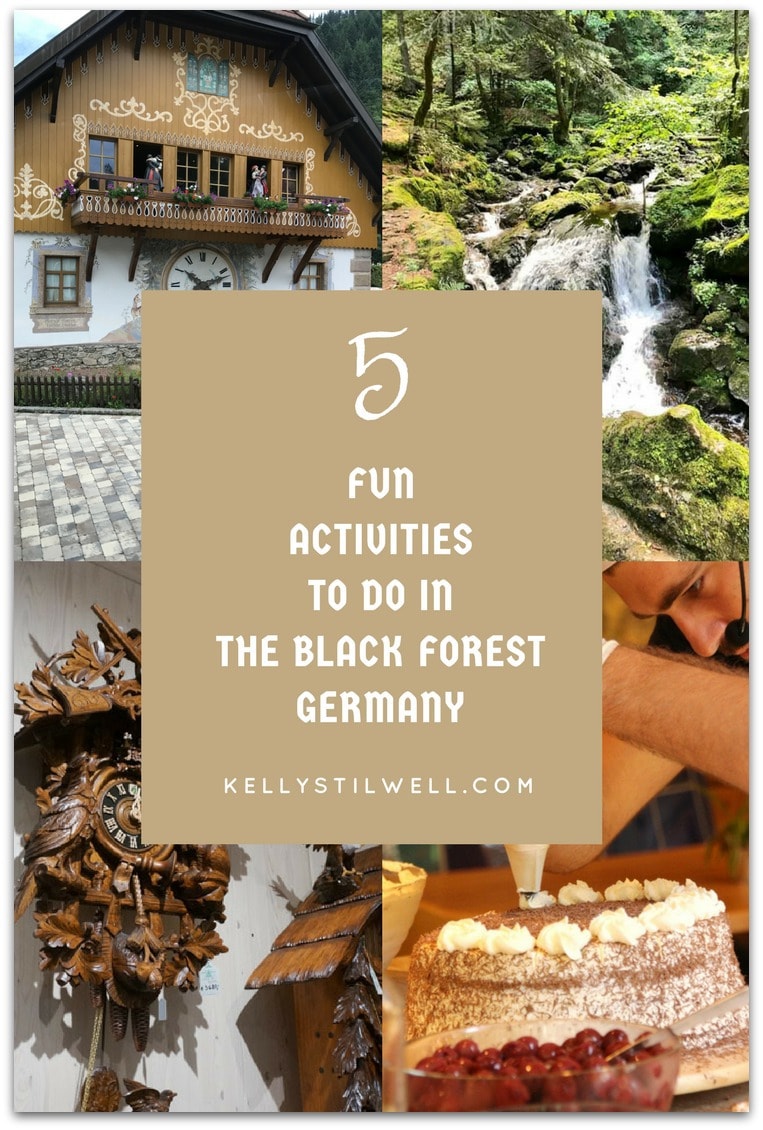 This past summer my family flew to Basel Switzerland to begin a river cruise with Viking Cruises. It was a big year for us as my husband and I had been married for 25 years and our daughters turned 18 and 21.
We wanted to do a Viking Rhine River Cruise, and as my husband and I had sailed with Viking before and our girls really wanted to go to Europe, we knew a Viking Cruise would be a special trip.
When you book a trip with Viking, you will be able to see the itinerary on their website. Once you've booked, you can start planning excursions. That's really when the fun begins!
On this particular day, we chose the included Shore Excursion Black Forest Tour that lasted from 8:30 to 12:30. This would bring us back to the ship in time to have a wonderful lunch onboard before heading to the medieval village of Colmar for the afternoon.
Speaking of Colmar, we decided to see if we could get on that excursion pretty late, and only three spots were available. My husband suggested I take our girls for the day, and he would explore on his own.
It ended up that his exploration looked pretty fun, too! He went for a walk and ended up at Café Galerie Etoile and made a bunch of new friends from the ship. That's just another reason why we just love sailing with Viking! I'll be sharing more about Colmar soon.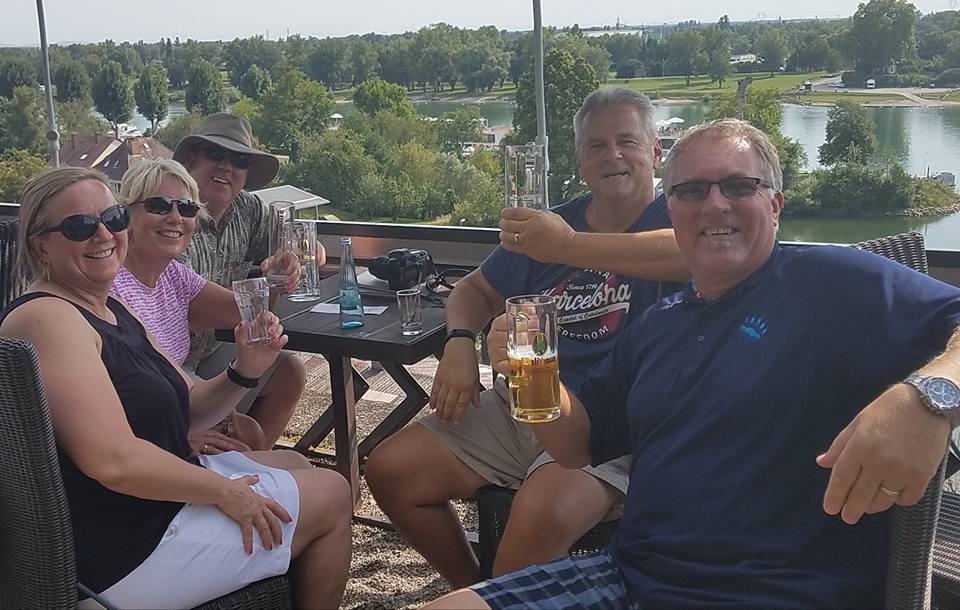 When we arrived at the Black Forest we were greeted by tour guides wearing the traditional Bollenhut. This headdress has been worn by Protestant women in the Black Forest since the 1700s as part of the time-honored costume.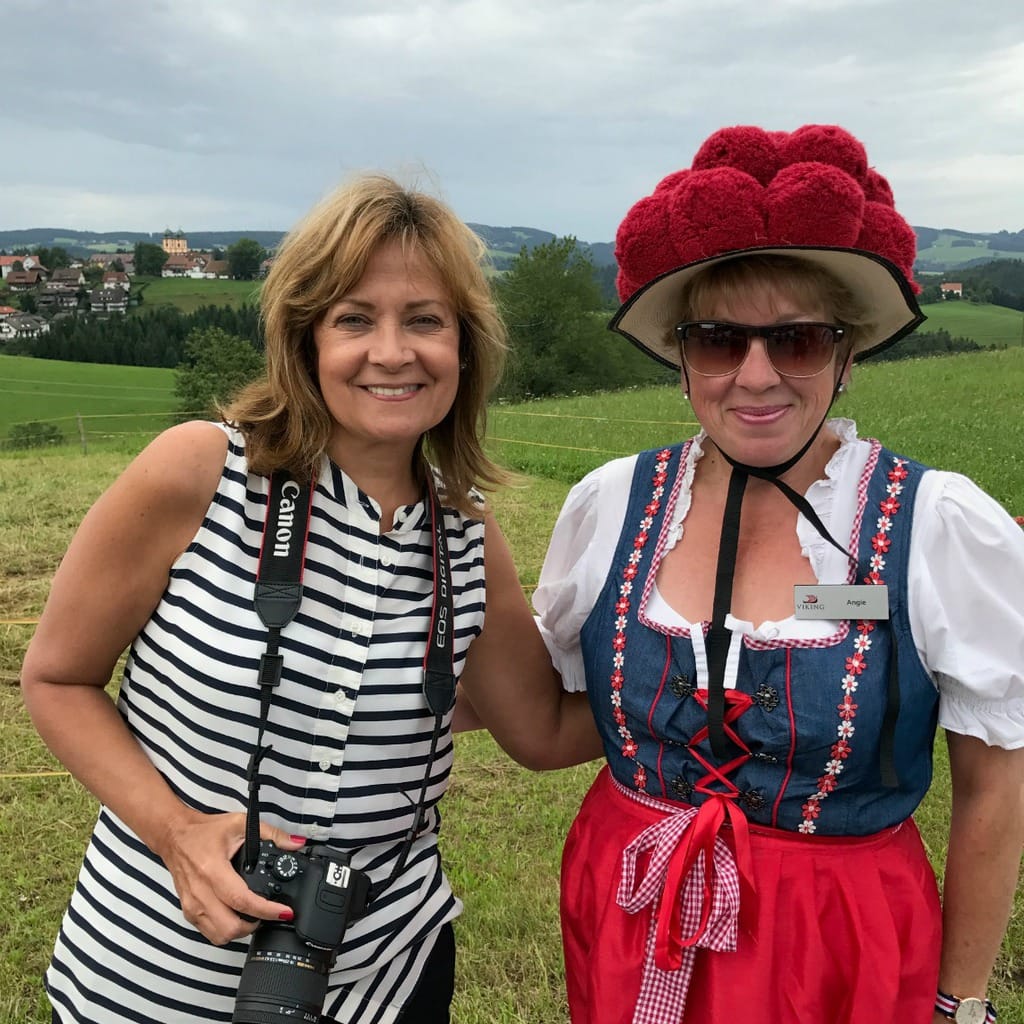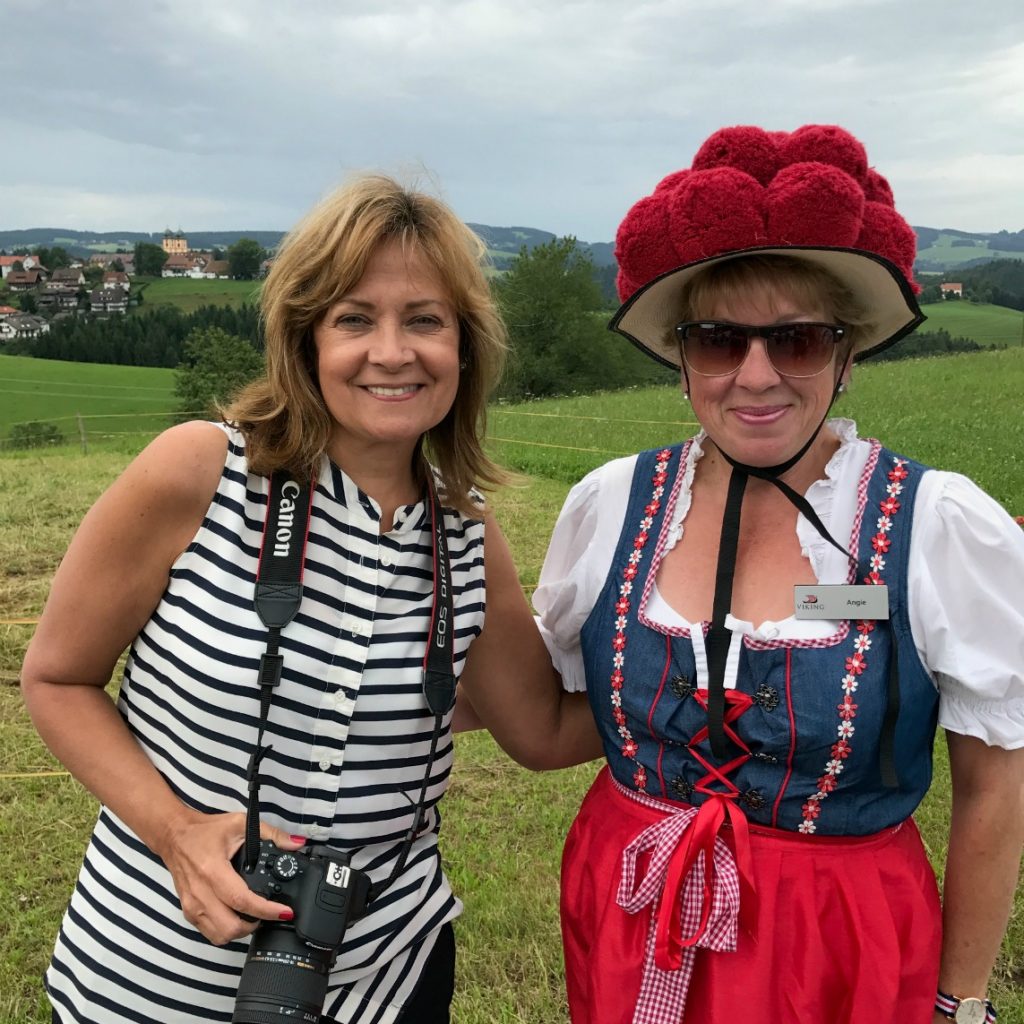 Fun Activities in the Black Forest Germany
1. Shop
You'll see right away this little village has a few options for shopping, and everyone wants to bring home at least one souvenir from the Black Forest.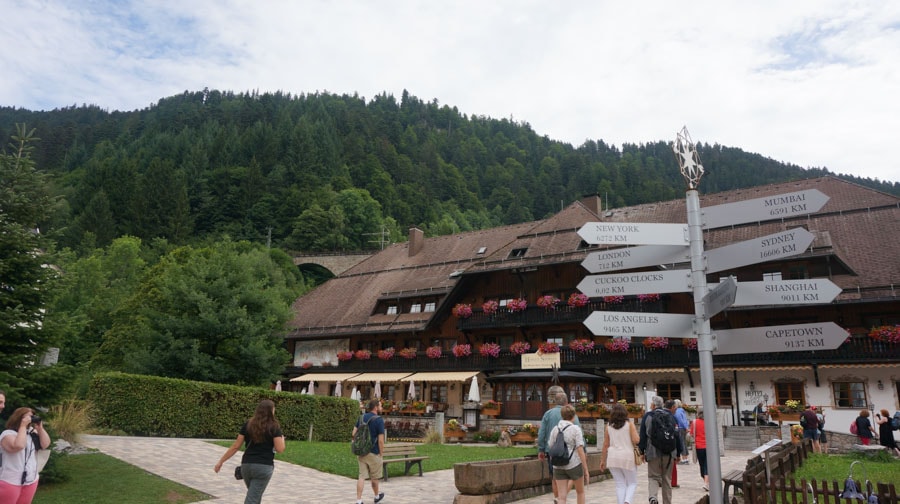 The village really did look just like I expected. It was definitely a tourist destination, but everything you've thought about the Black Forest in Germany was there.
What you may not have expected is that there really are very different options. If you like to shop and have friends or family members who don't, the Black Forest hiking trails are the perfect alternative.
2. Black Forest Hiking Trails
My husband and oldest daughter were thrilled with the hiking option and had a blast.
I mean, Hansel and Gretel met that terrible wicked witch in that frightening place, and the big bad wolf was waiting for Little Red Riding Hood in the same woods. (Who decided these were appropriate stories for little children, anyway?!)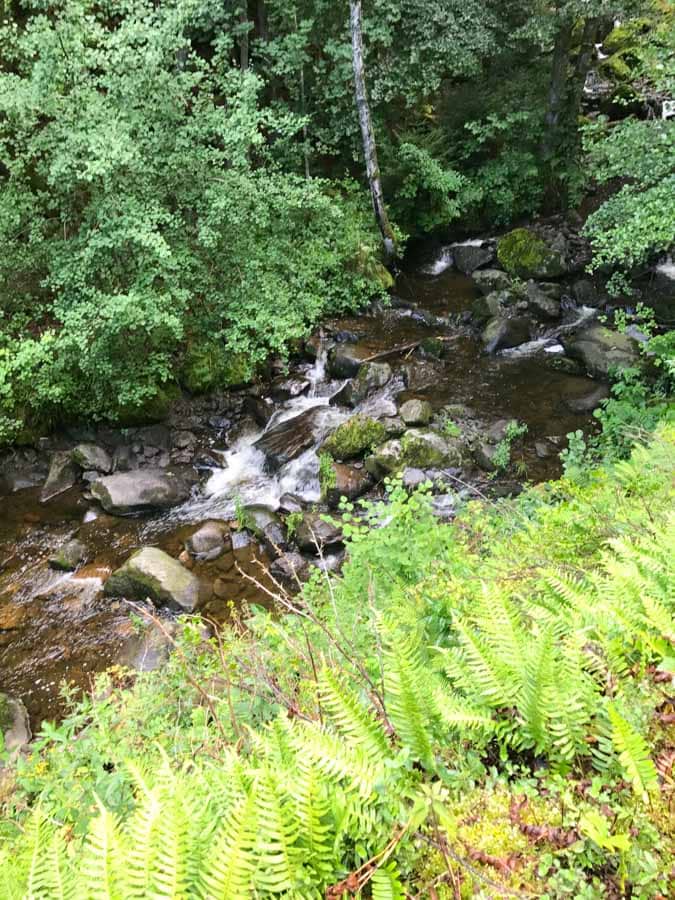 Who knew they would find a waterfall? The winding rivers set against the lush foliage made for a gorgeous landscape.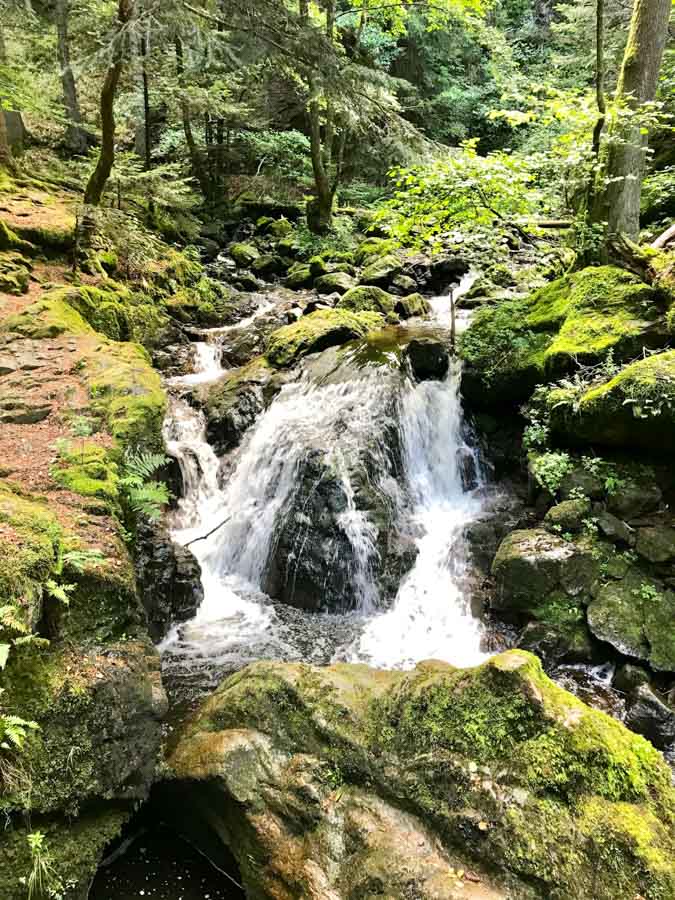 You just never know what you're going to discover when traveling, which is why we love it so much. The Black Forest hiking trails ended up being one of my older daughter's fondest memories of our trip.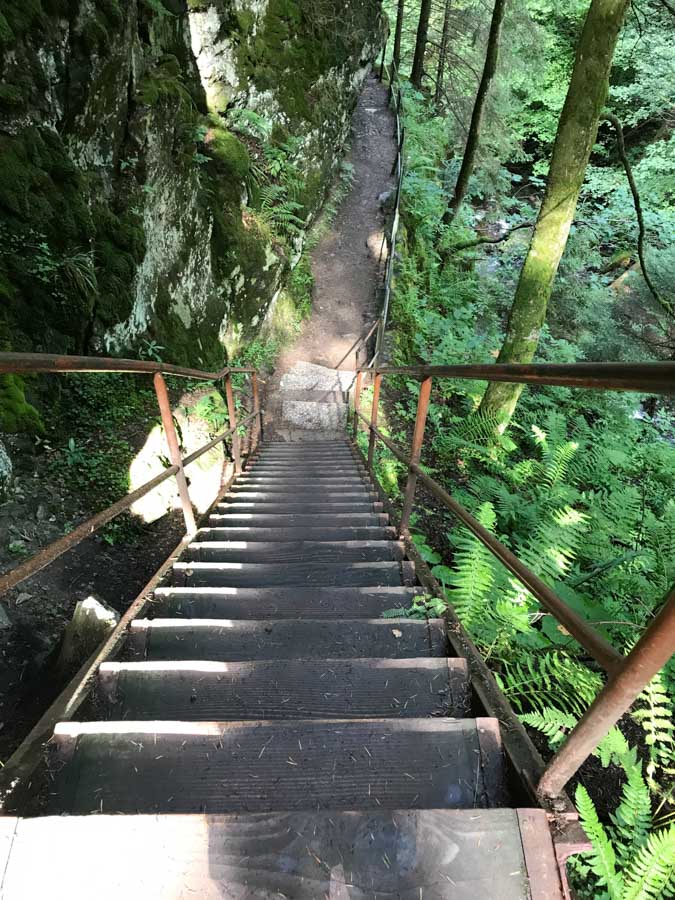 Their photos made me wish I had tagged along.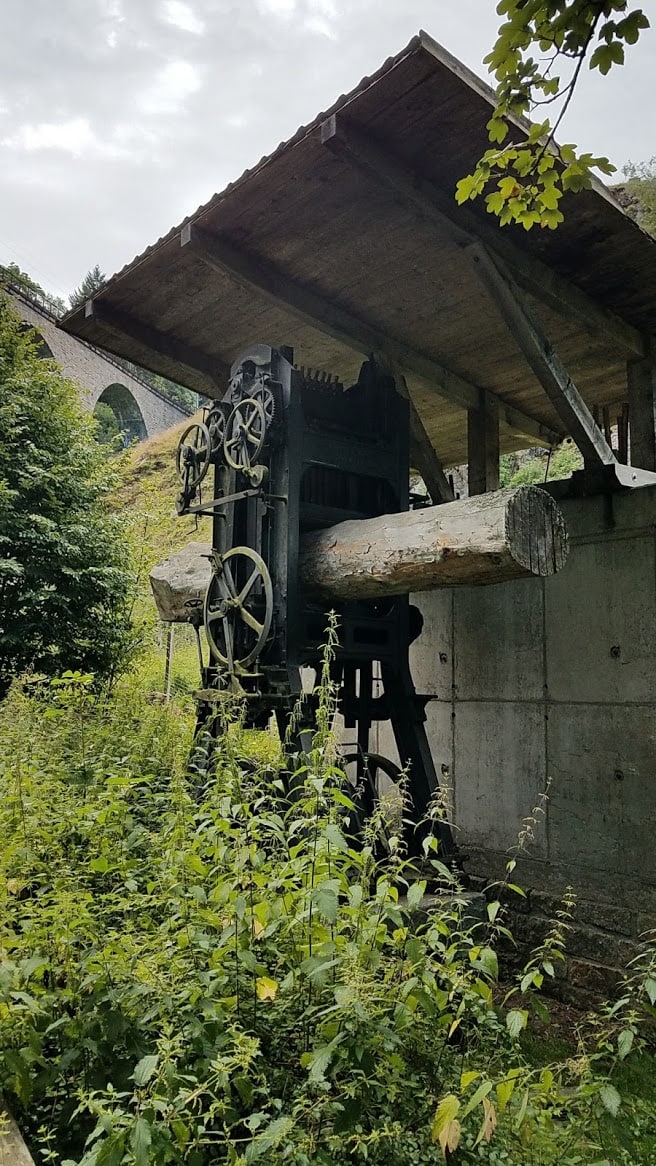 However, if you know me, you know I had to check out the CAKE! We had a little time before the cake decorating demonstration, so we headed over to see the cuckoo clocks.
3. See the traditional Black Forest Cuckoo Clocks.
I didn't know that these beautiful time-keepers dated all the way back to 1630. I was about to get a short history lesson!
It's said that a glass peddler returned home to the Black Forest after visiting the Bohemian Estates (now known as the Czech Republic) toting a wooden clock called a wood beam clock. It had a piece of wood called a waag that moved back and forth above the dial instead of a typical pendulum.
If there was one thing the community had a lot of, it was timber. That timber would be put to use to create what we all now know and love as the cuckoo clock.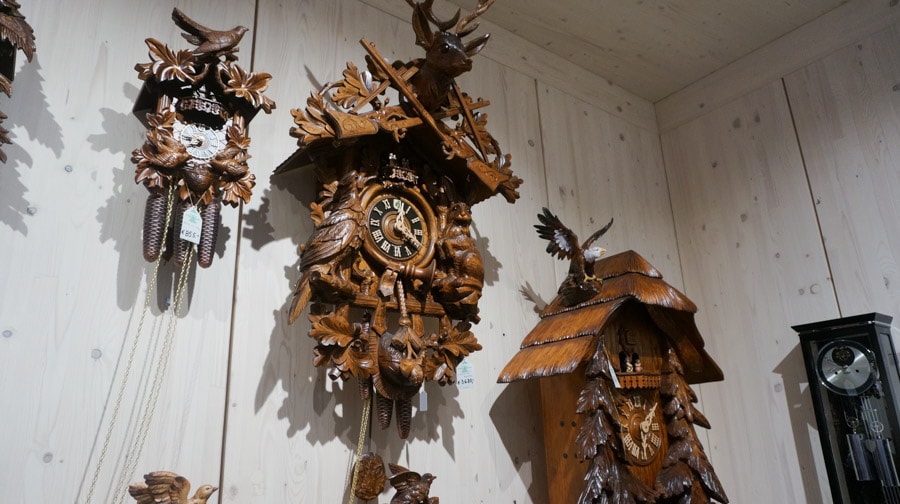 If you like cuckoo clocks, you will love this shop. I had no idea there were so many different styles and types of cuckoo clocks. There was actually a school created in 1850 in Furtwangen just for clock making, which is one of the reasons we see so many beautifully carved ornamental clocks today.
I'm so glad it's still part of the tradition in the Black Forest.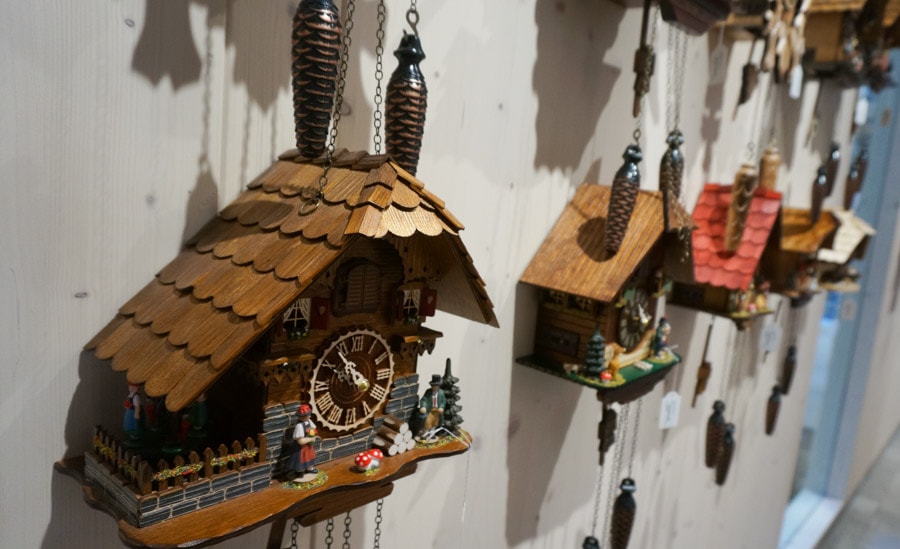 Many people think Black Forest Cake is the most popular icon of the area, but the cuckoo clock shop was full of fascinated shoppers. Some of the clocks were extremely pricey, but we also found inexpensive souvenirs.
4. Watch a Glass Blowing Demonstration
Though we didn't have time to do this, I've read that you'll find beautiful pieces (albeit pricey) for sale and the demonstration is good.
5. Watch a Black Forest Cake Demonstration.
The cake demonstration is scheduled a couple of times per day. We were actually able to watch the cake being decorated from start to finish. He may have used more Kirsch than typically recommended! It was an entertaining performance!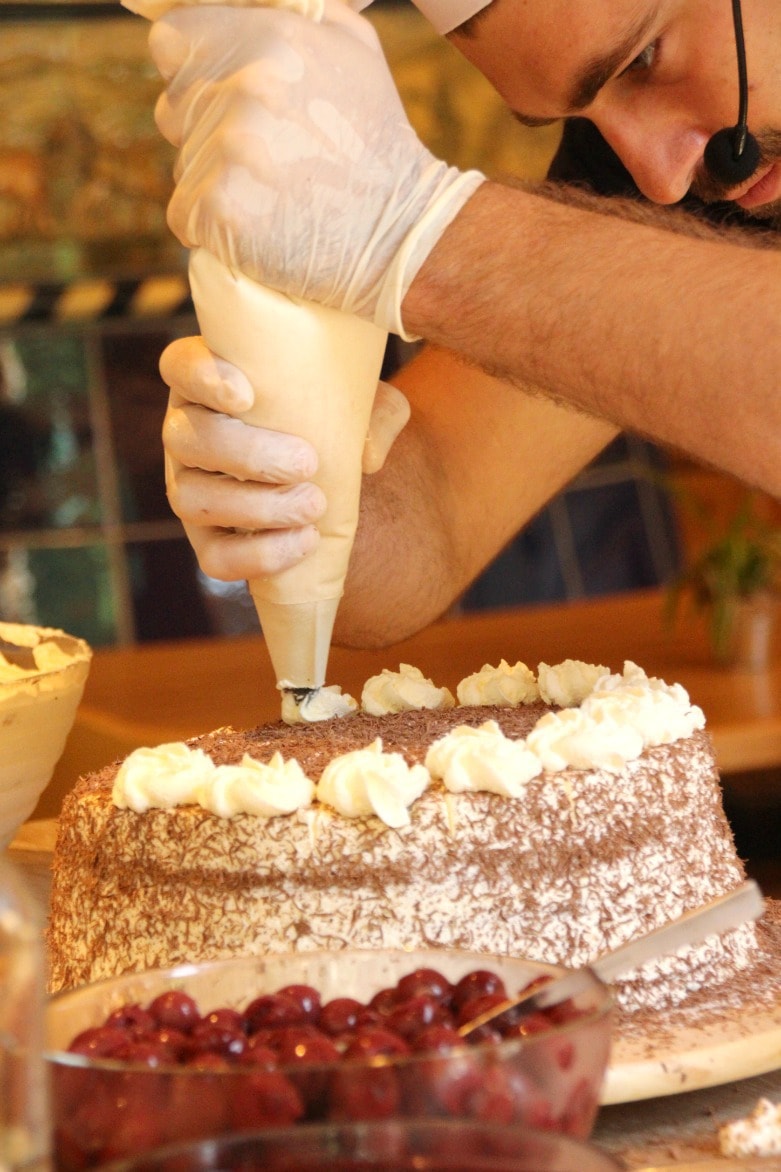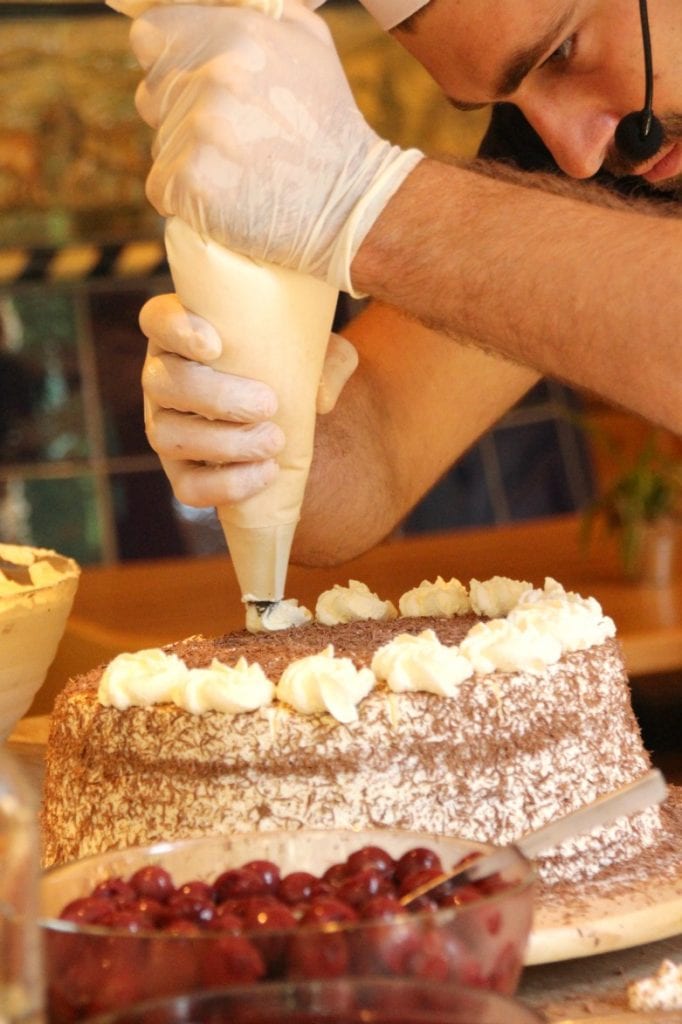 The baker gave us instructions along the way, and of course, we were able to purchase a slice.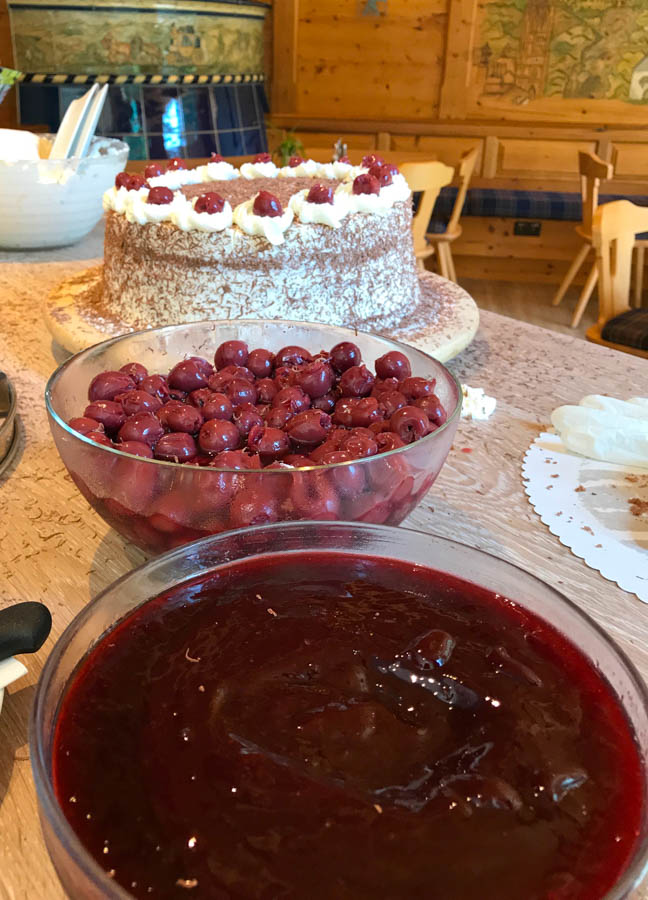 After watching I did a little shopping for chocolate and Schwarzwalder Kirschwasser (known as Kirsch here in the States) so I can try my hand at a Black Forest Cake. Coming soon!
I don't think mine will compare to the one I saw being made in the country where it was created.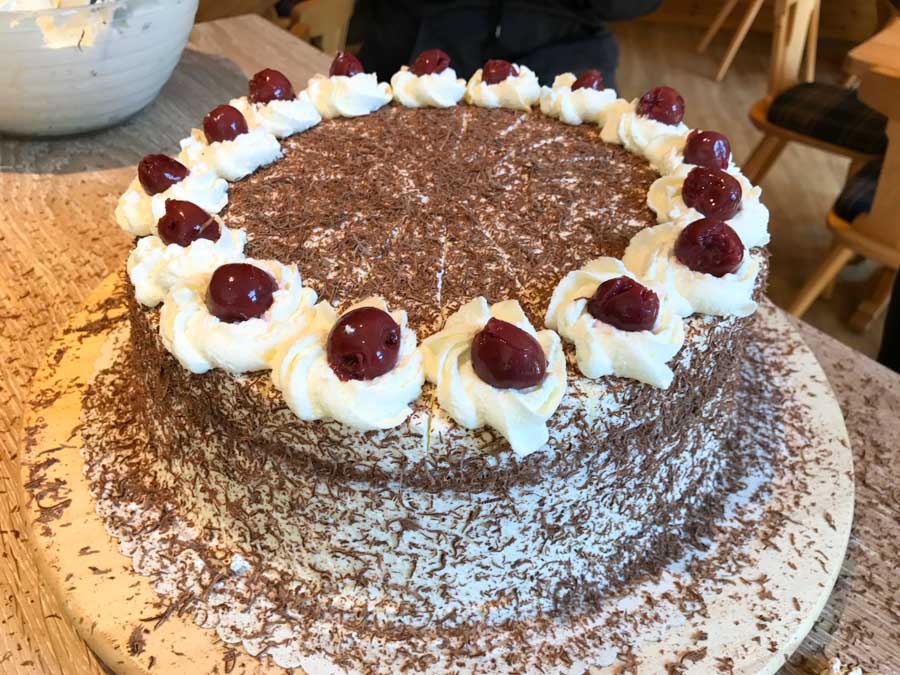 So now you know you have options when visiting the Black Forest in Germany while on a Viking River Cruise. The perfect day for me would be to have a slice of the freshly made Black Forest cake and then hit the Black Forest hiking trail! Next time!
There are so many things to do in the Black Forest. I wish I'd had more time to do them all. Plan to spend the entire day if you can. For more ideas, check out this post from Wanderlust Chloe.
I love being able to get a taste of many different areas and cultures by visiting several destinations on a river cruise. Having my transportation arranged and being able to unpack once for the week is my favorite way to travel.
Have you thought about a Viking River Cruise? The Rhine Getaway, beginning in Basel and ending in Amsterdam (or vice versa) is a great way to see the Black Forest in Germany.
Looking for a more romantic vacation? You might want to check out our Budapest Itinerary while on the Romantic Danube cruise.
Regardless of where you're heading, you'll need these printable vacation packing lists to be sure you don't forget anything. There's one just for cruising!
Where are you planning to go on your next vacation? Share in the comments!
My cruise on Viking River was hosted. All thoughts are my own.