These easy Crescent Roll Recipes offer a delightful array of options, featuring both sweet and savory creations.
From gooey fruit-filled treats to tasty appetizers and main courses, there's something here for every occasion.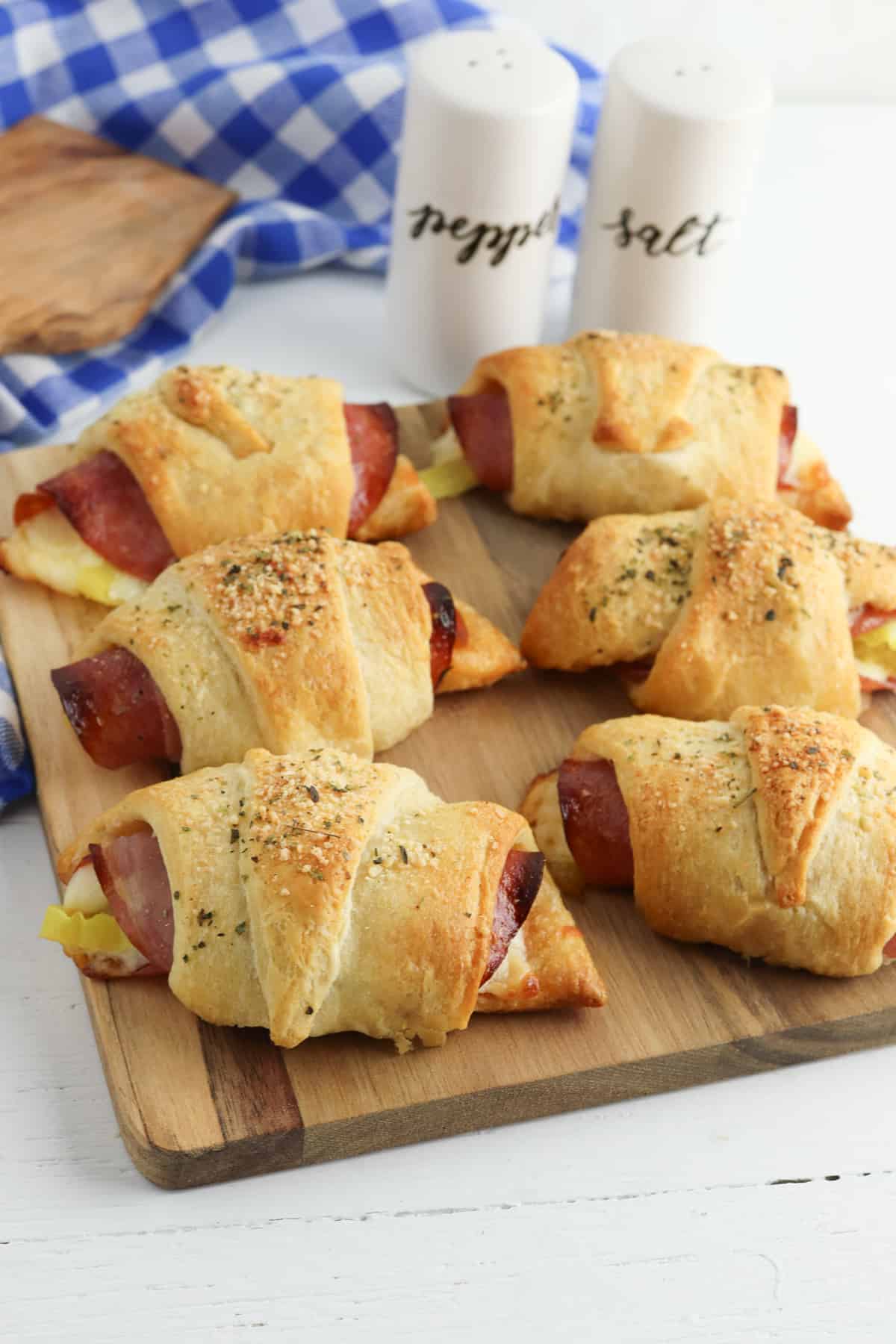 These recipes cover everything from appetizers and entrees to desserts and snacks.
The one thing they all have in common is the main ingredient is store-bought crescent roll dough!
This convenient kitchen hack is a huge time saver, allowing you to whip up a range of delicious treats. Pigs in a blanket and pizza pockets are always good, but we're thinking out of the box, too!
You can whip up stromboli and sweet dumplings in a matter of minutes!
Whether it's a casual brunch, a potluck, or a sophisticated cocktail party, the flaky, buttery goodness of crescent roll dough makes them a huge hit.
Store bought puff pastry is another awesome kitchen shortcut. I love to use them to make these Easy Tomato Tarts, this Apple Tarte Tatin, and this scrumptious Irish Potato Pie.
Why We Love These Recipes
Crescent roll dough is easily transformed into various dishes, from sweet treats to savory appetizers and main courses.
Using a can of crescent rolls saves time and effort in the kitchen, making it a popular choice for quick, yet delicious recipes.
Loved by kids and adults alike, these easy crescent roll recipes are an awesome choice for family meals or snack time.
The great thing about each of these recipes is that not only are they easy to make, but they're incredibly delicious for any occasion.
Dessert Crescent Roll Recipes
Tips for Leftover Crescent Roll Dough
I don't like to waste anything, so when I find myself with leftover dough, here are some simple ways I put it to quick and easy use:
Cinnamon Sugar Sticks: Roll the dough into strips, brush with melted butter, sprinkle it with cinnamon and sugar, and then bake until golden brown.
Cheesy Breadsticks: Roll out the dough and cut it into thin strips. Twist each strip and sprinkle them with grated cheese, garlic powder, and herbs. Place on a baking sheet and bake until the breadsticks are crispy, and the cheese is melted.
Fruit Cups: Press pieces of the buttery crescent rolls into a mini muffin tin, pressing against the sides. Fill with your choice of fruit preserves or fresh fruit. Bake until the pastry is golden, and the filling is warm and bubbly.
Crescent Roll Knots: Cut the dough into small pieces and tie them into knots. Brush with melted butter and sprinkle with garlic salt or herbs. Bake on a parchment paper lined sheet pan until the knots are golden and serve them as savory bread bites.
If all else fails, wrap in plastic wrap and stick it back in the fridge for up to 2-3 days until you can decide how to use it.
Crescent Roll Dough FAQs
More Easy Recipe Ideas