If you're looking at the Northern Islands and Gems itinerary, this Oceania cruises review will answer your questions about a vacation on this luxury mid-sized ship.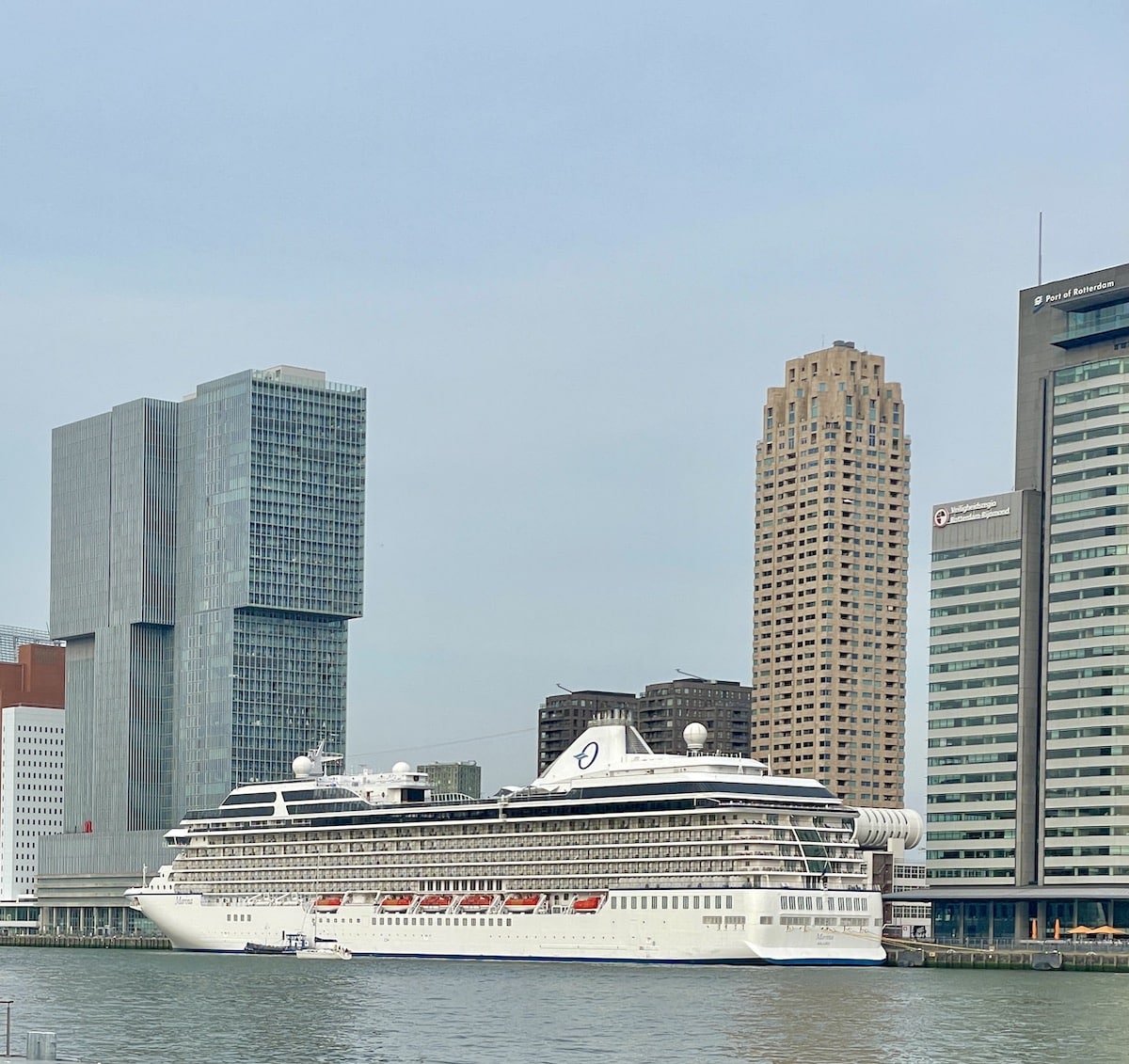 The Northern Islands and Gems itinerary on the Oceania Marina was spectacular.
My favorite country was Belgium, so if you're planning to go, check out what to do in Bruges in one day. You'll love this excursion!
On this nine-night cruise, we visited the Shetland and Orkney Islands, Scotland, Belgium, The Netherlands, and England.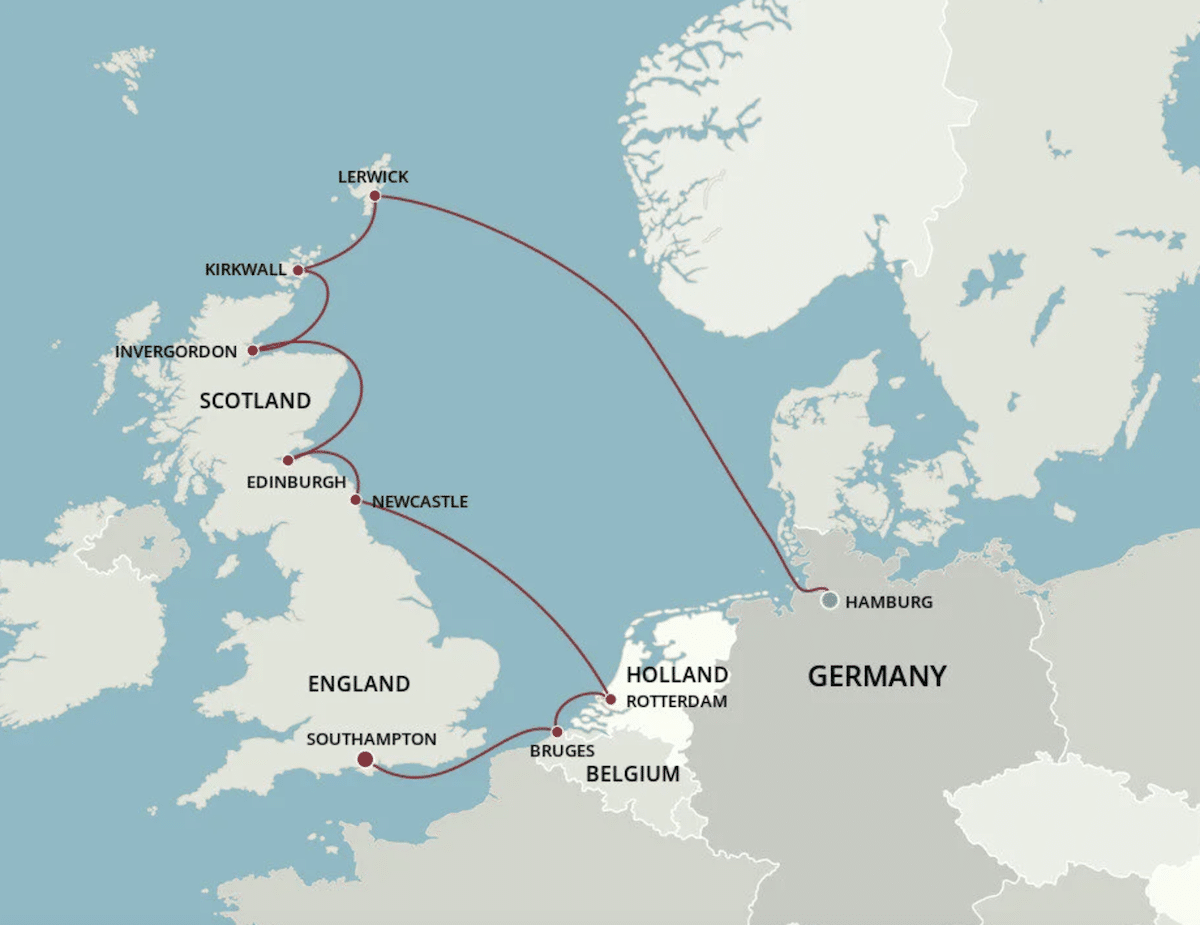 Yes, it was a dream itinerary. I had never been to the United Kingdom, so this trip was extra special for me.
Oceania cruises has a reputation for luxury at sea, and for good reason. The rooms were spacious and we loved our verandah.
This trip is a great way to get away from it all and be surrounded by natural and historic beauty.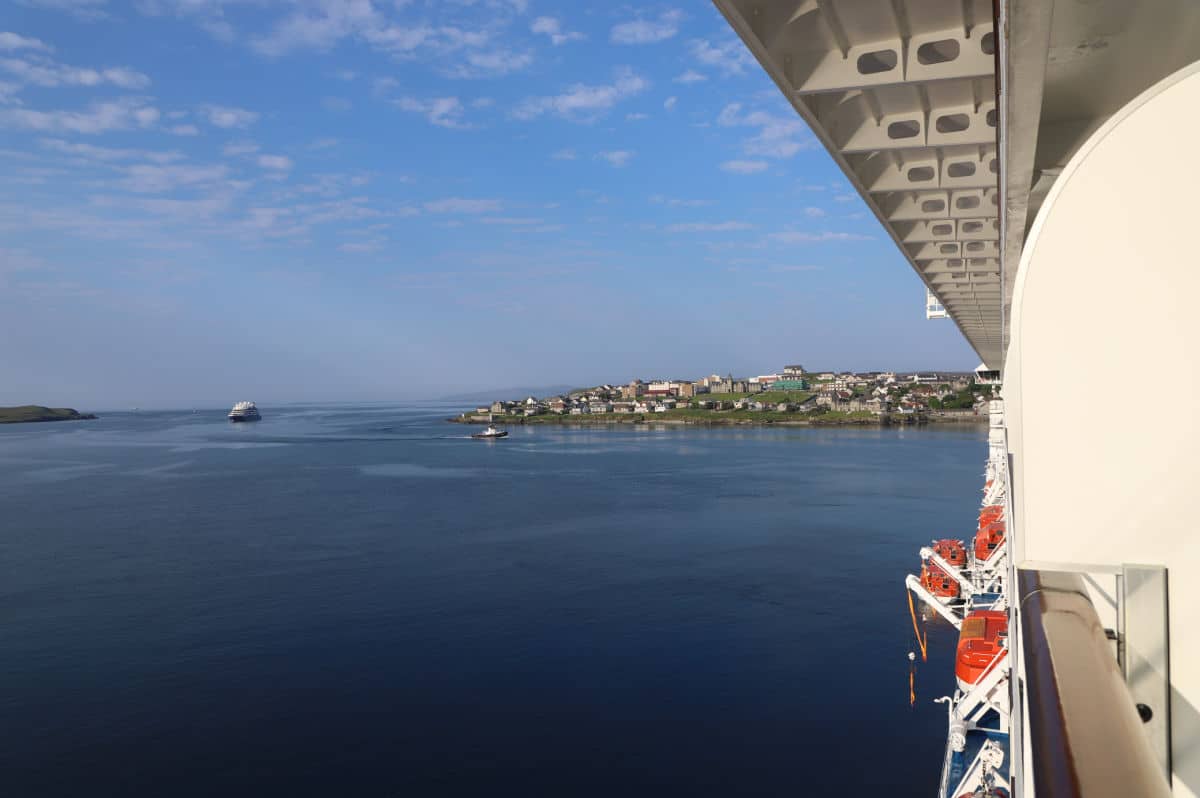 What We Loved About Cruising with Oceania
Oceania is a luxury division under the Norwegian Cruise Line company. They specialize in smaller ships which means that they can provide a more intimate setting and personalized attention.
Here are some of the top reasons why we loved this cruise.
This ship is a beauty, and though it seemed large, it never felt crowded.
With a maximum of 1,250 guests, there was never much of a line for excursions.
The food on the ship was really good and exceptional at Red Ginger.
Spending a day in Hamburg before and a day in London after the cruise was so much fun.
The ports were exciting and places we had never visited.
The Marina Ship
The Oceania Marina has twelve decks of public spaces, with five of those decks devoted to cabins.
On the public area decks are all the features you'd want from a luxury cruise vessel.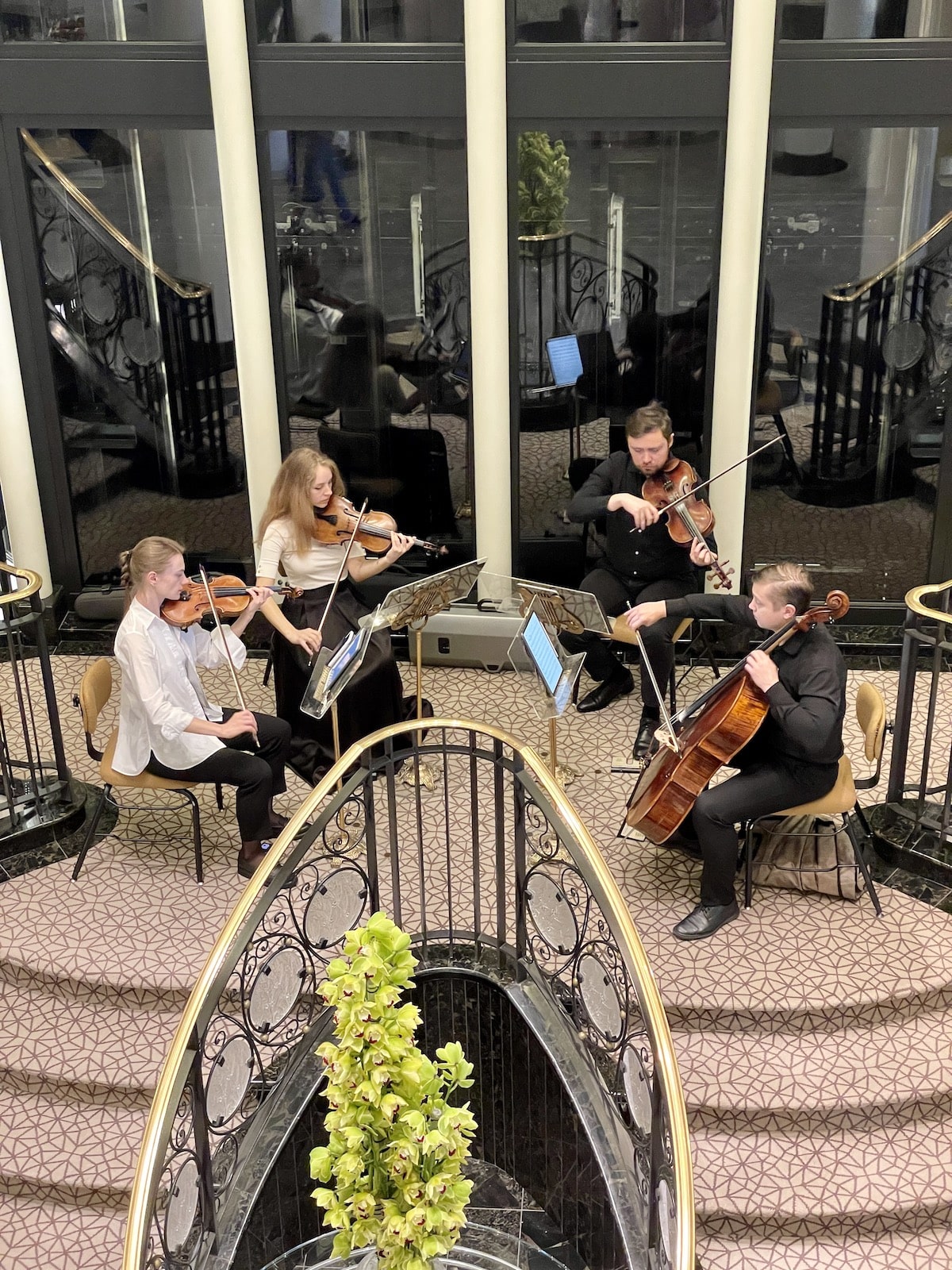 Some of the features of this beautiful ship include those you'd expect on a cruise, like a large main dining room, casual dining and several specialty restaurants.
We also had access to shopping, a casino, pool deck and sundeck with hot tubs, and the Aquamar Spa.
But the Marina also offers unique spaces like a library, artist loft, and culinary center.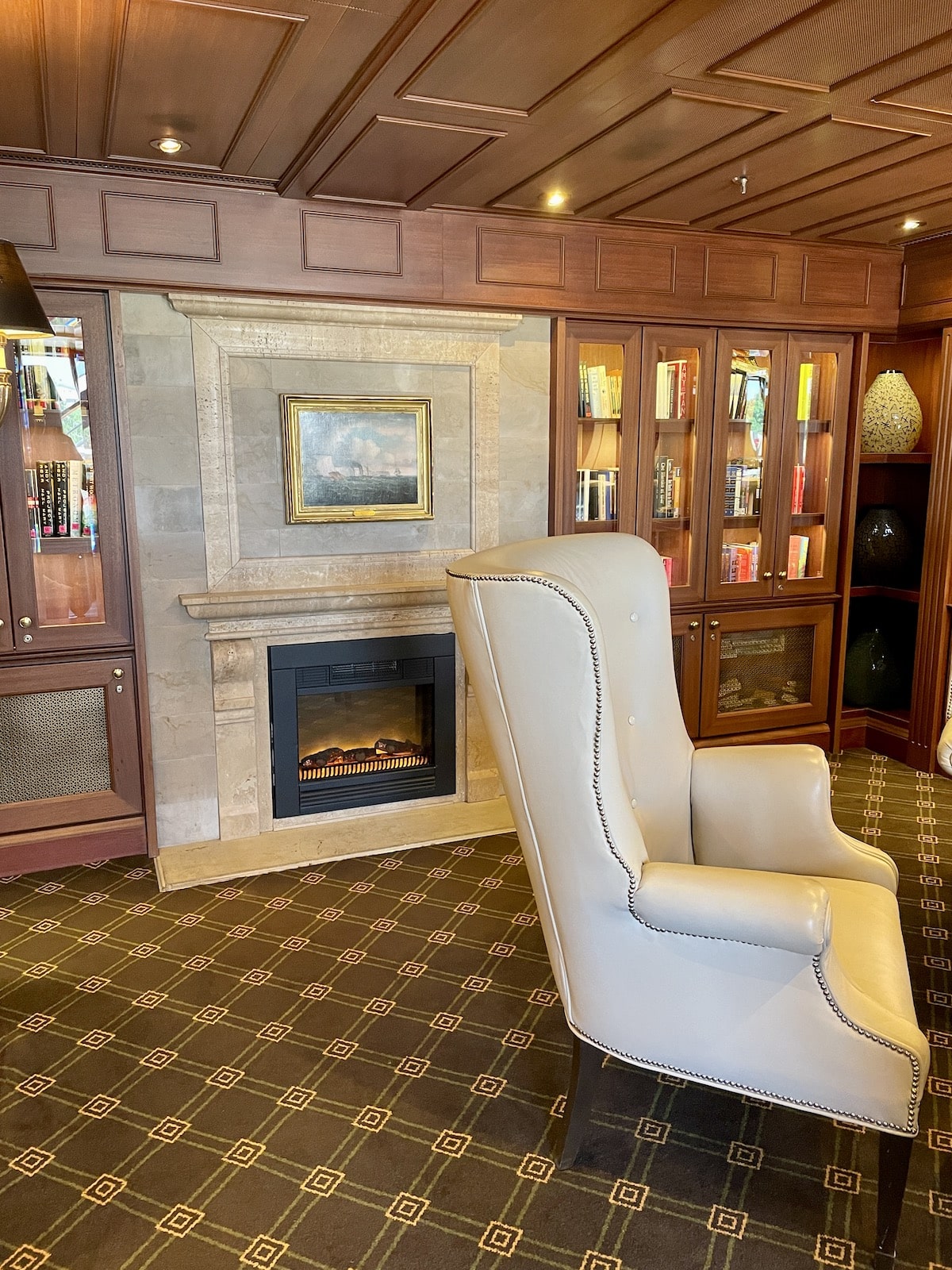 My husband and I each got books on the first day and enjoyed them on sea day.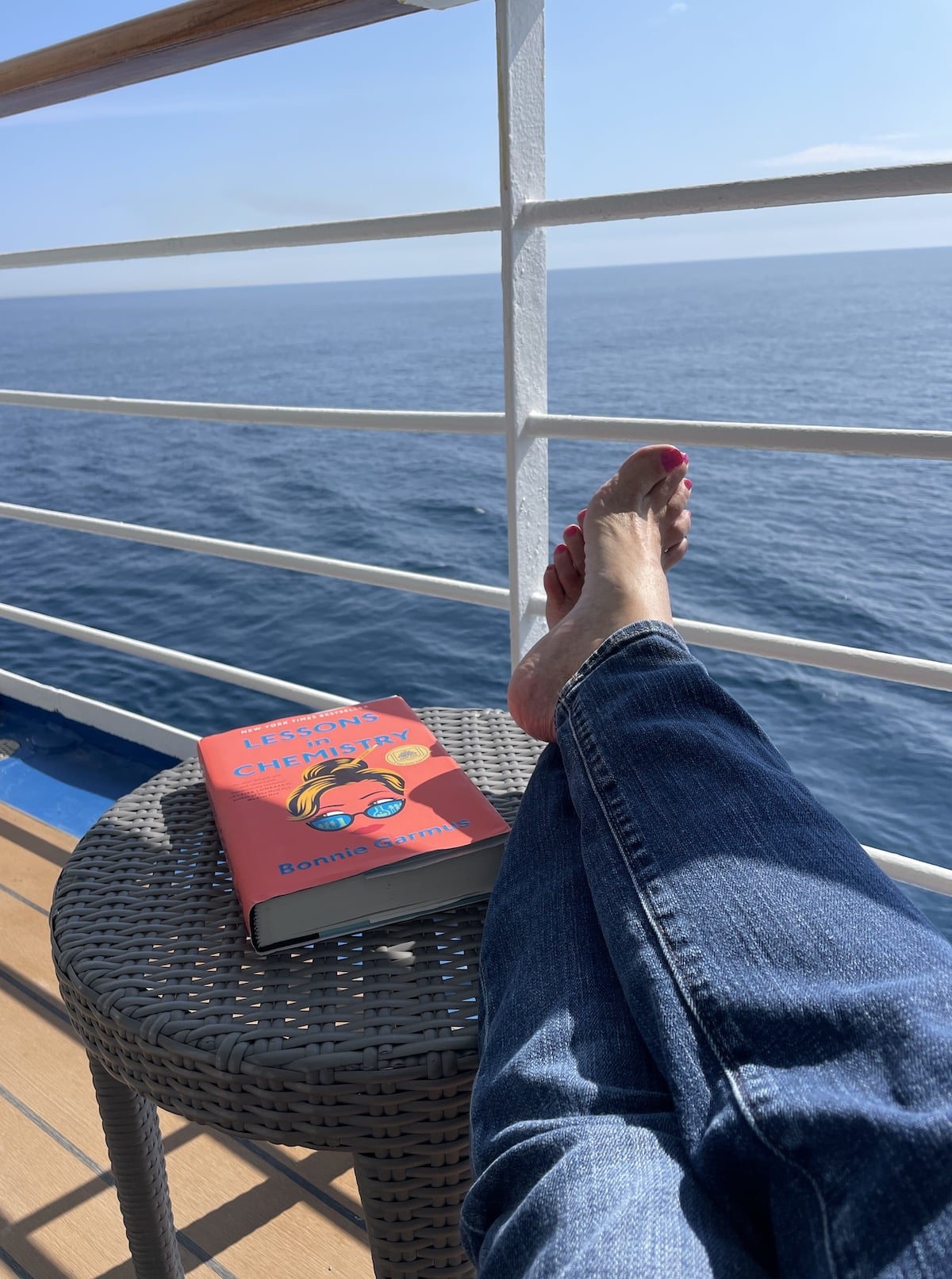 For those who like recreation, there's putting green, deck games area with shuffleboard and a paddle tennis court.
Our cruise only featured one sea day, but there are plenty of activities on board the ship for sailings with additional sea days.
I personally love sea days! It gives me time to catch up on things and really explore the ship.
Staterooms
We had a Concierge Level Veranda Stateroom for our sailing, and it was lovely.
There are options to have a larger room if you need more space as well as something a little smaller if you need to save money.
The Concierge Level Stateroom features either a queen-size Tranquility bed or two twin beds with luxury linens, a sofa and chair, and bathrooms with marble and granite features.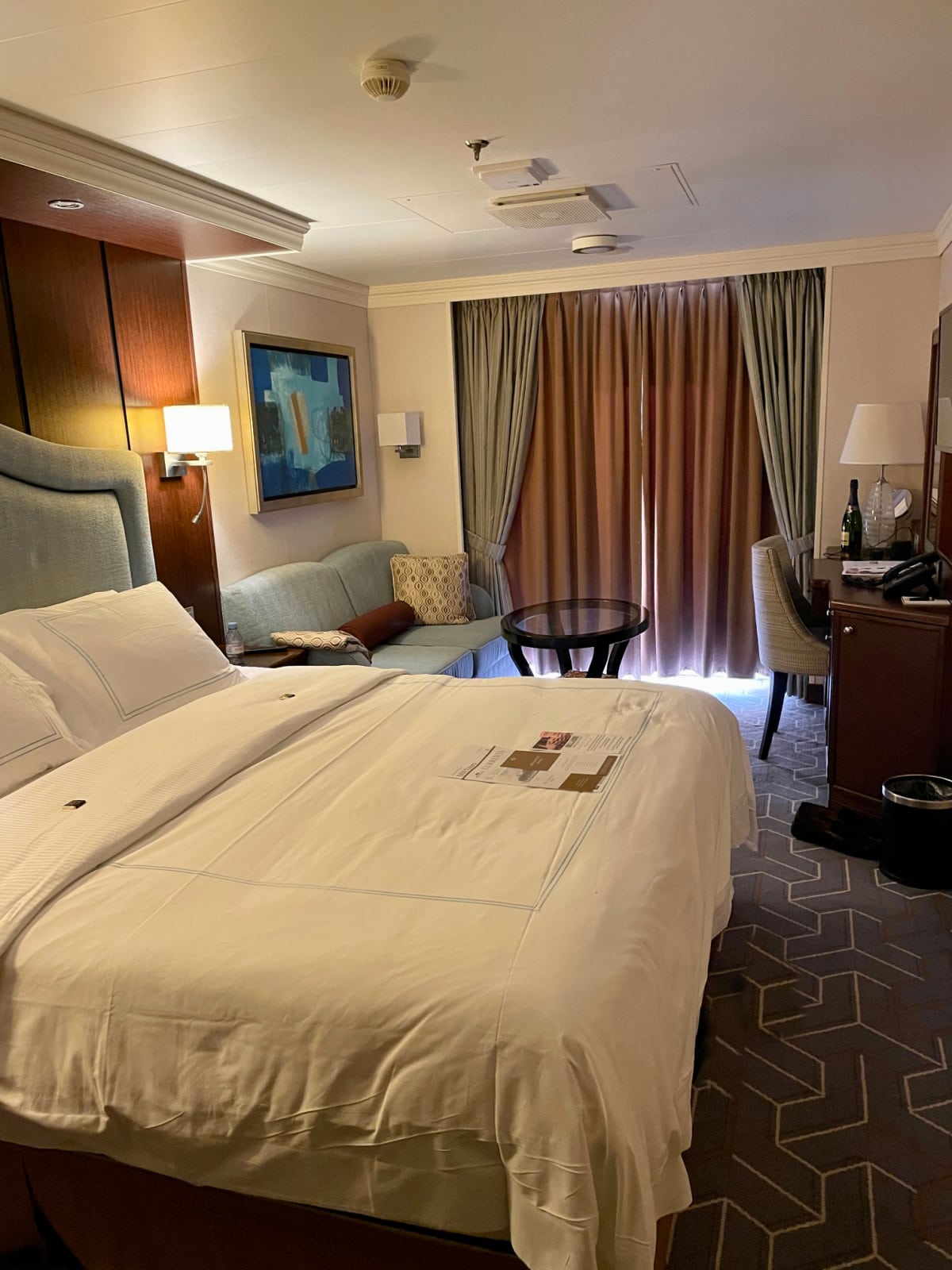 This level stateroom actually has many of the same amenities as the Penthouse Suites.
I also loved that the bathroom had two mirrored storage cabinets at the sink, so my husband and I both had a place to store our toiletries.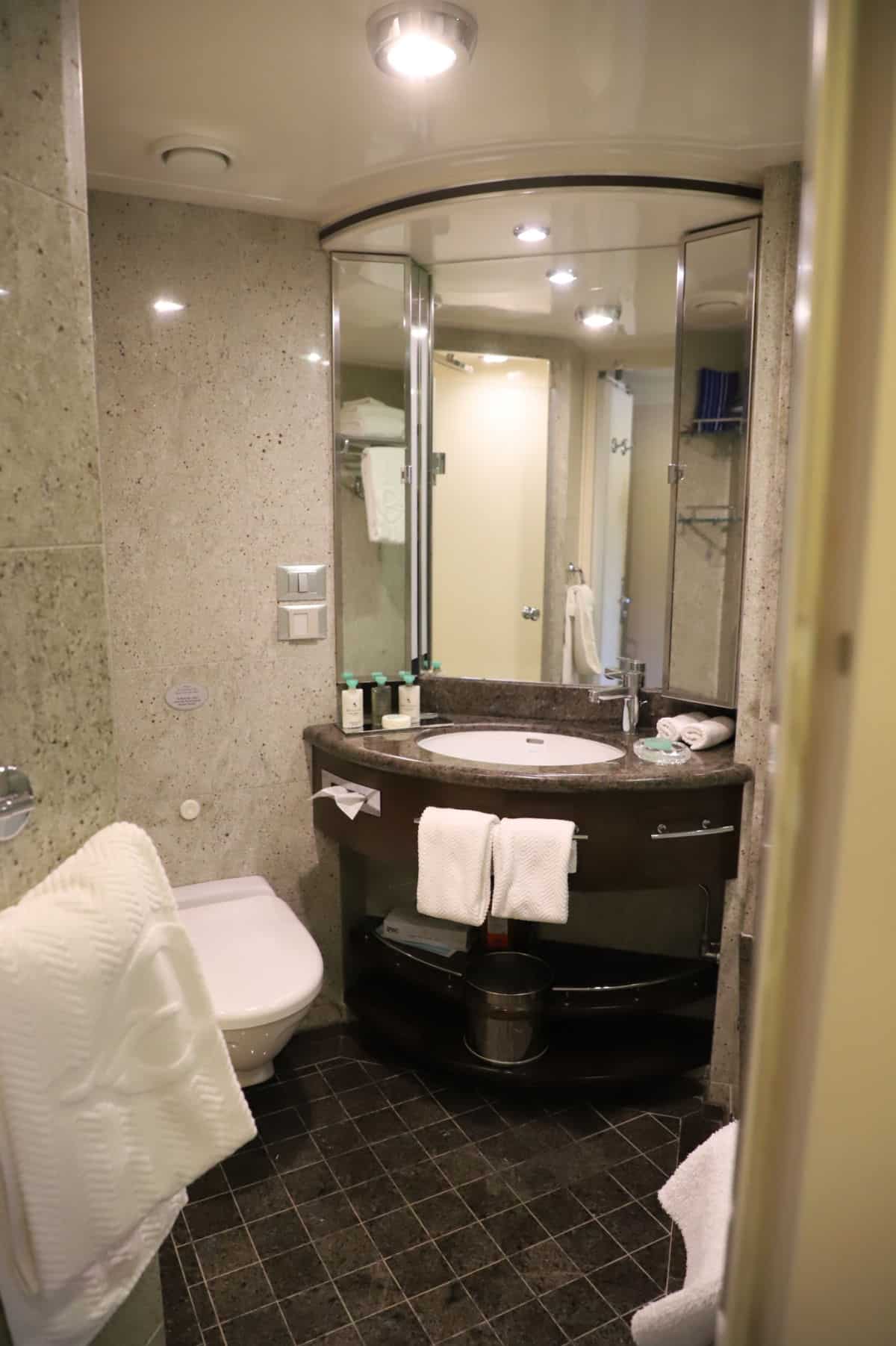 We also had a full-sized tub, which is a first for me on a ship.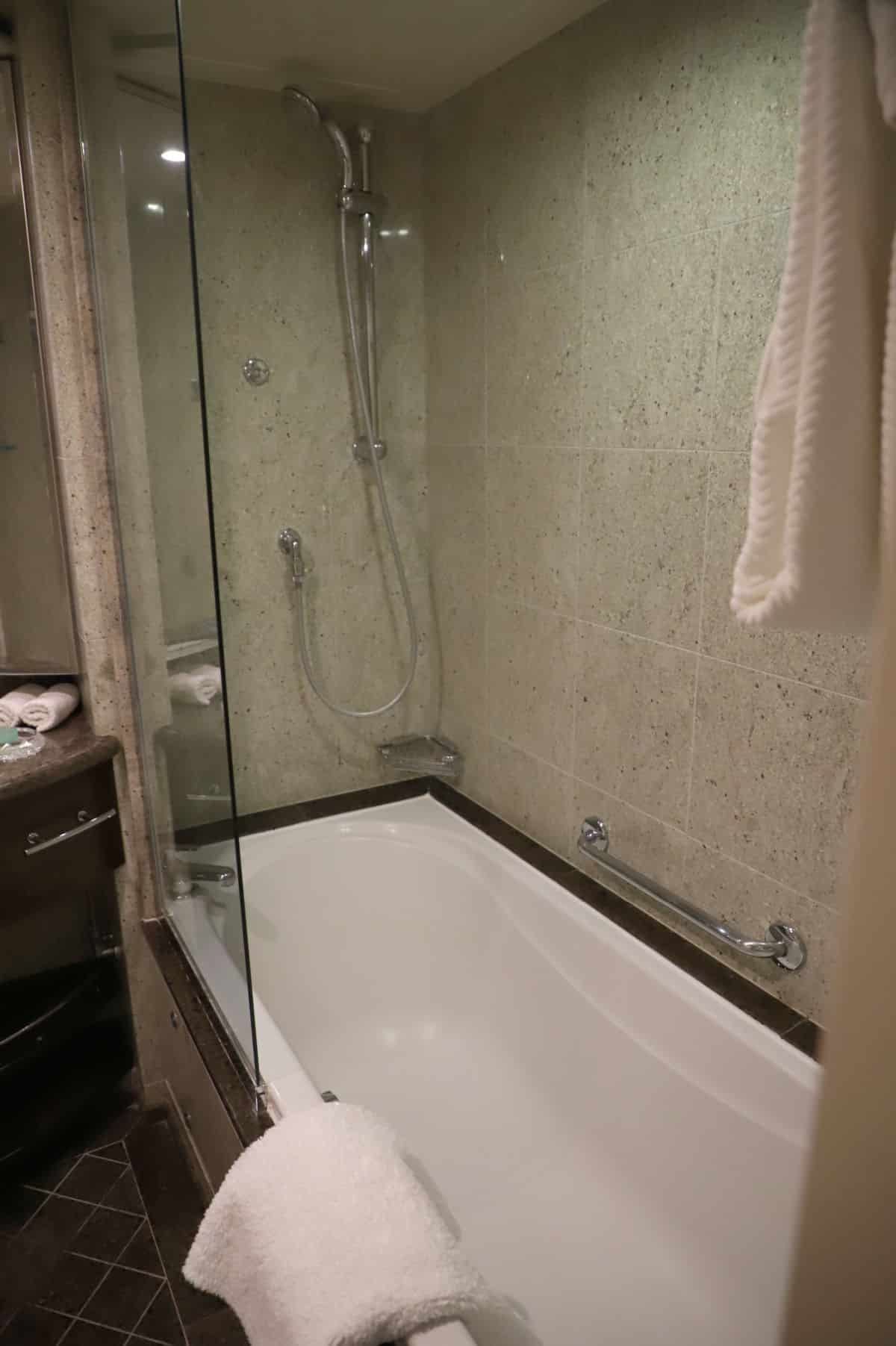 Included in the Concierge Level is free laundry service, access to the Concierge Lounge, and a dedicated Concierge to help you with reservations and excursions.
You also have unlimited access to the Aquamar Spa Terrace, which is a little more quiet and relaxing than the main pool.
There's also the private veranda with cashmere blankets, perfect for sitting back and watching the world as you sail by.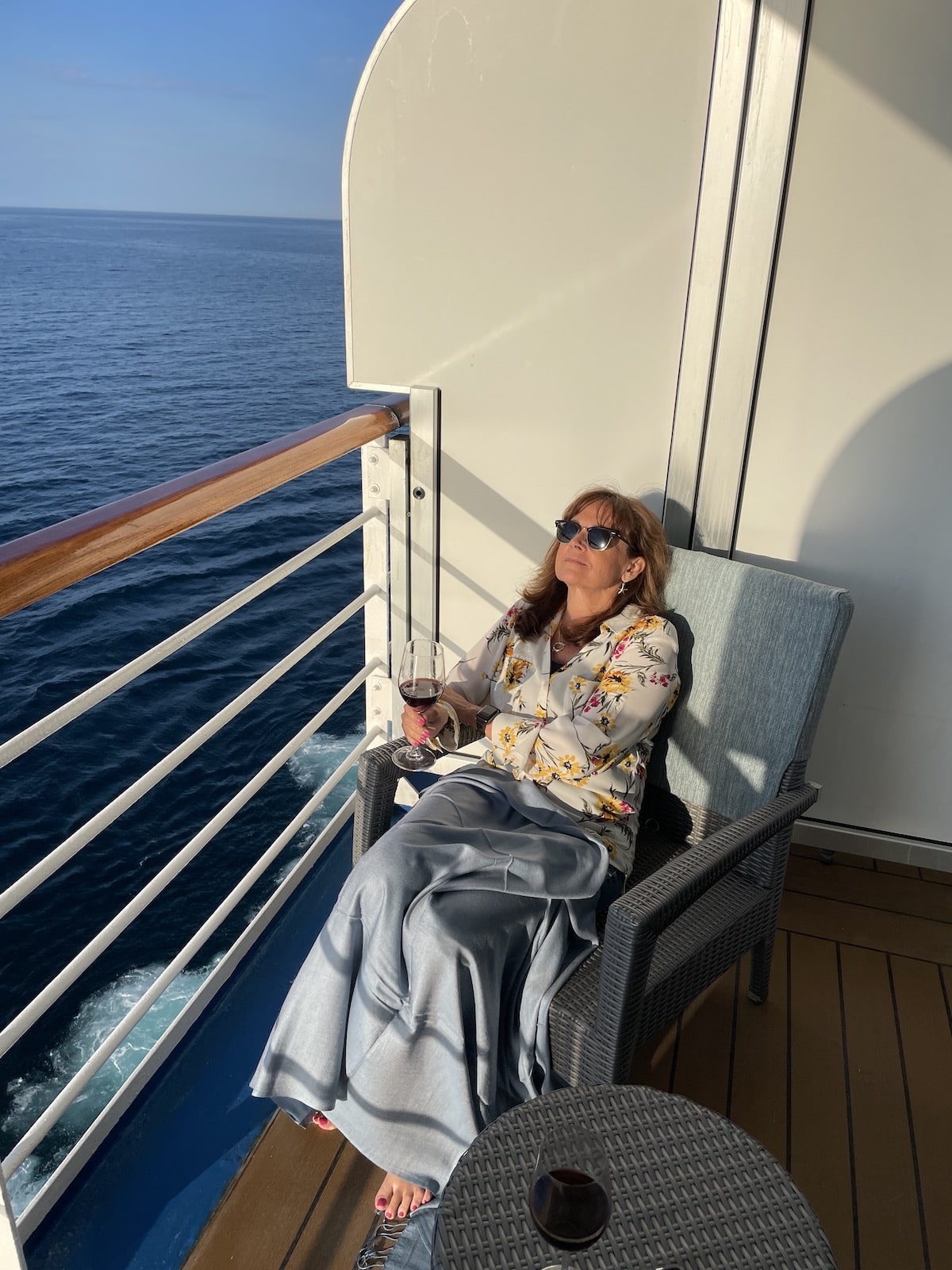 With 800 crew members on board, there's always someone around to help with your every need.
We had great service throughout our trip, something that might not be as easy to provide on larger ships.
With fewer passengers than some of the large cruise ships, we found we ran into friends that we made on the ship in some of our favorite spots like the Barista, the library, and the Terrace Café.
Things to Do Onboard Marina
On board the Marina, there are plenty of activities to keep you busy and places to explore.
Culinary Classes
A dedicated culinary center on deck 12 lets you try your hand at cooking works of art, from fresh pasta to traditional French cuisine.
I didn't have time to do this and I regret it! Next time!
Artist Loft
Love to be creative? The Artist Loft on Deck 12 has an artist in residence program where professional artists teach classes about their skills.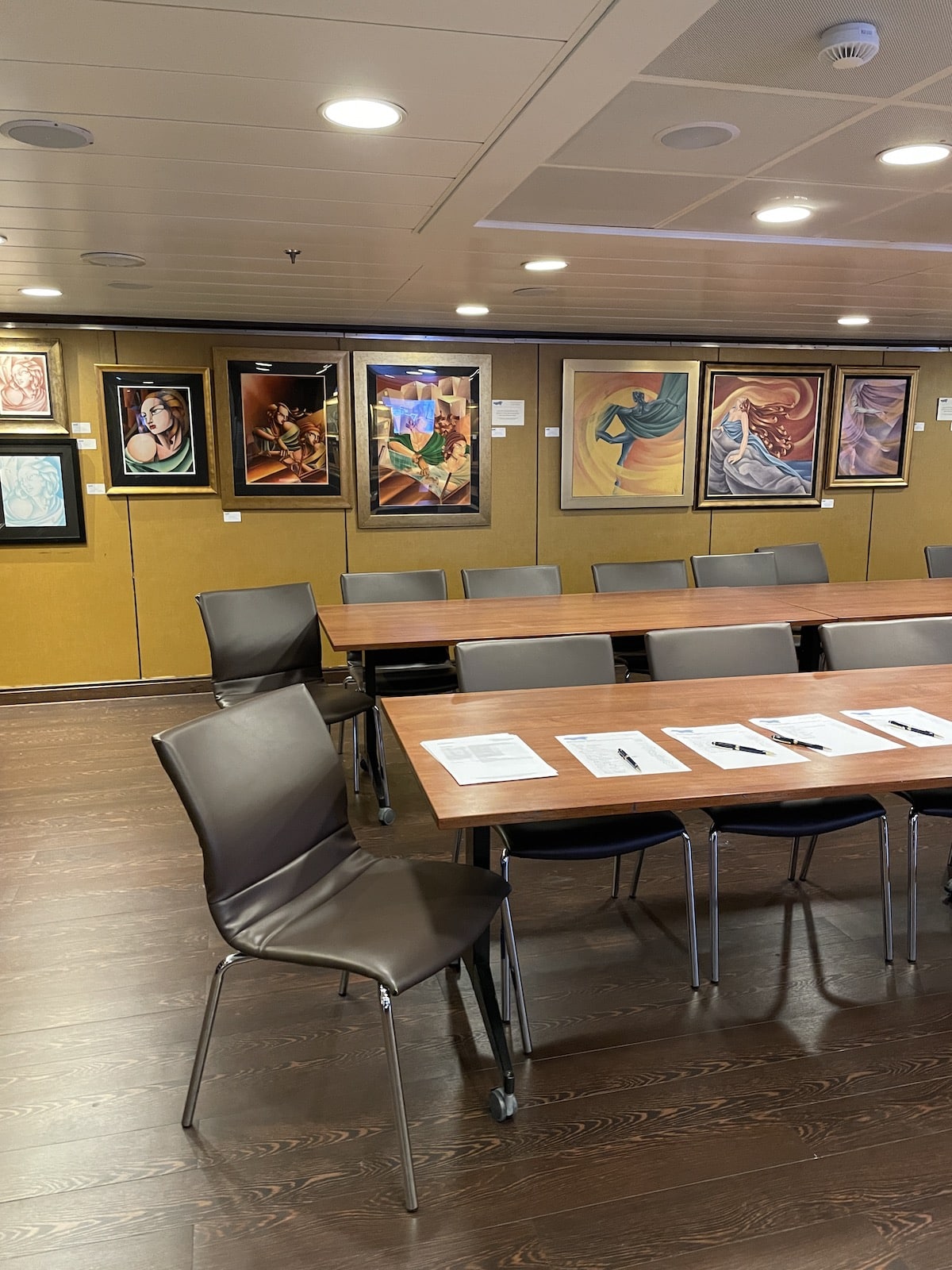 It may be painting, drawing, photography, or sculpture, but this hands-on experience is a fantastic offering not found on many other cruise lines.
Library
There's nothing like curling up with a good book. The library on deck 14 contains more than 2,000 books and magazines, so there's always something that you can enjoy.
The relaxing atmosphere of the library seating area is a great getaway for some cozy down time.
Guest Speakers
Special guest speakers are on board every sailing, providing a unique insight into the history, culture, and people of the areas that your cruise will visit.
This sailing, it was a treat to listen to Graeme Payne as part of the OLife Enrichment Series.
Payne is a travel journalist and knew so much about the ports we were visiting. This is one of the activities you'll want to get to early or you'll be standing!
Upper Deck Sports
On the upper decks, you'll find a putting green, bocce and croquet court, running/walking track, shuffleboard, and a pickleball court.
Make some new friends and enjoy some friendly competition!
Casino
Try your luck at the ship's casino. With table games, video poker, slots, and more, there's tons of fun and excitement on board.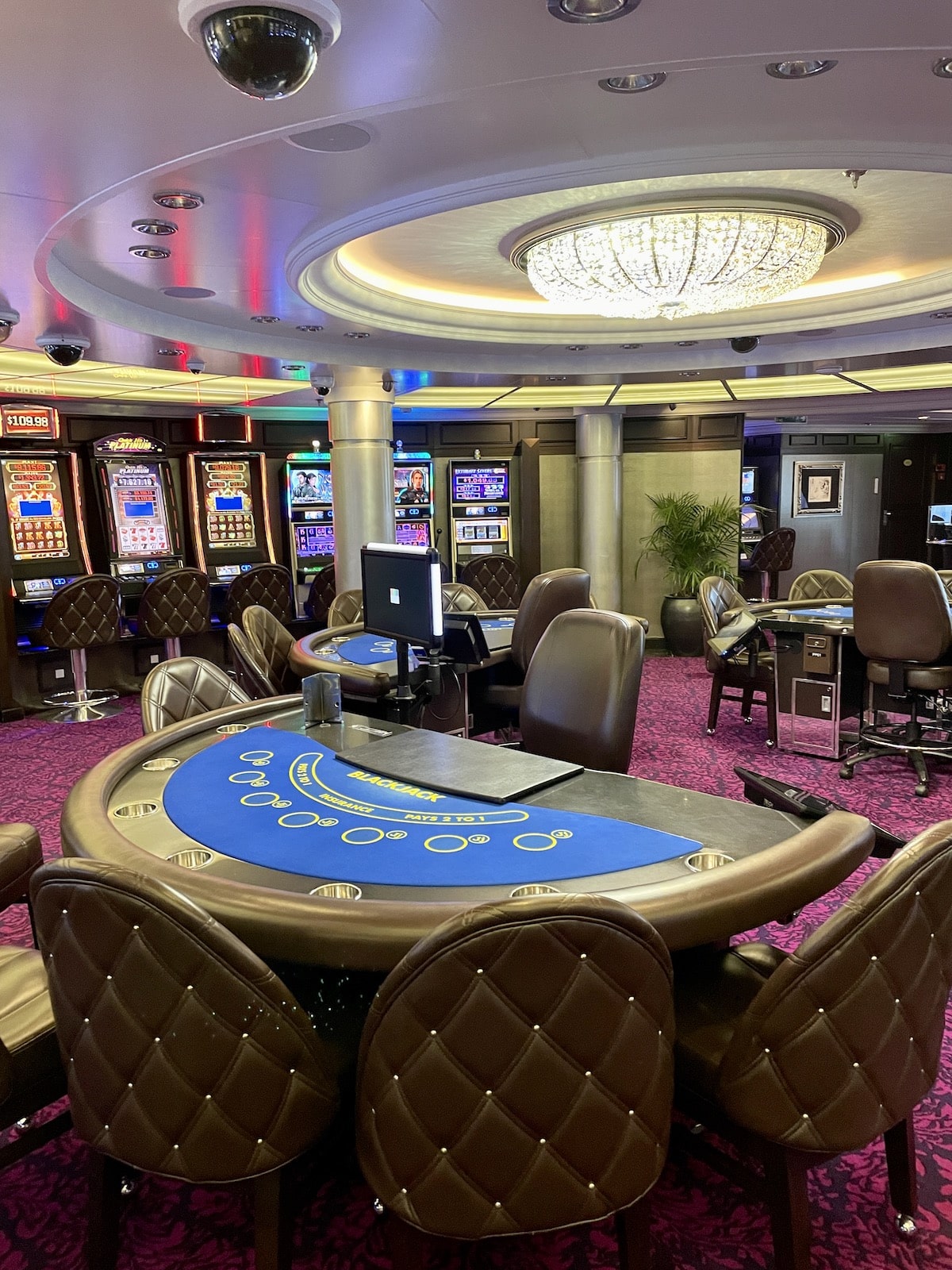 Not a casino expert? No worries: Oceania offers free gaming lessons to help you make the most of your time.
Onboard Shows
From upscale live music performances to dazzling stage shows, there's a little something for everyone in the evening entertainment.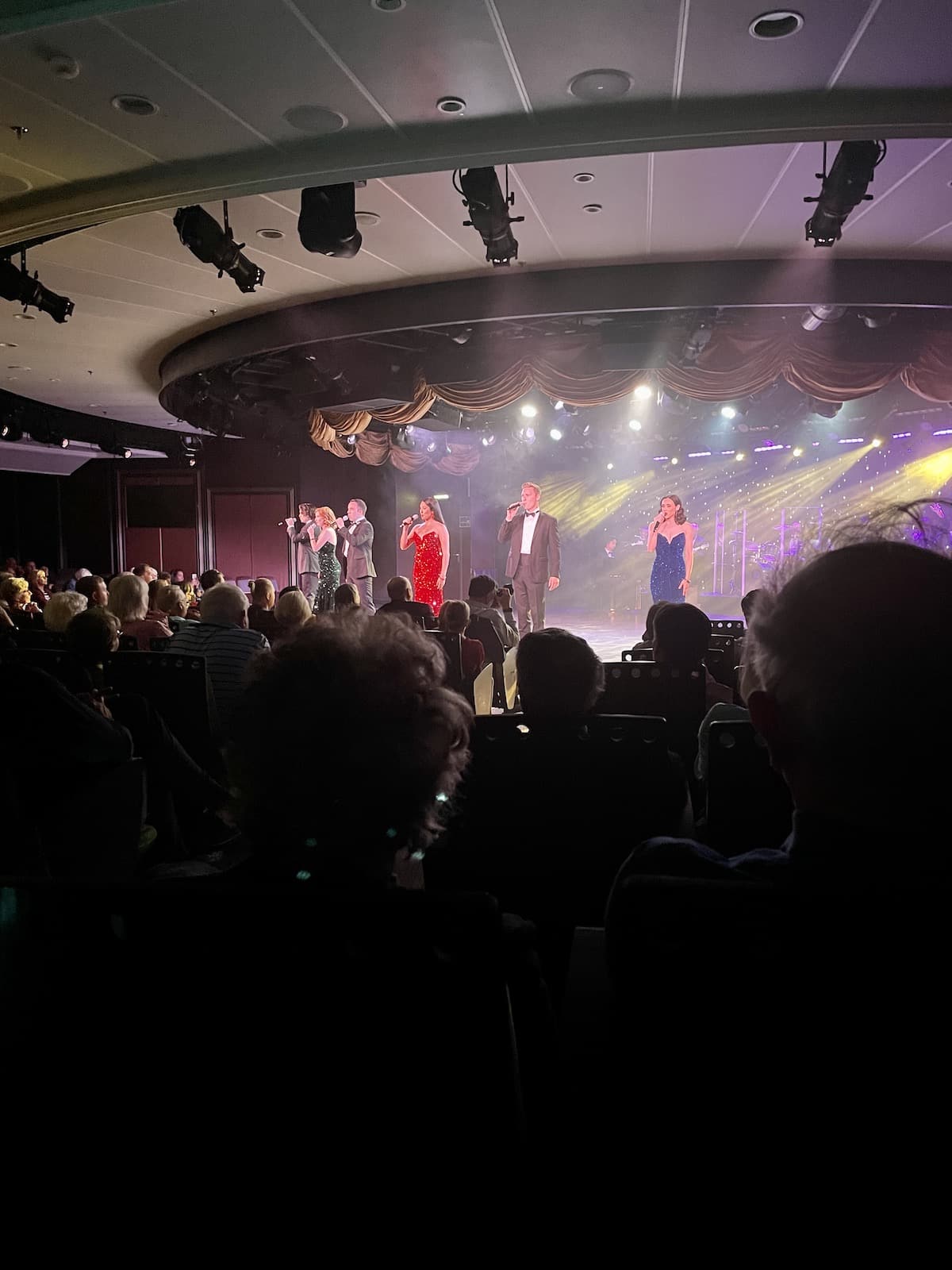 Some of the shows include a Broadway revue, sock hop style songs of the 50s and 60s, and ballroom dance shows that make you want to get up and move.
There is also a comedian on a couple of different nights. There really is something for everyone.
Spa
The Aquamar Spa + Vitality Center offers relaxing massages and spa treatments like facials and lifestyle consultations. The Aquamar Spa Terrace is lovely as well.
In addition, there's a state-of-the-art fitness center that offers a great place to work out as well as free fitness classes to learn something new.
Shopping
Duty-free shopping is a mainstay of the cruise industry, and you'll get the opportunity to shop on this cruise, too.
Oceania has a variety of boutique shops selling everything from watches and fine jewelry to fragrances, designer bags, and of course Oceania Cruise logo wear.
Bars and Lounges
Whether you're looking for a cocktail lounge with a view for an afternoon cocktail or an upscale bar for a pre-dinner drink, there's a variety of bars and lounges to enjoy on the ship.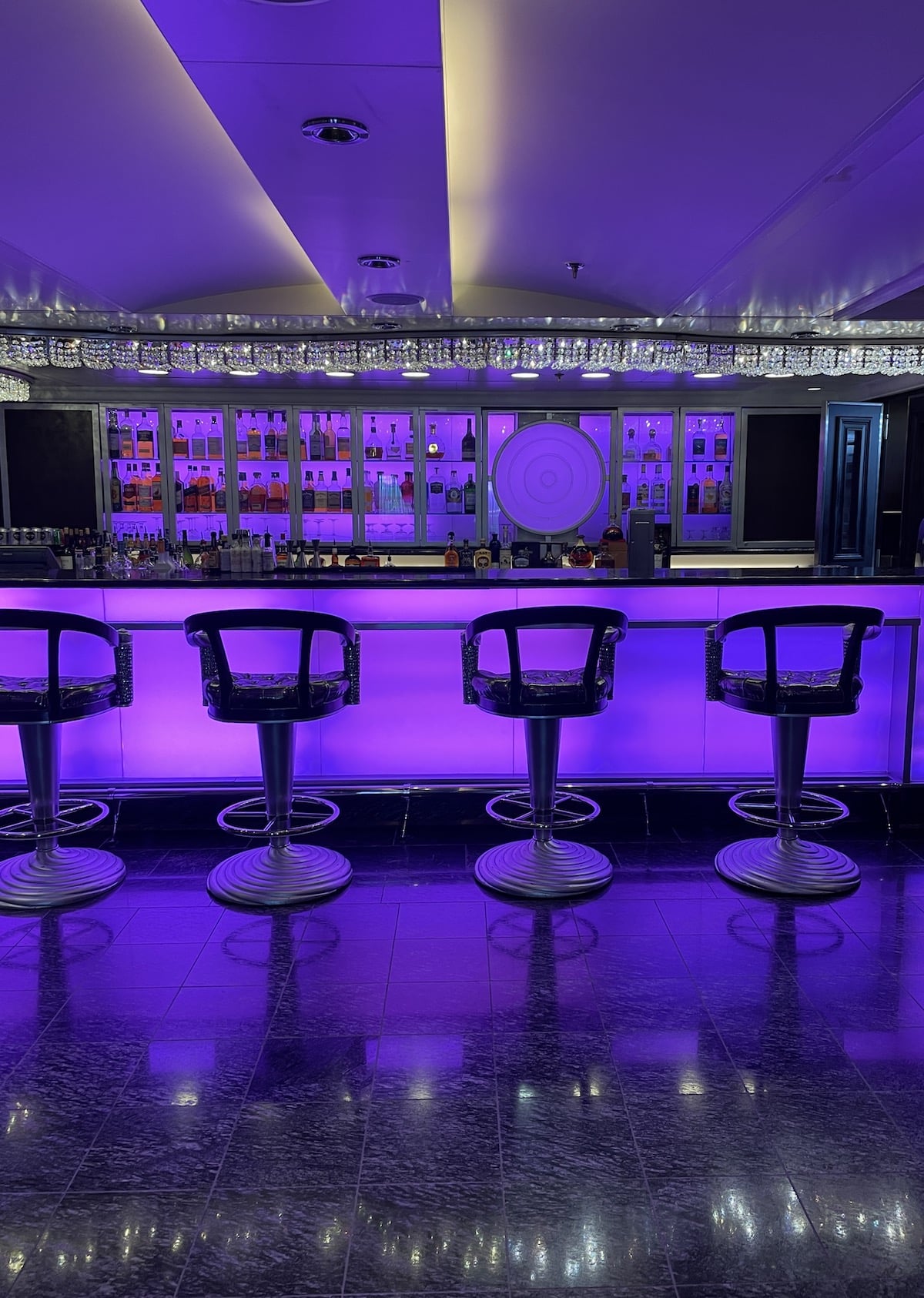 Meals Onboard Oceania Marina
Cruise ships are known for their high quality and ample food, and the dining on Oceania Marina is no exception.
What's really remarkable about Oceania is that specialty dining is included! Many cruise lines upcharge for specialty restaurants, but you won't have to worry about that on Oceania.
Grand Dining Room
The Grand Dining Room is the main sit-down dining location, featuring daily menus with an upscale vibe in a leisurely dining experience.
This restaurant features Jacques Pépin's signature dishes, continental creations, and a new healthier menu called Aquamar Vitality Cuisine.
There's also a Chef's Tasting Menu. The menu changes daily, but if you had something you really loved earlier in the cruise, ask if they can do it again. Often, they will!
Seating is open in the Grand Dining Room, so no reservations are needed.
I ordered the Taste of Asia Hoisin Duck Salad and the Tamarind Braised Grouper, which were both wonderful.
The Grouper was cooked perfectly, the veggies were still crisp, and the sauce was lightly sweet. I ended with Mango Sticky Rice.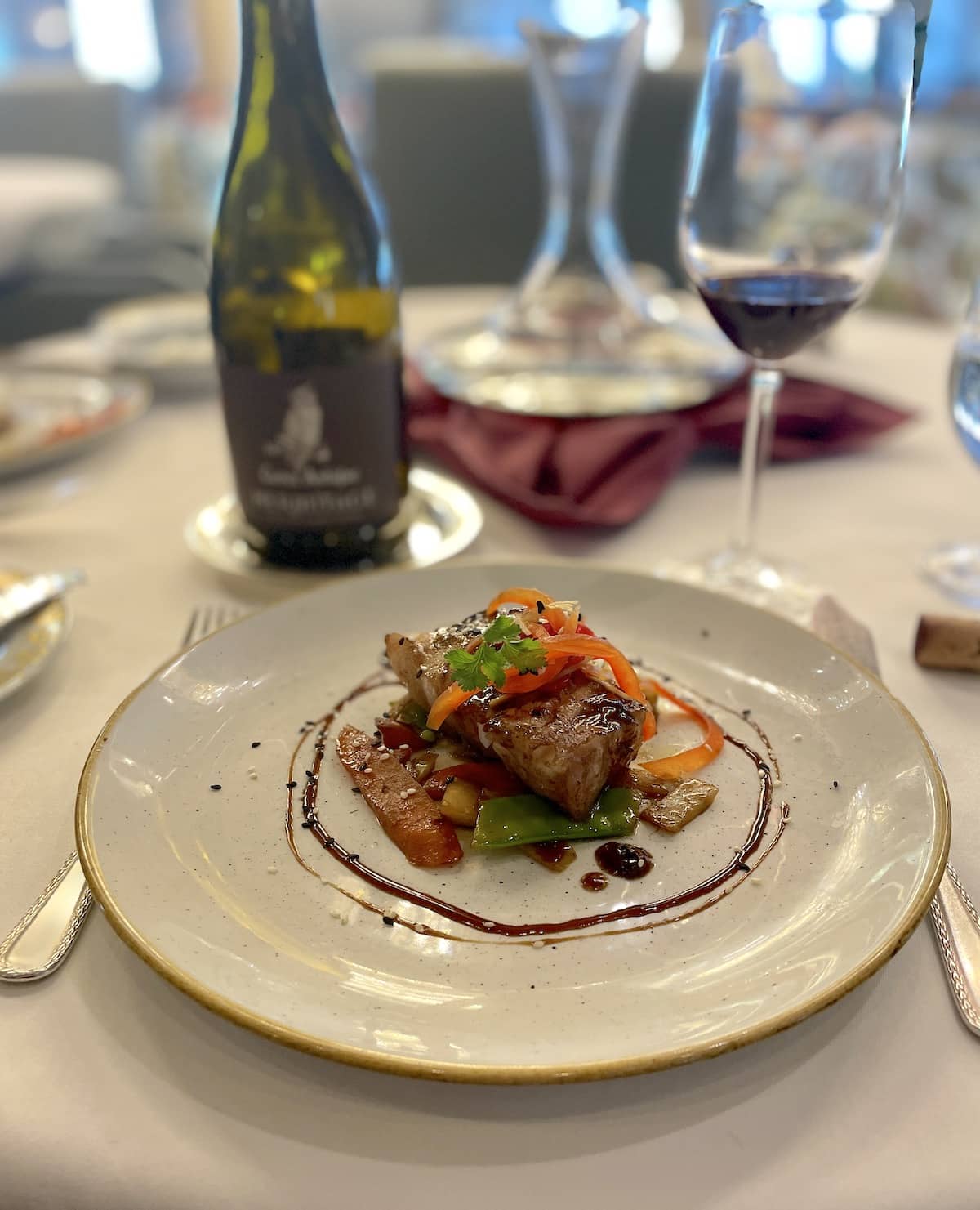 We paired our meal with a bottle of 2011 Cuvée Antique Hermitage.
TIP: The Bin End Wine List offers lower prices on bottles. My husband always compares prices with a wine app, and these wines are incredibly priced. Make sure to take a look as soon as your seated.
Toscana
Featuring recipes from the mothers and grandmothers of the culinary staff, Tuscana is an Italian restaurant that provides elegant food in a more formal setting.
Signature dishes include octopus carpaccio and comforting lasagna alforno alla Bolognese.
I went with the starter of beef carpaccio (one of my favorites) and it was seasoned well and delicious. The greens with fresh parmesan went perfectly with the beef.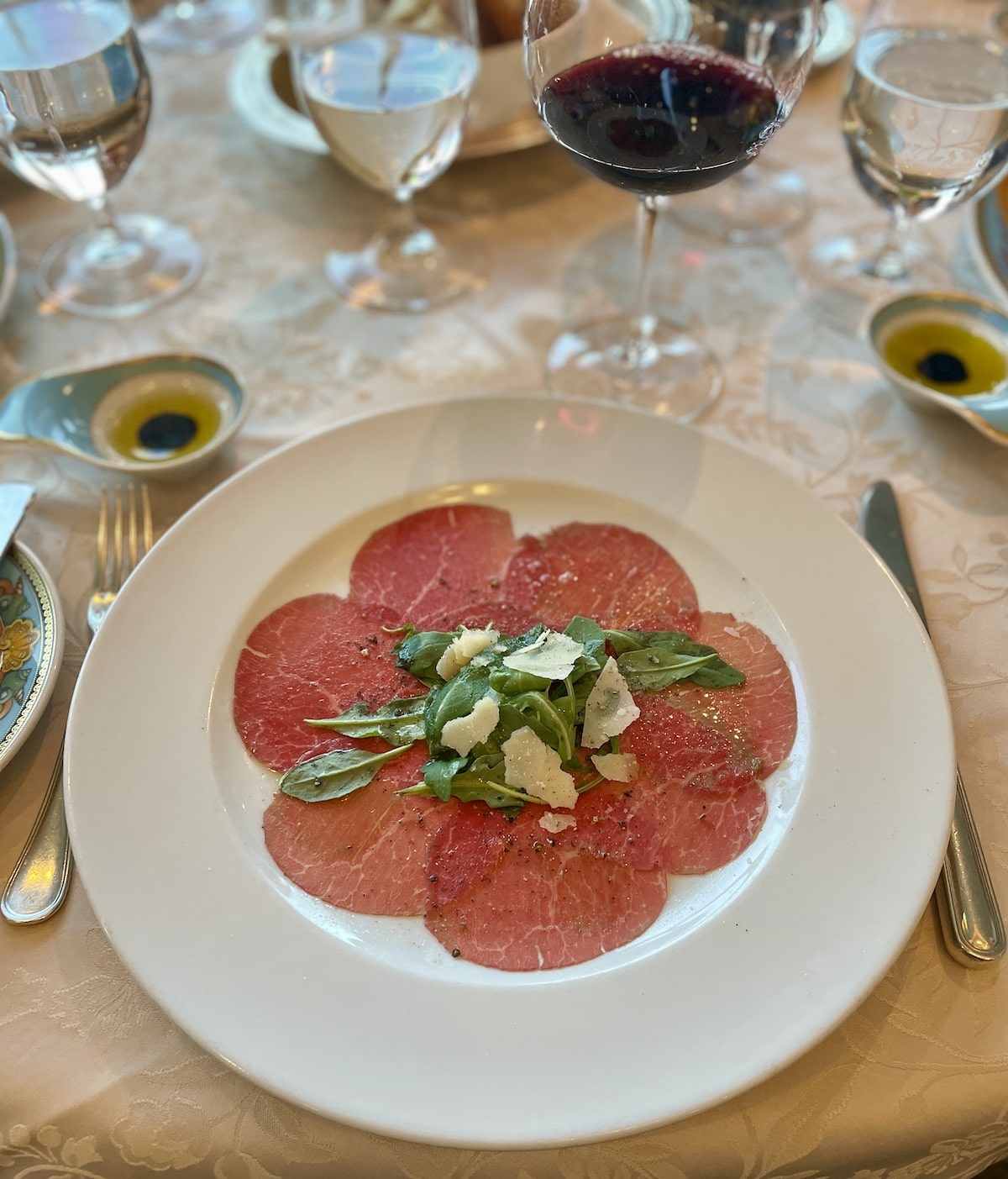 Next was Linguine Cioppino; linguine pasta with a light white wine and cherry tomato sauce topped with a variety of fresh seafood.
The seafood was so tender and the sauce was the perfect accompaniment.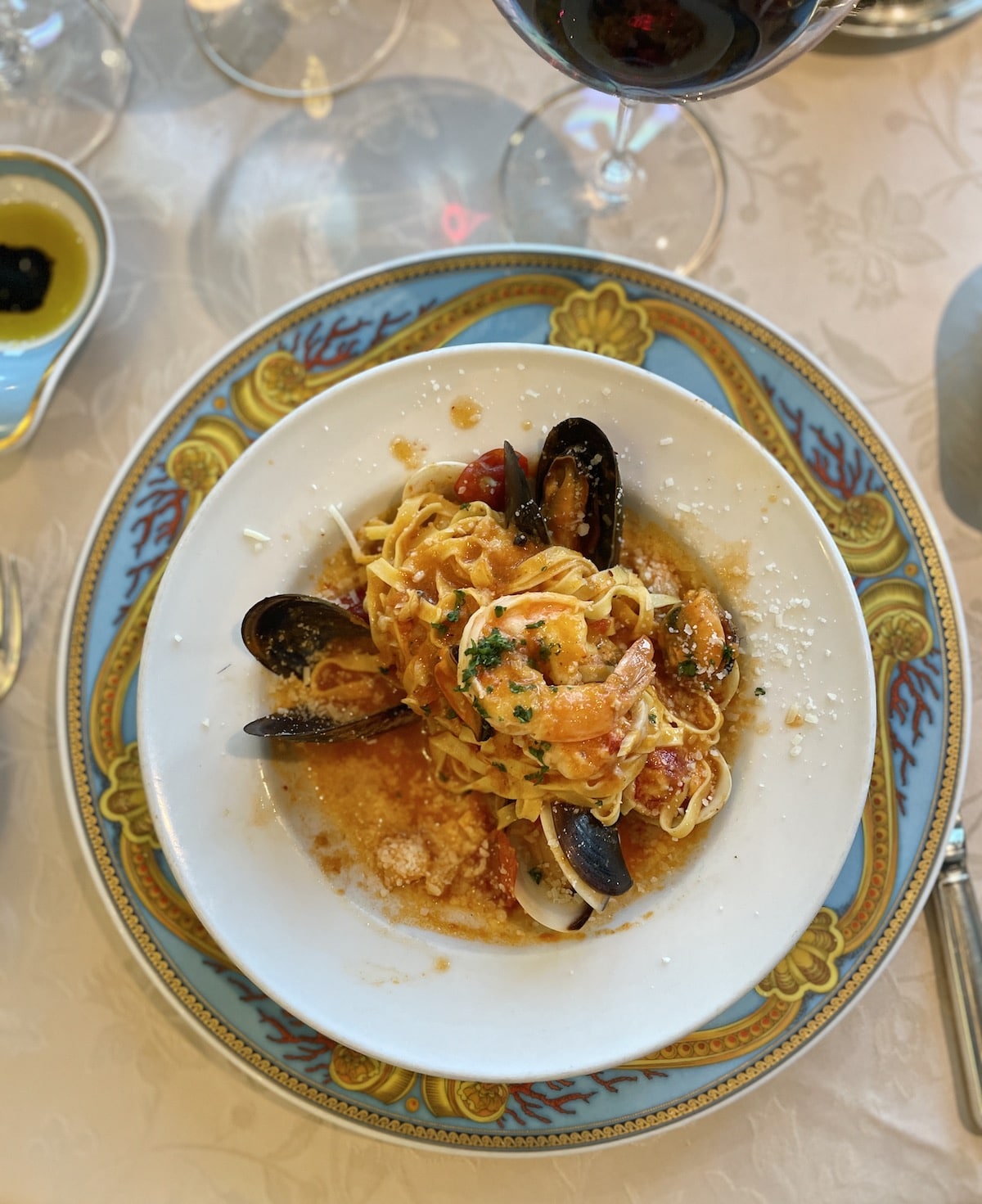 Polo Grill
The setting at Polo Grill Steakhouse is reminiscent of a country club steakhouse.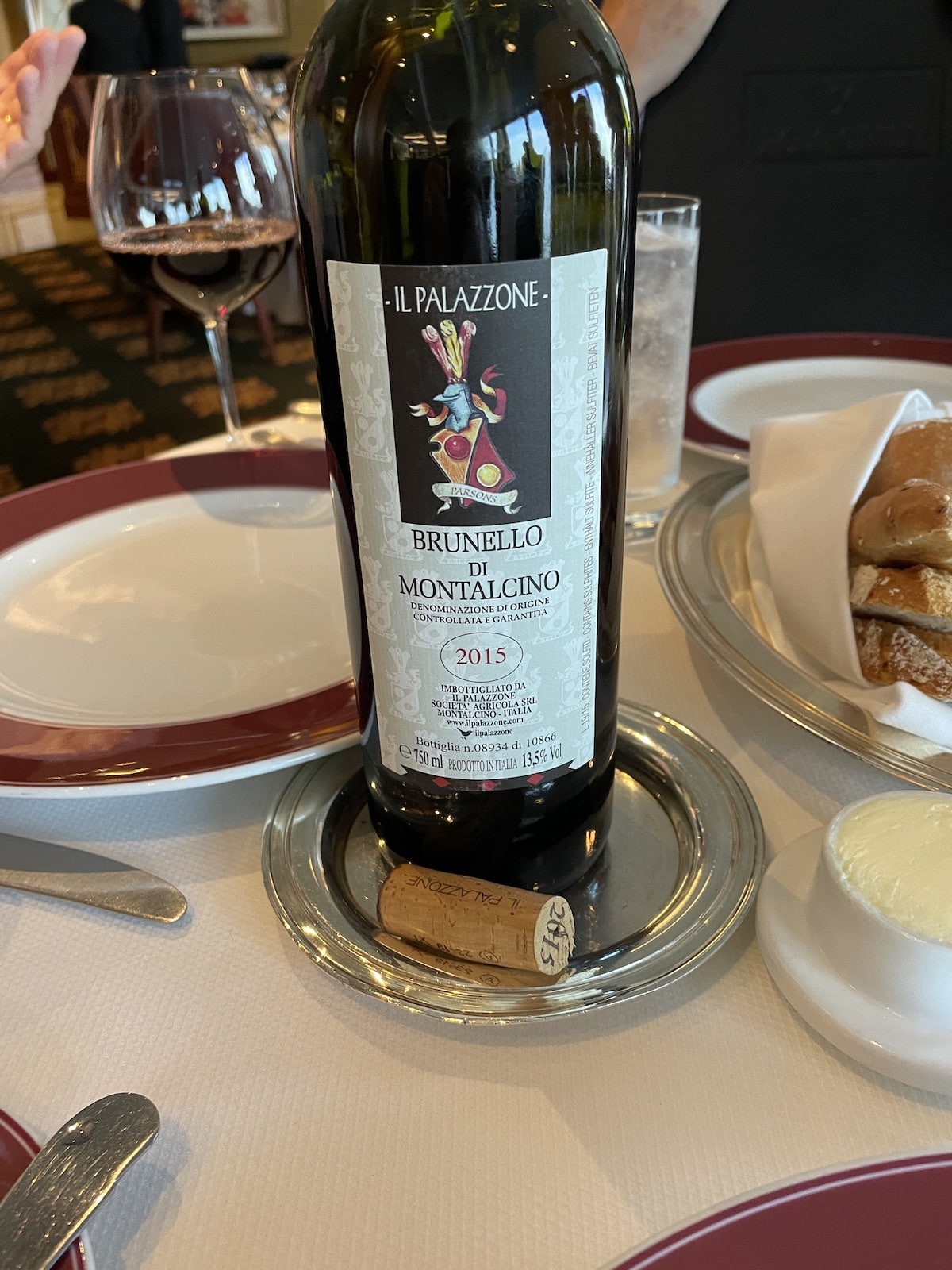 This menu offers mouthwatering Black Angus steaks and succulent seafood dishes, such as grilled swordfish.
My husband started with the warm foie gras with mushrooms in a puff pastry crust.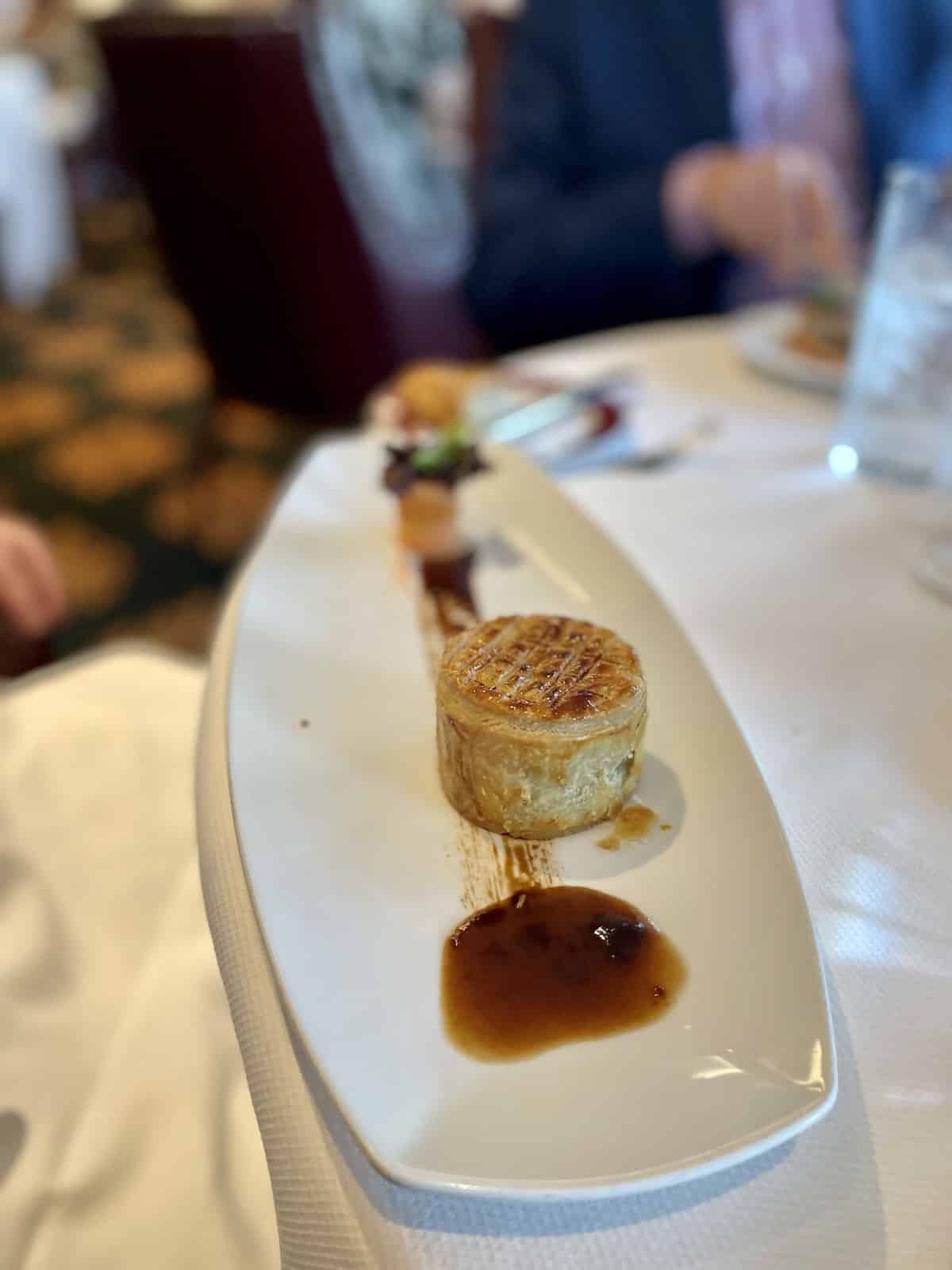 I had the roasted beetroot and garlic goat cheese Napoleon and it was tasty and such a pretty dish.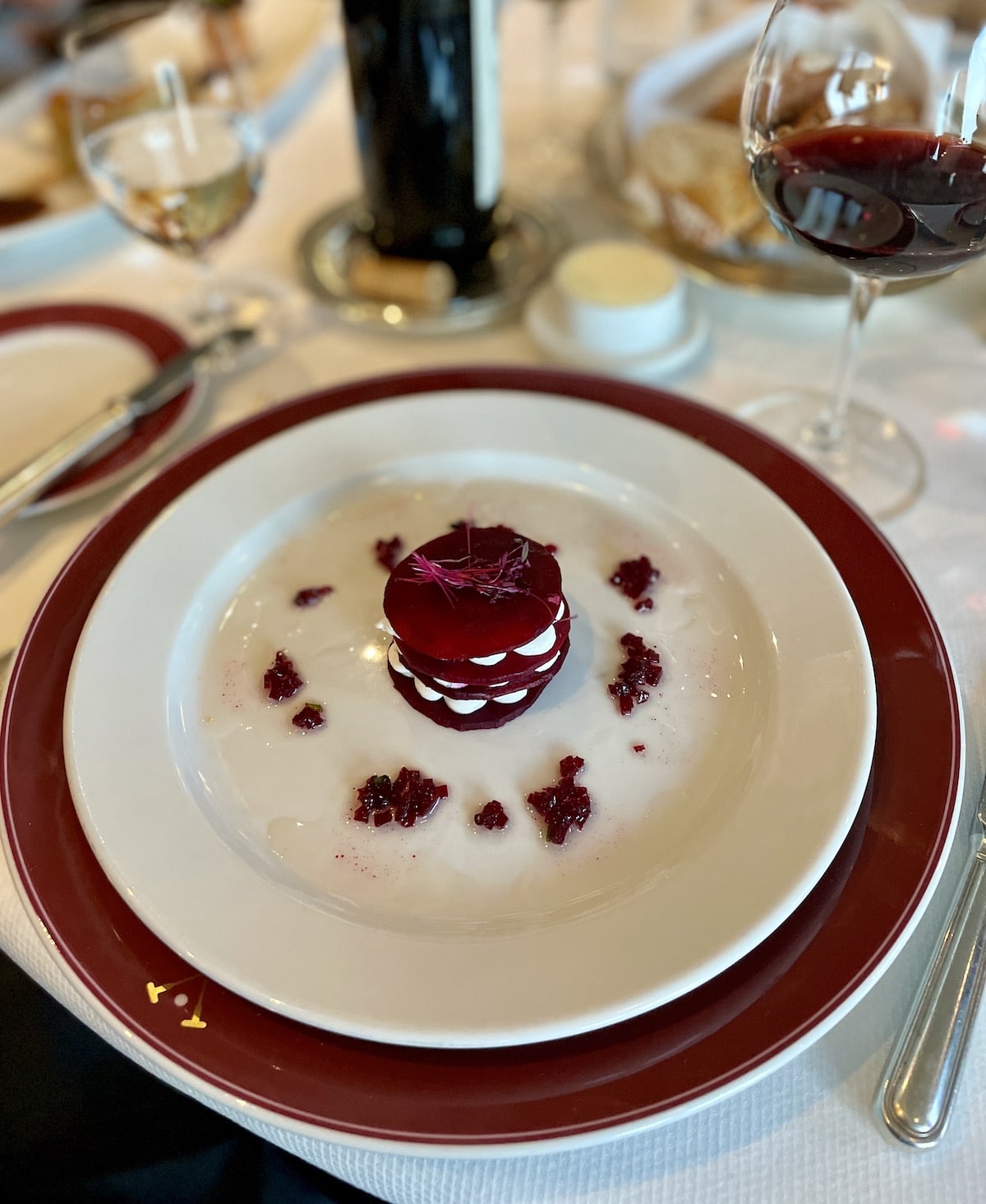 For our main dishes, I had a ribeye steak and my husband had the below Polo Grill Surf and Turf.
To be honest, we both felt this was our least favorite restaurant.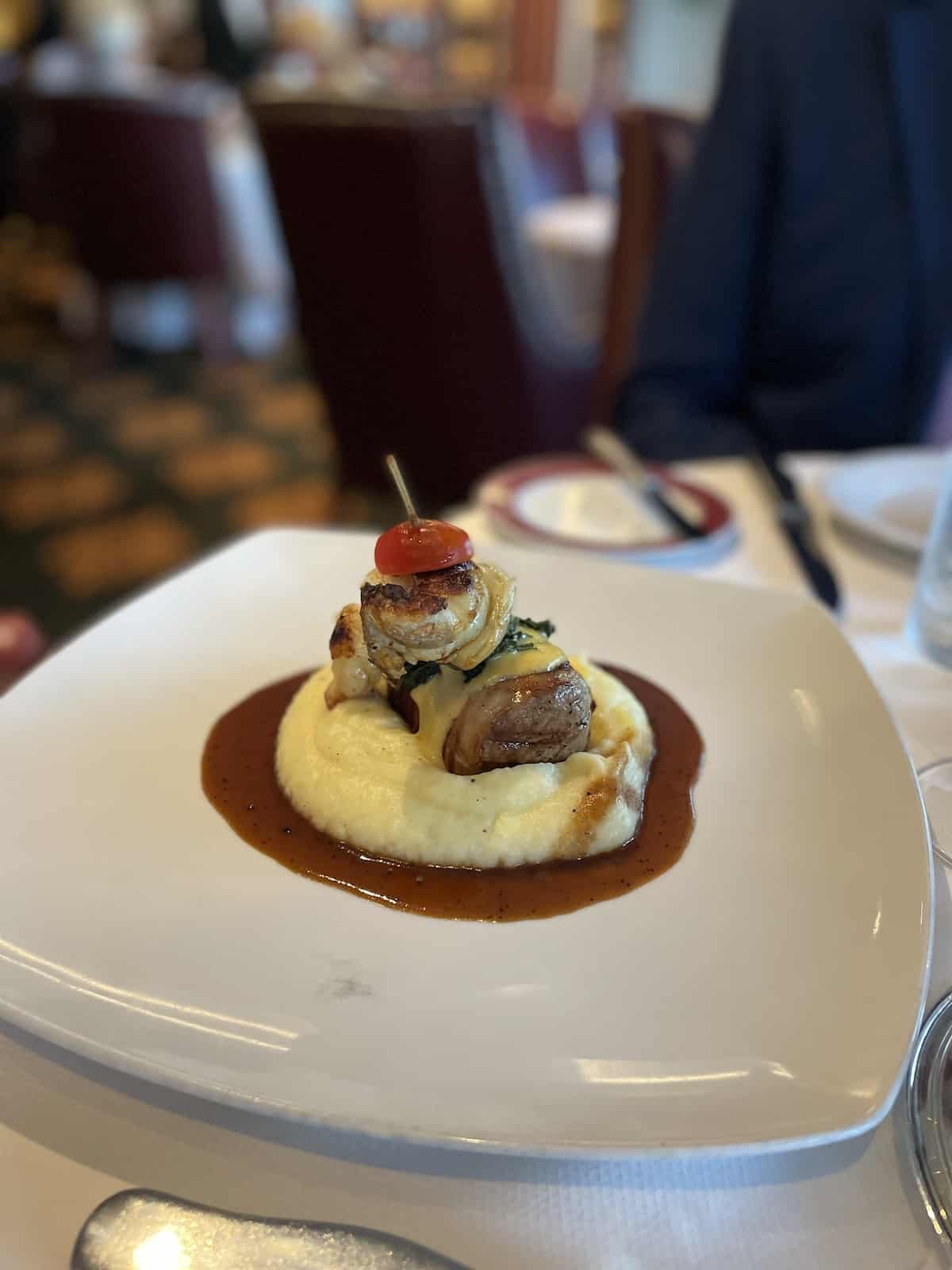 Jacques
Jacques is both a feast for the eyes, with the heirloom antique decor, and a feast for the senses with delicious French cuisine.
While the dishes are familiar, with things like rotisserie chicken and sea bass, each dish is reinterpreted by Master Chef Pépin.
The Maryland Lump Crabmeat Salad was a nice surprise in the preparation, and was delicious.
For my warm hors d'oeuvre I had the poached scallop gnocchi with lobster in a creamy white wine sauce.
The gnocchi was tender and the seafood perfectly cooked.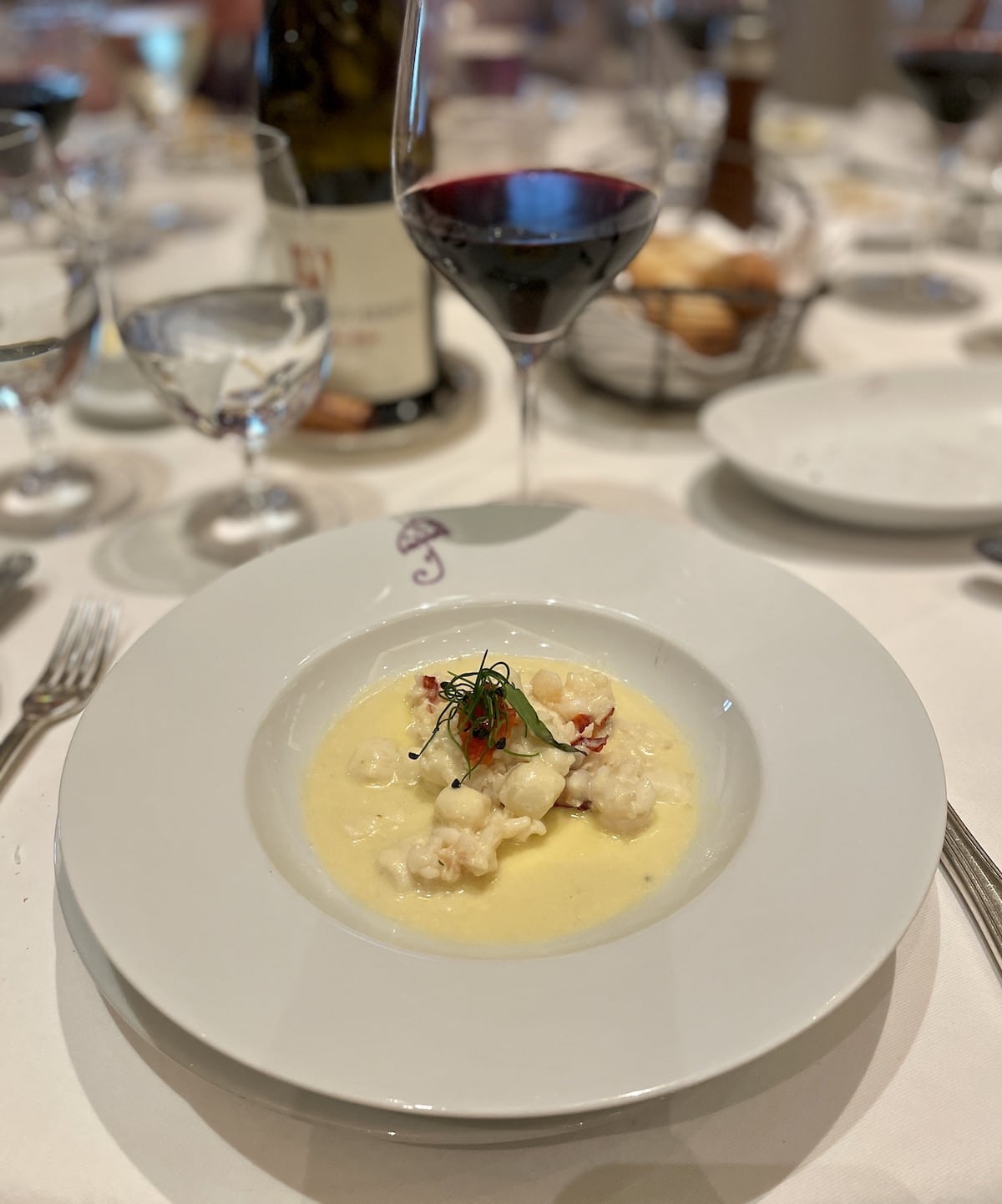 For my main dish, I ordered the scallops over fondant potatoes. It was so good, but this was a lot of rich food!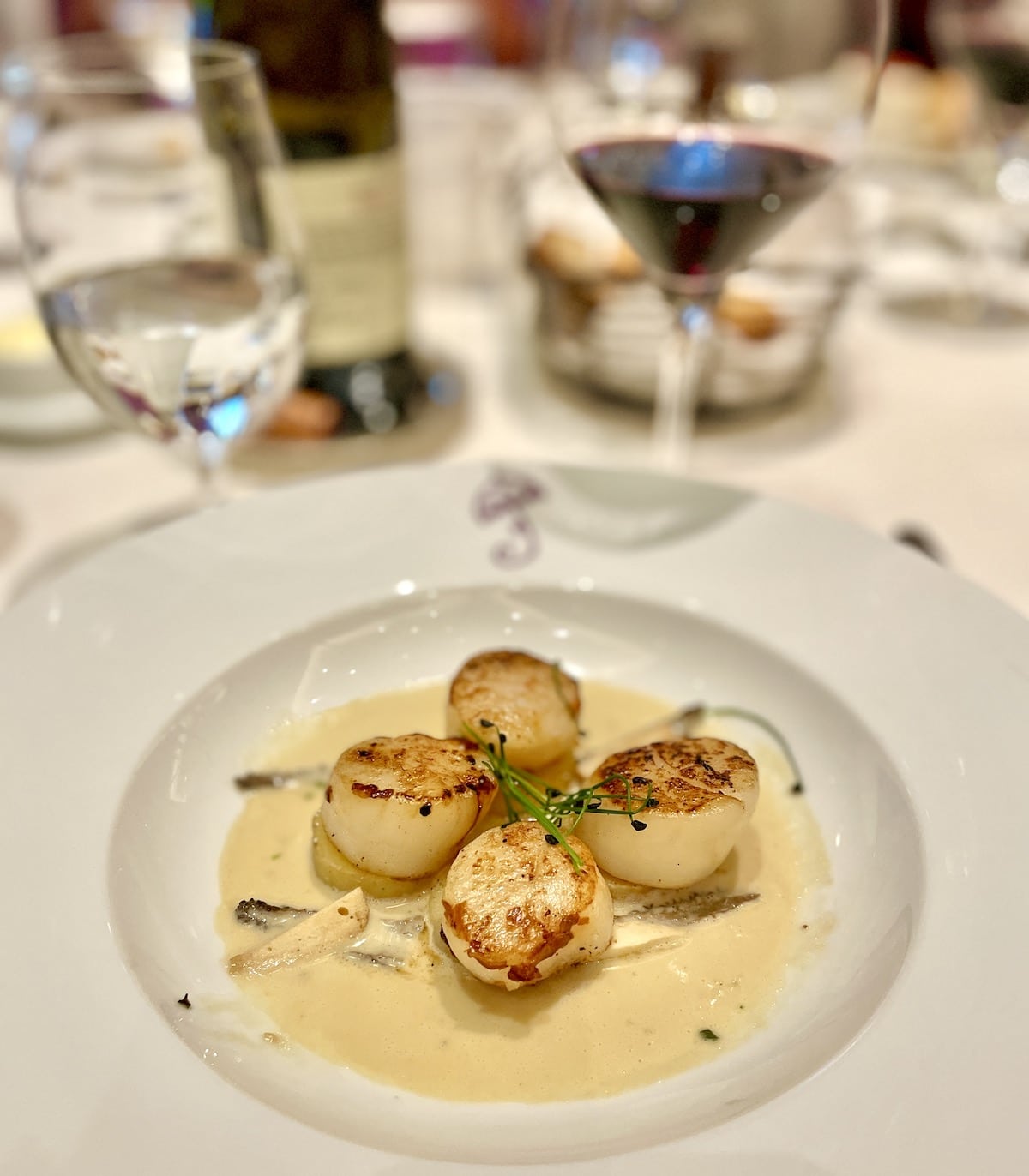 I did not have dessert that night!
Red Ginger
The striking red and ebony interior gives a nod to aspects of feng shui.
The excellent food, a pan-Asian assortment, features equally stunning flavor blends.
From beef penang with coconut rice to Thai vegetable curry, this is an amazing option if you like carefully crafted blends of flavors.
We enjoyed the sashimi and sushi.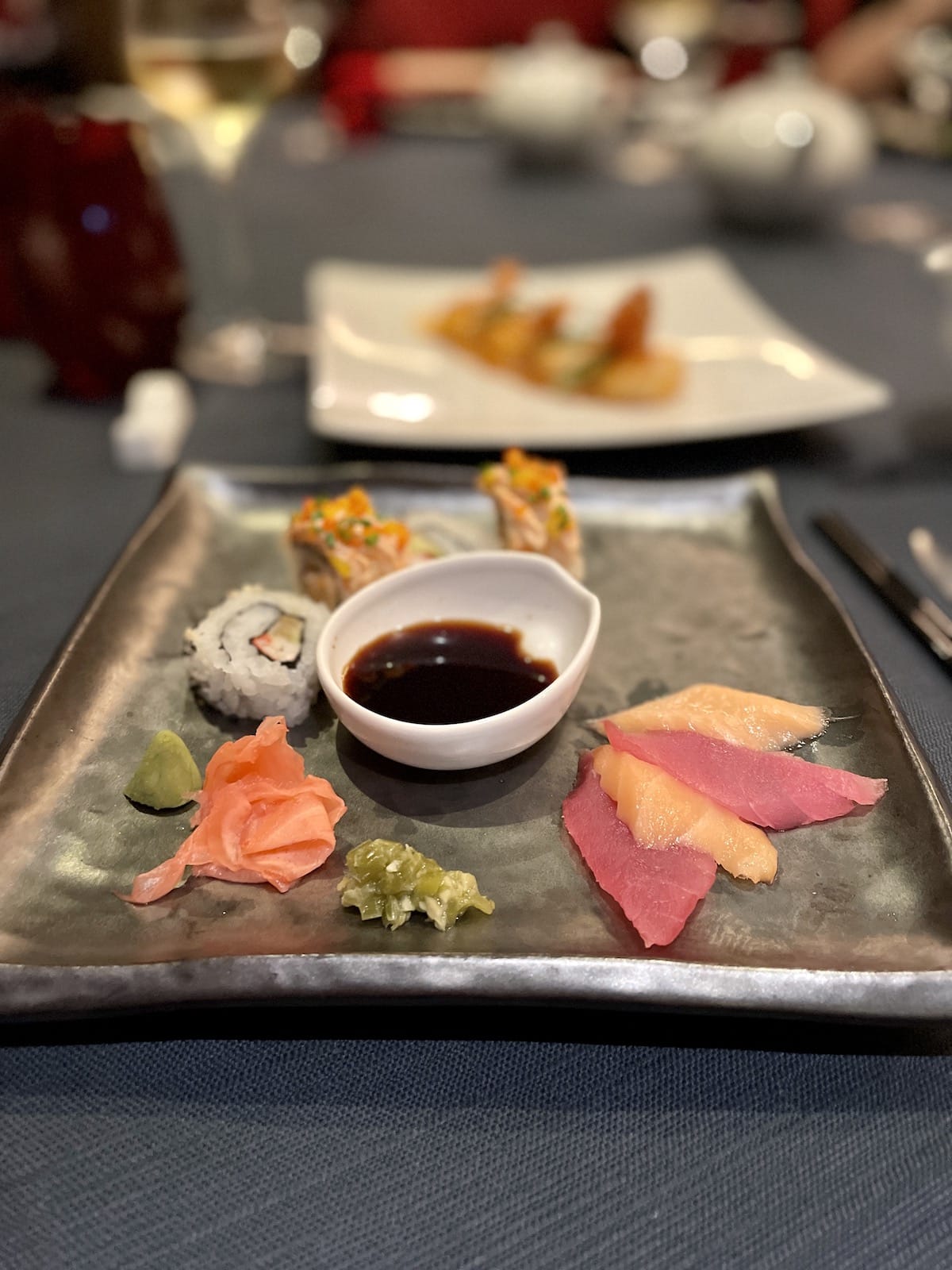 The watermelon and duck salad was insanely good.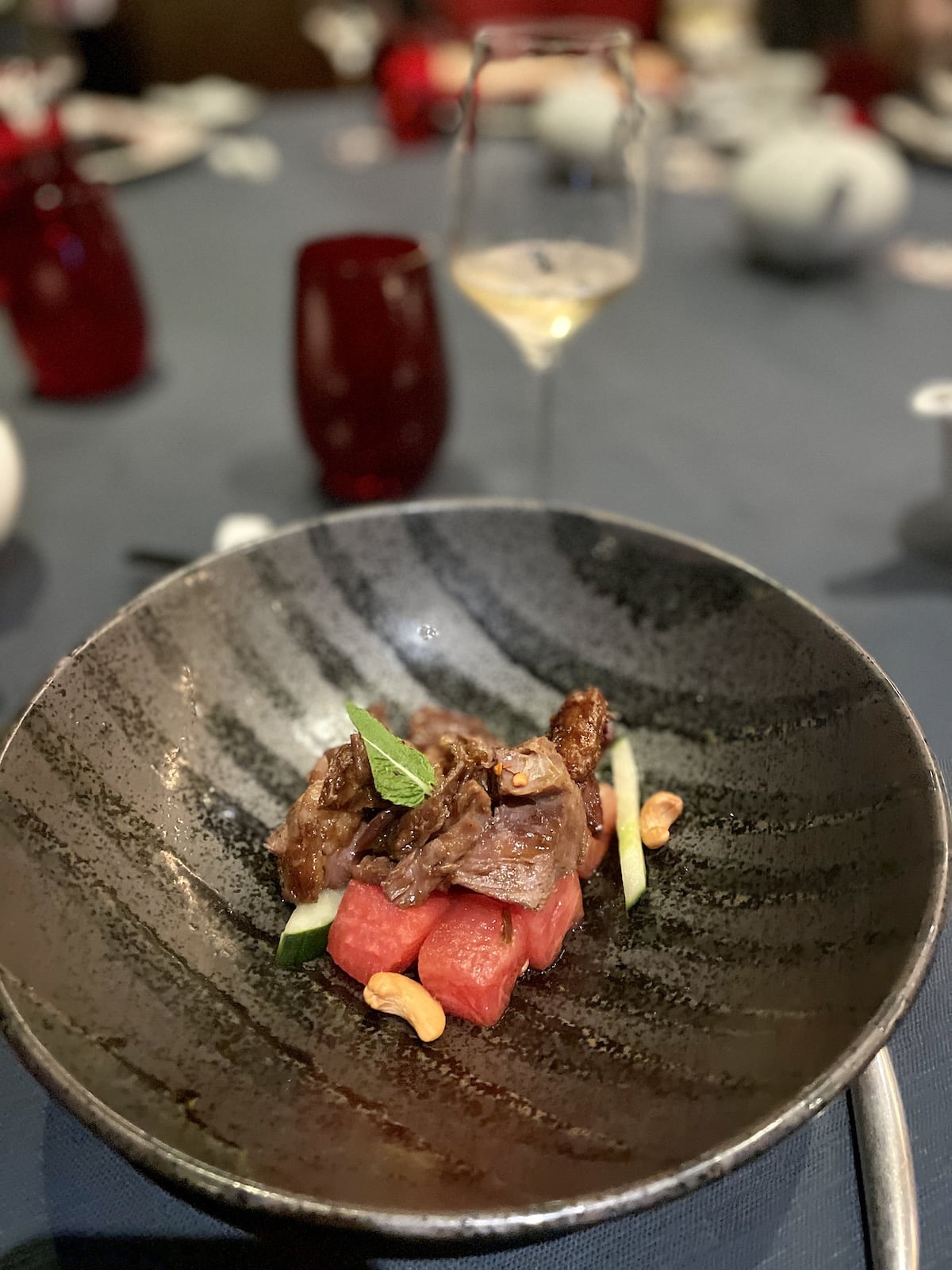 The Miso Glazed Sea Bass was the best fish dish I've ever eaten, and I eat a lot of fish!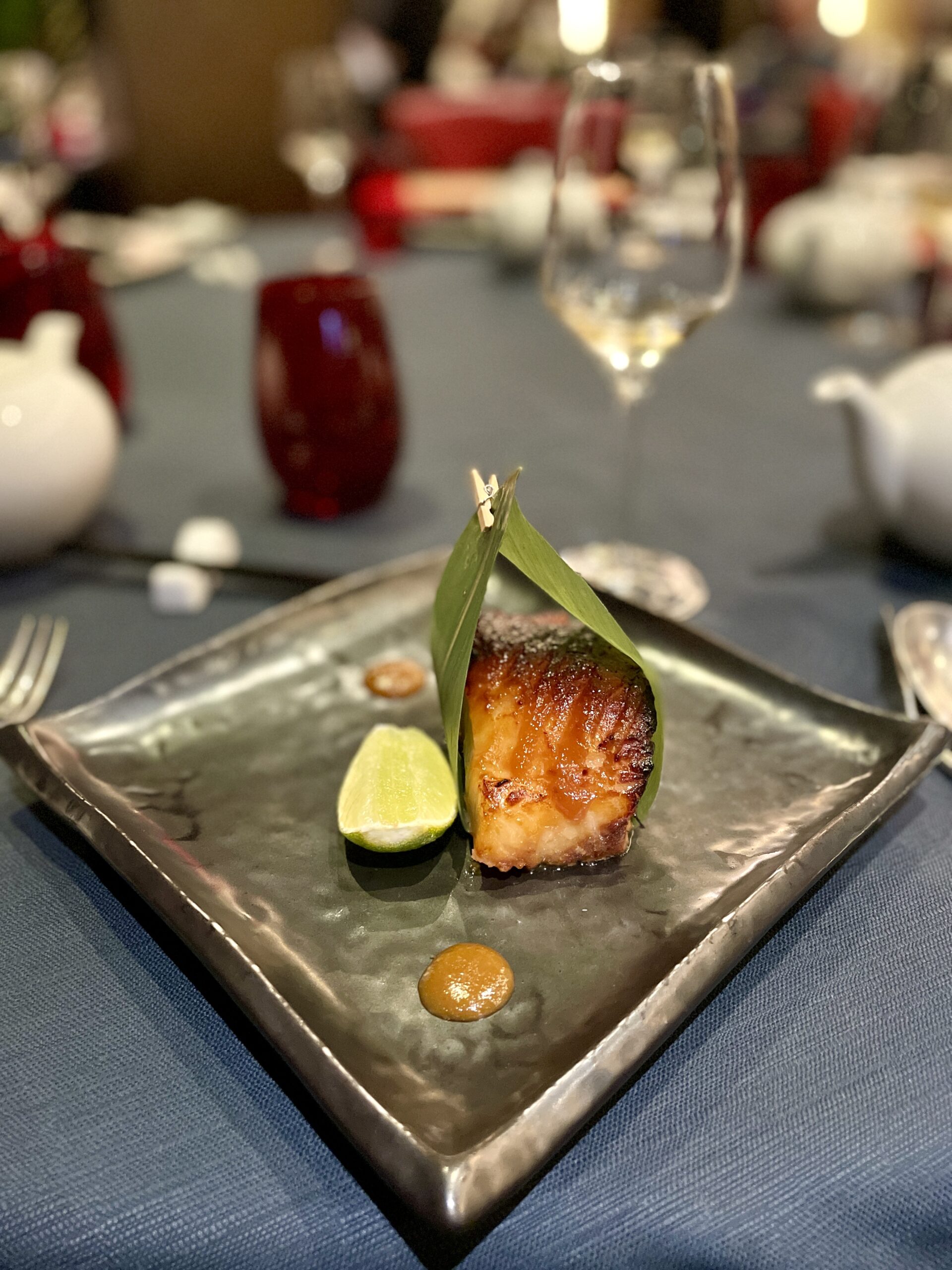 My husband and I both thought the culinary offerings at Red Ginger were incredible. This was our favorite restaurant on the ship.
Terrace Café
The Terrace Café is open for all meals and provides casual dining options throughout the day. This is the buffet on the ship, but if you're not a buffet person, don't write it off.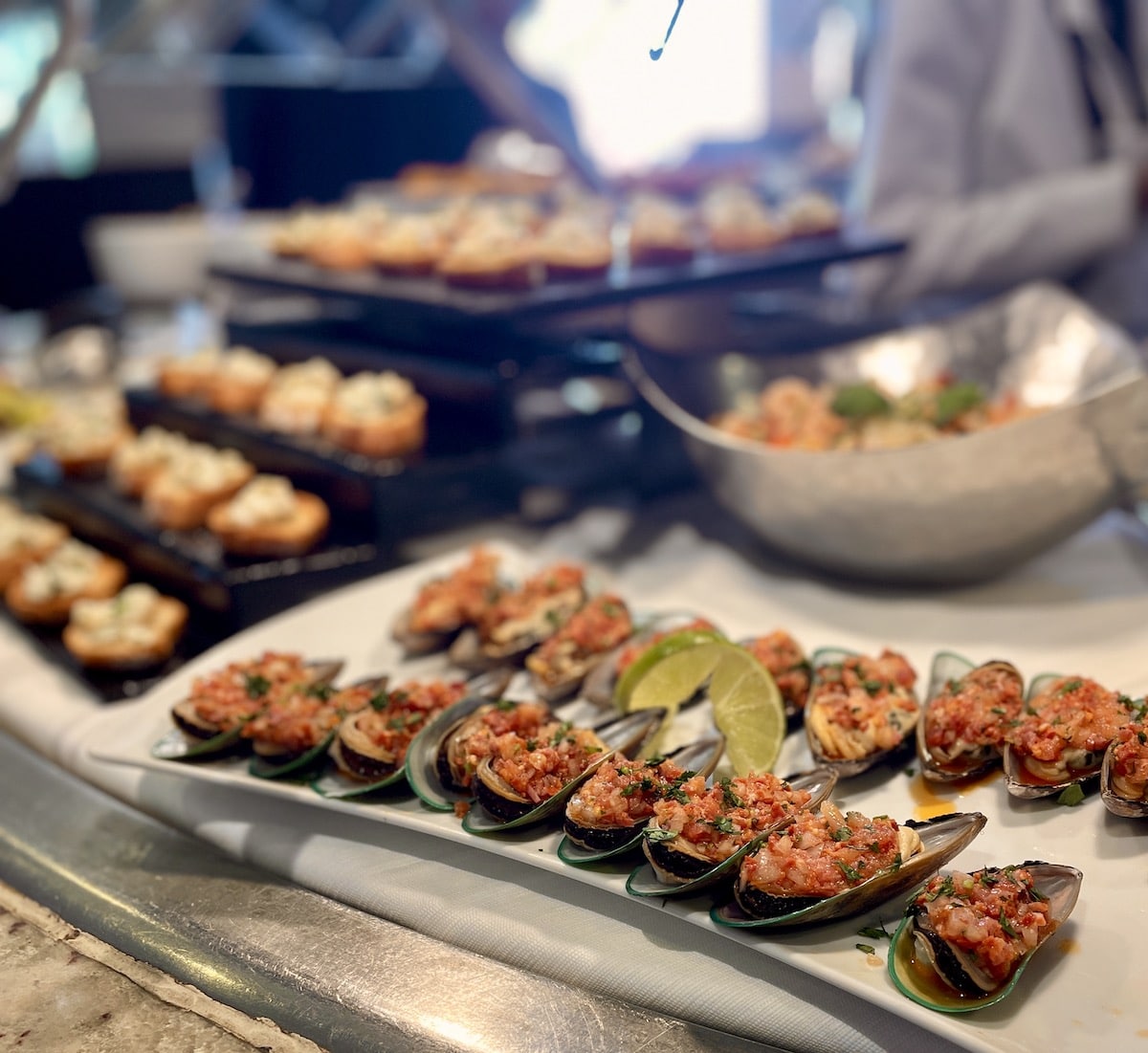 We actually really enjoyed Terrace Café. If you've been a reader for any length of time, you know how much I love appetizers.
Being able to have just a bite or two of several different dishes is so much more fun for me than sitting down to a big meal.
At Terrace Café, you can choose a plate full of appetizers for any meal as there are so many to choose from.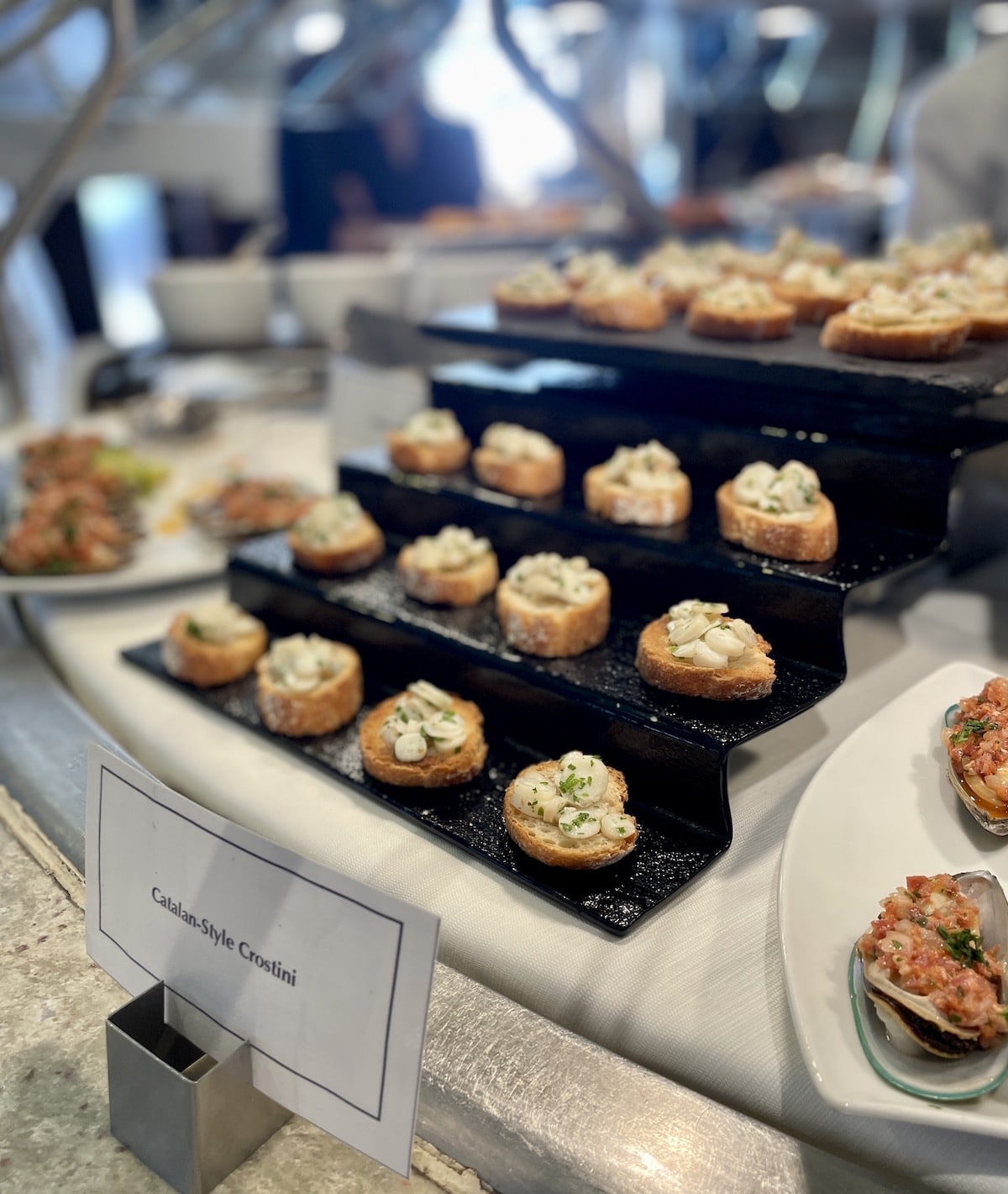 For lunch, my husband and I would head there for a table overlooking the sea, a glass of wine, and share the appetizers we had chosen.
One afternoon we had grilled lobster. Such a nice surprise.
We enjoyed the sushi, shrimp, crostini with different toppings, and bruschetta. The charcuterie section was also always delicious.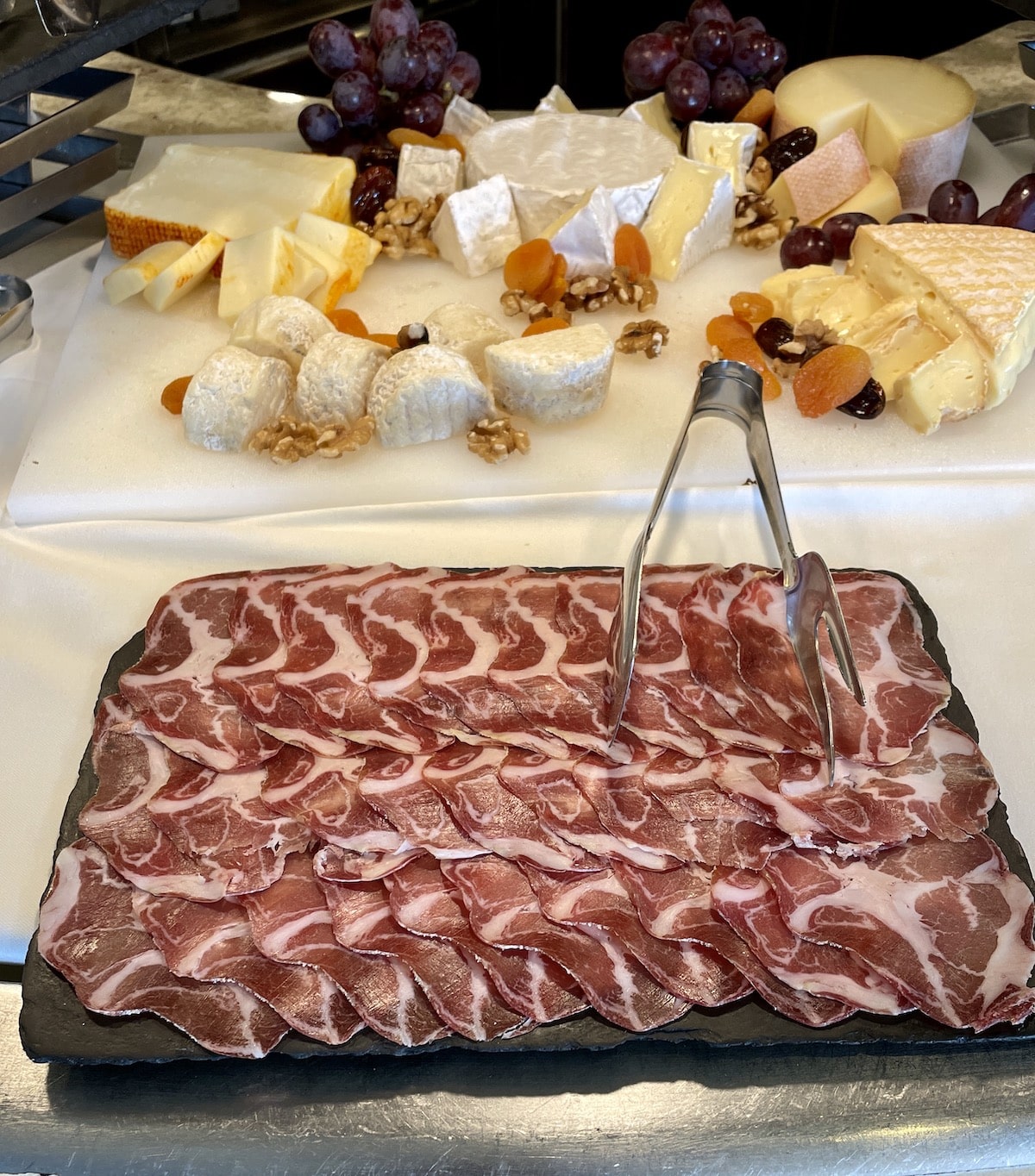 From a variety of breakfast options to pizza, sushi, and other international delights, along with stunning views, Terrace Cafe is one dining location you'll love to come back to.
Waves Grill
Waves Grill is another one of the casual dining spots on the Marina, but the focus here is on American-inspired foods.
This is where to go when you're in the mood for a 100% Black Angus burger and fries.
Waves Grill also has a Surf and Turf Sandwich, as well as a Cuban and a Reuben. Stop by and take a look.
It's hard to eat everywhere with so many choices, especially if you're out on excursions every day.
Do make sure to save room for one of their incredible ice cream creations!
You'll find Waves Grill and Waves Bar near the pool area.
Afternoon Tea
Afternoon tea is served daily at four o'clock. It is everything you'd expect with finger sandwiches, scones, petits fours, and more.
Relax to the soothing sounds of a classical string quartet as you enjoy this time-honored tradition.
I'm sorry to say I didn't make it to the tea, and I just love formal teas. It's a great idea to make a list of the things you want to do on the first day so you don't miss your favorites. I'll have to do this next time!
Baristas
Looking for coffee to help keep you going? Baristas provides illy lattes, cappuccinos, and espressos.
Even better? They're complimentary. Make sure to grab a homemade biscotti while you are there.
Note: They do not serve regular coffee here. I saw people come in every day asking for it. Head to Terrace Café for that.
Privee & La Reserve
Marina offers two private dining experiences, Privee and La Reserve.
With exceptional food and wine pairings, including the Dom Perignon experience, these upcharge, small group meals have incredible food in an unforgettable experience.
We were able to attend La Reserve one evening. The first course was a Bay Scallop Teriyaki Seared right in front of us on a Riverstone served with a wonderful Rosé Champagne.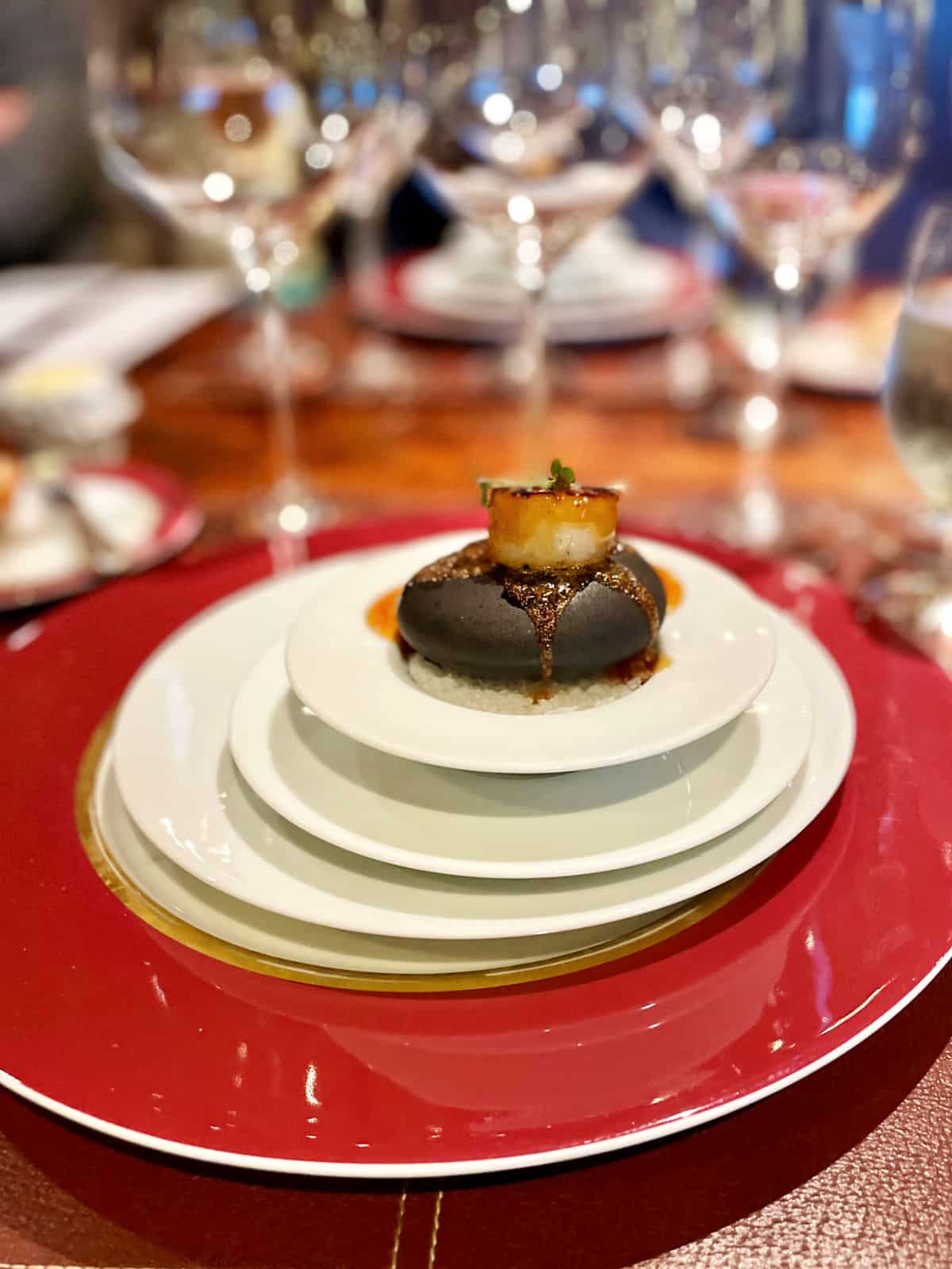 This preparation was another first for me, and the scallop was seared perfectly. La Reserve really is some of the finest cuisine you'll find on the ship.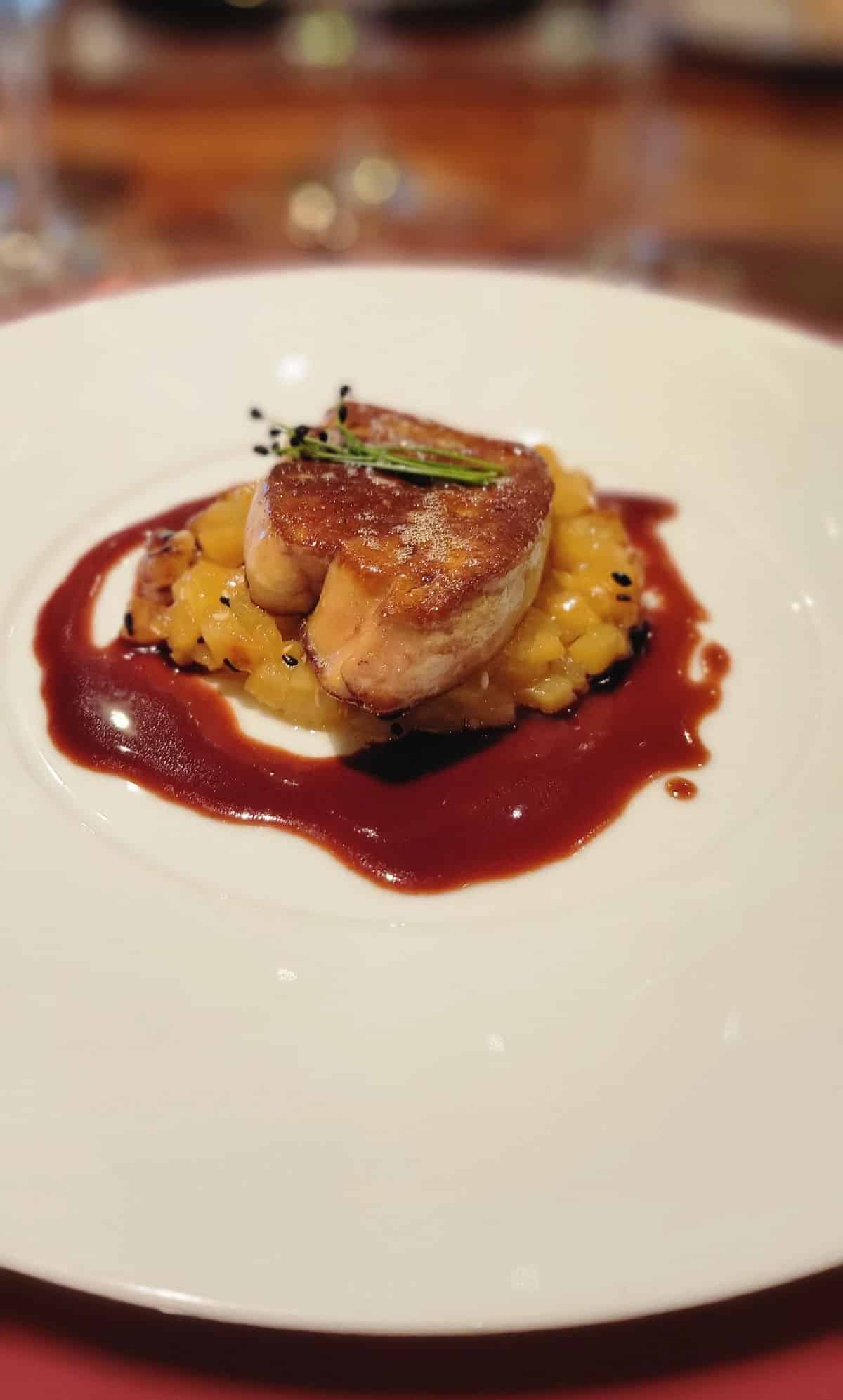 It not just a meal, but an experience! The wines were lovely, as well.
We were excited to see Châteauneuf-du-Pape on the menu, which we had visited years ago.
Room Service
Don't forget included room service! This is especially great for busy mornings when you have an early excursion.
We ordered coffee, muffins, and juice almost every day so we could take our time getting ready for the day.
Room Service is included in all fares, 24 hours per day.
Excursions on the Northern Islands and Gems Sailing
As amazing as the cruise ship is, a good part of the enjoyment of cruising is visiting new places each day.
Make sure you do your research before your booking window for shore excursions opens to make sure you get the best excursion for your interest.
Below is a list of the excursions we experienced.
Jarlshof & Scenic Mainland Drive
This tour took us all over the Shetland islands to explore some of the history of this quaint setting.
We were able to visit an archeological site where a Viking village was once located as well as a village history center.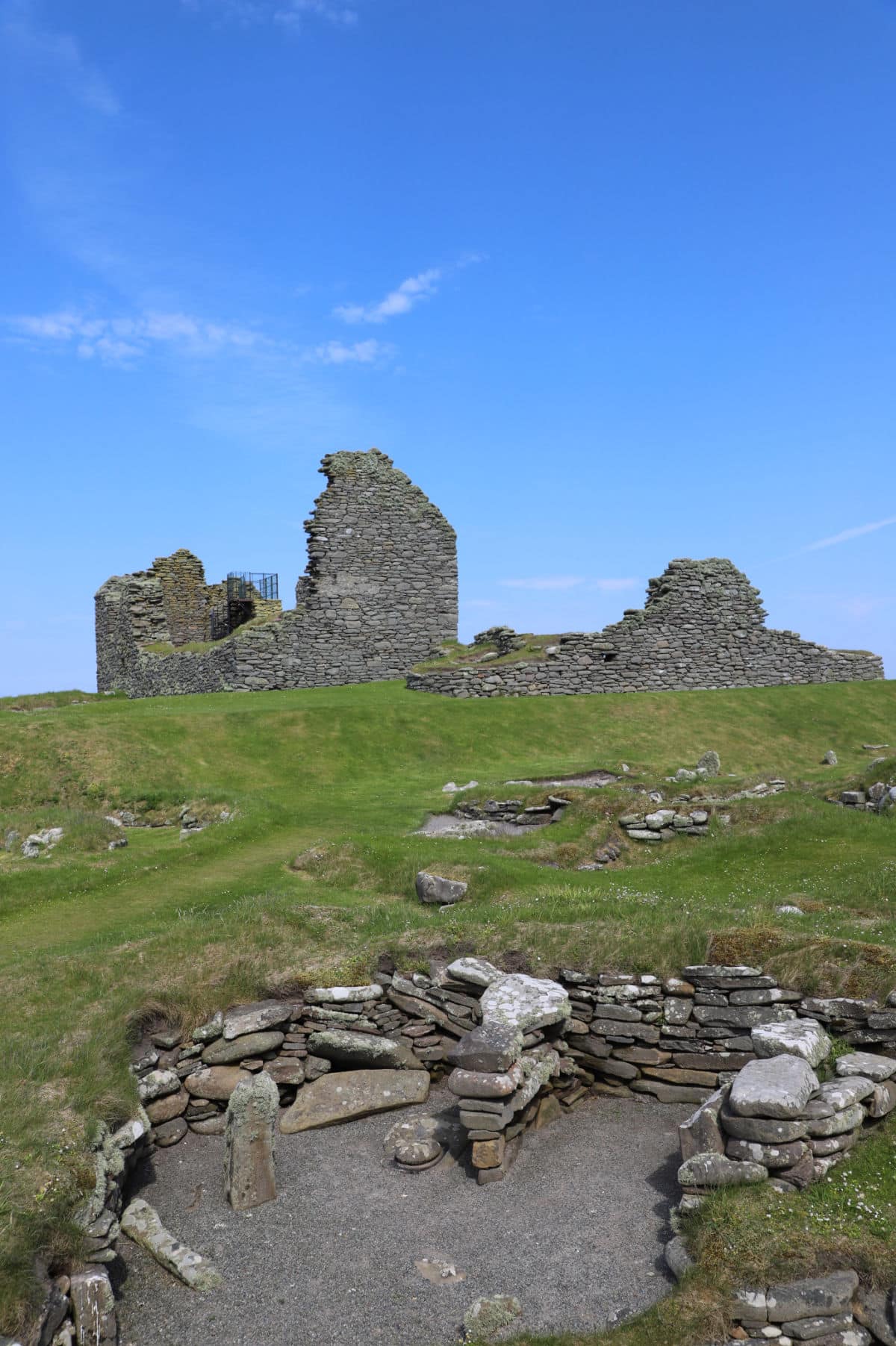 A highlight of the trip was seeing the famous Shetland ponies and sheep.
North Orkney Exploration
The highlight of this tour in Scotland was visiting the Standing Stones of Stenness, located in Stromness, the Heart of Neolithic Orkney, which is a UNESCO-listed region.
Only four of the original twelve are still standing.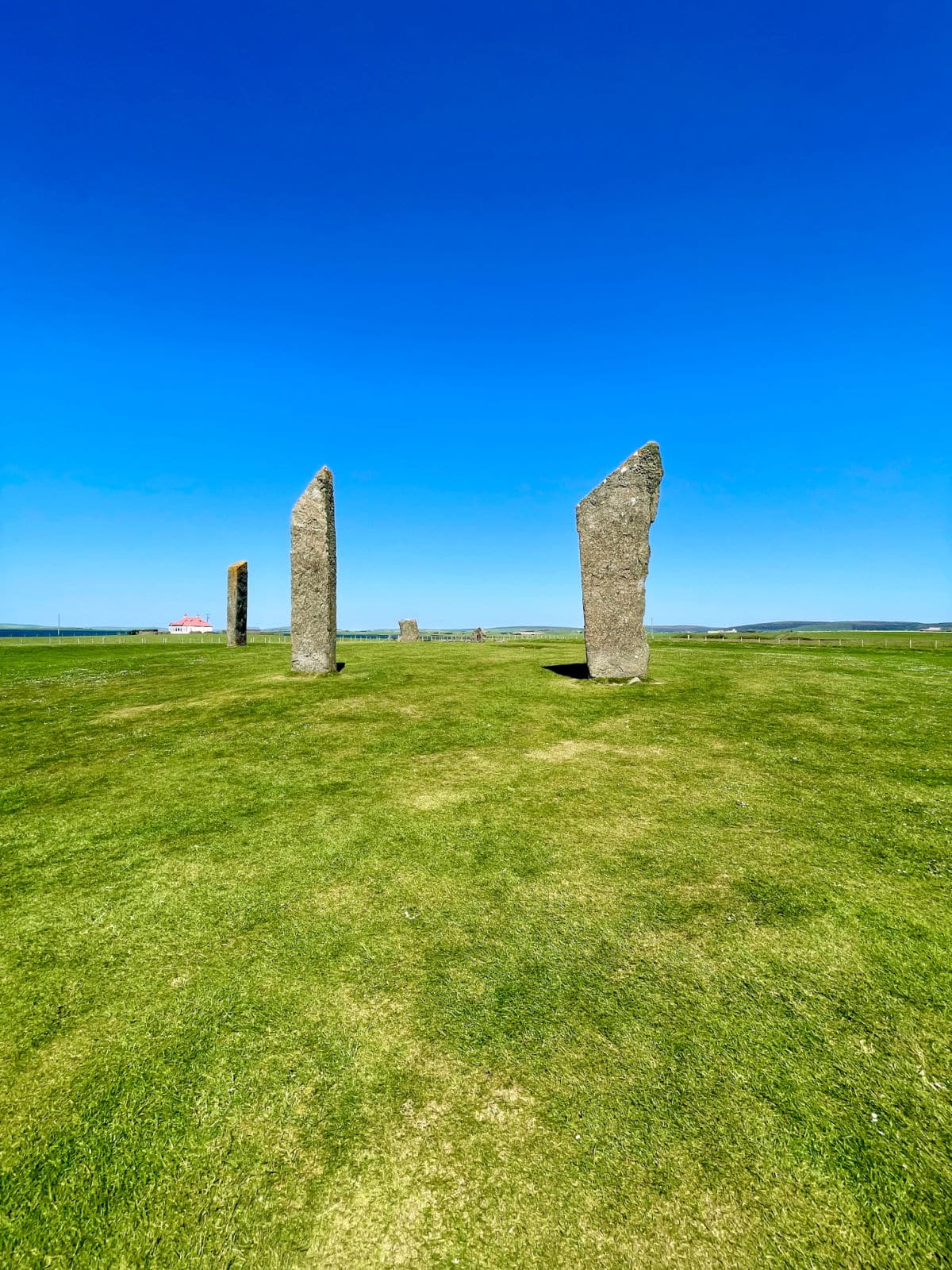 These massive stones are a sight to see, and you have to wonder about the skill that got them upright in this field.
You'll also see Boreray sheep at the Standing Stones site.
They take care of the grass with no worries about the possibility of damage to the stones.
They don't seem to mind their jobs and were happily playing while we were there.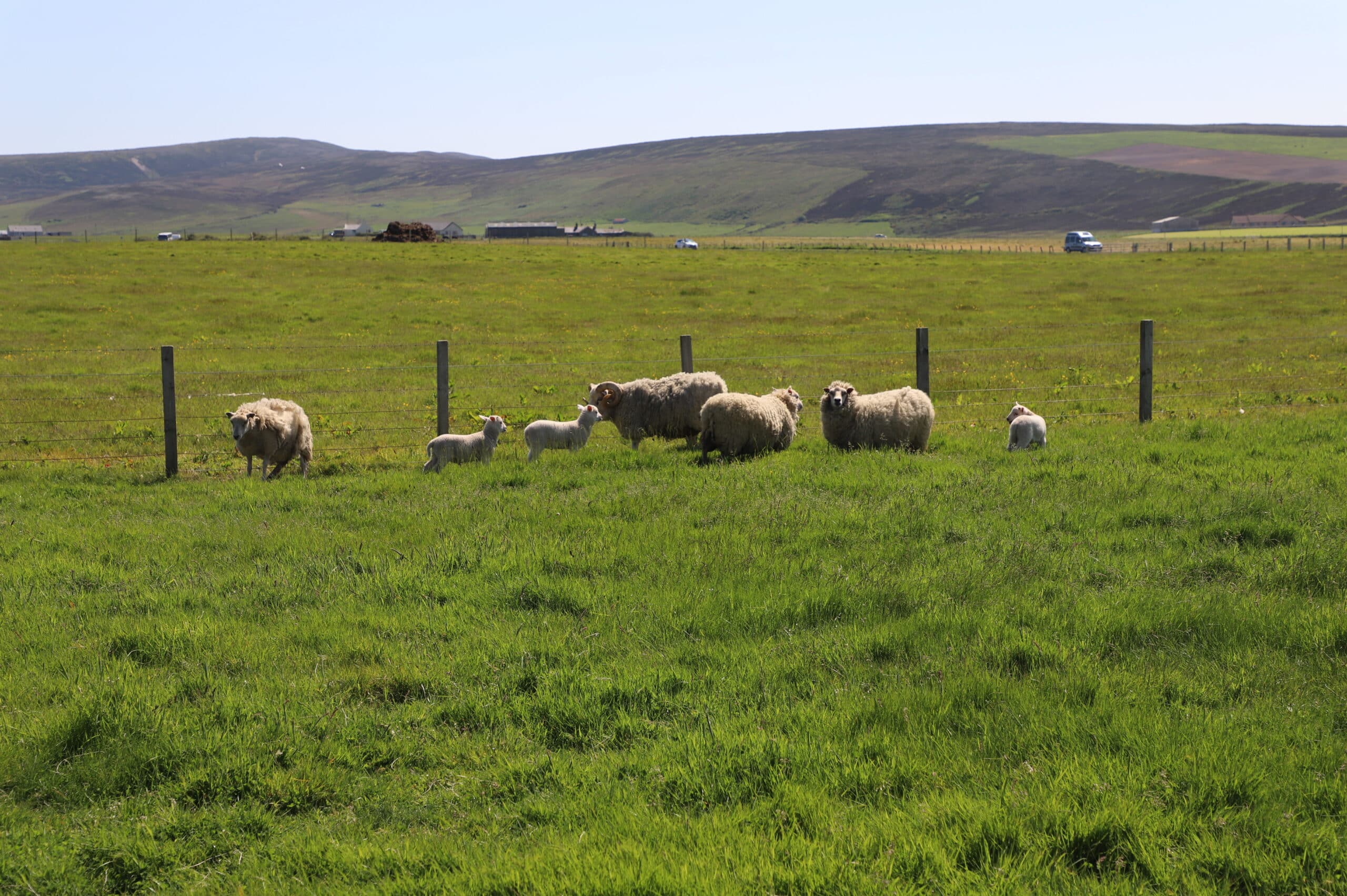 There was a stop into the small town of Stromness included after the tour, and you must take time to try the homemade Orkney Ice Cream.
They have Highland Park Whiskey and Marmalade flavor. Just sayin'. It's important to support the locals, right?
Note: Another bonus to this day was that we were able to go into Kirkwall and explore before our excursion.
Definitely do this if you are on this cruise! There's a lot of history to see.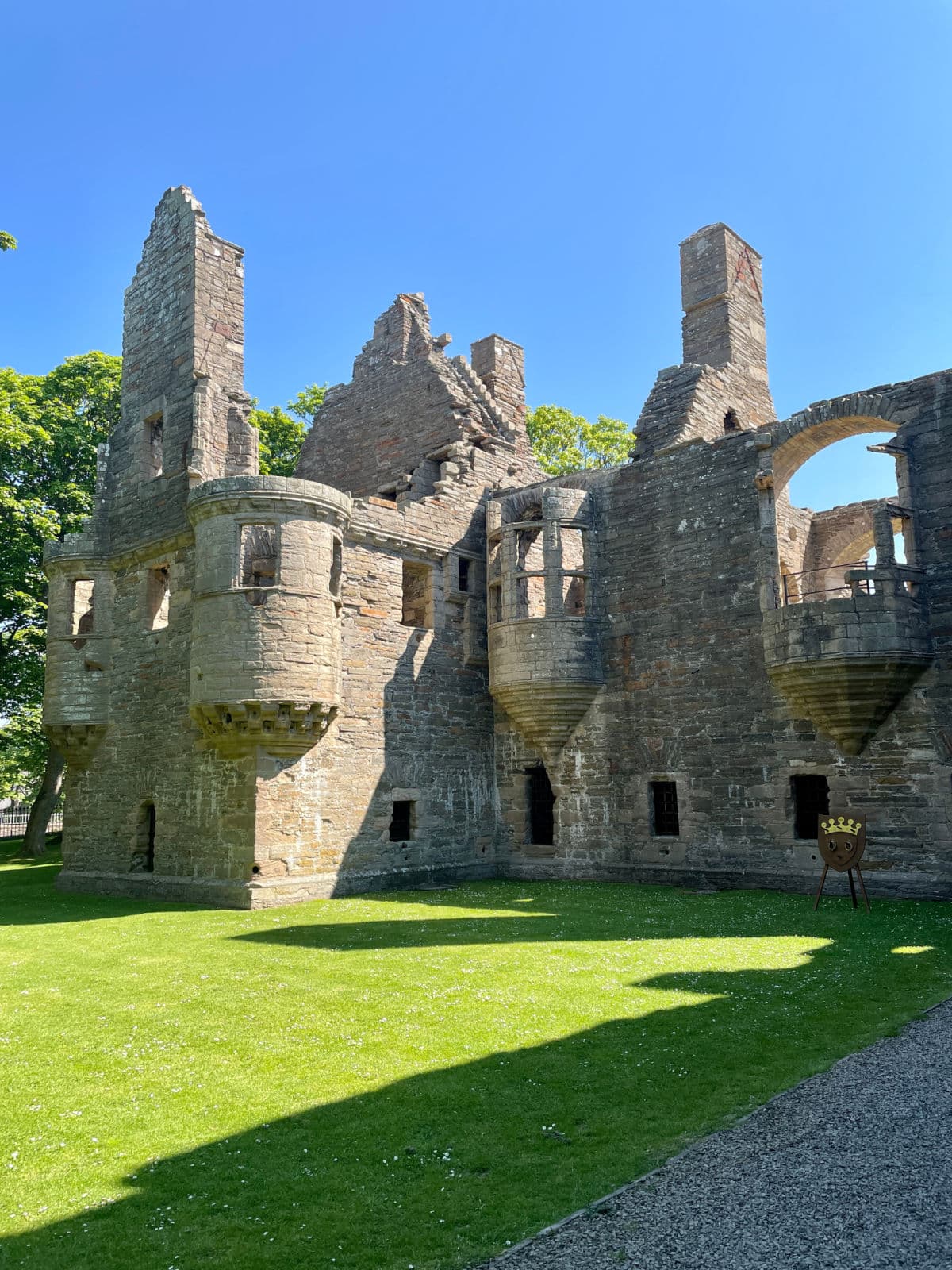 Dunrobin Castle
Dunrobin Castle is stunning from the outside and equally as impressive on the inside with 189 rooms.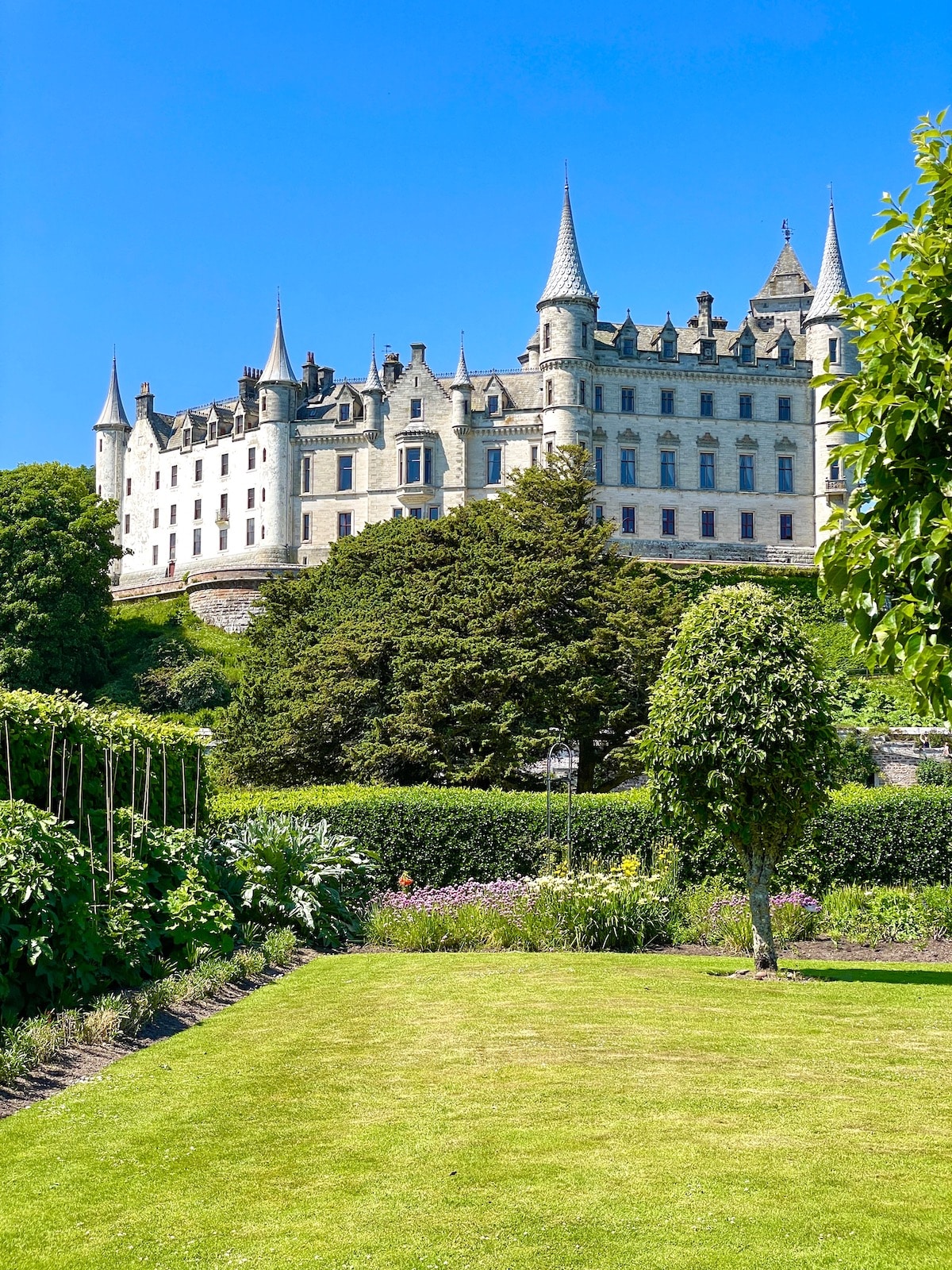 It has been continuously inhabited since the 1300s, and at times was a naval hospital and boarding school.
Dunrobin is the most northern of Scotland's great houses and is also the largest of the great houses in the Northern Highlands.
One of the most popular things to do at Dunrobin is the falconry show. It is definitely worth seeing!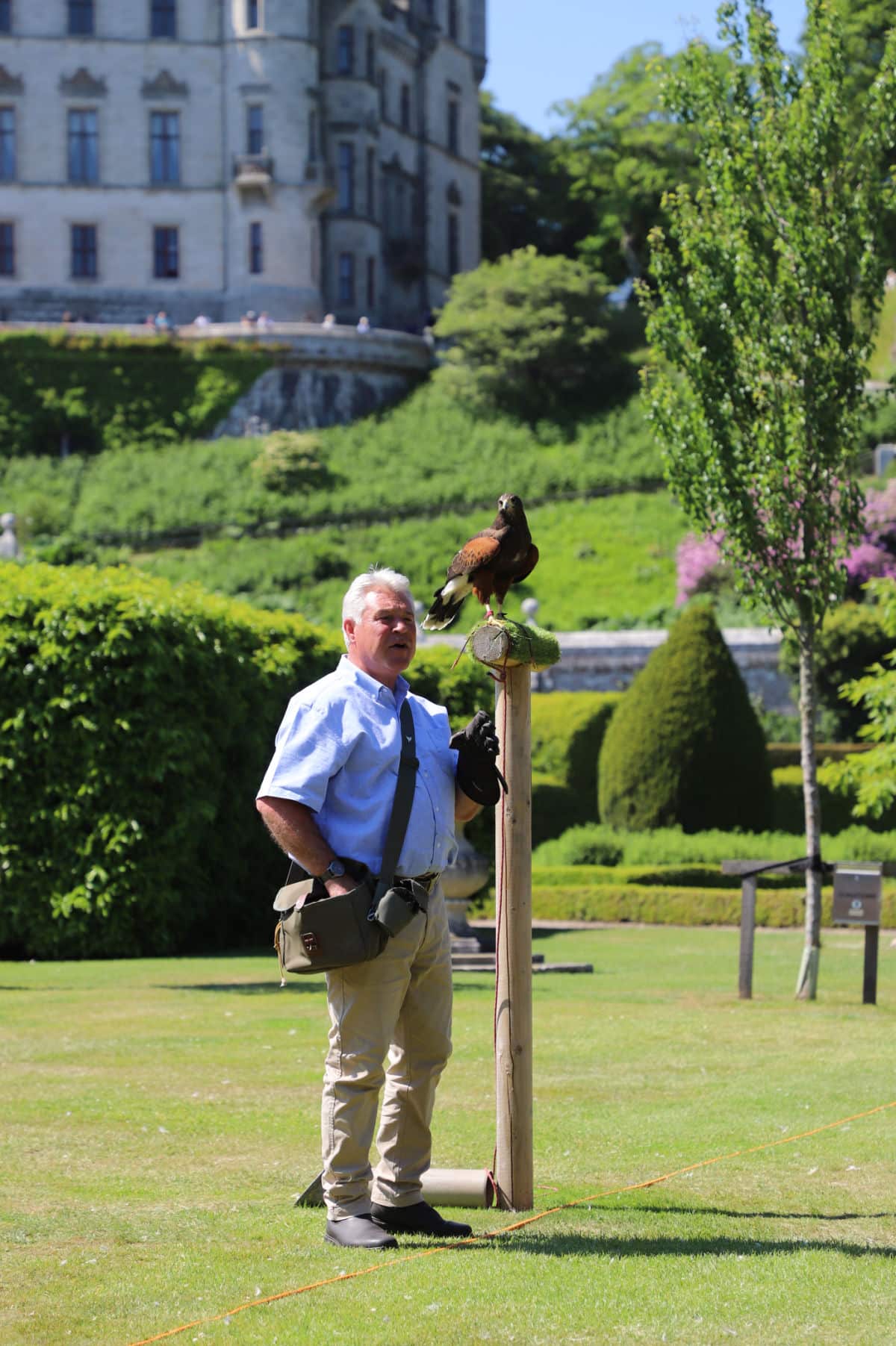 Note: The timing is a bit difficult as you won't be able to see the end of the show (unless it's changed) and will really have to hustle to get back to the bus.
Be at the show on time so you can at least see a good portion of it. And get ready to get your steps in because it is a long walk back!
Royal Mile
The Royal Mile Walking Tour in Edinburgh gave us plenty of time to see how the historic sights of Scotland are melded in with everyday life.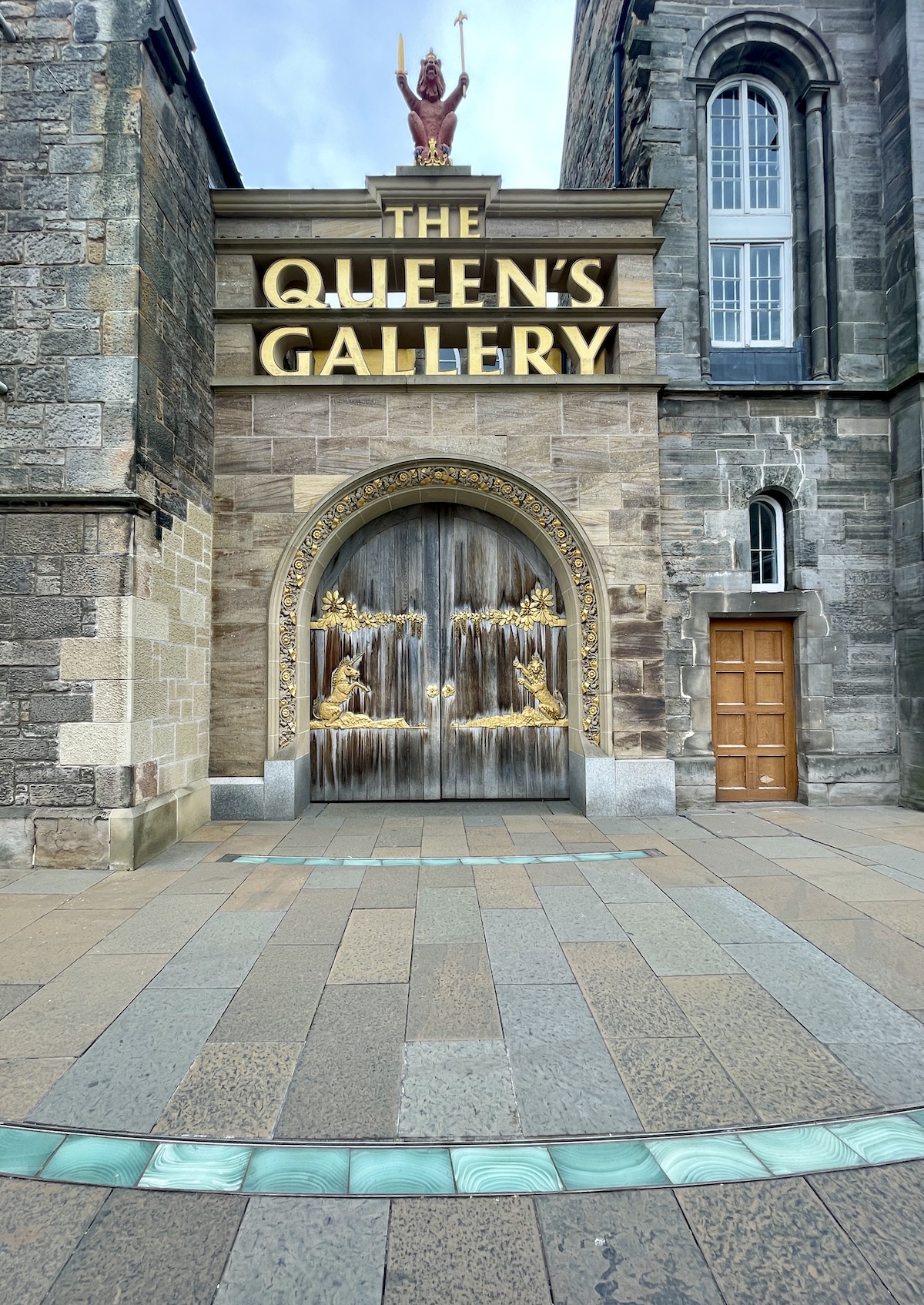 The Royal Mile is a thoroughfare that connects Holyroodhouse with Edinburgh Castle and is home to historic buildings and plenty of shopping.
Newcastle On Your Own
This tour provided transportation from the port, along the Tyne River, and over to the historic center of Newcastle.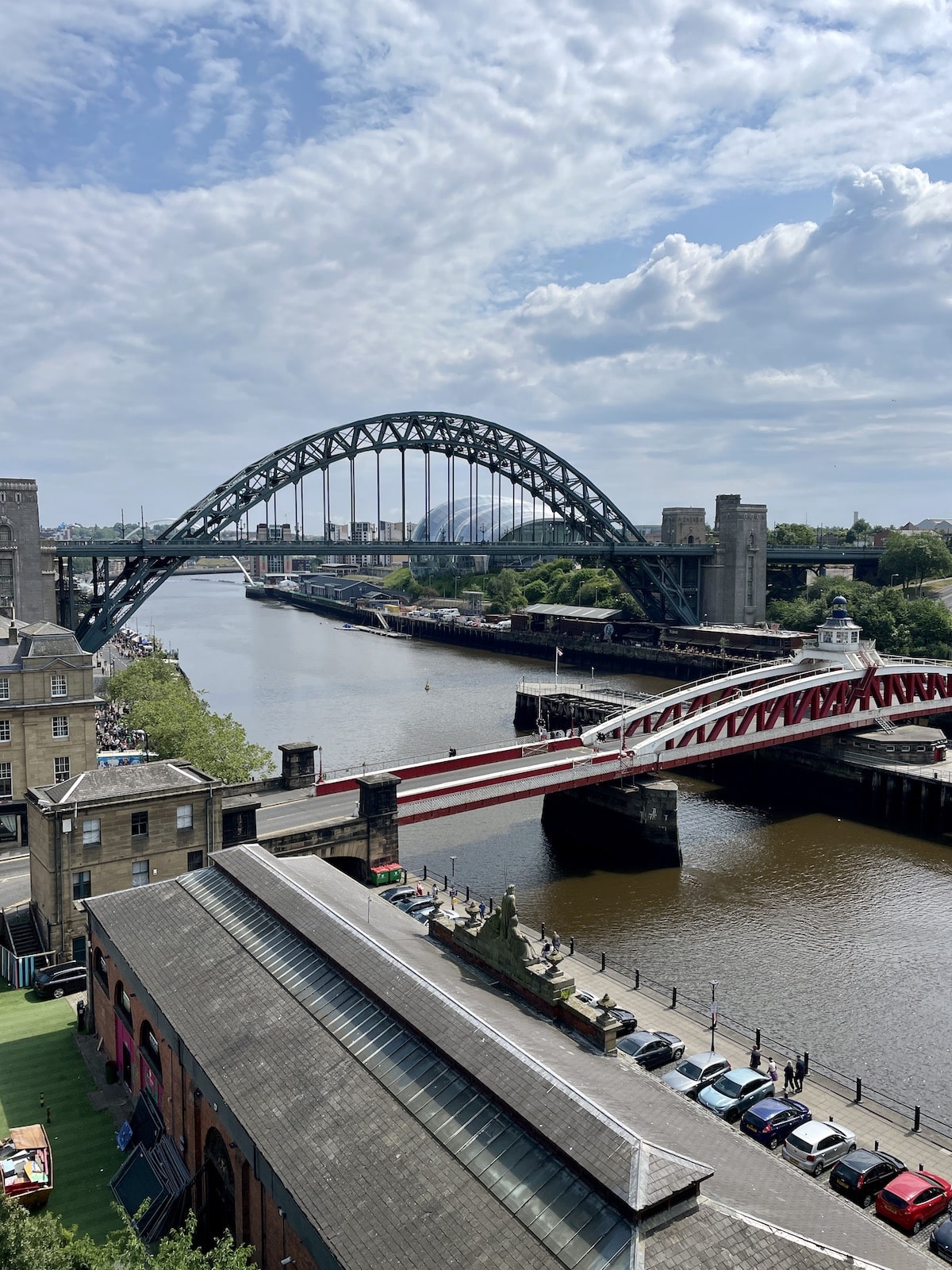 We were able to explore the area on our own for about three hours and had so much fun.
I had read about The Old George, which is the oldest pub in Newcastle. That might not sound like a big deal until you realize we're talking the year 1582! King Charles l was a frequent visitor!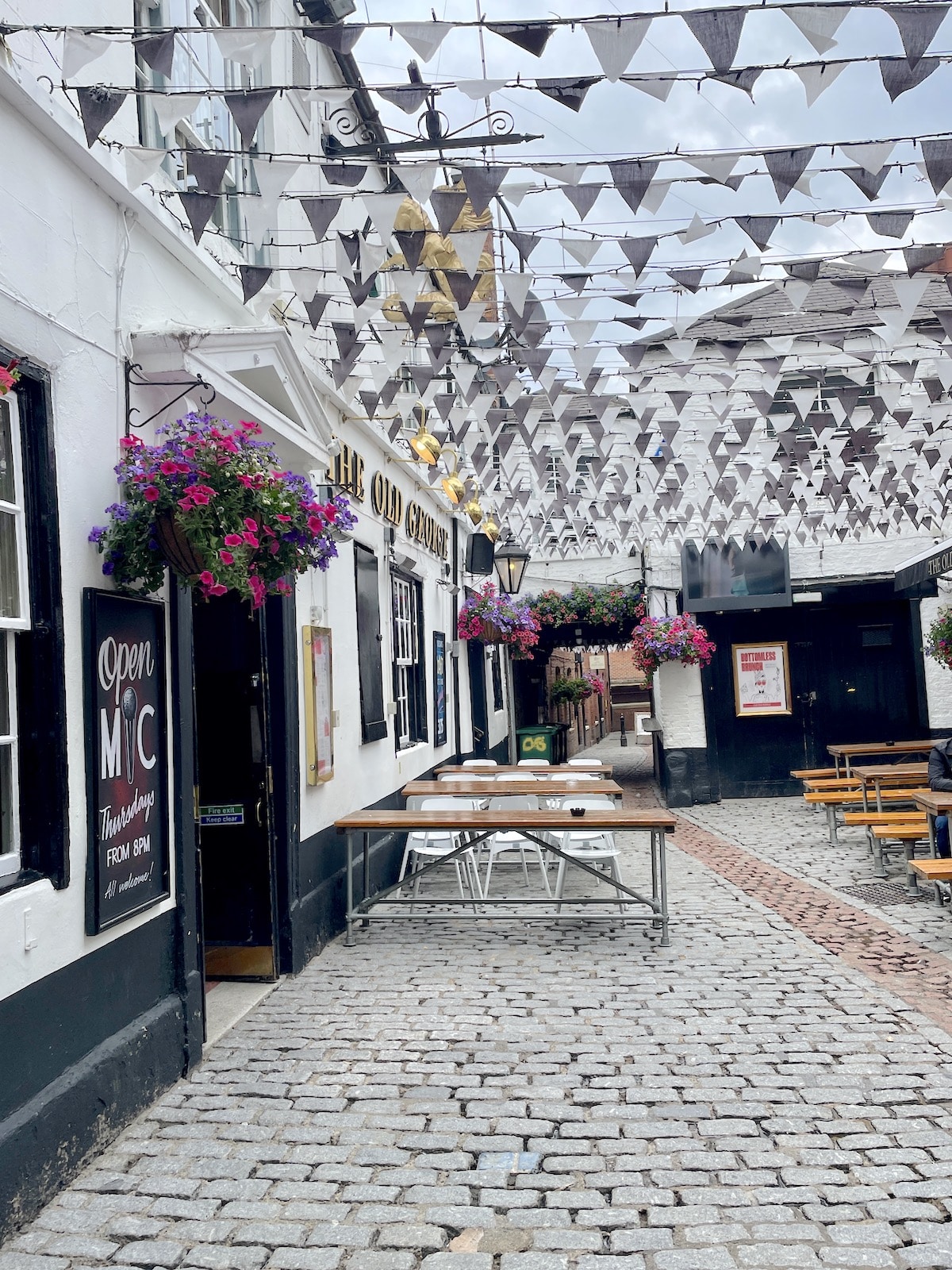 The staff was super friendly and welcoming, the food and beer were delicious, and the atmosphere was SO much fun.
We had a blast at the pub, but also enjoyed strolling the city and learning about the history of this beautiful area.
There were a lot of excursions at the Newcastle port on this Oceania Cruise, including a Harry Potter tour, but we would choose this one all over again.
Best of Amsterdam
There's so much to see in Amsterdam that even a single-day best of tour can't possibly cover it all.
Amsterdam is home to the Rijksmuseum, the Van Gogh Museum, the Anne Frank House, and so much more.
We had been to the Van Gogh before, so we took a canal tour which we missed that last time we were there.
We had lunch in a cafe and explored for the rest of our time there.
Bruges Sights & Beer Tasting
This was hands down our favorite excursion. The tour starts with a guided walk through the UNESCO-listed historic downtown city of Bruges.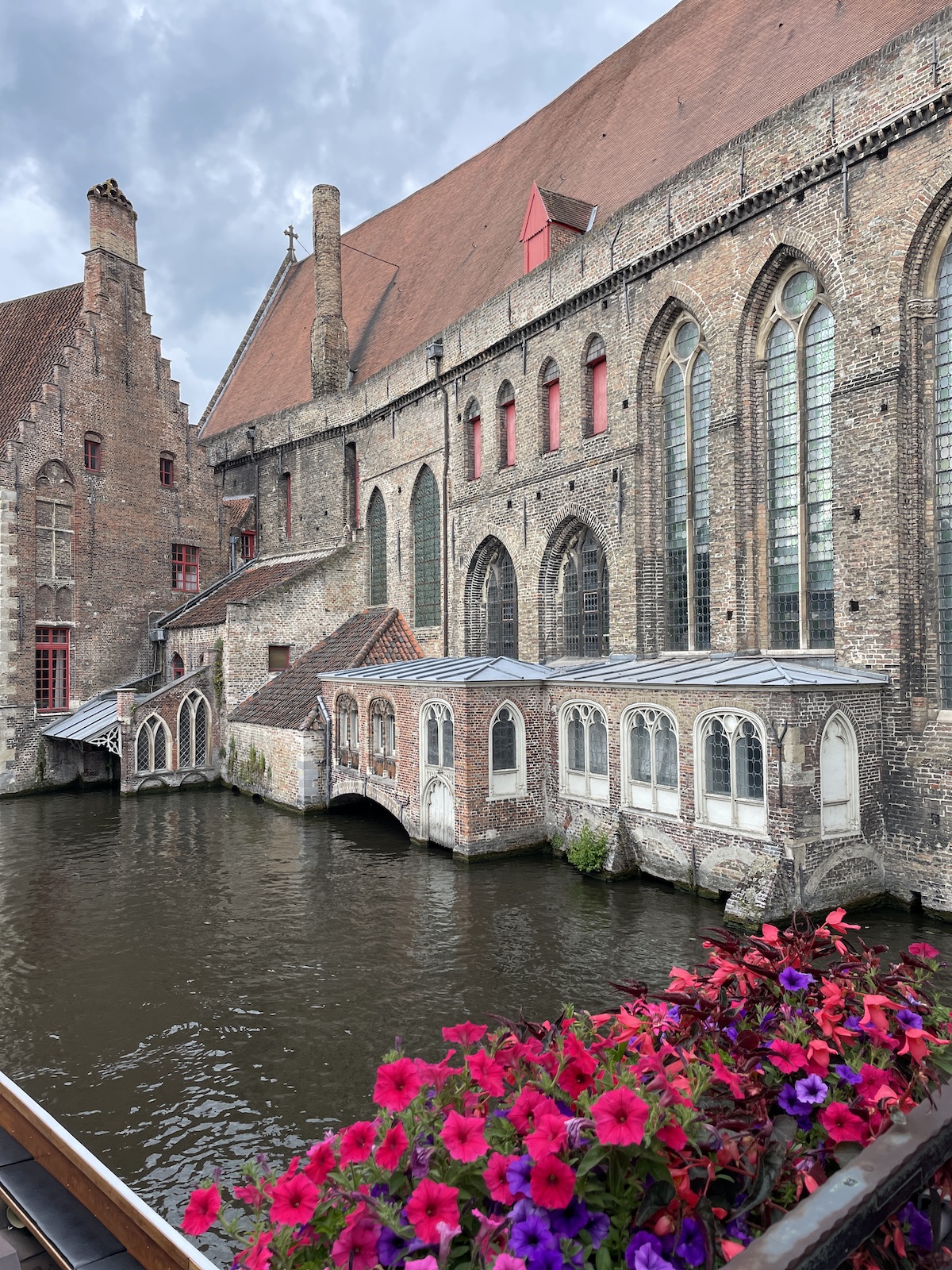 The city is just stunning, with its medieval buildings and landmarks.
After all that walking, it was great to go for a beer tasting at the World of Beer Experience.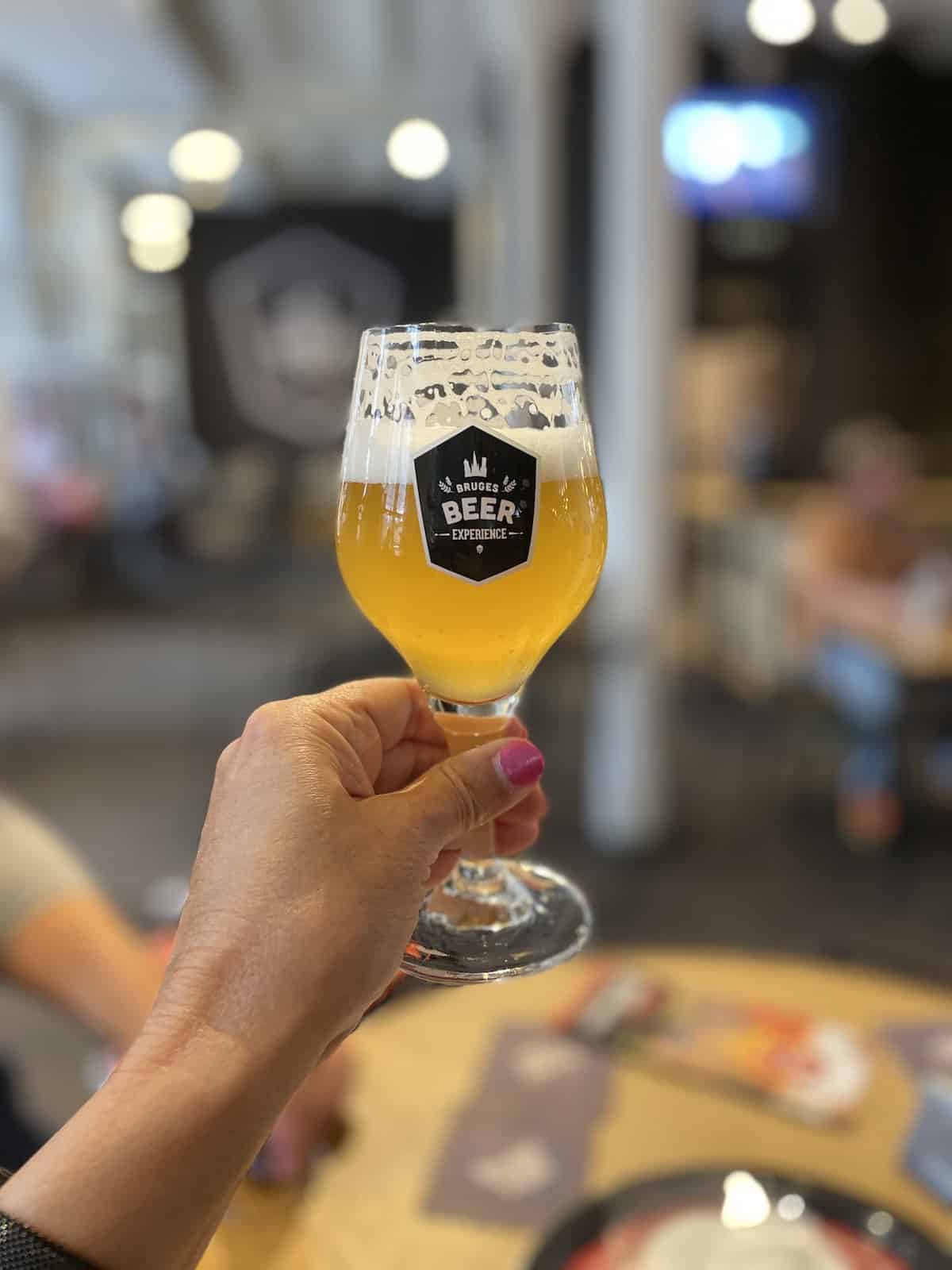 Belgium has a long history of beer brewing, and hearing the history and tasting the local beer was a wonderful way to spend the day.
Tips for Cruising with Oceania
Take Advantage of Laundry Services
My number one tip for sailing with Oceania is to take advantage of laundry services! Packing less is so much better!
This will help you to be able to carry on your luggage, which means your luggage won't get lost and you'll breeze through the airport. That's a win!
You can also do your own laundry at no cost, but I think it's worth every penny to send it out at least once, depending on the length of your trip.
If you upgrade to the Concierge level, you can send out laundry three times.
Use My Packing List
Use my cruise packing list to make sure you don't forget anything.
Bring a Backpack
Bring a backpack to carry with you on excursions. A small umbrella is a good idea, as well as tissues, hand sanitizer, and a couple of granola bars.
Hydrate
Each guest is given a reusable Vero water bottle to use while on the ship which is great for taking with you on excursions. You can refill at the still and sparkling stations throughout the ship.
Bring along a carabiner clip (link) so you can attach your water bottle to your backpack.
London
If you're planning to stay in London for a day or two after the cruise ends, it's very easy to take a taxi to the train station and take the train into London.
We found London to be very walkable and saw quite a bit in our one day there.
Frequently Asked Questions
How formal is Oceania Cruises?
If you're looking for a ship where you can run around in a bathing suit coverup all day and night, Oceania is not for you.

While the dress code on Oceania isn't stuffy, the recommended attire is resort or country club casual. This means no jeans and t-shirts at dinner.
Can children go on Oceania Cruises?
Although children are permitted on cruises if they are at least 6 months of age on the day of boarding (or 12 months if the cruise has three consecutive sea days), Oceania may not be the best bet for a cruise with kids.

Unlike some other cruise lines, there's no dedicated kids' club or child-focused entertainment area, and no onboard childcare is available.

On the other hand, if you have an older child who would be interested in the dining opportunities, cultural experiences, and ports of call, Oceania can be a good option. And if you're specifically looking for a cruise without kids running around, Oceania is a great option.
Are gratuities included on Oceania?
Automatic gratuities are added to your stateroom folio at a current rate of $18 per guest per day for most staterooms. Gratuities for suites and above are $23 per guest per day.

Other automatic gratuities include things like beverage purchases, spa treatments, and specialty dining that has additional cost. You can always tip more, and many times you may want to given the high quality of service.
Overall, we thought the Oceania Cruises Northern Islands & Gems itinerary was a fantastic cruise, and one you can't go wrong booking.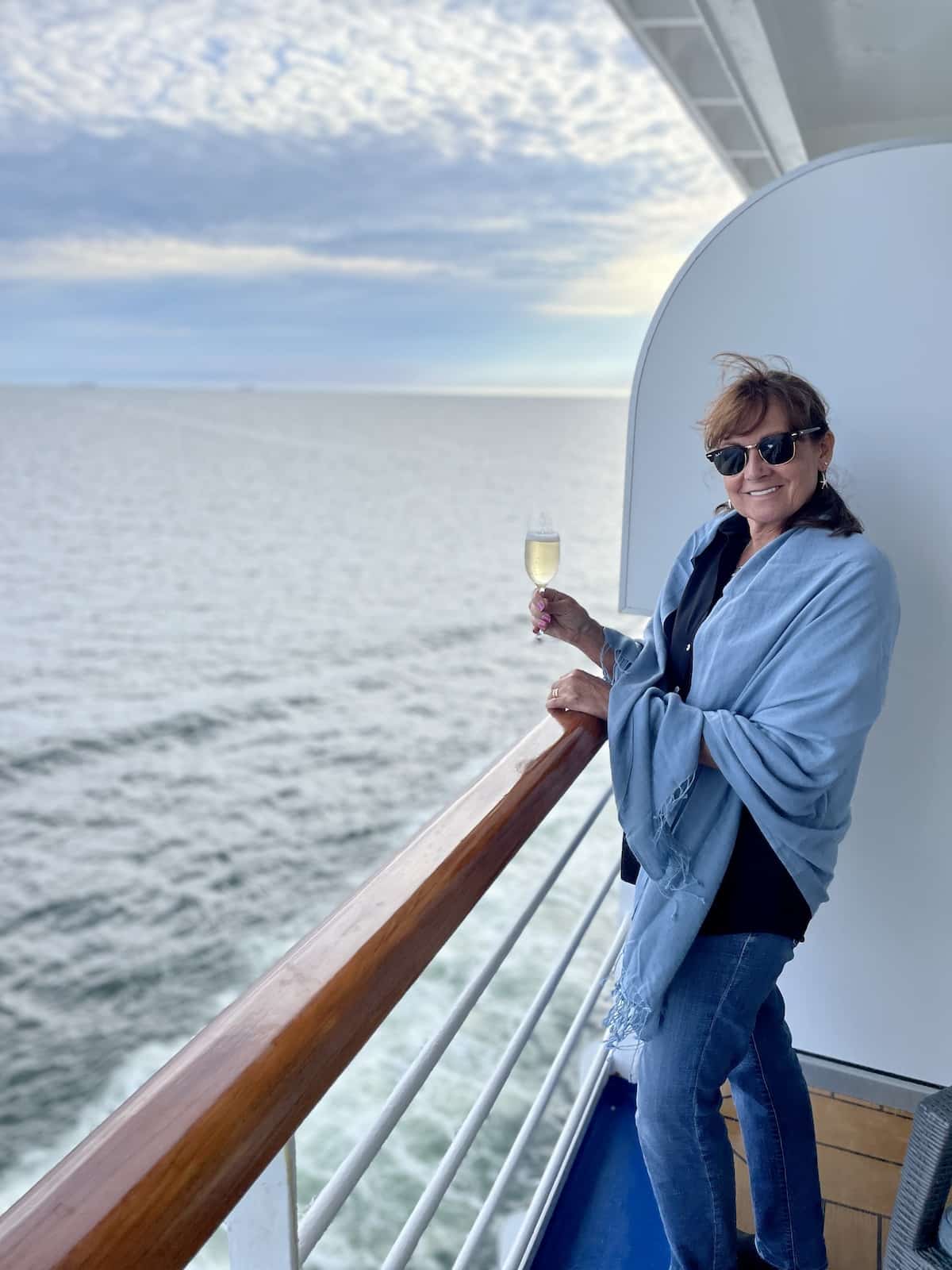 With Oceania's fleet of ships, you can go just about anywhere in the world and unpack once.
More Europe Vacation Ideas