This list of top things to do in Key West with kids will help you plan your itinerary when visiting the southernmost point in the continental U.S.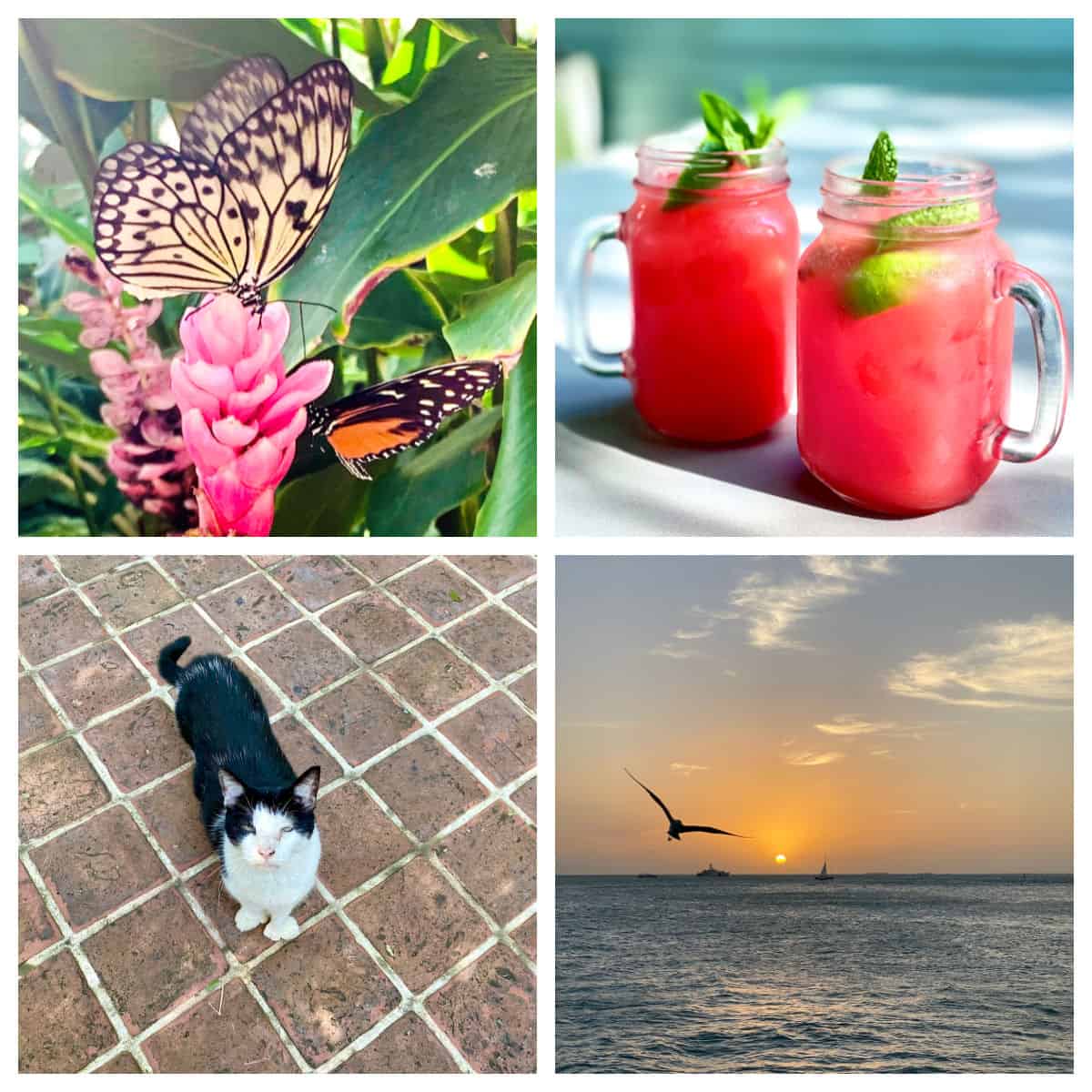 With warm and sunny weather just about every day of the year, Key West makes for a wonderful family vacation. It's no wonder it's one of the most popular spots in the Sunshine State!
Be sure to check out Hawks Cay Resort in Duck Key (a fantastic family resort in the Keys) as well as the Pink Shell Beach Resort in Fort Myers Beach.
Where Is Key West Florida?
Key West is located at the very southern tip of Florida. The city is about 100 miles from the mainland.
It takes about 4 hours to drive the 159 miles to Key West from Miami. Surprisingly, it's actually closer to Cuba than to Miami!
Why We Love this Southernmost City
Perfect Family Destination
Key West Florida deserves to be your next family vacation spot. Whether you have littles or older kids, everyone one will love this destination.
The Weather
The weather combined with the serenity of the ocean will wash your cares away. With temperatures generally ranging from 70 degrees in January to 90 to 100 degrees in the summer months of July and August, there really isn't a bad time to visit Key West.
So Much to Do
You'll never be short of options of things to do because they are plenty, from visiting the Key West Butterfly and Nature Conservatory to seeing the majestic Key West Lighthouse. Buckle up and get ready for an ultimate adventure!
What To Do in Key West
Let's take a closer look at things to do in Key West and what makes it a great holiday spot for you and your family.
Visit the Hemingway House
The Hemingway House has a rich historical significance as this is the place where Ernest Hemingway, the famous American author, lived for 10 years.
Famous for the Hemingway cats which have 6 toes on each front paw, people from all over the world visit just to meet the black and white Rita Hayworth, the black and grey Hemingway, the orange and white Archie Andrews, and the orange tabby known as Lionel Barrymore.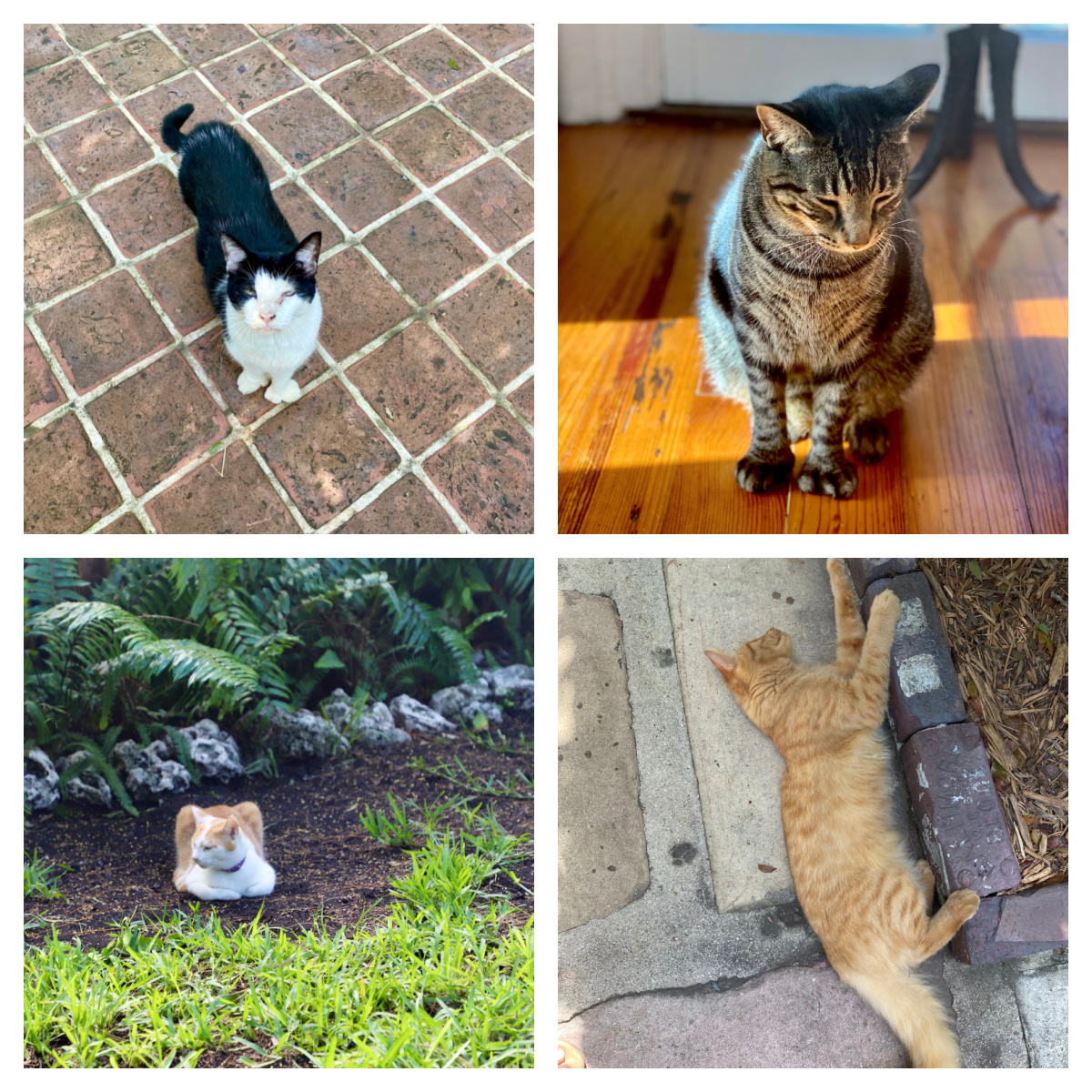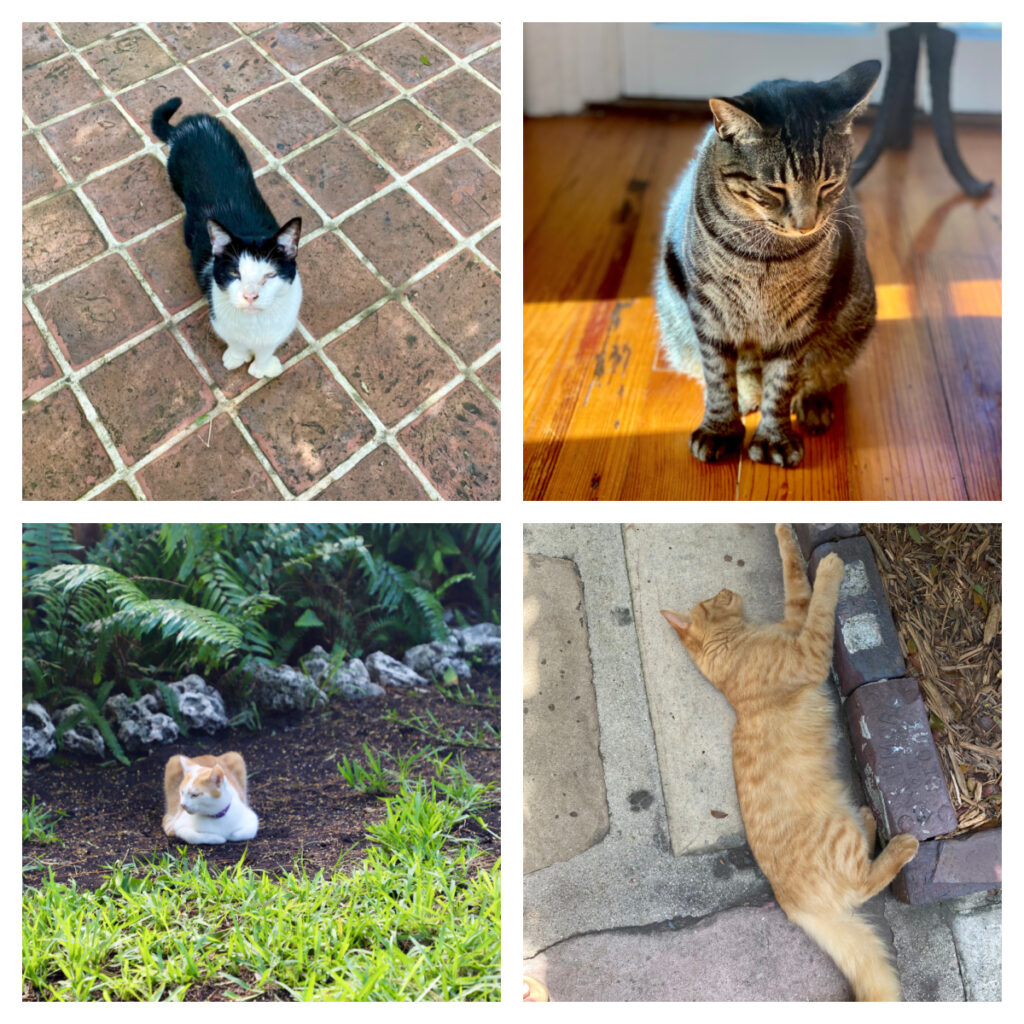 Location and hours: Located at 907 Whitehead Street and is usually open from 9 A.M. to 5 P.M.
Have Breakfast at Moondog Cafe
Right around the corner from the Hemingway House is the Moondog Cafe. Hitting the Hemingway House first thing works out great as you can head right over to Moondog and get that watermelon juice. Holy moly it's good!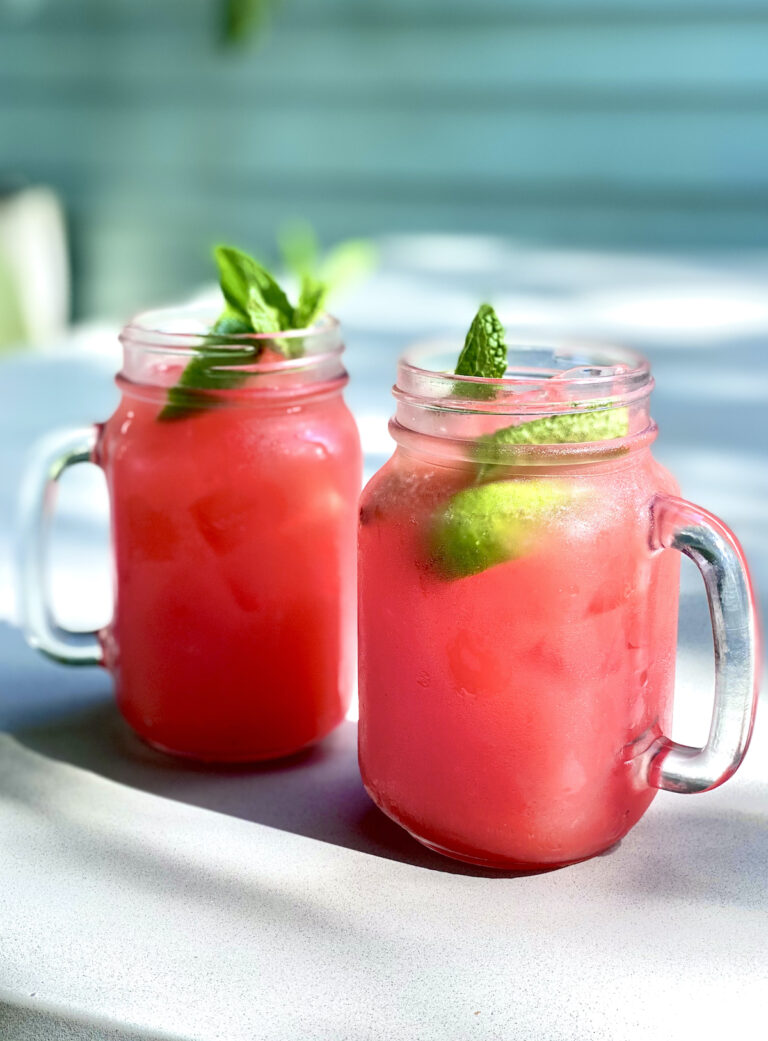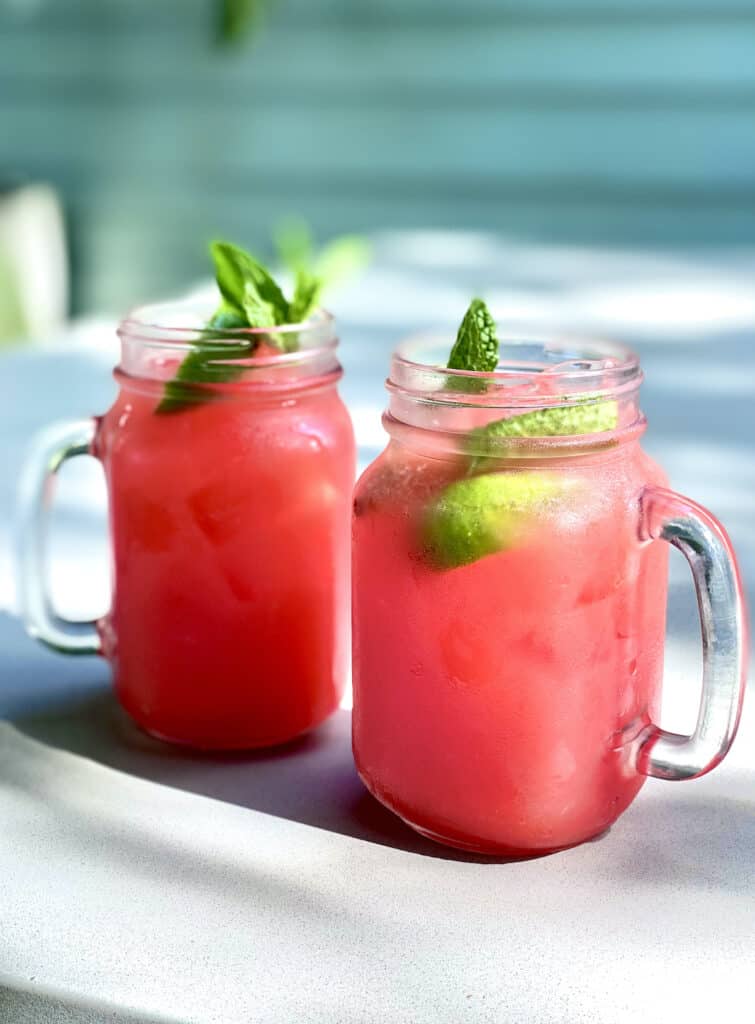 Open for breakfast lunch and dinner, the menu is huge and the Blueberry Lemon Quinoa Pancakes are crazy delicious.
Location and Hours: Moondog is located at 823 Whitehead St. Hours are 7:30 A.M. until 10 P.M.
Visit the Key West Shipwreck Treasure Museum
The Key West Shipwreck Treasure Museum wants to take you back in time to the era of the wreckers. Actors, films and physical artifacts tell the unique story of this part of Florida history.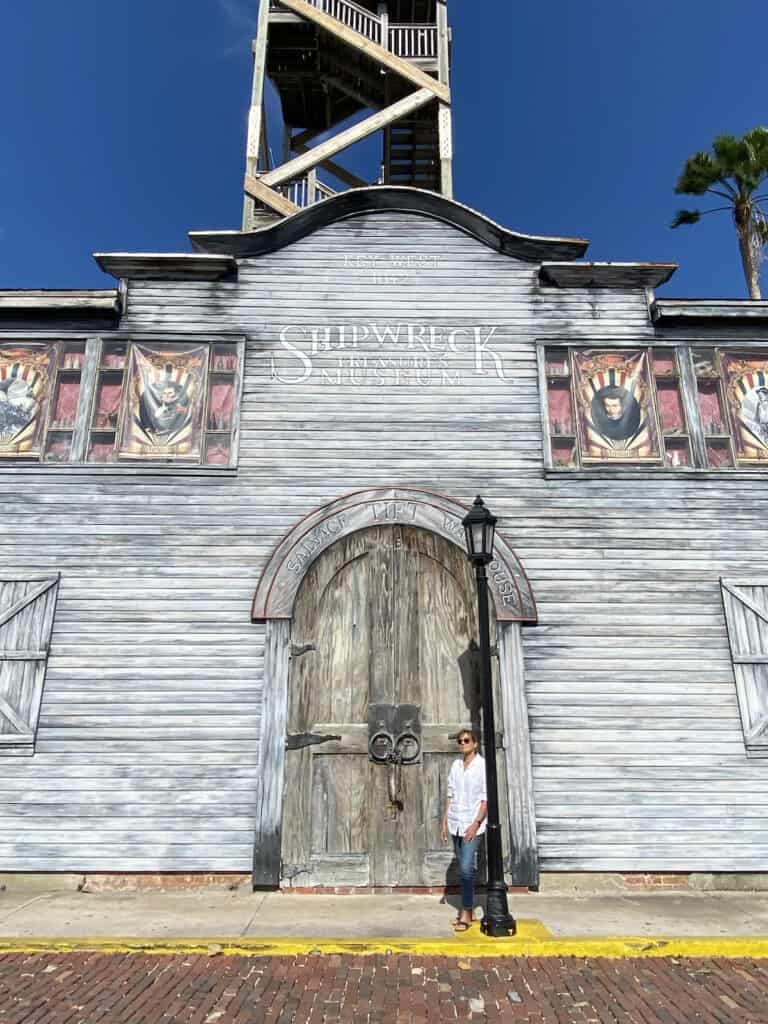 Explore the relics of Spanish galleons. View a silver bar captured from Nuestra Senora de las Maravillas. The museum tour guide will tell his own unique story adding even more depth to your overall experience.
Location and hours: The museum is located at 1 Whitehead Street. Hours are from 9:30 A.M to 5 P.M.
Stop for an Ice Cream at Mattheessen's
What could be better than ice cream on a sunny day? You can't go wrong with Mattheessen's and its unreal ice cream! You'll know you're in the right location when you spot the massive cookies in the window.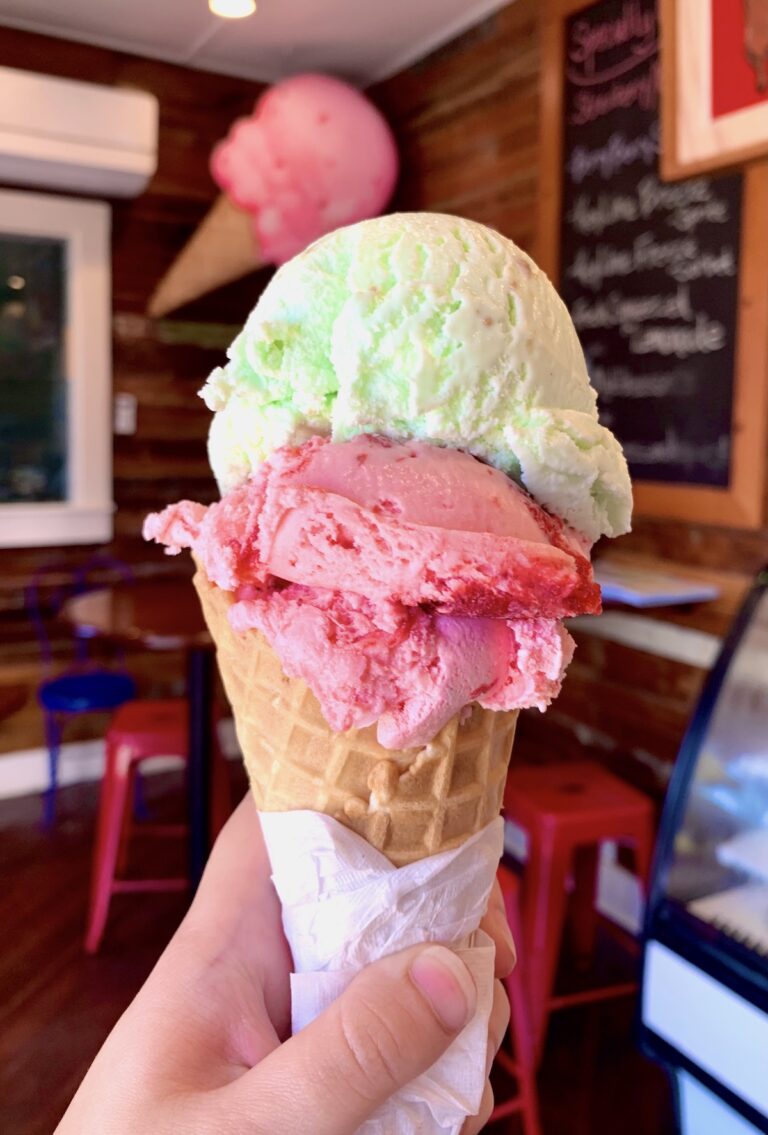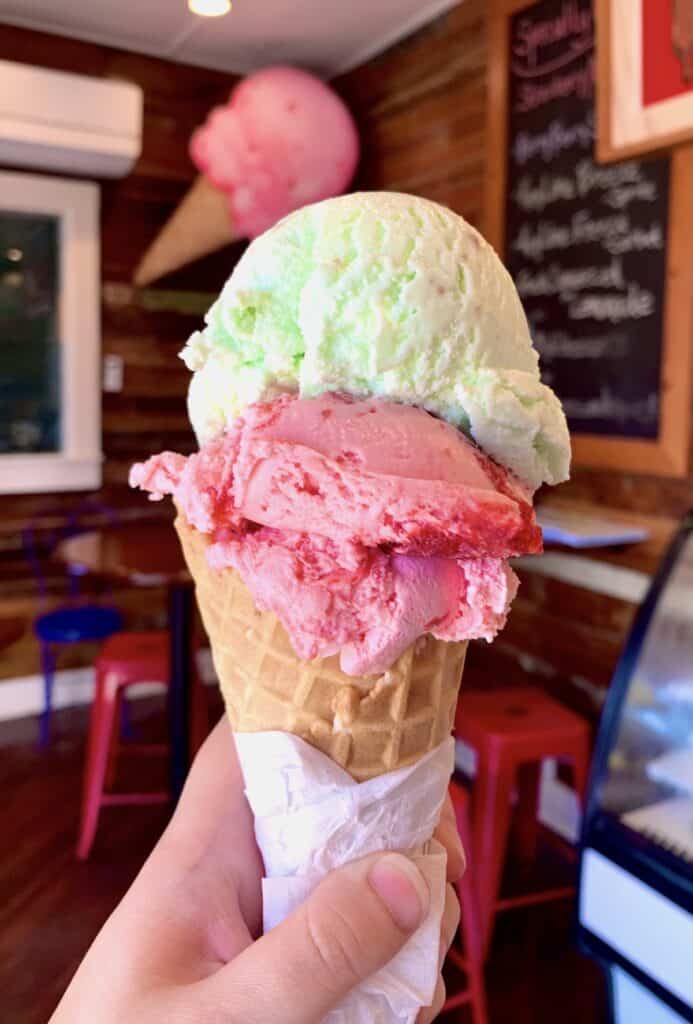 Location and hours: Mattheessen's is located at Duval Street and is open from 10 A.M. to 10 P.M.
Photo
Visit the Southernmost Point
A visit to Key West Florida must include stopping by the Southernmost Point. It's a once in a lifetime chance to get this photo with your family.
Known for being the lowest point due to it's unique location in Florida, a gigantic buoy shows it's accurate location.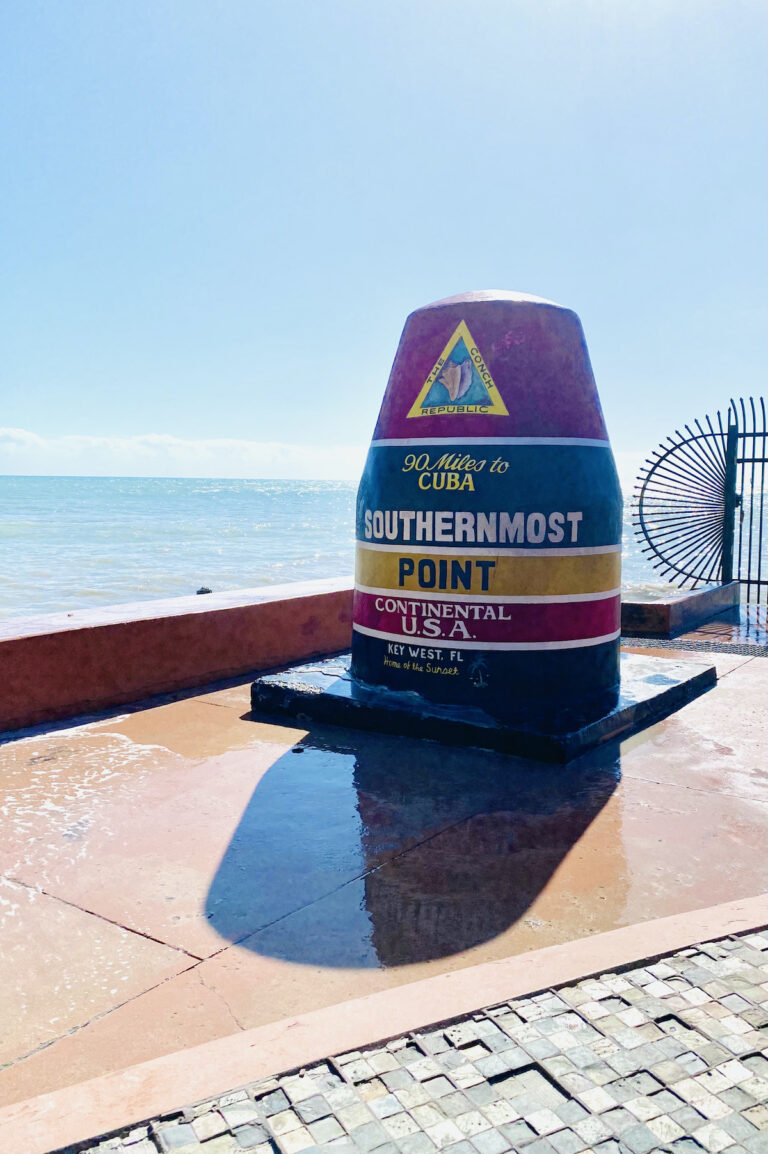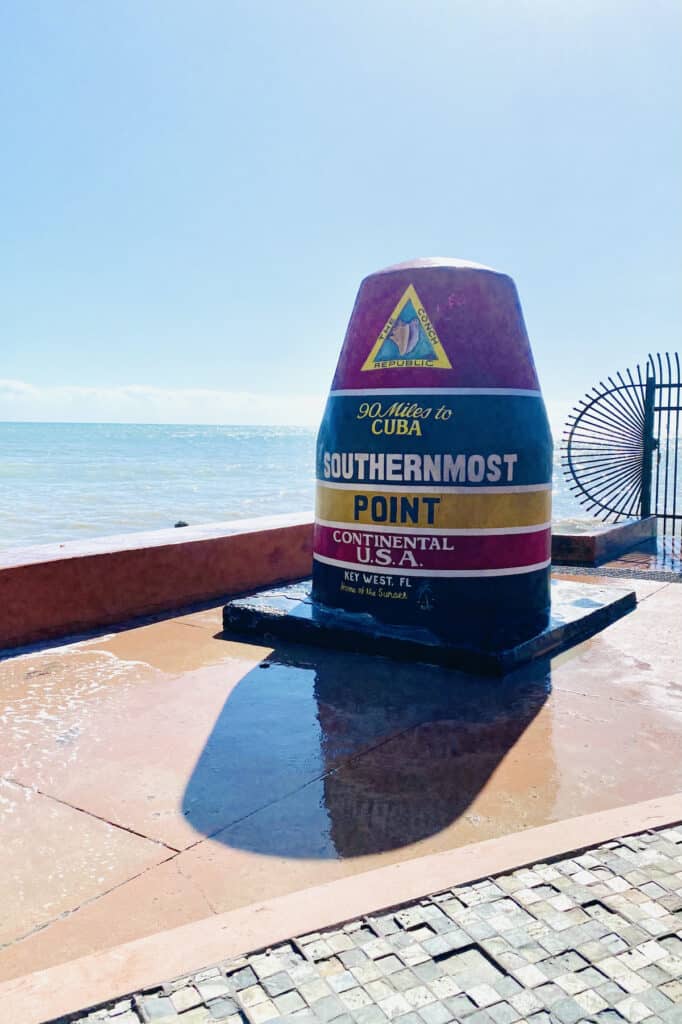 Stop by and take selfies or ask someone to take a photo of you and your gang.
Location and hours: Located at the Whitehead Street & South Street, the Southernmost Point is open 24 hours.
Visit the Little White House
You may not be interested in exploring the history of Key West as most people are there for the water sports and other fun. But this is definitely worth a stop for history buffs.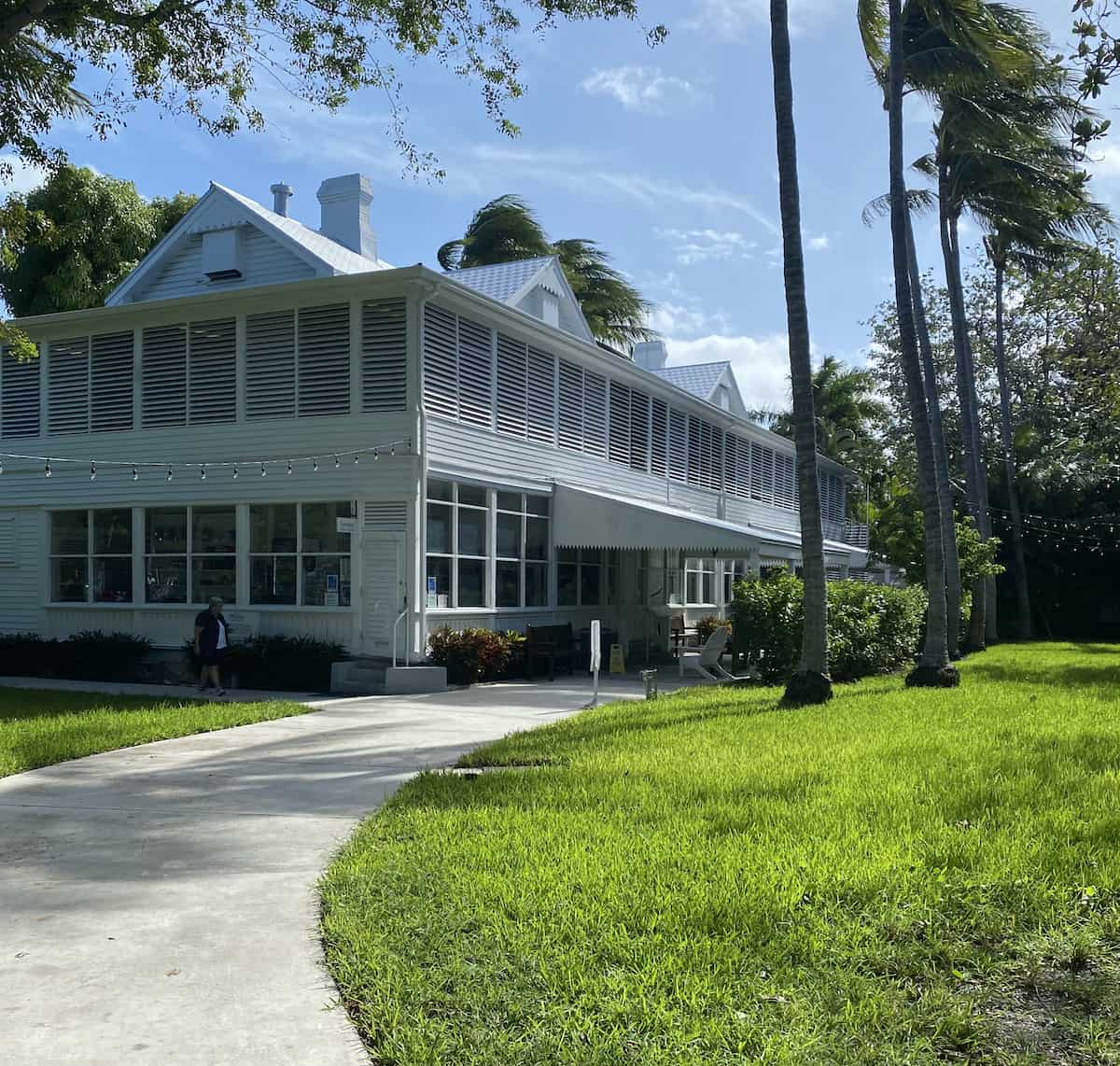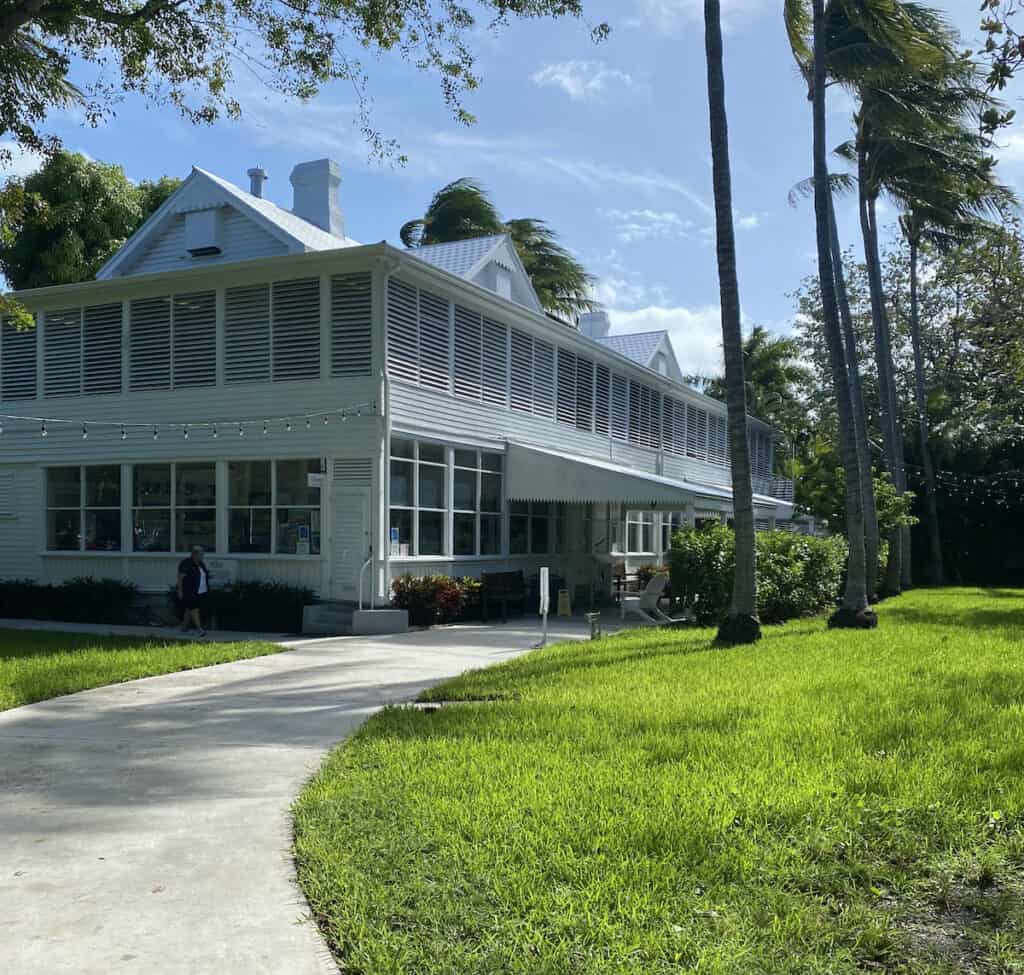 The Little White House isn't a just a little white house, but a little White House, meaning it was the presidential residence of Harry S. Truman, now a museum.
You can take a docent led tour or explore on your own with a ticket. Active military are free.
Location and hours: The Little White House is located at 111 Front Street. Hours are 9:30 A.M until 4:30 P.M. every day.
Visit the Audubon House & Tropical Gardens
Another one for history buffs as well as fans of gardens, The Audubon House is just beautiful.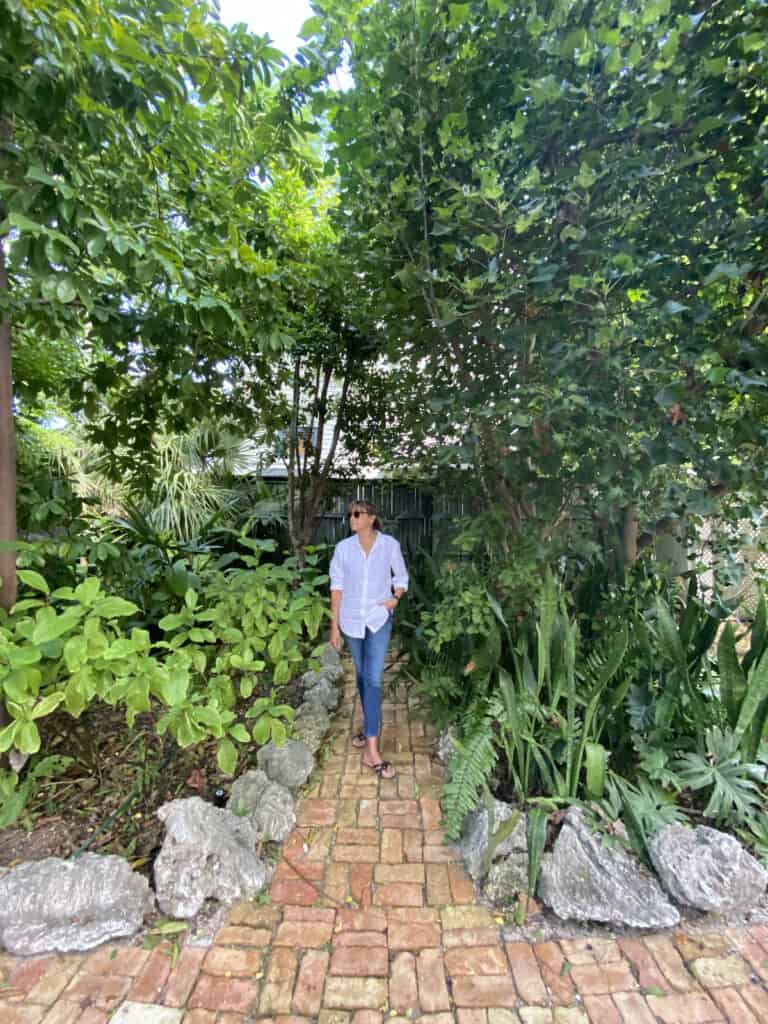 Take a walk around back and see the cook house for a look at how life was for slaves who took care of the cooking for the family of Captain John Huling Geiger family who owned this grand home built between 1846 and 1849.
Location and hours: The Audubon House is located at 205 Whitehead Street. Hours are 9:30 A.M. until 5 P.M. daily.
Key West Butterfly & Nature Conservatory
It's nice to go to a place that's a bit more relaxing with a nature vibe attached to it, and Key West Butterfly & Nature Conservatory is there to provide you just that.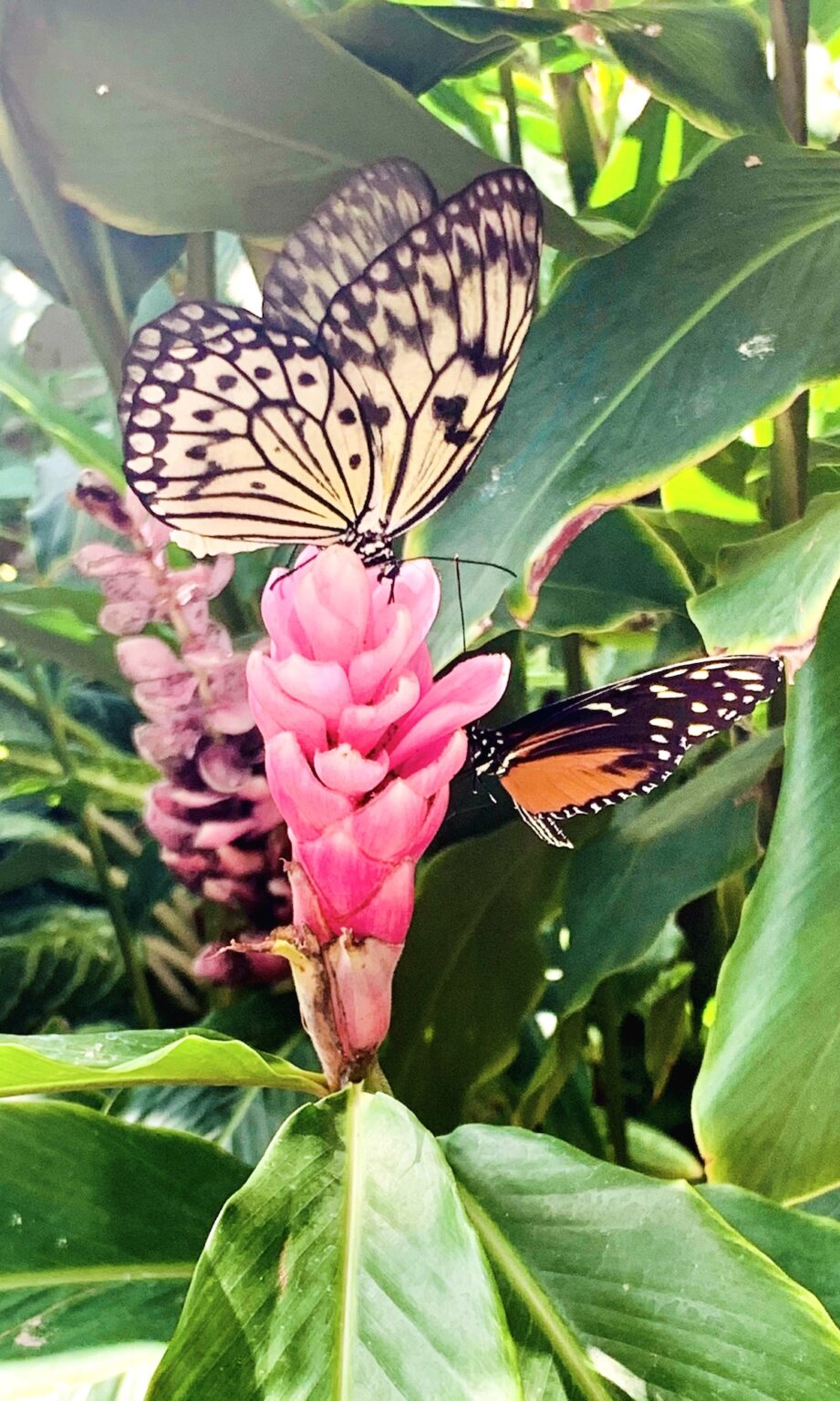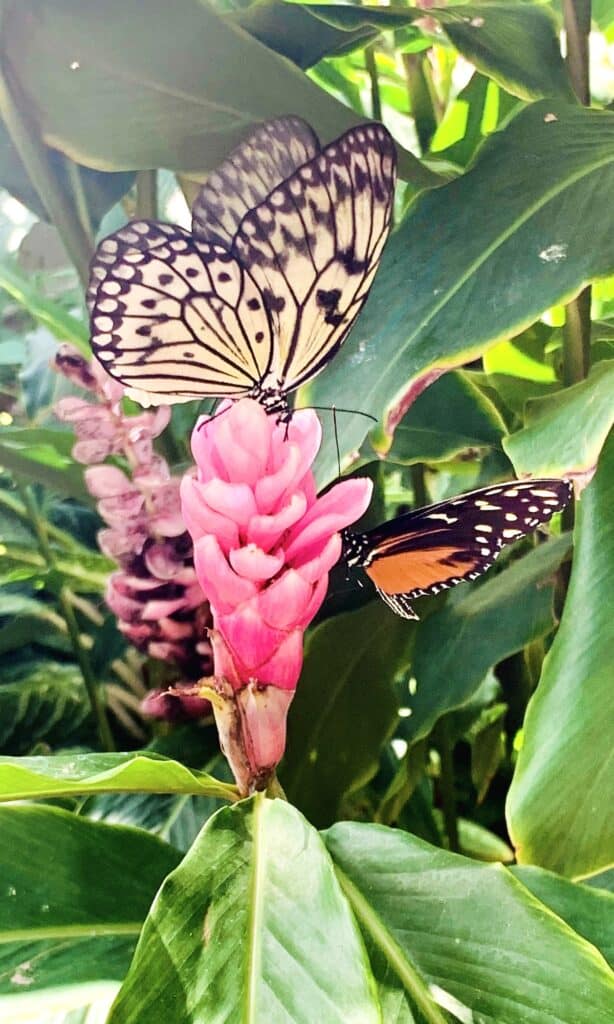 Immerse yourself in a kingdom home to about 20 species of the most exotic and colorful birds and 60 species of butterflies. Stand still and one will most likely land on you.
Location and hours: Located at the 1316 Duval Street, the Butterfly and nature Conservatory is open from 9:30 A.M. to 5 P.M.
Take the Hop on Hop Off Trolley
The Hop on Hop Off Trolley is basically a trip down memory lane where the tour guide will take you through the old historic days of Native Americans and pirates, sharing the rich civil war history, and pointing out places to see.
Location and hours: Old Town Trolley Tours is located at 1 Whitehead Street, and is open from 10 A.M. to 4:30 P.M.
Eat Key Lime Pie at the Key Lime Pie Bakery
You can't visit Key West and not try the Key Lime pie at The Key Lime Pie Bakery. You'll find all kinds of Key Lime goodness there that you won't find anywhere else in the world.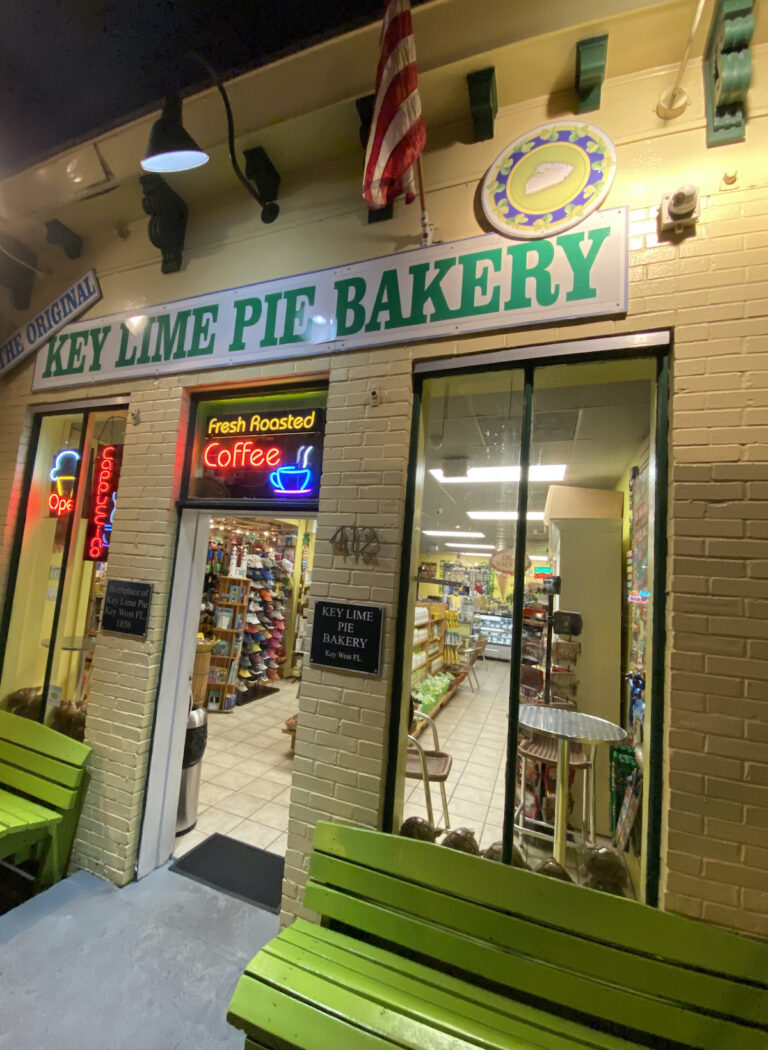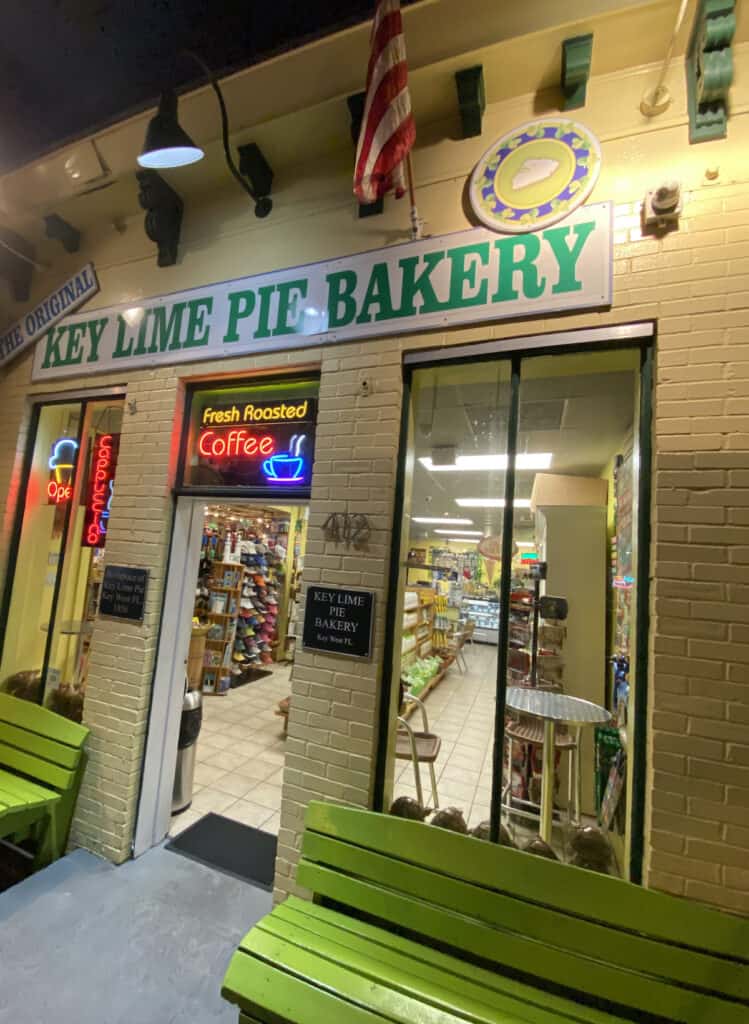 Location and hours: Key Lime Pie Bakery is located at 412 Greene Street, and is open from 9 A.M. to 5 P.M.
Take the Key West Conch Tour Train
The Key West Conch Train Tour will introduce you to more of the sights of the southernmost city. See famous points such as Mallory square, The Harry S. Truman, the Little White House and the Key West Aquarium.
You'll find a plethora of different activities to immerse yourself in on this 75 minute tour that makes one full loop through Old Town Key West.
Location and hours: The Key West Conch Tour Train runs from 10:15 A.M to 4:15 P.M. and is located on 303 Front Street in Key West.
Spend the day at Smathers Beach
If you have the time, Smathers Beach is easily the best beach you'll find in all of Key West. It's home to water sport activities like jet skiing and paddle boarding. There are often a couple of food trucks parked at Smather's Beach, so stop by for a quick lunch.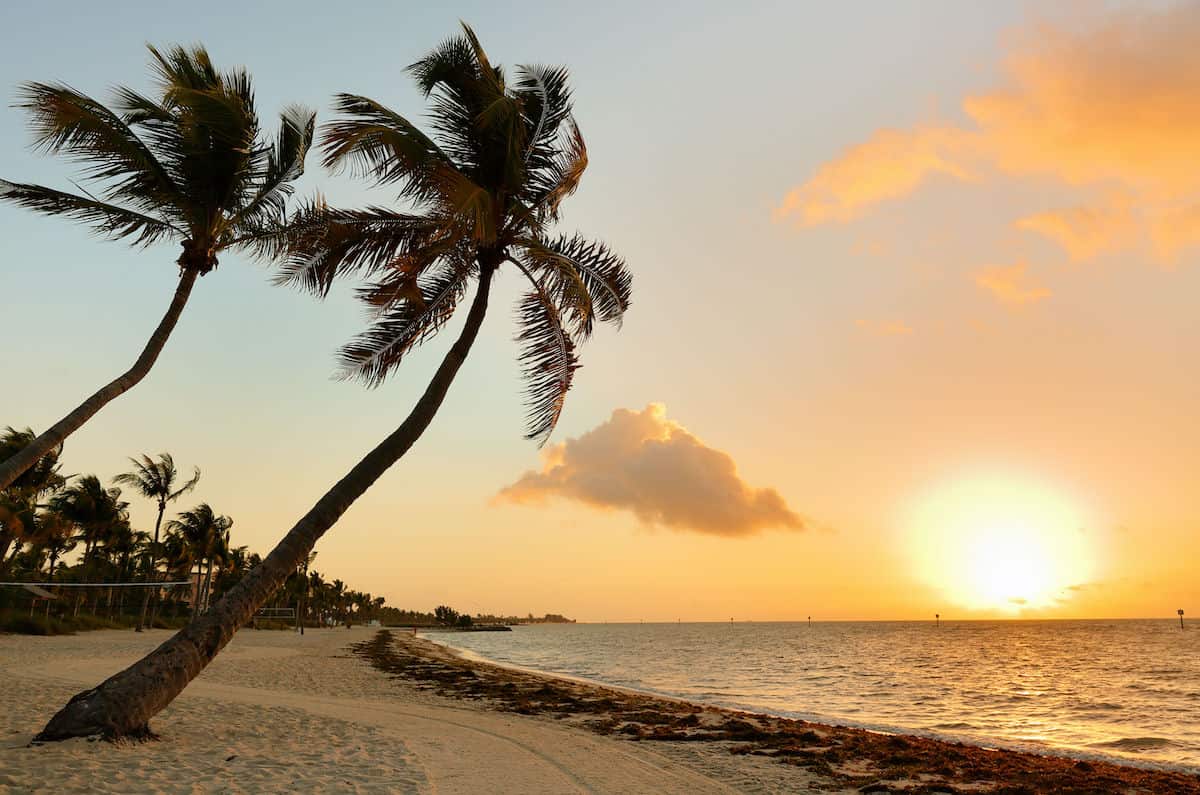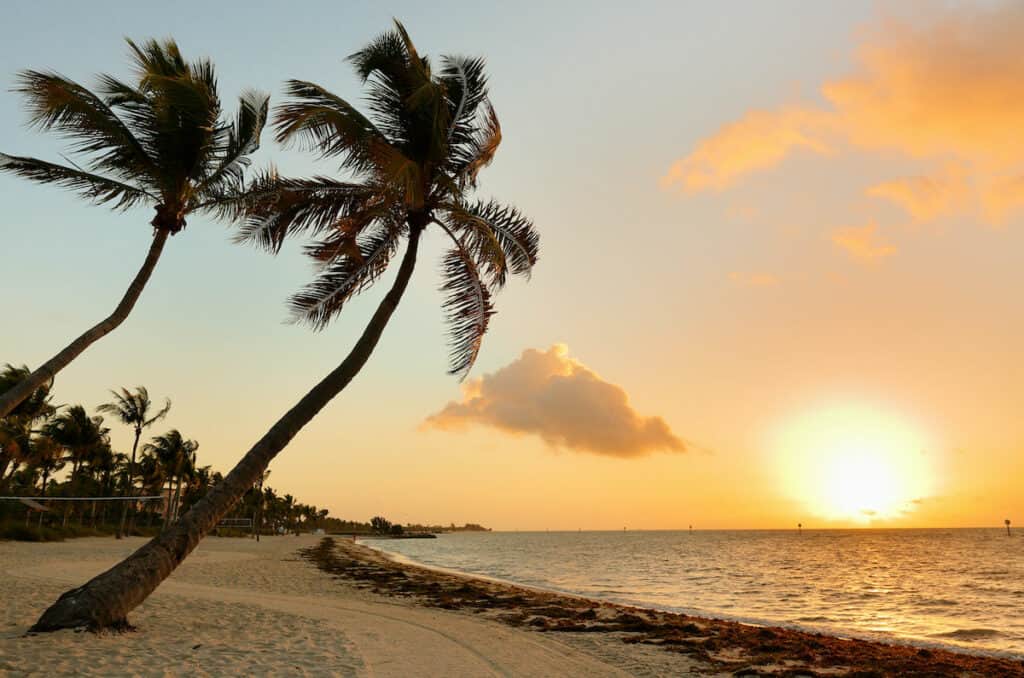 Location and hours: Smathers Beach is located at 2601 S Roosevelt Boulevard is open from 7 A.M. to 11 P.M.
Visit the famous Cuban Coffee Queen
The Cuban coffee Queen is the one of the most famous cafes in Key West, and for good reason. They serve a mouthwatering breakfast, lunch and specialty coffees.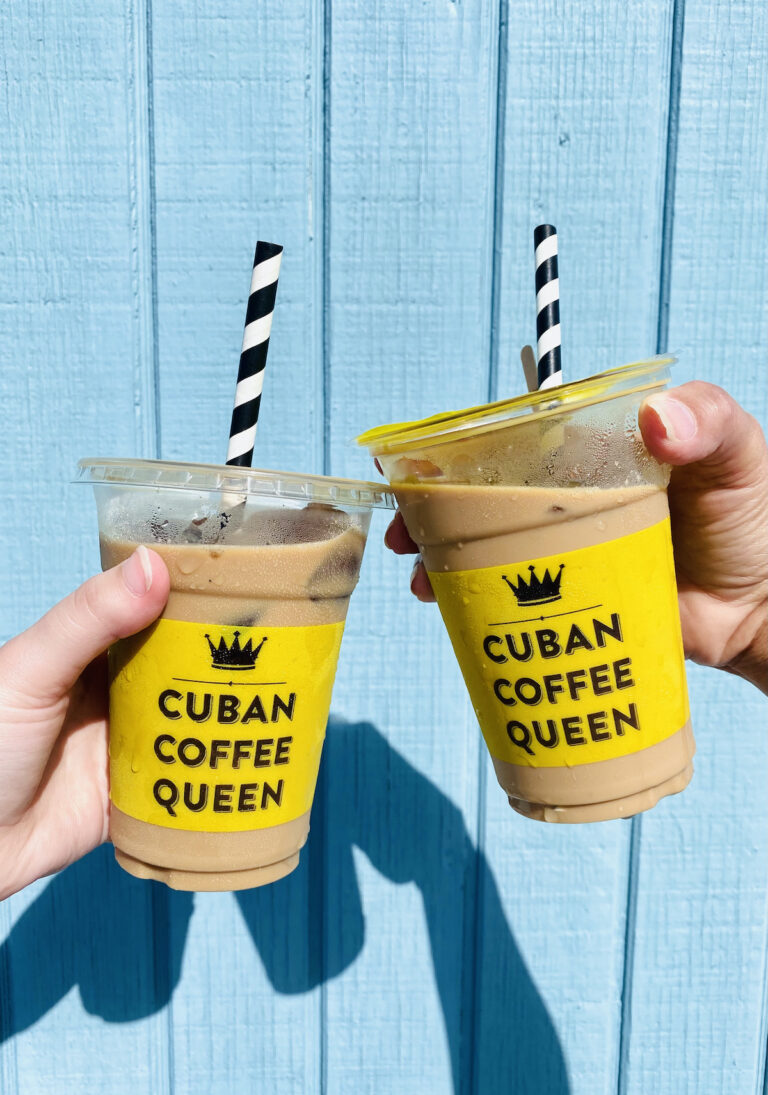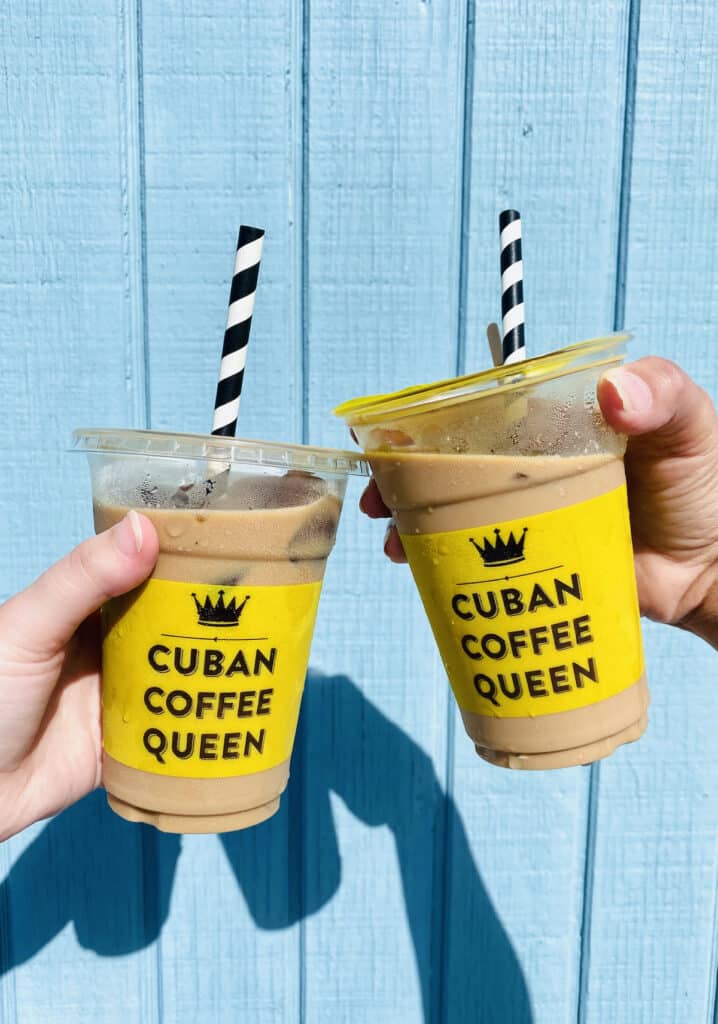 If you're hungry, try one of the specialty menu items like the Key Wester featuring two eggs, cheese, and your choice of ham, bacon, sausage sandwiched between two delicious pieces of pressed Cuban bread. Who's hungry now?
Location and hours: Cuban Coffee Queen is located at 284 Margaret Street and is open from 7 A.M. to 6 P.M. Just look for the line.
Search for Manatees
See manatees in the wild at Key West Bight Marina in the Historic Seaport. The huge sea cows really seem to really the water here as people spot them all the time.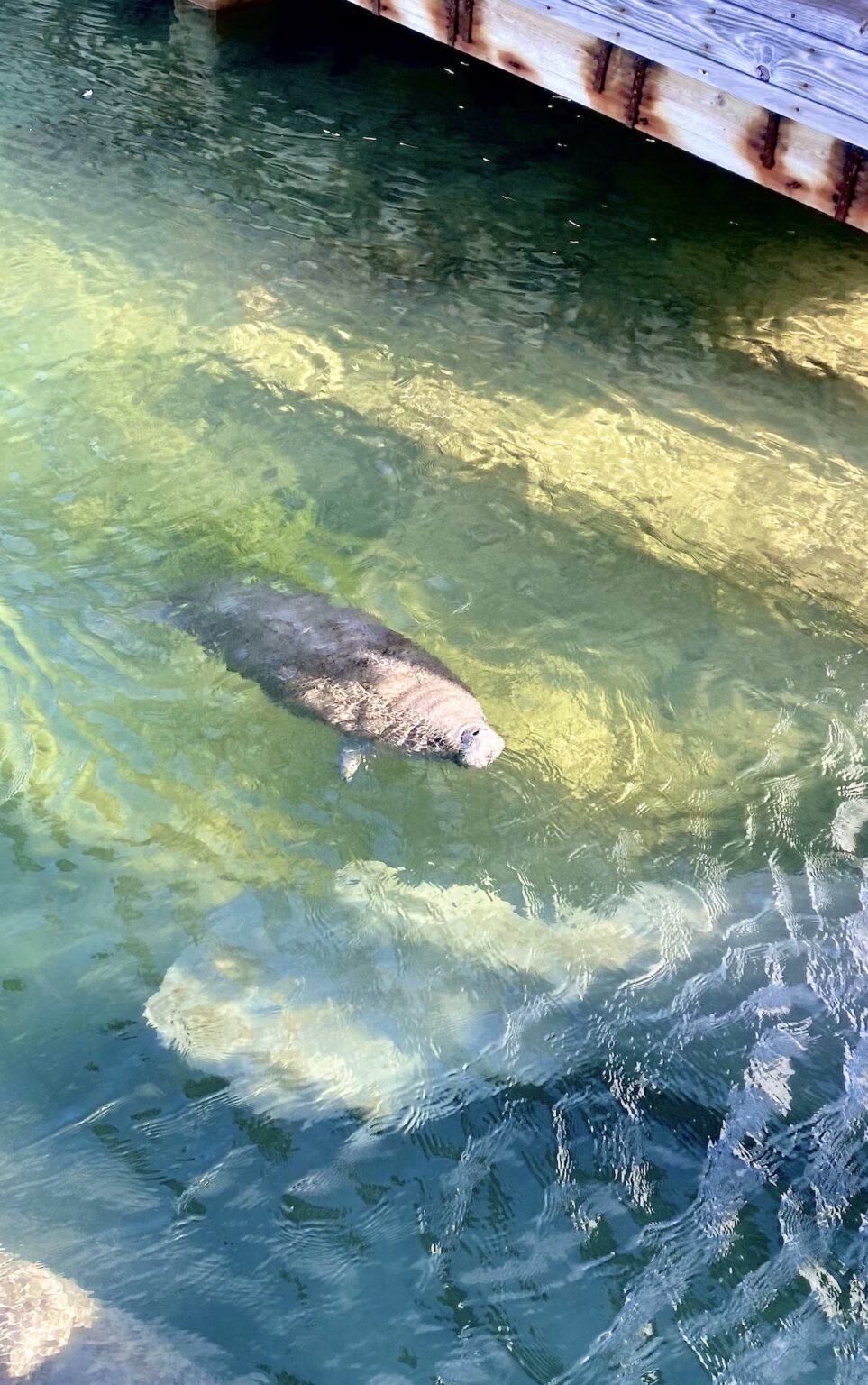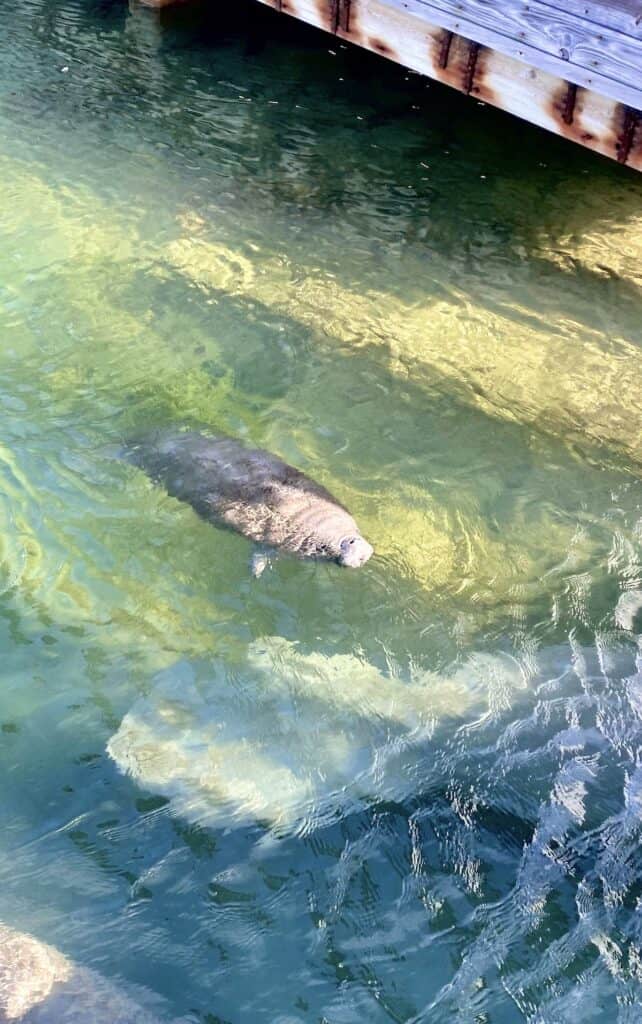 You'll find the marina at 201 William Street.
Shop for Souvenirs at Mac's Sea Garden
If you haven't been to Mac's sea garden, make sure to stop in. This historic gift shop offers a plethora of souvenirs, home decor, glassware, and even kitchen items and cookware.
Location and hours: Find Mac's at 208 Margaret Street. Hours are from 8 A.M. to 6 P.M.
Visit Key West Lighthouse
The Key West Lighthouse is a unique structure that definitely deserves a stop during your visit to the Key West area. Take those 88 steps and climb to the top of the 65 foot lookout tower observe the incredible view from the top.
This was our view from the Key West Lighthouse Hotel.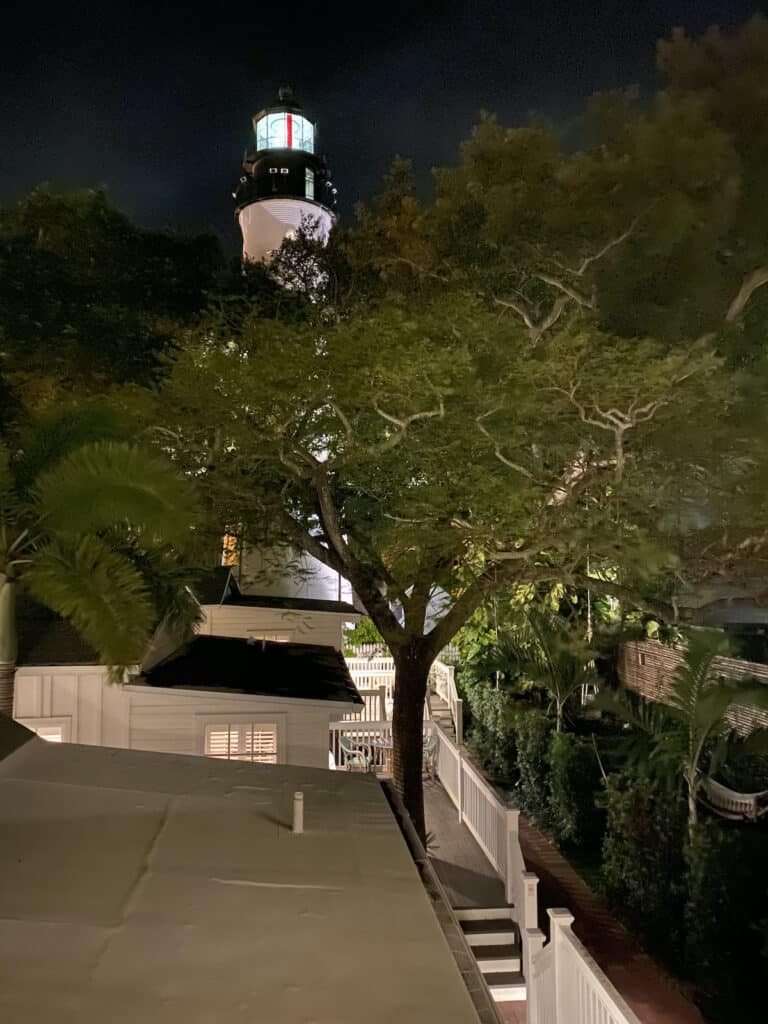 Location and hours: The key west light house is located at the 938 Whitehead St, Key West and is open from 10 A.M. to 5 P.M.
Visit Dry Tortugas National Park
The Dry Tortugas National Park is an awe inspiring state park formed by morphing together seven small islands that kiss the end strip of the Florida Keys.
You'll find shallow beaches coupled with coral reefs. During season, you might just see a sea turtle. Many people visit to snorkel.
History buffs must explore the historic site of Fort Jefferson. Families who love to camp will want to book in advance. There's nothing like sleeping under the stars at Dry Tortugas.
Location and hours: The Park is located on the Dry Tortugas island in south western Florida and is open all the time.
Go snorkeling with Fury Water Adventures
Fury Water Adventures is probably one of the most popular Key West tour companies. With an extensive menu of water sports like sunset skiiing, snorkeling, and much more, the family whole family will enjoy these activities - suitable for all ages!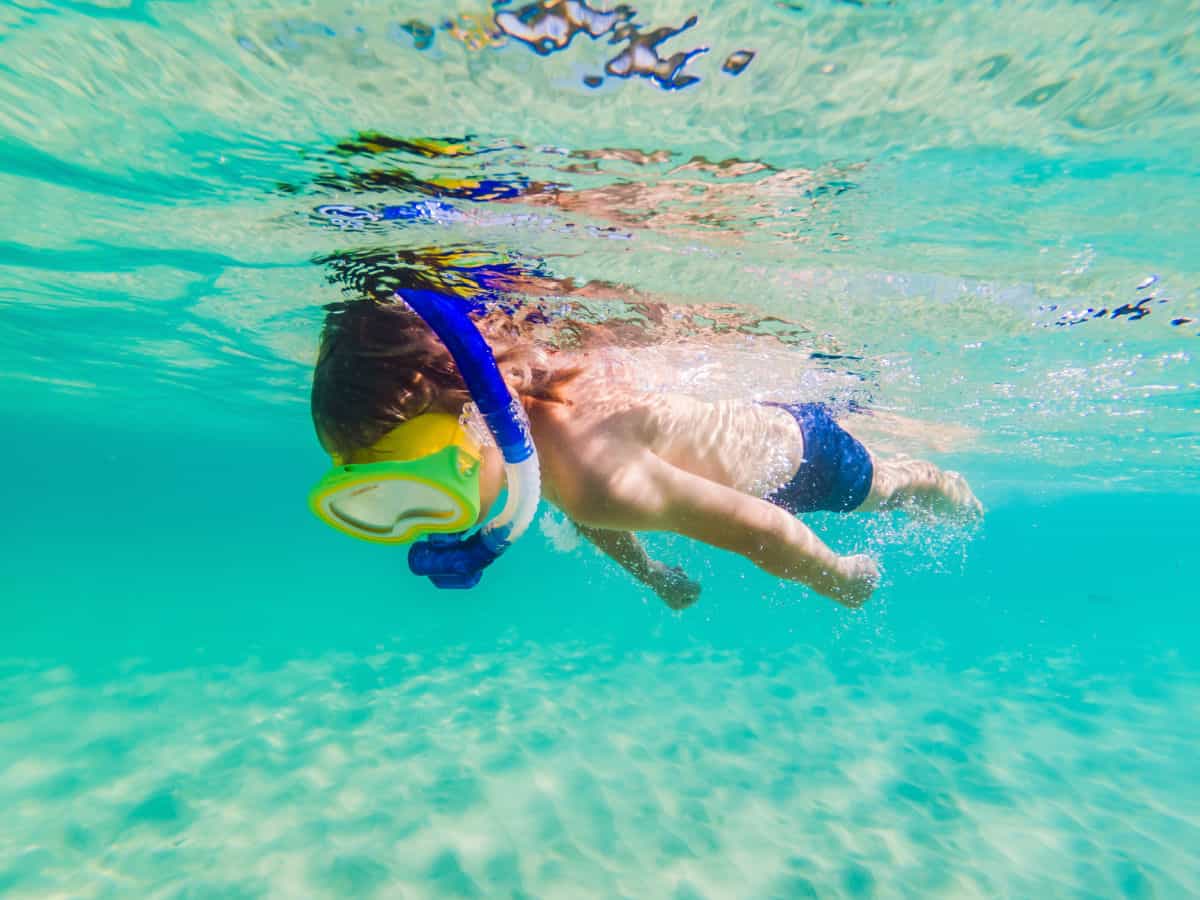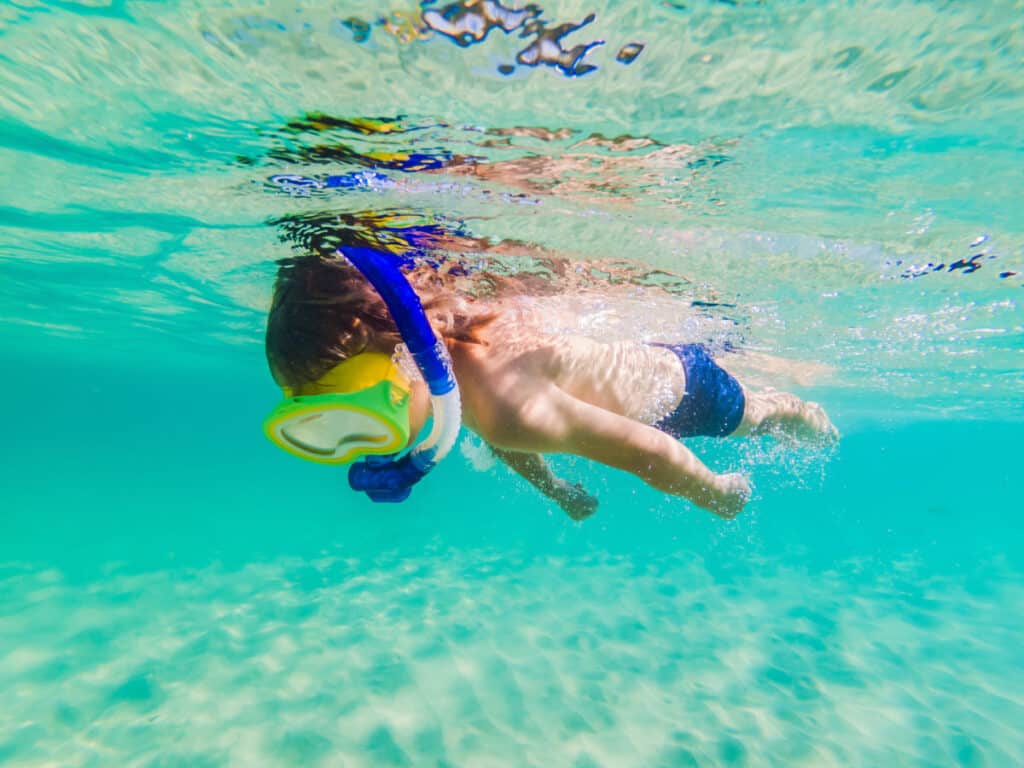 In fact, the only barrier reef in the United States is located just about six miles from Key West, and the most extensive portion of living coral reef is just alongside the Florida Keys. If you love to snorkel, don't miss that opportunity.
Location and hours: The popular spot is located at the Naval Air Station in Key West and is open from 8 A.M. to 8 P.M.
Spend an afternoon at Key West Aquarium
The Key West Aquarium is a heritage site with construction beginning in the 1930s. Indulge yourself in the Florida Keys Aquarium encounters and discover the life cycle of amazing species like the sting ray, sharks and many forms of tropical fish.
Kids will love the touch tank and interactive exhibits. Isn't it great when they are having so much fun they don't even know how much they are learning?
Location and hours: Key West Aquarium is located at 1 Whitehead Street and is open from 10 A.M. to 5 P.M.
Eat at Blue Heaven
Sink your teeth into some seriously delicious pineapple pancakes at Blue Heaven. Try a couple of the specialty items like the banana bread and lobster Benedict. We loved the food and the atmosphere!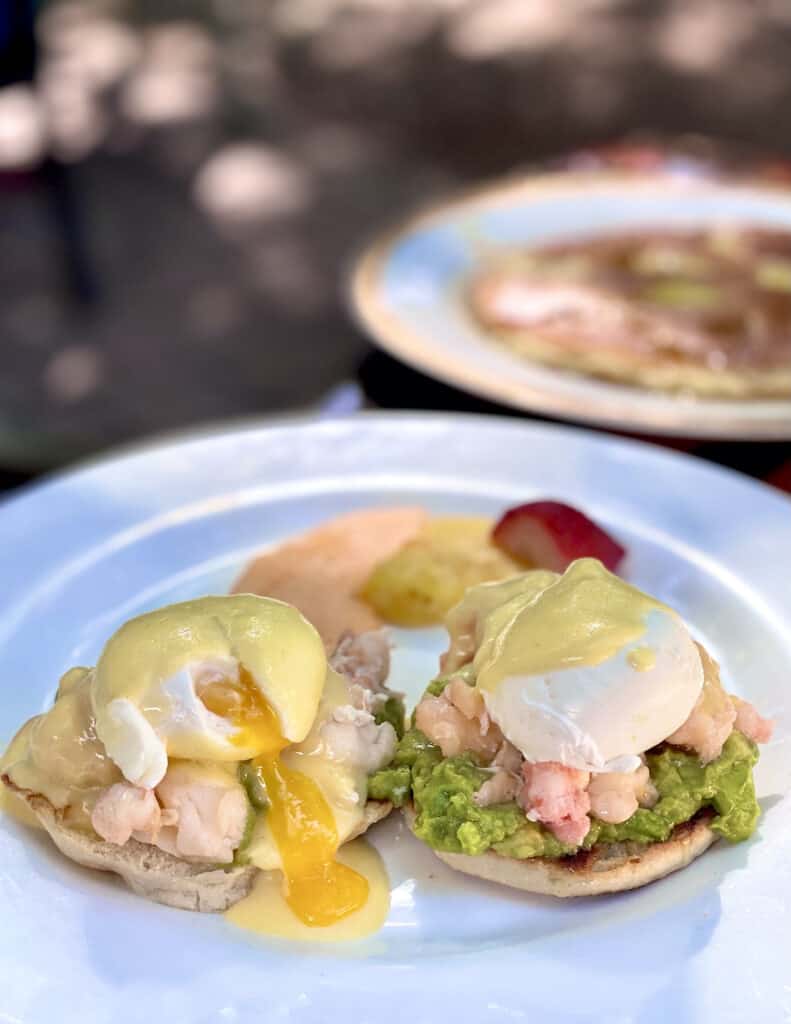 Location and hours: Blue Heaven is located at 729 Thomas Street and is open from 8 A.M. to 2:30 P.M.
Experience the Sunset at Mallory Square
There's no place like the sunset celebration in Key West at Mallory Square.
Immerse yourself into the culture of street performers, food and cocktail vendors, and dance to the beat of interactive exhibits of live music. This is not to be missed!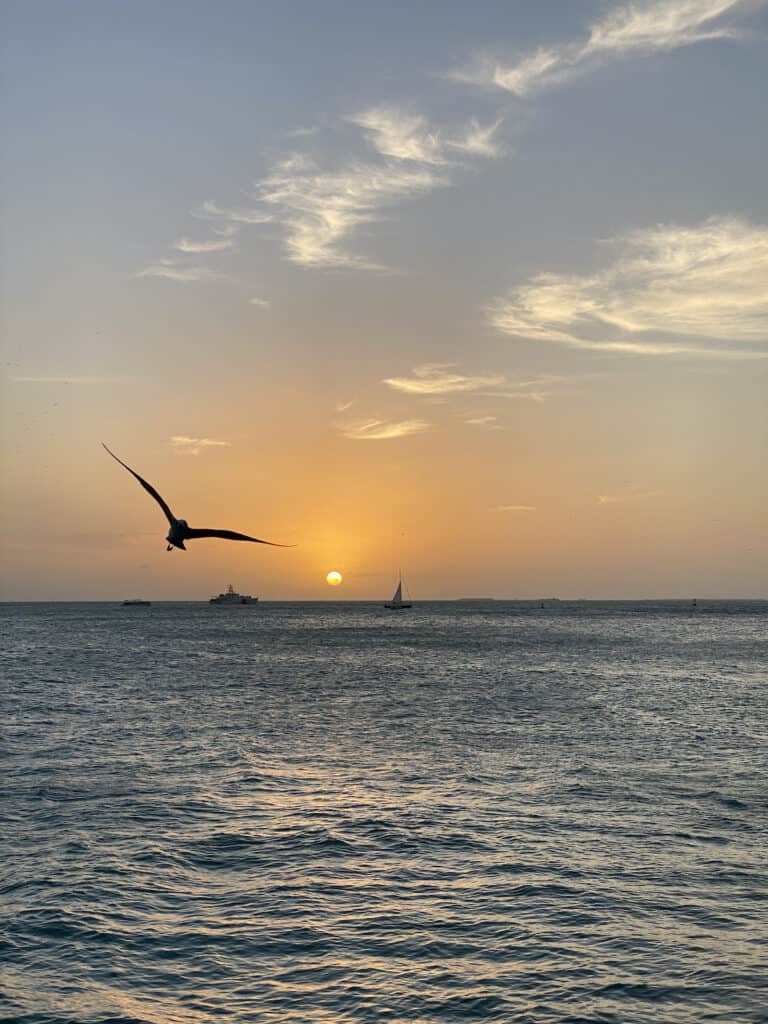 Location and hours: Mallory Square is located at 400 Wall Street and the celebration takes place 6:30 P.M. until 11 P.M.
Top Tips
Look around when you park. If you spot rooster or chicken poop, it might not be a good spot. I didn't realize there was a low branch in a tree above where I parked and it was not pretty after leaving my car for a couple of days. If you do end up with rooster poop on your car, get it washed immediately. Do not drive home. Do it right away!
Key West is very walkable, so be sure to bring comfortable shoes.
Stop by Robbie's Marina in Islamorada on the way down or on the way back. Great food, shops, and fun.
Frequently Asked Questions
Is Key West child friendly?
This is a great question and I have to be totally transparent. There was a time where I would have said no. We took our young daughters to Key West about 15 years ago and I said I'd never go back. Since then, I have been twice and it is totally family friendly now, with a lot to do. It can still be a little wild late at night, but by then your family will probably be sound asleep!
What is Key West known for?
Key West is known for outdoor water sports, a fabulous sunset celebration with lively street performers, rich history learning opportunities, great food, and fun nightlife.
Do you need a car in Key West?
I actually found a great parking spot at my hotel and didn't move my car the whole time I was there. Key West if very walkable. We were tired one night and got an Uber back to our hotel, so there's that option, too.
Let us know if you use this list and if you have something to add! We're due for another trip soon and would love to check out your favorite things to do with kids in Key West.
Like our content? Follow us on Pinterest!