If you are looking for a Caribbean vacation with stellar food, the Grand Hotel Bavaro is one of the best resorts in Punta Cana for foodies. Overseen by Mario Gonzalez, who was trained by several Michelin starred chefs from around the world, the culinary experience alone at this hotel will be worth the price of admission.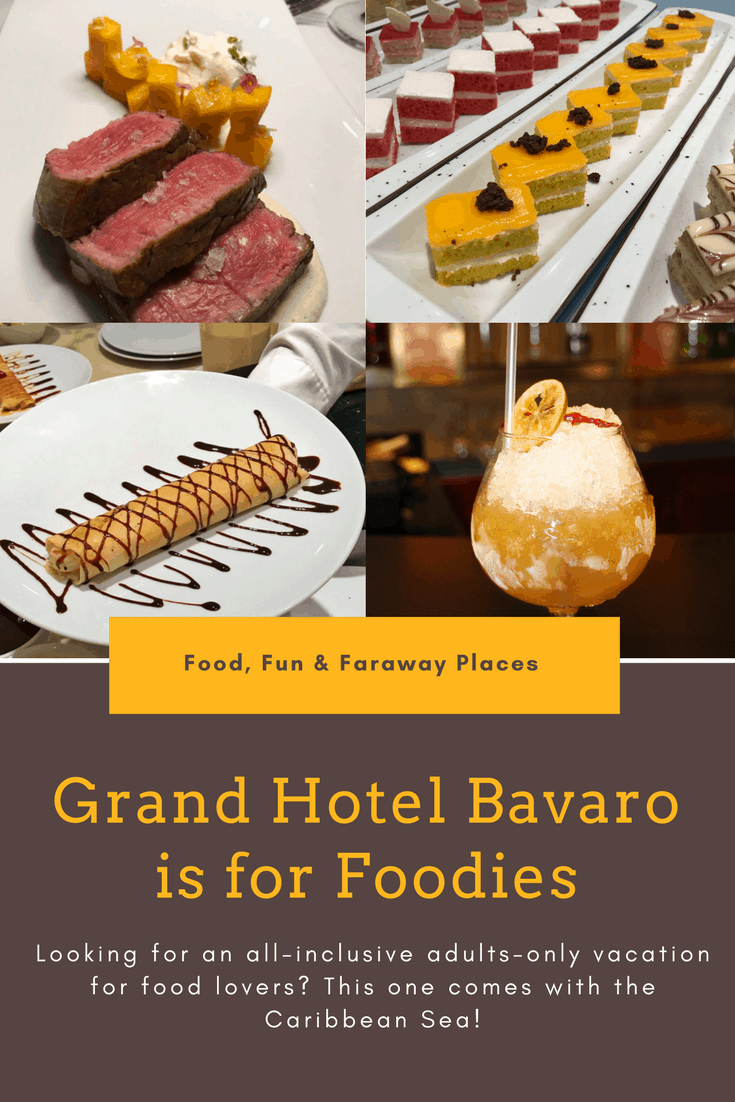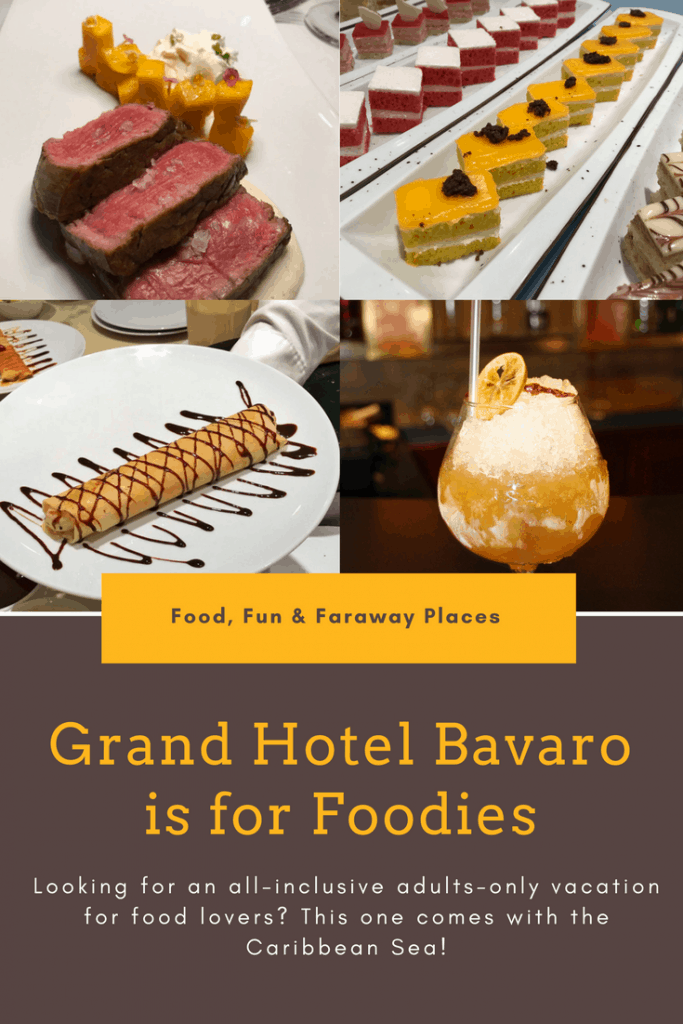 Grand Hotel Bavaro Among Best Resorts in Punta Cana
The Grand Hotel Bavaro is located on the Caribbean Sea in gorgeous Punta Cana in the Dominican Republic. This was my first time visiting the DR, and the beaches are as gorgeous as you've heard.
With a plethora of activities available to pass your time in Punta Cana, you will want to stay as long as possible to fit everything in.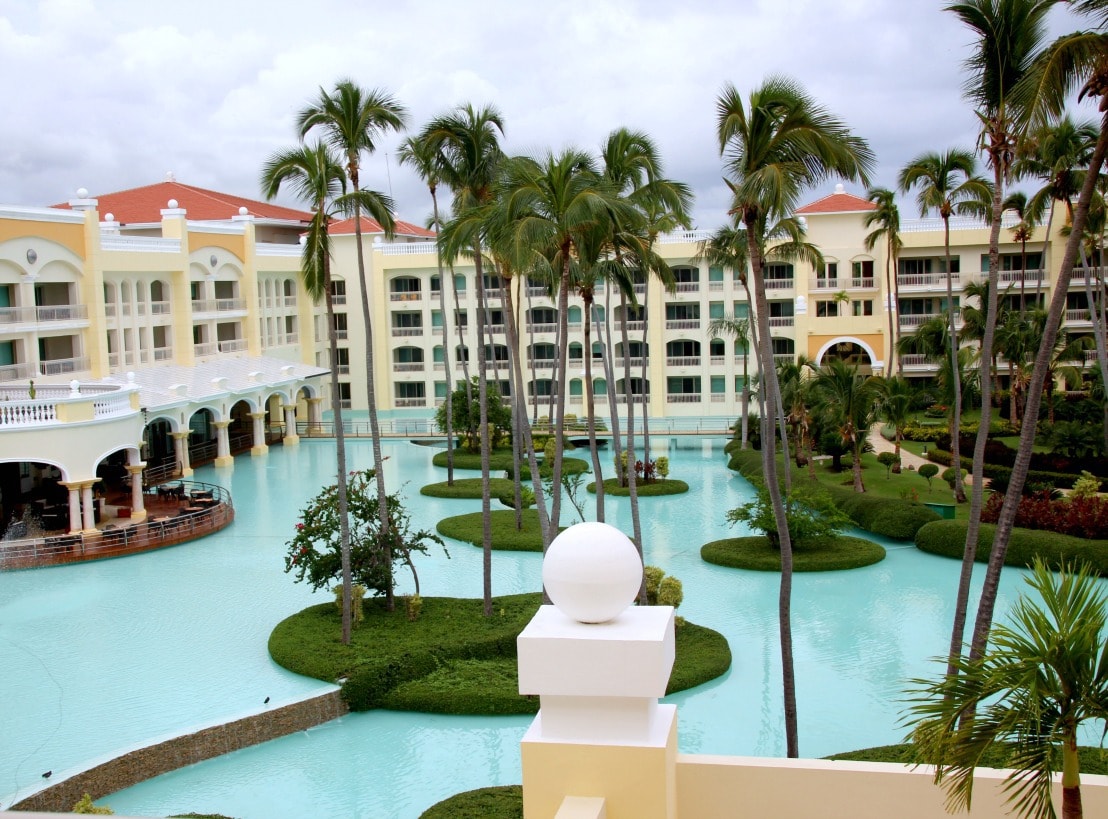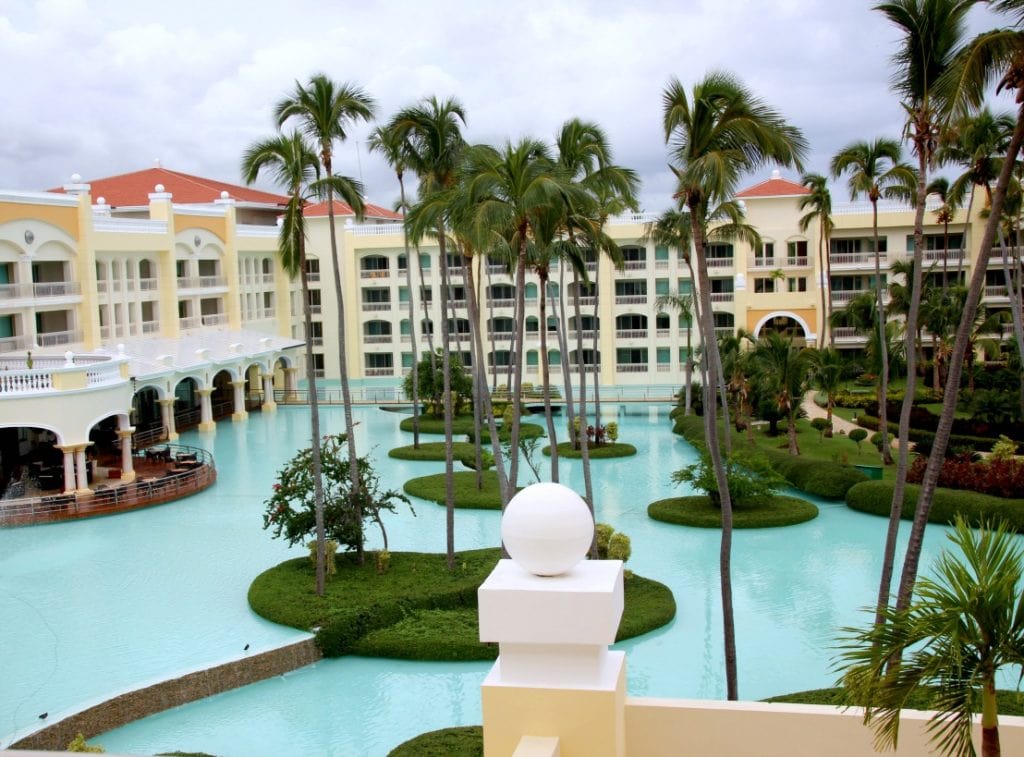 The Perfect Destination for Foodies
Food is one of my passions, and with Chef Gonzalez at the helm of this culinary retreat, you will be wowed by the restaurants at Grand Hotel Bavaro. I was invited to experience the resort and attend the IberostarChef on Tour Dinner, which was a pretty big event in Punta Cana.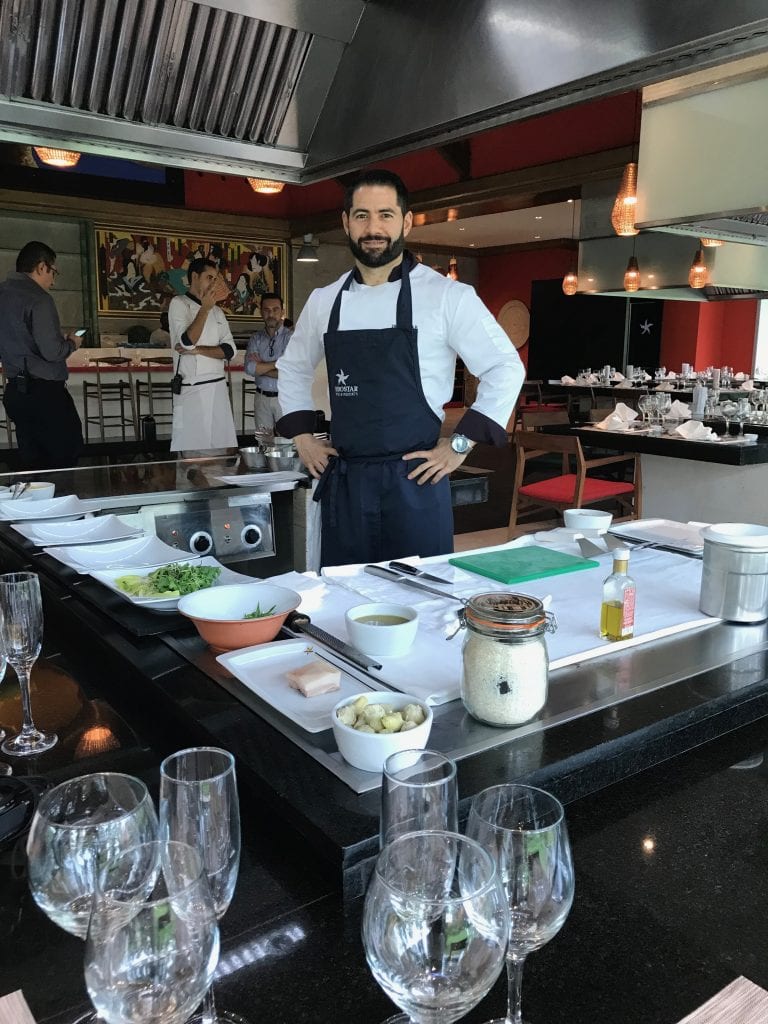 IberostarChef on Tour is an initiative to showcase the incredible chefs that make up the lead culinary team at Iberostar Resorts. For 2017, the events took place in Mexico, the Dominican Republic, Jamaica, and Cuba, featuring 9 leading chefs with an impressive 14 Michelin stars between them.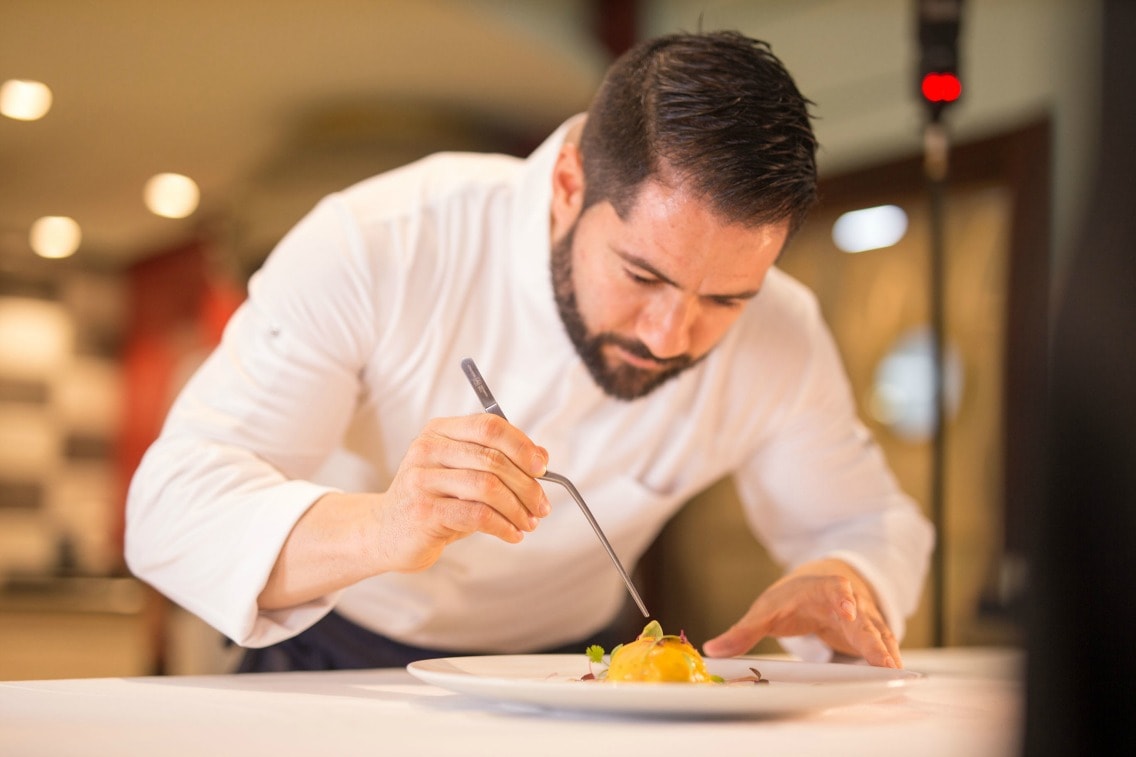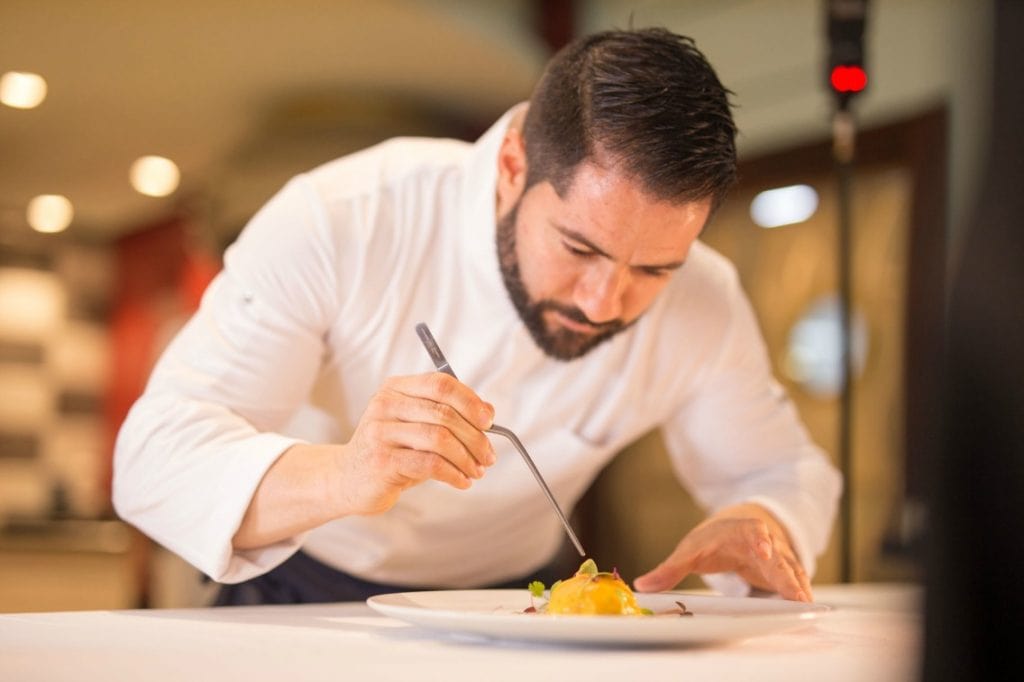 You've missed the event for 2017, but I'll be sure to share the details for next year when I receive them.
So what can you expect when staying at the Grand Hotel Bavaro?
Start each day with one of these choices:
Buffet
Not your ordinary buffet, but a culinary tour through the Dominican Republic and beyond. This buffet will take you 15 minutes to even walk through to look around, and you'll find dishes like crepes for breakfast...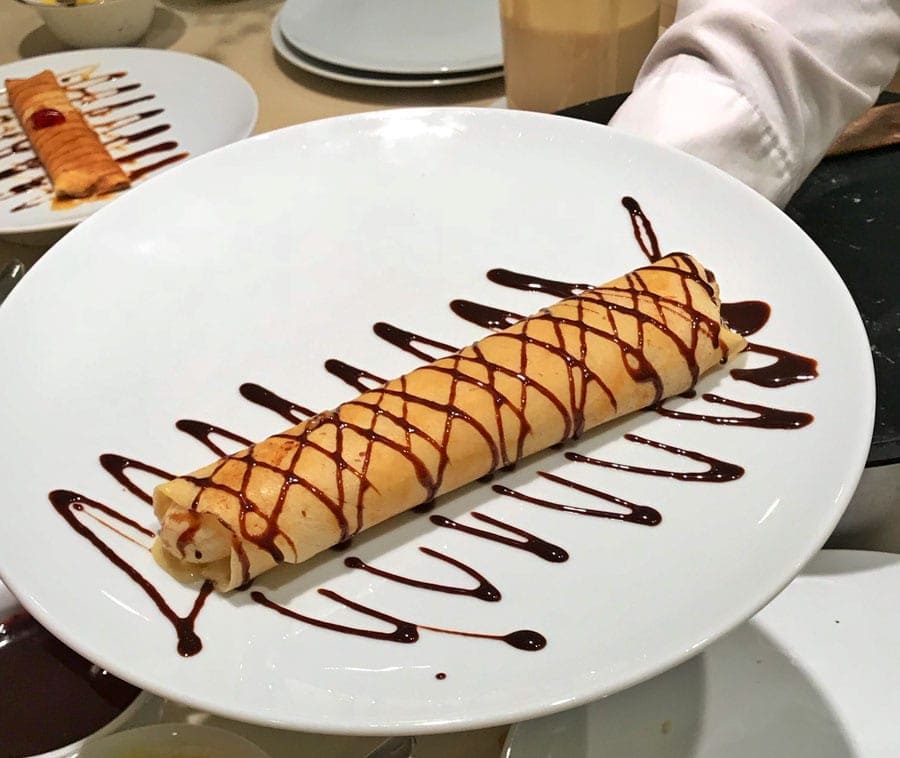 ...along with a crazy amount of pastries, eggs your way, waffles, French toast, fruit, oatmeal, European style charcuterie, and so much more.
Cafe
Stop by the cafe in the morning, order a cappuccino, and choose from the many pastries available. Take all that goodness and sit out by the pool.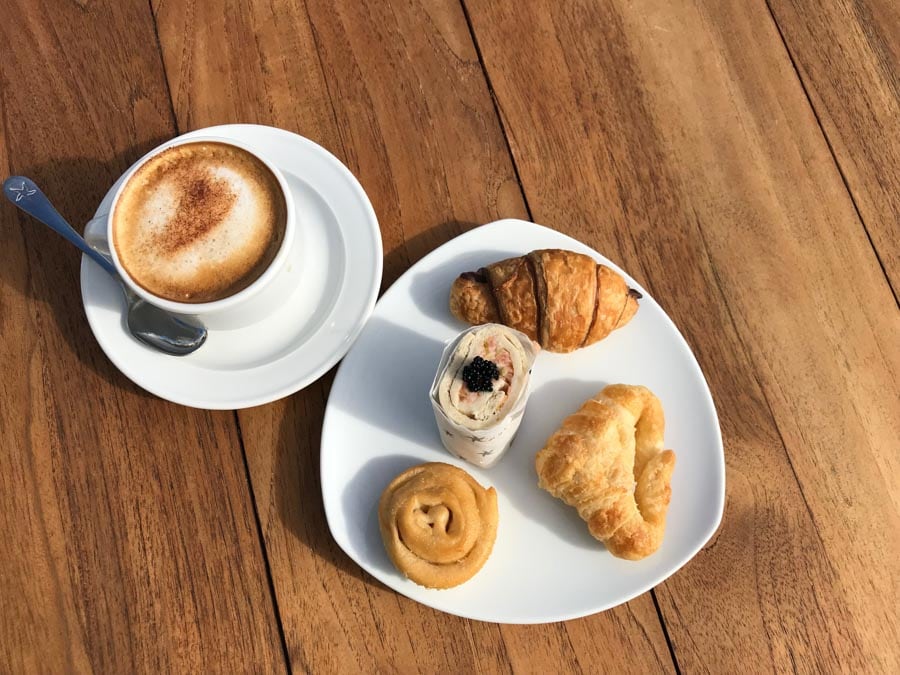 Room Service
Because you can. It's included! Take a look at the menu and order French Toast, waffles, or whatever your heart's desire is at the moment.
I have to eat in the morning, but breakfast isn't my favorite meal of the day, so I save my calories for later. I'm sure some fitness expert would tell me it doesn't work that way, but I opt for a healthier breakfast. Most of the time.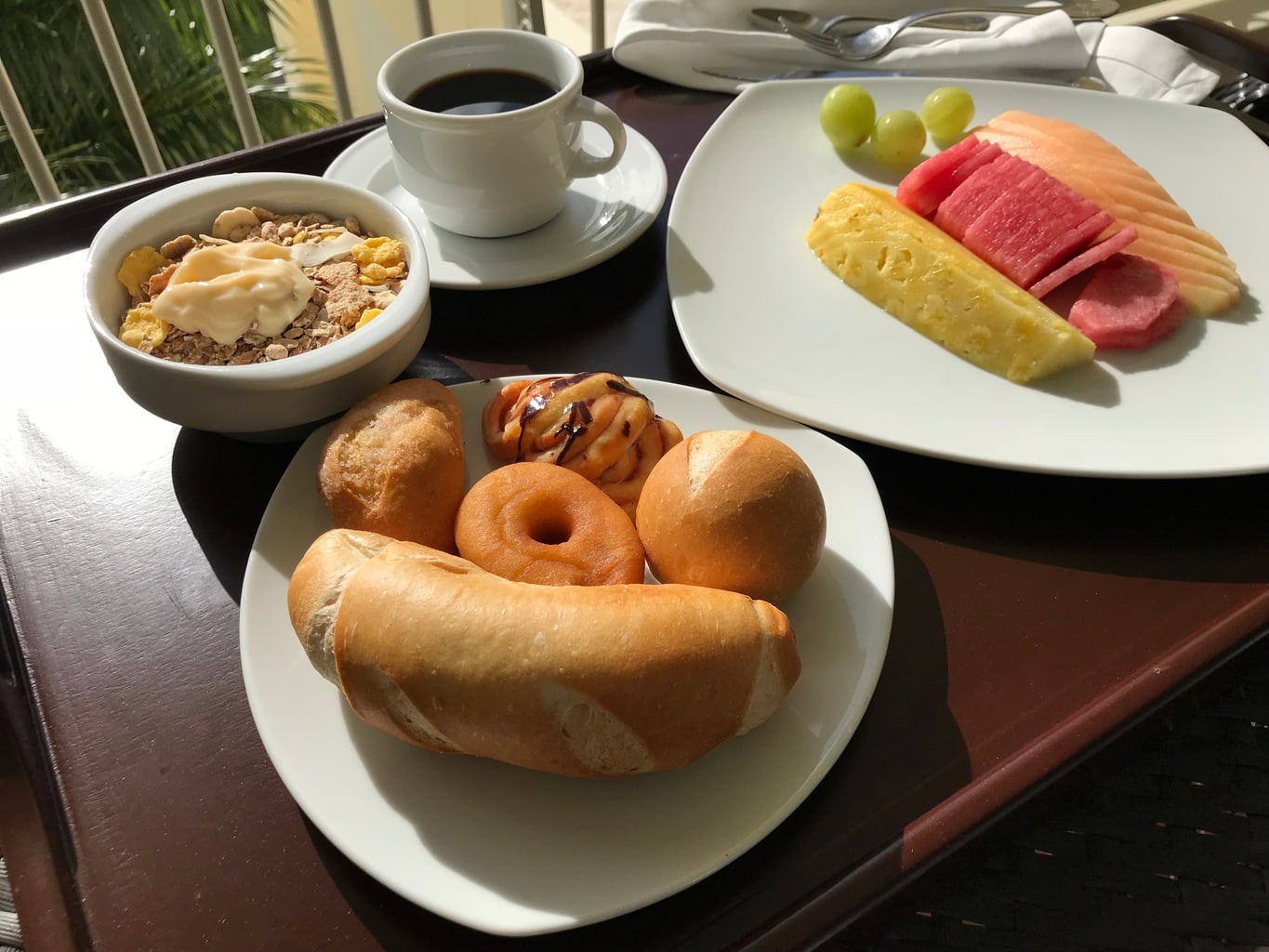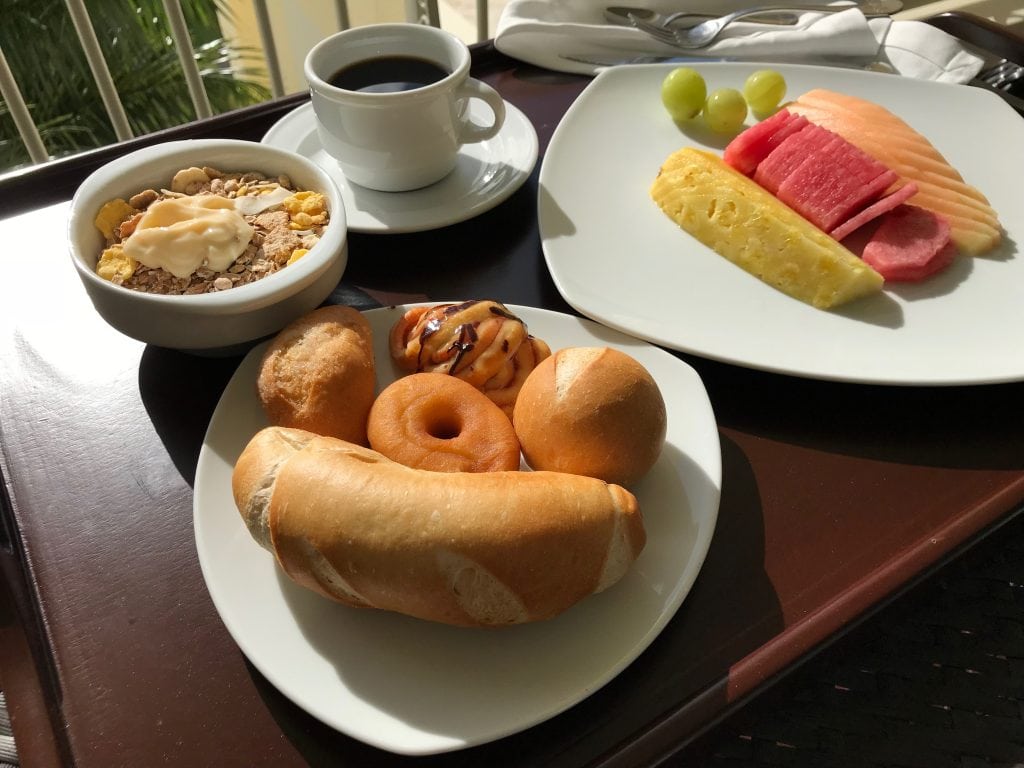 Lunch & Dinner
For lunch and dinner, you can do any of the above. The cafe is also a bar and serves all kinds of finger foods. The buffet serves a myriad of lunch items including many different types of seafood, salads, and sandwiches.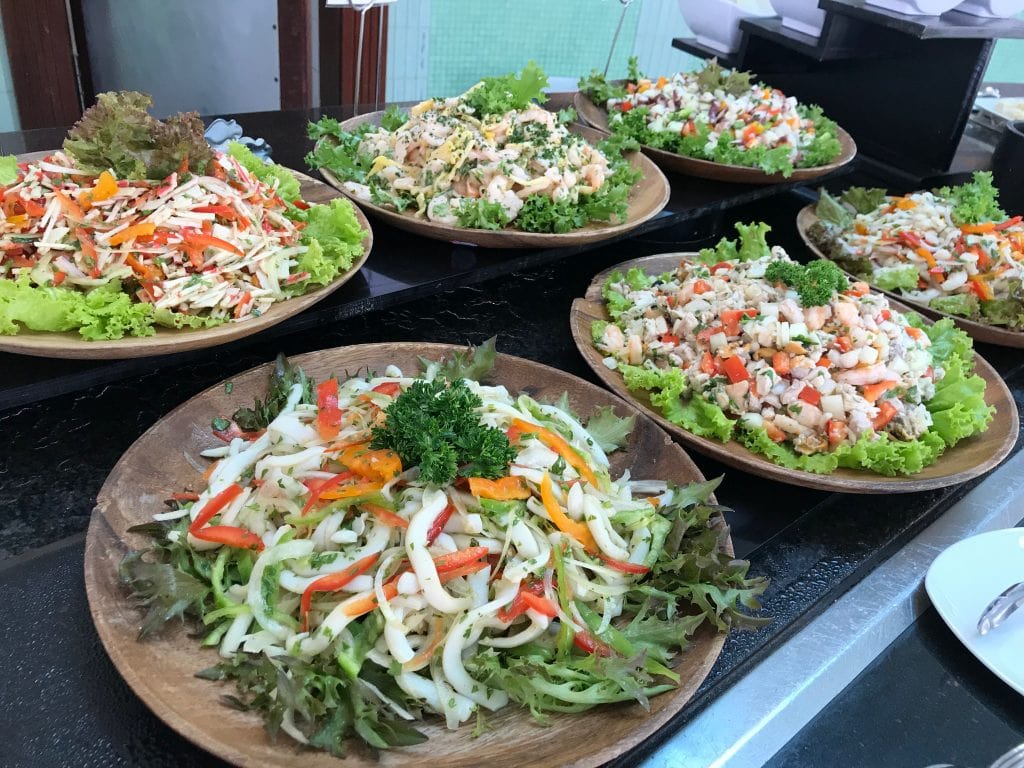 So many choices.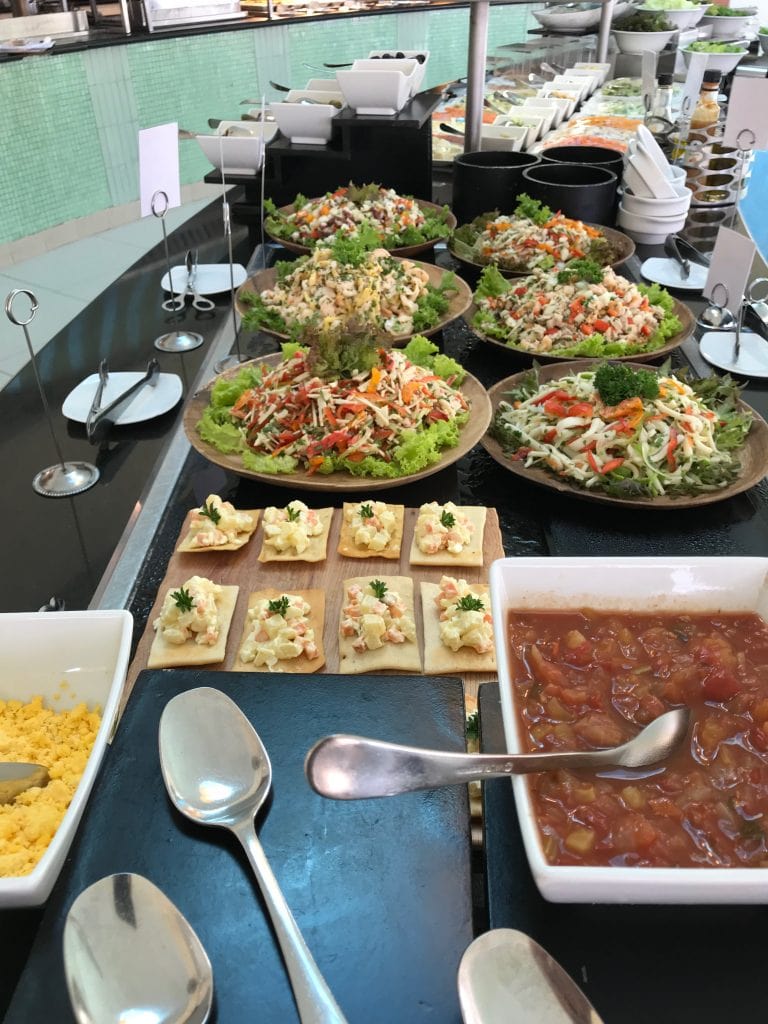 My husband was pretty jealous about the stone crabs.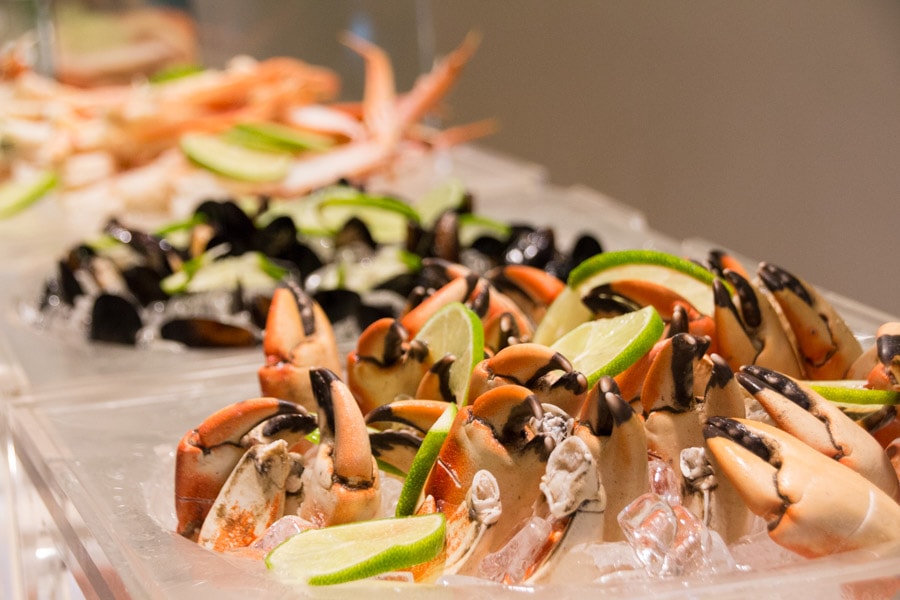 Or you can have pizza, like this one covered in shrimp. Did I tell you shrimp is my favorite food? I even like it more than lobster!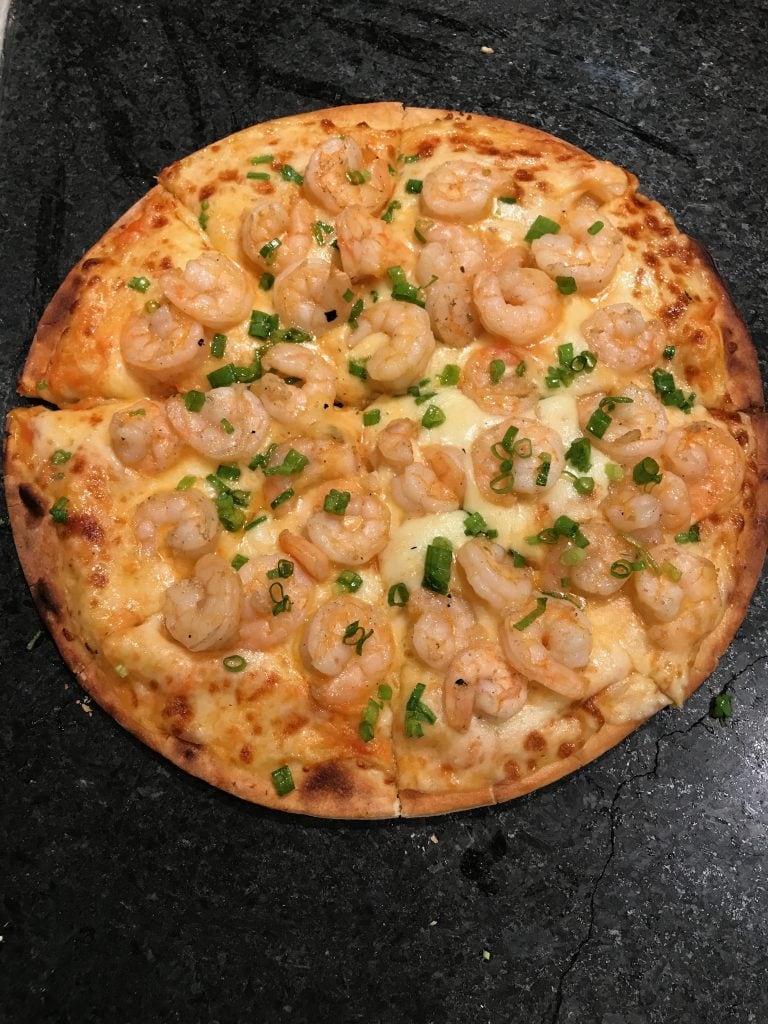 Head to the Grill
If you do want lobster, go to the grill next to the pool and place your order. The chef will grill it right before your eyes. Want to add a filet mignon? Pick it out and add it to your order. Grilled lobster is SO good! Surf and turf by the pool for the win!
You can also get a fish sandwich, burger, and even nachos at the grill. They also have a daily dish like paella that will be simmering next to where you order. You will know from the delicious aroma where to find it.
When dinner rolls around, you have even more choices:
La Tentazione Italian
Hashira Japanese
El Galeón Surf & Turf
Le Tourbillon Gourmet
Casa de la Playa Mediterranean
Bella Vista Maine buffet
La Perla Buffet
Add in that you can get appetizers at the cafe, order room service, or go to the grill, and you have ten choices! This is why I think the Grand Hotel Bavaro is one of the Best Resorts in Punta Cana for Foodies. But there is more to consider than food when planning a vacation. Wait. What?
Activities by Day
The resort is facing the huge pool area, which you pass by on your way to the soft white sands of the beach. Called the water enthusiasts' dream location, you can float your cares away in the tropical tide, take an excursion to see the coral reefs near a floating island, and even swim with stingrays!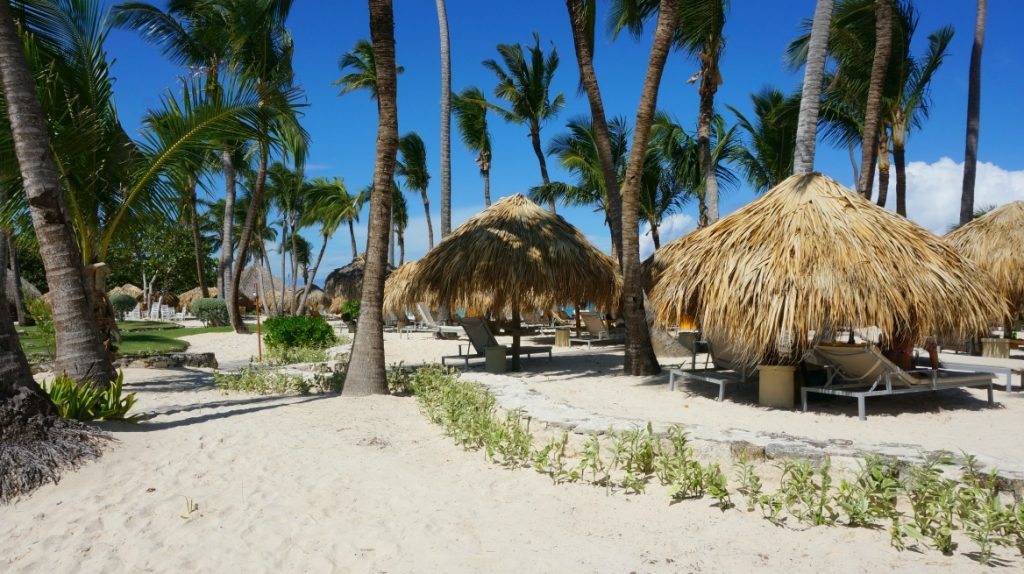 When you tire of the water activities, you can visit the world-class oceanfront spa for one of the many massages on the menu.  I had a deep tissue massage and a reflexology treatment while there and they were both heavenly.
A couples massage may be more what you're looking for at this adults-only resort, or perhaps a beachside treatment is more your style. They really do aim to please, so just ask!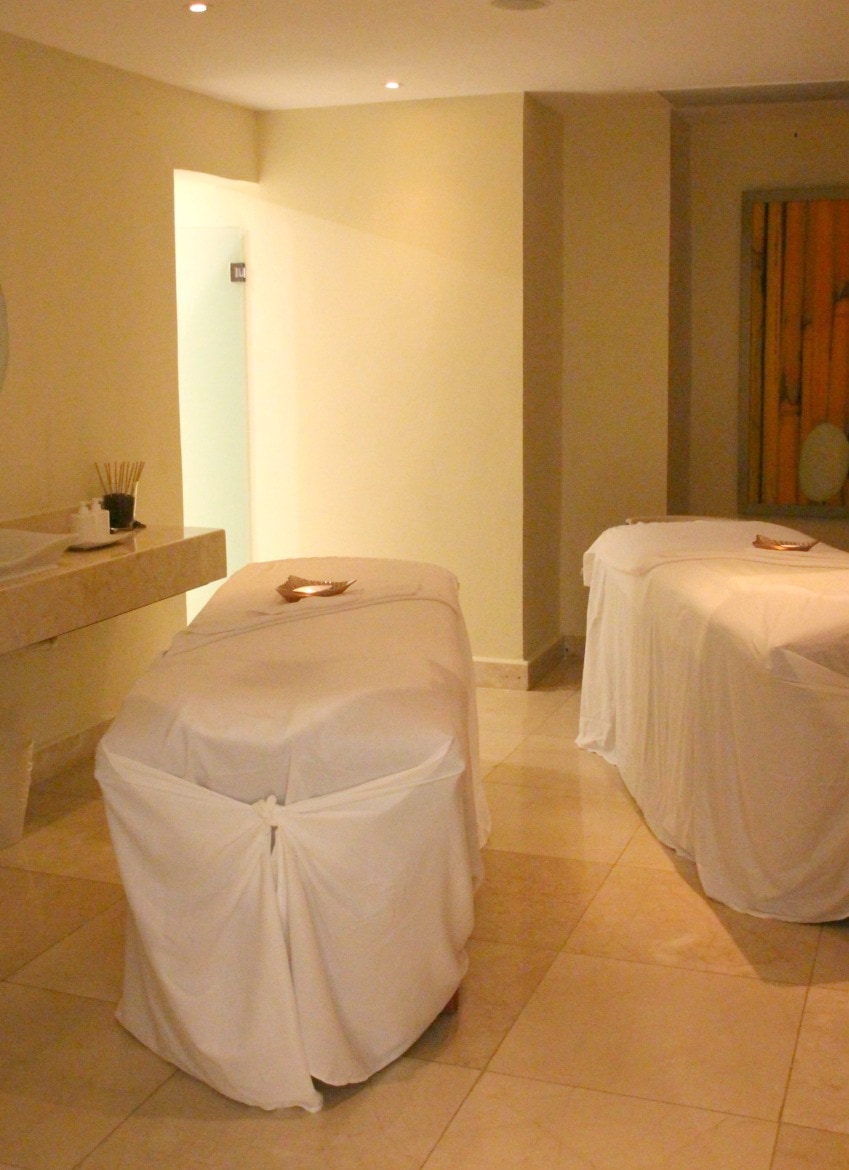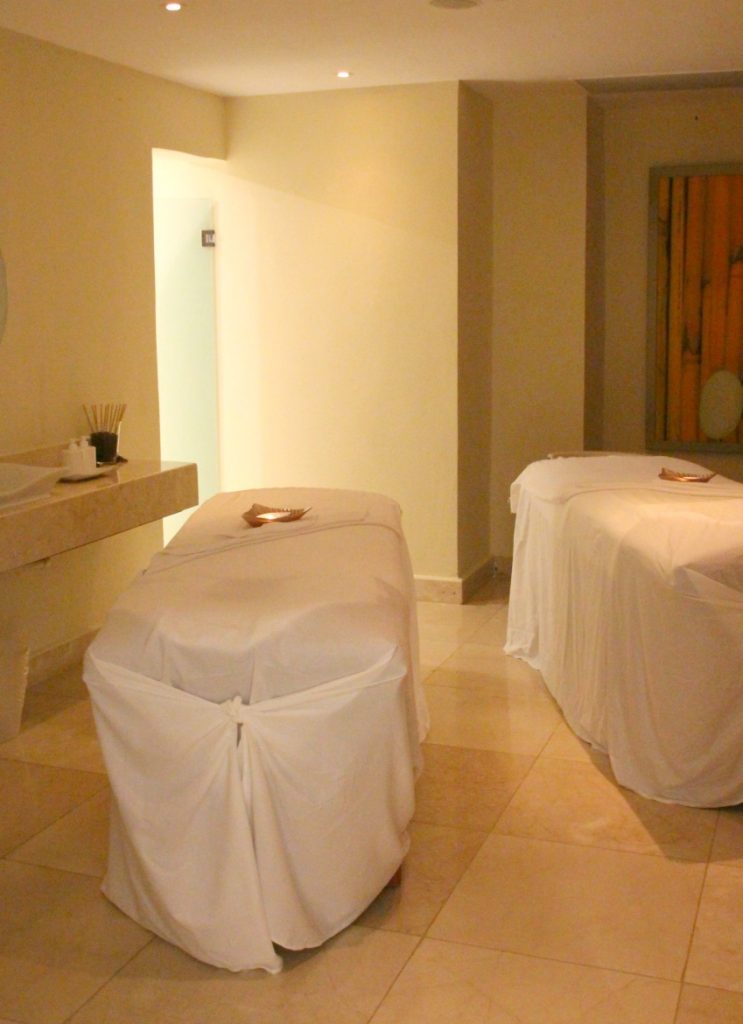 With a minimum three-night stay, you'll also have full access to SPA Sensations, the luxurious wet area and spa complex. All guests may enjoy the Jacuzzi, sauna, or hammam. This area is divided into a men's area and women's area for privacy.
Looking to keep fit while you're away? Yoga and fitness classes are available as well as the lush 18-hole golf course, IBEROSTAR Bávaro Golf Club.
You'll even have a shopping area for clothing and souvenirs. I saw some gorgeous bathing suits and really cute hats. If you forget anything, you'll probably find it in one of the shops.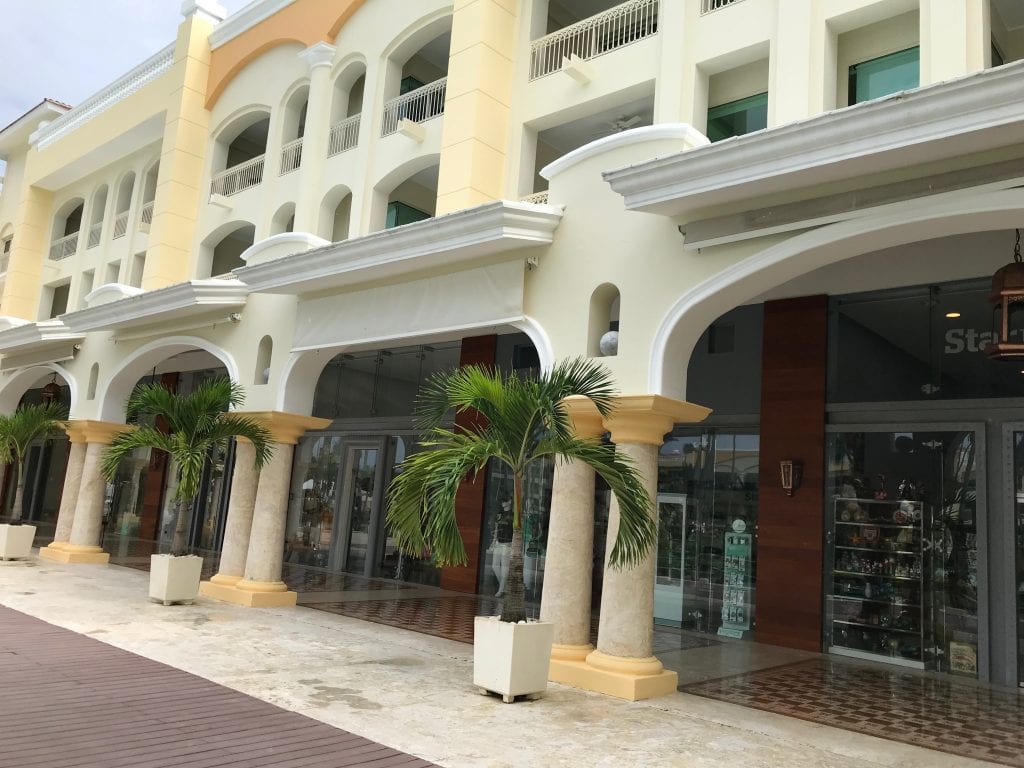 However you choose to spend your days, the tension you were feeling when you arrived will be no more.
Activities By Night
Enjoy musicals? Take in a show at the theater each night. Rather dance the night away? The Spanish Guillon ship is the spot for the merengue and bachata, or karaoke if you're game to show off your talents.
There is also a pool table, cigar bar, and many outdoor and indoor seating areas.
Rooms
The rooms at the Grand Hotel Bavaro are spacious and modern, so perhaps you and your love would rather retreat back to the luxurious whirlpool tub, put on your soft Iberostar robes, enjoy European style bedding, and snack from the personalized minibar stocked with local and international choices.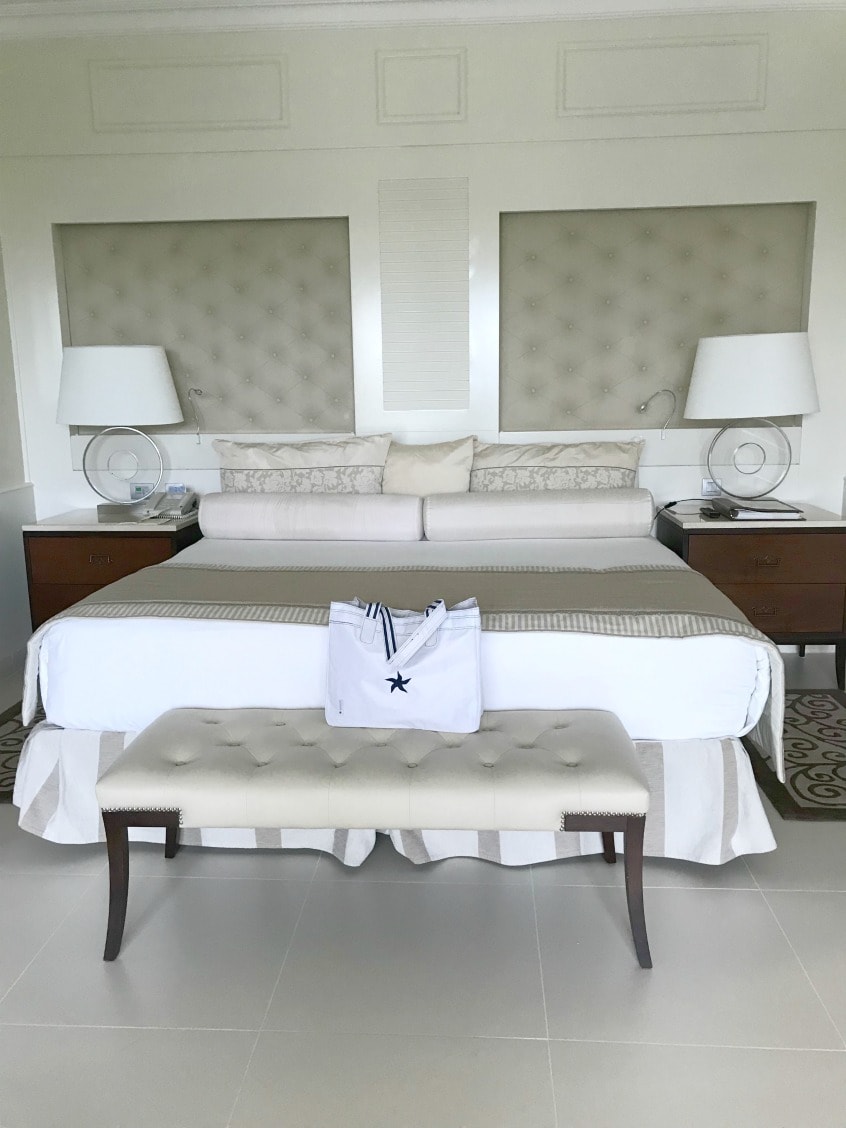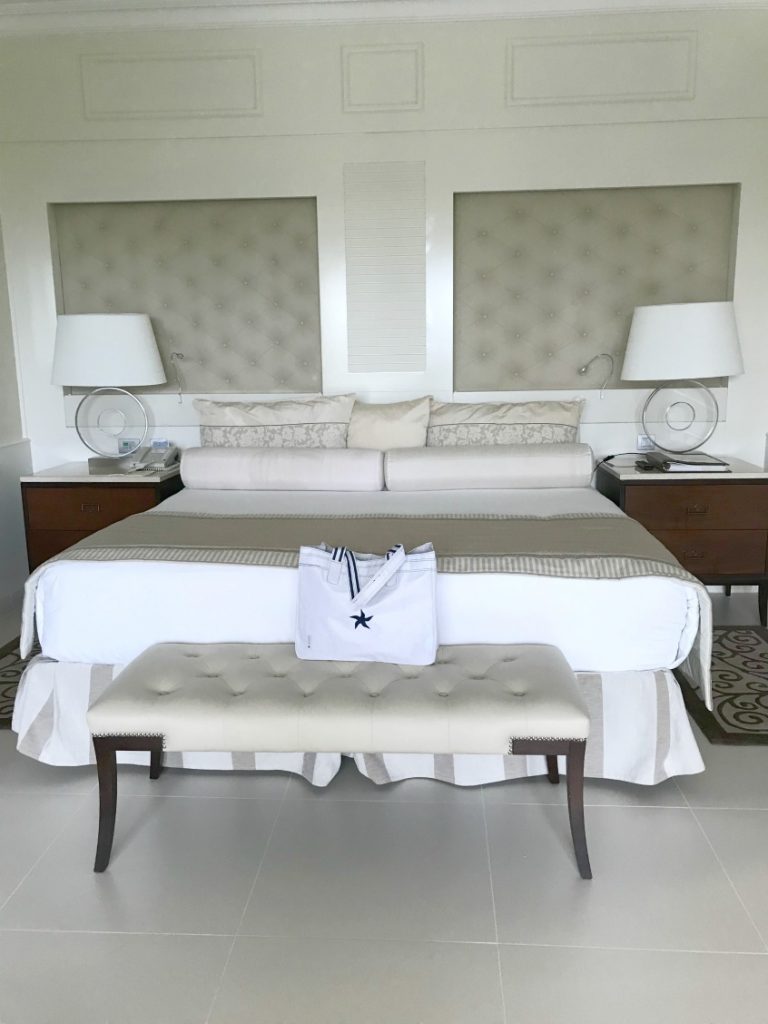 That actually sounds like a perfect evening to me.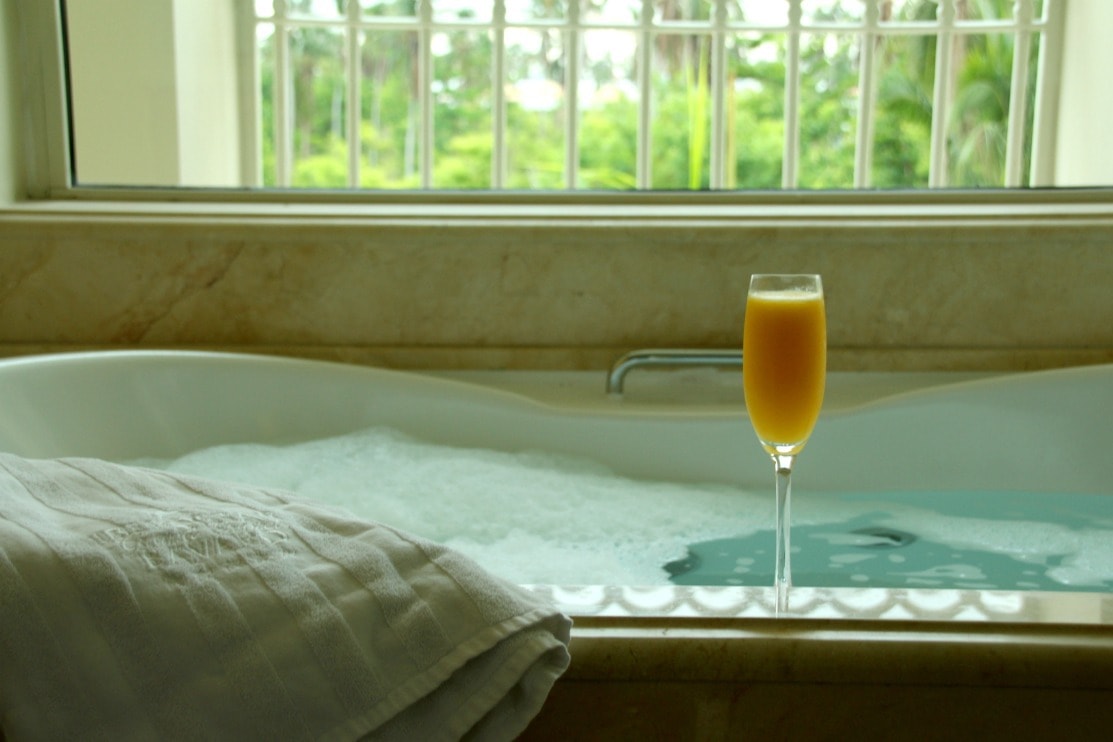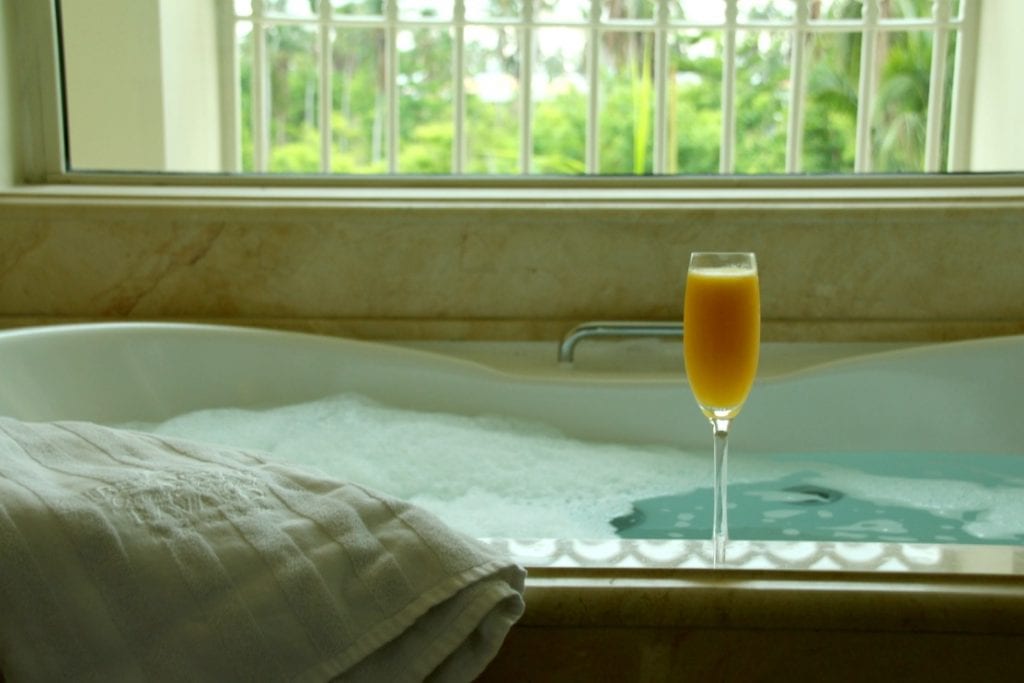 The bed is so comfortable, it's tough to get out of it in the morning, but there is so much to do! Be sure to order from the six choices of pillows from the Pillow Menu. I ordered the Down Pillow and it was lovely.
Staying at any Grand Hotel Bavaro is an experience, and I think you'll love the Grand Hotel Bavaro. You'll find other Iberostar locations, with no two alike, in the Balearic Islands and Canary Islands, Spain; Budapest, Hungary; Manaus, Brazil; Trinidad, Cuba; Riviera Maya, Mexico; Montego Bay, Jamaica; and this location in Punta Cana, Dominican Republic.
Regardless of where you're headed next, you'll want to print a few of these free vacation packing lists so you don't forget anything.
Where is your favorite foodie destination? Share in the comments so I can add it to my list!
My visit to the Grand Hotel Bavaro was hosted. All opinions are my own.
Looking for easy recipes and travel recommendations? Subscribe to Food, Fun & Faraway Places and never miss a thing! We have so much goodness coming up! Be sure to follow us on Instagram, Facebook, Pinterest, & Twitter, too!