Rocky Mountaineer now offers a luxury trip from Denver to Utah National Parks by train. Spend two days relaxing before you start exploring some of the prettiest National Parks in the world!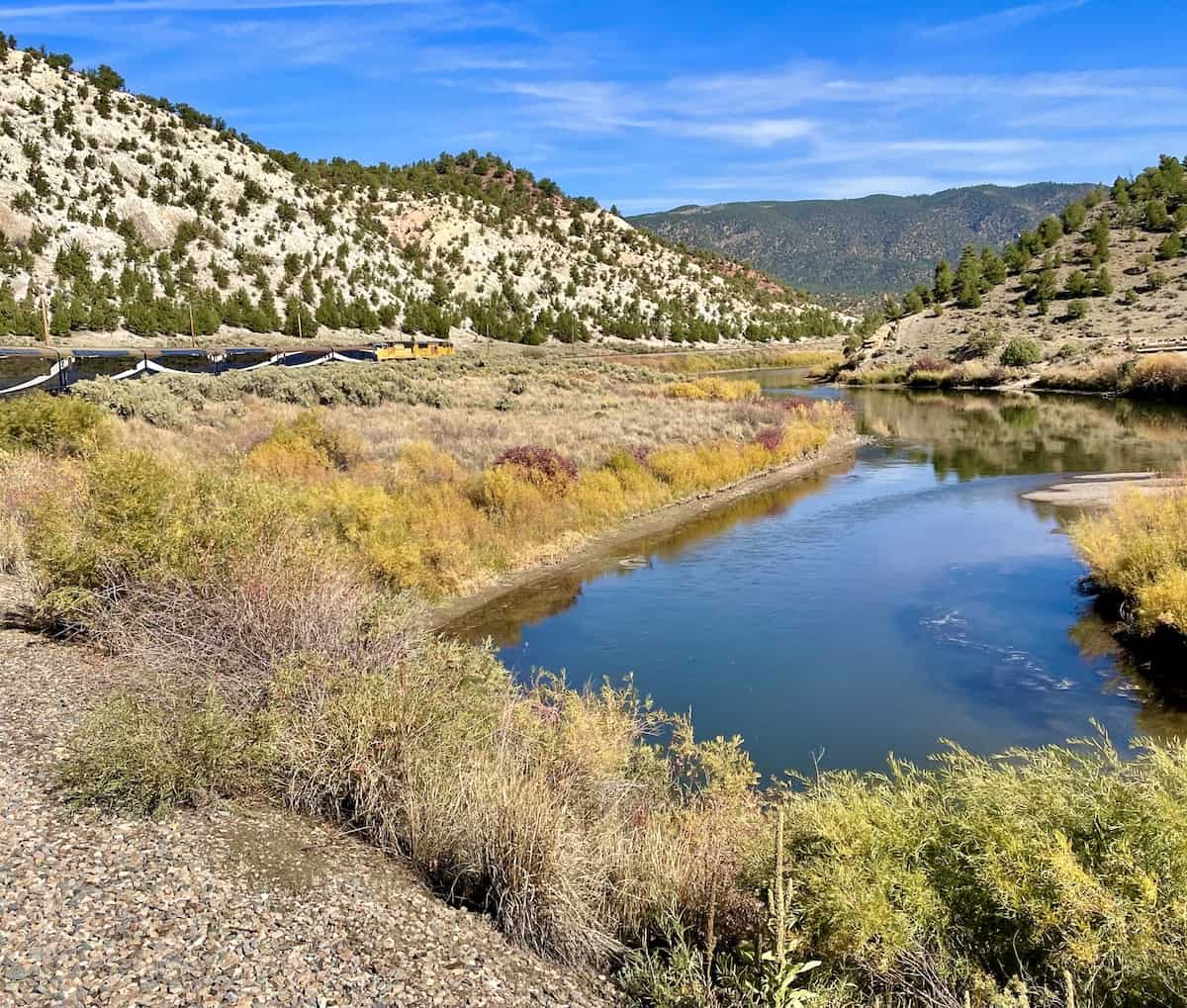 You're probably familiar with this Rocky Mountaineer as they have been treating guests to luxury train travel in Canada for more than 30 years.
Now you have the chance to experience all that in one of the most beautiful parts of the United States; Colorado and Utah, with the Rockies to the Red Rocks route.
We combined this trip with a road trip through Arches National Park and it was a spectacular getaway.
I've always loved traveling by train. I love the feel of rolling along, relaxing, and being able to really enjoy the scenic drive instead of driving.
But luxury train travel is a whole new level of traveling. On Rocky Mountaineer, fine dining, spacious and comfortable seats, and views of mountains, rivers, and wildlife are all part of the journey.
They sure know how to pick unparalleled views! Why should the Canadian Rocky Mountains get all the love?
Not only is this a fantastic opportunity to travel by luxury train in the United States, but while you're in Moab, you can spend time exploring Arches National Park, Canyonlands National Park, and more.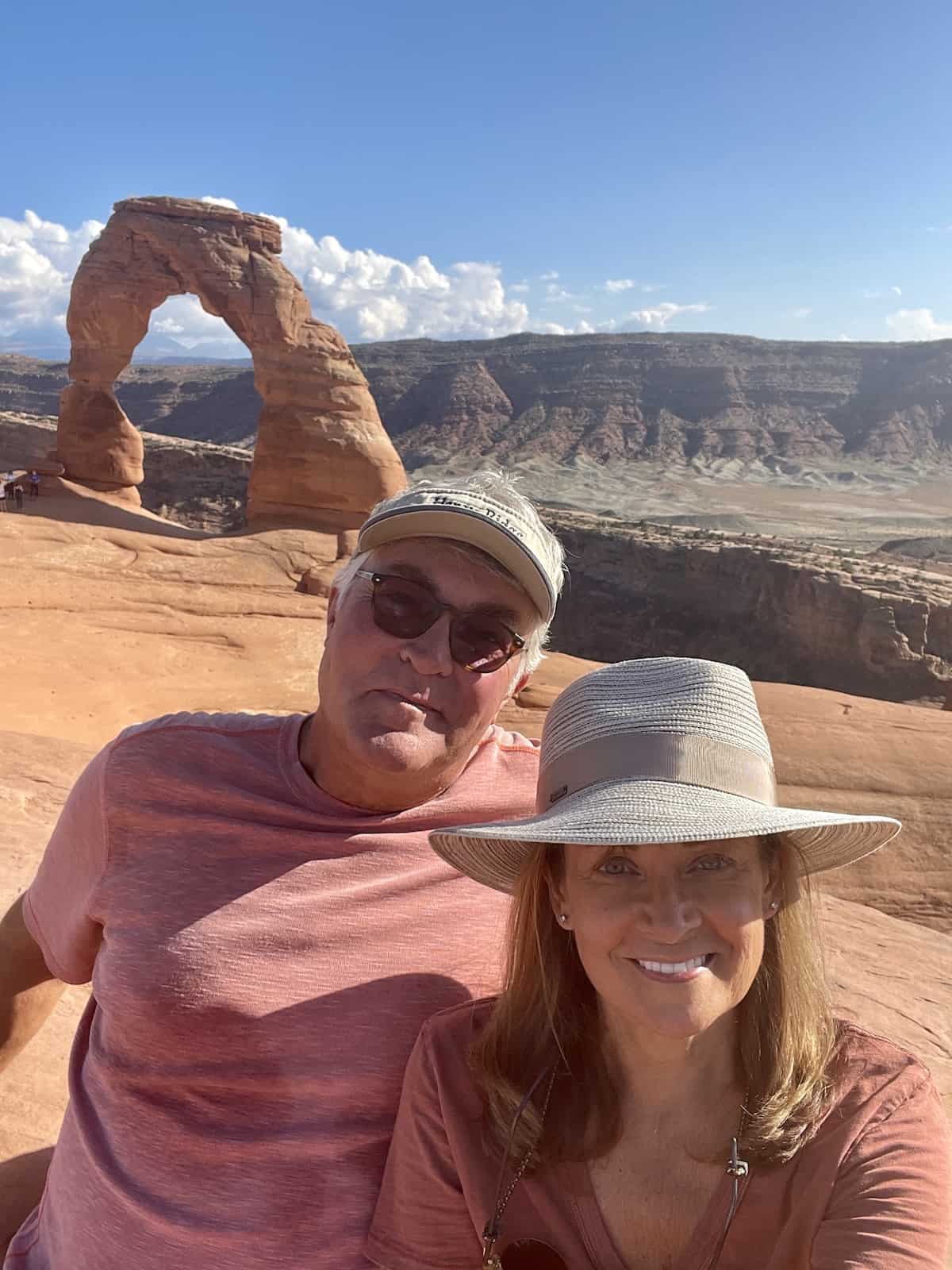 Rockies to the Red Rocks
If you have not been to this part of the country, you simply must go. I was invited to experience the train as one of Rocky Mountaineer's Ambassadors.
My husband and I had the best time away, hiking in the Parks, exploring Moab, discovering new restaurants, and just enjoying some down time away from home.
You can start in Denver and end in Moab, or vice versa. In fact, you can even start or end your trip in Las Vegas or Salt Lake City.
We started in Moab in southern Utah as this is one of the best places in the world to see natural sandstone arches and we wanted extra time there. The National Parks and State Parks in this region are just incredible.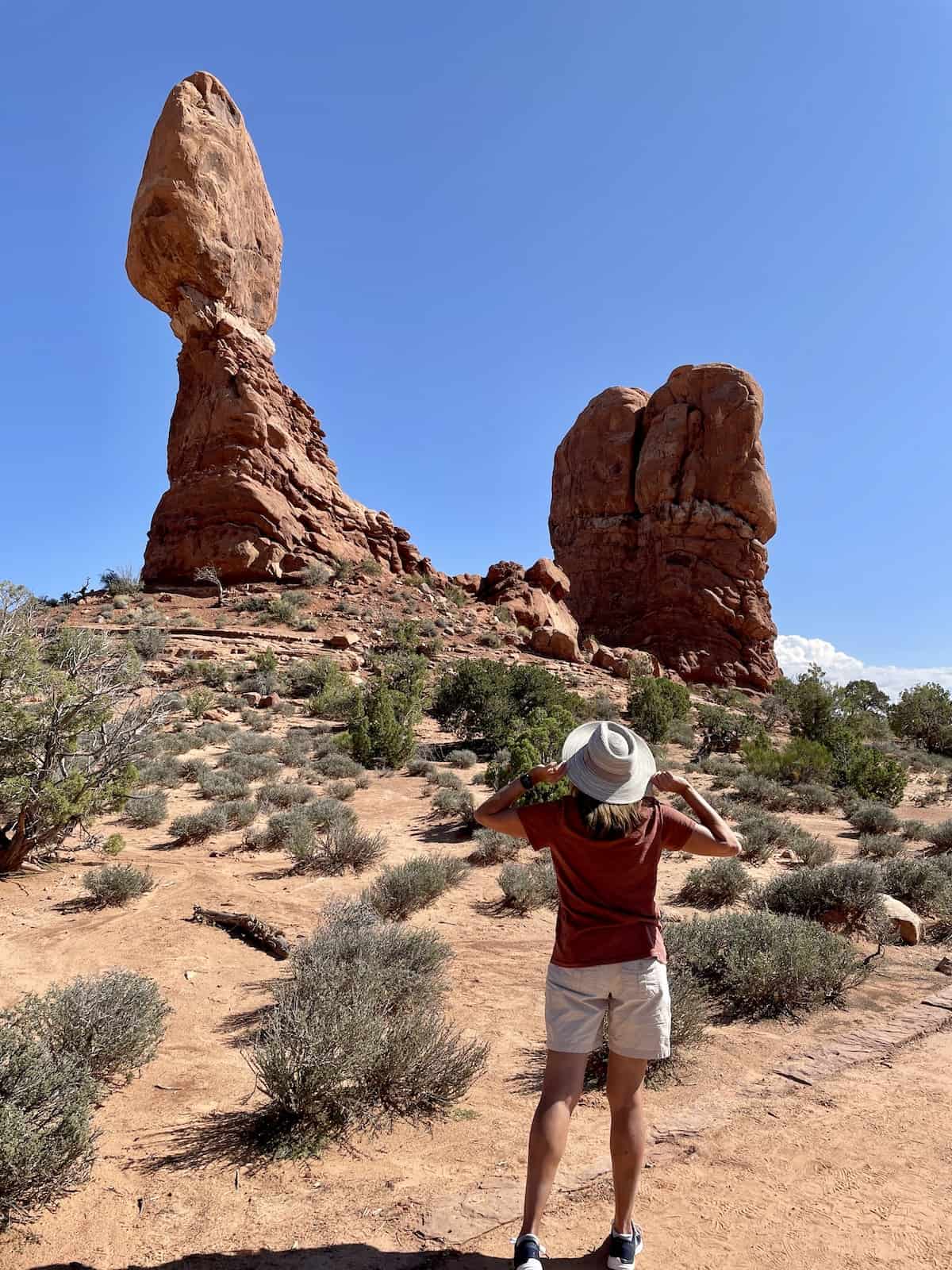 Our plan was to see everything we could while in Moab and then relax on the train to Denver. A road trip where we didn't have to drive was a great idea!
If you have time, tack on seeing Rocky Mountain National Park in Estes Park. It's just about 90 minutes from Denver.
The Train Experience
On the day of departure, you'll be picked up from your hotel along with other guests. It's nice to have the morning to relax as this route departs Moab around 2 in the afternoon for Glenwood Springs.
Some trains have an observation car where the views are better. On Rocky Mountaineer trains, you don't even need to leave your seat because those panoramic views are part of your rail car!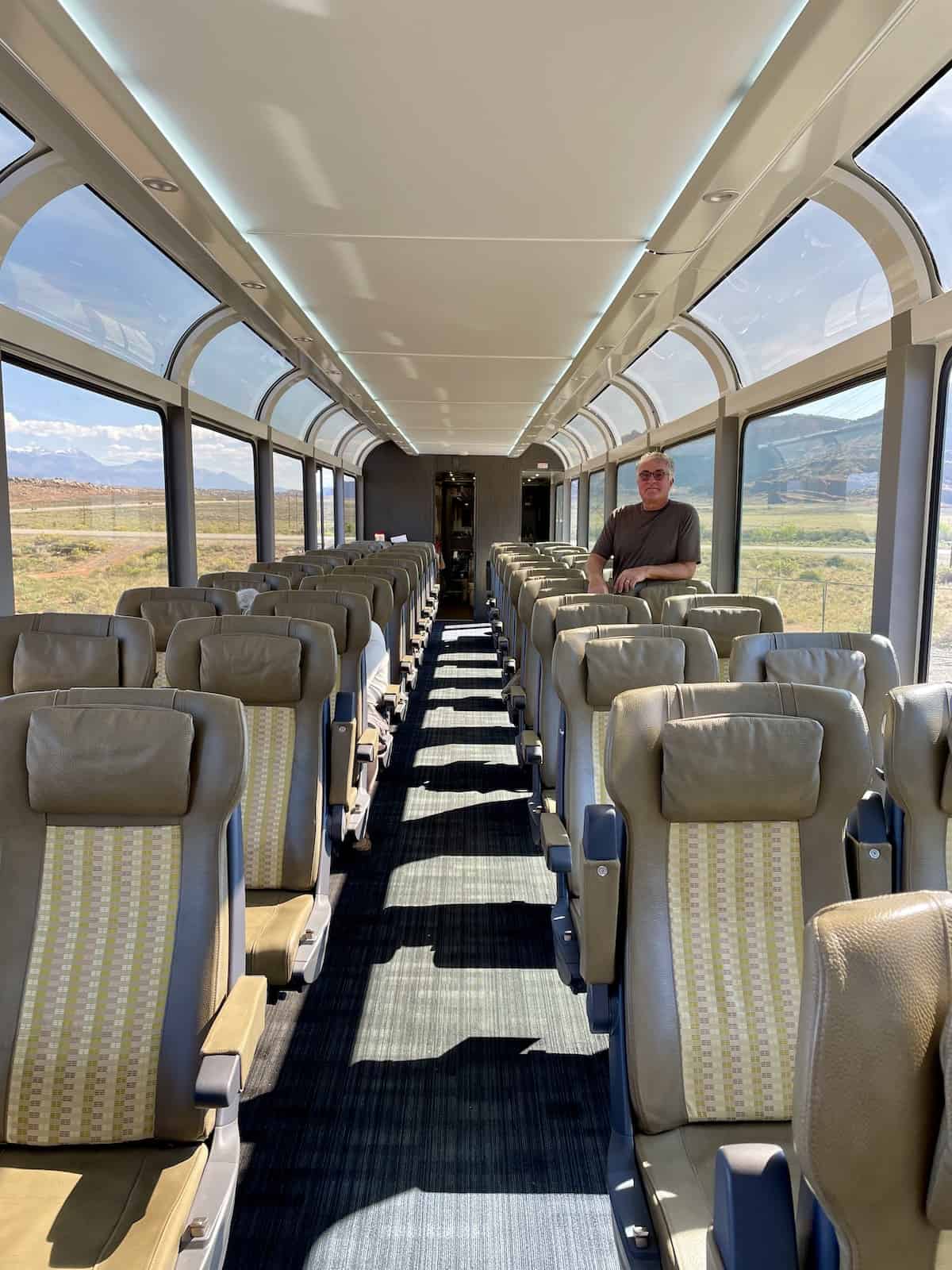 The Meals
You'll have three full meals on the two-day trip with additional snacks served in your car as well as in the Bar Car if you visit. (Tip: Do visit!)
We were served typical bar snacks as well as a couple of heavy appetizers while in the bar car, so I can't imagine anyone being hungry on this trip!
Dinner Day One
Shortly after boarding, we were served dinner while rolling through mountains, viewing the fall colors.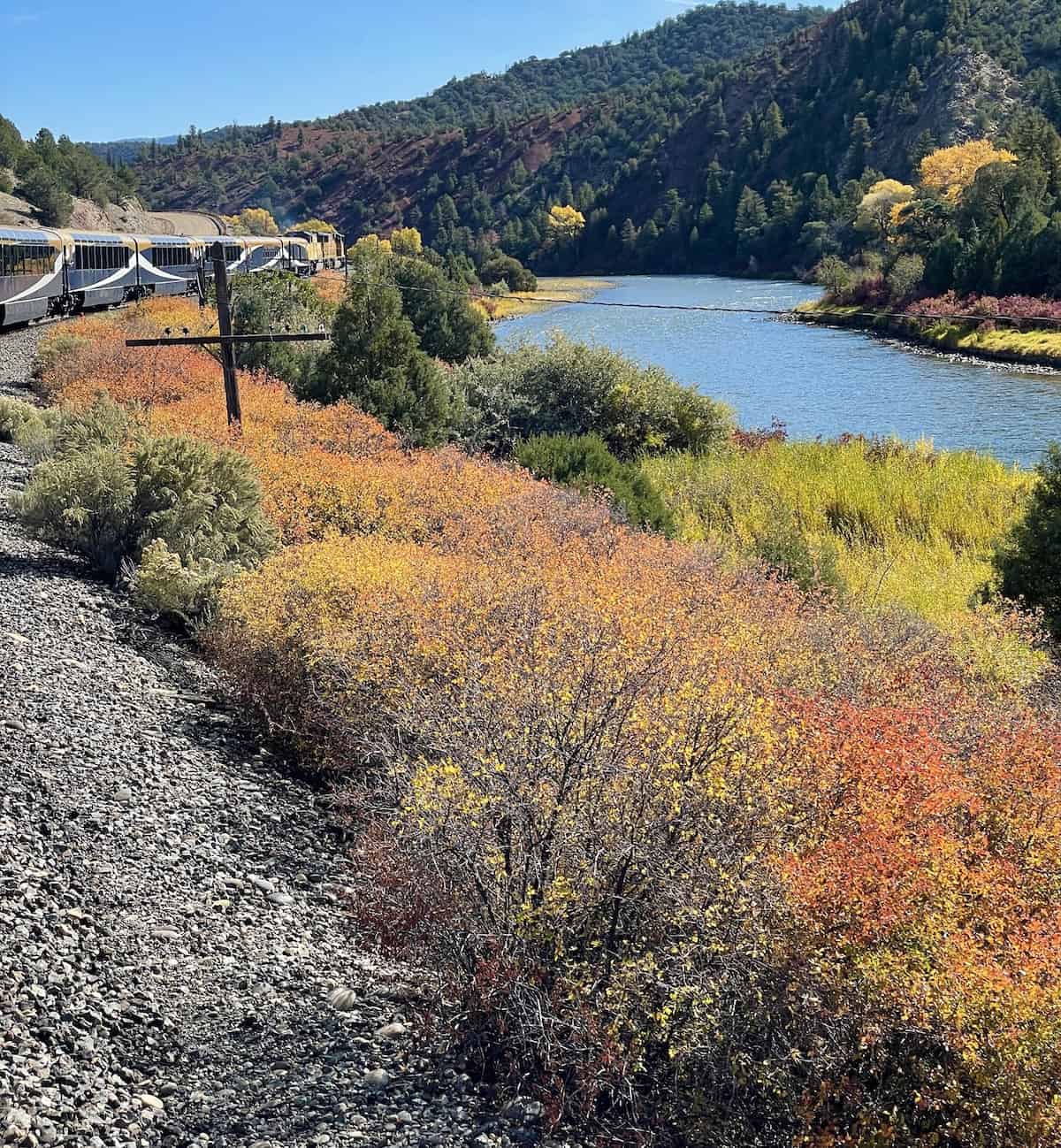 The gourmet meals are different on the Red Rocks trip as the culinary team wanted to incorporate the flavors of the Southwest.
We began with a charcuterie and cheese plate featuring Colorado raised Bison, elk, and venison, as well as a glass of wine. This is my favorite way to start any meal!
A Caprese Tomato Salad was next, with shaved asiago that was so fresh and delicious.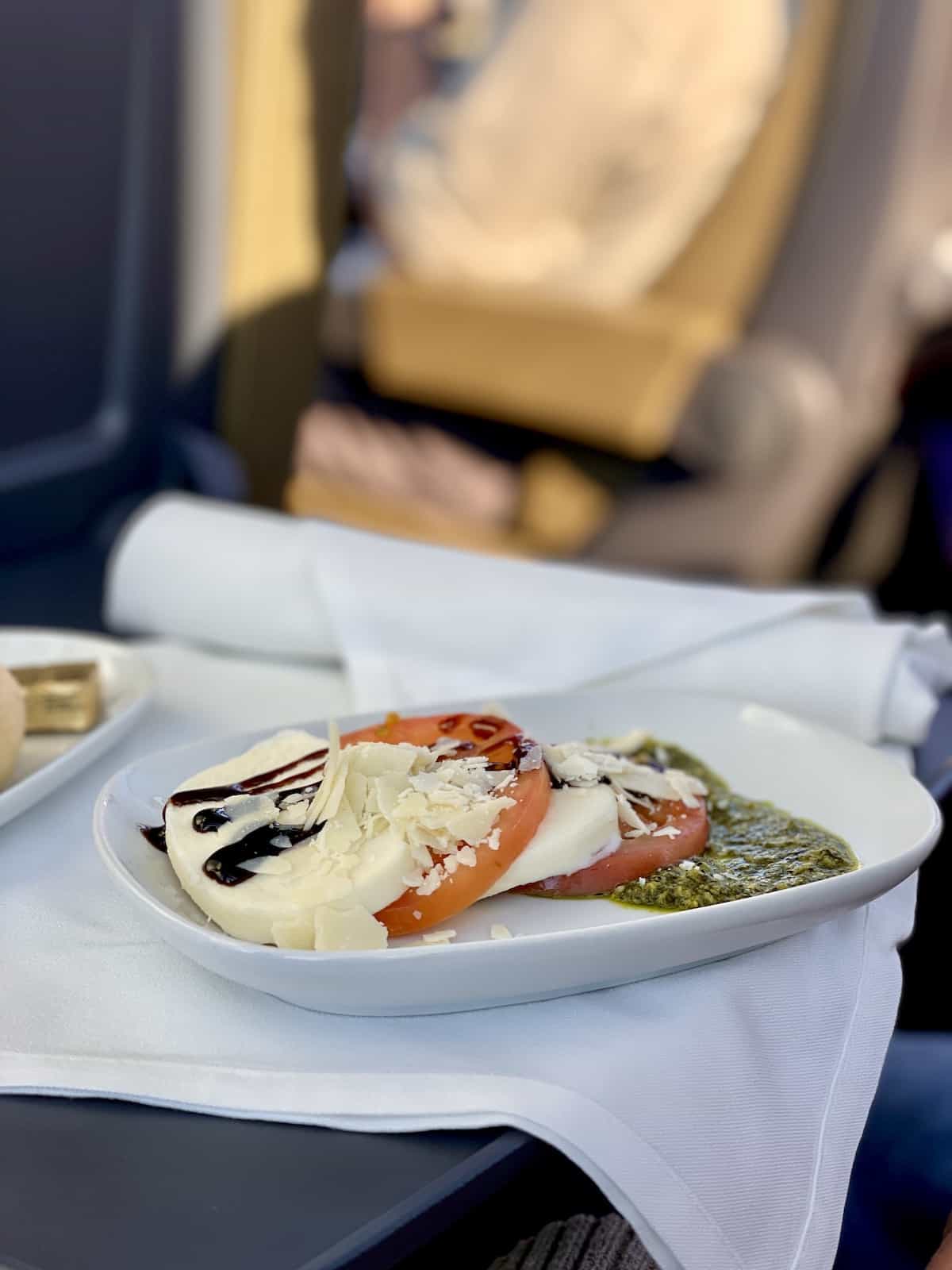 For our entree, we had a choice of Thyme and Black Pepper Chicken or Ale Braised Short Ribs, and though my husband and I try very hard to never order the same thing, a fight may have broken out if we'd had to negotiate on this one.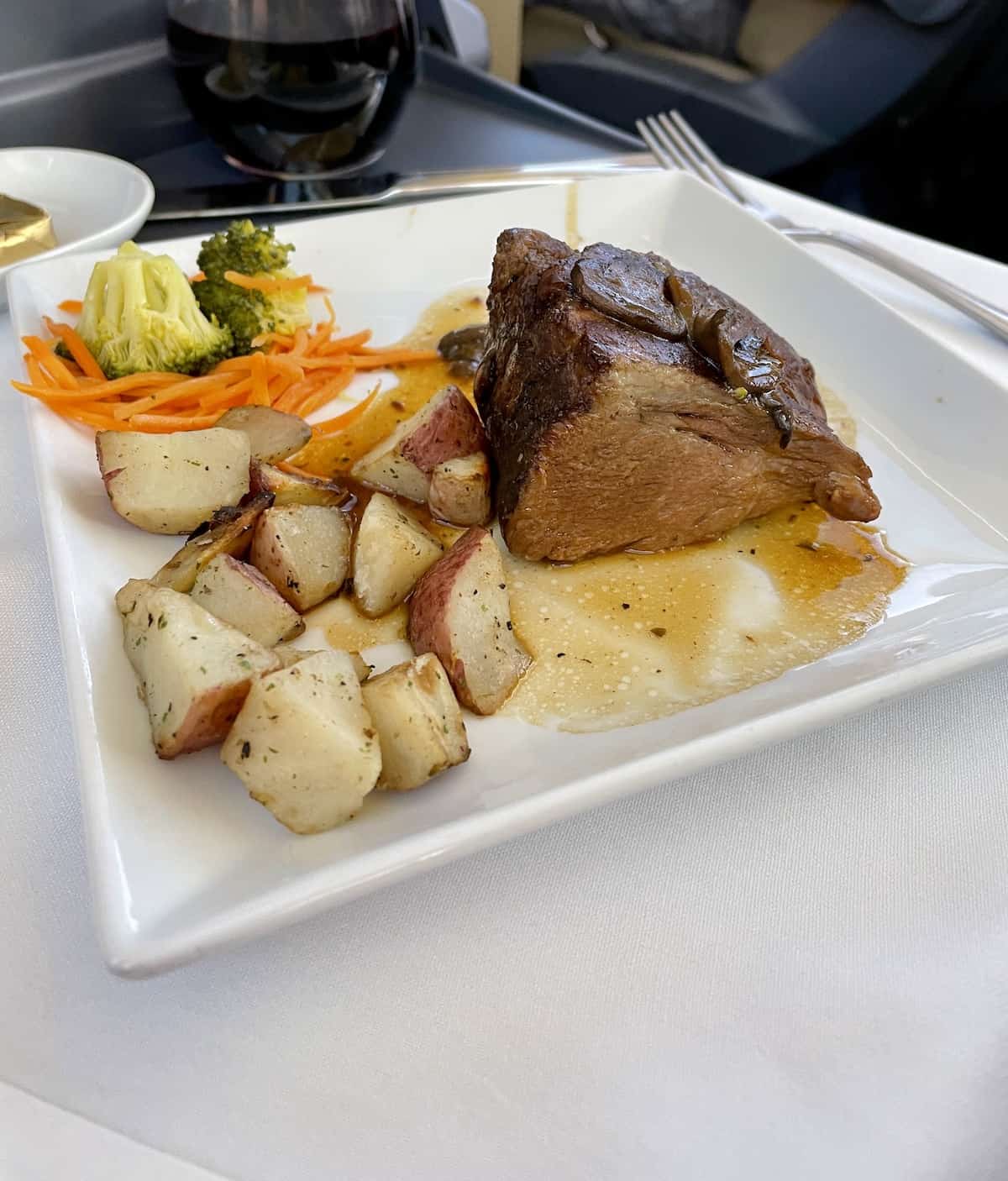 We both love short ribs and they were so good with the San Luis Valley Potatoes and local veggies, paired with a glass of local red wine.
Dessert is made by the local Aspen Baking Company. I've always loved how Rocky Mountaineer strives to support local.
Breakfast Day Two
You'll start your morning with a freshly made cup of coffee served with a buttery croissant and fresh fruit. You have choices of a frittata, a waffle with local berries, or the wild mountain berry parfait.
I chose the parfait, which was just what I had hoped for. It was filling but light.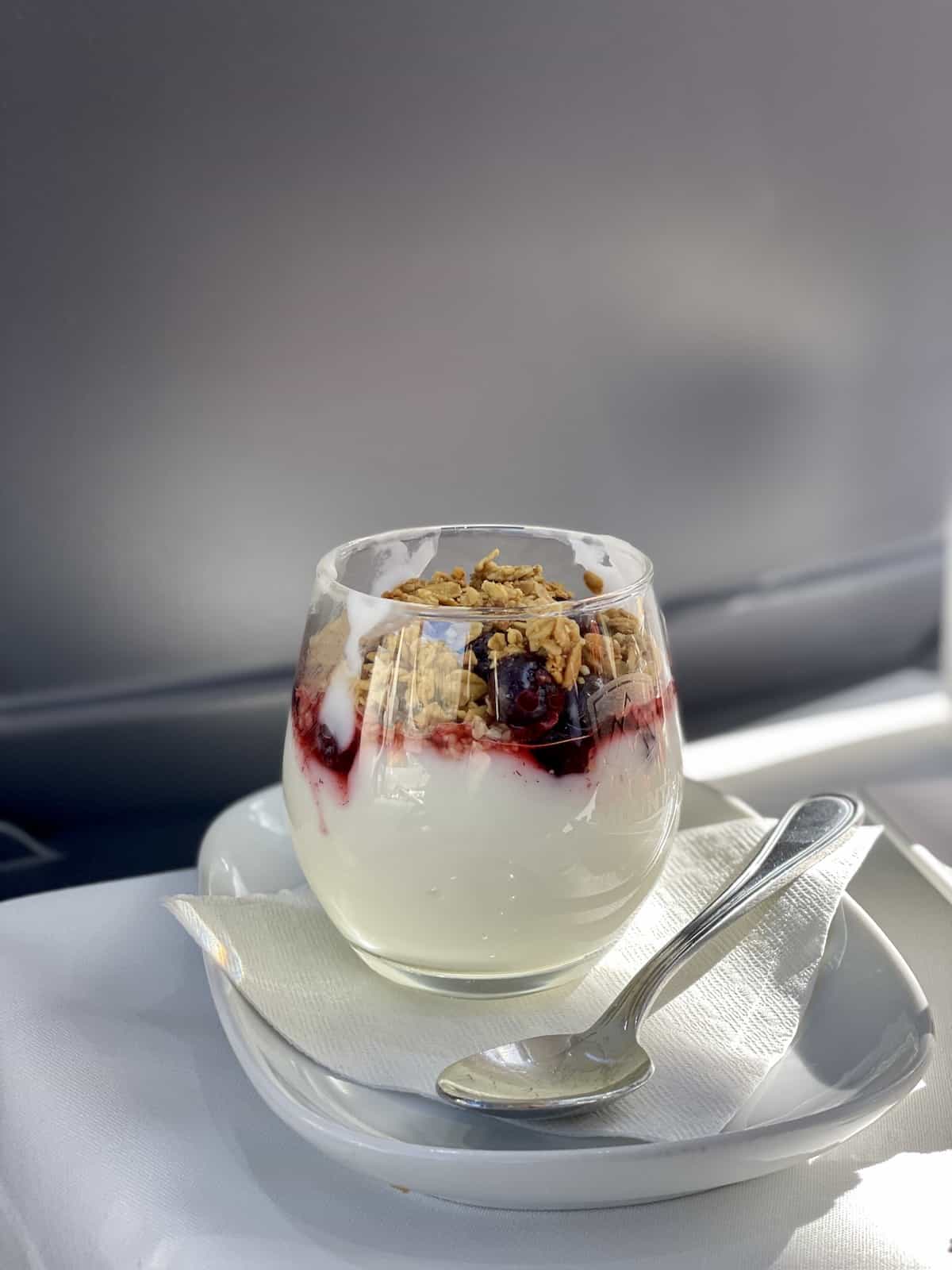 My husband enjoyed the waffle and crispy bacon.
Lunch Day Two
We got to our seats just in time to be served a fresh arugula, cranberry, and walnut salad. Our choices for lunch were Coho Salmon or Rosemary & Durango Honey Roasted Pork Loin.
Salmon is always my first choice, and I was so glad I chose it!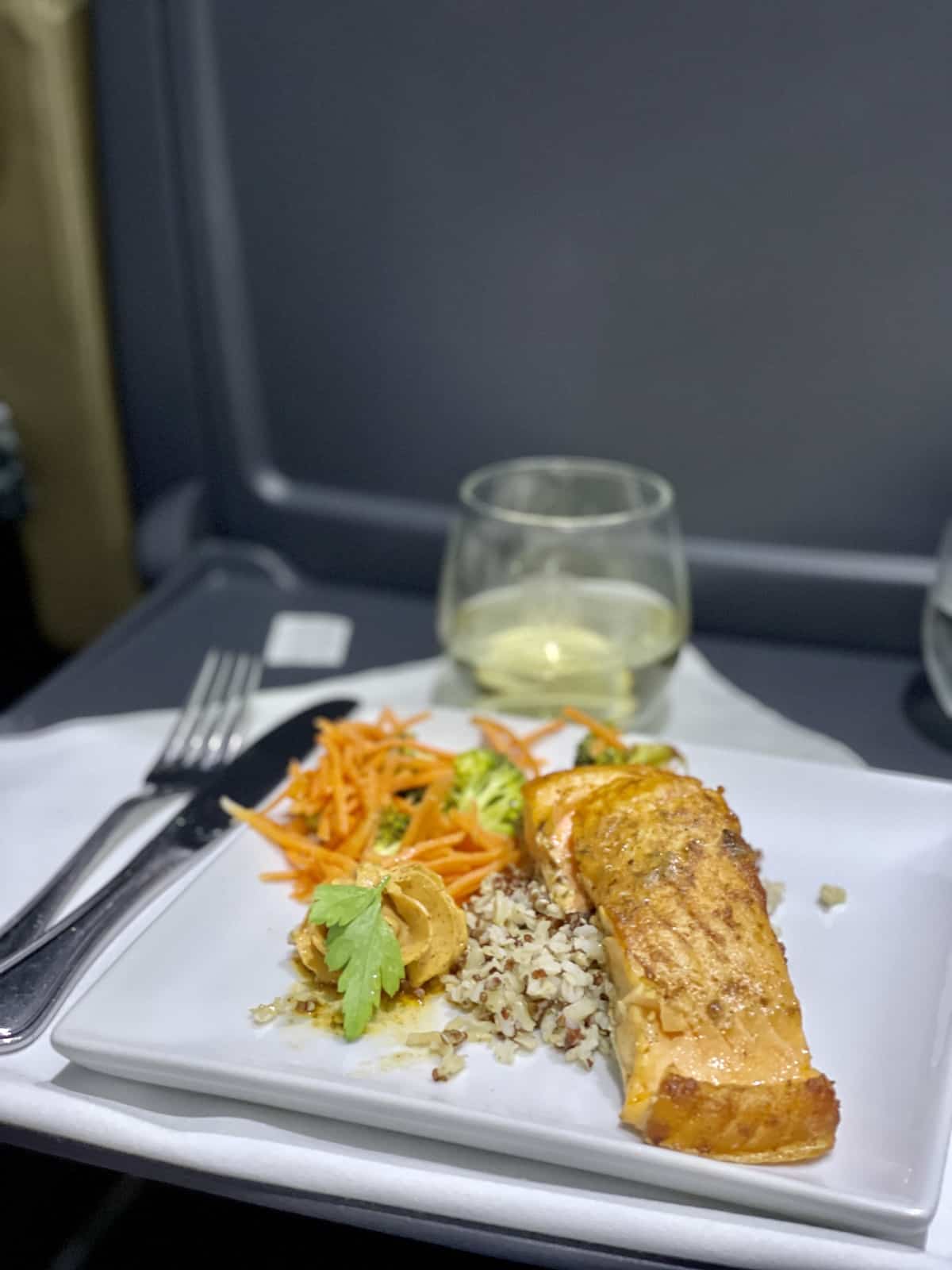 My husband loved the pork, too. We both paired our meals with a glass wine.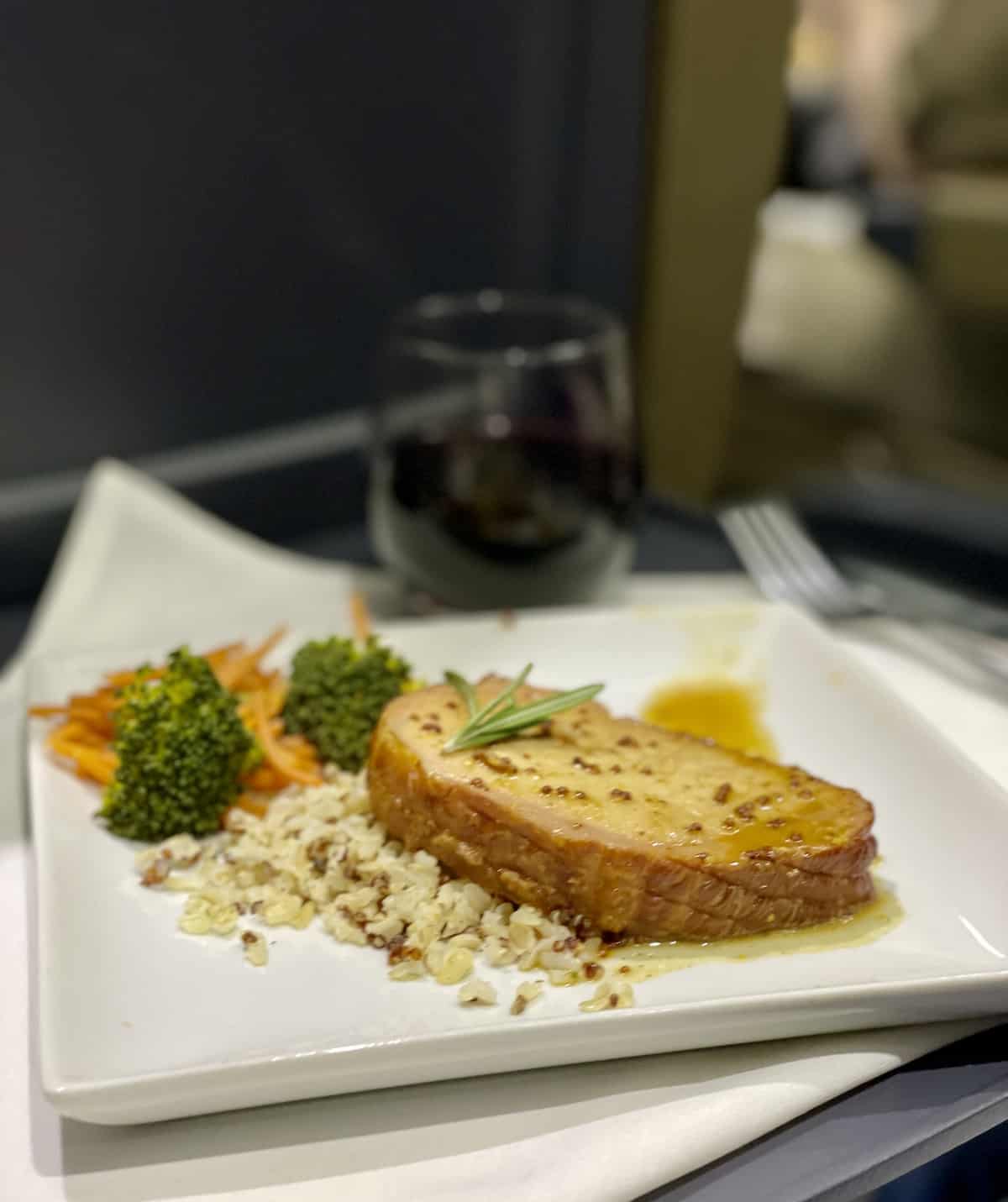 While eating, enjoy the stunning views of the La Sal Mountains, Ruby Canyon, Mount Garfield, and more.
Your welcome brochure folds out with a map to follow along, including mileposts, and is filled with the history of the area.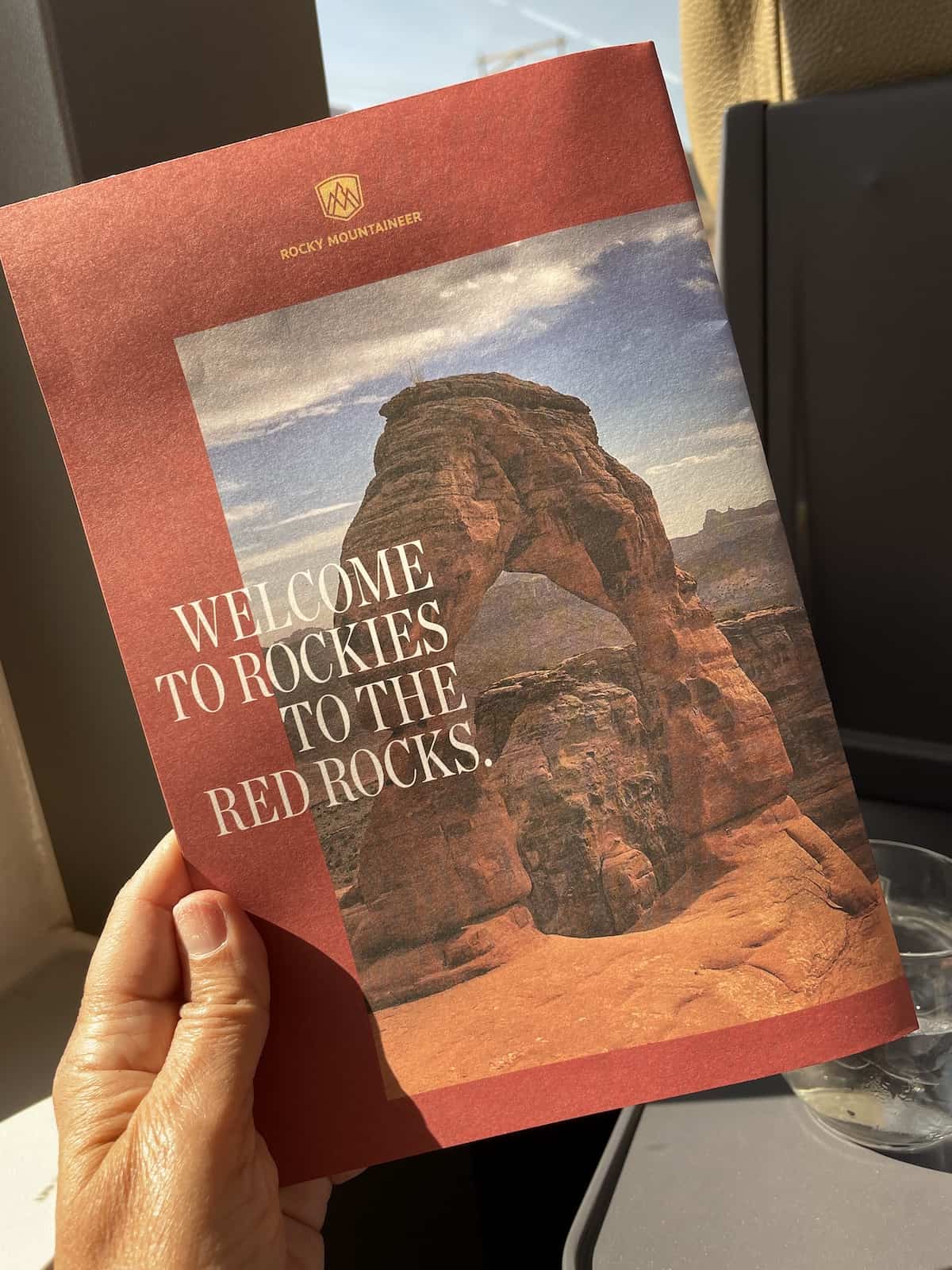 While you're enjoying the views, Rocky Mountaineer Hosts will be your tour guides, pointing put landmarks and wildlife when it's spotted. I heard a missed a bear cub at the beginning so keep your eyes peeled!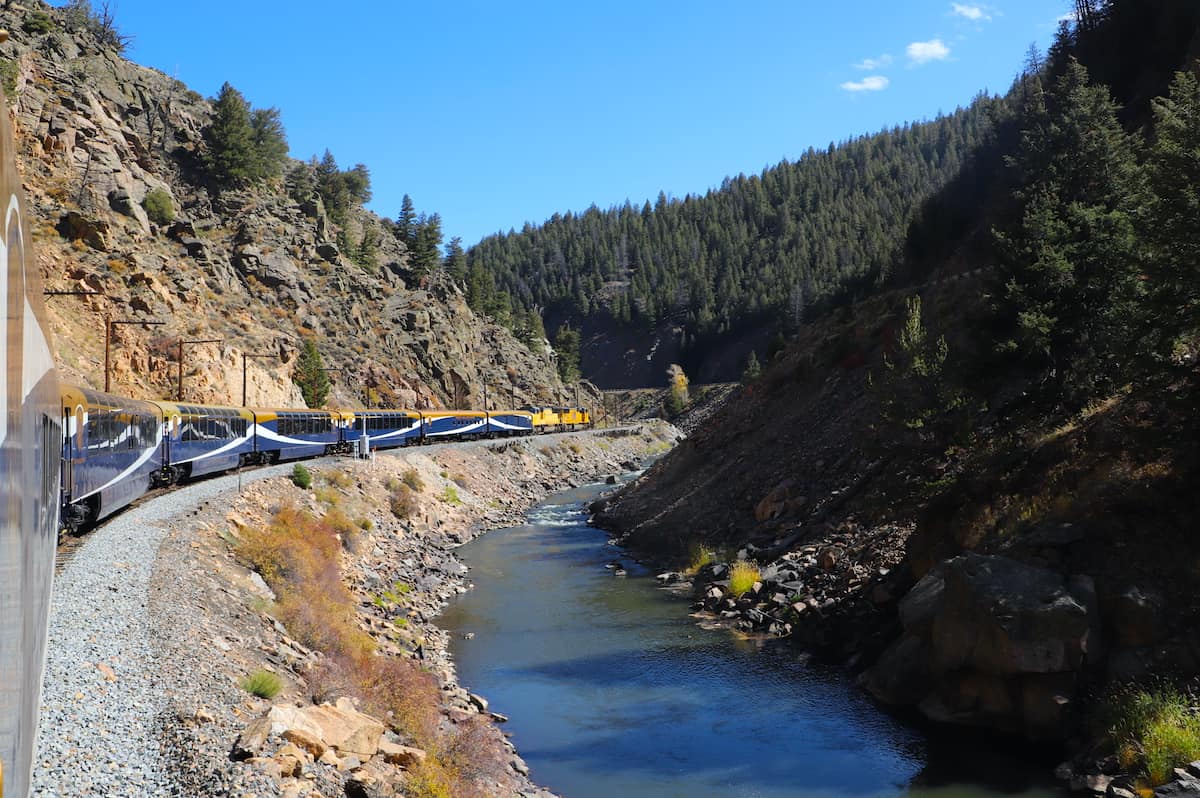 Lounge Cars
Another feature of traveling on the Red Rocks route trains is that they have a two special lounge cars: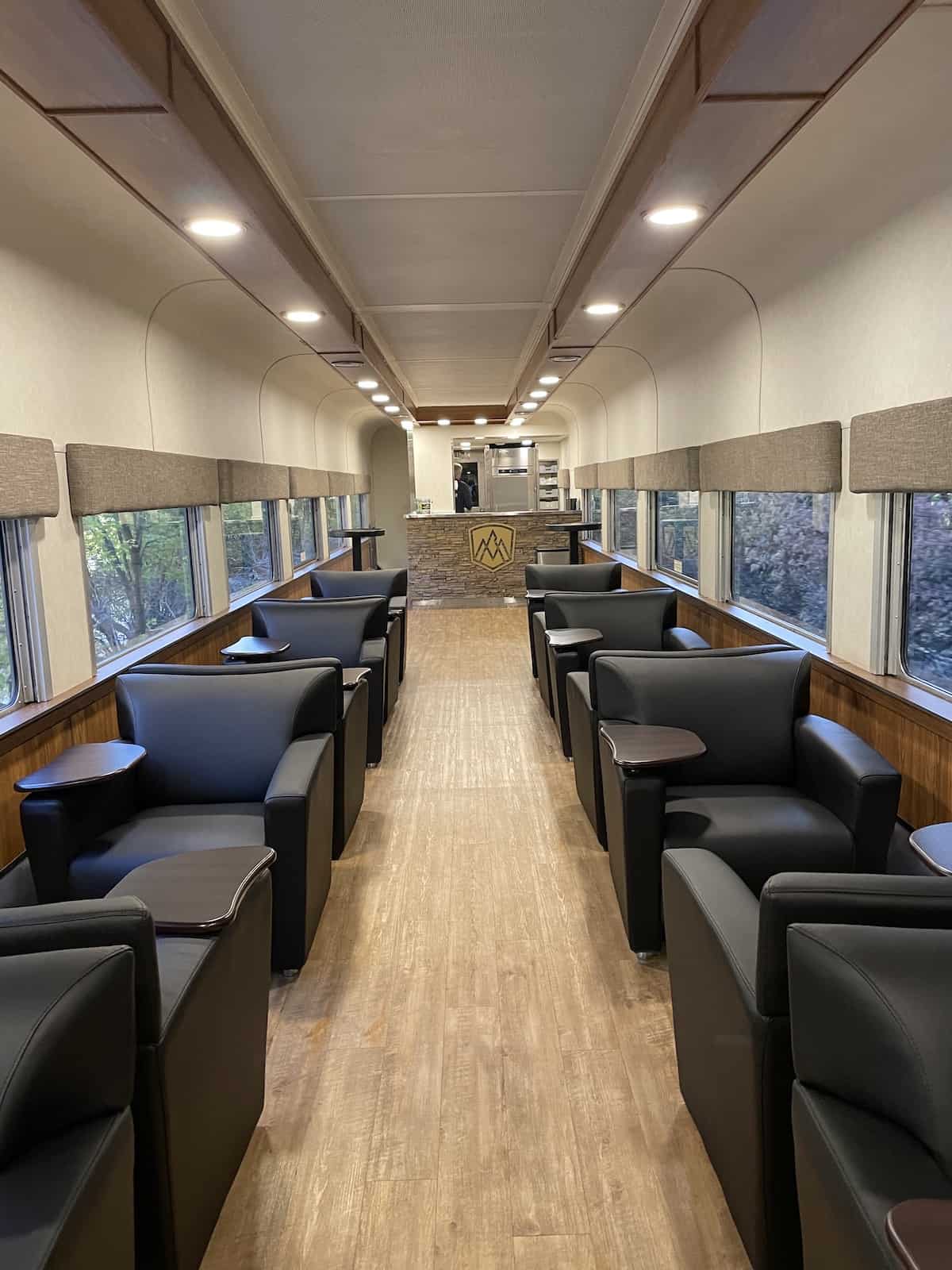 Visit the quiet car where you can go for a nap, or just to sit by yourself and enjoy the breathtaking views.
Visit the bar car for sitting and enjoying a cocktail and snacks.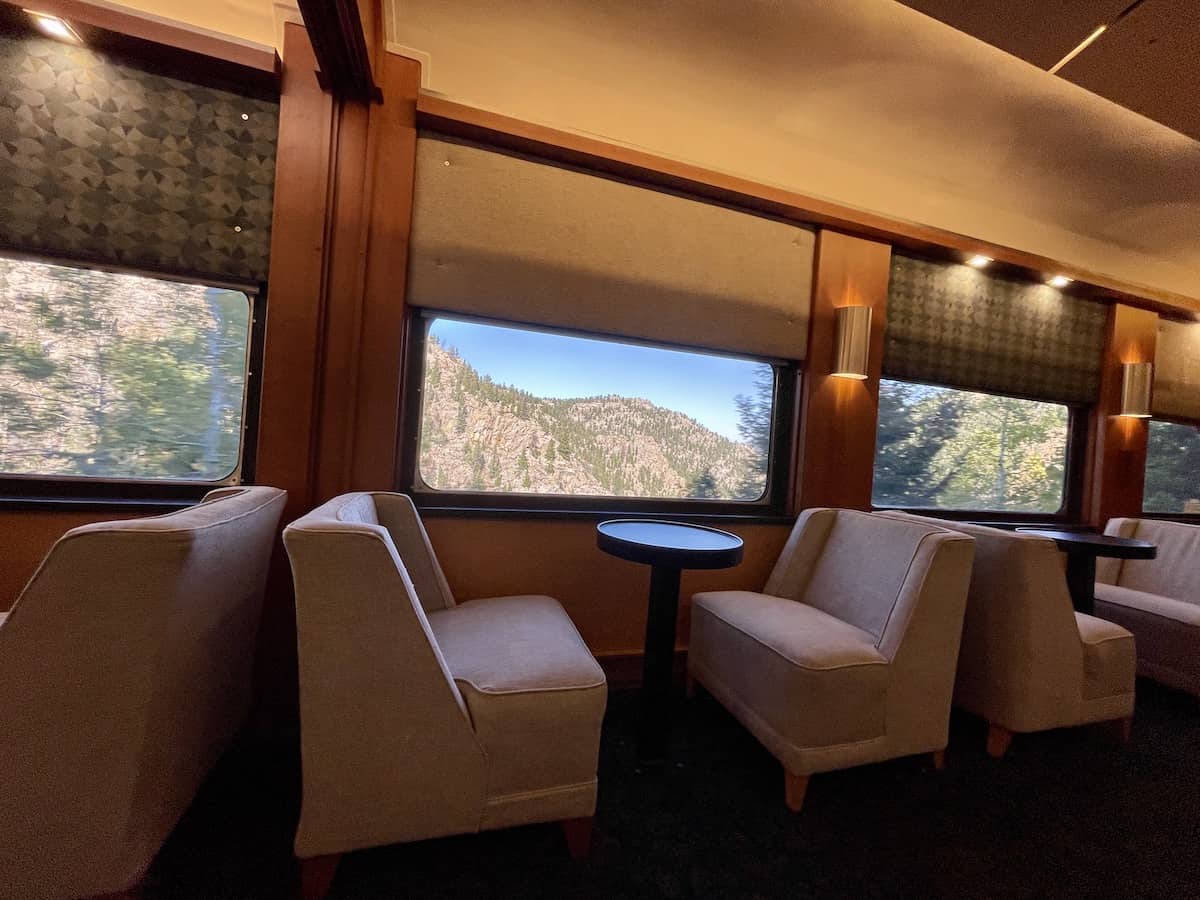 We headed to the bar car after dinner. The windows are huge and the playlist was exceptional. It was such a relaxing experience.
On the trains in Canada, Gold Leaf guests go to meals in dining cars. On the Red Rocks US route, guests eat at their seats like Silver Leaf guests do on the Canadian route.
I thought I would miss going to the dining car, but having the two additional cars really made up for it.
Views Forever
Just as it is on the Canada routes, the views escalate from beautiful to spectacular on day two. Glenwood Springs to Denver is just breathtaking.
You'll see rapids, tunnels, mountains, and the beautiful Colorado River. In early October the leaves were bright yellow with a little red starting to blend in.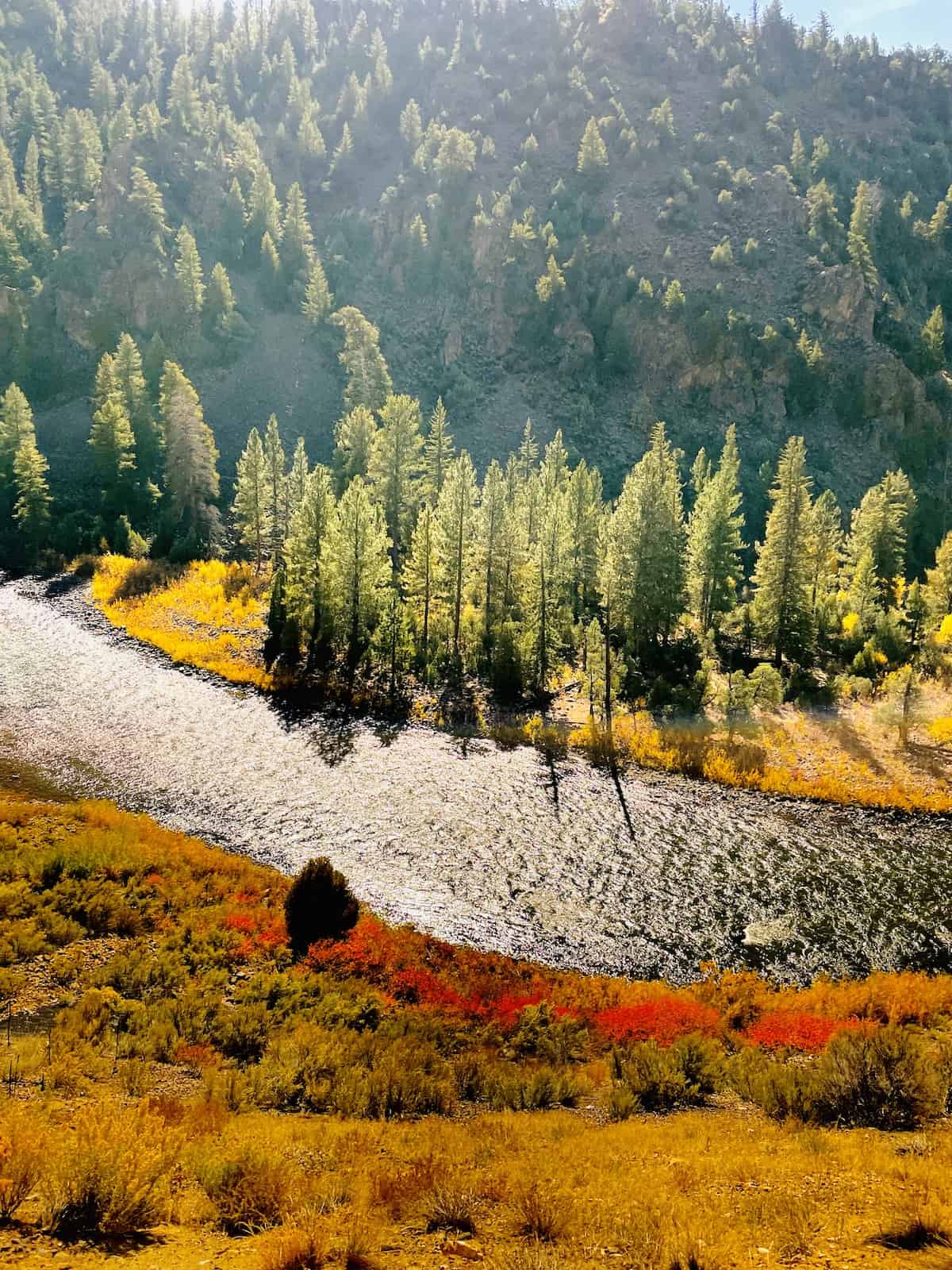 You'll be following the Colorado River for almost the entire trip, and it's just gorgeous with the sun glinting off the water.
Be sure to get up and explore the train. Visit the bar car even if you just want a non-alcoholic beverage. The music was great and though your assigned seat is super comfy, it's nice to take a break from it and chat with other guests on the train.
As I wanted to get photos, we spent some time in the vestibule.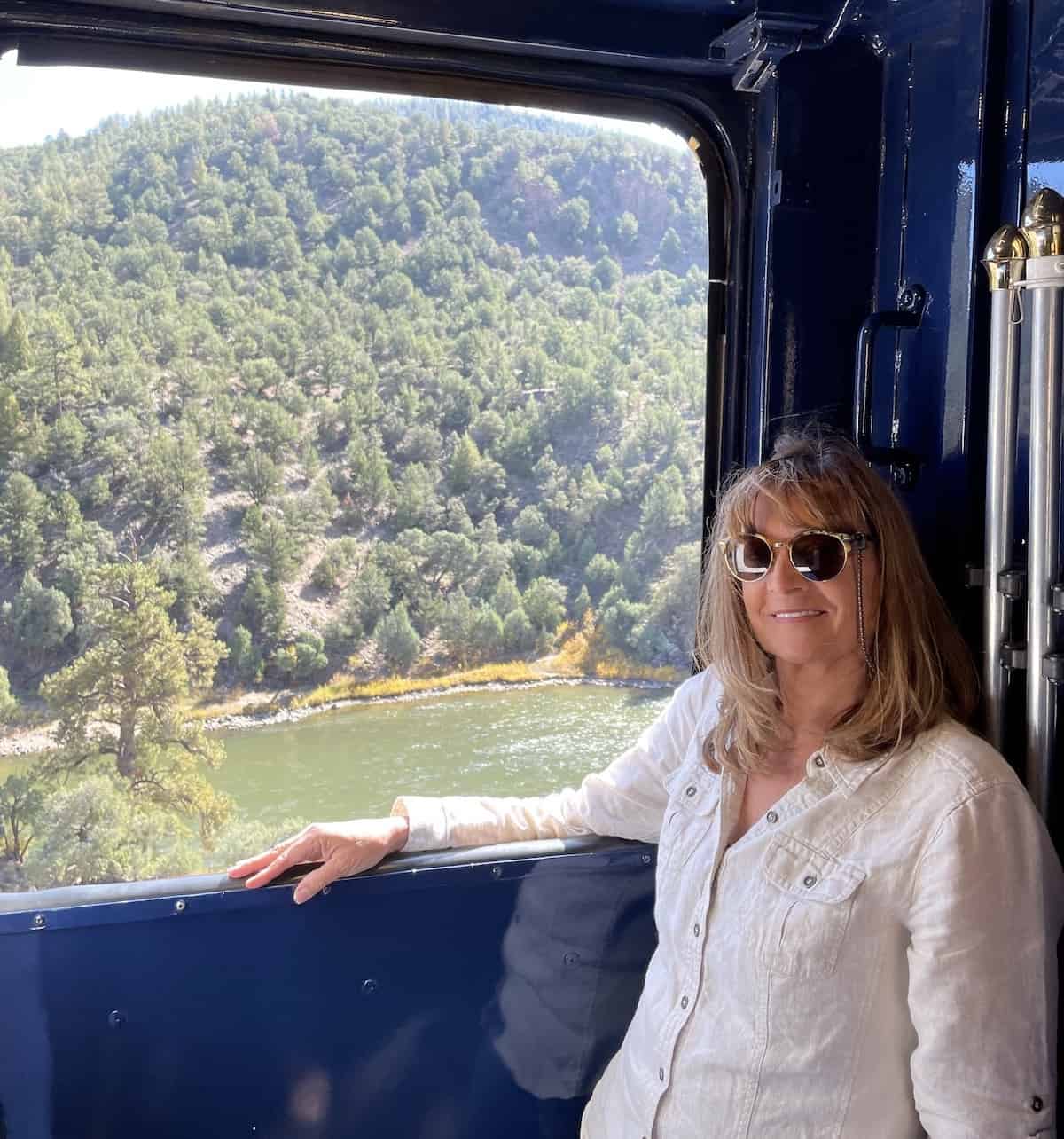 The weather was perfect and this is the spot for the best view without a window between you and the world. (Though some of my favorite photos were taken through the window! Shhh.)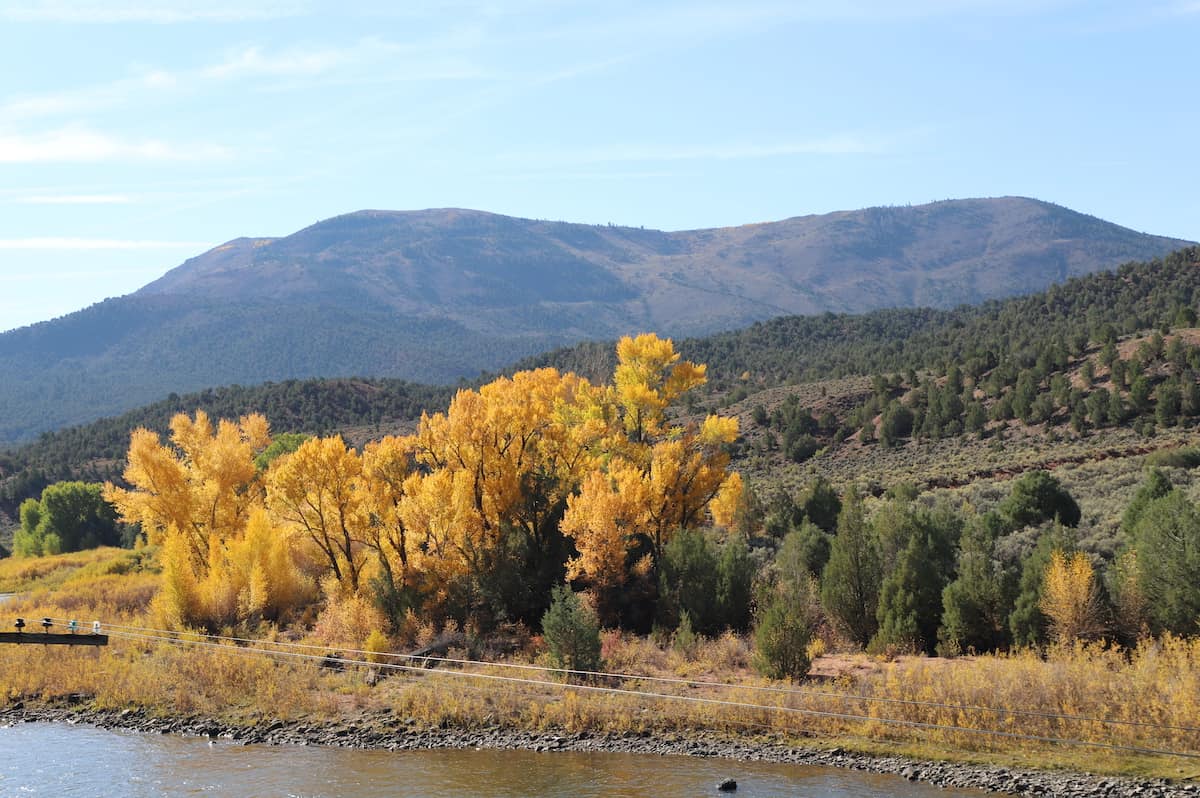 After about 100 photos, we headed to the bar car for a Bloody Mary. In Canada, they serve their own version of this popular cocktail called the Bloody Caesar, made with clam juice. It's become tradition to have one, so we thought we'd try Rocky Mountaineer's American version. It was equally as delicious!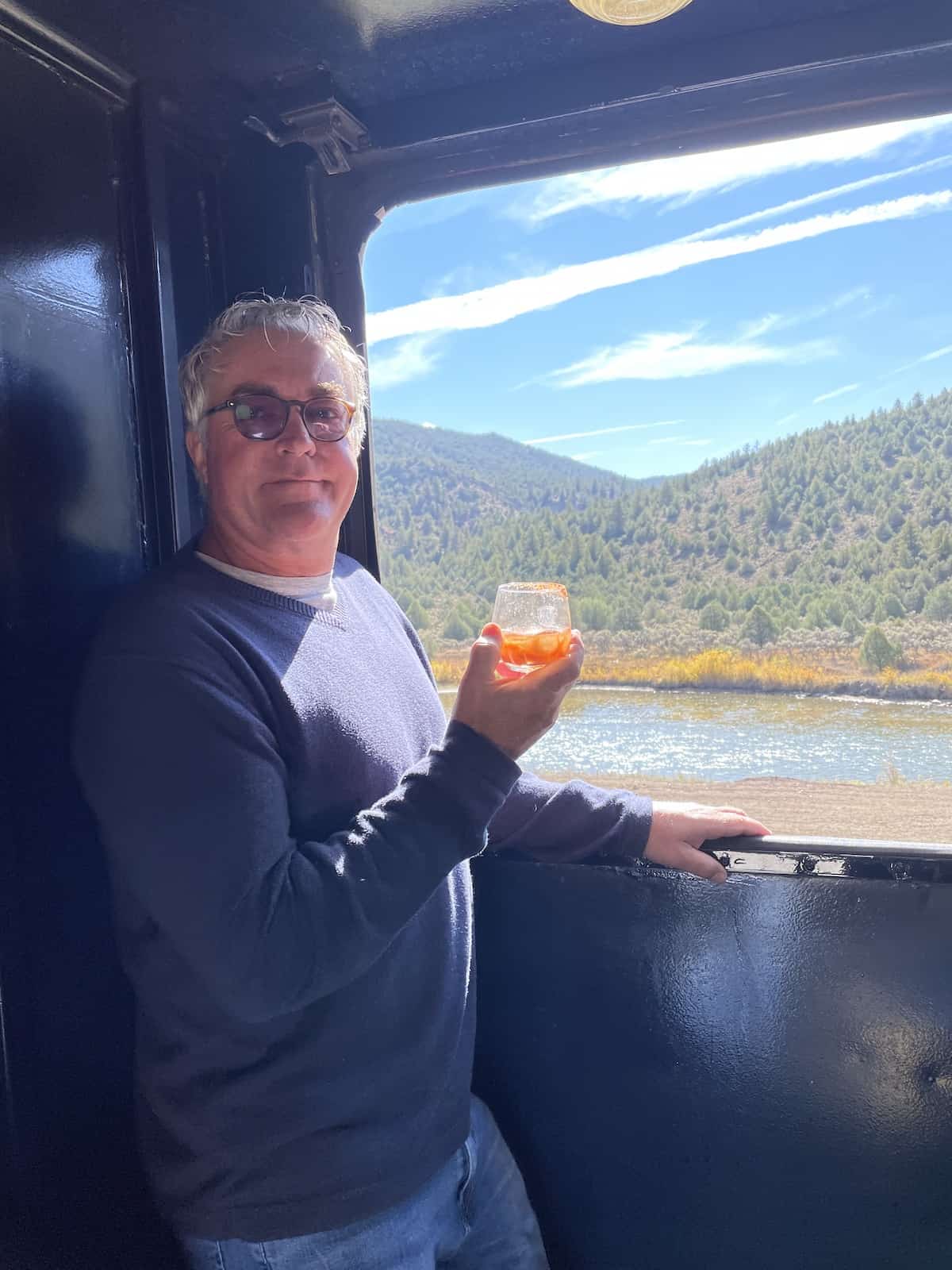 We met new friends on the bar car, and enjoyed the beautiful views.
We arrived in Denver in the late afternoon. It was wonderful to able to experience seeing this region of the southwest United States by train.
At Your Destinations
We rolled into Glenwood Springs after dark, rested and relaxed. All Rocky Mountaineer routes are day trips.
When you book your trip, Rocky Mountaineer takes care of your lodging before, during, and after the trip. You'll have a few choices of where to stay.
Once you reach your destination, a room will be waiting for you at a lovely recommended hotel.
We stayed at the Hotel Indigo in Denver which we loved. In Moab, we spent a few nights at Element Moab, a really lovely Marriott property.
We stayed at the Glenwood Springs Resort between Moab and Denver.
Tip: There was no bar open at Glenwood Springs once we went to our room and got settled, but the Colorado hotel, built in 1893, was right next door. We were in good company as past visitors included Teddy Roosevelt, Molly Brown, and President Taft.
I didn't know what to expect in Glenwood Springs, but now that I've been there, I'd love to have spent a couple of days exploring there, too.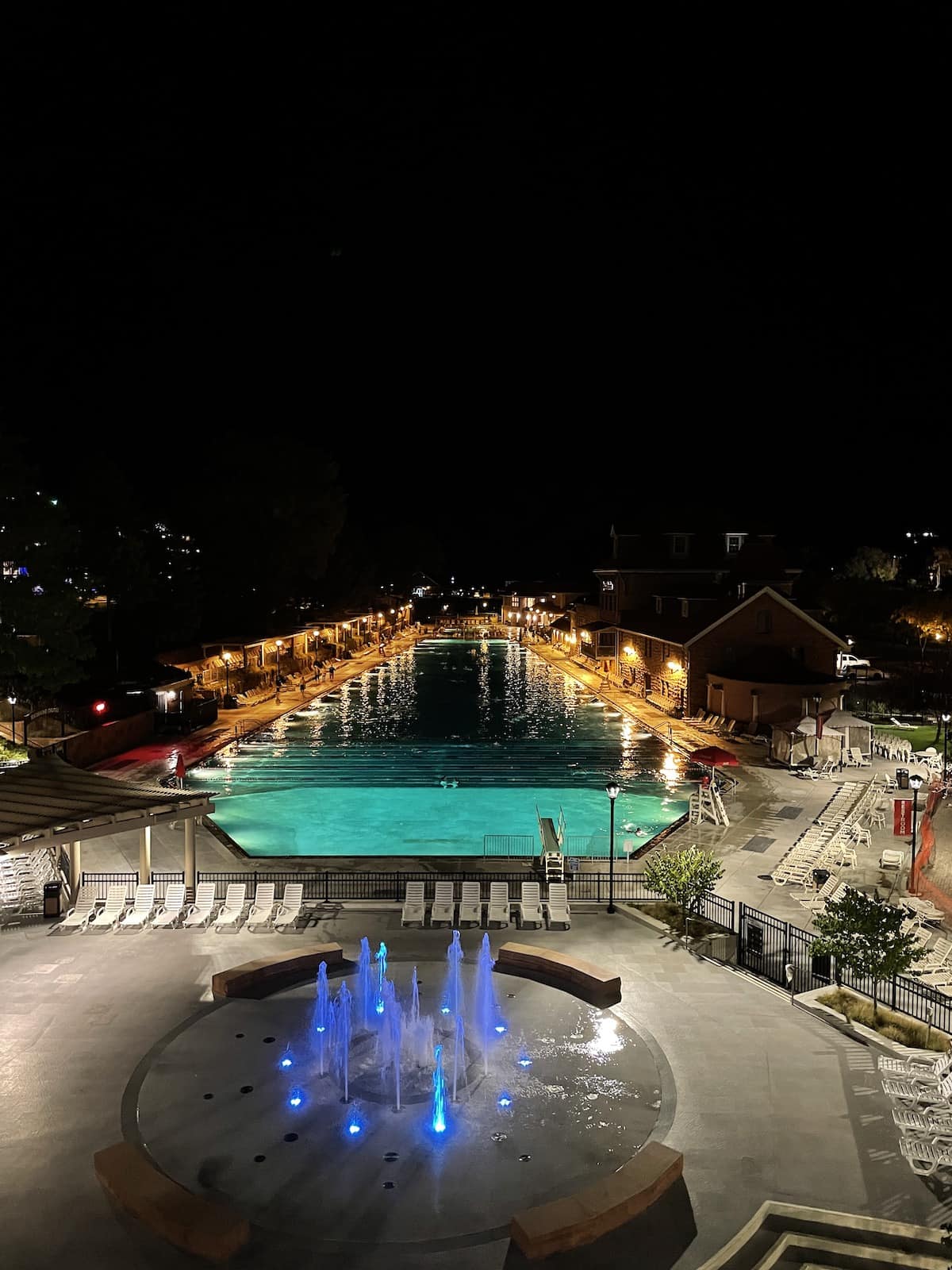 Known for their natural hot springs, Glenwood Springs is a resort city surrounded by White River National Forest. You can visit underground caves, go rafting, kayaking, horseback riding, and so much more. And there's world-class fishing! It's beautiful!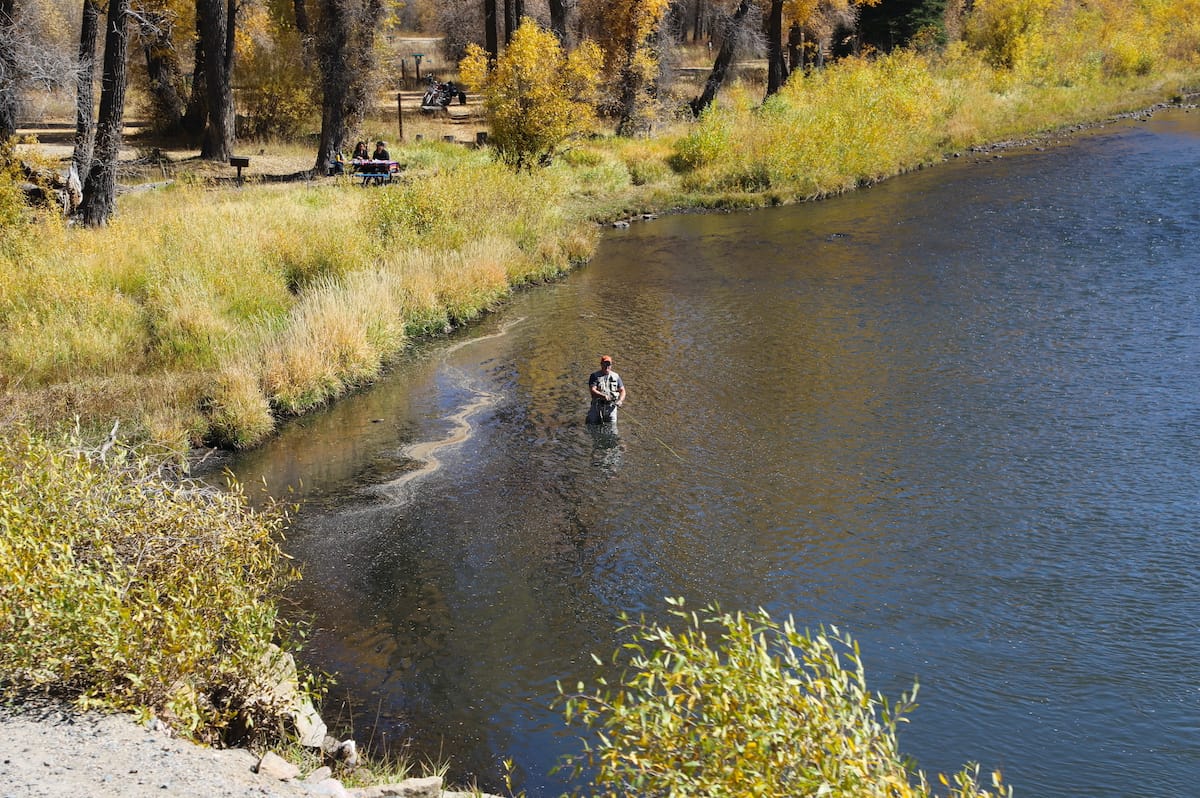 Once you're in Denver, there's a plethora of things to do and places to eat. If you're staying on the National Parks theme, tack on seeing Rocky Mountain National Park in Estes Park. It's just about 90 minutes from Denver International Airport.
Seeing the National Parks
You just can't go to Moab and not go to at least one of the best National Parks in the world. We spent the entire first full day at Arches National Park taking some of the best hikes of our lives.
A lot of the sites are just a short hike from parking. Seeing Mesa Arch and Delicate Arch was a bucket list experience.
The following day we headed out to Canyonlands National Park, which is also absolutely breathtaking. We managed to fit in a quick visit to Dead Horse State Park, as well.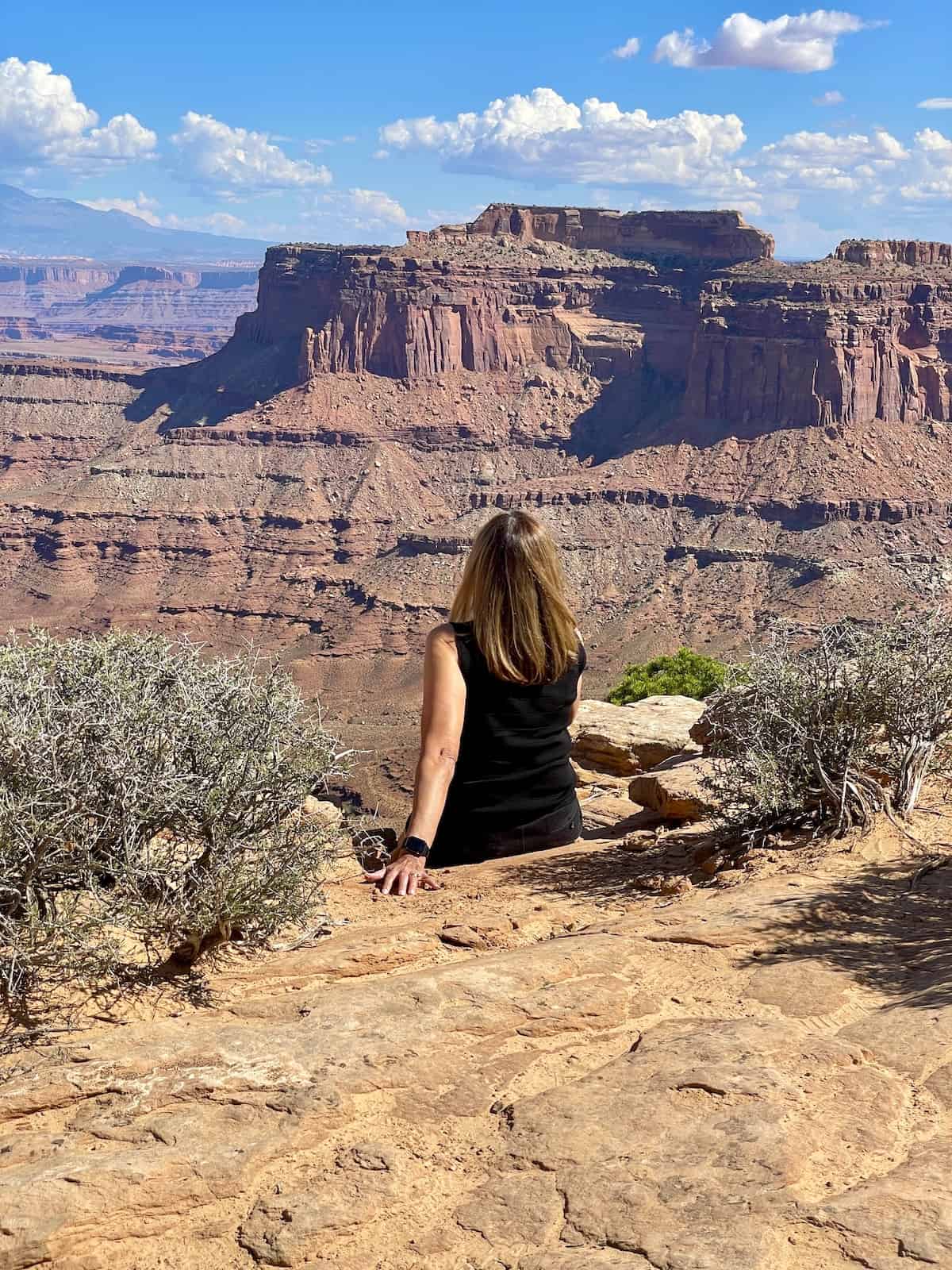 Just start at the Visitor Center for a map and you'll be set! The Visitor Center for each park is a short drive from the entrance.
Looking back, we needed an extra day! If you have never been to this area, try to stay for three or four days. There's just so much to see!
Pro Tip: Get an early start on Park days. I've been to the Grand Canyon once before, and Arches was that same kind of awe-inspiring natural beauty. Early morning photos are spectacular, too!
I'll be sharing more soon on what to see and where to eat in Moab. Plan to stroll down Main Street and you'll find so much to do!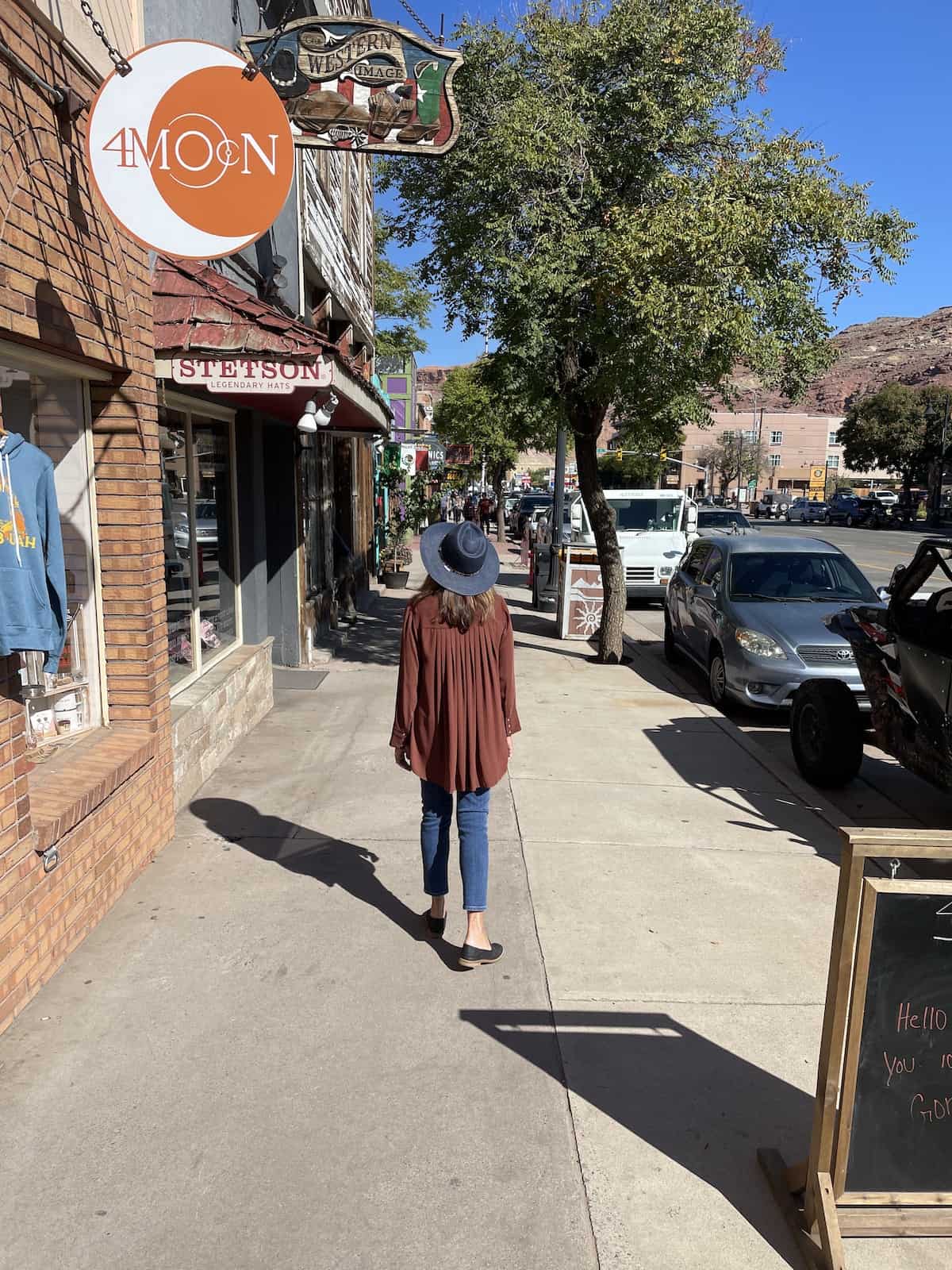 Best Time of Year to Go
The best time to go to Moab is from April to June and then from September through October. It's beautiful all summer, too, but you must remember to hydrate and always wear sunscreen.
The benefit of going in the hotter months is that it will probably be a little less crowded, though we never encountered crowds in October, either, and it was gorgeous!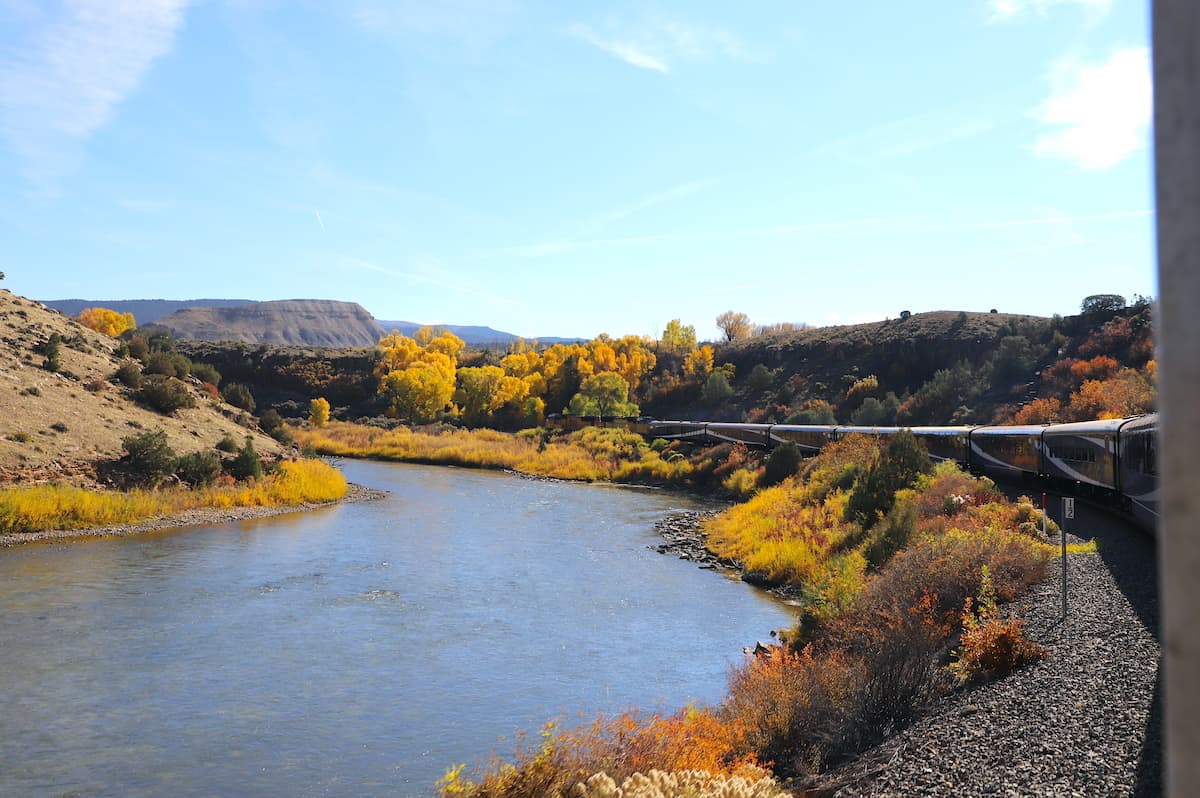 The Rockies to the Red Rocks itineraries begin on April 16th this year, and you can still save $400. per couple on ticket prices. It really is a special once in a lifetime trip, but to get these savings, you must book before April 29th. Be sure to look at exclusions. This DOES apply to SilverLeaf and GoldLeaf bookings!
Rocky Mountaineer Canada
Once you experience Rocky Mountaineer, you'll want to go on all the different routes!
All three itineraries in Canada typically begin in Vancouver, British Columbia, but you can take any of the routes the other way, as well.
My first experience on Rocky Mountaineer's luxurious train rides was on the First Passage to the West in 2017.
Ending in beautiful Banff, Alberta, the journey takes you through the famous Spiral Tunnels and across the Continental Divide. It was spectacular. I actually saw a Grizzly bear on that route!
The next year, I took the Rocky Mountaineer train Journey through the Clouds route from Vancouver to Banff and then to Jasper. It was another extraordinary journey.
The Rainforest to Gold Rush route is still on my bucket list, so let me know if you take that one!
Every culinary adventure on Rocky Mountaineer Canada is exceptional, and the variety of trips gives you a choice of what to see in western Canada.
The peaceful lull of the ride while being pampered and treated to spectacular views is my way to travel.
Keep an eye on my newsletter as I'll let you know about any specials I see. Let me know if you decide to book any of their luxury train vacations. They are all incredible!
Frequently Asked Questions
Can you sleep on the train?
You are welcome to nap on the train, but there are no sleeper cars on Rocky Mountaineer. At the end of the day's journey, a luxury hotel will be waiting for you.
Are food and beverages included on the train?
Yes! All food and beverages (including wine and cocktails) are included on the Rockies to the Red Rocks route.
Will someone help me take my bags to my hotel?
Complimentary baggage service is part of the trip. Leave it to the Rocky Mountaineer team to get your bags to the train in the morning and to your hotel at the end of the journey.
More Rocky Mountaineer
Like our content? Follow us on Pinterest!