If you haven't vacationed in British Columbia, it's time to visit Vancouver! Planning a vacation to this gorgeous destination doesn't have to be difficult, and there is so much to do! From visiting Stanley Park to whale watching to dining at incredible restaurants, this west coast seaport makes the perfect getaway.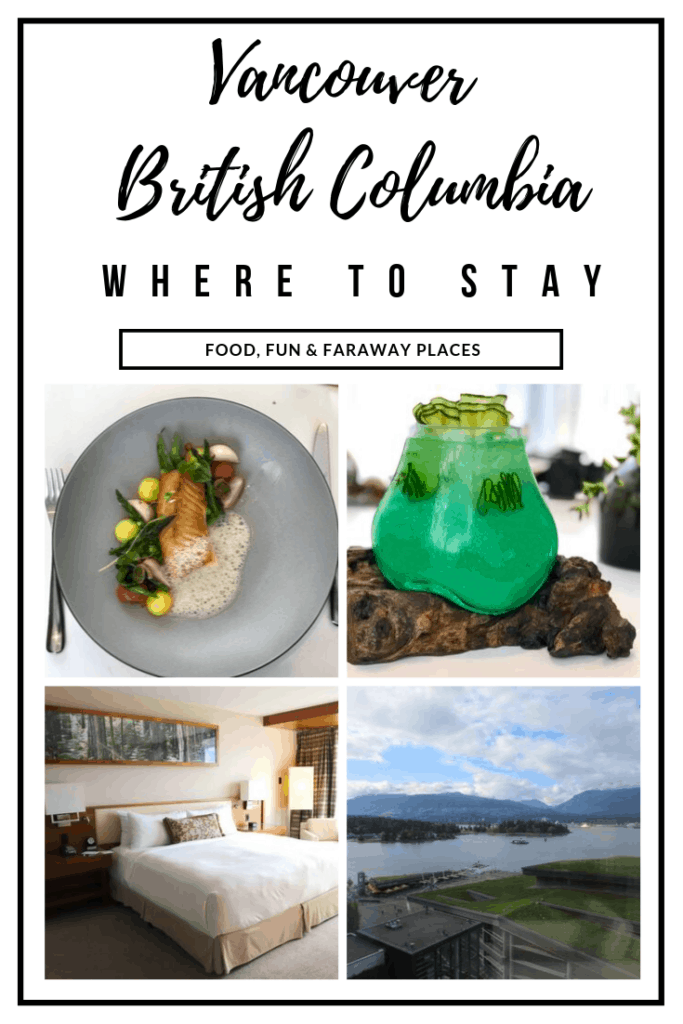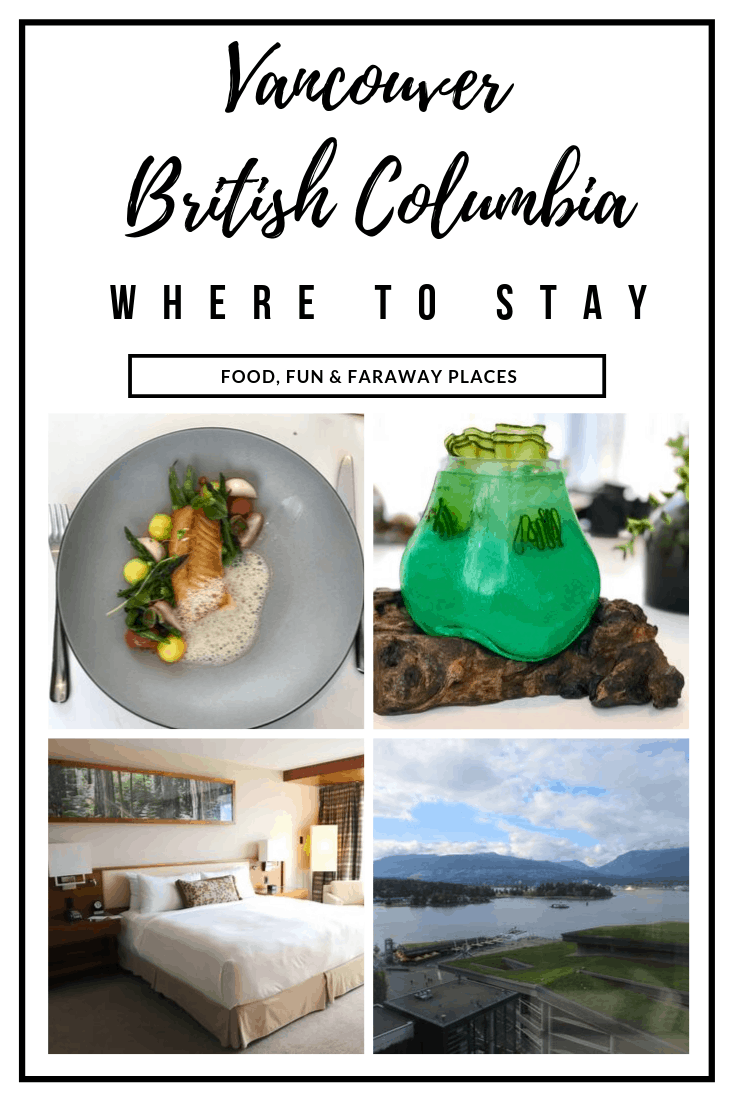 Where to Stay When You Visit Vancouver
I was invited to experience the Pacific Rim Hotel in Vancouver, and it just confirmed my love for Fairmont properties. Their combination of spacious, elegant, luxury suites and excellent staff and services deliver everything you need to make your vacation relaxing and exciting.
In addition, you won't believe how much there is to do when you visit Vancouver. Exploring all the wonderful attractions and experiences this gorgeous city has in store is easy from this conveniently located hotel.
Amazing Guestrooms and Suites
With 367 luxurious guestrooms and suites, the Fairmont Pacific Rim is sure to have the perfect room to meet your needs. The hotel offers all the amenities of an upscale hotel, including a fully-stocked refrigerated private bar.
Tea is a daily ritual in Canada, so you'll find a tea kettle and Nespresso coffee maker. I've grown to love my early afternoon tea, but I'm still a coffee drinker in the morning, so I loved having both options.
The Fairmont suites feature large, comfortable, Stearns & Foster beds with high thread-count luxury linen.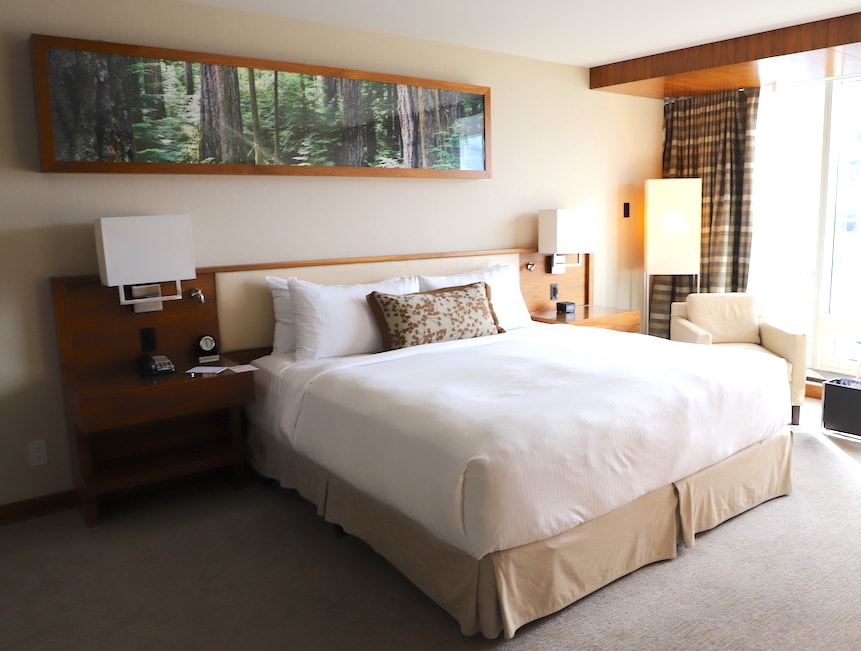 The spacious marble spa bathrooms feature soaker tubs and television-mirrors.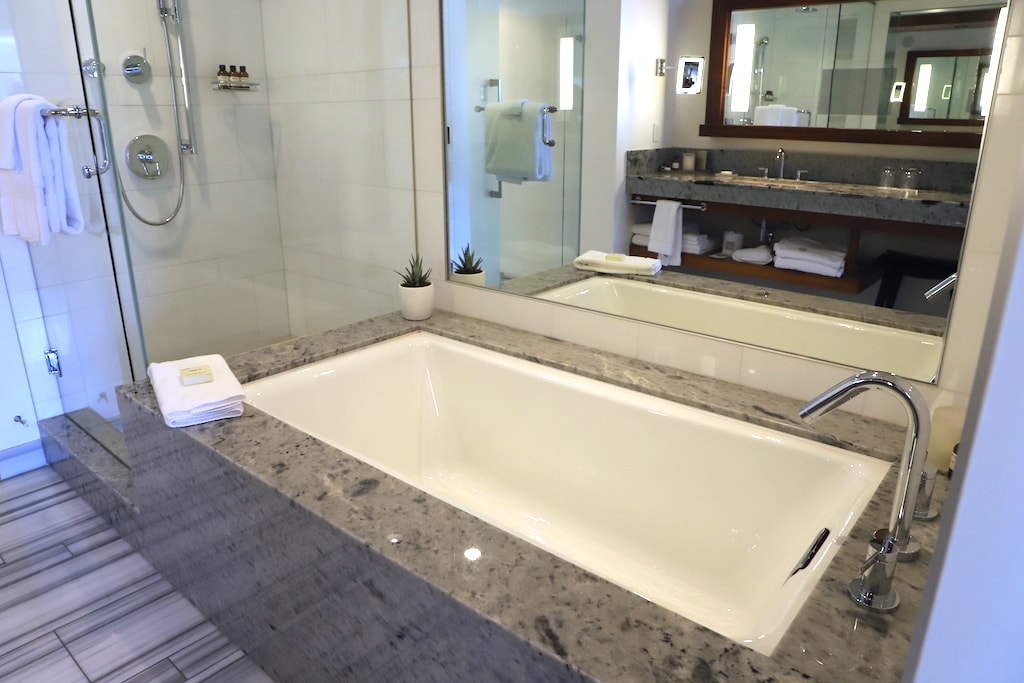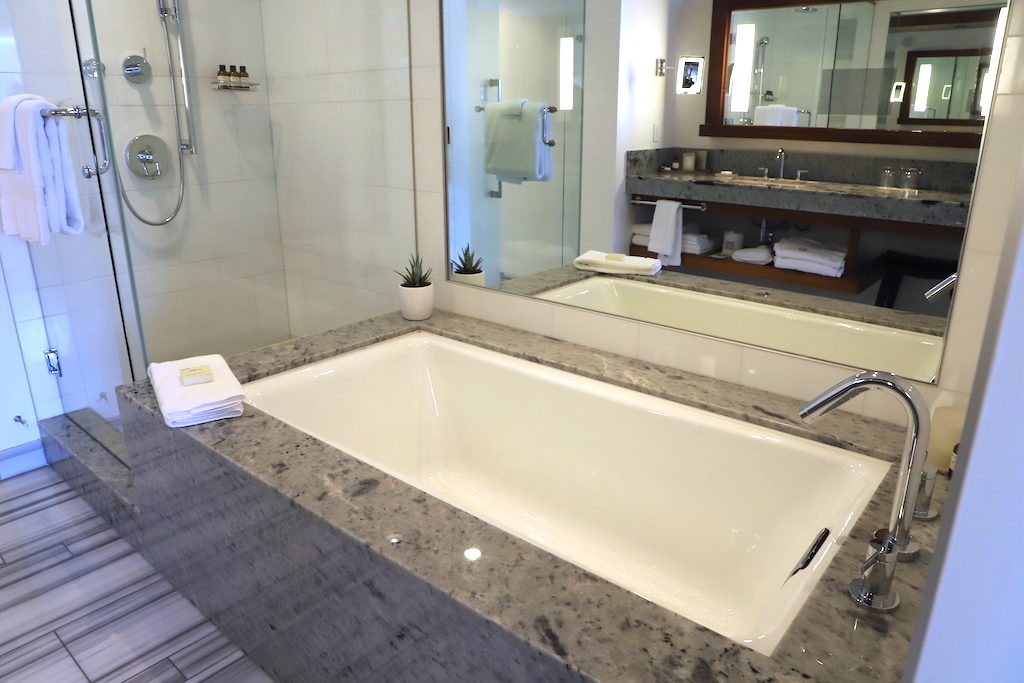 I loved the wall-mounted surround-sound LCD televisions and a media connectivity panel. When you have five or six devices to charge, you appreciate the little things!
More than 70% of their suites offer sweeping views of the nearby Coal Harbor, North Shore Mountains and Stanley Park from their private patios. I didn't have a patio, but still, that view!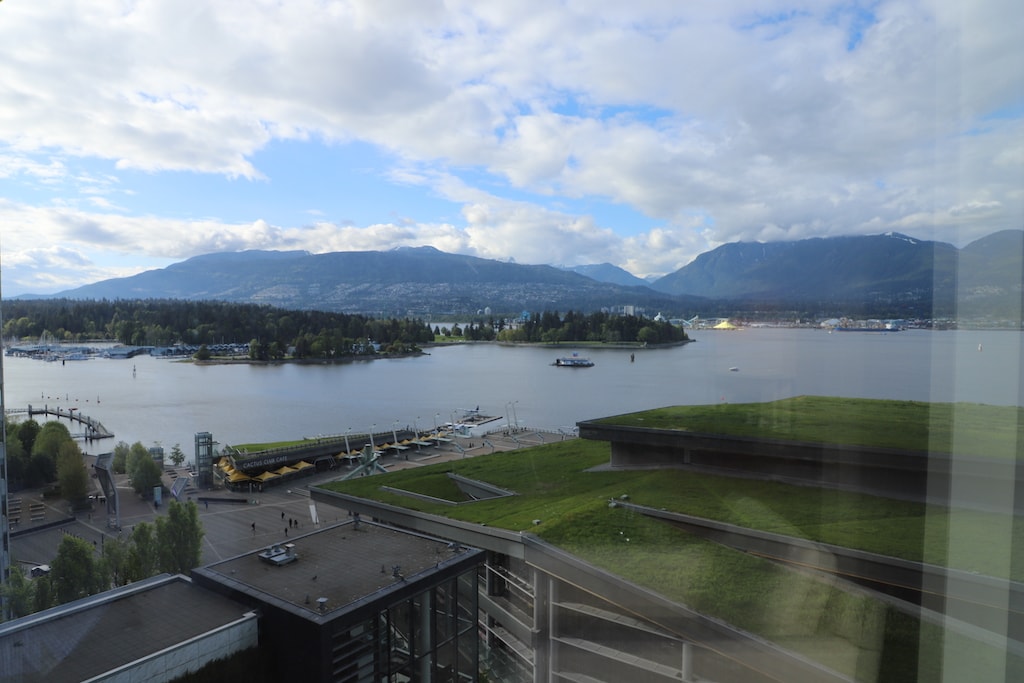 Get outside in the morning to enjoy your coffee. If it's chilly, the Pool View Suites' large private patios have outdoor fireplaces that create unmatched ambiance and a wonderful place to sit back, relax and enjoy in-room dining.
Helpful Technological Advancements
This 5-Diamond hotel lets guests use cutting-edge technology to customize their amenities and make their vacation even more relaxing. The Fairmont Pacific Rim is Canada's first hotel to provide all guests with iPad2 devices featuring Interactive Customer Experience technology.
Reserve spa sessions, order delectable dishes for in-room dining and easily access the guestroom controls. The PressReader app offers instant fingertip access to more than 3,000 international newspapers and magazines.
Wonderful Service
The services offered at the Fairmont Pacific Rim will make your Vancouver visit even more enjoyable. Know you're in good hands with the welcoming, well-trained staff.
The hotel accommodations are also thoughtfully designed to deliver full accessibility for people with special needs. The Fairmont Pacific Rim's goal is to exceed the highest industry standards for service and to give their guests an outstanding experience.
Health & Wellness at Fairmont Pacific Rim
Guests at the Fairmont Pacific Rim can enjoy an incredible experience without ever leaving the hotel. Visit the Willow Stream Spa, an 11,000 square foot facility replete with 9 treatment rooms and a beautiful outdoor patio.
I didn't have a chance to visit the spa this time, but I've experienced the spa at the Fairmont Empress Victoria as well as the Fairmont Vancouver Airport and both were so wonderful. If you have time, you really should check out the spa any time you're visiting a Fairmont!
There's also a fully-equipped fitness center with state-of-the-art equipment, a rooftop pool, hot tub, outdoor fire pit, and private cabanas.
Visit Vancouver for Dining
Dining options range from sumptuous upscale meals to casual dishes served in-room or outdoors.
Botanist
Guests can eat in the dining room, garden, lounge or bar at one of the hottest new restaurants in Vancouver's downtown district, Botanist. Let me just say that if you are in Vancouver, regardless of where you stay, do not miss this restaurant.
Botanist is, simply put, spectacular. It's one of the newest additions to the culinary scene in Vancouver. Inspired by nature, the decor is bright and airy, featuring a dining room, lounge, bar, and outdoor terrace garden where you'll find 50 different types of plants, some of them edible, like ginger and cardamom.
The Botanists uses locally sourced ingredients and makes magic with them. Take a look at a few of the dishes we had when we had lunch there.
First of all, the bread. Honestly, I sometimes tell the server not to bring bread because I love it so much and I'll eat three pieces before the appetizer arrives. This is one time I would enjoy every morsel. Their bread is heavenly.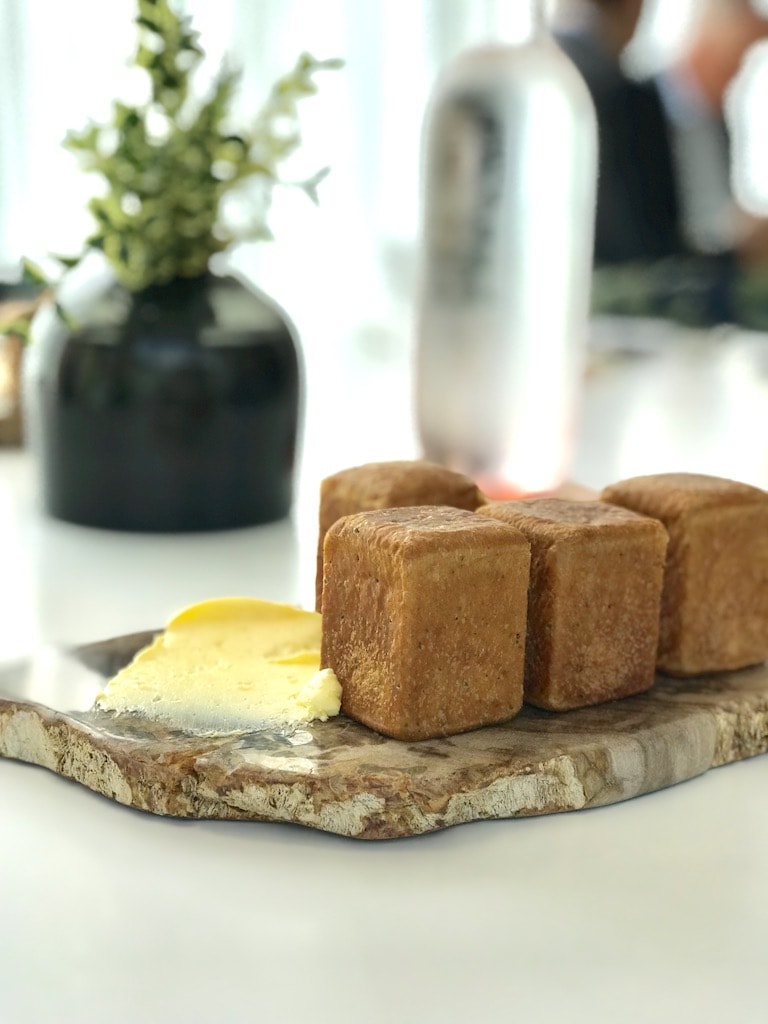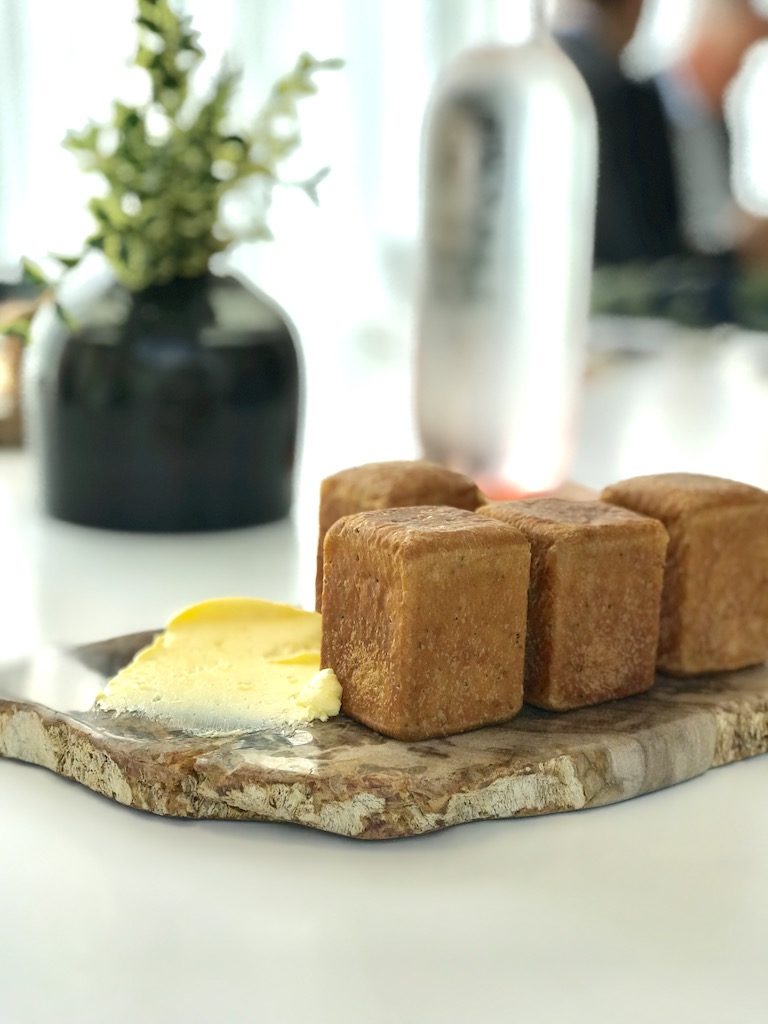 The appetizer was one of the most creative dishes I've ever eaten. This Grilled Carrot Salad with smoked burrata cheese, pork marshmallows, and pine nuts was almost too pretty to eat. Almost.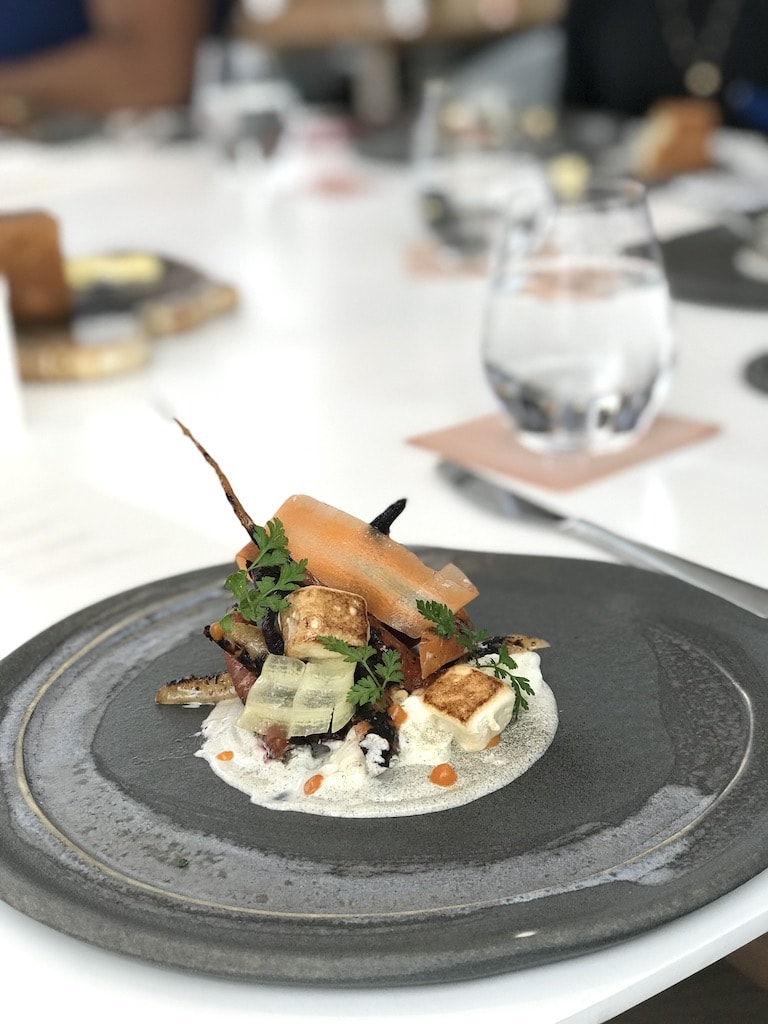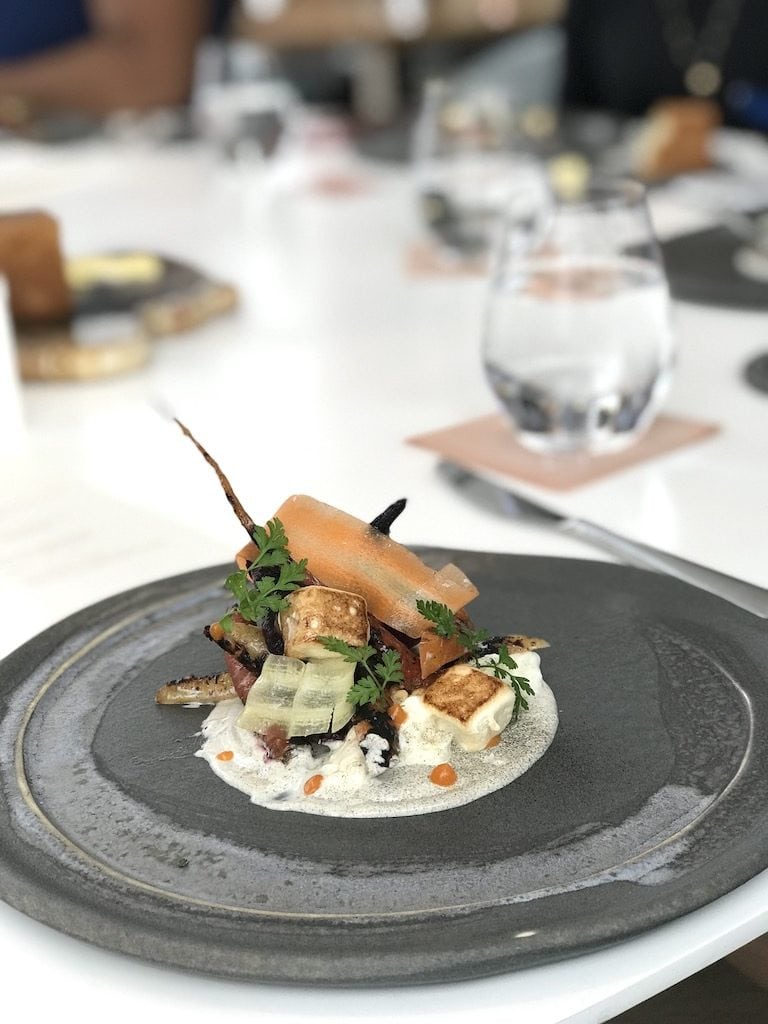 Next, we were served Sunchoke Soup, a creamy but light broth of roasted sunchokes and Dungeness crab, topped with edible flowers and toasted nori.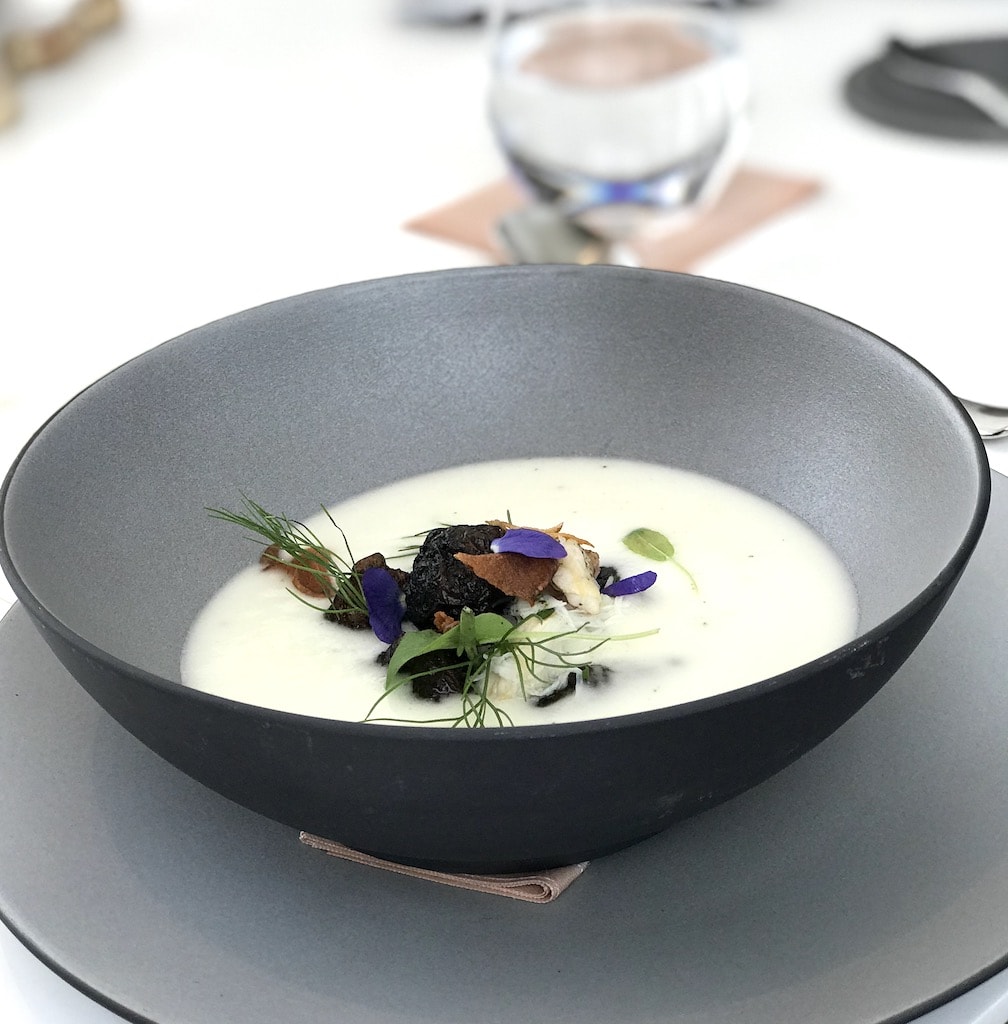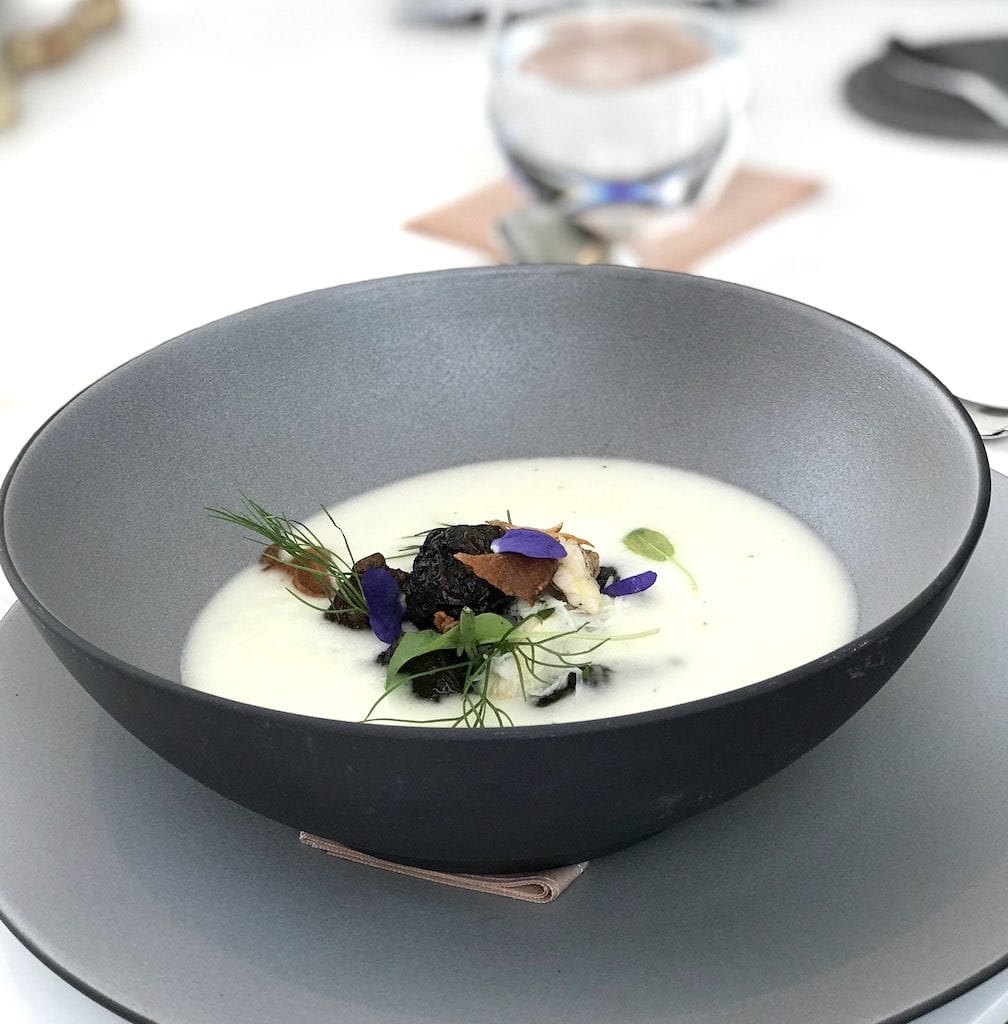 For the main course, we enjoyed Seared Sablefish, also known as black cod. The fish was prepared so perfectly, accompanied by crisp spring vegetables and a seafood broth. Another gorgeous dish!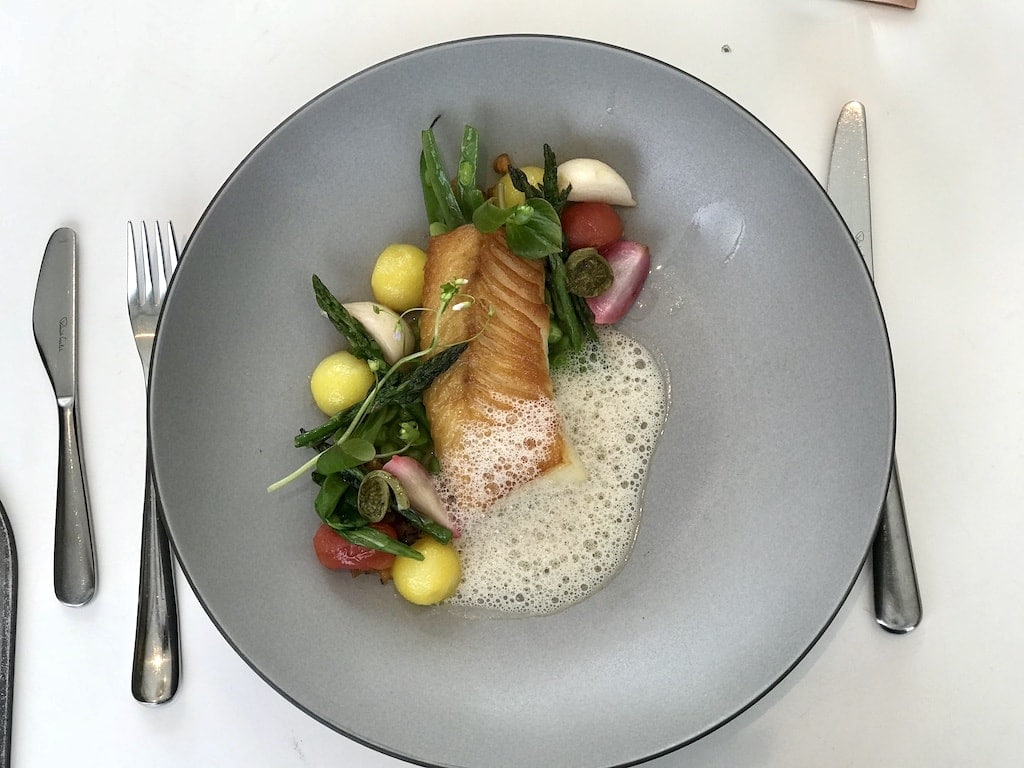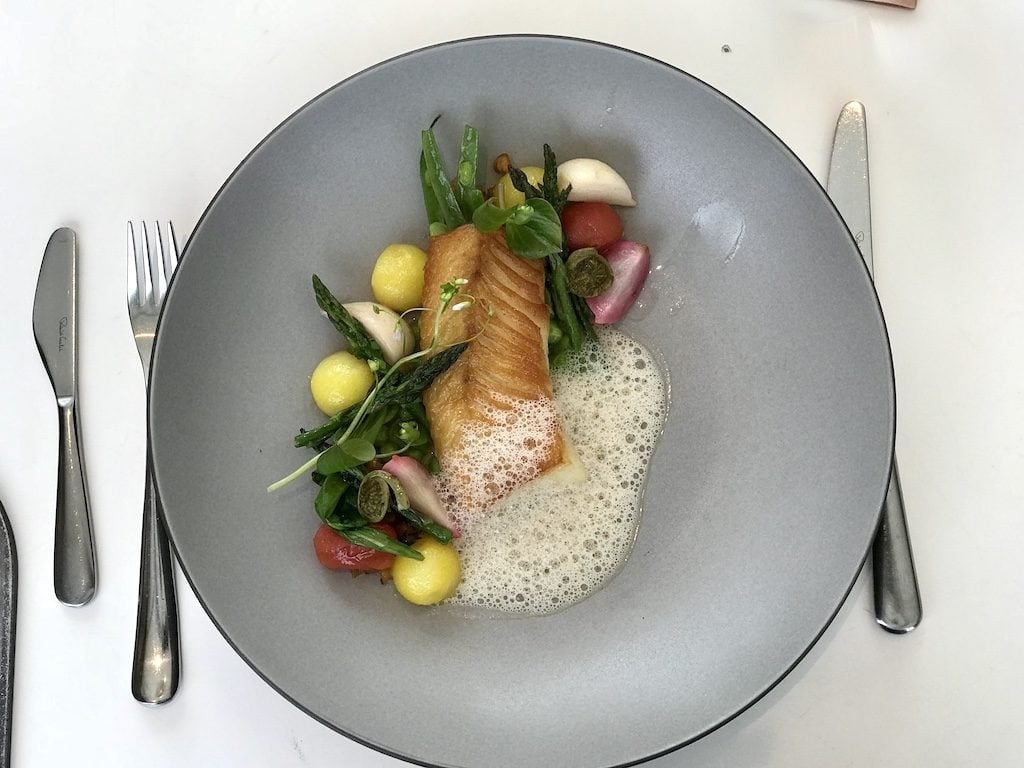 Finally, dessert was Itakuja Chocolate Paté. Itakuja is a brand of specialty chocolate, and combined with passion pulp, cocoa nougat, brioche crouton, caramel crémeux, and licorice ice cream, it tasted so good I had chills. I wish I could pass you a bite!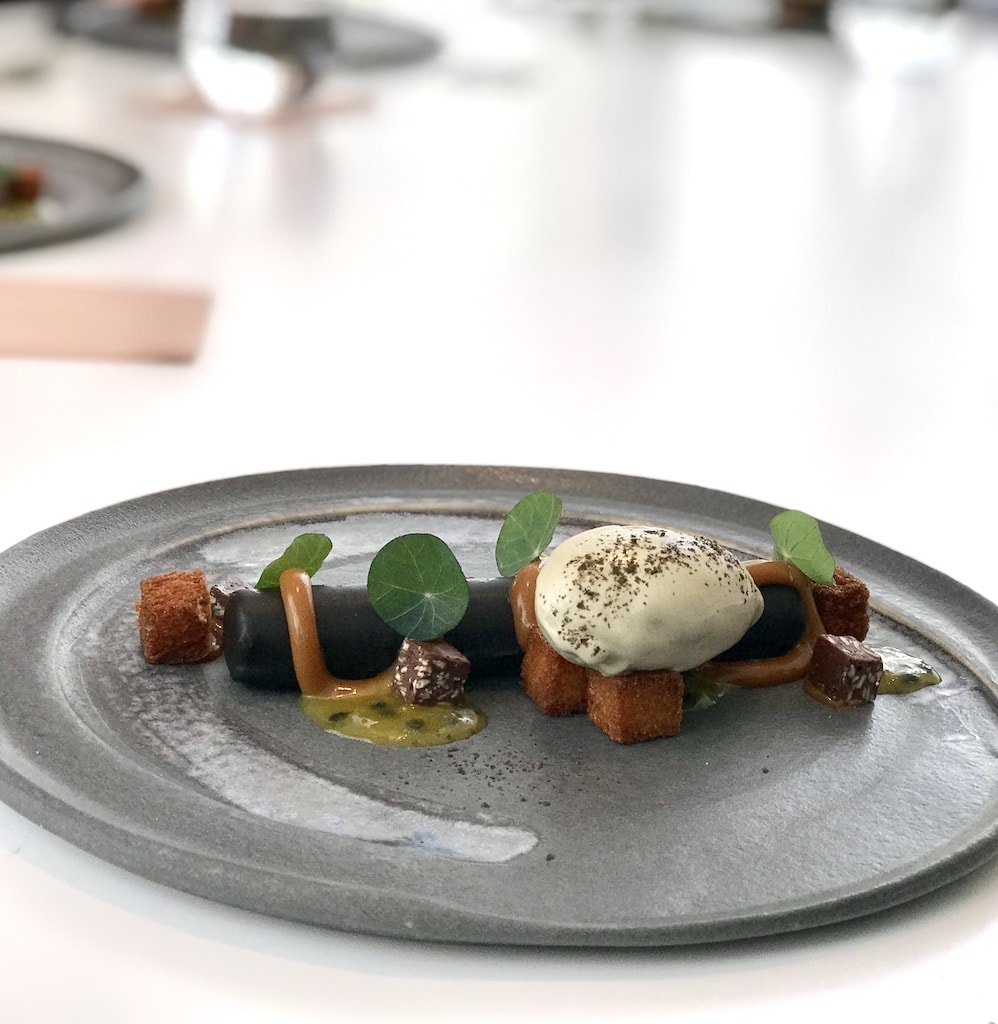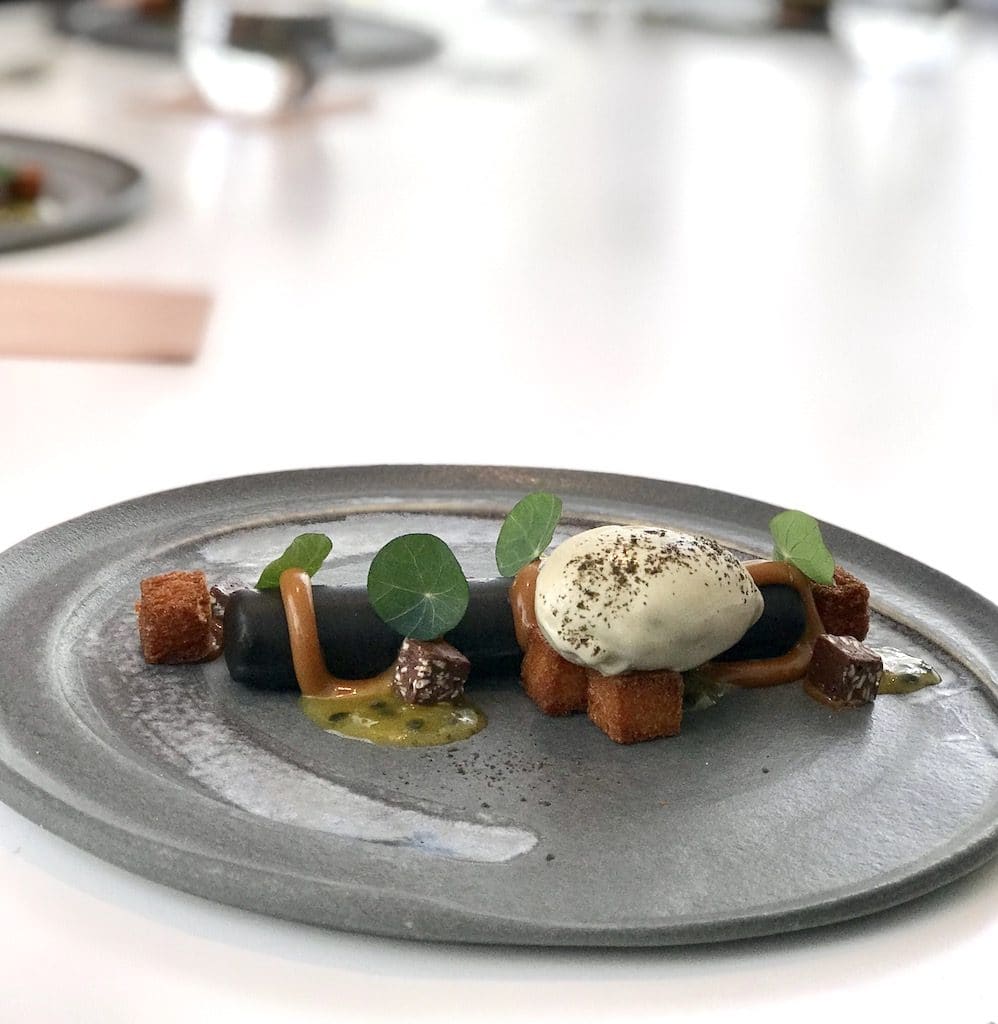 Cocktails at Botanist
By the way, Botanist has a crazy good bar, too. Stop in for one of their specialty cocktails.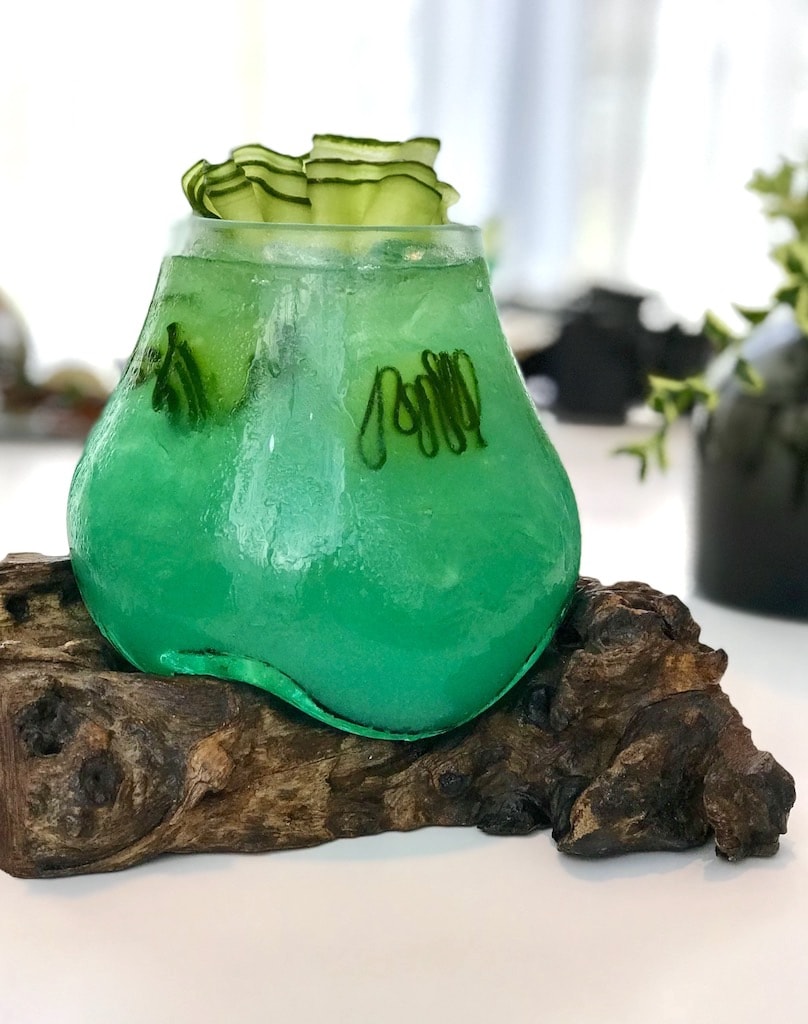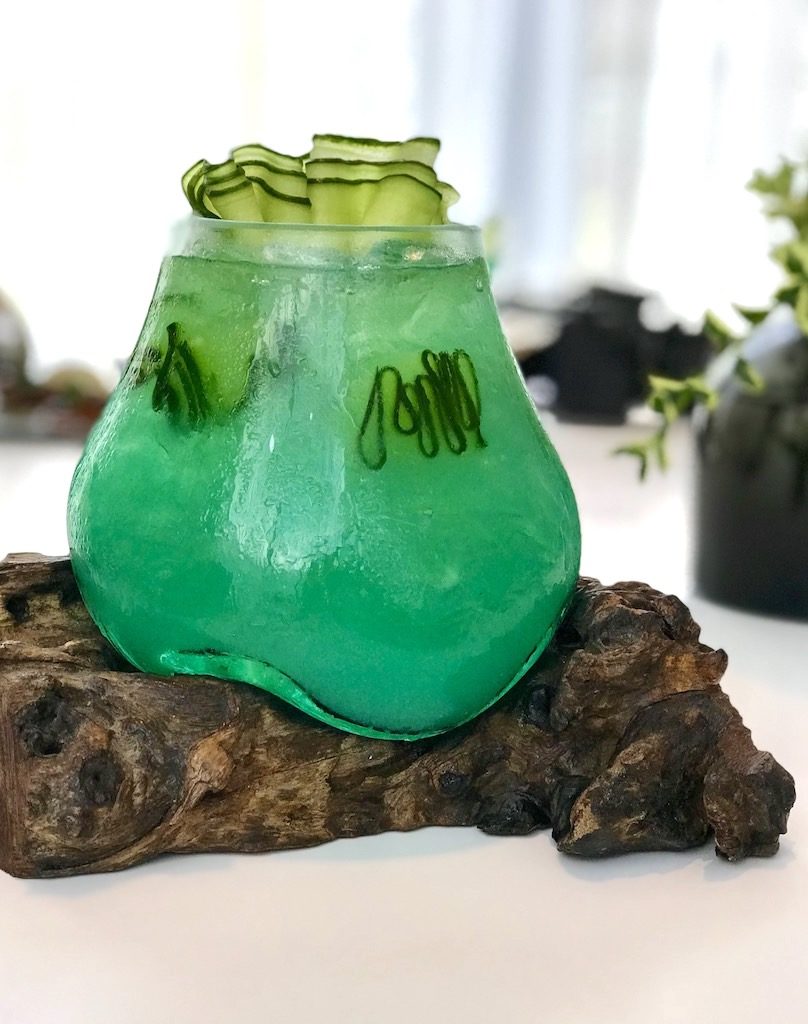 If you like smoked cocktails, this is the place to go. A drink is an experience at Botanist!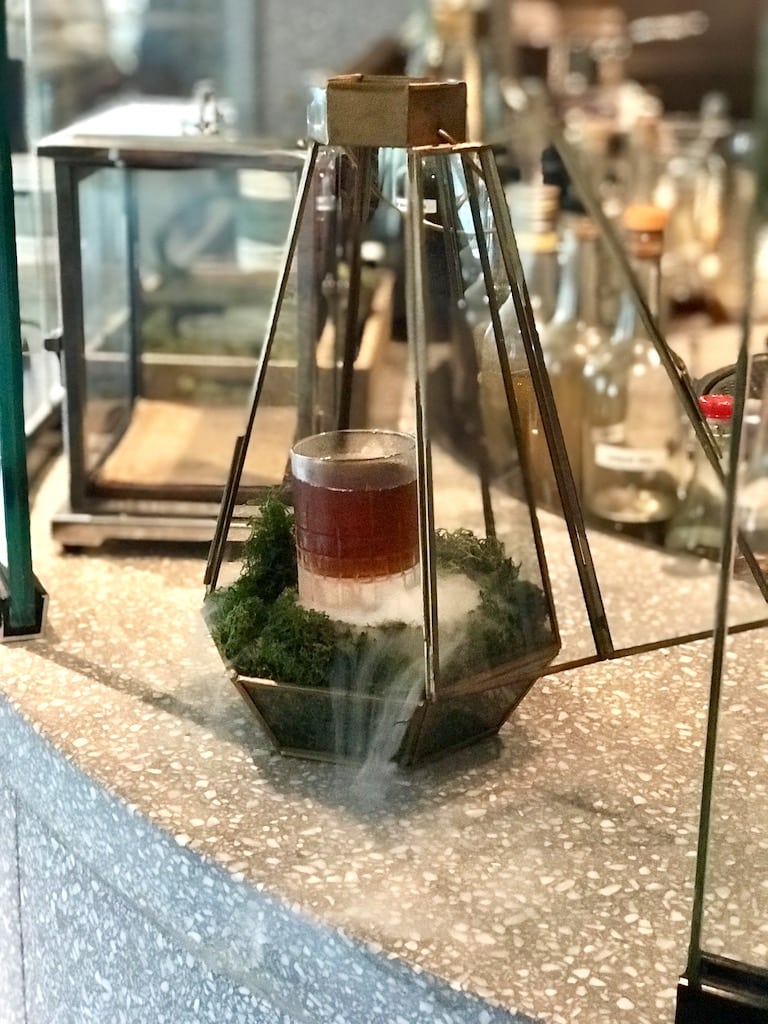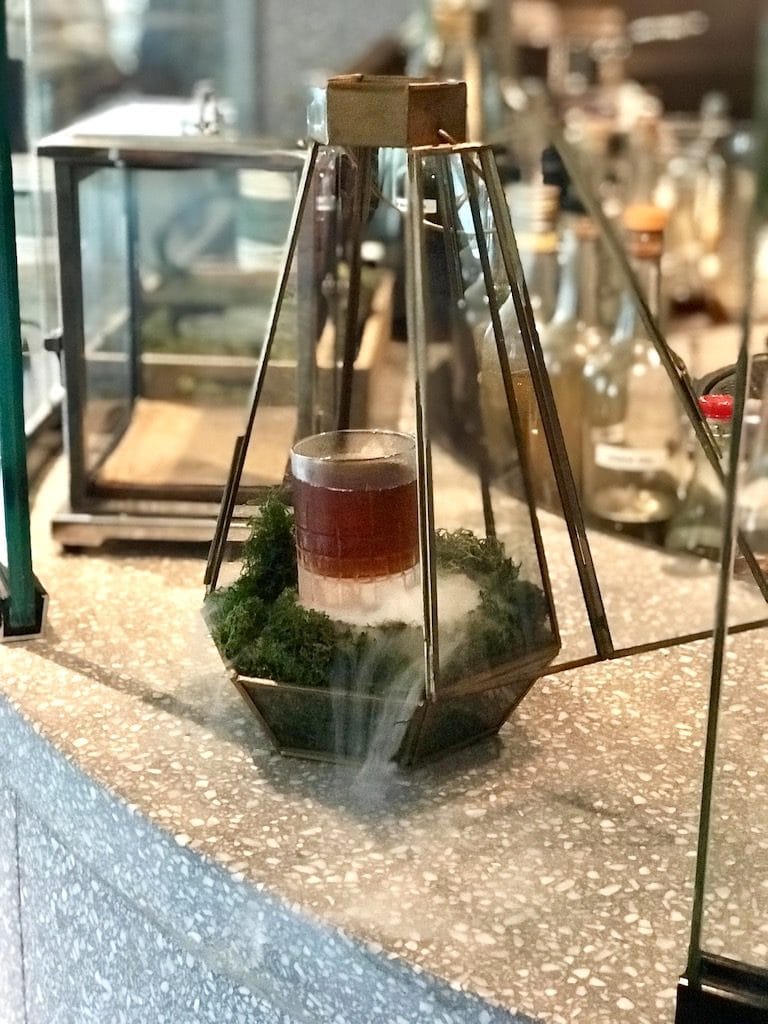 giovane
If you can't get to Botany or feel more like Italian or sushi, you have other options. giovane is the combination cafe, eatery, and market where you can enjoy their casual Italian inspired dishes.
There's also Vancouver's 100% Ocean Wise specialty sushi destination, The Lobby Lounge. I met a friend at Ocean Wise before heading home and it was fantastic.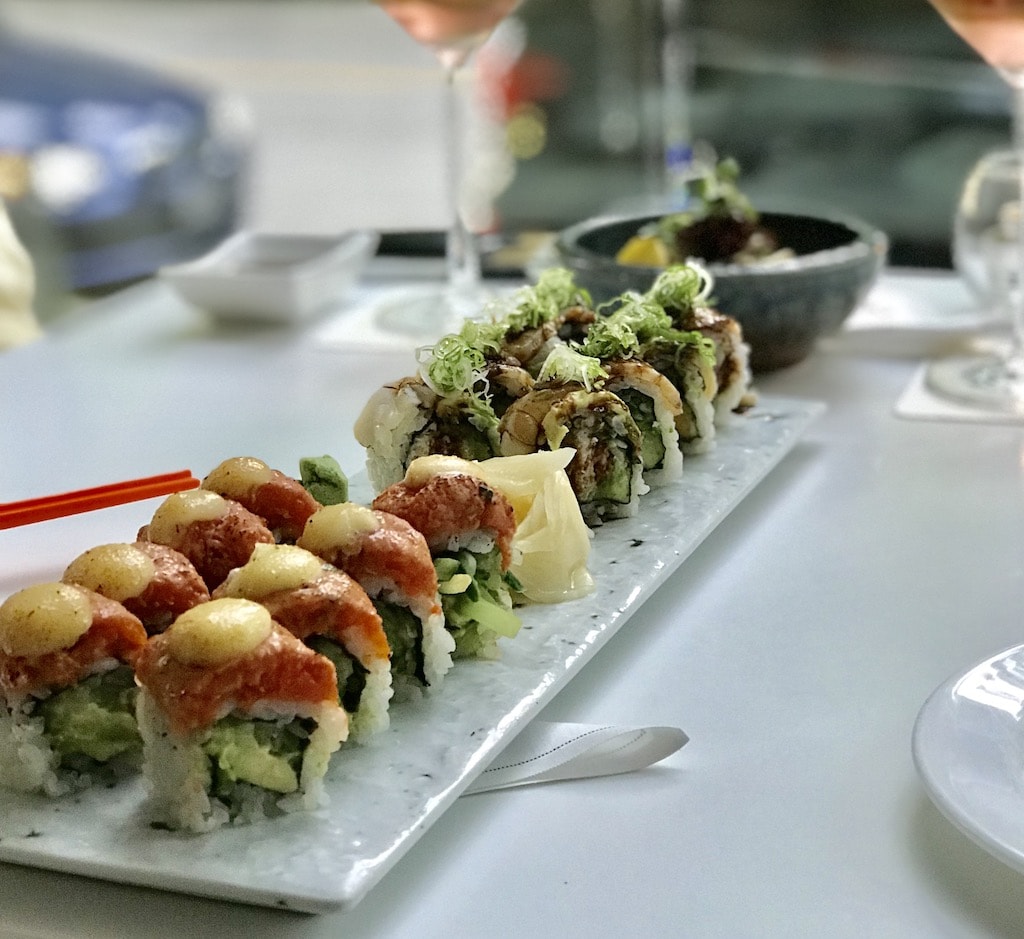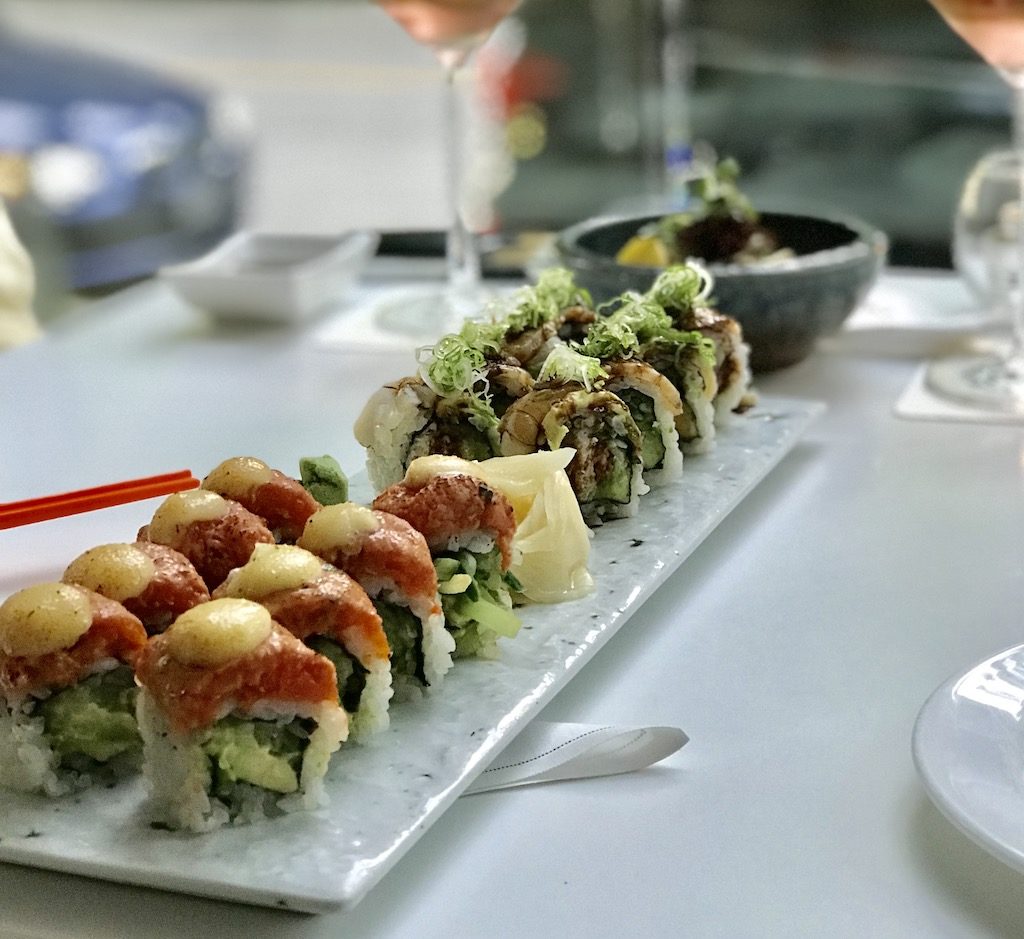 Things to Do When You Visit Vancouver
Between the spa, restaurants, and luxurious rooms, you may not want to leave the property! If you're an art lover, the Fairmont Pacific Rim even offers a self-guided Art Walk tour of its unique art and architecture.
The Art Brochure outlining the Art Walk Tour is available at the concierge desk. Follow the sequence of recommended stops to get the most out of the Fairmont Pacific Rim art experience.
Though this hotel offers so much to do right on property, it is located in the heart of Vancouver's downtown area, so get out and explore! The Fairmont Pacific Rim offers vacationers easy access to all the exciting activities and attractions for which the city is known.
A destination guide is provided with tips on what to do and where to go. The Fairmont also offers complimentary luxury BMWs to take guests around town! Warm, friendly, knowledgeable, guest services experts are available to drive guests to any destination within the core of the surrounding downtown Coal Harbor and financial district.
I took a tour of the Britannia Shipyards and it was the perfect afternoon activity. Find a restaurant on the waterfront for lunch.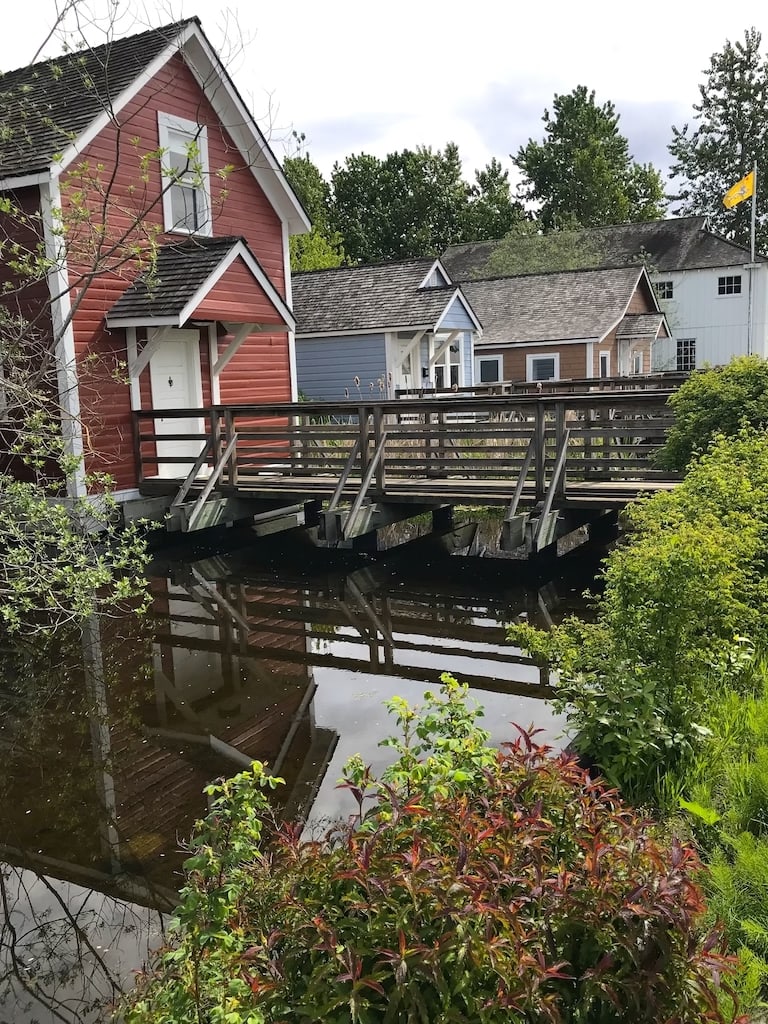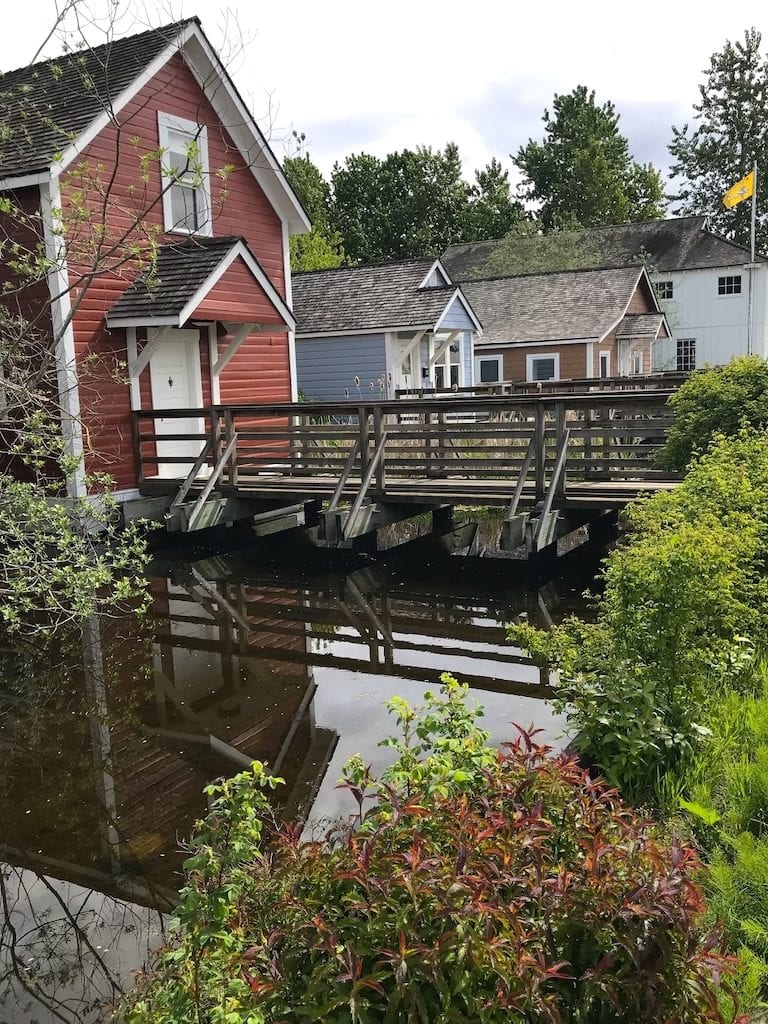 If you have time, I have a list of 15 Things to do in Victoria. It's easy to get there by ferry, seaplane, or helijet. I also have a list of where to eat in Victoria, so you'll be set with what to do!
The concierge team can arrange for any other type of transportation guests desire, as well. The Pacific Rim Life blog also provides guests with an exciting list of the local art, culinary masterpieces, cocktail, fashion, music and wellness activities.
Add Fairmont Gold To Your Stay in Vancouver
If you want to enjoy an exclusive hotel lifestyle experience, request Fairmont Gold. A special team will work with you before you arrive to plan your stay and make sure all your needs and desires are met.
When you arrive, you'll be whisked to the 20th floor Fairmont Gold lounge with its breathtaking views for an exclusive reception. The Fairmont Gold team will offer an array of Canadian West Coast-inspired events curated to match your previously expressed preferences.
Fairmont Gold Food And Beverages
Gold guests have exclusive access to Fairmont Gold Food and Beverage Services that begin at 6:30 a.m. This includes a complimentary hot continental breakfast, afternoon snacks, evening cocktail canapés, and seasonal desserts.
All this is served in tranquil surroundings until 9:00 p.m. Gold guests can also access the Fairmont Gold Honour Bar with its wide selection of global and local spirits, micro-brewed beer, boutique wines, and classic cocktails.
Fairmont Gold Special Concierge Service
The Fairmont Gold Concierge is also available to Gold guests to provide transportation, personal shopping, tickets, dining reservations, light secretarial duties and even access to a personal trainer, shoe shines and perfectly drawn baths.
Fairmont Gold Suites And Rooms
The Fairmont Pacific Rim offers spacious 400 square foot Fairmont Gold rooms, 800-square foot Fairmont Gold Suites, 900 square foot Fairmont Gold Owner's Suite and 1,200 square foot Fairmont Gold Corner Suites.
Perfect for relaxation, they offer private check-in, incredible city skyline views, huge King size or canopy beds, along with oversized marble spa baths and jetted soaker tubs.
Some of the living areas come with sleeper couches, Ico Parisi inspired sofas, stunning art, and even a record player and custom curated vinyl collection! The expansive living rooms have space for entertaining guests, private terraces, a personal butler, concierge service and an exclusive lounge.
Each of these suites has a unique pulse and is designed with the elite traveler who truly appreciates quality in mind. It's a sky-high urban oasis. Contact the Fairmont Pacific Rim to learn more about these upscale options.
You'll love the elegance of the Fairmont Pacific Rim rooms and suites. The breathtaking views and incredible dining make this the perfect place to stay when you visit Vancouver.