Looking for Phoenix Weekend Getaways? Short vacations are such a nice break, especially if you live within a few hours of Phoenix.
We visited the Grand Canyon for vacation a couple of years ago and loved it so much.
Even on the one day when it was 114 degrees, it was not as bad as 90 degrees in Florida with the horrible humidity.
I almost think I could live there, but I would miss the ocean! It's a fabulous place to visit, though.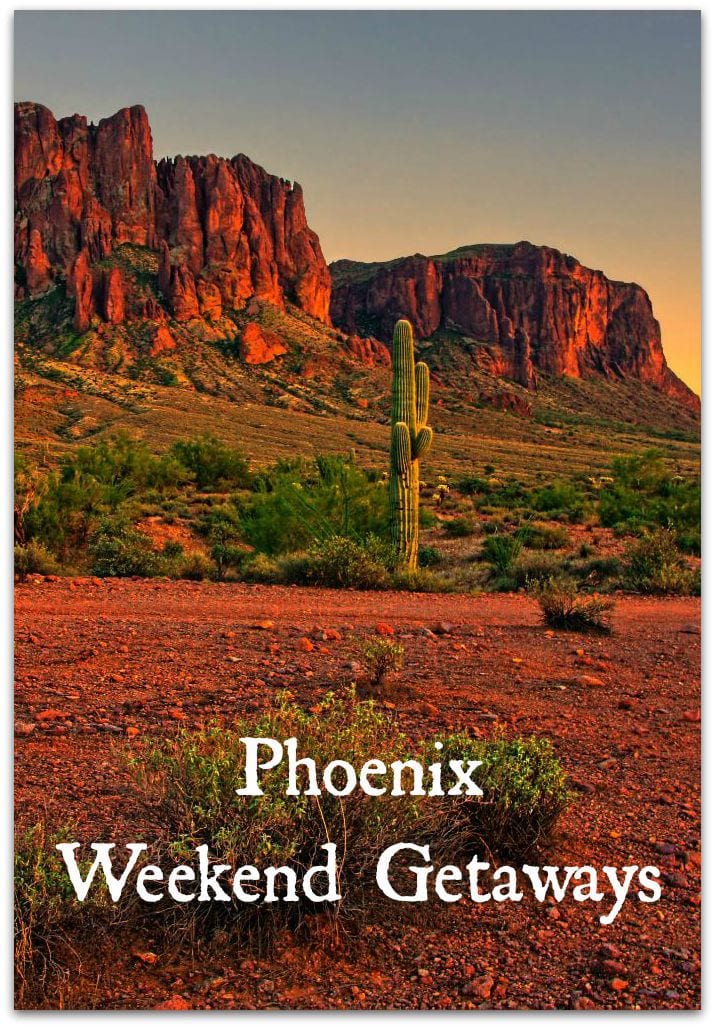 I can't wait to go back and see more of the state!
Weekend Getaways
Take a look at these weekend getaways near Phoenix. Soak up the amazing sights, towns, and unique stops.
Even though there is so much to do in Phoenix, exploring sites around the city opens a whole new world of adventures and memories.
Greer: Located about 4 hours from Phoenix, in the White Mountains, this weekend getaway is surrounded by the great outdoors and adventure.
Nestled in a valley, you can plan your stay at Greer Lodge Resort where there are several cabins and lodging accommodations to fit any size family.
Not only are the cabins and rooms by the water, but Greer Lodge is also located across from the Apache-Sitgreaves National Forest, on a historic Main Street.
Bicycling, fishing, bird watching, and horseback riding are just a few activities you can enjoy.
Sanctuary Camelback Mountain Resort & Spa: If you need a weekend of pampering and luxury this spot is calling your name.
This luxurious spa and retreat will spoil you rotten with their spa services and delicious food.
You can stay in their Mountain Suites, Spa Suites, Camelback Casitas, or rent on one of their private estate homes.
Grand Canyon: Even if you have visited this weekend getaway destination before, there is still plenty to explore.
Go for a scenic drive, stop to soak up the views. A great place to stop is The Indian Watchtower at Desert View where you can learn about the history behind this structure and get a better view of the Grand Canyon.
Looking for a little adventure? Go white water rafting to see the Grand Canyon from a different viewpoint.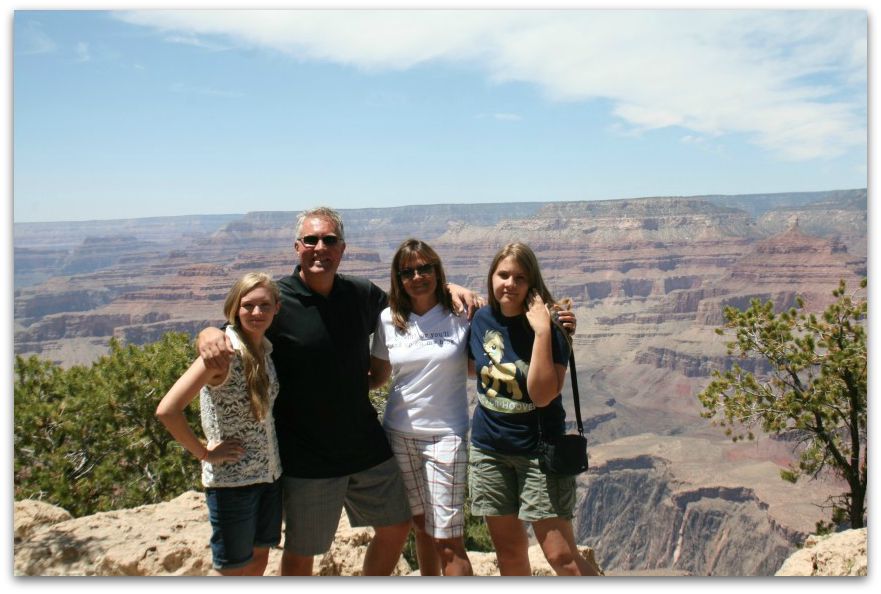 Bedrock City: Just south of the Grand Canyon is the iconic Flinstones' destination.
Eat at Fred's Diner, go shopping at the gift shop, and visit their theme park.
Stay a few nights in their campground and enjoy roasting some marshmallows with all of your favorite characters. Wouldn't the kids love that?
Sedona: Just a hop, skip, and a jump from Phoenix, this destination has a great backdrop.
Soak up the colors of Cathedral Rock and have a picnic at the Crescent Moon Picnic Area.
Take a short scenic drive to Slide Rock State Park and enjoy a day swimming in nature's water slides.
Or take a hot air balloon ride and see Sedona in a whole new perspective.
Meteor Crater: Visit a spot where you can see where a meteorite collided with earth. This crater is truly a sight to see.
There is an interactive discovery center, viewing decks, guided tours, gift shop, movie theater, and RV park.
I love those experiences where the kids don't even realize they are learning!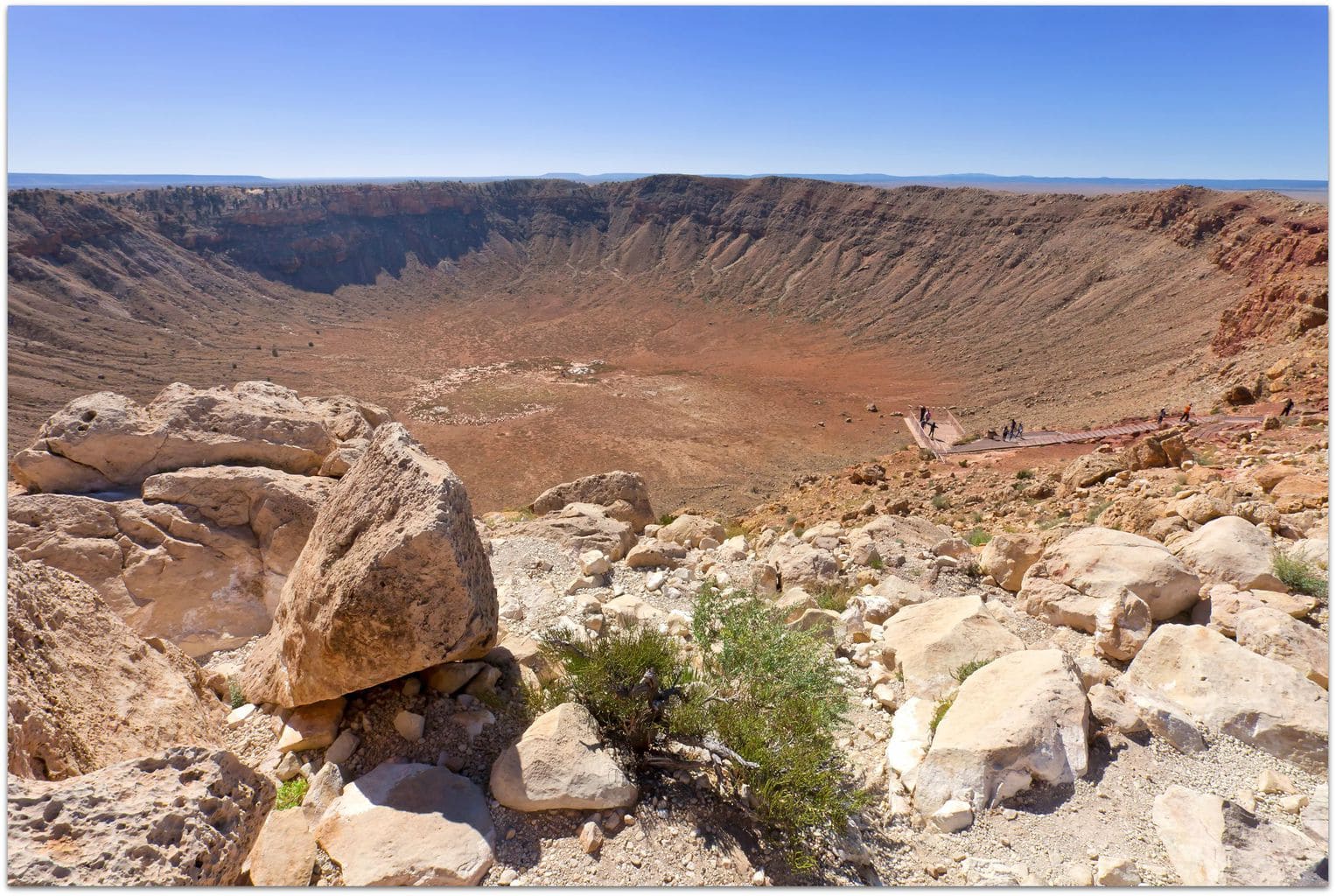 La Posada Hotel: This historic railroad hotel is full of character. Stroll through the gorgeous gardens, eat local, fresh cuisine at the Turquoise Room Restaurant.
This destination makes for a low-key getaway.
There are so many places to explore in and around Phoenix. This list is just the beginning. Did your favorite Phoenix weekend getaways make our list?