I had always wanted to take a Thai cooking class, so when I was asked to choose my Thailand excursion for Holland America's Southeast Asia Cruise, I immediately looked for cooking classes.
After all, what better place to take a Thai cooking class than in Thailand?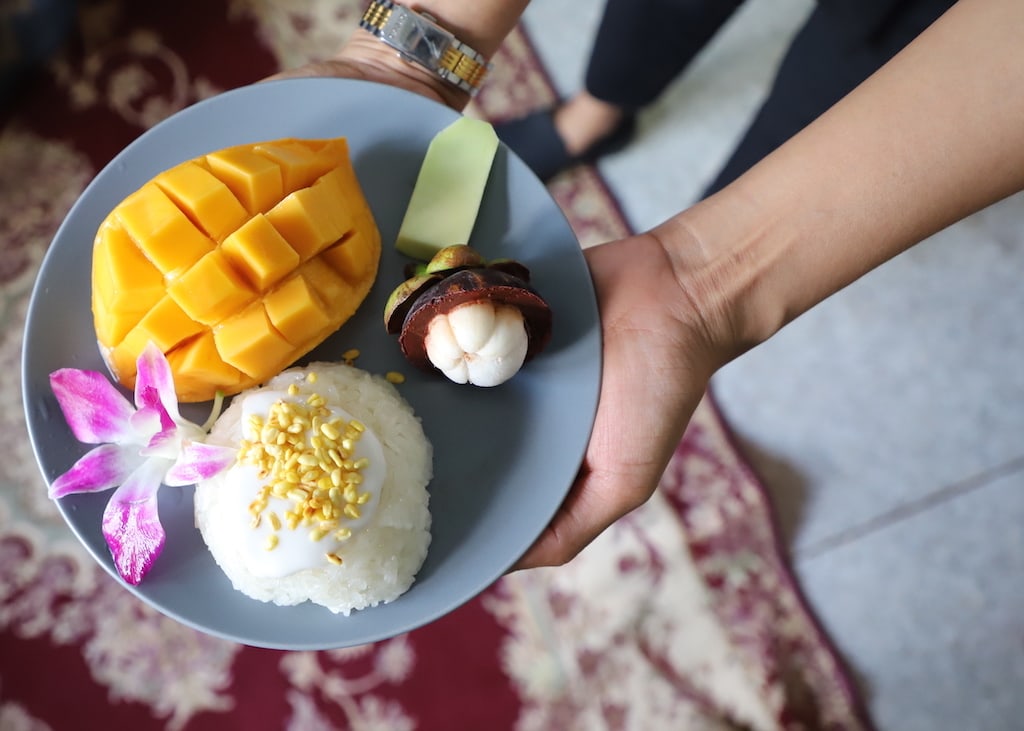 The excursion was called The Courageous Kitchen. After reading a little about our American teacher, I couldn't wait to meet him and learn more about Thai cooking as well as the good they were doing beyond the kitchen.
Thai Cooking Class
Courageous Kitchen isn't fancy, but then again, neither is the laid back teacher, Atlanta, Georgia native Dwight Turner. The class is all about three things: great food, good times, and making a difference. As restaurant kitchens go, it's not what you'd expect, but let your tastebuds be the judge.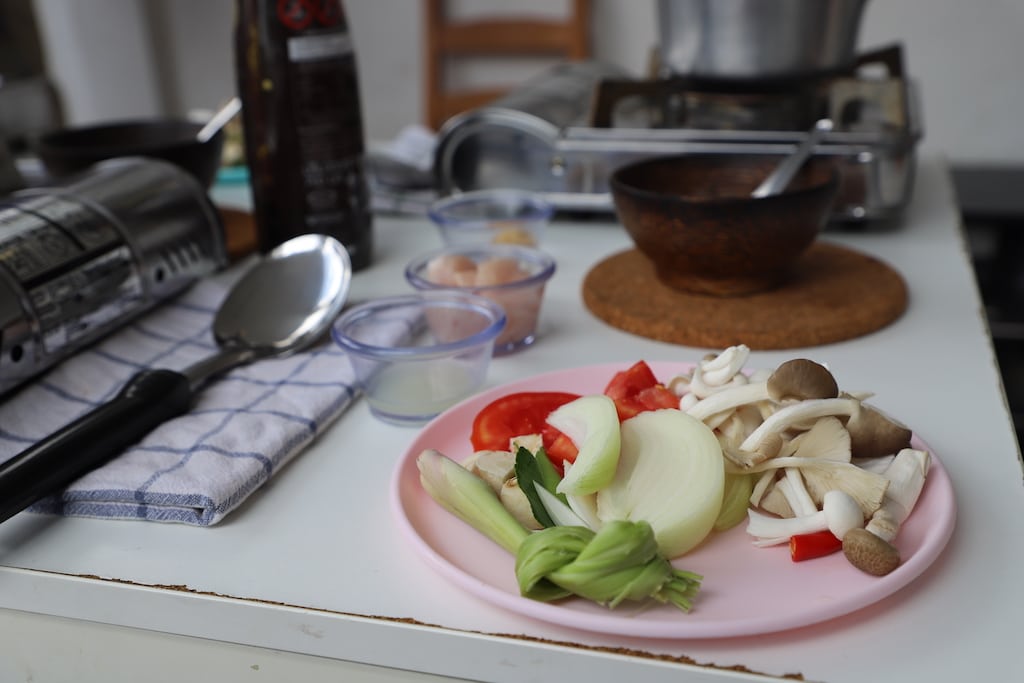 Held in a small room and outdoor kitchen area with enough supplies to teach about a dozen people to learn a handful of Thai dishes, I instantly left comfortable. There would be no getting lost in this class.
That's really what I loved most about this Thai cooking class. I've been in large cooking classes before, but I'd never had the feeling of instant community like I did at Courageous Kitchen.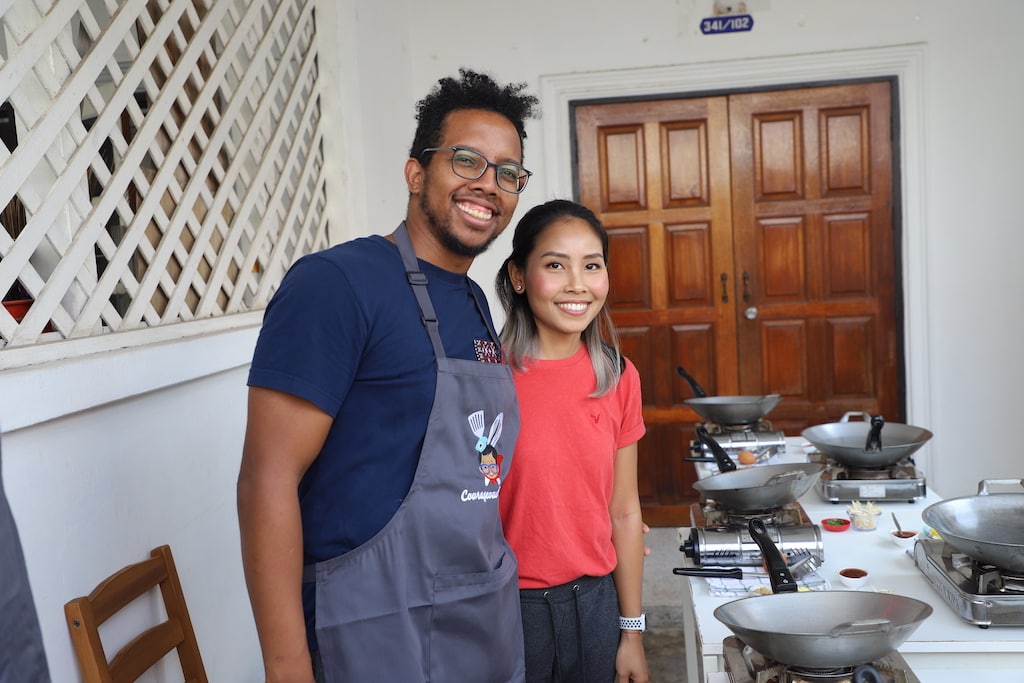 After the class, everyone sits down for a meal together, all of us enjoying our newly-learned fresh-made dishes. That's really where the magic happened for me. As we ate, Chef Dwight shared why he began his journey of combining good food with doing good.
"I was looking for a way to give back," he said. "but just didn't know what to do."
He said a friend invited him to volunteer to teach English. Once he began, he knew immediately that giving back was really important and something he had to keep doing.
How the Courageous Kitchen Came to Be
The Courageous Kitchen first began as a way to combine Dwight's love of cooking with teaching English. He found a residence with enough room for a teaching kitchen and thought cooking would be the perfect vehicle for teaching both culinary arts and the English language.
However, this Thai cooking class quickly became so much more. Dwight said once he began his classes, he became aware of something that really surprised him. In a city like Bangkok, famous for its food, he was shocked to learn that many people in the local communities were struggling to feed themselves.
A Thai Cooking Class Devoted to Serving Those in Need
Dwight knew his class had to be much more than just cooking and teaching English. He began to work toward the goal of helping those communities by funding basic needs, feeding the hungry, and educating people to give them a chance to escape the poverty in which they live.
Holland America is helping him do this. When you choose the Courageous Kitchen Thai cooking class, a portion of the proceeds goes toward helping Dwight's efforts to better the lives of those in local underserved communities.
Thai Market Tour
Before learning to cook, our group was to learn more about Thai ingredients. We took a tour of a local market before heading over to the Courageous Kitchen. If you haven't experienced street food in Bangkok, add it to your bucket list. It's amazing!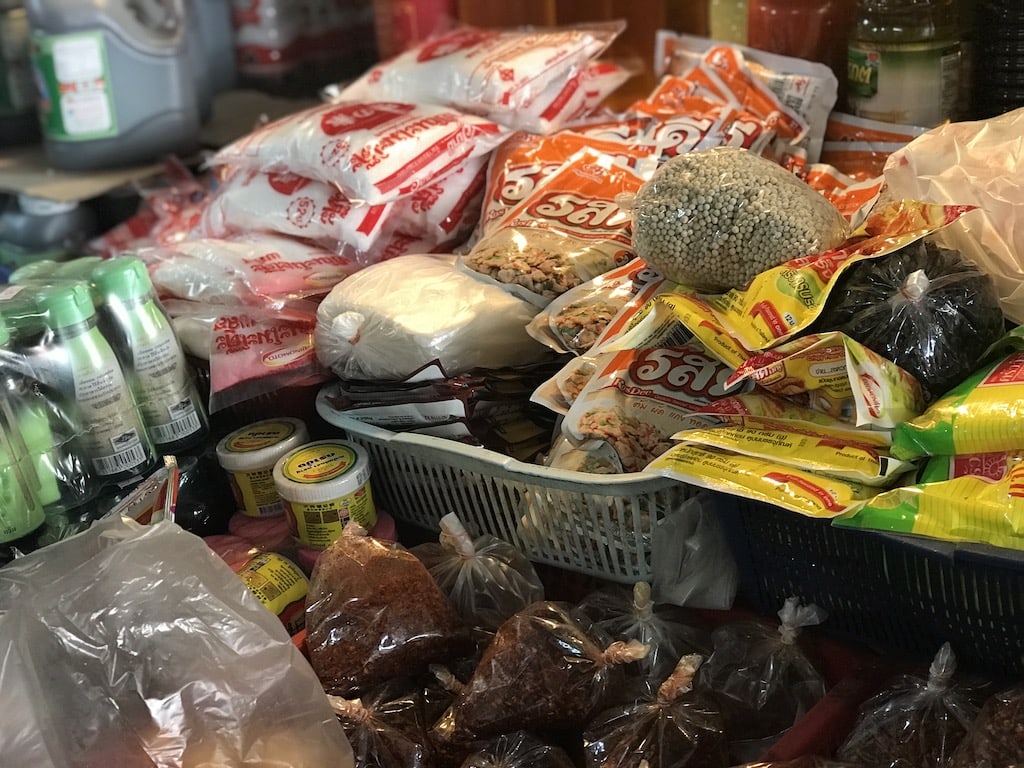 Outside of learning about Thai food, I learned something else very important while on this Holland America cruise; foodies stick together.
I'd already become fast friends with several people in the group I had met on other excursions, and we had a lot of fun exploring the market together and learning all about Thai food and the ingredients that go into it.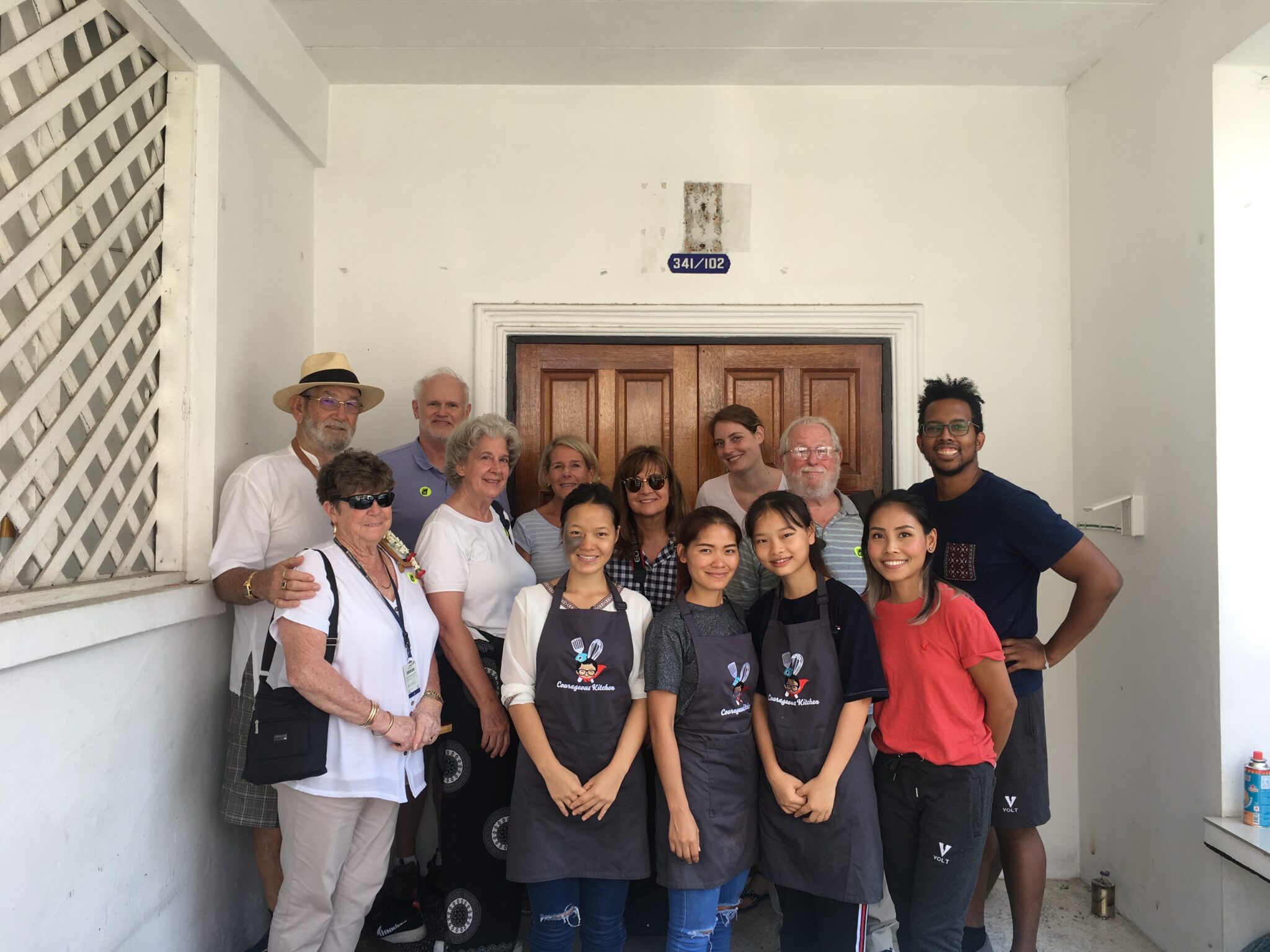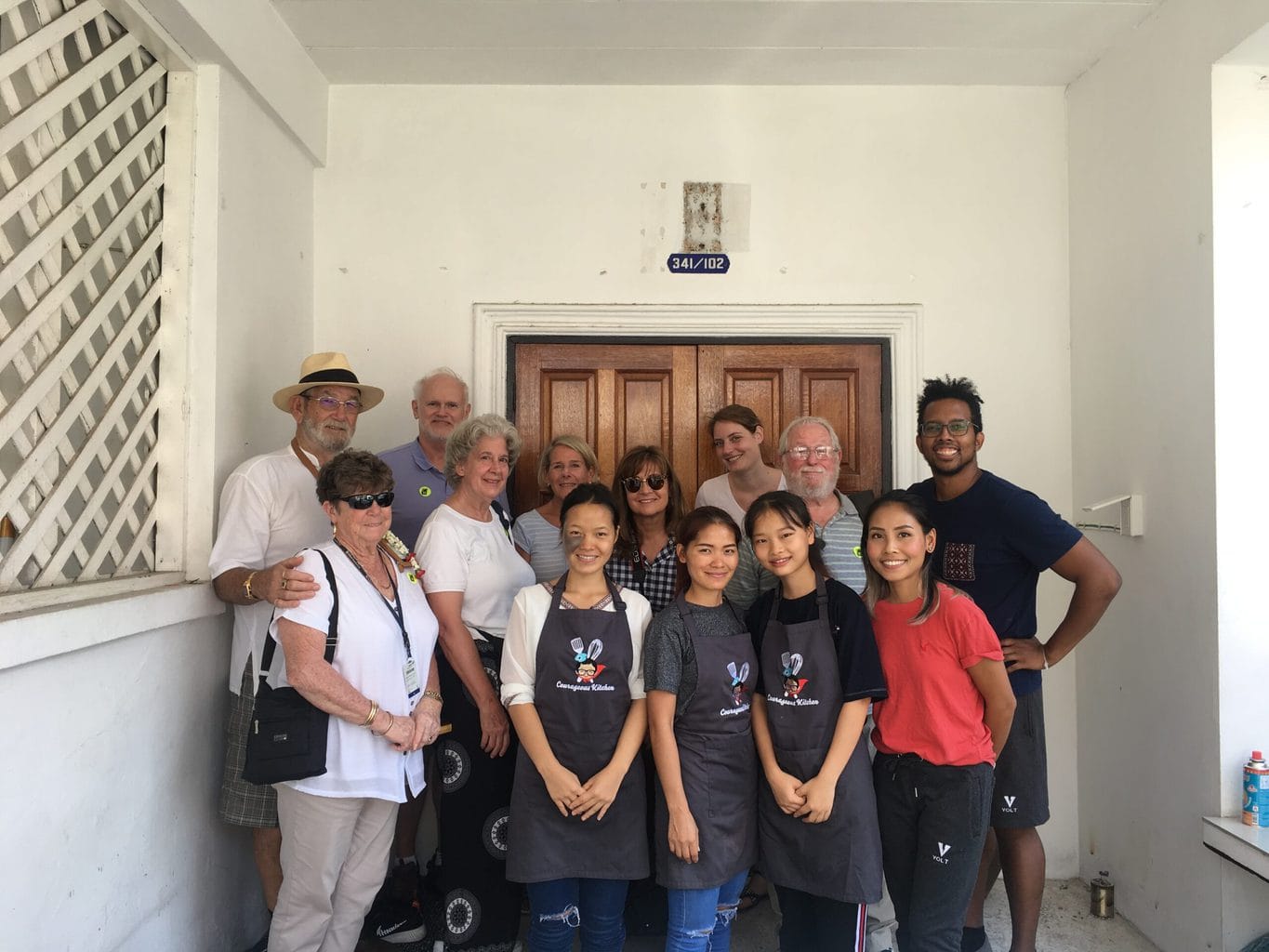 One of the things we all oohed and ahed over was the fresh produce.
We saw a few gourdes and melons that we'd never seen anywhere before. For a foodie, that's a treat all its own.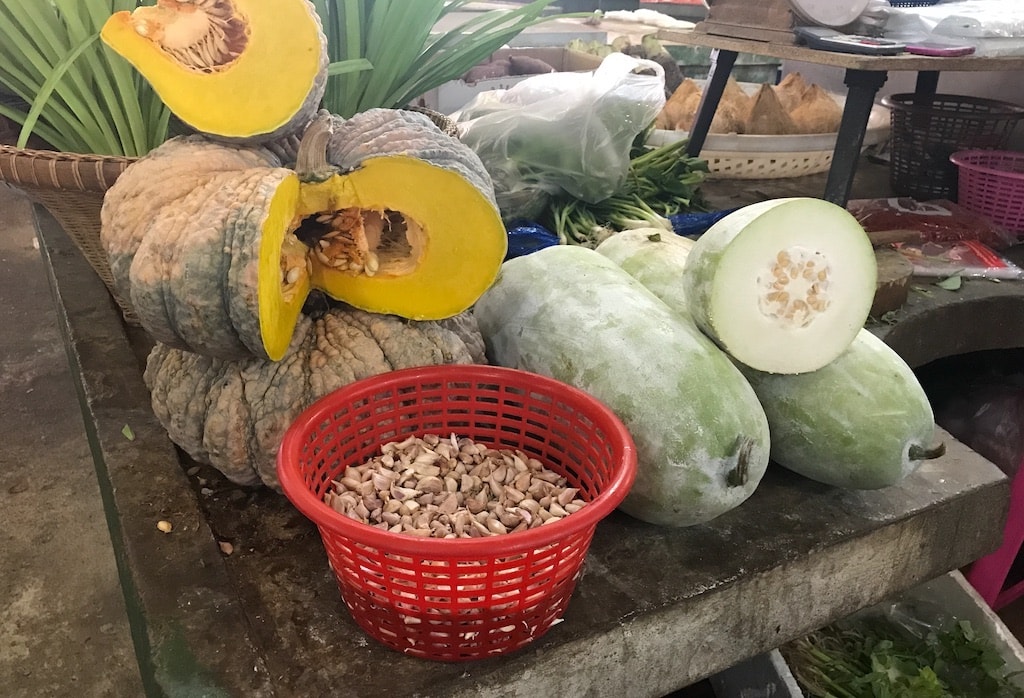 Learning About Fruits and Vegetables
Our guide pointed out all kinds of fruits and vegetables that most of the group hadn't seen before, explaining what they were and allowing us to try them.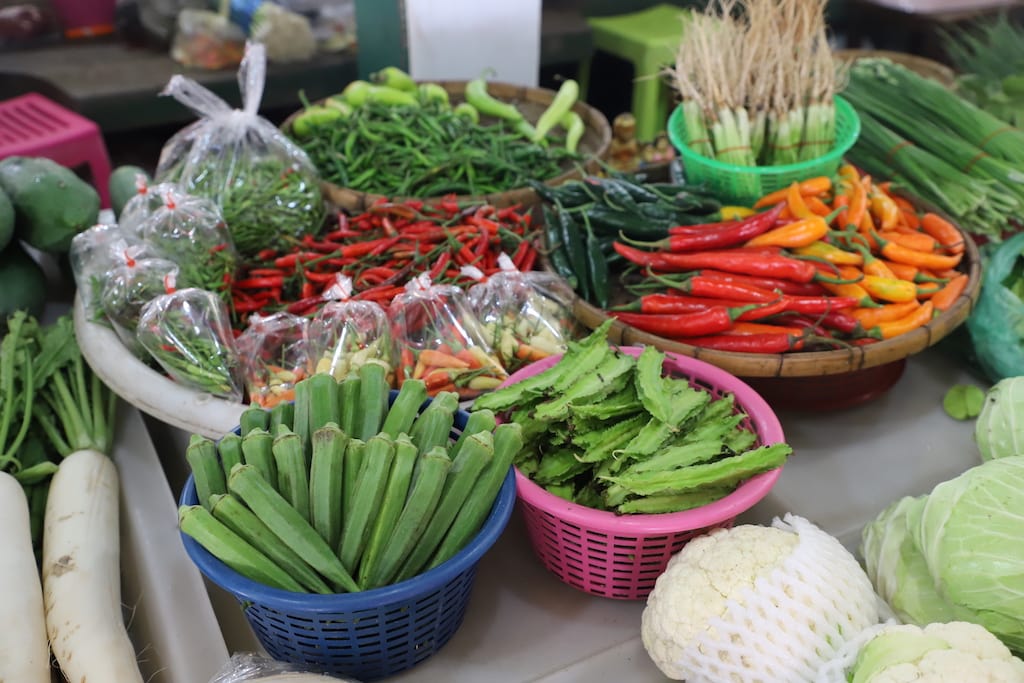 One of my favorite produce items was a fruit called a Mangosteen. This fruit has a beautiful, vibrant red color on the outside, and underneath its thick skin, it has creamy, ultra-light pink sections with a flavor and texture similar to that of lychees. It was such a surprise!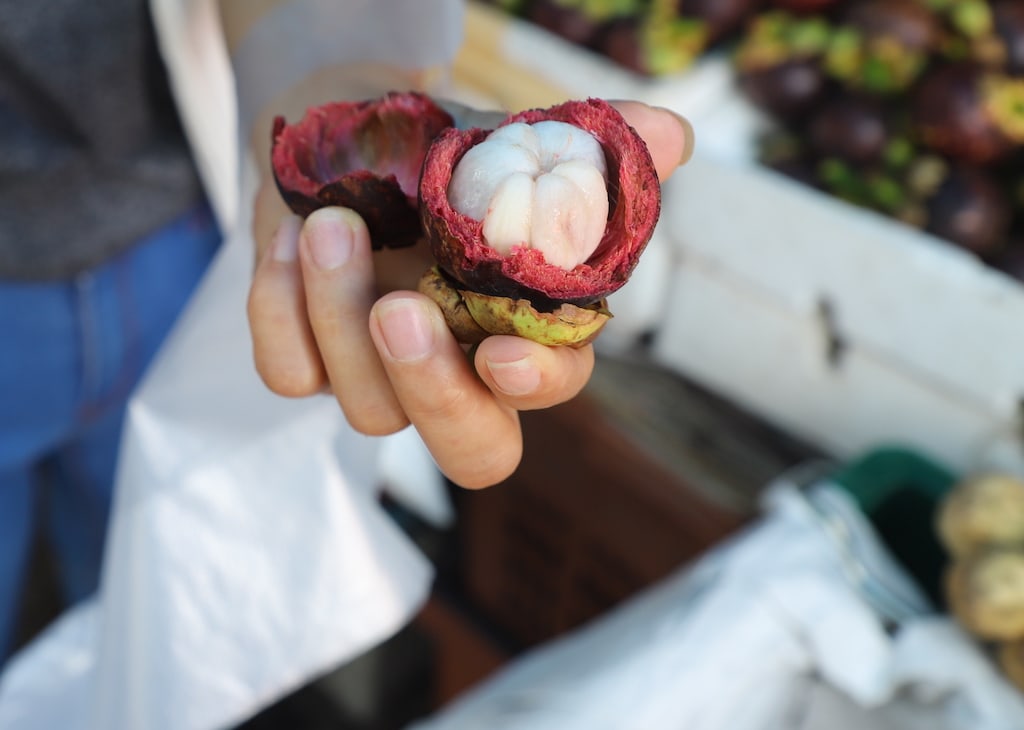 Our guide also pointed out the durian fruit, one of the most popular fruits in Thailand.
I have to be honest, I didn't try it. I'm a foodie, but the idea of eating what's been referred to as the stinkiest fruit in the world just didn't do it for me. Don't let that deter you, though.
It must have some redeeming qualities because many Thai sauces contain this stinkiest of fruits.
All the street food I ate in Southeast Asia was just amazing, and Thailand was no different.
One of the key things to remember when traveling is that other cultures do things differently than we do in the states. You have to embrace that when you travel.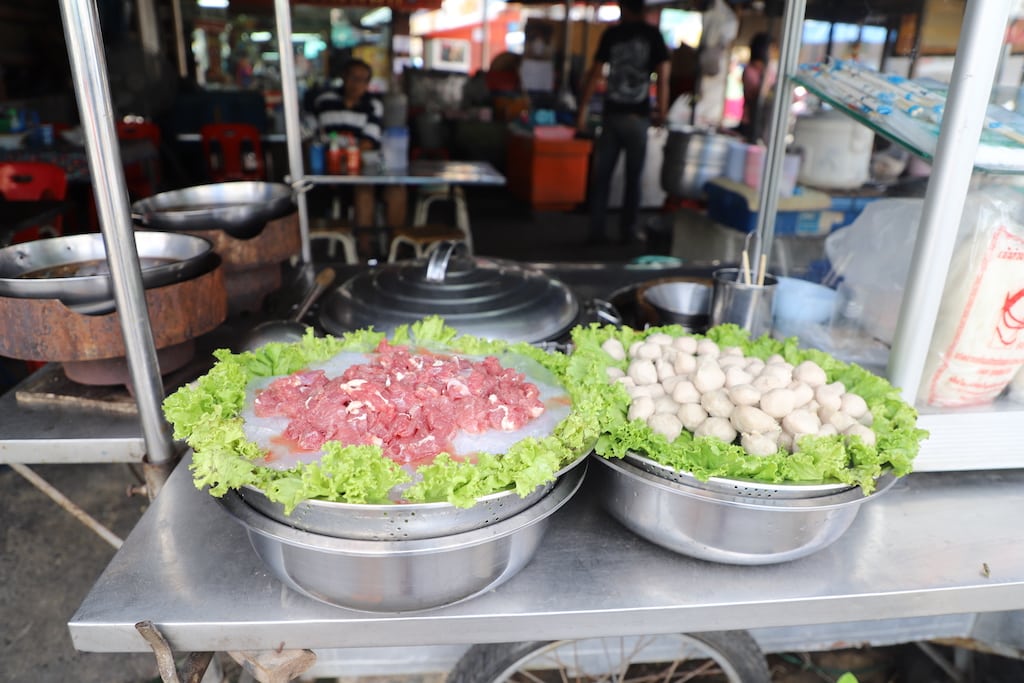 Once you get used to open-air markets, you'll see the only thing you have to fear is missing out on something delicious! Our Holland America excursion guide introduced me to a few local foods and we had a blast exploring the market.
It helps to have a local show you around, and the tour guides from the Holland America Maasdam really knew their local foods!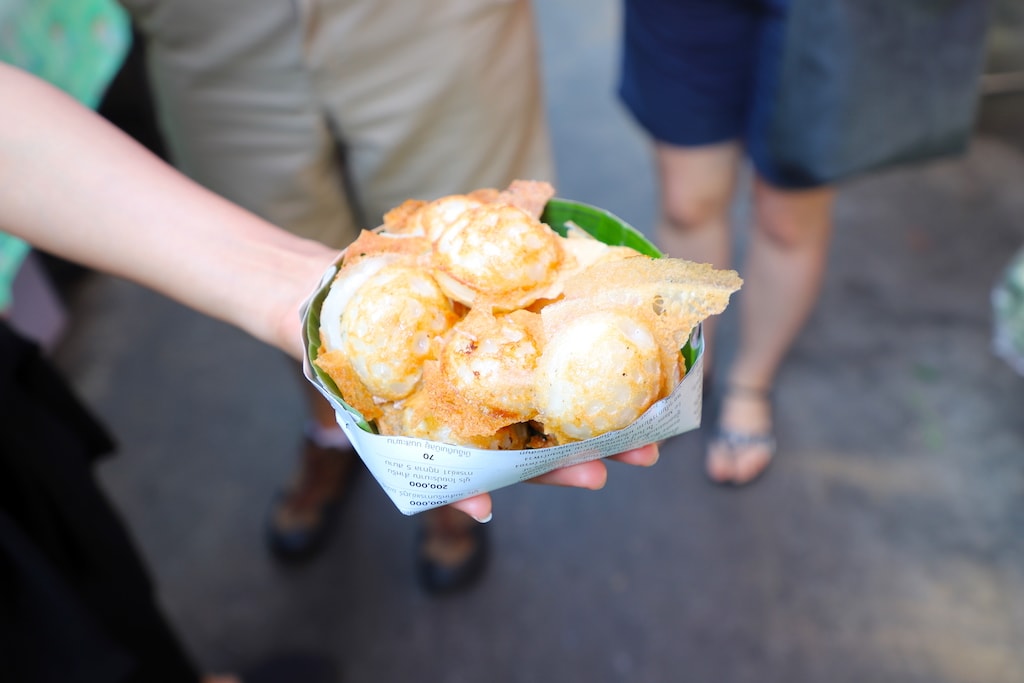 Thai Cooking Class Hand On Experience
When our group arrived for our Thai cooking class, Chef Dwight already had everything ready to go outside. After that, it was up to us.
To begin, one of the young women assisting him taught us how to make iced Butterfly Pea Flower tea. This delicious, bright purple drink is made from the Butterfly Pea Flower which grows almost everywhere in Southeast Asia. It's delicious, refreshing, and caffeine-free, which is nice if you want a drink later in the day.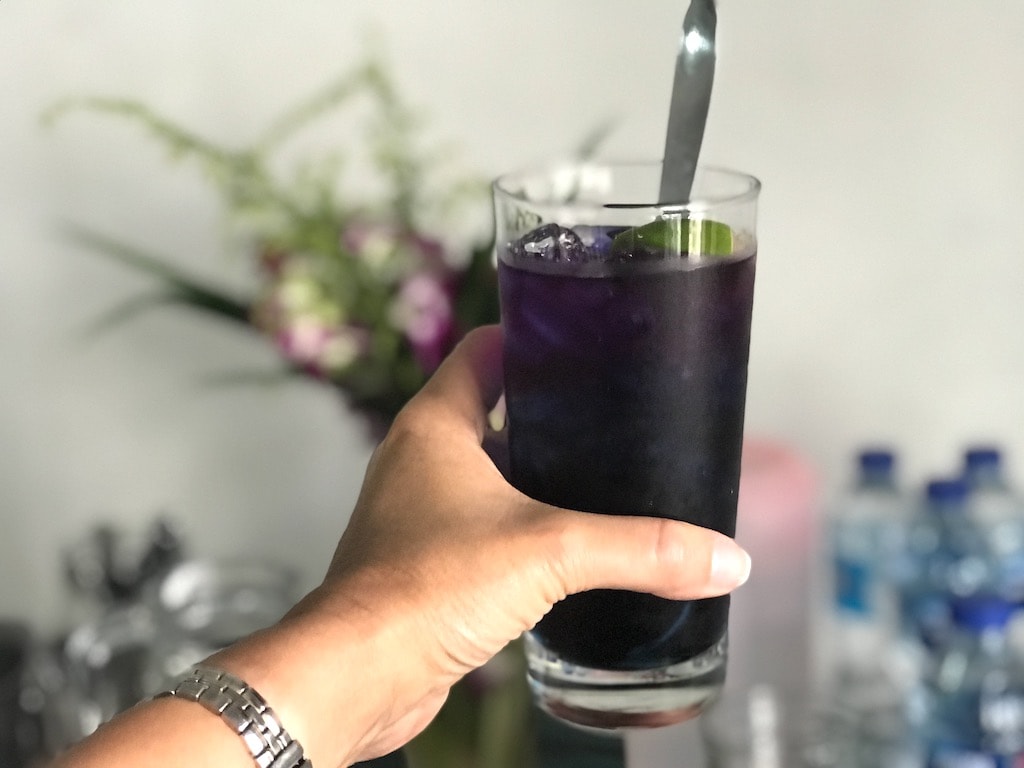 Tom Kha Coconut Soup
Next, we were shown to the vegetables that were to go in our Tom Kha coconut soup. We cut up our veggies inside where it was a bit cooler before heading outside to the cooking stations.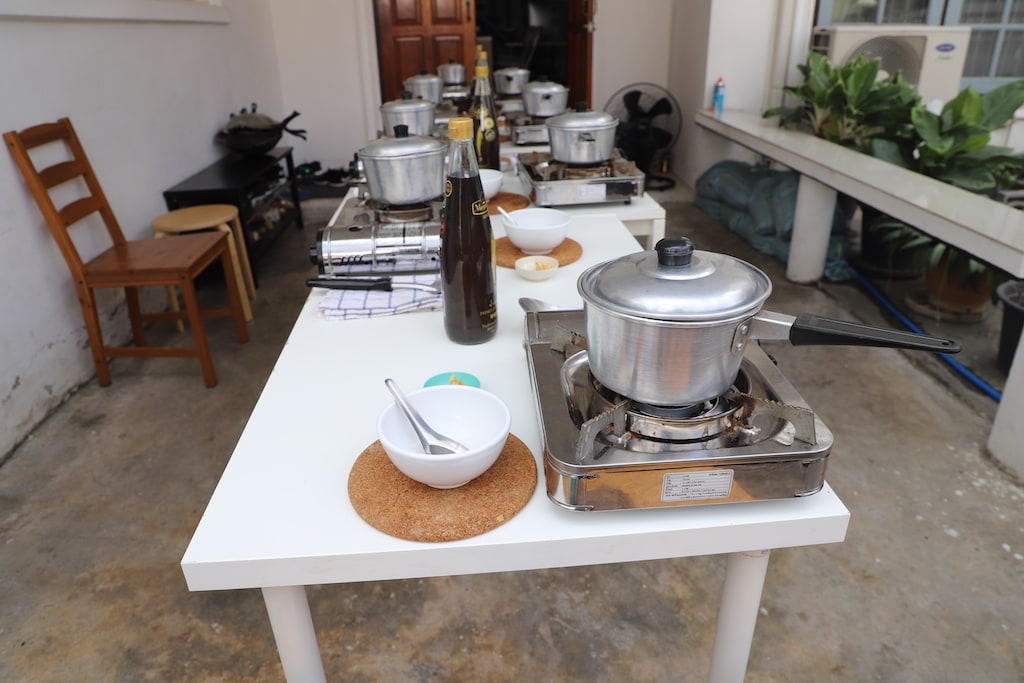 Chopped veggies ready to go, we began to prepare our soup. It was actually really easy to make, and the aroma was fantastic.
The coconut, ginger, and vegetables marrying together on the heat were heavenly, and after we were finished with all the cooking, Chef Dwight offered a tasty local beer for all of us as a reward.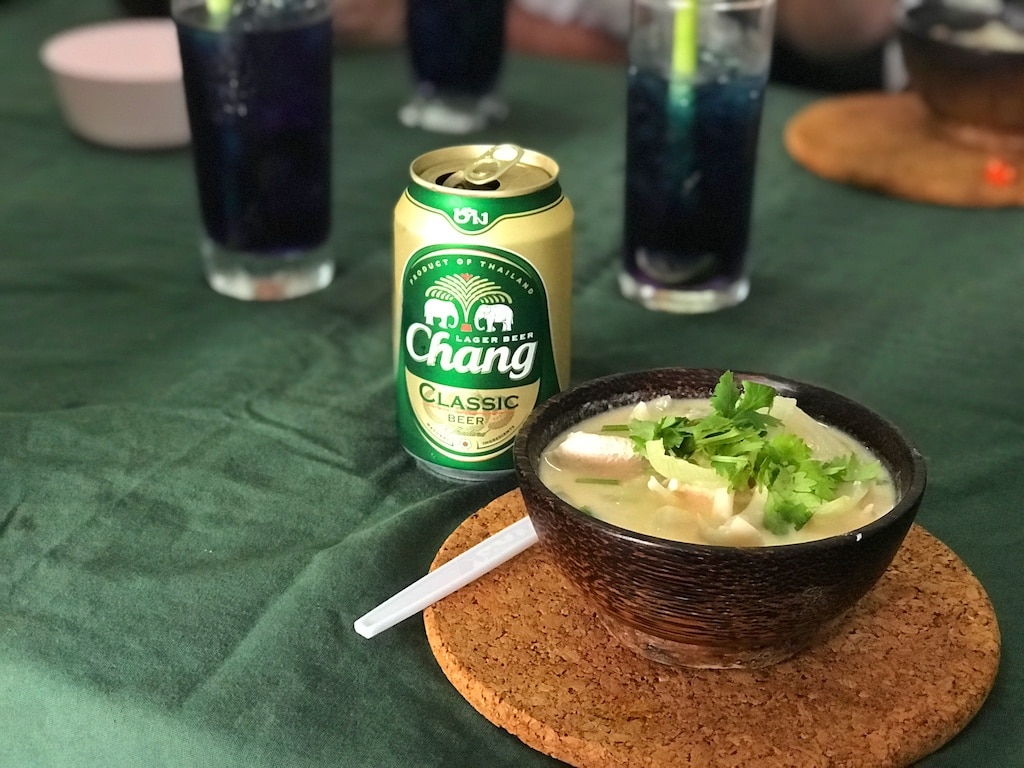 Shrimp Pad Thai
Shrimp Pad Thai (one of my favorite Asian meals) was the main dish for our Thai cooking class. Our instructor showed us how to prepare the shrimp for the dish.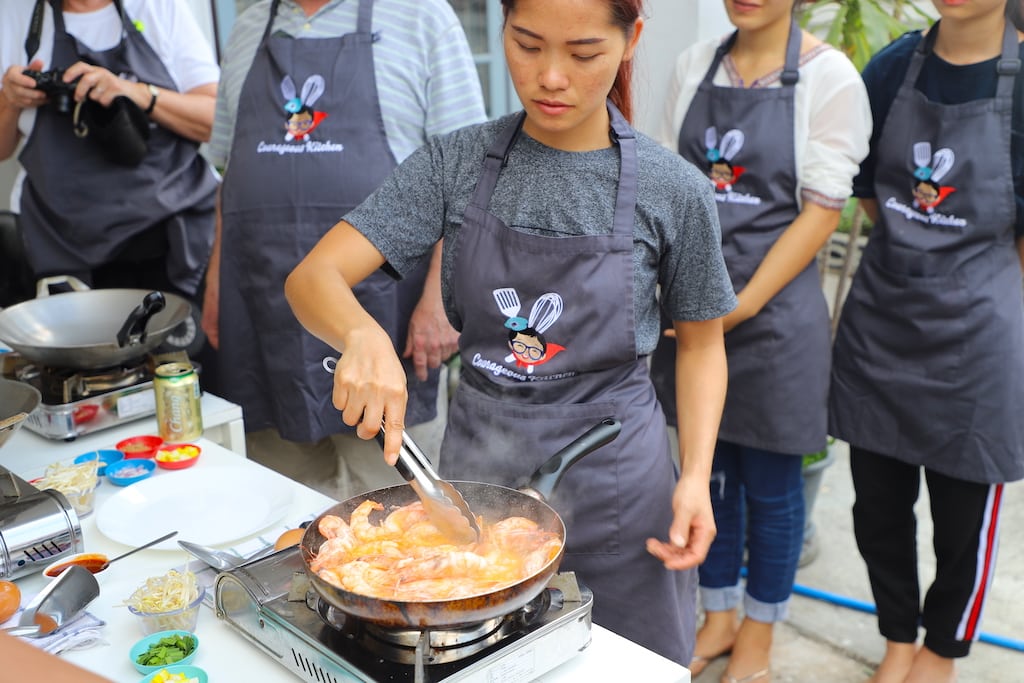 After the prep work, we cooked up our vegetables, adding the shrimp last. I need to make this for my family!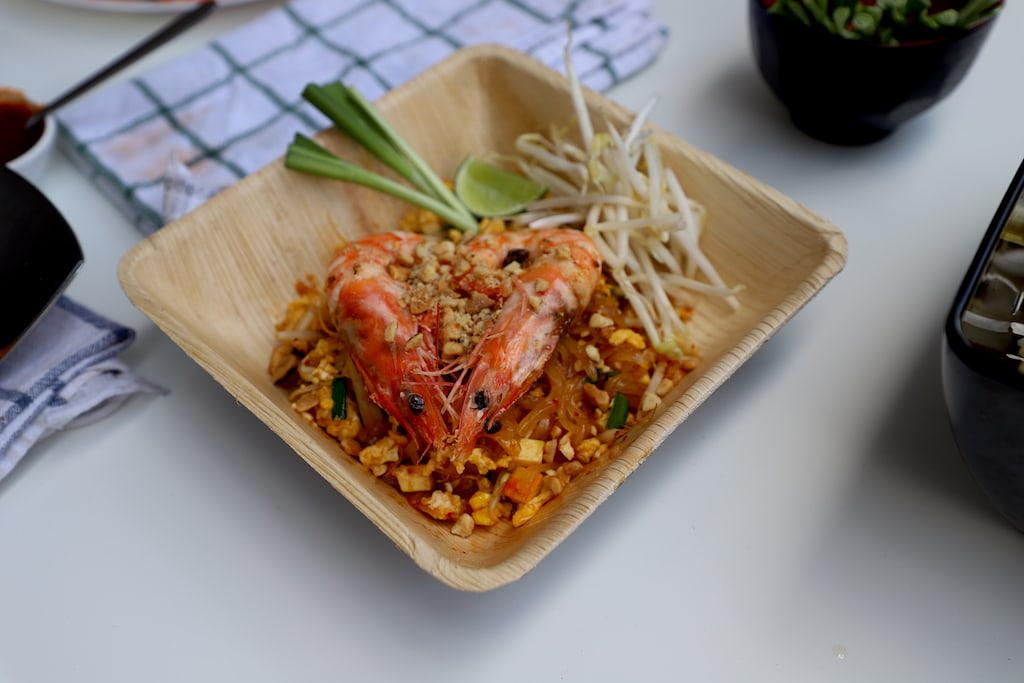 Mango with Sticky Rice
Even though we were all stuffed, we still managed to make room for our dessert dish - mango with sticky rice. This light, refreshing dessert features fruit as the star, and the accompanying sweet sticky rice was absolutely delicious. Everyone in the class was glad that we made room for it.
Learn More About the Courageous Kitchen Thai Cooking Class
I've been to a lot of cooking classes. As a foodie, I go to any and every class I can find when I'm traveling. I have to say, out of all the classes I've been to, the Thai cooking class hosted by Courageous Kitchen was far and away one of the best I've ever attended.
Chef Dwight is so personable and such a great teacher and his mission to help the needy in the area is really admirable. I can't think of a better excursion than to attend a Thai cooking class where you're able to make and taste authentic Thai food as well as give back.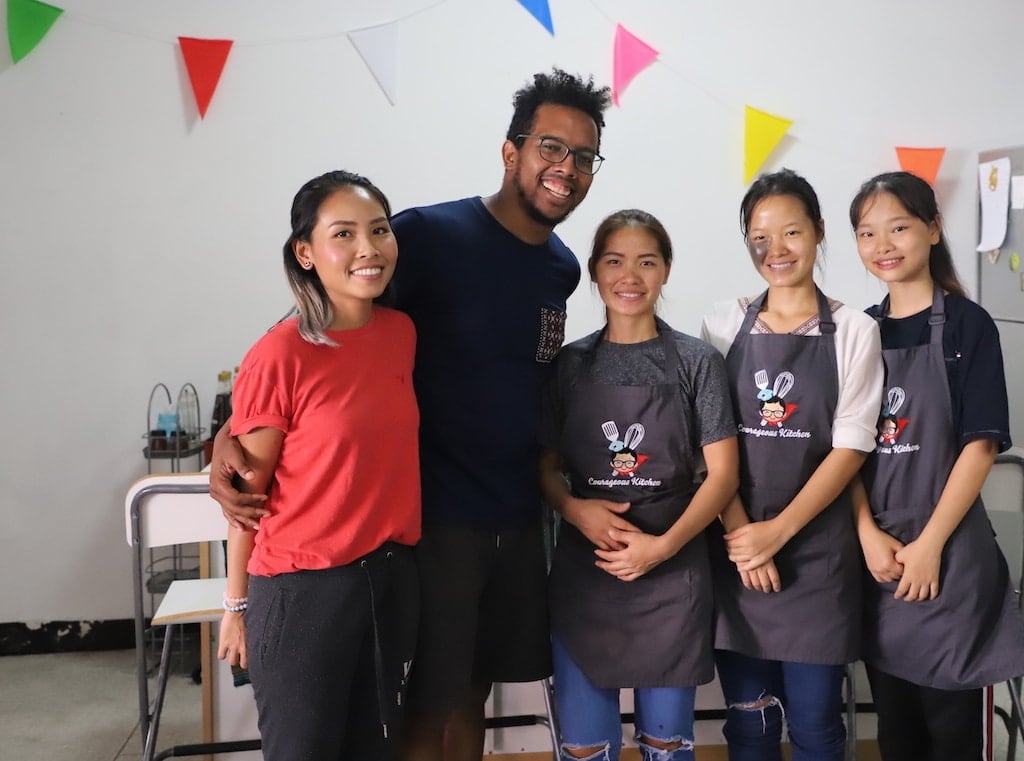 When booking your Holland America Southeast Asia Cruise, be sure you make the Courageous Kitchen cooking class one of your excursions.
There's no better way to get a real taste of Thailand and help local citizens at the same time.
In addition to Thailand and several other countries, you will fly into Singapore on this cruise, so make plans ahead of time to spend at least one day in Singapore as there is so much to do. I can't wait to go back!
Like our content? Follow us on Pinterest!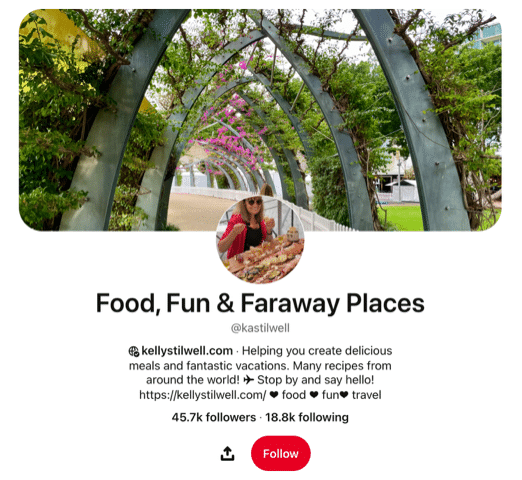 More about Southeast Asia