It took some experimenting to create this French Martini recipe, but it was so worth the effort! I wanted to create a cocktail with St~Germain, an elderflower flavored French liqueur.
I had a martini in mind, so I grabbed my bottle of Empress 1908 Gin, made in Victoria, BC. I fell in love with Empress Gin when I first tried it at the Fairmont Empress Hotel.
The combination of these two was a match made in heaven. You'll want to make this one at your next party. It's a festive cocktail for Christmas, New Year's, Valentine's Day, or any day of the week.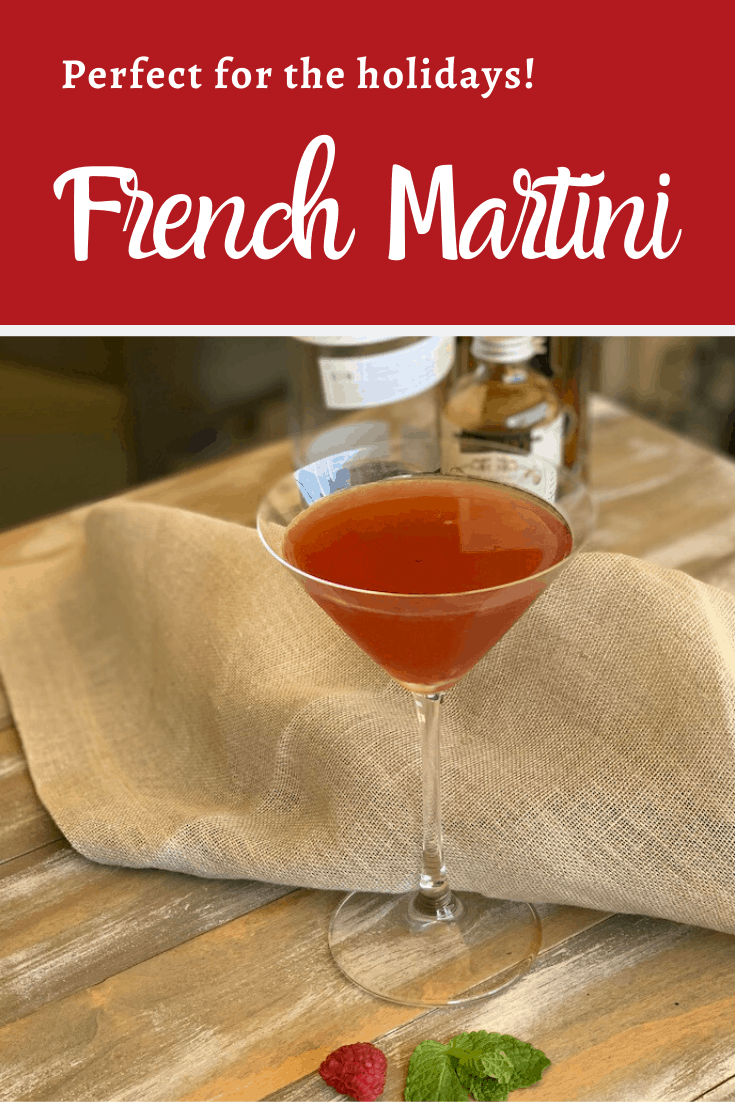 French Martini
If you haven't been to Victoria where Empress 1908 Gin is made, add it to your bucket list. And don't miss the food! Victoria is known for it. I even have a list of where to find the best food in Victoria, so you don't have to worry about figuring that part out!
The Fairmont Empress Hotel is a charming historic hotel overlooking the Inner Harbour and hosts the most amazing tea service you'll ever experience. In fact, the tea service was the inspiration for the gin!
The Empress curates an exclusive collection of teas. Ask about them if you go because me telling you is nothing like you experiencing the aroma and taste of the teas in person.
It turns out that if you combine the Classic Empress Tea with other botanicals, it creates a gin that even those (like me) who don't typically care for gin will love. Seriously - I thought I didn't like gin!
I was planning to simply combine St~Germain with Empress 1908 Gin but, though it's delicious, it's a little too strong for me. I added King Tonic Bitters, muddled a little mint and a few raspberries, and this French Martini was born.
This cocktail would be a wonderful addition to any party. It's festive enough for any big occasion, but it's also simple enough to sip at home.
How to Make a French Martini
Muddle 3 raspberries and 2 mint leaves in a cocktail shaker.
Add St. Germain.
Pour in Empress 1908 Gin.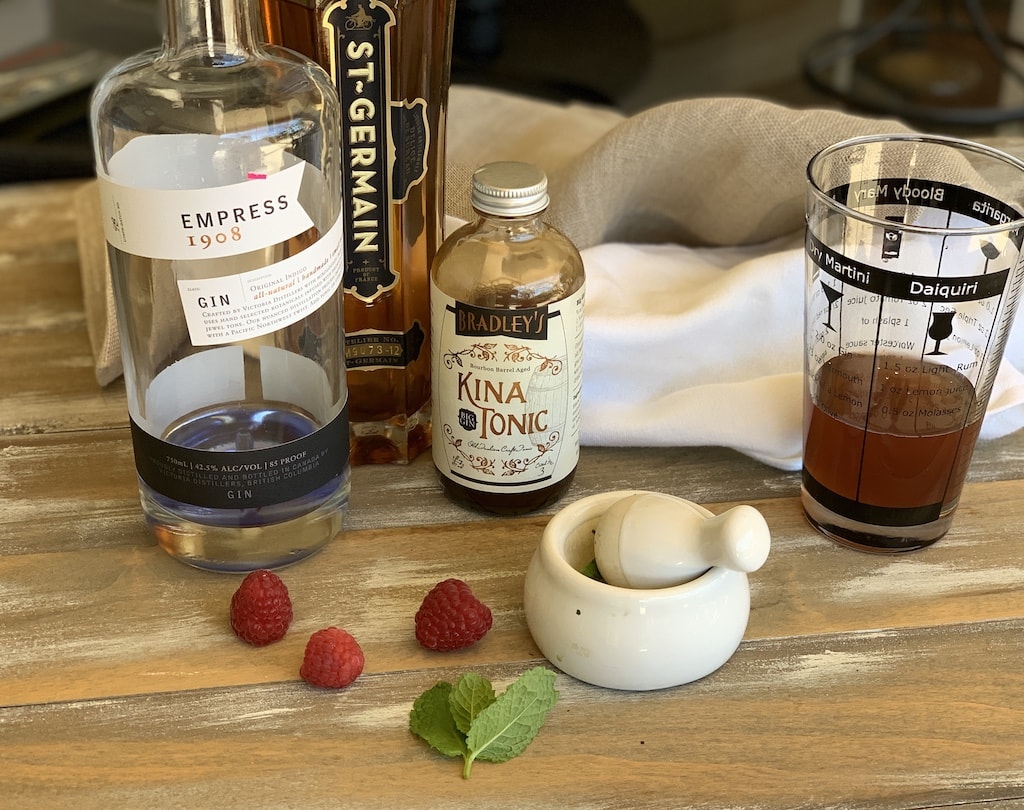 Add Kina Tonic Bitters (other bitters works well, too.)
Shake with ½ of ice until well chilled.
Strain into a martini glass and serve cold.
You can make it more festive with a sprig of mint or raspberries.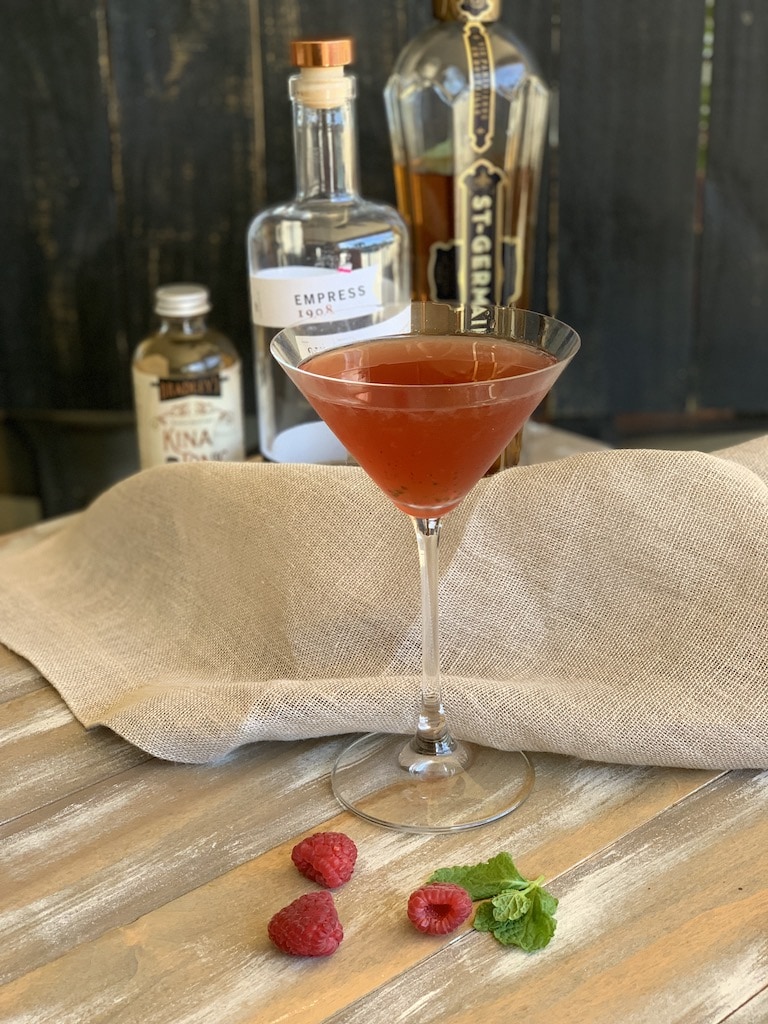 What to Serve with a French Martini
I always have food prepared for cocktail time, whether we have friends over or it's just my husband and me. We make charcuterie platters for just the two of us all the time. A plate of Proscuitto, well-aged gouda cheese, fig jam, along with a sliced baguette makes the perfect pairing to this French Martini.
If you're looking for a more substantial appetizer, this seafood salad recipe is delicious with crackers or pita chips. I used shrimp and scallops as that is how the chef made it when I first tasted it in Mexico.
I make a cranberry brie bread braid that friends rave about. It is a little bit of work, but the results will surprise you. It makes such a pretty presentation!
This watermelon salsa recipe I first tried on Carnival Cruise Lines always pairs well with cocktails, and you can get watermelon all year long now.
Need more ideas for food? I've got a roundup for 20 holiday appetizers I think you'll love!
More Cocktails To Try
If you're having a gathering, choose from these 25 festive cocktails to add to the mix!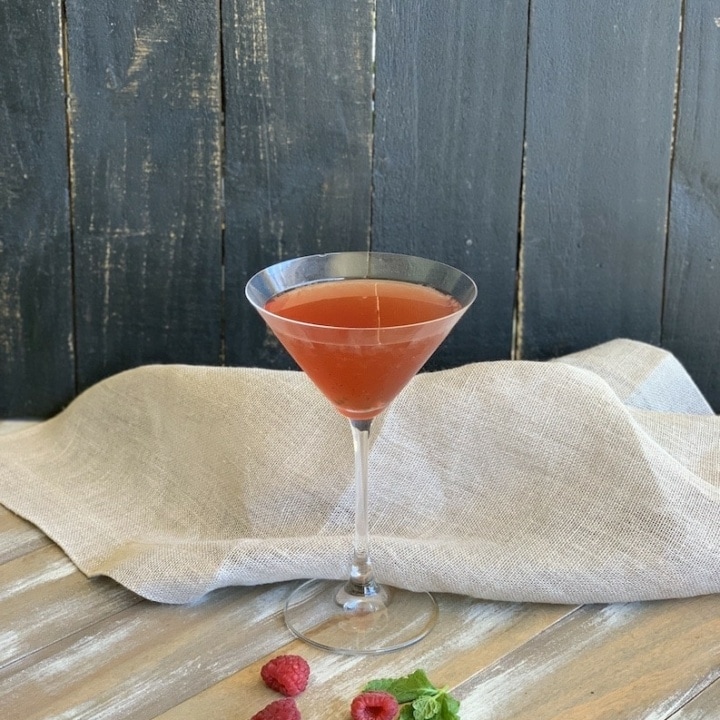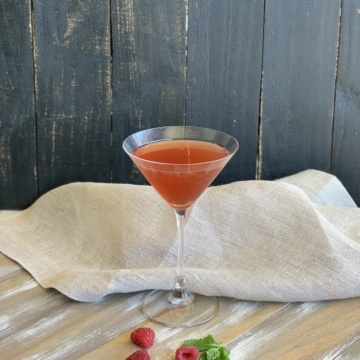 Ingredients
1

oz

St Germain

1

oz

Empress Gin

¾

oz

Kina Tonic Bitters

3

raspberries

2

mint leaves

½

cup

ice
Instructions
Muddle 3 raspberries and 2 mint leaves in a cocktail shaker

Add 1 ounce St~Germain to shaker

Add 1 ounce Empress 1908 Gin

Add ¾ ounce Kina Tonic Bitters

Serve up in a Martini glass
LET'S STAY CONNECTED!