When tropical drinks are calling your name, these Malibu Rum cocktails will quench your thirst and put you on island time.
Though the Piña Colada is the most popular of all the Malibu cocktails, there is so much more you can do with this flavorful rum!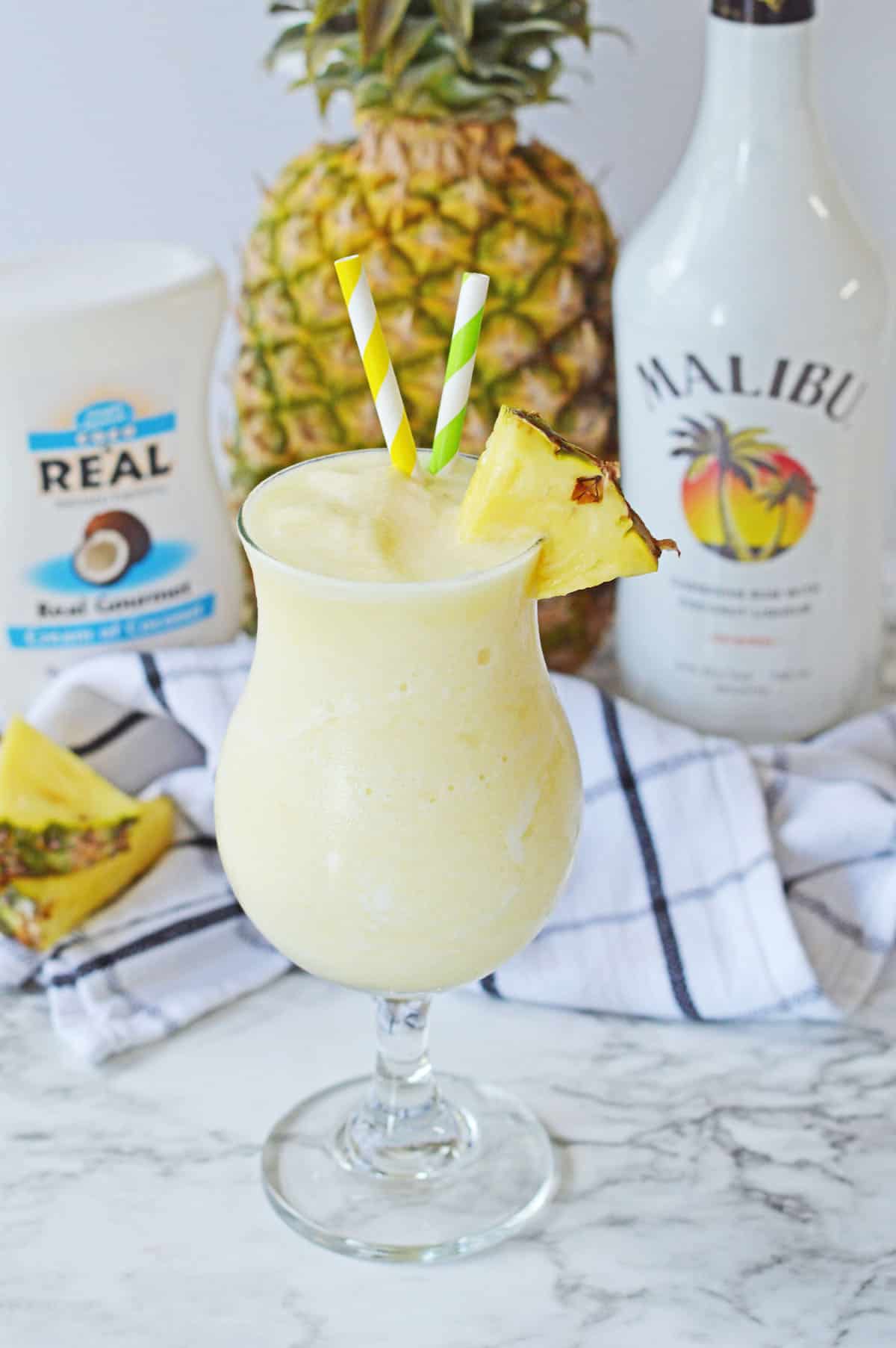 We love this chocolate rum cake, but how much better would it be with Malibu coconut rum?
We've got a long list of other cocktails on the rocks if you're planning a gathering and want to have choices.
And for your guests who aren't fans of rum, make them something from this list of drinks to mix with vodka.
What You Need to Make these Malibu Cocktails
For the most part, you will need Malibu Rum and fruit juices. There are obviously a lot of varieties of white rum to choose from, but when making tropical cocktails, we prefer Malibu.
Tropical fruit garnishes like maraschino cherries and slices of pineapple are optional, but making a pretty cocktail adds a tropical vibe.
Make sure you have a good blender for making the frozen varieties. I did some research a while back and compiled a list of the best blenders for frozen drinks.
Serving a tasty cocktail in a Tall cocktail glass is the way we roll, but remember not to take them out to the pool area.
Grab some break resistant Hurricane glasses or even these cute little Luau plastic cups.
Let's get to those Malibu Rum drinks for a mini tropical vacation!
Starting with the most popular drink of Malibu Rum cocktails, that classic recipe for a Pina Colada.
Made with pineapple juice, fresh pineapple, cream of coconut or coconut cream, Malibu Rum, and a slice of pineapple garnish, you're going to love this simple frozen delight!
So easy and so delicious, this tropical cocktail recipe has just 3 ingredients and takes about a minute to make! Sip it slowly!
Another easy recipe, this Tipsy Mermaid takes 5 minutes to make and has such great tropical flavor.
Like a cool breeze on a hot day, this Malibu Bay Breeze is a tall glass of deliciousness.
Another favorite rum cocktail, the Painkiller is usually pretty strong, but it doesn't have to be when you're making it. Be careful as it tastes so good. Always drink responsibly.
Another really popular drink, the Bahama Mama is fun and features coconut rum as well as dark rum. It looks so delish!
Aren't slushy drinks the best in the heat of summer? You'll love the flavors of this one! Garnish with a piece of fresh pineapple or pineapple wedge.
Refreshing with a kick, this viral TikTok cocktail recipe is made with Rumchata, Malibu Coconut Rum, lime juice sweetened with simple syrup, and club soda.
Tip: You could also use lemon lime soda in place of the lime juice and soda.
Malibu Rum mixed with Blue Curacao and lemonade makes a perfect cocktail for beach days.
Try this delightful blend of Caribbean rum along with Amaretto, raspberry lemonade, and a scoop of orange sherbet for a dessert in a glass!
Adding mango to coconut rum was such a great idea. This Mango Malibu cocktail has a kick of Tito's vodka along with cranberry mango juice and pineapple juice served over ice cubes.
Tip: If you can't find the blend of cranberry mango, you can buy them separately or just use either cranberry juice or mango juice.
The coconut flavors in this drink pair perfectly with tequila, Midori melon liqueur, and Blue Curacao. This is a copycat from Chili's you're going to love!
Thinking about a Jamaica vacation? Check out this all-inclusive Montego Bay resort. We loved it!
Adding strawberries to a frozen drink is always a good idea, and we love the flavors of this fruity drink!
A fun cocktail for any time of year, this Pink Pirate is a refreshing drink with simple ingredients.
Living in Florida, tropical storms are a regular thing. And what do we do once we've battened down the hatches? We make cocktails! Adding this one to my list!
Tips
If you don't have Malibu Coconut Rum, you could use your favorite brand of plain rum add a half teaspoon of coconut extract, but seriously, get the rum!
I know I mentioned this earlier, but a good blender really makes the difference between a smooth frozen drink and a icy drink.
Good blenders aren't expensive and you can use it for so much more, like this peach smoothie recipe, perfect for breakfast.
Which Malibu drink is your favorite?
More Cocktail Recipes
Like our content? Follow us on Pinterest!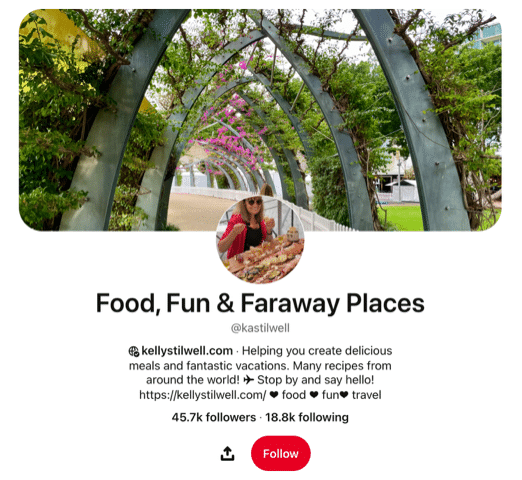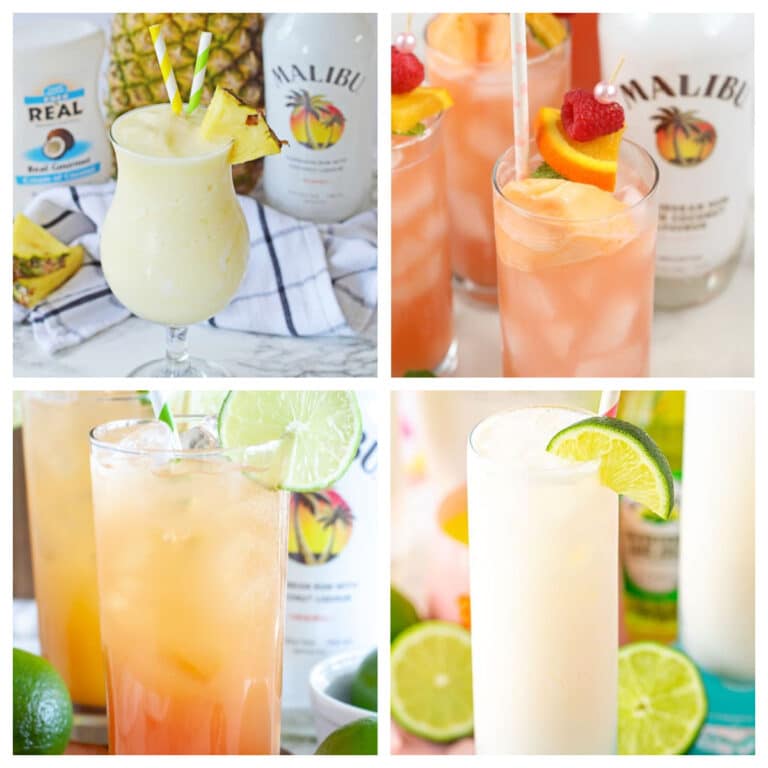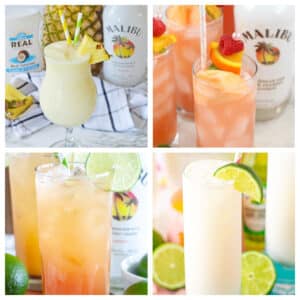 Ingredients
MALIBU PINA COLADA

MALIBU SUNSET DRINK

TIPSY MERMAID COCKTAIL

MALIBU BAY BREEZE

PAINKILLER COCKTAIL

BAHAMA MAMA

PINEAPPLE RUM SLUSH

RUMCHATA

OCEAN BREEZE COCKTAIL

PINK BIKINI COCKTAIL

MANGO MALIBU PUNCH

JAMAICAN PARADISE

STRAWBERRY COLADA

PINK PIRATE

TROPICAL STORM PUNCH
Instructions
Choose your favorite from this list of cocktails.

Follow directions to make your favorites.
Notes
If you don't have Malibu Coconut Rum, you could use your favorite brand of plain rum add a half teaspoon of coconut extract, but seriously, get the rum!
A good blender makes the difference between a smooth frozen drink and a icy drink.
Always drink responsibly. 
Love these recipes? Please give us a 5-star rating! Thank you!