Wondering what to do in Bruges in one day? I think you will be surprised at how much you can see in this pretty little city, which just happens to be an UNESCO Heritage Site.
Where is Bruges?
Bruges (pronounced Broozh) is located in the northwest part of Belgium, in the province of West Flanders. It is the sixth-largest city by population in Belgium and a major tourist destination.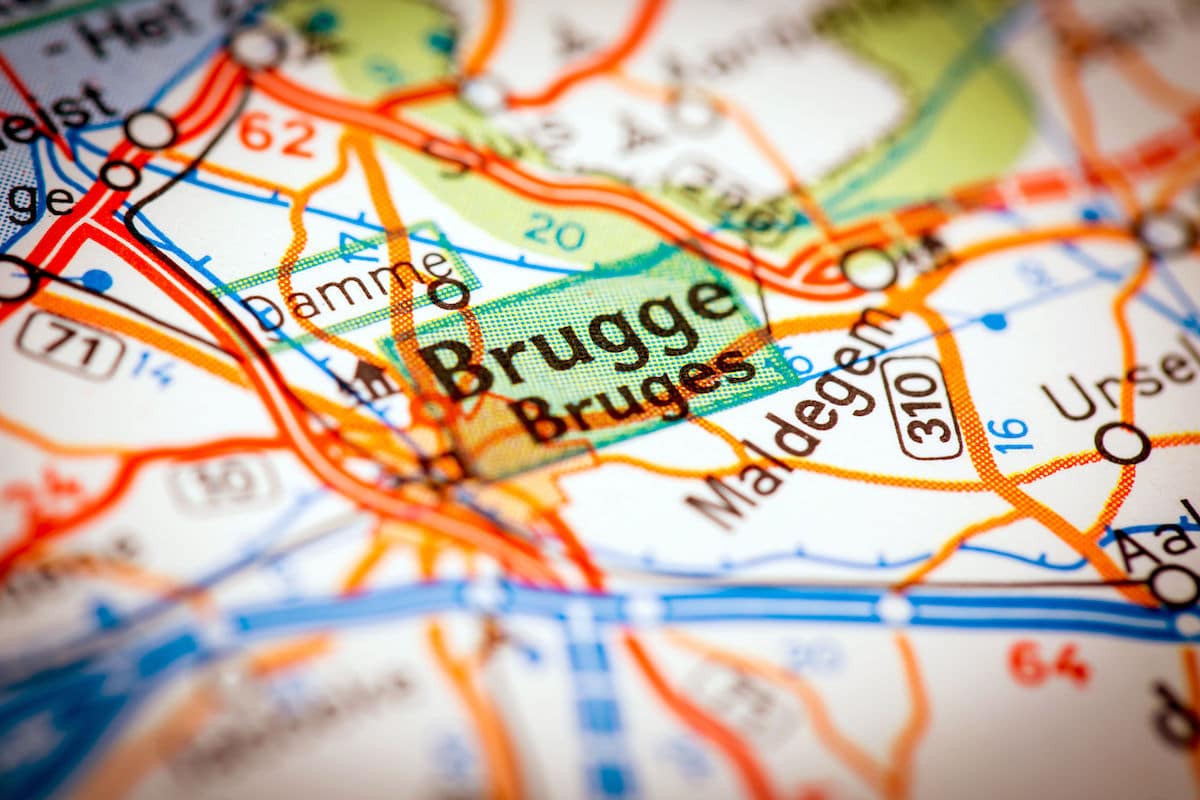 The city is a UNESCO World Heritage Site thanks to the preservation of many historic buildings.
Founded in 1089 as the capital of the County of Flanders, it was officially chartered in 1128.
Its position along the coast made it a vital location for trade, with a large merchant class. Much of the medieval architecture in Bruges is intact, making it one of the best-preserved medieval cities in all of Europe.
That coastal location now means it is accessible by car, train station, airplane, or even cruise ship! In fact, an Oceania Cruise is how I came to explore Bruges.
The Visit Bruges website provides a wealth of information, including information about parking if you happen to be renting a car.
Why We Love this City
Medieval architecture is simply stunning, and it's wonderfully preserved in Bruges. There's no surprise why the whole city is on the UNESCO Heritage Site list.
The picturesque canals had me stopping every few minutes to take another photo.
But more than just the beautiful buildings and canals, the people of Bruges are a reason why we love this city. They're so friendly and welcoming, making this the perfect place to visit.
We also love that the city takes very good care of their swans. After all, they've been a part of the city since the 15th century.
We enjoyed seeing the lovely birds in the canals and resting on the banks.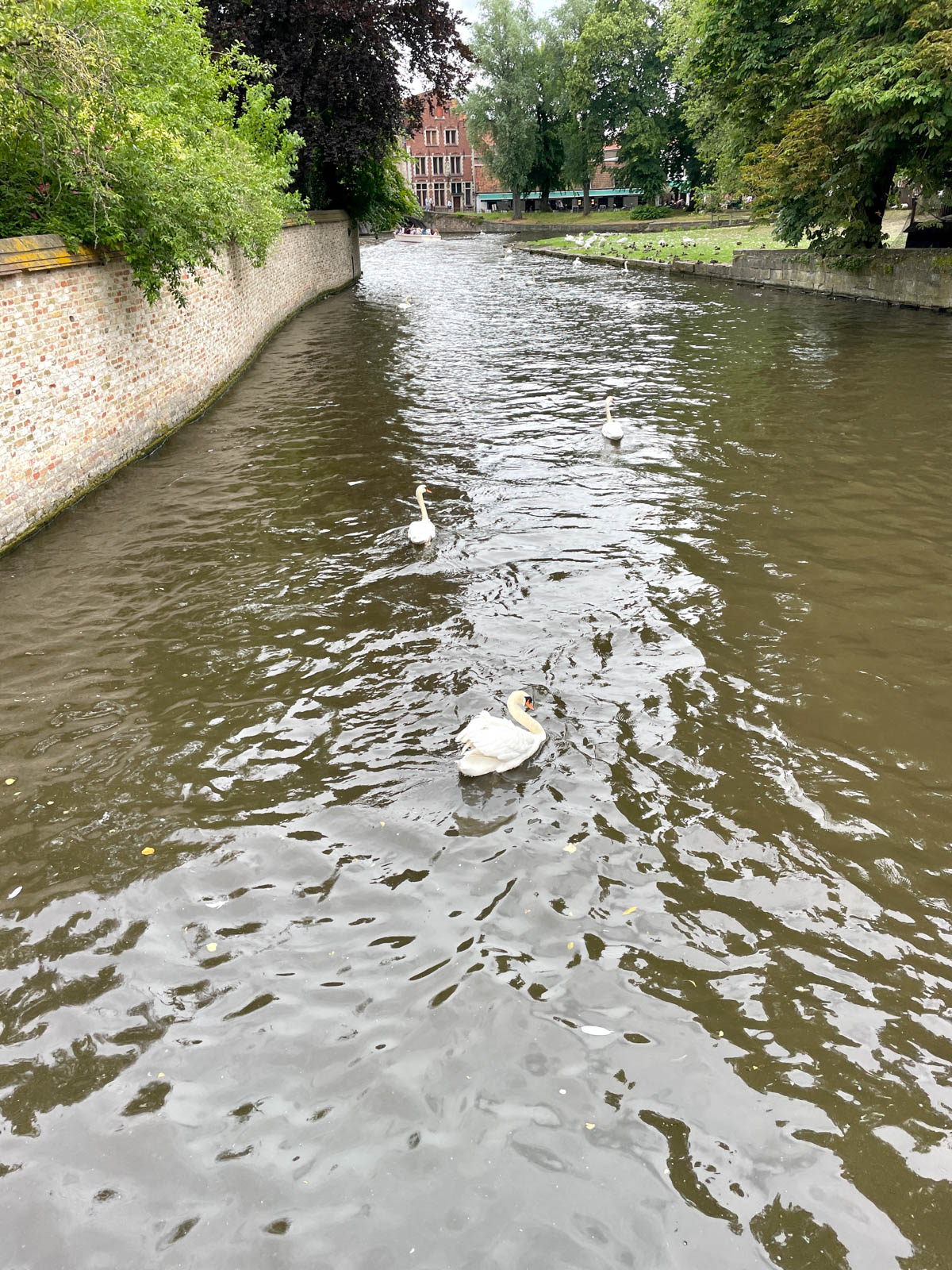 This Belgian city is also a great place to sit back and enjoy a beer while people watching. Belgium has a long history of beer brewing and makes an exceptional blond ale, the Brugse Zot from De Halve Maan brewery.
There are so many things to do in Bruges that you can't see it all in one day, which is why we're planning to go back.
You can, however, still do a lot. Here are 16 of the best things to do for a Bruges day trip.
Minnewater Bridge
Don't be surprised to see someone getting proposed to here! The romantic legends surrounding this area, also known as the Lake of Love, are abundant.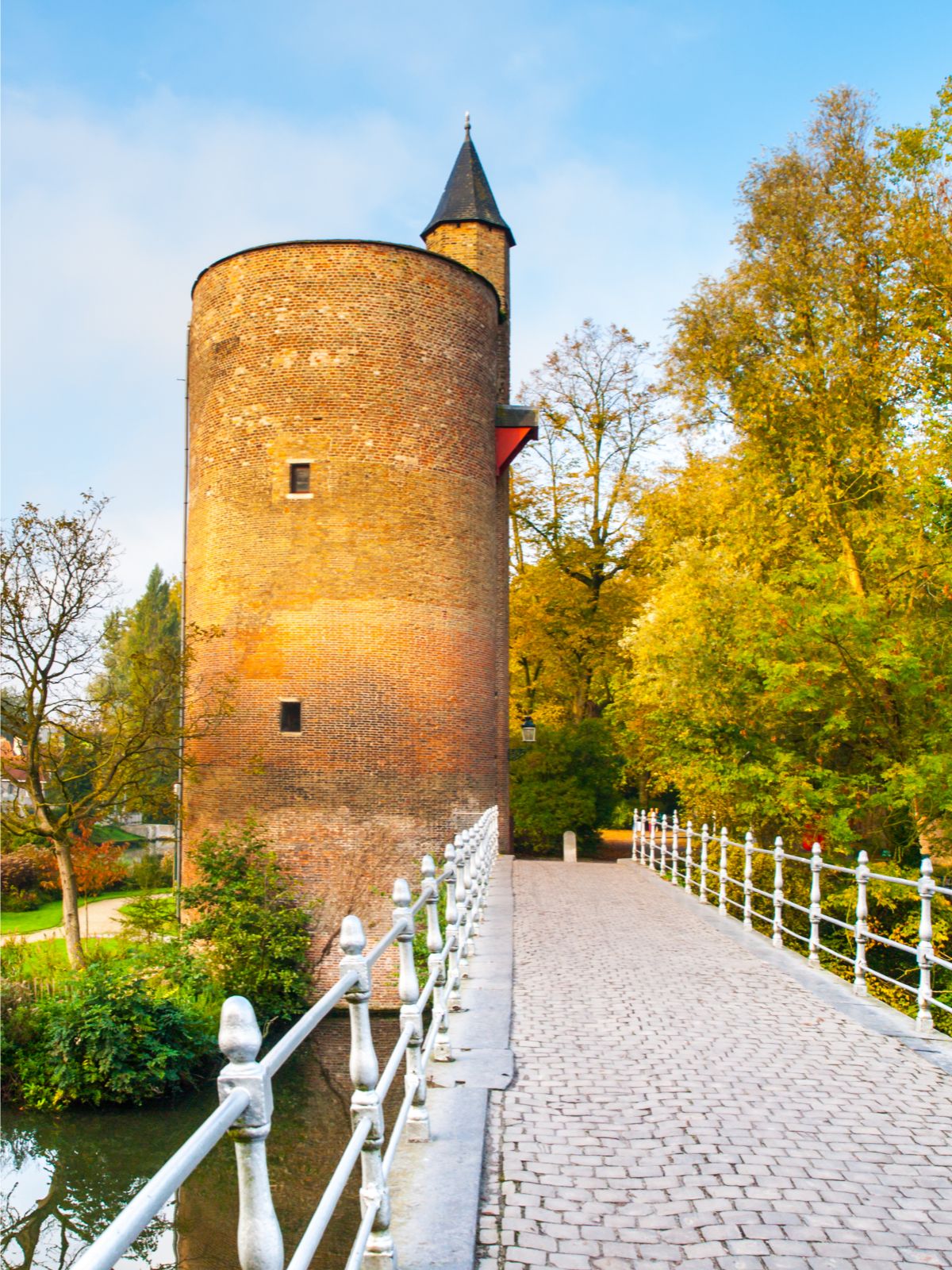 But even if you're not looking for romance, this area has incredible views and is picture perfect in every way. It's one of the best places to take photos in the entire city.
Poertoren Tower
At the end of the Minnewater Bridge, you'll come to the Poertoren Tower, also known as "powder tower."
Built by Jan Van Oudenaerde around 1400, the tower was used as a place to store gunpowder.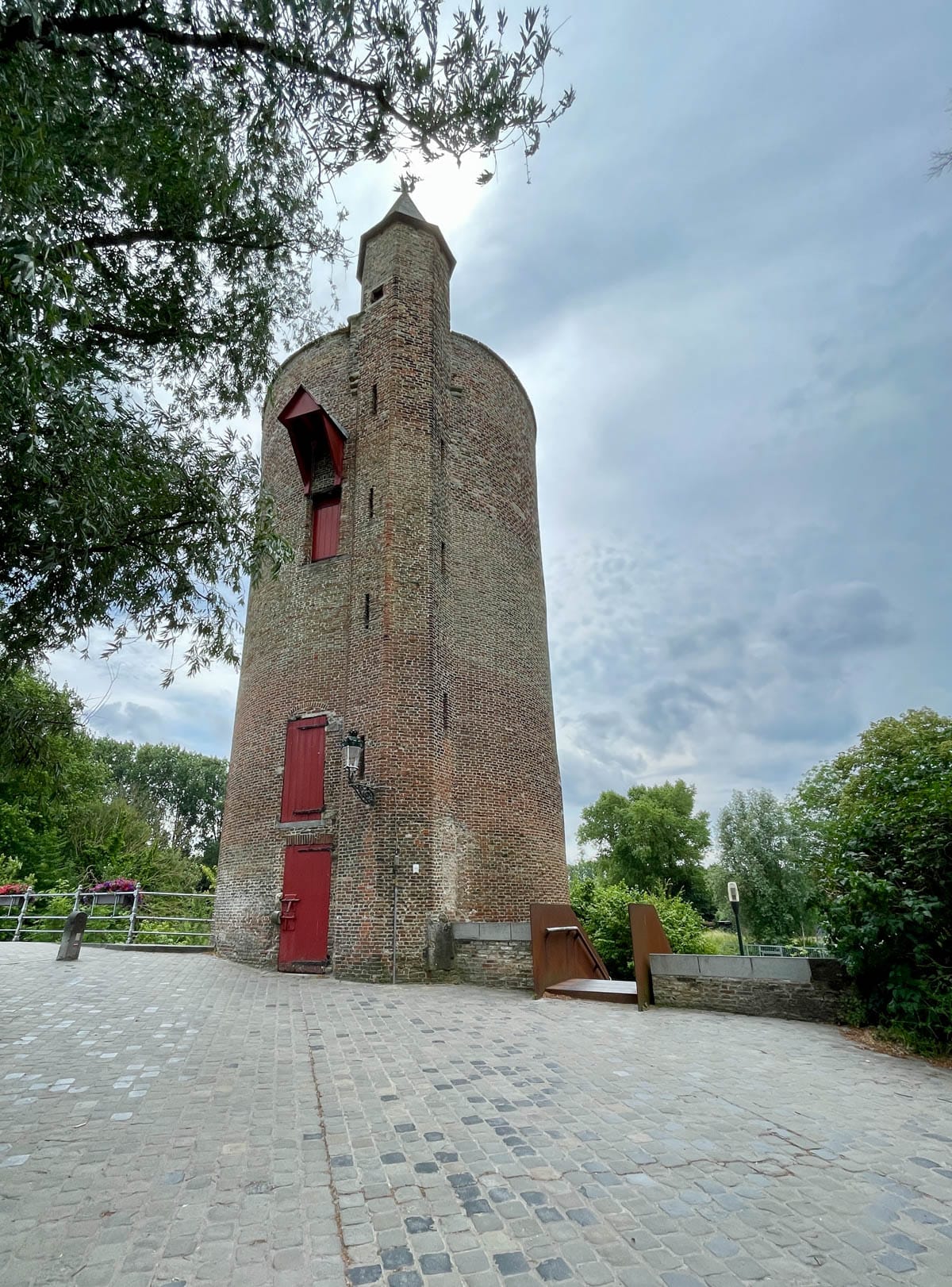 It's impressively tall, 18 meters high above the canal. There's a somewhat hidden park that can be accessed at the foot of the tower via a metal staircase.
But even if you don't seek out Gunpowder Tower Park, the tower itself is still quite impressive.
Admire the Medieval City Architecture
During medieval times, Bruges was a major commercial city, and buildings were built to last. Many of the brick Gothic buildings survive to this day.
The original pattern of streets, canals of Bruges (earning the nickname Venice of the north), and open spaces still exist today, and the citizens take great pride in maintaining the city's historical character.
Just walking around the streets allows you to see a variety of medieval buildings still in use today.
For a special experience, tour around in a horse-drawn carriage or take a canal boat tour through the city.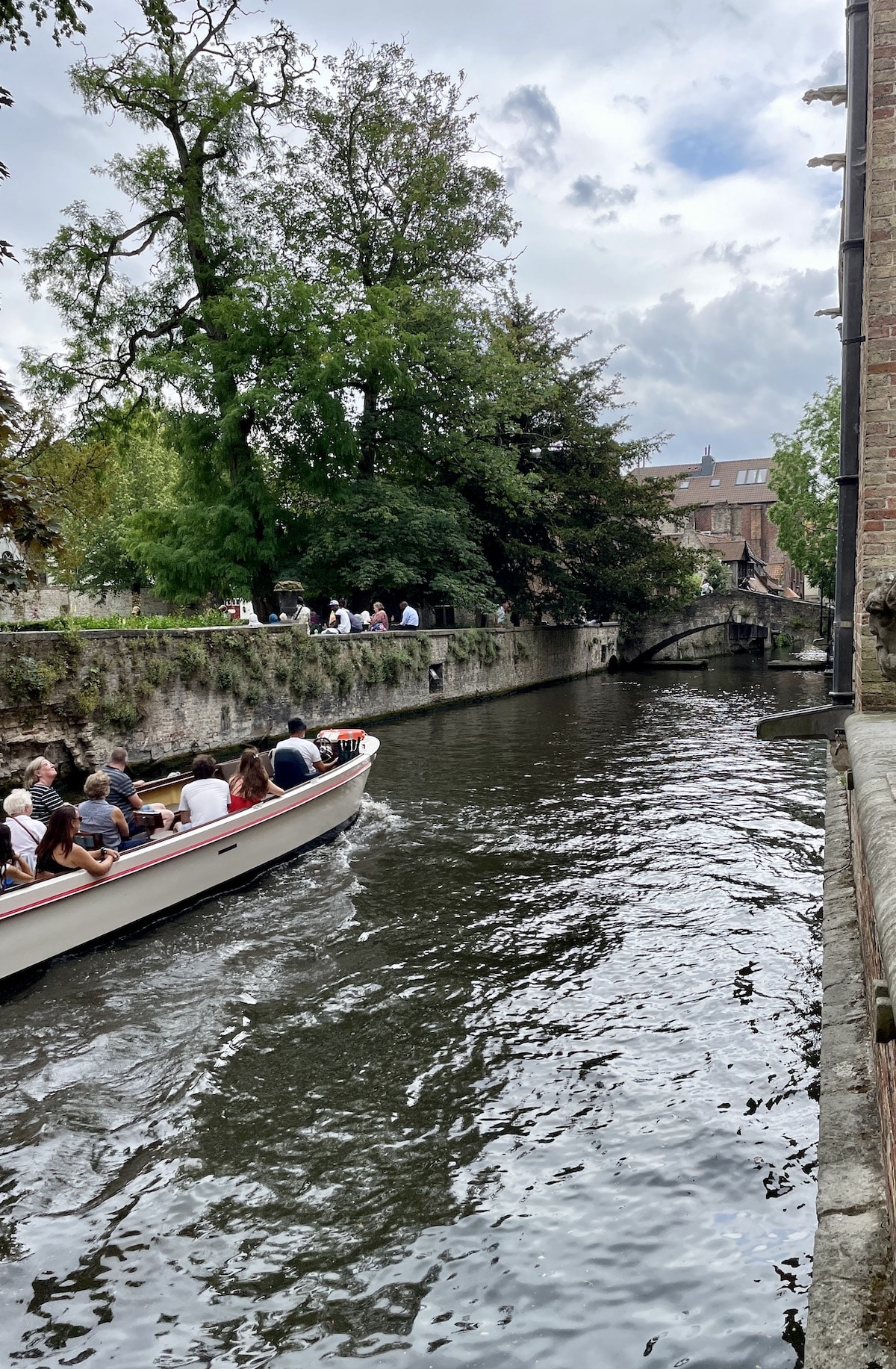 Belfry of Bruges
The belfry tower, a bell tower in Bruges, was built in 1240. It was destroyed by fire in 1280, but fortunately it was rebuilt.
In the 1480s, a new octagonal upper stage was added and topped with a wooden spire with Saint Michael.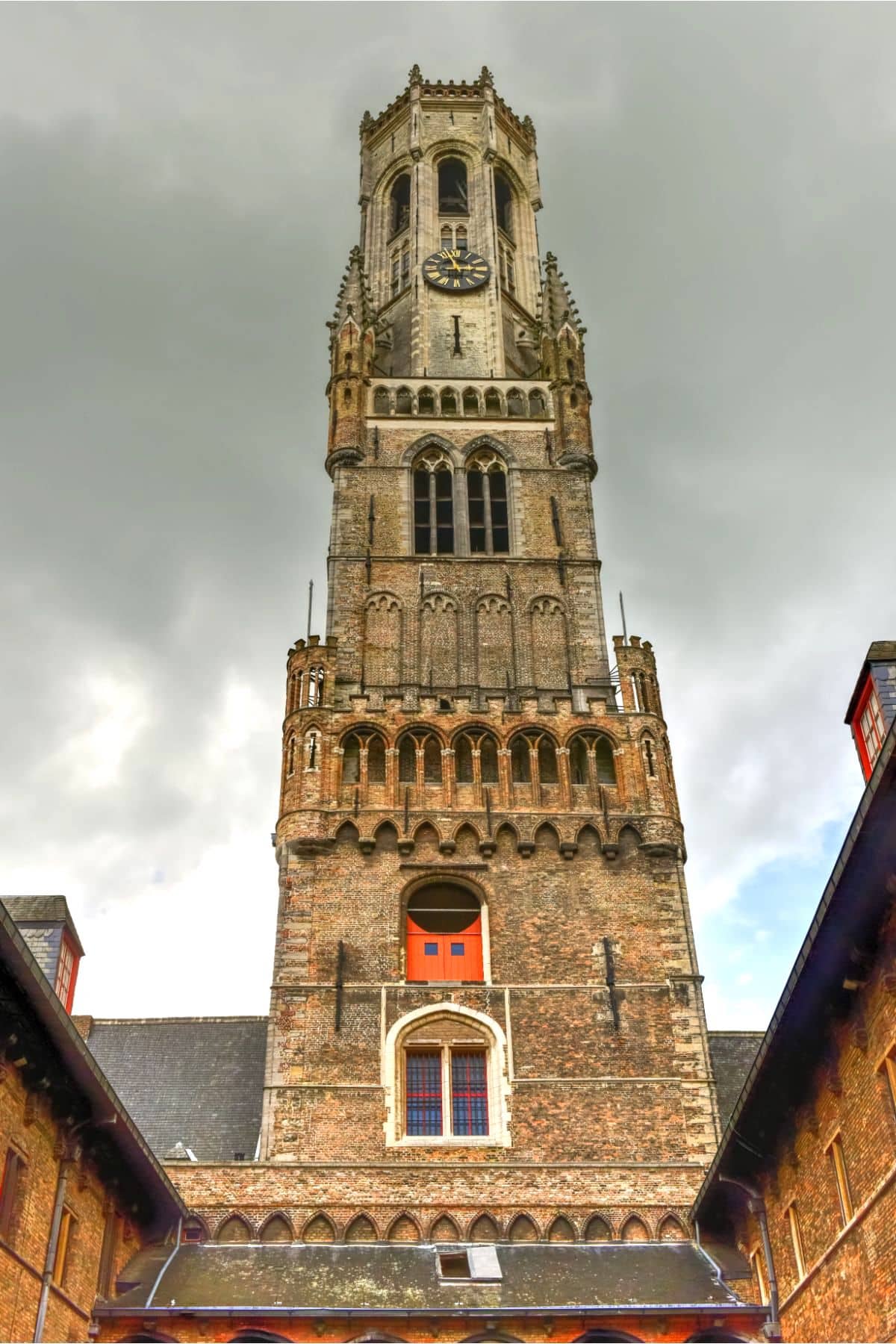 That also was destroyed by fire when it was struck by lightning. Another spire was constructed and, you guessed it, it was destroyed by fire.
Its final form was topped by a stone parapet in 1822. Today, you can climb the 366 narrow steps to the top of the tower where you can have magnificent panoramic views of the city.
Burg Square
Originally, Burg Square was surrounded by walls and was one of the oldest parts of the city.
This is considered the city center. Below is City Hall, built between 1376-1421.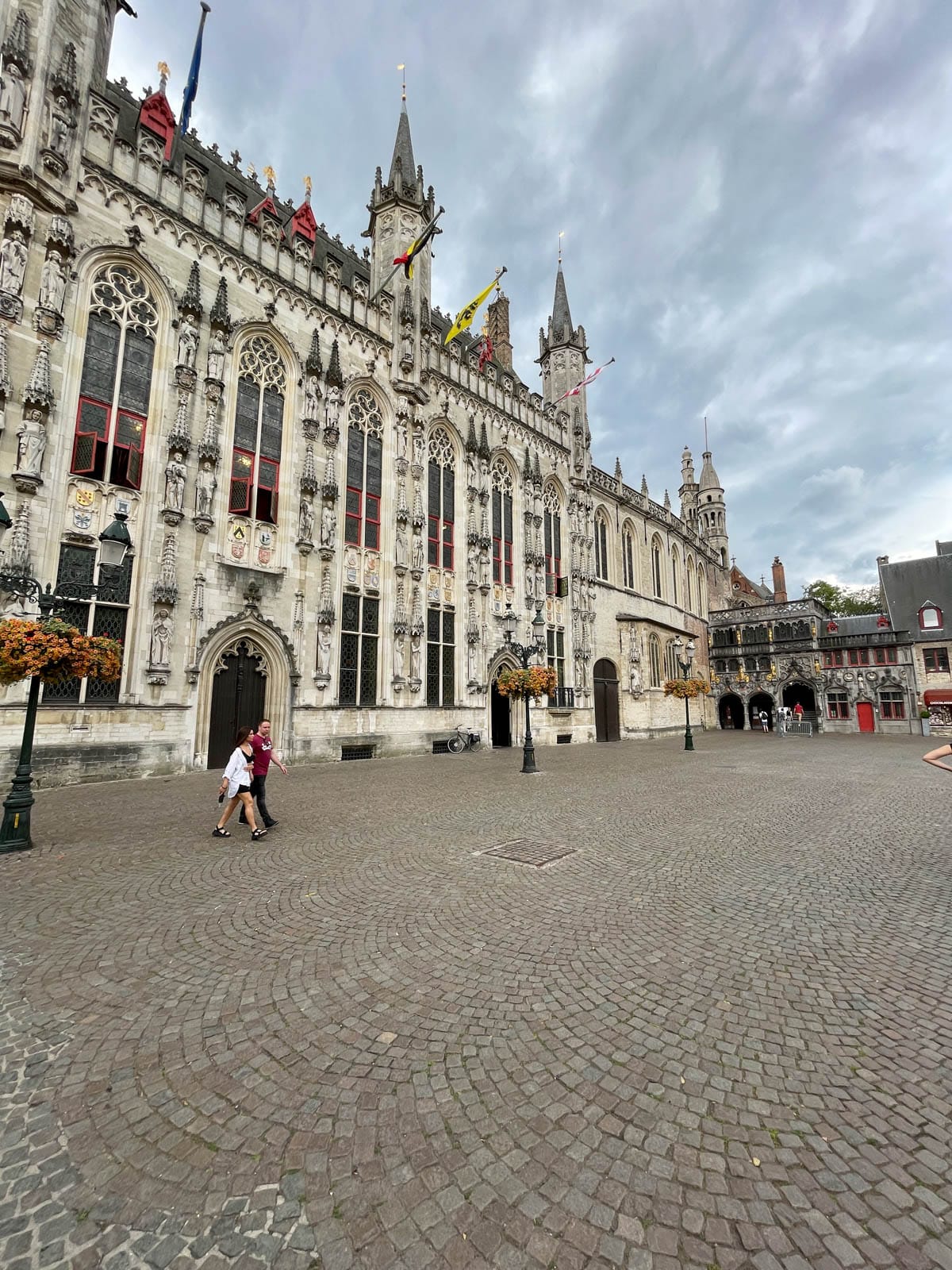 Bruges became an international port and trading city in the Middle Ages. At the end of the 13th century, Italian merchants chose Bruges for their base for sea trade, prompting other countries to follow suit.
Bruges grew rapidly during this time, with many new buildings going up, such as the Belfry and the first stock exchange.
Today, it is an open square with historic buildings all around including the Bruges City Hall, the Palace of the Liberty of Bruges, and the Basilica of the Holy Blood.
You'll want to spend some time admiring all of the historical buildings of religious and political significance.
Basilica of the Holy Blood
I think this deserves a special mention, especially for Christians. It is said that Thierry of Alsace, one of the Counts of Flanders, brought the cloth containing the Holy Blood of Jesus to the church in 1150.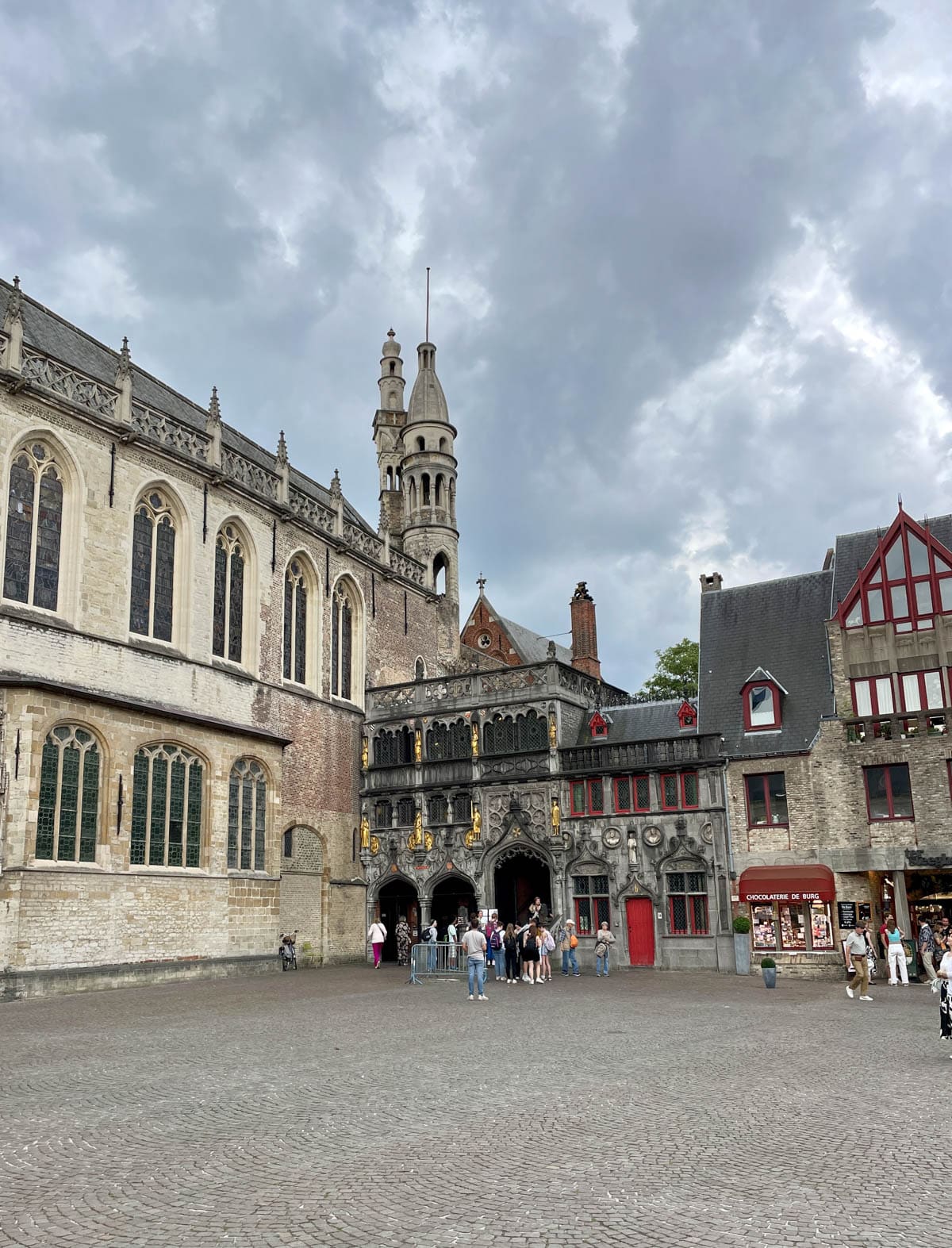 The dark Romanesque lower chapel of St. Basil was originally built from 1134 to 1149. The current building was destroyed in the French occupation, so dates from the 19th century.
The biggest draw to seeing the church is the upper chapel where, each day, the relic of the Holy Blood is presented to visitors.
Once a year, on Ascension Day, there is a procession of the Holy Blood, where bishops and prelates carry the shrine with the relic through the streets of Bruges.
This procession is typically attended by around 35,000 visitors, and has been recognized as Intangible Cultural World Heritage by UNESCO.
Church of Our Lady
The first thing you'll notice about the Church of Our Lady is its tower. At 115.5 meters tall, it is the third tallest brickwork tower in the world.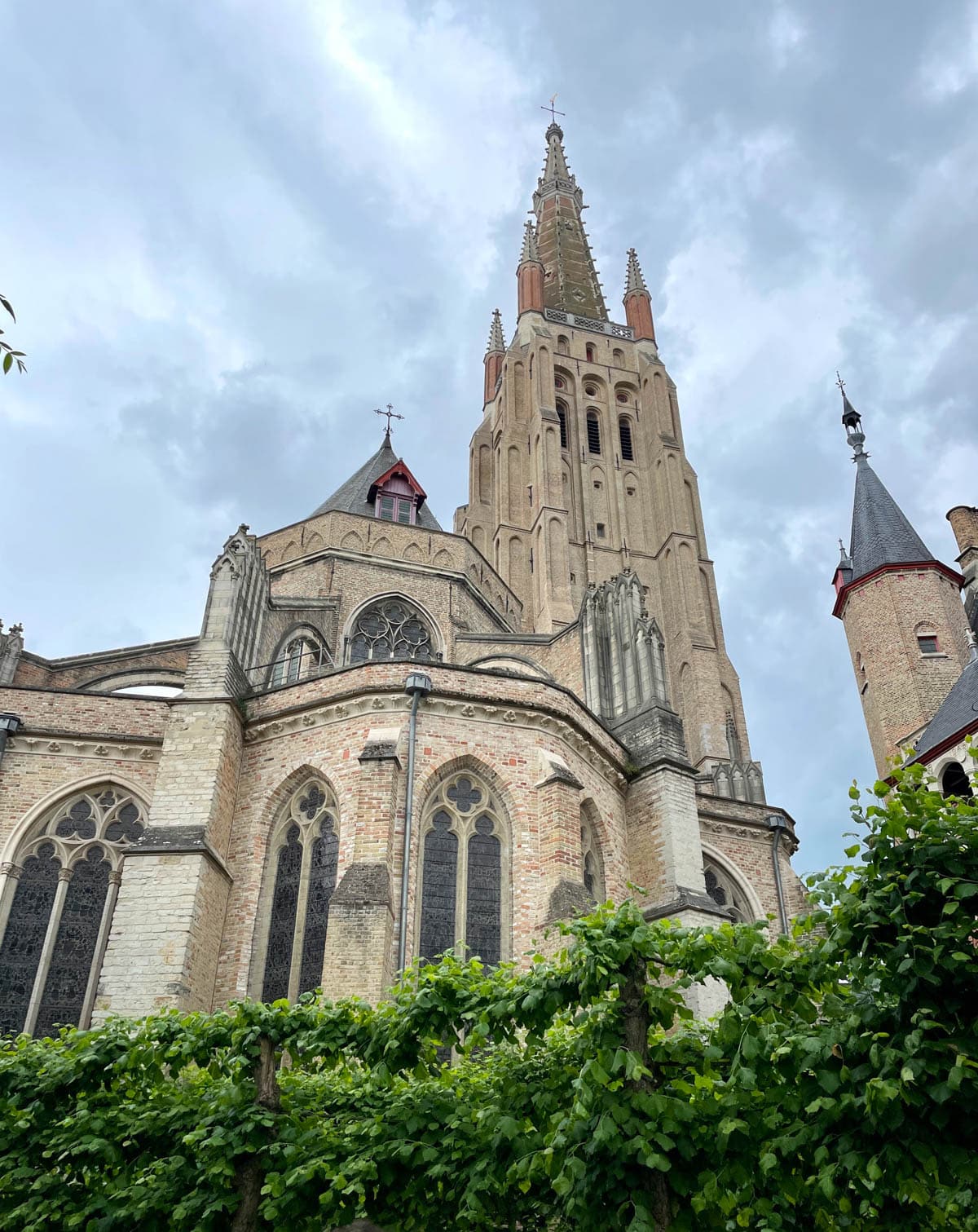 But as impressive as the outside is, the inside holds even more treasures with a variety of paintings, including Michelangelo's "Madonna and Child".
It is also home to the tombs of Charles the Bold and Mary of Burgundy.
Hanseatic Quarter
At the height of its operation, the Hanseatic League was a trade network connecting merchants in more than 200 cities.
Its primary hubs were in London, Novgorod, Bergen, and Bruges. The Hanseatic Quarter was the main trading area in the city of Bruges, and today many of the old merchant buildings still stand.
The Hanseatic Quarter is home to locations like the Florence Lodge, Jan van Eyck Square - where traders from all over Europe would gather to do business, and the Old Stock Exchange.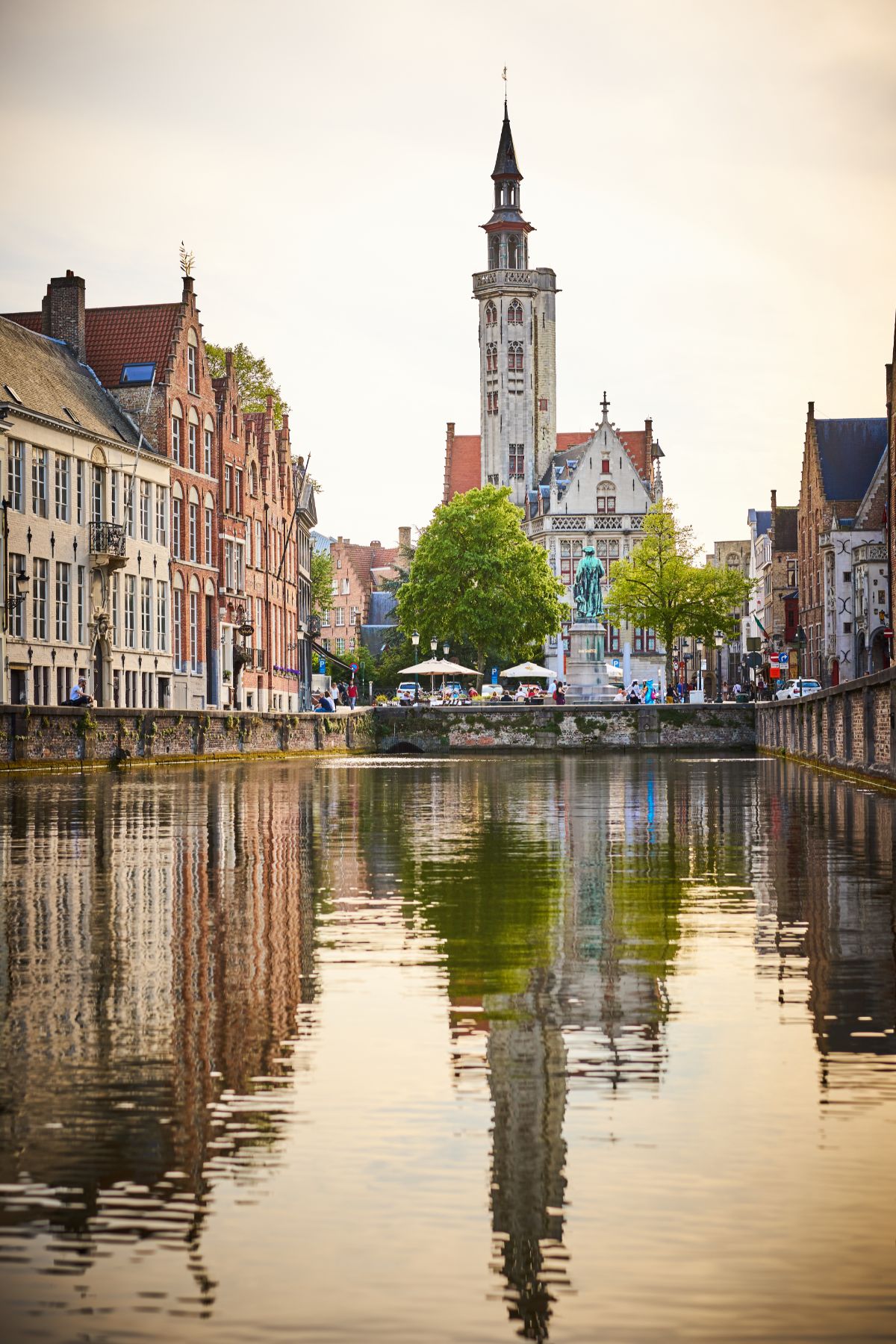 Oosterlingen Square and Wednesday Market
One of the merchant locations, Oosterlingen refers to the "Easterners" who did business during the time of the Hanseatic League.
Nearby is the Wednesday Market, another town square. Wednesday Market has a statue of famous Flemish painter Hans Memling.
As you stroll around, think about how lively it must have been with all the merchants actively trading goods in these locations.
Blinde Ezelstraat
This pretty street is Blinde Ezelstraat, meaning Blind Donkey. The street runs along the side of the town hall. It's a curious name so you know I had to do some research!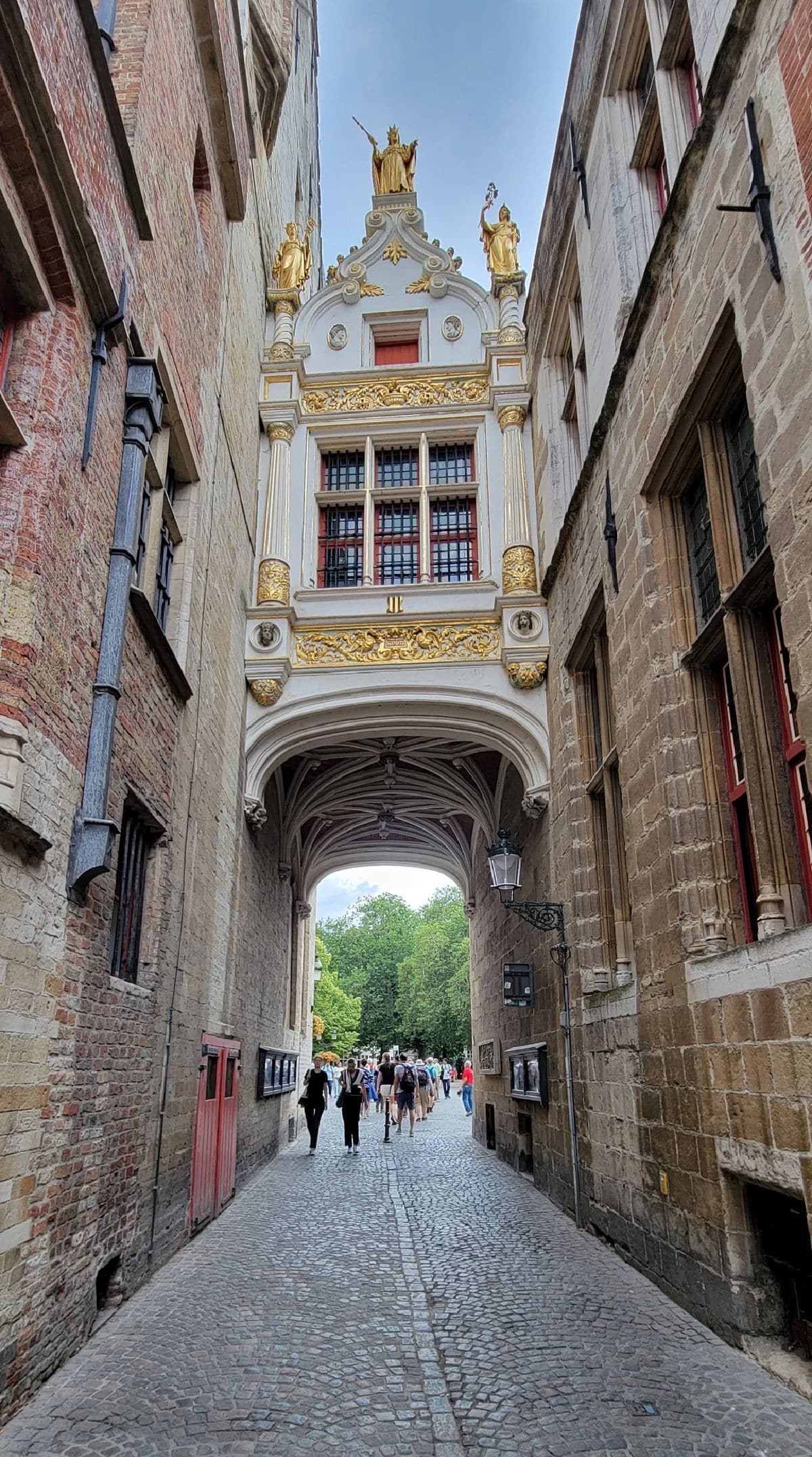 According to the story from Bruges Legends and Stories, there was at one time a hostel by the same name nearby.
It's said there was probably a horse mill powered by donkeys, where the animals had to go around and around. The blindfold prevented the donkeys from getting dizzy or going crazy.
Minnewater Park
A stunning area of Bruges, this city park is next to Minnewater Lake, also called the Lake of Love. It's a lovely spot to relax, watch the swans, and maybe have a picnic.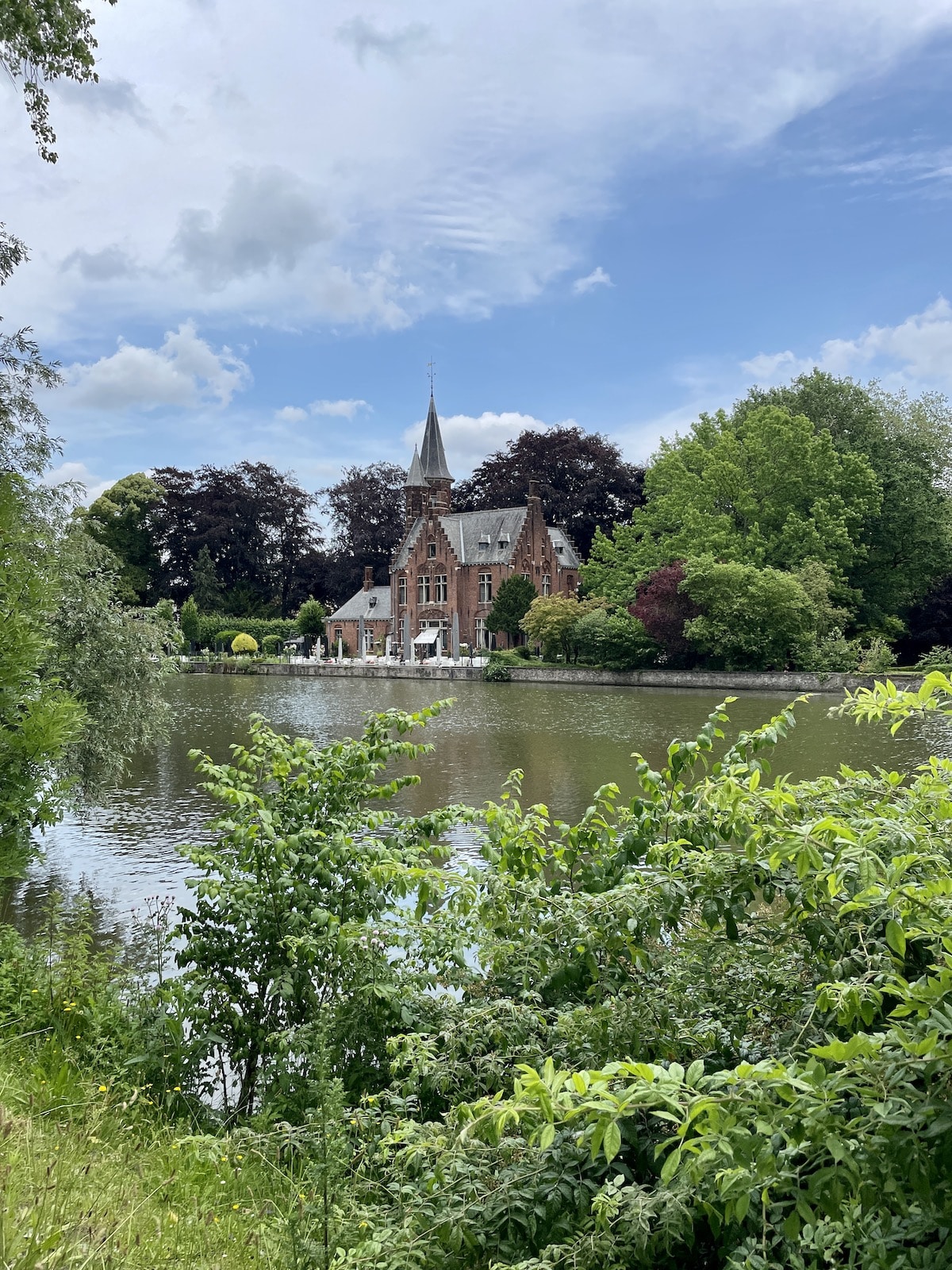 See the Beguinage
With its white colored houses and garden dating back to 1245, the Princely Beguinage Ten Wijngaarde was the residences for the beguines, women who were part of the laity, but lived in piety and celibacy like nuns.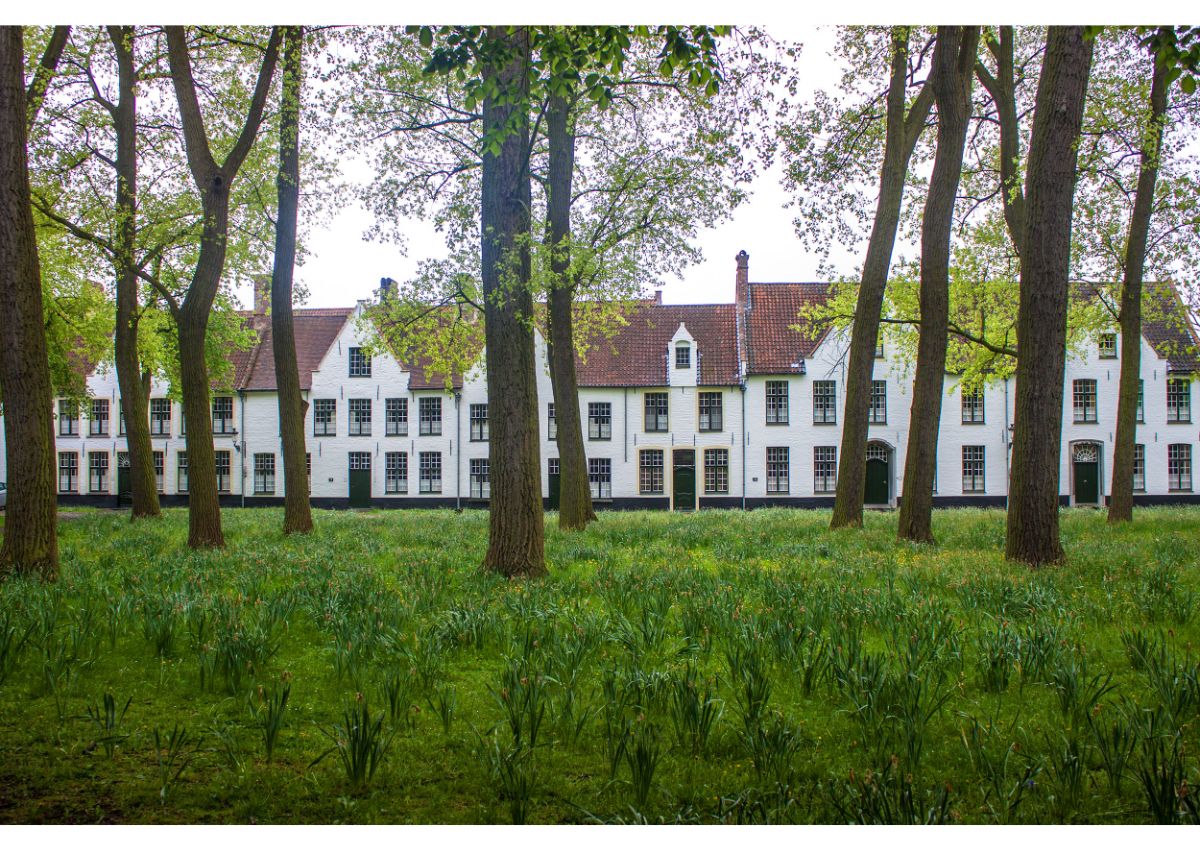 In fact, today the Beguinage is home to nuns of the Order of St. Benedict as well as some other women living the life of the beguines.
Take a Horse Drawn Carriage Ride
Horse-drawn carriages will be waiting to take you for a ride around Grote Markt also known as Market Square. This is the main square in Bruges.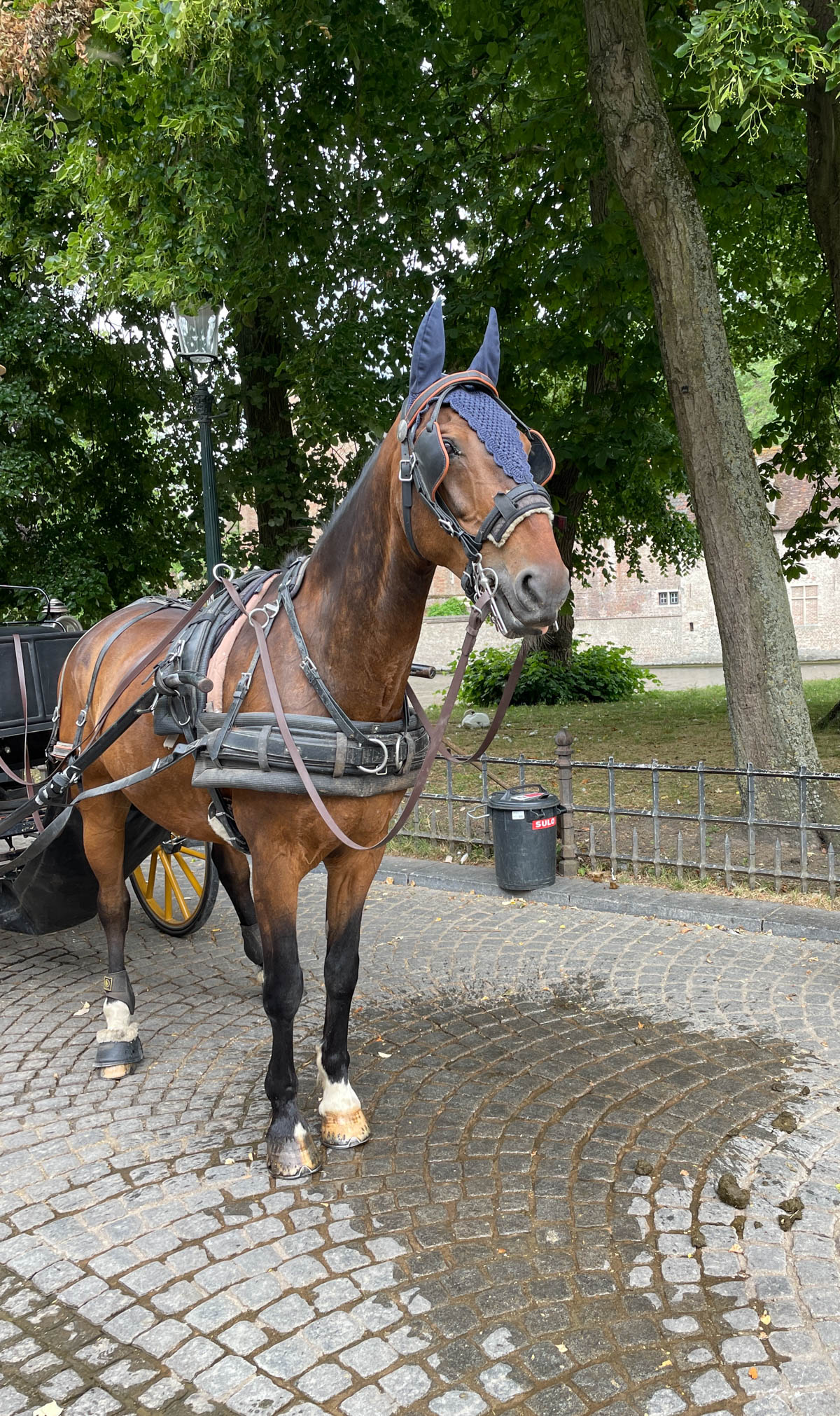 A carriage ride is fun way to explore and get photos to remember!
Sample the Local Food
You can't visit Belgium without sampling some of their world-famous Belgian chocolate.
There are dozens of chocolate shops in Bruges, and it is worth the time to sample many of them – for research purposes, of course!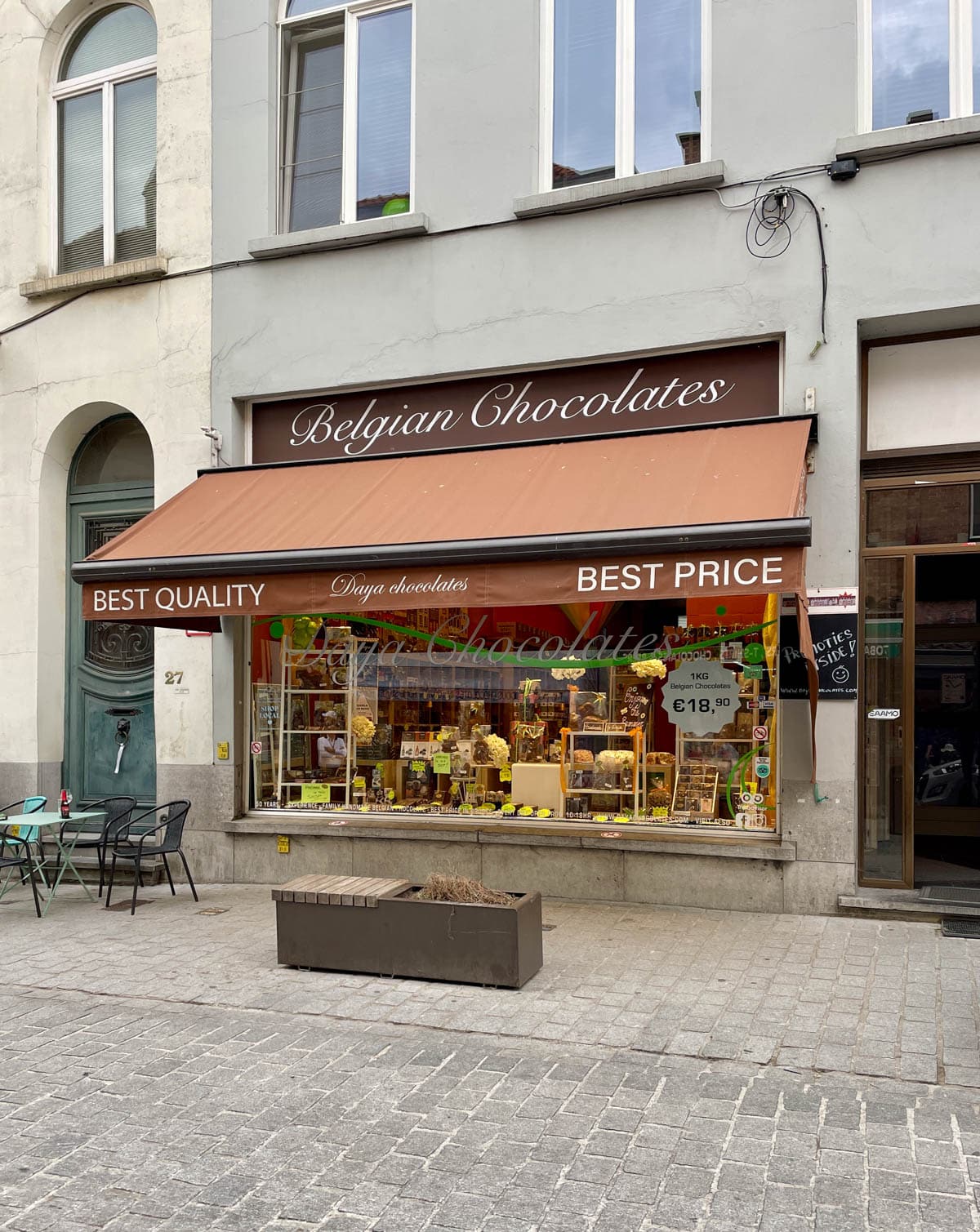 We also had a quick meal of Belgian Fries, where locals will tell you they originated!
Bruges Beer Experience
If beer is more of your guilty pleasure, head to the Bruges Beer Experience to learn about the history of Belgian beer, and of course sample some of the fine work.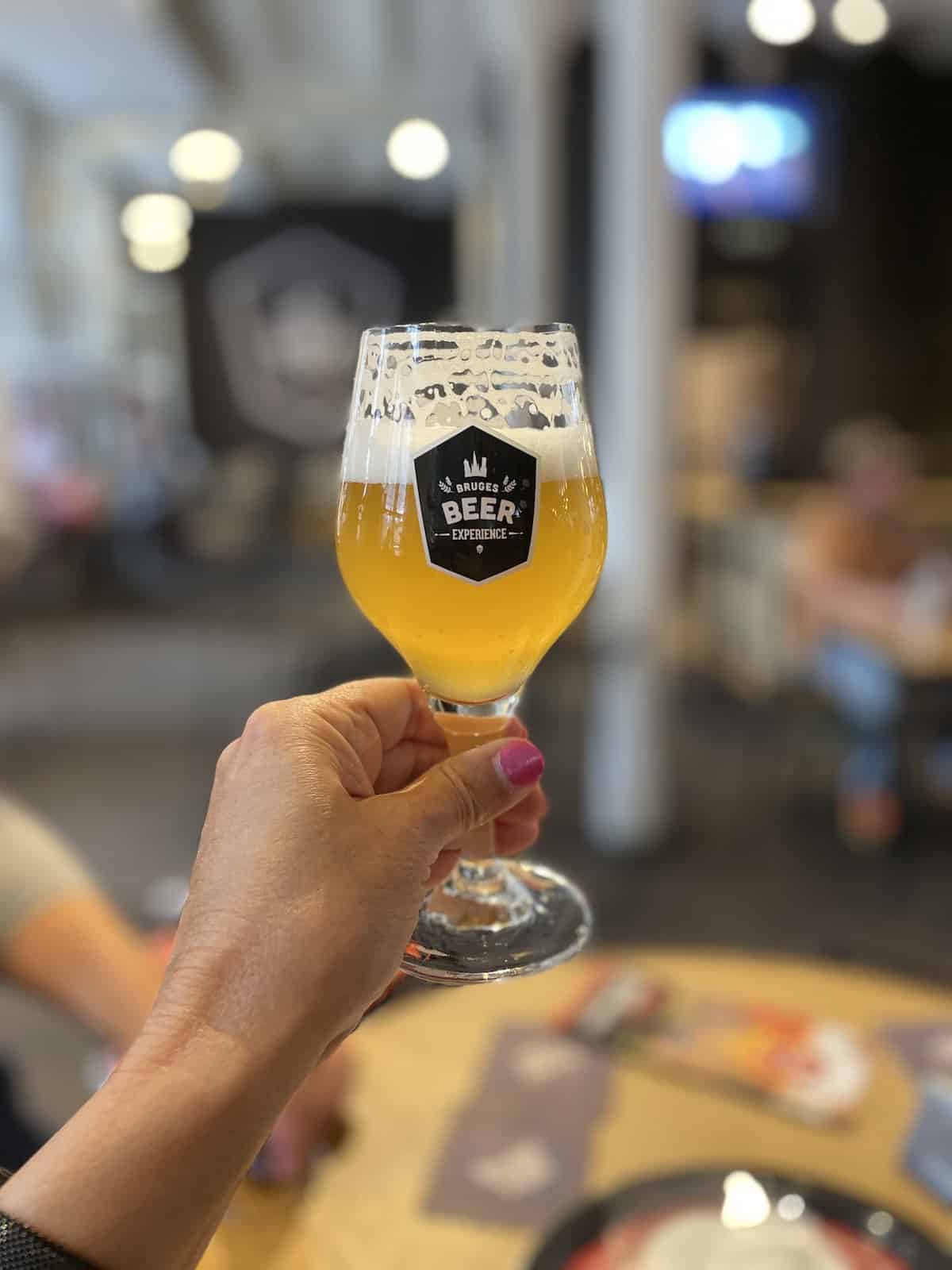 This was a fun stop where we were schooled on the history of beer in Bruges and able to taste a few of the most popular local beers.
A couple of these beers were stronger than I expected, though I had been warned by someone who had been there before!
It's best to take it slow as you are tasting, and make sure to eat something before or during your Experience.
Shop
And if shopping is your thing, take time to stop by the Olleke Wizarding Shop, home to a variety of Harry Potter merchandise.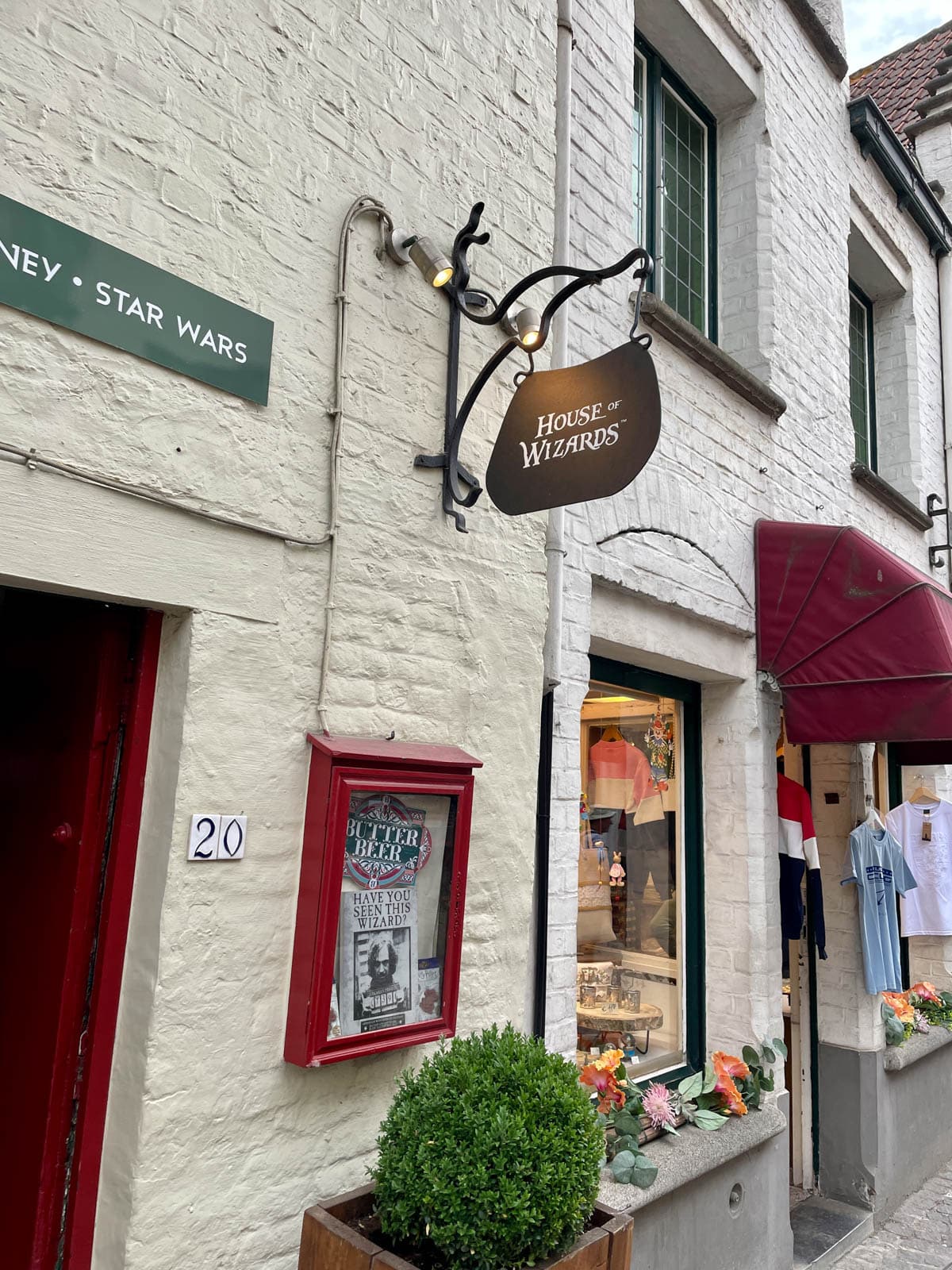 It's a fun shop to wander around, especially if you're a fan of all things Harry Potter.
You'll also find other shops where you can find postcards and local items. I always like to bring something home!
Frequently Asked Questions
Can you use US dollars in Bruges?
No. Like many countries in Europe, Belgium as part of the European Union uses the euro for currency. You will not find many, if any, places that will accept US dollars. 

What is the best time to visit Bruges? 
Any time is a wonderful time to visit Bruges, so it depends on what you are looking for. You'll find the most activities and warm weather in the summer months, between June and August. For low crowds, try January or February. If you're looking for amazing weather, try late spring or early fall. But you can't go wrong with any time of year to visit.

What is the main language spoken in Bruges?
The three official languages of Belgium are Flemish Dutch, French, and German, but more than half of the population of Belgium speaks at least some English. It isn't too hard to find someone who is able to help translate if needed.

Tips for Visiting Bruges Belgium
Have good walking shoes. Bruges is a very walkable city, but it is cobblestone so wear comfy shoes.
You can actually walk from one side to the other in less than an hour.
As a result, you won't find a lot of transportation options that are good for getting around. It is much easier to just set out on foot.
Tipping isn't customary. Like the rest of Belgium, tipping isn't the norm in Bruges.
Your bill at a restaurant generally will include a service charge to help ensure the staff members are paid a fair wage.
If you feel that your service was truly exceptional, you can tip a little extra in cash, but it is not required nor expected.
Bring cash. Speaking of cash, although the times are changing, it isn't unheard of to find a shop or restaurant that is cash only.
ATMs are available, but to avoid transaction fees, stock up on cash before you arrive.
Want to read more about Bruges before you go? Check out this guide.
More European Destinations