I discovered Crown Peach Mixed drinks a few years ago when I was working with Crown Royal.
I've curated a list of the best cocktails, equally perfect for summer parties and holiday gatherings.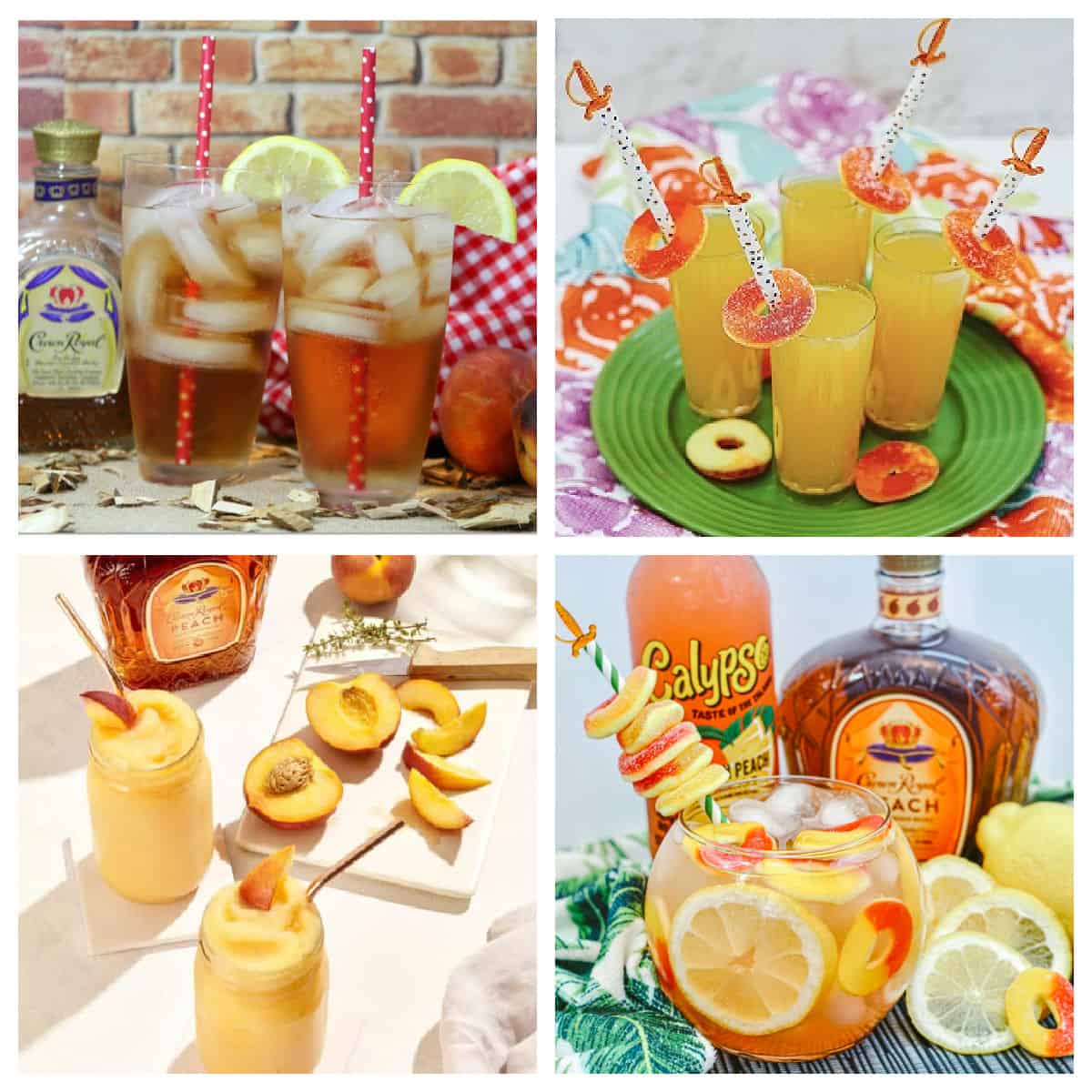 For more delicious whiskey cocktails, check out this Best Mixer for Crown Royal list featuring all varieties. You might also like this Spiked Arnold Palmer!
Serve these Crown Royal Butter Pecan Cupcakes for dessert and seriously wow your guests!
I love to make these different cocktails on lazy, hot summer days. I concocted my own peach royal cocktail before Peach Crown Royal existed, and I still drink it today! It's one of my favorite things to make when friends come over to hang out at the pool in some lounge chairs.
These Crown Royal Peach recipes are easy to make, don't require many ingredients and are refreshing. Be your own bartender and make happy hour at home!
Why We Love Crown Royal Peach
Crown Royal Peach combines juicy peaches, creamy vanilla, brown sugar, and spicy oak. This peach whiskey goes well with lots of things like lemonade, tea, cream soda, champagne, and fruit juice, making it perfect for mixers!
Crown Royal peach flavored whiskey was first introduced as a limited-edition flavor back in 2019. The sweet southern whiskey was an insanely popular drink, especially for Georgia residents, so the company brought it back indefinitely.
Sweet and smooth with a touch of spice, Crown Royal is considered the best in the whiskey game for a reason. Using premium whisky takes your cocktails to another level and will have people asking how you do it!
Try out these fun cocktail recipes with delicious peach flavors!
I invented this Crown peach cocktail before Peach Royal was around by using original Crown Royal and fresh sliced peaches. Now you can buy Peach Royal right off the shelf!
This smooth Canadian whisky is combined with ginger ale and berry juice to create a sweet, fizzy cocktail.
Summertime has us feeling fine. Keep your cool with a Peach Lemonade Slushy. This Crown Royal Peach cocktail combines the sweet flavor of fresh peaches and lemonade blended until smooth.
So fun and so simple! These Whiskey Peach Shooters are made with Peach Crown Royal, peach juice, and peach candy rings.
This Sparkling peach drink is such a refreshing cocktail—a delicious combination of Canadian whiskey, champagne, and Mango Peach juice.
Make fantastic Crown Royal Peach Whiskey cocktail served in a Fish Bowl, complete with peach rings, to get the whole experience. This Peach Royal cocktail features a lemon wedge and southern peach lemonade, fresh and delicious!
When it comes to beach drinks, this is a favorite. Made with a mix of juices along with Peach Crown Royal, it delicious and perfect for vacation. This might be your new favorite summer drink.
The Royal Flush drink is a great way to use Crown Royal whiskey! Mix it with cranberry juice and peach schnapps for a sophisticated cocktail.
Sweet and fruity with a kick, these Crown Royal Peach Jello Shots are the perfect party treat! Only four ingredients! Peach whiskey combined with peach jello and gummy peach rings.
Easy to make and perfect for parties, this Crown Royal Peach Tea is made with Crown Royal Peach, black iced tea, fresh peach, mint, and simple syrup. A delicious cocktail on a hot summer day.
The perfect summer cocktail, or cocktail to sip when you need a little summer in your life, this Royal Peach Fizz is amazing.
Dessert in a glass, this peach cobbler martini is wonderful for sipping after dinner. A silky smooth cocktail you'll be making on a regular basis.
Tips for Making Cocktails with Crown Royal
Instead of using regular refrigerator ice cubes, invest in large ice cube molds. They are specially designed to keep your drinks colder longer.
Although a fancy glass isn't needed to make these fantastic signature cocktails, it couldn't hurt! I love dressing up my cocktails in a nice pretty glass and then garnishing with herbs and fruit. Such a delicious way to incorporate fresh ingredients!
Try adding maraschino cherries, upscale cocktail cherries, lemon slices, mango slices, or a mint sprig. It will add a pop of color to these summertime drinks!
Especially for these Peach Crown Royal cocktails, a fresh peach slice is a great garnish.
Drizzle with some honey syrup for an even smoother finish.
It's good to invest in some cocktail equipment like a cocktail shaker, strainer, and stirring spoon. We love this set with everything! It's the easiest way to make your favorite alcoholic drink, plus it's more fun!
Frequently Asked Questions
What mixes well with Crown Royal Peach?
Peach Royal is a versatile whiskey that you can mix with many ingredients to make Crown Royal peach drink recipes. Try it with flavored lemonades and pineapple juice or citrus-flavored sodas like Sprite and ginger ale. 
Try it mixed with mango peach juice. Mix it with fresh fruit like lemons and peach slices. Or, combine with Peach Schnapps, cream soda, simple syrup, or champagne. Yum!
How strong is Crown Royal Peach?
This peach-flavored whiskey is more sugary sweet than strong, perfect for a hot day. It tastes just right mixed with other sweet, fizzy ingredients and served over ice! Though it's delicious, it is whisky, so drink responsibly!
Can you use other flavors of Crown Royal for these cocktails?
Absolutely! Most of these cocktails would work with original Crown Royal, and some would work with all flavors of Crown Royal. 
I would recommend adjusting some ingredients to suit the flavored whiskey of your choice better. For instance, swap for apple juice instead of peach juice with Crown Royal Regal Apple! Try regular Crown Royal or Crown Royal Black instead of flavored whiskey if you want to use orange juice. Garnish with an orange slice!
Let us know which of these Crown Peach drinks are your favorite!
More Cocktail Recipes
Like our content? Follow us on Pinterest!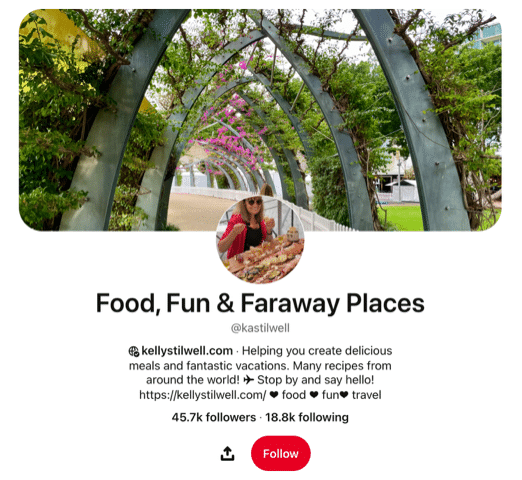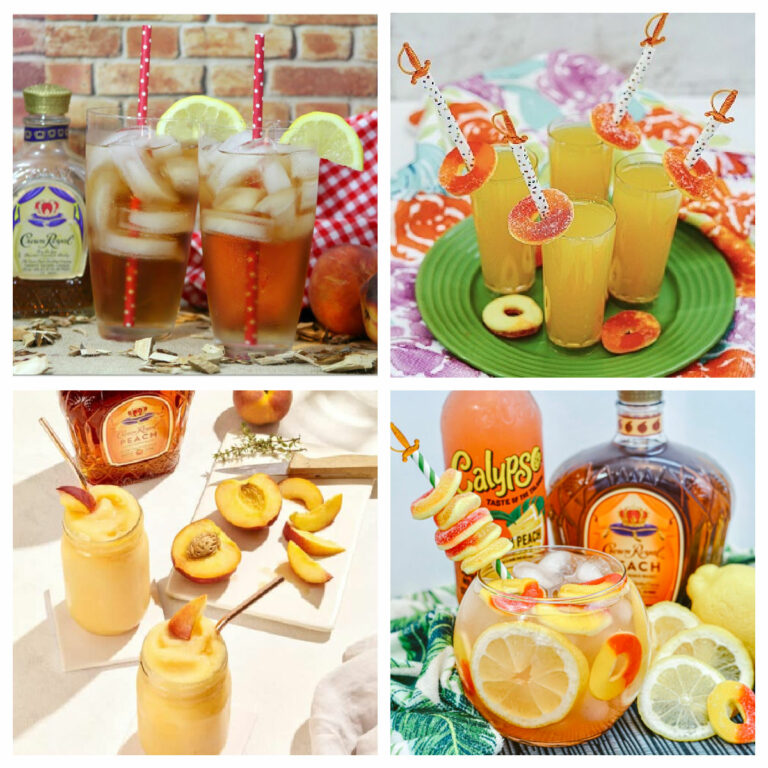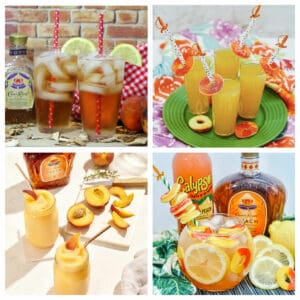 Best peach Crown Royal Mixed Drinks
Are you looking for the best peach Crown Royal mixed drinks? You're in luck! I've curated a list of the best peach Crown Royal cocktails, just in time for warmer weather.
Print this Recipe
Pin this Recipe
Rate
Ingredients
Delicious Crown Peach Drink

Crown Royal Peach Slushie

Sparkling Peach Cocktail with Crown Royal Peach

Crown Royal Peach Whiskey Fish Bowl Drink Recipe

Crown Royal Peach Tea Drink

Crown Royal Peach Mint Julep

Crown Royal Peach Shooters

Royal Flush Drink

Crown Peach Jello Shots
Instructions
Choose your favorite cocktail.

Gather up the ingredients.

Mix and serve your refreshing Peach Crown Royal drink.