This easy Malibu Pina Colada recipe with coconut rum is the perfect cocktail! It's the best way to enjoy all the tastes of the tropics with classical pineapple and coconut flavors backed with a boozy kick of rum!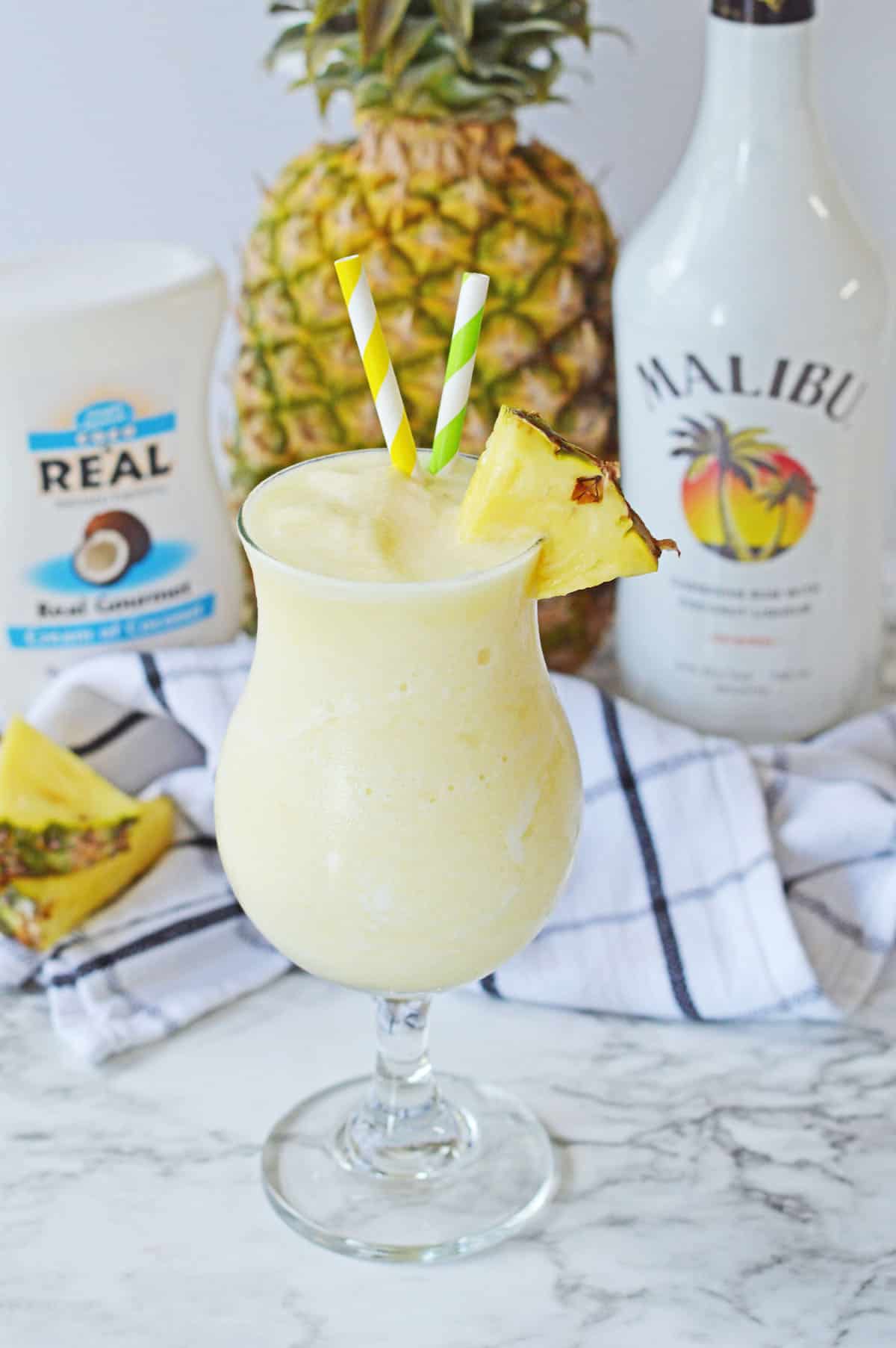 Whether served frozen or on the rocks, these fruit cocktails are the epitome of what sweet summertime adult-beverages are all about.
We also love this skinny vodka margarita and this raspberry mojito for perfect warm weather cocktails. Make this dirty strawberry soda for the kids if you're having a family party!
If you're entertaining family or friends or just spending some time outdoors while dreaming about a tropical vacation, you just can't beat the wonderful flavors of this traditional pina colada recipe with coconut rum.
Creamy coconut, tangy pineapple with just the right amount of flavored rum makes this delicious cocktail taste just like sunshine in a glass!
The great thing is you don't have to be a skilled mixologist to get the very best, classic piña colada recipe you've ever tasted.
You're just a few simple ingredients and 5 minutes away from a frozen tropical drink that makes it almost impossible to stop with just one.
If you're in the mood for sampling other refreshing and super popular cocktails, try this Iced Tea Whisky Slush and this list of best Peach Crown Royal cocktails. They're all quick and easy to make and are a guaranteed fun way to get your next party started!
Be sure to check out our recommendations for the best blenders for frozen drinks. We've researched and found the best so you don't have to spend time searching!
Why We Love This Recipe
We love Puerto Rico and that is where this cocktail originates. Plan your next family vacation there and be sure to see Cueva Ventana!
This is the perfect tropical cocktail for summertime pool parties, backyard barbecues or just for a fun ladies' night beverage.
The coconut and pineapple flavors create cool and refreshing cocktail that makes you feel as though you're on a tropical vacation.
This is a super quick and easy recipe that uses simple ingredients and requires just minutes of prep time.
🔪 Recommended Tools
What Goes into a Piña Colada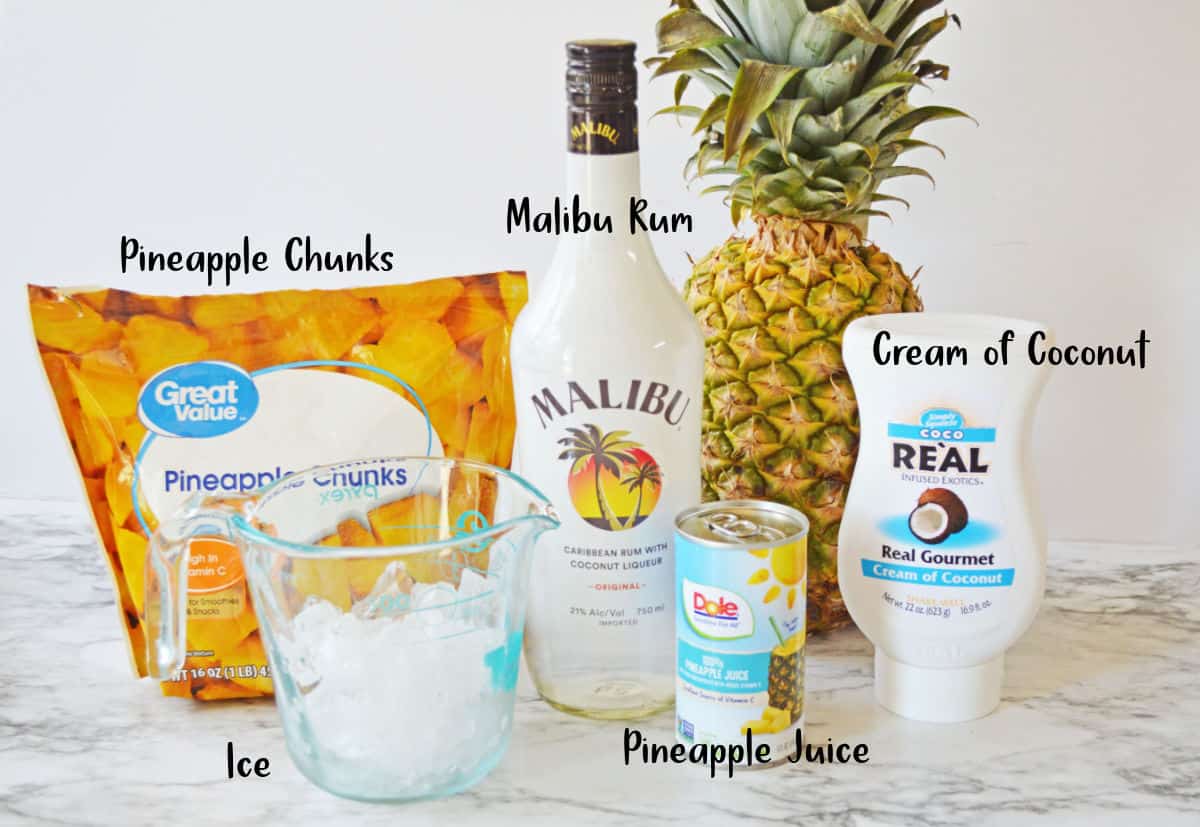 Key Ingredients
Pineapple: You can use fresh or frozen pineapple chunks when making these Malibu pina coladas.
Rum: For the best piña colada recipe with coconut rum, we used Malibu brand. It really drives home that coconut flavor.
Cream of coconut: Gives these cocktails the ultimate coconut flavor while adding the right amount sweetness.
Pineapple juice: Loosens up the mixture to make it drinkable while adding more pineapple flavor to the cocktails.
Other Ingredients: You'll also add some ice with the frozen pineapple to make the drink super frosty, plus fresh pineapple slices and maraschino cherries for garnish if desired.
How to Make It
Step 1: Combine the frozen or fresh pineapple and ice in a blender.
Step 2. Add in the pineapple juice.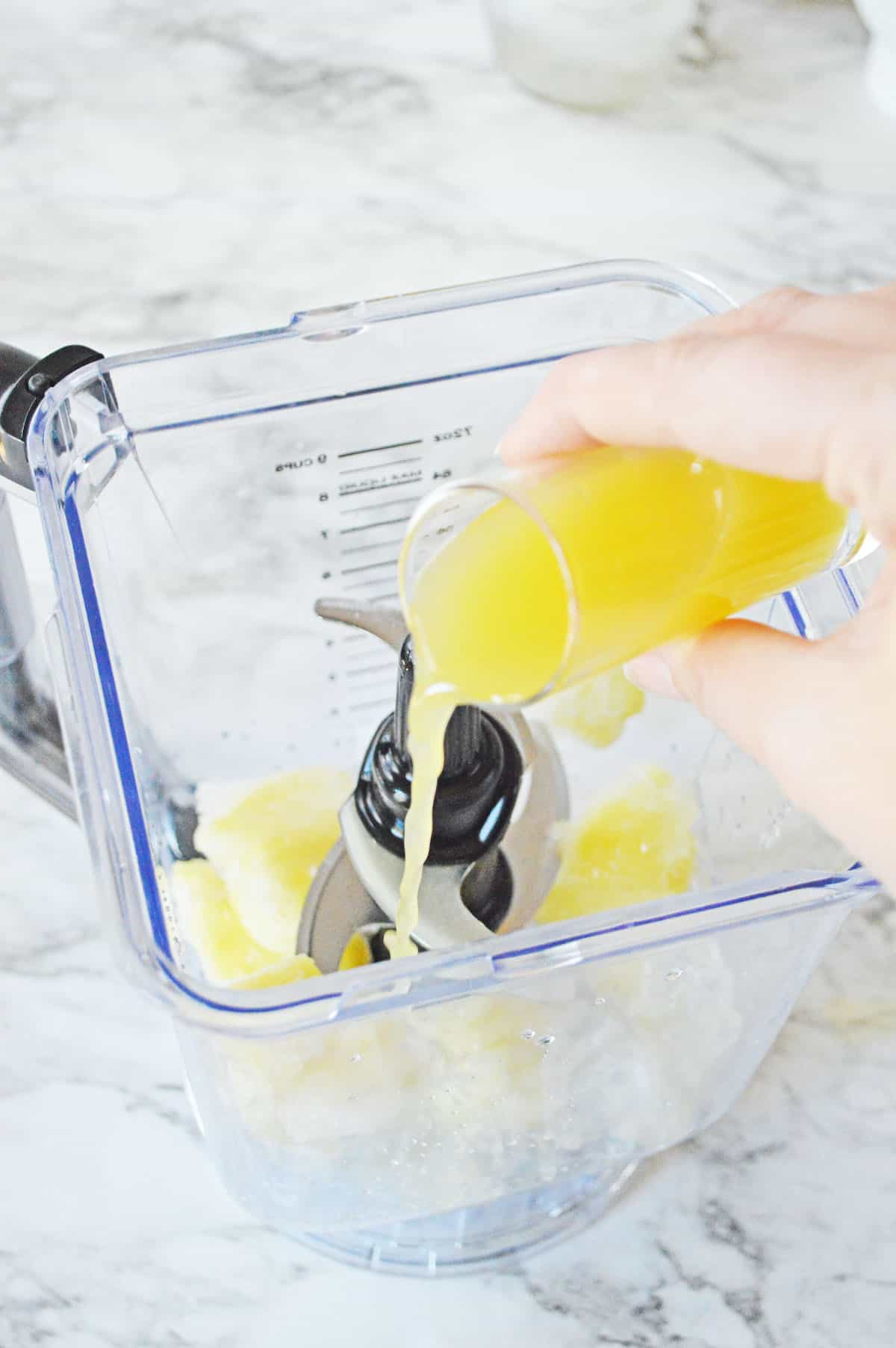 Step 3. Pour a shot of Malibu rum.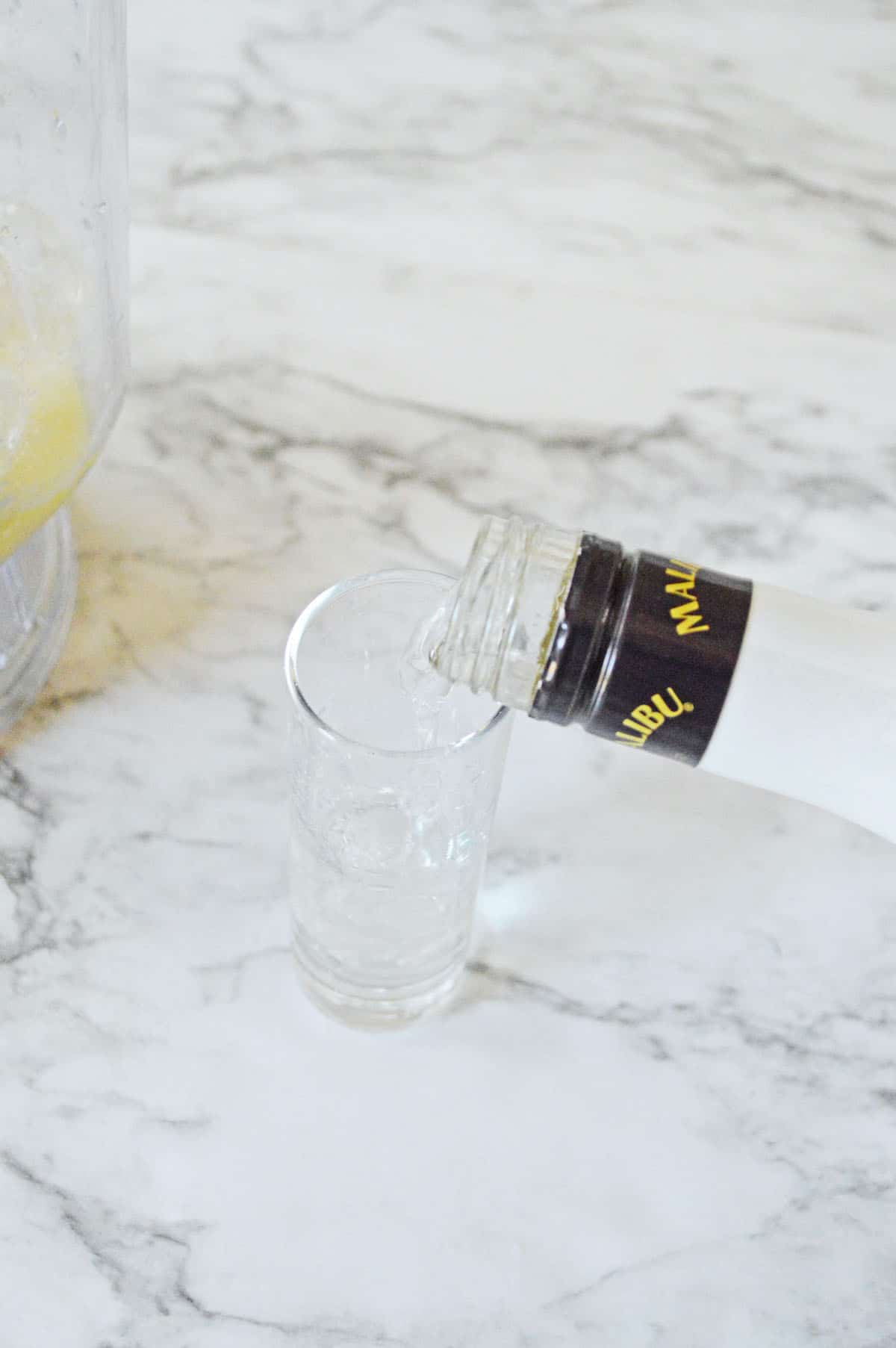 Add rum to blender.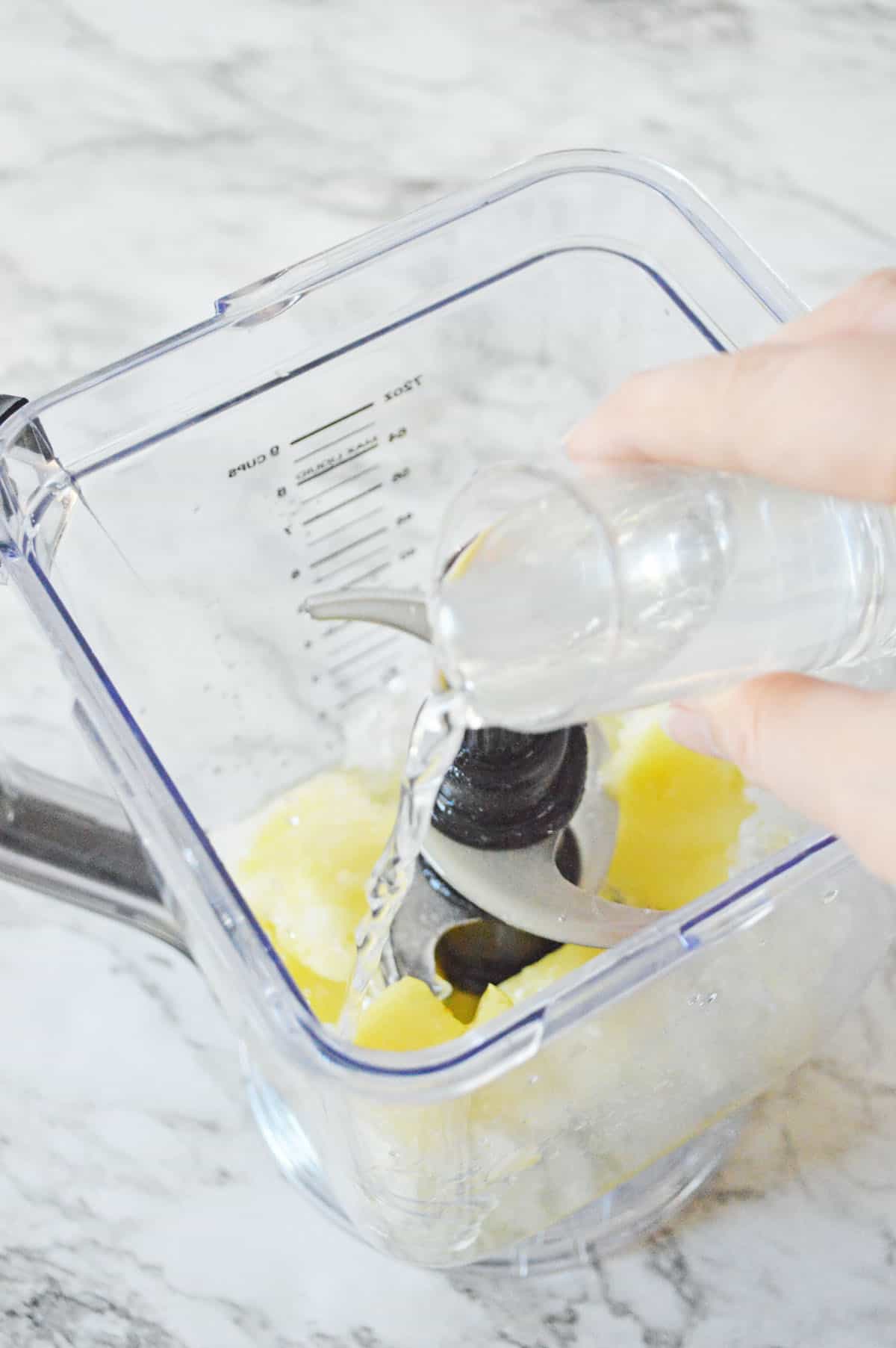 Step 4: Finally, add the coconut cream.
Step 5: Set to medium and blend until ice is crushed and the drink is smooth. If needed, add additional frozen pineapple or ice for a thicker consistency, or thin out with a splash of pineapple juice.
Add your blended piña colada to a tall glass. Garnish with fresh pineapple wedges and maraschino cherry (optional).
Variations
Rum: If you prefer, you can use dark rum or gold rum. You can also use unflavored rum if you prefer.
Keep in mind, darker rum will have a much bolder flavor than white rum or light rum will and may cover up the tropical flavor of the pineapple and coconut. We really liked this pina colada recipe with coconut rum.
Spiced rum has been aged in oak barrels that gives the rum a distinct flavor that is not recommended for these light and fruity cocktails.
Ice: For even more coconut flavor you can freeze light coconut milk or even coconut water in an ice cube tray and use instead of the ¼ cup of regular ice.
Coconut cream: Instead of cream of coconut, you can use a can of coconut milk if you have that on hand.
Because the milk is separated from the coconut cream, you need to blend it really well before adding it to the other ingredients. It's not sweetened like cream of coconut, so you may want to add a little simple syrup to sweeten up the cocktails.
Bitters: Unlike the original recipe from Puerto Rico, you can add a slightly nutty and peppery flavor that works great in contrast with sweetness of the pineapple by adding angostura bitters. You'll only need one dash for each piña colada because the flavor is quite strong.
Citrus flavors: To add some zest to these sweet cocktails you can add a little bit of fresh lime juice along with the pineapple juice. You can also substitute ½ the pineapple juice with some orange juice for a great drink with a citrusy twist.
Toppings: If you want a really decadent and delicious drink, consider adding some whipped cream and toasted coconut to the top of each cocktail. Add a cute little paper umbrella for an extra special touch and you're all set!
Frequently Asked Questions
Can I Make Pina Coladas in a Shaken Version?
If you're not a big fan of a frozen cocktail, you can easily make a really good pina colada on the rocks.

In the blender, add fresh pineapple chunks or frozen cubes of pineapple chunks that you have thawed. Add the other ingredients and give everything a good blitz until well blended.

Pour the mixture in cocktail shaker filled with ice and shake, shake, shake! Using a cocktail strainer, pour the mixture in a highball glass over ice cubes or crushed ice and enjoy! It tastes just as good as the frozen version!
How Do I Make a Virgin Pina Colada?
If you want the perfect piña colada recipe but without any alcohol, the good news is all you have to is omit the rum.

To give it a little rum flavor, you can add a drop or two of rum extract to the blender with the other ingredients.
Can I Make a Pina Colada in Advance?
Typically, these are frozen concoctions, so you are limited with how far in advance you can make them. You want the pineapple to stay nice and frozen so it will make the cocktails super frosty.

If you make a batch up and need them to stay icy, you can place them in the freezer for a little while (up to a couple of hours), then give them another good blitz in the blender to mix up the ingredients again.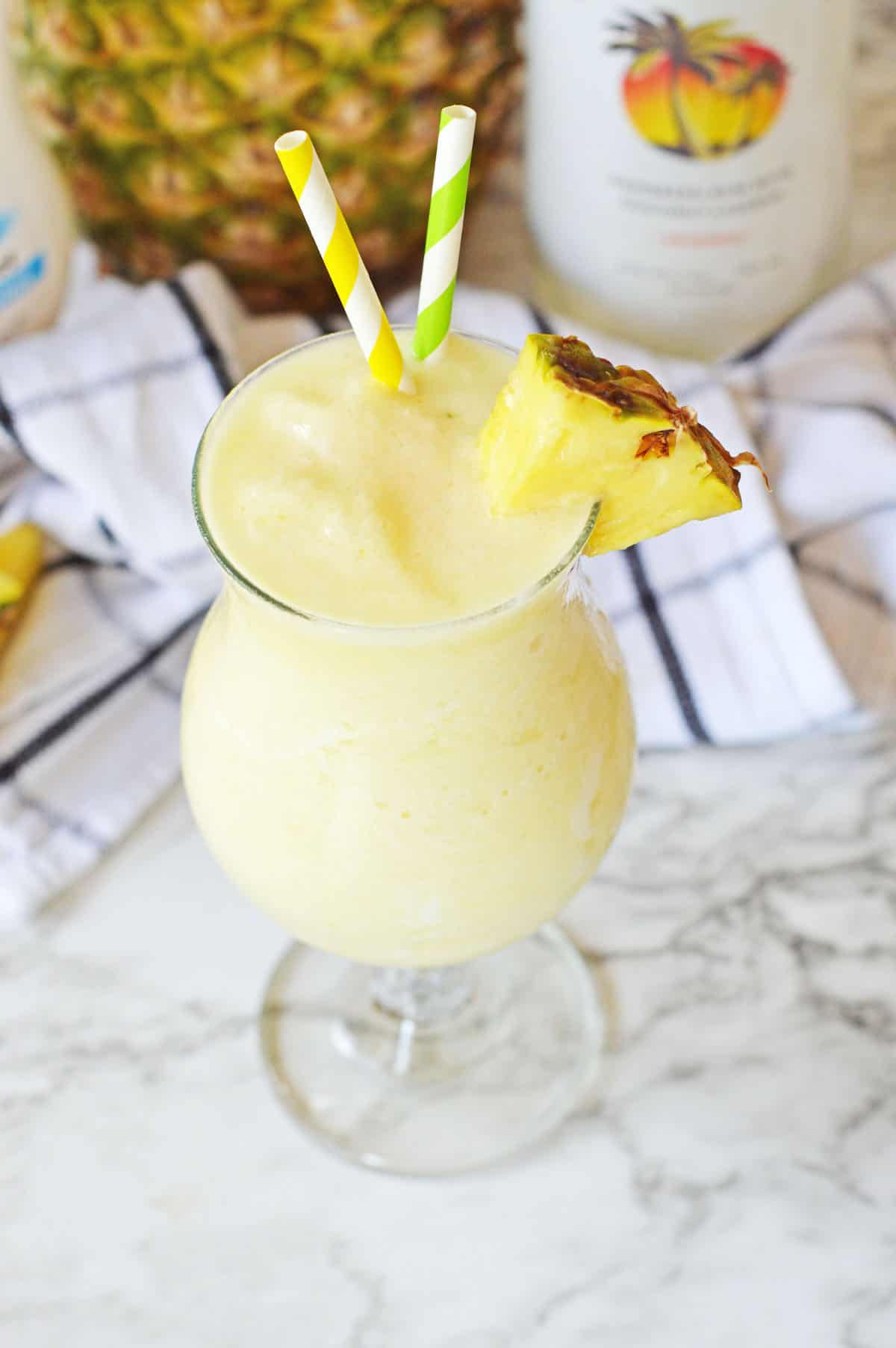 Top Tips
To help keep make your cocktail super frosty, keep the rum in the freezer. The alcohol content will keep it from freezing but it will be nice and cold when you're ready to use it.
If you don't have a high-powered blender, it may hard to get all the tiny chips of ice bended up. For a smoother texture, try crushing the ice before putting it into the blender. I usually just add some to a Ziploc bag, place a kitchen towel over the bag and whack it with the smooth side of a meat mallet.
If you're throwing a party and want to make these cocktail over-the-top festive, add the pina colada mixture to a hollowed-out pineapple or coconut shell.
After tasting them, if the pina coladas seem a little too sweet for your preference, you can add just a splash or two of half and half. Lime juice will also help cut some of the sweetness.
Give your Piña Coladas an extra frosted look by simply adding clean, dry glasses to the freezer for about 30 minutes to an hour before you make the cocktails.
Make sure the glasses are room temperature and not straight out of a hot dishwasher. The sudden change in temp could cause them to break.
What to Eat with a Piña Colada
Finally, you should always have some food when serving cocktails. My choice is always appetizers. I would serve this white bean dip and hot shrimp dip with tortilla chips or these healthy nachos.
You could also make this simple charcuterie board. It's really delicious! I give full instructions on how to place everything so it is super easy and you can make it small or large depending on how many guests you have.
Want More Cocktail Recipes?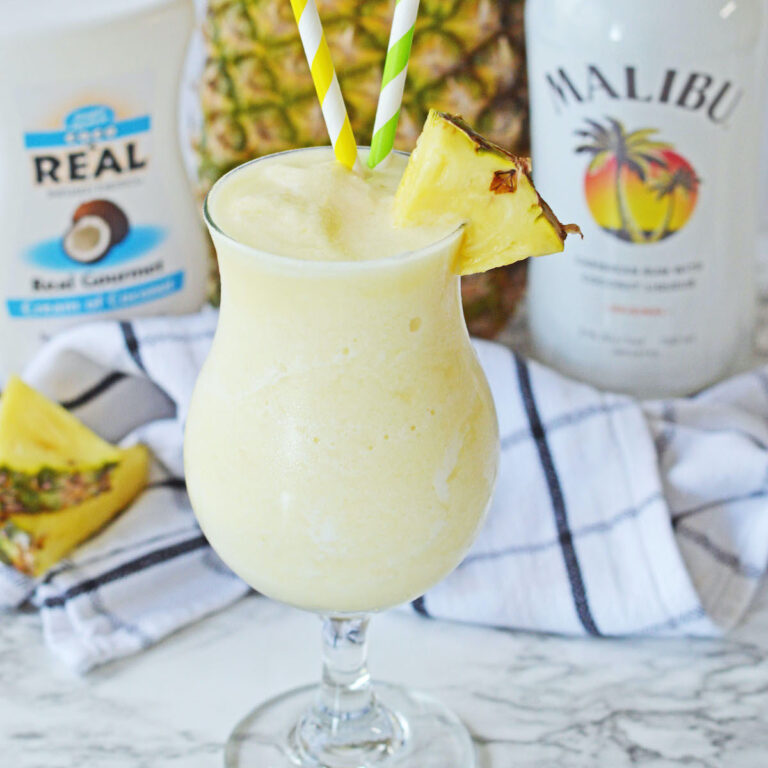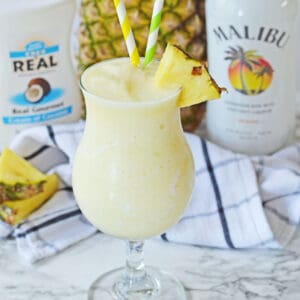 Ingredients
2

oz.

rum

1

oz.

cream of coconut

3

oz.

pineapple juice

½

cup

frozen pineapple chunks

¼

cup

ice

⅛

Fresh pineapple chunks and maraschino cherries for garnish
Instructions
Combine the frozen or fresh pineapple, Coconut rum, cream of coconut, pineapple juice, and ice in a blender.

Set to medium and blend until ice is crushed and the drink is smooth.

If needed, add additional frozen pineapple or ice for a thicker consistency, or thin out with a splash of pineapple juice.

Garnish your piña colada with fresh pineapple chunks and maraschino cherries.
Nutrition
Serving:
1
|
Calories:
370
kcal
|
Carbohydrates:
49
g
|
Protein:
1
g
|
Fat:
5
g
|
Saturated Fat:
4
g
|
Polyunsaturated Fat:
0.1
g
|
Monounsaturated Fat:
0.03
g
|
Sodium:
21
mg
|
Potassium:
259
mg
|
Fiber:
3
g
|
Sugar:
44
g
|
Vitamin A:
63
IU
|
Vitamin C:
20
mg
|
Calcium:
32
mg
|
Iron:
1
mg