A great way to experience Carolina Beach restaurants is through their Tasting History Food Tour. If you're a foodie like me, this is the perfect activity for an afternoon in Carolina Beach.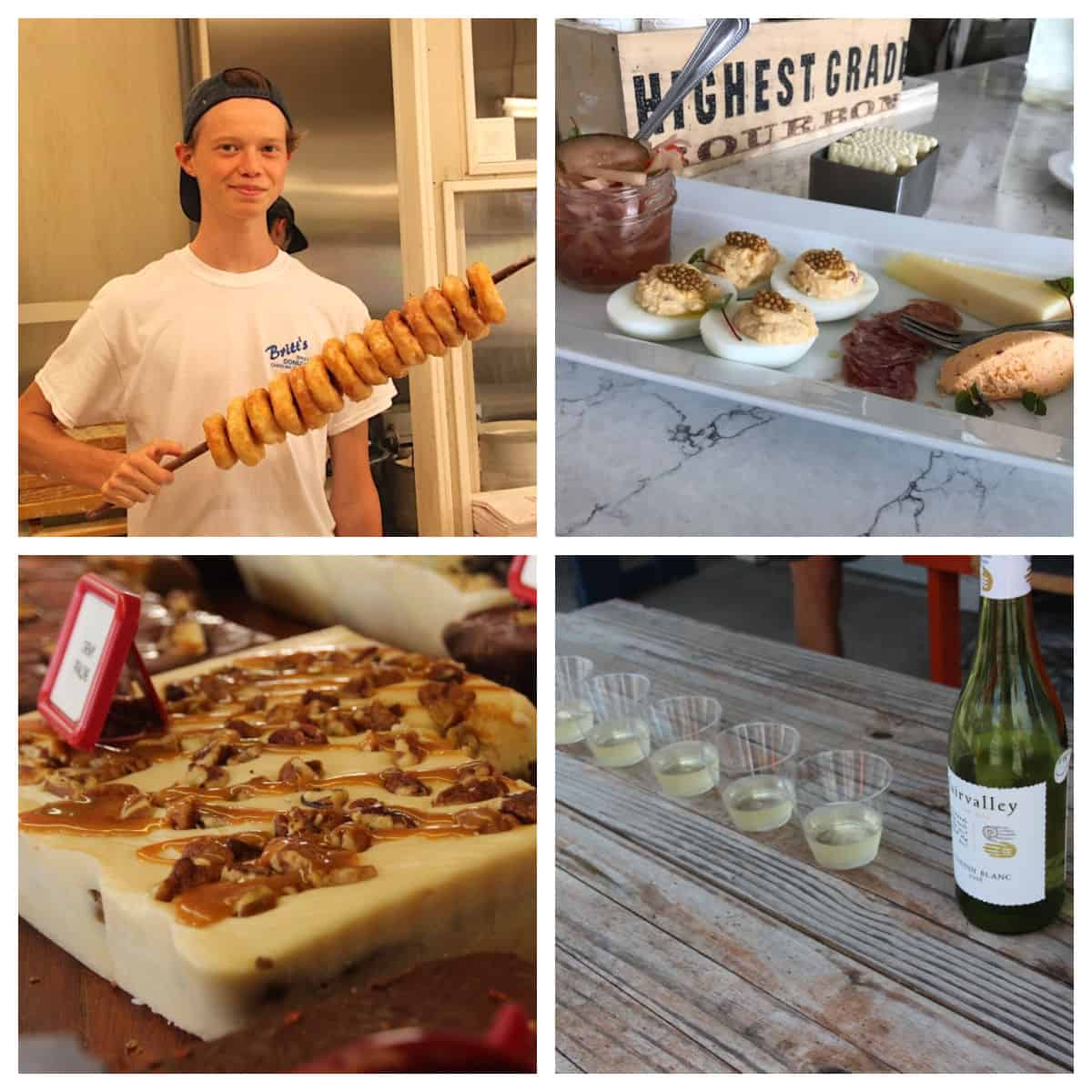 If you love North Carolina beaches, you'll want to check out things to do in the Outer Banks NC, too!
Before we met up with the team from Tasting History, we got some exercise at Carolina Beach State Park.
It's the perfect place to get your metabolism revved up and see Venus Fly Traps in the wild.
I was surprised to learn this plant only grows in the wild within 75 miles of Wilmington North Carolina.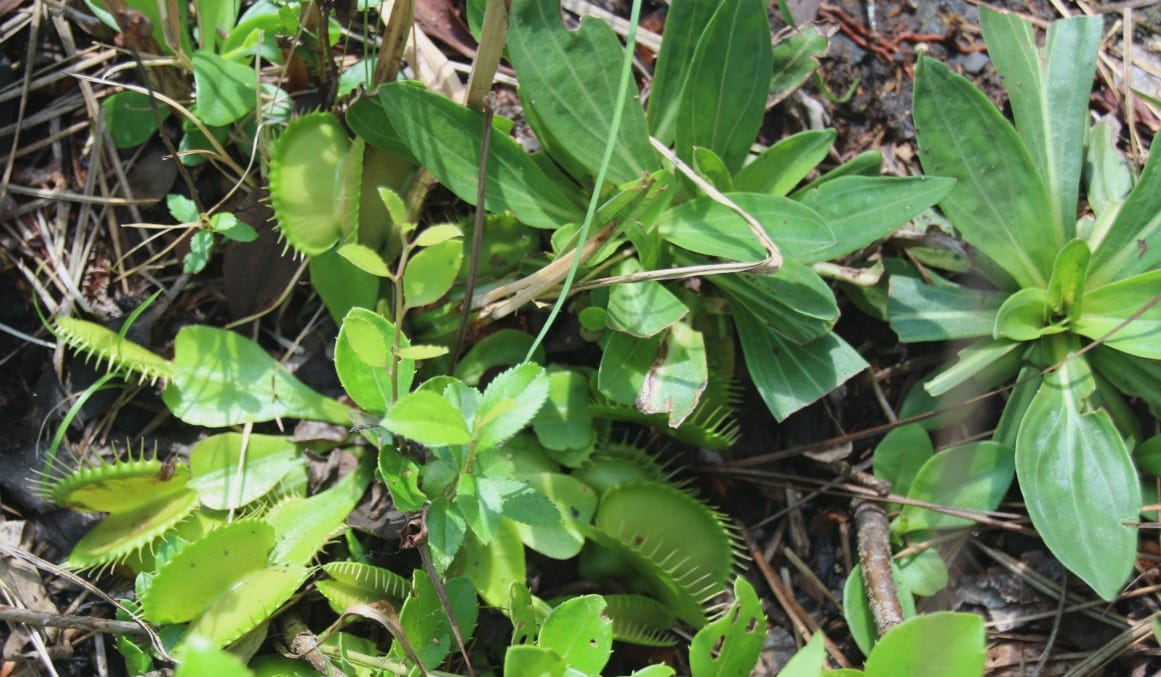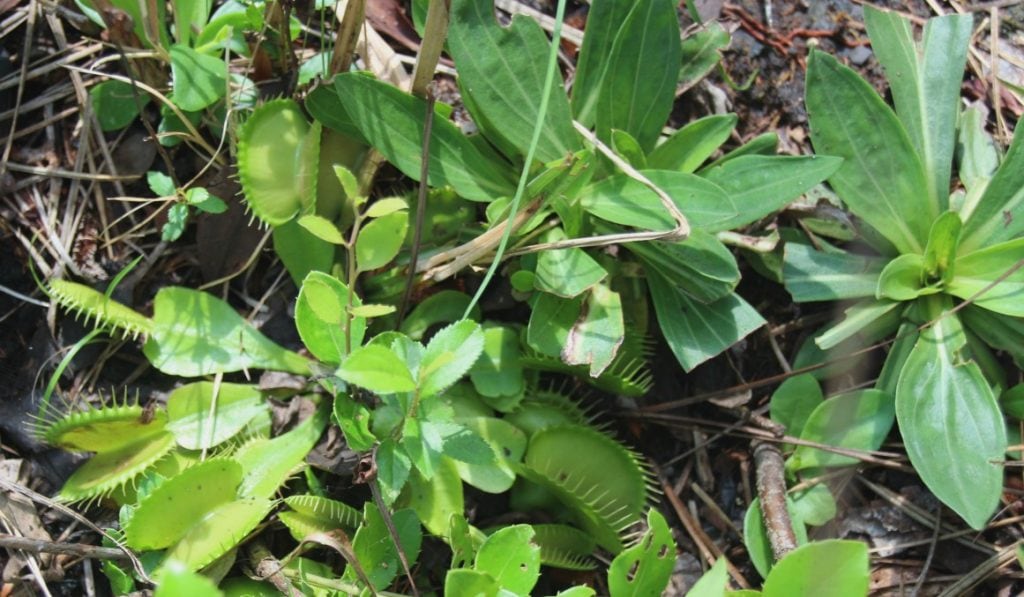 After working up an appetite, we met Jeff Christner, co-owner of Tasting History Tours, for our reserved tour.
Jeff knows a lot about Carolina Beach food and learning about the history of the area was an amazing way to experience it.
The Tour
Havana's
We started the Carolina Beach food tour at Havana's, a spot known for their Cuban and Caribbean flair as well as fresh seafood, steaks, and pasta.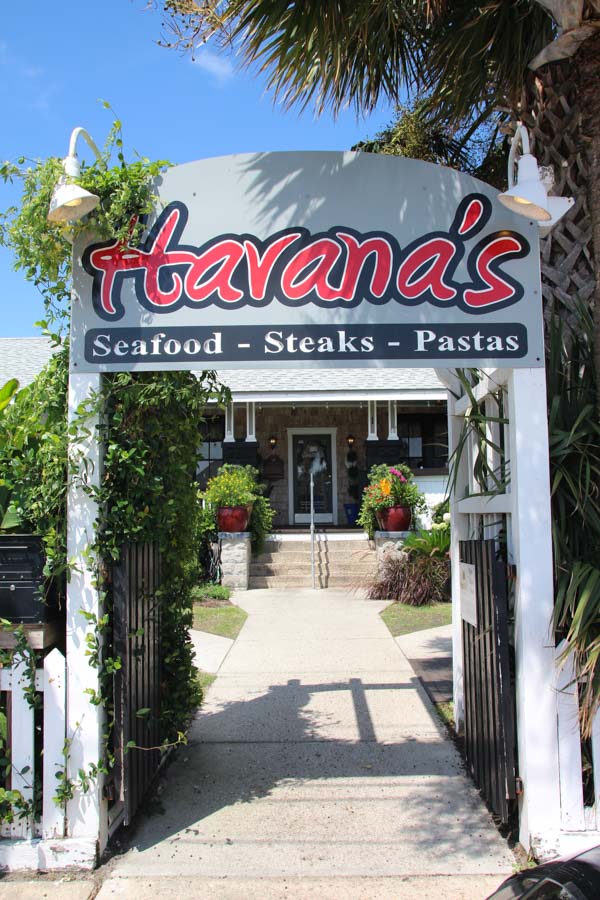 Our tasting here was Havana's Clam Chowder, which won the Pleasure Island Chowder Cookoff People's Choice Award from 2011-2016.
Flavorful and full of clams, it's easy to see why it's one of the top Carolina Beach restaurants year after year.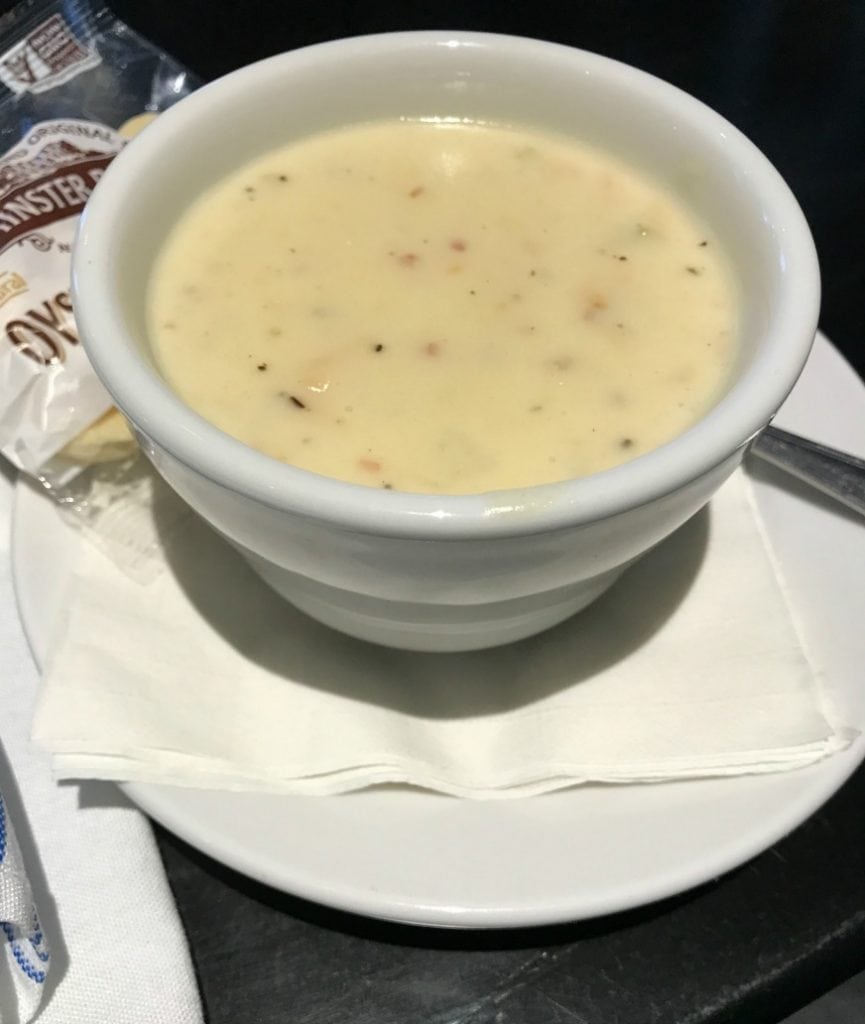 We didn't spend too much time at Havana's, but I took a look around and saw they have cornhole games out back.
Jeff said they often play for drinks, with the winners getting free cocktails. I like it!
We have a cornhole game so I'll have to stop in the next time I visit and see what the competition is like.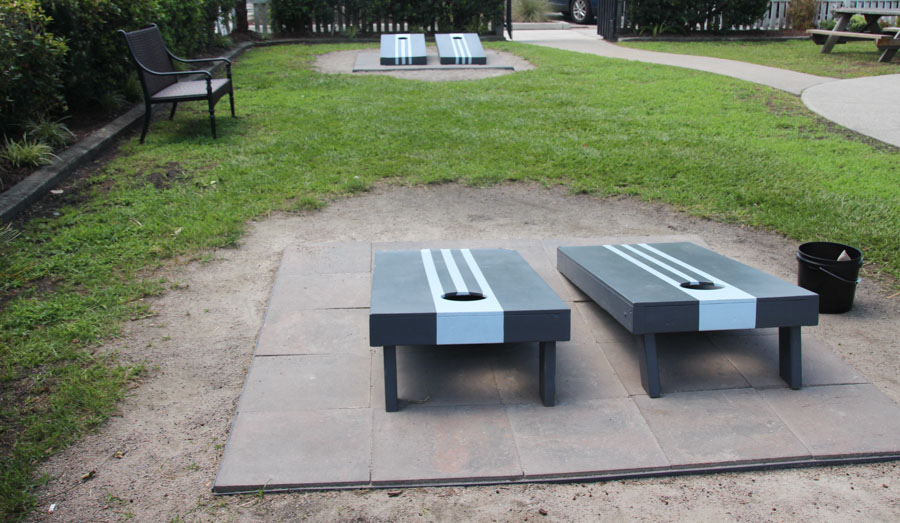 History of Fort Fisher
While we were on the move to our next stop, Jeff told us about Fort Fischer, the last coastal stronghold of the Confederacy, right on the shores of North Carolina.
Fort Fisher protected the port of Wilmington which was open to the blockade-runners, used for getting supplies to the armies inland.
Jeff explained how the military, along with help from slaves and Indians, made tunnels, forts, and batteries out of earth and grass, which protected the South's most important seaport.
Jeff is pretty passionate about the history and the area, and we all really enjoyed this part of the tour.
Fort Fisher Hermit
We stopped to take a look at a pretty famous piece of street art on the way to our next destination. Robert Harrill, also known as The Fort Fisher Hermit, is a sad story.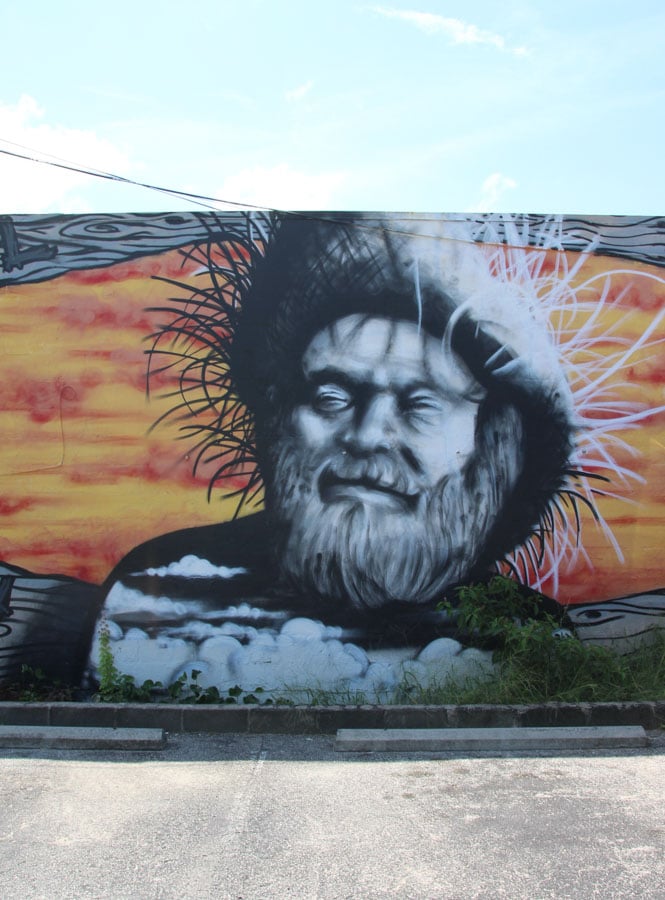 After a marriage that ended and lost jobs, Harrill became a hermit in 1955 at the age of 62.
He hitchhiked to Fort Fisher, but was arrested as a vagrant and sent back to his hometown, 260 miles away.
The next year he was back at Fort Fisher and made his home there in an abandoned WWII bunker near Cape Fear River, living off the land.
The most interesting part of the story is that Harrill had a guest book held down by seashells, and over 100,000 people from all 50 states and 20 foreign countries visited him.
Some were curious, and some thought he was full of wisdom. He had a rough childhood, and sadly, died right there in his home on the river.
Big Dawg Productions' stage play, The Hermit of Fort Fisher, was on stage last month, but it looks like it's an annual event, so check their website if you're interested. I know I'd love to see it.
Surf House Oyster Bar & Surf Camp
Our next stop was the Surf House Oyster Bar & Surf Camp. Whether you go on a tasting tour or not, you must eat at this amazing Carolina Beach restaurant if you want to experience amazing local food.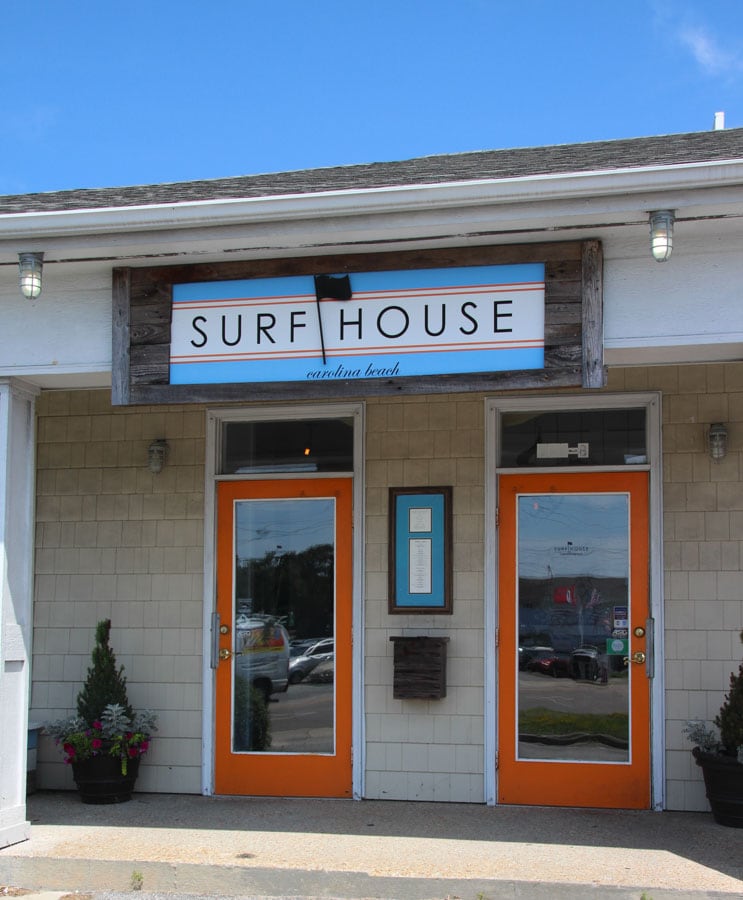 Reliant on local, sustainable ingredients, Chef Craig Love was ready for us with two plates of deliciously fresh appetizers.
I could have easily eaten this plate by myself, but I was polite and shared! Fresh heirloom tomatoes with feta, micro greens, pickled beets, and mint, with a deliciously light corn aioli.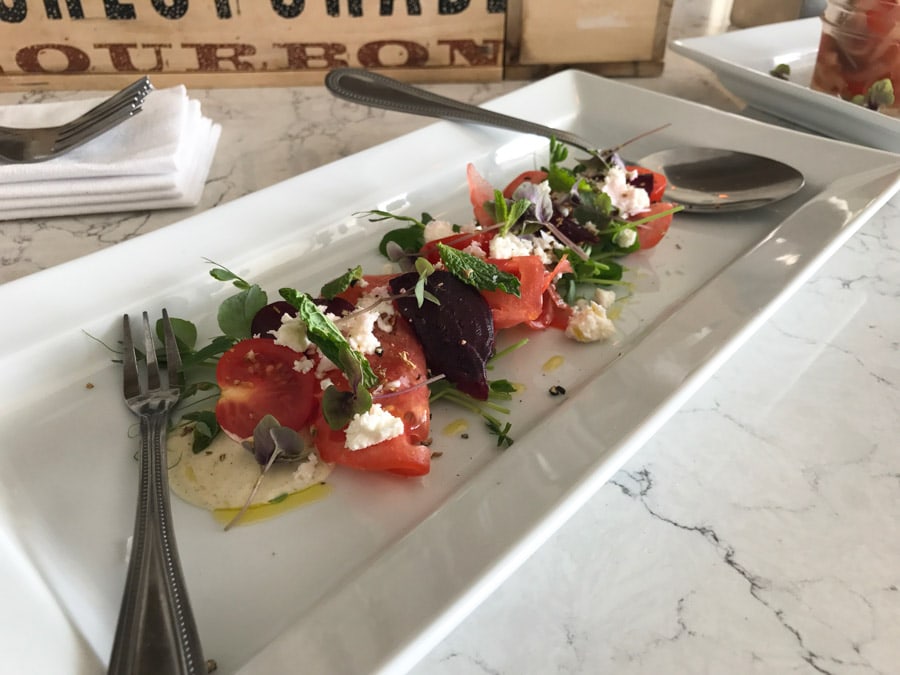 We also shared a Charcuterie platter, including (not your momma's) Deviled Eggs and cheeses with pairings. Fabulous.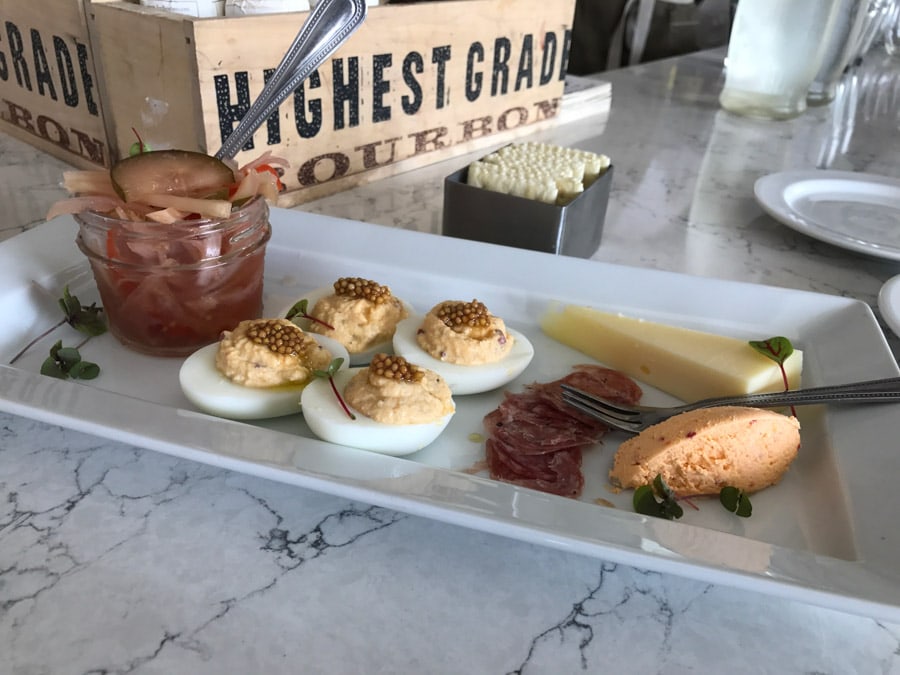 Surfing History
While we ate and had a glass of Prosecco, Jeff from Tasting History told us all about the surfing history of the area.
From the movie Gidget showing at the Colony Theater in 1959 to the huge hit Wipeout by the Surfaris released in 1962, the surfing bug began and made quite an impact on society at that time.
Surf House is surprisingly upscale, with innovative ingredients for their creative cocktails. I wish we could have stayed longer.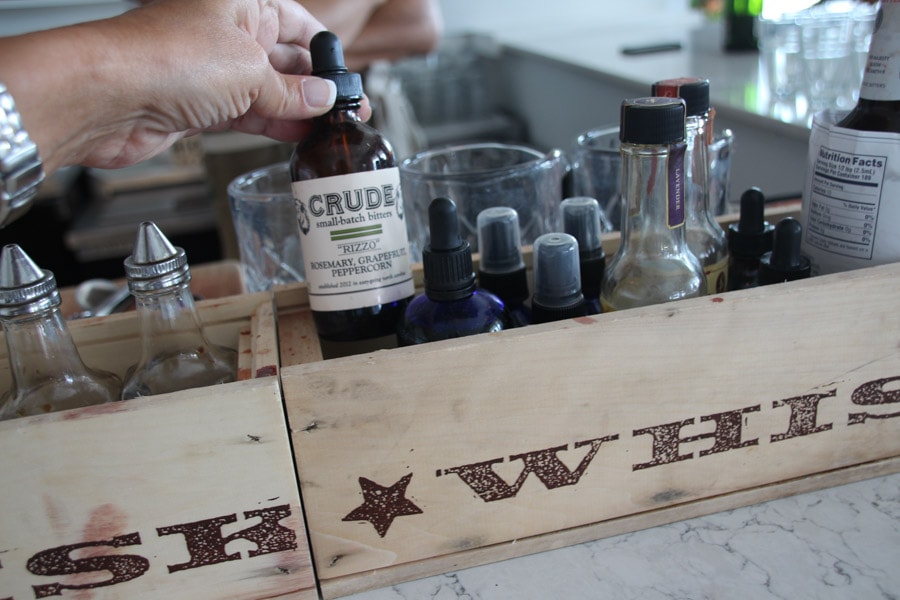 Say hello to Chef Craig when you eat at Surf House. He's a totally down-to-earth guy and we all enjoyed chatting with him.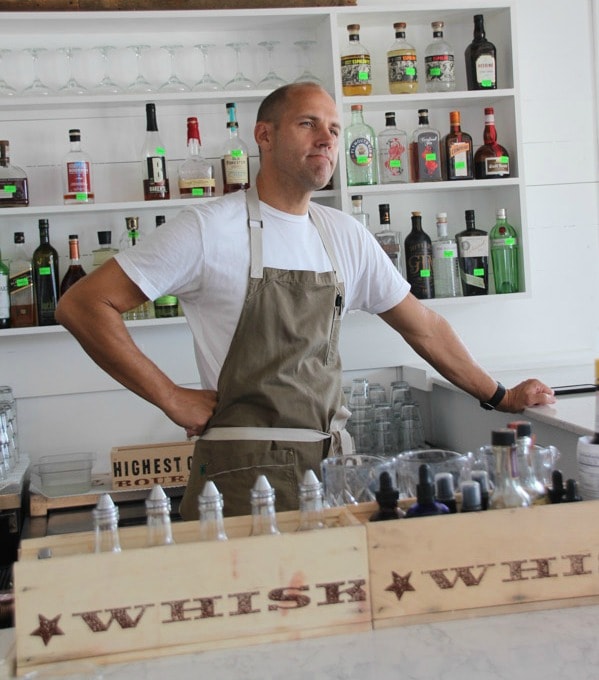 The Dive
Our next destination was not quite as upscale, but what you'd expect for a small bar near the beach. You can feel comfortable stopping in wearing a coverup and flip-flops.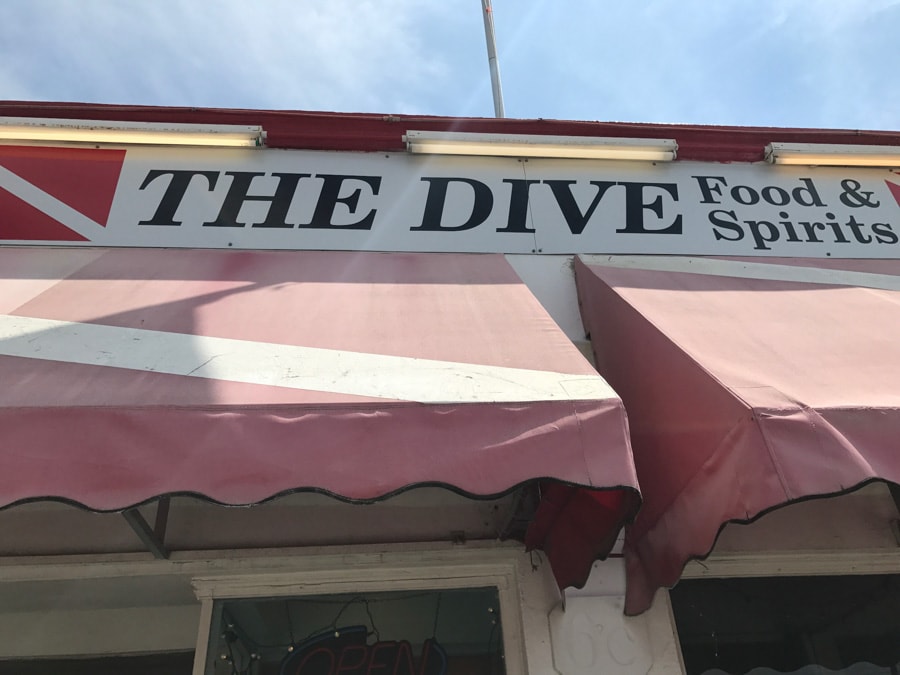 The Dive is more of a beach bar than a restaurant, but we had a Mahi Wrap served with homemade potato chips that was surprisingly really good.
Paired with a Blue Moon, I was a happy camper. If you find yourself doubting the team at Tasting History Food Tours, be patient.
They definitely know where to get the best Carolina Beach food!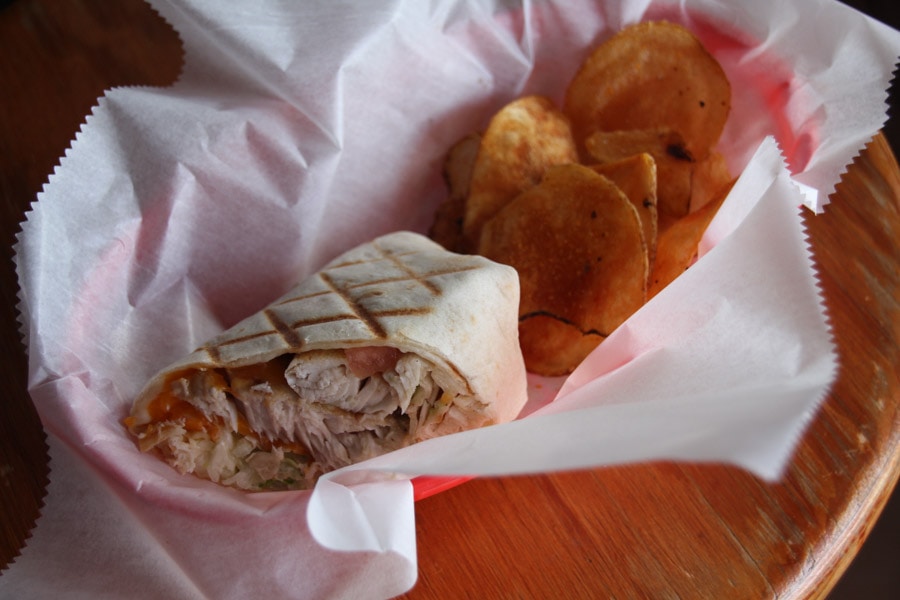 The Dive is known for wraps and burgers, but word on the street is that their wings and fried pickles are pretty awesome, too.
This is a great spot for a beer or a cocktail on a warm day, and the decor gives you quite a bit to check out while you're chillaxing.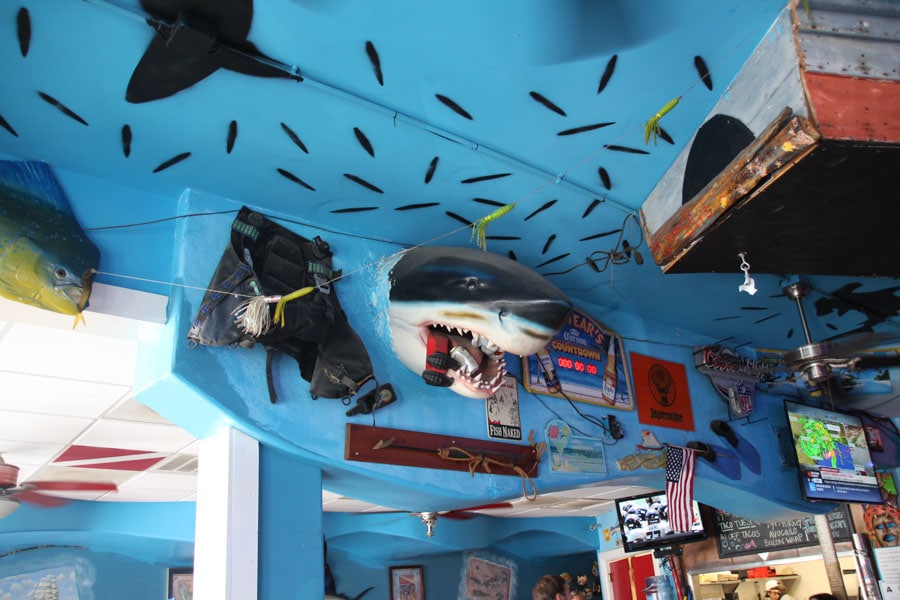 Britt's Donuts
At this point on the tour, our group was looking for dessert, and our host did not disappoint. We were headed to a local institution when it comes to Carolina Beach restaurants, Britt's Donuts on the Boardwalk.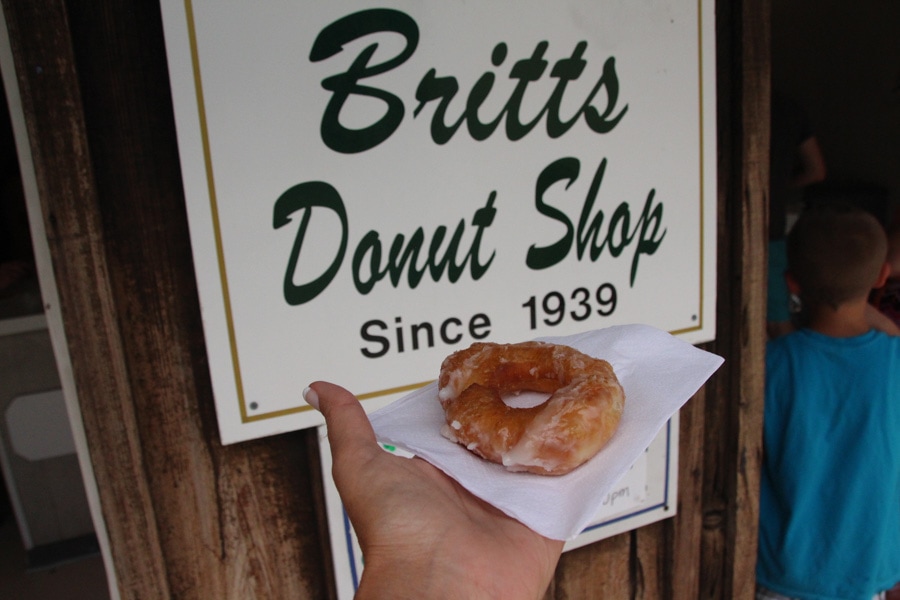 Britt's Donuts has been around since 1939, and people drive from all over to eat one of these warm bits of heaven.
You can watch the donuts being made if you look in the back. This is one Carolina Beach food you must experience!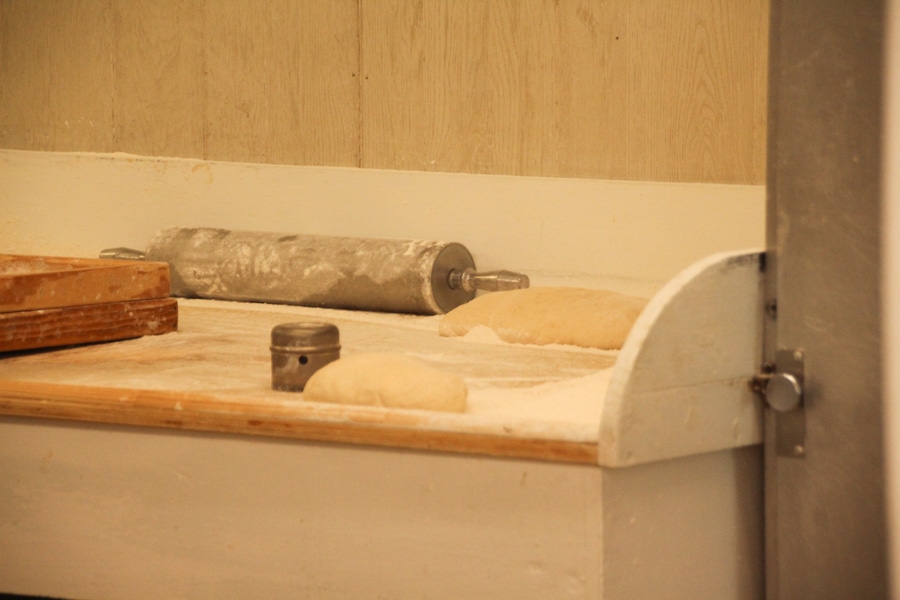 Don't ask what flavors they have at Britt's; there's only one, and it's glazed. But when a donut is that delicious, one is all you need.
Okay, maybe two. Or 14. Can you just order a stick of donuts?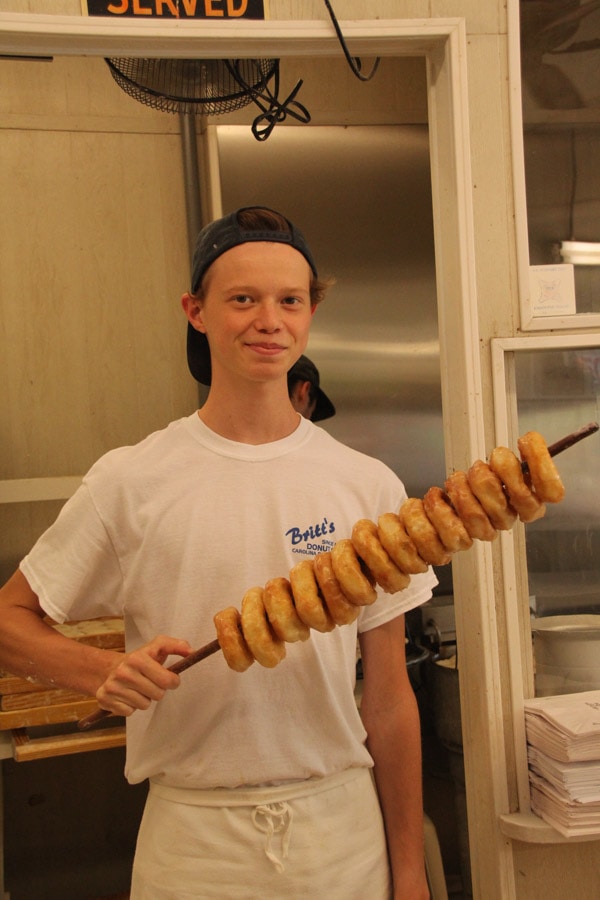 The Fudgeboat
There was still more sweetness in our future as we moved on to the Fudgeboat.
You may think the name comes from being at the beach, but the truth is that the counter of the Fudgeboat is actually a real boat, inside the store!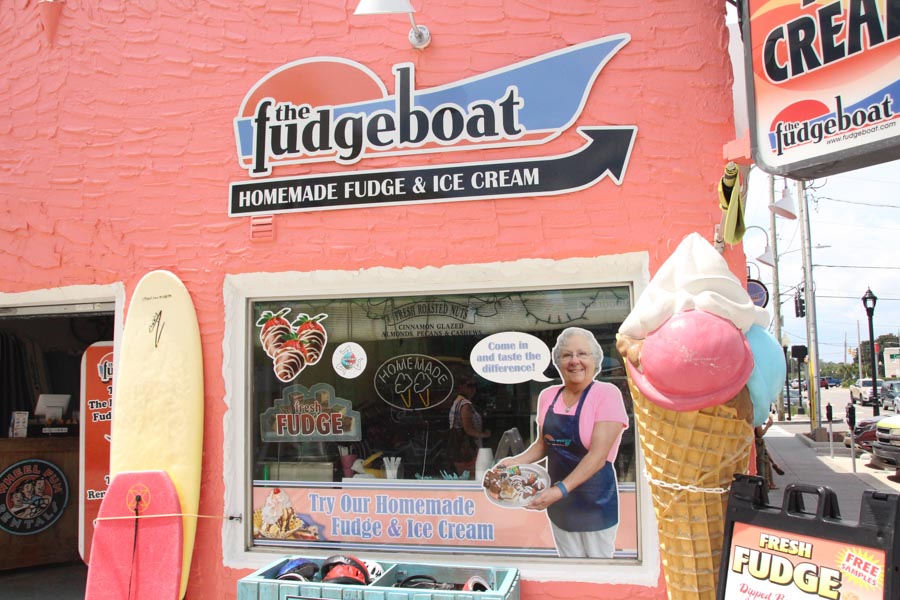 The history here is that the boat was found on a riverbank in Chinquapin, North Carolina, and the first owners of the store tracked the boat owners down and bought it.
Once restored, it was brought through the doors of the store with very little room to spare.
When the store moved to a new location down the Boardwalk in 2006, the boat was moved again.
I have a feeling the Fudgeboat will be staying at this location! The fudge is displayed right on the boat.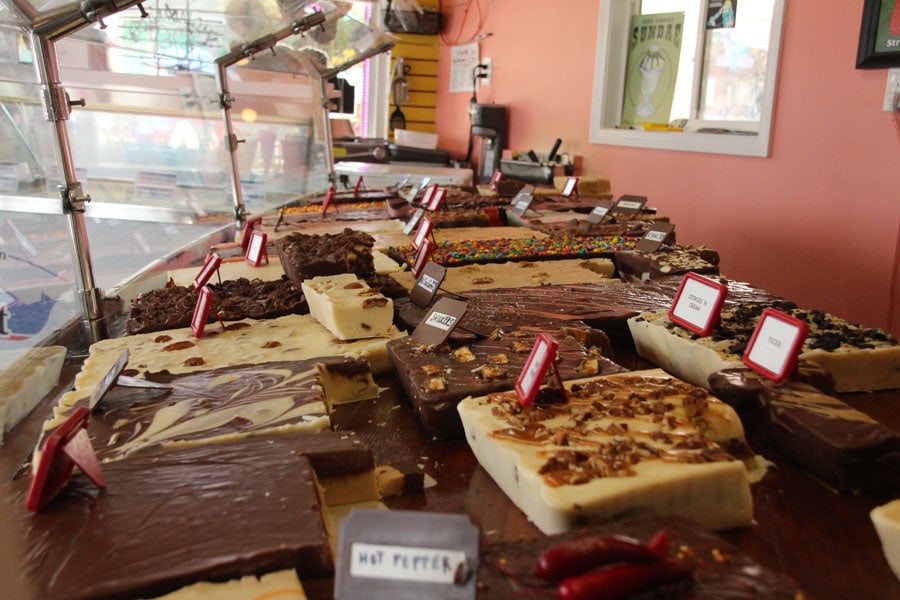 Need a better look? I thought so.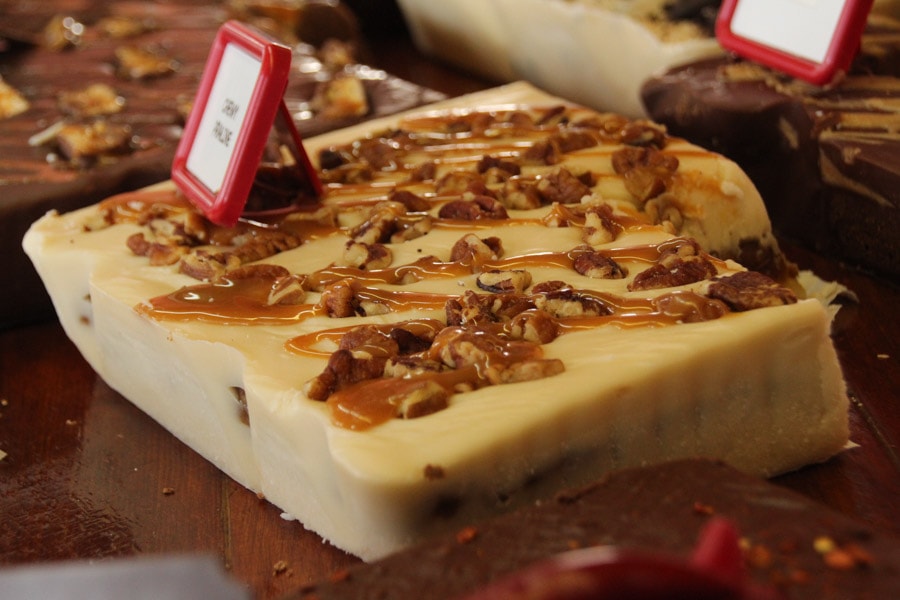 The Fudgeboat is co-owned by Duke and Tracee Hagestrom, along with Lou Belo, Tracee's mom.
You will see her mom on the sign, the brochures, and some days, even behind the counter making fudge.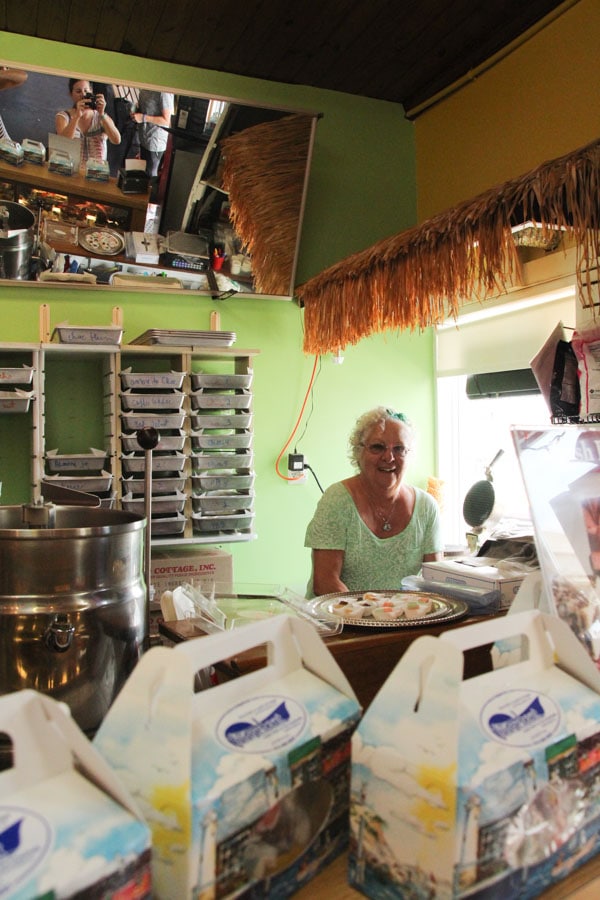 We were told she usually comes in pretty early to make the fudge and leaves, so we were lucky to be able to see her in person!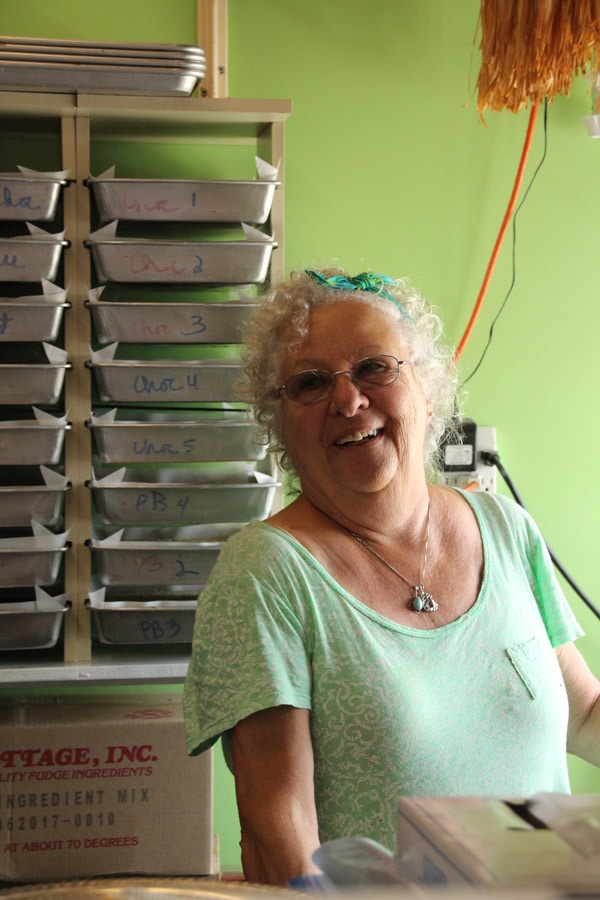 We tasted the butter and cream fudge and it was amazingly creamy and so rich.
The Fudgeboat also has dipped chocolates, glazed nuts, and flavored popcorn.
The only bad news is that the store is only open in the summer.
The good news is that you can order online year-round. Carolina Beach food makes a great gift, and everyone will love this one.
The Veggie Wagon
Though technically not a Carolina Beach restaurant, we had one last stop that we were able to fit in before our tour ended.
As we were late arriving for the tour, we didn't get the full experience of The Veggie Wagon.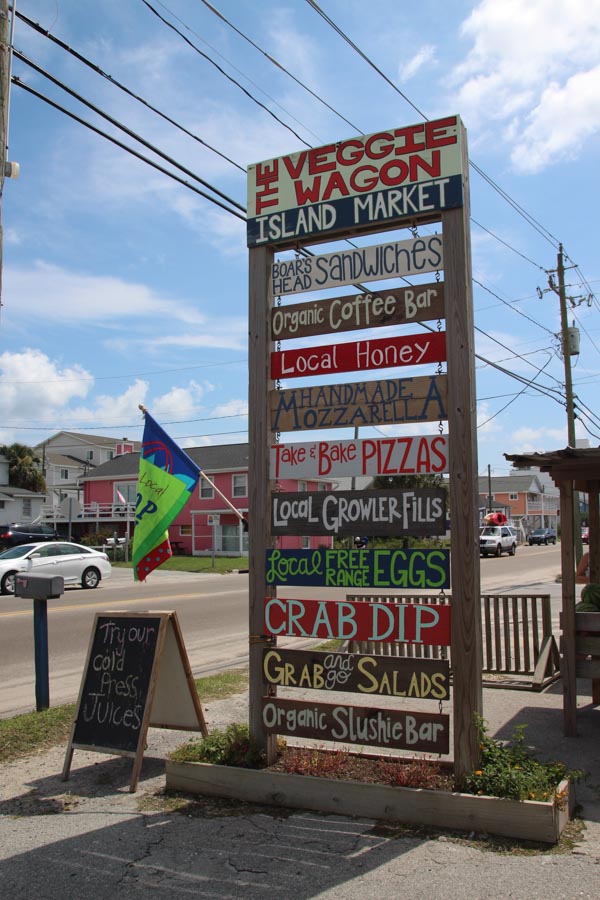 Typically there is a small sampling of the food offered in addition to a wine tasting. We were able to fit in the wine!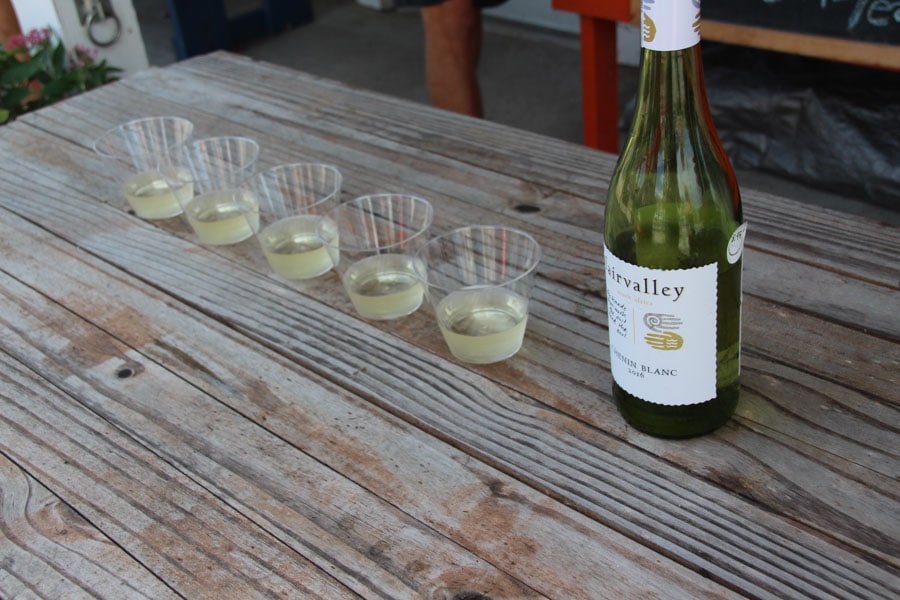 The Veggie Wagon specializes in fresh local North Carolina fruits, vegetables, and homemade products.
They work with local farmers and small batch producers to bring the best of the area to their customers.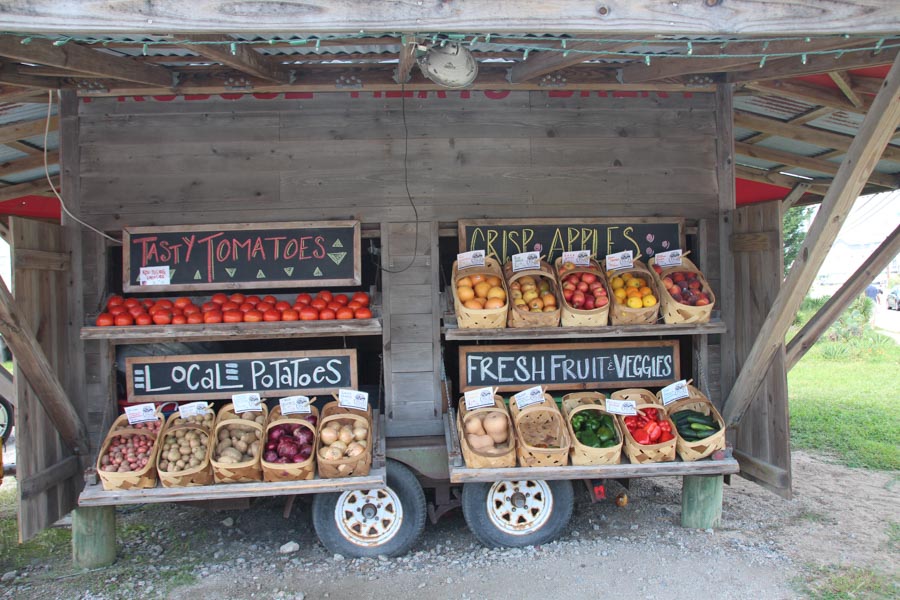 They also have a coffee bar and sell beer and wine. What more do you need?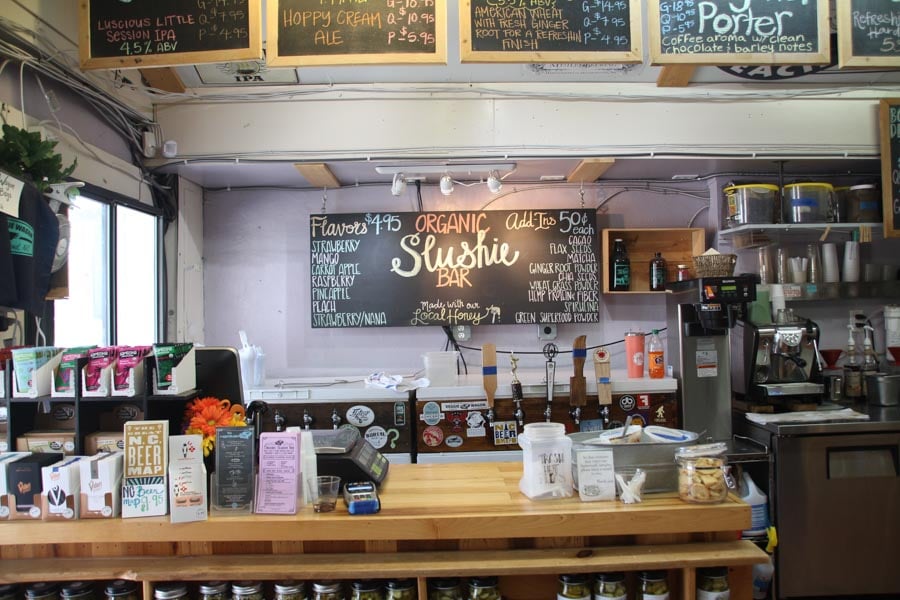 We learned about the Veggie Wagon while we sipped a couple of their white wines.
They even have an occasional wine and cheese tasting to help you pair what you'll be serving at home. They had an incredible cheese selection, too.
TIP: This is a great stop before you check in to your hotel so you can have local goodies on hand!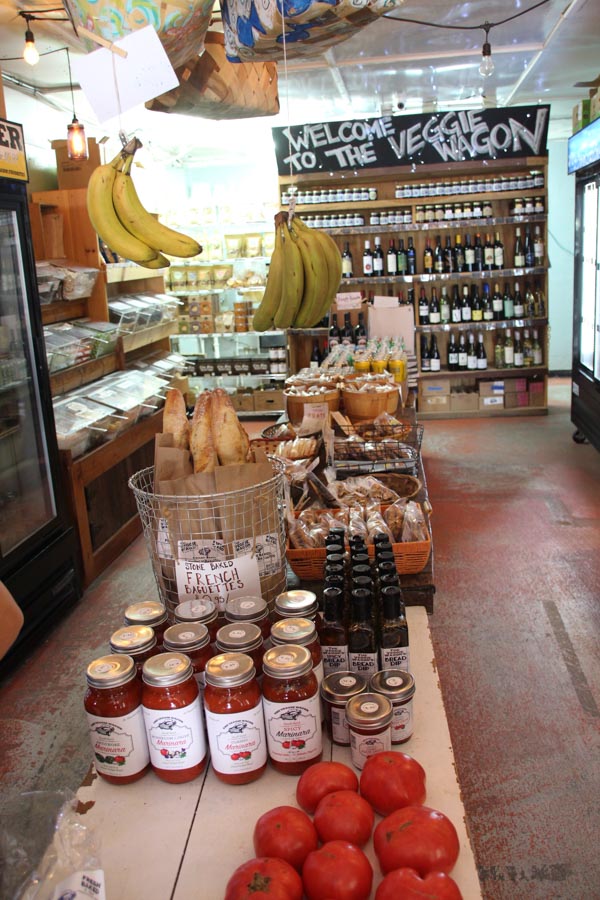 We were sorry to see our Tasting History tour come to an end, but it had been a fabulous introduction to the history of the area as well as Carolina Beach restaurants.
There is a lot of deliciousness in the Wilmington Beaches area, and I have more to share with you soon.
If you're planning a visit, be sure to check out where to stay in Wrightsville Beach North Carolina while there.
Need a little help planning your Wilmington Beaches vacation? The place to start is the Wilmington Beaches website. They can help you plan each step of the way.
Can you take this itinerary and go on a food tour yourself?
You can, but why would you? You won't get the history part of the tour, which was fascinating. But more important, Jeff knows each proprietor pretty well, so you really do get the royal treatment when on this tour of Carolina Beach restaurants with him.
How Many People are on each tour?
Tours have a maximum of 14 people, with two guides, one of which is a historian. Visit Tasting History Tours to reserve your Carolina Beach restaurants tour. It's a good idea to book as far out as you can as these tours fill up, even in the off-season months when it's cooler.
Love what you've seen here? Become a subscriber and get a free ebook of packing tips and printable packing lists for all seasons!
Have you been to the Wilmington Beaches? I'd love to read about your experience. Share in the comments.