This Cabarrus brewery tour itinerary gives you a fun and tasty activity for an afternoon or evening in Cabarrus County, North Carolina.
No need to make a plan, just plug in the addresses and head out for a customized tour!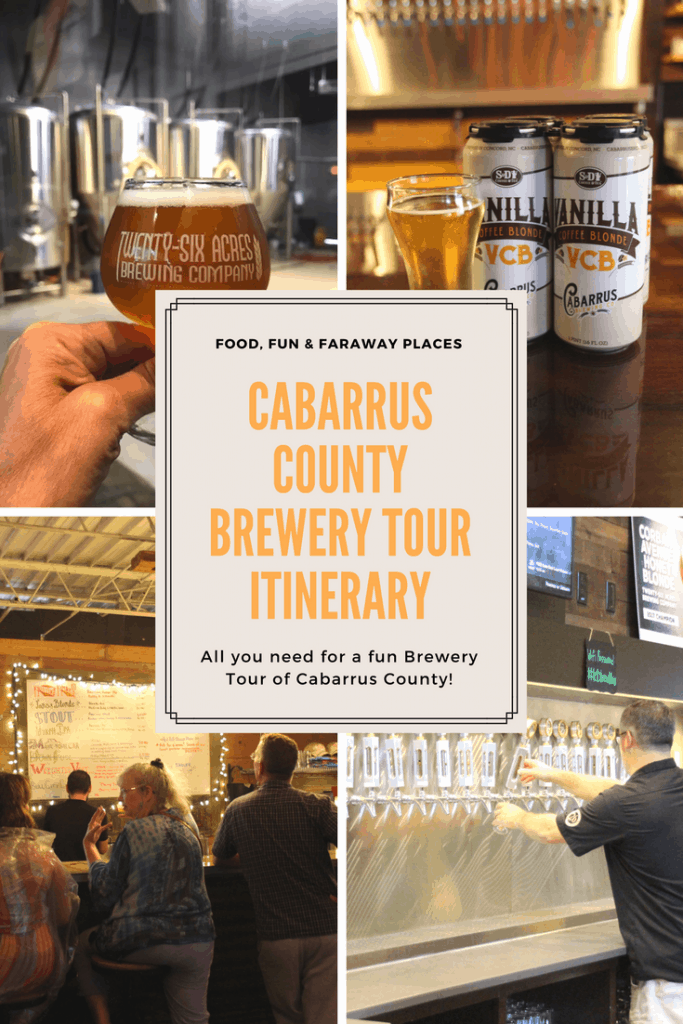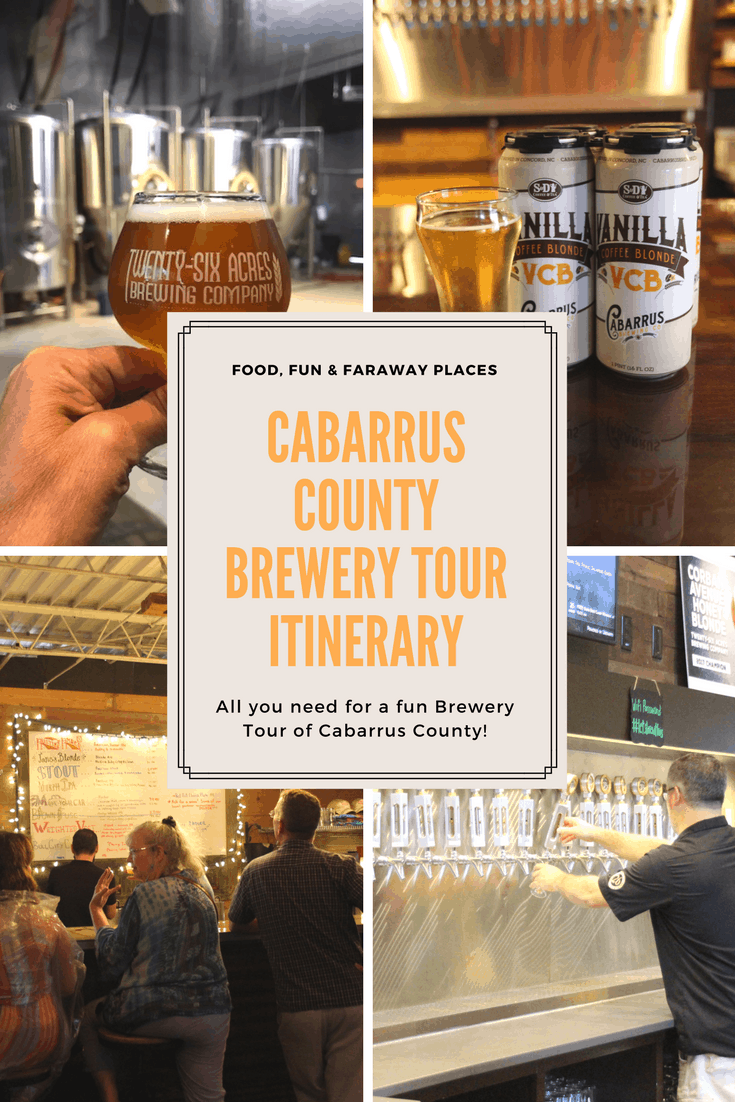 I just love breweries, and along with so many other things to do in Charlotte, this makes a perfect getaway!
Another spot that has great beer is Idaho. Who knew? Check out my tour of Idaho Breweries.
A Cabarrus brewery tour is just the ticket if you're looking for a fun afternoon in this area.
Cabarrus County is located in the south-central part of North Carolina and is known mostly as the home of Charlotte Motor Speedway, but there's so much more!
For fabulous golf, shopping, and great restaurants, you can be in the beautiful village of Pinehurst in just over an hour.
The drive is beautiful as you'll go through the Uwharrie Mountains. With so many things to do in Pinehurst, you really should make the trip!
This is an area I've been visiting a couple of times a year for the past ten years or so as my husband has family close by in Mt. Gilead. Little did I know just about thirty minutes away was this fun little town with great restaurants and pretty amazing breweries.
Cabarrus Brewery Tour Itinerary
North Carolina actually has more than 205 breweries and brewpubs, which makes it the largest craft beer community in the American South. Who knew?
Cabarrus Brewing Company
Our first stop was Concord's first full-scale craft brewery, Cabarrus Brewing Company.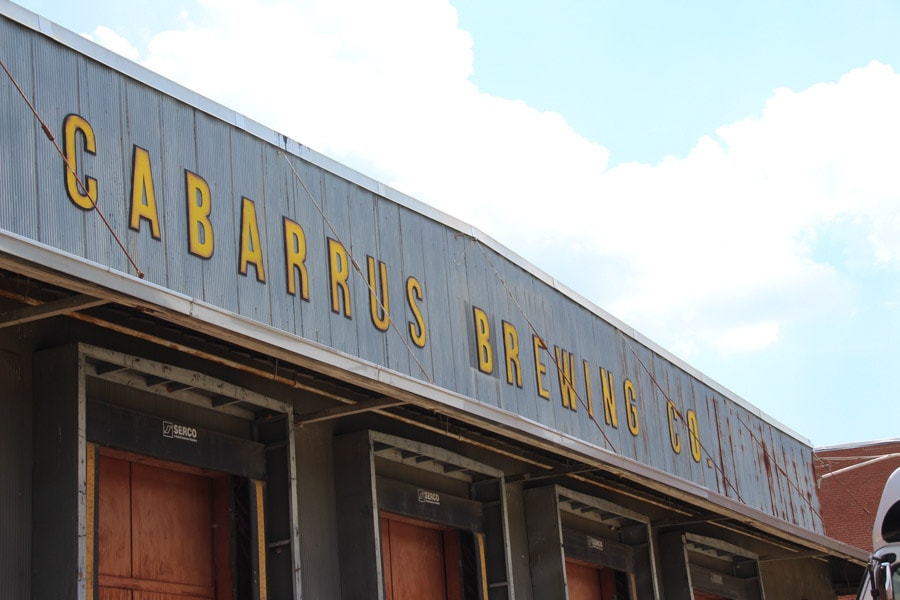 This brewery opened in 2015, but it looks brand spanking new.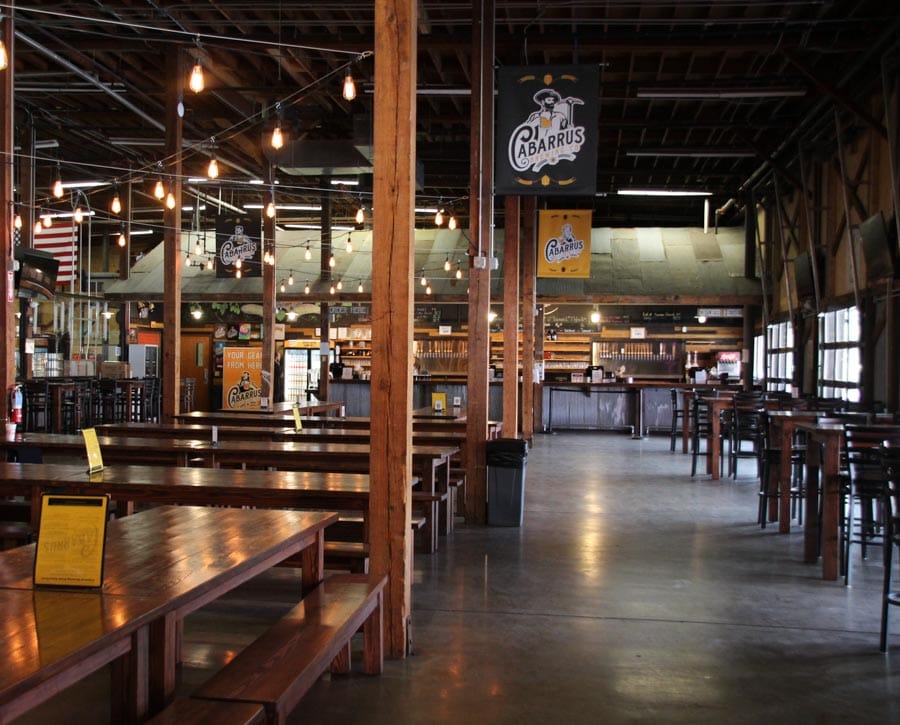 Cabarrus Brewing Company produces small-batch beers to full production, year-round brews. We were invited to taste a few of them, and it's easy to see why they are so popular.
It's also pretty cool that all their brew names have a story. For the Boll Weevil Brown, it's the problematic boll weevil, a beetle that devastated the cotton industry in the 1920s. Definitely a big part of the South's history, thankfully in the past! The Boll Weevil Brown Ale has a slightly sweet flavor and medium body.
The Reed's Gold Ale has a pretty awesome story. A 12-year old boy named Conrad Reed came upon a hunk of pure gold way back in 1799, and as the Reed household had no clue what it was, it made a nice doorstop in their home for three years. Can you imagine?
Once it was identified, the news set off the first gold rush in America, with the Reed Gold Mine becoming the largest mine in the area. The US Mint in Charlotte was created and in charge of coining the gold from Cabarrus County mines, the beginnings of the city becoming the worldwide banking center it is today.
Reed's Gold Ale is a celebration of that historic find. What a cool story! This is a golden ale with medium body. Take a tour if you visit!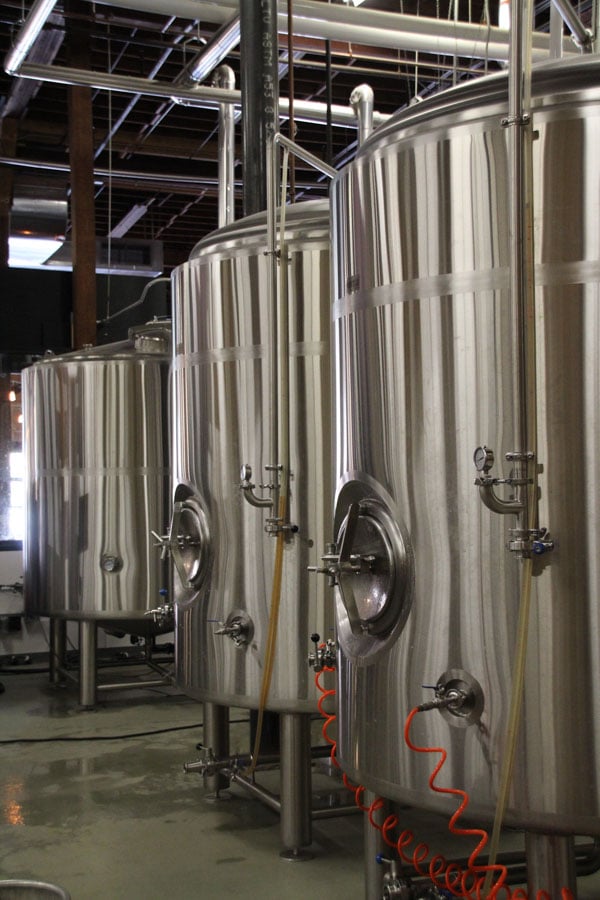 My favorite of what we tasted was the Vanilla Coffee Blonde. I'm a big coffee lover, and this the best coffee ale I've tried.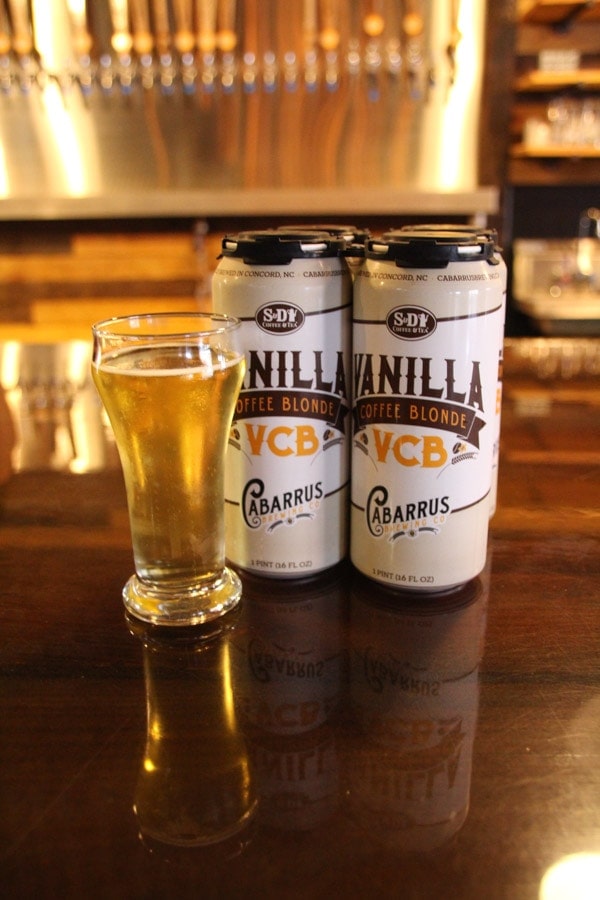 Stop by and try a few of the Cabarrus Brews. Though they don't regularly serve food, they do work with caterers for events. Check out what's up this week at the brewery. Find them at 329 McGill Ave. in Concord.
High Branch Brewing Company
Next stop is High Branch Brewing Co, the very first nano-brewery in Concord. If you guessed that a nano-brewery is one that brews small batches, you'd be right.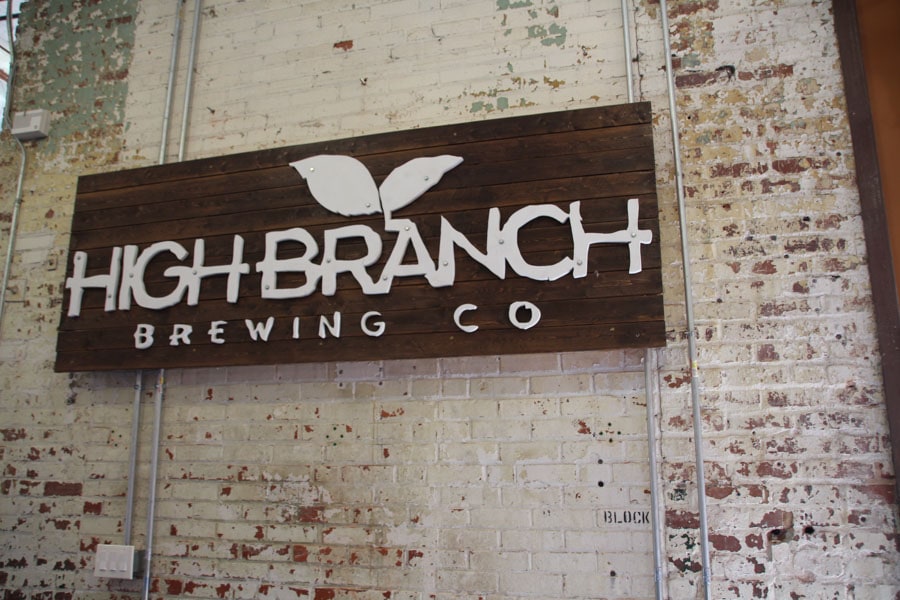 This family-run, artisanal brewery is located in the historic Gibson Mill, and they've created a laid-back family-friendly spot to chill and meet friends for a beer. I love that!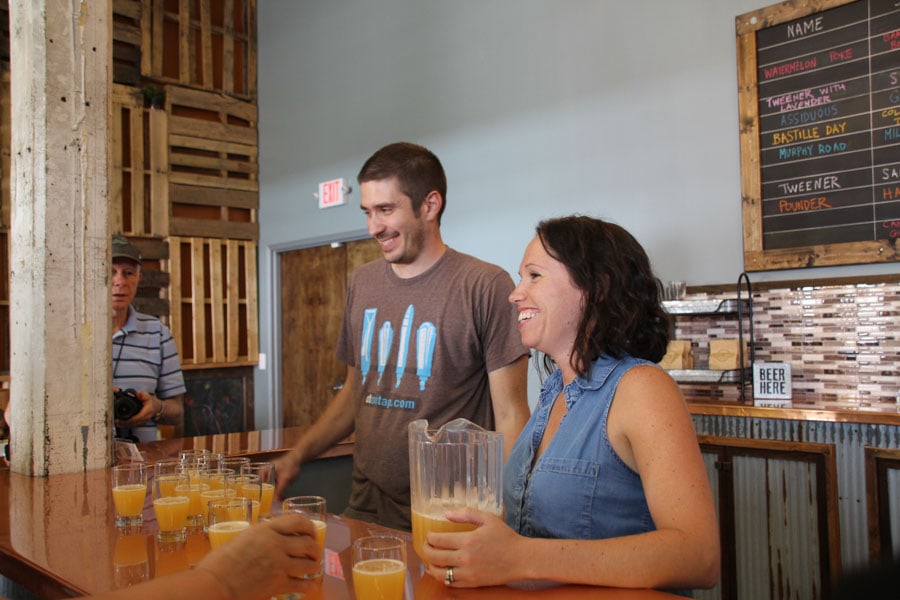 The industrial setting houses indoor and outdoor seating and you are welcome to bring your dog and relax on the deck. They have regular live music, special events and sometimes bring in food trucks. They even have a yoga special!
Owner and head brewer TJ Creighton (above with his wife) began as a homebrewer. His focus today is on Belgian-inspired and hop-forward ales.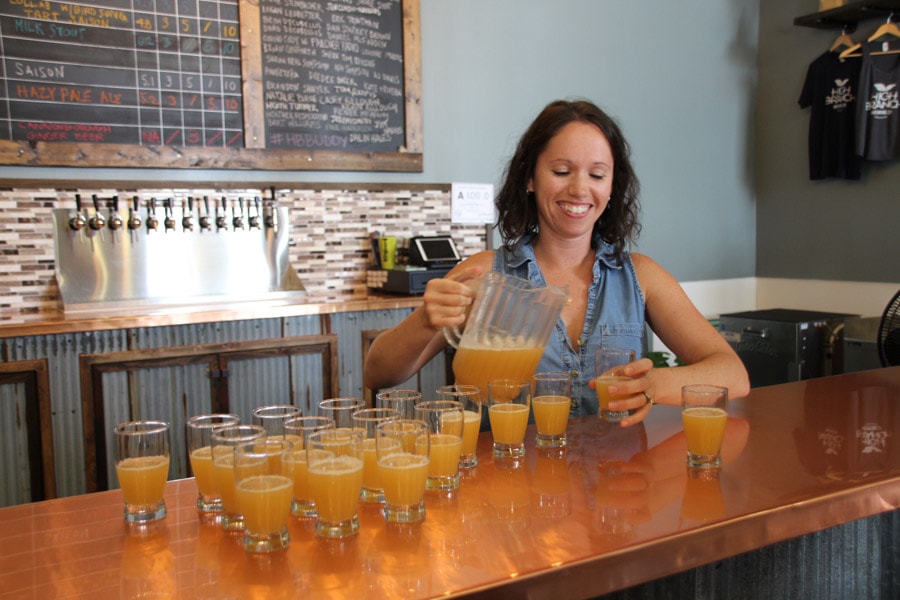 High Branch Brewing tries to use local ingredients as often as possible, developing relationships with local farmers and other small businesses.
You'll find seasonal flavors and small-batch brews rotating on the tap list each week. Check out high Branch Brewing Co. at 325 McGill Ave, Suite 148, in Concord. Look for the sign outside.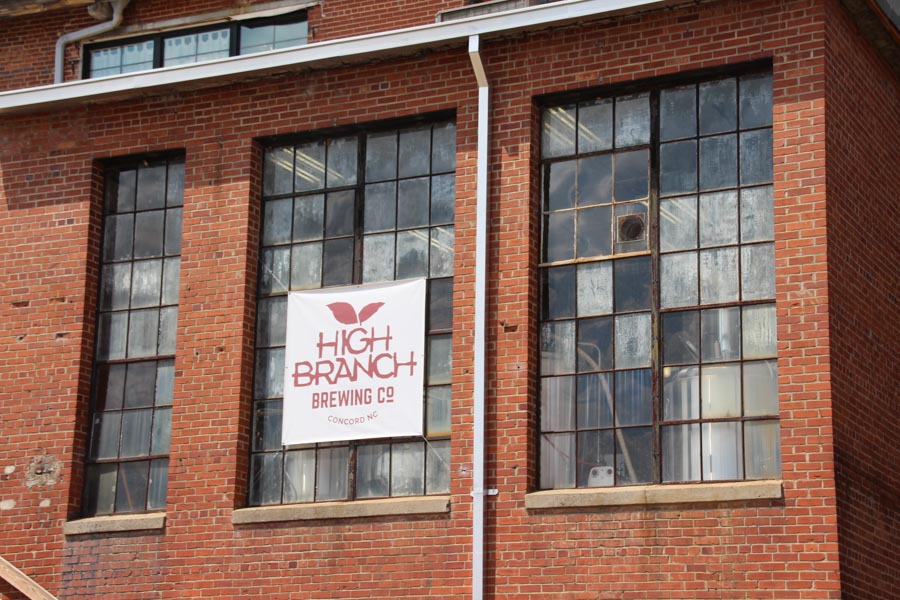 As you're right there, The Depot at Gibson Mill is a great stop between Cabarrua breweries. Take some time to browse around and see what kind of treasure you can find. If I hadn't been flying, I would have made several purchases of the kitchen items!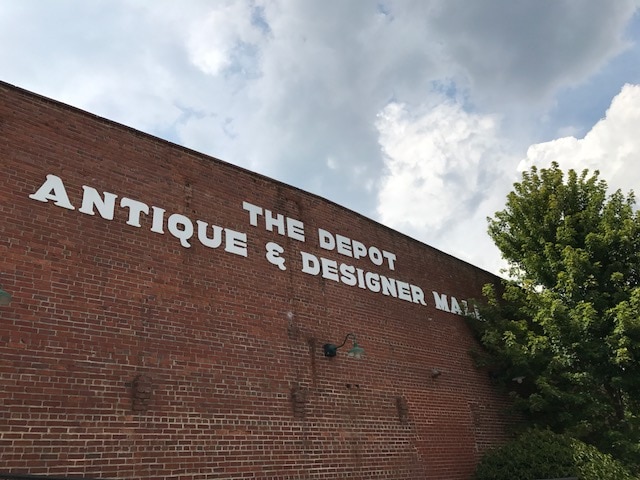 At 88,000 square feet and claiming the "Best Crap in the South," this antique mall has items from over 600 individual vendors! And don't let the word antique scare you away. I saw a lot of bargains while browsing.
Open seven days a week, you'll find The Depot at Gibson Mill located at 325 McGill Ave. Walk around a bit before hitting the next brewery!
Lil' Robert's Place
Lil' Robert's Place was interesting, to say the least! A bar and bottle shop with a flair for unusual decor, it truly is a must-see.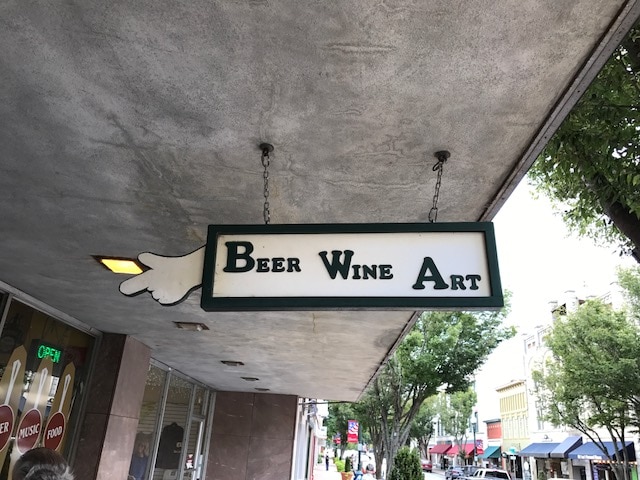 A popular spot for a cold brew, food trucks, and live local music, you'll find over 500 different craft, micro and imported beers with 30 rotating tap selections. Rather have a glass of wine? They have over 60 choices!
Crazy right? But not as crazy as the deer head.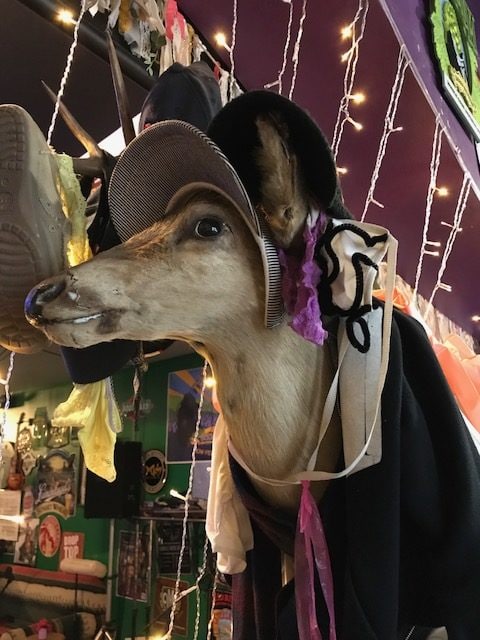 There's quite an art collection, too.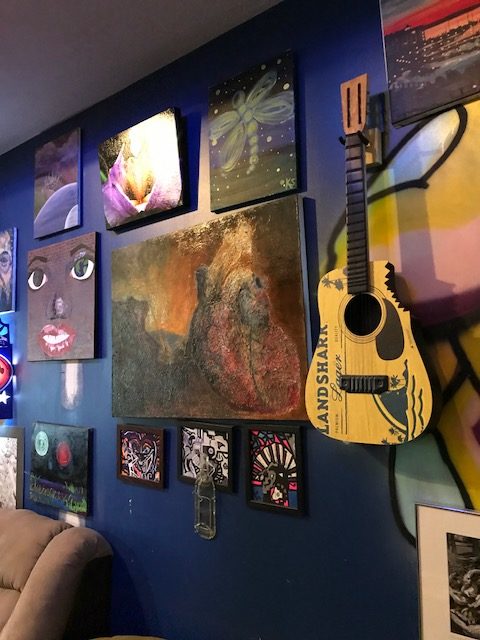 But my favorite was the sign on the bathroom door.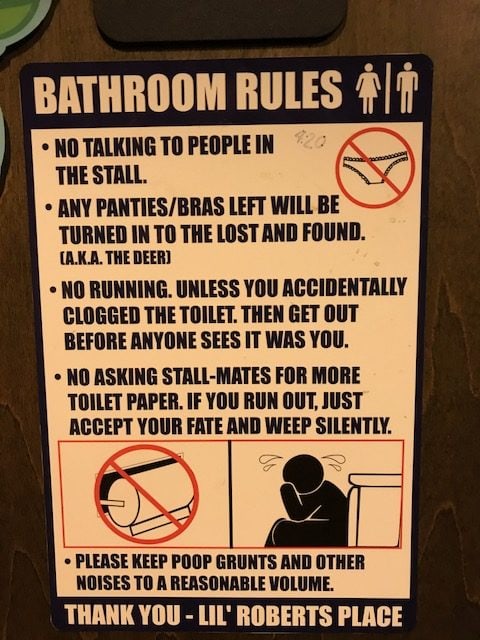 Lil' Roberts Place is located at 25 Union St. S, in Concord.
Twenty -Six Acres Brewing
Our final stop on this tour of Cabarrus brewery tour was Twenty-Six Acres Brewing, an 8,800 square foot brewery in a business park near Concord Regional Airport.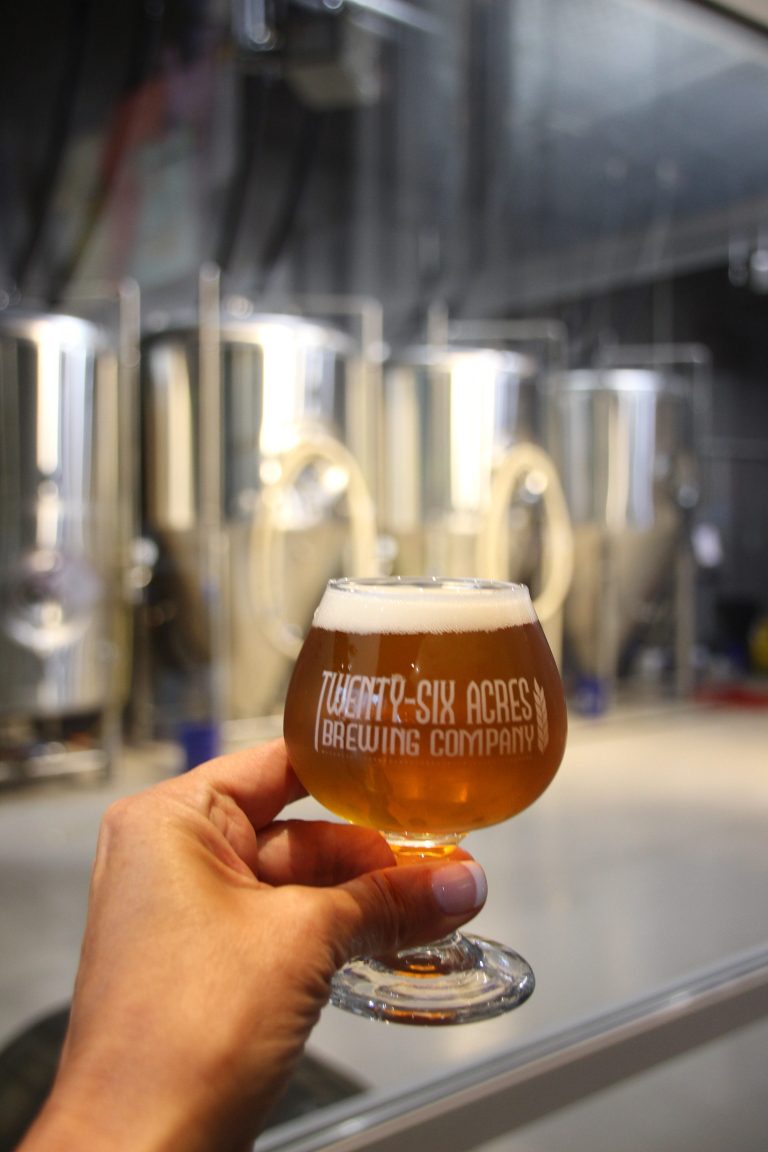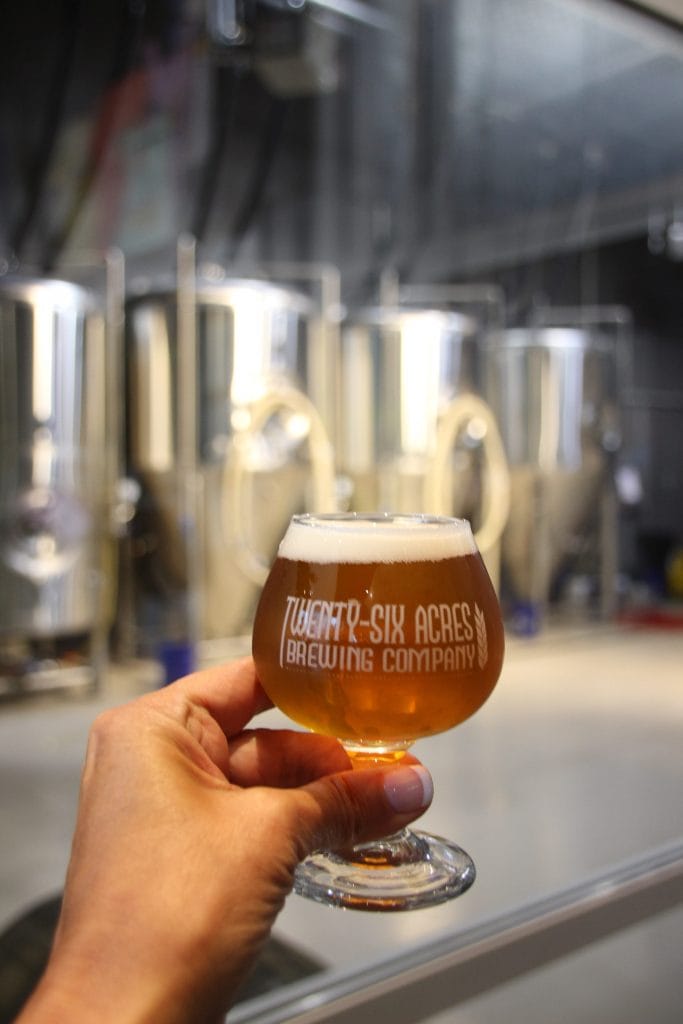 This brewery also has a historical name. There was a disagreement in the late 1700s between the German and Scots-Irish settlements in the area over exactly where the county seat of the new Cabarrus County should be located. The dispute came to a peaceful compromise, and the new city, named Concord (meaning harmony) was founded in 1796 on a 26-acre site.
Twenty-Six Acres Brewing is a wide-open industrial-style taproom, with concrete floors and high ceilings.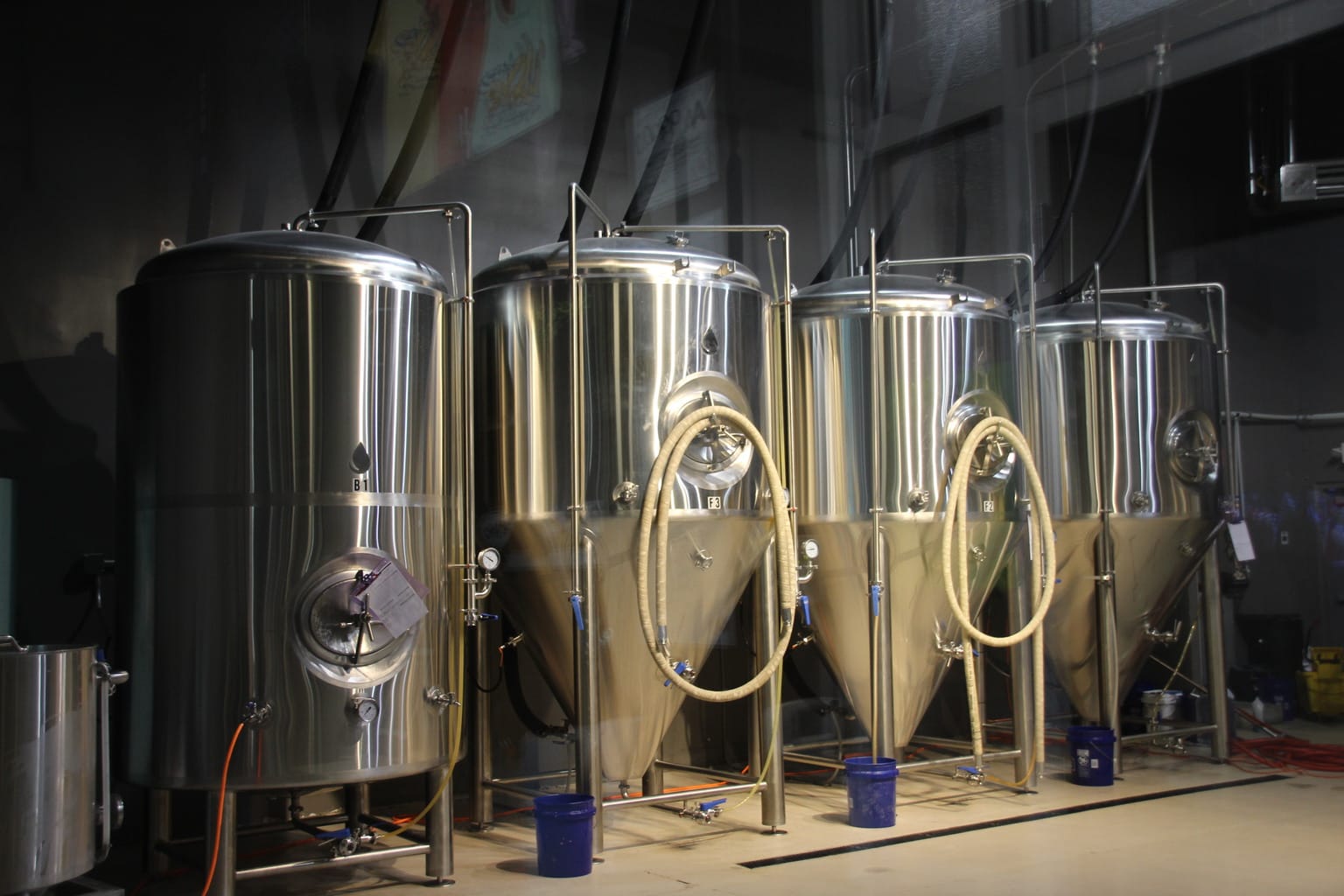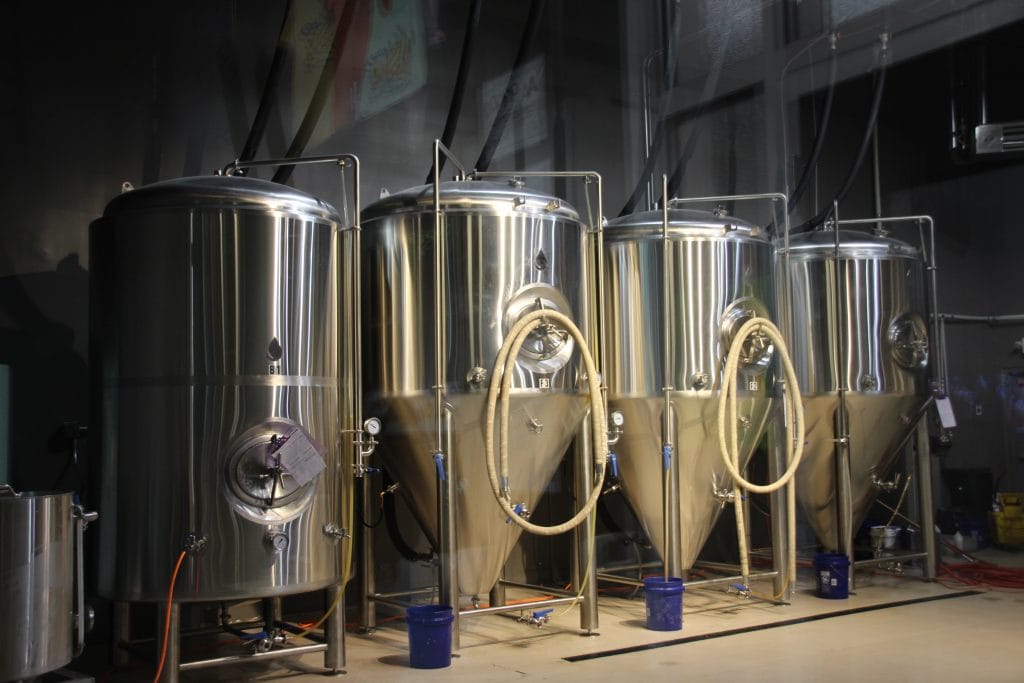 Head brewer Eric Troutman crafts their flagship beers, Corban Ave. Honey Blonde and 26 Union St. Oatmeal Stout, on their 15 barrel production brewhouse. He also brews seasonal, limited, and experimental brews on their 2 barrel pilot system.
By the way, their Corban Ave. Honey Blonde won the Clash of the Crafts 2017, so you definitely want to add this to your Cabarrus brewery tour.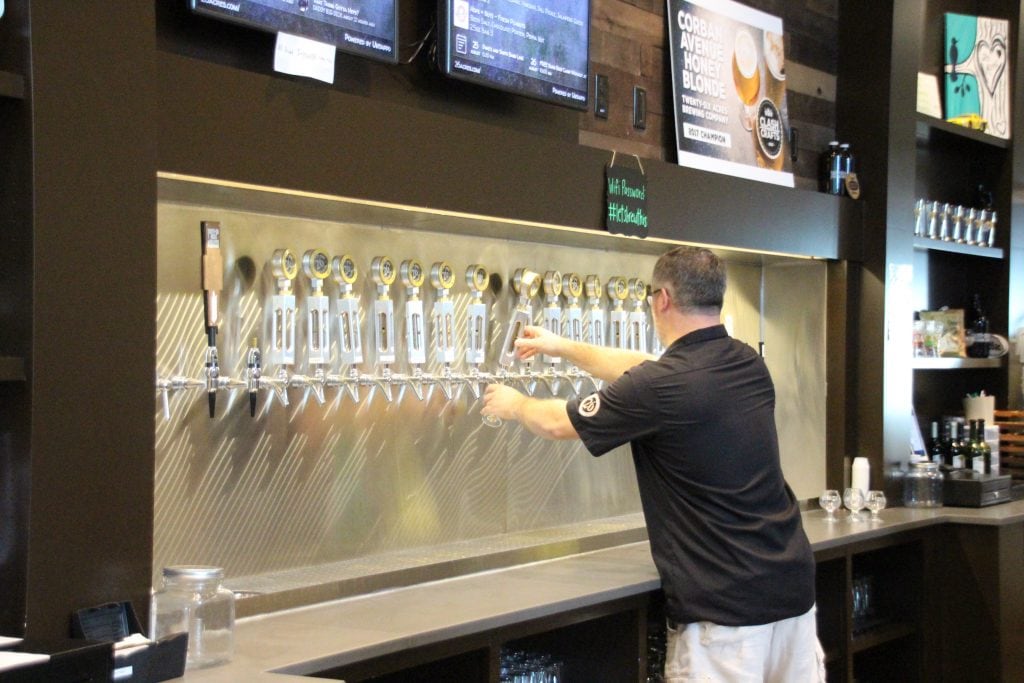 Twenty-Six Acres Brewing has weekly food specials in partnership with local restaurants and vendors, is kid-friendly and dog-friendly, and has a huge cabinet of games for anyone to play. What more could you want?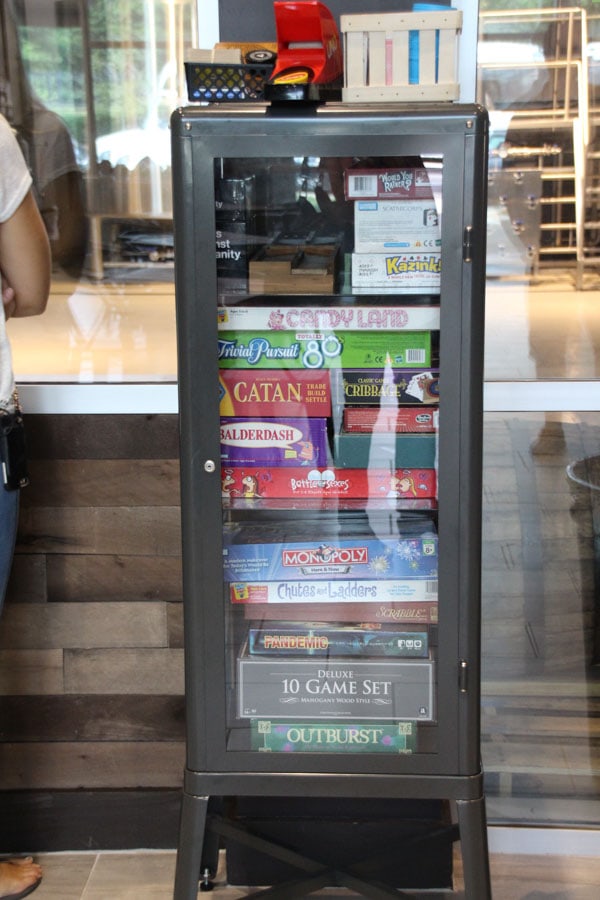 Find Twenty-Six Acres Brewing at 7285 W Winds Blvd NW in Concord.
So there you have it! A fun Cabarrus brewery tour where all you have to do is get to each spot. Remember to drink responsibly and drive safely. A designated driver is always a good idea.
Save This Cabarrus Brewery Tour to Pinterest for Later!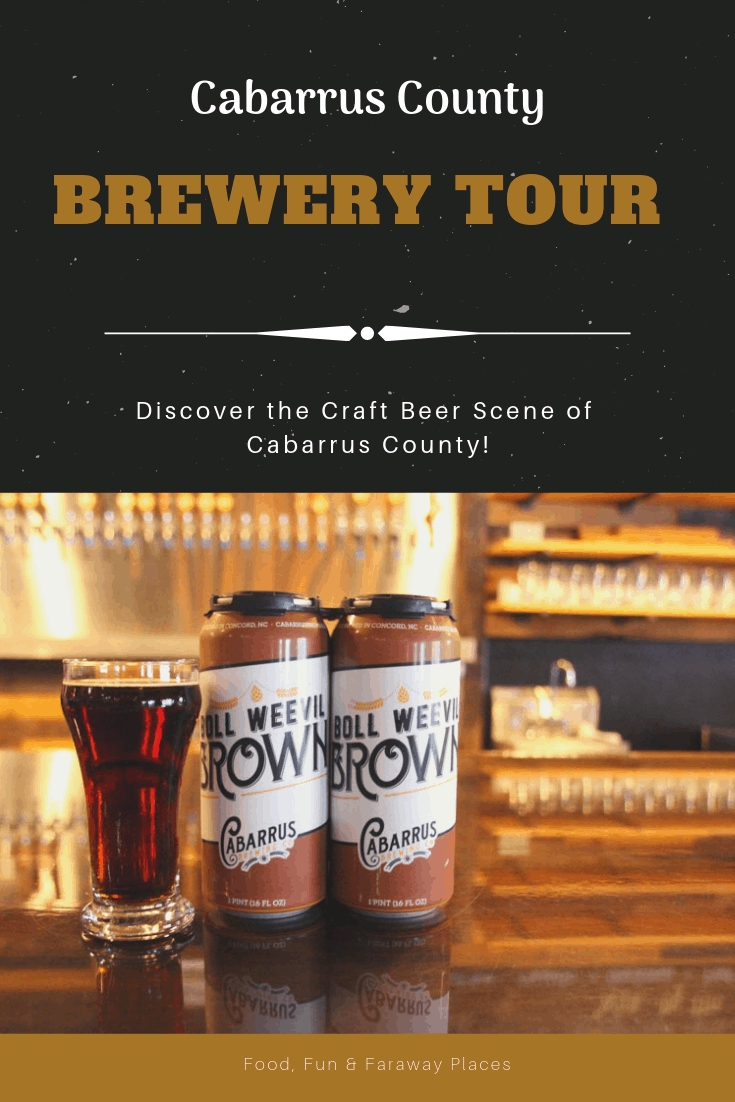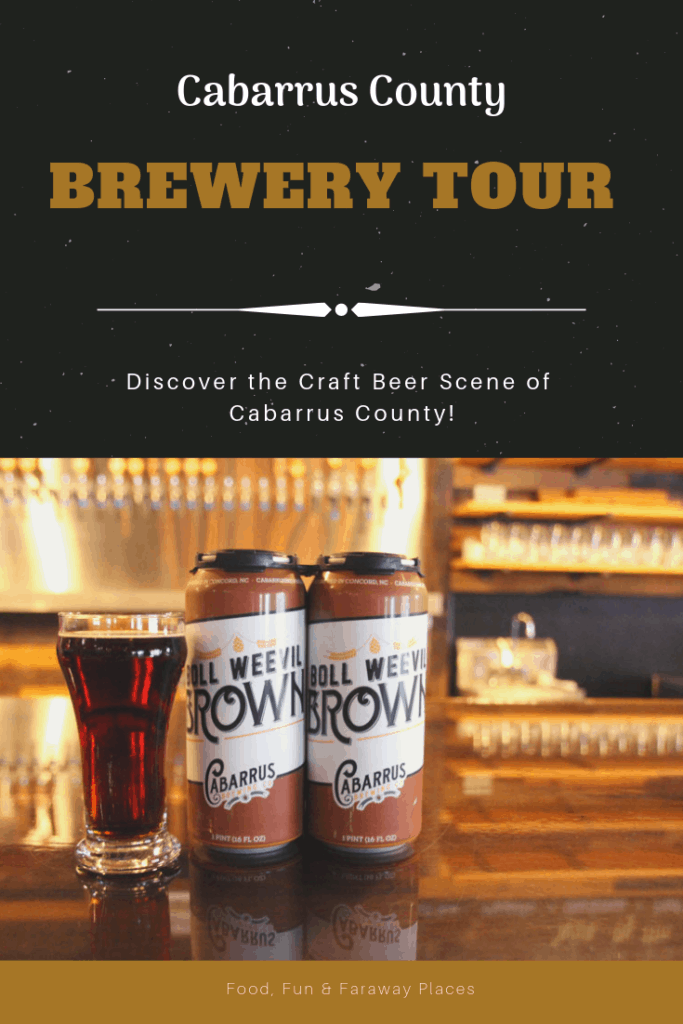 More North Carolina Destinations