Trying to decide where to stay in Wrightsville Beach NC? You have a lot of choices, but there's a reason the Blockade Runner Beach Resort comes up first on the TripAdvisor site as well as being the featured partner of the Wilmington and Beaches Convention and Visitors Bureau.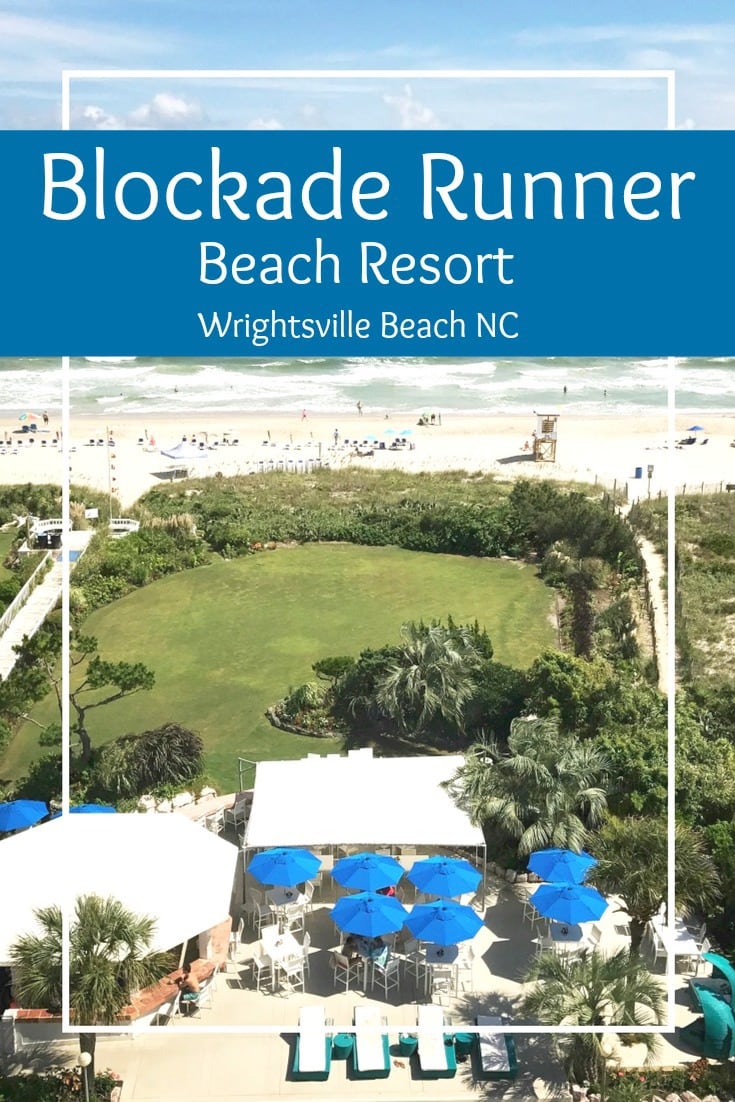 The Blockade Runner is the only North Carolina Luxury Resort offering all waterfront rooms.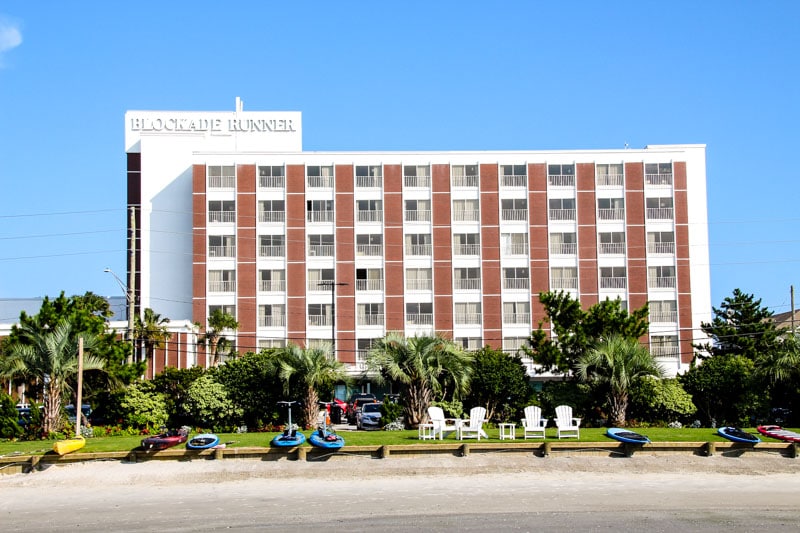 Referred to as a surf to sound resort, the Blockade Runner Resort has the ocean in their back yard and Banks Channel Sound just across the street. That makes for a lot of fun activities on the water.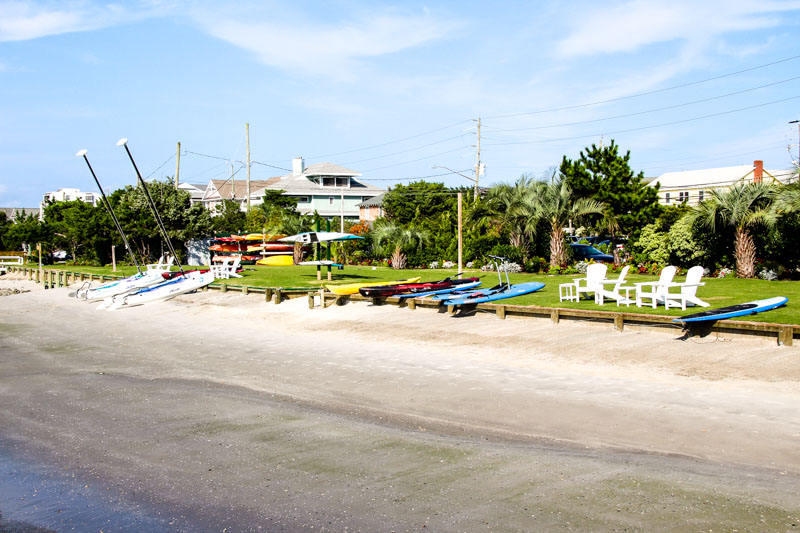 Of course, there's a lounge chair just waiting for you to enjoy along with a good book, too. And the tiki bar is steps away when you're ready for a sandwich or a cool beverage.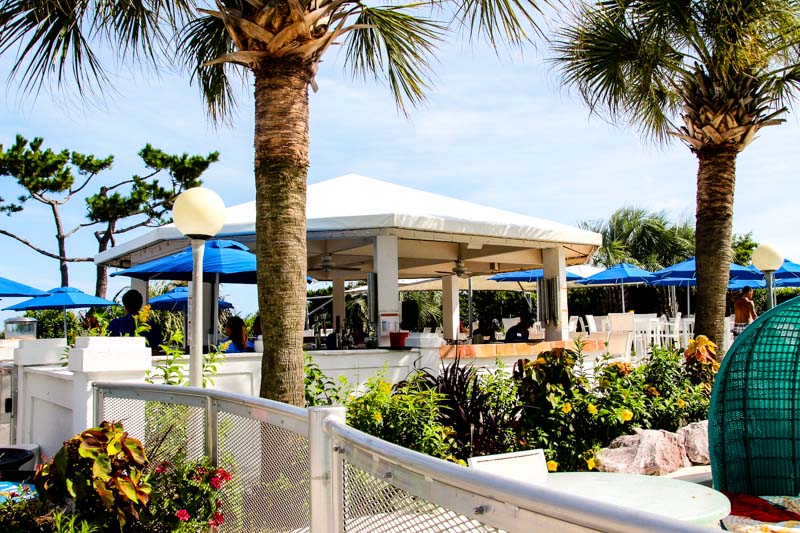 Relaxing in one of the many Adirondack chairs in the garden is another great way to get away from it all. Enjoy watching the butterflies while listening to the waves crash onto the shore. Not a bad way to spend the afternoon in Wrightsville Beach NC.
You could come back and enjoy s'mores by the fire in the evening.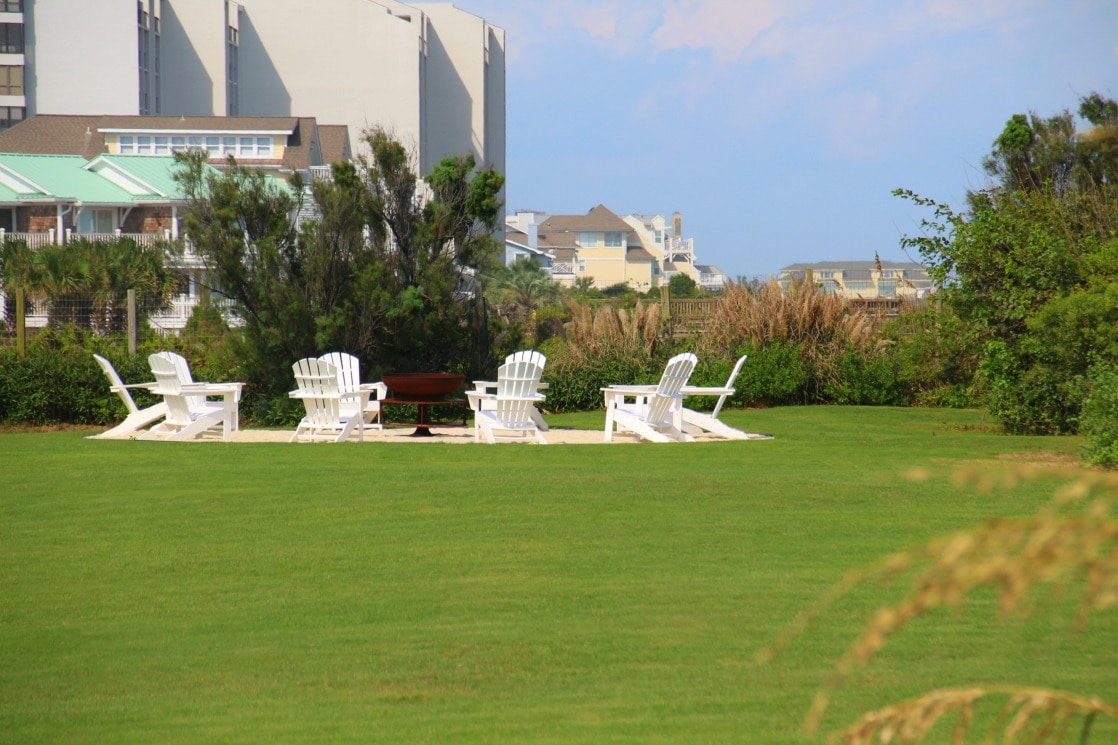 The chubby resident rabbit made an appearance while I was enjoying the gardens. I was happy to learn he is a welcome guest.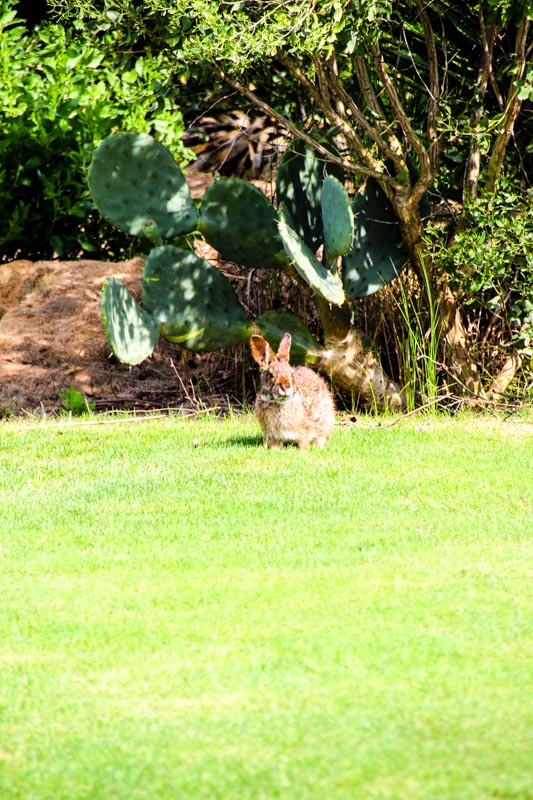 Just beyond the beautiful gardens, the waves are perfect for body surfing or for those brave enough, riding a surfboard. You can book a lesson right through the resort.
The pool is close by if you need to cool off and don't feel like an ocean swim. Just inside the door by the pool you'll find a nice-sized whirlpool and beyond that an exercise room.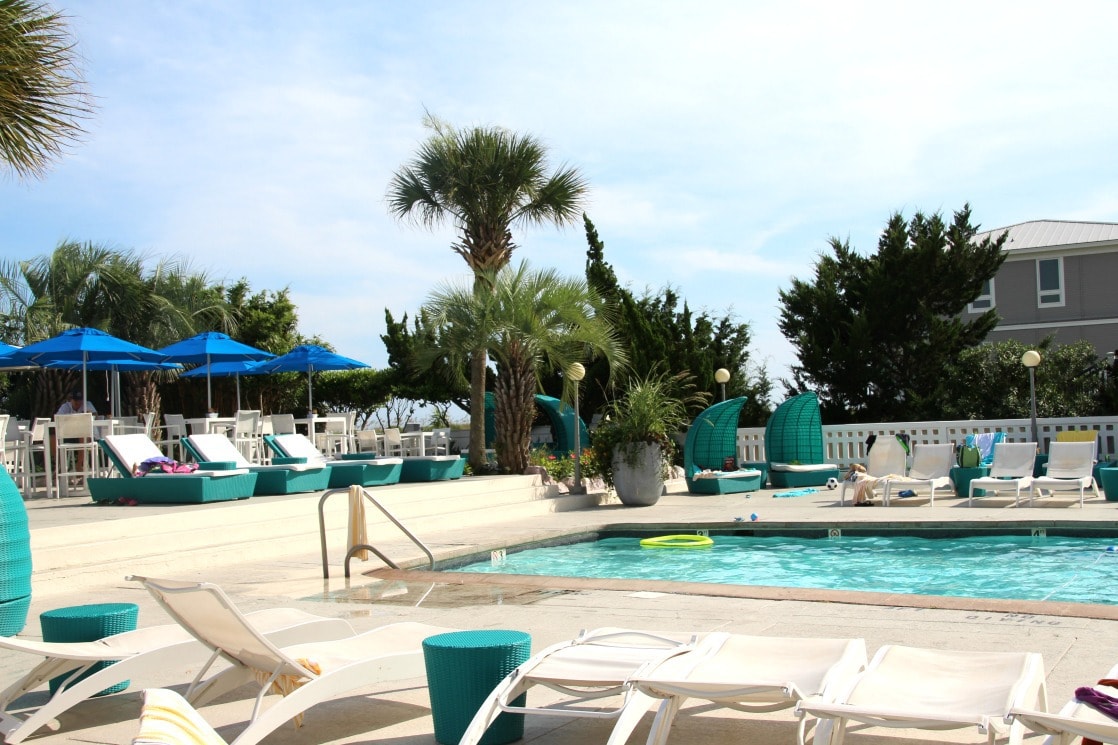 Directly across the street, you can take advantage of a plethora of adventures like stand-up paddle boarding, kayaking, or even learning to sail a Hobie Wave. A cruise with Wrightsville Beach Scenic Tours and Cape Fear naturalist Capt. Joe Abbatte is a great option and can be booked right through the front desk at the Blockade Runner Resort.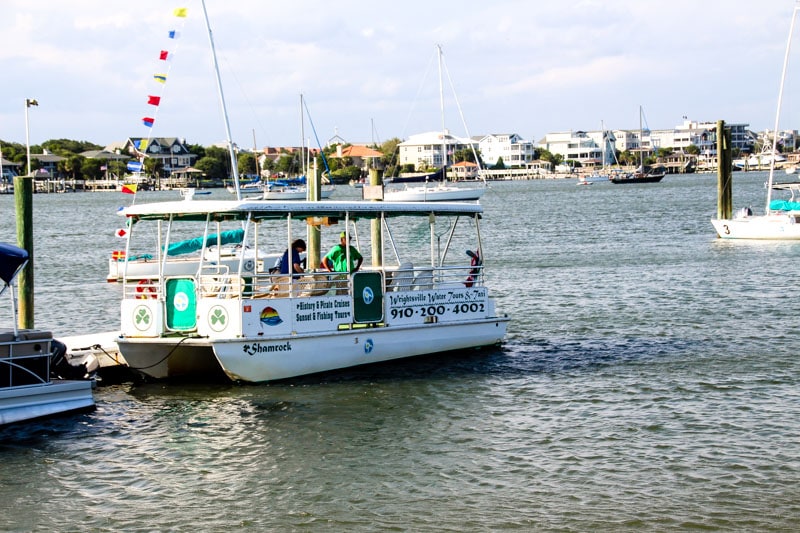 All those activities are going to tucker you out eventually, and you'll be glad to have a luxurious room with the comforts of home at the end of the day.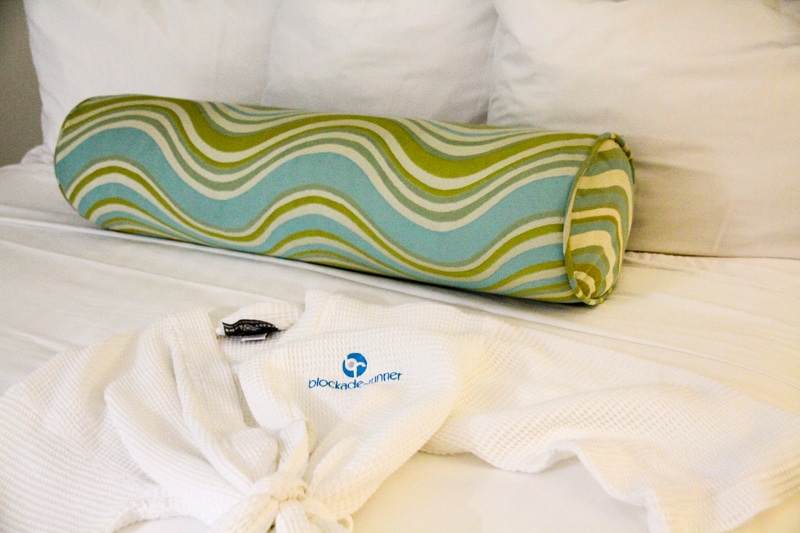 You'll have a lot of choices in choosing your room. I stayed in an Atlantic Oceanfront room which gave me views of the ocean, gardens, and pool. What a view!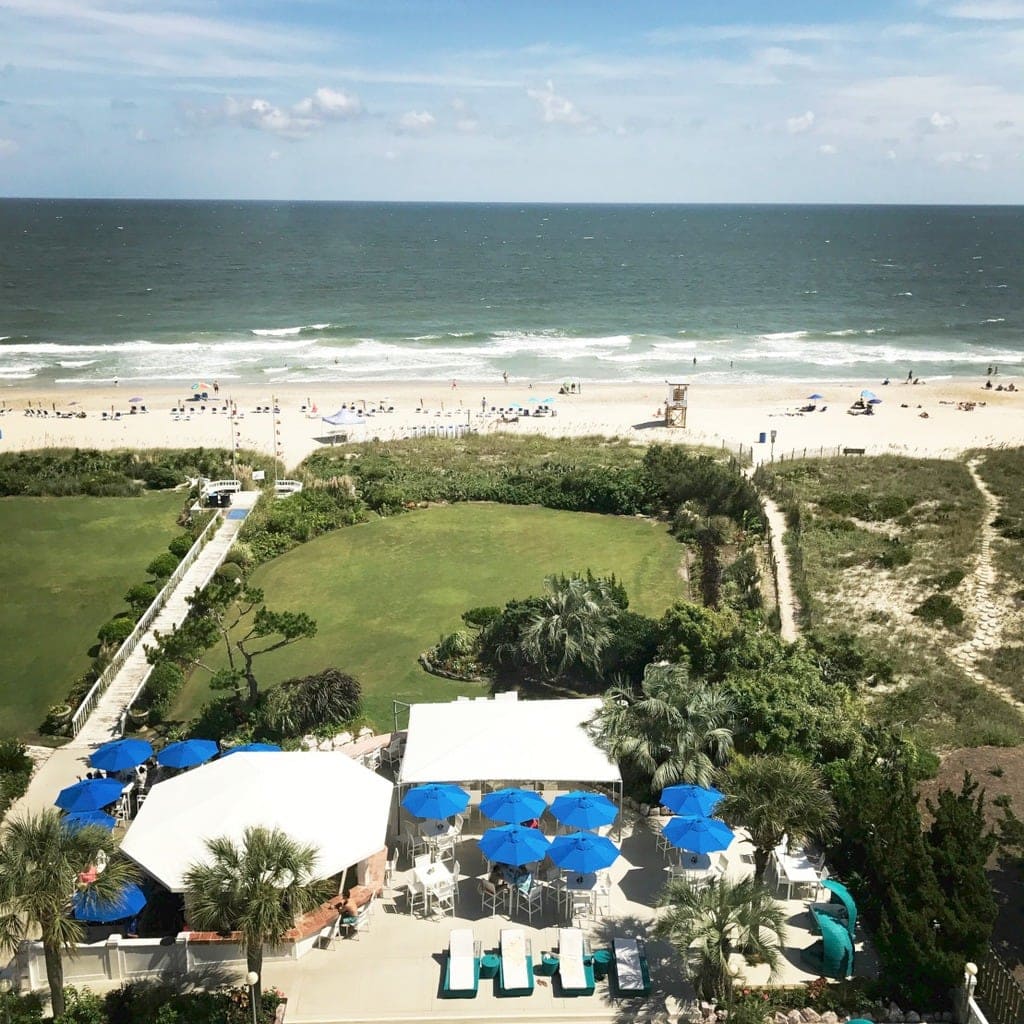 If you would rather see the spectacular Wrightsville Beach sunset, the Harborfront rooms look over the Intracoastal Waterways, with views of the salt marshes, sailboats, and tidal creeks.
The Deluxe Atlantic Oceanfront rooms have views of the ocean, pool, and gardens, as well as a balcony with a dining table.
And if you're celebrating or just want to spoil yourself, the Premiere Atlantic Oceanfront room is the crème de la crème of rooms, with a wide private balcony including an in-wall fireplace, 2-room bathroom featuring a soaking tub with a flat-screen TV and waterfall shower, as well as comfortable chairs for lounging. The Premiere room comes with one King-sized bed.
All the rooms have fabulous amenities, like flat-screen LCD HDTVs, Boca Terry Robes, Free WiFi, a mini-fridge, a Keurig Coffee Maker, and a Bitel mobile charging station.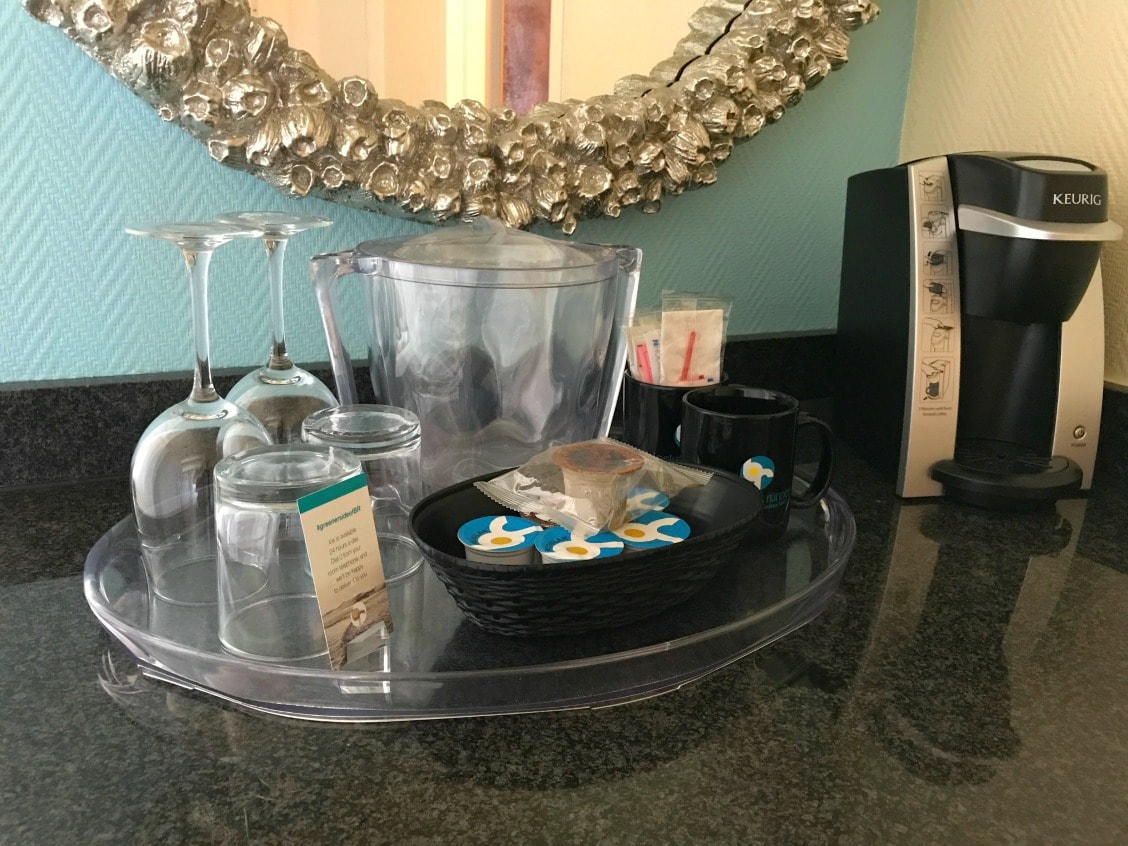 The bathrooms feature Signature Collection Bath Products. Room service and in-room spa services are available for additional fees.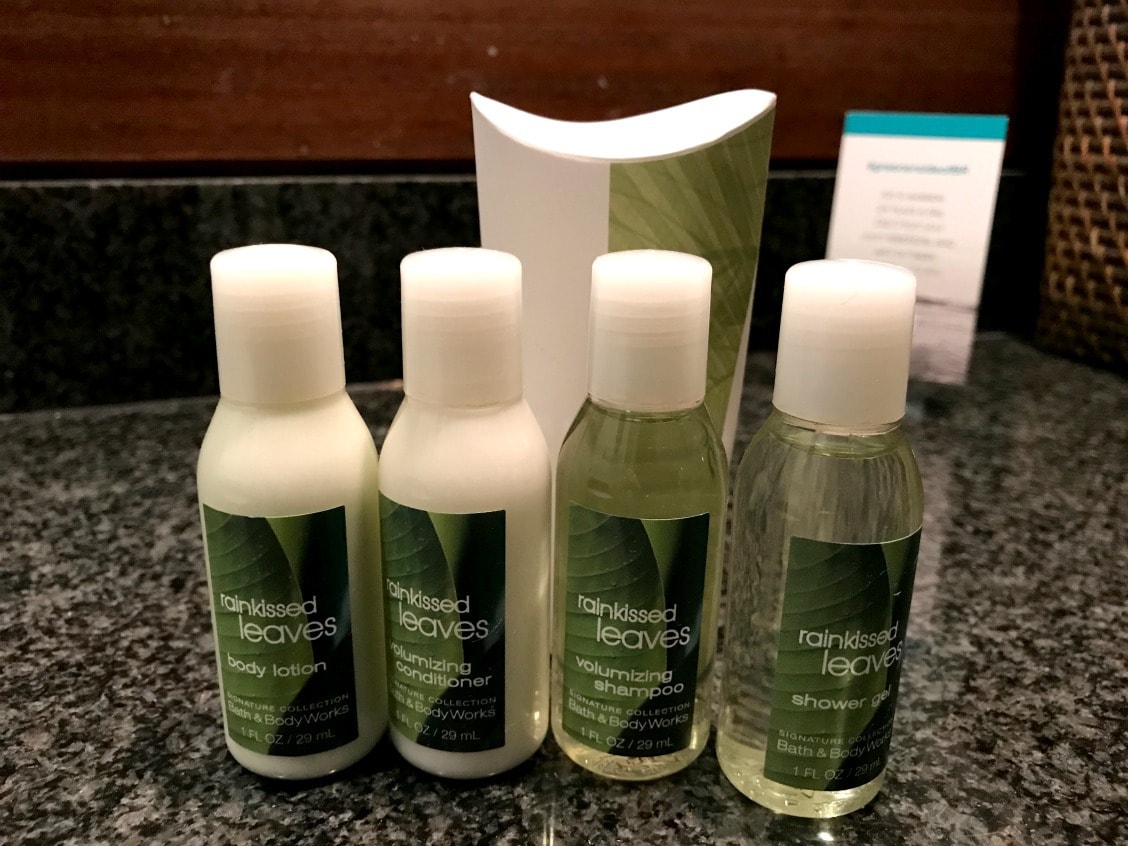 The Atlantic Oceanfront room was perfect for me. You can choose from 2 Queens or a King-sized bed, and I always like having a desk to set up my laptop and catch up on email without having to do everything on my phone.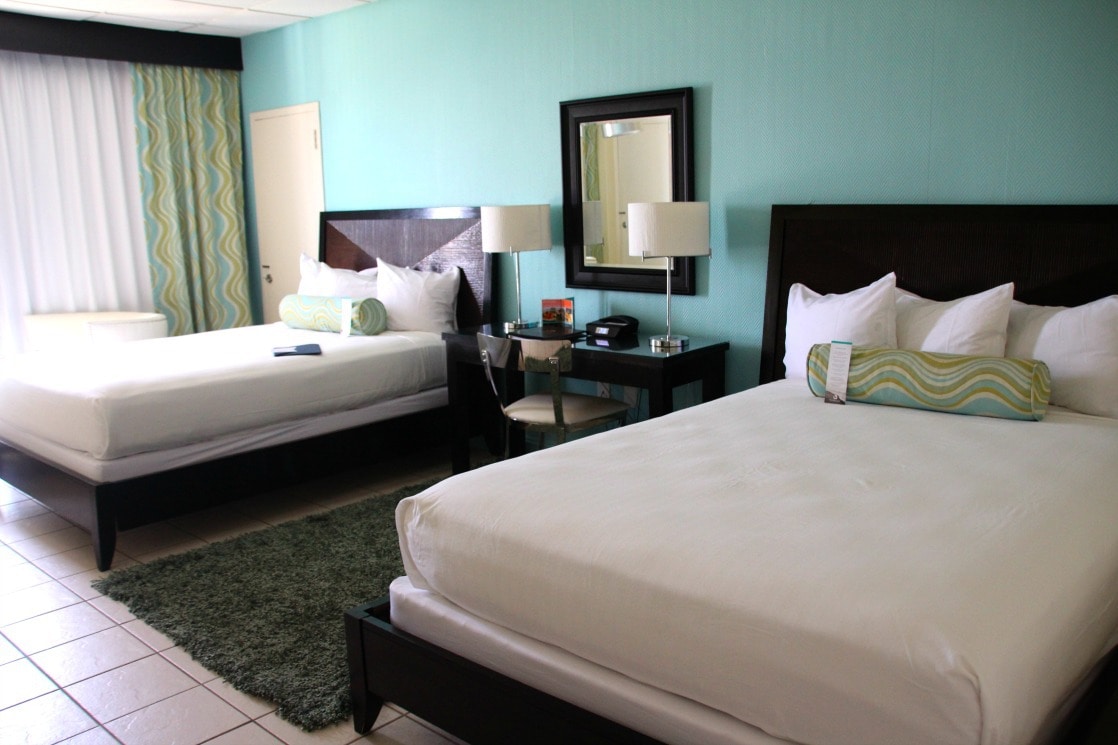 If you're wondering where to eat, I've got a surprise for you. Head right downstairs to the hotel restaurant, East.
Hell's Kitchen season one finalist Chef Jessica Cabo and her creative culinary team were a huge surprise. Not often do I dine on hotel food this creative. The dinner menu offered up some difficult choices, but I finally settled on the scallops with blackberry coulis served with long beans and pureed cauliflower. I ordered well!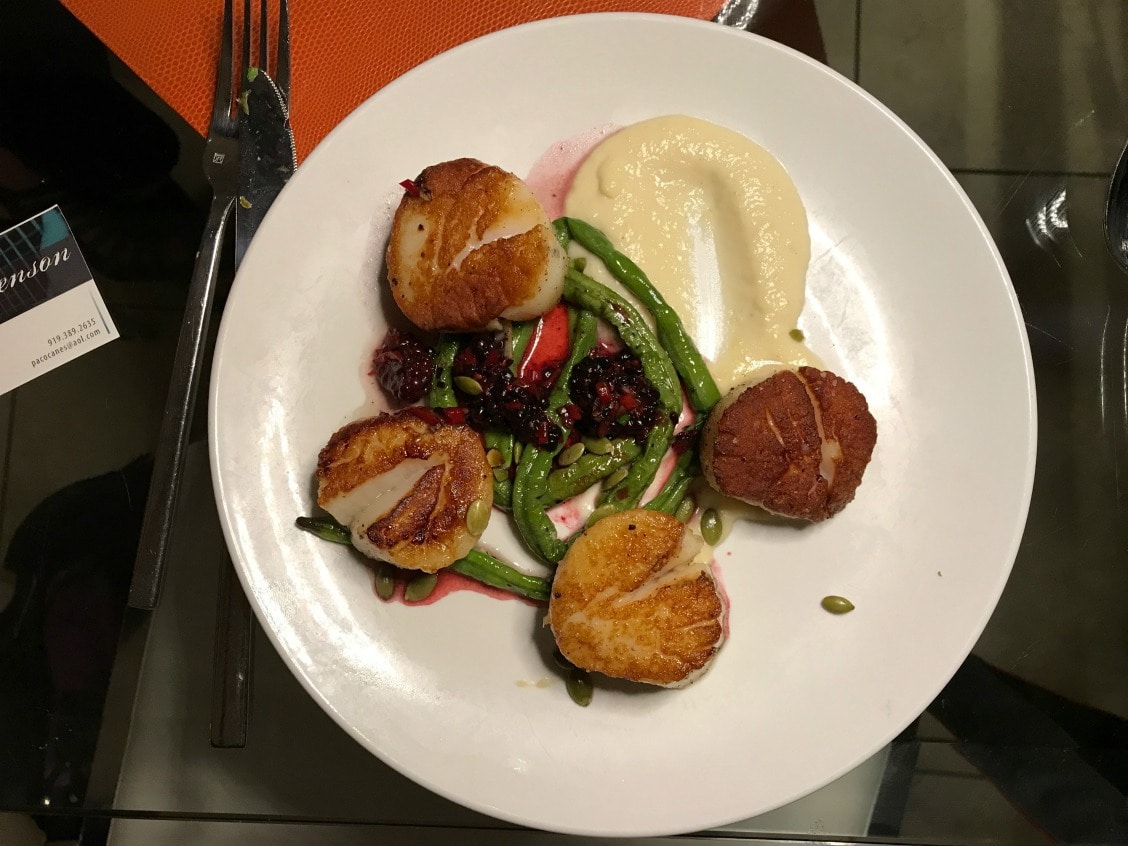 I do believe I mentioned before dinner that I had been eating so much that it was time to slow it down a notch. This would not be the day to do that as I ate every bit and was so impressed I had to order the crème brûlée, as well. I may have tasted all the desserts.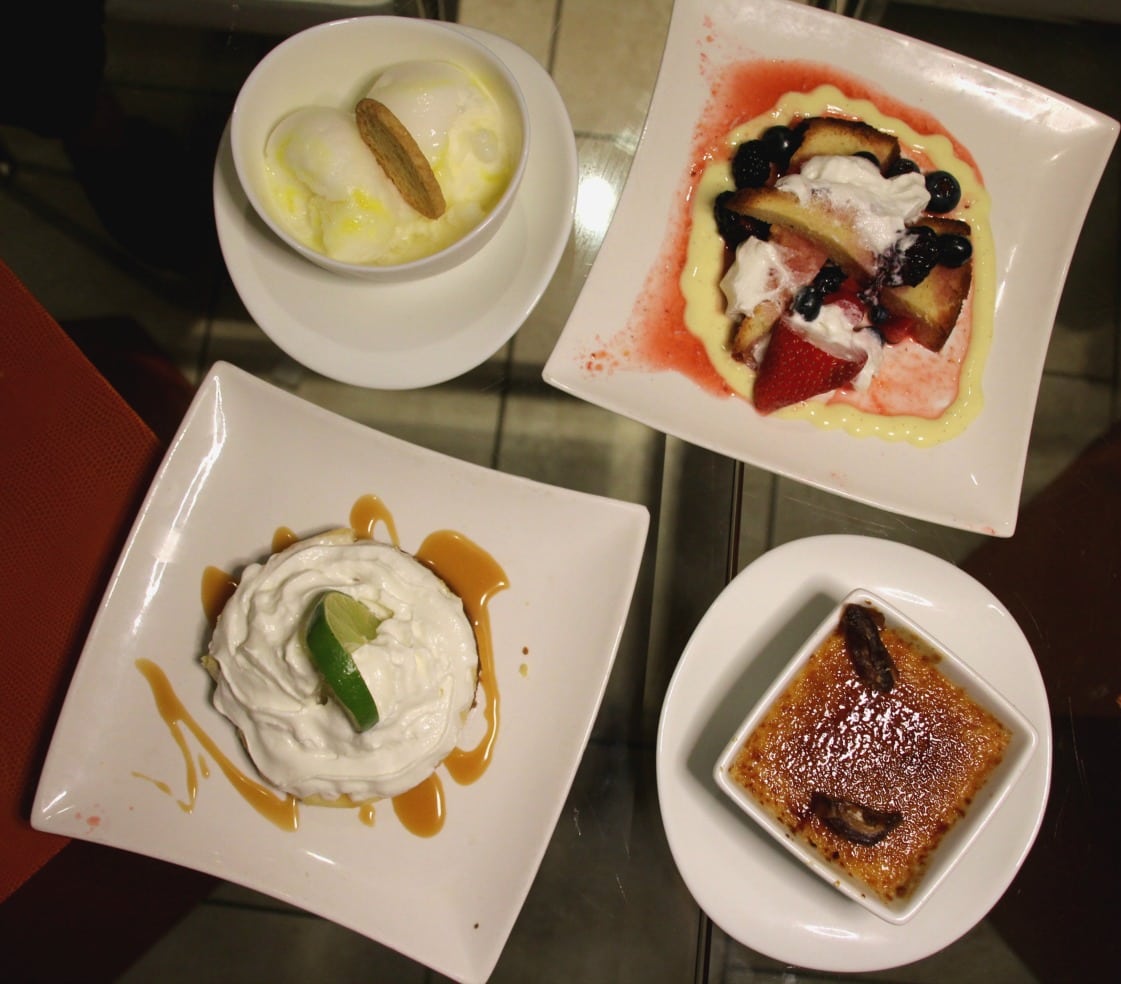 It's part of my job to share the experience, right? I did it for you!
Though Chef Cabo's specialty is seafood (Friday night is lobster night) vegans, vegetarians, and others with dietary restrictions will find Chef Cabo very accommodating. In fact, we heard the fried cauliflower was amazing so had to try it.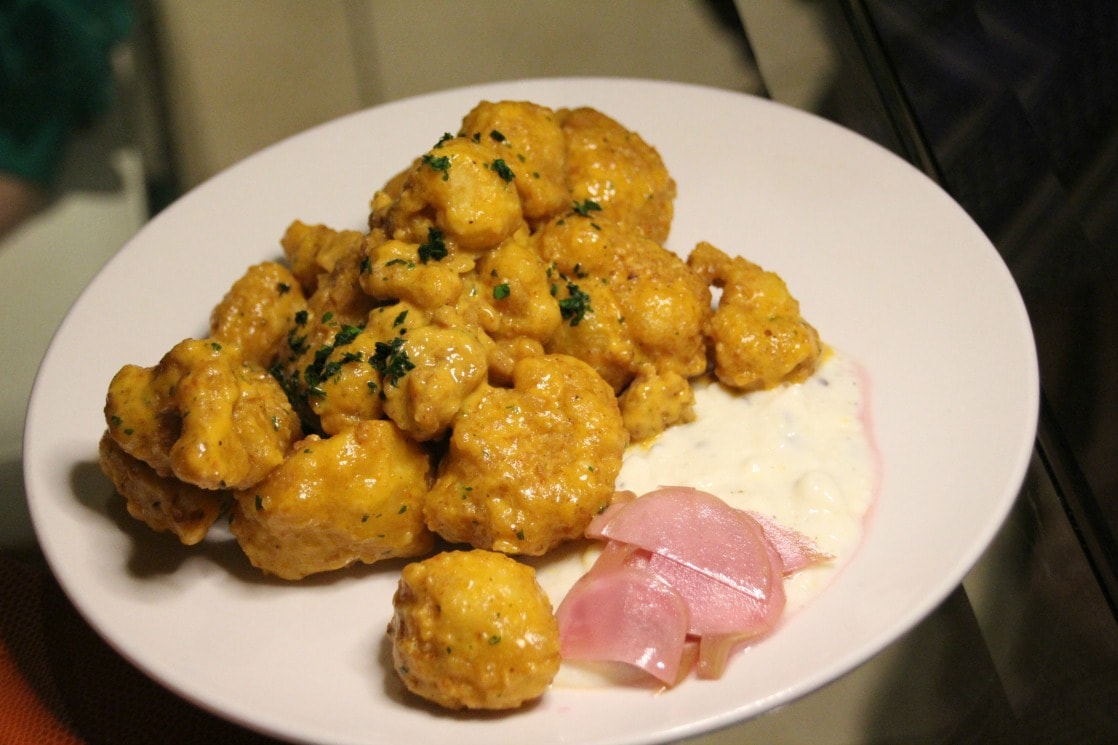 On select evenings as well as at the Chef Blues Brunch, you'll be treated to live music. The dining room extends outside if you'd rather eat listening to the waves. Either way, EAST is a win.
I don't know what more you could want in a hotel unless you're looking to snow ski. That would not work at the Blockade Runner Resort!
However, if you want a luxurious room, a view of the ocean or bay, a tiki bar (because you need a tiki bar!), a pool, water sports available at the touch of a button, and great food, book your next vacation in Wrightsville Beach at the Blockade Runner Beach Resort.
When planning travel to Wrightsville Beach NC and the surrounding area, start your search on the Wilmington and Beaches website. Everything you need for your beach vacation is right there!
Love this post? Pin it to Pinterest so others can see it, too! Thanks for sharing!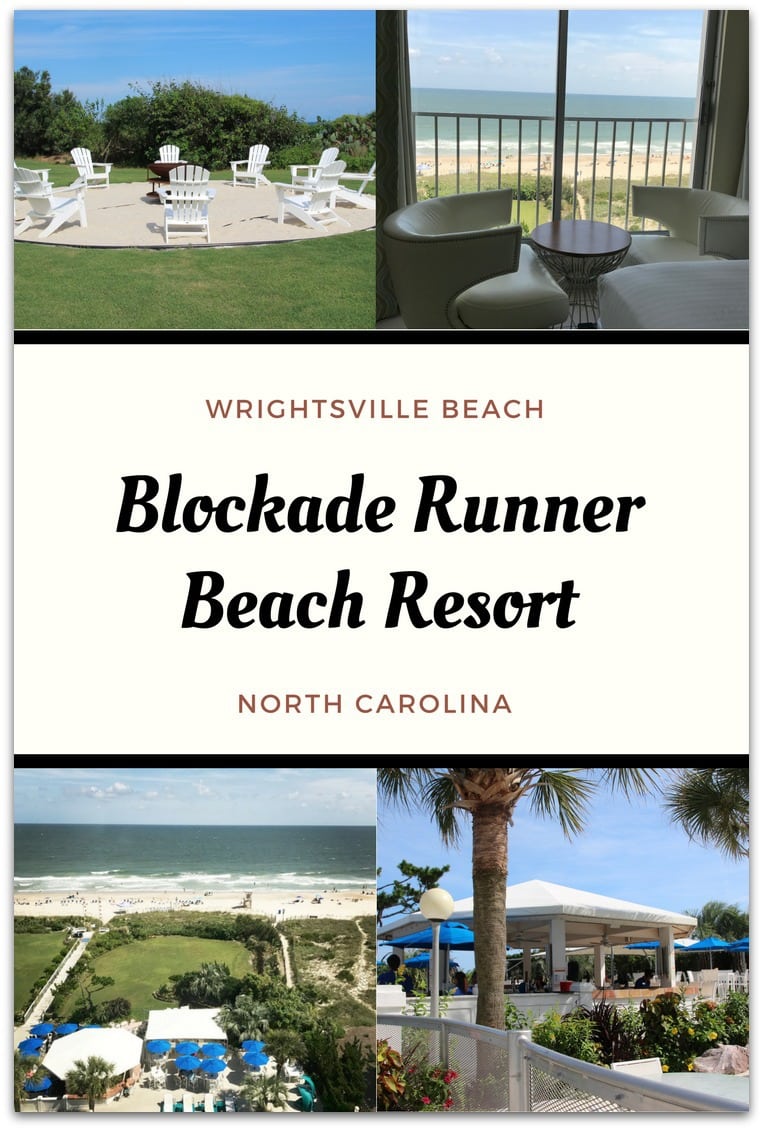 More North Carolina Destinations
Like our content? Follow us on Pinterest!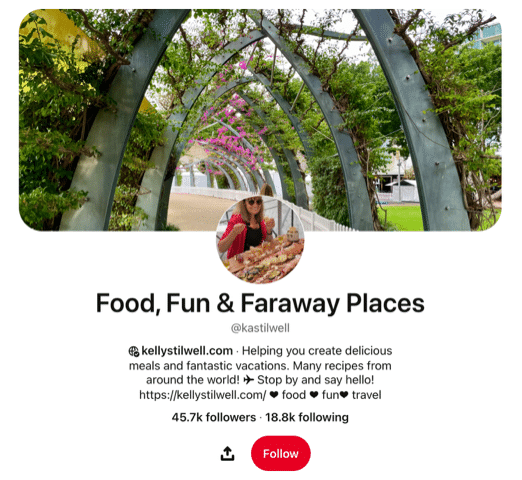 The Blockade Runner Beach Resort hosted my stay. All thoughts about the resort are my own.